Bull terrier dogs, the signature tough-guy dog breed with one of the more unique silhouettes in the dog world, are more than meets the eye.
While their appearance may seem aggressive and threatening, they're some of the most playful and active dogs in the canine world, and the reason why they're the bull terrier breeders breed of choice.
This posture is further emphasized by their stride and musculature, making onlookers think he has been hitting the doggy gym.
They're dogs devoted to their owners, small enough not to require too much maintenance, but big enough to still feel imposing if trained as a guard dog.
The unique combination of traits makes them the ideal dogs for fitness-minded individuals as the bull terrier will be able to keep pace with its owner.
The question is, where do you find the most reputable breeder? Finding a good and loyal dog is the easy part; the dog breeders are the problem.
As this is a relatively popular dog breed, breeders pop out a dime a dozen, though their breeding programs tend to be questionable.
Whether it's the lack of qualification of the breeder or the overall care for the dogs they raise, the number of bull terrier breeders you can trust is relatively small.
Luckily, we've gone through the trouble of looking up some of the most trustworthy and quality breeders in the U.S., so you don't have to waste your time. Read on to find out more.
Bull Terrier Puppies For Sale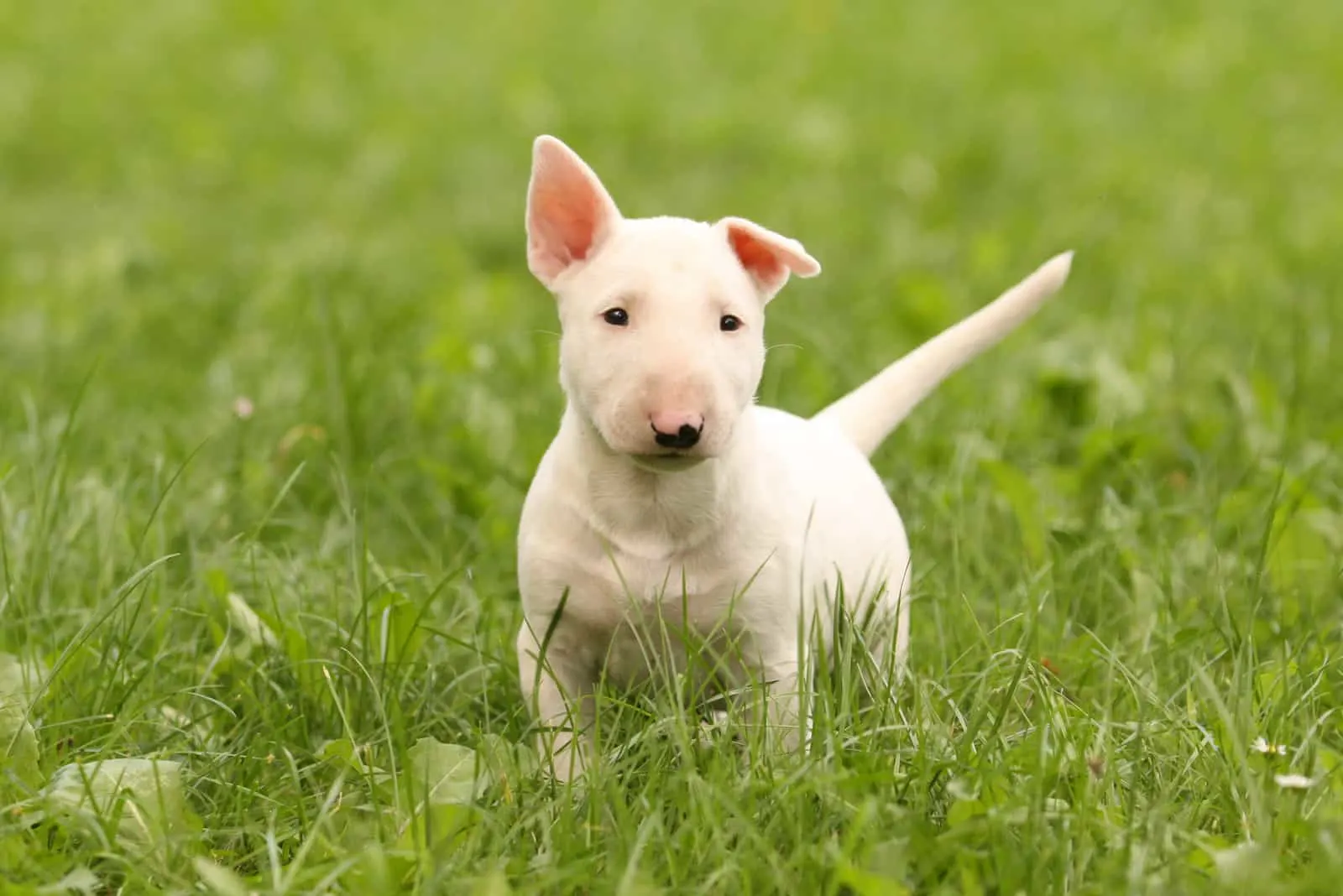 You can rest assured that we have chosen only the finest American breeders for this list, and that we pride ourselves on avoiding any unethical breeding program or backyard breeder who cares more about profit than pooch.
Hopefully, you'll find what you need on this list, and soon become friends with your new best friend:
The 5 Best Bull Terrier Breeders
1. Bullies of NC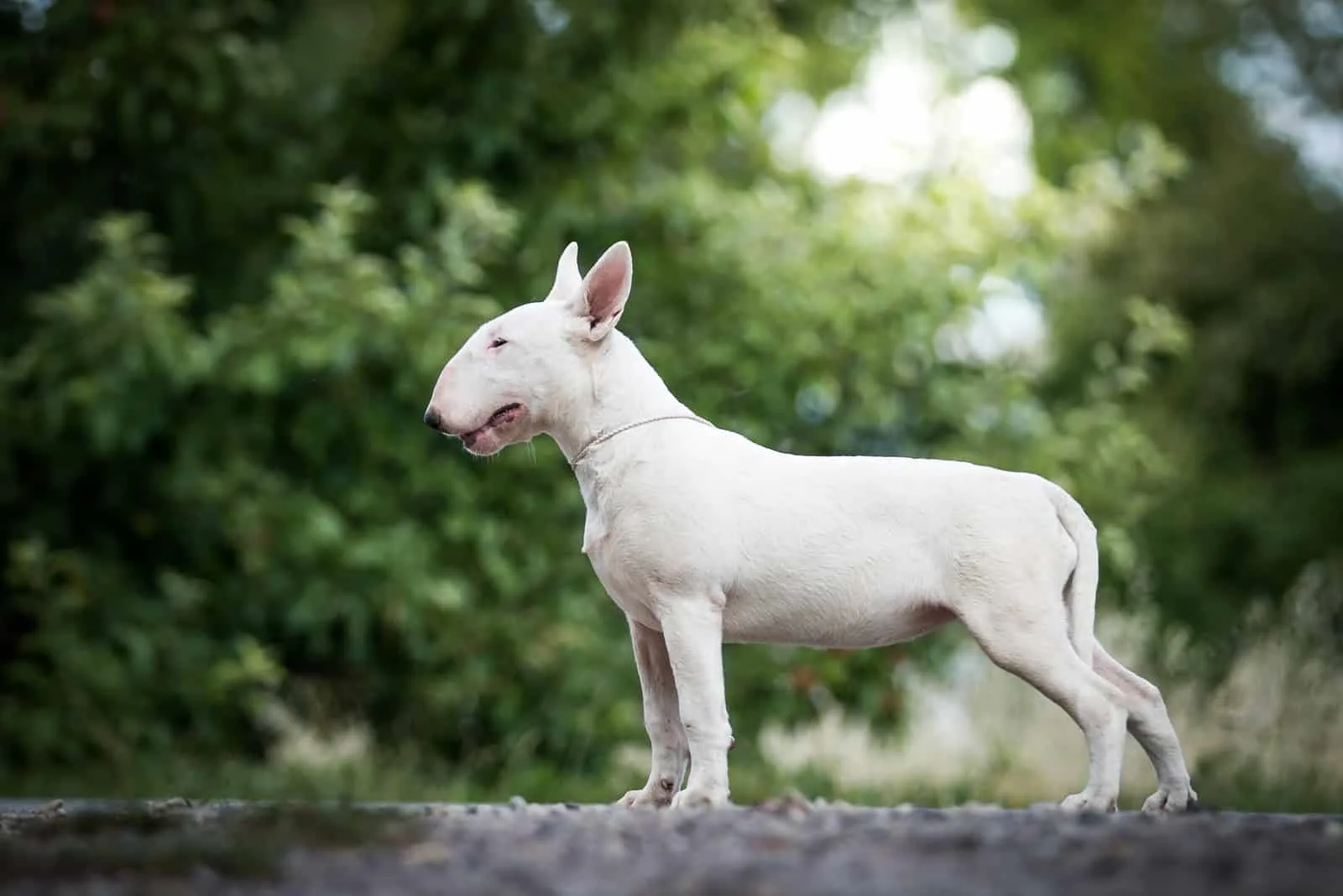 The first on our list is the shining start of bull terrier breeders in North Carolina… the Bullies of NC.
Helmed by Steve and Julie Gogulski, a married couple that treats their dogs with love equal to that of their family members, they assure that the BTs they breed at their location are top of the line and provided with every amenity a dog could possess.
They're the only AKC registered breeders in North Carolina, and they make it their mission to stay at the top of their game by caring for the dogs they raise.
They also double as a rescue for all other mistreated Bullies or whose owners can't afford to take care of them anymore.
And, taking in a few strays isn't a problem for them because of the massive 50-acre plot they own, with two different biomes explicitly purposed for the dogs to run around till their hearts are content.
These top-quality breeders also guarantee that your newly-received bull terrier pup will be in peak physical condition. They have ISO chipping, vaccinations, and get covered with a two-year health guarantee all to meet the American Kennel Club health test standards.
The owners of Bullies of NC are also founders of the nation's top BT forum that currently has 10k+ members, along with a Facebook group with over 20k members, promoting the good name of the bull terrier breed nationwide.
Bullies of NC Breeder information:
• Location: Richlands, North Carolina
• Website: Bullies of NC
• Email: [email protected]
• Phone: (910) 526-2273
2. Glentom Bull Terriers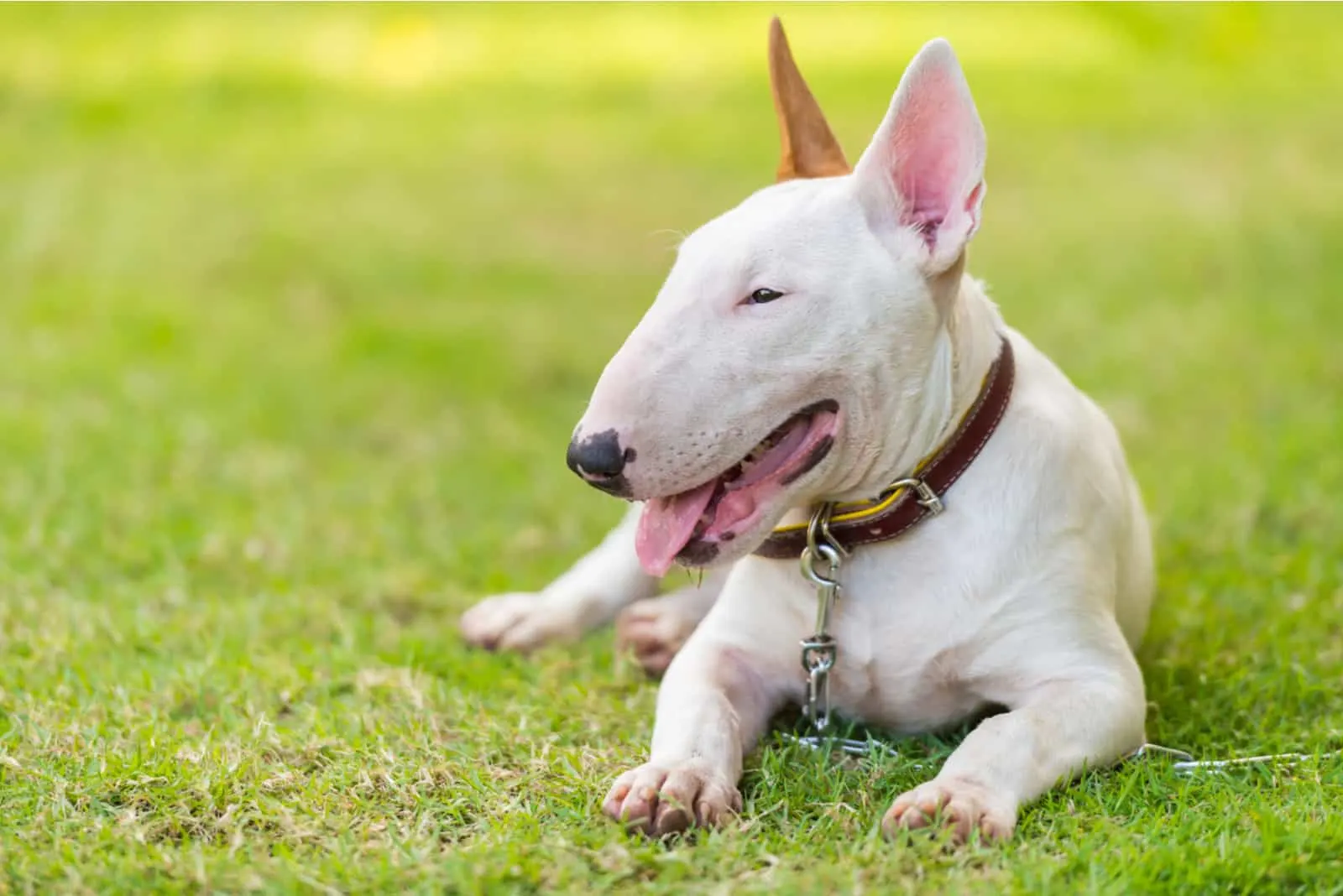 The second breeders on our list have raised a long line of award-winning bull terriers. The best part is that they're raised by a loving and caring couple in southwest Arkansas, Glenna and Tom Wright, with the latter being a certified veterinarian.
Their primary focus is to ensure that every pup they raise grows up healthy and is delivered to a good home.
The health program achieves AKC conformation as the dogs are tested for patella luxation, kidney functions through UPC rations, hearing through BAER tests, and their heart health is checked with echocardiograms.
They deal in both pups and fully-grown adults alike, catering to the needs of every client.
The pair make sure to provide the necessary care and obedience training for all the BTs they raise in order to help them adjust to their new owners easier and overcome the dogs' natural discomfort around other dog breeds.
The breeders are part of the Bull Terrier Club of America (BTCA), BTC Texas, Gulf Coast, and BTC Dallas members, respectively.
Glenna, herself, has been the chair of the BTCA Rescue Welfare Trust Fund since 2006 and counting, taking in even the bull terriers that come into their Rescue.
They even offer mentoring for aspiring breeders and BT owners to ensure a healthy environment for both owner and dog.
Glentom Bull Terriers breeder information:
• Location: Glenwood, Arkansas
• Website: Glentom Bull Terriers
• Email: [email protected]
• Phone: 870-356-4722
3. Bullards Bull Terriers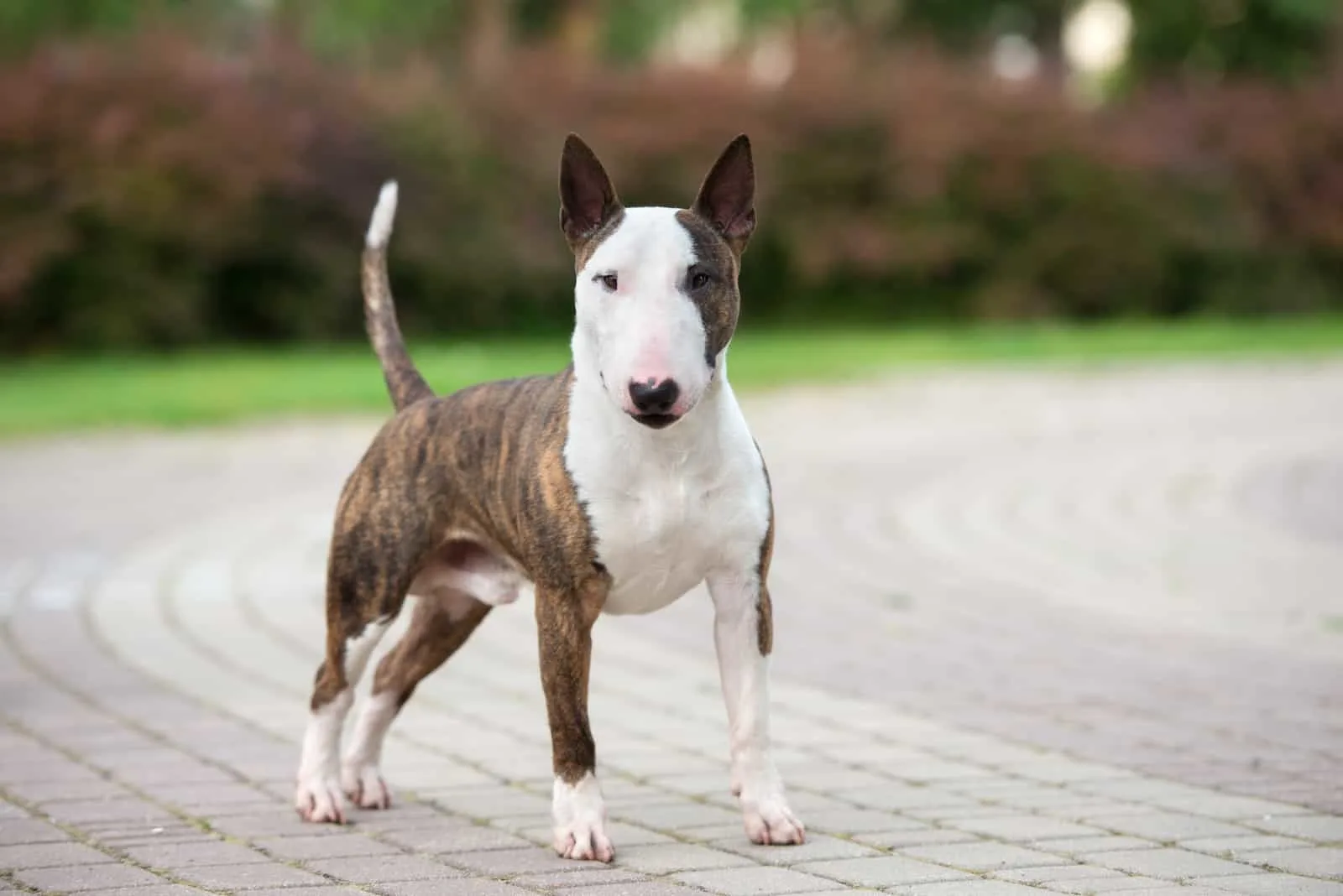 Bullards BT is another quality breeder whose aim is to provide obedient and healthy pups to owners who'll take good care of them.
They make sure that their breeding program meets the stock standard of the American Kennel Club, assuring top-quality dogs from every batch.
These bull terrier enthusiasts check their pups at six weeks of age for any potential health issue known to plague this dog breed, like hearing and heart issues, then they ISO chip them if everything seems okay.
The breeders will also issue a follow-up test when the dog is 18 months old, re-checking the heart and looking out for any potential kidney problem or luxating patella.
This set of tests helps their selective breeding process to deliver only champion bloodlines in their breeding stock. And, all of these processes are handled with the utmost care for the little ones.
Bullards Bull Terriers breeder information:
• Location: Sacramento, California
• Website: Bullards Bull Terriers
• Email: [email protected]
• Phone: (916) 456-3968
4. Northland Bull Terriers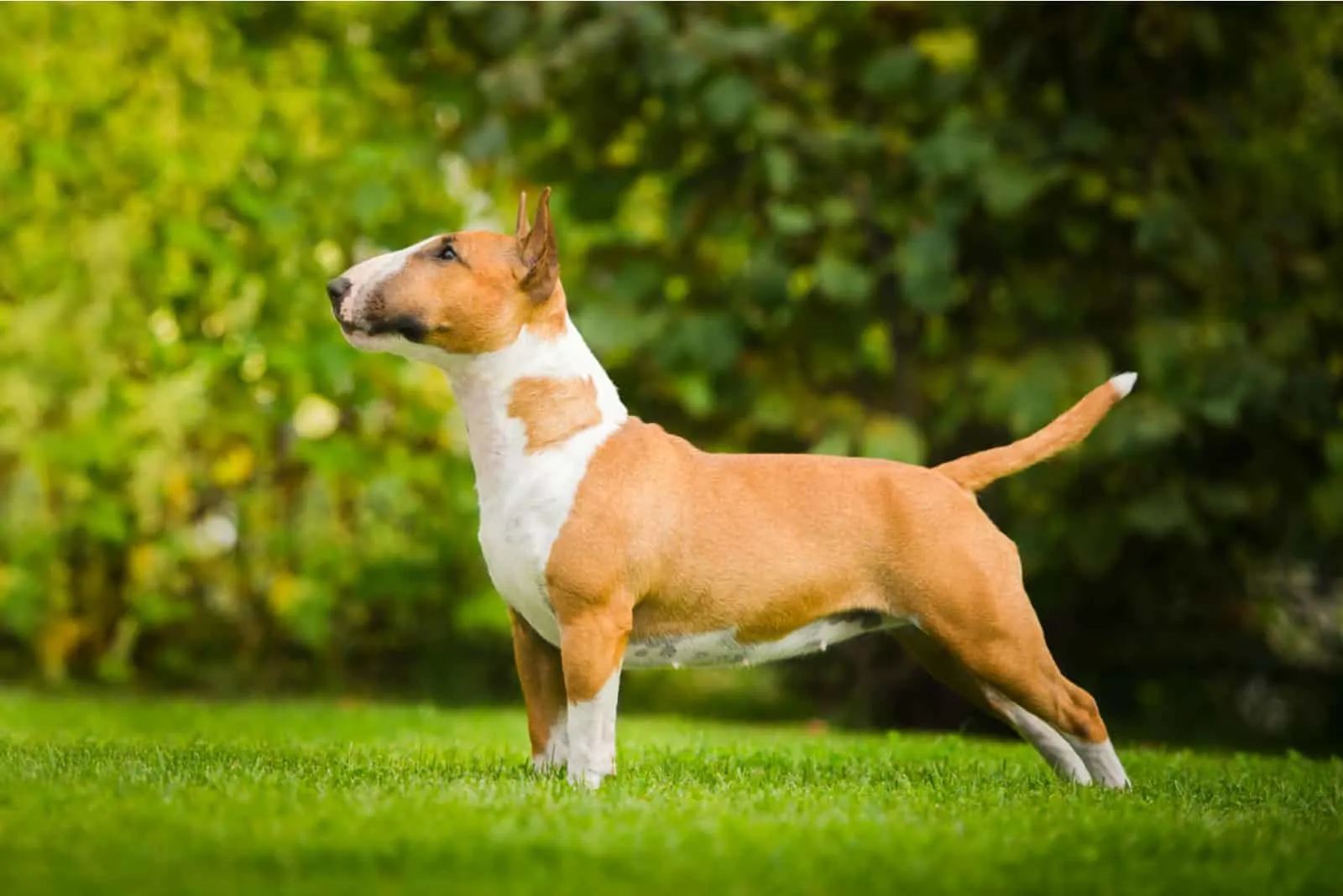 Next up are Wisconsin's only bull terrier breeders.
​Being the only breeders in the state, they have to uphold an image of excellence by ensuring that fit and healthy bull terriers get raised in their kennel.
While their BTs are as close to AKC conformation standards as they can get, they don't breed show dogs, making them the more affordable option.
The dogs produced at Northland BTs are checked for any health issue, especially for bugs and parasites like fleas, ticks, and worms, especially ensuring healthy specimens that are ready to go to a good home.
On top of that, the dogs come fully registered with AKC-approved papers, an ISO chip, a vet-approved health certificate, and the standard 2-year health guarantee for regular dog maintenance.
Northland Bull Terriers breeder information:
• Location: Augusta, Wisconsin
• Website: Northland Bull Terriers
• Email: [email protected]
• Phone: 715-210-0723
5. Bullyhill Bull Terriers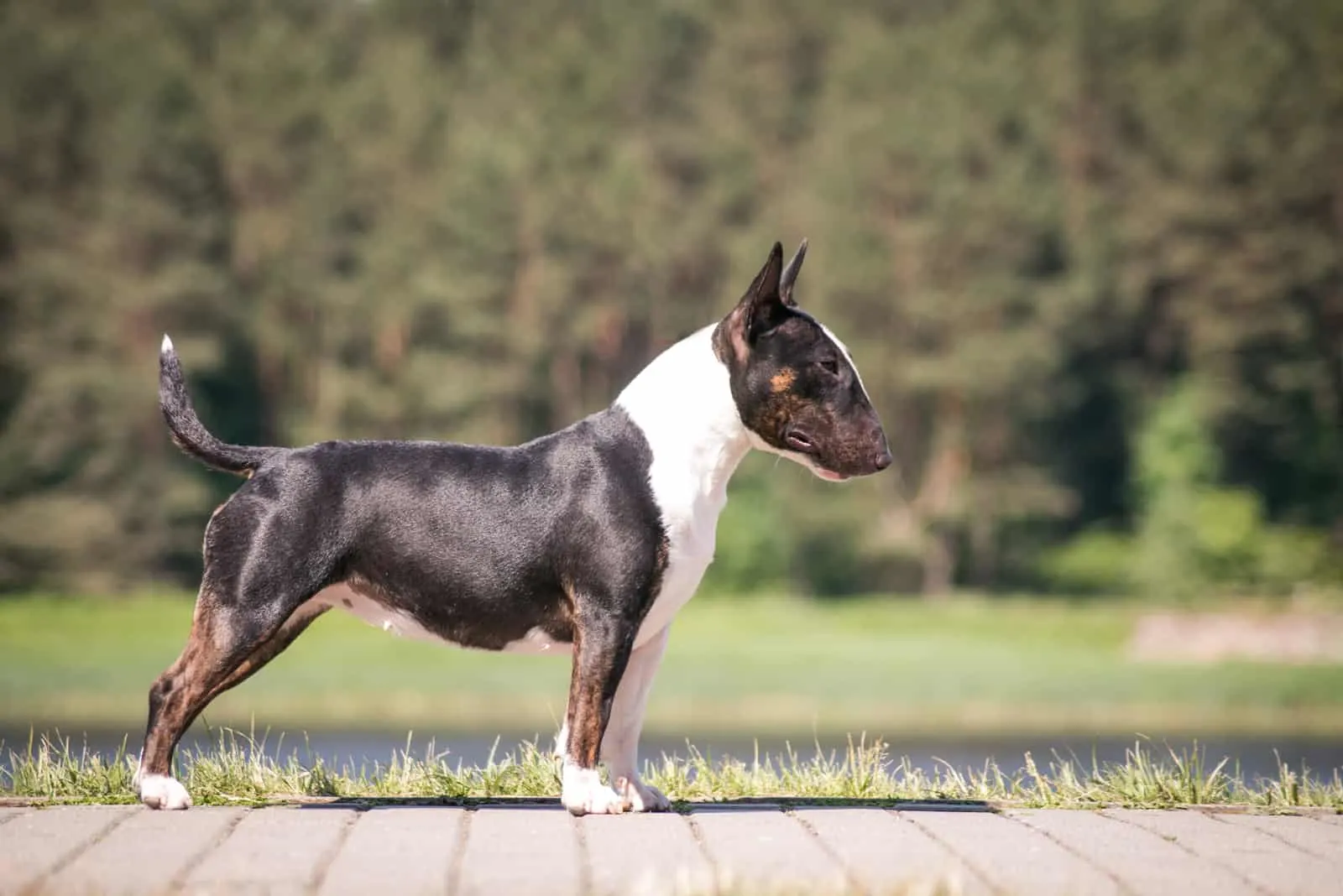 Finally, over in the North Georgia Mountains, right near the borders of Tennessee and the Carolinas, you can find Bullyhill Bull Terriers.
The establishment is run by Teena and Gordy Troy, proud members of the Bull Terrier Club of America (BTCA), and they are known as AKC's Breeders of Merit. The duo aims to provide new dog owners with well-trained Bull Terriers in peak physical condition.
Their dogs go through every mandatory health test required by the American Kennel Club to ensure a long life without major health complications.
They've been in the business for over 25 years, slowly building up their brand to rise to the heights of Bull Terrier breeding where they are today, and their experience shows.
The two raise BTs both as show dogs and as companions, catering to the needs of their clientele.
And, that's not all; they're also proud members of Bullies Without Borders, a fundraising group that collects donations and later sends them out to help fund various rescue groups in both the U.S. and Canada alike, making the world a safer place for our little Bullies.
Bullyhill Bull Terriers breeder information:
• Location: Cumming, Georgia
• Website: Bullyhill Bull Terriers
• Email: [email protected]
• Phone: 413-446-2899
Bull Terrier Prices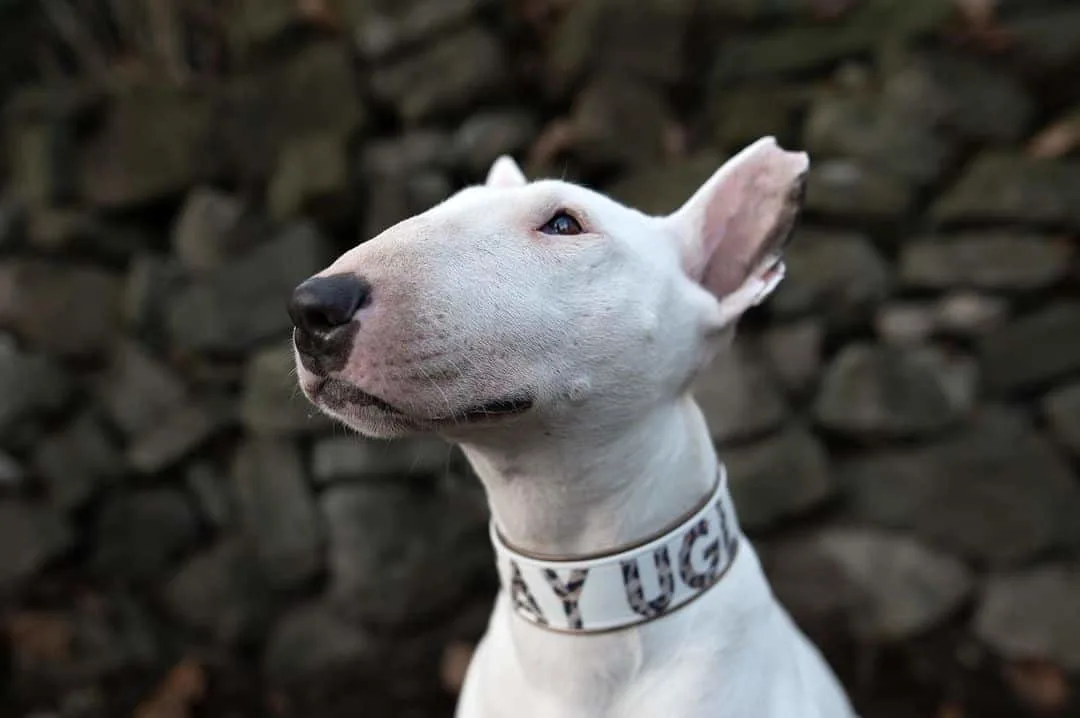 Photo from: @bullterrier_familie_krueger
Given the quality of the dog breed, Bull Terriers can get quite pricey, especially purebreds.
When buying directly from a breeder, expect to pay anywhere from $500 to $3500 for a champion bloodline show dog.
The price is part of the reason why everyone says dogs are a big commitment if you're aiming to buy one. It's not just the responsibility, but the price.
Of course, if you're adamant about becoming a dog owner so you, too, can experience the wonders that man's best friend can bring to your life, you can always adopt a Bull Terrier from a shelter or a rescue.
Not only will they appreciate it, but it'll only cost you around $150 total.
The only difference is that they won't be as well trained as breeder dogs, but they hold just as much love in them, and with a bit of elbow grease on both ends, they, too, can be as good as the best of them.
Aside from the price, though, there are maintenance costs to consider.
Usually, you'll have to resort to spending about $141 to $743 a month for your puppy's needs, with the lower end being more common than the higher.
We also suggest you take a look at the Bull Terrier mixes. Maybe one of these crossbreds is just the right one for you!
Bull Terrier Highlights
• While they do get categorized in the same subspecies as bulldogs, bull terriers have a rather distinct feature. Their elongated head, often resembling the shape of an egg, sets them apart from almost every other dog breed in the world.
• The head is further complemented by pointed ears that appear to always stand at attention, and beady eyes that add to that already existing 'imposing' factor.
• There are three distinct subspecies of BTs: the Miniature Bull Terrier, the Staffordshire Bull Terrier, and the American Staffordshire Terrier, based on size from smallest to largest, among other differences.
• They're a short-haired breed, meaning that there's no need for haircuts, nor will you have to worry about any shed fur sticking to your carpets and pillows.
• The most common coat that bull terriers don is white, though many different patterns exist, with the other two most common ones being a black or a red coat color. Variations also exist if the dog is born with brindle striping or black or white markings, providing an abundance of choices and paving the way to your perfect canine companion.
• The history of the Bull Terrier is a very 'rags to riches' story.
They started as dogs bred for illegal blood sports, like bull-baiting and dogfights in the early 13th century until both eventually got banned.
Eventually, in the early 1800s, they transitioned to the gentleman's dog of choice and the aesthetic that BTs have today.
Bull Terrier Breeders: Final Thoughts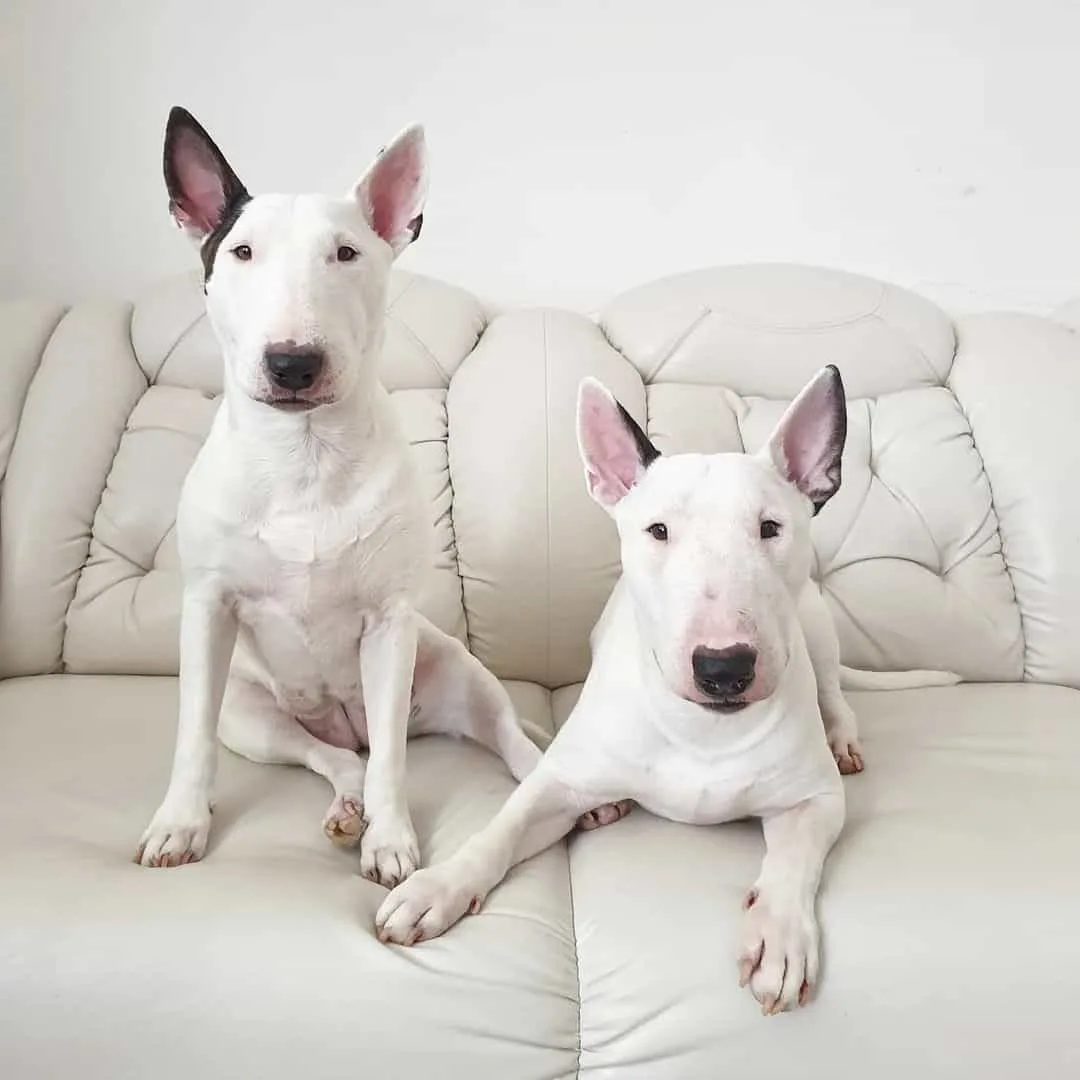 Photo from: @minibull_frosya
Bull Terriers, despite appearances, are a lovely dog breed that are full of love, life, and energy.
They do have the stigma of being showcased as vicious attack dogs, but if raised with love and exposed to proper socialization, they'll be some of the most loving pooches you've ever seen.
They're ideal for more outgoing individuals who can give the dog a workout and keep him on his toes while providing the care and attention to balance it all out.
While not the neediest of dogs, there are still particular demands that need to be met, so make sure to think your decision of owning a dog through well before making the final call.
Make sure that you'll be able to provide for the dog without putting yourself at financial risk, and that you'll have enough time for your new buddy as well.
If you've decided that this is the right choice for you, make sure to follow our Bull Terrier breeder list to get dogs that have been well taken care of that are ready to find a new home.
Shelters and rescues are still an option, but do try to avoid backyard breeders and those with unethical practices.
Regardless of what you choose, we're confident that you'll be able to find the perfect canine companion match for you.
Read Next:
• The Top 5 Best Saluki Breeders Of All Time
• Best Akita Breeders In The U.S.: 7 Places To Find A Pet!
• Bull Terrier Feeding Chart: A Guide To Healthy Weight Gain