If you fell in love with the Mini Bull Terrier, it is time to find the right place to get one. The Miniature Bull Terrier is just like a normal-sized Bull Terrier. Amusing to watch, cute, and always ready to go on an adventure with you.
But, where do you find a healthy pup? There are a lot of people who pose as breeders or people who say they own a kennel. They will have a flashy website or a lot of stories to tell you, but… how do you know they are legitimate and not scammers? Or, even worse, how do you know you didn't buy a pup from a puppy mill?
There are signs that can tell you that a breeder is a responsible breeder no matter what dog breed they have or the place they come from.
They should all be great animal and dog lovers, they should take excellent care of their dogs — breeding pairs or not, and they shouldn't think only about profit, but put their dogs' happiness and health first.
And, we found 9 reputable Miniature Bull Terrier breeders in the U.S. for you to check out and see if they have the Mini Bull you are looking for.
Let's start the Miniature Bull tour across the States.
Miniature Bull Terrier Puppies For Sale In The U.S.
These puppies have a unique "egg-shaped" head that is so interesting you have to stop and look at them whether you see them with their owner in the park or on TV.
They have Terrier and Bulldog blood in their veins, and they are famous for being amazing family pets. They were used as ratters and fighting dogs in the past, but that was a long time ago! They became loving furry family members all around the world.
That is no surprise when we look at their high trainability, energy levels, and good looks. Of course, before you start reading about these 9 Miniature Bull Terrier breeders, you have to know that a dog is not a toy, but a lifetime responsibility.
The MBT (Miniature Bull Terrier) life expectancy is around 13 years, which means you will have a pet — a living being to take care of and love for at least thirteen years.
Now, let's take a look at our first breeder. It's time to visit Colorado.
1. Bantam Miniature Bull Terriers, Wellington, CO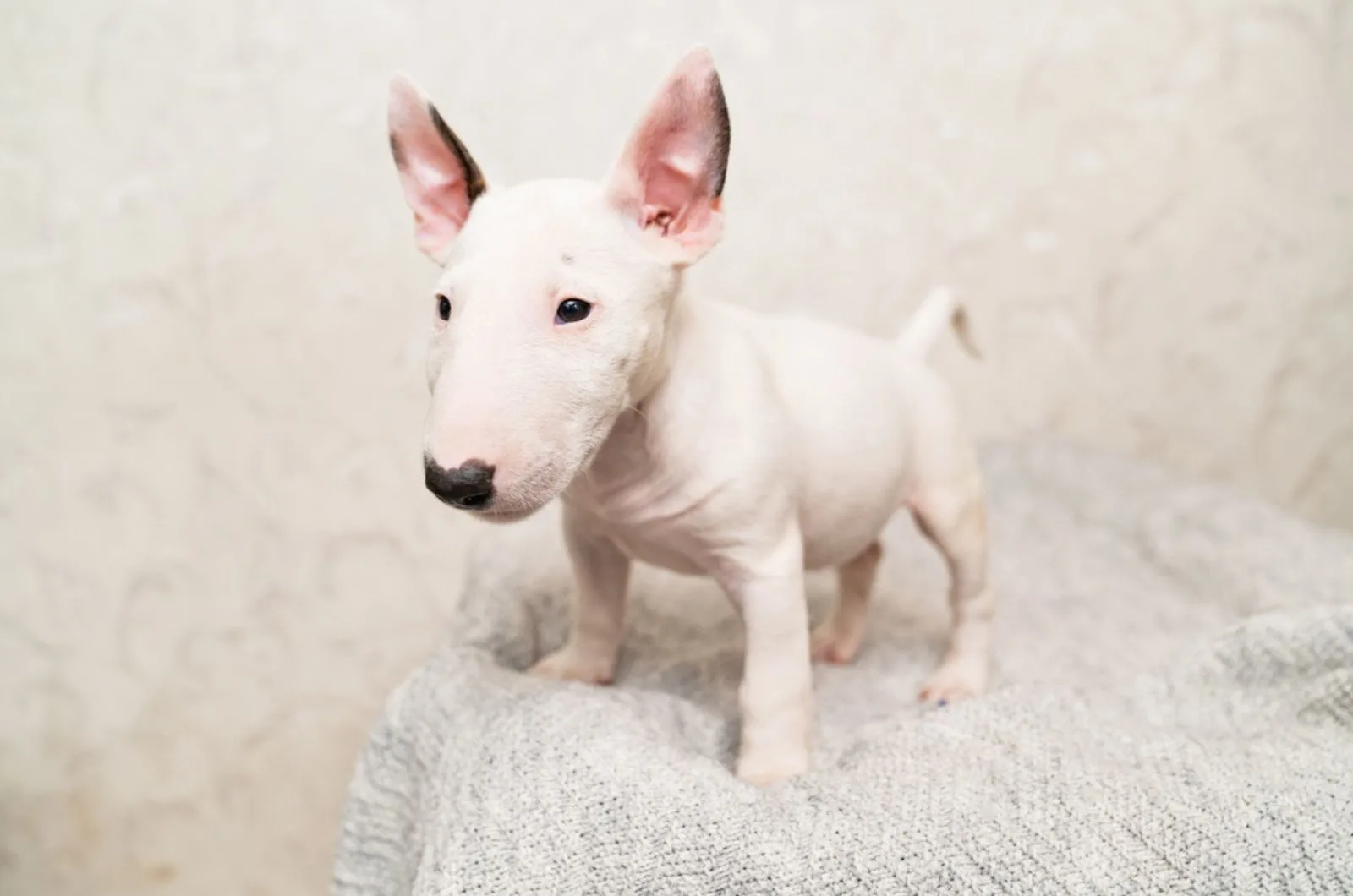 Meet Maddie, from Wellington Colorado. She is breeding Bull Terriers of standard size and Miniature Bull Terriers, alongside Dani, who breeds Australian Shepherd dogs.
This duo, and the incredible work they do with these dogs, further prove how amazing and friendly Bull Terriers are. They are raised on a big property, and they are allowed to freely come in contact with Aussie dogs and other animals on the property.
Bantam MBT is all about breeding Bull Terriers according to AKC (American Kennel Club) standards. They are breeding dogs that can do work and be amazing home pets as well. That's where living with the Aussie dogs comes in handy.
They learn working habits, respect, manners, and other important behavioral traits with the help of two professional and certified dog trainers.
Of course, this Miniature Bull Terrier breeder wouldn't be on our list if they didn't test their dogs for various diseases. Some of the health tests they do are BAER, CAER, heart tests, OFA (screening for elbow and hip dysplasia), etc.
These doggos live an incredible life at Bantam MBT, and it certainly shows. The dogs are happy and healthy, and they look gorgeous.
They have three dams (females) and two sires (males). Future puppies are well-socialized, and to accomplish that, they use puppy enrichment methods.
Address: Wellington, CO, United States
Website: Bantam Miniature Bull Terriers
2. Kenron Miniature Bull Terriers, Caledonia, WI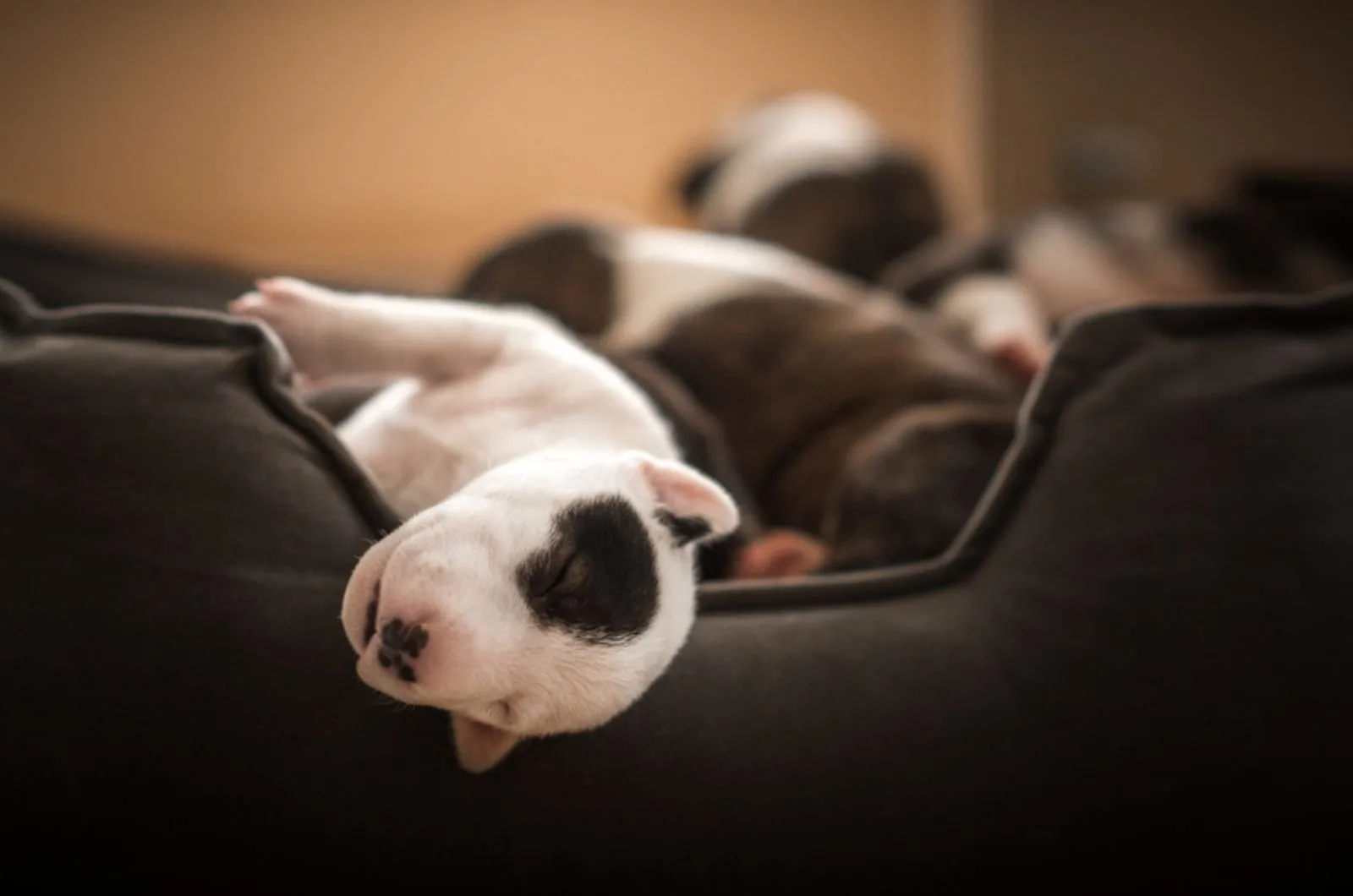 This breeder has been in the breeding business for more than 20 years. The owner's name is Laura Pethke, and she is a breeder of merit, and she has a Bred with H.E.A.R.T. certification.
Not only that — Laura Pethke is a certified veterinary technician, and she knows a lot about how to not only breed dogs, but how to take great care of all dogs in all life stages.
From the moment they are born to their time to go to a new home, her Mini Bull Terriers are well taken care of and very much loved.
All breeding pairs are tested before breeding, preventing the possibility that you get a puppy that has inherited diseases or health conditions that are prone to this breed of dog.
Her dogs are AKC registered, and because of that, you can register your pups, too. Kenron Miniature Bull Terriers offers a health guarantee, and if you wish to return the puppy — they will accept the return under any condition.
Another fact: Laura Pethke is a member of the MBTCA (Miniature Bull Terrier Club of America).
Address: Caledonia, WI, United States
Phone: +14144297501
Website: Kenron Miniature Bull Terriers
3. Rossi River Miniature Bull Terriers, Denton, NC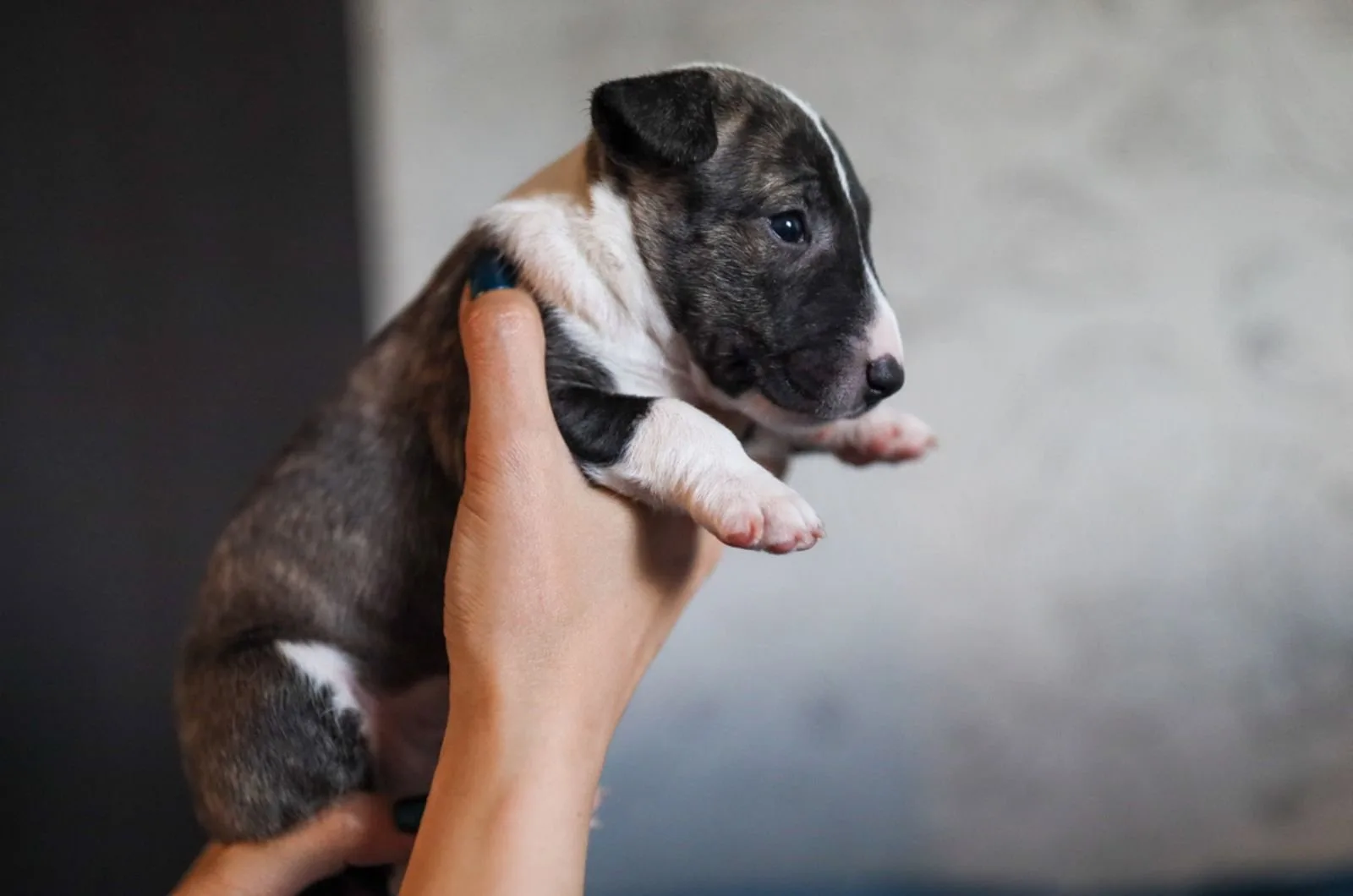 This is a responsible Miniature Bull Terrier breeder coming from North Carolina. Their kennel is the perfect place for any dog to enjoy its every day.
The dogs have a forest, lakes, streams, and all kinds of smells and sights to explore. They are in excellent health, and they are gorgeous-looking dogs! All the dogs have been DNA tested and cleared of various genetic diseases.
What the Rossi River MBT breeder is very proud of is the fact that they import the healthiest and most reputable Miniature Bull Terrier bloodlines from Germany and other European countries. They want to make sure the bloodlines in the States are genetically diverse.
Genetic diversity means healthier dogs with fewer health issues. Besides doing BAER (Brainstem Auditory Evoked Response) tests and CAER (Companion Animal Eye Registry) OFA tests, they also do all kinds of orthopedic tests to ensure their dogs are growing up healthy and staying healthy!
If you decide to get a puppy from Rossi River MBT, you will get a pup that comes from a healthy litter and a pup that has gone through proper early socialization, meaning it is ready to join your home.
Address: Denton, NC, United States
Website: Rossi River
Email: [email protected]
4. Ironwood Miniature Bull Terriers, Flint, MI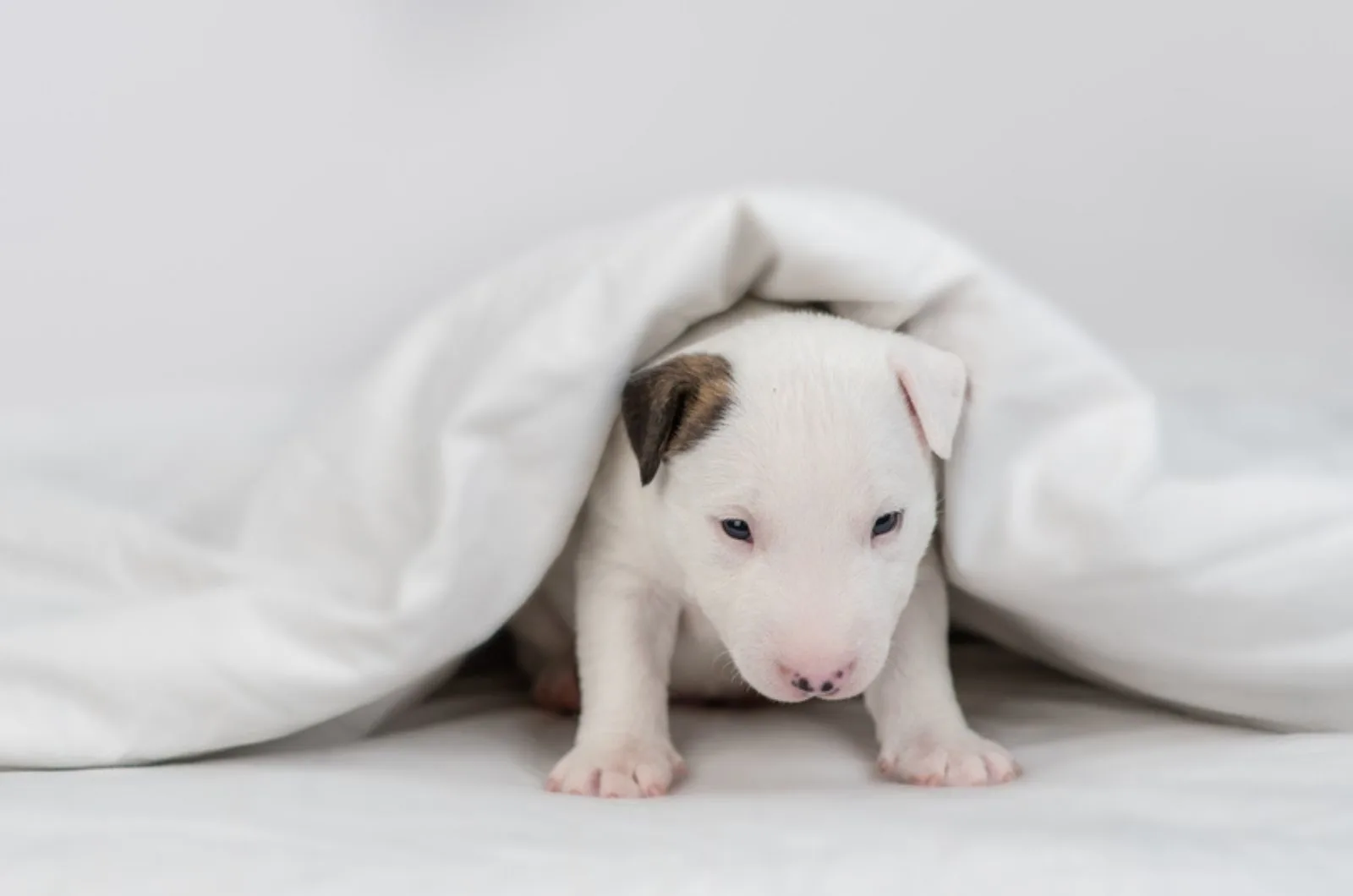 This Miniature Bull Terrier breeder is what being a responsible breeder is all about. Kate and her daughter, Sara, are wonderful MBT breeders who take great pride in making healthy and beautiful miniature Bulls.
They treat all of their dogs as family members. The dogs are loved and well taken care of, and they enjoy a hike and walk around the beautiful property where they live. There is a lake! I love lakes, and I know a lot of doggies love lakes, too.
It certainly looks as if Ironwood Bull Terriers love the lake. Not only that, but the dogs also love having fun with their youngest human family member.Back to the breeder. They don't just breed their dogs – they also compete in AKC conformation shows, bar hunts, rallies, and obedience. And, they are proud members of not only the MBTCA, but also the AKC, the Bull Terrier Club of Detroit, the Terriers Club of Michigan, etc.
The dogs also go through BAER, CAER, OFA, LAD, LP, and PLL tests. These dogs are well-socialized, healthy, and happy, and they are all beautiful-looking.
Address: Flint, MI, United States
Phone: +19893350376
Website: Ironwood Miniature Bull Terriers
5. Prodigy Mini Bull Terriers, Fontana, CA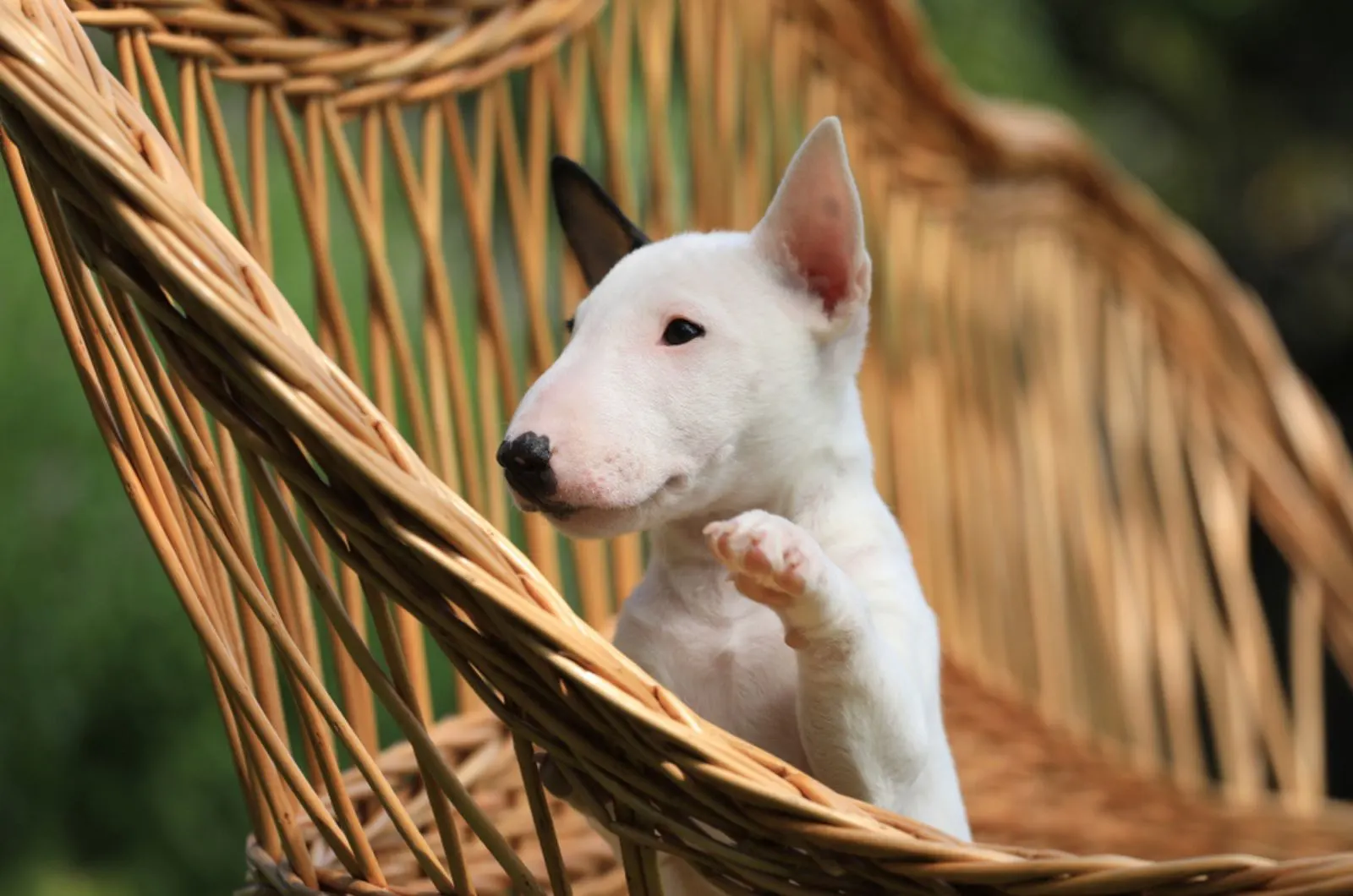 Meet Louis and Erick — brothers and Miniature Bull Terrier breeders from Fontana California. They have been in the breeding business for more than 10 years.
Their goal is to breed and promote these lovely dogs. The dogs they choose as breeding pairs, and all the puppies they produce, are of AKC breed standards.
Their dogs are health tested, and they offer a health guarantee if anyone wants to have it. The pups that are born in their home are properly socialized from the first tiny puppy steps they take. Dogs learn to get used to all kinds of noises that are a normal part of any household.
TV noise, music, a vacuum, laughter, etc — these are some of the things the pups get used to as a part of their socialization. The Mini Bull Terrier pups from Prodigy MBT are the perfect addition to any family, and they will quickly adjust to their new home.
The two brothers also have their official Instagram profile for all their doggies' photos, and they also have a Facebook profile.
You can take a look at their dogs and see the wonderful Bull Terrier coat colors they have and what a good time the dogs and their owners have.
Address: Fontana, CA, United States
Phone: +19097140810 or +19516754754
Website: Prodigy Mini Bull Terriers
6. Spitfire Miniature Bull Terriers, Oak Forest, IL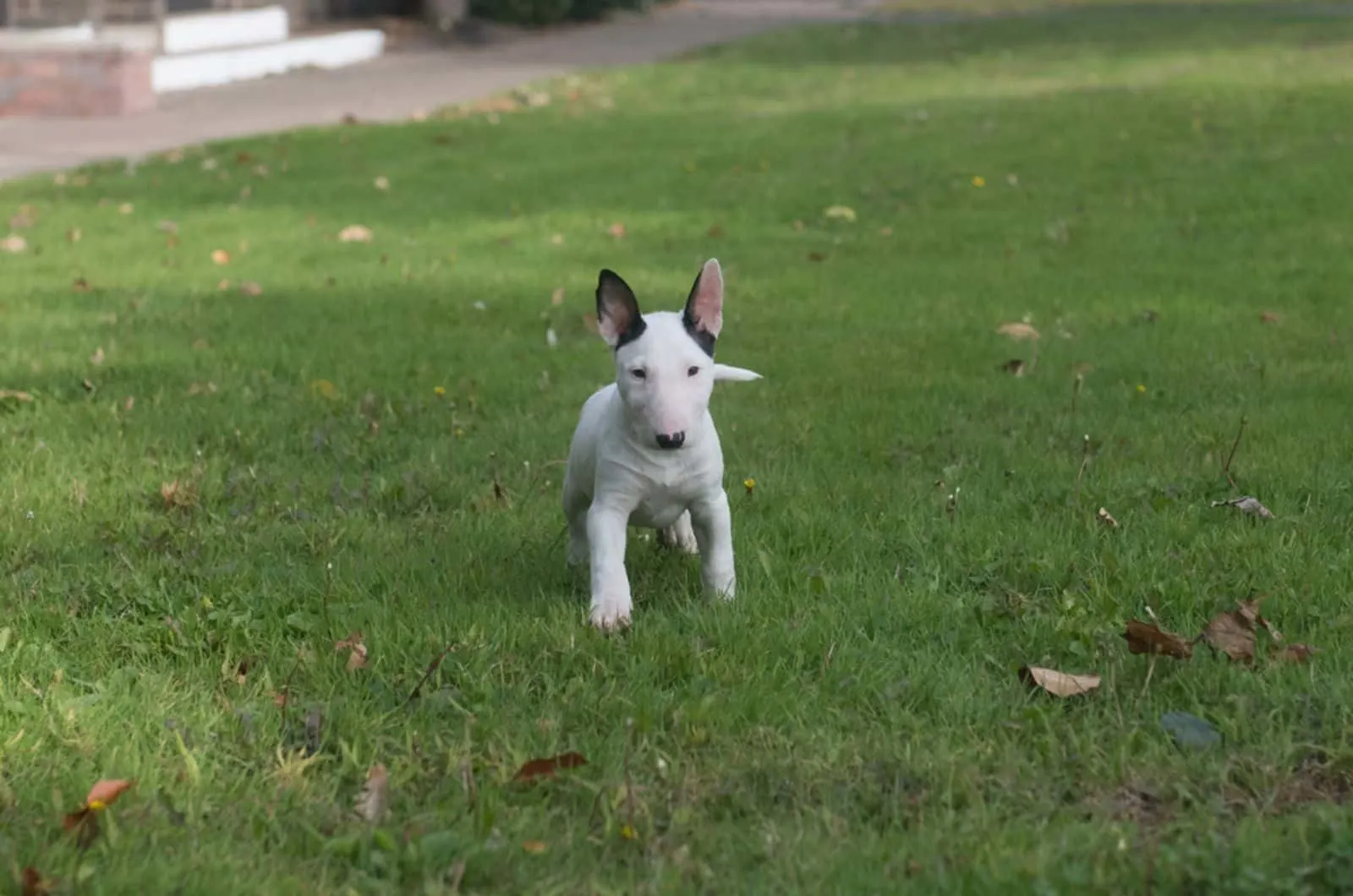 Meet the Miniature Bull Terrier breeder of champion dogs. The owner's name is Karen Toland, and she has been breeding Mini Bulls since 2007. She is a Breeder of Merit and an AKC member.
All of her dogs are fully health tested, regularly dewormed, treated against other internal and external parasites, and they have been vaccinated.
Once you meet Karen, you will know she is a serious, responsible, and highly reputable breeder of Mini Bulls. She focuses on breeding dogs of great temperament, conformation, health, and structural soundness.
If you want to stay up to date with the pups they have, you can send an email or contact them directly on their website. Karen usually responds within 24 to 48 hours.
Also, as AKC members, you can check their AKC Marketplace profile for more information.
Address: Oak Forest, IL, United States
Website: Spitfire Miniature Bull Terriers
Email: [email protected]
7. Big Oaks Bull Terriers, Hot Springs, AR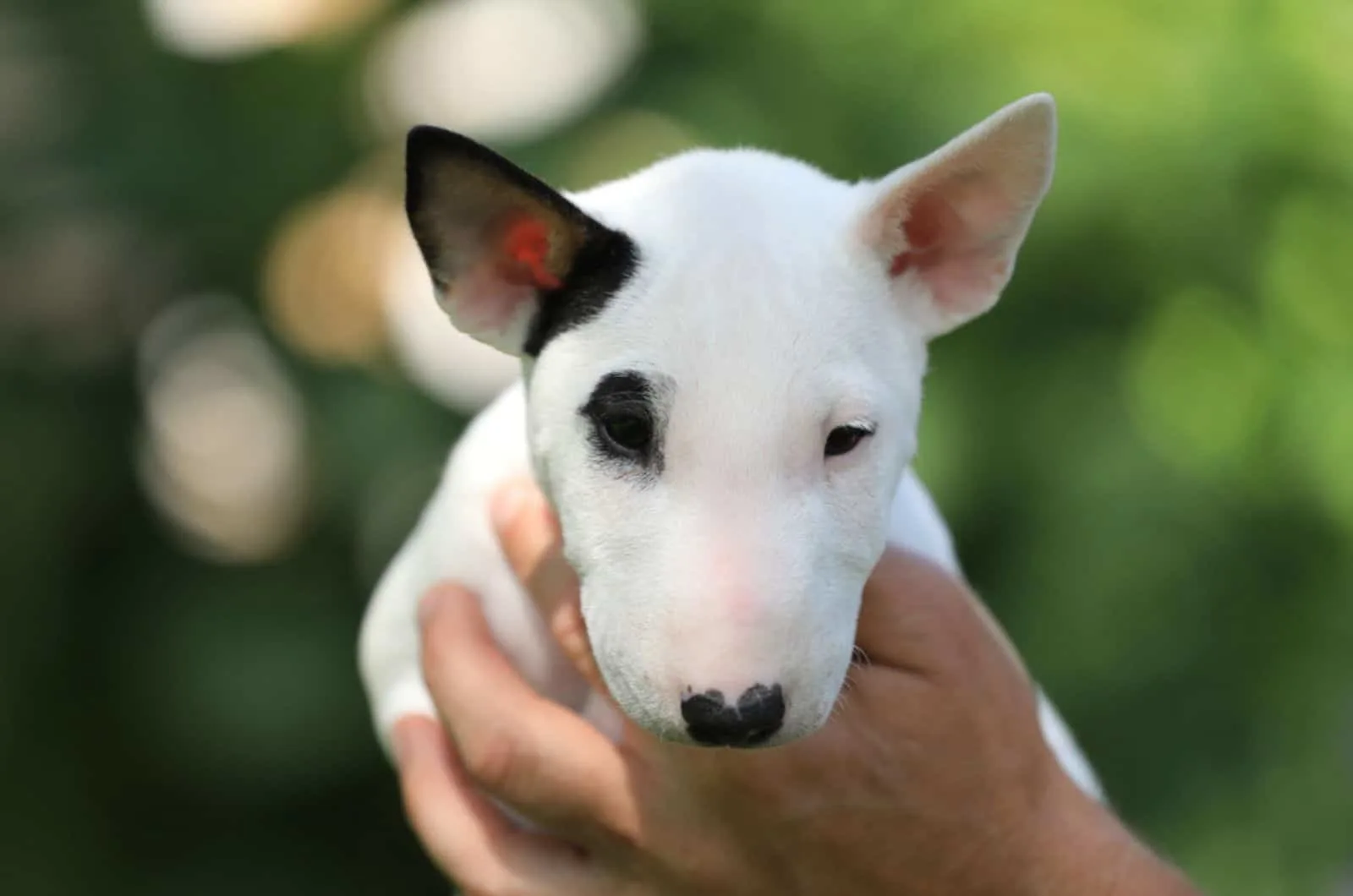 This is a Miniature Bull Terrier breeder that has a lot of experience. Brad Anderson has been breeding Bull Terriers since 1986. He has both standard and Mini Bulls.
A wonderful thing about Big Oaks is that it's a big ranch with other animals on it, like horses and cows. The dogs enjoy their time on the farm, and they enjoy playing and learning about other animals.
They are well-socialized, and the owner's family members are big helpers in the socialization process. From the youngest to the oldest, they all do their part in the socialization process of the dogs on the ranch.
Their standard-sized Bull Terriers are around 20 inches tall and their Mini Bull Terriers are under 14 inches tall. But, as Brad mentioned, the size can vary from dog to dog in the same litter, so checking and asking about the size of the pup is very important before you buy one.
If you decide to buy a puppy from Big Oaks Bull Terriers, you will have to pay a non-refundable $500 down payment.
Address: Hot Springs, AR, United States
Phone: +19035179576
Website: Big Oaks Bull Terriers
8. Menusha Miniature Bull Terrier, Anderson, SC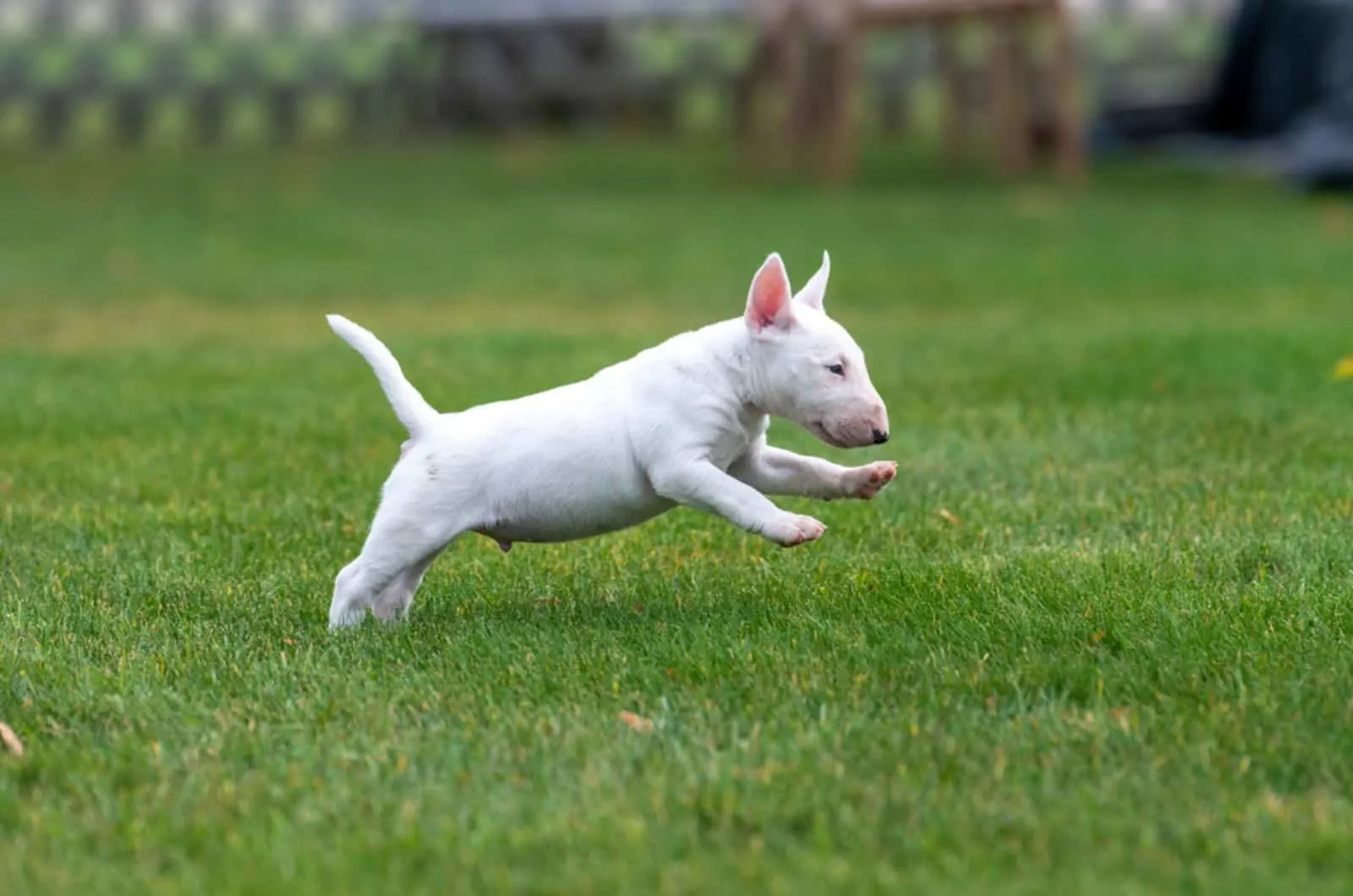 Next on our list is a breeder from South Carolina — Beverly Krautler. She has been breeding Miniature Bull Terriers since 2004.
Beverly has Champion bloodlines, and she makes sure to keep it that way by taking excellent care of her dogs. She health screens all of her dogs before breeding.
Her goal is to breed dogs with good temperament and health while preserving AKC standards for this unique dog breed. Of course, her dogs are tested and cleared of various diseases and health conditions.
If you visit the Menusha MIniature Bull Terrier breeder, you will see they have Bull Terriers of all kinds of coat colors — from white to brindle and bi-colored.
If you have any questions regarding the dog breed, the dogs she has, or the breeding program she implements on her pups, Beverly Krautler is there to give you answers. You can also check their AKC Marketplace profile for more information on her Champion dogs.
Address: Anderson, SC, United States
Phone: +18643805359
Website: Menusha Miniature Bull Terriers
9. Mano Mini Bull Terriers, Mililani, HI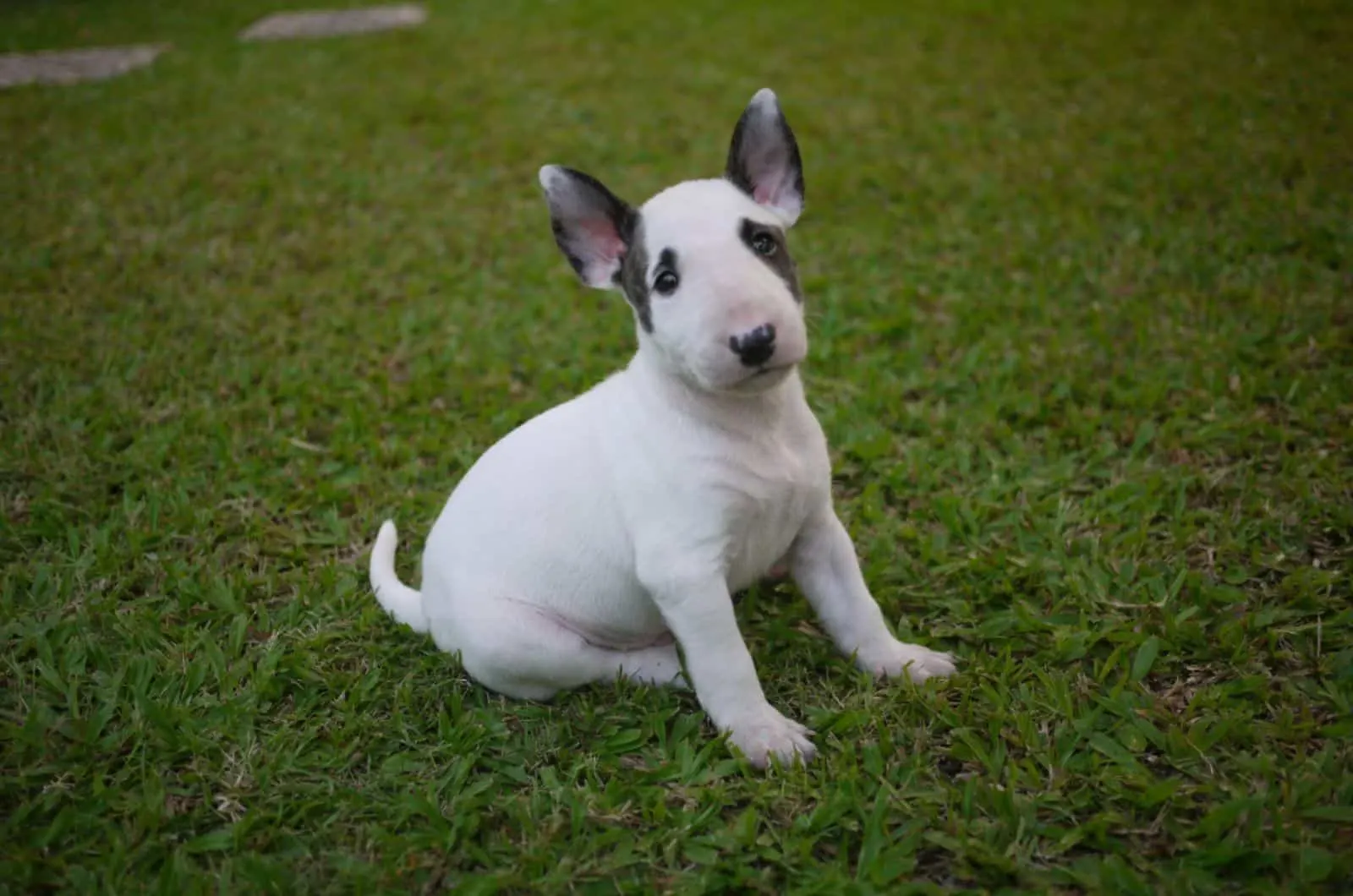 We are going to Hawaii to meet Liko and Mika Kahalewai. They have been Miniature Bull Terrier breeders since 2010. But, they have been proud owners of MBTs since 2006.
Liko and Mika breed their dogs to become perfect companion dogs. They do not have a lot of litters per year, so if you want to get one from them, you will have to stay in touch with them.
The dogs are raised in their home as family members. That helps make the pups ready to join a family without a long adjustment period. The dogs are healthy, and they are regularly health tested.
It goes without saying that their dogs have been vaccinated, dewormed, and treated for external parasites. Mano Mini Bull Terriers is a responsible breeder, and they make sure their dogs are loved and well taken care of.
You can also follow Liko and Mika on Instagram and stay up to date with all upcoming puppy litters or you can check their AKC Marketplace profile.
Address: Mililani, HI, United States
Phone: +18083213800
Website: Mano Mini Bull Terriers
The Miniature Bull Terrier Average Cost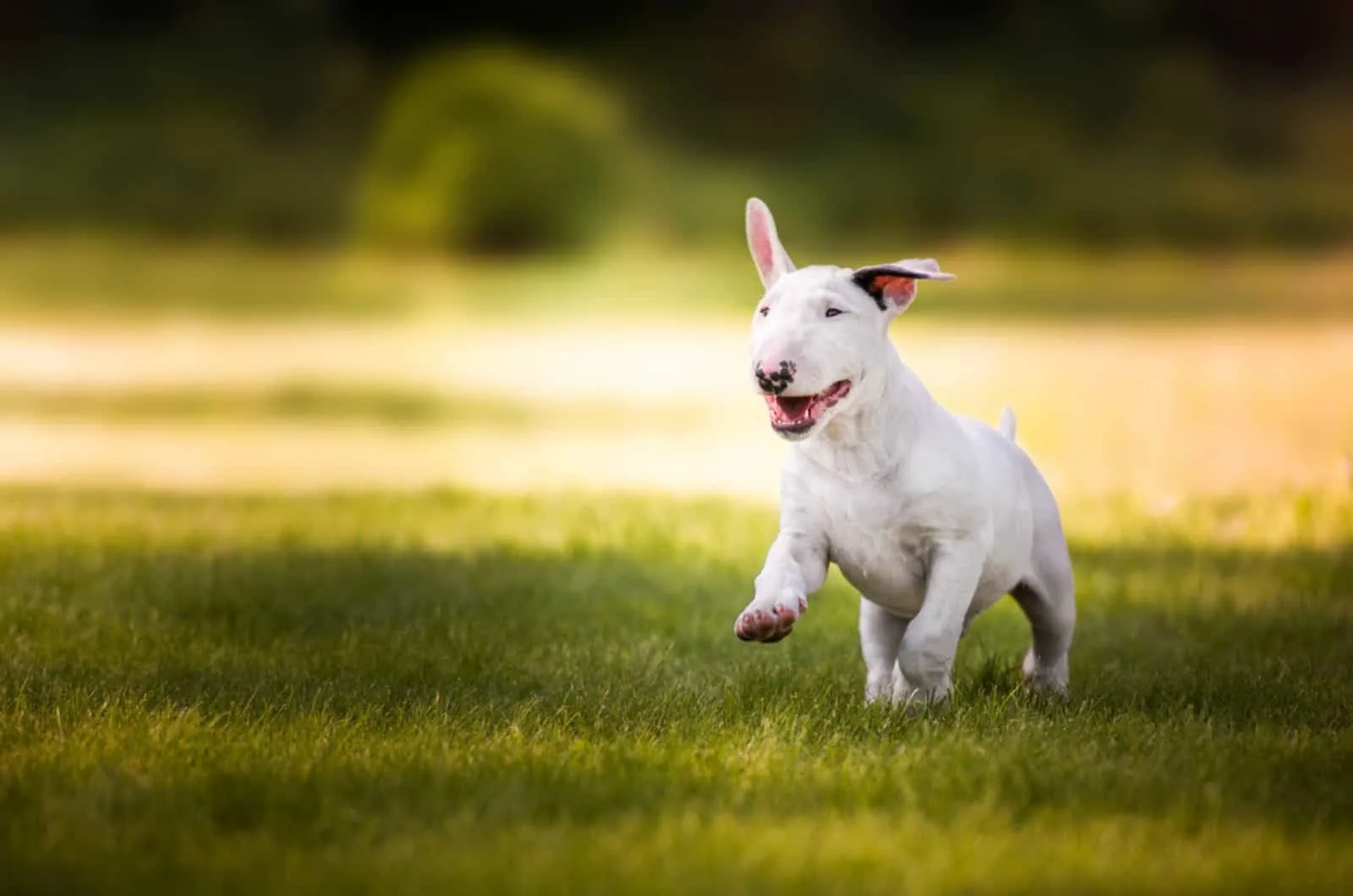 The average price of a dog depends on its popularity, the breeder, and the dog's overall maintenance cost.
It's not the same as feeding a Great Pyrenees or feeding a Miniature Bull Terrier. Even though Bull Terriers are active dogs that can eat, they won't eat as much as big dog breeds.
Also, grooming and keeping the fur clean and healthy is different for long-haired dog breeds with a double coat type or a Mini Bull that has short fur and a single coat type.
So, on average, the price for a Miniature Bull Terrier is between $2000 and $4000. Some Miniature Bull Terrier breeders will offer a lower price for their pups. But, even so, the price rarely goes below $1500.
Of course, we are talking about responsible and reputable breeders who take excellent care of their dogs, and often have champion bloodlines.
Can I Adopt A Miniature Bull Terrier?
If the mentioned price is too high or you are simply unable or not ready to pay this amount of money for a dog, but you really want a Bull Terrier — you can check your local animal shelter to see if they have one available.
There are also websites that offer adoption services for a small fee. In most cases, you won't be able to know the history of the dog or who the parents are, but you will be saving one doggie's life, and that has to count for something.
Online places to check:
The Conclusion
As I said, if you fell in love with the Miniature Bull Terrier dog breed — it is understandable! Who wouldn't? They are unique-looking, amusing, and loving dogs that have a lot of spirit and love for their human family.
That's why we have this list of the 9 best and most reputable Miniature Bull Terrier breeders in the U.S. They are the best at what they do and it shows!
Dogs coming from these breeders are healthy, happy, and absolutely beautiful! If you are looking for a healthy Mini Bull Terrier pup to become your new pet, look no further — check these 9 places.
And, of course, if you'd rather adopt or try to find a Bull Terrier to adopt, we've got you covered. Just go back a few paragraphs and you can see a list of online places to find a dog to adopt.
Whatever you choose, and from whoever you choose to get a Miniature Bull Terrier puppy, good luck, and remember that all dogs require lifetime care and love.
Read Next: The Bull Terrier Pitbull Mix Is An Instant Mood Fix