This post contains affiliate links, and I will be compensated if you make a purchase after clicking on my links.
Everyone who has owned a Dachshund knows that most of them are not exactly good swimmers. Their unique "sausage-like" shape is mostly the reason why these dogs that grow up to be rather small pups are not strong swimmers.
If you are a dog owner who loves to go on adventures to the sea or a lake, or perhaps you live near water, you must be wondering if it is possible for Dachshunds to swim at all? Yes, it is — if they have a little help.
A life jacket is a great solution to keep your Doxie safe and let him enjoy all the water adventures with you. So, since we are talking about something that is supposed to keep your beloved sausage dog alive, you have to be very careful about what you choose.
It can be very difficult to find the best one that will be the perfect fit for your small pup, and have the best possible characteristics, so we decided to set apart the best life jackets for Dachshunds on the market that will keep them perfectly safe and sound!
Let's get started and see our top picks!
Top 3 Life Jackets For Dachshunds
What Are The Best Life Jackets For Dachshunds?
Let's start with a cute shark fin Dachshund life jacket that will not only make your little sausage dog look adorable in it, but also provide safety whenever your pup is swimming.
Queenmore's dog life jacket has everything that you want in a dog's life vest:
• a strong fastening system for a secure fit
• an anti-slip rescue handle for emergencies
• a strong D-ring hook for fastening a leash and keeping your pup next to you
Your Dachshund will be completely safe while swimming, and it will definitely attract everyone's attention with its adorableness. Unfortunately, some dog owners have stated that it did not suit their large dog's size well, but you shouldn't worry if you have a Doxie.
Next on our list, we have the Haocoo Dog Life Jacket, which offers another set of brightly-colored and fashionable life jackets. However, while the design is super cute and will make your pup look adorable, more importantly is that it keeps your dog safe.
This life vest comes in seven different sizes, from extra, extra small to extra, extra large, so whether you have a miniature Dachshund or a standard Dachshund, you'll be able to find the right size that will fit your pup perfectly.
Convenience and safety are definitely guaranteed. With adjustable straps and a comfortable front float, you'll be able to secure your dog perfectly and enable him to have fun without worrying constantly. A true win-win situation!
This is Amazon's number one seller of dog life jackets, and it is not hard to see why. It offers great design and safety all in one, which many customers soon recognized.
Because of its long design, this life jacket is great for dog breeds with long torsos, such as Dachshunds, but it also fits other breeds (for example, it is Bulldog approved!).
With this life jacket for dogs, you will not need to worry about your dog since it provides maximum buoyancy with the thickest foam possible that will keep your pup floating and safe in water even if he is not the best swimmer.
Make sure to check it out because Outward Hound offers you a great dog life preserver for an even greater price that will not break your bank!
Next on our list of the best dog life jackets for Dachshunds, we have RUFFWEAR's float coat dog life jacket, which is one of the best rated on Amazon.
If you are looking for a high-quality product that will do its job perfectly, this Dachshund life vest is definitely something that you need to check out. It is the most expensive one, but when it comes to the safety of your beloved pet, the price should not be the deciding point.
Don't worry – we also have less expensive products coming up, so stay tuned!
This life jacket will enchant you with not only its design, but also with its performance. High-quality material constructed in the perfect product will keep your dog safe in the most comfortable way, so your dog will be able to join you in the swimming pool, sea, or even kayaking or surfing.
The first thing that you notice about this life jacket is its wonderful and unique design. Its name, "fashionable dog life vest", is surely there for a reason.
Fun patterns are not only there because of the fashion, but they also serve a purpose. Vibrant colors and reflective stripes make sure that your dog is visible even at night or in low-light conditions, so you don't accidentally lose your beloved pet.
Swimming can make your Dachshund pretty exhausted, but with this life vest, which offers a breathable mesh underbelly, you don't have to worry about that.
If you have a long-haired Dachshund, you just have to be careful with its fur and the velcro strips to not accidentally get your pup's fur stuck in it.
VIVAGLORY dog life jacket's new sports design offers your pup a more natural look and better swimming position, which will make swimming easier for him.
You can rest assured that this product is made only from high-quality and safe materials since all of the materials that are being used in the manufacturing have passed the CA65 test, which means they are completely safe for dogs.
This is a great quality product for a great price that will save you some nerves and make your dog swim like a pro. If this style does not suit your pup the best, they also offer some other pet life jacket styles that might be a better fit for you.
The EzyDog Doggy Flotation Device offers you a premium quality life jacket with high-performance characteristics. It is extensively tested, and made from only the best materials that provide your dog with maximum flotation and comfort.
This life jacket usually has a lot more floating material than some other products on the market, which gives it even more safety points.
Unlike some others that we have mentioned previously, this one comes only in the color, red, but it still has highly reflective detailing that will improve nighttime safety.
Do you want to see your cute wiener dog with wings? With the PetGlad dog life jacket, that might just be possible. This life jacket offers you a unique wing design that will make your Dachshund look as adorable as ever.
When you add to it various beautiful bright colors, things get even more interesting. However, this life vest is not only cute to look at, it also serves its purpose very well.
A heavy-duty D-ring hook offers you the possibility of a leash attachment for keeping your dog close to you and preventing him from running away. The Waterproof breathable mesh offers your dog a more comfortable fit, and a strong top grab handle offers you an easy way to rescue if needed.
This is another angel wing life preserver that you will not be able to resist. Besides the angel wing design, they also offer equally cute shark fin and mermaid designs that will make your pup look even more cuddly and adorable.
It is perfectly designed to keep your dog safe while boating, swimming, or doing some other water adventures, while also being able to enjoy himself.
The Snik-S life jacket is easy to clean, easy to adjust, and reliable, and what is probably the best is that its price will not break the bank, but will allow you to provide your pup with a completely safe product that will benefit you and him together.
ZippyPaws is another well-designed and reliable brand that offers you great affordable options for dog life jackets. The adventure dog life jacket is perfectly designed to match the safety conditions of all kinds of adventures in lakes, rivers, and oceans.
Whether you have a dog that is not a good swimmer or you just want to make sure that your pup stays safe at all costs, this life jacket will definitely make him float at all times.
If anything does happen, the built-in handles will make it easier for you to rescue your dog from the water. Some dog owners have complained about the sizing not being correct; however, we are sure that if you measure your dog well before ordering, there shouldn't be any problem.
Little by little, we came to the end of this list. Lastly, we present you with the AOFITEE dog life jacket, by a brand named Asenku, that offers you a practical and cute design of a dog life jacket that will keep your wiener dog safe and stylish at the same time.
Made from high-quality material, this life vest is quick-drying, ripstop, and waterproof, and it can also double as a winter coat in colder months when doggies need something to keep them warm.
With this life jacket, you'll have the best-looking pup that can go with you anywhere and enjoy some water fun even if he is not a strong swimmer.
What To Look For In A Life Jacket For A Dachshund
Choosing the proper life jacket for your furry friend can sometimes be quite difficult. The main purpose of a life vest is to keep your Doxie alive, and that should also be your main driving point. So, let's see what some things are that you need to look for in a life jacket for a Dachshund:
• Durability – Make sure that you choose a life jacket that is made of durable, safe, and breathable material that will keep your pup completely safe in the water without you worrying
• Adjustable straps – Dachshunds have a very unique body shape, so having adjustable straps that will provide the perfect and snug fit to your pup are a must
• A sturdy grab handle – A top grab handle is quite important in case of any emergency because it will allow you to grab your pup easier from the water
• Foam panel – The placement of a foam panel is also very important because it provides maximum safety and buoyancy to keep your pup water safe and comfortable
• Bright colors and reflective strips – A colorful design not only makes the life jacket look nice, but also serves a big role in Doxie safety. It allows you to see your pet in the water even in poor visibility or at night.
• Size variety – It is very important for a life jacket brand to have various size options so that you are able to find the perfect match for your pup
• D-ring hook – A D-ring hook for leash attachment is very important in keeping your pet safe in the water as well as on the ground
• Cute design – Although this is by no means something that should be first on the list for choosing a good life jacket, when you are already buying a life vest, why not find one that is of high-quality, great at keeping your pup safe, and will also make your Doxie look adorable
RELATED: Why Are Dachshunds So Needy? Dealing With Clingy Wiener Dogs
What Are The Benefits Of A Life Jacket For Dachshunds?
As we have already mentioned, Dachshunds are not great swimmers. Due to their size and unique shape (long torso, but short legs), they can get tired very quickly, which can affect their safety in the water.
However, this doesn't have to mean that they shouldn't swim at all, especially if you are someone who loves to do all kinds of water sports and would be very happy if your Doxie pet could join you.
A life jacket will keep your Dachshund safe in any kind of pool, river, or even ocean. You will not have to worry about your pooch all the time because he will be able to float even if his little legs get tired from swimming.
This way, your dog can accompany you on all sorts of adventures; however, although a life jacket increases your dog's safety a lot, it doesn't mean that he should be left unsupervised.
You never know what could happen, and a dog in trouble will not be able to tell you that he is having some issues, so you should always be somewhere close in case of any emergency.
Water Safety Tips For Dachshunds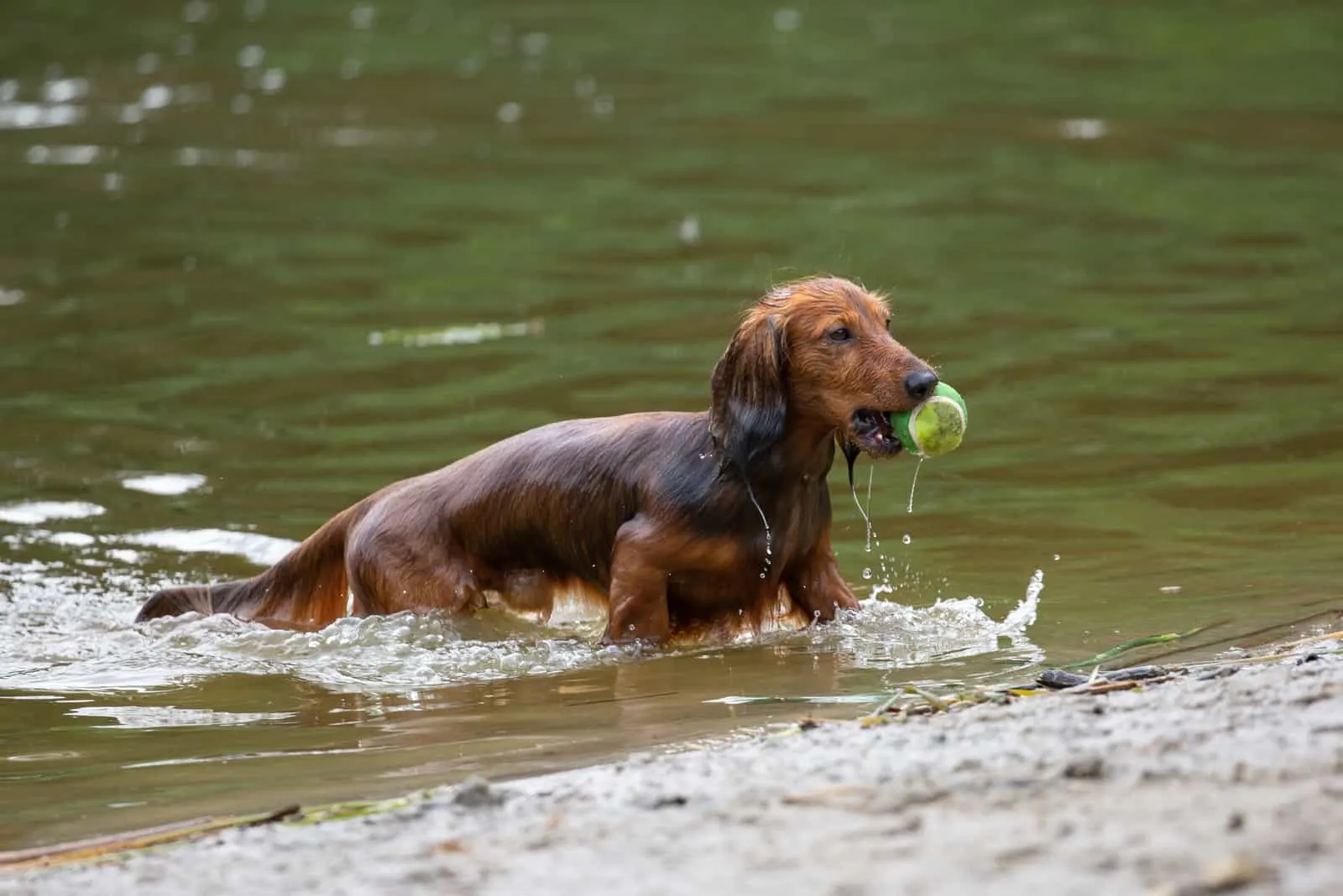 Here are some water safety tips (besides the life jacket) that will ensure that your little Doxie is completely safe while in the water:
• Swimming – Most of the Dachshund breeds are not good swimmers at all due to their unique shape, so don't assume that your dog is a good swimmer from the start, but carefully introduce him/her to the water
• Patience – All dogs are different, and some Dachshunds may not be fans of water, so you have to be patient with them. Never force a dog to do anything
• Supervision – Even the best swimmers can sometimes have accidents. Don't let your dog get out of sight because you never know what could happen
• Resting – While swimming can be great exercise for your little Doxie, it is also very tiring for them. It is necessary to take breaks from swimming and drink some water in order to cool down because we usually forget that our canine friends are not like us and cannot be in the water that long
• Waves – Be careful of moving water that can be very dangerous for your little wiener dog. It is better to stick to pools or lakes that are much safer
• Hydration – Since this is a very tiring adventure, it is completely normal for your dog to be thirsty. Don't let your pup drink salty water, which can make him sick – make sure to provide him with enough fresh water to keep him hydrated.
RECOMMENDED: Top 10 Dachshund Breeders In Florida: A Fresh 2022 List!
Wrapping It Up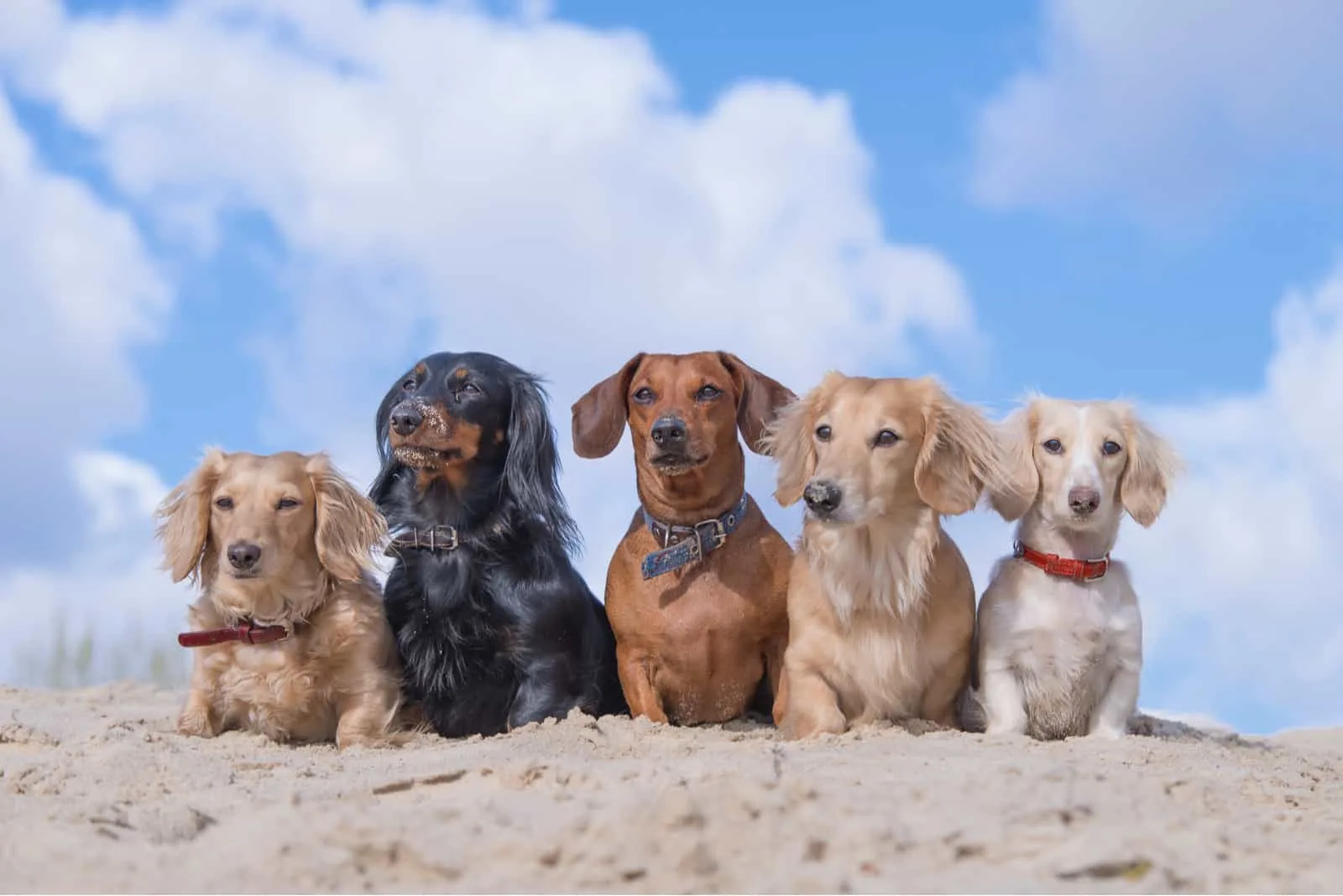 Having your Doxie go with you on all sorts of adventures can be fun and exciting, but as a responsible dog owner, you need to make sure that your furry friend is always safe.
Some Doxies are not good swimmers or can get tired very quickly, so it is important that you provide them with something that will help them with swimming.
A dog life jacket is the perfect solution whether your dog is not good at swimming or you just want to be extra careful in case of an accident.
We hope that our list of the best life jackets for Dachshunds has been useful for you, and that your sausage dog will have the perfect little life vest on your next exciting water adventure!
Related Content:
• 14 Best Dog Beds for Dachshunds: Top Products for Your Small Dog
• 16 Best Toys For Dachshunds: Toys For Playtime With Your Doxie
• 14 Best Harnesses For Dachshunds – Top Products For Your Beloved Sausage Dog