I'm really glad you're with me today as I'm going to discuss one of the most unique dogs in the animal world. Meet the Dachshund… the quirky, but sweet sausage dog!
​Oh, wait… you already know this dog breed? Then, why are you here? Oooh, I see… you want a reputable breeder so you can get a Doxie puppy for yourself, isn't that so? Say no more, I've got you covered!
Today, we're going to discuss the toA Word On The Dachshund Dog Breedp 10 Dachshund breeders in Florida. These are all small, family businesses that take extra special care of their Dachshund pups.
Dachshund Puppies For Sale In Florida
The state of Florida has a big pool of good breeders for this dog breed. But, it's important that you know how to distinguish the good ones from the bad ones. Which breeder is okay, and which is not. Only then will you be sure you're getting a 100% healthy Dachshund puppy.
Best Dachshund Breeders In Florida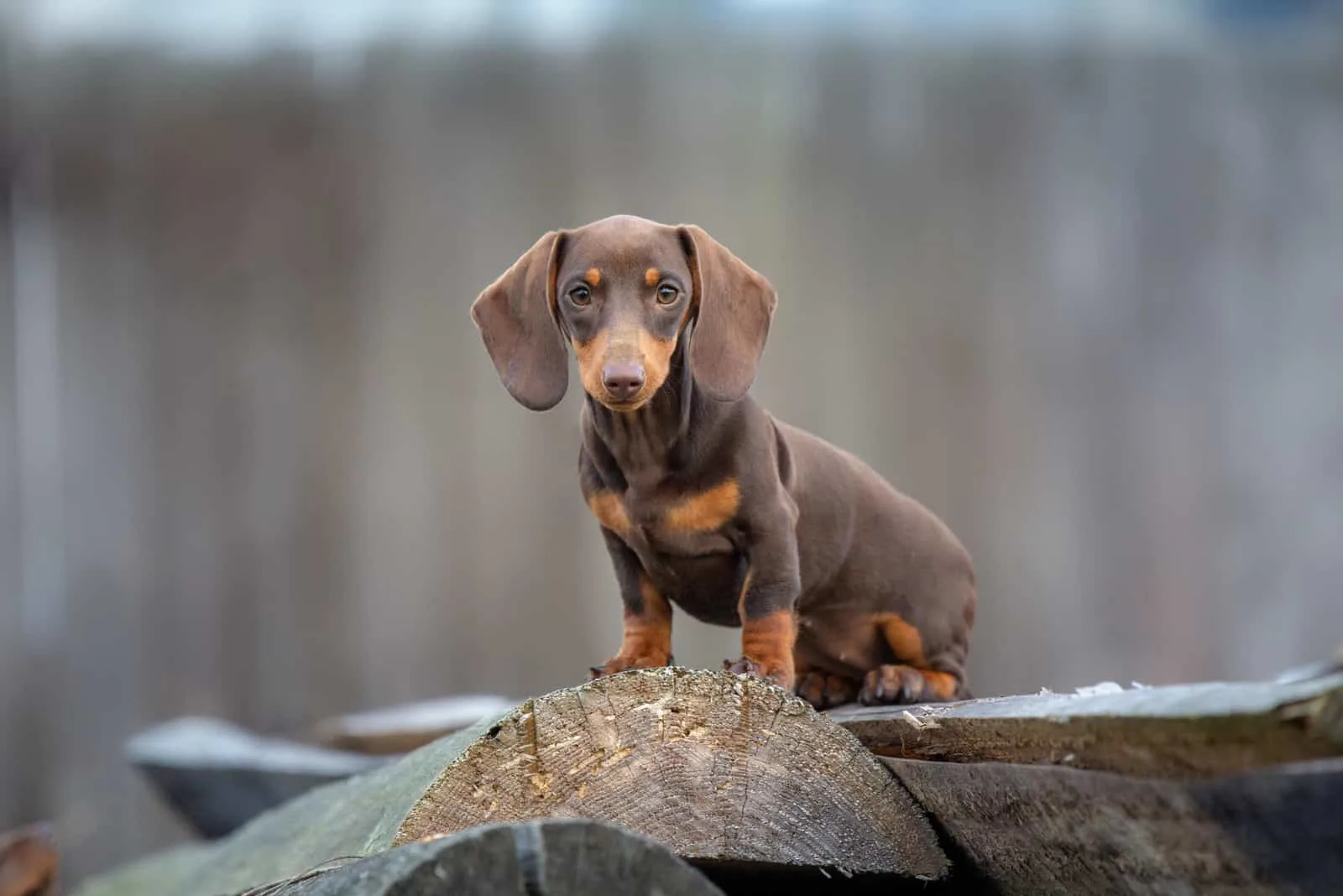 When Jeni Reed was just a little girl, she loved playing outside all day by the creek, along with her Dachshund pup. It was growing up with this loving breed that made her realize her goal in life will be to breed supreme-quality Dachshunds… friends you can trust.
Today, Jeni lives with her family on a spacious ranch surrounded by woods where nature's call is strong and inviting. Together with her family, she breeds long-haired, smooth, and wire-haired Doxies. Her pups are spoiled, played with, and socialized completely. And, boy do they have fun! They even go on kayak rides together! Have you ever seen a Doxie riding in a kayak? Now, that's a picture I'd like to see!
Jeni says she raises her Dachshunds like an honest Christian… true to her beliefs and according to ethical standards. An average Doxie puppy on her website will cost around $1,800, with a non-refundable deposit. Just to warn you… they're spoiled to the bone and love it.
Breeder's name: Jeni Reed
Location: Paisley Fl 32767
Mail: [email protected] or [email protected]
Phone: (352) 223-5125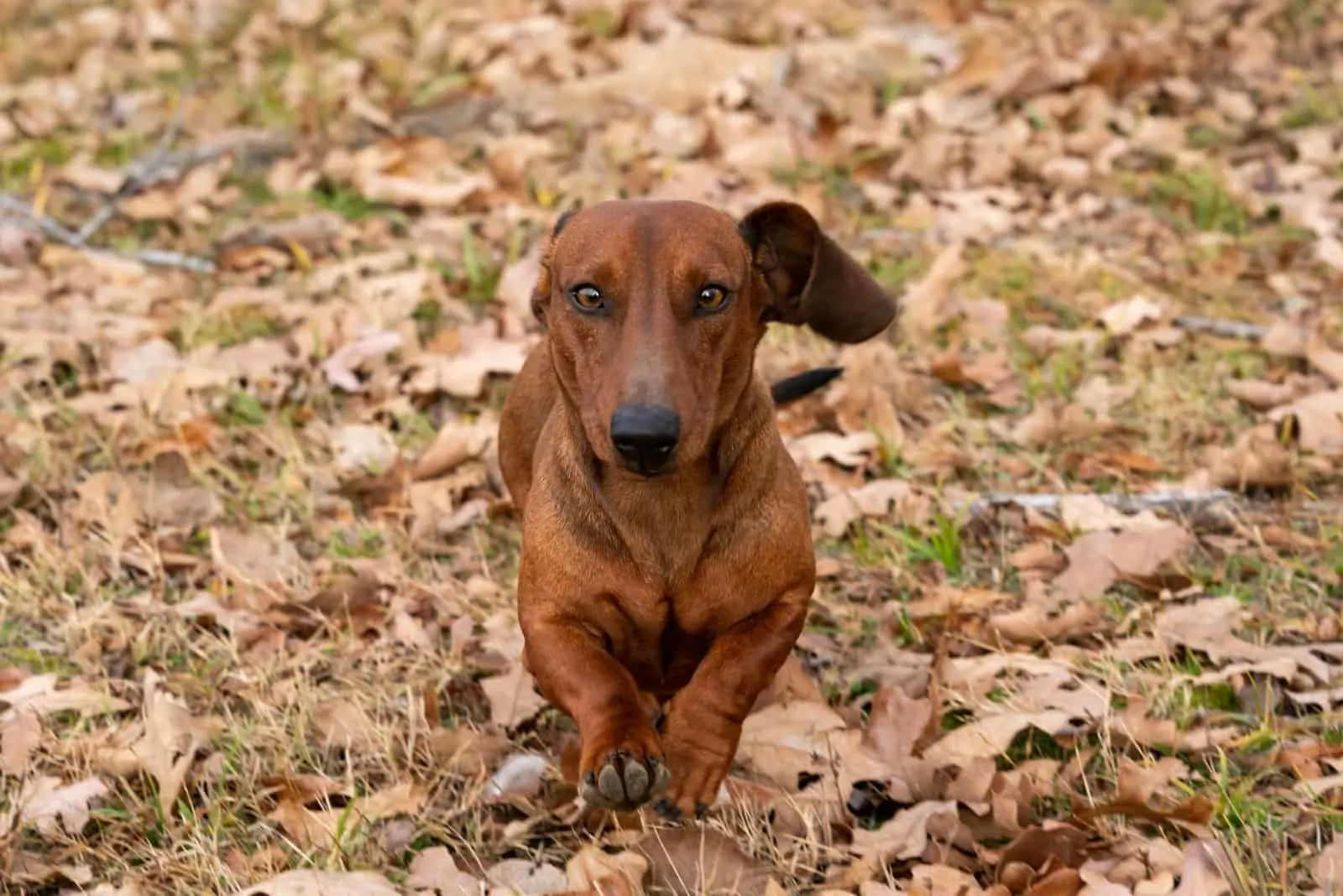 One of the best AKC Dachshund breeders in Florida is McCoy's Precious Doxies. You'll find only the sweetest, most intelligent, and friendliest Dachshund puppies at this ranch. This family business makes sure their puppies are completely socialized and calm around people, kids, and animals.
McCoy's been breeding lovely miniature Dachshunds since 2005. Over the years, they've established themselves as great breeders that not only breed the puppies the right way, but they also spoil them with love and care. McCoy's start puppy training as early as 3 weeks after the puppies are born. They're home-raised and only go outside to go potty and to play. So, yeah, you'll get a trained puppy, which is always a lovely bonus!
The reason why I have to include this sausage dog breeder on the list of the best breeders in Florida is because they also have dogsitting service at the cheapest rate in the are.
These premium pups come with all their paperwork, a one-year health guarantee, vaccinated, microchipped, dewormed, and ready to be the center of your attention.
Location: Monticello, FLorida 32344
Phone: +1-850-933-9840
Email: [email protected]
Teresa and James, from FloriDachs, want to make sure that one of their Doxie puppies will become the light of your life because that's exactly what Doxies are to them. These happy spirits will lighten up the mood anywhere they go.
I like to recommend this breeder because they're very open with their breeding practice, and honest about making improvements and learning after all these years in the business. I find continuous learning to be one of the best bonus traits that a breeder could have.
FloriDachs miniature Dachshund puppies are approved by the American Kennel Club (AKC). They all come from the owner's personal pets, born in Teresa's bedroom and raised in the house with the rest of the family. These Doxie babies will come with all the necessary health certificates for a price of $3,200. It is a lot for a pet-quality puppy, but every penny is absolutely worth it!
Breeder's name: Teresa and James
Location: 991 Donegan Road, Largo, FL 33771
Phone: Teresa (727) 798 – 2596, James (727) 656 – 4253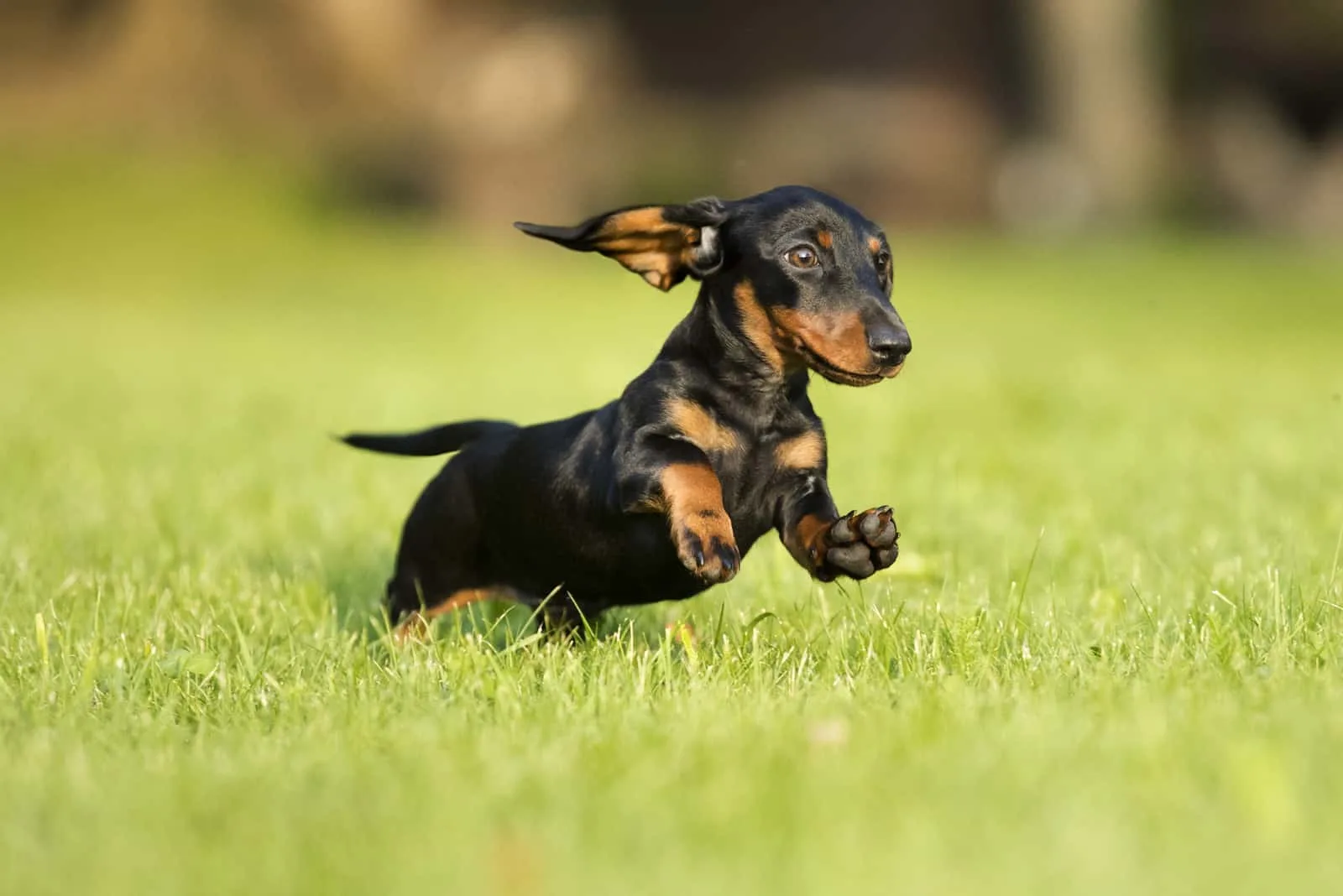 Being raised with a police-dog-trainer father and working as a vet technician for 15 years made Kim Gillet a star Dachshund breeder in Florida. She makes sure that miniature Doxies bred according to AKC conformation standards are sent happily to their furever homes.
Kim has always loved dogs, but just like her father, she always had German Shepherds and Rottweilers. But, everything changed when she met Dixie, a.k.a., The Princess. This black and tan mini Doxie pushed her into the correct way of breeding sausage dogs, as well as making families feel complete with one of them.
From a simple home breeder to a network of Cameo friend breeders, Kim keeps everyone under one roof and makes sure only the healthiest Dachshund dogs get adopted. To get one of these Cameo Dachshunds, you will need to pass a strict evaluation. It's all for the puppy's sake!
Breeder's name: Kim and David Gillet
Location: Punta Gorda, Florida
Phone: 941-628-4114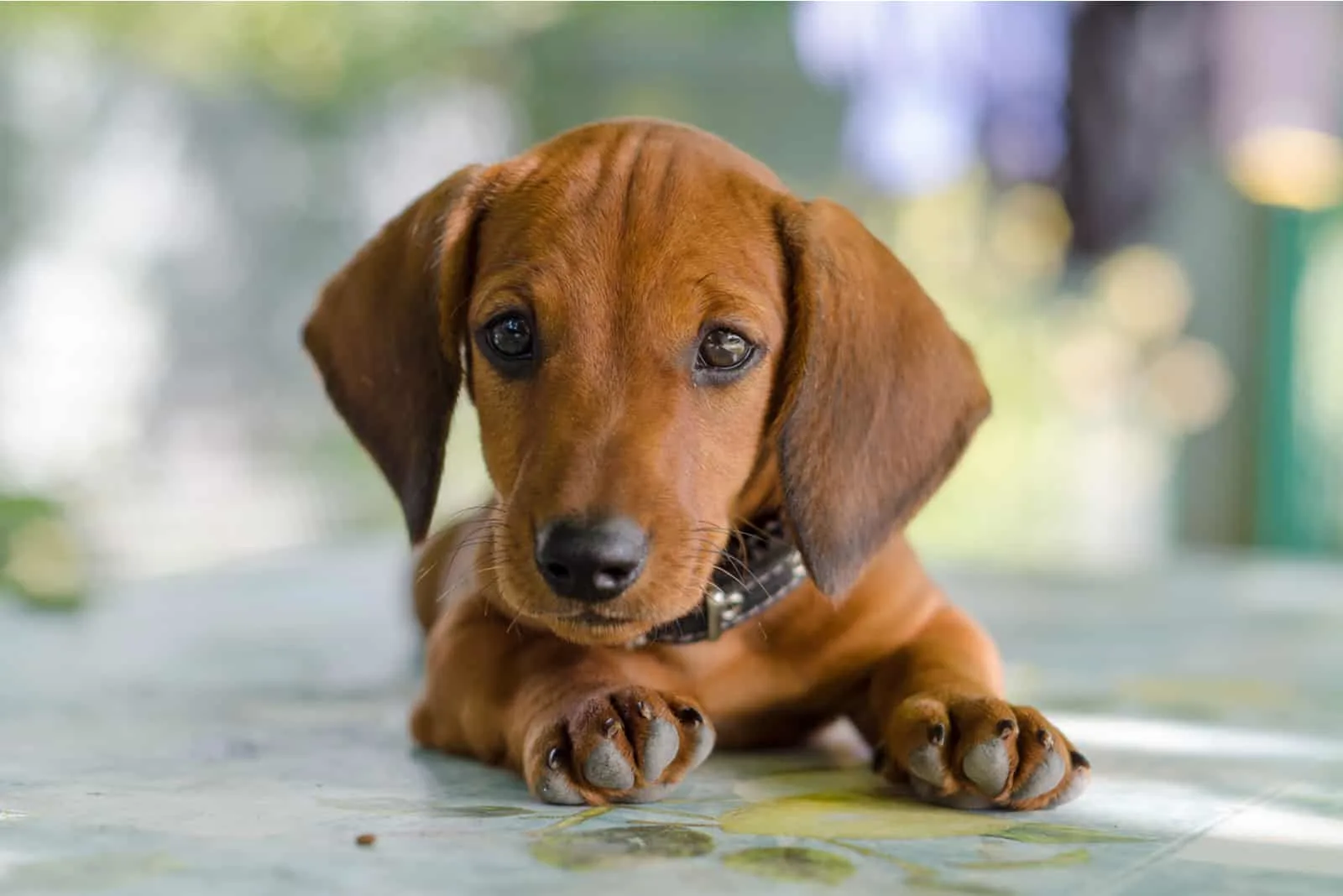 Central Florida is proud to have a purebred Dachshund breeder like Backtrail Florida Doxies. This breeder takes care of only one dog breed, and that is the Dachshund. They're very private, family-oriented, and focused on raising the ideal family companion. The entire family shares immense love for this breed, so they've decided to help the world have more Doxies. In 2010, their breeding business bloomed, and the rest is history.
Backtrail raises long-hair and short-hair Doxies, and agrees to sell only to customers who won't breed their puppy further along. This means that these are only pets… rightful companions for the new family that will adopt them.
If you decide to pick a Backtrail puppy, you should be able to put down a deposit that will not be returned to you if something happens.
Puppies come with limited AKC registration papers, fully examined by their vet, dewormed, and up to date with all their vaccinations.
Puppies are clear of health issues, and they have a genetic health guarantee.
Location: Ocala, Florida, United States
Phone: 3525520608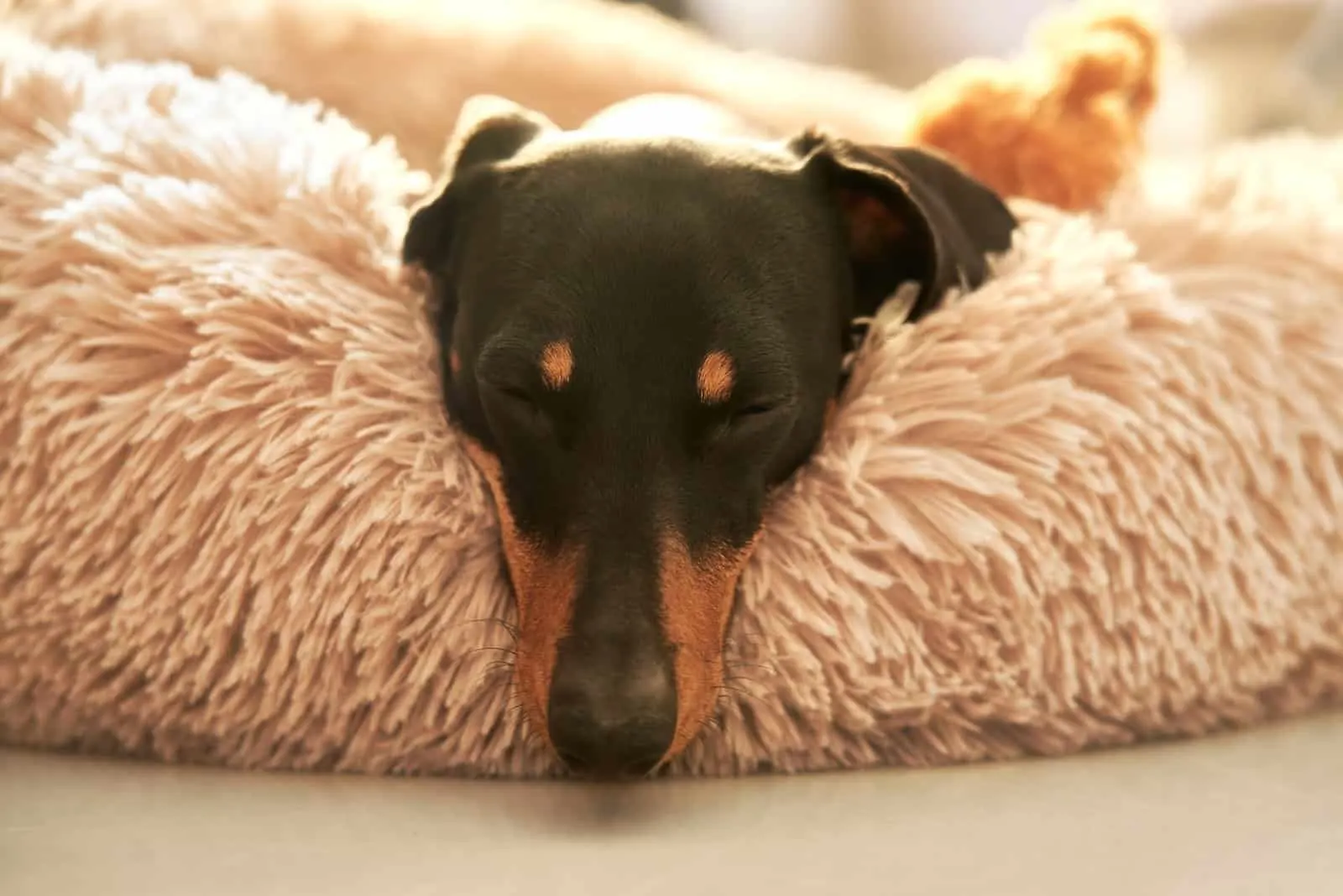 Susie Thomas doesn't breed Dachshunds just for fun. Ever since 2004, her goal has been to provide a healthy life (the best one that can be) for the entire Dachshund breed. Her second focus is on finding the ideal family or individual for her mini Doxies.
Susie is self-taught, and her rich experience has made her one of the prime Dachshund breeders in Florida. Susie's breeding program makes sure that all of her Dachshund puppies are smart pooches, with adorable looks and kind hearts ready to let you in.
This miniature Dachshund breeder is actually a certified AKC "Bred With H.E.A.R.T." breeder, and proud of it! You will get a Dachshund puppy completely free of health problems, with guarantees that support this claim. Susie's phone number is listed down below. Don't hesitate to call her.
Breeder's name: Susie and Gabby
Location: 3135 Northeast 49th Street, Ocala, FL, 34479
Phone: (352) 209-7723 (Susie) or (352) 209-7447 (Gabby)
Email: DachshundsUnlimited @MSN.com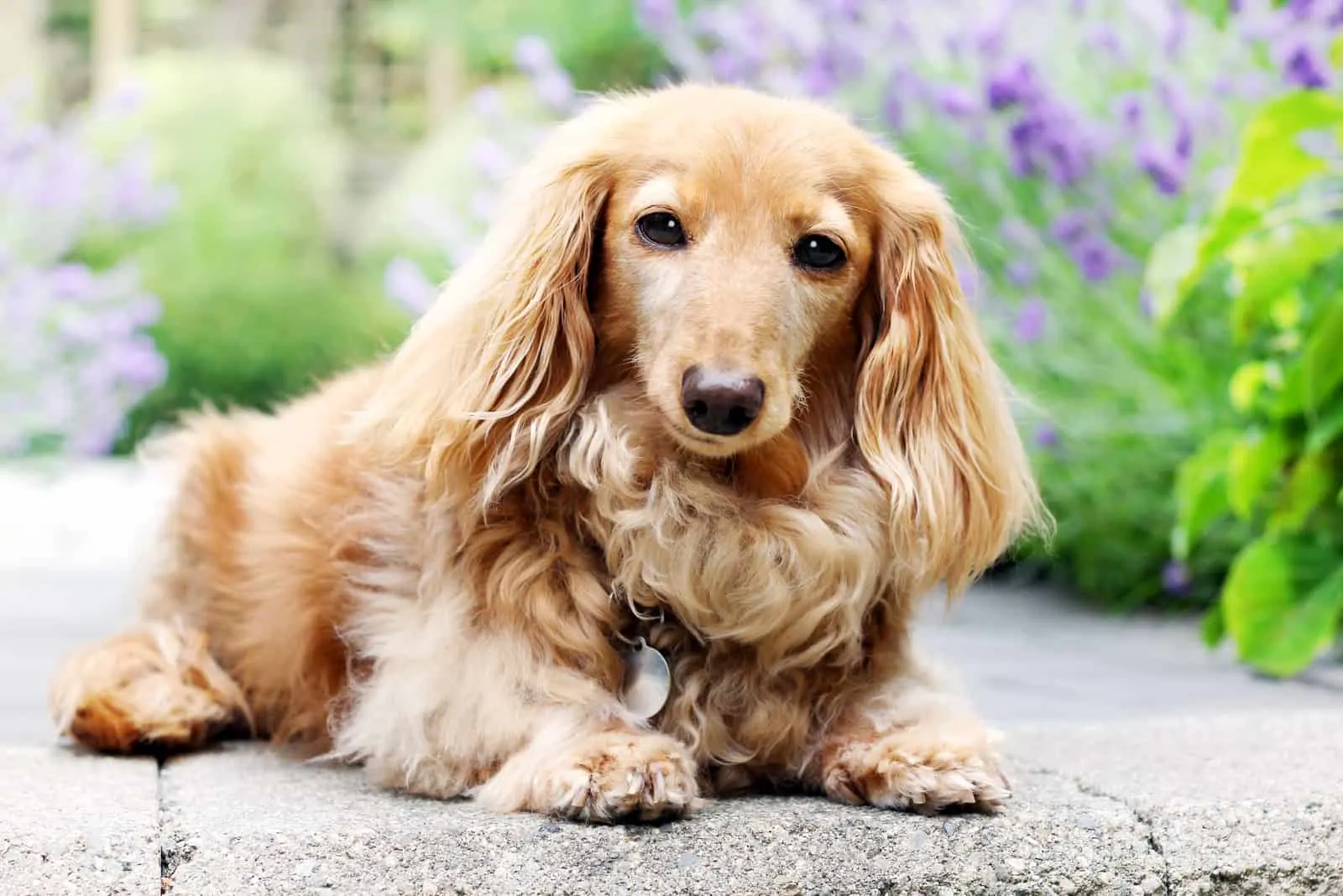 Gina's Cuddly Doxies is actually a small breeder that raises long-haired miniature Doxies. Together with her family, Gina lives in a lovely home surrounded with acres and acres of land where Dachshunds are completely in charge. They've taken over the place, and it looks like heaven for true dog lovers!
Gina is a breeder who is approved and licensed by the AKC and the state of Florida. She says her goal in breeding Doxies is not to breed, raise, and sell. Gina wants to make sure she has done something to improve the breed's quality and preserve purebred bloodlines.
Cuddly Doxies come in numerous color varieties including piebald, dapple, and the imported English cream Dachshund. As you can see, there is a Doxie for everyone's taste. And, if there aren't any available Doxies, you will need to wait. Gina breeds her dogs only once or twice a year, so she can let the dame have her rest period, and Gina can take proper care of the growing puppies.
Breeder's name: Gina
Phone: 561-791-3134
Email: [email protected]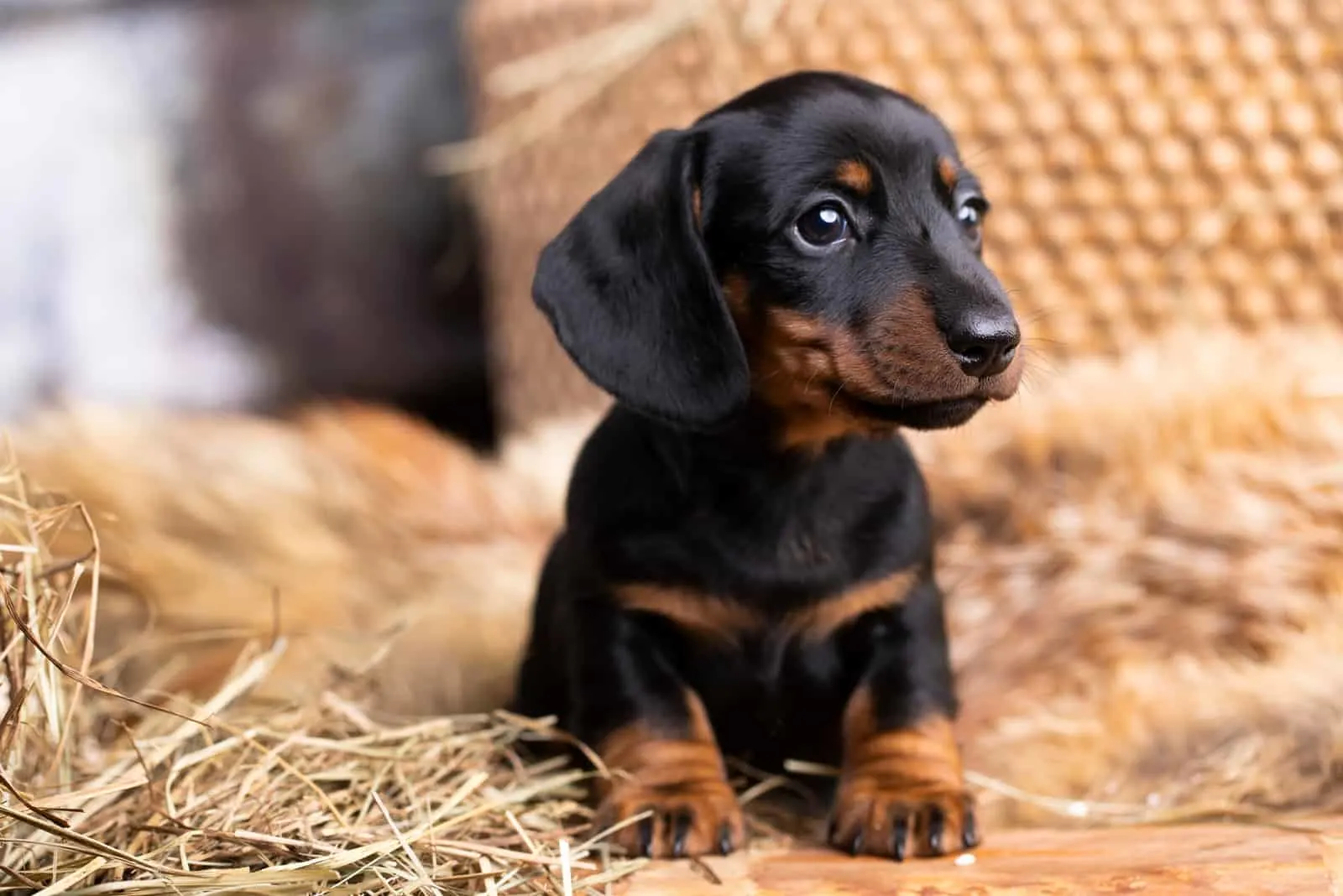 We live in modern times when owning a website is either a) totally outdated, or b) reserved for professionals who have time to update it regularly.
Today, everyone uses social media, like Facebook or Instagram. They make the perfect place to post ads of your breeding business. Lisa and Monica have it all figured out. These two sisters share the same address and huge love for the Dachshund breed.
The sisters breed miniature Dachshund boys and girls… some of the sweetest, cuddliest pups in the entire Northeast Florida. But, they're not just some kind of hobby breeders. Faraway Farm is a dedicated breeder approved and registered by the AKC and the CKC.
Their goal? To improve the breed's quality and introduce happy and healthy wiener puppies to the world.
Their success rate? Over the roof!
Breeder's name: Lisa and Monica
Phone: +1 904-403-2148
Email: [email protected]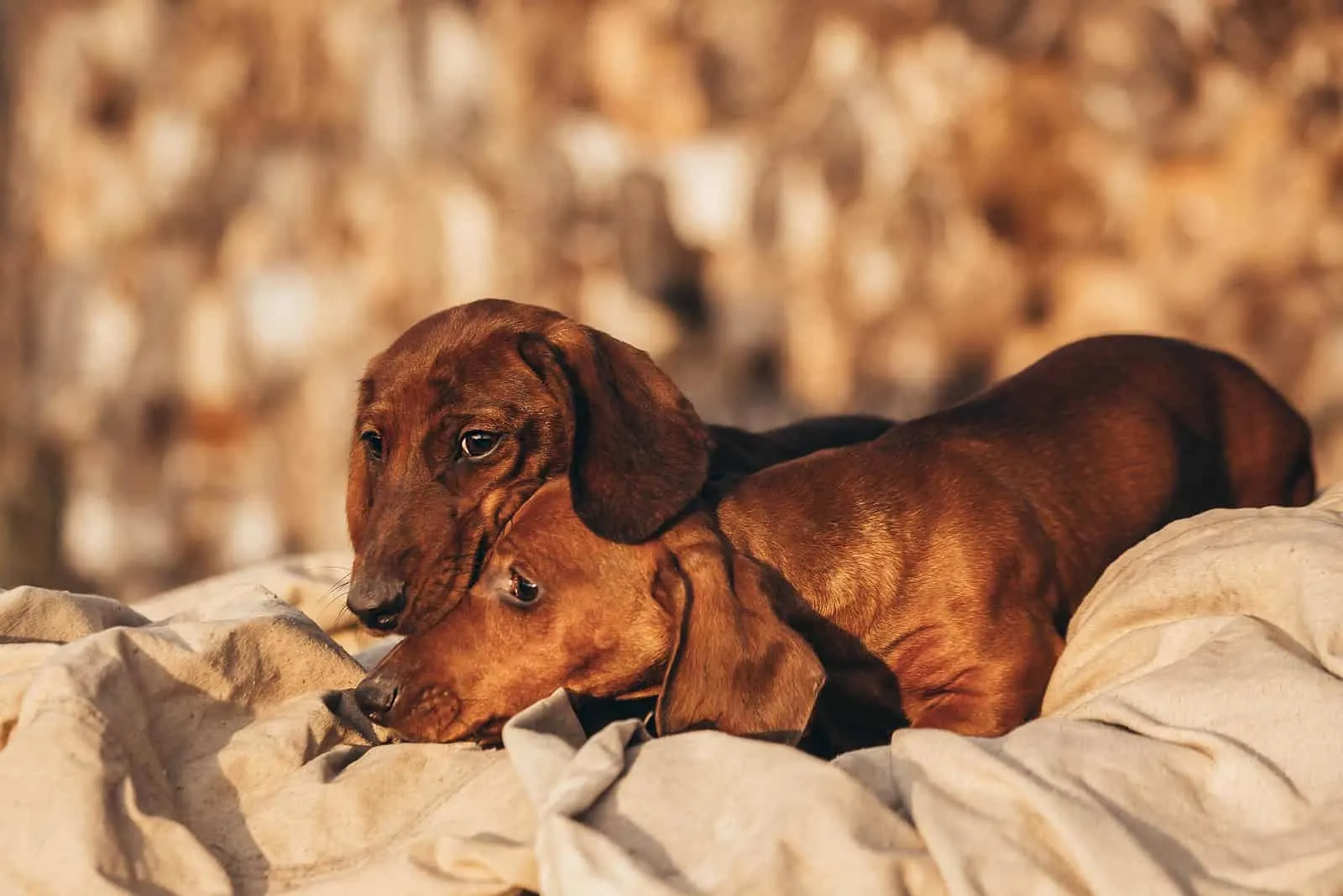 Take a good look at Dachshunds of Cattleshield's website. You'll see a dozen of adorable wiener dog puppies that will make you think: I gotta have 'em all! Well, Doxies aren't Pokemons, but they are equally sweet, and it's apparent why people go nuts about them.
Cattleshield, run by Emerson, is a reliable Dachshund breeder from South Florida. Their breeding practice made them one of the best in the State. Cattleshield breeds not only conformation-quality pups, but also dear companions, emotional support companions, and service dogs!
The dogs come from clean bloodlines, and even from Germany, China, the UK, and Poland!
Doxies from this breeder are screened for health problems, and they come vaccinated, microchipped, and, of course, dewormed. Cattleshield is a favorite of mine because they make sure that every Doxie gets properly socialized and trained! They will start with potty training, and they will teach your future puppy a few basic commands. Also, they offer a lifetime health guarantee, which is a pretty big deal, you know?
Breeder's name: Emerson Wiggins Forth
Location: Miami
Email: [email protected]
Phone: 305-479-3373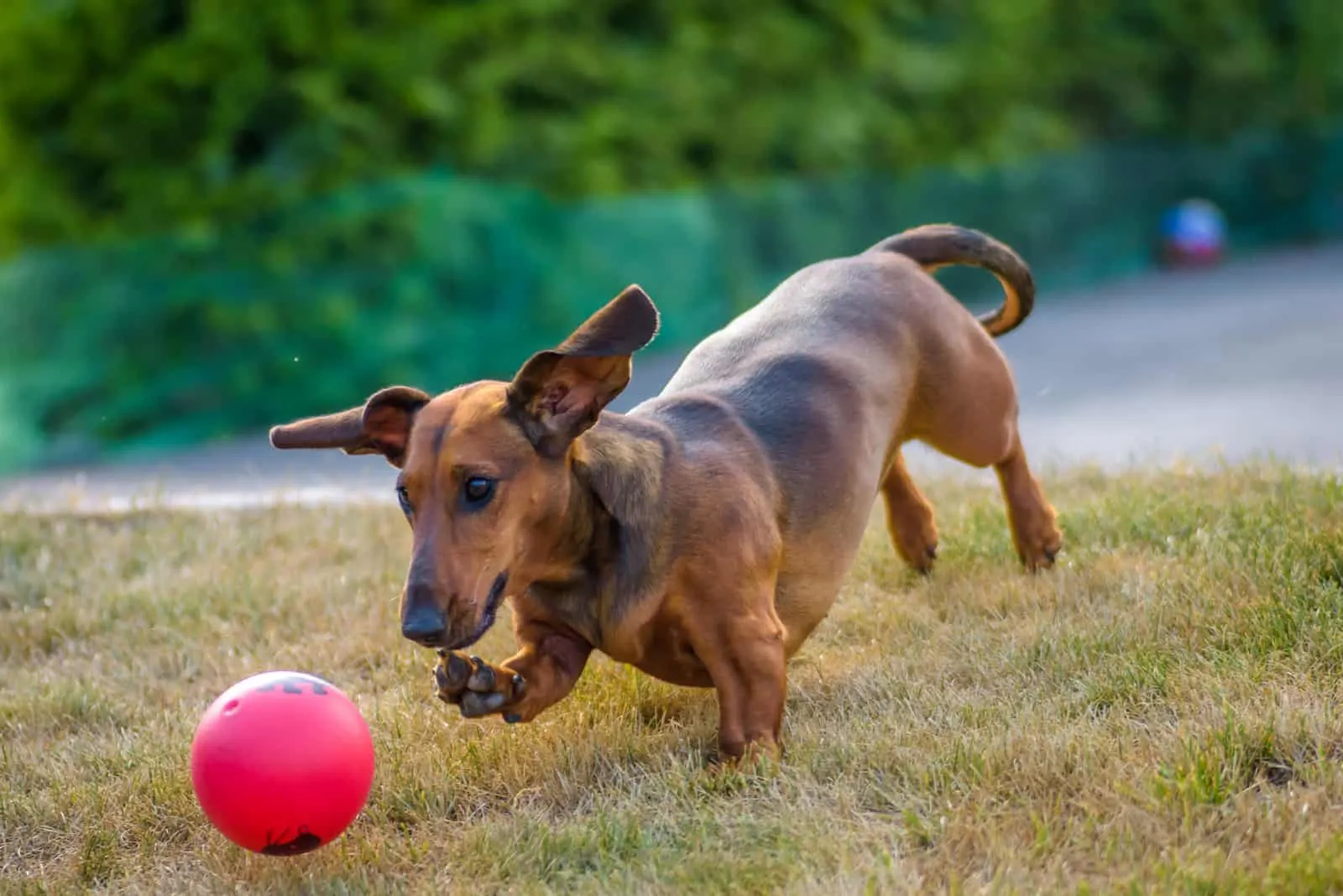 Chelsea is a groomer turn breeder, with pretty rich experience in everything related to our four-legged buddies. She doesn't offer Dachshund puppies for sale. She offers you the perfect buddy for a lifetime. This is a family business, and the entire family is madly in love with the wiener dog breed.
Dreamheart Dachshunds loves Doxies so much that they're house-born and raised, and they even have their own dog room! How cool is that? When not enjoying being spoiled in their personal suite, Dreamheart Doxies love to run around their big, spacious yard and greet friendly neighbors and visitors. If this isn't a dream home for Doxies, I don't know what is!
Chelsea really makes sure that she's a friend to the dogs, not just a person who will find them a furever home. Pay them a visit and you'll be overwhelmed with the amount of love and care in this Doxie-enriched home.
Breeder's name: Chelsea
Location: Penasacola, two hours away from Westville
Phone number: 850-530-1122
Facebook: https://www.facebook.com/dreamheartdachshunds/
A Word On The Dachshund Dog Breed
Rarely is any other dog breed as recognizable as the Dachshund. People call them Doxies, sausage dogs, wiener dogs, badger dogs, etc… but I like to call them feisty cuddlers.
Originally from Germany, Dachshunds were first bred in the 15th century. But, the first examples of the breed were far bigger than today's Doxies. They were, as our standard, medium dogs that were agile, fit, and capable of performing strenuous exercises.
Even though royalties loved them, Dachshunds were bred to serve not as companions, but as working dogs in terms of hunting down animals. And, yes… they were very good at it. Interestingly enough, Dachshunds are excellent trackers, and they are able to hunt down scent that's almost a week old!
They weren't specially bred for hunting badgers as people used to think. Its purpose was to serve its human and bring him a trophy.
Today, Dachshunds (or Doxies) have only one purpose: to never allow a smile to leave your face.
Appearance
Dachshunds are dogs with the most unique body structure in the canine world. They come in a range of lovely coat colors and styles, so everyone can pick a favorite.
We can distinguish three size types: standard, miniature, and tweeny. The latter is a Doxie that is just between the standard and the mini. All three sizes can come in three coat types. There's a smooth coat or short-hair Dachshund, a long-hair Dachshund, and a wiry Dachshund. The most common coat colors you'll see with this dog breed are the combination of black and tan and red-brown, but dapple, sable, and brindle are also quite common.
The Dachshund's signature long body is covered in muscle mass, carried on stubby, short legs. Their snout is elongated, and their chest is deep. As you can see, there's nothing ordinary with this dog breed. Even their paws are significantly bigger than standard dog paws as a result of breeding to dig holes and chase down badgers.
Personality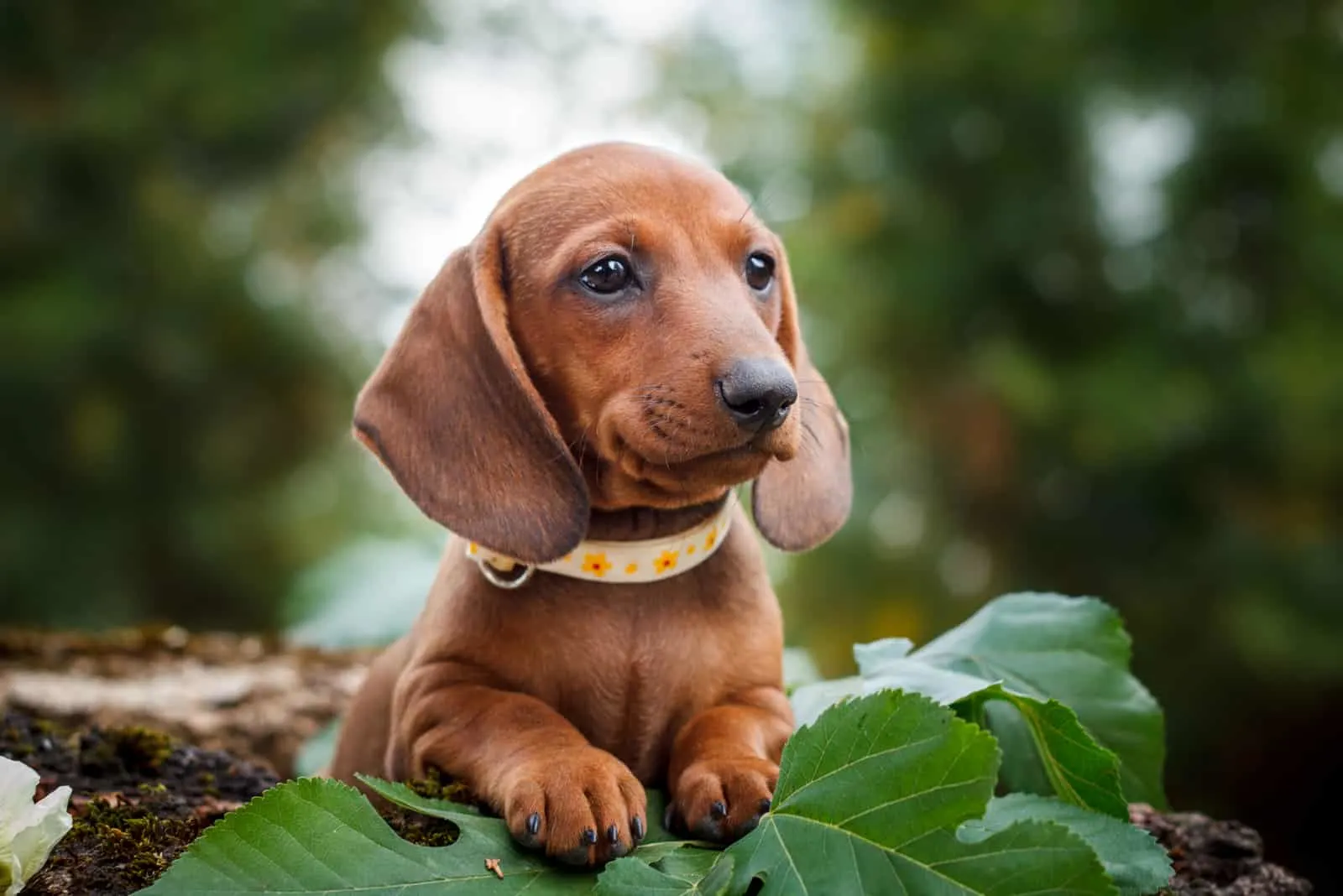 Dachshunds are popular for having a rather loud personality. Yes, they are yappy and huge barkers, but everything about their character is big. Funny, when you think of their small bodies!
These dogs are first and foremost loyal creatures that will fight for their humans no matter what. A Dachshund usually picks one person from the family and decides to stick with him or her. And, let me tell you something… they can be quite possessive, territorial, and on the verge of being aggressive. They don't like strangers, but prefer their inner circle of friends.
Dachshunds are stubborn dogs, so you will have to let them have it their way. Still, they make wonderful friends, and you should consider yourself lucky to have one.
If Pitties have their smile, then Doxies have their funny walk, which will make you laugh, even if you're not in the mood.
Biggest Downsides
As with every dog breed, there are some downsides that could chase you away from a specific breed. However, I believe you should know a dog's flaws as well as its positives before you opt to adopt.
A Dachshund's biggest flaw is its biggest feature: the stubby legs and long body. This entitles them to be prone to numerous health conditions related to bone structure and mobility. In fact, spinal problems occur in one out of four Dachshunds. So, yeah… that's a bummer.
Another downside is their personality; precisely their overprotective trait. As such, Dachshunds may become aggressive towards strangers, and you wouldn't like to hold a growling Doxie!
Their stubborness may scare you away, as well as their needy behavior. They like to dig, bark, make sounds, and chew on things. If you're not okay with this, then you shouldn't put down a payment.
Lastly, I'd like to point out that this dog breed should not be trusted alone with small kids or small animals as they have a huge prey drive.
Seeing your Doxie chasing around the family's cat is not funny at all!
Why Should You Own A Doxie?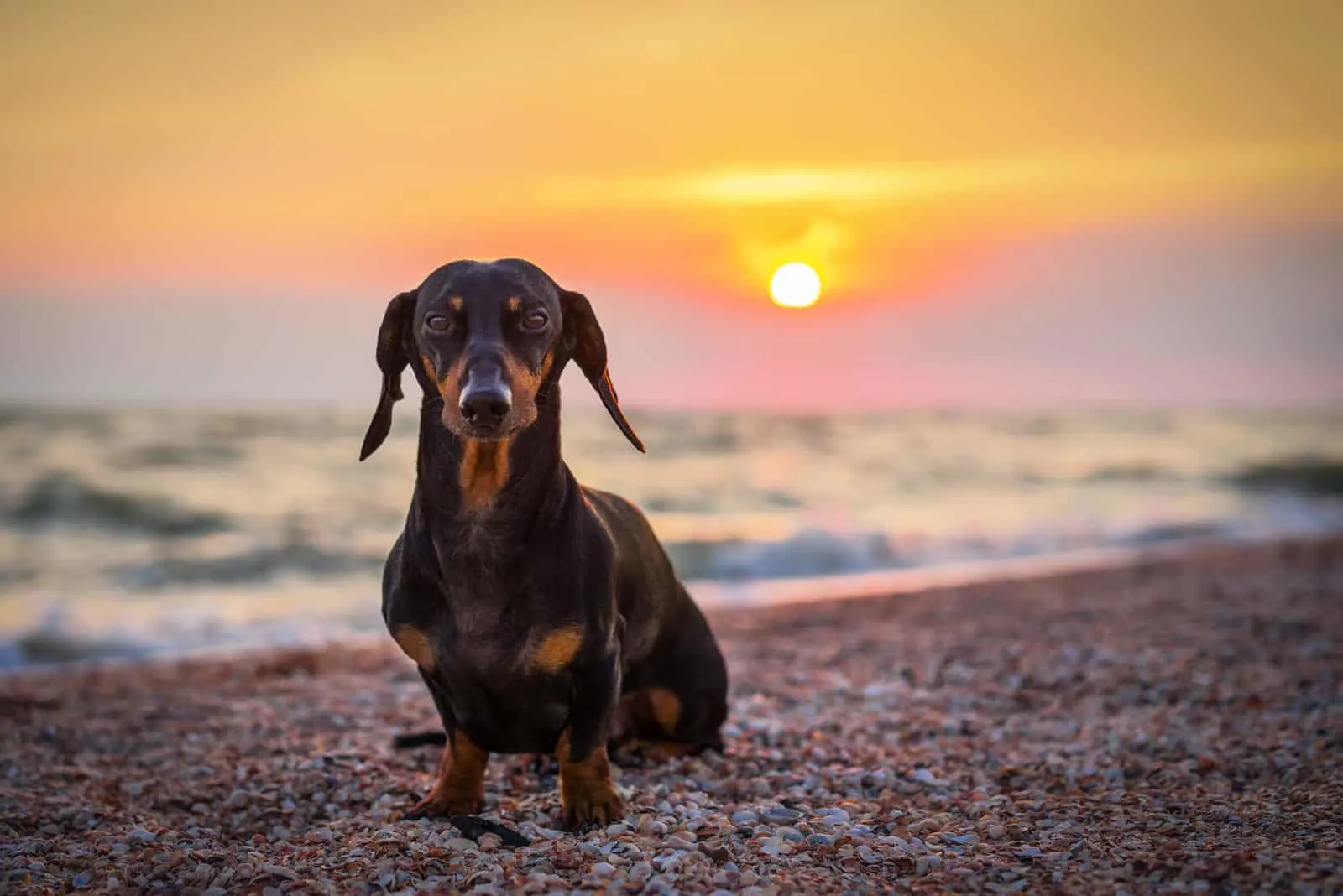 Being so compact in size (and adorably shaped, too), Dachshunds are great dogs for apartment living. If your home is tiny in space, don't worry. These dogs will find a spot in there, and in your heart, too!
Dachshunds (or Doxies) are sweet, affectionate, and loyal to the max with their family members. Not only are they companions, but they're watch dogs, too. No thief gets past a Doxie's strong bark!
Train them well, have the puppies go through early socialization, and you'll have a family dog you can trust, even with your kids.
What's The Average Dachshund Price In Florida?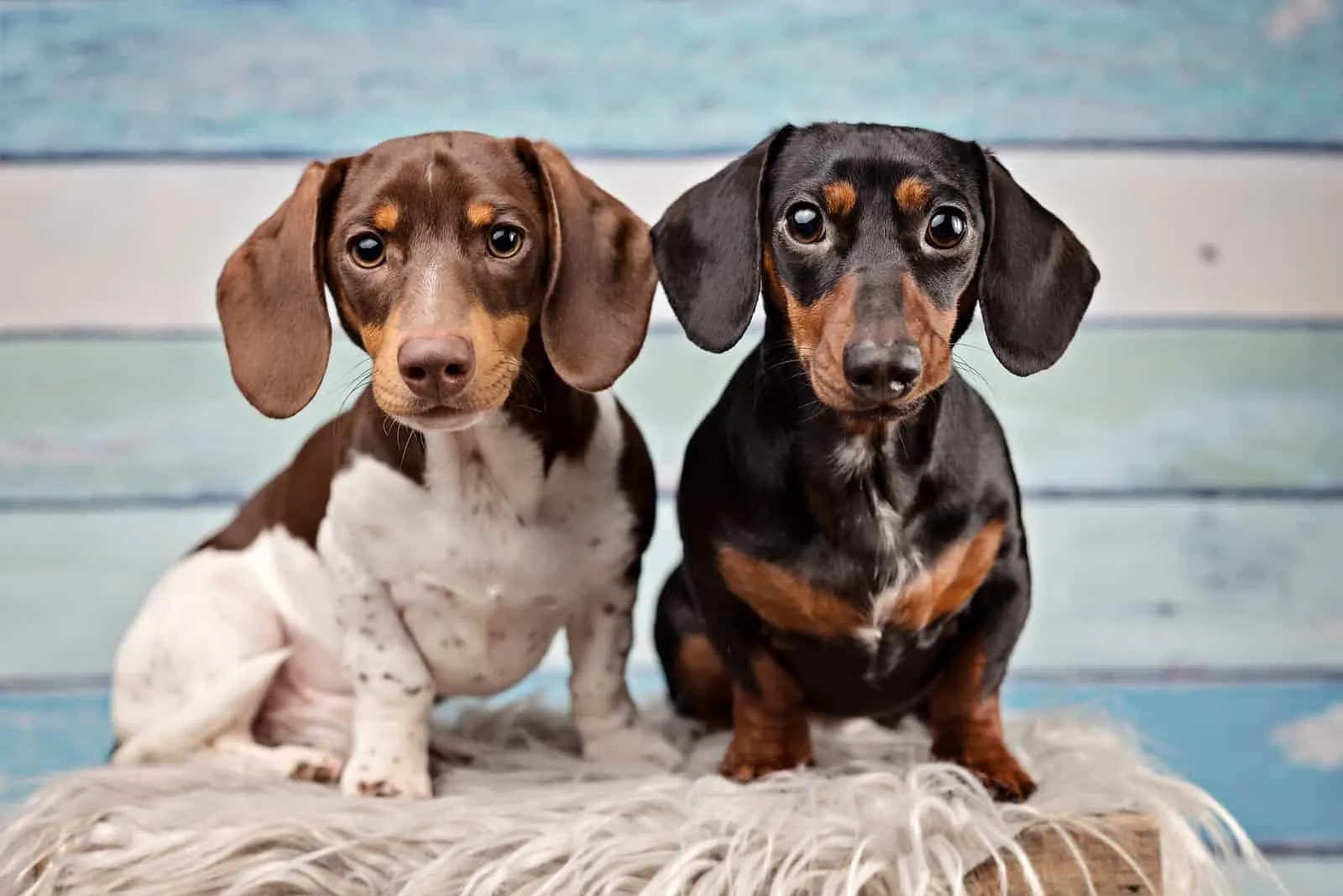 The average Doxie price in Florida is around $3,500.
Phew… that's a lot of money! But, wait until you see other expenses that come with this dog breed, such as frequent vet visits. Owning a dog is never cheap. I mean, it is if you want to skimp on everything.
Doxies in Florida can be found for a cheaper price than this. It all depends on who the breeder is. Dachshund breeders in Florida who breed pedigree pups with the utmost care will always put up higher prices.
Pet-quality pups cost less. So, if you're not planning on putting your dog into dog conformation shows, you might as well get a pet-quality Dachshund and spend the rest of the budget on good toys, a bed, puppy food, and other goodies. Trust me… the first year with a puppy is hard… full of expenses, but it only gets better. I mean, dogs don't need new beds all the time, so your bank account should be safe.
Conclusion
From Jacksonville over to Tampa, Miami, Punta Gorda, and Largo, we've covered all the reputable Dachshund breeders in Florida. Now, you have a safe place where you can find all the info you want on this dog breed, as well as how to get one of these gorgeous puppies.
Good dog breeders are tricky to find. You want to avoid puppy mills, pet shops, and unreliable people who care only about the money. Good thing you have this list as a base for your further research.
When talking to a breeder, make sure you ask all sorts of questions, especially about the puppies' health. They won't think you're bothering them. Instead, you will appear as if you care (which you do) about the dog's well-being.
Don't be surprised if the breeder wants to evaluate you. A reputable breeder wants to make sure of where their puppies end up. None of them will agree to sell a puppy to someone who doesn't have proper conditions to raise a puppy. So, bonus points if you go through this evaluation.
It only means that you're safe to buy from this breeding source!
Related articles:
● Top 9 Dachshund Breeders In Ohio: Where To Get The Best Doxies
● 12 Trusted Dachshund Breeders In California In 2022
● 6 Best Dachshund Breeders In New Jersey In 2022!