If you're looking for miniature Dachshund puppies or standard adult dogs of this breed in the state of Ohio, then you're in the right place!
Today, we have a treat for you: the top 10 Dachshund breeders in Ohio with the most perfect Doxie puppies. From brindles to dapple Doxies, from pet-quality to AKC miniature Dachshunds, from short-hair to long-hair pups… Dachshund breeders in Ohio have them all!
They're waiting for a furever home. Will you be the one to promise them cuddles and kisses all over their sausage-shaped body?
Dachshund Puppies For Sale In Ohio
I will never stop repeating this sentence: Don't buy from puppy mills or unreliable breeders!
Well, I'd stop when such breeders finally end their unethical practices. Instead, take a look down below. You'll find some pretty awesome people who breed the best Doxies out there!
1. Honeyman's Miniature Dachshunds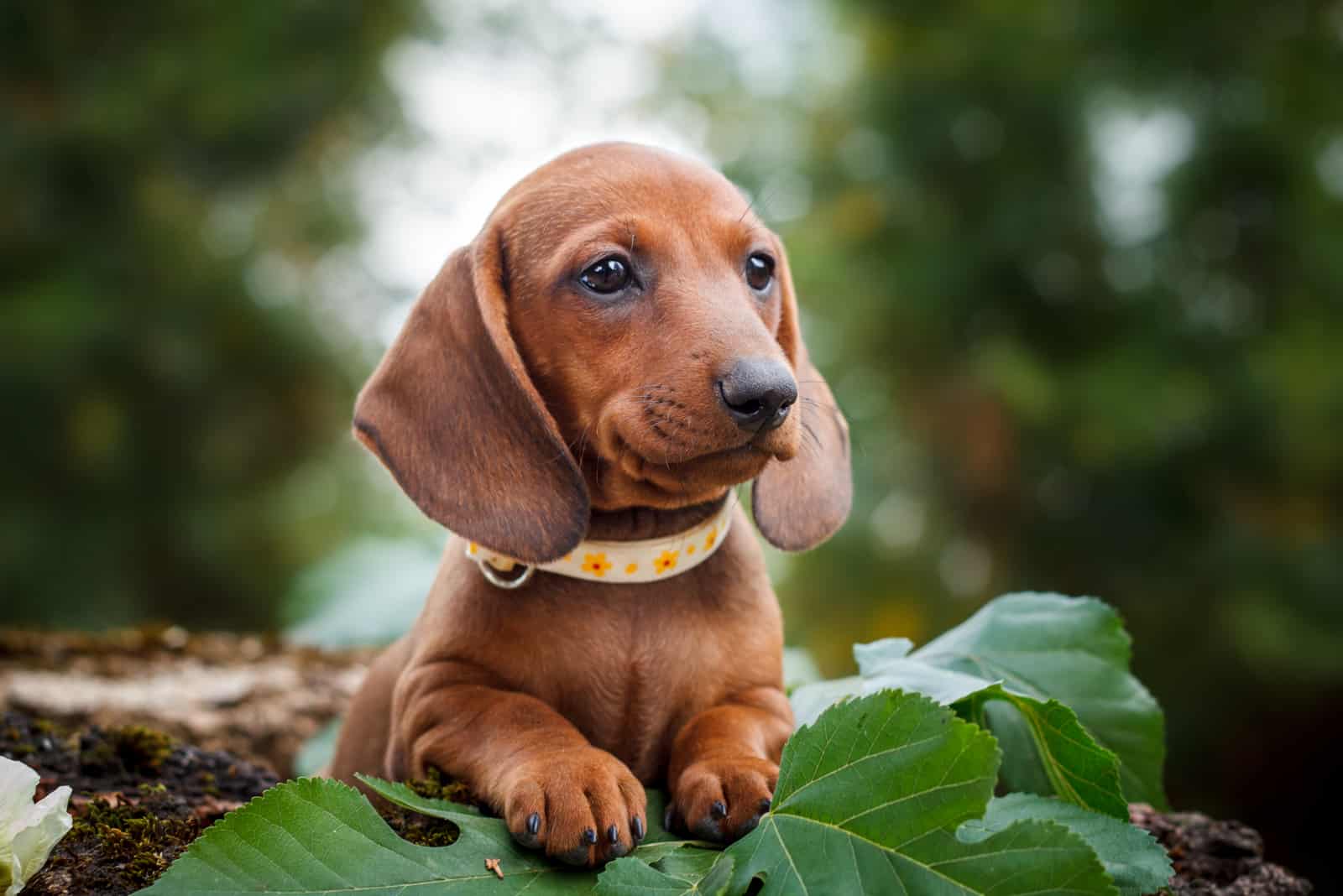 Even though they're a small, hobby breeder from Troy, Ohio, Honeyman's Miniature Dachshunds are still exceptional Dachshund breeders in this state. These guys offer only two to four litters a year, so you know they're not overbreeding their dogs.
This is not a kennel facility. All of the puppies are born and raised inside the breeder's home, and are socialized with pets, people, and used to new situations and stimulations. The Doxies from this breeder are bred with one purpose: to become someone's best friend.
Having only a few litters every year has helped this breeder to produce only the healthiest, sweetest, and friendliest Doxies made for conformation shows. Of course, the puppies go through deworming bi-weekly, and they're up to date with all their vaccinations before they get adopted. Also, the breeder makes sure the puppies are familiar with potty training, and helps them learn the basics in their new world.
If you want one of these sweet babies, you will need to have a budget from $950 to $1,800, with a non-refundable deposit usually from $300 to $500. The puppies come with a starter pack, including a 17-page booklet with useful info on Doxies, a copy of the parent's AKC registration paperwork, baby photos, toys with the litter's scent, a blanket, a one-year health guarantee, and all their health records.
This breeder bases its prices as pet-quality dogs with a spay/neuter contract. If you want full AKC registration, you will need to contact them and go through an evaluation because Honeman's Miniature Dachshunds don't allow just anyone to get their cute mini Dachshunds.
In case you're wondering what kind of Dachshunds they breed, they have short-, long-, and wire-haired Doxies in English cream, black & tan, black & cream, choco & tan, choco & cream, red, dapple, piebald, and dapple piebald. They're not breeding double dapples, blue, and Isabella coats because of the many potential genetic issues. And, I applaud them for this practice. Despite being so lovely, these Doxies can suffer a lot of health problems.
Want a puppy as sweet as honey? Call Leslie! She'll be glad to answer all your questions, and even arrange shipping to any of the neighboring cities like Columbus or Dayton!
Honeyman's Miniature Dachshunds Information:
Owner: Leslie Blair
Address: Troy, Ohio
Phone: (937) 524-1207
Email: [email protected]
Website: https://www.honeysminidachs.com
Facebook: https://www.facebook.com/profile.php?id=100057518077258
2. Martin's Hounds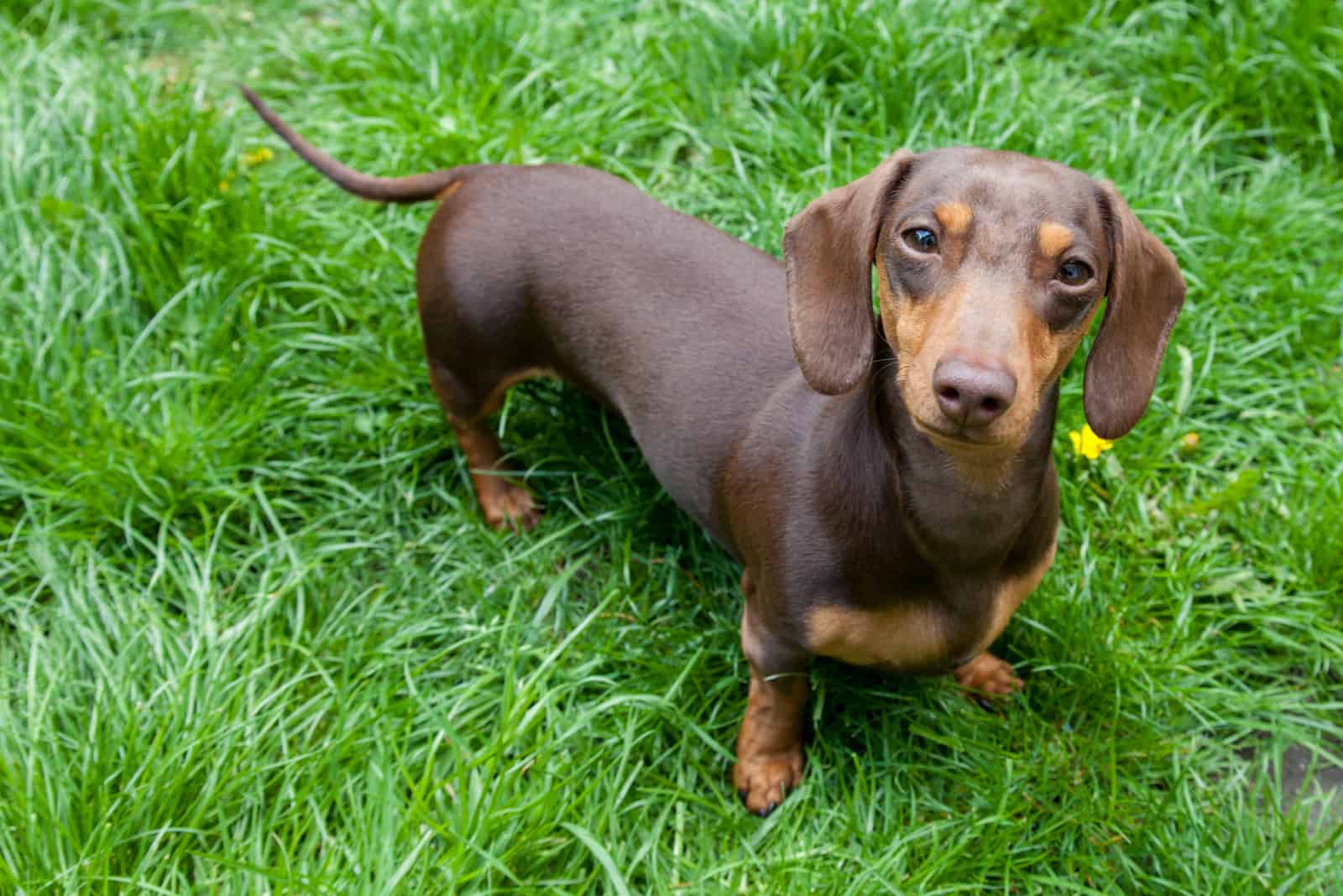 Another reputable breeder comes from Zanesville, Ohio. Martin's Hounds are not a kennel-based facility. They're completely a home breeder that takes care of their miniature and standard Dachshunds from day one. No kennels, no harsh treatments. This is a good breeder that shows love for their puppies on every step of the growing-up path.
Martin carries all sorts of Doxies in all coat types and colors except double dapple.
Martin makes sure their dogs go readily into their new loving homes. The puppies are up to date with all their shots, and treated for heartworms and fleas. Their new home will welcome them clean, fresh, and ready to start a new chapter.
The puppies are registered with the AKC and/or the CKC. They come with a year's health guarantee, and a guarantee from the breeder that they're happy and loving pups!
Martin's Hounds information:
Owner: Jody Lynn Martin
Address: Garrettsville, Ohio 44231
Email: [email protected]
Phone: (740)-280-0208
Website: https://www.martinshounds.com/
Facebook: https://www.facebook.com/Martins.Hounds
3. Doxiepaw Kennel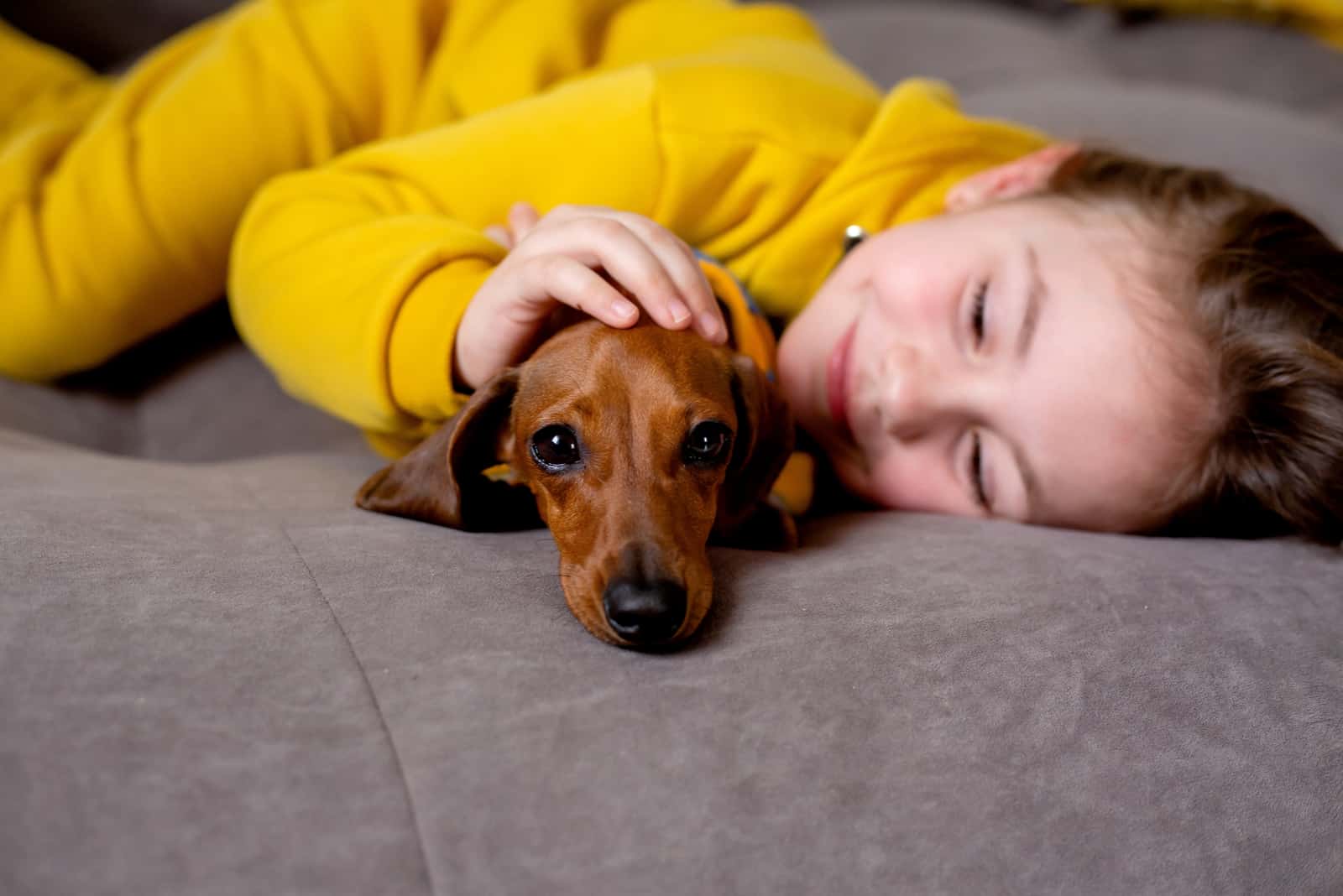 Doxiepaw Kennel is actually a small breeder with only a couple of litters per a year. Doxiepaw Kennel guarantees puppies in a good health condition and of a great temperament. I always say go for it if the breeder has only a litter or two every year. By this, I mean that the females are not being overbred. Overbreeding is, sadly, a common practice with unreliable dog breeders.
This is an in-home breeder, and they breed long-hair Dachshunds. The puppies are handled with care, and submitted to socialization from day one. They're surrounded with pets and kids, making them suitable for life in a full house.
Since this breeder has only a handful of puppies each year, you should check out their website for upcoming litters and book a puppy just for you.
Doxiepaw Kennel information:
Address: Garrettsville, Ohio
Email: [email protected]
Phone: 440-666-3886
Website: https://doxiepawkennel.com
4. Ice Legendz Dachshunds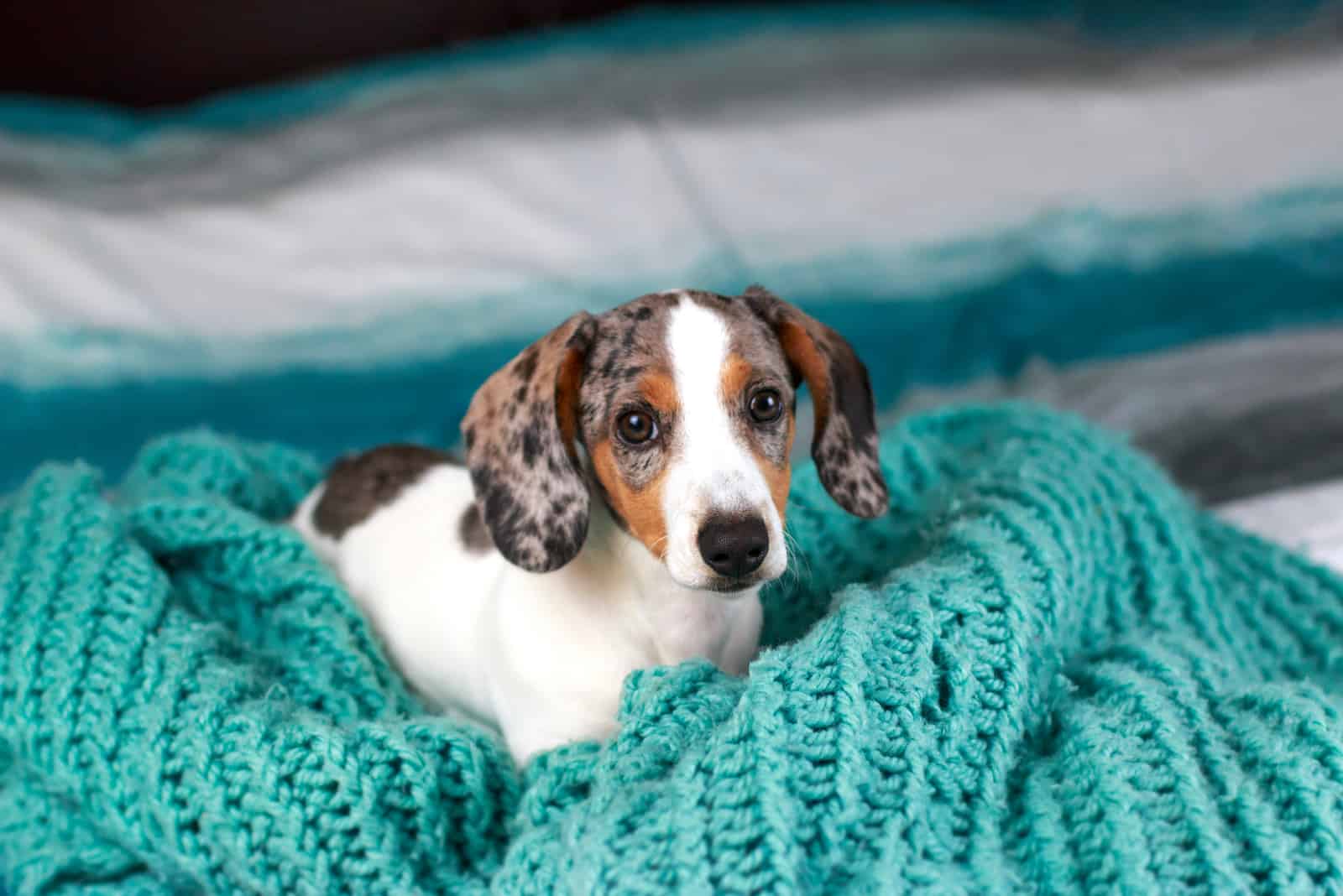 Ever since 1997, Tara, a stay-at-home Dachshund mom, has been taking care of this dog breed. Back in 2008, Tara began breeding Doxies. She raises her pups in a home environment, completely away from any kennel. The puppies get their socialization lessons from an early age, and they are used to being around people.
Ice Legendz can produce all Doxie colors, but naturally, they don't have every color available at the same time. What's interesting about this breeder is that all of their Dachshunds have an English cream bloodline; hence, the heavy bone structure.
Their pups usually weigh around 12 pounds, but they also have pups that are nine to 11 pounds each. While Tara breeds all coat textures and lengths, she will never breed a double dapple. For nine generations, she has been breeding premium-quality Doxies in all sizes.
Her dogs are up to date with all their shots, dewormed, and treated for heartworm. All pups are registered with the AKC, while some are CKC and APRI approved.
If you're looking for the healthiest Dachshund pups on the market, Tara and her Ice Legendz will prove how legendary-awesome they are.
Ice Legendz Dachshunds information:
Owner: Tara Star
Address: Burton, Ohio
Phone: (330) 509-0738
Website: https://www.icelegendzdachshunds.com
Facebook: https://www.facebook.com/groups/162848580850376
5. Creekside Doxies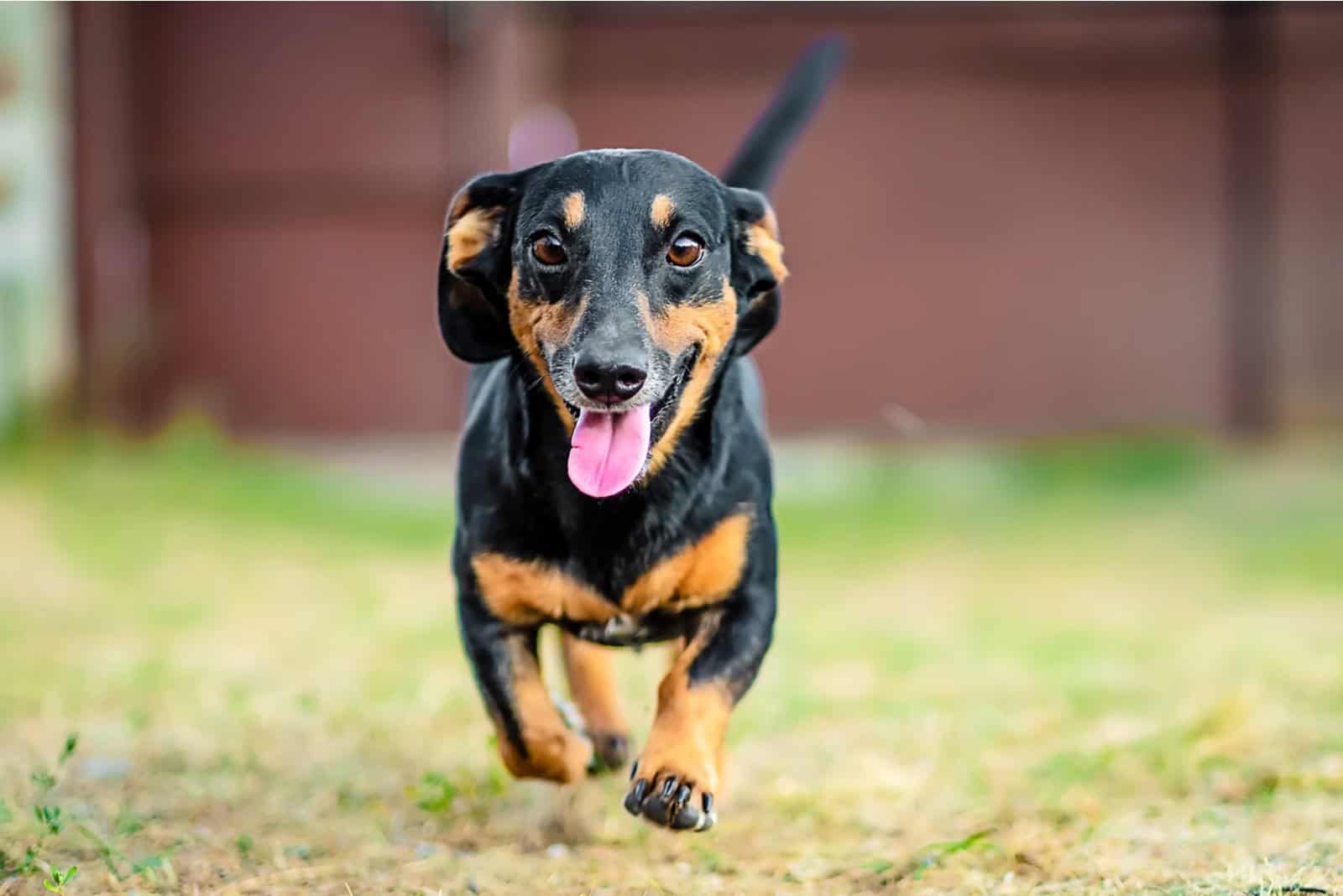 Their love for this breed has kept them going on. It is not the profit, but the quality of the Dachshund puppies. Creekside Doxies have gone above and beyond to find perfect Doxie parents that will make perfect puppies. Of course, the pursuit was successful!
Located in Chillicothe, Ohio, Creekside Doxies sells miniature Dachshunds in numerous colors, coat types, and patterns, including solid colors, dapples, piebalds, dapple piebalds, English creams, etc. The puppies are, naturally, subjected to numerous health testings by the vet, dewormed, vaccinated, and gone through dew claw removal.
Creekside offers a limited 48-hour health guarantee so your chosen vet can take a good look at the new Doxie puppy. You should take the puppy for this checkup to get the six-month health guarantee. If you don't, all guarantees are void.
The owner, Bonnie, is a 24/7 Doxie mom who takes care of only a couple of litters at a time, making sure that all puppies get the much-necessary care. For any additional questions, feel free to contact her. Bonnie is a sweet person. I've had the pleasure to meet some of her Dachshunds, and let me tell you something: I've never seen better behaving Dachshunds in my entire life.
Creekside Doxies Ohio information:
Owner: Bonnie
Address: Chillicothe, OH 45601, US
Email: [email protected]
Phone: (740) 542-1652 or 740-773-2406
Website: https://creeksidedoxies.com
Facebook: https://www.facebook.com/Creekside-K-9-100526904824246
6. Hidden View Farms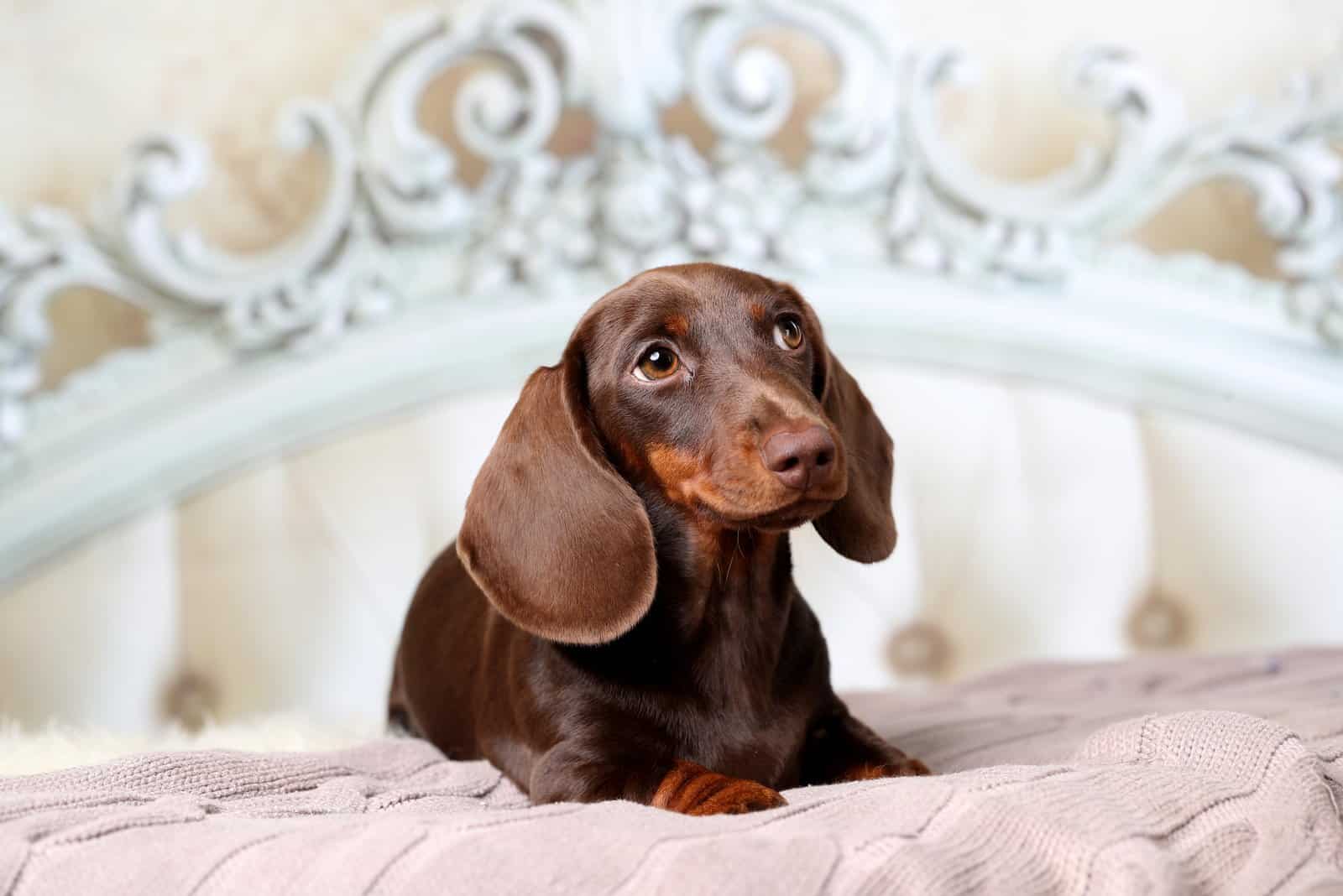 Established back in 2000, Hidden View Farms is another reputable breeder from Lancaster Ohio.
Over the years, this breeder has experimented with lots of different small-breed dogs, one of them being the Shih Tzu, but settled down for only a handful of them. One of those dog breeds is the Dachshund.
Hidden View is a breeding partner with two other reputable breeders from the state of Ohio. They're the ones taking care of breeding medium- and large-breed puppies. That's why some of the puppies listed on their website aren't available at the Farm.
Being surrounded with so many other dog breeds helps a lot with the puppies' socialization. They're all friendly, used to different stimulations and new faces.
Hidden View is a member of the Ohio BBB. They're also approved by the American Kennel Club, and are in Complete Compliance in every inspection. This breeder is licensed by the USDA and the State of Ohio. A lot of titles, right? Well, I'd let them brag. They're doing tremendous work and they should be rewarded! Hidden View Doxies agree with me, too.
Now, you know you're dealing with a completely reliable Dachshund breeder in Ohio.
Hidden View Farms information:
Owner: Cole, Dave, and Teana Gordon
Address: 7575 Bremen Road, SE, Lancaster, OH 43130
Email: [email protected]
Phone: (740) 974-8618
Website: https://hiddenviewfarms.com
Facebook: https://www.facebook.com/Hidden-View-Farms-147840805278348
7. Richmond Kennel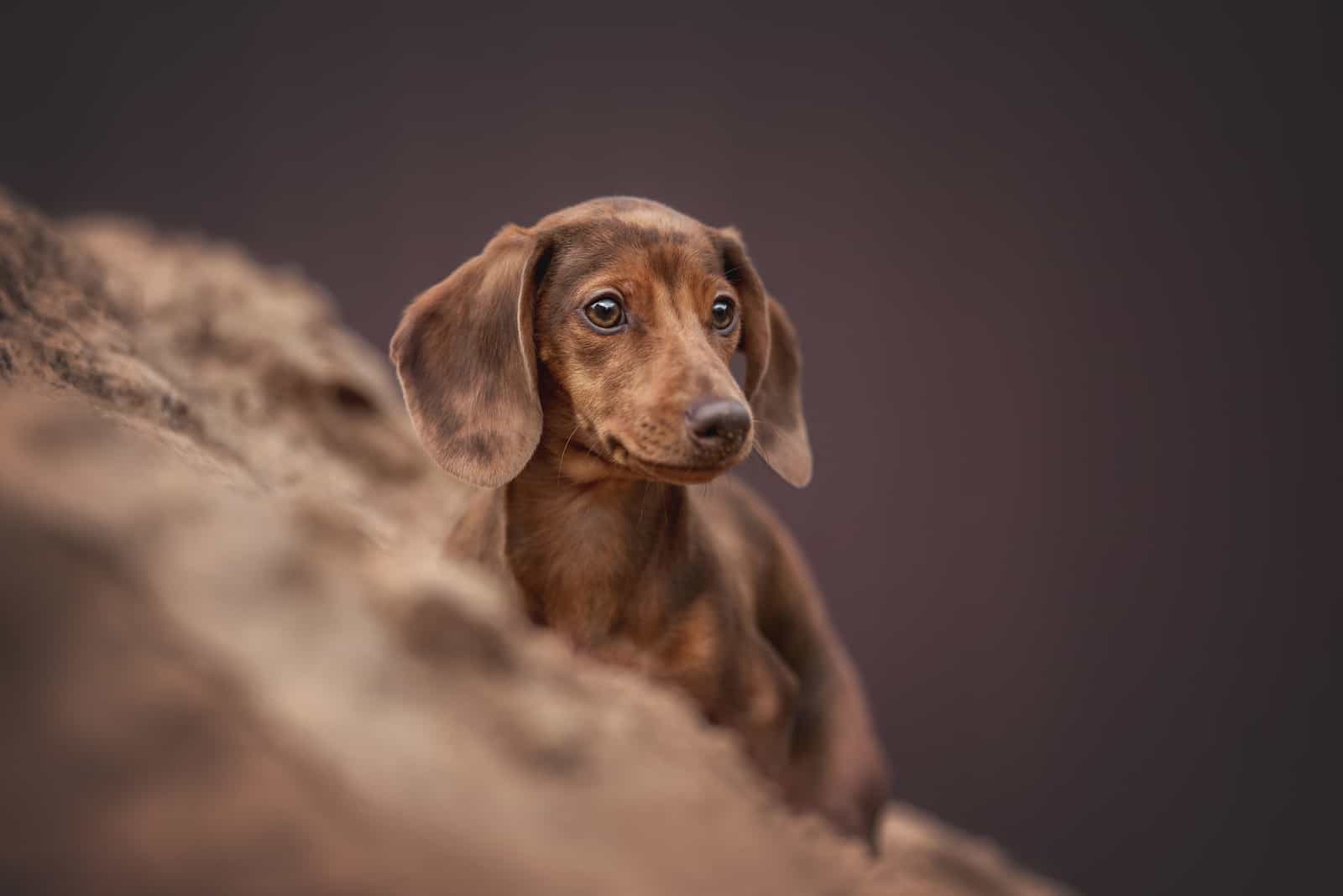 It all started 25 years ago when Maryann Nash brought her first Dachshund home from the local shelter. Her love for these sausage-shaped pups grew double in size and stayed that way ever since. The rest is history.
Maryann breeds cuddle buddies that will follow you anywhere you go. Wanna relax on the sofa? They will jump into your lap! Wanna call it a night and head to bed? You betcha, your Doxie will be there warming your bed.
Maryann (or Mom's Dachshund) is really like a second mom to these little guys. She raises AKC miniature Dachshunds in long- and short-hair varieties. They carry most colors or coat patterns, including cream Doxies.
All of the puppies are home raised, and are socialized with children and other pets to make happy puppies for a lucky person. They're vaccinated, and they have gone through several dewormings by the time they leave for their furever home at the age of nine weeks. And, not a day sooner!
We recommend this buyer because Maryann is a devoted breeder who even offers a two-year health warranty, and a chance to exchange your puppy for a new one before you pick it up in case the vet finds a health-threatening disease.
Dachshunds Breeder Details
Owner: Maryann Nash
Address: Garrettsville, Ohio 44231
Email: [email protected]
Phone: 440-548-2698
Website: http://momsdachshunds.com and https://momsdachshundpuppies.com/
8. Dashing Dachshunds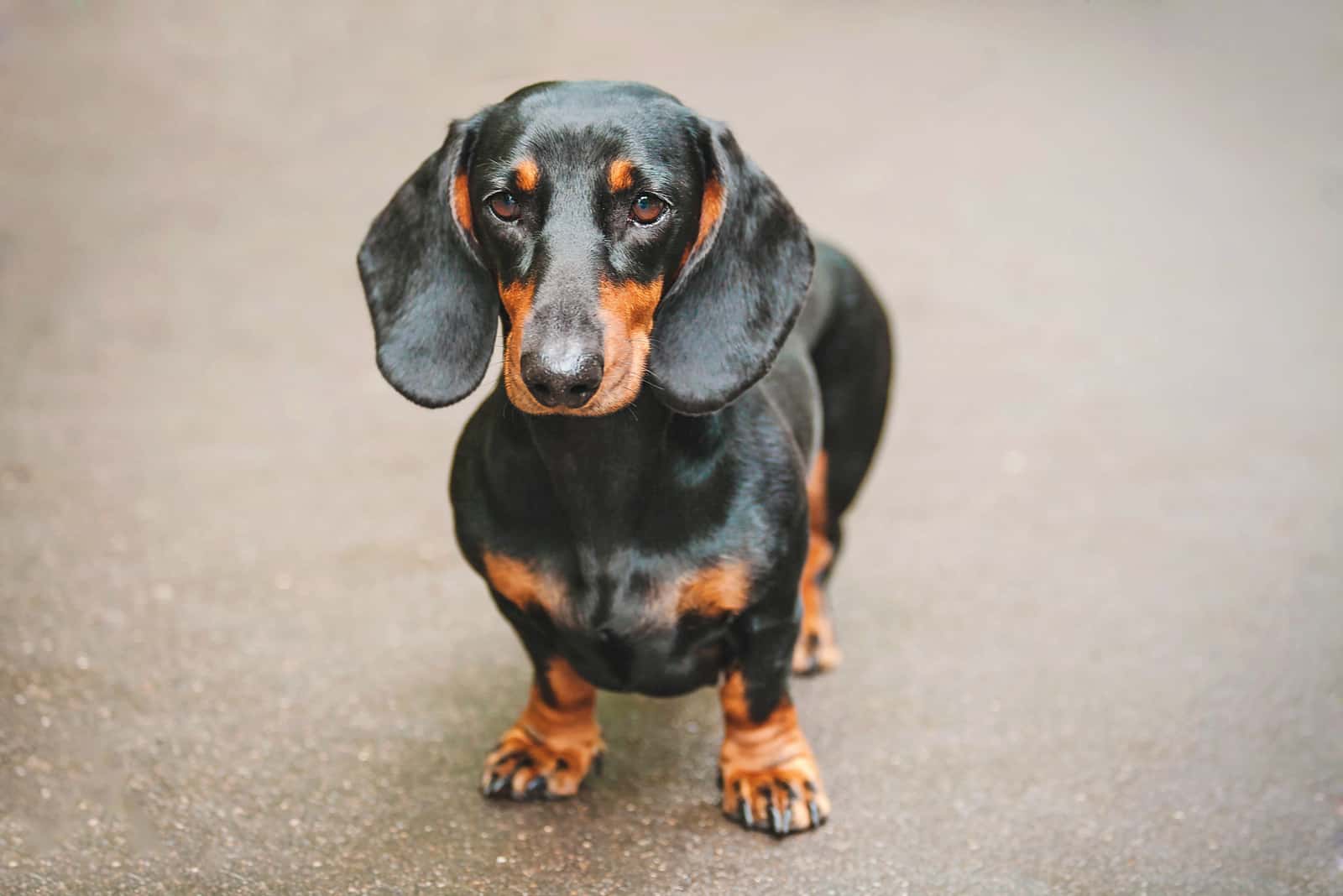 If you're one of those Dachshund lovers who prefers small breeders, then Dashing Dachshunds are up to your standards.
This in-home breeder is located in Hamilton, Ohio. They're a "dachshund only" breeder, meaning they breed only Doxies. Their Dachshunds are exclusively registered with the CKC, and come with a year guarantee, all of their health records, shots, and parasite treatments.
The reason why Dashing Dachshunds are on our list is because they're a kennel-free breeder, meaning they raise their puppies inside their homes as equal family members. The puppies receive socialization lessons from day one, making them perfectly capable of adapting to any lifestyle no matter if it's a farm or a flat.
For these truly dashing Doxies, you will need to have a budget of around $1,200 for dapple Dachshunds, while piebald ones are $1,500. The final price includes complete CKC paperwork with breeding rights.
Dashing Dachshunds Information:
Owner: Claudia Steele
Address: 881 Elizabeth Dr, Hamilton, OH (2021)
Email: [email protected]
Phone: (513) 349-9794
Website: https://dashingdachshunds.com
Facebook: https://www.facebook.com/ourdashingdachshunds
9. Grandma's Little Angels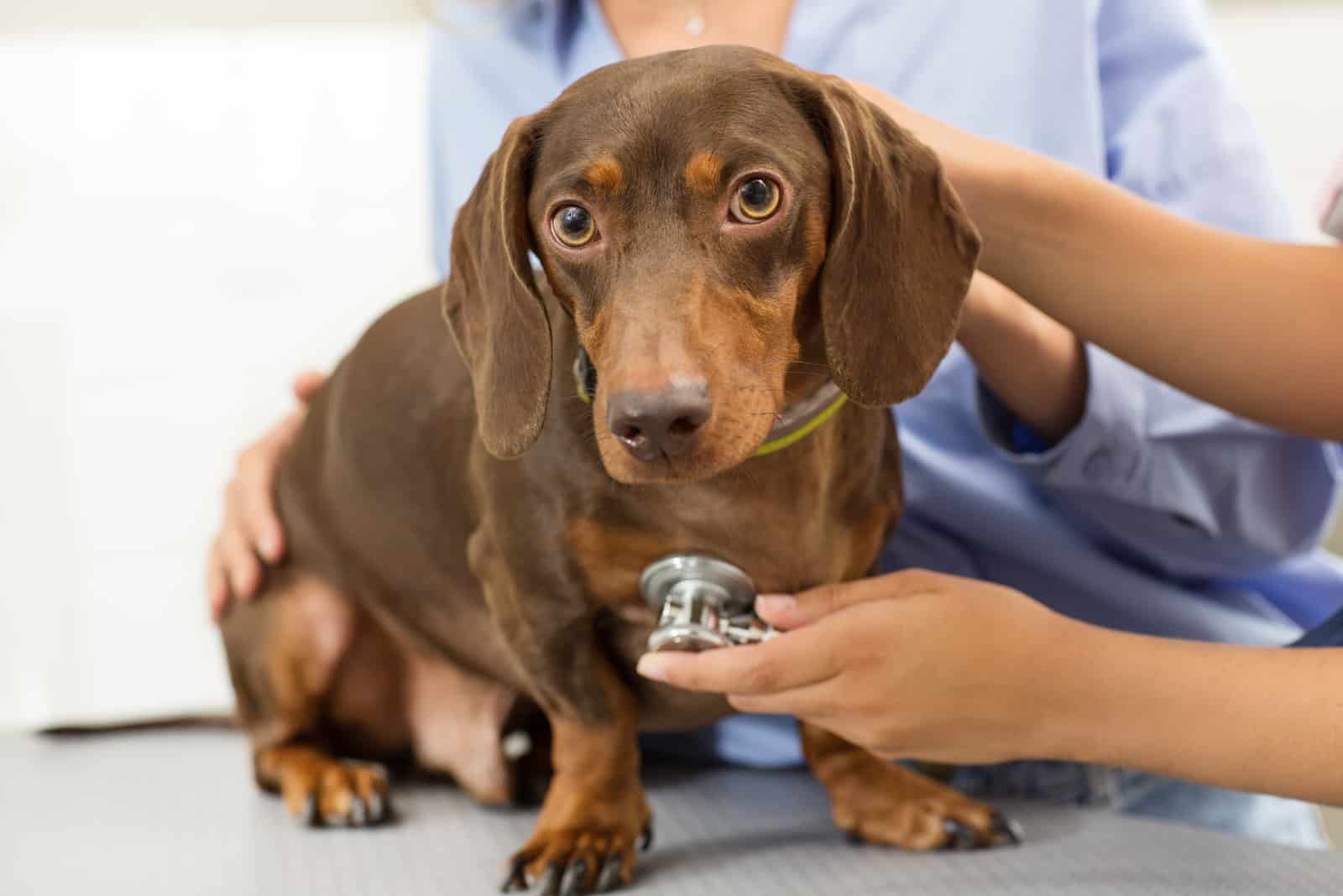 Grandma's Little Angels offers you two possibilities: to buy one of their puppies, or to adopt.
These little angels aren't kenneled. They're bred and raised as a part of the family.
All puppies will be seen by a veterinarian, be up to date on their vaccinations, and will come with their own doggie blanket, a toy, and a sample of the food they have been eating. Right now, the pups are nibbling on Purina ONE SmartBlend Lamb & Rice kibble.
You'll need a deeper pocket for these Doxies as the average miniature Dachshund starts at $2,050, but they have full AKC registration. A deposit of $400 will be needed. In case you can't come and pick up your puppy, the breeder will arrange shipping for an additional $400.
Previous buyers claim that Marsena is honest, reliable, professional, responsive, and caring. I can vouch for that. This woman is sweet, knowledgeable, and won't let you go without feeling satisfied. Puppies coming from this breeder will be healthy little ones ready to grow into spectacular adult Dachshunds.
I'd say they're not only Grandma's little angels!
Grandma's Little Angels Information:
Owner: Marsena
Address: 534 Washington St., Dover, Ohio
Email: [email protected]
Phone: 567-230-6290
Website: http://grandmaslittleangels.com
Facebook: https://www.facebook.com/Grandmaslittleangelsdachshund
Why Should I Get A Dachshund Puppy?
Well, if you like these pups just a little bit, things will change… drastically. One visit to a breeder from our list and you'll fall madly in love with Dachshunds.
I know, they carry a pretty bad reputation of being territorial, aggressive, and loyal only to one person. Not to mention their barking!
But, I believe there are so many advantages and pros of getting a Dachshund puppy.
Dachshunds are:
– loyal
– protective
– goofy
– energetic
– sweet
– and… interesting!
Let's face it: rarely is any dog breed as unique as the Dachshund. Their elongated body makes them quirky, but adorable. I'd lie if I say I don't like this fierce personality.
Why Shouldn't I Get A Dachshund Puppy?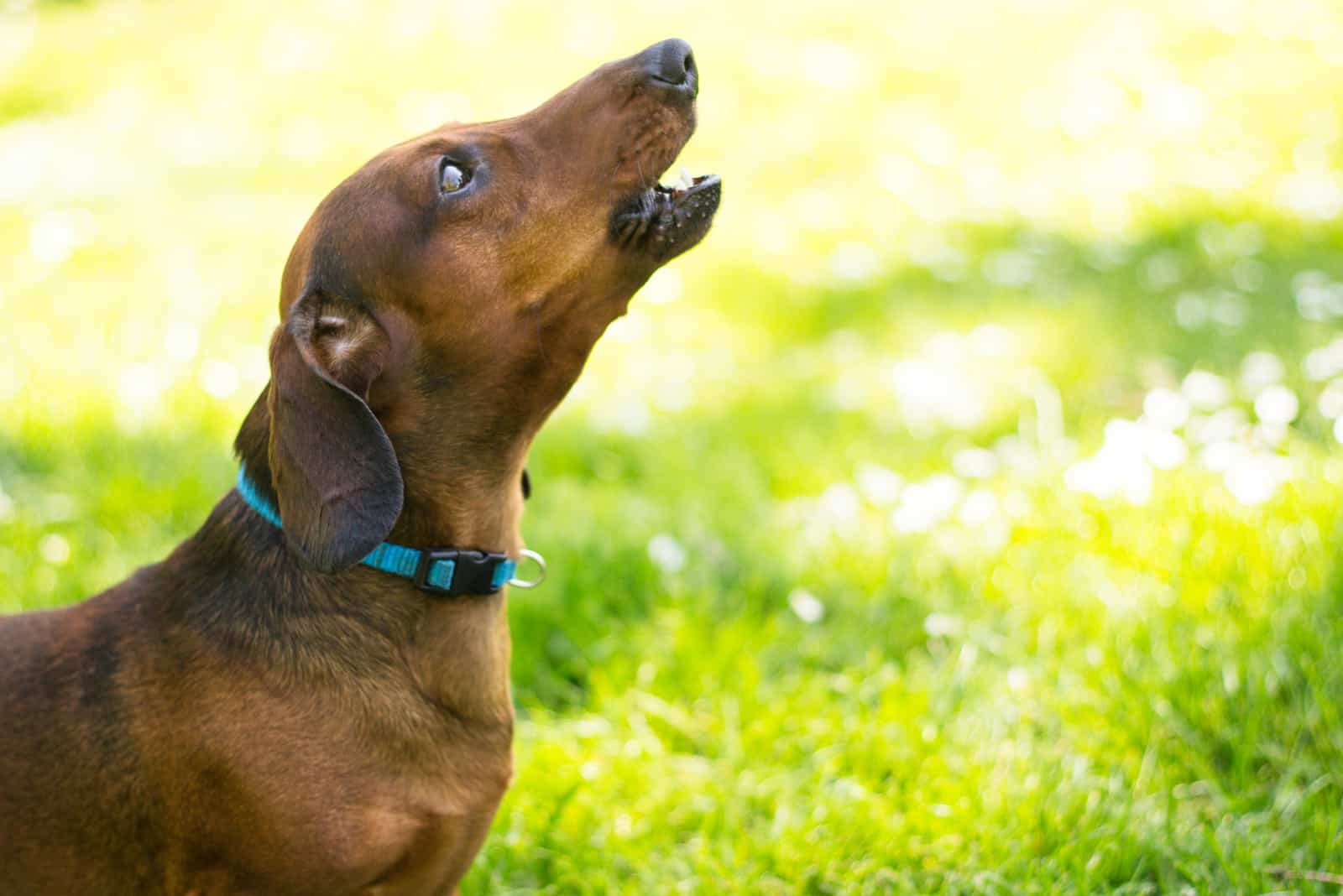 Being so fierce may be a problem for some dog owners. Dachshunds are loud dogs, and if you live in a quiet neighborhood, this could be a problem. You won't succeed in shushing them because Doxies will "speak" for as long as they want.
It's their stubborn trait that won't let them cooperate all the time.
I'm really sorry to inform you that their stubborness will also affect their trainability. Potty lessons? I don't think so. You wouldn't believe how hard it is to potty train them!
Dachshunds will push their way no matter if you say 'no'. They're demanding creatures! One moment, your Doxie will be cuddling with you, and the next one, he'll be like: Why am I on your lap. Leave, hooman!
I'd say the biggest downside of owning Dachshunds are their numerous health problems, especially back issues. See that long, sausage-shaped body? That's the reason why many Dachshunds end up crippled or in wheelchairs. If you don't have the money or the nerves to deal with their health issues, don't buy this dog breed.
How Much Do Dachshund Puppies Cost?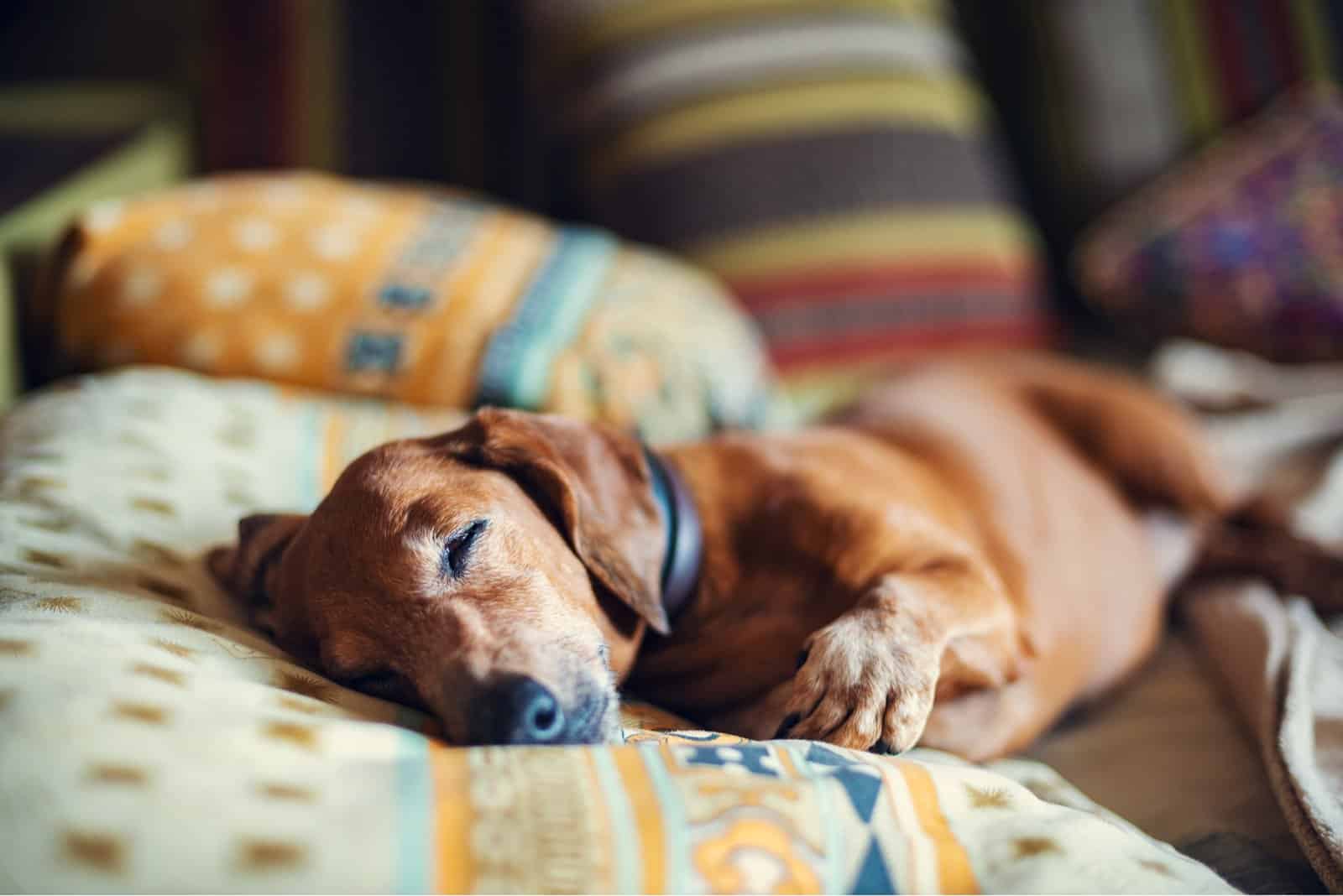 Let me tell you something, my friend. If you're only looking for a four-legged buddy, you should emphasize that. Pet-quality dogs are way more affordable than show-quality ones. For a pet-quality Dachshund, you will have to set aside around $400 to $700 in the state of Ohio. However, this doesn't mean that these puppies are of good quality. Quite often, cheap puppies mean that they're suffering from some health conditions. That's why it's important to ask the breeder or seller for the puppy's health records before you make the purchase. If it's a reliable source, they will be happy to show you the puppy's logbook.
Premium Dachshund puppies are purebred pups that are bred for confirmation and dog shows. Still, they can be family pets, too. These pups have champion bloodlines, and it's not surprising that their price range is pretty high. You will need to put aside $1,300 to $4,000 for such puppies. I would always go with the cheapest premium Dachshund puppy. This puts them in the middle of the quality range.
And, these are only initial purchase costs!
Conclusion
If you live in the state of Ohio or in the surrounding area, then you'll definitely be interested in our list of best Dachshund breeders in Ohio. They have the sweetest Doxie pups you'll ever see. We're sure you'll find your ideal pupster listed with these breeders.
You don't have to worry about hidden puppy mills, backyard breeders, or unreliable sources. Our top 9 Dachshund breeders in Ohio breed and raise Doxie puppies with the utmost care and affection.
If you don't believe us, you will believe tons of excellent reviews from their previous clients. Go on… Google them all!
I wouldn't lie to you about your future family members!
Related Articles:
● 12 Trusted Dachshund Breeders In California In 2022
● The 5 Best Corgi Breeders In Ohio In 2022
● 15 Reliable Dachshund Breeders In Georgia (2022)