Few dog breeds are as recognizable as the French Bulldog. Despite the name, this dog was originally bred not in France, but in England. Its original purpose was to be a toy-size Bulldog, but it has now become a separate breed entirely.
However, the breed gained amazing popularity in France's countryside, and this is where its name comes from. It wasn't until the 19th century when the breed stopped being used as working dogs and moved into the city as cute family companions.
These dogs are well-known for their flat, brachycephalic faces, bat-like ears, short stature, and loud snoring. They are loyal and cuddly, and no one can resist their large eyes.
However, just like with all other brachycephalic dogs, there are some health issues associated with their flat nose. To eliminate the chances of your puppy getting sick, it's important to buy from reputable French Bulldog breeders in Maine, Massachusetts, New York, or any other state you're located in.
There are many reasons why you'd want to support French Bulldog breeders in Maine. We'll list five of the best breeders in the area, and talk a bit more about why it's important to know who you're buying dogs from.
Let's get started.
French Bulldog Puppies For Sale In Maine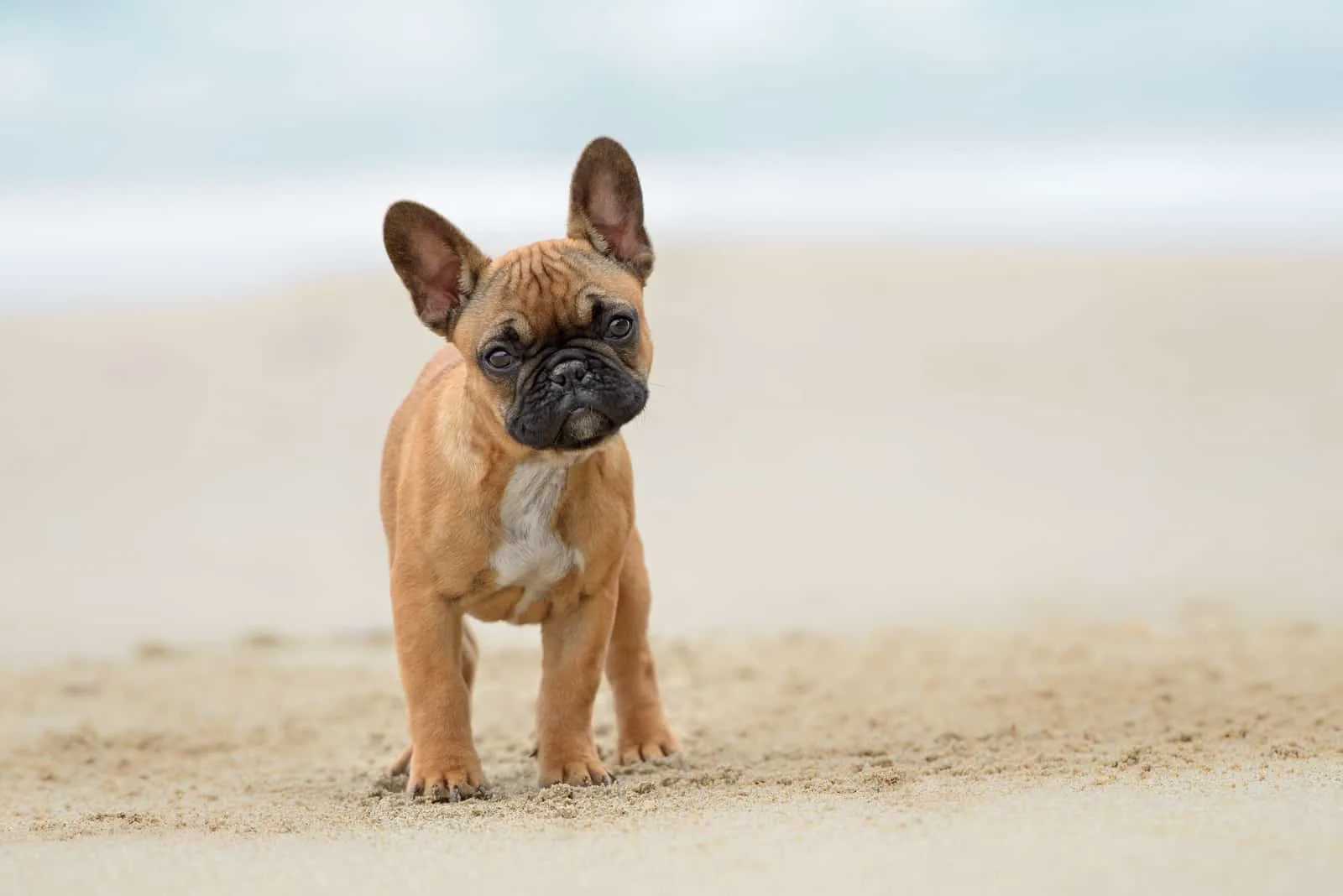 There are several locations you can go to if you're looking for French Bulldog puppies. As Frenchies are known for being rather expensive , it might seem logical to start with more affordable options. However, this isn't always the best idea.
Many places where you can find cheap French Bulldog puppies for sale are, in fact, puppy mills. These locations focus on selling as many puppies in the shortest time possible.
French Bulldog litters don't consist of too many puppies . If you want to have available puppies all the time, you likely have to over-breed your female dogs. This is what most puppy mills do. They'll breed their dogs as soon as they get into heat, which can cause terrible consequences on their health.
They also don't care about their dog's health, so they won't conduct any health test or issue any health guarantee. This means not only having to later watch your pup struggle, but you'll also pay thousands in vet bills. In the long run, it is much more affordable to simply buy from a reputable dog breeder.
Puppy mills also sell to pet stores. If you see French Bulldog puppies for sale in pet shops, they are likely coming from puppy mills. This is why you shouldn't buy puppies from there.
While buying from Maine French Bulldog breeders might seem like an expensive option, this is still the best thing you can do if you want to get the best dog possible.
French Bulldog Breeders In Maine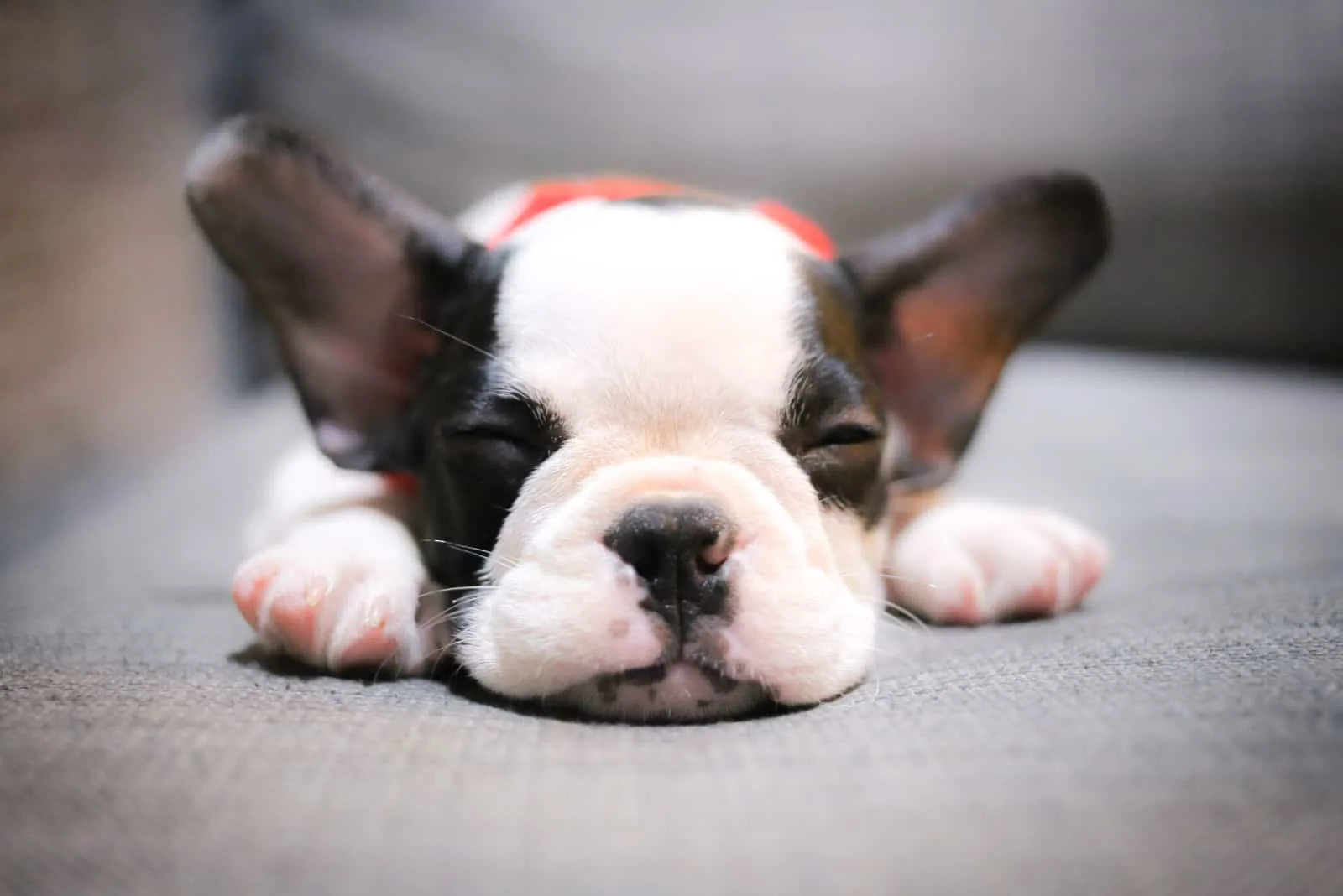 So, you've chosen to buy a puppy from a breeder. Whether you're looking at kennel names in Maine, New Hampshire, New England, or Vermont, you need to understand that there are two types of breeders.
Backyard breeders are the more affordable of the two. This is the first difference you'll notice, which is why you might find yourself interested in them. While this doesn't necessarily have to have a bad outcome, we would still advise you to stop and think about it.
Backyard breeders don't literally breed dogs in their back yard. However, they lack the experience and knowledge that professional breeders have.
Most of the time, they are dog owners who have ended up with an unwanted litter. Sometimes, though, they are simply individuals looking to profit off of bad breeding practices.
In theory, they are a better option than puppy mills – but only by a little. They usually love their dogs and take good care of them, but they don't know how to breed dogs. They don't conduct health tests, and they don't follow any regulations.
In other words, you won't know whether you're buying healthy, purebred dogs or dogs of mixed bloodlines with many health problems.
Reputable breeders will conduct all necessary DNA tests and health screenings, and they'll follow strict breed standards set by major kennel clubs in their area, such as the American Kennel Club (AKC). They'll issue you paperwork that will prove that your dog is healthy and purebred.
If you're uncertain as to whether you're dealing with a reputable breeder or a backyard breeder, it is a good idea to contact your local breed club and ask them for a breeder directory. Only certified breeders can be published in these.
We'll talk a bit more about other advantages of buying from reputable French Bulldog breeders in Maine in a minute – but first, let's take a look at the five best kennels in your area.
1. Superior Blue French Bulldogs.
If you're looking for high-quality blue French Bulldog puppies in Maine, this might be the right breeder for you.
Of course, they don't just breed puppies in solid blue. They also sell blue and white pups, and occasionally even blue and tan, blue brindle, blue pied , and other rare combinations.
Superior Blue French Bulldogs have been active in the dog breeding field for more than two decades. This gives them enough experience to breed healthy, well-behaved pups.
They require booking an online appointment, so they can meet you and allow you to see all the available puppies. However, before you are able to be put on a waiting list, you'll have to pay a $1,000 deposit.
While they primarily sell family companions, their dogs are trained to perform some other duties. For example, they make great emotional support dogs.
You can check out their website or social media networks to see pictures of available puppies and upcoming litters, and get more information about their application process.
Website: Superior Blue French Bulldogs
2. Royal Woods.
This is a unique French Bulldog breeder in Maine because it also specializes in breeding Sphynx cats. They are proof that dogs and cats can be friends, although it can be hard to determine which one is better.
They breed their dogs and cats on a large, 154-acre farm that gives them plenty of space to roam around. Despite this, they are a small family breeder that treats all their animals like family members. They focus on health and conformation, trying to produce the best dogs possible.
All of their breeding dogs are AKC registered and checked for genetic conditions. They also come with a veterinary certificate that is proof of their good health.
Also, all of their puppies are up-to-date with their vaccination and deworm shots, and they come with a medical record booklet and a one-year health guarantee for genetic conditions.
Not just that, but you'll get lifetime breeder support. The people from Royal Woods will always be there to provide you with the necessary resources, including information about dog food for French Bulldogs , or where to buy good brushes , dog beds , and collars , and they will even take your dog back if you can no longer take care of him.
To be placed on the waiting list, you need to pay a $500 deposit. However, they can also put you on the call-back list, so they can call you if they still have available puppies after everyone on the waiting list has reserved their pup.
Website: Royal Woods
Email: [email protected]
3. Ballpark Bullies.
Ballpark Bullies is an experienced English Bulldog breeder that recently started breeding Frenchies as well.
Their goal is to produce quality French Bulldogs that make the perfect combination of health, temperament, and good looks.
All of their puppies are handled each day, and are used to living in an indoor environment. This makes them suitable for family homes the moment they leave the kennels. They come socialized, with age-appropriate potty training .
Their puppies are regularly checked by a vet, and they have all been vaccinated and dewormed. However, Ballpark Bullies has stopped removing dew claws.
If you live outside of Maine, they will ship your dog to you – but due to regulations about brachycephalic dogs and cargo, they'll have to fly with a flight nanny service.
Website: Ballpark Bullies
Email: [email protected]
Social Media: Facebook
4. Maine Street Bullies.
Maine Street Bullies is owned by an experienced veterinarian, so you can be certain to expect healthy puppies. Whether you're looking for English or French Bulldog breeders in Maine, you don't want to miss them.
Maine Street Bullies focuses on the health and temperament of the dog, but good looks are a bonus they are proud of. They produce well-rounded dogs that make perfect family pets no matter if you're living in a large or small home.
They won't adopt dogs to just anyone. Instead, you'll have to fill out a questionnaire that can be found on their website. The breeder will want to know whether there are kids in your household, or other pets, as well as your dog ownership history.
If you are eligible, they'll contact you about a $500 non-refundable deposit that will allow you to be placed on the waiting list and reserve your puppy.
All puppies come with a spay/neuter agreement, and this is something you'll have to do if you buy from Maine Street Bullies. This way, they'll make sure their dogs don't end up in puppy mills or go to puppy brokers.
Website: Maine Street Bullies
5. The Frenchman Frenchies.
This is another French Bulldog breeder in Maine that you don't want to miss. While they might not have as many experiences as some other breeders on our list, The Frenchman Frenchies are doing their best to produce top-quality AKC French Bulldogs – and, so far, they're doing an exceptionally good job.
All of their dogs are bred in a family environment, so they will go to their new home socialized and used to being around new people and pets.
Not only do they conduct all the necessary health tests, but they also agree to take care of your French Bulldog if you decide you can no longer own him. By doing this, they are ensuring that their pups don't end up on the streets or in shelters.
Also, they only sell family companions. Because of this, they won't sell to companies or pet brokers. To make sure you are suitable for their dogs, they'll conduct a thorough interview and do a background check. Their goal is to find loving homes for all of their dogs.
They only have a few litters every year, so they encourage everyone to reserve their puppy in advance.
Website: The Frenchmen Frenchies
Email: [email protected]
Social Media: Instagram , Facebook
Where To Find French Bulldog Puppies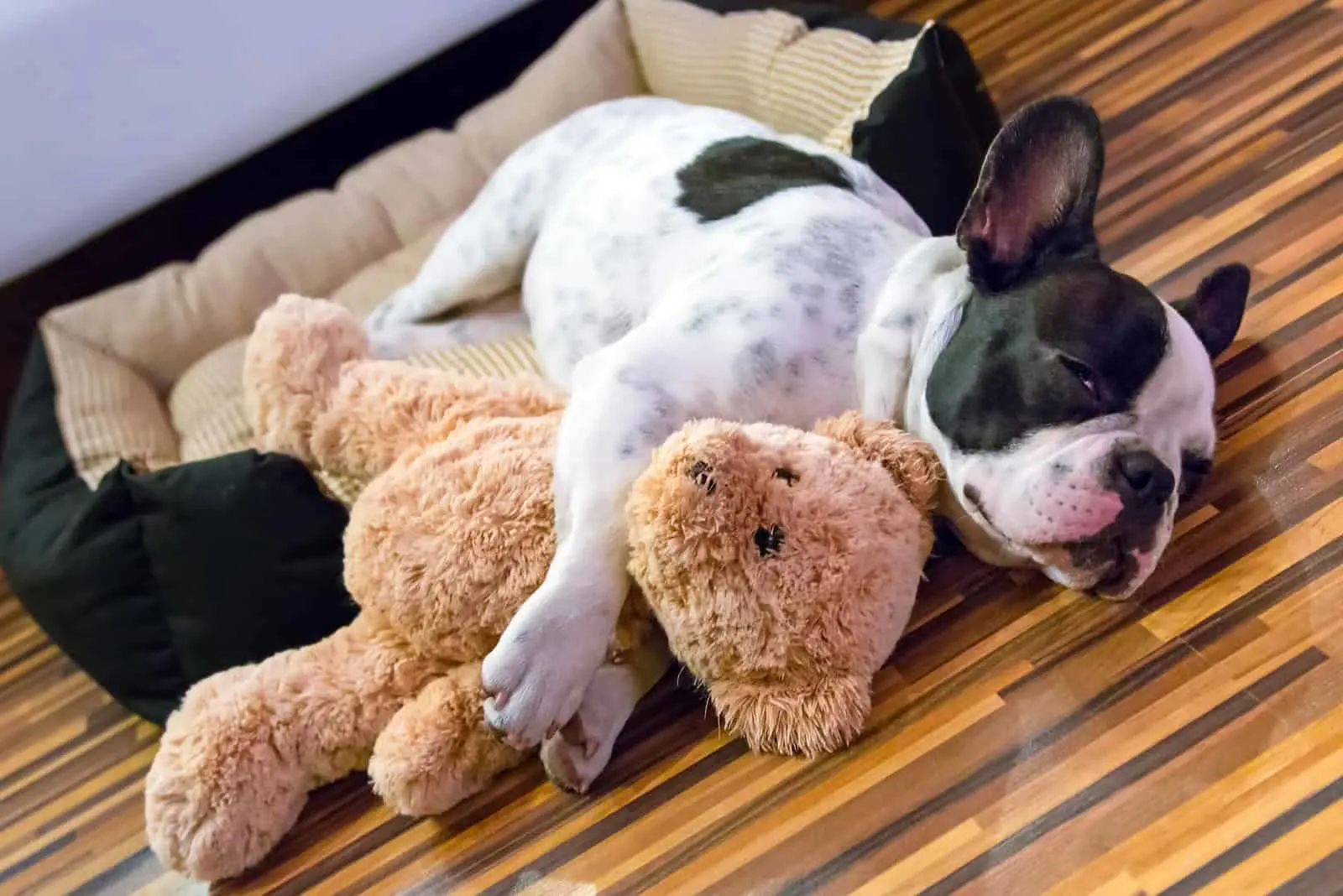 Other than buying from breeders or puppy mills, you can find French Bulldog puppies in local animal shelters.
Many dogs end up abandoned no matter if they're purebred or mixed breeds. Whether that be French or English Bulldogs or even B Bichon Frise , , shelters can be full of puppies looking to find a new home.
Adopting a dog is certainly an ethical thing to do, and we always support the decision to adopt. Still, it's important to realize what you're getting into. We'll explain.
When you have a dog breed that is prone to health issues – and many Frenchies have breathing problems – it's of utmost importance to know the dog's bloodline. However, when you adopt, you have no way of knowing whether your new puppy is troubled by some severe health condition.
Not just that, but many abandoned dogs have been abused or have dealt with some type of trauma. All of this can leave a long-lasting scar on the dog's personality, causing behavioral problems .
If you are prepared to deal with such potential problems, then we welcome your decision to adopt.
Should I Buy My Puppy From French Bulldog Breeders In Maine?
There are many reasons why you should buy from reputable French Bulldog breeders in Maine – and we're not simply talking about people who want to get purebred AKC French Bulldogs, but also those who are simply looking for new pets suitable for small homes.
First off, we've already mentioned that reputable breeders conduct various health tests. This is the best way to be certain that the chances of your puppy developing some hereditary condition are rather slim. But, this isn't where the advantages end.
Reputable breeders will be rather open about their breeding programs, and this includes allowing you to visit their premises and meet the mother dogs – and sometimes even the sires.
This allows you to have a rather good idea of how your dog will look and behave when he's older.
These people will also be willing to give any information that might help you be a better Frenchie owner. This includes sharing resources as well as giving you advice on dog training, diet, and even vet recommendations.
But, most importantly, reputable French Bulldog breeders in Maine and in any other U.S. state will help make this amazing dog breed better.
By conducting DNA screening, they'll eliminate genetic disorders from the dog's bloodlines. This can improve the breed's average lifespan, and result in healthier dogs altogether.
They'll stick to the breed standard, which isn't always just about looks. Many of the dog's features are there so the pup can perform his purpose. For example, guard dogs are large so they can scare off any intruder and be strong enough to protect their owners.
Having the perfect puppy isn't all about the coat color. If a dog doesn't behave well, he might not be as good of a family pet as you would imagine him to be. Unfortunately, this results in many abandoned dogs.
Still, this is where good dog breeders come into play. No reputable breeder will allow their dogs to end up in shelters, even years after you've bought them.
If you ever find yourself incapable of taking care of your Frenchie, a responsible breeder will agree to take him back instead of having you drop him off in a humane society. They will do all they can to provide a new loving home for all of their dogs.
While buying from breeders does seem expensive, there is no price that can be worth your dog's health. Sure, you'll spend more on the initial price, but you'll save on vet bills – and you'll know your dog is healthy and happy.
Read Also: French Bulldog Breeders In Illinois: Best 9 Frenchie Breeders In This State