We grew up watching and loving Disney.
Now that we're all grown up, some might not watch Disney anymore. But, that doesn't mean something didn't stay with us. It's the many character names and stories from each movie.
When I decided to adopt my dog, there was no doubt about the name: I knew I wanted a Disney dog name.
So, naturally, I went through every list and found the perfect name for my pup.
To help you find your pup's new name easier, I've come up with a list of my own. I'm sure there's a spectacular Disney dog name waiting for your pooch somewhere on this list!
Disney Dog Names: Female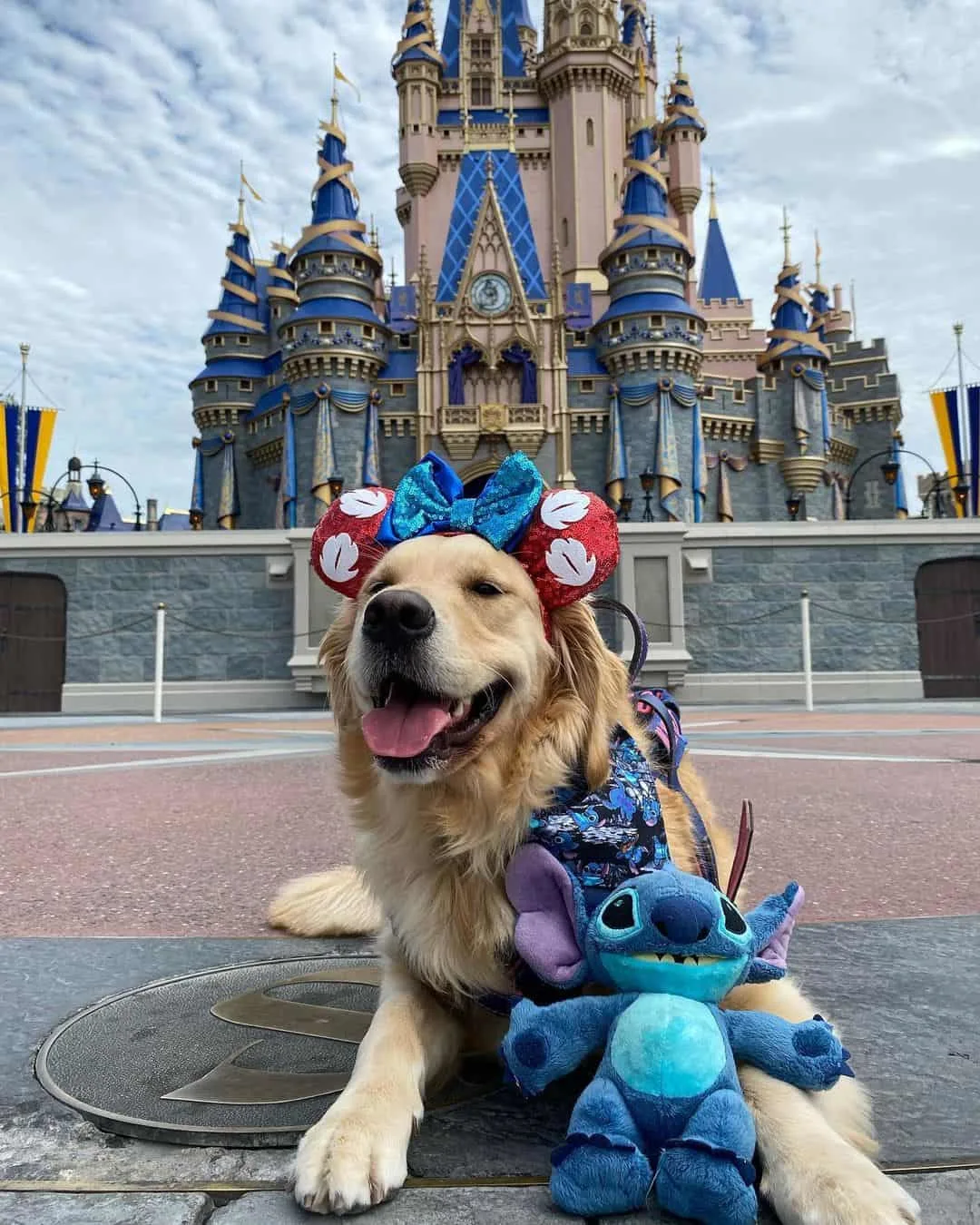 Photo from: @allie_wags
When you get deep into this article, you'll see that the world of Disney can be considered as a deep, deep pool of excellent dog name ideas. Every movie, from the oldest ones to the latest editions, has some names that will make you stop and think about them.
To make it easier for you, I've divided the names into categories. They're also all alphabetized, so you can find something you like easier.
Names From The Letter "A" To The Letter "E"
1. Abuelita, as in Abuelita, from the popular 2017 movie "Coco".
2. Adella, a mermaid sister of princess Ariel.
3. Akela, another mermaid sister from "The Little Mermaid."
4. Alana, once again, Ariel's sister.
5. Alice, a curious little girl who fell down the rabbit's hole in "Alice in Wonderland".
6. Alma, or Abuela, grandma from the latest Disney blockbuster, "Encanto".
7. Anita, Perdita's human from "101 Dalmatians".
8. Atta, a princess, later queen, from Disney and Pixar's 1998 hit, "A Bug's Life".
9. Bambi, even though Bambi was a make character, I believe this is a lovely unisex name.
10. Barbie, well… Barbie is simply Barbie. But, the Toy Story franchise has a character named Barbie, too!
11. Bianca, a sweet mouse girl from "The Rescuers".
12. BoPeep, a little girl figurine from "The Toy Story".
13. Bonnie, mom of Judy Hopps, from "Zootopia".
14. Celia, Mike Wazowski's girlfriend from "Monsters, Inc."
15. Charlotte, Tiana's friend from "The Princess And The Frog".
16. Clarabelle, second best friend of Minnie Mouse.
17. Cleo, a goldfish from "Pinocchio".
18. Coco, as in Mama Coco, from the 2017 great movie hit "Coco".
19. Colette, a female chef from "Ratatouille".
20. Cruella, a well-known villain from "101 Dalmatians". But, you can also call your female pooch, Ella.
21. Daisy, as in Daisy Duck… Minnie's best friend forever. Do you really need a better name idea than sassy Daisy for your sweet Minnie?
22. Daniela, Luca's mom from "Luca". A classy name for a classy dame.
23. Darla. She may be annoying, but Darla, from "Finding Nemo" sure has a cute and girly name.
24. Darling. She's Lady's owner from "The Lady and the Tramp", and a sweet name inspo for your new female puppy.
25. Dinah. She was a kitten from "Alice in Wonderland", but no one says you can't name your dog Dinah.
26. Dolly, a rag doll from "Toy Story 3".
27. Dolores. Madrigals from "Encanto" are all the rave right now, and so is Dolores!
28. Dory… who doesn't know Dory? Oh, well, Dory doesn't know Dory, but she does agree this name is a cool one.
29. Duchess, a lovely, graceful mother cat from "The Aristocats" can also be a pretty female dog's name.
30. Edna Mode for a small, black-haired pup that's as bouncy as Edna, from "The Incredibles".
31. Esmeralda for a pup as pretty as Esmeralda, from "The Hunchback of Notre Dame".
32. EVE for a pup whose character is simply out of this world, just like EVE, from Wall-E!
Names From The Letter "F" To The Letter "J"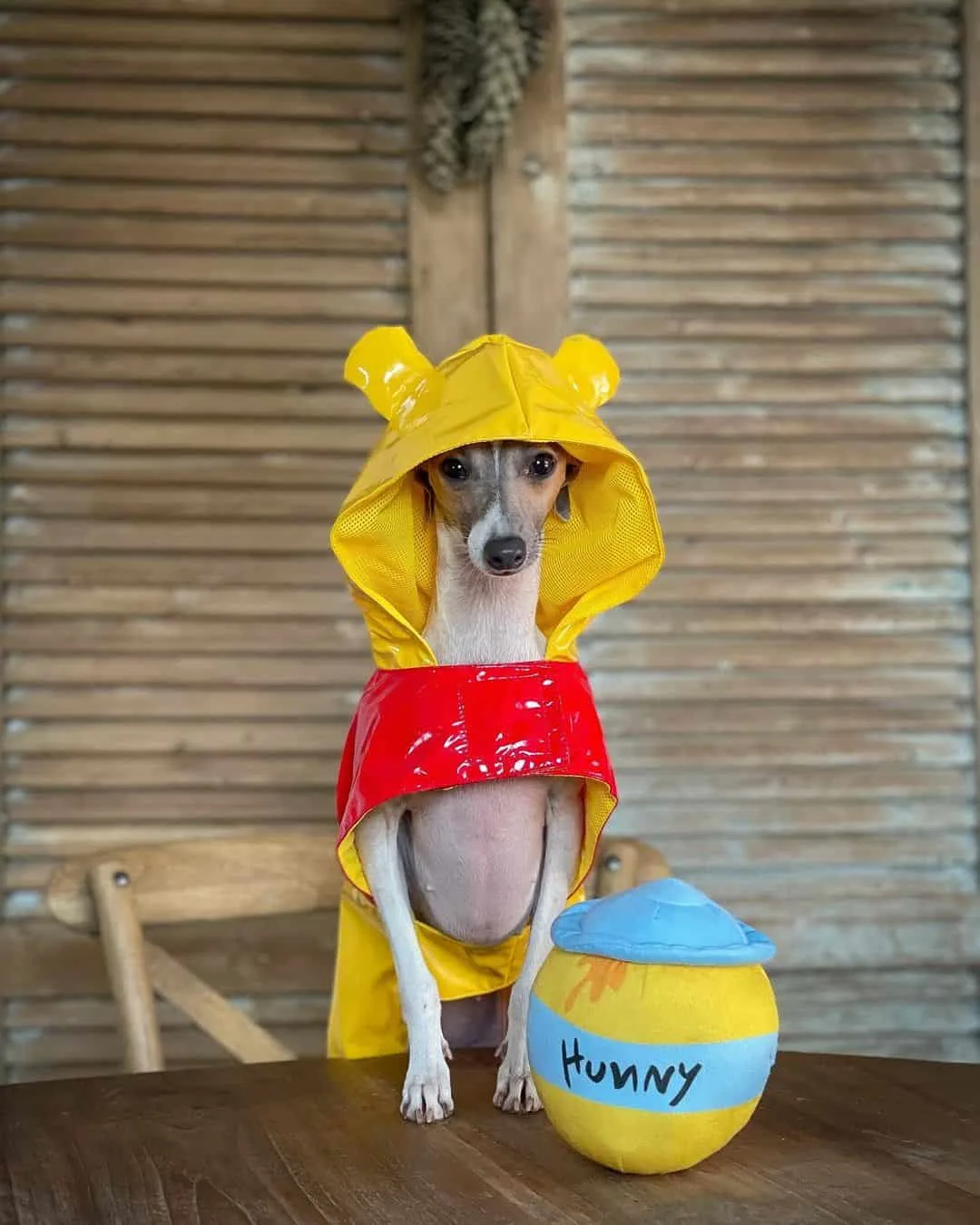 Photo from: @iggy_tuna
33. Faline, Bambi's deer friend and a dear female dog name.
34. Fauna, second fairy godmother of Aurora, from "Sleeping Beauty".
35. Fifi. if you have a dog named Pluto, then you need to name your new female pup Fifi. Mickey has Pluto, Minnie has Fifi.
36. Flo. The sleek green car from "Cars" is also a pretty sweet name option for your new pup.
37. Flora, another one of Aurora's fairy godmothers; the leader of the group. Great moniker for dominant female dogs.
38. Flower. Remember that lovely skunk from Bambi? I find this name to be quite a good fit for a black and white puppy.
39. Frou-Frou. She's not that popular, but she does have a sweet and quirky name. Meet the horse, Frou-Frou, from "The Aristocats".
40. Gazelle, a superstar singer from "Zootopia". Imagine a sleek greyhound named Gazelle!
41. Georgette. Getting a Poodle puppy with a pedigree? Then, you must name it Georgette, like the dog from "Oliver and Company".
42. Gothel, as in Mother Gother, from "Tangled". This would make a fine name for a Doberman girl.
43. Honeymaren, a girl from the Northuldra tribe in "Frozen II".
44. Iduna, mom of Elsa and Anna, from "Frozen".
45. Imelda, Mama Coco's mother from "Coco", and a spirit in "The Land of the Dead".
46. Isabela for a female pup that's as stunning as Isabela, from "Encanto".
47. Jane. I find this to be a great idea if you already have a male dog. Get it? Tarzan and Jane!
48. Judy Hopps. Cute, bouncy, but still a dog with a character. Just like Judy, from "Zootopia".
Names From The Letter "K" To The Letter "O"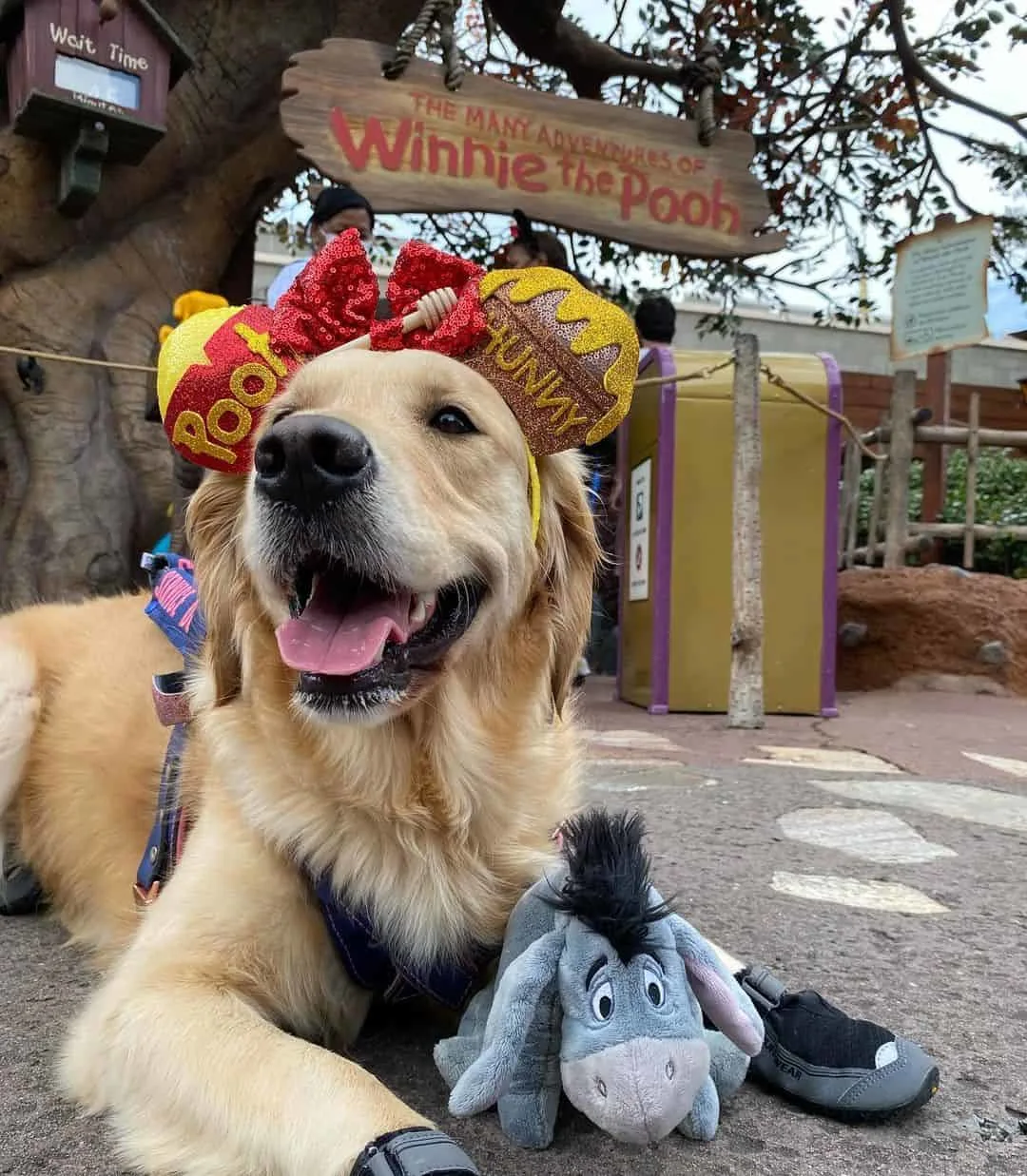 Photo from: @allie_wags
49. Kala, Tarzan's gorilla mother and a name that sounds just like the elegant flower, calla.
50. Kida, a warrior princess. You may recognize her from Disney's "Atlantis". I would recommend this name for a courageous female dog.
51. Lady, an American Cocker Spaniel, and a beloved character from the classic Disney movie, "The Lady and the Tramp". One of my favorite Disney movies because of dogs, of course!
52. Lilo, the cutest little Hawaiian girl can be an inspiration for how to name your new puppy. Have you watched Disney's "Lilo & Stitch"?
53. Luisa. As I already said earlier, "Madrigals" and "Encanto" are enjoying their immense popularity. Luisa is reserved for strong pups only!
54. Lulubelle, a perfect name for a teddy-bear looking pooch! She's a classic bear character from the 1947 "Bongo" movie.
55. Madam Mim. How amazing would it be to name one dog Merlin and the other one Madam Mim? Any "The Sword in the Stone" lovers in the house?
56. Maleficent. Is it wrong to name a dog Maleficent? Not if you want an unusual girl dog name! Personally, I find Maleficent quite interesting.
57. Marian, Robin Hood's girl, and a good Disney dog name, especially if your new dog has a reddish coat color.
58. Marie. She's a lady, she's adorable, and yes, she's a kitten. But, that doesn't stop us from naming girl puppies Marie, especially pure white ones!
59. Megara, a shorter version would be Meg. She's not a typical princess pup, but she will make you fall for her.
60. Merryweather, or for buddies, Merry. She's one of the three fairy godmothers of princess Aurora. Recommendation: a name for blue-coated pups!
61. Minnie. Of course, there's Minnie Mouse! How could we forget about our second favorite Disney character of all time?
62. Mirabel. Could we have a petition for Mirabel entering the Disney princess list? All "Encanto" characters are incredible, but Mirabel is above them all. That's why I had to include the name on our ultimate Disney dog names list.
63. Nala, she always goes with Simba. So, yeah, there's an idea for two dog names!
64. Nana. Name a more perfect dog name idea for a St. Bernard girl puppy than Nana, from "Peter Pan"… I'll wait.
65. Nani, as in Nani, from "Lilo & Stitch". I'd say this makes a fine Disney girl dog name, especially if you plan on your little girl becoming a big sister one day.
66. Olivia, a brave little mouse from "The Great Mouse Detective".
Names From The Letter "P" To The Letter "T"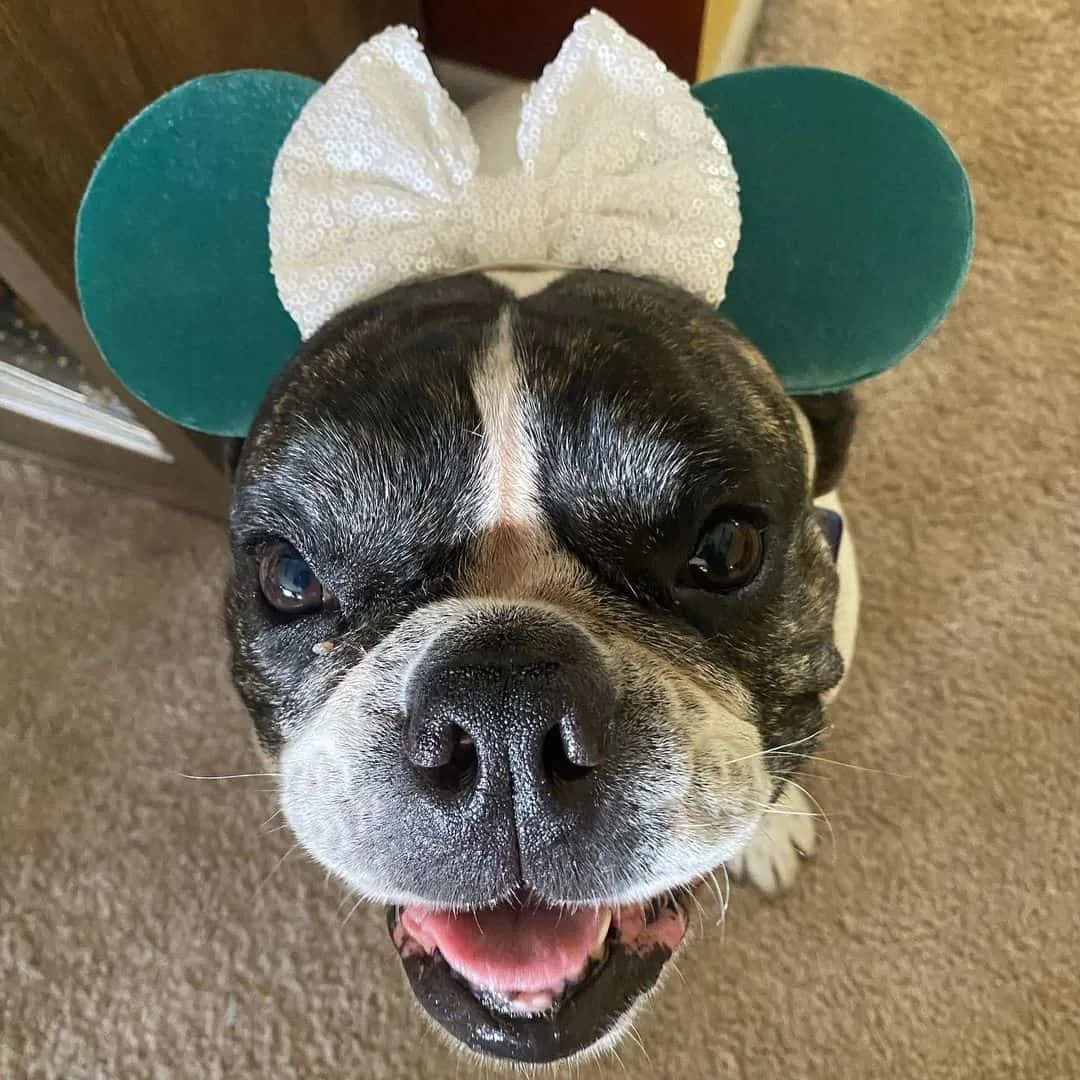 Photo from: @stylingthemagic
67. Pearl, the sweetest little octopus from "Finding Nemo", and a super cute name for your little puppy.
68. Pepa, as in Pepa Madrigal, or the most adorable short-dog name inspired by Disney!
69. Perdita. Not naming your female Dalmatian Perdita would be just ridiculous.
70. Raya, the name of the main character from Disney's latest hit, "Raya and the Last Dragon".
71. Riley. We all loved "Inside Out", and I bet we'll all love the name, Riley, too!
72. Rita comes from the movie, "Oliver & Company". She's the ideal name for a slender dog.
73. Sarabi, lioness queen from "The Lion King". She's Simba's mother, and an embodiment of a strong female character.
74. Shanti, a little girl and a friend of Mowgli, from "The Jungle Book".
75. Sina, Princess Moana's mother.
76. Tiger Lily, a beautiful Indian princess from "Peter Pan". This is a name for a pup that has got it all: beauty and brains!
77. Tinkerbell for tiny pooches as tiny as Tinker, herself!
Names From The Letter "U" To The Letter "Z"
78. Ursula. I know she's bad. But, in case you're looking for a Disney dog name that starts with "U", here's Ursula.
79. Vanellope. She may act like a little princess, but inside, she's a fighter. Just like Vanellope, from "Wreck-It Ralph".
80. Wendy for a dog that watches over everyone, making sure her entire pack is safe. Just like Wendy, from "Peter Pan".
81. Yelena, a leader of the Northuldra. This is a tribe from "Frozen II". Just the name you need for your dominant female dog.
82. Yzma. Lastly, we have the most hilarious name idea for that quirky female pooch of yours. Here's Yzma, from "The Emperor's New Groove".
Disney Dog Character Names For Males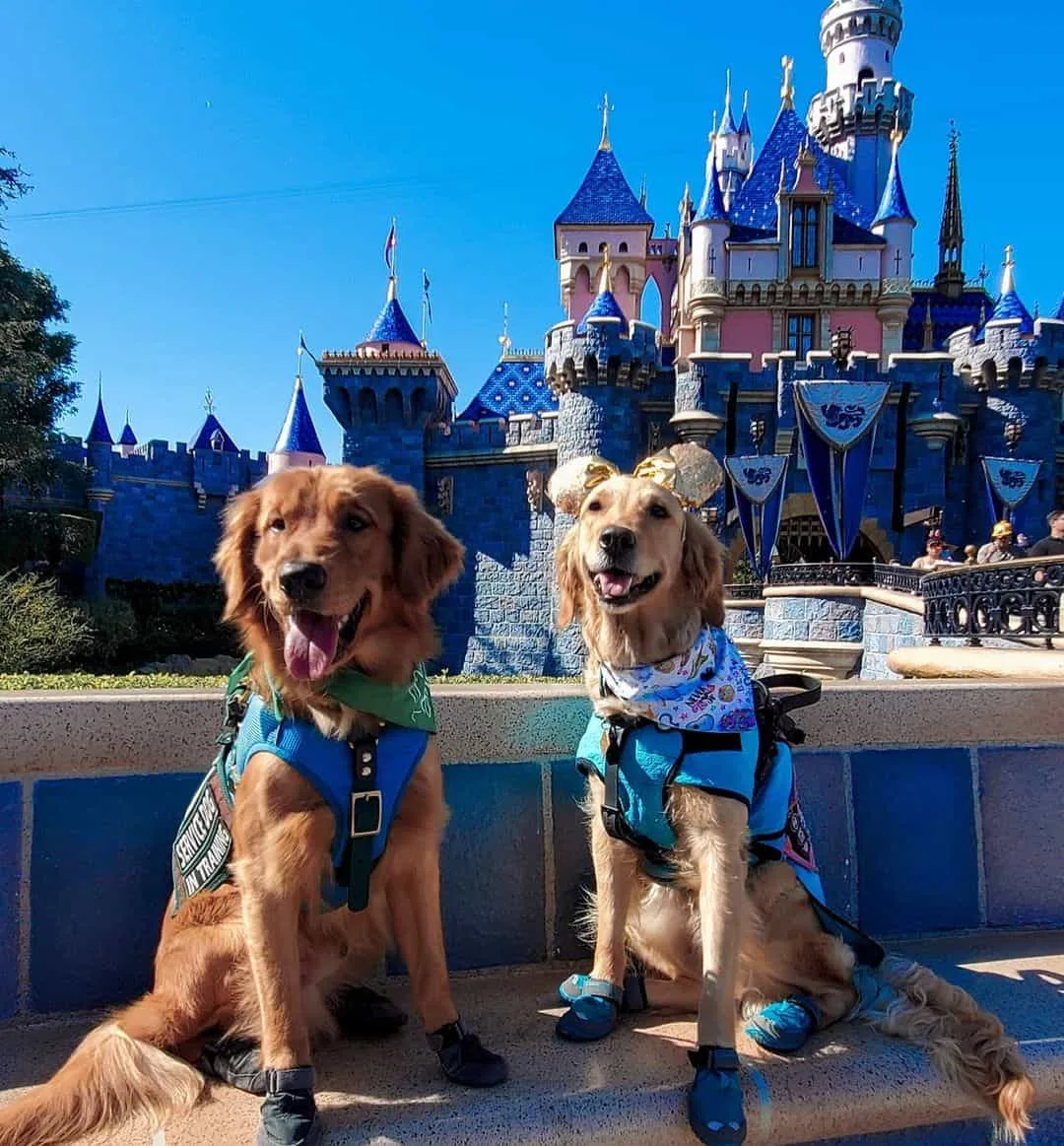 Photo from: :@snazzy.yazzy.sd
I can't put my finger on a name and say: Abu or Lago are the sweetest Disney dog names ever!
They're all so amazing, and far more creative than Fluffy or Fido.
Male Disney dog names are organized just like the female names. I'm sure you'll find a great idea for your new puppy.
Names From The Letter "A" To The Letter "E"
83. Abu, a loyal ape sidekick from "Aladdin".
84. Agnarr, father king from "Frozen". Wouldn't this be a neat name for a regal hound like a Doberman?
85. Aladdin, for that four-legged thief that stole your heart.
86. Amos. Even though he's a villain from "The Fox and the Hound", Amos is still a fantastic name for a cool dog.
87. Andy. Who can forget about our buddy, Andy, from "Toy Story"?
88. Angus, princess Merida's horse, and a good name idea for a dog fashioning a black coat.
89. Arlo. I imagine an "Arlo" puppy being a happy-go-lucky Golden Retriever. You may remember the name from the movie, "The Good Dinosaur".
90. Baloo, Mowgli's loyal friend from "The Jungle Book".
91. Baymax. A big, white robot from "Big Hero 6" can also serve as inspiration for a large white dog's name.
92. Beast. Of course, we can't forget about the leading male character from "Beauty and the Beast". I believe a bulky Golden Retriever would like the name, "Beast".
93. Big Daddy, Charlotte's father from "The Princess and the Frog". Just give it to a really big doggo.
94. Bing Bong, that big, pink elephant from "Inside Out". While there are no pink dogs, you can still give this name to a big, rather loud dog.
95. Bolt. Although Bolt would be the ideal name for a White Swiss Shepherd, you can still name other dog breeds "Bolt". For example, a Husky named "Bolt", or a German Shepherd named "Bolt"!
96. Bongo, a bear character from Disney classics. Remember his girl buddy, Lulubelle?
97. Boris. One of the dog's, "Lady", from "The Lady and the Tramp", meets him in the pound.
98. Bruce, a fish-friendly shark from "Finding Nemo". You can't deny you liked his hopeful attitude!
99. Bruno, Cinderella's dog. Did you know he was a bloodhound?
100. Buzz, or Buzz Lightyear. He's a hero from the "Toy Story" franchise.
101. Camilo, a shape-shifting member of the amazing Madrigals!
102. Chip. Whether you like Chip, from "Chip and Dale", or Chip, from "Beauty and the Beast", you'll like this cute, short-dog name.
103. Cogsworth, the talking clock from "Beauty and the Beast". Quite a fancy name idea, I might add.
104. Cri-Kee, Mulan's lucky cricket.
105. Dale, Chip's best friend, and a chipmunk you simply gotta love!
106. Dante, a stray Xoloitzcuintle from "Coco" and Miguel's dog.
107. Dash, a part of the Incredibles. His ability is to run fast. If that's a trait your dog possesses, maybe it should be named Dash.
108. Denahi, one of the three brothers from "Brother Bear".
109. Dodger, a cute little Jack Russell from "Oliver and Company".
110. Donald, simply… Donald Duck.
111. Dopey, a goofy-looking dwarf from "Snow White and the Seven Dwarfs".
112. Dumbo. Come on… you gotta name a pup with large ears, Dumbo!
113. Eeyore, a sad-looking donkey character from "Winnie the Pooh".
114. Emile, Remy's fat and adorable rat brother from "Ratatouille". Man, he loves to eat!
Names From The Letter "F" To The Letter "J"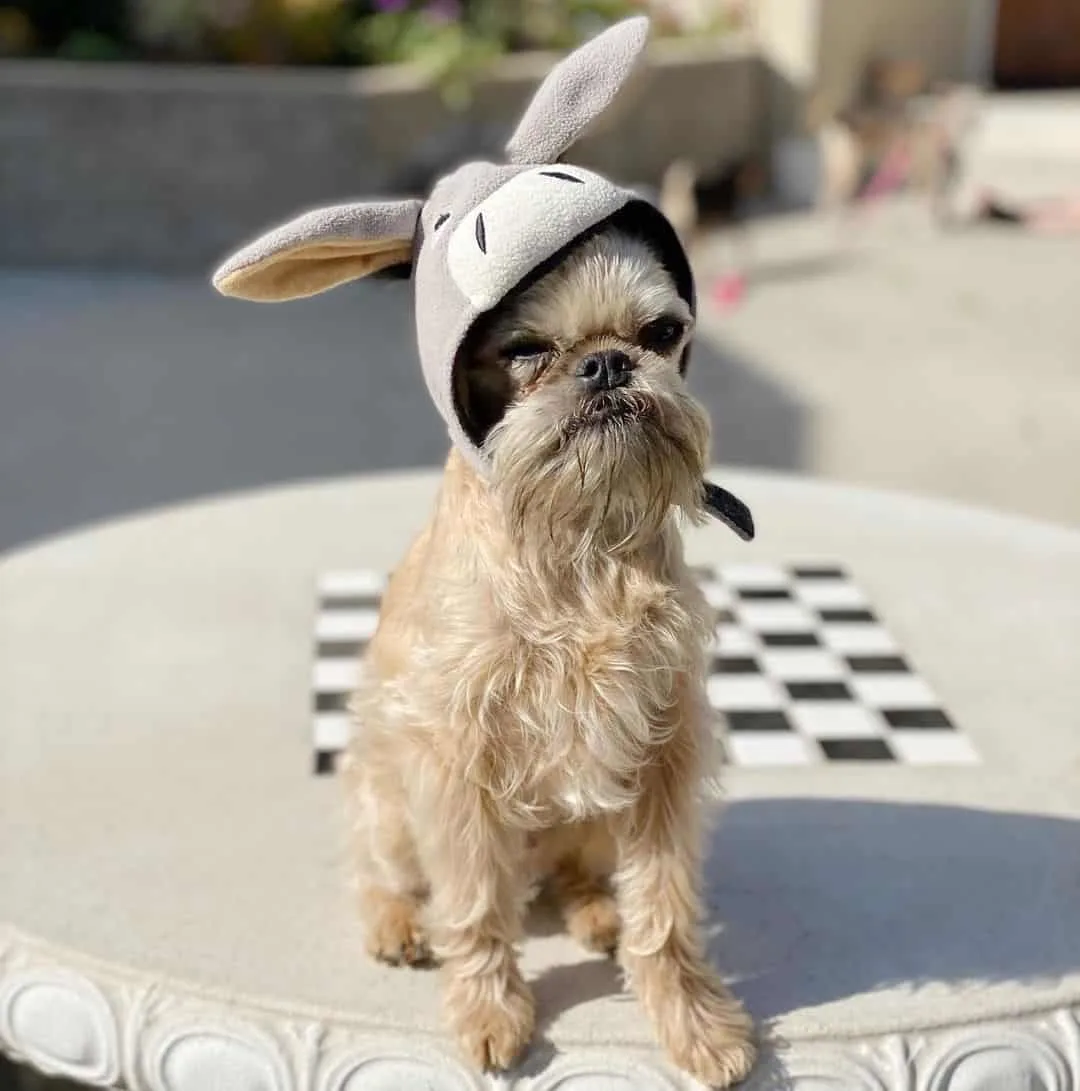 Photo from: @charleston_the_chewookie
115. Fergus, Princess Merida's father from "Brave" is our inspiration for naming a big dog like a Rottweiler.
116. Finnick, inspired by Finnick, from "Zootopia". This name is for sweet-looking puppies that are feisty on the inside.
117. Flounder, princess Ariel's fish sidekick.
118. Flynn, a charming thief from "Tangled" (Flynn Ryder).
119. Gantu, a large alien hunting lost experiments all over the island in the "Lilo and Stitch" series.
120. Gaston. Everybody knows Gaston! He may not be a good boy, but he does have a good name for a muscular dog.
121. Genie, Aladdin's magical sidekick.
122. Gepetto, Pinocchio's father. You just know this dog name will be a hit in the park.
123. Goofy. We must not forget our buddy, Goofy… Disney's most popular dog!
124. Gus, Cinderella's adorable, chubby mouse friend. Imagine having a dog couple named Jaq and Gus. That's too adorable!
125. Heihei, Moana's hilarious rooster has a pretty interesting name.
126. Hercules, an ancient Greek hero character, which makes such a terrific name for a tough, muscular dog like a Pitbull or a Boxer.
127. Hiro, a character you know from "Big Hero 6" is really inspirational.
128. Iago. This villain from Aladdin serves as a really good inspiration for a yappy dog.
129. Jafar. Of course, after Iago comes Jafar, the main villain. Still, I find this name to be quite unique.
130. Jaq, the mouse friend from Cinderella.
131. Jiminy, Pinocchio's best friend. Wait, there's an idea: two dogs named Pinocchio and Jiminy!
Names From The Letter "K" To The Letter "O"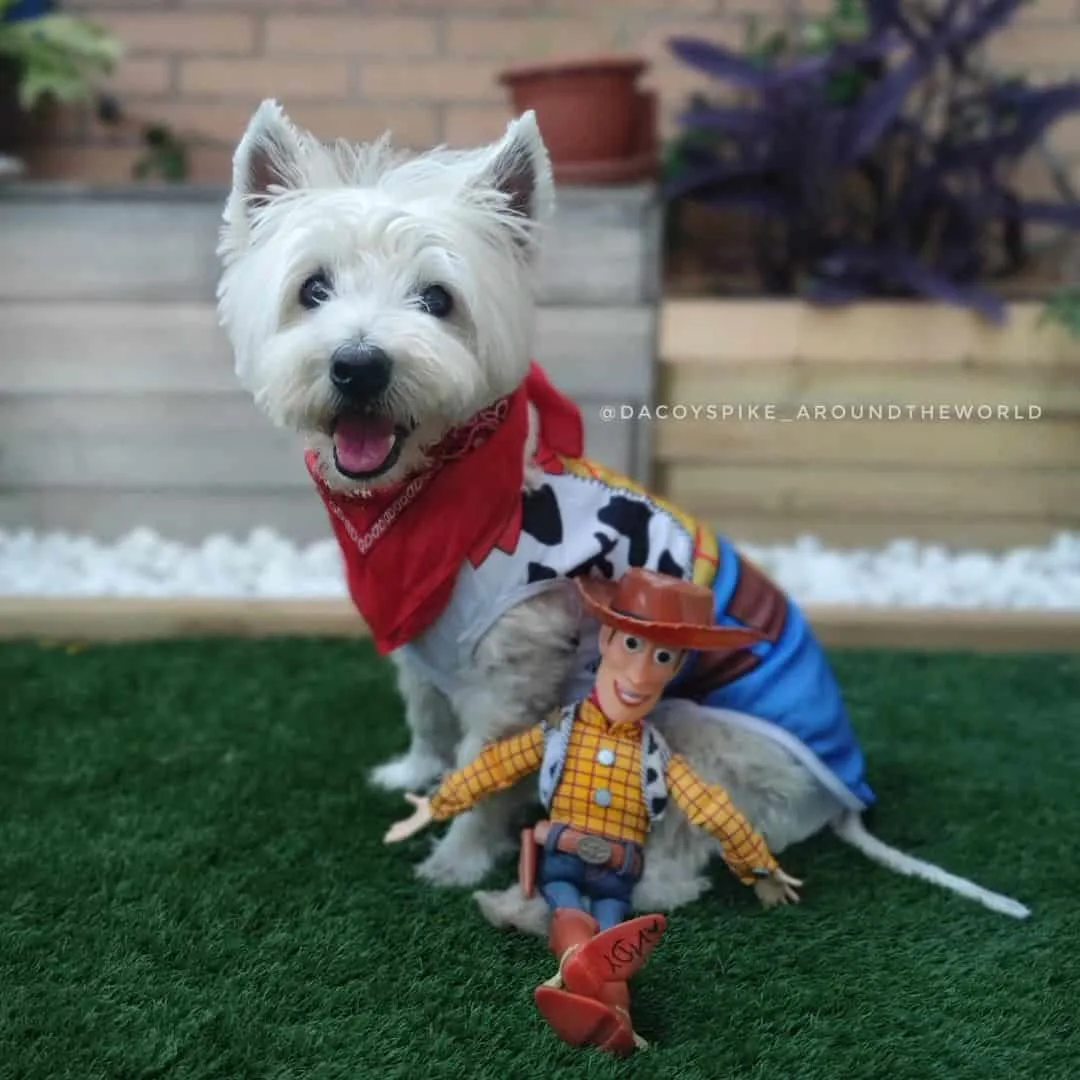 Photo from: @dacoyspike_aroundtheworld
132. Kenai, a lead character from "Brother Bear". He gets turned into a bear in the movie.
133. Koda, the adorable, sometimes annoying little bear from "Brother Bear".
134. Kristoff, even male characters from Frozen enjoy huge popularity. That's why Kristoff is such a popular Disney dog name for males.
135. Kronk, Yzma's sidekick from "The Emperor's New Groove". This is one of my favorites!
136. Kuzco, Emperor Kuzco from the movie from above that gets turned into a llama.
137. Louie, which can be inspired by King Louie, from "The Jungle Book", or by one of the three of Donald Duck's nephews.
138. Luca, just like the name character of the 2021 Disney hit, "Luca".
139. Lucifer. He sure was a bad cat from "Cinderella". But, I believe this makes a pretty awesome name for a big dog that intimidates people.
140. Lucky, one of the Dalmatian puppies.
141. Lumiere, a candlestick with charisma! If you love "Beauty and the Beast" and got a dog that's quite a charmer, Lumiere is the way to go.
142. Marshmallow, snow monster from Frozen. Come on, every big, fluffy, white dog should be named Marshmallow!
143. Maui, as in demigod Maui, from "Moana". This is another Disney name for a big dog.
144.Maximus. He's a stunning horse from "Tangled", with a character! Strong, confident, and determined… does he remind you of someone?
145. Meeko, an adorable raccoon sidekick of princess Pocahontas.
146. Merlin, yes, the wizard, Merlin!
147. Mickey, as in Mickey Mouse, of course!
148. Mowgli, one of the most popular male characters coming from Disney.
149. Mufasa, in case Simba is already taken!
150. Mushu, how many times did this Disney sidekick make you laugh? I'll tell you: more than you can count. Isn't this the perfect name idea for the pup in your life that makes you smile?
151. Nemo. Who doesn't know Nemo?, that poor, adorable fish who got lost.
152. Nick Wilde, the foxy hero, and Judy Hopps' friend from "Zootopia".
153. Oaken, the huge shop owner from Frozen. This name is reserved for bigger pups only!
154. Olaf, the cutest snowman of all time!
Names From The Letter "P" To The Letter "T"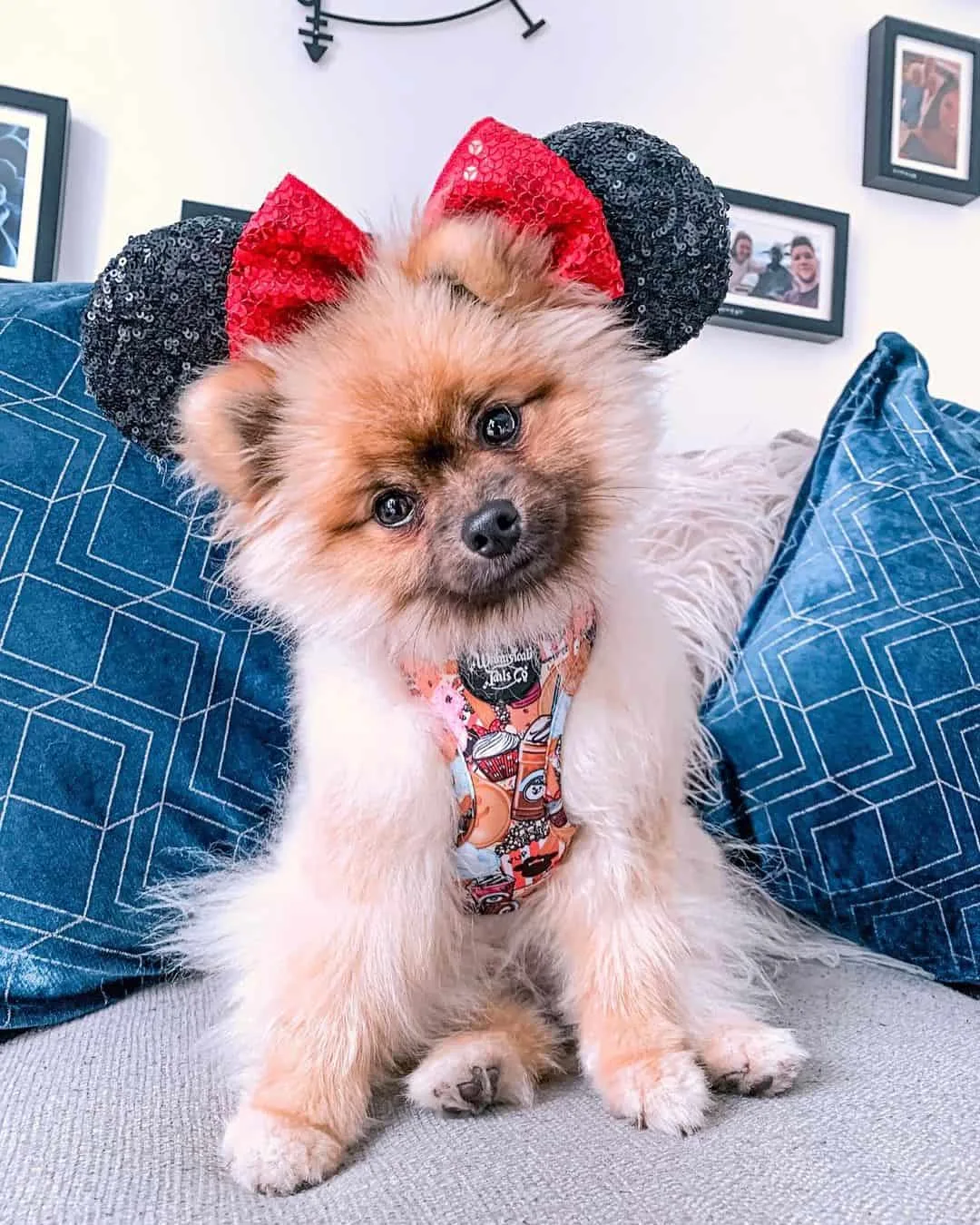 Photo from: @baileyandbjorn_pom_adventures
155. Pabbie… you may know him as the grandpa troll from Frozen.
156. Pascal, Rapunzel's little green sidekick. Sure, you can't find green dogs, but you can find a little one as feisty as Pascal.
157. Percy, a pug that became friends with Meeko and Pocahontas.
158. Peter Pan, the boy who doesn't want to grow up. Perfect name for a dog that stays a puppy at heart.
159. Pinocchio, a wooden doll who became a little boy. For all those curious puppies out there.
160. Pluto, the most recognized Disney dog name.
161. Pongo always goes so well with Perdita, especially if we're talking about Dalmatians.
162. Prince Charming. This one doesn't really need an explanation. It's because your pup is so charming!
163. Pua, Moana's pet pig… sure has a hilarious name.
164. Pumbaa, Simba's sidekick. I'd suggest you use this name if your pup is big and likes to munch on food a lot.
165. Rafiki, a wise monkey from "The Lion King". I find this name goes the best with exotic dog breeds.
166. Remy, as in little chef Remy, from "Ratatouille".
167. Scar. He was a villain, but he does have a cool name. I reckon any of the guardian dogs would rock this name.
168. Sebastian. Even though he's Ariel's sidekick who steers her away from troubles, Sebastian is a classy guy, a bit elegant, too.
169. Shang, inspired by Mulan's, Li Shang, a brave character.
170. Simba. Does The Lion King really need an explanation as to why this is a great name idea?
171. Sleepy, the seven dwarfs have always served as inspiration for many dog names, including Sleepy.
172. Slinky, as in Slinky Dog… another one of the toys you know from "Toy Story". So many great ideas from those movies!
173. Stitch, that adorable blue alien from "Lilo and Stitch"!
174. Sulley… because "Monsters, Inc." is an amazing movie with great characters."
175. Sultan, the cheerful ruler from "Aladdin", and princess Jasmine's father.
176. Tarzan, the king of the jungle is an evergreen name idea.
177. Thumper, the sweetest bunny ever from "Bambi"! Perfect name for fluffy, little gray dogs.
178. Tito, a chihuahua, and another character who's Oliver's buddy.
179. Toby, a Basset dog you know from "The Great Mouse Detective".
180. Tramp. You've got a rescue mixed-breed dog? What are you waiting for? Name him Tramp!
181. Tweedledee and Tweedledum… because you can't put these two names apart.
Names From The Letter "U" To The Letter "Z"
182. Wall-E, for a puppy that proved to you love does exist.
183. Winnie, as in Winnie the Pooh. This is a name idea for a cuddly, chubby puppy you just want to squeeze all over again!
184. Woody. Let's not forget our hero, Woody, from "Toy Story"!
185. Zazu. He may be grumpy, but he does really care about you. Zazu is one of the funniest names ever!
186. Zeus. Just imagine a dominant German Shepherd named Zeus. Enough said.
Disney Princess Dog Names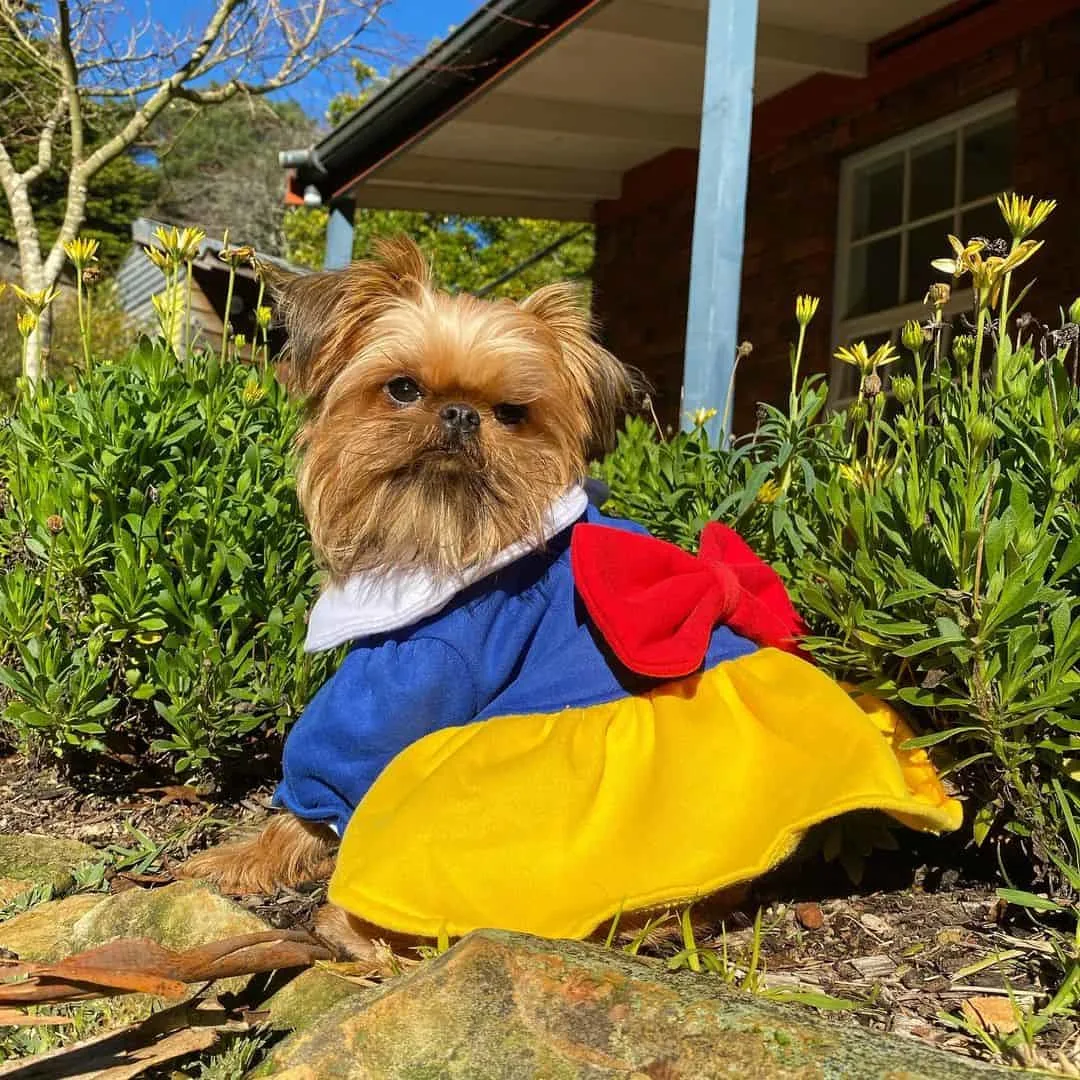 Photo from: @obi_and_moana_the_griffons
Disney princess dog names are an eternal inspiration for dog name ideas. Even if you didn't watch some of them, you have to agree that names like Elsa, Mulan, or Snow White will always be popular.
Without further ado, here's the official Disney princess roundup with some extras we'd like to see as princesses:
187. Anna
188. Ariel
189. Aurora
190. Belle
191. Cinderella
192. Elsa
193. Jasmine
194. Merida
195. Moana
196. Mulan
197. Pocahontas
198. Rapunzel
199. Snow White
200. Tiana
To Sum Up
Can we all agree that Disney dog names are the best?
Even if you're not a Disney fan (which I really doubt), you will find at least one name that sounds just perfect for your pooch.
I recommend you go through these lists, find names from the movies you like the most, maybe give a chance to some new ones, and then carefully pick one name.
I'm sure you won't make a mistake no matter which Disney dog name you choose!
Read Next: 227 Redneck Dog Names For That Dopey Dog Of Yours