Bringing home a new puppy is a magical time. Nothing comes close to it except, perhaps, a good Disney movie! Most of us have grown up with Mickey Mouse and Disney fairytales who shaped us into people that we are today.
So, what better way to repay our childhood friends than to name our furry companion after a Disney character! Disney dog names come in all shapes and sizes. There are favorite characters known and loved by many and obscure ones that only true Disney enthusiasts will know.
There are many princesses, heroes, awesome sidekicks, and badass villains to choose from, no matter what gender your new furry friend is!
So, if you need some help deciding which Disney dog name best suits your pup, stick to this guide for inspiration. From classic films like Peter Pan and Alice in Wonderland to newer films like Frozen and Moana, we have all the names to give your new four-legged companion a magical Disney touch!
Top 10 Trendy Disney dog names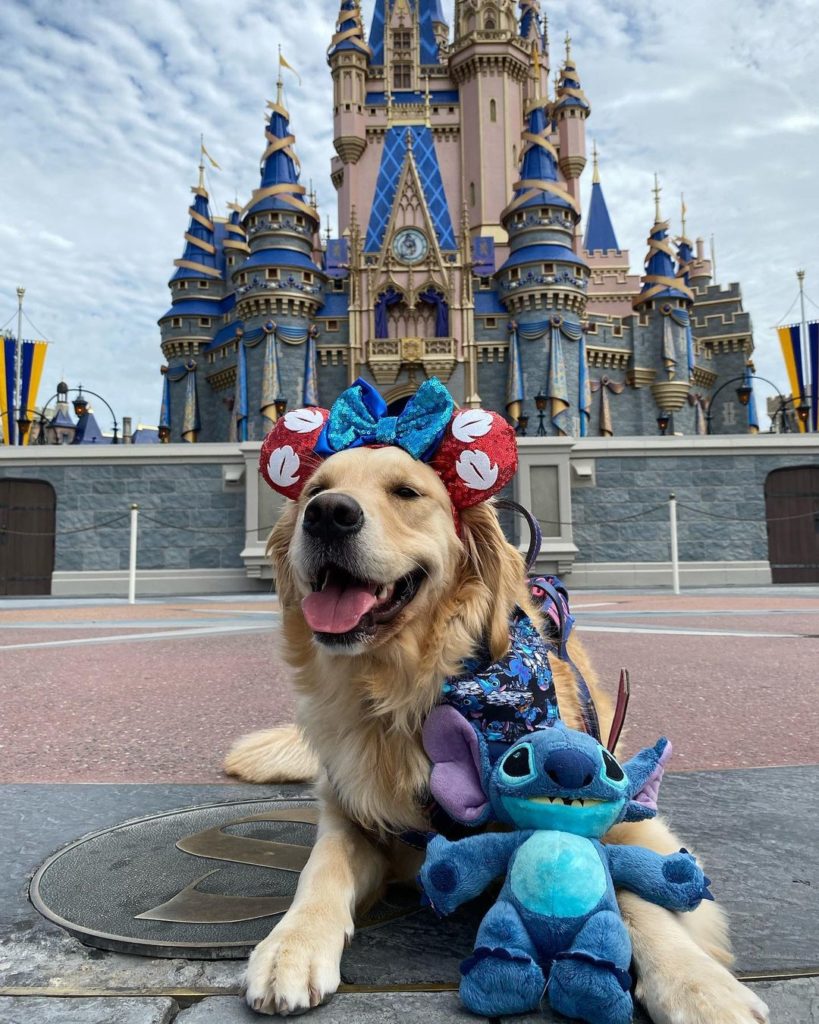 Photo from: @allie_wags
First off, let's start with our ten personal favorites of the greatest animated Disney dog names in history. On the left, you will see the character's name, followed by the Disney movie it was in.
1. Tiana (The Princess and the Frog)
2. Sulley (Cars)
3. Tarzan (Tarzan)
4. Dumbo (Dumbo)
5. Figaro (Pinocchio)
6. Tito (Oliver & Company)
7. Boo (Monsters Inc.)
8. Elsa (Frozen)
9. Sarabi (The Lion King)
10.Daisy (DuckTales)
Disney Dog names for male pups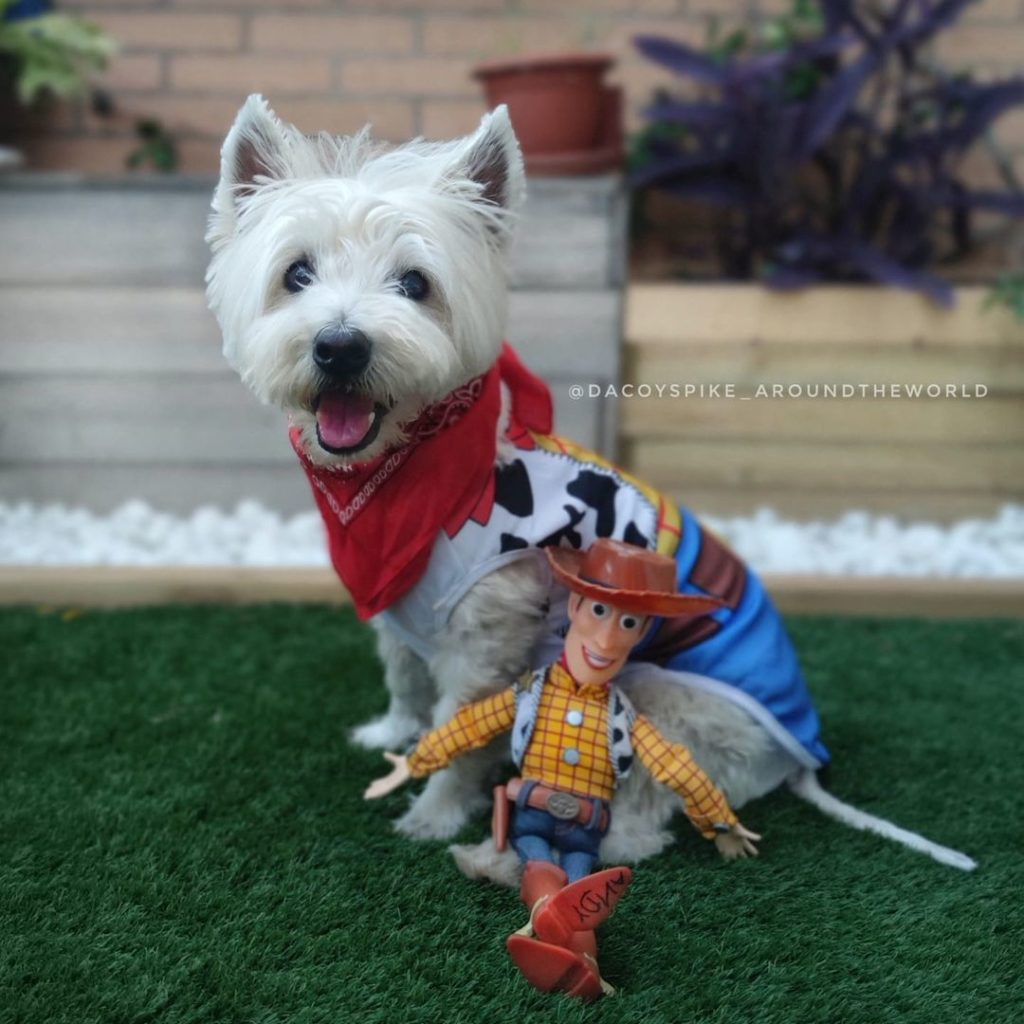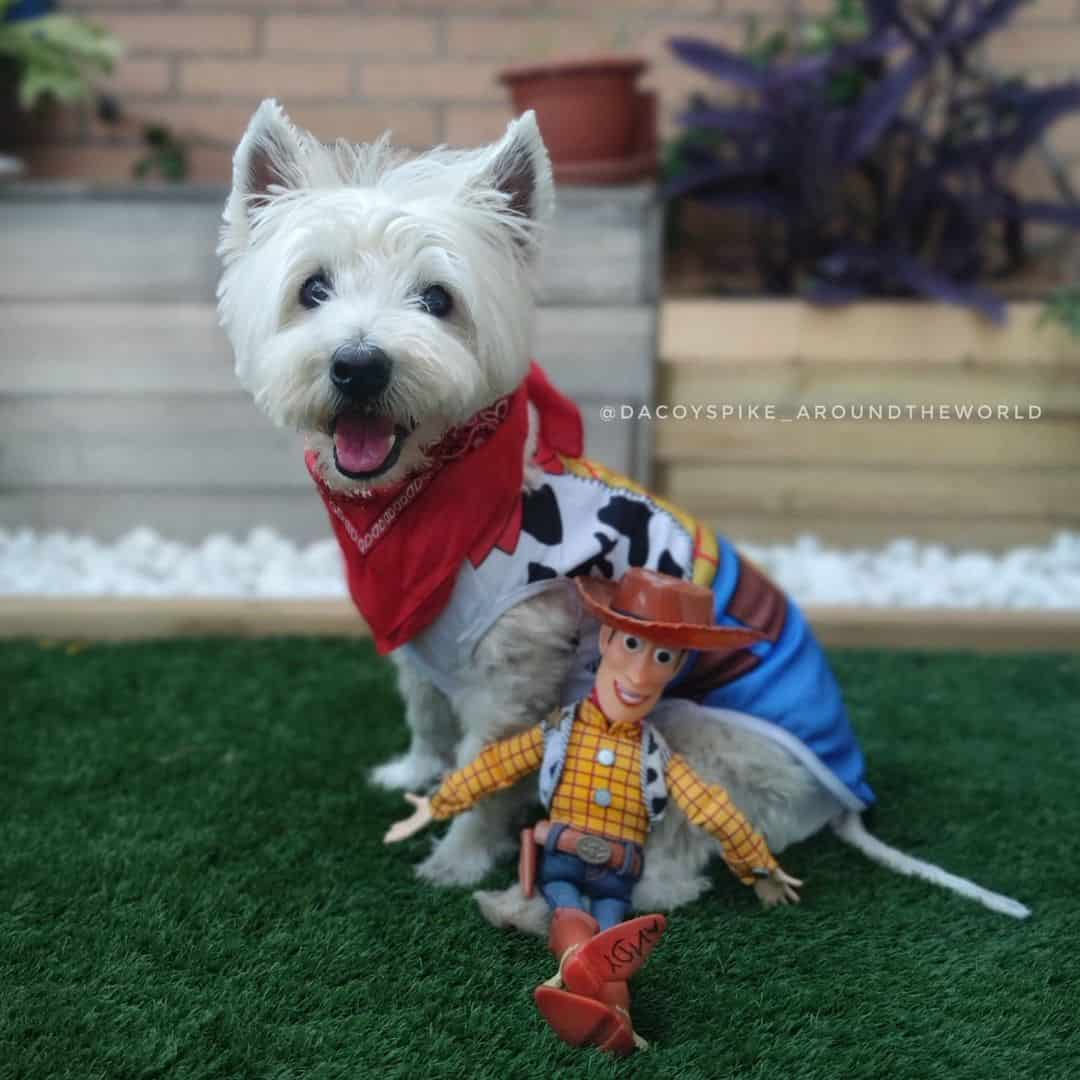 Photo from: @dacoyspike_aroundtheworld
1. Aladdin
A one of a kind Disney-theme dog name, Aladdin is the brave and charming protagonist who falls in love with Princess Jasmine in Disney's 1992 animated classic Aladdin.
2. Abu
Name your male pooch after Aladdin's faithful sidekick.
3. Arlo
The 2015 Disney/Pixar animated film The Good Dinosaur brought us the brave and bold Apatosaurus named Arlo.
4. Arthur
If your dog thinks too highly of himself, perhaps you should name him after the main character in the film The Sword in the Stone.
5. Captain Hook
If your pooch has a knack for mischief, you should consider naming it after the kooky villain from Peter Pan.
6. Balthasar
The villain from the Disney movie The Aristocats, Balthasar, is a polite yet greedy butler forever loyal to his employer – Madame Bonfamille.
7. Bambi
This cute Disney character name belongs to the heroic and curious little deer with spindly legs and wide eyes in one of the first Disney animated films of the same name.
8. Baloo
If your furry friend has absolutely no worries, name it after the carefree black bear from The Jungle Book.
9. Baymax
An awesome dog name from the Disney movie Big Hero 6. The story revolves around a big squishy white plush-like vinyl robot whose goal is to heal the injured and sick and protect his city.
10. Basil
If your doggie is always on the hunt, the name of the main character from The Great Mouse Detective might suit him well.
11.Bagheera
Bagheera is the wise panther and Mowgli's friend in Disney's classic The Jungle Book.
12. Bellwether
This unusual name belongs to the scorned animated sheep character from Zootopia.
13. Benji
We got this cool dog name From Disney's film about a dog (Benji) trying to survive in the wilderness.
14.Bing Bong
The Disney/Pixar collaboration Inside Out brought us the depiction of human feelings through animated characters, and with them came the adorable pink cotton-candy elephant named Bing Bong.
15. Bolt
Undoubtedly one of the greatest Disney films ever made, Bolt, introduced us to the moniker of the German Shepherd super dog of the same name.
16. Bruno
Bruno was the slender brown bloodhound pooch from Disney's classic Cinderella.
17. Chief
There were many dogs named Chief even before Disney's 1981 movie The Fox and the Hound, but the old Irish Wolfhound really made the name popular after he was first seen on screen.
18. Copper
Another gem of a name comes from the same film, The Fox and the Hound. Copper becomes best friends with Tod, the fox, even though the two should be natural enemies.
19. Dodger
Dodger (voiced by Billy Joel) is the street-wise Jack Russell Terrier from Disney's 1988 film Oliver & Company based on a novel by Charles Dickens.
20. Dug
Dug is the happy-go-lucky Golden Retriever who speaks English via a special collar that translates his thoughts into speech. This pooch with an incredibly short attention span appeared in the Pixar film Up.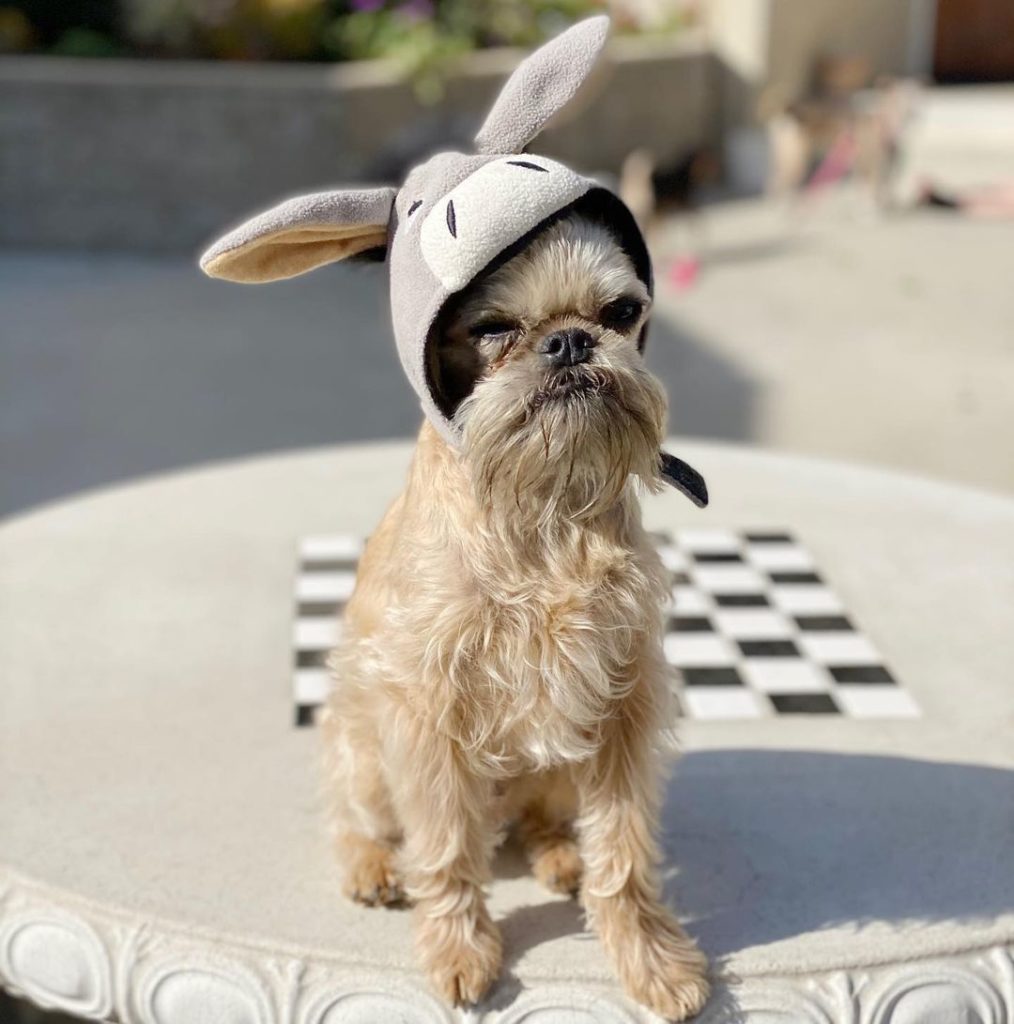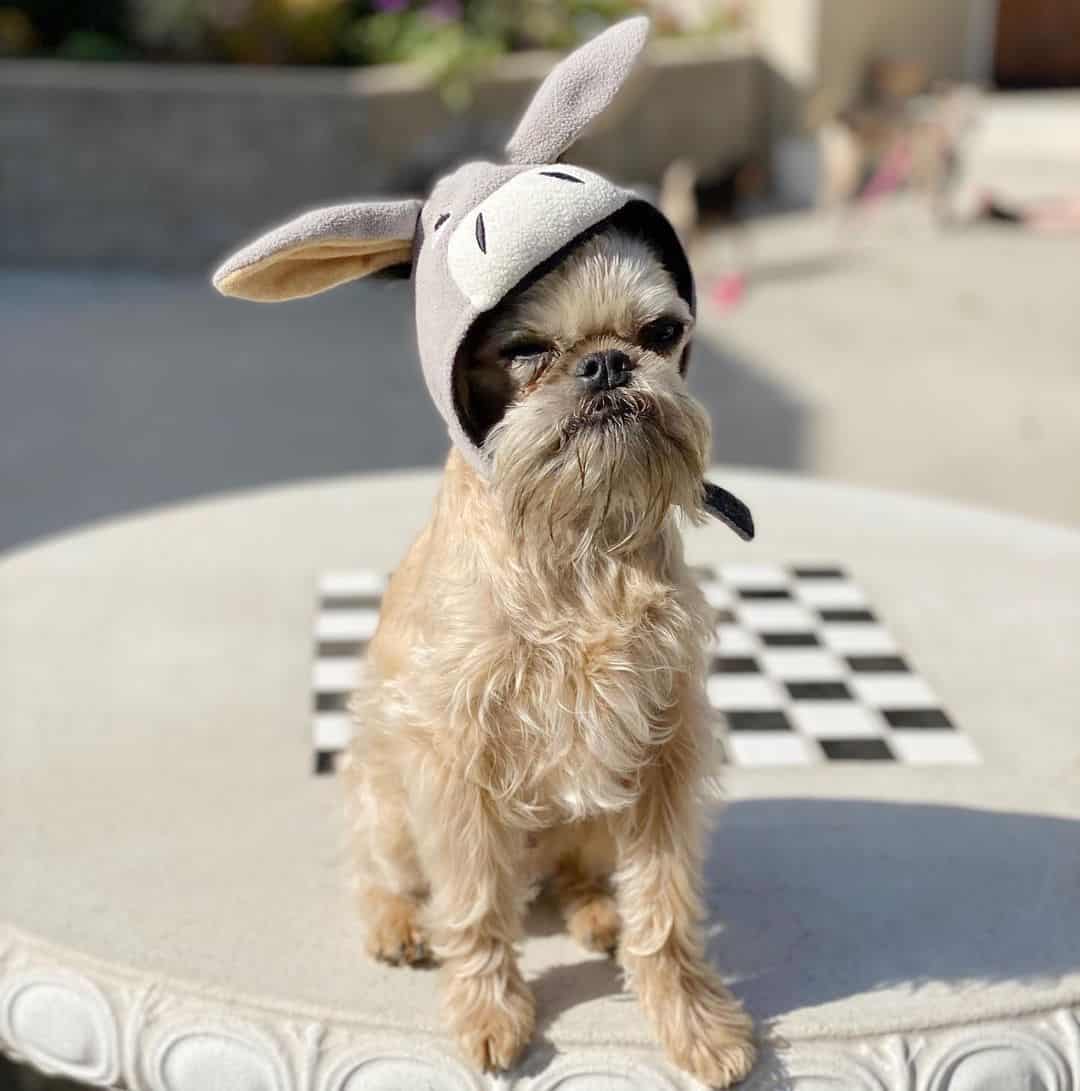 Photo from: @charleston_the_chewookie
21. Donald
One of the first Disney characters ever, the short-tempered and strong-willed Donald Duck, was created by Walt Disney in 1934.
22.Dewey
Dewford Dingus Duck, also known as Dewey, is one of the three rascals always provoking Donald Duck's short-temper.
23.Edgar
Another Disney character from the movie The Aristocats is the goofy villain Edgar.
24.Francis
Another Disney animated character from Disney's 1988 movie, Oliver & Company, Francis, is a funny bulldog loosely based on Winston Churchill. Francis oozes English flair in his traits and accent.
25.Frollo
A cartoon character from The Hunchback of Notre Dame, Frollo was the ruthless Parisian justice manager taking care of Quasimodo.
26. Freckles
This adorable name comes from one of the original fifteen puppies in One Hundred and One Dalmatians.
27. Flit
Your new furry companion could be named after the awesome hummingbird sidekick in Pocahontas!
28. Gaston
Gatson is the hunter in Disney's Beauty and the Beast, and his goal is to marry the heroine Belle by any means possible (needless to say, he fails).
29. Goofy
One of Mickey Mouse's oldest friends, Goofy, is the funny Disney animated character from the 1932 movie Mickey's Revue. His clumsy and charming personality makes the name perfect for a fun-loving pup.
30. Hamm
The wise-cracking, laid-back piggy character from the Pixar/Disney Toy Story franchise.
31. Hans
The sneaky and charismatic prince from Disney's Frozen.
32. Huey
Another headache-inducing nephew of Donald Duck, Hubert Duck is a Disney cartoon character created in 1937.
33. Hercules
Still can't choose a cute Disney character name for your new pet? Hercules is a great moniker for muscular, heroic, and handsome male pups. Hercules was the half-god, half-human son of the Greek god Zeus in Disney's 1997 movie of the same name.
34. Jafar
Looking for a cool Disney-inspired name but more on the villain side of things? Look no further. Jafar is Sultan's most trusted legal advisor in Disney's Aladdin.
35. Jack
Best friend of Trusty (a bloodhound), the Scottish terrier Jack appeared in the animated film Lady and the Tramp.
36. Kaa
Kaa is the shady and seductive snake cartoon character from one of the most famous Disney classics, The Jungle Book.
37. Louie
K "Louie" Duck is Donald Duck's third nephew and one of the main characters of DuckTales.
38. Max
Max is the loyal and protective Old English Sheepdog from the Little Mermaid.
39. Merlin
The name Merlin comes from Welsh, meaning "sear fortress." He is one of the most powerful wizard characters, appearing in Disney's The Sword in the Stone. Merlin is kind-hearted and eccentric, so he might remind you of someone…
40. Meeko
One of the cutest Disney dog names on our list comes from the always-hungry raccoon sidekick in Disney's 1995 Pocahontas.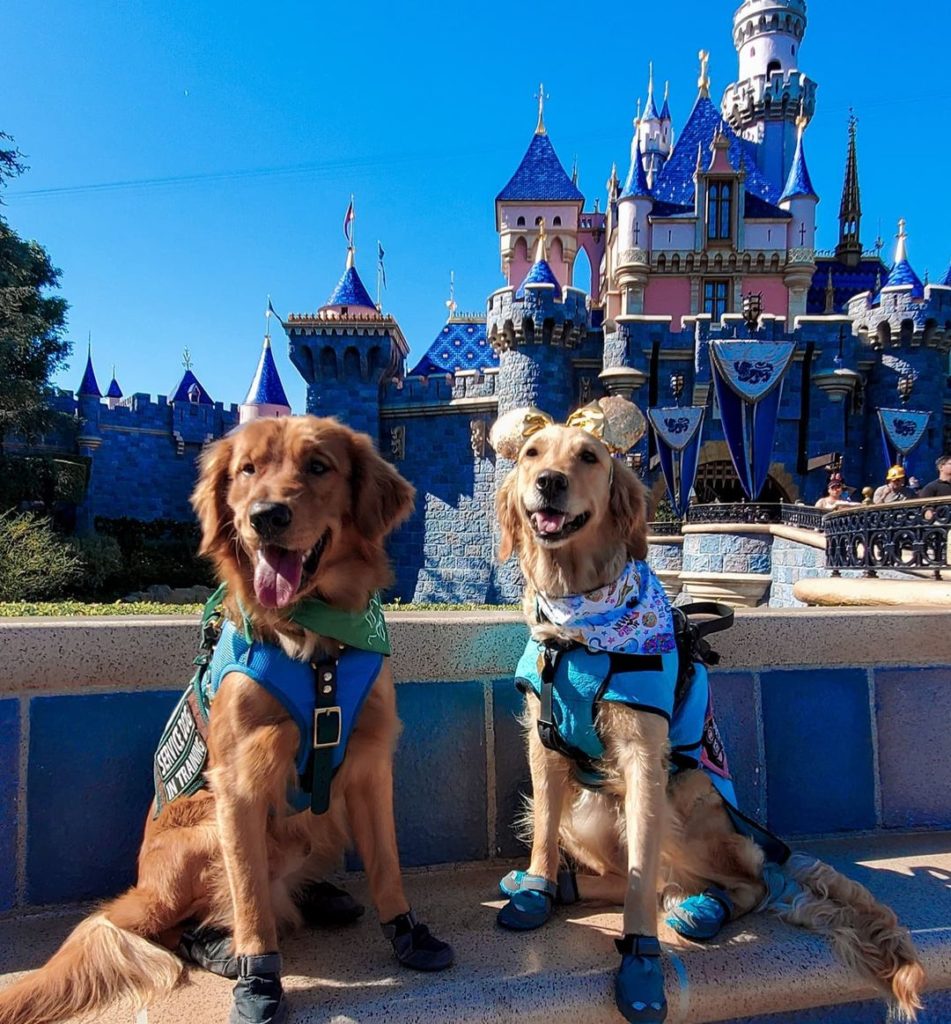 Photo from: @snazzy.yazzy.sd
41. Mickey
Mickey Mouse is, without a doubt, one of the most recognizable characters and names from Disney movies. Characterized as a charismatic and clever little fellow, Mickey was created in 1928 and has been the face of Disney ever since.
42. Mowgli
We think you would agree that Mowgli is a fitting Disney dog name. Mowgli is the fearless and feisty boy from Disney's The Jungle Book, who had been found and raised by a pack of wolves in the jungles of India.
43. Mufasa
Mufasa was the father of Simba and the noble king of the Pride Lands in Disney's famous The Lion King.
44. Nemo
The sweetest characters in the film industry come from Disney, and Nemo is one of them, not just because of his looks but because of his personality too. He is a highly energetic clownfish that appeared on the big screen in the 2003 Disney/Pixar collaboration Finding Nemo and instantly won the hearts of every child.
45. Olaf
Olaf is probably the best boy puppy name for a goofy, kind-hearted, furry companion you know and love. This Disney's 2013 Frozen animated character's ultimate goal was to experience summer (spoiler: he succeeded).
46. Patch
One of the cute little doggies from the 101 Dalmatians Disney classic.
47. Percy
Percy is the Disney dog name for Governor Ratcliffe's spoiled pooch. Also, Percy was a Pug and a friend to Pocahontas in the 1995 animated film.
48. Pluto
One of the oldest and most popular Disney dogs, Pluto is the clumsy but extremely loyal bloodhound who is Mickey's pet dog. Pluto is probably best known in Disney's 1931 animated film The Moose Hunt.
49. Pinocchio
Pinocchio is one of the best Disney dog names out there. He is the sweet anthropomorphic wooden puppet boy whose biggest desire is to be a real boy.
50. Pongo
Pongo is another Disney dog name from Disney's animated film 101 Dalmatians. He is the relaxed, playful father to his fifteen dalmatian puppies and Perdita's mate. Pongo can be described as quite the tactical and intelligent pup.
51. Quasimodo
Coming from one of Disney's most famous classics, The Hunchback of Notre Dame, Quasimodo is a kind, caring, and angelic character, born with a hunched back determined to live a normal life. We think this is a great dog name for your new male puppy.
52. Ralph
Ralph is the big, brawny character in Disney's 2012 animated movie Wreck-It-Ralph.
53. Ratcliffe
Ratcliffe is the main villain Disney character from Pocahontas.
54. Ratigan
Disney's 1986 animated film The Great Mouse Detective featured the charming crime lord Professor Ratigan.
55. Remy
Remy is the grey rat who dreams of being a chef in the film Ratatouille. Did Disney's attempt at making rats cute work on you?
56. Rolly
The 1961 animated masterpiece 101 Dalmatians gives us yet another great dog name in the character Rolly. Rolly is the heaviest Dalmatian puppy and is known and loved for his love of food.
57. Scar
This is a badass name for a strong, male dog. Scar is the sleek, shady villain and younger brother of Mufasa in Disney's The Lion King.
58. Simba
If you are searching for something totally hipster for your new boy puppy, famous lion names are always a good choice. Simba is the son of Mufasa and the main character in The Lion King, who is destined to rule as king.
59. Slink (Slinky)
Slinky is the sweet-natured and easy-going toy Dachshund from Pixar's Toy Story franchise.
Disney dog names female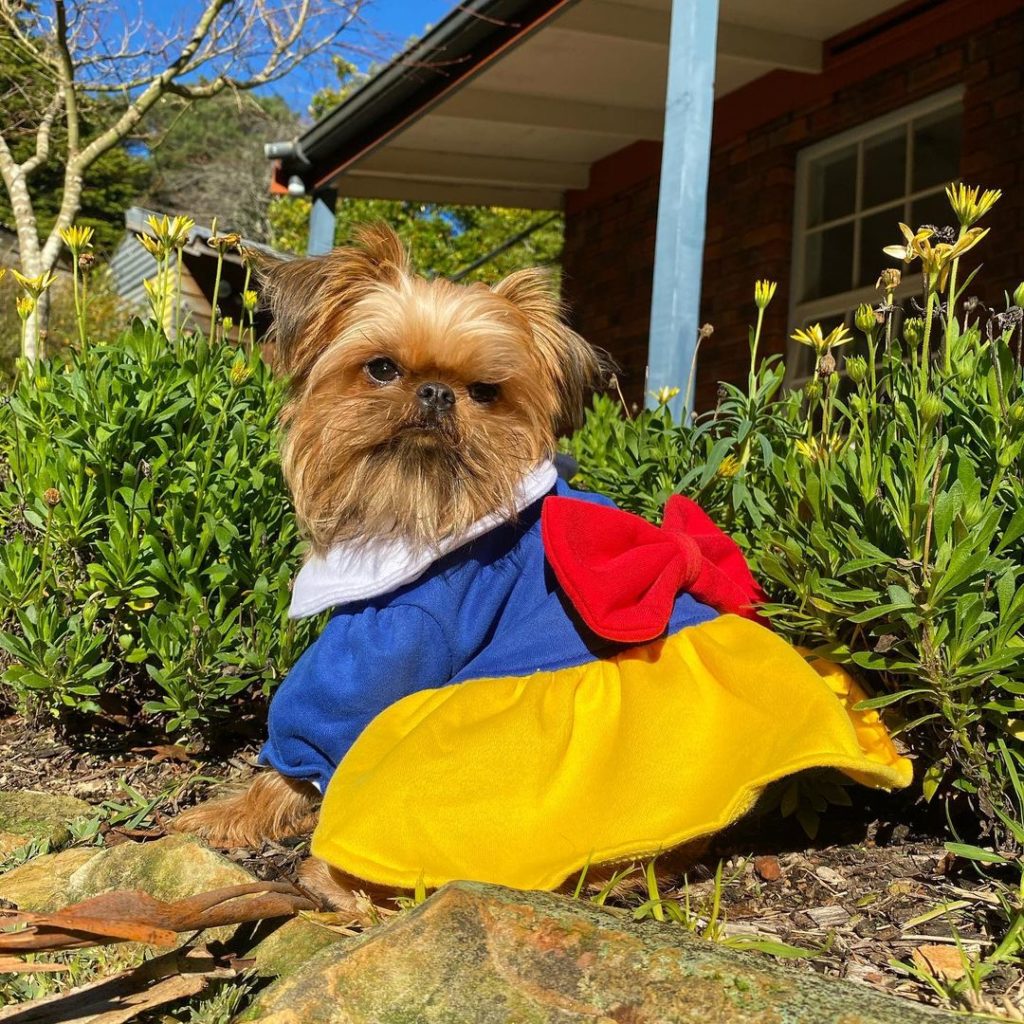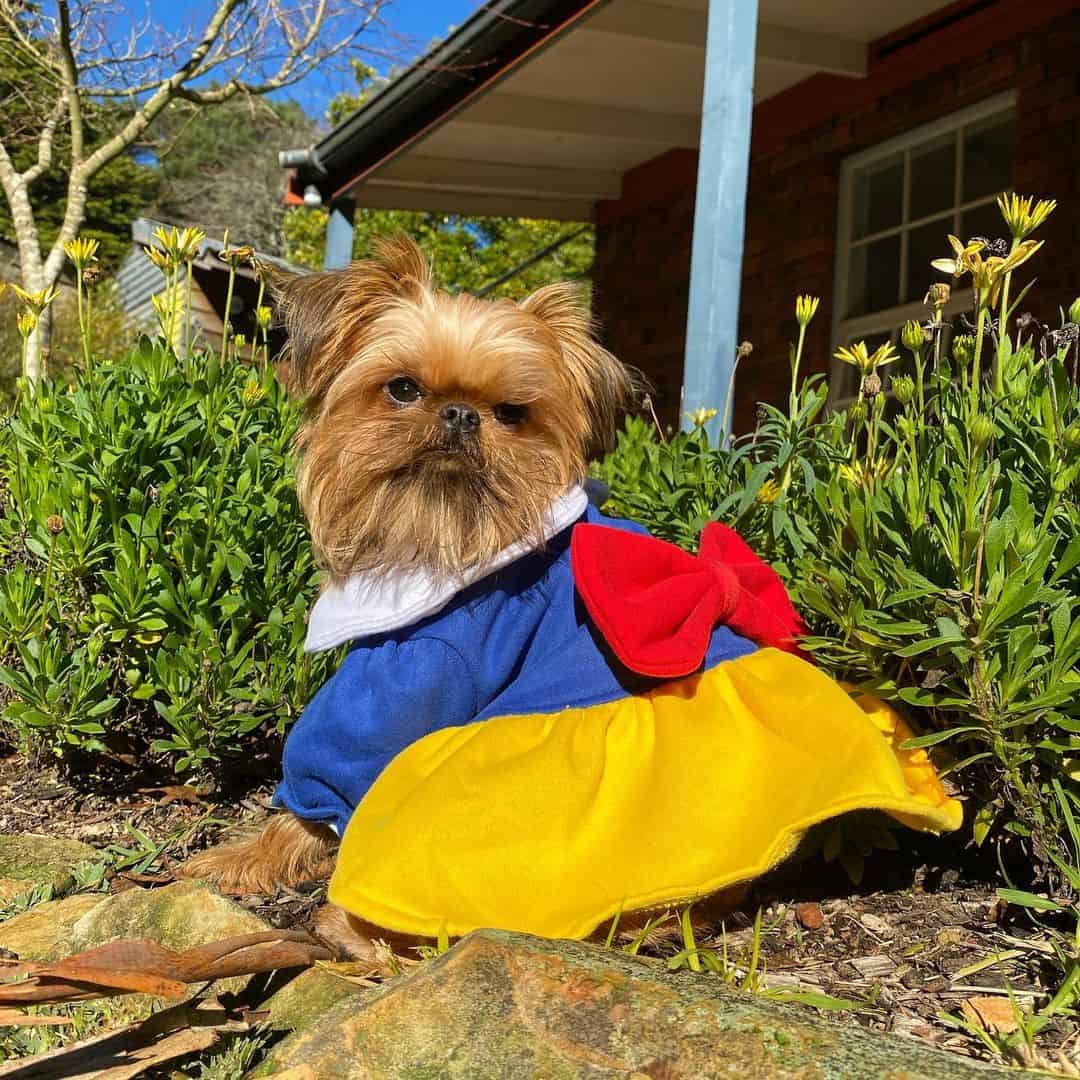 Photo from: @obi_and_moana_the_griffons
If you are welcoming a female puppy into your household, perhaps some of these female Disney dog names will give you the inspiration you need:
1.Alice
Alice is the imaginative and curious heroine in Disney's 1951 animated classic Alice in Wonderland.
2. Abby
Abby is the cute little duck with a secret crush in Chicken Little.
3.Anastasia
This one is a bit long, but it can be shortened to Ana. Anastasia is one of Cinderella's two stepsisters who were envious of the heroine's incredible beauty.
4. Anga
The animated film The Lion Guard gave us many awesome characters, including the martial eagle with a friendly personality named Anga.
5. Anna
Queen Anna, the younger sister of Elsa, is voiced by Kristen Bell in Disney's 2013 movie Frozen.
6. Arendelle
Arendelle isn't exactly a Disney character, but it is the Norwegian-inspired kingdom in which the Frozen film series occurs. We think it can be a fantastic and unique Disney female dog name!
7. Atta
Atta is the princess of the ant colony in Pixar/Disney's title A Bug's Life.
8. Audrey
Audrey is a princess and a supporting character from the movie Descendants.
9. Aurora
She hails from Sleeping Beauty and is considered one of Disney's princesses.
10. Belle
Also known as Princess Beauty, Belle is one of the main characters in Disney's classic Beauty and the Beast.
11. Boo
A sweet and curious two-year-old toddler in the 2001 Disney/Pixar movie Monsters Inc.
12. Cassandra
Cassandra is the hardened Disney girl character from Tangled: Before Ever After.
13. Celia
This female Disney dog name gets its inspiration from Mike Wazowski's girlfriend in Monsters Inc.​​​​
14. Cleo
You might consider giving your female puppy this short and sweet name after the sassy fish in Pinocchio.
15. Cinderella
This character hardly needs any introduction and remains the kindest, most spirited, and internally beautiful Disney animated character of all time. Cinderella is the second recognized Disney princess, preceded only by Snow White.
16. Coco
Coco, better known as Mama Coco, is a warm-hearted older female character in the Disney/Pixar animated feature film Coco.
17. Cruella De Vil
Cruella, the main villain in the 1961 Disney feature film 101 Dalmatians, remains one of the best villains Disney has ever put on the big screen.
18. Daisy
This name comes from an old-school Disney character, and you gotta love it. Daisy is the cute girlfriend of Donald Duck in the Donald Duck series and various other short films.
19. Della
Also known as Thelma Duck and Dumbella Duck, Della is also the mother of Louie, Huey, and Dewey in the iconic television series DuckTales.
20. Drizella
Drizella is the other Cinderella stepsister who was wildly jealous of Cinderella's beauty and success and had an incredible fear of mice.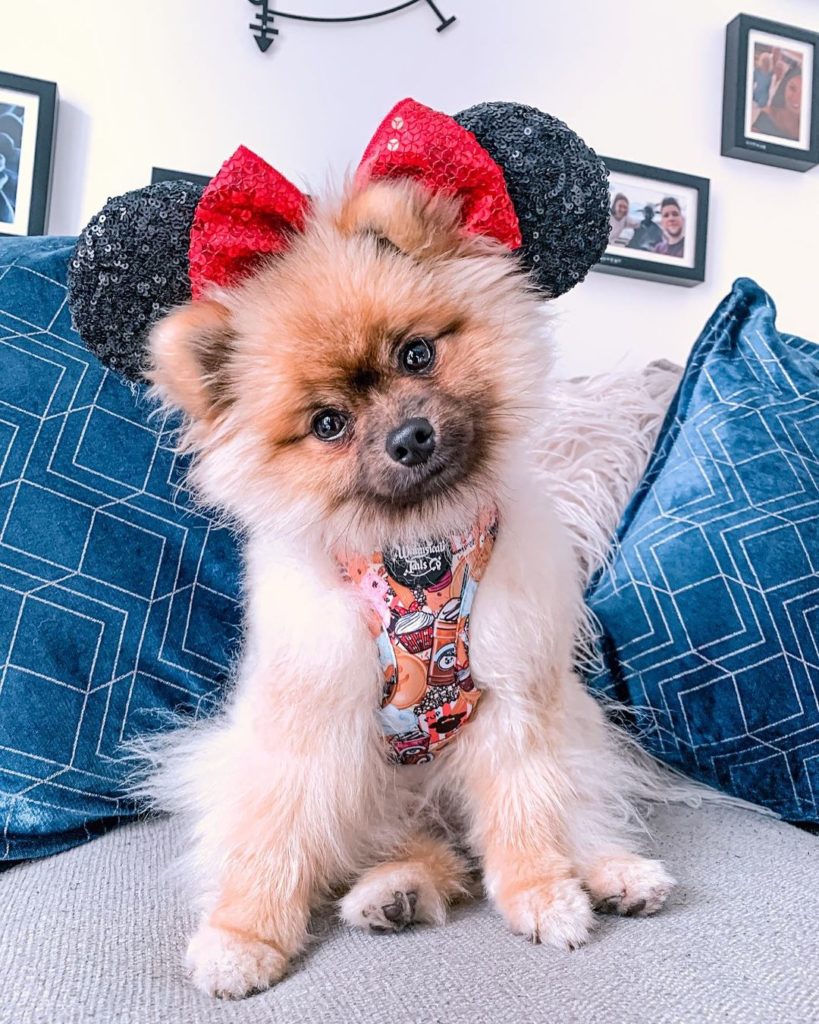 Photo from: @baileyandbjorn_pom_adventures
21. Duchess
Name your female puppy after the sophisticated mama cat in The Aristocats.
22.Dory
Dory is the clumsy, always-forgetful regal blue fish with a big heart of gold in the 2003 animated film Finding Nemo.
23.Elsa
Another awesome Disney female dog name among hardcore Disney fans. Elsa is the gentle and elegant princess from the animated film Frozen I & II.
24.Enchantress
The Enchantress is the powerful being that placed the spell on the prince, the castle, and everyone inside the castle for the prince's cruel life in the animated classic Beauty and the Beast.
25. Esmeralda
Are you still looking for inspiration for a Disney female puppy name? Esmeralda is as stunning as the character itself. This gorgeous black-haired girl with striking emerald green eyes is the virtuous and kind-hearted performer in Disney's 1996 animated film The Hunchback of Notre Dame.
26. Evie
Evie is the daughter and heiress of the Evil Queen in the Disney film Descendants.
27. Georgette
Georgette hails from the Disney animated film Oliver and Company. She is the purebred pedigree poodle and personifies the stereotypes of this breed in the movie to a tee.
28. Gerda
Gerda is the personal advisor to the main villain of the feature film Maleficent: Mistress of Evil.
29. Giselle
A cute Disney dog name for your girl puppy, Giselle is a stunningly beautiful young woman portrayed by Amy Adams in the film Enchanted.
30. Jane
Jane is the young woman who falls in love with Tarzan in Disney's 1999 animated movie Tarzan.
31. Jasiri
Jasiri is the bold and spunky hyena from The Lion Guard.
32. Jasmine
Princess Jasmine is Aladdin's gorgeous girlfriend in Disney's 1992 classic – Aladdin. She is free-spirited, righteous, and rebellious – the perfect name for girl pets.
33. Jessica Rabbit
The unforgettable Disney female character from Who Framed Roger Rabbit.
34. Jenny
Perhaps you should name your new female puppy after the heroine from Disney's Oliver and the Company?
35. Joy
Still haven't found the ideal name for your female puppy? How about Joy? She is the protagonist in the Disney/Pixar animated feature film Inside Out. Her goal is to always remain joyful, hence her name.
36. Lady
One of the best girl dog names is taken from Disney's 1955 Lady and the Tramp. Lady was the purebred Cocker Spaniel who fell for Tramp, a stray mutt. Lady is best described as a demure yet courageous and brave pup.
37. Leah
Queen Leah is the loving and protective mother of Princess Aurora in Sleeping Beauty.
38. Lilo
Lilo is another of our favorite Disney girl names for pups. Lilo is the cute, little, olive-skinned Hawaiian girl from the Lilo and Stitch franchise.
39. Nani
Nani Pelekai is also featured in Disney's Lilo and Stitch franchise as the older caring sister to Lilo.
40. Oddball
Oddball was the only pooch without spots in Disney's 102 Dalmatians. Hence the name.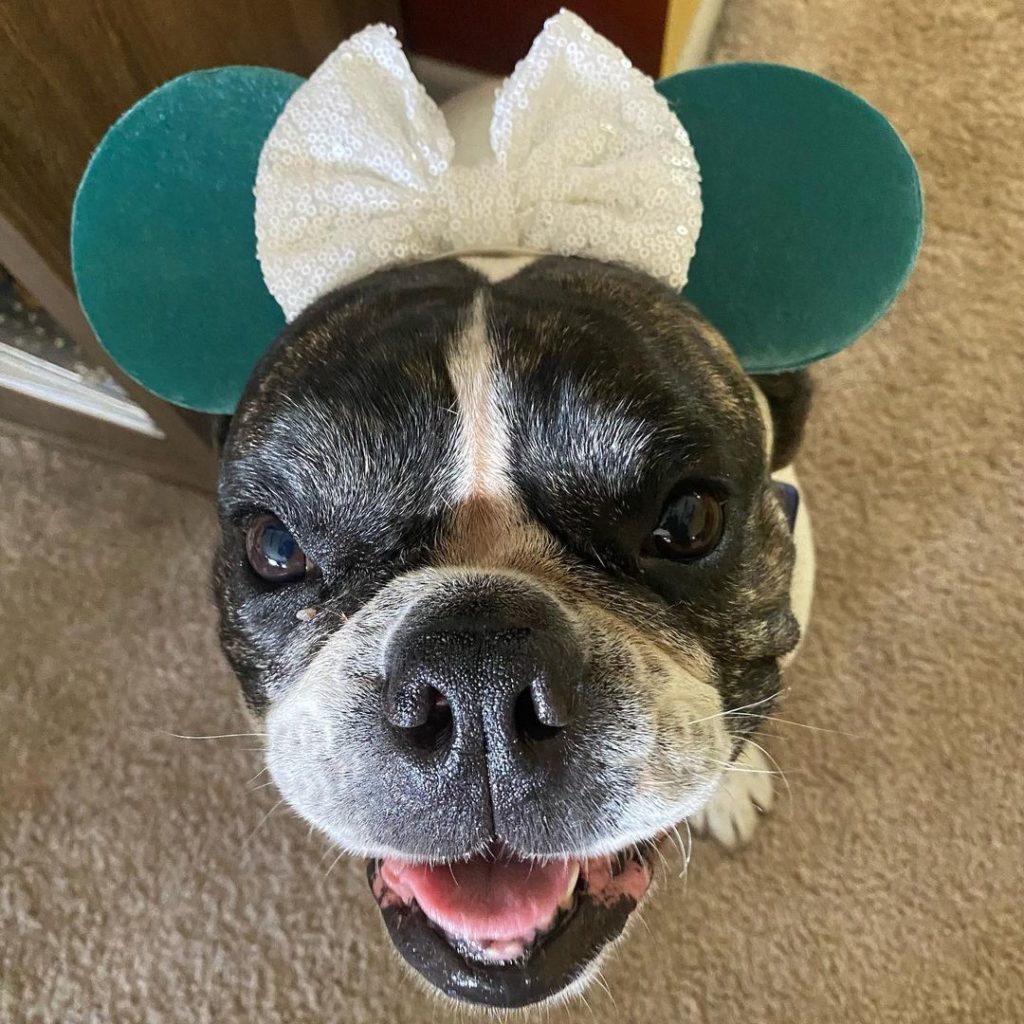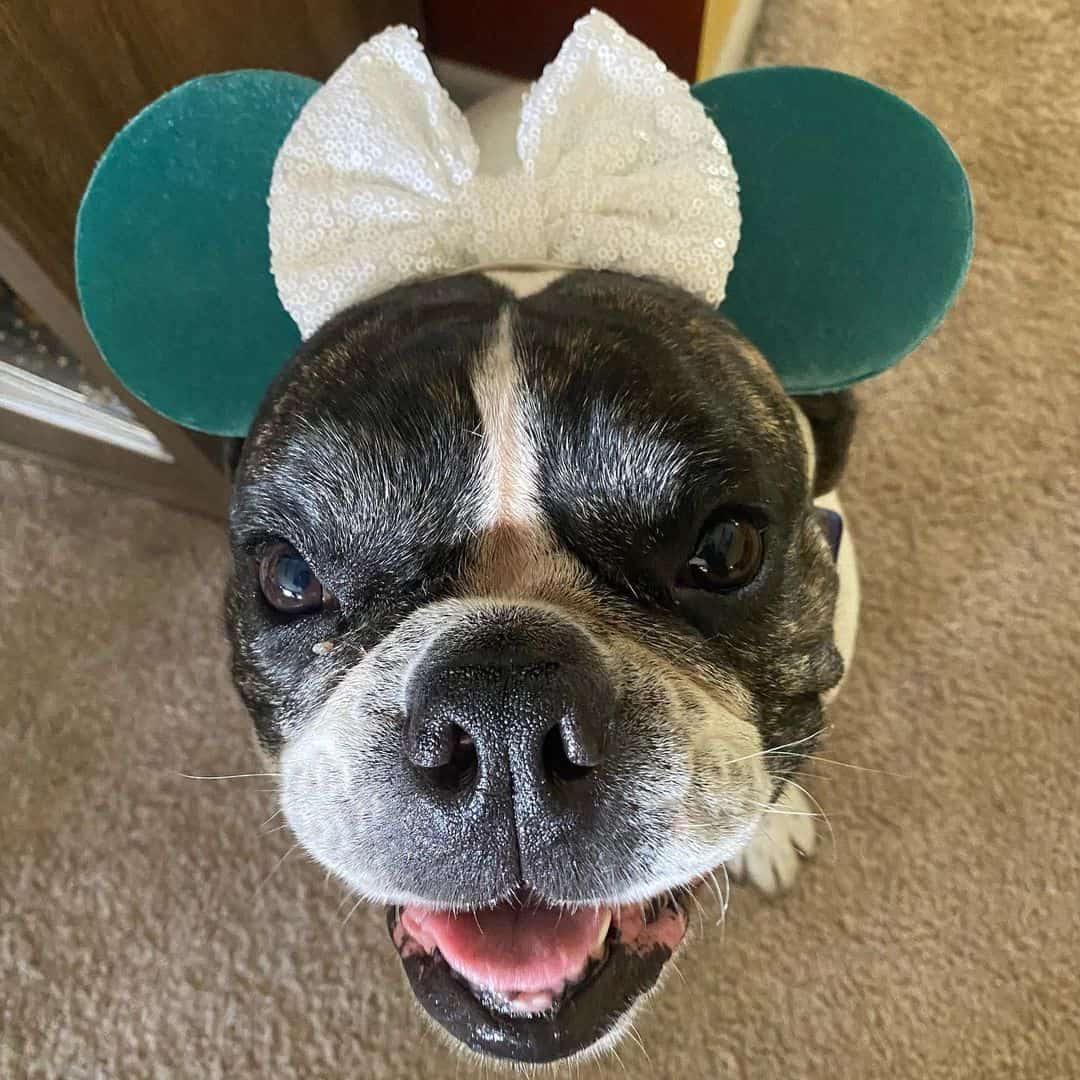 Photo from: stylingthemagic
41. Oona
She is a mermaid princess in Sofia The First
42. Maleficent
Maleficent is the evil fairy from Sleeping Beauty.
43. Madame Medusa
This badass name hails from the diamond-obsessed main villain in The Rescuers.
44. Maid Marian
Maid Marian is the fair lady and love interest of the main protagonist in Robin Hood.
45. Marie
Marie is a small white Turkish Angora kitten from The Aristocrats. The perfect name for a sassy white pooch!
46. Mary
This sweet and short Disney dog name comes from the wonderful and magical nanny, Mary Poppins.​​​​
47. Melody
Princess Melody is the heroine of the second film in the Little Mermaid franchise titled Little Mermaid II: Return to the Sea.
48. Merida
Looking for the perfect princess name for a girl dog? Merida is the tomboyish, red-haired Scottish princess that is free-spirited and quick-witted from the popular Disney/Pixar animated film Brave.
49. Minnie
Minnie is simply one of the best Disney names for your girl puppy. Minnie Mouse is the long-term loving girlfriend of Mickey Mouse, known for her playful and daring personality.
50. Moana
This Disney girl dog name comes from a 2016 Disney animated feature film of the same name. The girl, Moana, is chosen by the ocean to save her people and her world from certain destruction.
51. Nana
One of the most iconic dogs in animated film history and also one of the best names for a girl dog is Nana. She is the protective and caring nursemaid Saint Bernard pup in the animated film Peter Pan.
52. Penny
Penny is Bolt's best friend and owner in the animated movie Bolt.​​​​
53. Perdita
Still struggling to choose between all of the awesome names on our Disney dog names list? Perdita is a classic Disney name. She is the gentle and motherly female animated character in the One Hundred And One Dalmatians, Pongo's mate, birth mother to fifteen Dalmatian puppies, and an adoptive mom to eighty-four more puppies. Talk about commitment.
54. Snow White
Snow White, the first-ever Disney princess, is the protagonist in one of the most popular Disney classics of all time, Snow White and the Seven Dwarfs. She is known for her optimism and kindness, making the name totally fitting for a cute and fun white-haired female pooch.
55. Tiana
This is a short and cute-sounding name for a female pup. Princess Tiana, also known as Ta, comes from Disney's 2009 film The Princess and the Frog. Tiana is known for her hardworking personality and unmatched intelligence.
56. Tiger Lilly
The daughter of Neverland's indigenous chief, Princess Tiger Lilly, is one of Peter Pan's most loyal friends.
57. Tinker Bell
How can we be mentioning beautiful characters from Peter Pan without putting Tinker Bell on our list? She is the sassy fairy who serves as Peter's sidekick and is extremely jealous of Wendy.
58. Ursula
Ursula is the evil Cecelia sea witch from The Little Mermaid. Her name is of Latin origin and means "little female bear." Perfect for a big girl doggy.
59. Wendy
Wendy Darling is the beautiful and imaginative English girl from one of the all-time favorite Disney classics, Peter Pan.
60. Willow
Grandma Willow is the old and wise talking willow tree featured in the animated film Pocahontas.
Tips for finding the best dog Disney name for your pup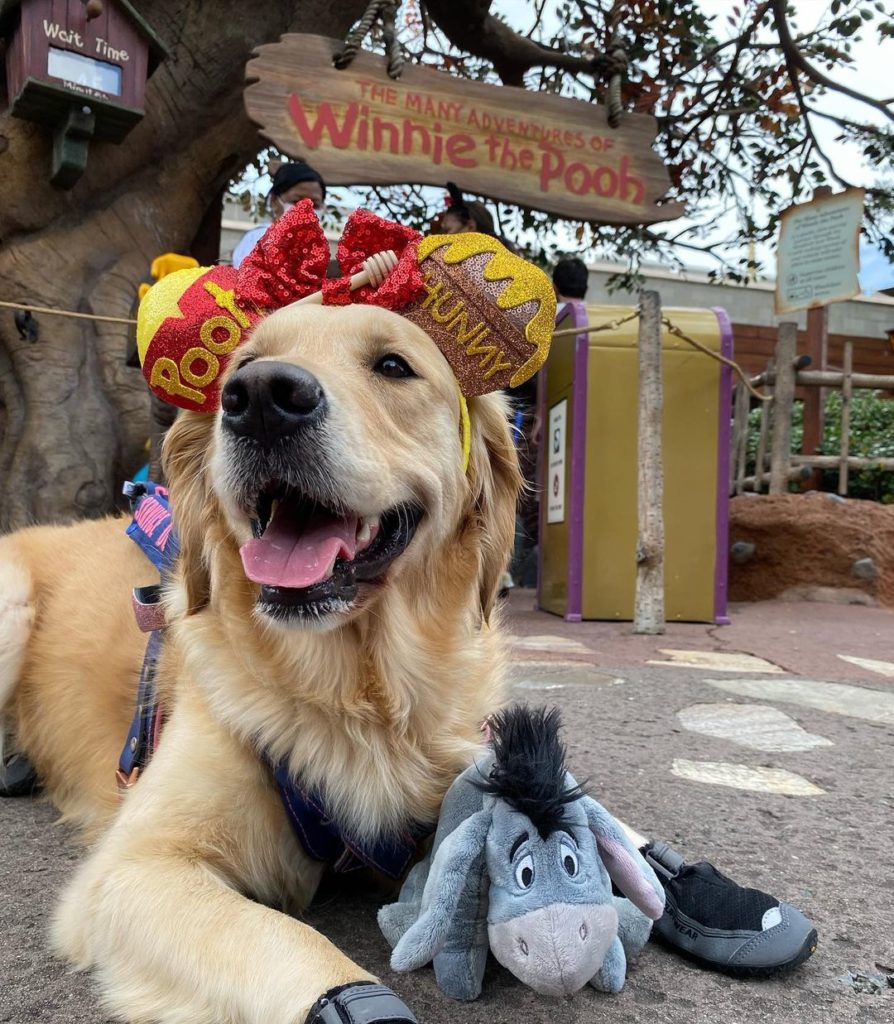 Photo from: @allie_wags
Choosing a Disney name for your newest four-legged friend should be a family task – all of your family members should take part in the process.
We are huge fans of Disney in all aspects: characters, songs, books, movies, theme parks, and Disney has so many iconic characters that choosing a moniker for your male or female pooch can be a challenging task.
So, we've prepared some tips to help you choose the right dog name from the variety of names we listed above.
Pick a personality trait or a theme
Because of the plethora of possible Disney dog names, narrowing your search down to one or two themes you like the most can make the process a lot easier.
Picking a favorite theme, like the top ten bravest Disney animated characters, top ten Disney villains (that you love to hate), or even top ten classic Disney animated characters, can help immensely.
Consider giving your new furry bestie a name based on its personality traits. Maybe your pooch is brave, a trouble maker, or has a quirky personality that matches that of one of Disney's characters.
Add diversity
Don't just settle for a common Disney dog name for your furry companion. Make sure you choose a unique namesake that is a little out of the box to make your pooch stand out.
How does it sound?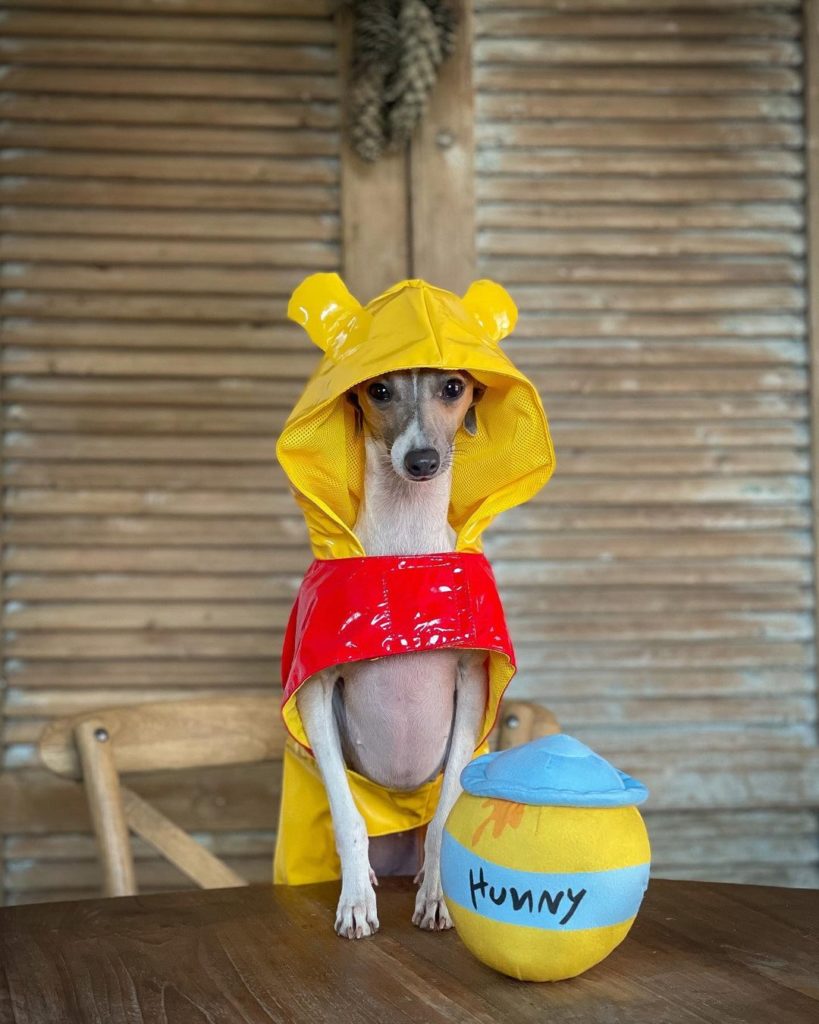 Photo from: @iggy_tuna
You shouldn't go for a tongue-twister of a dog name if you want to make it easy for you to pronounce every time you want to call your pooch.
So, sound it out! Say the name out loud a couple of times and see if it rolls off the tongue as it should. Also, try it out on your pup and see how they react.
We've compiled the following lists of names for you below to help you narrow down the search.
Top 10 Classic Disney themed dog names
• Simba (The Lion King)
• Genie (Aladdin)
• Belle (Beauty and the Beast)
• Timon and Pumbaa (The Lion King)
• Mushu (Mulan)
• Robin (Robin Hood)
• Mickey Mouse
• Mufasa (The Lion King)
• Woody (Toy Story)
• Tiana (Princess and the Frog)
Top 10 bravest Disney dog character names
• Fa (Mulan)
• Moana (Moana)
• Hercules (Hercules)
• Aladdin (Aladdin)
• Tadashi Hamada (Big Hero 6)
• Merida (Brave)
• Anna (Frozen)
• Ralph (Wreck-It-Ralph)
• Tarzan (Tarzan)
• Ariel (The Little Mermaid)
Top 10 Disney Villains
• Cruella de Vil (One Hundred and One Dalmatians)
• Hades (Hercules)
• Scar (The Lion King)
• Gaston (Beauty and the Beast)
• Sid Phillips (Toy Story)
• Buddy (The Incredibles)
• Heffalumps (Winnie The Pooh)
• Yzma (The Emperor's New Groove)
• Captain Hook (Peter Pan)
• Maleficent (Sleeping Beauty)
Top 10 unique Disney dog names
• Bruno (Cinderella)
• Chip (Beauty and the Beast)
• Dash (The Incredibles)
• Buzz (Toy Story)
• Gus (Cinderella)
• Baloo (The Jungle Book)
• Flynn (Tangled)
Conclusion
As you can probably tell, there are a lot of Disney dog names for both female and male representatives of the dog world. If any of these names seems perfect for your pooch, go for it!
You can never go wrong with naming your dog a Disney character name. Make sure to stick to our tips for finding a good name for your pooch, and your new furry friend will have a cool name in no time!
If, however, our Disney dog names aren't exactly your thing, you can check out our star wars dog names, flower names for dogs, anime dog names, and gun names for dogs.
With all of these options for naming your dog, you are bound to find the perfect name for your pet!