Welcome to the list of the sweetest Cockapoo names hand-picked just for you! We've roamed the Internet searching for the most fun names you'll enjoy giving your puppies. And, let me tell you something, we've got some really creative ideas. Soon, you'll be able to find the perfect name for your little puppy.
The Cockapoo is a lovely designer dog or hybrid dog the whole of America likes. They're popular, but it hasn't changed them at all! Cockapoos are kind-tempered, friendly, and simply precious. Hey, some people even call them the World's Happiest Dogs! You can't name the World's Happiest Dog something boring like Fluffy! You have to take it up a notch. Look down below at which Cockapoo names we think would go great for your new puppy. There's a dog name for everyone's taste.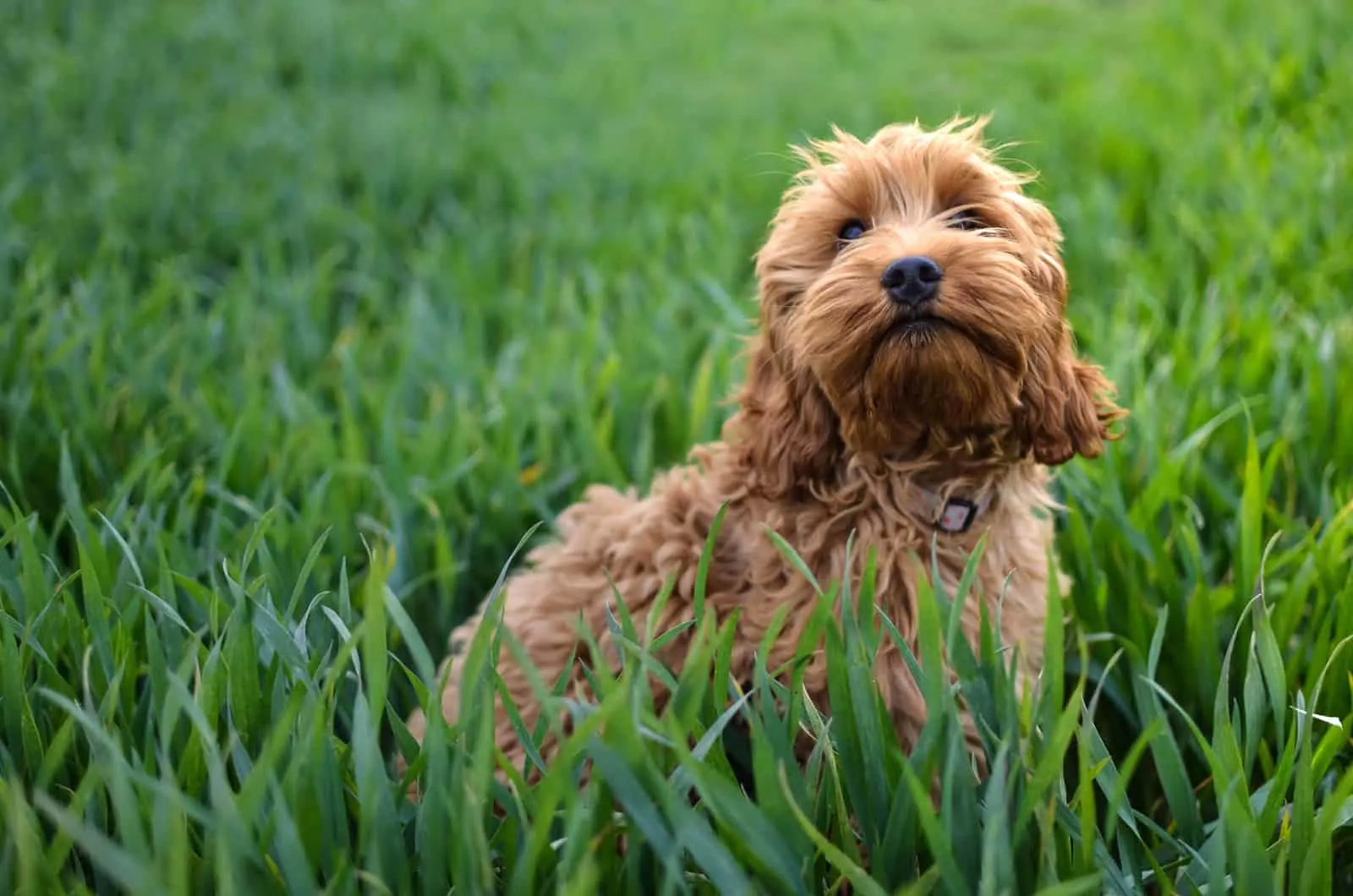 As the offspring of the Poodle and the Cocker Spaniel, the Cockapoo is one hybrid that has successfully stolen our hearts and climbed the popularity ladder at the speed of light. You may also know it as Cockapoodle, Cockerpoo, or Cock-a-Poo! No matter what you call them, one thing is for sure: these pups are absolutely adorable!
Besides their sweet looks, Cockapoos have a loving personality and are open to all people and other pets. They're quite convenient as pets since they're small enough to cuddle but big enough to hang out with the big dogs. The Cockapoo's energy is contagious! They're puppers happy to be alive and to be around people.
The question we have to ask about every crossbreed dog is: What makes it better than its parents? Why is a Cockapoo better than a Poodle or a Cocker Spaniel? Both parents are loving breeds that enjoy a lot of popularity. So, what makes their puppy the ultimate pupper?
Well, Cockapoos aren't as demanding when it comes to grooming as their Poodle parents. Not all people like the Poodle's fancy grooming style. When you take this into consideration, you get a crossbreed dog that seems too good to be true.
It's hard to distinguish when the first Cockapoos were bred. The true Cockapoo breed was bred to raise healthy, hypoallergenic puppies with terrific temperaments. Good, responsible breeders claim that the temperament and the dog's health are way more important than good looks.
A successful Cockapoo cross is intelligent and has a free spirit, ready to endure anything. However, when the cross is not successful, you may end up with a submissive puppy that bites, acts fearful, and lacks proper potty habits.
Most Cockapoos are the result of breeding Poodles with American Cocker Spaniels. A cross between a Poodle and an English Cocker Spaniel is quite rare. We call them Spoodles, and they can be distinguished from one another. In fact, experts have worked on their separation over the last decade, and we do see satisfying results.
All this is not as important as the Cockapoo's sweet temperament, adorable looks, and exceptional behavior. The Cockapoo is the best of both worlds!
Choosing Cockapoo Puppy Names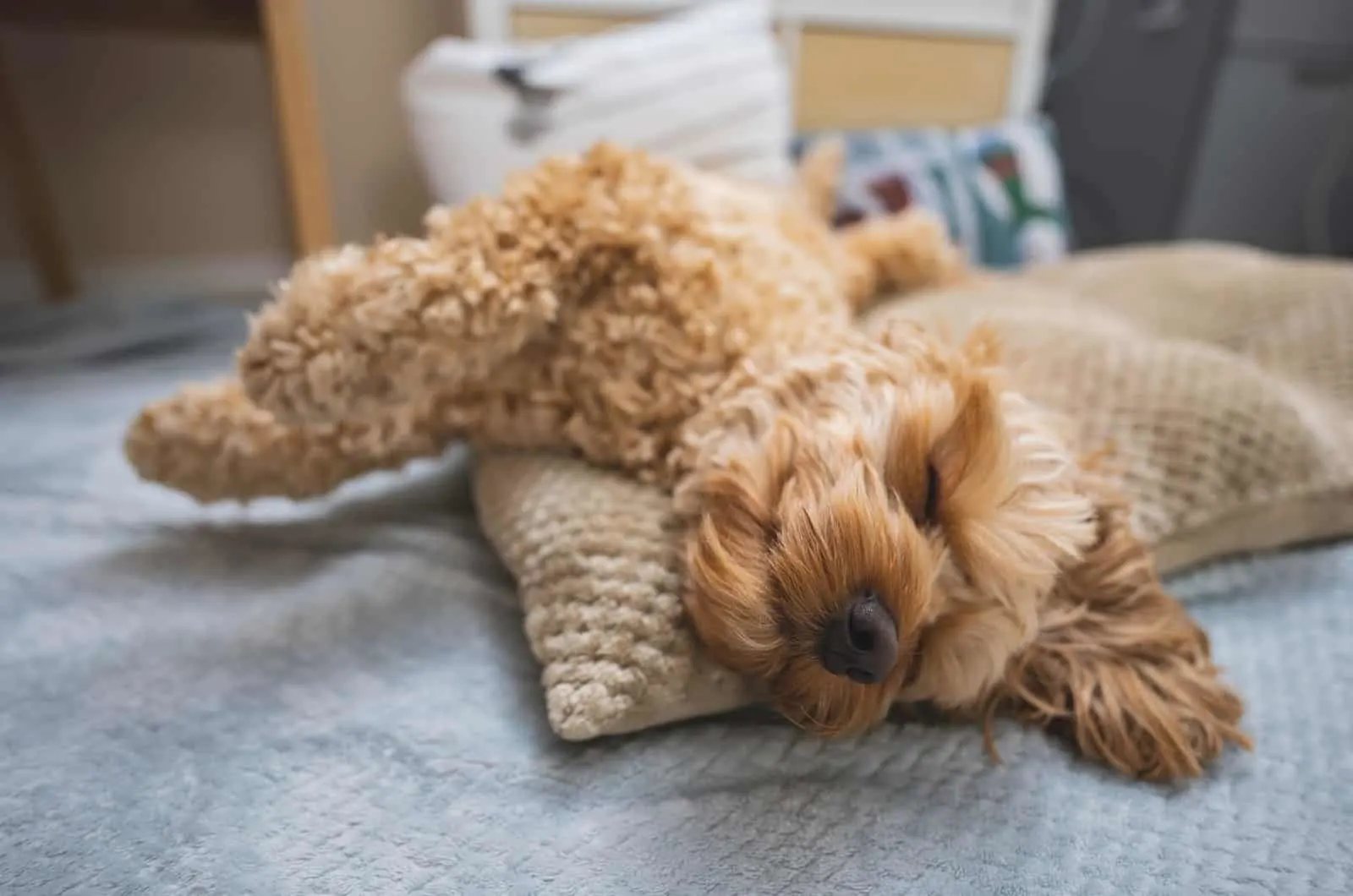 We're so sad puppies don't stay puppies forever. We'd love to gaze into their sweet, little puppy eyes forever and watch their playful spirit roam through the house. But, fear not: the Cockapoo breed is sweet even as an adult! An adult Cockapoo is an even bigger charmer than a puppy Cockapoo! So, we have to find a name for that charmer. You know, something that will fit both puppies and adults, right?
Always choose a puppy name your doggy will grow into. Find something creative yet normal enough so you don't feel embarrassed when you yell out your dog's name in front of the entire dog park.
You might also be interested in sassy dog names for your temperamental female dogs, or in patriotic dog names for your little champ.
Steer clear from names that sound like commands. The best Cockapoo dog names often have two syllables, so try to keep that in mind. Pick a clear, direct name that won't confuse your new puppy.
Here's a little bonus disclaimer: no matter how awesome naming your pooch after a family member would be, you have to think that through. Make sure that person doesn't have anything against it. If they're honored by your suggestion, then your puppy will be honored to carry their name too!
Female Cockapoo Names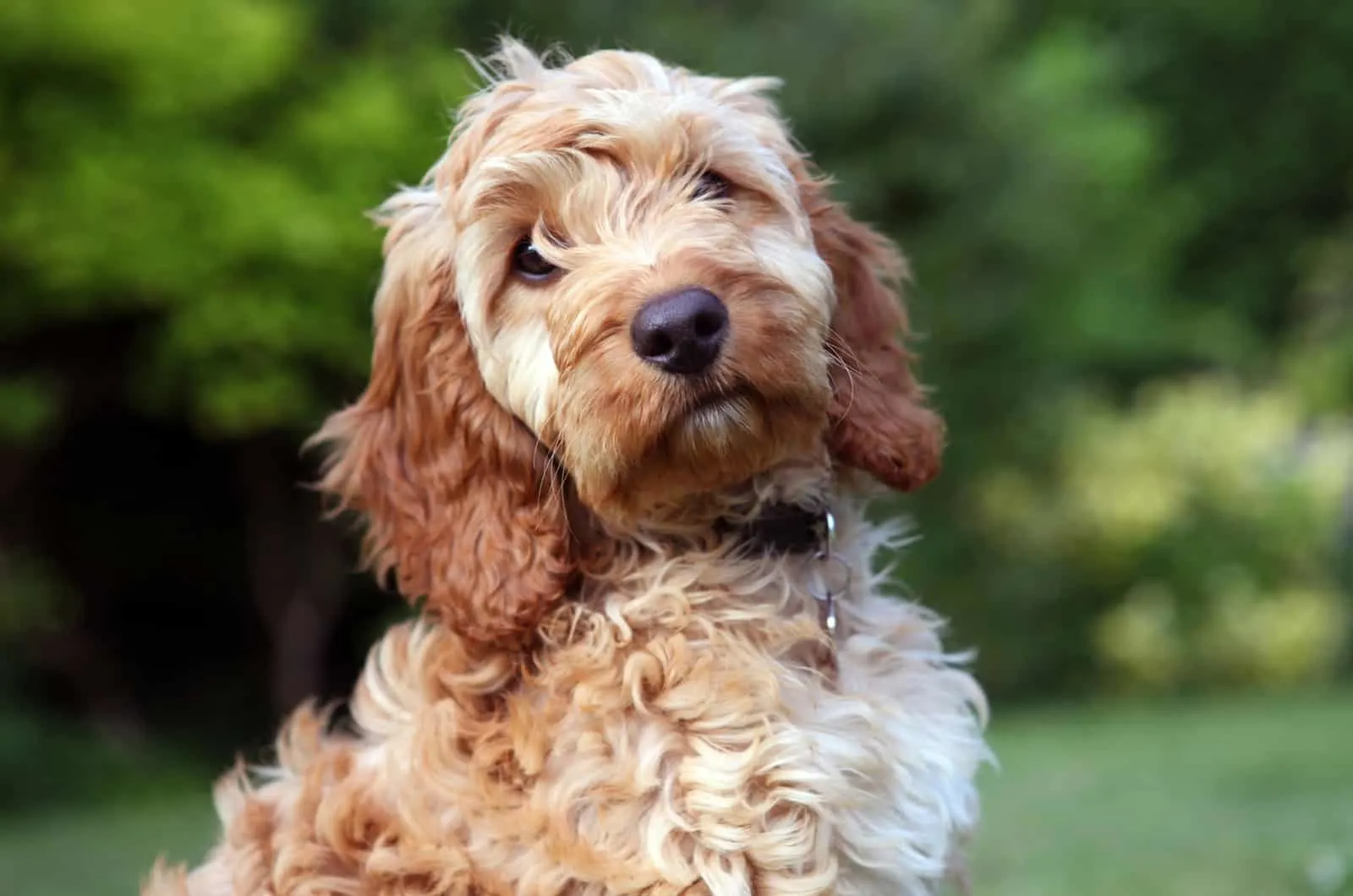 Girl names are fun! Here are some pretty awesome ones that will make you think, "Why didn't I think of it before?"
• Aerie
• Amber
• Cara
• Carmen
• Cherry
• Cinna
• Clover
• Coco
• Hailey
• Hope
• Junie
• Kiki
• Leila
• Lilia
• Lucy
• Nova
• Paris
• Reagan
• Sage
• Tess
• Trix
• Willa
• Winona
• Yasmine
• Zuma
Male Cockapoo Names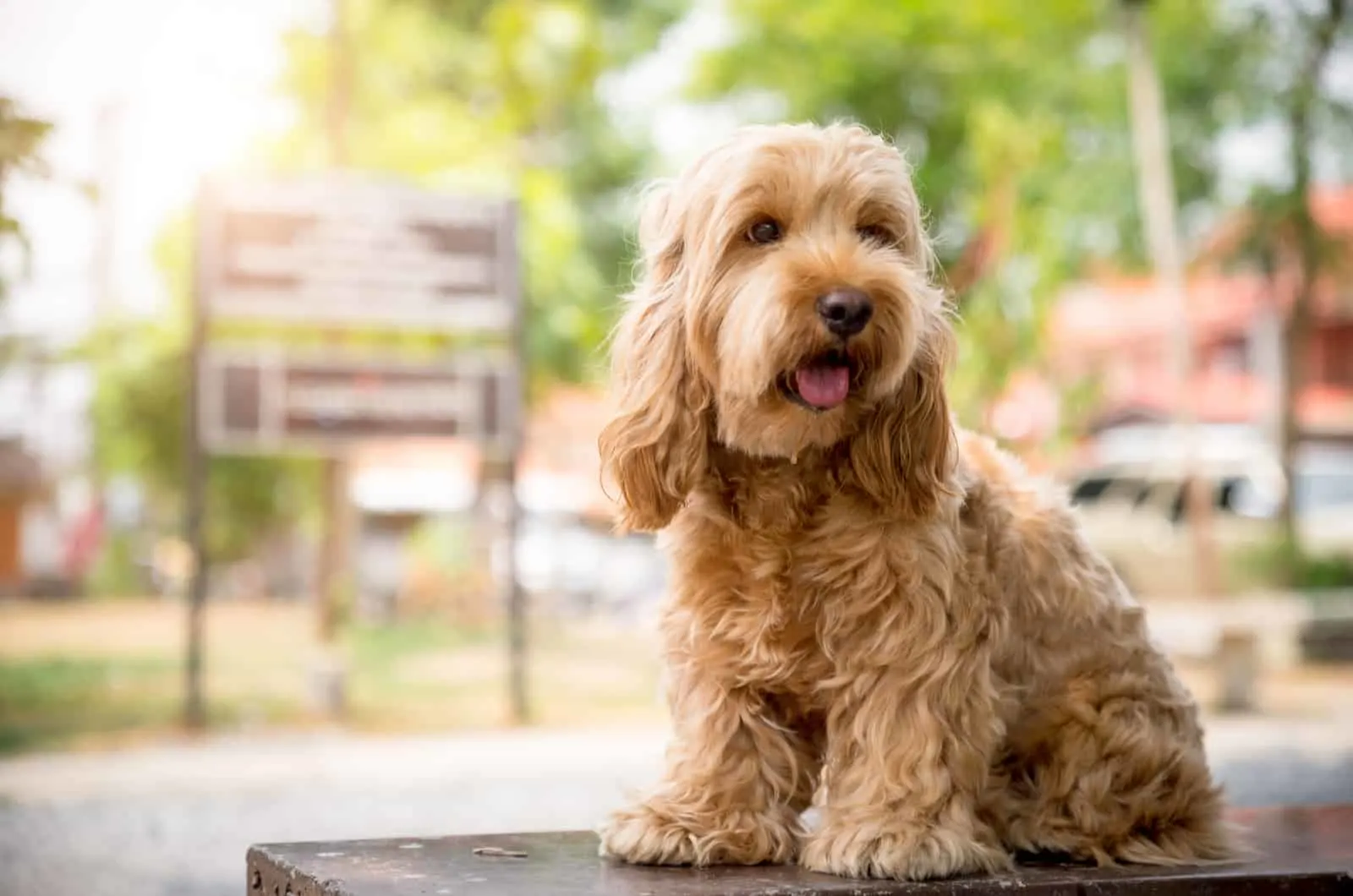 Our male Cockapoos are cool little dudes, and they deserve a cool name. We think the following ones are some of the best Cockapoo names ever. Tell us if you share this opinion!
• Batman
• Bilboe
• BowWow
• Dane
• Dragon
• Frank
• Gotti
• Gus
• Jaxson
• Joe
• Kernel
• Killa
• Koa
• Leif
• Mario
• Omari
• Papi
• Rocco
• Rory
• Sherlock
• Simba
• Snow
• Taj
• Tony
• Vito
Good Cockapoo Names For Black Dogs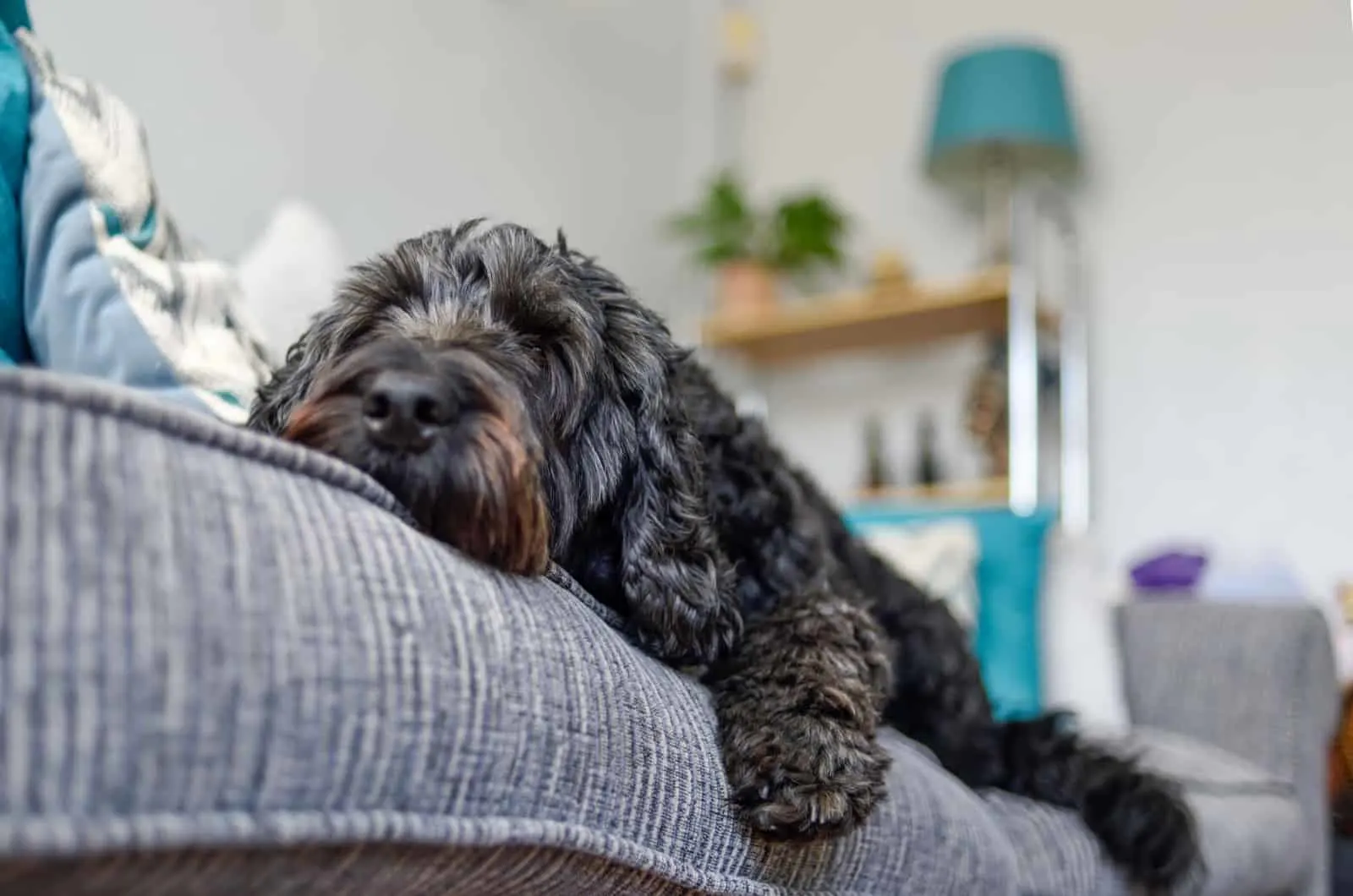 Black Cockapoos aren't that common around the block, so when we see them, we feel compelled to stare in awe for a bit. These magnificent little pooches have a spectacular black coat, sometimes with little colorful markings and patterns. Even though pure black Cockapoos are one of our favorites, we can't deny that the black and white Poos are equally beautiful.
A gorgeous dog needs a lovely name. Here's a list of black dog names we thought of:
• Ash
• Baki
• Beltza
• Char
• Cloud
• Cocoa
• Dove
• Dusky
• Ebony
• Ember
• Flint
• Fog
• Glow
• Jet
• Licorice
• Midnight
• Moonbeam
• Nero
• Noir
• Onyx
• Panga
• Raven
• Shadow
• Slate
• Velvet
Best Names For Cockapoos With A Chocolate Coat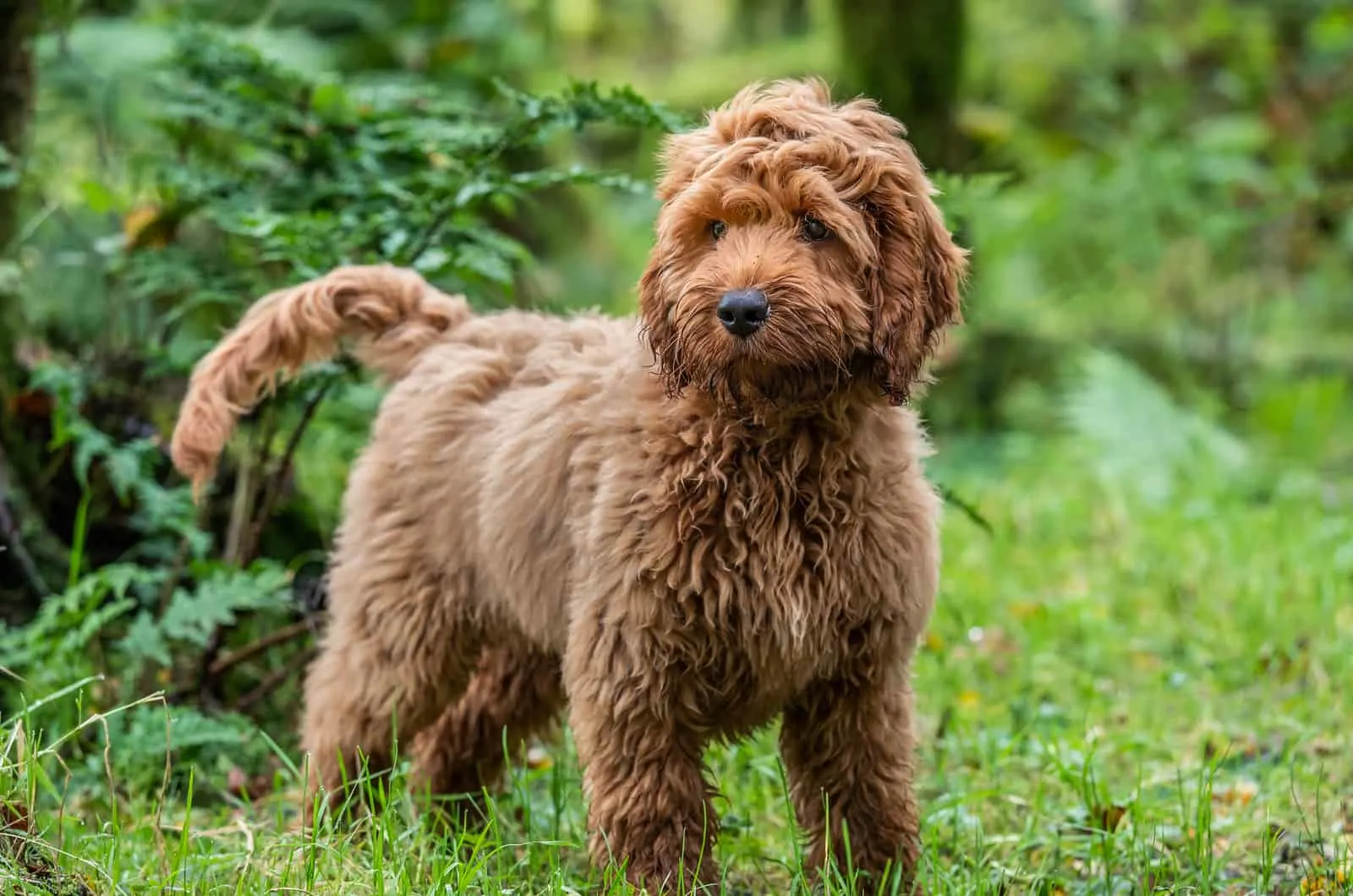 Ah, the chocolate coat! So spectacular… So divine… So… YUMMY! We can't help but compare a chocolate Cockapoo to a bar of chocolate. These pups are to die for. Ther unique coloring served as terrific inspiration for a list of chocolate Cockapoo names:
• Acorn
• Bambi
• Blaze
• Brandy
• Brownie
• Chai
• Chestnut
• Chocula
• Copper
• Ginger
• Hazel
• Henna
• Hershey
• Hickory
• Mahogany
• Mocha
• Nutmeg
• Peanut
• Penny
• Russett
• Sienna
• Tawny
• Toasty
• Turtle
• Woody
Cute Cockapoo Names For Apricot Dogs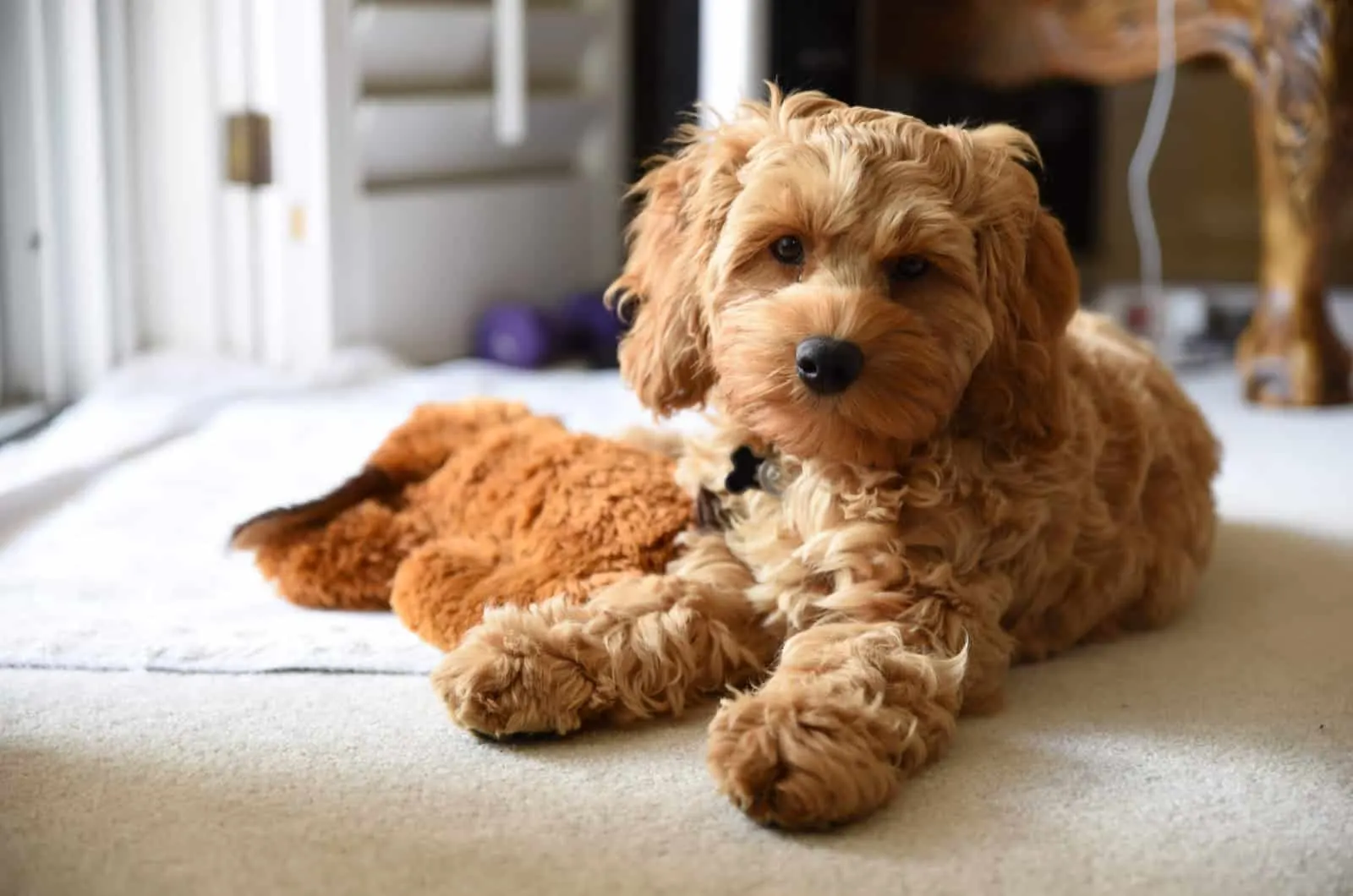 Lots of things come in shades of apricot. But, do you know what the color apricot is? It's a blend of cream with some red highlights. It's gorgeous, like all Cockapoo colors! If you're stunned by the amazing hypoallergenic Cockapoo coat, then you'll find an apricot one to be great inspiration for some cool apricot dog names.
• Cheddar
• Cheeto
• Cider
• Citrus
• Coral
• Curry
• Flame
• Garnet
• Julius
• Lucie
• Mango
• Marigold
• Nacho
• O.J.
• Peach
• Pumpkin
• Saffron
• Sherbet
• Shrimpie
• Sunbeam
• Sunset
• Tabasco
• Tang
• Tiger
• Topaz
Cream Cockapoo Names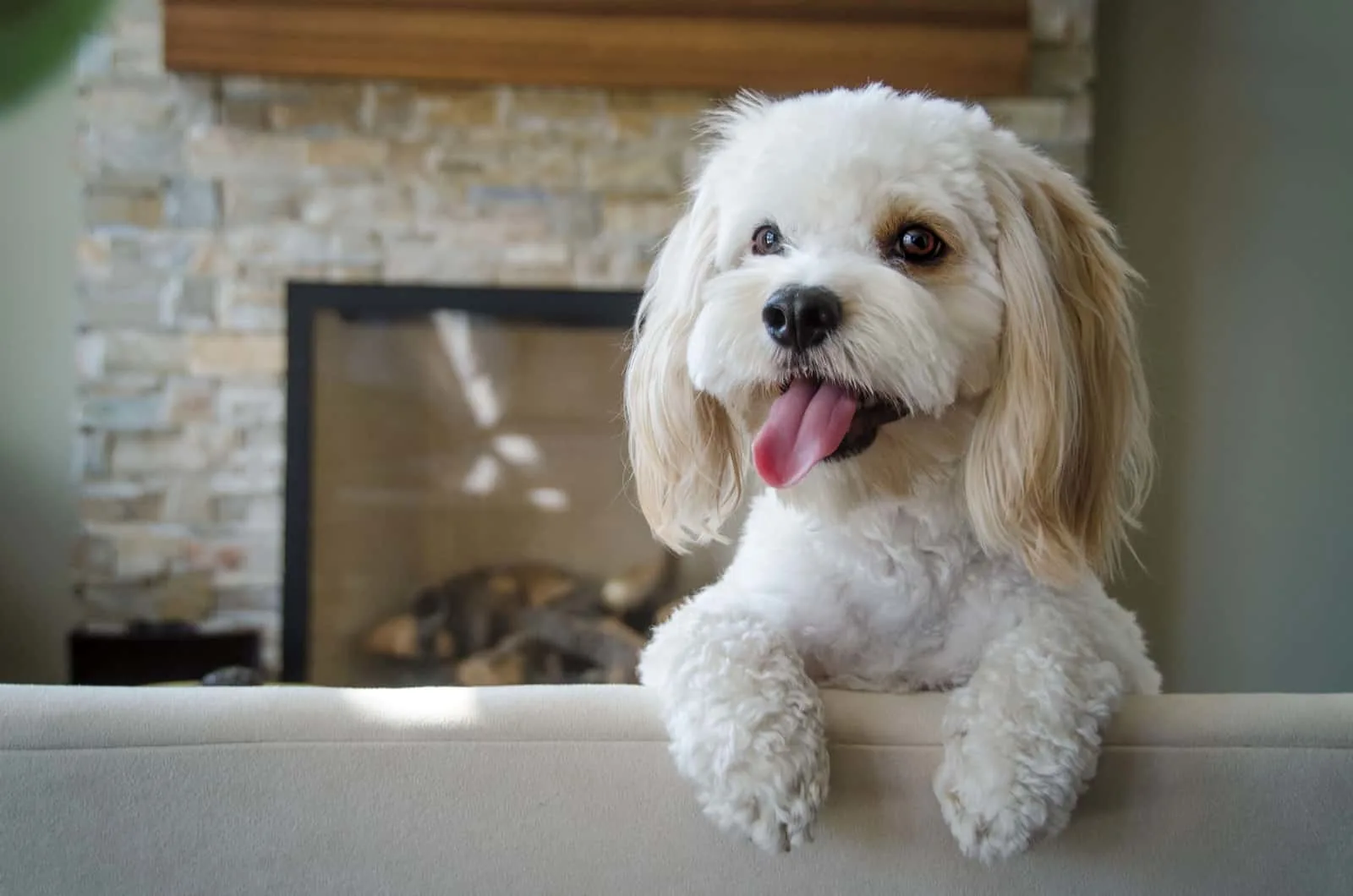 The cream coat can come in many varieties and patterns. These Cockapoo pups can be almost white or even strawberry blond. Yup, that's how wide their range is. Thanks to that, we've got some pretty pawesome name ideas for cream or white Cockapoos:
• Almond
• Biscuit
• Blanche
• Cameo
• Champagne
• Chess
• Coconut
• Cookie
• Crystal
• Daisy
• Diamond
• Galaxy
• Honey
• Ivory
• Lacey
• Milky Way
• Pearl
• Rain
• Rose
• Sandie
• Silver
• Snowball
• Star
• Sterling
• Sugar
Cute Cockapoo Names For Puppies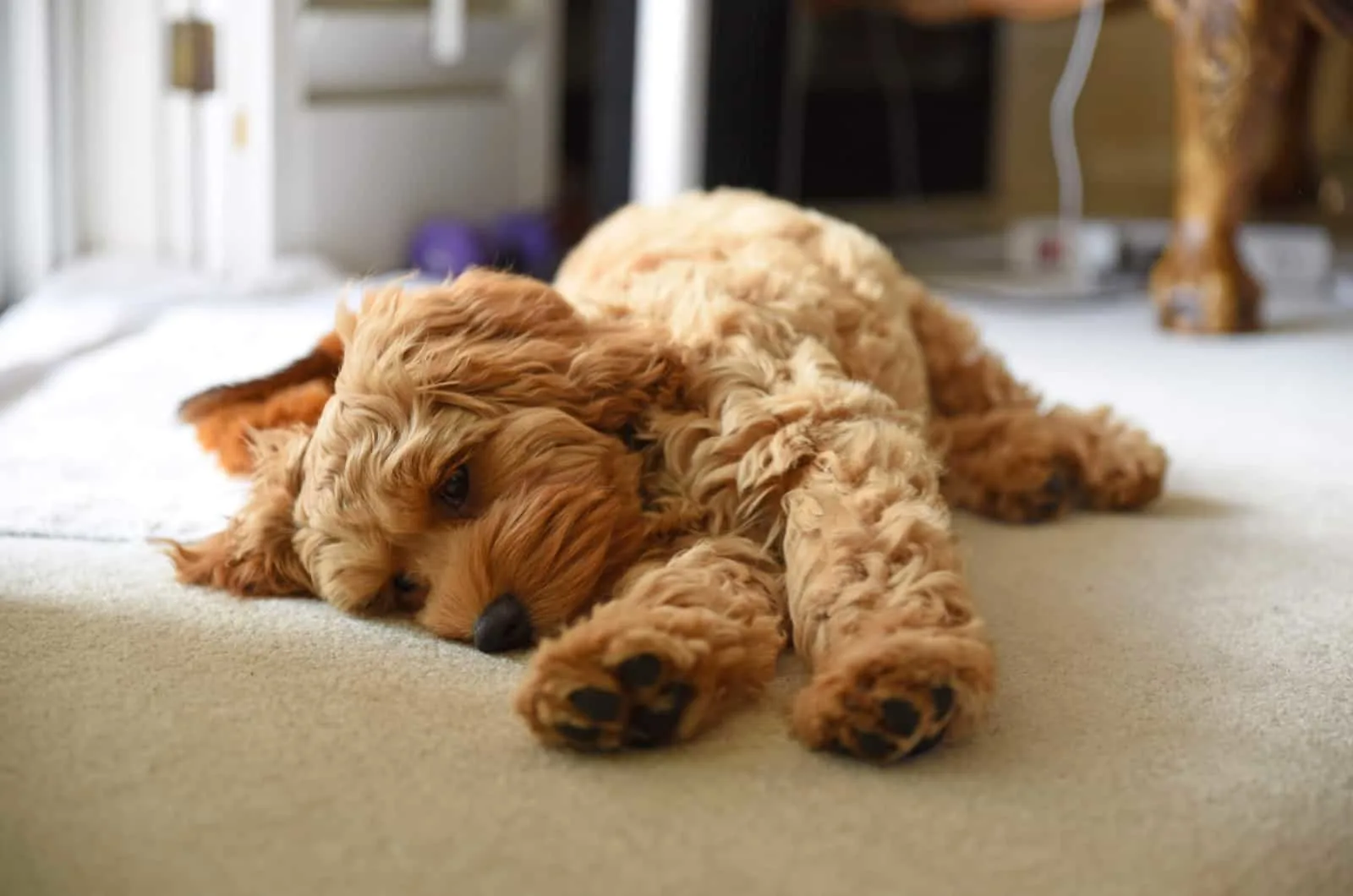 Cockapoo puppies can easily distract you with their cuteness while trying to give them great Cockapoo puppy names. But, don't worry, we've got your back! Here's what you should name your Cockapoo puppy:
• Berry
• ChiChi
• Dijon
• Dreamboat
• Gala
• Goldie
• Kiwi
• Noodle
• Opus
• Peachy
• Pepper
• Puffy
• Queso
• Robin
• Tabby
• Taffy
• Tedd
• Tigger
• Treasure
• Trouble
• Tulip
• Winnie
• Wolf
• Wonton
• Zinnia
Coolest Cockapoo Names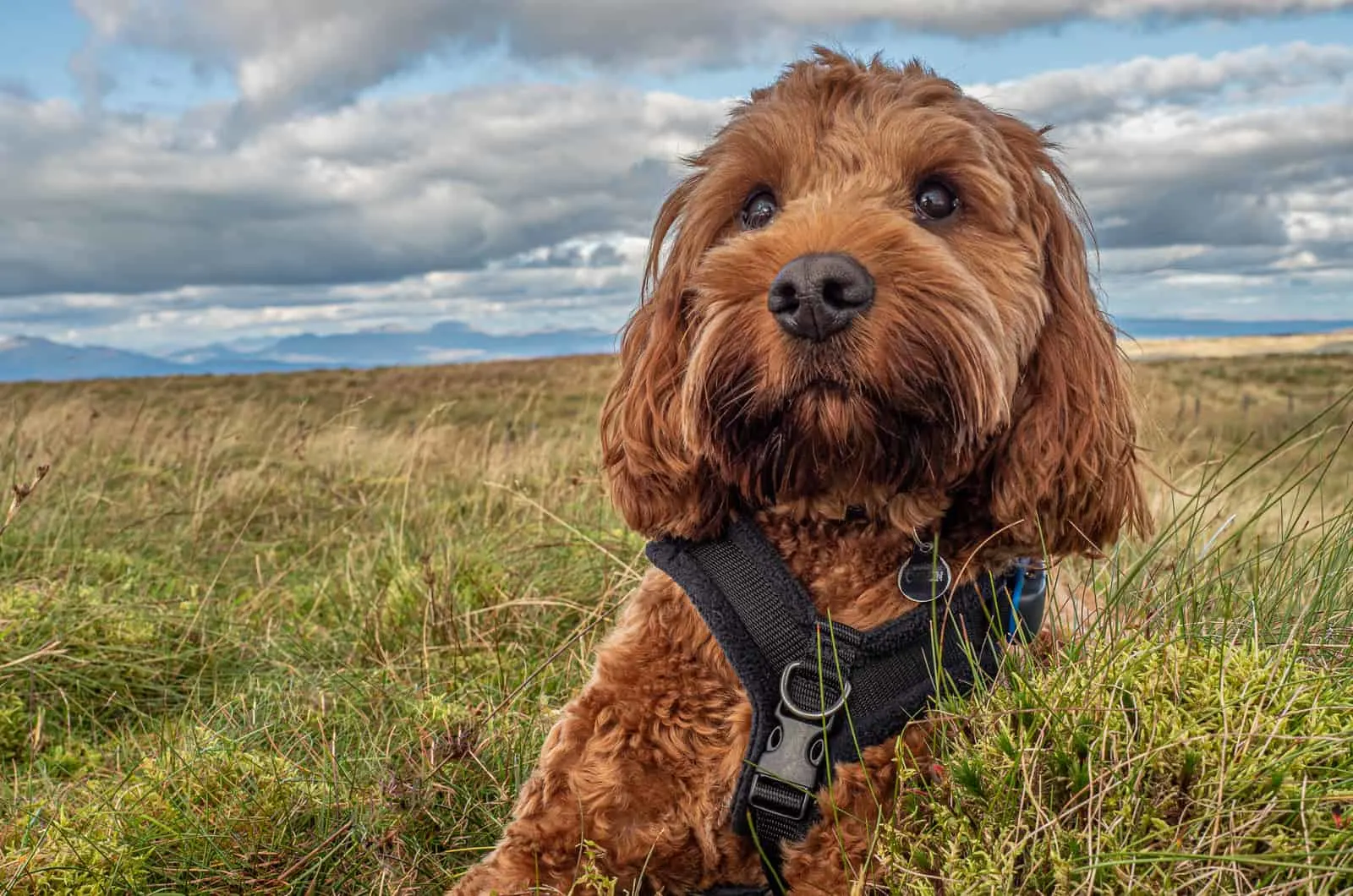 Cool Cockapoo names will emphasize the dog's paw-mazing personality. These names are clever, witty, fun, and even out of this world!
• Aladdin
• Alcapone
• Alpo
• Barker
• Carlito
• Carter
• Curly
• Dante
• Fox
• Gus
• Hunter
• Ivan
• Julius
• Lucky
• Mellow
• Olaf
• Orion
• Phil
• Scoot
• Smoots
• Spaghetti
• Vladimir
• Xerxes
• Zach
Unique Cockapoo Names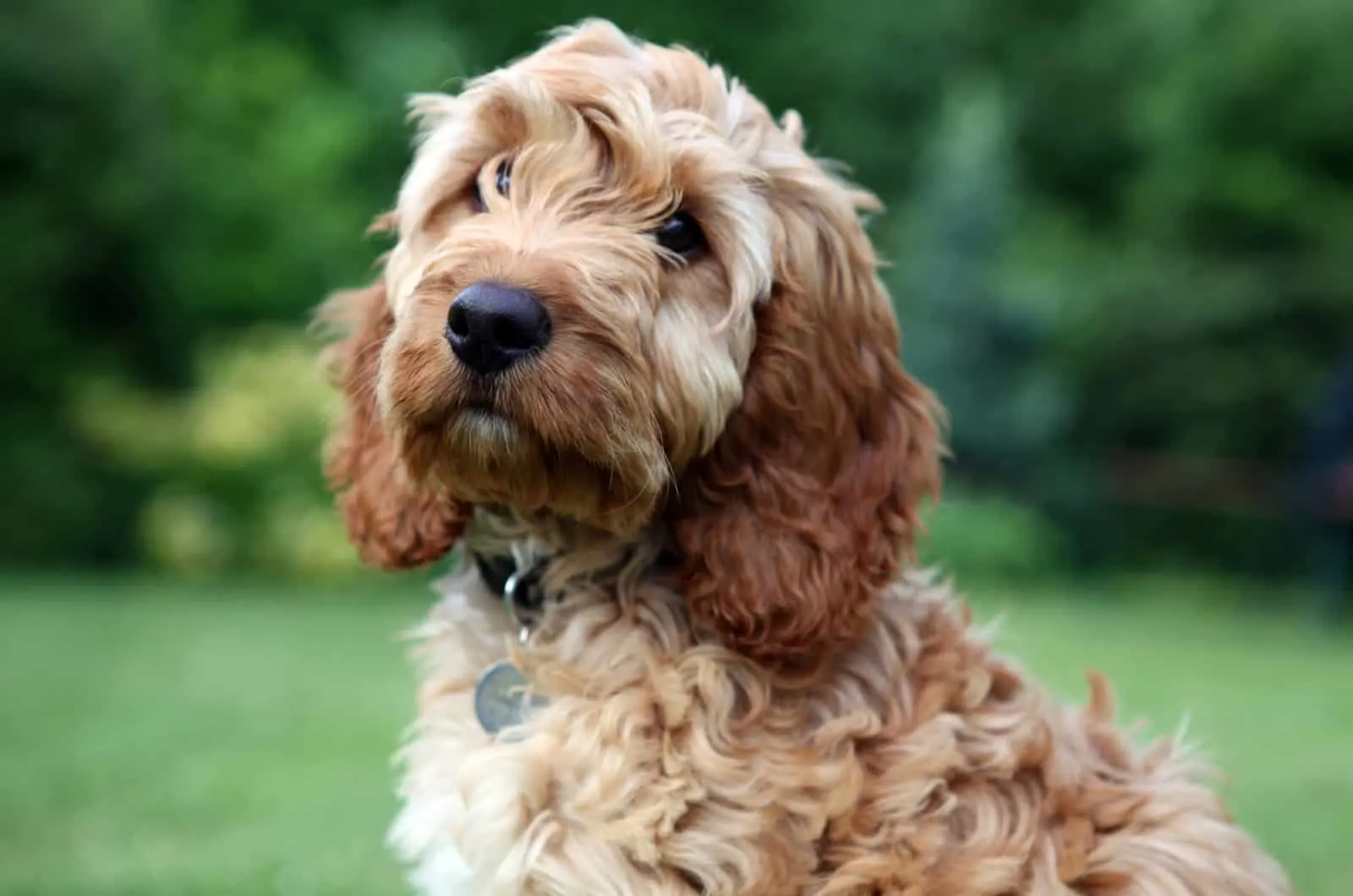 Let's tell the truth: we all want a unique name so no other dog owner can say, "Hey, that was my idea!" Since we live in a time where pets are all over the place (73+ million in the USA), it's kinda hard to find a name no other pet has. But, we'll try to figure out something and suggest some really unique choices:
• Adi
• Alpha
• Aurora
• Banjo
• Benji
• Bruna
• Celine
• Cora
• Dani
• Horace
• Inga
• Jacques
• Jemma
• Menolly
• Mesha
• Mila
• Orana
• Phineas
• Rakhi
• Ranger
• Ricco
• Ruff
• Sakari
• Terra
• Wallace
Floral Dog Names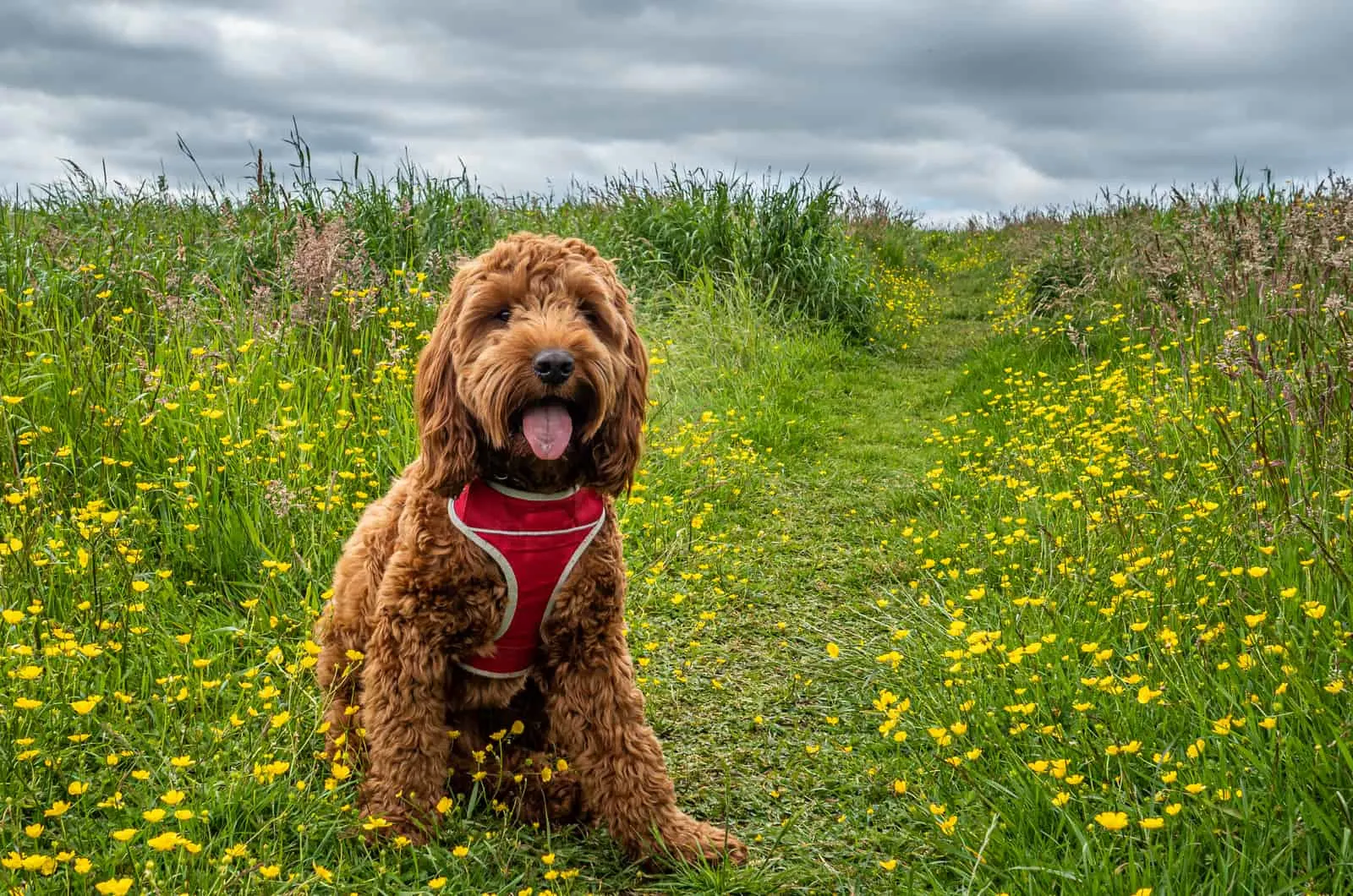 Floral dog names are a great idea for your new Cockapoo. They're unique, sweet, and sound so gentle – just like your Cockapoo! Here's a list of some of the best floral dog names. If you want more ideas, check out what we have here!
• Aster
• Azalea
• Begonia
• Blossom
• Bluebell
• Buttercup
• Calla
• Camellia
• Carnation
• Clover
• Daffodil
• Dahlia
• Dandelion
• Fleur
• Freesia
• Garland
• Holly
• Honeysuckle
• Hyacinth
• Iris
• Jasmine
• Lavender
• Lilac
• Lotus
• Magnolia
• Marigold
• Mimosa
• Orchid
• Pansy
• Petal
• Petunia
• Poinsettia
• Poppy
• Posey
• Primrose
• Rhododendron (Rhodie?)
• Rose(ie)
• Sunflower
• Tansy
• Thistle
• Trillium
• Tulip
• Violet
• Wisteria
• Zinnia
Designer Dog Names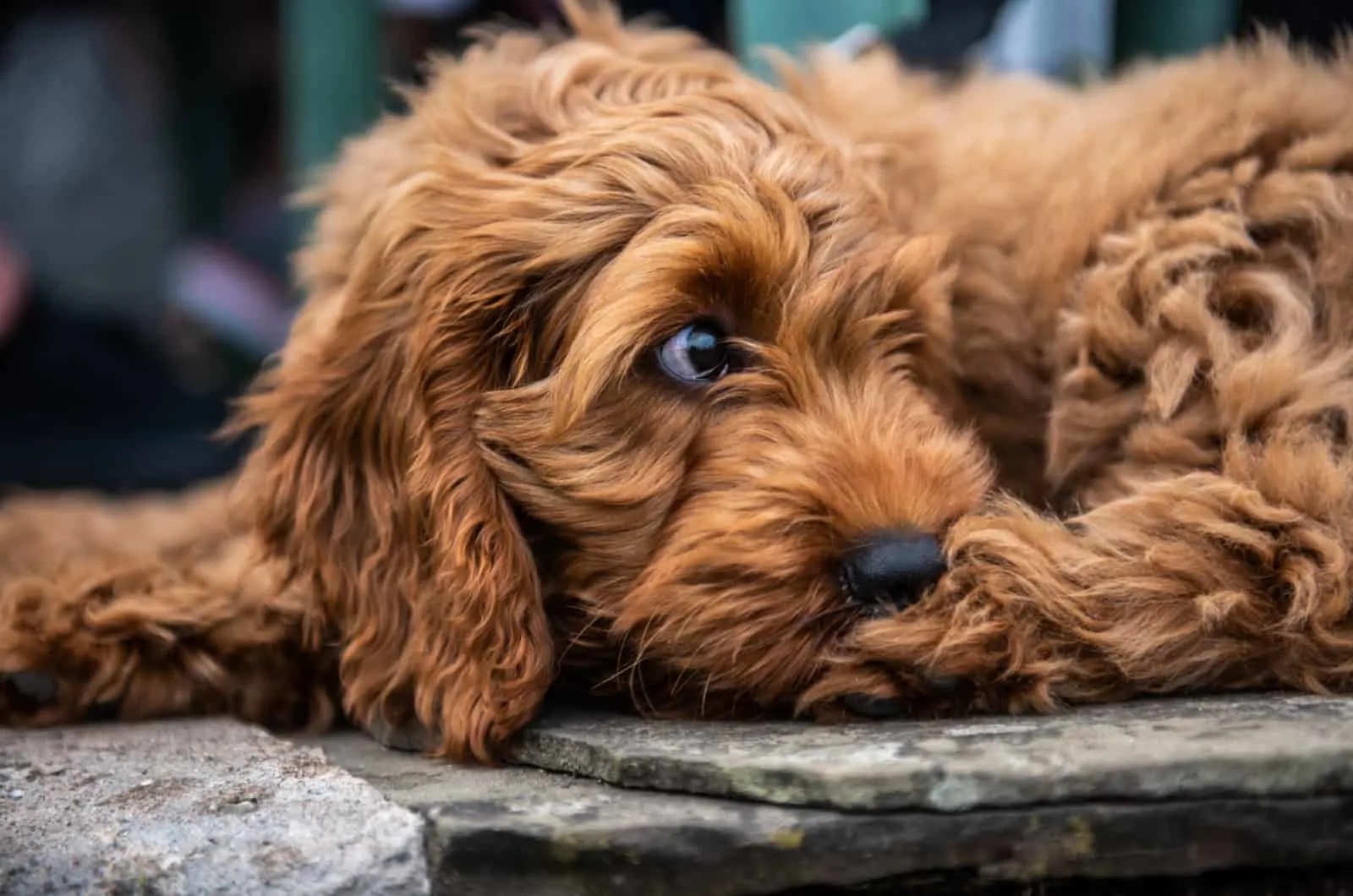 Since the Cockapoo is a designer dog, it wouldn't be a bad idea to name them after an haute couture designer. Your Cockerdoodle is definitely the star of your runway.
• Tiffany
• Prada
• Chanel
• Stella (McCartney)
• Armani
• Giorgio
• Gucci
• Dolce
• Capri
• Vera Fang
• Valentino
• Louis
• Grrberry (Burberry)
• Loubowtin
• Jimmy Chew
• Cosmopawlitan
• Jean Paw Gaultier
• Dogue
• Hermes
Celebrity-Inspired Cockapoo Names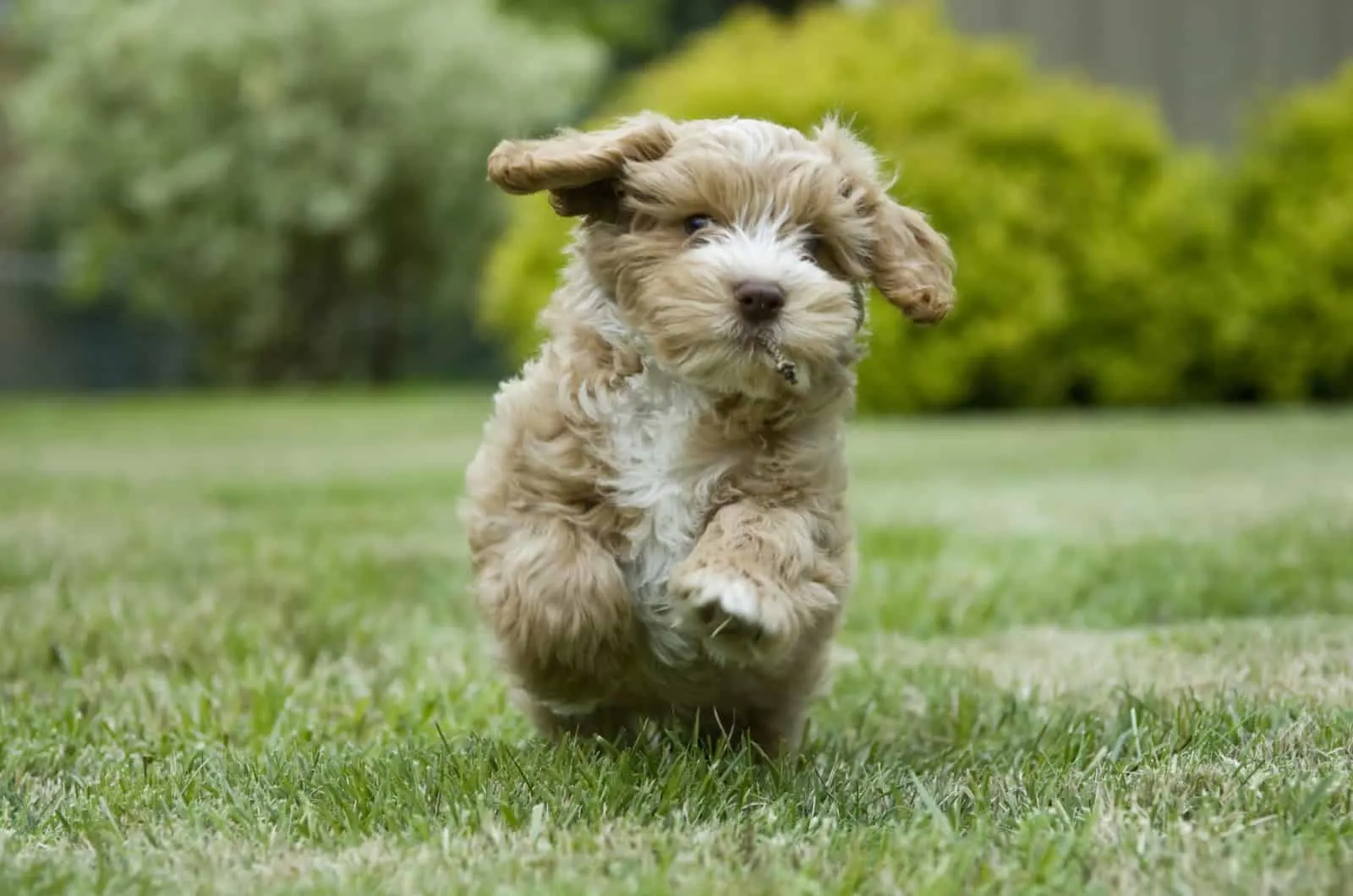 Celebrities, singers, actors, and entertainers have always been a terrific option when it comes to naming dogs. Some of Hollywood's finest have Cockapoos as pets. So, why shouldn't your Cockapoo have a name twin? You'll find lots of great ideas in the list below. And if you ever meet Lady Gaga, you could break the ice by saying, "Hey, my dog's named Fozzi too!"
• Alfie (Britain's Happiest Dog)
• Bailey (Carley Stenson)
• Barney (Carley Stenson)
• Buttermilk (Ashley Judd)
• Chewy (Minka Kelly)
• Colin (Harry Styles)
• Fozzi (Lady Gaga)
• Icarus (Jensen Ackles)
• Kylie (Sammi Sweetheart Giancola)
• Lamby (Lena Dunham)
• Rocky (Billie Joe Armstrong from Green Day)
• Sam (Nick Robinson)
• Shug (Ashley Judd)
Teaching Your Doodle His Name
When getting a dog, it's important you already know that name training is the first lesson you two will need to pass together. If your puppy doesn't respond to its name, you've got nothing! Name training is the foundation of your relationship. Think about it: your girl Cockapoo or boy Cockapoo will hear their name from the moment they open their eyes until the second they fall asleep. If you've got yourself a brand new dog, you can relax because Cockapoos are friendly dogs, easily trainable, and have a lovely nature.
So, here's how you start dog training!
Step #1
No matter which of our dog name ideas you choose, you should start using it from the moment you get your puppy. Puppies are smart cookies. They pick up on their name within 2 to 3 days! You should practice saying their name throughout the training lesson loudly and clearly. Your Cockerdoodle should respond consistently to its name. Nicknames are prohibited at this time. Otherwise, you'll just confuse your puppy.
Take the puppy somewhere you both don't have any distractions. Get their attention by saying their name and place a treat in front of their nose. Guide the treat up to your nose so your dog follows it and establishes eye contact with you. Once he's done it, say a trigger word like "good" or "bravo" and reward them.
Step #2
All puppies are huge foodies. It seems like they could eat forever, and ever, and ever… The same goes for getting treats. Pups love treats! In fact, puppies love positive reinforcement. When you give treats while saying your dog's name, he'll form a link between the name and something positive, like a yummy treat. So, every time you say your dog's name, he'll focus on you, expecting to get a treat. Of course, you don't have to use dog treats during the entire training as they're quite pricey and shouldn't be used too much. The dog food you have at home will do the trick. Food will definitely speed up the lessons and help your puppy learn its name fast.
Step #3
The first two steps should be repeated once or twice a day, for 3 to 5 minutes a session. Lessons can also be split up throughout the day so your dog doesn't get too overwhelmed or tired. Learning too much all at once is not good for your puppy. Puppies have short attention spans, so if you tire them out by repeating name training over and over again, you won't achieve anything. Once you see your puppy's losing attention, leave everything and go do something fun together. Training should always end in a fun way, so your dog will anticipate it the next time. Progress should be noticed within a few days.. As your puppy gets better, you can try practicing elsewhere in the house and gradually increase the level of distraction.
Within a few days, you'll notice your puppy will start to look at you quicker when you call their name! Once this happens, and they get better and better, you can start practicing in other spots in your home and slowly adding more distractions.
Step #4
Adding a challenge to your lesson, like introducing new environments, will always trigger your pup's curiosity. Once you see your dog is getting the hang of it, try practicing in other rooms in the house. Minimizing distractions at the beginning is important because you need to keep all of your pup's attention on you. Repeat steps 1 and 2 anywhere you decide to practice, but remember to maintain focus and keep it fun.
Step #5
With your dog's progress, you can start taking the training a bit further by saying the name and then rewarding the dog with a treat when he comes to you. Increase the distance between the two of you gradually. It takes weeks to master this step, but once your dog seems to be doing well, you can increase the distance even more and call out for your dog from another room. Let your dog respond and find you!
But, what if you're out of treats or Amazon doesn't have your dog food in stock? What should you use as a reward then?
You can slowly introduce praise and affective signs when your dog responds to his name. You won't always have treats with you, so it's important you know your dog will respond to his name, even if he gets belly rubs in the end. To be honest, belly rubs are sometimes even more desirable than treats.
To Sum Up…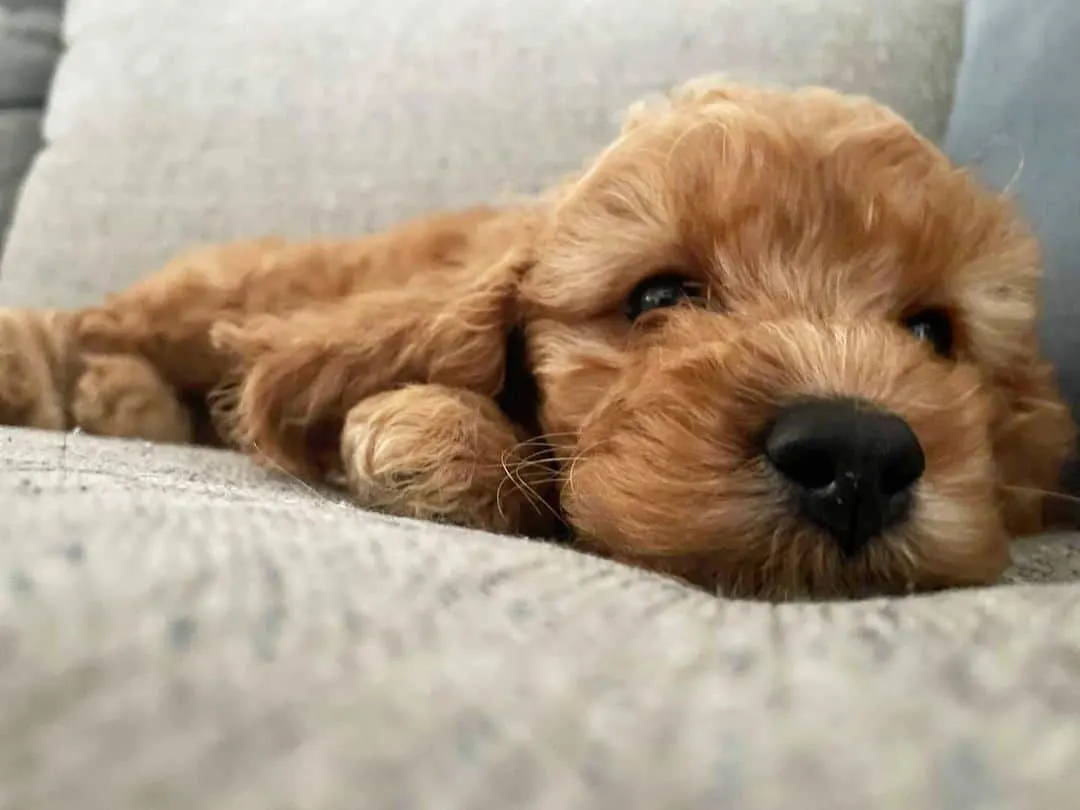 Photo from: @cockapoo_corner
You can't say we didn't put any effort into finding the best Cockapoo names. You'll most definitely find a cool dog name somewhere in our lists. We've got the cutest female dog names and the coolest male dog names. Your Cockapoo will be the star of your local doggy park.
This is a great dog breed, and they deserve great name ideas. Show how much you love your little Cockapoo by naming him something unique, cool, and fun! Something like… Dolce!
Related Article: