This post contains affiliate links, and I will be compensated if you make a purchase after clicking on my links.
Huskies are an adorable and silly dog breed with a very nice and thick fur coat, one that needs attention every now and then to stay fluffy and pristine. This is handled through various grooming methods, including bath time, but what are the best shampoos for Huskies?
The best shampoos for Huskies are usually ones that are gentle on the fur and the skin, made from all-natural ingredients to minimize allergy risks, and ones that also help strengthen the coat and prevent skin irritation.
Naturally, you'll want it to be affordable too, or have some other features like double as a conditioner, or simply smell nice as well.
Sounds like a tall order, doesn't it? Believe me when I say that it doesn't even begin to restrict the sheer quantity of available options over on Amazon and Chewy alike with just how many companies have thrown their hat in the ring of pet hygiene.
But, there are clear differences between the run of the mill option and the best of the best. They may be subtle, but they're noticeable if you look hard enough.
Today I'm here to help you out with that search and pull out some of the shining examples of excellence in the sea of mediocrity, to save you the valuable time you can be spending with your pooch instead or doing something else entirely.
It may be tiresome for many, but it's my job to do so, and my pleasure to provide affordable quality options to fellow pet parents in different ranges.
So, read on to find out what some of the best options for huskies are, as well as how to properly bathe your Husky dog and find out some interesting trivia pertaining to the subject at hand.
The 10 Best Shampoos For Huskies
Buddy Biscuits' Cloud Star Lavender & Mint Corporation Buddy Wash
Key Benefits:
Coconut base paired with Aloe Vera to help deal with itchiness and various other skin issues as well as a mix of botanical extracts

Non-toxic, tearless option for your dog which doesn't use any harmful chemicals in its list of ingredients

All-natural dog shampoo made in the USA at an affordable price, and one of Amazon's top picks in the category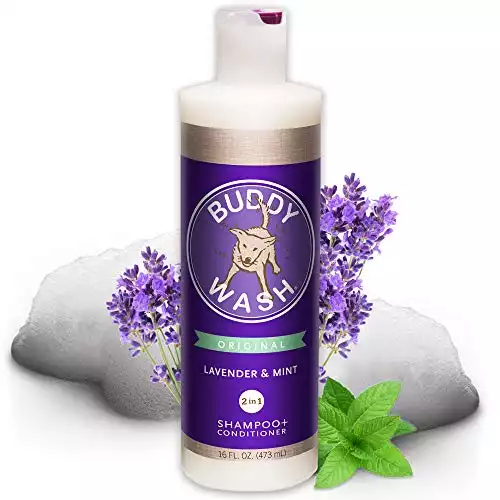 Starting off with a well known favorite, we have the Buddy Wash dog shampoo & conditioner.
It's a soap-free option that cleans just as well as soap would, but without the fuss and irritation that the soap itself would cause to your dog's eyes, injuries or any other sensitive areas.
It also makes it non-toxic unlike some of the cheap shampoos of questionable quality tend to be.
The Ingredients
The shampoo uses a coconut base, which is a fantastically soothing option that'll make your dog feel like he's getting an all-inclusive spa treatment every time you give him a bath.
The other great part is that it's made with a variety of all-natural ingredients, mainly a number of pure botanical extracts that help soothe your Huskies' skin and prevent irritation like rosemary, green tea, sage, chamomile, and the most important one, Aloe Vera.
They also double as natural conditioners in the fact that they help strengthen your dog's fur and keep it nice and shiny while cleaning it thoroughly.
Other than that, you'll also find that the shampoo contains an ingredient that acts as a natural deodorizer, wheat protein.
The Benefits
While wheat itself may be unsafe for allergy prone dogs when ingested, this ingredient is completely fine to come into contact with your canine companion, just make sure none of it gets in his mouth.
The product, naturally, is completely cruelty-free and the ingredients used are human-grade, meaning even you can use it as a shampoo if you follow the instructions properly.
It's a product made in the USA, a small note for all of you who love supporting local businesses if this may end up being the factor that acts as the deciding vote in your final shampoo choice.
Of course, this fantastic, tear-free shampoo is so good that it has even earned itself the "Amazon's Choice" tag, meaning that it's of exceptional quality.
The price is pretty affordable too, which makes it a good budget pickup too, all things considered.
The only complaint I've noticed is that others say it doesn't really have that noticeable of a scent to it which doesn't really seem like that big a deal personally, but you be the judge.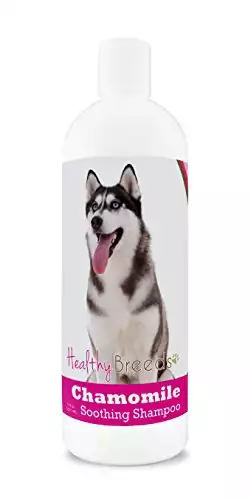 Yet another all too familiar, but for good reason, doggy shampoo, one specifically tailored to Siberian Huskies.
You may wonder how exactly that's possible, but that's because the people over at Healthy Breeds work on providing different options for every dog breed out there, or at least the most fitting one.
In a Huskies' case, that means being able to get all the way through his thick double coat which is normally insanely difficult to do even with the strongest shampoo options.
It's a US made product, meaning getting this supports a local business and helps out the economy. Every little bit counts.
The Ingredients
The shampoo uses a standard oatmeal base which is just as good as coconut, if not better, in providing the soft, soothing texture which will help your doggo relax and fidget around less during bath time.
It's further supplemented with Aloe Vera, the ever popular addition to any shampoo given its very own soothing and skin hydrating properties, minimizing the chances of hot spots or any other form of skin irritation popping up.
Aside from it, you'll find various botanical extracts like cactus, calendula and chamomile, as well as fir needle essential oils.
The Benefits
It's free of any parabens, phthalates and any other harsh chemicals that would be a risk for your doggo's sensitive skin.
The shampoo is usable with various topical ointments used against ticks and fleas as long as you follow the instructions properly.
The price is relatively affordable too considering how much of it you get.
The only real issue with it is that the whole marketing about the product being "unique for every breed of dog" is somewhat of a sham as most of these contain the exact same ingredients regardless of breed.
However, it's still pretty effective, and if you can overlook that flaw, then it's an extraordinary shampoo choice.
FURminator Deshedding Ultra Premium Dog Shampoo
Key Benefits:
Contains Omega 3 and 6 fatty acids which work wonders in moisturizing a dog's skin and preventing any excess shedding of his fur

Contains no parabens, phthalates or any other chemicals detrimental to a dog's overall health

Has a pleasant smell and is extremely soothing for the dog with every lather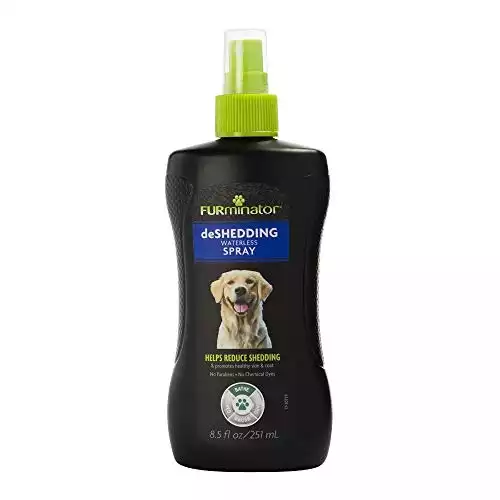 Our next contender is another US made product, turns out a lot of the quality product comes from our own soil.
The Ingredients
It uses oat protein as a base and mixes it together with omega 3 and 6 fatty acids, key ingredients that help safeguard the dog's skin from any irritants and help in moisturizing it while keeping his hair follicles shiny and strong.
This helps avoid any excess shedding altogether and leaves him with his nice and thick coat for longer, making him as cuddly as ever.
The various extracts from chamomile, calendula, papaya leaf and more, paired with Aloe Vera, also serve as wonderful conditioning ingredients that further bolster your precious pooch's fur strength.
The shampoo also contains a natural deodorizer to help wash out any of that nasty wet dog smell every furry friend is often plagued with after rain or even a bath in general.
The Benefits
The shampoo formula contains no strong detergents, phthalates, parabens, chemical dyes or any other harmful chemicals that may damage his pristine fur or soft skin.
It's definitely a great de-shedding option, one that's somewhat affordable, but already gravitates more toward the average compared to the two options prior.
That said, it's not without its own faults either, as the fragrance can apparently be quite strong which can be a detriment for all you dog owners out there with a sensitive nose.
Some have also said that the deshedding property isn't really working out for their canine companion.
Earthbath 2-in-1 Conditioning Shampoo for Pets
Key Benefits:
Pet and environmentally-friendly option with a cruelty-free practice and 100% biodegradable bottles

Coconut-based cleanser paired together with Aloe Vera and various vitamins, all topped off with a pleasant mango smell

Free from any sulfates, parabens, phthalates, gluten and other hazardous chemicals and ingredients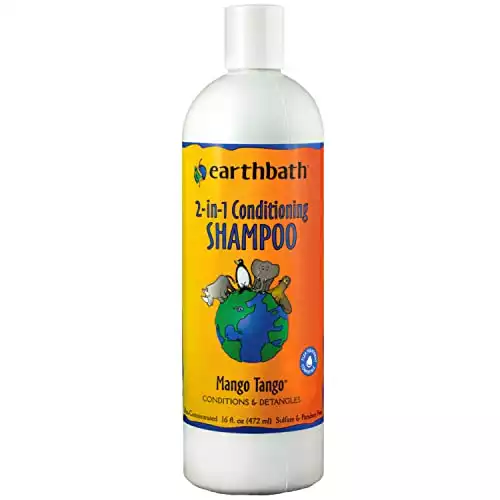 Another fantastic option is up next, one from the ever pet and environment-friendly folks over at Earthbath.
The Ingredients
This wonderful concoction consists of a coconut-based cleanser mixed together with Aloe Vera and various other vitamins that help strengthen and brighten your Husky's coat, all of it bound together with the fantastically tropical scent of mango extract.
The Benefits
It will penetrate through the Husky's thick coat with ease without irritating his skin while also helping with the detangling process by loosening said tangles up and making them easier to get brushed out and make his coat look as good as new.
The shampoo also plays well with any topical tick or flea ointments as it won't wash them off as long as you follow the instructions on the package, making it a lot easier to handle in general.
What the product doesn't contain are any phosphates, sulfates, phthalates or parabens, nor does it contain any gluten or harmful chemicals.
Given how pet-friendly the brand is, they're also cruelty-free, believing that testing products on animals is wrong and shouldn't be performed by anyone.
That's not all, however, as the bottle itself is completely biodegradable making it a lot friendlier for the environment as a whole too.
Overall it's a pretty decent shampoo, albeit hinging a bit on the pricier side. It may only be a few bucks more than the other options, but it's still up there.
The only real complaint I have about it is the somewhat outdated packaging, but that's just a cosmetic gripe more than anything.
TropiClean Gentle Coconut Hypoallergenic Puppy and Kitten Shampoo
Key Benefits:
Wonderful tropical scent of coconut, papaya and kiwi with a hint of chamomile for an extra relaxing time

Gentle on the dog's skin and made from a hypoallergenic formula that caters to even the most allergy prone canines

Contains no phthalates, parabens, soaps or other potentially harmful chemicals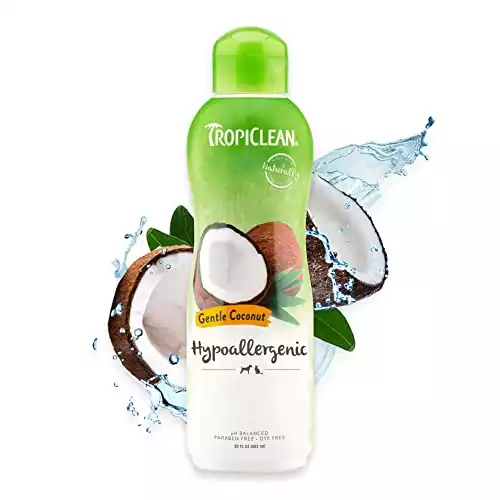 Speaking of tropical scents, the next product to be considered as one of the best shampoos for Huskies is TropiClean, and it uses a hypoallergenic formula, making sure to have something available for even the allergy-prone doggos.
The Ingredients
The oatmeal base provides a smooth and relaxing texture for your dog when lathering him up, with the added benefits of a variety of other ingredients mixed in.
Ingredients like Aloe Vera to help moisturize and soften your precious dog's skin while keeping his fur nice and strong.
The mild coconut cleanser makes sure to add some extra tenderness to the already soft texture of the shampoo, turning into a proper spa treatment.
Other than that, you'll also find a mix of papaya, chamomile, and kiwi extract that make for an absolutely heavenly and relaxing scent post bath.
The Benefits
It's fully made in the USA with all natural ingredients and the product contains no soaps or parabens of any kind as those are some of the most common irritants for a dog's skin.
The product is perfectly pH balanced for dogs which only further supports the gentleness of the shampoo.
They also try to avoid any other potentially hazardous chemicals and focus on making their bottle as environmentally friendly as possible with around 50% of it being made from recyclable material.
It was made to cater to pups specifically, albeit ones older than 12 weeks, so you may have to wait a bit to get your Husky puppy a bit of a bath with this one.
The price is similar to that of Earthbath as of writing this article, which isn't too expensive, but it is a bit more than the average, so do keep that in mind.
They've also had problems with the shampoo spilling out due to a broken cap in the past, but it would appear that they've remedied the issue since with the addition of an induction seal and a reinforced cap.
Rocco & Roxie Dog Shampoo for All Dogs & Puppies
Key Benefits:
Uses oatmeal as a base, paired with Aloe Vera to lock in natural oils within the skin and utilizes olive oil and Shea butter to further strengthen the hair of the dog's coat

Contains no phthalates, parabens, strong alcohols, artificial dyes, formaldehyde and similarly irritable or harmful ingredients for the dog's skin or his overall health

Shampoo brand provides a 100% satisfaction guarantee or your money back should you or your dog find the product lacking in any way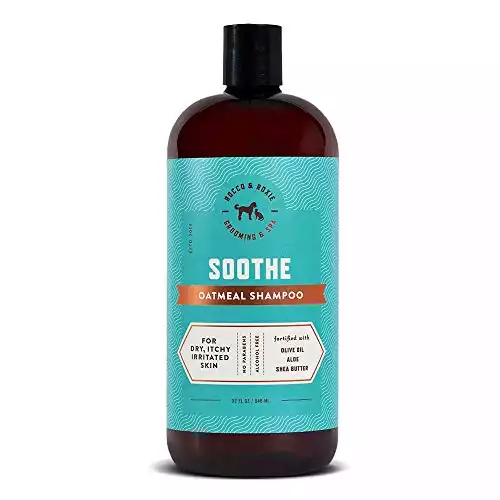 This next contender is yet another great choice between the many on offer.
The Ingredients
Using oatmeal extract as a base to provide a soft sensation when applied as a lather onto your Siberian Husky, this shampoo provides him with a quality relaxation experience.
On top of said base you'll find the classic Aloe Vera as a fantastic moisturizing agent that helps lock in the skin's natural oils, one that is fantastic in helping prevent skin irritation and in keeping your Husky's thick coat pristine and strong.
Olive oil and Shea butter help in that regard as well by providing the necessary nutrients and vitamins for your dog's hair follicles to be as good as new while protecting them from matting and tangles.
The Benefits
The product contains no parabens, phthalates, formaldehyde, strong alcohols, artificial dyes and other, similarly harmful ingredients in the mix.
This is because the people over at Rocco & Roxie care more about selling you and your dog a quality product than skimping out on good ingredients.
Though, while all of that does sound fantastic, there is the issue of price.
While it's not the most expensive thing in the world, it's definitely up there and is already crossing over into pricier territory, more so than any of the other products shown prior on this list.
That said, they do offer a 100% satisfaction guarantee, and, if you or your dog aren't finding the product to be up to par with your expectations, the company will gladly refund you on your purchase if needed.
4Legger Organic Dog Shampoo
Key Benefits:
All-natural ingredients featuring an oatmeal base which is further supported by Aloe Vera, lavender and coconut oil, and lemongrass extract to moisturize your dog's skin and help keep his coat shiny and durable

Ingredients procured through sustainable means and shampoo produced in small batches

Made cruelty free using non-GMO ingredients with 100% biodegradable bottles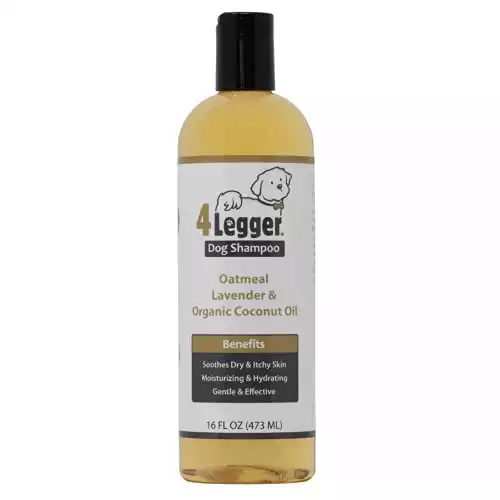 This next contender is also pretty famous among dog owners and groomers everywhere despite coming from a small business.
The Ingredients
It uses an oatmeal base for that silky smooth feel on your canine companion's skin and pairs together with all natural plant ingredients like Aloe Vera to help moisturize dry skin.
It also features an added mix of lavender and coconut oils to improve on the soothe factor and add a bit of an aroma to it.
You'll also find lemongrass in this particular option, an ingredient best known for its numerous useful properties, especially when combatting bacterial and fungal infections.
It even helps prevent pest problems.
The Benefits
It's not mass produced, but is instead made in small batches to reduce waste and help the environment as best as the company can.
The bottle is 100% biodegradable too and the ingredients, as previously stated, are all fully natural, extracted from plants and thus non-toxic and entirely eco-friendly.
Said ingredients come from sustainably sourced options and don't feature any GMOs whatsoever.
They also meet and surpass the rigorous USDA standards, so you know the product is at least of good quality.
Aside from being friendly to the environment, 4legger is also a friend to all dogs and other animals as they assure their customers that their product is 100% cruelty free and contains fully vegan ingredients.
What it doesn't have are any parabens, phthalates, sulfates, artificial preservatives, thickeners or fragrances, nor do they have any strong detergents or other harmful chemicals to your good boy.
Given the all-natural mix, it also means that the shampoo can be used on dogs with overly sensitive skin as it will help soothe any existing skin irritation and help prevent them from popping up later down the line with regular use of the product.
It may be a bit more expensive than other options on the market, but if you like the scent, I'd say that it's well worth the investment.
A number of users have complained about the scent being too strong, but again, it differs from person to person, so I'll let you be the judge on that one. I've used this one on my dogs specifically and haven't had such issues.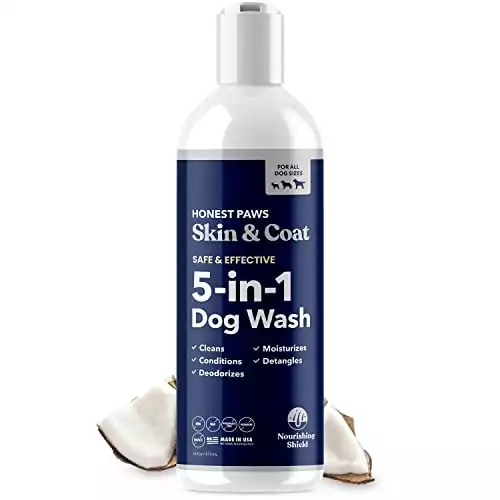 Next up is Honest Paws, an all in one package with the shampoo that also functions as a conditioner, deodorizer, moisturizer and detangling agent.
The Ingredients
It's a simple formula that uses almost all-natural ingredients. It has the standard oatmeal base paired with Aloe that so many other popular dog shampoos use, and it's paired with coconut and palm oil extracts to give it that subtle, slightly tropical scent.
It helps prevent matting and tangles in a completely natural way while keeping your doggo's skin hydrated and free from irritation.
The Benefits
While the ingredients aren't all natural, they're pretty close with almost a solid 99% of them owning up to that statement.
But even with that small 1% of non natural ingredients, the shampoo doesn't contain any of the usual stuff that's harmful to your dog like DEA, parabens, phthalates, sulfates or artificial dyes.
It is, however, only recommended for dogs who are at least 3 months old as it may be a bit too strong for younger pups who still haven't fully developed yet.
The price may be a bit higher than average, but the people over at Honest Paws offer a 100% satisfaction guarantee, so, if you're not satisfied by the product, they'll do their best to make it right for you.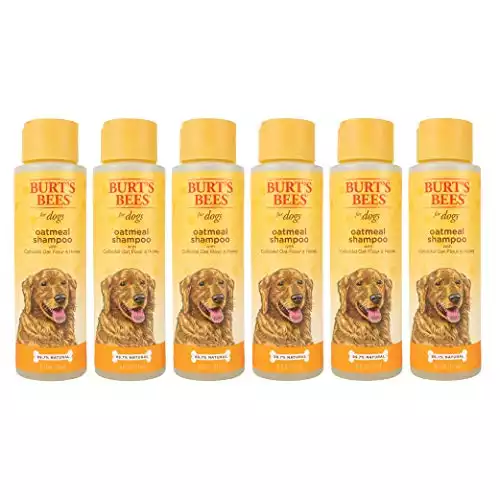 Our second to last option is Burt's Bees, another reputable brand that caters to your dog's comfort and care above all else.
The Ingredients
It uses a slightly different mix to that of others, choosing to not go with Aloe, but a different ingredient to stand out from the crowd, honey.
It performs similar functions while still being natural and healthy, and arguably easier to procure which comes into play regarding its price.
The ingredient also mixes well with the colloidal oat flour used as a base, allowing the skin to retain its moisture and for the fur to retain its natural oils.
The addition of green tea extract to it all also improves the quality of his coat overall and helps it grow at a healthy pace.
The Benefits
The ingredients used are almost all natural, covering a sizable 97% of the whole formula, and said formula is perfectly pH balanced for use with dogs and dogs only.
It's made cruelty free, with no animals harmed in the process in any way, shape or form, and the bottle is made from 80% recyclable material for that added environmentally friendly touch.
Burt's Bees also refrains from using any phthalates, parabens, petrolatum, sulfates, SLS, artificial dyes or any other potentially hazardous ingredients and chemicals to your pupper's health.
The product is also fully US made for all of you who love supporting local businesses.
It's gentle enough that it won't take off any topical tick or flea ointment either, as long as you use it as instructed.
The price is an absolute steal, still lingering in the single digits per bottle as of writing this article and likely to stay there for the foreseeable future, making it an amazing budget purchase that doesn't skimp out on quality.
The only complaints I've seen revolve around messy deliveries that came with damaged caps, so be aware of that potential hazard when getting it delivered to your household.
BIO-Groom Extra Body Shampoo for Double Coated Dog Breeds
Key Benefits:
Specifically designed to work with double-coated breeds like the Siberian Husky

Uses a mix of coconut oil, citric acid and hydrolyzed soy protein to reach its effectiveness

Tear-free, soap-free, and, most importantly, cruelty-free

Our final entry this time around belongs to BIO-Groom, a shampoo specifically designed for double-coated breeds like the lovely Siberian Husky.
The Ingredients
It's a shampoo that utilizes coconut oil as its base paired with citric acid and hydrolyzed soy protein to deliver the same benefits that previous contenders do, but with the penetrating power to reach through the entirety of that thick double coat of your doggo.
The Benefits
Just because it's potent though, doesn't mean that it's unsafe as the shampoo can be used on pups too.
It's tearless, soap-free, and will help maintain your dog's coat's shine and texture while keeping the skin safe from irritation.
The ingredients are sourced from renewable sources that are completely biodegradable in their own right.
The shampoo doesn't leave any of that residue that most other options do that just cake up the dog's fur and have it end up looking dirty after just a few days.
It's gentle enough to not rinse off any topical tick or flea ointments if used properly and will help deal with mats and tangles with ease.
It contains no parabens, phthalates or artificial thickeners that may otherwise bring harm to your dog's health.
As with all good shampoo options, it isn't tested on animals prior to production, meaning it's cruelty free too.
It's so effective that it's even recommended by breeders and groomers all over the US and beyond.
The price is a bit more than a good amount of the products here, but it's a good option that specializes in the type of coat that the Husky has in case any of the other options aren't cutting it for you.
Other than that, I've heard from fellow pet parents that it has a slightly potent fragrance and that it may not be the best for dogs with sensitive skin, but that has also been countered by other sources. You be the judge.
Before You Buy: Things To Keep In Mind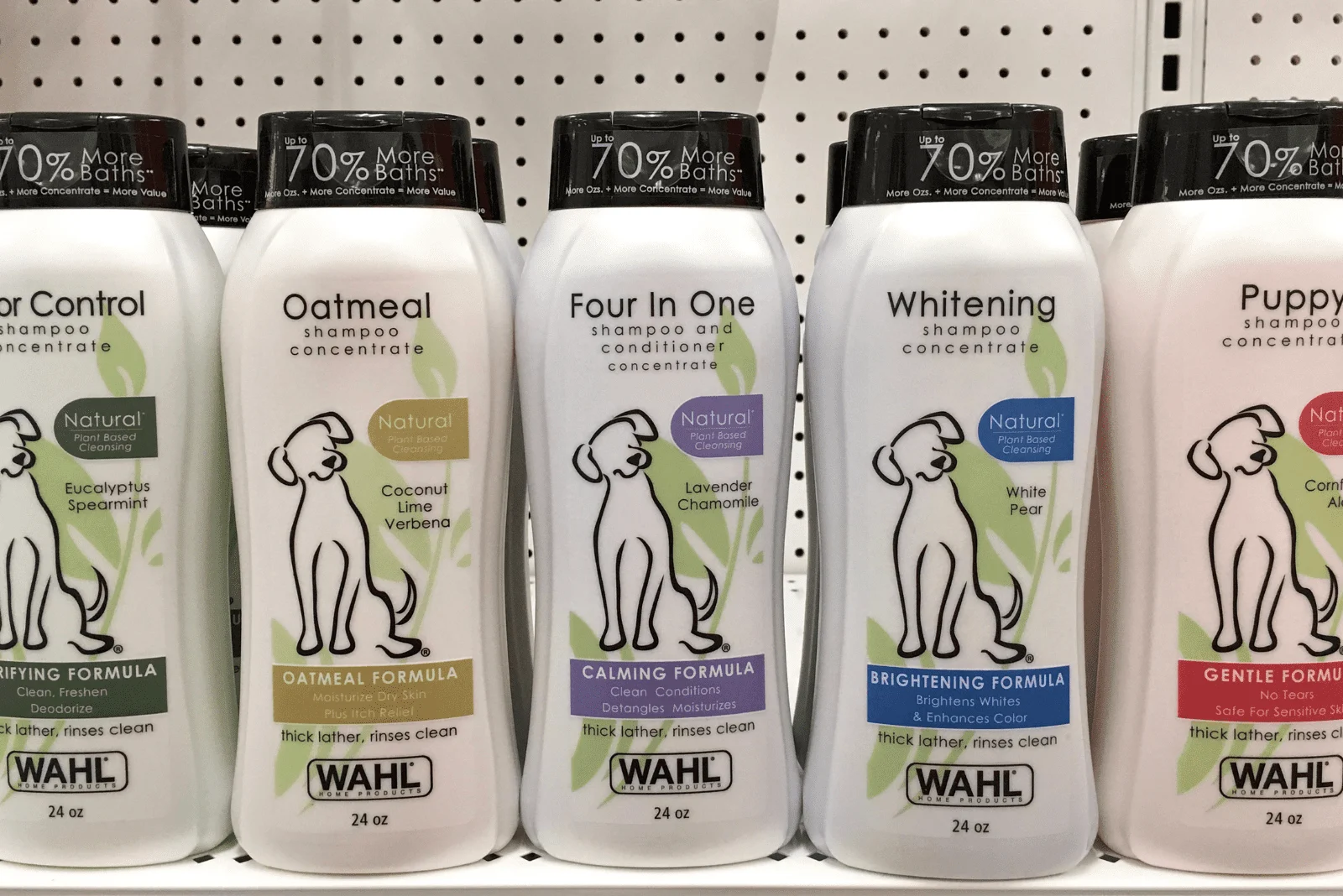 As is customary with every single listing, there are a few particular things to keep in mind when buying a dog shampoo.
No product is perfect, and the ones I've listed may not be up to your tastes in regards to pet shampoos which can be pretty divisive from one dog breed to another.
That said, I can at least help you find the product that you want by telling you about the things you'd want to look in one, and then altering your searches based on it and any other additional preferences your dog or you yourself may have.
Here are some of the most common factors shampoos should have:
Naturally Gentle And Soothing
Dogs may love water, but only when it's not related to bathing. Of course, there are some dogs out there who absolutely adore it, and if your precious doggo is one of them, you're very lucky.
Others have to plan around getting a shampoo that provides a soothing sensation, ones that are naturally gentle, hence the focus on these aspects in the earlier descriptions and ingredients like oatmeal, coconut and the like.
Skin And Fur Care
Every dog owner wants their dogs to look nice, and every dog wants to have healthy skin that doesn't get irritated and a nice coat to keep him warm in the cold winter months.
Not to mention issues like danders, generally flaky skin and hot spots, to name a few problems regarding skin.
Fur is no different. With such a thick double coat, Siberian Huskies are prone to matting and tangles in their fur just like any other breed, if not more.
That's why it's of paramount importance to find shampoos that help deal with dandruff and skin irritation, and ones that help make detangling your dog's fur easier.
This is also why ingredients like Aloe Vera and honey are popular in order to help seal the moisture into the skin and retain the natural oils from the hair follicles to keep the fur nice and shiny.
This effect is also achieved through a variety of different essential oils and botanical extracts too, albeit in lesser quantities than the two prior.
Vitamins play a role in this aspect too, particularly vitamin E.
pH Balanced For Dogs
Shampoos for humans, for instance, aren't fit for use on dogs, and vice versa, barring a few exceptions.
Shampoos come in all shapes and sizes and are intended for a variety of different living creatures.
This is due to the different pH levels of skin between dog and human where one is more alkaline than the other.
A human shampoo would only cause irritation to your dog's skin if used on him, even if it was branded as gentle for that very reason.
That's why finding a shampoo that is pH balanced for dogs is one of the many key factors you should be on the lookout for when trying to find the best shampoo for your Husky.
Natural Ingredients
While less than 2% of shampoos have all natural ingredients, there is a bigger number of them who have near 100% natural ingredient presence.
Of course, if you can help it, stay away from any harmful chemicals that are normally found in cheaper shampoos like parabens, phthalates, sulfates, petrolatum, phosphates and the like.
Stick to shampoos made from sustainable and renewable ingredients derived from various plants.
It's a plus if the bottle is biodegradable, but isn't a necessity.
Hypoallergenic
Dogs, much like us, are prone to a variety of allergies, some of which are caused by shampoos.
The best shampoos for Huskies will be branded as hypoallergenic, ones that won't irritate your dog's skin, tears or his nose when applied.
Always seek to make your furry friend as comfortable as he can be, and getting a hypoallergenic shampoo for him, if he has any allergies, is one of many ways you can do so.
Affordable
While the old saying goes, "money is no object", they certainly haven't planned for today's times.
Sure, a few dollars higher or lower may not seem like much, but it does add up to quite the sum in the long run.
So, always try thinking within your budget and looking at what seems affordable. Compare prices between similar products and you'll be surprised just how many of them are similar, but yet are differently priced.
It'll help all you penny pinchers out there save a few bucks every time you have to buy a new bottle.
FAQs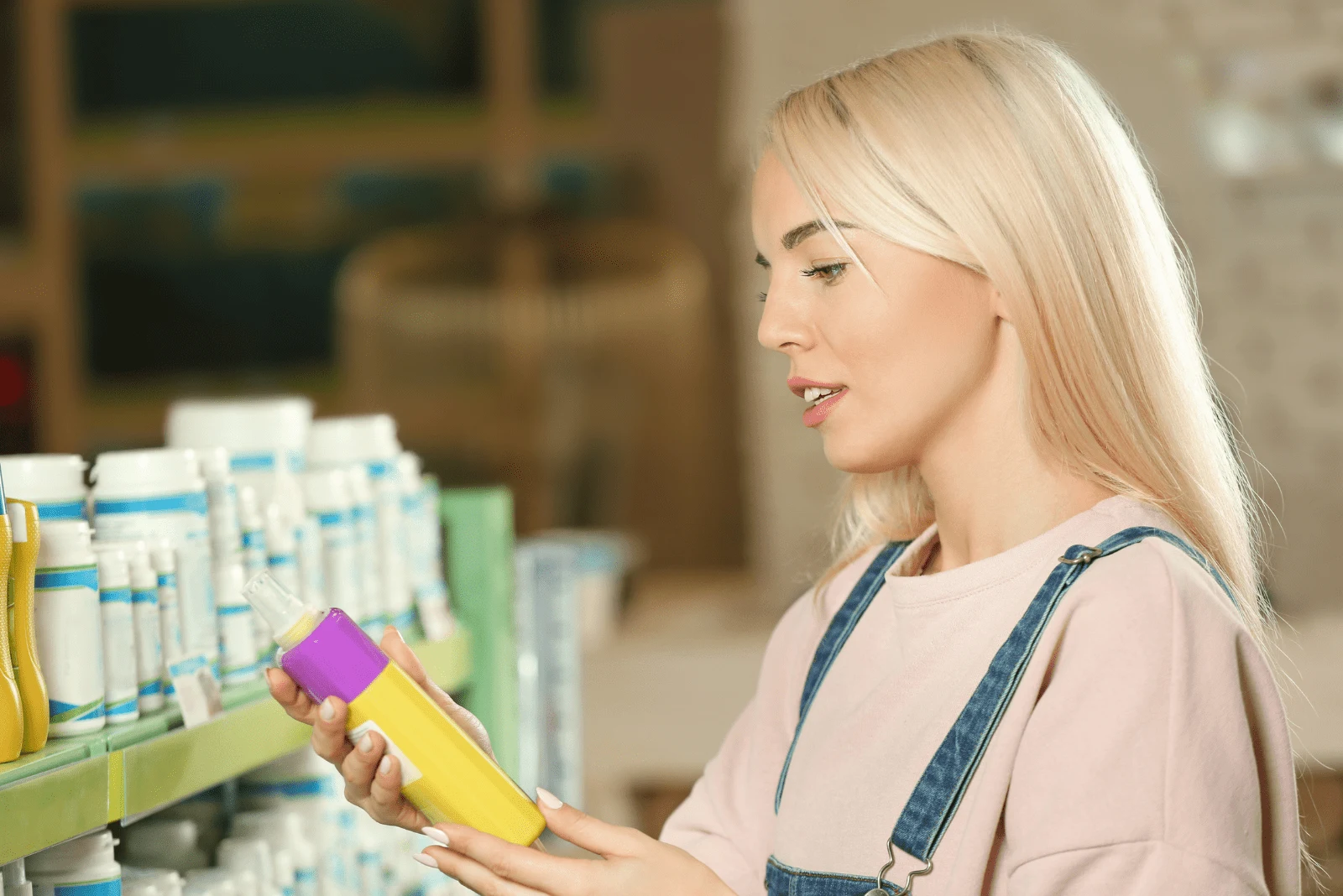 So, What Is The Best Shampoo For Huskies?
My personal, somewhat biased choice on the matter would be the 4legger dog shampoo as it covers all the bases while still being eco-friendly, dog-safe and cruelty free.

That said, the difference between these shampoos is paper thin, so it'll all come down to personal preference and the most minute of detail.

The reason why I prefer the 4legger is due to the addition of the lemongrass which leaves an amazingly fresh scent behind after every lather.

What Types Of Dog Shampoos Are There?

You'd be surprised, but there's a pretty wide selection of dog shampoos out there, a lot of them falling under several categories. Some of the most common ones are:

Deshedding shampoos – to prevent any excess hair from shedding off your dog

Soothing shampoos – to make bath time more enjoyable for your canine companion

Medicated shampoos – to help deal with any particularly nasty skin conditions or invasive pests like ticks and fleas

Puppy shampoos – extremely gentle options that cater to dogs when they're at their most vulnerable

Deodorizing shampoos – to help combat that notorious wet dog smell

Natural shampoos – shampoos made with all-natural ingredients

Multipurpose shampoos – ones that end up performing multiple roles on top of being a shampoo, like a deodorizer, conditioner and similar
Do Huskies Need A Special Shampoo?

For the most part, no. They'll be fine with the same shampoos every other dog breed uses, designed for handling itchy skin or maintaining shiny coats.

However, if you want something that's a bit more thorough and can get to that undercoat, then going for shampoos designed to handle double coats can help you achieve slightly better results.

How Often Should Huskies Be Bathed?

Huskies usually clean themselves, as do many other dogs, so giving them a proper bath doesn't need to happen too often.
The general consensus is once every 6 weeks. This way, you don't risk stripping his natural oils off his fur and skin which will only end up having the opposite of the desired effect from repeated baths.

How Should I Bathe My Siberian Husky?

Bath time is no rocket science, but it can be a hassle if you don't know what you're doing, especially if your dog isn't the biggest fan of taking baths in the first place.
However, a few simple steps should help get you acquainted with how you should handle this problem and solve it with ease:

1. Always Brush Your Dog Before A Bath

A process often overlooked, but necessary before any bath.
Sure, detangling shampoos exist, but they can only do so much. A brushing session prior to the bath helps lay the foundation for them and makes them more effective by loosening some of the excess hair itself.

2. Secure Your Dog

Another key step if you have a fraidy cat of a dog who isn't a fan of water.
If done outside, you don't need to take too much of a precaution aside from maybe tying his leash somewhere secure so he stays put or putting him in a small kiddie pool.
If done in your bathtub, lay down a towel or something of similar texture that your dog can grab onto with his paws.
It helps prevent him from slipping in the bath and hurting himself by accident or making a mess.

3. Get Everything You Need Next To You

Bathing is a quick and hectic process for unruly dogs so you'll want to prep everything you need and put it next to you so it can be reached easily.
So make sure you have the necessary towels, the shampoo and the brush handy before you start.

4. Throw A Towel Over Him To Catch Some Of The Splashback

The moment you're done, you'll want to use the towel you've prepped and toss it over him if you're bathing him inside.
Your dog is still likely to try and shake all the water off, but the towel will absorb a lot of it and prevent the spread from sending it all over your household.

5. Shield The Drain With Steel Wool

The final step of indoor bathing helps with the clean-up process after it's all done.
If you don't want your drain to get clogged up quicker, use a bit of steel wool and push it into the drain.
It'll allow the water to drain off, but will catch all of the excess hair that would've floated down with it, keeping your pipes clean as well as your dog.

In Conclusion
The best shampoos for Huskies are ones that can handle their thick double coat without leaving any residue and that are made from all natural ingredients.
Of course, there are a few other factors to consider like affordability, overall gentleness and whether or not it's pH balanced for dogs.
The shampoo also needs to make sure to keep the skin moisturized rather than drying it out and that your dog will retain his shiny coat above all else.
Hopefully, this article has helped you narrow your choices down to your favorite one, or a number of them. Regardless, I fully believe that you'll be able to make the right choice for your canine companion. Until next time.
RELATED LINKS: