Not an albino shepherd, not a dog with a defect or simply a fault – the white German Shepherd dog is none of these! This majestic and unique variation of the standard German Shepherd breed has had a difficult and controversial history, and it is, in fact, rare.
Although not recognized as a separate breed by the American Kennel Club, it is recognized by the United Kennel Club.
However, many dog lovers appreciate this snowy white, wolf-like dog that attracts attention wherever it goes. It makes a great family pet, and it is also sweet, gentle, and protective.
But, where can you buy purebred white German Shepherd puppies?
Who are the top white German Shepherd breeders in the U.S. in 2022? Find all the relevant information in this article, which not only suggests the top five picks, but also provides additional information regarding this breed.
You will also see that not all breeders are responsible, and that future owners need to possess certain qualities, too.
Just keep reading to find all the essential information you need before purchasing this amazing canine.
White German Shepherd Breeders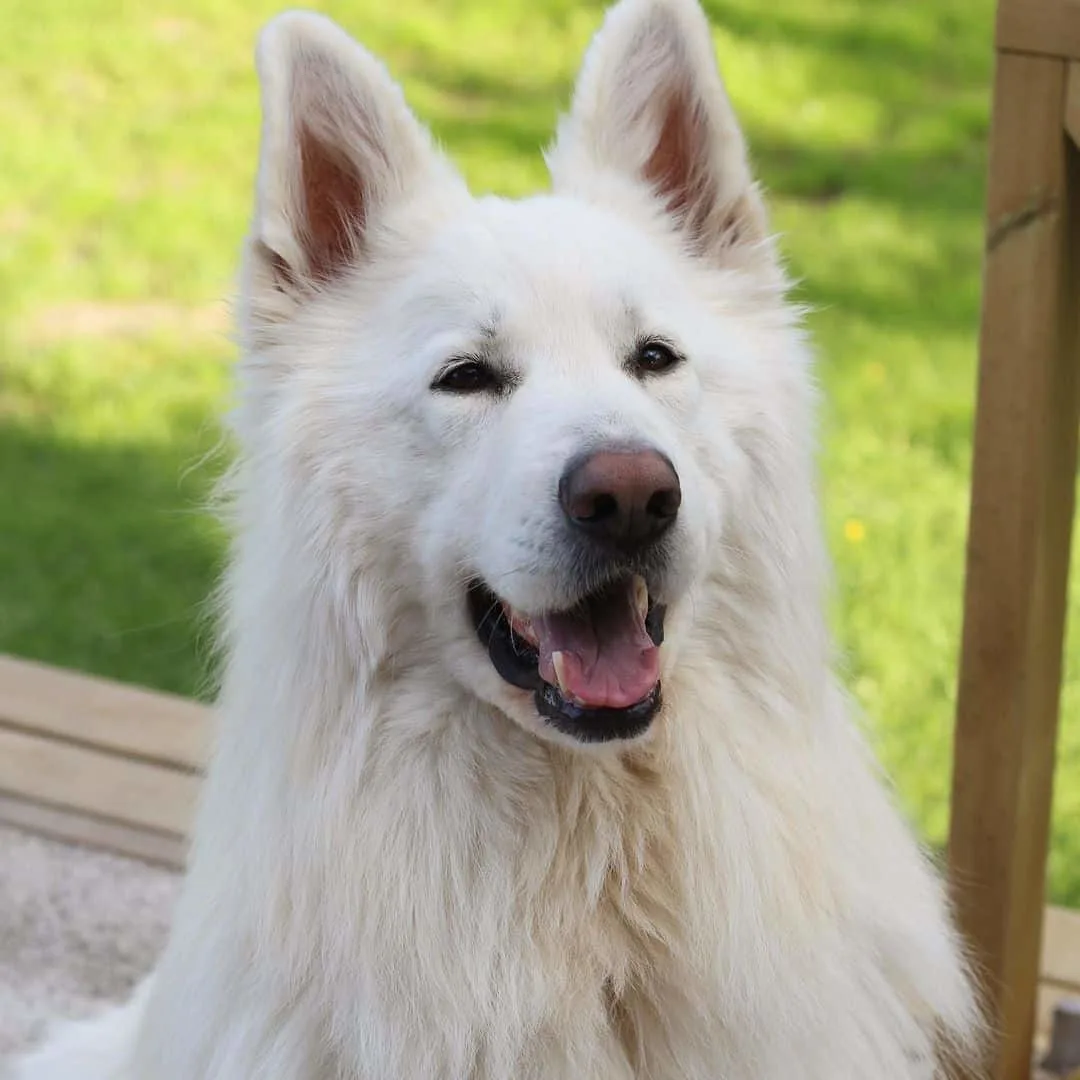 Photo from: @knut_____
Good dogs come from good and responsible breeders who strive to improve the breed by taking into account the following: health, training, and temperament. They should also promote responsible dog ownership.
You will see that the best breeders not only provide a guarantee for the dog they are selling, but they will also refuse to sell it to someone. They may give you a fill-in form first, and then put you on a waiting list. A refundable deposit may also be required in order to be put on the list.
Choosing a good breeder is never an easy job because you need to pay attention to many details. You do not want to buy a canine from just anyone. Future owners need to do their 'homework' in terms of research. But, trust me – it is really worth it!
Also, it can be difficult to buy a puppy online – sometimes it is best to meet the breeder in person. That way, you can actually see the pups, their environment, their living conditions, and so much more. Nothing compares to such an experience!
Now, it is high time you check our top five picks of white German Shepherd dog breeders in the United States that offer these cute white puppies:
1. Laguna Creek Ranch, CA
This small-sized breeder, located in the Santa Cruz Mountains, offers top AKC white German Shepherd puppies.
Their goal is to improve and preserve this breed, and to maintain its high standards. With 25 years of experience, they also have a dog rescue program and a popular dog vacation camp.
They specialize in breeding smooth, plush, short- and long-coat white German Shepherds.
Their puppies are intelligent and gorgeous, and only serious buyers will be considered.
Availability is limited. The best combination of genetics and pedigrees is guaranteed, too.
Puppies are delivered on your request.
Breeder's details
Website: Laguna Creek Ranch
Location: Santa Cruz, CA
Phone: 8314712321
Email: [email protected], [email protected]
Read More: 7 Best German Shepherd Breeders In California
2. Bear Paw Farms, NC
This is the home of AKC white German Shepherds, and CKC wolf dogs. They are constantly striving to ensure top genetics. They raise loyal and intelligent companions in the foothills of the Blue Ridge Mountains.
Their white German Shepherds, and their wolf dogs carry the legendary Chaparral bloodline.
Puppies can be delivered to your door. Stud service is also available at Bear Paw Farms for both breeds (WGS and CKC wolf dog).
Breeder's details
Website: Bear Paw Farm
Location: 238 Chimney Rock Rd., Rutherfordton, NC 28139
Phone: 828 357 7125
Email: [email protected]
3. Rolling H Farms, TN
Rolling H Farms has 35 years of experience, and their dogs have become companions for a family, service dogs for the disabled, and law enforcement canines. They take pride in all of their puppies.
Their white Shepherds are a direct lineage from the line of Roy Rogers' dogs (Bullet, and Rin Tin Tin). They also have adult males and females for breeding.
Everyone is invited to this farm to purchase or just visit these amazing canines. You can drive to this farm, but if it is too far for you, they can meet you part way. If that does not work, they can send you the puppy via commercial airlines.
Their puppies can be shipped worldwide.
Breeder's details
Website: Rolling H Farm
Location: 2370 Powell Chapel Rd., Middleton, TN 38052
Phone: 731-609-5333
Email: [email protected]
4. ASJ White Shepherds, CT
ASJ White Shepherds started in 2010, with the goal of raising AKC white German Shepherds for companionship and pleasant dispositions.
Their stock is tested by the OFA (Orthopedic Foundation for Animals). They offer stud service, and they work with established WGSD breeders only.
All of their pups are sold from a waiting list called the PuppyQueue. A refundable deposit is required if you want to be placed on this list.
Their dogs are family dogs, not kennel dogs, and they will not sell a pup to just anyone. Also, their white puppies are touched by human hands within 10 minutes of birth.
ASJ White Shepherds offers a pressure-free buying experience.
Breeder's details
Website: ASJ White Shepherds
Location: 27 Cooley Ave. Middletown, CT 06457
Phone: 203-490-8466
Email: [email protected]
Social media: Facebook
5. Polarbear White Shepherds, WA
This kennel is recognized in the dog world for breeding exceptionally high-quality GSDs. They refer to their dogs as 'humans with fur'. They are recognized by the ARBA, and registered with the AKC.
Their number one priority in their breeding program is health, genetic diversity, and temperament.
Also, their focus is not on appearance or selling a puppy to just anyone.
Polar bear White Shepherds' philosophy is 'no cage – no kennel', which means that their canines are not confined. They are raised on an acreage with plenty of space.
A limited number of pups is produced every year.
Breeder's details
Website: Polar bear White Shepherds
Location: Seattle, WA 98101
Social media: YouTube
Read More: German Shepherd Breeders In Washington: PupVine's Top 13
Always Check The Breeder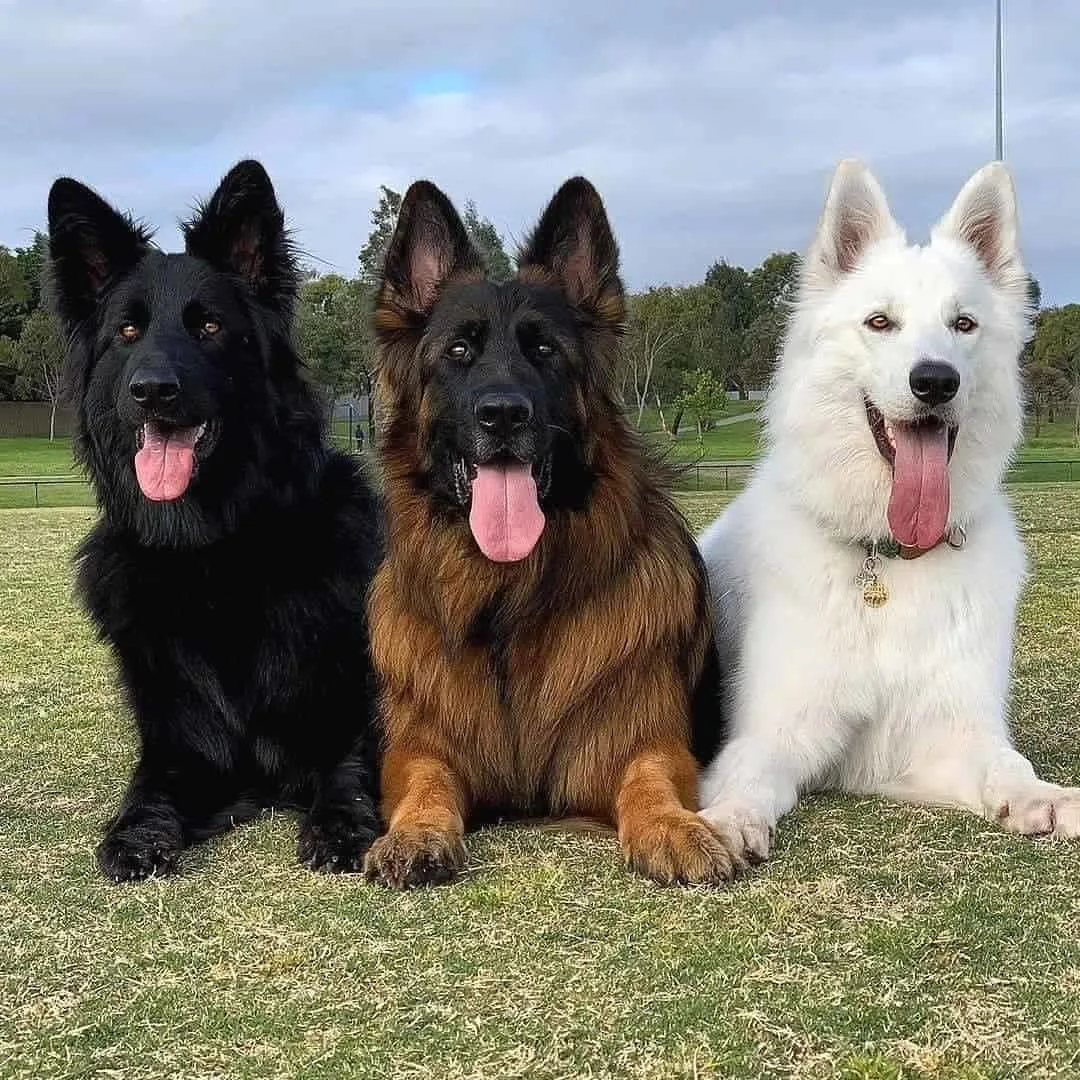 Photo from: @germanshepherd_universe_ig
Why is it important to check the breeder before buying a puppy? What should you pay attention to? You need to look for a responsible and ethical breeder, which means that their dogs come from the strongest bloodlines.
Basically, such a breeder should offer healthy puppies with a good temperament. Living environment is also important. It is not the same whether the dogs can roam freely there or not.
The best breeders offer a guarantee, too.
Communication is also crucial because a good breeder will not only be happy to answer all your questions, but will also provide certificates.
If you notice that a breeder stops replying to your messages when you ask for a guarantee or certificates, this means that you should keep looking for another one. That is definitely a red flag.
A good breeder should provide vaccination and deworming records, and all other relevant information for a future owner.
Another important thing is that a responsible breeder will make sure that you have chosen the right breed because some purebred dogs end up in shelters or rescue centers. This happens when owners fail to do their homework.
Commitments
As far as commitments, you should find a breeder who does the following:
1. Provides a written Bill of Sale, which details responsibilities for both the buyer and the seller.
2. Provides a health guarantee for their puppies.
3. Provides the buyer with information about feeding, immunizations, socialization, proper veterinary care, responsible dog ownership, exercise, and training.
4. Requires the customer to fill out an application to make sure that the particular breed and dog is the right fit for the new family.
5. Prefers to stay in touch with the new owner to be updated about the wellbeing and development of the dog.
6. Continues to participate in regular education classes in order to learn how to improve as a breeder.
This may look like a long list, but this is what you need to look for if you want to make the right decision.
White German Shepherd – Essential Info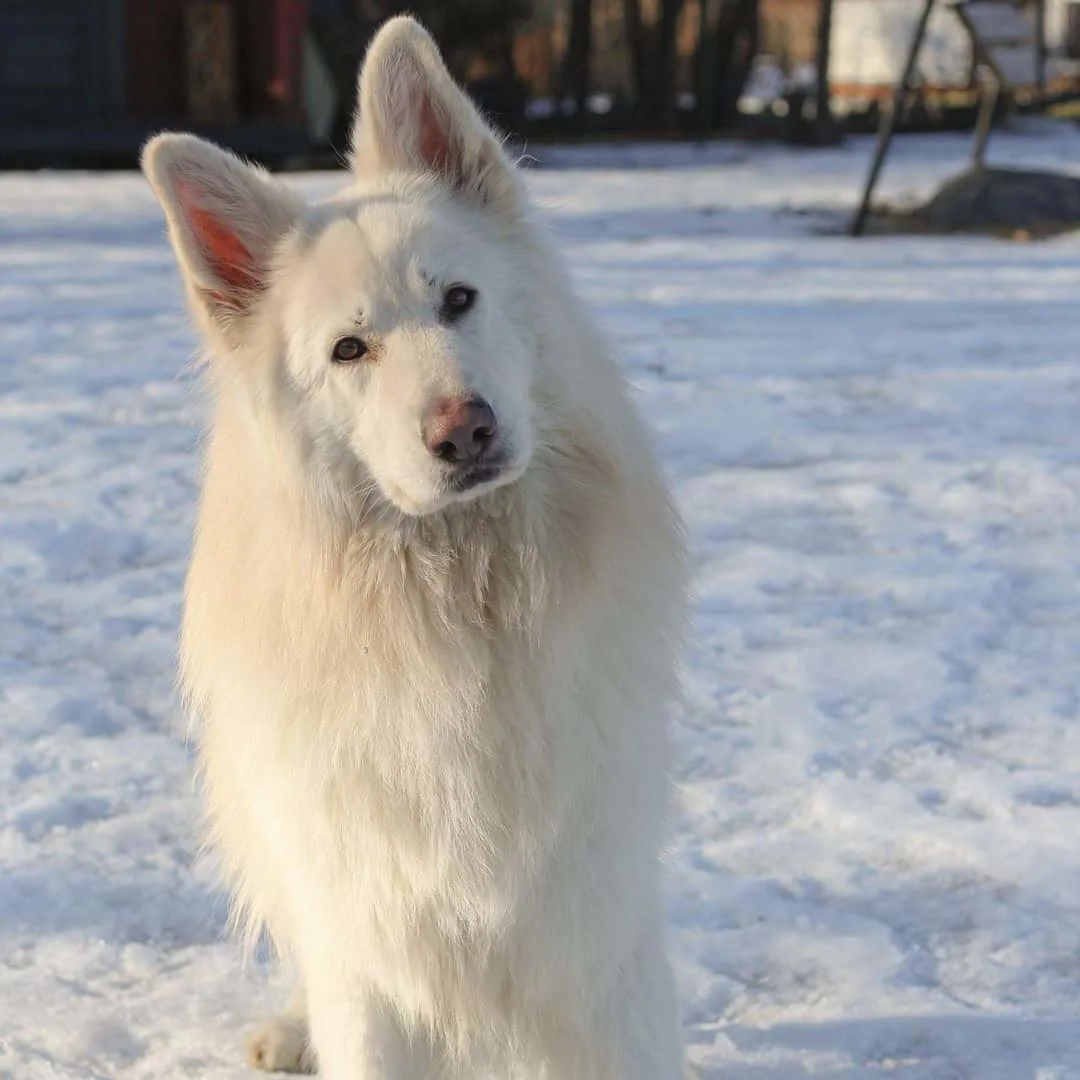 Photo from: @knut_____
This is what you should know before purchasing a rare white German Shepherd:
1. They are similar to traditional German Shepherd dogs, except for color.
2. They are purebred, but not recognized by the American Kennel Club as a separate breed.
3. They can be AKC-registered if both parents are registered as German Shepherds.
4. The American Kennel Club breed standard considers the white coat color as grounds for disqualification.
5. This dog breed cannot compete in conformation shows.
6. The UKC made a breed standard for this canine.
7. This dog breed is considered defective because of the white color.
8. Their white coat comes from a recessive gene (a white gene), not a defective one.
9. White German Shepherds are not albino dogs that lack all pigmentation.
10. They are often confused with a Berger Blanc Suisse, which is a white Swiss Shepherd dog.
You might also want to check out GSDs in other fairly rare colors such as the black, liver, isabella, sable, and silver German Shepherd.
Fast facts
1. Their lifespan is 12 to 14 years.
2. They can weigh 77 to 85 pounds.
3. Their height is 24 to 26 inches for male dogs, and 22 to 24 inches for female dogs.
4. White GS dogs were originally bred for herding; hence, their herding and protective instincts.
5. Their build is athletic and muscular, and they are medium-sized, well-balanced dogs.
6. They have a long muzzle and erect ears.
7. They are highly intelligent, working dogs.
8. These dogs have a double coat, but grooming should not be an issue.
9. Their pure white coat is slightly longer in comparison to the one of a traditional German Shepherd, so shedding can become an issue.
10. They are loyal and obedient dogs that make excellent family dogs and great service or guard dogs.
11. They share the same dog training, grooming, and health needs as the traditional GSD dog.
12. These canines rarely bark (only if they sense danger).
13. Possible health issues include congenital spine disease, lupus, hip dysplasia, elbow dysplasia, and abdominal bloating.
14. Their distinct personality is marked by self-confidence and gentleness.
Read More: German Shepherd Growth Chart
Final Word
Buying a new dog is not an easy thing to do. First, you need to be sure that, for example, a white German Shepherd is the perfect breed for you. Second, you need to find a reputable and ethical breeder.
This is not an easy task, but I hope that this article has clarified the qualities that breeders need to have so that you can consider them as a good choice.
Also, good breeders will make sure that applicants will make great owners, too. They will not sell their puppies to just anyone. If the opposite happens, chances are that such a dog would suffer, and eventually end up in a rescue program or a shelter.
Dogs require your love, attention, training, etc. – they are not toys. A good owner is a responsible owner who is willing to invest his/her time, energy, and resources.
Finally, this article offers our top five picks of white German Shepherd breeders in the U.S. to choose from, and I am sure that you will find the perfect one.
You should check their websites and social media for all additional information. Cuteness alert: you will also find many amazing photos and clips of these beautiful dogs there!
Related Articles:
Best Samoyed Breeders – Where To Find Samoyed Puppies For Sale
White Golden Retriever Breeders: 5 Places To Get A Family Pet