Well, well… What do we have here? Isn't this the cutest dog in the whole world, the Pomeranian! In my opinion, it can't get cuter than this. This dog breed possesses a double coat with puckers around its shoulders and chest, with various colors, markings and patterns.
Poms are, by nature, very intelligent and attentive, and even though they are small, they are good watchdogs and can be easily trained. They require activity, whether you decide to play with them indoors or outdoors. They are really adaptable, so for them, the place where you live shouldn't be a problem at all.
You wouldn't believe that such a tiny dog can pack so much playfulness and liveliness. No wonder they are adored both by commoners and royalty. They are one of the most popular toy breeds, and with that said, they are wonderful companions for young children.
I'm sure that you have already made a decision to welcome a Pom into your loving home, so buckle up to see eight best Pomeranian breeders in Texas we prepared just for you!
Pomeranian Puppies For Sale In Texas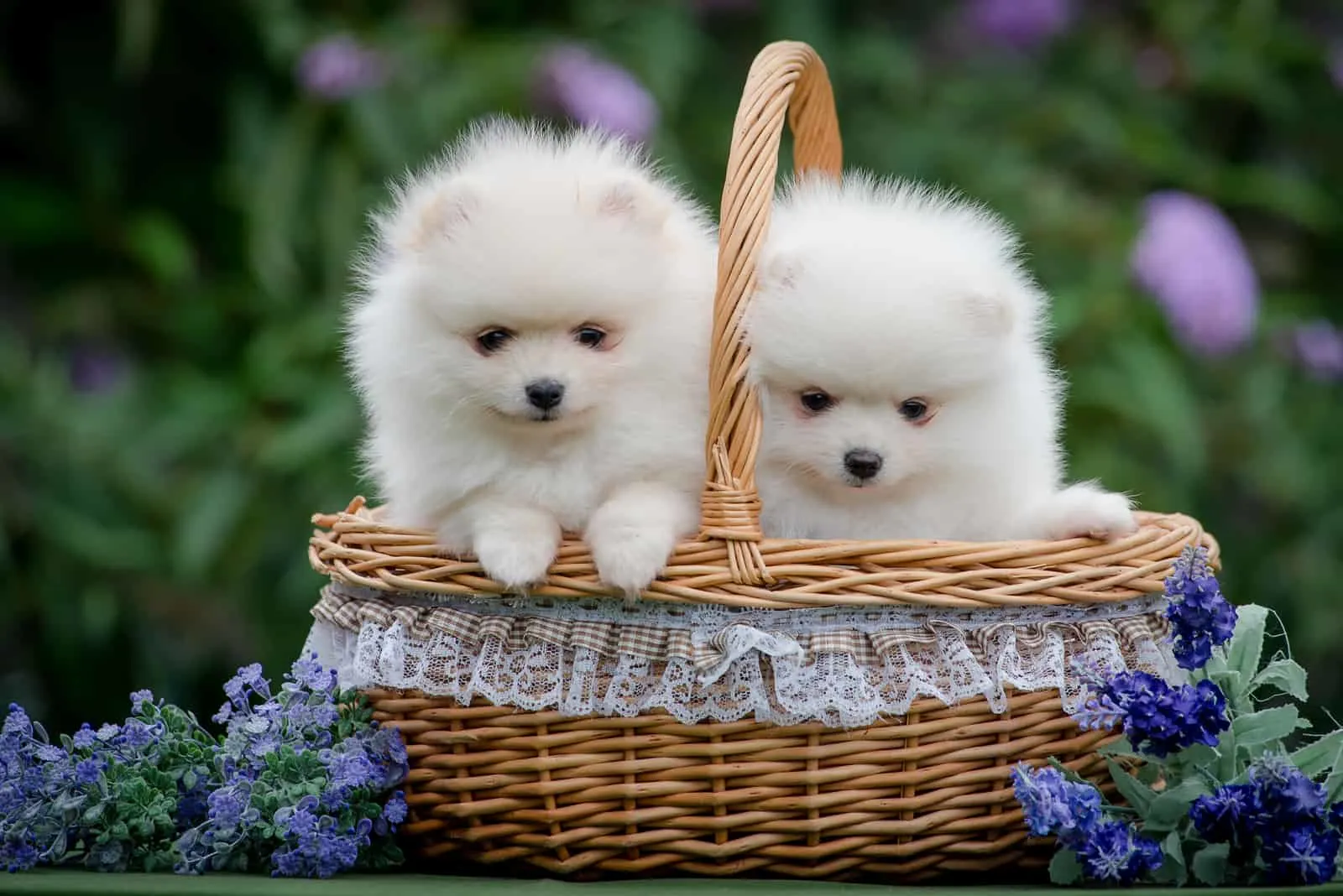 When searching for Pomeranian breeders Texas, we want to make sure that we exclude all the puppy mills and backyard breeders because they are definitely not a good choice! So, what are we looking for?
We are looking for a reputable dog breeder that is well-informed about the Pomeranian breed. Respected dog breeders should have their Pom puppies health tested, cleared of all possible health issues, and dewormed, but also an important thing to mention is that puppies need to be raised in a loving and positive environment.
That means the breeder must love the Pomeranian breed in order to breed perfect puppies.
Now, let's check out our best Pomeranian breeders in Texas!
1. Dee Dee's Pomeranians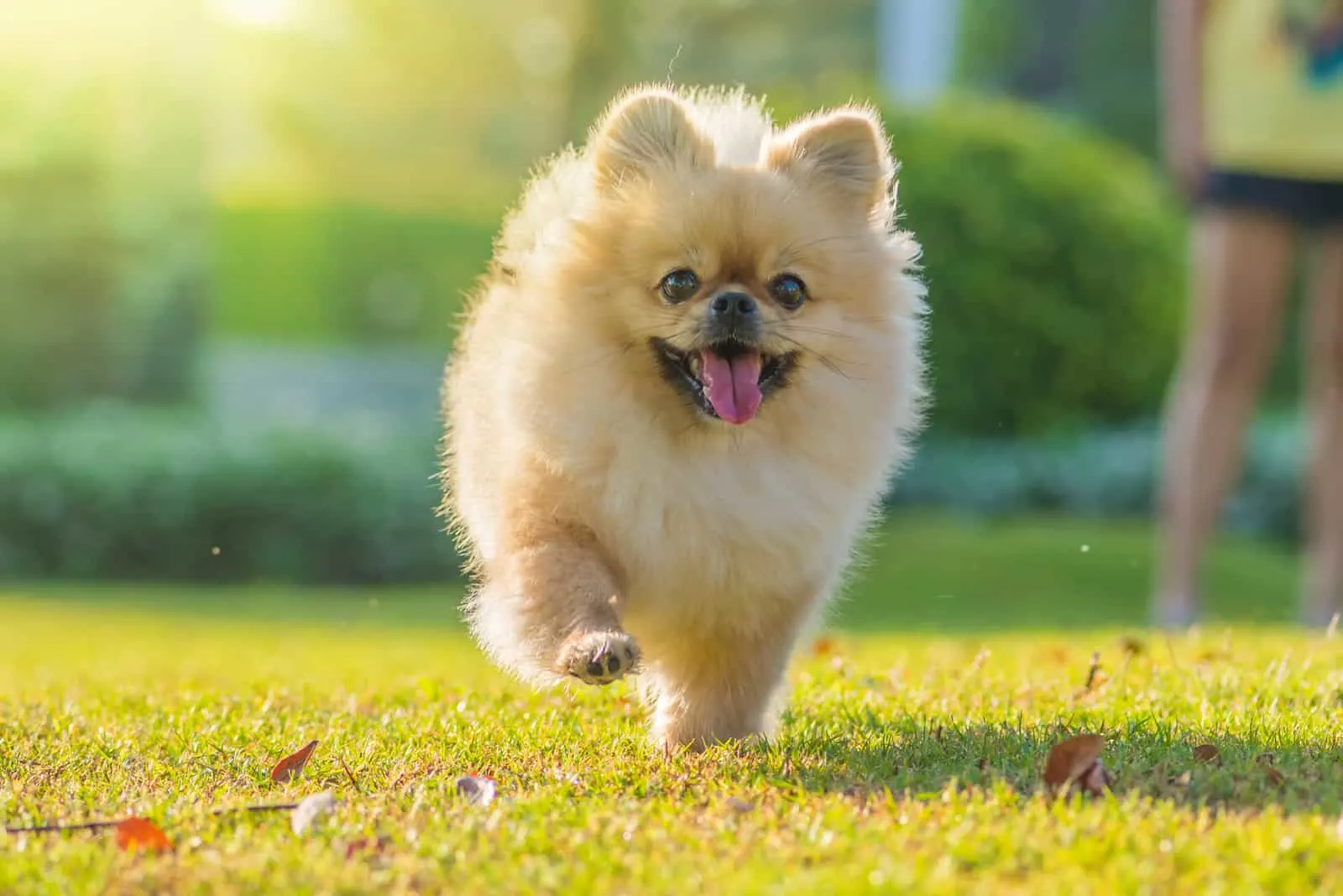 We'll start with a small breeder located near Austin, Texas – Dee Dee's Pomeranians. They have been breeding Poms for over 20 years. Their Pomeranian pups grow up with their children and grandchildren.
From that, we can see that their puppies are raised in their home socializing and integrating with their family. There is no doubt that this breeder showers their Poms with love from birth.
They take pride in breeding high-quality Pomeranian puppies with a variety of wonderful colors. They are licensed by the state of Texas, and in great standing with the American Kennel Club (AKC).
As they have received the Gold star of Approval from the AKC, so may you receive your new puppy in your home by contacting this breeder!
Dee Dee's Pomeranians Details
• Address: Bastrop, TX, 78602
• Phone: 512 785 4003
• Website: Dee Dee's Pomeranians
• Email: [email protected]
2. Teacup & Toy Pets Boutique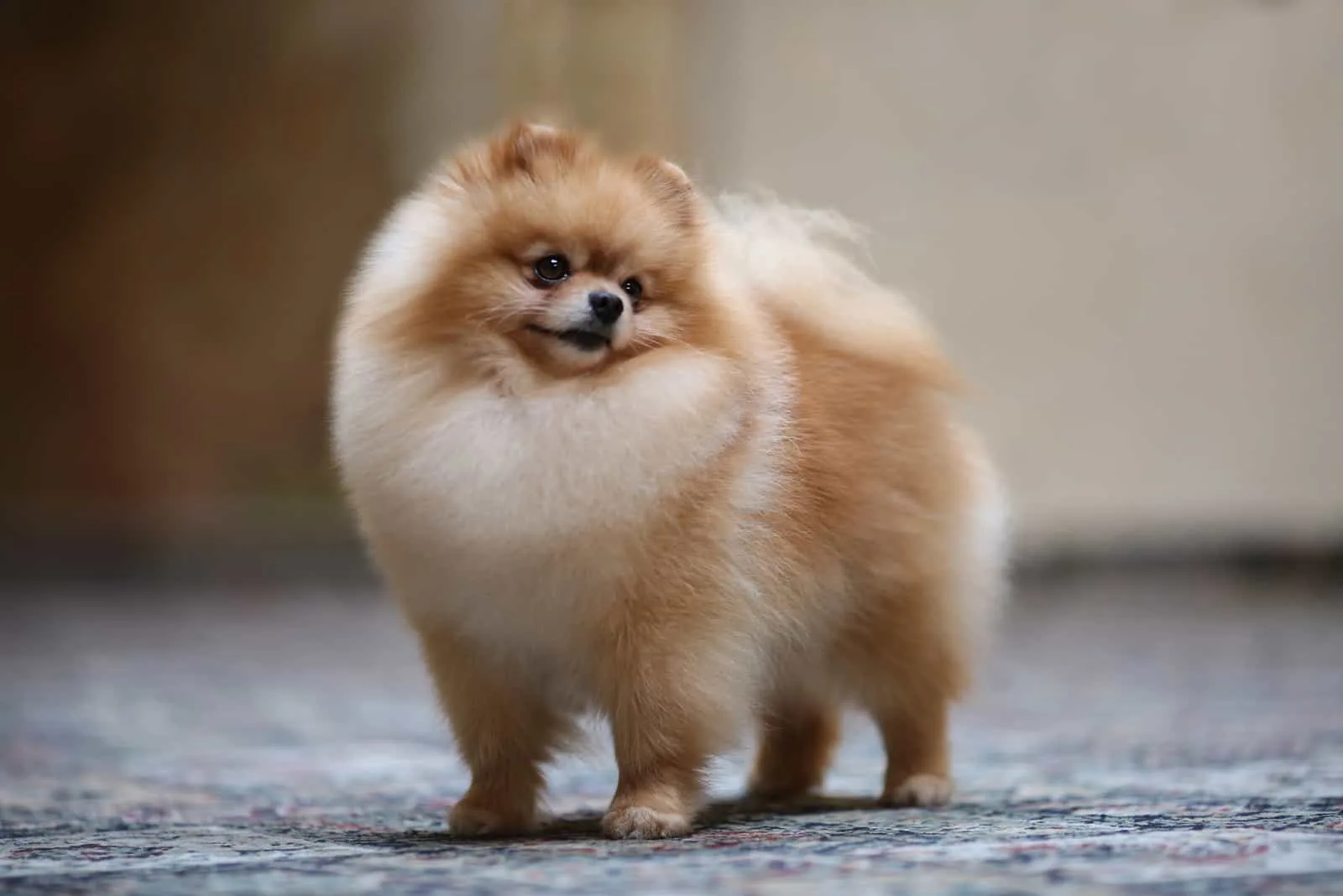 The second breeder of Pomeranian dogs that we found is Teacup & Toys Pets Boutique, located between Collin and Dallas County. They have been breeding Pomeranians and other toy-sized puppies for over 25 years.
Here, you can find wonderful, healthy puppies, as well as pet supplies for small breeds other than Pomeranians. They want to provide new dog owners with everything they may need when they first get a tiny puppy.
If you are interested in their Pomeranian puppies for sale in Texas, you can only contact them Monday through Friday from 6 a.m. to 6 p.m..
Price range: $3,500
Teacup & Toy Pets Boutique Details
• Address: 3550 Stonewall Rd, Wylie, TX 75098
• Phone: (972) 989-5266
• Website: Texas Teacups
3. Mosaic Pomeranians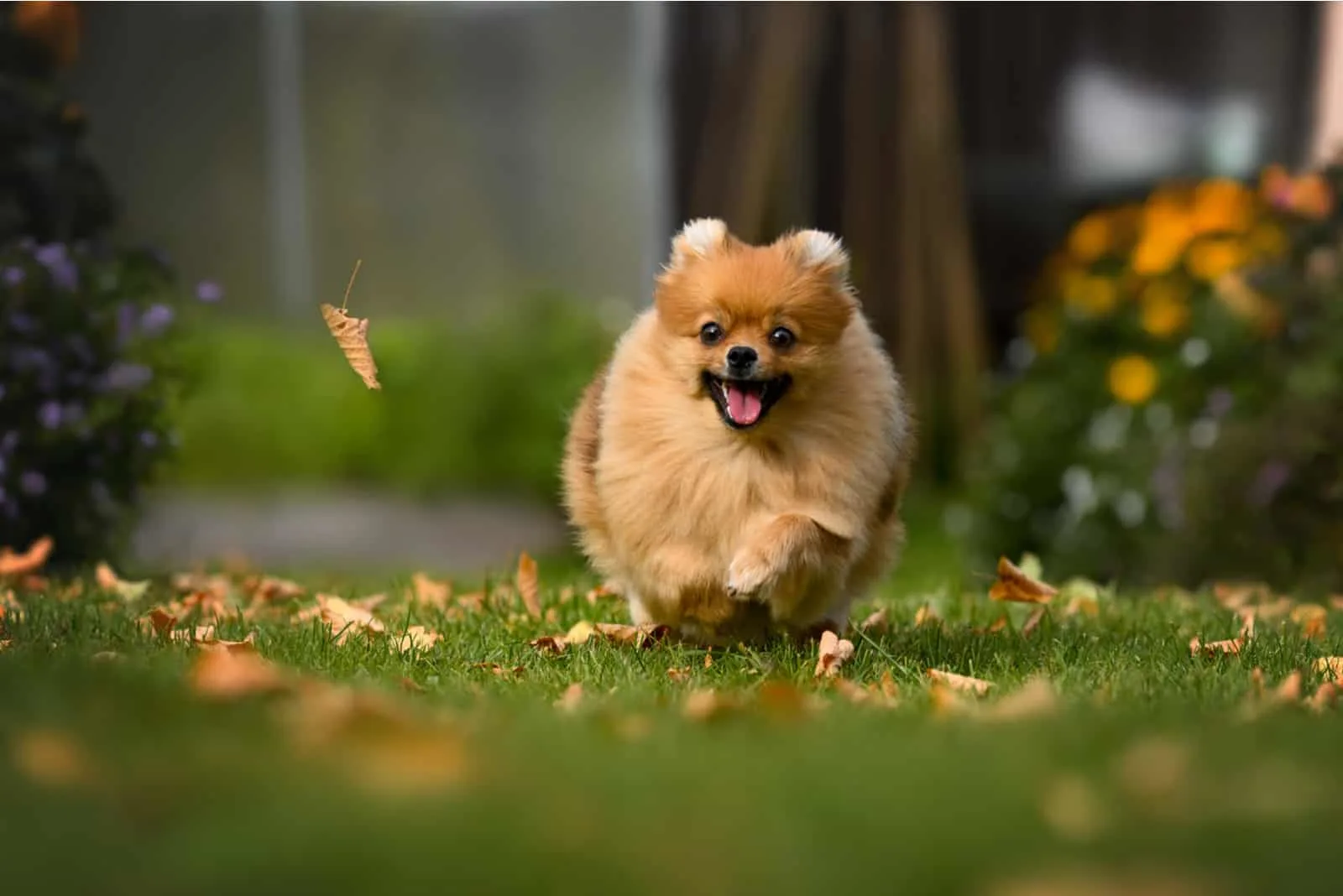 Our third breeder that is worth mentioning is Mosaic Pomeranians. They are located in Leona, which is in the middle of Dallas and Houston. They have been breeding and showing their Pomeranian puppies for 30 years.
They take pride in breeding Wolf Sable Poms. This breeder strives to produce quality Pomeranian puppies that could easily become your new family member.
If you are interested, hurry up and see when new litters are coming, and check their page!
Mosaic Pomeranians Details
• Address: 4256, S Leona St, Leona, TX 75850
• Phone: (979) 218-0597
• Website: Mosaic Pomeranian Puppies
4. Ryan's Precious Pomeranians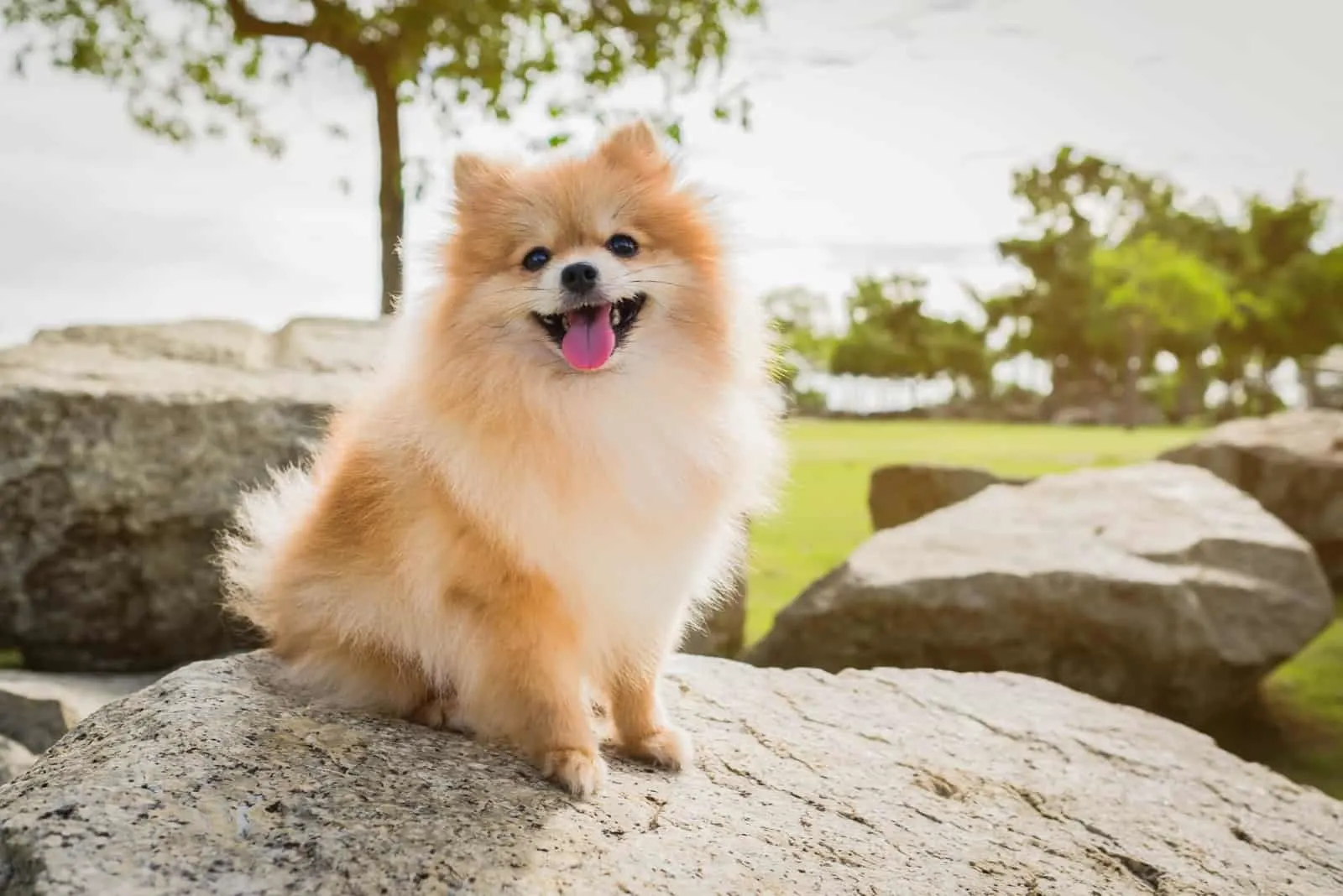 Our next stop is Ryan's Precious Pomeranians; a hobby breeder from Burleson. With over 20 years of experience, they breed and raise their Poms in the circle of their grandkids, other dog breeds, and cats.
They strive to produce a healthy puppy that will be well socialized and bring to your home a ton of happiness. With their Pomeranian, you get a health guarantee, and you get a puppy that is bred and raised by AKC standards.
They are fans of meeting in person because they want to make sure that you are the right choice for their Pom.
Ryan's Precious Pomeranians Details
• Address: 2665 SW Hulen St, Burleson, TX 76028
• Phone: (817) 944-9568
• Website: Ryan's Precious Pomeranians
• Email: [email protected]
5. Susan's Tiny Paws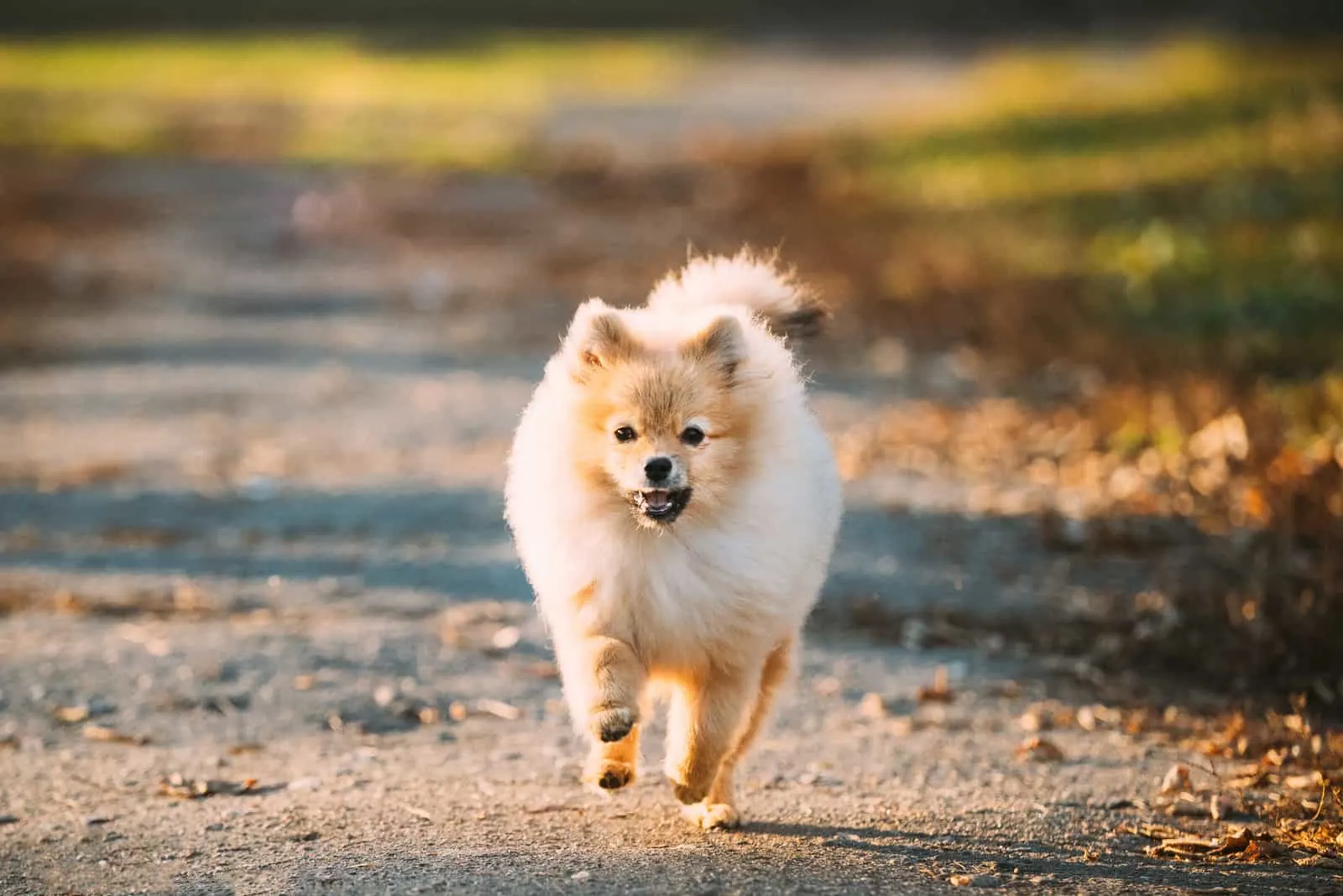 Susan's Tiny Paws is a small hobby breeder of AKC Pomeranians that are bred from high-quality, social Pom champions. They also breed Maltese and Yorkies.
This breeder requires meeting in person for a pick up because they do not ship their Poms. Because they want to sell their puppies only to those who are prepared to shower their Pom with care and love, they can refuse to sell a puppy if they are not sure that you are the perfect fit for it.
Susan Tiny Paws Details
• Address: Texas
• Phone: (512) 581-8245
• Website: Susan's Tiny Paws
• Email: [email protected]
6. Bear Face Pomz
Bear Face Pomz conducted a search for top-quality Pomeranians from Thailand. They fell in love with their teacup puppies with their cute face, nose, and deluxe fur.
Thai breeders take pride in producing perfect Pomeranians. No wonder Bear Face Pomz decided to help dog lovers by providing them teacup Pomeranian puppies that grew up in great conditions and under top standards.
If you are in a doubt, Bear Face Pomz provides customer service, which can really help you choose your best Pom companion, be it male or female.
They do the shipping, so your only task is to choose your dream puppy and wait!
Price range: $2,800 – $2,900
Bear Face Pomz Details
• Address: Texas
• Phone: (650) 303-1599
• Website: Bear Face Pomeranians
• Email: [email protected]
• Instagram: teddybear_poms
7. Tiny Pom Paws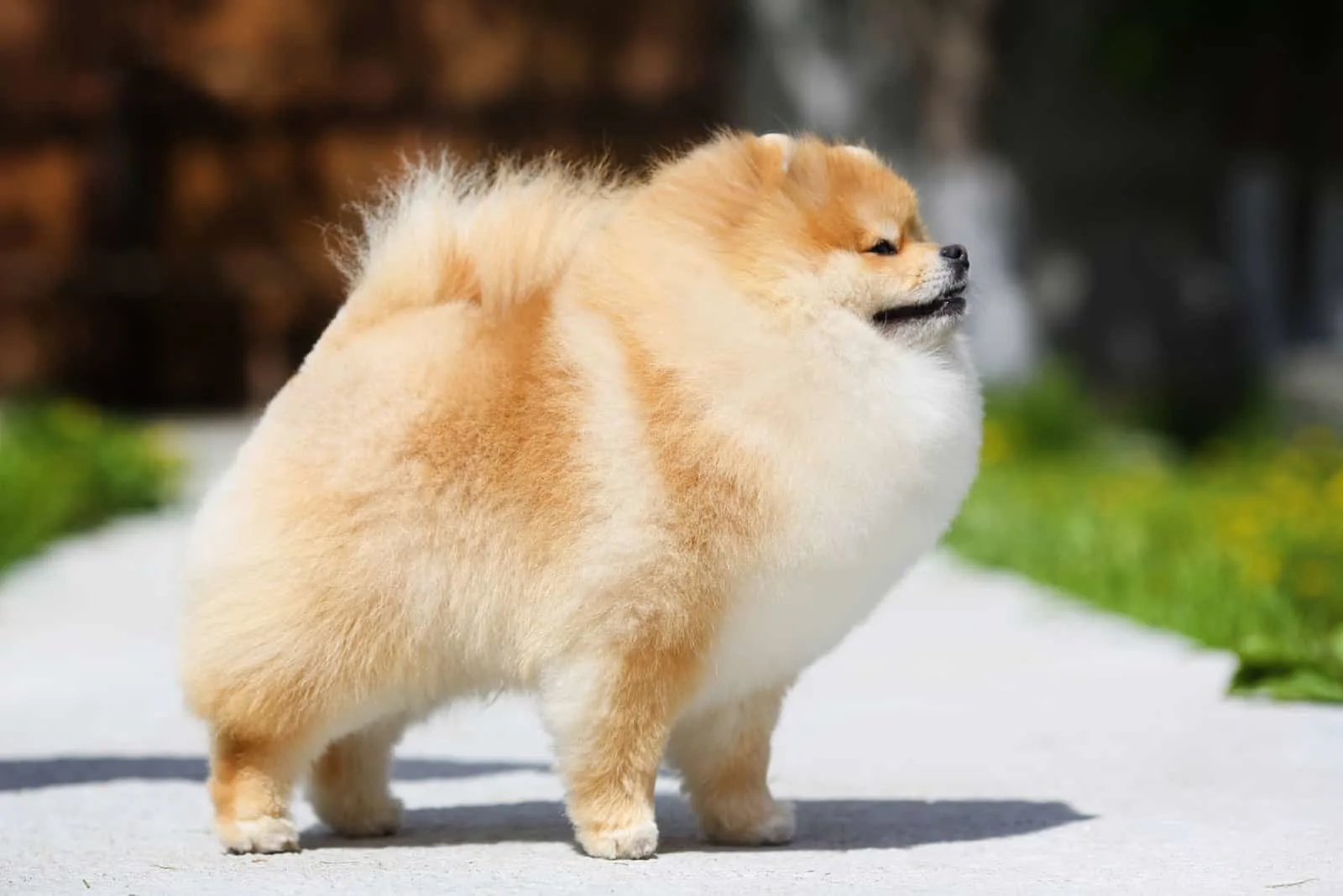 Tiny pom paws is a breeder that takes pride in breeding healthy and quality Pomeranian puppies that fit the AKC standards. They are located in Smithville, where they breed and raise their Pomeranian puppies in a home full of love and attention.
As their Poms are raised in their home, they are socialized and used to people's attention and care. Their puppies come with a health guarantee, fully vaccinated, and dewormed, so you can rest assured knowing that your puppy will be perfectly healthy.
Tiny pom paws Pomeranians are potty trained, so your new family companion will behave well at just eight weeks of age.
Price range: $1,700 – $2,200
Tiny Pom Paws Details
• Address: 226 Young School House Rd, Smithville, TX 78957
• Phone: (512) 585-9510
• Website: Tiny Pom Paws
8. Prettiest Puppies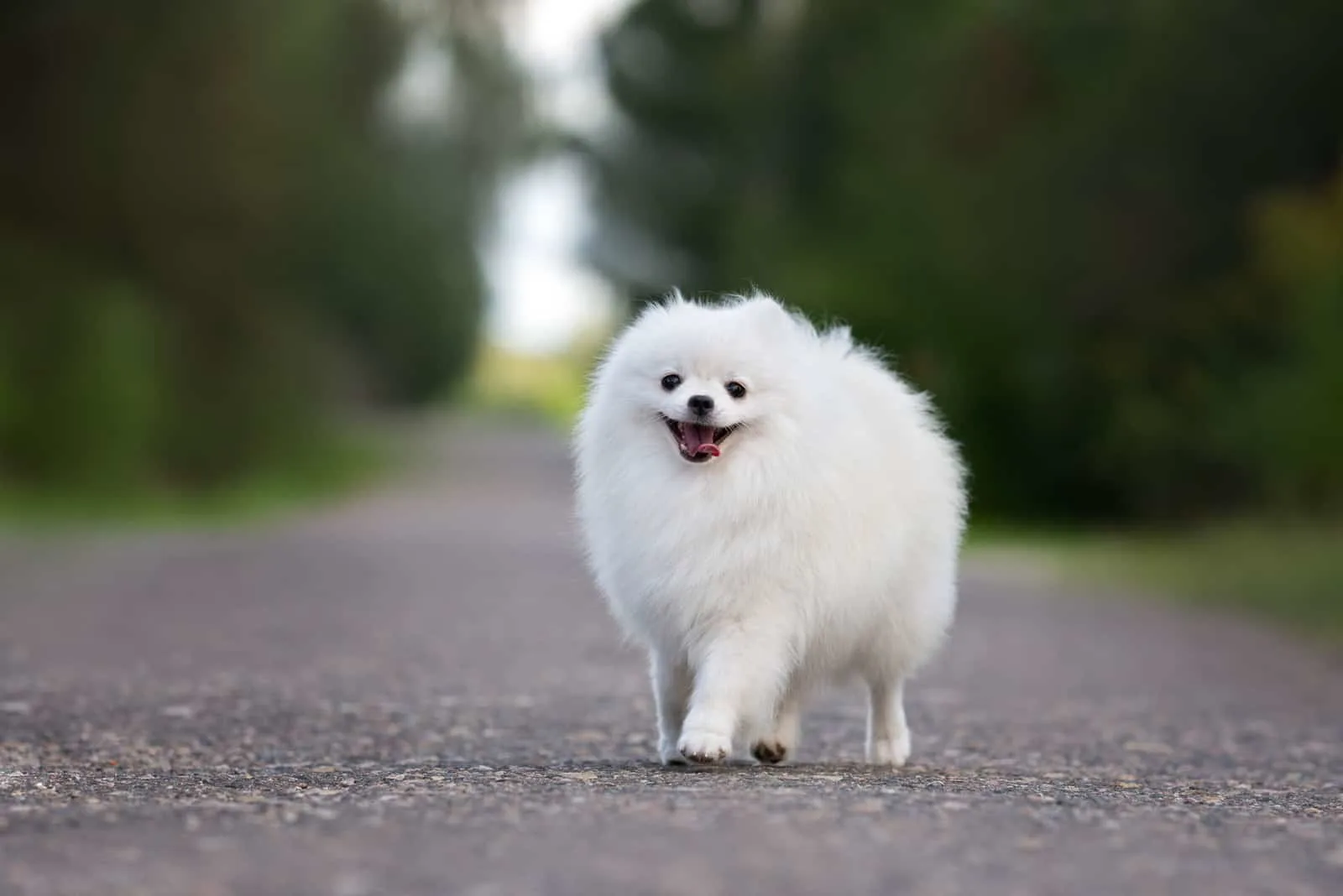 Last, but not least is a breeder located in Jonestown, called Prettiest Puppies. They breed Shih Tzus, Yorkies, Malteses, and Poodles, but most importantly, Pomeranians.
They breed their Pomeranian puppies from ACA registered parents, which means they fit the purebred standard. Along with their puppies come health guarantees and vaccination records. Their Poms are also dewormed, and have their first set of shots before they meet up with their new family.
Good thing about this breeder is that if you take your puppy to the vet and your new companion is having any health problems, you can return it and get a full refund of the purchase. But, I doubt that would be the case with this reputable breeder!
Make sure to check out their website to see the price and other information!
Prettiest Puppies Details
• Address: Jonestown, Texas
• Phone: (512) 694-1137
• Website: Prettiest Puppies
RELATED: Pomeranian Rescues: The Best Places To Find Your Pom Puppy
How Much Does A Pomeranian Cost In Texas?
The price of Poms definitely depends on various components, such as from which breeder you want to purchase the puppy, its health care, its lineage, training, age, and so on.
The average price is around $1,000 to $3,000; however, the actual range is from $5,000 to $6,000, but you can expect that rare Pomeranians can be more than $6,000.
Also, if you are a new dog owner, you should know that you'll need to purchase necessities and essentials for your pup, so he can have the best welcome ever!
Finally, we suggest you take a look at various Pomeranian mixes. Mixed dogs are usually cheaper than purebred ones, and we think that Pomeranian mixes are so adorable!
To Wrap It Up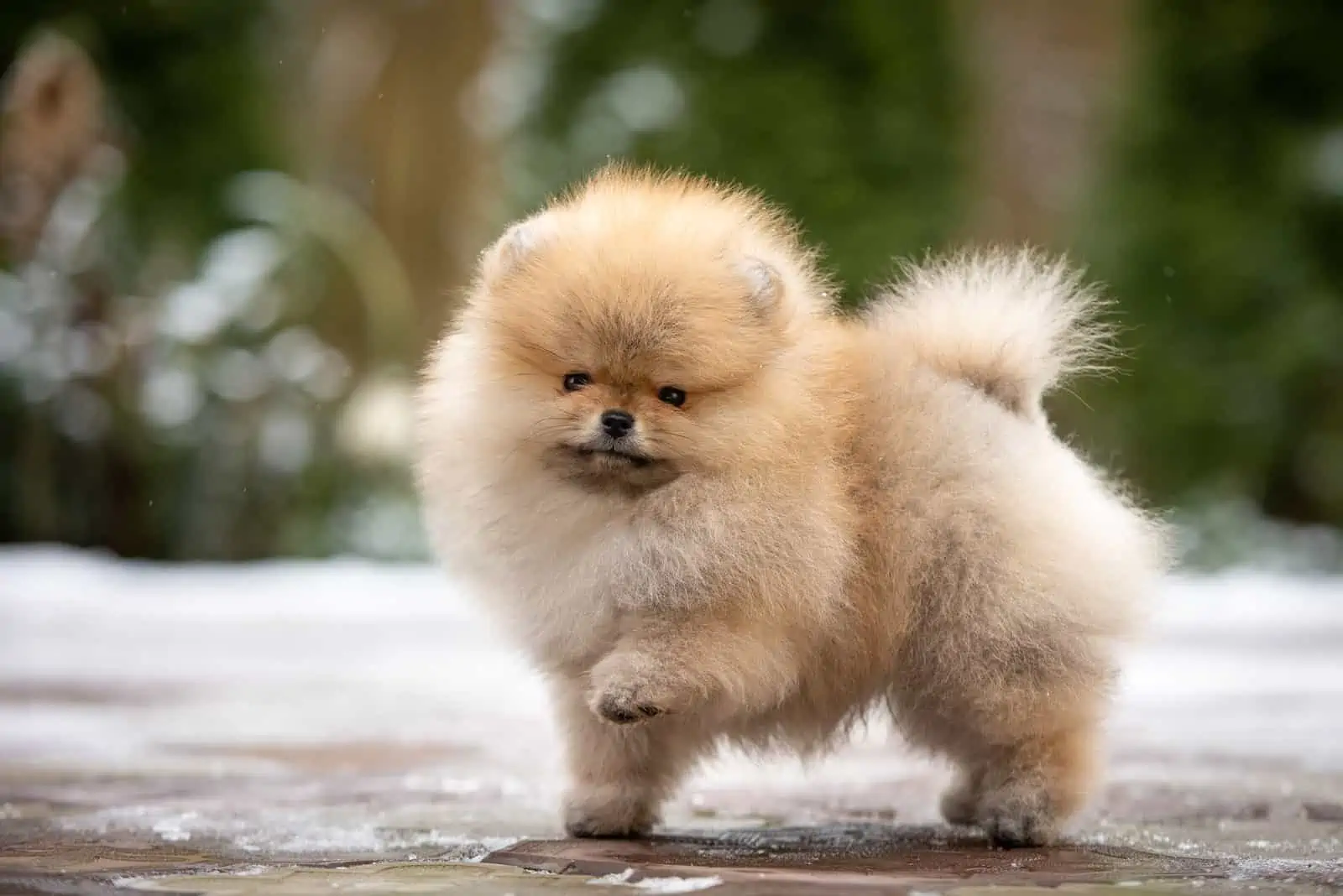 The Pomeranian is, by nature, a happy dog that can be the ideal companion for you and your family. If you are ready to fill their life with love and joy, know that it will be reciprocal!
As long as you take care of them, love them, and provide a nice, loving environment, there is no way that your puppy and you won't get along.
The only thing left is for you to pick your best of the best Pomeranian in Texas from our list of eight best Pomeranian breeders in Texas that we chose for you!
Hurry up and get on the waiting list as soon as possible!
READ NEXT:
Pomeranians 101: All About The Breed And The Special Merle Pomeranian
10 Pomeranian Breeders In California: Find The Best Pom