Do you want to get the perfect little fluff ball, a.k.a., a Pomeranian, but you don't know where to look or how to choose a reputable Pomeranian breeder? Worry not because PupVine is here to help you.
In the following text, we bring you 10 amazing Pomeranian breeders in California that will certainly meet all your expectations, and in the end, provide you with the perfect Pomeranian pup that you have been wishing for.
The Pom might be tiny, but his huge personality definitely makes up for its lack of size. They certainly don't think of themselves as small since they can get feisty with much bigger dogs.
But, they're cute and fluffy, and that is what we are looking for, right?
There is more to this dog breed than meets the eye, so if you want to learn more about Pomeranian dogs and California breeders, keep on reading!
Pomeranian Puppies For Sale In California (2022)
According to the American Kennel Club (AKC), Pomeranians have become the world's favorite toy dog breed.
Related: Pomeranian Growth Chart – How Big Can Pomeranians Get?
Their popularity has resulted in a large number of breeders, so sometimes it is difficult to differentiate puppy mills and backyard breeders from those really amazing and trustworthy ones.
If you need some help in finding good Pom breeders, check out our list of 10 reputable Pomeranian breeders in California for 2022!
1. Candi Colored Poms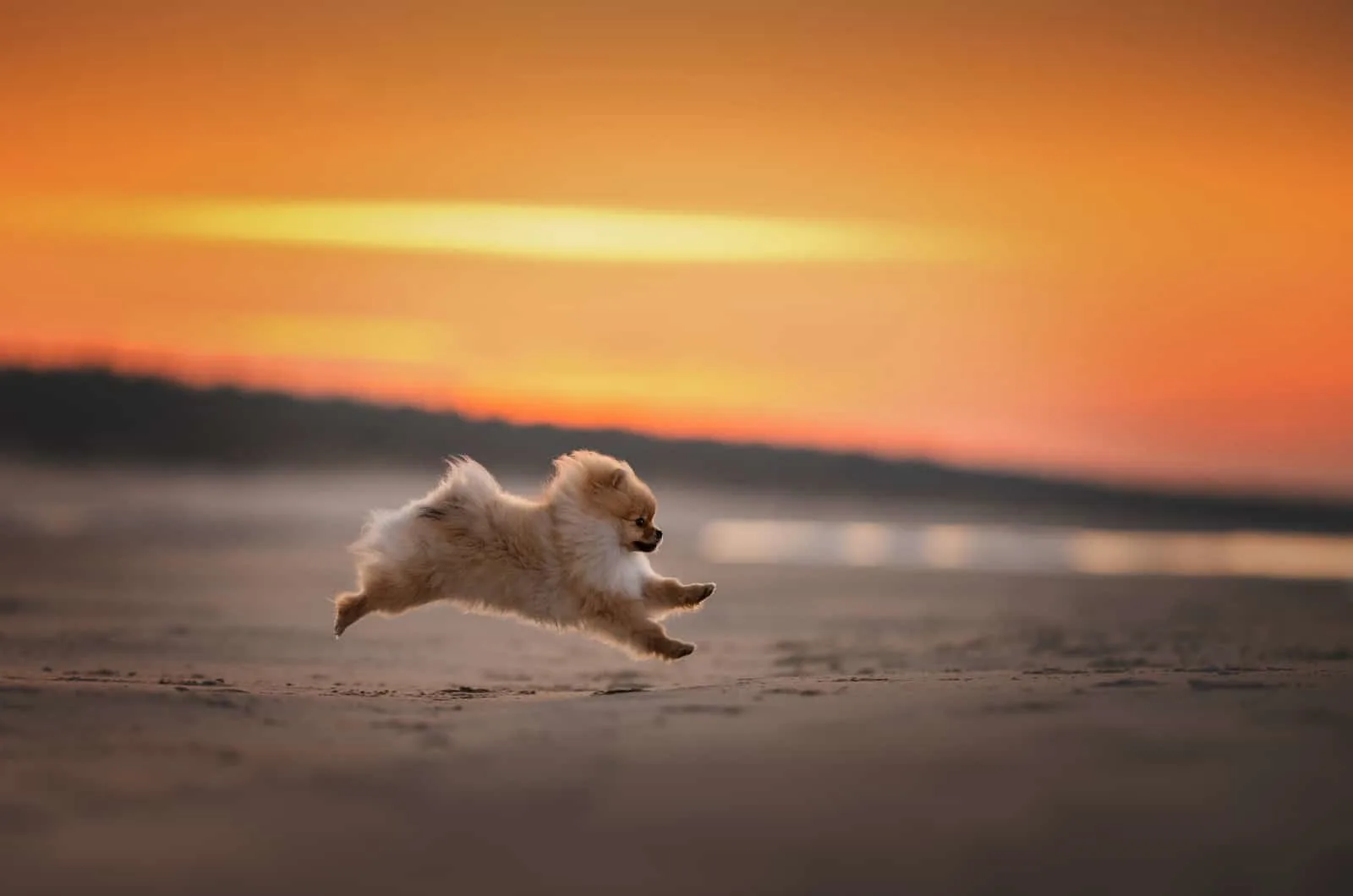 If you are looking for a high-quality Pomeranian breeder in California, Candi Colored Poms has to be your first choice. They are a small breeder that first started as a dog rescue.
They started this breeding business with the qualities acquired through this experience, and their newfound love for these tiny pups. However, they do not think of it as a job. Their puppies are their family, which can be seen through the love and attention they give them.
As opposed to many other breeders who breed for a certain part, their main goal is to produce pups that will have it all — the whole package – looks and personality. Therefore, they make sure to raise their puppies according to the AKC breeding standard, and they also provide them with proper socialization.
All of their puppies come vet checked, vaccinated, dewormed, and with a health guarantee, AKC papers, and a little surprise gift pack. They always make sure that each puppy goes to the perfect family that will provide him with the best and happiest life ever.
However, if anything goes wrong along the way, they will be more than happy to take back the puppy or help with rehoming. If you want to learn more about this breeder and their teacup Pomeranian puppies, check out their website and read their guestbook for the best proof of their excellence.
Breeder's Info
• Location: Hesperia, Southern California, 92344
• Phone: 909-228-2481
• Email: [email protected]
• Website: Candi Colored Poms
2. Mystical Pomeranians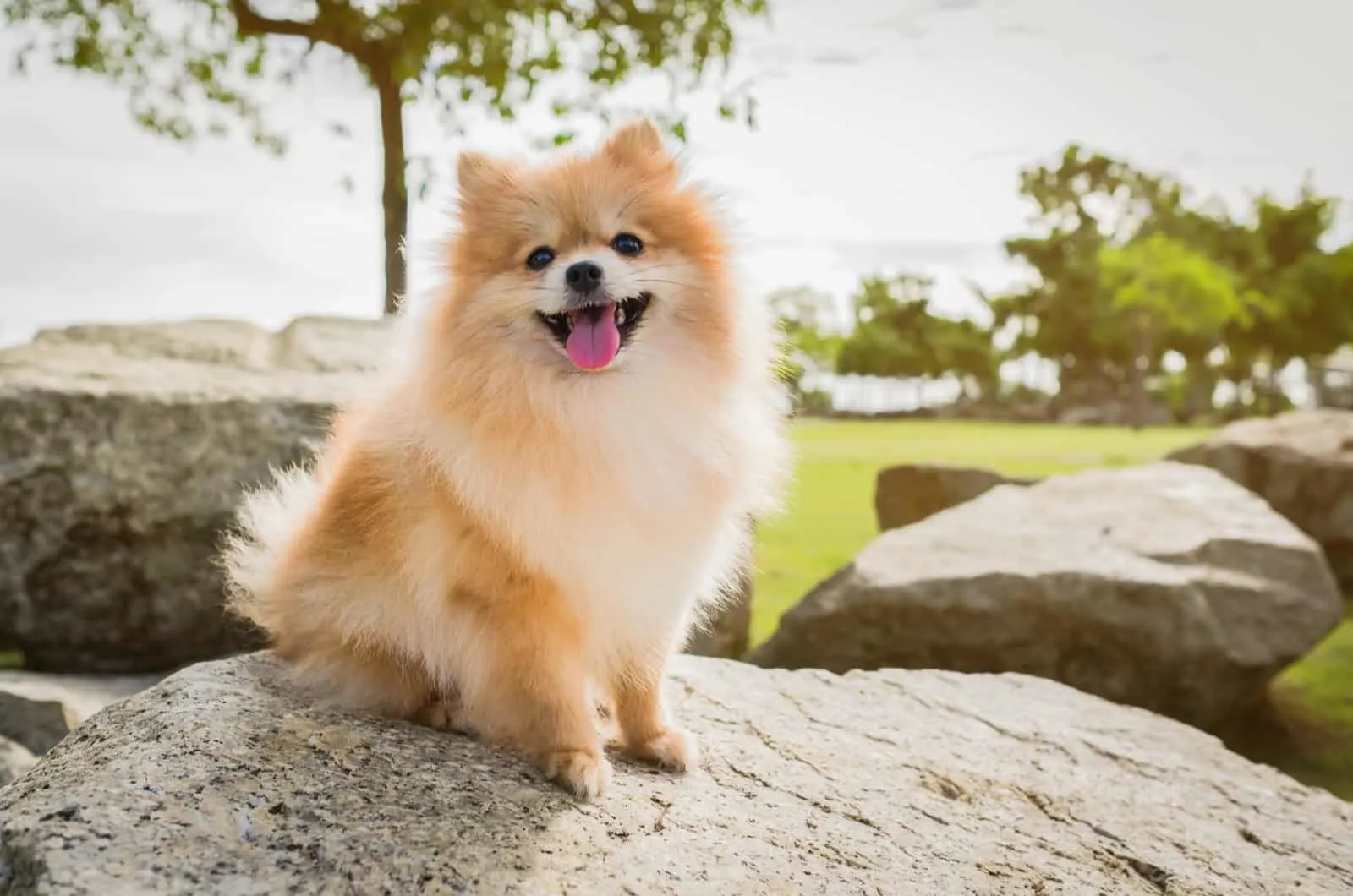 Mystical Pomeranians is a small hobby breeder that has been breeding and raising Pomeranians for more than 33 years. Kathee, the breeder, fell deeply in love with this breed ever since she got her first black Pom called Bear.
All her puppies are raised at home as family members, and they receive unconditional love and care. She makes sure to raise all of them according to the highest AKC standards, and produce happy and healthy pups.
At Mystical Pomeranians, you can find a variety of exotic colors; for example, Blue Merle, Chocolate, Chocolate Merle, Black and Tan, Blue and Tan, and tricolors.
Not only that, but each Pom puppy comes with AKC registration papers, three-generation pedigree papers, food, and toys, and they are also vet checked, vaccinated, dewormed, treated against fleas and ticks, and much more.
Check out their website for more information about their breeding program and steps on how to get a puppy. There are also some cute pictures that will definitely melt your heart!
Breeder's Info
• Location: La Grange, CA, 95329
• Phone: 209-852-9912 I 209-484-9232
• Email: [email protected]
• Website: Mystical Pomeranians
3. Riveira Pomeranians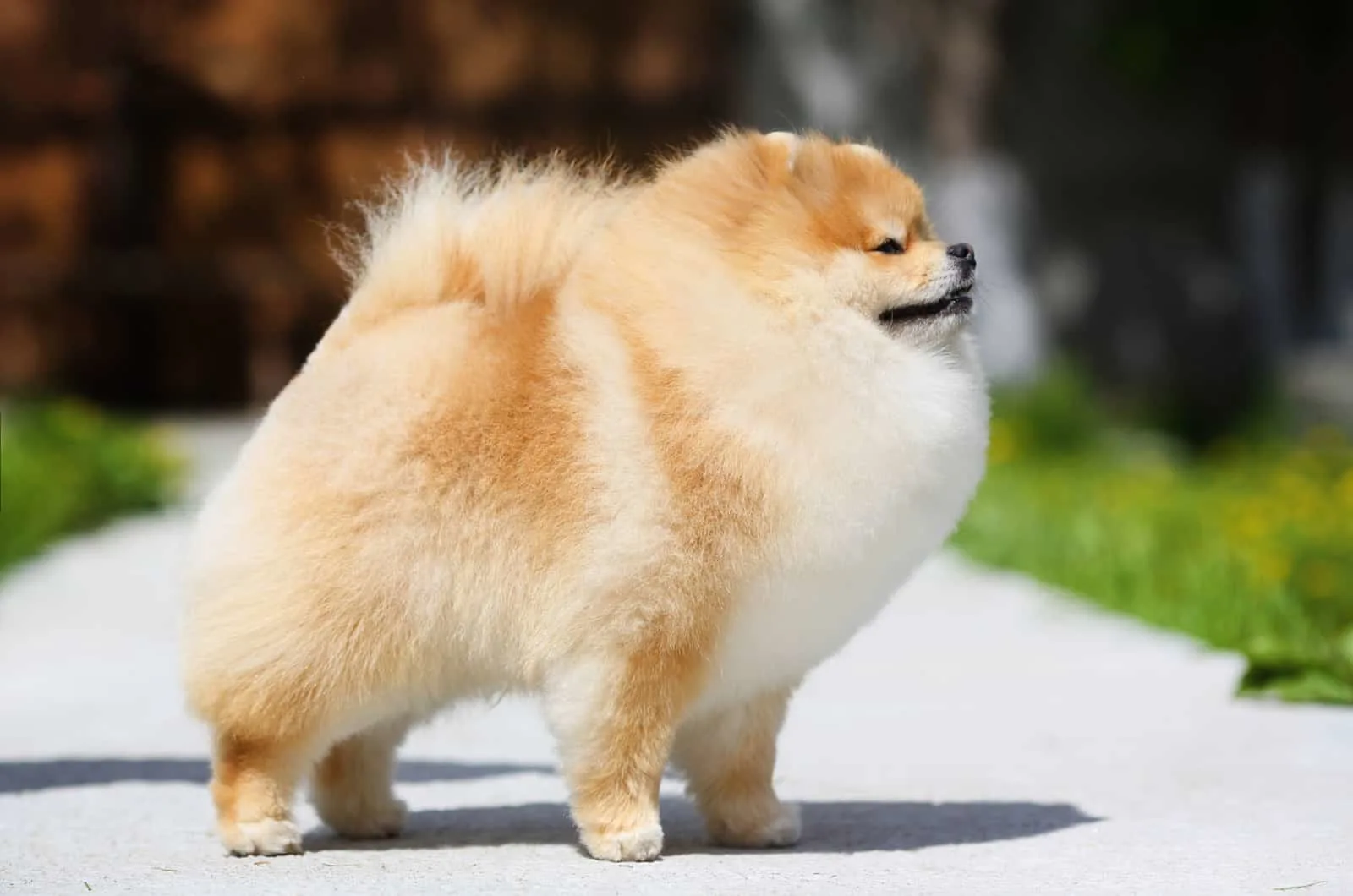 Riveira Pomeranians is a family of three that got their first Pom in 2007, and since then, they have been raising these pups out of pure love for the Pomeranian breed.
They don't care about the money since it is not their primary source of income – it is more about the joy and happiness their pups provide to other families. Their goal is to produce happy, sound, and most importantly, healthy dogs that will exceed the standards.
Riveira puppies are sold only under strict spay/neuter contracts, so no breeding rights. With each puppy, you get:
• A one-year genetic health guarantee
• A folder with all the puppy's records and important information
• A puppy kit (a bag of puppy food, potty pads, a bed, toys, and water dishes)
• Worming and flea certification
• Up-to-date vaccinations
• Vet examination certificate
• A lifetime of support!
Read also: 7 Best Dog Beds For Pomeranians: The Best Choices of 2022
To be able to buy one of their fur babies, you have to first pass the application process. If you want to be added to their waiting list, send them a request for a puppy application and follow their instructions.
Check out their Facebook page also since they post more regularly on there.
Breeder's Info
• Location: Northern California
• Email: [email protected]
• Website: Riveira Pomeranians
• Facebook: Riveira Pomeranians
4. Precious Poms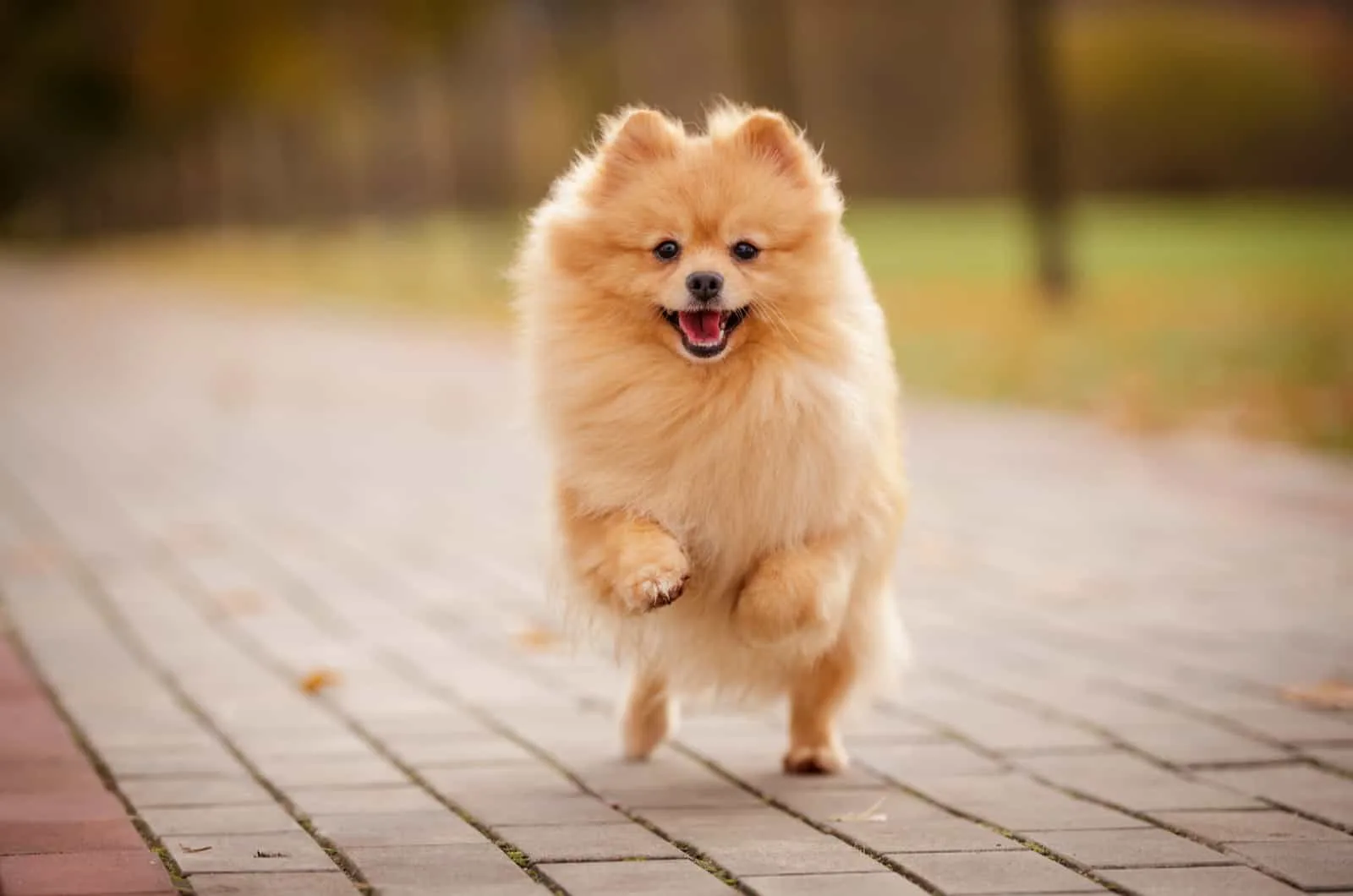 Located in Sacramento, California, you can find Precious Poms – a breeding program that raises their puppies with love and care, producing happy, healthy, and socialized Pomeranians.
They focus on quality rather than quantity, which is why they breed for temperament and personality while at the same time achieving the breed standard.
If you purchase one of their puppies, you will receive an AKC registration, a vet exam certification, vaccination and deworming records, a health guarantee, and a puppy package that includes many goodies such as food, toys, dishes, and others.
Their puppies are sold only as pets; however, if you would like to purchase breeding rights, it is possible, but only to approved homes.
Right now, they have a waiting list open, and some planned pregnancies, so head to their website or their Facebook page for more information about prices and availability.
Breeder's Info
• Location: Sacramento, California
• Email: [email protected]
• Website: Precious Poms
• Facebook: Precious Poms
5. CNR Pomeranians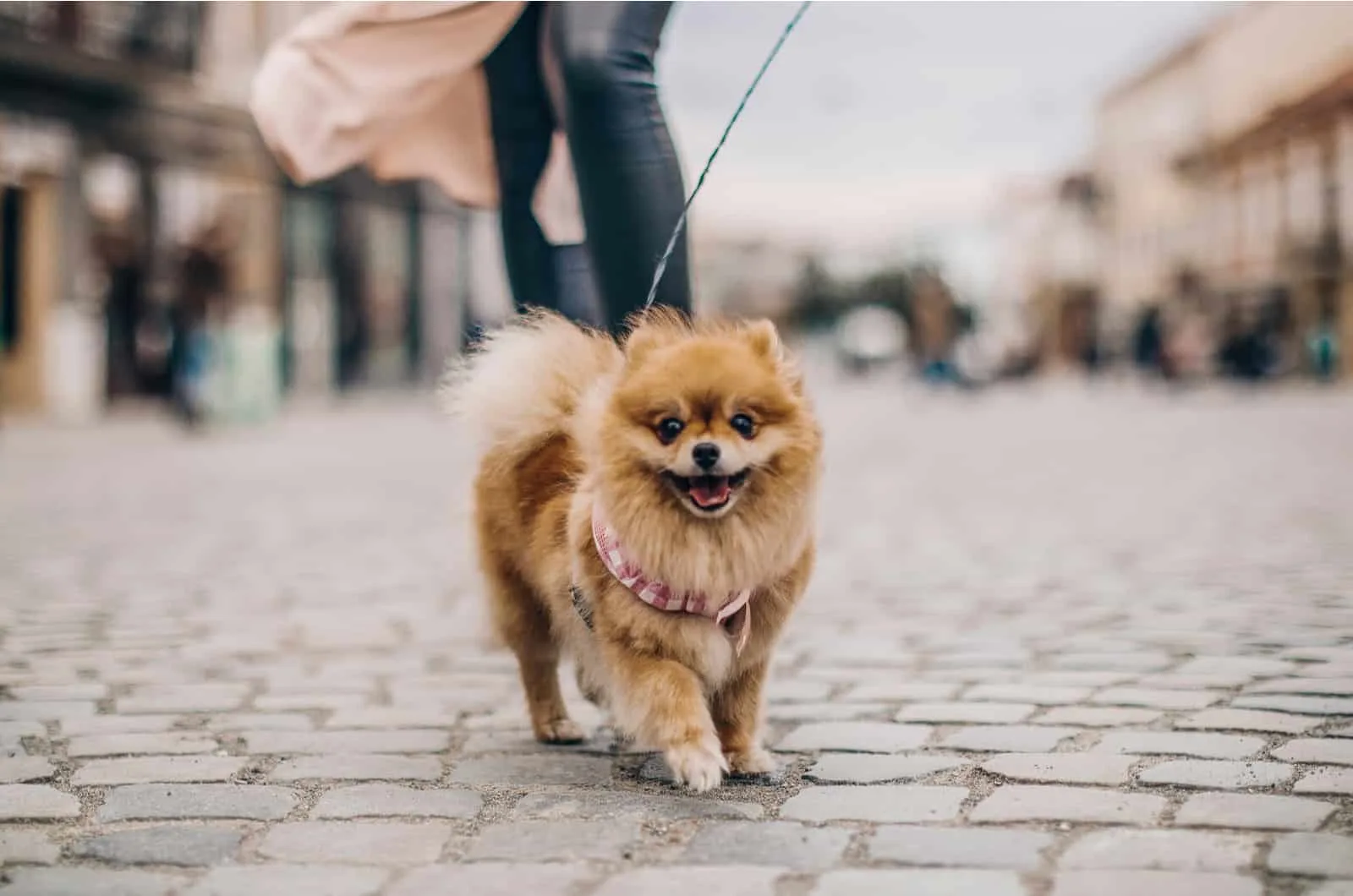 CNR Pomeranians is a small, hobby breeding program in Southern California, run by breeder, Carol Silverberg, and her daughter, Rebecca. They have been a proud Breeder of Merit for Pomeranians ever since 2018.
In addition to being AKC members, they are proud members of the American Pomeranian Club of America, the Los Angeles Pom Club, and the Palm Springs Kennel Club.
All of their dogs are raised in a happy and healthy environment with lots of love and care. They don't put them in kennels – they make sure to provide them with the best food for Poms to ensure their healthy development. Also, they genetically test their dogs to ensure the highest quality.
All potential new owners are thoroughly screened, and only high-quality pet homes come into consideration for a new puppy. Sometimes, they can also have retired dogs for placement, although this is not common.
If you are interested in this dog breeder and would like more information about these California Pomeranians, check out their website, and don't be afraid to email, call, or text for any inquiry you may have.
Breeder's Info
• Location: Thousand Palms, CA 92276
• Phone: 760-851-8280
• Email: [email protected]
• Website: CNR Pomeranians
6. HappyDayPoms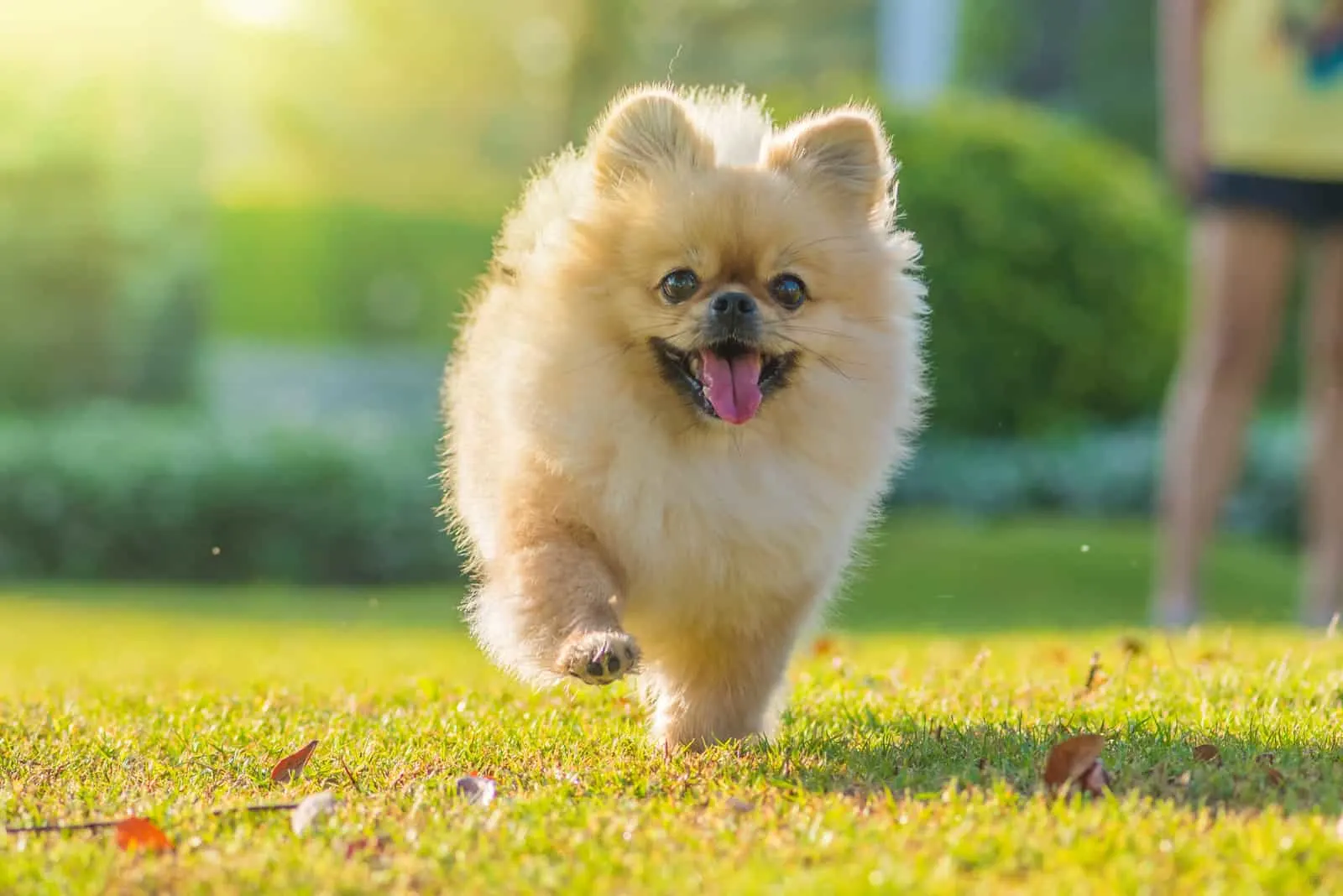 HappyDayPoms is a hobby kennel, run by Josua, who started this with only two dogs back in 2010. Slowly, his breeding program has grown to what it is today.
His main goal is to breed in color since he loves Pomeranians in many color varieties rather than the traditional sable, red, and orange ones.
Therefore, you can expect to find many exotic colors and marking varieties such as various dilutes, Merle Pomeranians, Blues, Particolor, and Chocolate.
All HappyDayPoms come with:
• AKC registration
• Up-to-date vaccination
• A health certificate
• A health guarantee
They lead a very transparent breeding program, which you can see on their Facebook or Instagram page where they have everything posted. Make sure to follow them to see all the cute pictures. The puppies are available to take home when they are usually around eight weeks old.
No matter if you are from San Diego, Los Angeles, or San Francisco, or perhaps if you are not even from California, they also offer shipping and a nanny on board anywhere in the United States.
You will have to pay a little bit more depending on the distance, in addition to the price of the puppy, of course.
If you have any additional questions, you can get in contact with them through the contact form you can find on their website, or by simply calling them. Either way, they make sure to respond quickly.
Breeder's Info
• Location: Stockton, CA 95204
• Phone: 504-410-4995
• Email: [email protected]
• Website: HappyDayPoms
• Facebook: HappyDayPoms
• Instagram: HappyDayPoms
7. Jenchri Forest Pomeranians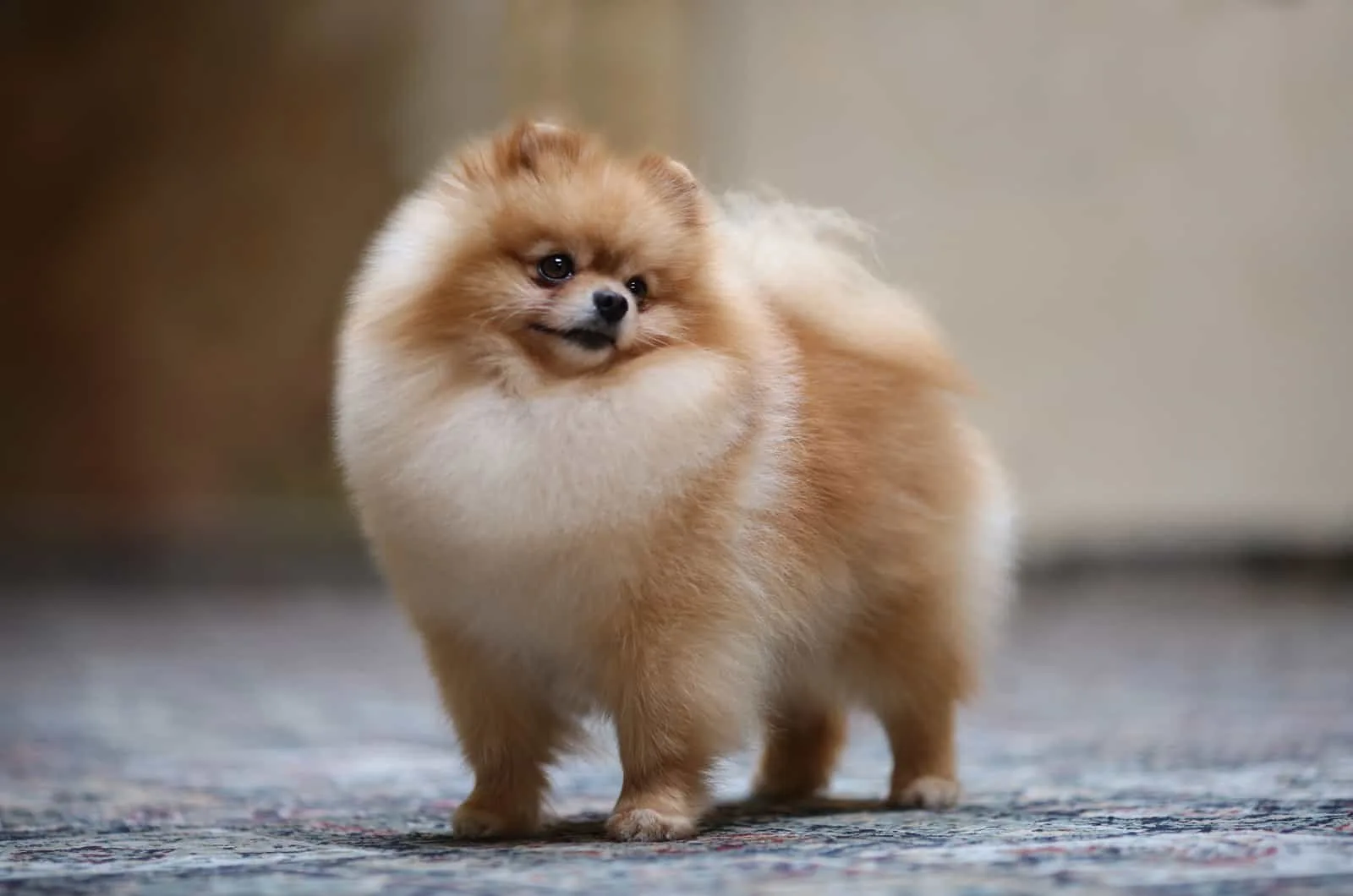 Jenchri Forest Pomeranians was born out of a pure passion for these fur balls. Jean and her husband, Chris (which combined makes Jenchri), have had Pomeranians their whole life, and they have been in love with their personality from the first moment they saw them.
Now that they have retired, they are able to completely devote their time to their lifetime passion of producing happy, healthy, and well-socialized Pom Poms. Before, they didn't have the time, but now they are able to be a high-quality show hobby breeder.
They specifically breed for excellence in breed line, color, coat, and temperament in order to produce Poms with a loyal nature, intelligence, easy trainability, happy, healthy, and overall awesome companions.
They are proud members of the Northern California Pomeranian Club, and the American Pomeranian Club.
Since they don't always have the time to regularly update their website, the best thing is to contact them directly and ask about the availability of their puppies. You can find the contact form on their website, and their phone number listed below.
Don't hesitate to ask everything you want to know about your new pup!
Breeder's Info
• Location: Forest Ranch, California
• Phone: 530-895-3764
• Website: Jenchri Forest Pomeranians
8. Iced Pom
If you are looking for a family pet or perhaps a show or breeding dog, then this breeding program from Northern California is the perfect choice for you. At Iced Pom, they specialize in breeding only ice white Pomeranians.
All of them are raised in their home, and are maybe a little bit spoiled, but that just shows how much they love and care for their puppies. They are more focused on quality rather than quantity, which is why they only have a few litters per year.
In order to produce high-quality pedigrees, with the best possible health, personality, and physical traits, they spend a lot of time properly researching the background of each dog and everything else that needs to be considered.
This way, they are able to produce the healthiest, most confident puppies that are known for their structure and temperament. Their gorgeous face, tiny ears, and puffy coat will for sure steal many hearts whether at home or in a show ring.
Since their iced Poms are really high in demand, if you are interested, a good idea would be to apply for their waiting list. This way, you will be notified when there are new puppies available. Check their website for more information.
Breeder's Info
• Location: Elk Grove, CA 95757
• Phone: 916-291-1579
• Email: [email protected]
• Website: Iced Pom
• Instagram: Iced Pom
9. Paragon Pomeranians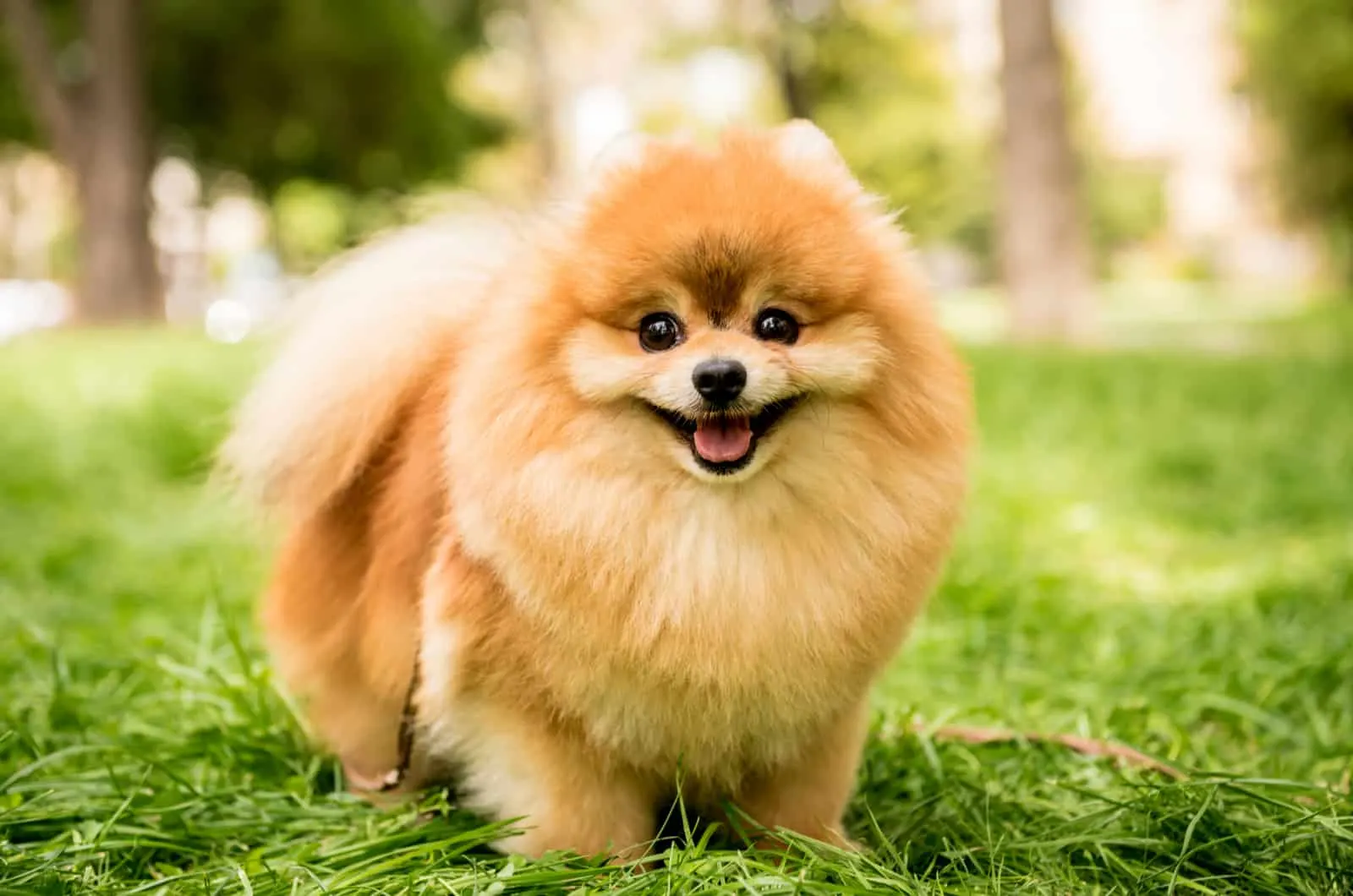 Paragon Pomeranians is a breeding program and obedience training program located on a three-acre property in Lake County, and it is run by Lindsey Fennell. She is a biology major, which greatly helps her understand all the nits and grits of genetics that she can then implement in her breeding.
Her main goal is to improve the breed standard and produce AKC-registered puppies that will have a wonderful temperament and be free of any genetic diseases. All her puppies are great with children as well as with adults.
Temperament is really important to her, which is why she takes early socialization very seriously. Therefore, you can be assured that each puppy is well-socialized and used to many other animals and different sounds.
If you purchase one of her Poms, you will receive AKC registration papers, a health guarantee, and a vaccination and deworming certificate. The puppies have to be spayed or neutered as soon as the veterinarian approves it.
Read also: 9 Signs Your Dog Needs To Be Neutered
If you are at any point unable to take care of the puppy anymore, the breeder will happily take it back and try to find him a new home. For more information on availability or any other inquiry you may have, don't hesitate to call the breeder or send an email.
It will be necessary for you to pass the phone interview; otherwise, you will not be considered as a prospective family. Check out their website for some of the cutest pictures of fluffy Pom Poms.
Breeder's Info
• Location: Lake County, Northern California
• Phone: 707-279-4199
• Email: [email protected]
• Website: Paragon Pomeranians
10. Sweet Dream Poms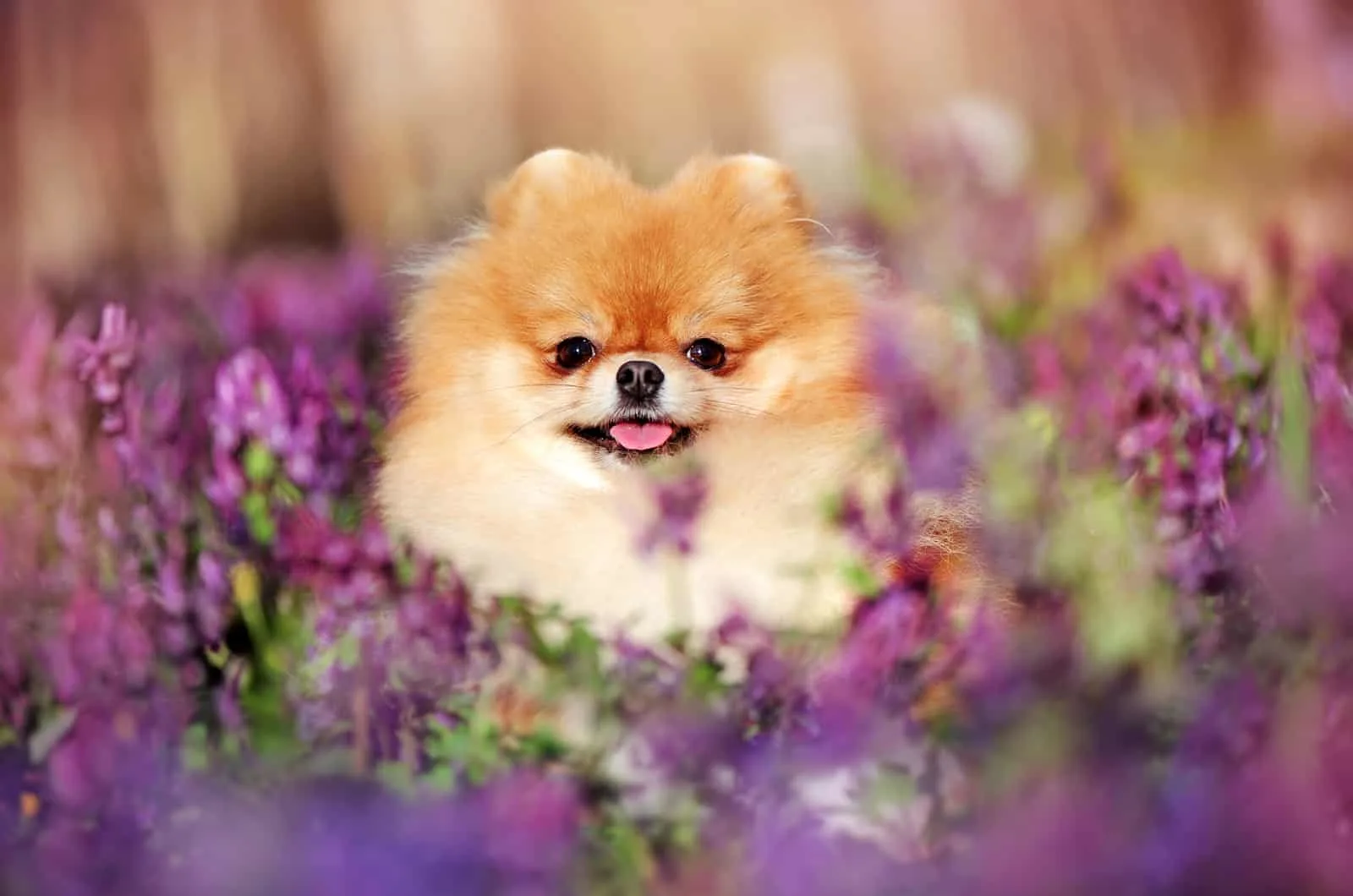 Lucy Zambrano, the owner and handler of Sweet Dream Poms, has been in love with this dog breed since she was just eleven years old when she first saw an orange sable Pom puppy. Since then, she made it her mission to own Poms later in life.
After a long time of searching and making everything possible, she and her husband finally started their own breeding program. Their Pomeranians are beautiful, intelligent, and healthy pups with wonderful personalities.
In order to produce quality Poms, they strictly follow the AKC standards. Their puppies come with a one-year health guarantee against any health issue, which could endanger their life, up-to-date vaccinations, and deworming. They have both companions and show dogs to purchase.
When it comes to the colors and markings, they produce everything from red, orange, orange sable, cream sable, black, black and tan, and blue and tan to brindles, whites, particolors, and tricolors.
They will only accept loving homes that are truly able to take care of their puppies. Therefore, if you plan to email them about available puppies, please include a little bit about yourself and your family, along with your home, and whether you have other pets or not.
Preferences for colors are also accepted.
Breeder's Info
• Location: High Desert, Southern California, USA
• Phone: 760-617-4674
• Email: [email protected]
• Website: Sweet Dream Poms
How Much Does A Pomeranian Cost?
Pomeranians have become quite a famous dog breed recently. Their smaller size and very interesting personality make them a desirable breed, which, of course, influences their price.
Generally speaking, you can expect to pay around $2,000 to $3,000 for a Pom puppy from a reputable breeder. However, there are also a lot of puppies that even exceed the price of $3,000.
There are many factors that influence this price; for example, the most obvious ones being the breeder and the location, and then there is the bloodline, size, color, health, age, whether it is a male or a female Pom, and other puppy characteristics.
Location is perhaps one of the most important factors when it comes to puppy price. Due to the high costs of living in California, the prices of Pomeranian puppies are much higher there than in some other states.
It is possible to see some California Pomeranians costing between $4,000 and $7000; however, this is for some rare colors like ice Poms.
It can be significantly cheaper to adopt a Pom, and due to their popularity, there are higher chances of finding one in a rescue. This way, you might only need to pay an adoption fee, which is usually around $300 to $600 max.
If you can find a puppy in a shelter, please choose to adopt before buying one because this way, you will be doing a good deed and making one's life much happier.
Related: Pomeranian Rescues: The Best Places To Find Your Pom Puppy
Final Thoughts
If you are thinking about becoming a new owner of a little Pom, you must first research the Pomeranian breed and make sure that this is the right choice for you.
Please take into consideration that dogs are about much more than their looks. While you may have fallen in love with their cuteness and fluffiness, their personality might not suit you or your lifestyle.
The next thing would be to find the perfect breeder who will meet all your expectations. This is where our list of 10 reputable Pomeranian breeders in California comes into place. Hopefully, it will be helpful to you and make your search much easier.
The only step left in bringing your new family member home would be contacting a breeder and making all the arrangements with them. The biggest tip that we can give you is to always trust your gut and go with the one that your heart tells you.
However, always check references and comments of previous buyers beforehand because doing this can be really helpful in finding out how the breeders truly behave towards potential buyers. And, lastly – I hope you have a happy and long life with your new fluff ball.
Related Content:
• 8 Best Pomeranian Breeders In Texas You Should Know About (2022)
• The 5 Best Pomeranian Breeders In Ontario Of 2022