This post contains affiliate links, and I will be compensated if you make a purchase after clicking on my links.
Pomeranian dogs are known for their boujee temperaments and adorable looks, so it's no surprise these little doggies can be quite demanding.
Pomeranians hold a special place in our hearts, but they also have some special needs that we need to cater to. For example, you need to consider getting the best dog food for Pomeranian for your pooch.
Not all dog owners are aware of the advantages that come with feeding your Pom with the right type of dog food – especially if you've just bought or adopted your new Pomeranian puppy.
Proper food is essential for your Pomeranian's development, but also for his overall wellbeing.
But in a market that is filled with dozens of brands and products, how can you know which one is right for your Pom?
Don't worry – I'm here to help!
I have gathered a list of the 9 best dog foods for your Pom, as well as included a buyer's guide so you can know what to look for on your own.
Let's begin!
Best Dog Food For Pomeranian Ratings
While product ratings are not everything, they can be an indication of an overall opinion on products. As such, it's always important to look at them – but don't make your final decision just based on them.
Here's how the products I'll list rank on the website they're being sold as, such as Chewy and Amazon:
Top 9 Best Dog Food For Pomeranians
Getting the best dog food for Pomeranian is the best thing you can do for your pup's health and lifespan. A dog that eats well will live a long and happy life, so you'll be able to enjoy each other's company for many years to come.
It's important to note that just because a food is expensive doesn't necessarily mean it is good or the right choice for your pooch. You need to look into many other factors – most notably, the ingredient list. However, this is something I'll get in-depth later on.
Without further ado, here are the best products I've found:
This kibble is designed specifically for small breeds. It is small in size and easy to chew while containing the specific protein and carb content suitable for Pomeranians.
In general, young dogs, aged one to six, might benefit the most from this dog food. It uses chicken meal as the main protein source, and everything is enriched with rice.
The food is also rich in antioxidants and various vitamins and minerals, such as calcium, Vitamin E, and Vitamin C. This makes it an amazing choice for the dog's immune system and bones, and it might even help your dog's life expectancy.
The food also contains healthy veggies, such as spinach and carrots, and it's free of artificial ingredients.
Many would say that this is the best dog food for Pomeranians there is.
It has a high crude protein content which is an astonishing 36%, making it an amazing choice for the owner of young dogs.
This recipe uses deboned turkey and turkey meal as the main protein source. This is only further enforced with a bit of chicken meal. In fact, this dog food uses 80% more meat than most dog foods you can find on the market!
The calories are also matching the needs of your small Pomeranian dog, and the kibble is good enough for the Pom's small bites.
The food is enriched with probiotics and prebiotics to aid your pup's digestive system, and salmon oil ensures there are enough omega fatty acids to keep your Pom's coat luscious.
Also, this product is enriched with chondroitin and glucosamine which can help improve your dog's joint health.
The food is also friendly for dogs with food allergies, as it's grain-free and soy-free.
The recipe is enforced with omega fatty acids, probiotic and prebiotic fibers, glucosamine, and chondroitin, so it's a great choice for your pawsome friend.
In general, this is amazing dog food for smaller breeds that most Pomeranians will adore, even if they are picky eaters.
It uses real chicken as the main protein source, so most dogs will love eating it.
The kibble is textured to ensure your puppy's teeth are clean and plaque removed. Also, it is small enough to ensure your dog doesn't have issues chewing it.
This might be the best dog food if you're looking for wet dog food for your Pom. It's canned and highly palatable, so your dog won't have too many issues eating it.
The protein content isn't the highest, standing at 8.5%, but this is a bit above average for wet dog food. The main protein source is cage-free chicken, but it also contains chicken liver, chicken broth, peas, and cod.
This amazing combination of ingredients makes it a great choice for picky eaters. Even the pickiest and poshest Pomeranian will love it!
It's also enriched with various vitamins and minerals, such as Vitamin B12, Vitamin E, Vitamin D3, and folic acid.
At the same time, it contains lots of fruits and vegetables, such as artichokes, tomatoes, blueberries, pumpkin, and broccoli. This can be amazing for your dog's digestive health due to its high water and fiber content.
The protein content of this food is around 26%, and the main protein source is organic chicken. This is enough to keep your Pom running all day long!
This USDA organic certified food is the best dog food for Pomeranians if you're looking for natural food that can provide your pooch with everything he needs.
It's also rich in organic veggies and fruits, such as sweet potatoes, peas, chickpeas, flaxseed, and blueberries. This can help provide your pooch with all the micronutrients your pooch requires.
Also, it contains prebiotics and probiotics so it can support your Pom's healthy digestion.
As it's free of grains and gluten, it's also amazing for Poms with a sensitive stomach. While it's made to match adult Pomeranian needs, you might also add it to your senior Pomeranian's diet.
Royal Canin is a household name when it comes to dog food. It is one of the largest names in the industry, and it makes the best dog food for Pomeranians you can find.
This product provides complete nutrition for toy breeds and small breeds, and it's made for dogs that are older than ten months and still considered adult dogs.
While the kibble is made to be small, it has the best texture possible, and the flavor and smell were made to suit picky eaters and dogs that can be very fussy about the things they eat.
The main protein source is chicken by-product meal, but the first ingredient listed is brewers rice, so keep an eye out for that carb content.
It also contains fish oil for the added omega-3 and omega-6 fatty acids, and contains many minerals and vitamins, such as Vitamin C, Vitamin A, Vitamin B6, Vitamin B12, Vitamin D3, and Vitamin B1.
Another supplement this food contains is L-Carnitine, which can improve your pup's energy levels.
When looking for great dog food for smaller dogs with sensitive stomachs, this product wins a solid gold. It has all the nutrients a small dog needs for everyday functioning.
As its name suggests, this is a limited-ingredient formula. While it isn't grain-free dog food, it's a great choice if your pup has some food sensitivities or health issues that keep him from eating certain ingredients.
Also, this pet food is rich in amino acids, ensuring your pup has healthy skin and coat. Despite only containing a few ingredients, it helps your pup have a balanced diet.
A good addition is taurine, which can ensure your Pomeranian's heart is healthy.
Not all Pomeranians like fish. If your Pom happens to love it, consider yourself lucky – this might be the right food for them.
This is an all-rounded dog food that is good for Pomeranian puppies, adult Poms, and senior Poms alike. It has enough protein to fit the Pomeranian's activity levels, but not too high-fat content, so it isn't likely to lead to obesity.
It's rich in easily-digestible proteins, so it won't worsen your pup's digestive issues.
As it uses salmon meal as the main protein source, it's easy to see how it's rich in omega fatty acids. However, it also contains chicken meal and chicken fat as an additional source of protein.
In general, this is a great small breed dog food – if your small breed puppy will agree to eat it.
If you have an older Pomeranian, this might be the best dog food for them. It is designed with the needs of senior dogs in mind. This means a lower fat content, but also fewer proteins and carbs.
It uses chicken meal as the main protein source, but it doesn't contain any by-products. This ensures it's gentle enough for your senior Pom's sensitive stomach.
The best part is that the food is enhanced with almost all possible minerals and vitamins that help improve bone and joint health. This includes phosphorus, calcium, glucosamine, and chondroitin.
It also contains various chelated minerals, vitamins, and antioxidants that will improve your Pom's immune system. This is extremely important for older dogs that are prone to many health problems.
Finally, the food is free of wheat, soy, and corn, removing some of the biggest allergens in dog food.
Things To Consider Before You Buy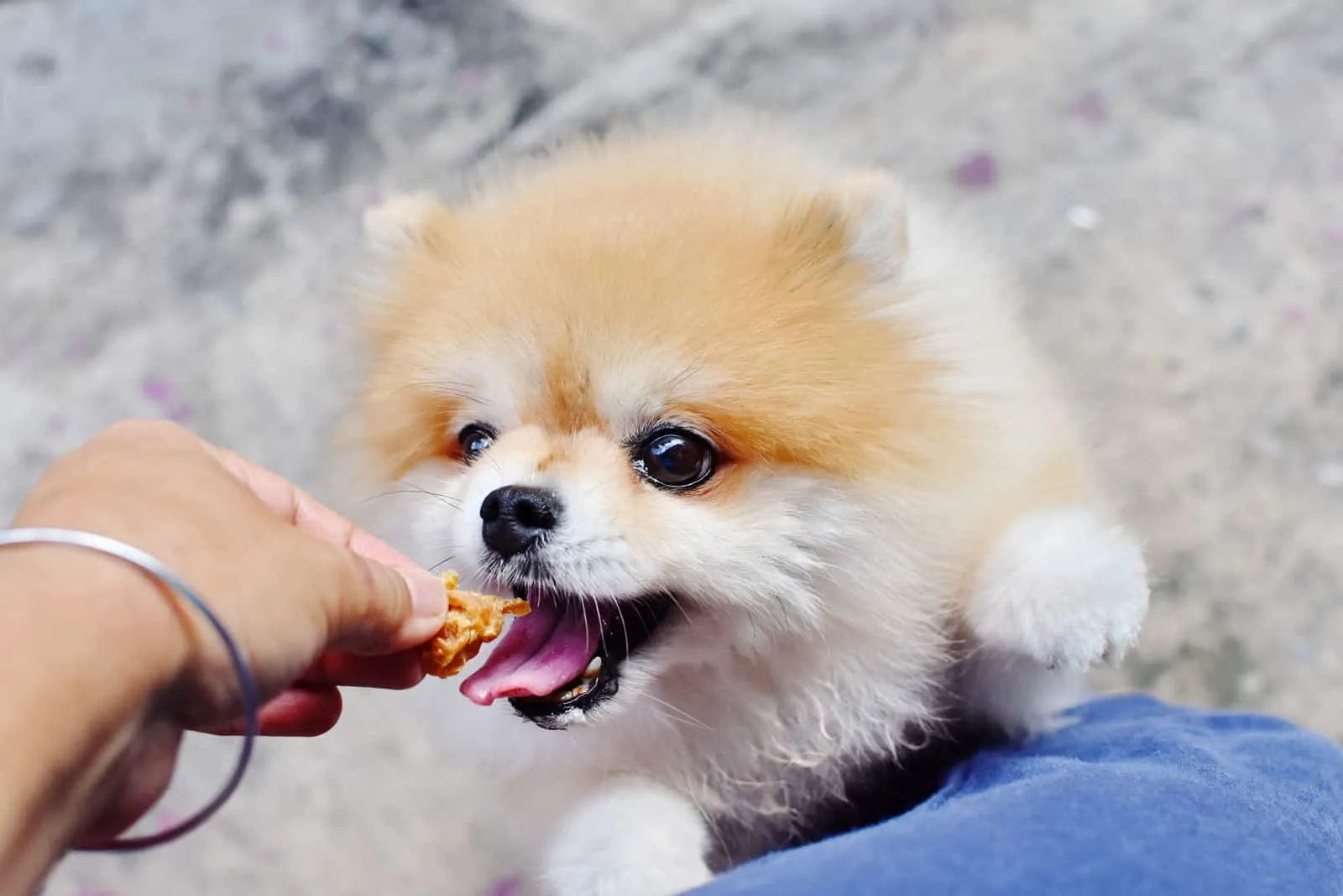 When buying dog food for small breeds such as Pomeranians, there are a few things you need to consider.
Small dogs don't have the same needs as larger dogs. Many stem from their size, but some also come from their sensitive stomachs. As such, you cannot just go and buy them the first food you see at a discount.
Here are some things you need to consider before buying food for your pooch:
Kibble Size
Teacup and toy dogs have smaller mouths and smaller jaws. As such, they require small kibbles they won't have any issues chewing on.
In fact, one could argue that the kibble size is the most important factor a Pomeranian owner could look for!
Fortunately, most dog food brands consider small dog breeds' needs when producing their food, so you should have no problem finding food your Pom can fit into his mouth.
Finding the right-sized kibble that also has a fine texture can ensure your pup has clean teeth, as well! Such kibble can reduce tartar and plaque buildup.
As it is estimated that more than 80% of dogs aged 3 years or older have some type of dental disease, it's easy to see how this is important.
Protein Source And Content
Next to choosing a smaller kibble, you need to look for proper protein content and source. This is the second most important thing for you small breed adult Pom.
Pomeranians are dogs with high energy levels, even though they don't have that much stamina. Still, they need food rich in protein so they can have enough energy to go through the day.
The high protein content is very important, especially since you Pom cannot eat lots of food and large portions.
Not just that, but it's also important to consider the protein source. High-quality dog food should always be made out of good animal protein sources.
The first ingredient is always the most important one. This is the ingredient that the food contains in the highest amount. This should always be some animal-based protein.
While meals, such as a turkey meal or a chicken meal, are also a good option, it's always better to look at foods with real meat, such as deboned chicken. Avoid foods that use meat by-products, as you can never know what they truly contain.
If possible, look for meat from grass-fed or free-range animals, sourced from the USA, Australia, New Zealand, or Canada.
Fat Content
Dog food should also contain a healthy amount of good fats. However, you need to be careful with this, as it's easy to go overboard.
Fat is a good energy source for active Pomeranians, but the main source of energy should always be protein.
Number Of Calories
Your little Pom doesn't need nearly as many calories as large dog breeds, such as Corgis or Golden Retrievers.
In fact, obesity can be a huge problem for Pomeranians, and this can further lead to many severe health problems.
In general, an adult dog requires about 40 calories per pound of weight. As the average weight of an adult Pomeranian is 10 pounds, this means that your Pom should eat no more than 400 calories a day.
Of course, we are talking about dogs that have a healthy weight. If your dog is overweight and on a diet, you'll need to restrict his calorie intake. This is something you should talk about with your vet.
Carb Content
Carbohydrates are another energy source that is essential for your pups. This is why the best dog food for Pomeranians needs to have a sufficient amount of carbs.
However, this is where things can get a bit tricky. While whole grains can be a healthy option, many Poms with food allergies are sensitive to this carb source. This is why many dog owners prefer to buy food that is grain-free.
A good carb source that is healthy is brown rice. Another good option are sweet potatoes.
Micro-Nutrients
All dogs will benefit from added minerals and vitamins. These micronutrients are a good way to ensure your pooch's immune system is working properly.
These supplements can improve your dog's overall health, and there are even some indications that they might help reduce the chance of cancer.
Also, look for food enriched with omega fatty acids – most notably, omega-3 and omega-6 fatty acids. They can help your Pom's brain, skin, and coat.
Digestibility
Unfortunately, small breeds such as Pomeranians are quite prone to digestive issues. This doesn't include just food allergies, but also various food sensitivities, especially to ingredients that contain gluten.
As such, make sure you get food rich in prebiotics and probiotics that is rich in fiber – but not too much fiber, as this can be counterproductive.
These ingredients can help your dog's gut health, improve his stool quality, and reduce bloating.
Life Stage
It's important to consider your dog's age before buying him food. Senior dogs don't eat the same type of food as puppies do, so you always need to give them food that will be fit for their age.
In general, Pomeranians will reach maturity quickly. Most can switch from puppy food to adult dog food when they are 10-12 months old.
At the same time, a Pomeranian should switch to a senior dog diet when they are around 8 years old.
Keep in mind that you should always consult with your vet before making any drastic changes in your pooch's diet.
Nutritional Needs
Lastly, you need to consider the nutritional needs of your Pomeranian. This can be quite individual and it will vary from dog to dog.
In general, Poms should eat two small meals throughout the day. Both meals should be nutritious and provide him with everything he needs to stay healthy and energetic.
If you have an overweight Pom, don't reduce the number of meals. This is not just because fewer meals might slow down metabolism, but also because many Pomeranians suffer from hypoglycemia.
Hypoglycemia can cause your Pom to faint if he doesn't eat for a long period of time. It is better not to risk it.
Instead, focus on the food quality and always consult with your vet.
FAQs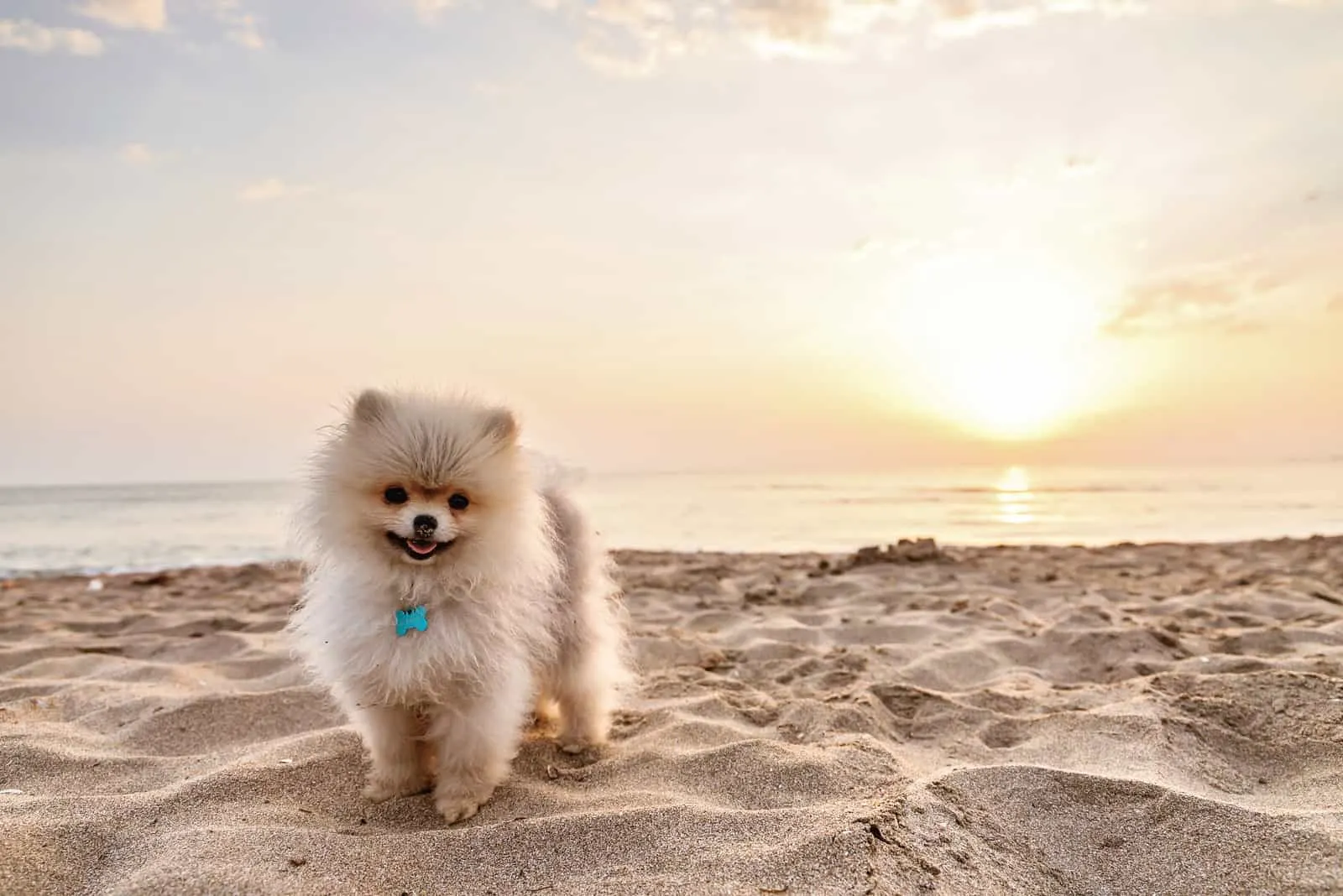 What Foods Can Pomeranians Eat?
The safest way to feed your Pomeranian is to feed him exclusively dog food made for small breeds. This way you'll be able to give him safe food without too much thinking.
However, there are some foods in our kitchens that are also safe for dogs. Many are even used as ingredients for dog food. This includes:
• Sweet potatoes.
• Brown rice.
• Blueberries.
Just remember that this type of food should only be used as treats and not as a replacement for proper dog food.
Also, always monitor your dog if you've introduced a new type of food to him. This way you can rush him to the vet if he happens to have a bad reaction.
What Food Is Not Good For Pomeranians?
Pomeranians are sensitive doggies. While there are ingredients that you should avoid no matter the dog breed, it is of crucial importance to stay away from food containing certain harmful ingredients if you have a Pomeranian.
Avoid fillers and artificial ingredients such as artificial colors, flavors, and preservatives. These won't bring anything good to your dog.
Also, if you notice your Pom is prone to having diarrhea or has a sensitive stomach, you might want to avoid wheat, soy, and other grains.
Finally, try to avoid most human foods. Never exclusively feed your dog human food. There is a reason why dog food exists and why vets recommend it.
Humans and dogs have different nutrients. Also, some ingredients that are beneficial for us might be deadly to dogs, such as salt or spicy food. It's better not to risk it.
What Is The Best Food For A Pomeranian With Sensitive Stomach?
The first thing you need to do is to check with your vet whether your dog has a certain food allergy. Once you've ruled that out, it's time to look for dog food for Pomeranians with sensitive stomachs.
In general, you should avoid foods with gluten, grain, and artificial ingredients. Also, most dogs are intolerant to lactose, so if you notice any dairy in the recipe, stay away from it.
Look for products rich in healthy fiber, probiotics, and prebiotics, as these can help gut health. Also, try to avoid animal by-products or even meals and go with whole meats.
What Is The Best Dog Food For Old Pomeranian?
Old dogs have a bit different needs from younger pups. For example, they can benefit more from eating foods rich in fruits and veggies – even though meat should still be the main food source.
However, as older Pomeranians are more prone to constipation, they need more fiber in their diets, and veggies are a great fiber source.
Also, they are more prone to food sensitivities, so remove any allergens from their diet. Don't irritate their stomachs more than necessary.
At the same time, old dogs don't have the fast metabolisms that younger Poms have. This means they don't need as many proteins or fats.
In fact, their food should contain as little fats as possible, as they are more prone to weight gain.
Should You Feed Your Pomeranian Wet Or Dry Dog Food?
There are some benefits to both dry and wet food. As such, you might want to look at your Pom and his preferences before you make a choice.
However, I would suggest feeding your Pomeranian dry dog food, as it can be a better fit for the breed's needs.
Most notably, dry kibble is less likely to cause dog allergies than wet dog food. As I've already mentioned, Poms are prone to various food allergies, this is absolutely something you should have in mind when choosing the right product.
Also, dry kibble is a better choice for dealing with the plaque and other types of buildup on teeth.
In the end, the best dog food for Pomeranians is the one that will fit your dog's lifestyle the best. This might not be what me or your neighbor are suggesting. Each dog is individual, with its own individual needs.
Don't forget to consult with your vet for professional advice.