Dog owners may have a lot of stereotypes about Pit Bull Terriers, but the truth is that this is a very loyal canine. Pitbull puppies are often misperceived due to their violent history and the fact that they were used as fighting dogs.
However, the Pitbull dog can be an excellent pet once you implement the right socialization training. These canines crave attention, and act protectively towards their owners.
In order to pick the best Pit Bull Terrier, you need to choose the most reputable breeders.
If you're living in San Diego, Los Angeles, Riverside, or some other city, or state on the West Coast, here's the perfect chance to check out the best Pitbull Breeders in California!
Puppies in these kennels are reliable, AKC registered, make magnificent grand champions in dog shows, and are ground-delivered, or shipped in case you live far away and you can't make such a long journey!
Pitbull Puppies For Sale In California
Pit Bull Terriers, also known as American Pit Bull Terriers or American Staffordshire Terriers, are qualified among bully dog breeds that can be excellent family pets.
However, the process of their socialization requires long hours of work and a lot of dedication.
In order to buy a Pitbull, the first thing that you need to do is find a reputable breeder. Why is this so important? The truth is, there are numerous backyard kennels that will sell you unreliable Pitbull puppies.
This is something you don't wanna do, especially if you are a first-time dog owner.
Unsocialized Pitbull puppies with questionable bloodlines can be extremely dangerous. This dog has a violent history of being a bull baiting dog, and a fighting dog.
They are naturally aggressive, and early obedience training is something any reputable breeder pays a lot of attention to!
Pitbull breeders need to invest a lot of time and care into the breeding process. That's why choosing reliable Pitbull breeders is key, as they will sell you a reliable Pitbull puppy that is socialized from puppyhood.
Each of these seven breeders have a great reputation and have been in business long enough to be trustworthy. Furthermore, these breeders have certification that gives them the credibility to breed Pitbull puppies.
There are no red flags that you need to worry about.
Your job is to pick one based on the price, location, and the type of Pitbulls they breed. Picking from one of the seven is a matter of your own preference, and none of them would be a mistake! Let's take a look!
1. California Pits, Phelan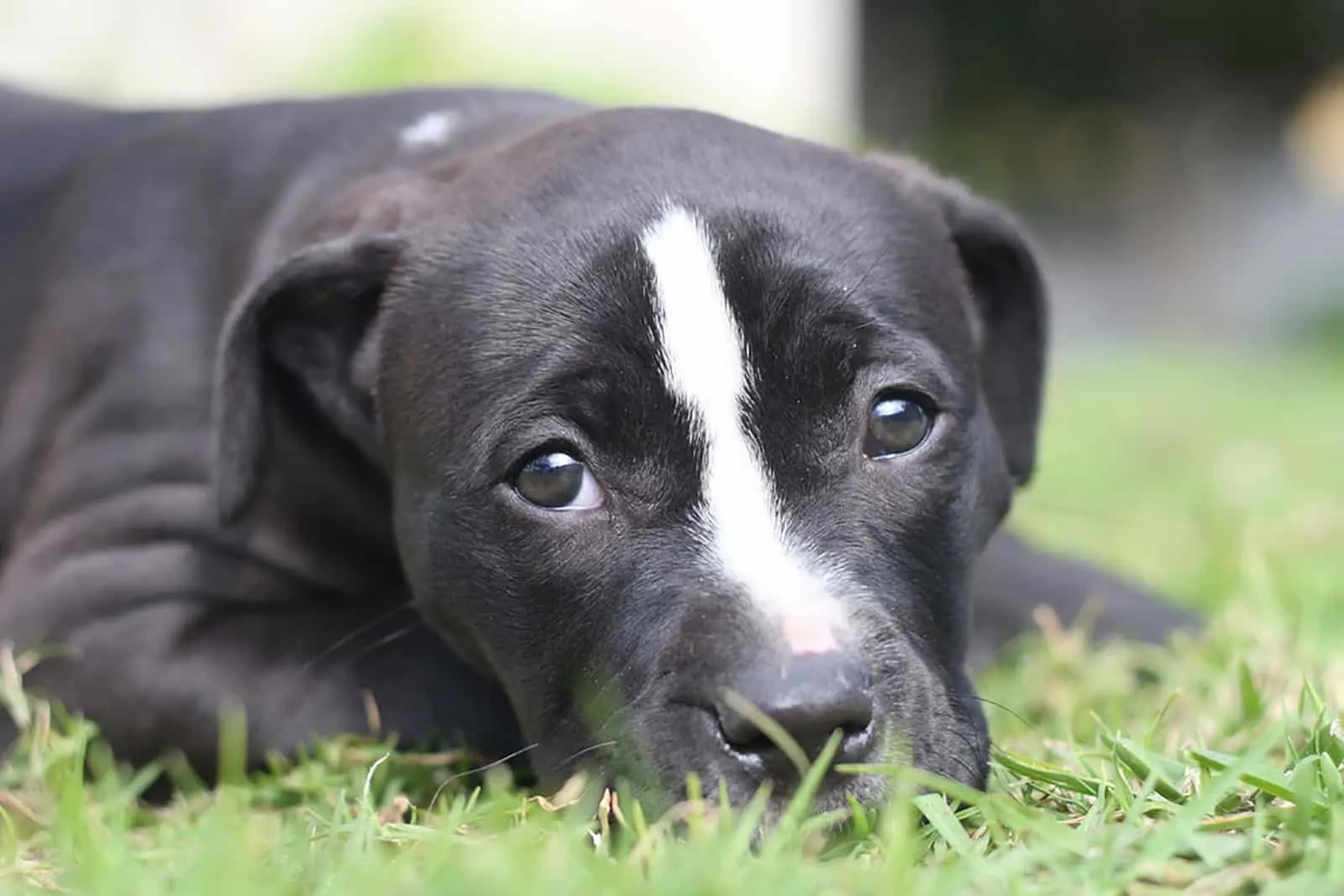 This is a facility that has a long tradition of breeding Pitbulls. It was established in 1982. Puppies are bred for dog shows, and as family pets, too.
Pitbulls in this kennel are grand champions that have a muscular, strong body, and they make excellent guard dogs. The breeder focuses on quality before quantity and that's what makes her one of the best Pitbull breeders in California.
Tekla Castillo stands behind this facility. She has been in business for almost 40 years, which is impressive. Puppies in this kennel are of UKC Purple ribbon bloodlines.
The Pitbull breeding program has a consistent path. Puppies are supervised on a daily basis, and their obedience training has been implemented from the first day.
They need a strong leader, though, and these puppies are recommended to experienced dog owners that already know how to act around dogs.
The Pitbull raw diet is something that you can do occasionally, but Pitbull puppies require a well-organized feeding chart that consists of quality food. Daily exercise and keeping a puppy within the recommended growth chart is a must.
For any additional information and instructions on how to purchase a puppy – visit the official California Pits website!
Location: Phelan, California
Phone number: (951) 544-4497
Email: [email protected]
Website: California Pits
2. Anderson Pitbulls, Northern California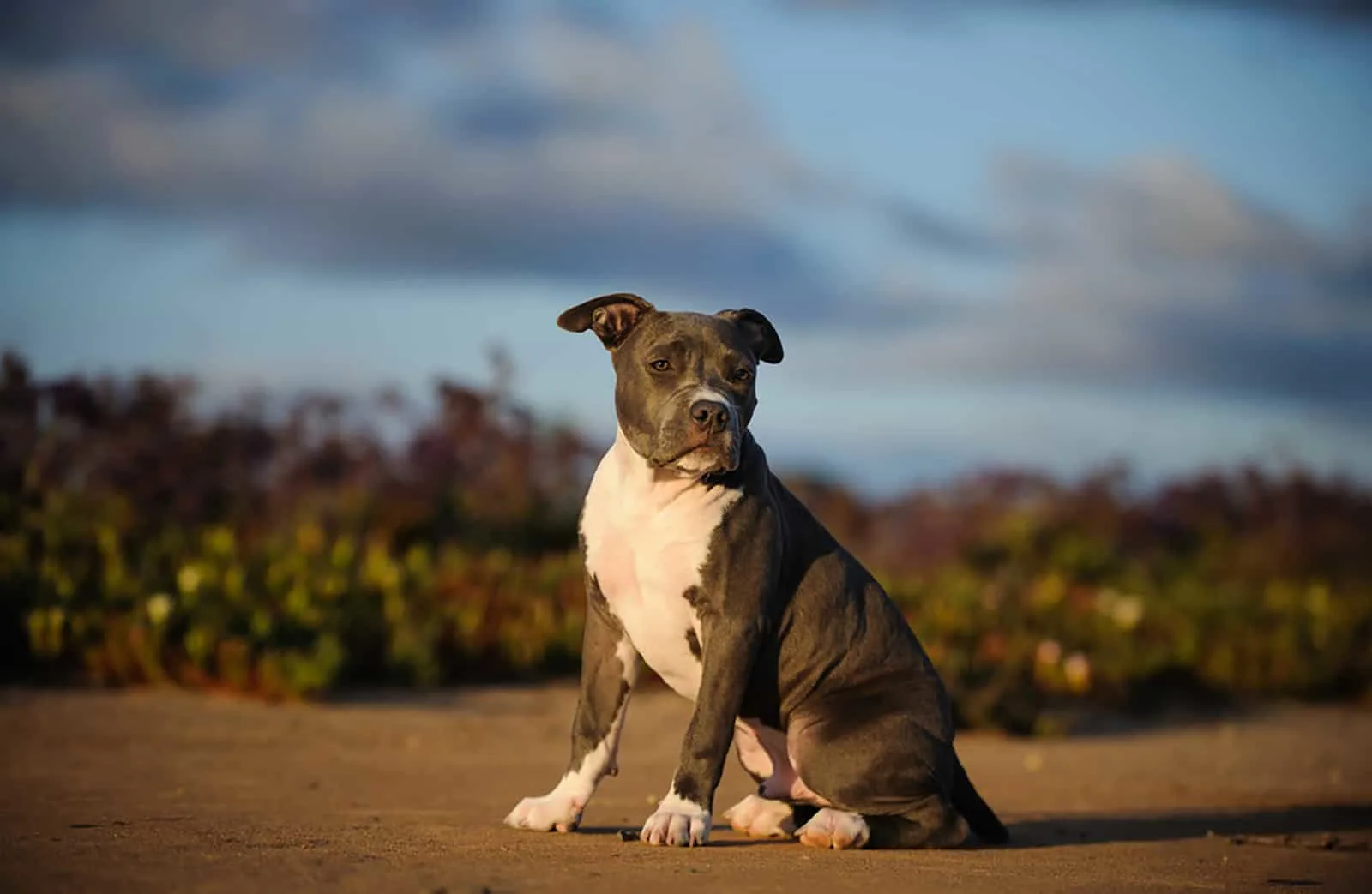 The Anderson family stands behind this wonderful kennel. This is a north California-based kennel that breeds XL Pitbulls. In the battle between XXL Bully vs XL Bully, the XL Bully has a lot of advantages.
The same goes for XL Pitbulls, that, together with the Bulldog, make up the Bully breed.
Puppies bred in this kennel share many common traits with XL American Bullies, which also happen to be excellent guard dogs.
These puppies are athletic, and not as sturdy as XXL Pitbulls. They are more active, playful, and require a lot of exercise during the day. Moderate walking won't do much, as puppies require a lot more activities in order to remain calm.
At this kennel, you can see gray, brown, or parti Pitbulls of excellent conformation. The deposit prior to purchase is $1000, which you can see in the contract.
The price of Pitbull puppies at Anderson Pitbulls starts at $2500 and goes up depending on the color, size, and quality.
The breeder puts a lot of effort into breeding high-quality, well-trained, and obedient Pitbull puppies. The same is demanded from a future Pitbull owner.
Location: Northern California, CA
Email: [email protected]
Website: Anderson Pitbulls
3. Apache Country, Lemoore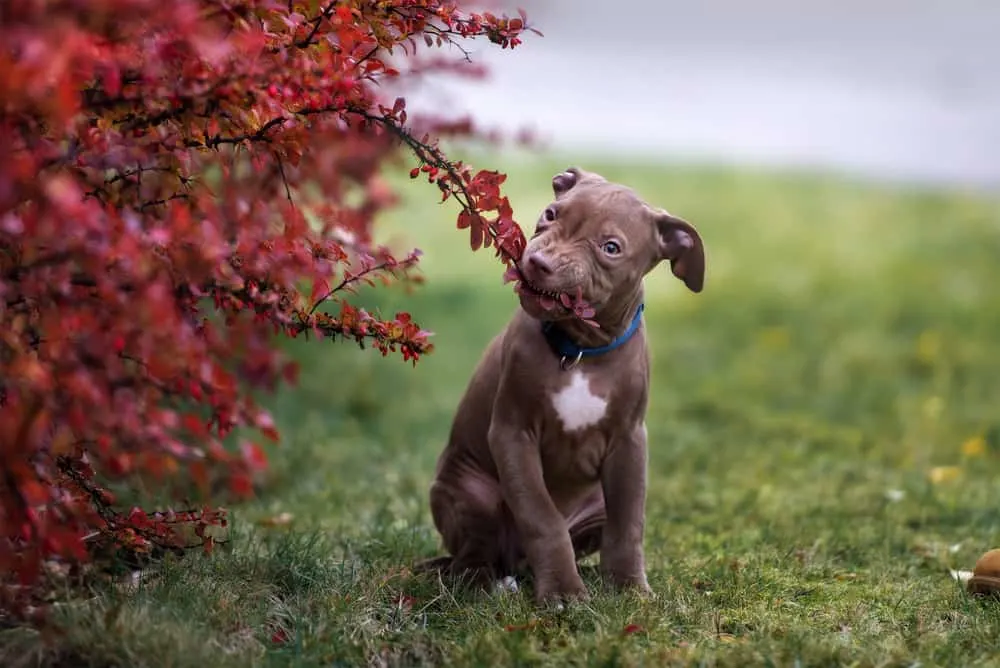 Apache Country is a Lemoore-based kennel that breeds Pitbulls and American Bullies.
The Pitbull and APBTs (American Pit Bull Terriers) in this kennel are UKC (United Kennel Club) Grand champions, which means puppies regularly compete in dog contests and take part in dog shows.
Apache Country's Pitbulls are dogs of excellent conformation, too. The breeder has more than 20 years of experience in this business, which makes this facility one of the best Pitbull breeders in California.
These show dogs are proven as family pets. The initial price starts at $3500 without the shipping cost. The benefit of this kennel is that they ship puppies to other states, such as Georgia, Oklahoma, Arizona, and many others.
Aside from standard Pitbulls, Blue nose Pitbull puppies are available, too. There are various colors that you can choose from: brown, gray, or parti-color.
The important thing is to reserve your spot, as this kennel is quite popular and the application process can take time.
Pitbulls bred at this kennel are USA champions, and probably some of the best in the country.
Location: Lemoore, CA
Phone number: (559) 906-7321
Email: [email protected]
Website: Apache Country
4. Strongside Bullies, Southern California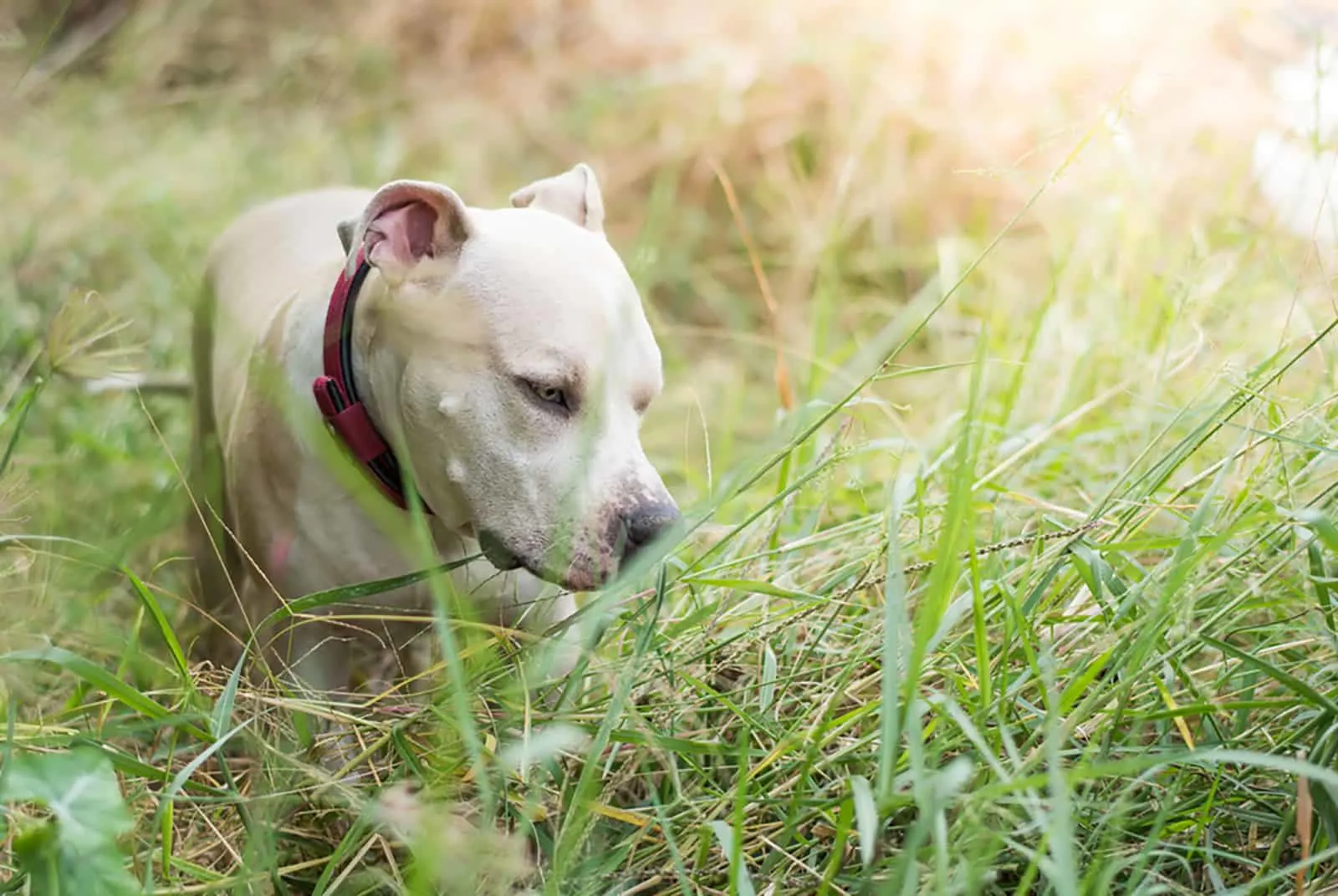 Strongside Bullies is a Pitbull kennel that breeds AKC and ABKC registered puppies. Bully & Pitbulls puppies in this facility have the best bloodline possible, so choosing this breeder is a great advantage.
Strongside Bullies have clients from all over the United States and they are not only California-based. Each puppy comes with a health guarantee, as the breeding program in this kennel relies on quality.
Pitbull and Bully puppies from Strongside Bullies make excellent family dogs, as they are loyal, protective, and good with children. The puppies don't display aggression, but they require socialization training.
Puppies are provided with good care, regular vaccination, deworming, and regular vet check ups.
This Pitbull and American Bully breeder will answer all of your inquiries, including feeding and grooming tips, or what are the best toys for American Bully and Pitbulls.
In order to proceed to the application process, you need to contact the breeder over the official website, or email.
Location: Lake Elsinore, Southern California, CA
Phone number: (951) 210-8833
Email: [email protected]
Website: Strongside Bullies
5. Big Gemini Kennels, Santa Monica
Big Gemini Kennels has clients all over the world, including South Africa, which is quite fascinating. You can become one of the subscribers to this breeder's social media platforms, as the official website is not the only way to contact this breeder.
The breeder breeds XL Bully Pitbulls, and if you are a fan of Blue Pitbulls, this is the perfect choice as the kennel produces one the best blue Pitbulls in California!
All puppies are of good conformation and athletic looks. They are muscular, strong, and make excellent guardians.
These Pitbulls are taught obedience from puppyhood stage, and they are well-behaved as family pets. However, these canines are not recommended to first-time dog owners and to people who have small children in their house.
As much as they are socialized, they still have a tendency to play rough at times, which is characteristic of most dangerous dog breeds.
If you don't live in California, a shipping option is available, too! Pricing depends on color, age, quality, and size. There are various payment options that you can check on the official website.
Big Gemini Kennels is reliable and probably one of the most popular Pitbull breeders in California.
Location: Santa Monica, CA
Phone number: (213) 373-5853
Website: Big Gemini Kennels
6. Bossy Kennels, Murrieta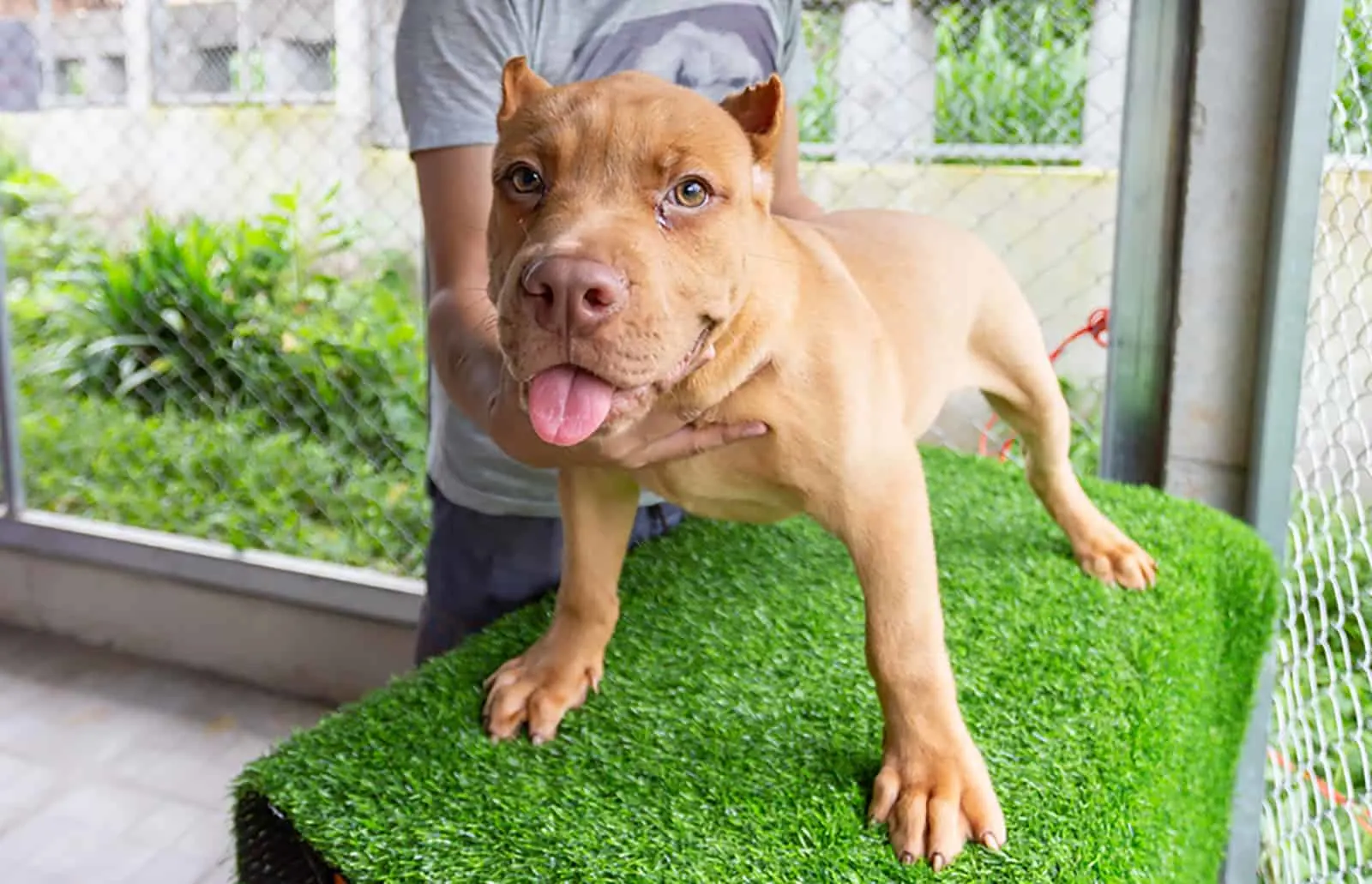 Bossy Kennels is always at the top of Pitbull lists all over California. That's due to their deep commitment and quality work they put into their Pitbull puppies.
Even though American Pit Bull Terriers qualify among the most aggressive dog breeds in the world, puppies from Bossy Kennels make fantastic family dogs that have a high level of socialization.
The breeder offers a shipping option that costs somewhere between $500 and $1500, depending on the destination. The puppy price varies too, and you can find the puppy at a really expensive price due to their quality.
You can choose a color of your own preference as Bossy Kennels offers all coat-color variants. Puppies bred at this kennel are mostly XL, which means these Pitbull dogs are usually bigger than standard Pitbulls.
Still, the puppies are playful and active regardless of their size. They require long hours of training and a lot of dedication. The socialization level in these puppies is high, but they also require a lot of positive reinforcement on a daily basis.
Location: Santa Monica, CA
Phone number: (530) 521-6246
Email: [email protected]
Website: Bossy Kennels
7. Angel City Pit Bulls, Los Angeles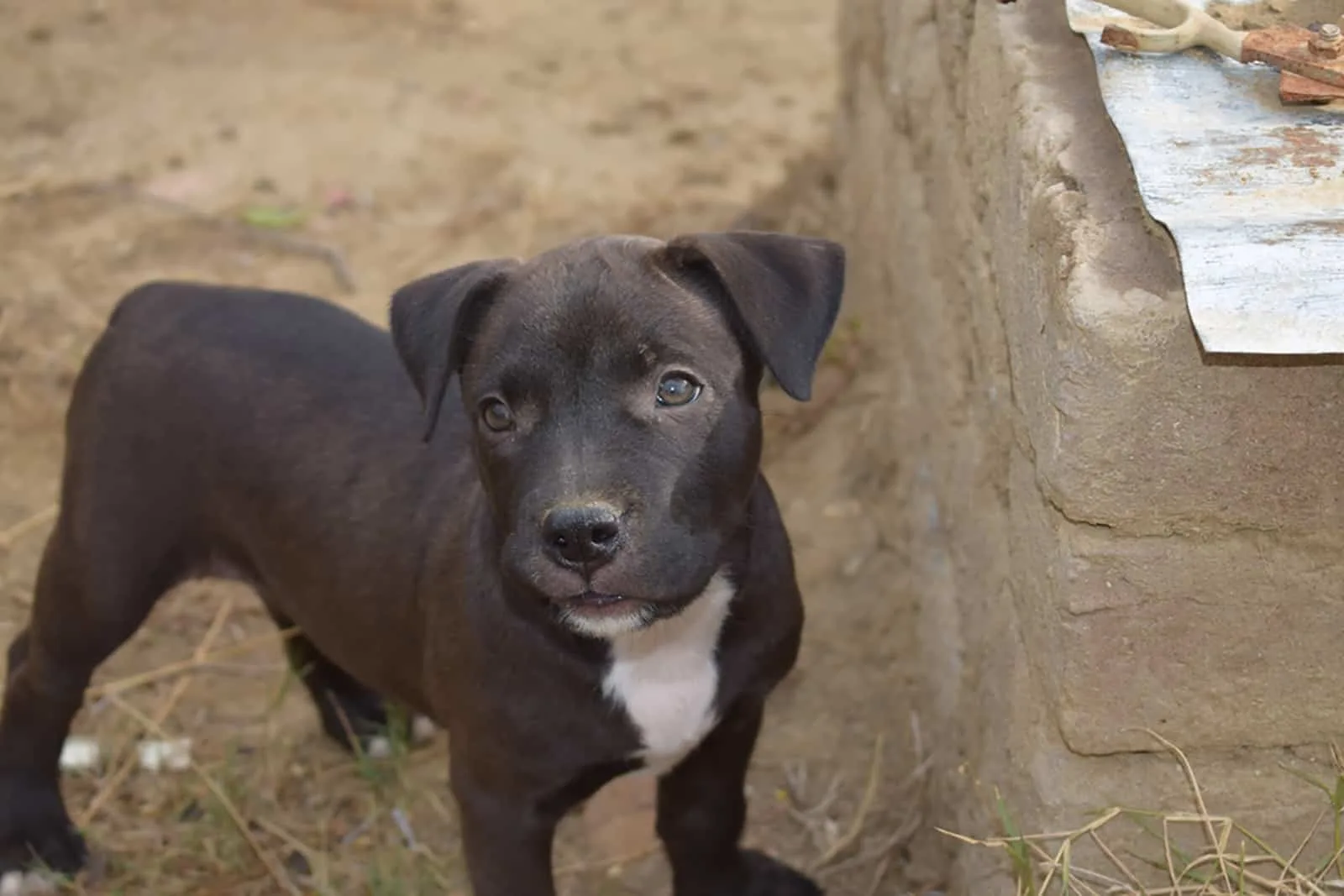 Angel City is a non-profit Pitbull kennel that offers some of the finest Pitbull puppies in the States. This is a volunteer-based kennel from which you can exclusively adopt these strong and powerful canines.
In order to adopt, you need to go through the application process first. A donation is favorable, but not a prerequisite to adoption.
The fact that this is a volunteer-based rescue makes the Angel City Pit Bulls team even more amazing, as the puppies are provided with daily care.
This includes medical care, dog training collars, leash, crate, and high-quality food.
The application process is thorough, as the team wants to make sure the Pit puppies get a safe, nurturing home environment and a reliable owner.
Volunteer breeders and veterinarians are part of the team, which means the puppies are provided with obedience and socialization training, too.
There are no signs of aggression in the Pitbull puppies at this kennel, so the dog is suitable for adoption.
Location: Los Angeles, CA
Phone number: (323) 601-8055
Email: [email protected]
Website: Angel City Pit Bulls
How To Choose The Best Breeder
In order to choose reliable Pitbull breeders in California, you need to look into several things. The first is a breeder's affiliation with AKC and UKC. These organizations make regular inspections of their breeders and all puppies are reliable.
High quality breeders will provide at least a one-year health guarantee, and their puppies will be DNA tested. Furthermore, Pitbull puppies at reputable breeders are well-behaved, socialized, and potty trained.
Pitbulls are not the easiest dogs to potty train, as they can appear stubborn and disobedient. That's why early obedience and potty training is something that you want to find in your breeder's practice.
Always choose breeders that disclose all information and documentation. That includes DNA testing documentation, vet documentation, and AKC/UKC recognition.
How Much Does A Pitbull Cost?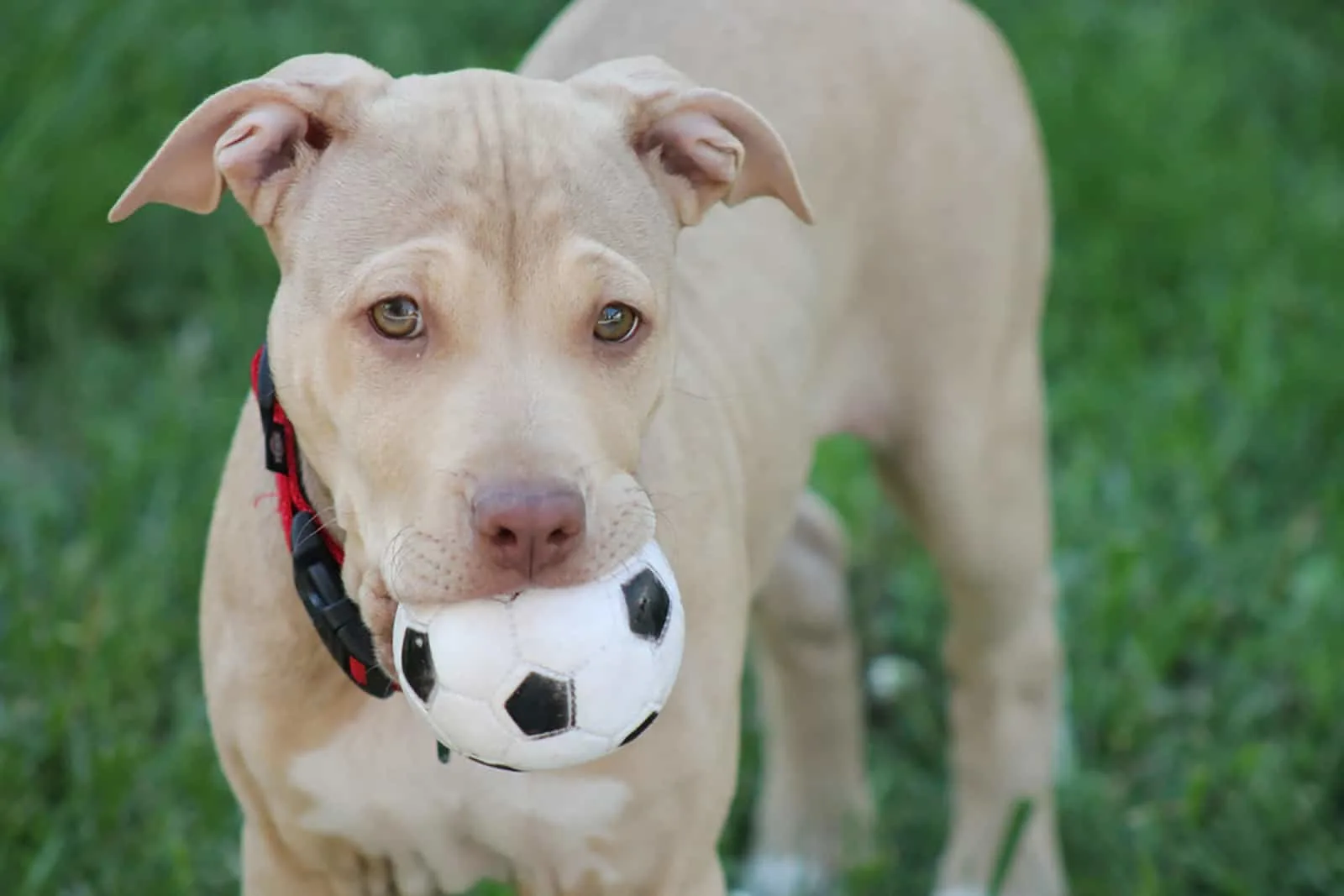 There is no standard Pitbull price. Each Pitbull puppy has its own price which is relative and depends on several things: age, sex, gender, size, color, and quality.
The price range of Pitbull puppies, however, goes between $2500 up to $5000. The price also varies according to the breeder and breeding program. Usually, Pitbulls that are bred for dog shows and conformation contests are more expensive.
The advice I can give you is to never buy Pitbull puppies that go under $2000 in price. This is due to the high possibility of scams related to bloodline and breeding programs.
Backyard kennels are never a good option as those breeders don't provide quality breeding.
Socialization and quality obedience training are key in Pitbull breeding. This practice, alongside a daily training routine, has to be maintained once you get a Pitbull. How often you walk your dog, and how well you feed it will always matter!
Conclusion
There are numerous Pitbull breeders in California, but here we picked the best seven. The list is based on quality, certification, and AKC/UCK affiliation.
Pitbull puppies are not the easiest dogs to have as pets, as they are naturally aggressive and tend to be destructive. That's why proper breeding is key to a Pitbull's future development.
These canines can be excellent family dogs as they are loyal, affectionate, and pretty protective towards their humans. If you are an inexperienced Pitbull enthusiast, make sure you pick a high-quality breeder!
Read more: Is A Mountain Cur Pitbull Mix A Reliable Dog Breed?