This post contains affiliate links, and I will be compensated if you make a purchase after clicking on my links.
The task of selecting and purchasing the best toys for American Bully might be challenging because they're known as one of the toughest chewers among all dog breeds.
Also, it's not a rare occurrence that even when you find a sturdy toy for your pup, it just stands in the corner for several months as a decoration as your pup refuses to play with it.
That is why we have gathered some of the best toys that were reviewed by a great number of dog owners who claim that their pets rarely separate from them.
If you want to find out which dog toys are considered the best on the market for American Bullies, keep reading this article!
Best Toys For American Bully: Meet PupVine's Favorites!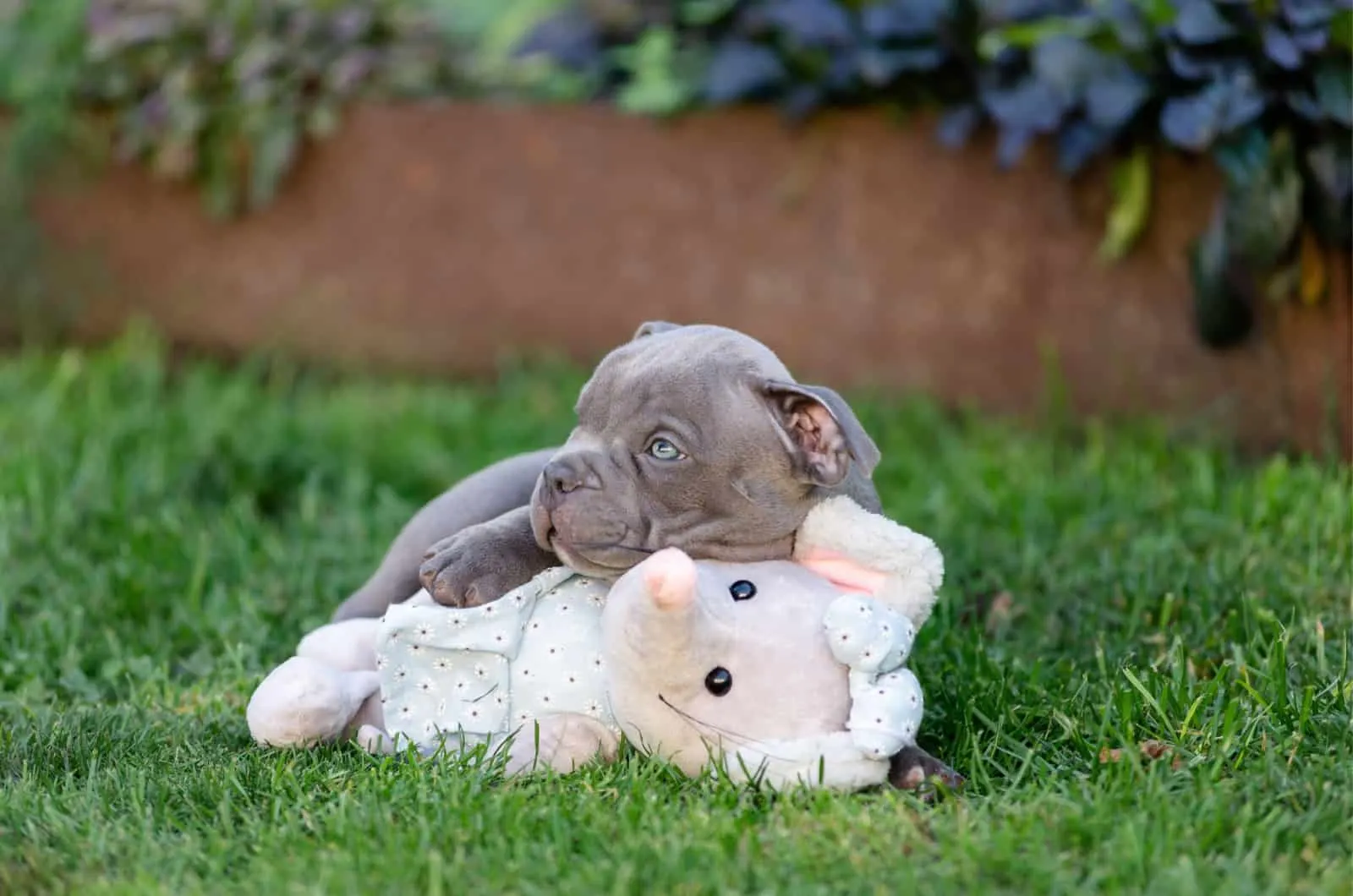 This is one of the best toys for an American Bully, which canines love to chew on for hours!
This isn't a big surprise considering that this dog toy is made for aggressive chewers. The manufacturer claims that this dog chew bone is actually tougher than a real bone.
This toy is made from durable nylon, and it contains jack salmon flavor that your dog will love.
Puppies are able to get a nice bite because of the deep grooves that are on it, and the greater surface area contributes to enhanced flavor and aroma.
Why Should You Buy it?
This dog toy is soft enough not to damage your pup's teeth, but durable enough that it can chew on it for a long time.
However, keep in mind that the manufacturer recommends you replace the chew bone at least once a month as it might start to break apart. It's not edible, but it's safe to use during the recommended time.
Your pup will love this toy because of the irresistible scent of salmon, so don't be surprised if it doesn't let go of it for a longer period of time.
It might not be the least expensive product on our list of the best toys for American Bullies, but it's definitely worth the price, especially when you see the happiness on your dog's face!
Benebone is committed to promoting the well-being of dogs, in particular, the establishment of dog shelters around the United States.
For more than four decades, this brand has been making heavy-duty rubber toys for doggies of different sizes and requirements, including bully breeds such as the American Bully.
All of their toys are made for entertaining dogs, but they also provide mental stimulation and relief from stress, which may be caused by separation anxiety.
This is considered one of the best dog toys as it keeps your pup's attention for hours, and prevents them from chewing your shoes, furniture, clothes, and other objects that are not meant for such use.
This toy is made from durable rubber, and it's meant for power chewers, including Rottweilers, Pit Bulls, American Bullies, and Bull Terriers, as well as other large pups.
READ NEXT: 29 Aggressive Dog Breeds: Unjustified Label Or Reality?
This toy contains a food dispenser as well, so you can put your pup's favorite treat or dog food inside to keep them entertained for a longer time.
Why Should You Buy It?
There are plenty of benefits when it comes to the rubber type of toys for dogs, including ease during the teething period, prevention of boredom, and chewing on household items, and also weight management.
Sometimes, dogs want to eat simply because they have an urge to chew on something. Instead of getting their stomach constantly full, they can simply chew on the toy and keep themselves busy enough.
Separation anxiety is also one of the common reasons why dogs love to chew on a sofa, shoes, the carpet, or anything else that is within their range.
Many people use it as a slow feeder as well, as it extends the time of each meal and enables pups to receive the signal from their stomach when they're full, so they don't eat all of the food too fast.
This is one of the best toys for American Bully pups as it's quite durable and can stand even strong bites that come from these canines.
It's a well-known fact that American Bullies are very strong and have a powerful bite, and that's why they need toys that won't break apart after the first playtime.
Even if your pup isn't usually interested in dog toys, I'm sure it'll love this one as it contains hidden treat compartments where you can put their favorite dog treats or kibble.
This toy suits all types of Pitbulls and other canine breeds with a powerful bite, such as Bulldogs, Dobermans, Cane Corsos, and other big dogs.
It's important to mention that this chew toy is also interactive, which means that you will be able to play with your pup outside or inside the house.
It is made from high-quality materials that don't contain any toxic chemicals or colors that could have a bad effect on your pup's health.
It's also nice to know that this toy is recyclable, and that it can be washed in the dishwasher.
Why Should You Buy It?
If you have a big chewer in your house, I'm sure you already have furniture with teeth marks as decorations. If you want to save what's left or want to get a new sofa, you should first consider a chewable toy that will keep your pet entertained.
These dog chew toys are not only long-lasting, but they also include a design that allows for the release of tasty treats, making them a challenge that will engage and interest your canine companion. They are excellent for use in freezing chicken broth.
This chew toy for dogs is both emotionally and physically active, and it can be filled with either kibble or treats for extended playtime.
After the goodies are finished, you may play games of fetch, toss, and catch with this floatable dog chew toy.
This bone-like toy is the perfect entertainment tool for aggressive chewers such as Bulldogs, Pitbulls, and other big dogs.
The tough, resilient, and unbreakable texture can withstand the intensive biting and chewing of moderate to big, powerful breeds weighing 15 to 60 lbs.
One of the most important features of this toy is the fact that it's made from natural rubber, which is completely recyclable and safe for the environment.
Therefore, you don't have to worry whether it might have any negative impact on your pup if it's used long term.
It's interesting to notice that the YukiHobby toy bone has a milky flavor, which is quite unusual as most flavored toys taste like meat.
The squeaky sound probably won't be your favorite part of this toy, but your pup will love it for sure!
Why Should You Buy It?
There are many benefits of dog toys, and they're not only related to entertainment, but to the mental development and health of all dog breeds.
There are plenty of dogs that develop separation anxiety if they're left home alone for longer periods (while you're out for work or social gatherings).
Separation anxiety can easily turn into destructive behavior, which includes chewing on furniture, shoes, rugs, or anything else that comes near their jaws.
However, having toys around the house can be an entertaining activity for them, and it will keep them busy until you get back.
This works great with flavored toys like this one as you can play hide and seek in safe places. Your pup won't give up until it finds the toy bone, and then it'll victoriously chew on it.
Textured toys, such as the YukiHobby dog bone, are also great for the dental hygiene of doggies as it cleans the tartar from the teeth and keeps the pup's breath as fresh as possible.
West Paw comes with a great solution for persistent chewers, such as American Bullies and their crosses.
This toy is made from thermoplastic elastomer (TPE), which can be recycled many times without releasing any toxic ingredients that might harm your pup.
TPEs are an excellent option for usage because of their naturally low toxicity and their compliance with standards for pharmaceutical and dietary utilization.
This toy is interactive; you can strengthen your relationship with your pup by playing fetch or hide and seek with it.
There are hidden compartments within the toy in which you can put your pup's favorite treats, snacks, or even peanut butter.
This way, your pet won't lose interest in the toy, and will be excited every time it plays with it.
Why Should You Buy It?
Your Bully will love the unexpected motions of the toy as it bounces in arbitrary directions, and it will remain vigilant in order to grab it and continue playing.
We are all aware of how much canines enjoy playing with tennis balls; thus, if you can conceive a toy that moves in unpredictable ways, you have a winner.
The West Paw Zogoflex toy is not only free of phthalates and other harmful chemicals, but it is also free of BPA. It is proudly produced in the U.S., and it complies with all FDA regulations.
This interesting design with three lobes will keep your doggy entertained for hours, or at least until it eats all the treats from the pockets.
Although it's not exactly low-priced, I can say with certainty that it's well worth the investment.
There are plenty of bone toys that are made from rawhide, which is usually chemically processed and of poor quality. Of course, dog owners always want only the best for their pups, but they're often not aware of all the ingredients that are used in the manufacturing process.
However, the manufacturer of this dog toy has come up with a great idea of offering real, meaty bones, which will entertain your pet while keeping it safe from toxic chemicals.
The Jack & Pup Mammoth bone comes from cattle that were raised in a natural environment. This is a substantial and flavorful dog treat that is produced by slow roasting, and then organically smoked with chunks of tendon and flesh to improve its flavor and give a satisfying meal for your big doggie.
The cattle are grass-fed, and aren't treated with antibiotics or hormones, which is why the taste is much better than in other products of the same or similar ingredients.
This bone is very large, and as a result, it is only appropriate for mature American Bullies and Pit Bulls, as well as other giant dog breeds.
This dog bone contains a great amount of healthy fatty acids and other nutrients, including phosphorus, manganese, zinc, calcium, selenium, iron, magnesium, and others.
Why Should You Buy It?
The taste of this dog bone is irresistible for the majority of canines, thanks to the slow roasting process, which enhances the taste of the flesh and tendon. This bone is chewable and durable, so even aggressive chewers will be able to chew on it for a long time.
Because these bones (which come in a variety of forms) have actual meat still attached to the bone, and a flavor that is authentically reminiscent of beef, there aren't many pups that will refuse it.
Another great thing about this dog bone is that it supports the dental health of canines as it cleans all the tartar from the teeth, and it also makes the jaws and gums stronger.
What I love the most about this dog "toy" is that it's highly digestible, so you don't have to worry if your pup swallows a part of it.
This is an all-natural dog chew treat that has a high amount of protein and only one component. It does not contain any additions or artificial substances.
Because of the meticulous and all-natural way in which they prepare this dog bone treat, the manufacturer is able to eradicate all pathogens and contaminants, rendering its ingestion completely risk-free.
It's definitely something worth trying out, but after that, your dog could refuse to eat any other bone ever again!
This is one of the U.S. brands that has been popular among dog owners for their high-quality toys.
This type of toy is made to last as it's made from extremely durable rubber, designed to endure the aggressive chewing of large dog breeds, including American Bullies.
The tug-pull toy is nine inches long, and five inches wide, which is the perfect size for big dogs. They produce larger toys as well for giant breeds, but this one will be good enough for your American Bully.
One of the best features of these toys is that it's long-lasting, although it can't be said that this bone is completely unbreakable, so I'd still advise you to check it from time to time just to make sure that it's still safe to use.
You can choose the toy that best suits your needs by considering its color and level of difficulty as there are several types of these toys.
The manufacturer employs actual engineers to work on the development of new and improved toys, and the whole process of their work is performed in the United States.
Why Should You Buy It?
This brand offers a lifetime warranty, which states that if your dog chews through the red core of one of their toys, you can mail it back to them, and they will replace it with a new one at no cost to you. It is simple, effective, and it seems like it would last forever!
Although it's durable, I'd still recommend you supervise your pup while it plays with this toy just to make sure that there will not be any accidents. Although these toys are of high quality, there's always a possibility that something might go wrong.
If you have a young pup, you should probably get both the roughest and the softest version of the Goughnuts toy, or get the harder one after they turn at least one year of age.
This type of toy is usually sold at a bit of a lower price than the Goughnuts pull toy, which is on the more expensive side. However, this time around, the cost is reasonable if you take into consideration the quality and resistance these toys possess.
Squeakers have always been a hit with most dog breeds, even though some of them seem tough and aggressive like Rotties, American Bullies, Cane Corsos, German Shepherds, etc.
They might not be so entertaining to owners who have to listen to these sounds, but we would do everything to keep our pets happy, right?
When it comes to ZippyPaws plushies, they're extremely durable and mess-free as they don't contain any stuffing, which could be a choking hazard for the pup.
This set of dog toys includes three different stuffed animals: a squirrel, a fox, and a raccoon.
This plush toy set is 18 inches long, making it the ideal size for medium and big canines of all ages and developmental stages throughout their life.
Why Should You Buy It?
Rope toys and dog balls are great playing kits for canines, but nothing can beat squeaky toys, which produce sounds that enable hours of fun for family pets.
It's suitable for all types and ages of canines, including American Bully and Pit Bull puppies as it doesn't contain any hard parts, but is durable enough not to break even if it's chewed upon for a long time.
The interesting design will keep your dog's attention for a longer time than with other toys that become boring to them after a short time of usage.
The best part about these dog toys is that they're budget-friendly, so you won't have to spend too much money to keep your dog happy.
Although this could be categorized as a dog bowl for an American Bully, it can be considered as a dog toy as well because it provides great fun for dogs during meals.
However, entertainment during a meal isn't the only main feature of this fun feeder. It has an interesting design that is supposed to significantly slow down the canine's mealtime, which will result in better weight management.
Bloat, regurgitation, and obesity are some of the most common health issues that appear in doggies that eat fast. This specifically applies to large breeds, which require a higher amount of food than small breeds.
These slow feeder bowls have a non-slip bottom, and are designed to retain both food and entertainment for your pup while it tries to get the food from all parts of this uniquely-designed bowl.
It's important to mention that these bowls do not contain phthalates, BPA, or PVC.
Why Should You Buy It?
Large breeds will often eat their meals too fast, which can result in increased demand for food and gastrointestinal issues.
However, with this dog bowl, your pup will be entertained for a long time during the meal, but it will also eat its food in a much slower manner.
The dog bowls come in three different sizes and five distinct shapes, so you can mix and match them to create the perfect setting for your pooch.
The Fun Feeder Slo Bowls are an excellent choice for diets consisting of dry kibble, wet food, or raw food.
It's also quite affordable, making it a great choice not only for dog owners, but for breeders as well.
This type of chew for dogs is meant to satisfy a dog's natural urge to chew, particularly in situations when they are anxious or when they're feeling bored.
Chews are created and produced in such a way that they are irresistible to dogs. This helps to deter them from chewing other objects, such as furniture.
There are two different types of chews:
Edible chews are rather uncommon on the market and, therefore, more expensive, but they are, by far, the healthiest option (antler, Himalayan, organic rawhide).
Dog chews that are inedible are easily accessible and inexpensive, but aren't always beneficial to the pup's health.
The Himalayan dog chew is made from completely natural and non-toxic ingredients, such as cow milk, lime juice, and salt, which contain proteins, healthy fats, and other nutrients that are beneficial to the pup's health.
It's also important to mention that this product doesn't contain any preservatives or artificial flavors.
Why Should You Buy It?
This type of dog chew is edible, so canines are completely free to ingest the bits that may break off during chewing. This allows the chewing to last far longer than other types of dog treats.
This type of dog chew can be used as a toy for the American Bully because it will keep them entertained for hours, but it's also often used as a dog treat.
The Himalayan dog chew is suitable for puppies, too, as it doesn't contain any harmful ingredients or parts that might have a negative impact on them.
The primary ingredients of Himalayan dog chews are yak and cow milk, lime, and a dash of sea salt naturally occurring in the environment.
This is an Asian technique that yields extremely solid blocks of cheese, which are then sliced into bite-sized pieces for people's furry companions.
These chews are ideal for American Bullies, aggressive chewers, and robust breeds due to the fact that they are very long-lasting and healthy.
If you're looking for an interactive dog toy that you can use with your pup on a daily basis, then the Mammoth Flossy Chews toy rope will be one of the best options for you.
This knotted rope dog toy is ideal for tossing, catching, and tugging during interactive play with dogs, but it also serves greatly as a dog chew toy when they play alone.
During a game of tug-of-war, your American Bully's teeth will be flossed, thanks to this tug rope for American bullies. This way, all of the buildup, including tartar and plaque, will be removed from the dog's teeth.
The rope, which is constructed from a durable cotton mix, has been designed to act as dental floss for your pet while it's having fun.
The fibers from the rope might function as floss for the dog's teeth, but they're very durable and won't break easily, so you don't have to be concerned about your pup's health.
The colorful design looks cool as well, but it's also beneficial as it will attract the pup's attention every time you take it out for play.
As your dog pulls harder, it will inevitably bite into the rope. Although it's durable, I'd still pay attention to the pup while it is playing with it in case of accidental breakage.
Why Should You Buy It?
This sturdy dog rope is made from cotton-poly yarns that make the toy last for years, even if it's used by a tough biter as an American Bully.
There are ropes available that can be purchased for a lot more money, but they have nearly the same quality as this Mammoth Tug Rope.
Your doggie deserves only the best, so why not provide it with a product that has been at the forefront of luxury dog toy development and production?
The manufacturer of this toy has been catering to canines of all types and sizes for almost three decades, and they're familiar with the needs of almost all dog breeds.
This is considered one of the best toys for American Bullies, not just because of its quality, but also because of its price, especially for dog owners who are usually tight on a budget.
Nylabone has been producing some of the best dog chew toys for different dog breeds, including those with strong jaws like American Bullies.
All of their products are made in the USA, and the majority of them, like this dog chew bone, is approved by veterinarians.
This type of toy will keep your doggie busy for quite a long time, and it will satisfy its natural urge to chew on things.
This product is designed with several different textures that will keep your canine's teeth free of plaque and tartar, and it will also keep its breath as fresh as possible.
It comes with a bacon flavor, which is one of the favorite flavors of the majority of dogs. The flavor is usually one of the main reasons why dogs start to play with this type of toy in the first place.
They can be used during playtime, but these dog toys are also a great tool for dog training. You can teach your pup basic commands while using this toy or use it as a reward.
Why Should You Buy It?
Many customers are satisfied with this product, and have mentioned that it has become one of the favorite toys of their pups in the short term.
It's a long-lasting toy that is made of high-quality nylon, which can endure tough bites from energetic chewers.
If you want to prevent your pup from chewing yet another new pair of shoes that you left near the door, this dog toy is just what you need.
This manufacturer offers several types of chew bones based on the size and age of canines. However, we suggest you go with the X-large dog bone if you own an American Bully.
Final Thoughts
One of the main criteria for choosing the best toys for an American Bully is durability, along with the quality of the materials.
Keep in mind that large breeds, like American Bullies, Bernese Mountain Dogs, Cane Corsos, GSDs, and others, cost quite a lot, especially when it comes to expenses regarding food and maintenance.
If you're ready to invest in dog toys as well, which are essential for their growth and both their physical and mental development, try to get the best quality toys that will last long and won't harm them in any way.
I hope this list has helped you find the dog toy that meets all your and your dog's needs and requirements.
READ NEXT:
Blue American Bully: All The Breed Information You Need
American Bully Growth Chart: Here's How Your Bully Grows!
American Bully Feeding Chart: Tips To Know So Bully Can Grow
American Bully Colors: All The Shades Of This Cuddly Powerhouse