There's a great number of Miniature Schnauzer breeders in Ontario, but we've only pickedy the best for you, to save you from another endless search!
Mini Schnauzers are an adorable cross of Standard Schnauzers and Affenpinschers and they have a personality of their own.
If you'd like to own a miniature magical puppy that'll steal your heart in a matter of seconds, find a trustworthy breeder that will provide you with the best quality pet.
Miniature Schnauzers don't live longer than other toy breeds, such as Chihuahuas, Maltese, or Shih Tzus, but they're stronger and sturdier than the majority of toy canines.
Just keep in mind that there are no Standard Schnauzer breeders on this list, so don't be surprised if you can't find a pup larger than 14 inches on their websites!
RELATED: Standard Schnauzer Breeders: The Best 5 Breeders Of 2022!
Miniature Schnauzer Puppies For Sale In Ontario
1. Ebonylyn Miniature Schnauzers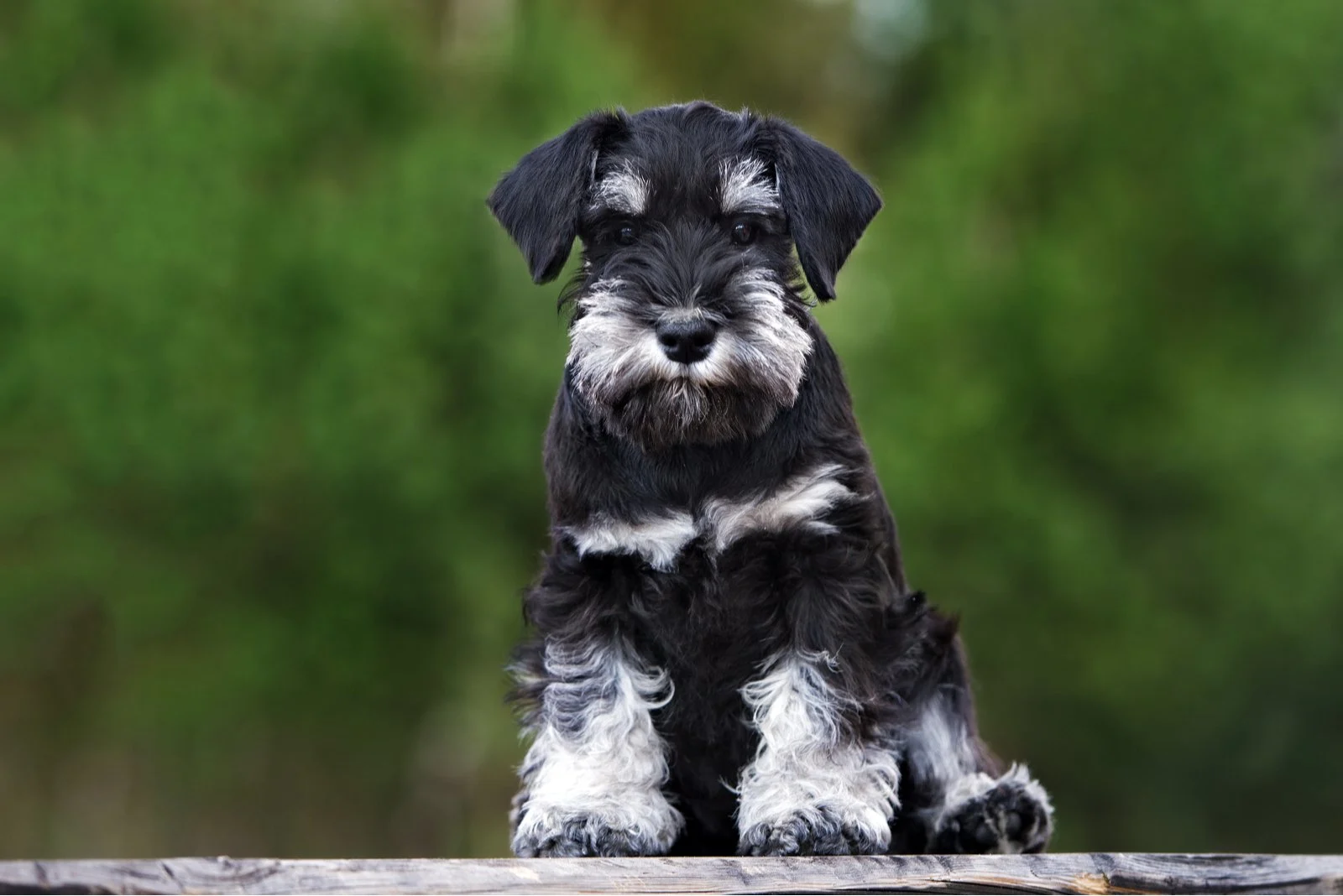 This is one of the reputable Miniature Schnauzer breeders in the Ontario area and is committed to raising healthy and strong Mini Schnauzer pups.
If you're looking for a family pet, you've come to the right place, since they breed perfect pups for family life.
How Did It All Begin?
Lynne, who is the owner of this breeding program, has been in this business as a small-scale breeder for almost two decades.
She was always fascinated by the beauty and strength of these little pups and strived to produce only top-quality Mini Schnauzer pups.
Her adult canines complied with the Mini Schnauzer's breed standard, which is why she decided to enter the show rings with them 16 years ago.
According to all the titles she won with her canines (22 championships), it was a great idea to start with conformation competitions.
The owner sometimes searches for show homes for the prospective champs and the possible production of champion pups.
If you want to know more about what show homes actually are and how to apply, don't hesitate to contact the breeder and ask about it.
Puppy Quality
Every pup that comes from this breeding kennel is completely healthy, vaccinated, and vet checked. Also, since they're descendants of champion bloodlines, there is only a small chance of any genetic illnesses or conditions being present.
Show quality is one of the main concerns of the owner, along with the pup's health.
That is why she breeds Mini Schnauzers in only the three shades (black, salt and pepper, and black and silver) that are accepted by various important organizations, including the American Kennel Club (AKC), the Canadian Kennel Club (CKC), and the Kennel Club (KC), etc.
One of the primary focuses of this breeder is to improve the Mini Schnauzer breed with every new puppy produced.
This is actually the reason why most reputable breeders ask clients to sign no breeding contracts, as they can't be sure that purebred dogs won't be bred with other breeds.
Purchasing Process And Pricing
All Mini Schnauzer puppies have been raised in the owner's home, rather than the facility's premises or an isolated space.
This is a great way to socialize puppies from day one. When it comes to training, pups also start being potty trained at least two weeks before their new owners come to pick them up.
Miniature Schnauzer pooches will go through vaccinations, microchipping, deworming, and initial health screenings before you're able to take them home.
Of course, you won't receive only the pup, but also a three-year health warranty, necessary documentation regarding health state and pedigree, litter scented blankie, and a wire comb for Mini Schnauzers because they have double coats (soft undercoat and a wiry top coat).
All details regarding the price and the deposit will be provided by the owner of the breeding program as soon as you contact them.
Breeder Details:
Address: North Gower, Ontario
Official Website: Ebonylyn Schnauzers
Contact number: 613 489 3107
2. Gambles Reg'd Miniature Schnauzers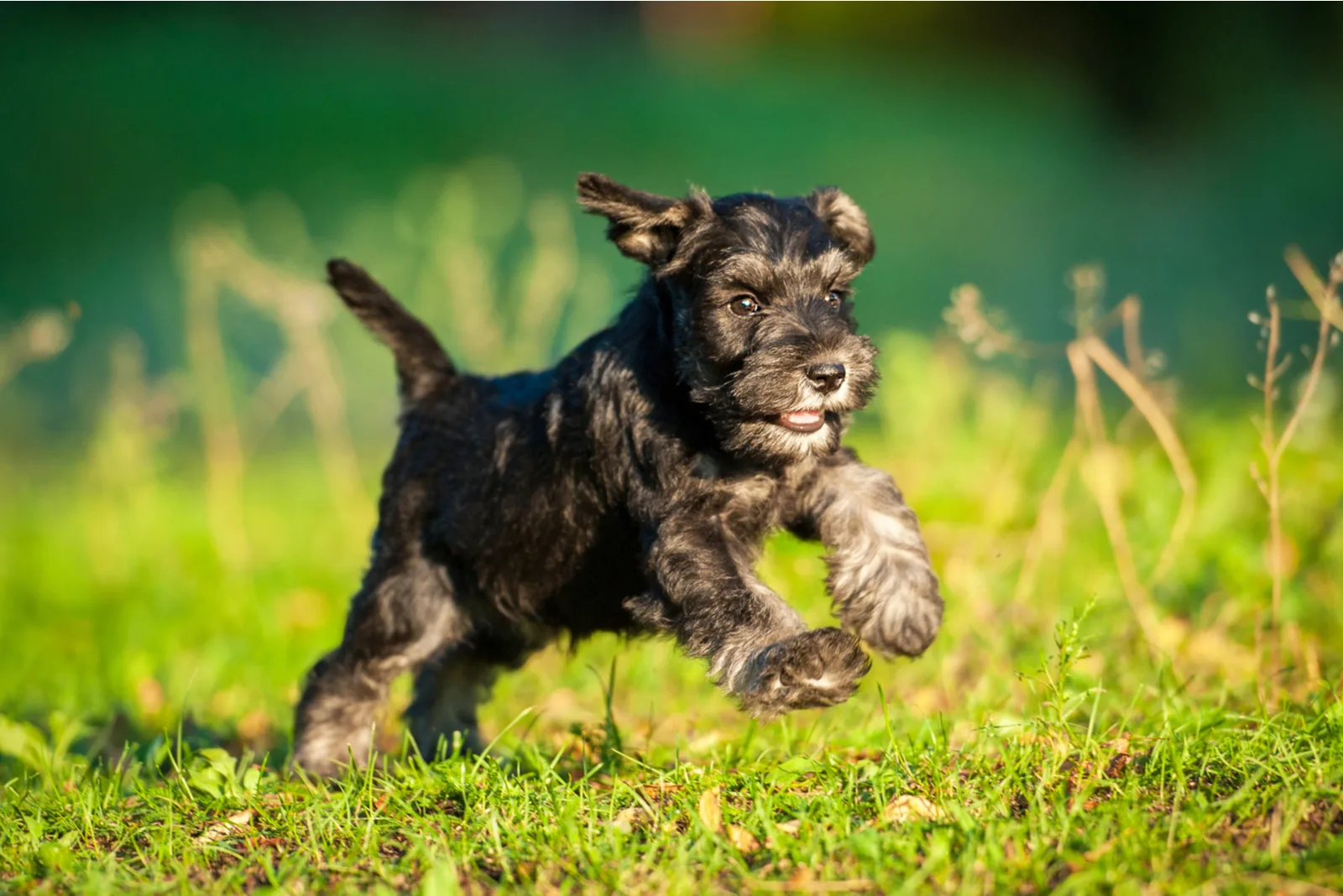 This CKC member breeder has been in this business for more than three decades. Although this is a small-scale breeder, they have produced hundreds of healthy miniature schnauzers.
The primary focus of the breeder is, of course, the health of each pup produced, but also the quality of the breed and compliance with the miniature schnauzer breed standard.
The owner of this breeding program is a registered breeder of miniature schnauzers in Canada.
RELATED: 15 Quality Miniature Schnauzer Breeders From All Over The USA
Puppy quality and colors
Gambles mini Schnauzers are a high-quality canine breed that come in several colors, including black and silver, black and white, white, and salt and pepper shades.
See Also: 19 Schnauzer Colors That Your Heart Is Longing For! (With Pictures)
There are plenty of pictures of previous puppies and litters that show the quality of each Mini Schnauzer pup.
White pooches are generally considered a fault, according to breed standards. However, the owner of this breeding outfit does not cull them but offers them as family pets.
The Gambels' breeding program isn't worried about the physical look in terms of the color of their canines, as much as they worry about a pup's health.
Purchasing Process And Pricing
When it comes to the purchasing procedure, all potential clients can contact the owner to receive further instructions and more details about the price of each Mini Schnauzer canine.
The Mini Schnauzer puppies will receive all vaccines, microchip, health records, and all other necessary documentation before you take the pup to their new home.
Puppies are sold with their Canadian CKC registration already completed with the name of your choice for the Mini Schnauzer pet and free health insurance for a period of six weeks.
It's important to mention that the pup's tail will be docked, and dew claws completely clipped off. A complete health checkup is a must, along with a health guarantee, which covers the first year of your puppy's life.
If you have any other questions, concerns, etc., you can call the owner or send an email; the breeder will be pleased to answer as soon as possible.
Breeder Details:
Address: Niagara Falls, Ontario
Email Address: [email protected]
Official Website: Gambles Miniature Schnauzers
Contact number: 905 357 1238
3. Loyal Angel Schnauzers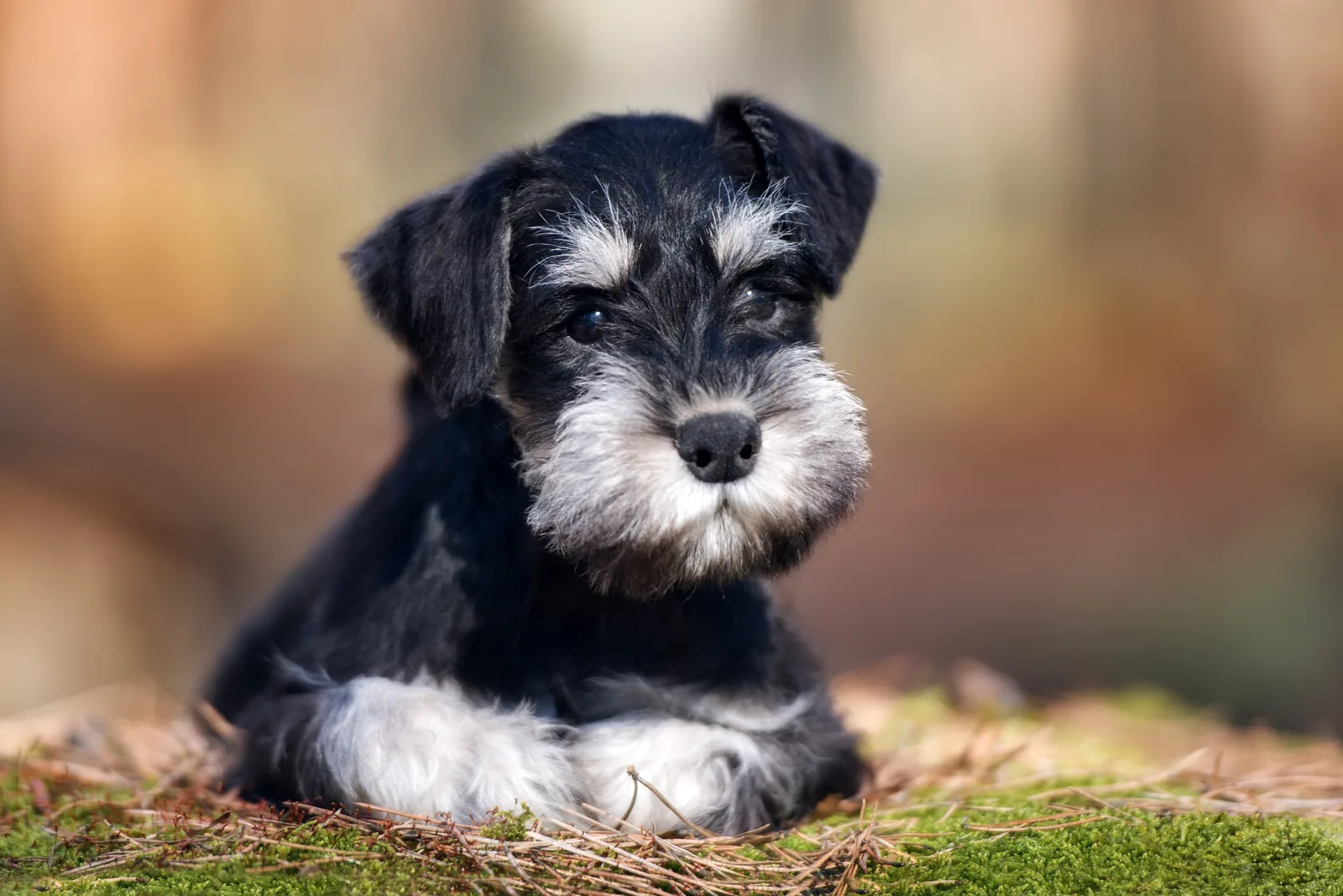 If you're looking for a registered, trustworthy breeder of Miniature Schnauzers in the Ontario region, you should definitely check out this breeding program. It's a place that is completely devoted to raising healthy and happy Mini Schnauzer puppies.
The owner of this breeding program has been devoted to breeding Mini Schnauzers because they're an intelligent breed that is easy to maintain, as Mini Schnauzers are a non-shedding type of canine.
Both Mini and Standard Schnauzers are low shedders and don't require any special grooming, which is why they're among the first choices for people who are allergic to pups.
Puppy Quality
One of the most important things that has a great impact on a pup's social skills is the place they're raised in. A great number of reputable breeders decide to bring up puppies in their own homes so they can easily get used to other family members and children.
Socialization is crucial for canines because it helps them to adapt to new environments in a much easier way, especially if their new home is filled with people of different ages.
That is why this breeder raises its Schnauzer pups inside their house. A clean and healthy environment will help your pup become a perfect family pet.
When it comes to medical conditions, puppies from this breeding program are completely healthy and protected from common diseases that are preventable with the first vaccination, deworming, and regular vet checkups.
The quality of the Schnauzers produced in this breeding outfit is confirmed by a number of positive reviews that previous clients have left online, these can be found on the breeder's website.
When it comes to the colors of the pup's coat, they're generally standard shades that comply with the breed standard, including solid black, black and white, etc.
Purchasing Process And Pricing
If you'd like to purchase a pup from this breeding outfit, the first step is to contact the breeder and follow their instructions.
The price of a Mini Schnauzer is also available during your initial conversation with the owner of the breeding program.
Once you decide to purchase a puppy from this kennel, you'll have to make a non-refundable, advance payment of CAD 300.
A puppy can be reserved even before the litter is born, but if there's no shade/gender of your choice available in the current litter, your reservation will be transferred to the next litter.
All other information and details about the Loyal Angel puppies can be provided by the breeder.
Breeder Details:
Address: Burlington, Ontario
Email Address: [email protected]
Official Website: Loyal Angel Schnauzers
4. Tux'N'Tails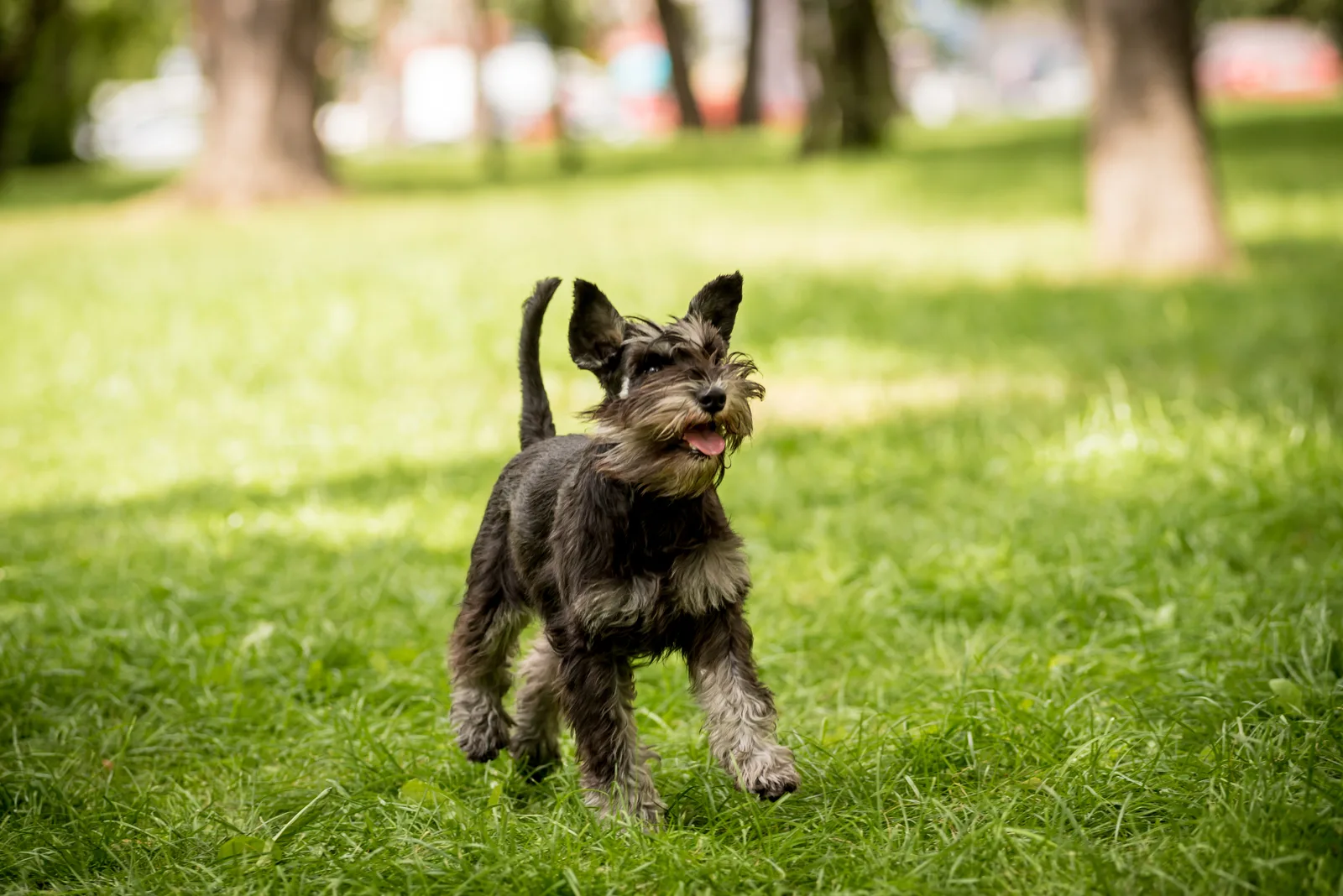 For more than four decades, this breeder has been producing high-quality Mini Schnauzer puppies for canine enthusiasts!
The main focus of the owner is to produce litters of healthy puppies with great personalities and good looks.
They're a part of several important organizations and associations, including:
• Rideau Terrier Club (RTC)
• The Canadian Kennel Club (CKC)
• American Miniature Schnauzer Club (AMSC)
• Miniature Schnauzer Club of Canada (MSCC)
Their membership of these clubs is just another confirmation of the trustworthiness of the breeder and their practices of breeding and raising Mini Schnauzer pooches.
Puppy Quality
The quality of the canines produced in this breeding facility is top level, which is proven by the medical records of each pup and by a number of satisfied clients.
All doggies are acknowledged by the CKC, vaccinated, health tested by a vet and an ophthalmologist, and microchipped.
The breeder doesn't breed more than two or three litters per 12 months, no matter how high the demand is, which is yet further proof of their quality.
All doggies are crate trained, which will allow you to take your pet home much more easily.
The puppies are used to outdoor activities, so they're great companions for people who prefer to spend time outside the house.
Purchasing Process
The breeder doesn't include any information about the price of the pups or the reservation fee.
However, they have both an email address and phone number stated on their website, so you can call or write to them and ask about all the details you're interested in.
What we do know is that the price of the canine also includes their medical records and certificates, six weeks of health insurance, and a training kit.
Breeder Details:
Address: Ottawa, Ontario
Email Address: t[email protected]
Official Website: Tux'N'Tails
Contact number: 613 258 6378
5. Silvercastle Miniature Schnauzers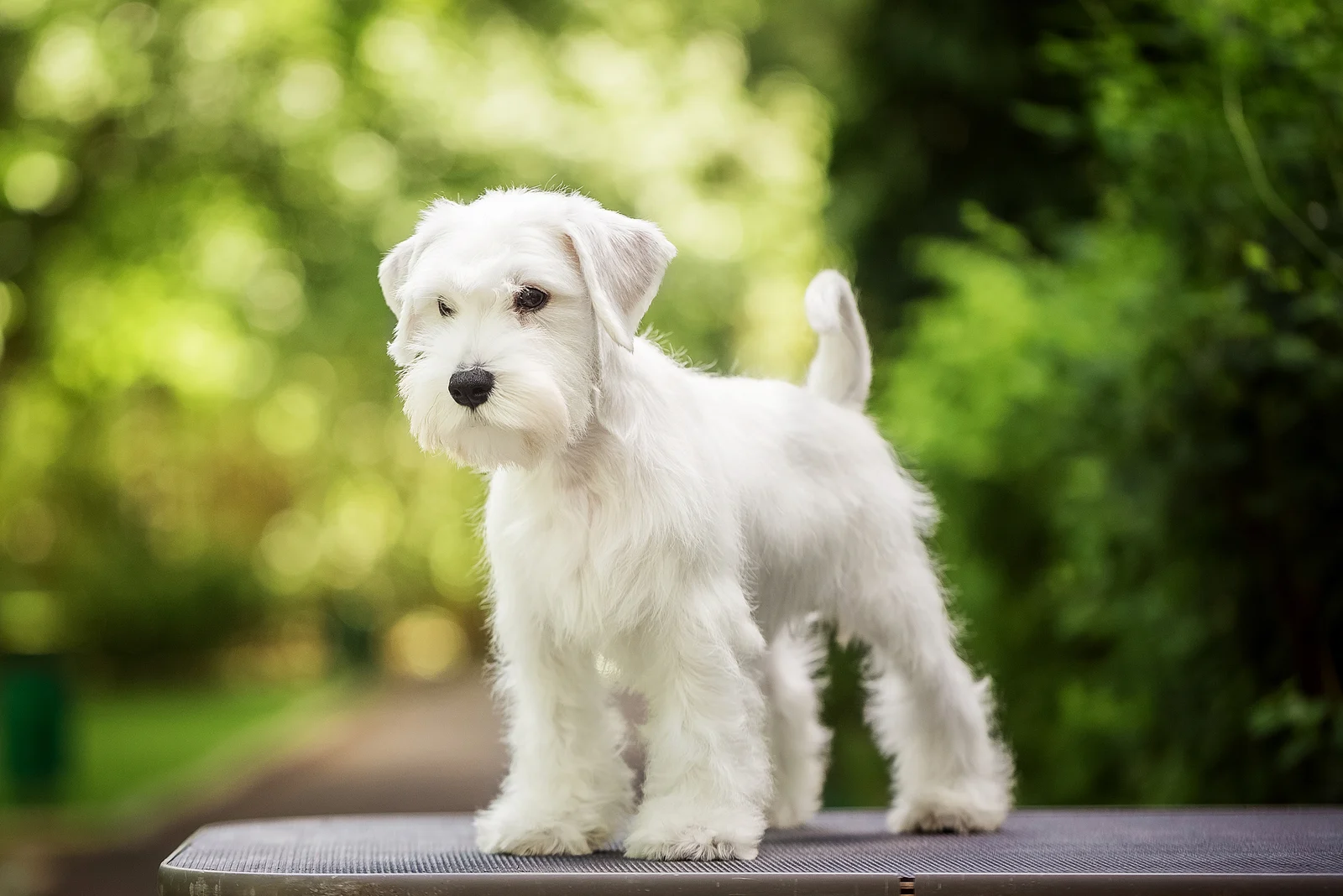 The Silvercastle Miniature Schnauzers kennel is not a regular breeding program. This is a place where Mini Schnauzers can be produced, rescued, groomed, boarded, trained, and adopted.
The owners of this place are completely dedicated to producing and rescuing mini Schnauzers and getting the best out of this breed.
This breeder offers not only family companions but also canines that are prepared for dog shows.
Puppy Quality
All doggies that come from this breeder are of top quality and they're all acknowledged by the CKC.
Just like the rest of the breeders on this list, Silvercastle's owner keeps the doggies inside their own home instead of bringing them up in a separate place.
However, the kennel does include another facility, which is used for training, preparations for canine shows, and for play as well.
They're most interested in producing combined color puppies rather than solids, but their main concern is the health of their pups, as well as good temperaments and a calm personality.
All Mini Schnauzers from this place have medical records and confirmation of vaccinations, deworming, and other necessary checkups and procedures.
Purchasing Process
The first step towards getting a new furry family member is completing the application form that is found on Silvercastle's official website.
After that, the breeder will contact you for further instructions regarding the deposit and a visit to the kennel.
If you have any other questions about the puppies from Silvercastle, you can contact the owner (via email or phone) prior to filling out the form.
Breeder Details:
Address: St. Williams, Ontario
Email Address: [email protected]
Official Website: Silvercastle Miniature Schnauzers
Contact number: 519 410 4060
Miniature Schnauzer Breeders In Ontario: Wrapping Up
The list of reputable Miniature Schnauzer breeders in Ontario might have come to an end, but your Schnauzer journey is just about to begin, and I'm sure it'll be awesome!
There's a common misconception among potential and first-time owners of Schnauzers that the only difference between Mini and Standard types is size, which is why they often think it doesn't really matter which type they get.
However, Mini Schnauzers often display a stronger bond with their owners, which is why they'll want to protect you at all costs. Don't be surprised if your pet starts following you to the bathroom, or it suddenly becomes so attached to you that it even starts sleeping next to you!
Therefore, if you want to be protected, go with a Mini Schnauzer, you won't regret it!
Read Next:
The Top 5 Yorkie Breeders In Ontario Of 2022
8 Best Miniature Poodle Breeders In Ontario (2022)