This post contains affiliate links, and I will be compensated if you make a purchase after clicking on my links.
Chihuahuas are small dogs with a big temperament. These purse dogs are known for being extremely persistent barkers. As such, many owners are on the lookout for the best bark collars for Chihuahuas.
Despite their tiny size of no more than 5 to 8 inches, and weight of about 6 lbs, these are temperamental canines that seem to think they are much larger than they are. They will want to fight anything and everything, and they'll let you know this by barking all the time.
The hallmarks of the breed are its apple-shaped head and large, bright eyes, but also its tiny stature. Chihuahuas are known to be a colorful breed that can be quite costly.
One thing many first-time Chihuahua owners are surprised about is their little one's feisty temperament, as well as how loud this breed can be. It might seem as if Chihuahua dogs have a bit of Terrier in them despite the two not being related whatsoever.
As such, you'll need to let your Chihuahua know who is the pack leader from its first day in its new home. This small breed requires a firm, yet gentle owner who will know proper obedience training methods.
Chis are dogs with high energy levels, and they'll express this by barking very loudly. To make things worse, they'll bark in a monotone, especially when they need to release all that excess energy. Getting some of the best bark collars for a Chihuahua is the best possible option to teach your pup how not to disturb the neighbors.
But, how can you choose the right one when there are so many great products on the market? We'll help you out!
Best Bark Collars For Chihuahuas – Editor's Pick
What Is The Best Bark Collar For A Chihuahua?
It is challenging to find only one bark collar that can be deemed the best. This is because no two dogs are alike, and owners can have their own preferences.
To help you narrow down your search, we have listed the 14 best bark collars for Chihuahuas that you can find on websites such as Amazon and Chewy. Here's what they are: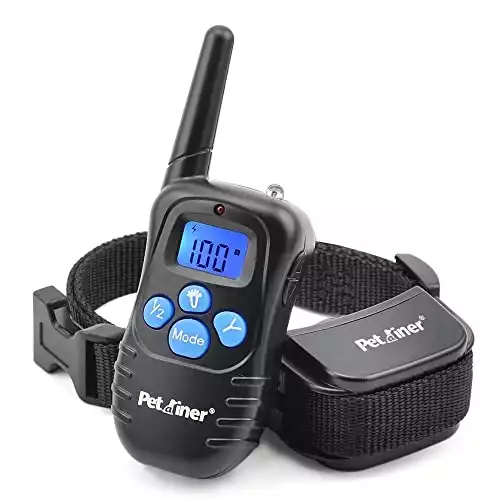 This might easily be the best-selling bark collar for a Chihuahua on all of Amazon. The main reason for this surely lies in its versatility.
This collar offers three types of stimulation – static, vibration, and beeping. This gives you the opportunity to choose which one you'll use on your little pooch. The collar itself is waterproof, so you don't have to worry about the weather.
As it comes with a remote, you can also use this collar for dog training. It has a range of up to 330 yards. The remote controller's battery is also waterproof, as well as rechargeable. This makes it as durable as it can get.
The collar has great safety features, so it will never zap your dog without your input. This lowers the chance of false triggers as well. However, the device is a bit on the larger side, so your Chi might not be that comfortable with it.
Fortunately, you can remove the correcting device and leave your pup with a fancy-looking collar when you're not training him.
POP VIEW Bark Collar
Key Benefits:
Sound and vibration bark collar

Seven progressive levels

Adjustable sensitivity

Suitable for dogs of all sizes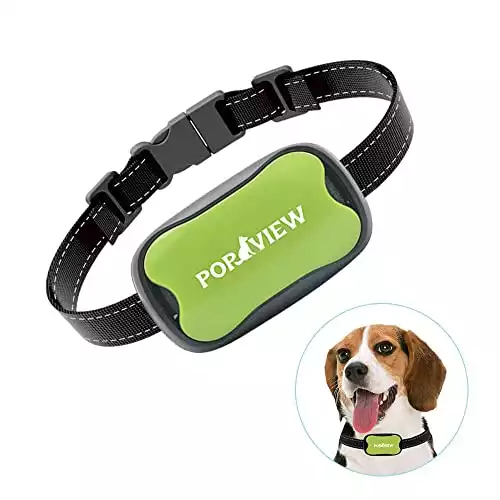 This is another popular bark collar for Chihuahua dogs as it is suitable for pups of all sizes. It won't fall off even on small dogs, such as teacup Chis.
It has a patented barking vibration detection system that the brand considers to be more reliable compared to the conventional bark detection methods. This allows the collar to differentiate the dog's bark from ambient noises.
This is a humane and safe collar as it uses ultrasound and vibration to correct your dog. You can activate both at the same time or select them individually, and you can choose among seven intensity levels.
The collar works, thanks to its rechargeable battery, and it's waterproof and rainproof.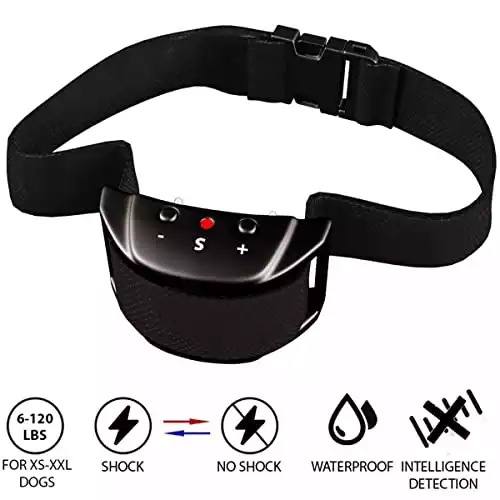 This is one of the best bark collars for Chihuahua owners who are looking for a fully adjustable collar. It offers you five different levels of bark control, so you can rest assured knowing that your pooch isn't in pain, while the adjustable sensitivity can prevent false triggers.
The best part of it all is that you don't really have to set anything (although you can if you'd like). Once the collar detects a bark, it will start by releasing the lowest level of beeping and impulse.
If the barking doesn't stop, the collar will keep on increasing the levels, but only for up to one minute. Once the minute is out, if the dog is still barking, the collar will turn off for one minute. This will keep your pooch from stressing out or feeling overstimulated.
Editor's Choice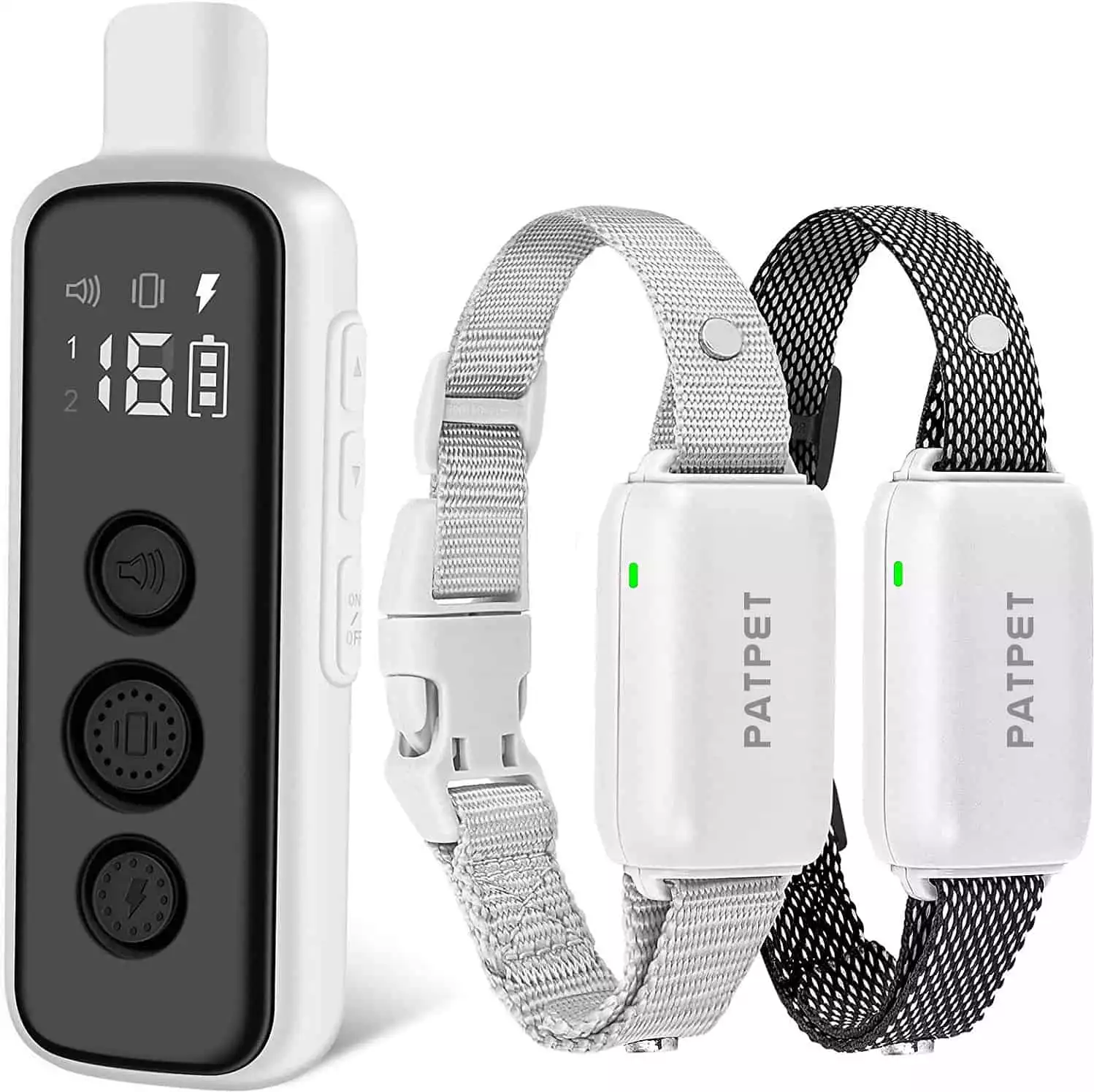 If you're on the lookout for the best bark collars for Chihuahuas, this is a model you don't want to miss. This is an electric dog bark collar that provides static and vibration control.
It comes with a remote control that is adjusted to be suitable for both professional dog trainers and first-time dog owners. You'll always know what button you're pressing and what its purpose is.
You can choose between 16 stimulation levels in both vibration mode and static mode. There is even a beeping mode that can help you during dog training, whether you're teaching your pooch to sit, walk, or bark.
The collar is waterproof, but not the remote control, so this is something you should keep in mind. The remote and the receiver have quick-charge properties, so you can keep using them as soon as possible.
Also, one remote can be connected to up to two collars, so you can train both of your dogs at the same time.
If you feel like a shock collar is necessary for your Chihuahua, this might be a great product for you. It is easy to differentiate from other, similar products, thanks to its unique remote control design that ensures you always know what button to press.
Other than being effortless to use, the remote control also has amazing reach, as it has a range of 330 feet.
If you choose the static or the vibration mode, you will be able to choose between 100 different customization levels. This can help you find just the right intensity for your pup and keep him from overstimulating.
This collar is rechargeable and waterproof, so it can help you save money in the long run. In fact, it even comes with a one-year guarantee!
Imarku Anti-Bark Collar
Key Benefits:
Ultrasound bark collar

Seven levels

Safety cutoff after one minute

Beeps before the ultrasound shock
While this is a fairly unknown brand, it still makes some of the best bark collars for Chihuahuas you can find. It emits ultrasound frequencies that only canines can hear, but it can also produce a beeping sound as a warning.
The collar has a microphone that will detect the bark, then emit the ultrasound for up to a second. If your Chihuahua keeps on barking, the ultrasound will be emitted for two seconds, then three before a rest period.
The biggest issue with this collar is that it isn't waterproof. Even a dog's urine can damage it! As such, be careful not to use it on rainy days.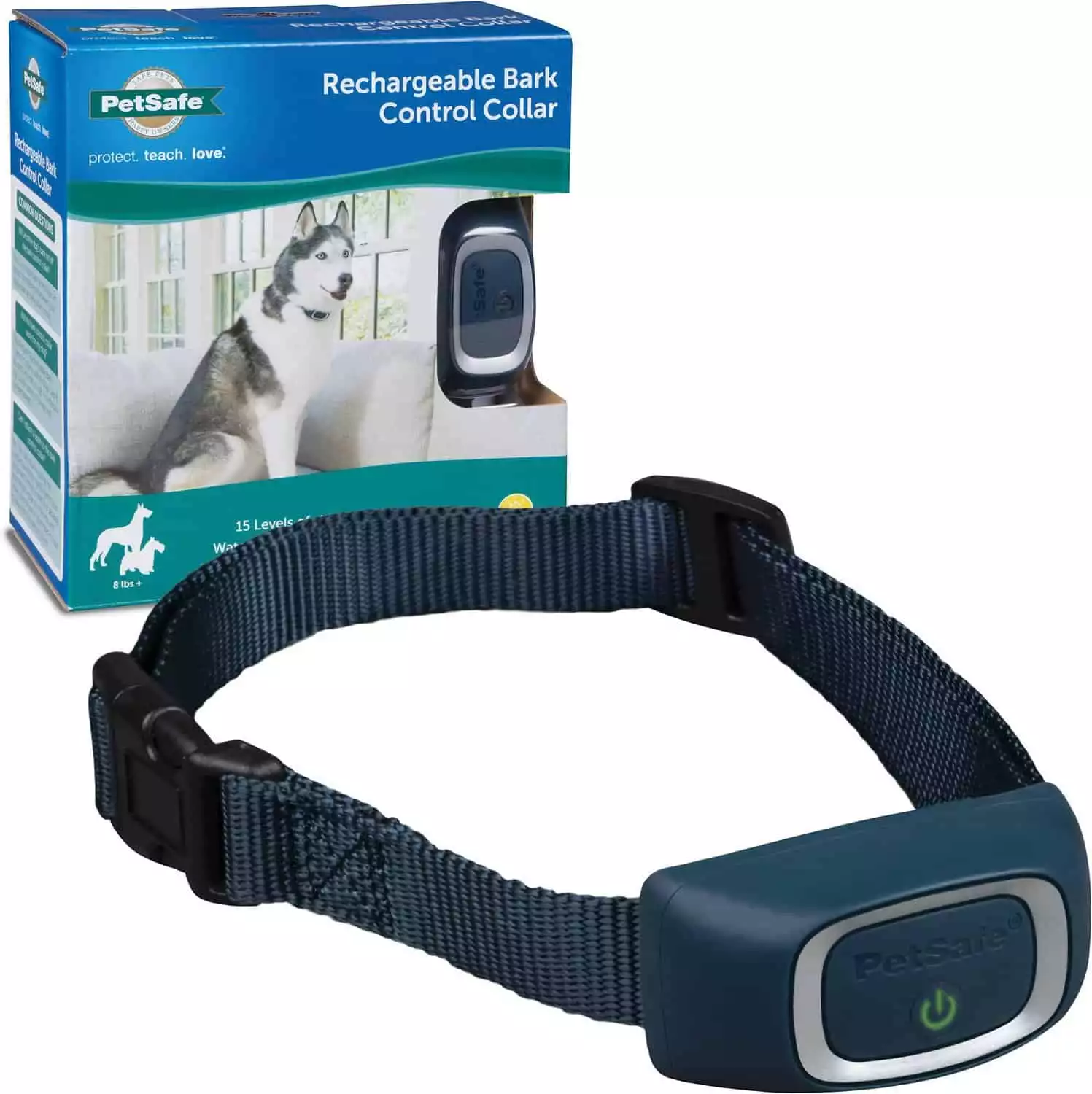 This is a great static dog bark collar for dogs of all sizes. It is designed to fit dogs weighing eight lbs. and more. This includes most Chihuahuas, but also many large dog breeds alike.
It uses modern technologies to differentiate your dog's bark from other dogs barking. This means there will be no false triggers, so your pup won't get corrected for no reason.
The collar is water-resistant, so it can survive most wet situations, such as walks during the rain or if an accident happens. It is also rechargeable, and it even comes with a quick-charging wall adapter.
The collar has 15 levels of automatic static correction. It can adjust to how often your Chihuahua barks, thanks to the temperament learning technology that helps the collar adapt to each individual dog.
SportDOG NoBark SBC-R
Key Benefits:
Three correction modes

10 static stimulation levels

Long-lasting battery

Static bark collar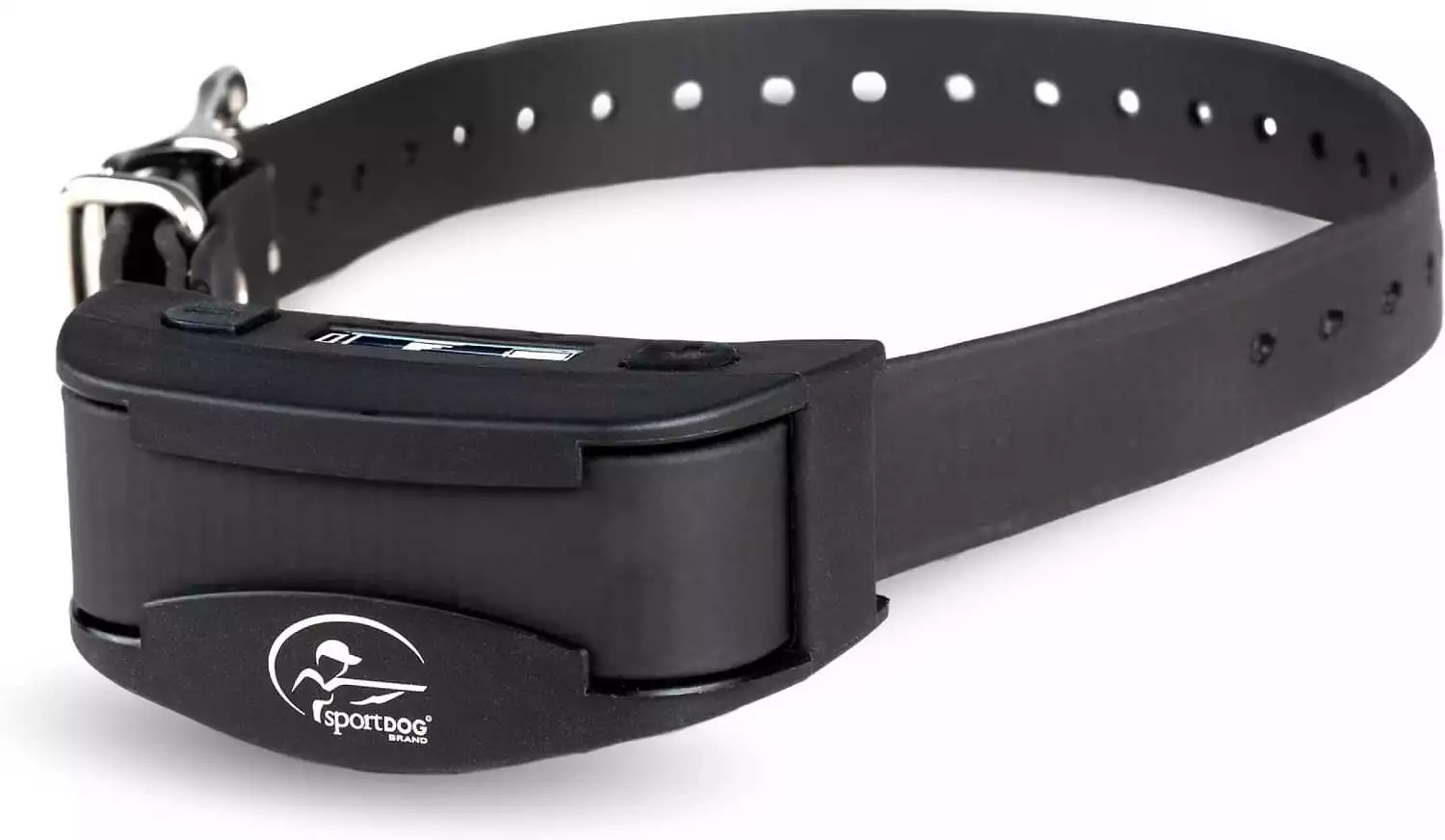 This is yet another great static dog collar. What makes it truly stand out from the rest is its long battery life. After just two hours of charging, its battery can last for up to 200 hours!
Its Proprietary Silent Partner technology adjusts the sensitivity level to ensure the collar detects only your dog's bark and not any outdoor noise. This is a great way to ensure that your pooch only gets stimulated when necessary.
This also makes sure your pooch gets consistent barking training. As such, if you're looking for the best bark collars for Chihuahuas that can help you with dog training, this might be the perfect one.
As the collar itself is rather versatile and adjustable, you can make sure your pooch only gets the right amount of static, so it won't get harmed. For such tiny dogs, this is of utmost importance.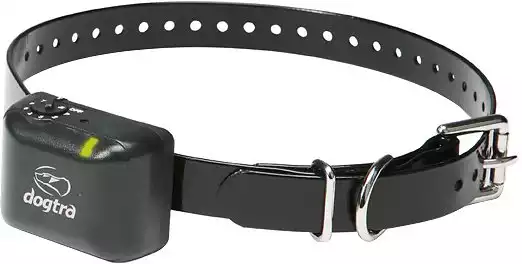 If you're looking for no-shock collars, vibrating ones are your best option, and this product takes the lead. It is a safe alternative to static collars as it vibrates when your pooch is barking.
At first, the collar will send a non-stimulating vibration to warn the dog that he should stop barking. Then, the vibrating levels increase for up to six progressive levels. This can tell your dog that he needs to stop this unwanted behavior as soon as possible.
The collar comes with rapid rechargeable batteries, so you can start using it again as soon as possible. Also, it sports a compact design that is suitable for little dogs, so it will stay comfortable and lightweight.
Everything is waterproof, so rain shouldn't bother you. Not just that, but the material is antimicrobial, so you can be certain it won't harm your dog's delicate skin.
PetSafe Yard And Park
Key Benefits:
400-yard range

Eight adjustable levels

Waterproof

Trains up to three dogs simultaneously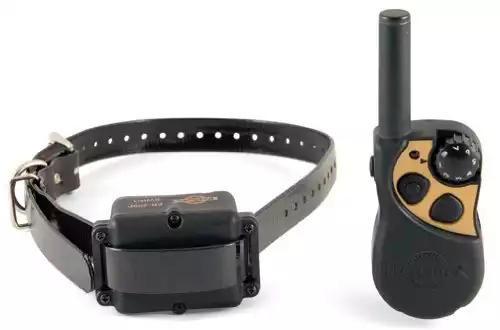 This is an amazing dog training collar. It can truly help your bark training be much more straightforward for not just you, but your dogs. Yes, dogs – this training system can be used on up to three dogs at the same time.
This dog collar has several training modes that can help you deal with unwanted behavior, such as excessive barking. You can choose between eight adjustable levels, and you may even use it to train up to three dogs at a time as the remote supports two additional collars.
The working range is 400 yards, which is more than most similarly-priced bark control collars. It is also entirely waterproof, and it can be submerged up to five feet under water!
While not necessarily a bark collar for small dogs, the collar is fully adjustable, so you can use it on Chihuahuas as well.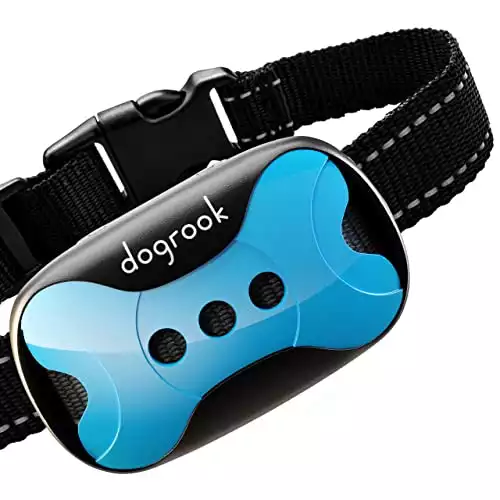 This is a great no-shock bark collar for small and medium dogs. Instead of sending a static shock to your pooch, it vibrates, letting him know that he should stop barking. This anti-barking device, combined with positive reinforcements, allows for effortless dog training.
A collar such as this one is perfect for dogs that are gentle and wouldn't respond well to harsh treatment. It's adjustable, both in size and in level, so you can ensure it's good enough for your pooch. If you have a small-sized dog, you'll be glad to know that they will be able to use this collar due to its adjustment.
The only thing you need to be mindful of is to ensure the collar fits your dog as well as possible. Otherwise, your pooch might wiggle out of it.
Also, this collar comes with a few extra parts, such as a longer prong and a USB cable. Both can help you charge this device as quickly as possible.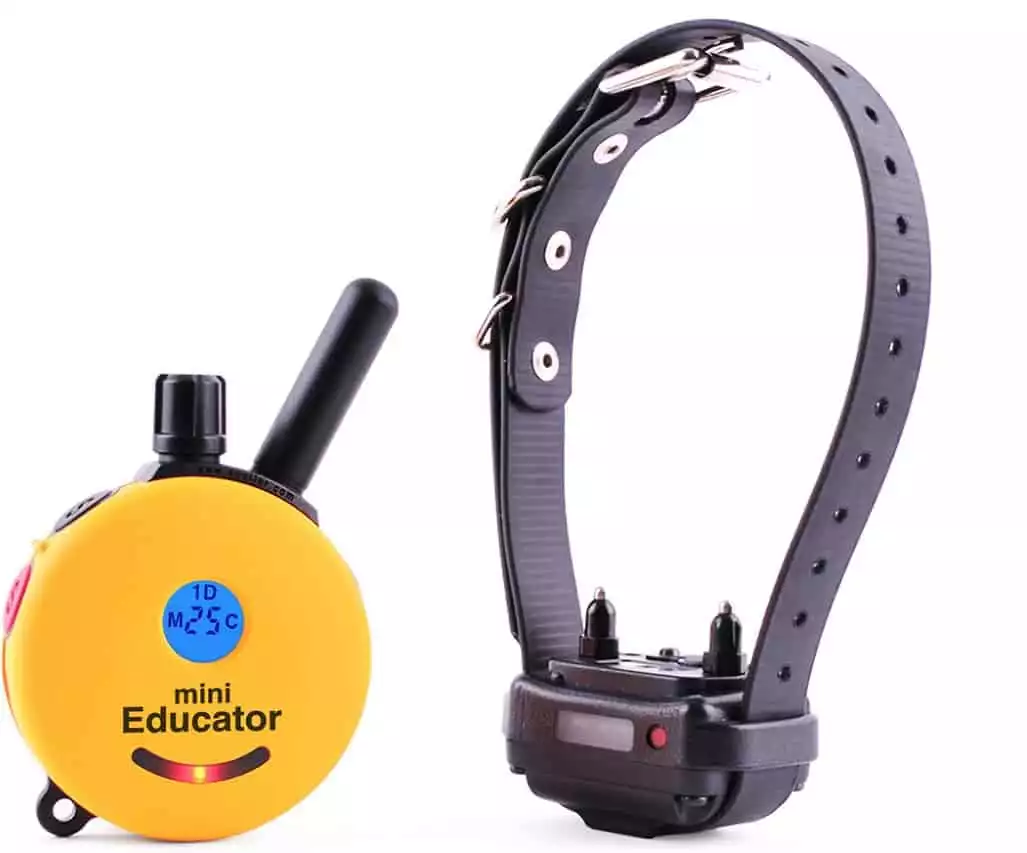 While not technically a bark collar, this is a great dog training collar that can also be used to teach your dog when not to bark. While it does feature a shock mode, most dog owners have reported the other two modes, vibrating and noise, to be more effective.
Still, if you don't mind using shock collars for dog training, this can be an excellent option for you.
It features 100 lock and set stimulation levels, and you can even set a boost level anywhere between 1 and 60. This will allow you to tailor your small and smart dog's behavior as precisely as possible.
The collar also has a night tracking light, which helps you use it even during nighttime. Not just that, but this can be extremely helpful if you're using a two-dog system – and yes, this unit can support up to two collars.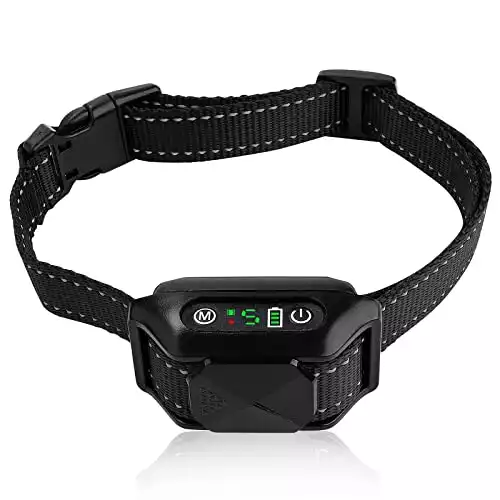 This is a fairly new bark collar, yet dog owners seem to love it. It has two modes: a beeping and vibrating mode, and a beeping, vibrating, and shock mode. This is somewhat different from other collars that allow you to set each bark control option individually.
No matter the mode you choose, if the collar activates six times, it will turn off for 30 seconds. This will make sure that your pooch isn't overstimulated.
The collar uses modern technologies to make sure there are no false triggers. It is capable of filtering outdoor sounds from your pooch's barking, ensuring the collar activates when needed. There are five sensitivity settings that can further help with this.
The bark collar works on a rechargeable battery that takes no more than 2 to 3 days to recharge. Once recharged, you will be able to use it for about 15 days – although the exact amount might vary depending on the frequency of use.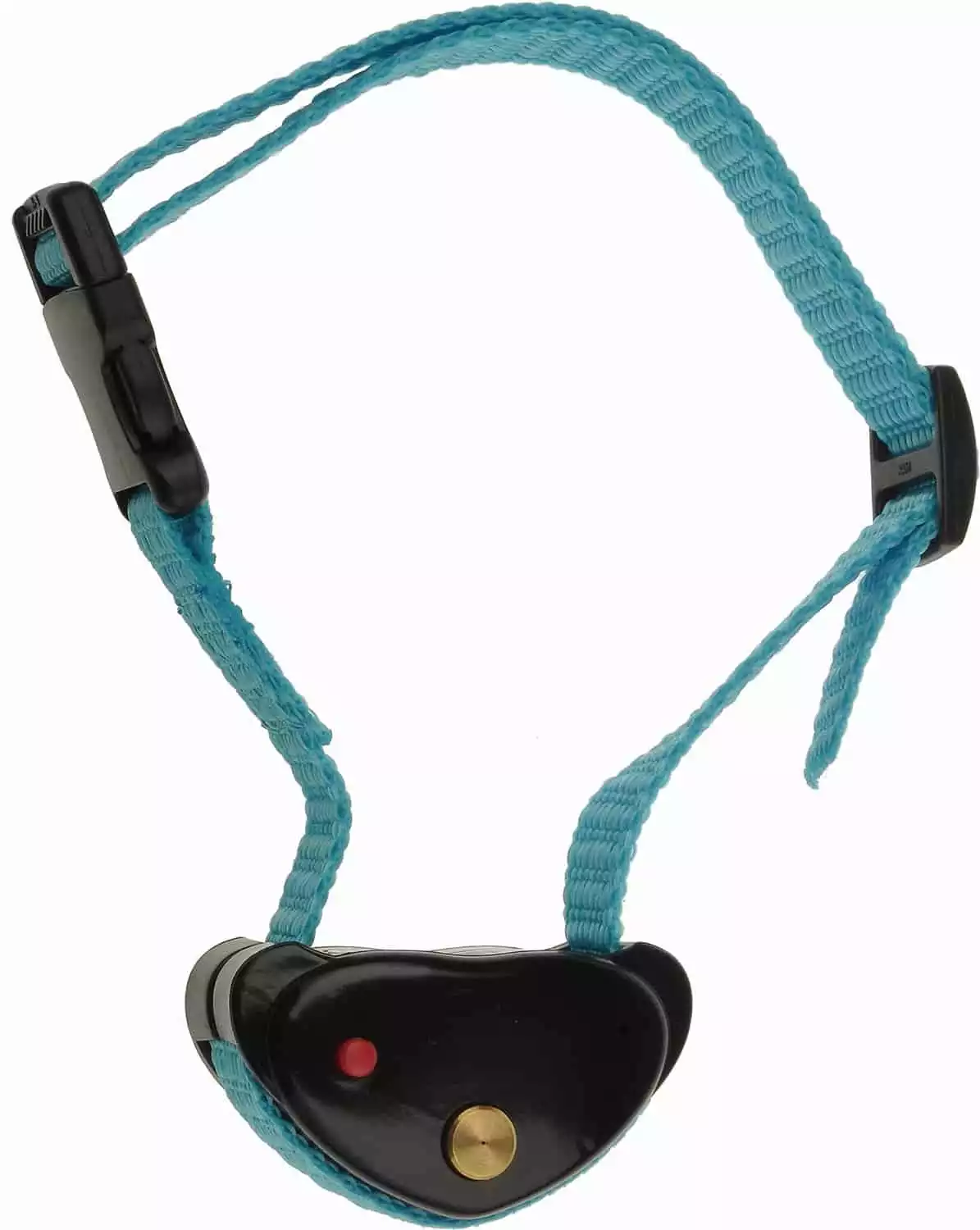 This is a spray bark collar that can serve as a natural solution to a barking problem. Once your pooch barks, it will release a lemon-scented smell. While pleasant to dog owners, lemon scent isn't something most dogs like. This can cause them to stop what they are doing – including barking.
The collar responds to the vibrations of your dog's esophagus, so there will be no false positives. Unfortunately, this also means that its sensitivity isn't the best.
The collar itself is waterproof, lightweight, and adjustable. Dogs of all sizes will likely be able to carry it!
The package comes with an additional scent bottle, so you can refill it once it empties. The battery isn't rechargeable, but it is long-lasting, and its estimated life expectancy is up to three years.
How To Choose A Bark Collar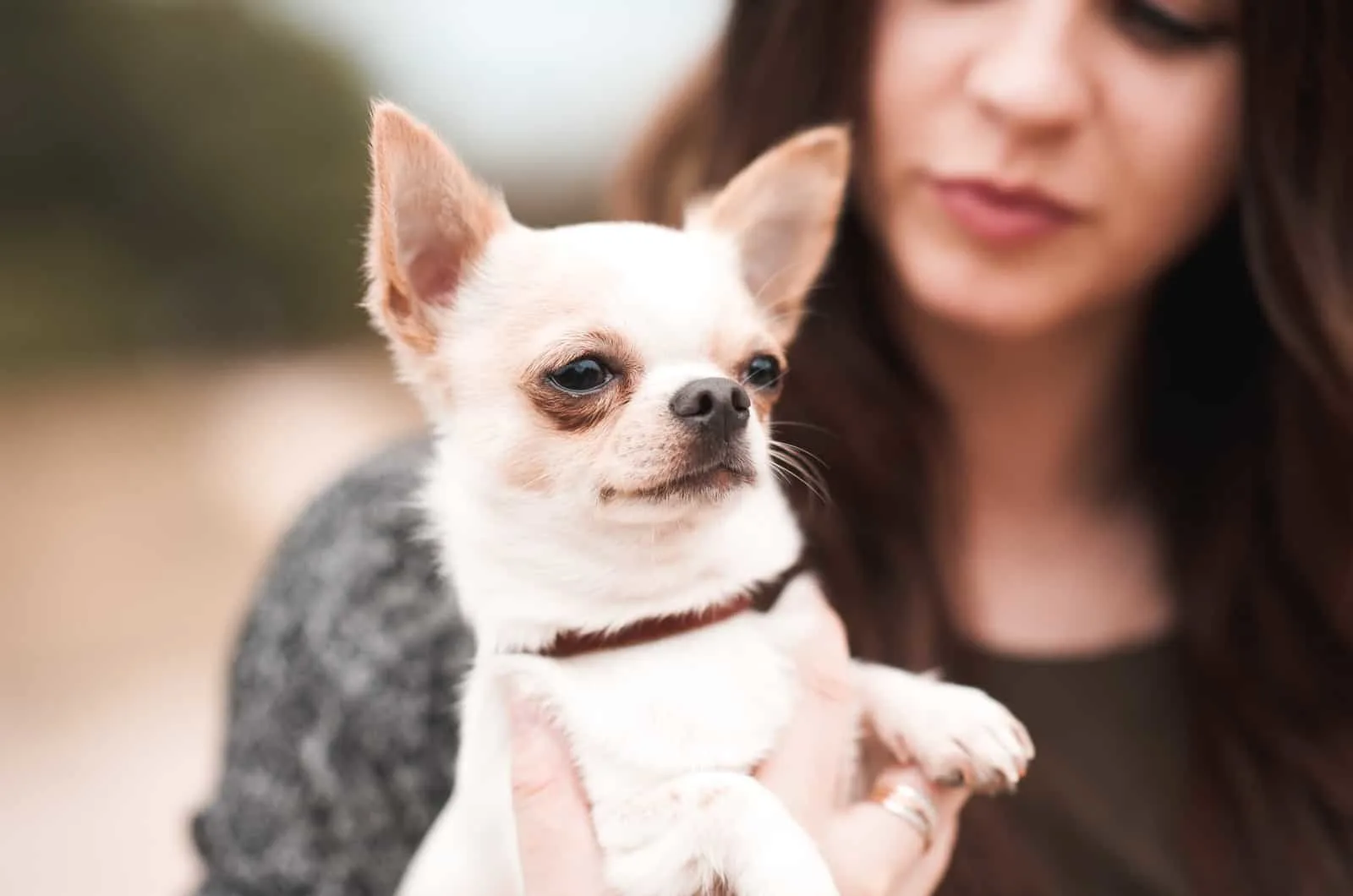 When deciding on the best bark collar for Chihuahuas, you might end up feeling overwhelmed due to all the choices that are in front of you. If you don't know what to look for, you might realize that making a decision is a real challenge.
There are a few features you need to pay attention to. When you know what they are, you will be capable of picking the right one for you and your dog.
Here's what these features are:
Proper Size
When choosing the best bark collars for Chihuahuas, the first thing you need to look at is the size. Smaller dogs have a smaller neck, and it might be a challenge to find a dog collar that won't be too loose.
This is determined by the adjustable strap. You need to make sure that the strap is capable of fitting on smaller necks, so it won't fall off your pooch. In the end, nothing is more terrifying than having to chase your dog after he has wiggled out of his collar!
Keep in mind that you shouldn't look at the dog's height and weight when finding the right size. Instead, look at his neck width. Some dog breeds are bulkier than others, and others are large and heavy, but still very slim. Looking at the weight alone isn't enough to determine the neck size.
Quality
Built quality is another essential feature you need to look for in the best bark collars for Chihuahuas. If the collar isn't properly built, it won't be durable, which will only reduce its value in the long run.
At the same time, if a collar is of high quality, it will be comfortable and soft, which will make it more pleasant for your pooch. If a dog likes his collar, he will be more likely to not resist wearing it.
Type of Collar
Another thing you should consider is what type of bark collar you want for your pooch. Of course, this depends on many things other than your preference, such as your Chihuahua's temperament, its size, and what your goal is, but most of the time, you can choose which collar you'd like.
All bark collars work by interrupting your dog during its barking session. There are four methods that do this:
Vibration
Ultrasonic
Spray
Static correction
As you can guess, these four determine the type of collar. We'll go a bit more in-depth:
Static Bark Collars
These are the most popular type of bark collars due to their versatility. They are available to dogs of all sizes, including tiny ones such as Chihuahuas.
Most static bark collar models can be set to various intensity levels, so you can use them for both timid dogs that only require minimum interruption and for headstrong canines that need a greater intensity level.
Some premium static collars might also come with a few other features, such as vibrations or tone warnings. Others might automatically increase the intensity level if they detect that the dog continues to bark even after a while.
Keep in mind that many dog owners dislike this type of collar due to the electric shock it emits. It is entirely up to you whether you're going to use it or not. Overall, we dare to say that there are many milder options for tiny dogs, such as Chihuahuas, but the decision is up to you.
Vibration Bark Collars
Just like static bark collars, vibration collars also sense that the dog is barking before they send a pulse that will interrupt him. The biggest difference is that this pulse isn't static, but rather, vibrating.
While most models allow you to adjust the vibration levels, they are not as versatile as static collars. There are also not as many models available, and you might have a harder time finding them.
However, they are still one of the best alternatives for people who would prefer not to use static collars on their Chihuahuas.
Spray Bark Collars
This is a fairly new type of bark collar that is becoming increasingly popular in recent years. Once it detects that your dog is barking, it will emit a tiny burst of spray – scented with lemon or citronella that dogs hate – next to the dog's snout. This will stop them from barking.
This spray is safe for pets – they just simply dislike it. It's also safe for the environment, people, and even children. As such, this is one of the best bark collars for Chihuahuas and other small dogs.
Spray bark collars are also a great choice as training collars, as they can make dog training sessions more effective.
Ultrasonic Bark Collars
Ultrasonic bark collars get the dog's attention by using high-pitched sounds that humans can't hear. In fact, there are several types of ultrasonic bark control devices, and collars are just one of them. You can also get stationary monitoring units, as well as handheld remote units.
This collar detects when your Chihuahua barks and then emits ultrasonic sound that will stop such behavior. Some will also vibrate for added effect.
These are some of the best bark collars for smaller dogs, especially during training.
If you decide to use a handheld ultrasonic remote unit, keep in mind that it is operated by the handler. The pros of this are that your pooch doesn't have to wear an uncomfortable collar, or that he can keep on wearing a standard one.
However, the downside is that you have to engage in the dog training process more, as the collar won't detect the dog's bark. While there will be no false triggers, the unit won't work at all without your signal.
On the other hand, dog bark control units are monitoring stations that have the technology to cover a fairly large area. This area is usually a 50-foot radius from the unit.
You don't have to use a remote for this type of unit. Instead, it will detect if a dog is barking, and it will turn the ultrasound signal on. This is a great choice if you leave your dogs playing in the backyard, as it will keep them all from barking. However, it might be unnecessary for apartment dogs such as Chihuahuas.
Waterproof Properties
This is one feature that many dog owners overlook, but wrongfully so. If you get a bark collar that isn't suited for the rain, you might end up breaking it the moment it starts raining.
While it seems easy not to walk your dog during rain time, things aren't as straightforward. What if your pooch rolls in a puddle without warning, or if there is a sudden summer drizzle?
Your dog can get wet for many reasons, so the only way to make sure his bark collar doesn't break is for it to be waterproof.
Safety Cutoff
We've already talked about the types of bark collars. One thing that you might've noticed is how there are several types that will automatically issue some form of signal that will tell your dog to stop barking. But, what about false triggers or when your pooch starts ignoring the collar?
To make sure your doggie doesn't get overstimulated or even hurt, you need a model that has a safety cutoff. This will stop the corrections after a few seconds, or on your mark.
This way, you'll make sure your doggie isn't overly corrected and stressed out for extended periods of time.
Another useful feature that usually goes along with the safety cutoff is a dual sensor system. This will determine whether the bark originates from your Chihuahua or from some other dog.
FAQs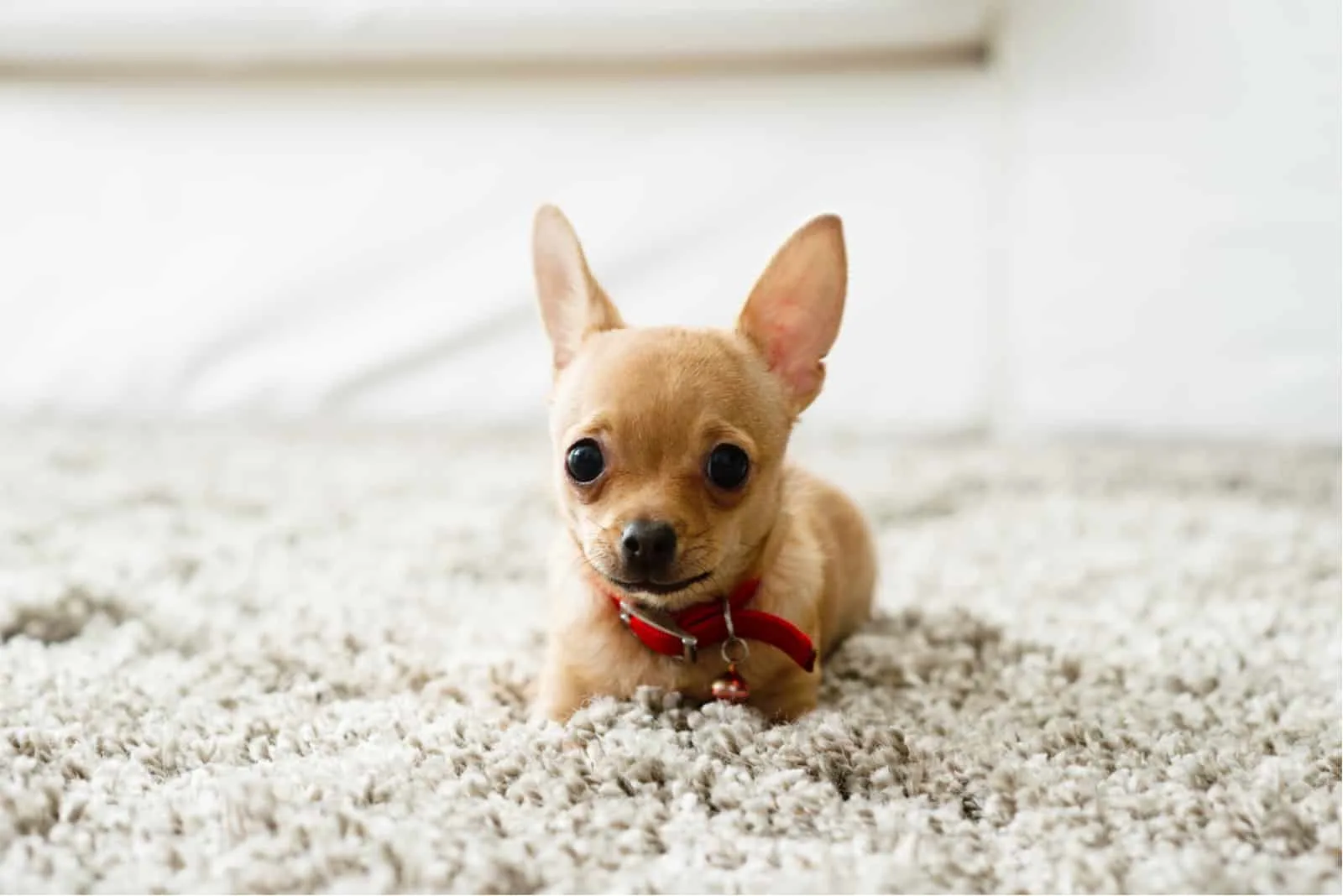 What Is The Best Collar To Stop Barking?
We've listed some of the best individual products. All of these units can be considered the best bark collars for Chihuahuas, and all will work effectively.
With that being said, it all comes down to your preferences. If your pooch is calm and understands a cue, then an ultrasonic collar is likely all he needs. This is a humane collar that you can control, so there is no mistake or danger of false triggers.
Static collars are a good option for dog owners who have rather disobedient dogs that require a greater amount of control, but make sure they are at the lowest setting as Chihuahuas are small, sensitive pups.
Vibrating and spray collars also make some of the best bark collars for Chihuahuas as they are rather safe, yet effective.
Do Bark Collars Work On Chihuahuas?
Bark collars can work on dogs of all sizes. They will signal a dog that he shouldn't be barking and to stop this behavior.
Of course, not all dogs require bark collars, and some owners would argue that they are cruel. The truth is that if done correctly, bark collars are an amazing tool for stopping excessive barking.
Also, a collar won't do wonders on its own. You need to train your dog accordingly in order to make sure that he isn't barking even when not wearing the collar.
Do You Need A Shock Collar For A Chihuahua?
While they might not look like it, Chihuahuas are some of the biggest barkers and noisiest dogs out there. They can bark for hours non-stop, and still have the energy to run around and play.
Of course, teaching your pooch not to bark is possible even without a shock collar, or any other type of bark collar for that matter. However, these collars can be an amazing training tool, and they are the only method that can ensure your pooch doesn't bark when you're not around.
So, even though these items aren't a necessity, we'd always recommend getting one of the best bark collars for Chihuahuas you can find – especially if you own a young dog that still hasn't been properly trained.