This post contains affiliate links, and I will be compensated if you make a purchase after clicking on my links.
Taking your dogs to any body of water for a swim can be a fun time, but for dogs like the French Bulldog, you need a little bit of extra safety, like a life jacket. But what are the best life jackets for French Bulldogs?
Life jackets for French Bulldogs need to be sturdy, balanced well and be comfortable above all.
Being an actually functioning floatation device is also a necessity, but that one goes without saying.
Swimming vests should also have some sort of reflective material on it to better indicate your dog's position in the water.
Either that or be made in bright colors that are more noticeable against the surface of the water if you're taking him out to the ocean, sea or lake, or anywhere where boating may occur so the boats can steer clear sooner.
While a life jacket may seem excessive as most dogs should already know how to swim, French Bulldogs kind of don't, at least not in a normal way.
Even if they do, they're a dog breed with a high likelihood of having breathing issues due to the shape of their face thanks to historic breeding practices.
That said, it may be hard to find the right life vest for your Frenchie given how there are plenty of choices out there on both Chewy and Amazon, but they don't specify they're safe for the specific breed in them.
And a lot of them are low quality products that can be potentially unsafe for your furry friend.
Read on to find out what the best French Bulldog life vests are as well answers to some of the more common questions that circle around this topic and the answers to them.
7 Top Life Jackets For French Bulldogs
First up on the list is a rather versatile pick, the Granby Splash life jacket.
It helps accommodate all dog sizes from tiny to giant with 7 different sizes based on girth from XS-XL as well as 3 different models which provide different comfort options.
Made from a mix of high quality materials, primarily polyester blended in with some others to create ripstop.
This material helps provide the buoyancy that this floatation device needs to secure your doggo and not let him drown.
Speaking of safety, you'll find that this swimming vest also has adjustable straps to allow you to make it comfortably fit your canine companion and not give him any trouble while he enjoys the water.
They come with quick release buckles in case of emergencies too.
It also comes with a neoprene bottom band to make it even more comfortable for your precious pooch.
The jackets are made with reflective accents and bright colors to make them easier to spot for any boats as well as you in case the current ends up drifting him away somewhere or he decides to be a little adventurous.
The dog life jacket is balanced with a front neck float to prevent your dog from flipping over and risk drowning, instead keeping his head above water at all times.
It's a great tool to help your dog learn how to swim if he already doesn't, but will ultimately be used regardless for extra safety.
Two grab handles can be found on top so you can use the device as a doggy carrying bag if you want to so you don't have to do the laborious work of putting the jacket on him on the beach, or to make carrying him around easier.
It comes in 8 different colors too so you can customize it better for your canine companion and have it (somewhat) match with his fur.
The price is pretty respectable, all things considered. You won't be breaking your bank and your dog will be able to enjoy the beach for a small investment.
Though the durability of some of the shipments appeared to be questionable for some users, mainly the seams that ended up wearing out quickly and tearing.
Do be careful and make sure to check your shipment beforehand.
If you're looking for something a bit more fun but still safe, then you may like this shark fin life jacket for dogs from Queensmore.
The product is made out of a mix of high quality ingredients, namely polyethylene foam and oxford cloth, providing a breathable life jacket that your doggo won't sweat in while still being soft and comfortable.
The bottom has a breathable mesh as well so he can dry off easily and not catch a cold.
There are added adjustable straps as well paired with quick release buckles to help get your dog in and out of the jacket a lot easier, especially in case of an emergency.
There's a singular grabbing handle this time, but one that has a more comfortable grip and is less likely to tear.
If you want him sporting this cool shark attire on walks, you also have a D-ring on top to attach a leash onto.
The jacket's overall design also has some function over form with the various reflective accents found on the bright colors used for it that'll make your dog stand out against the surface of the water just so you don't lose sight of him at any point.
Unlike the Outward Hound's option, the Queenmore one has a float on the back, front and on the stomach to provide an even level of floatation on all sides.
While this does seem neat, I'd prefer the former way of focusing it mostly on the head so it can stay above water.
Aesthetically, it's a very neat way to make your furry friend seem more imposing with the shark fin, or cute, depending on what you prefer, and the 6 color options between 2 different styles make it look even better.
However, the fin also serves a purpose in providing more surface to stick out with said bright colors, making it even easier to spot your canine companion in the water.
It comes in 6 different sizes, providing floatation assistance to all dog breeds out there.
The price is still decent, more expensive than the Outward Hound but still alright, though I feel like the gimmick brings most of the weight to that difference.
The only real downside apart from the preference in floatation distribution would be that the fin easily bends and breaks which ends up losing out on the charm of the vest in the first place.
There's the problem of it not being floaty enough for large dog breeds, but that's of no concern for you and your Frenchie.
Next up to the pitch is a life preserver that prides itself on safety, the French Bulldog life jacket from Petglad.
A simple, but effective pet flotation device that utilizes a neck float that'll keep your Frenchie's head well above the water's surface.
It angles the body in such a way that it allows him to freely paddle around without having to work to keep his head above water, and just resting will help him float around without concern.
The front float is easily removable too if your doggo doesn't really need it or if you're going to be around to assist him in his swimming endeavors.
It comes with 2 different size options with girths from 17 to 30 inches and 22.5 to 34.6 inches, though the former is the one intended for Frenchies and other small dog breeds.
As far as vest construction is concerned, it's made from a mix of durable, ripstop Oxford cloth and EPE pearl cotton which helps provide the vest with its buoyancy.
The life jacket also comes with several adjustable straps with quick release buckles for added safety and ease of removal and adornment.
You also have a durable, and easy to access rescue handle on top to make it easier to carry your dog around or to help him out of the water in case you're out boating or kayaking if his short legs can't help him up.
To provide further safety and high visibility levels, the jacket is tinted with bright colors and has reflective stripes on the sides to make it easier to spot your short legged friend out in the water.
You get 4 different color options too, so you can choose the one you feel like would fit best for your furry friend or just help him stand out better.
The price, on the other hand, is already bordering on expensive, so it's not ideal for budget purchases, but if you can spare the cash, then I'd say that it's a solid investment.
The front float's easy to remove option is a double-edged sword though as it usually makes it a loose fit which isn't exactly ideal, so be wary of that when purchasing.
Speaking of expensive, here's a real doozy. A big ticket life jacket that practically looks like a doggy submarine, the RUFFWEAR float coat.
It's even considered one of Amazon's best selling products and is marked with the "Amazon's choice" tag, so you know there's a level of reliable quality behind it.
The whole thing is constructed out of GAIA foam panels that, despite covering most of the dog, allow him to freely paddle and swim around to his heart's content while keeping him afloat and safe in his little domain.
The underside features a webbing that helps keep the suit steady and non-rotary regardless of movement, not to mention the adjustable safety straps and quick release buckles on the side.
It makes the vest easily fit onto any small dog breed, no matter the girth.
Of course, the product comes in 5 other sizes to fit any other dog breeds too, should the need come for it, but the small should be more than adequate for a French Bulldog.
And it wouldn't be a good product if it wasn't safe, but the RUFFWEAR makes sure to put safety as a priority, and not just with the buckles, but with the color scheme too.
It features bright, road safety colors with 3 different color variations for high visibility, as well as a reflective trim so you can better notice your dog swimming away or if he ends up carried away by a current.
There's a low profile carrying handle on top as well that's comfy to the hand and will endure your dog's weight without tearing with ease.
Underneath it, you'll also find a plastic D-ring to attach a leash onto, though the questionable material may be a bit of a downside if you ever consider getting this for a bigger dog.
That said, it is a luxury item and its price is a lot higher than that of most other products, so it's definitely a costly investment.
However, if you feel like it's worth the price, then, by all means, go for it.
If you have an eager little swimmer there but you need to stick to a strict budget, the HAOCOO life jacket is a pretty solid pick for your French Bulldog.
As is customary with all highly rated life jackets, the materials used are high quality Oxford cloth and a mix of nylon fabric with pearl cotton foam used as the padding.
This makes the jacket durable and soft, providing safety and comfort for your doggo and your purchase too.
It has an easily adjustable belt on the underside paired with 2 quick release buckles to easily take the vest off or put it on without having to struggle with individual paws.
There's a D-ring on top as well should you want to use the vest for walkies and a low profile carrying handle on top if you'd rather carry him around like that and let him chill a bit and enjoy the ride.
A front float keeps your dog's snout from sinking and will help him have a more enjoyable and fun experience at your little swim outing.
While we only really need one size for our Frenchie, two potentially, it's worth noting that the HAOCOO offers 7 different sizes to fit each dog.
And, of course, the colors used for the life jacket are nice and bright and come in 10 different variations, some of these even have the shark fin if you're feeling like getting the extra gimmick for the fun of it.
They also have reflective stripes on it so you can see your doggo better across longer distances.
As far as costs go though, it's one of the more affordable options on this list without compromising on quality too much.
As always though, with larger dogs, the safety vest isn't as durable as it is with smaller breeds, but your Frenchie should be more than fine with using it.
Our next entry for this list is the Vivaglory Dog Life Vest.
This simple Frenchie life jacket is constructed from durable ripstop material that also comes with extra padding that is sure to make your dog feel safe and secure while swimming around in the water.
The swimming life jacket is made in a way where it won't restrict his movement in any way while still providing that safe and comfy feeling and allowing the flotation device to function properly.
There are 6 different sizes to choose from, and the people over at Vivaglory suggest you size up in case your dog's size is found in between two of their own, measurement wise.
The front floats strap in with ease and are secured with a quick release buckle in case of emergencies and for ease of donning and doffing.
The top has a carrying handle that'll make hauling your dog around easier and pulling him back on board in case you're using a boat or similar and he needs a breather.
It also has a D-ring so you can take him out for a walk when back on the surface or if you want to use it as an extra measure of safety in the water, though it's not recommended as it can potentially end up tangling itself with your doggo's paws.
As is tradition with these vests, they all come in bright, noticeable colors and carry reflective stripes on them to make your dog easily noticeable by anyone to prevent any unwanted accidents or him getting lost.
With the Vivaglory vest, you have an astonishing 13 different color options to choose from too, so you can really end up matching the vest with your own swimwear or your dog's theme.
And the price is definitely one of the better ones out there, giving you a proper bang for your buck.
However, even with their own sizing chart, it appears that a good number of dogs ended up getting ones that are too small.
Thankfully, the people at Vivaglory offer a 90 day quality guarantee so you can exchange one for a size larger should it happen to you.
Last, but not least, it's the Phyxin dog life jacket.
This fantastic piece of kit is made from high quality polyester fabric that's filled in with that soft pearl cotton foam to provide a cushy feel for your Frenchie and make him enjoy life while he swims around in the water.
It's also pretty lightweight so your dog won't even feel the difference.
They offer 6 different sizes to choose from, though you'll only really need the latter ones, but it's a good thing to know in case you have more than one pet from a different breed that's part of your household.
The front end is locked in using adjustable straps and a quick release buckle while the bottom instead relies on velcro which will provide a comfier fit while not loosening when in the water.
The top has a D-ring for leash attachment purposes as well as a rescue handle to pick your dog up should the need arise or for not having your hands full when taking him outside.
You'll find 3 different color options for the vest, each of them made with bright colors with 2 large, reflective stripes on the top to make your furry friend easier to notice.
The price borders on the expensive side, but isn't as pricey as some of the other options on the market can be, or even on this list.
As for any downsides, the only one I've noticed are the few faulty products some people have obtained, so make sure to test any purchase you get, just in case it comes damaged.
FAQs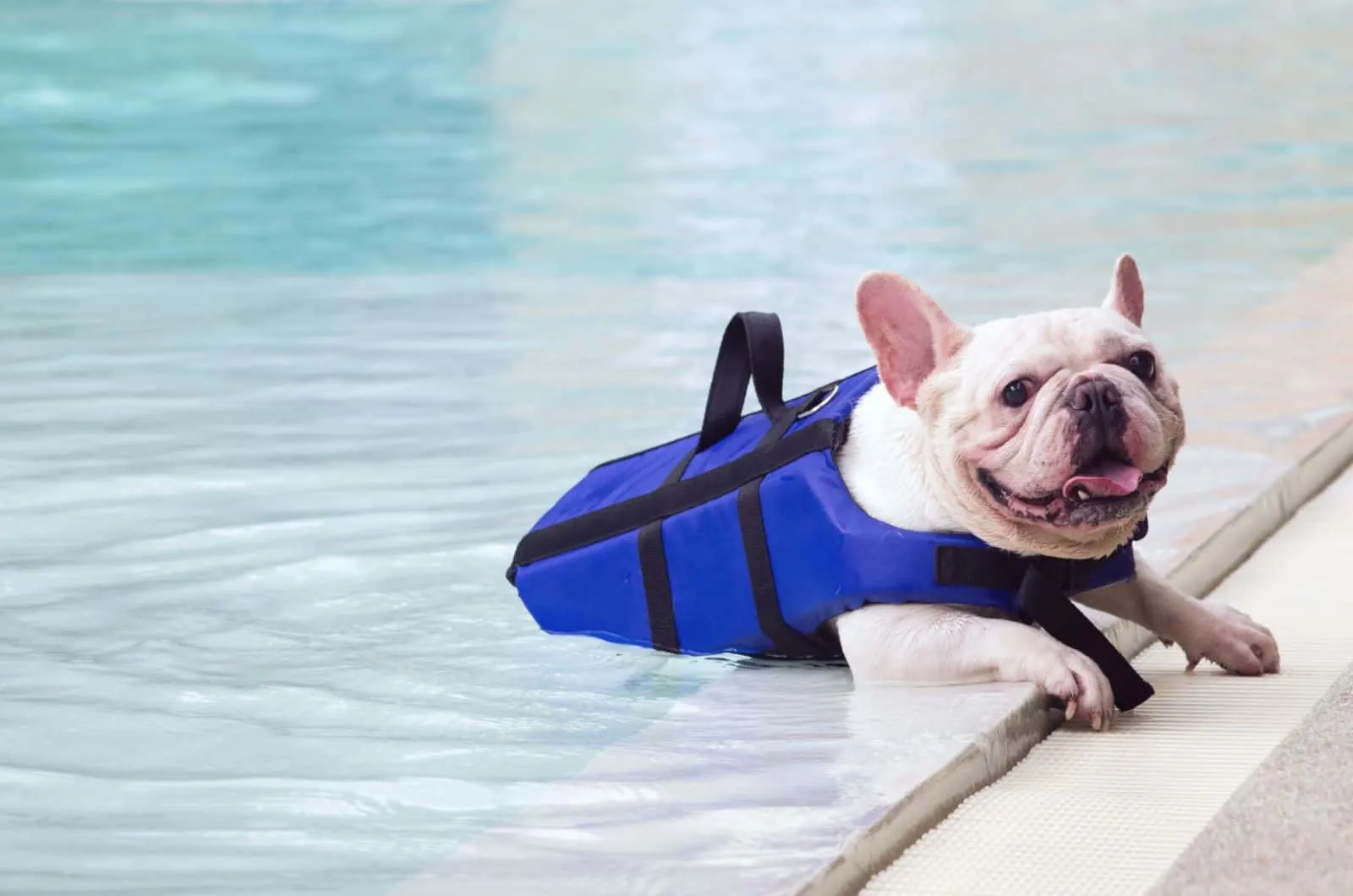 Do French Bulldogs Really Need Life Jackets?
Life vests really are key for dog safety for all brachycephalic dog breeds like the Pug or the French Bulldog as they often have a hard time breathing as is so they get tired easily.
This obviously poses a great risk to their health in an environment where they need to constantly exert some level of energy like swimming in water.
That's where a life jacket becomes a literal lifesaver as it helps them alleviate some of that strain when swimming and helps reduce any potential anxiety they may have regarding it.
Some even let your doggo float about without doing anything which can be thoroughly enjoyable for them.
What Is The Best French Bulldog Life Jacket?
This entirely depends on your own personal preferences as well as your dog's, but, if I were to choose, I'd go for the Petglad one as it seems to provide the most buoyant and relaxing option for a small dog.
In Conclusion
A life jacket for French Bulldogs is mostly a must have if you intend to take him out to the beach, the lake or similar.
Not only will it keep them safe, but most of them are really bad swimmers given their short legs and their flattened skulls which causes them a lot of breathing issues, reducing their stamina and tiring them out quicker.
Life vests help mitigate some of that by easing off some of the tension and effort needed to swim and allow him to go for longer distances without tiring.
Plus, they come with a ton of safety features that make it easier to spot him out at sea and get him out if he's feeling tired.
While there is no de facto best option for a life vest, I'm sure that whatever you pick will make your Frenchie real happy as long as he's with you.
RELATED LINKS:
25 French Bulldog Colors That Will Blow Your Mind!
17 Best French Bulldog Breeders In North Carolina In 2022
French Bulldog Cost: Small Dog, Big Price
11 Best Brushes For French Bulldogs: Top Picks And A Buyer's Guide
10 Best Collars For French Bulldogs: The Ultimate Guide!
How Much Are French Bulldogs – Why Are These Cuties So Expensive?!
Male Vs Female French Bulldog: Which One Would You Choose?