The English Cocker Spaniel breed isn't the one you usually see in your local dog park. If you take a long walk into the woods or by the river, you can find these pups jumping, running, flushing, and retrieving small prey.
Yes, English Cocker Spaniels are hunting companions. But, they can be so much more!
Today, I have some great English Cocker Spaniel breeders in the USA that might have just the right puppy for you. Some of them are field breeders while others are show breeders. But, all of them are reputable breeders with pups that will love you dearly.
I know – the American Cocker Spaniel is the original U.S. Spaniel. Still, the English version is much more popular in all U.S. States!
No matter if you're into hunting dogs or not, you're gonna go crazy about ECS! Their pawmazing temperament will blow you off your feet!
English Cocker Spaniel Puppies For Sale In the USA
You'll either find your new family member or your superstar dog for dog shows with the breeders listed below. All of them have a long tradition of breeding and raising sound Cockers, so you don't have to worry about their behavior or any potential health issue.
1. Otter Creek Kennel, AL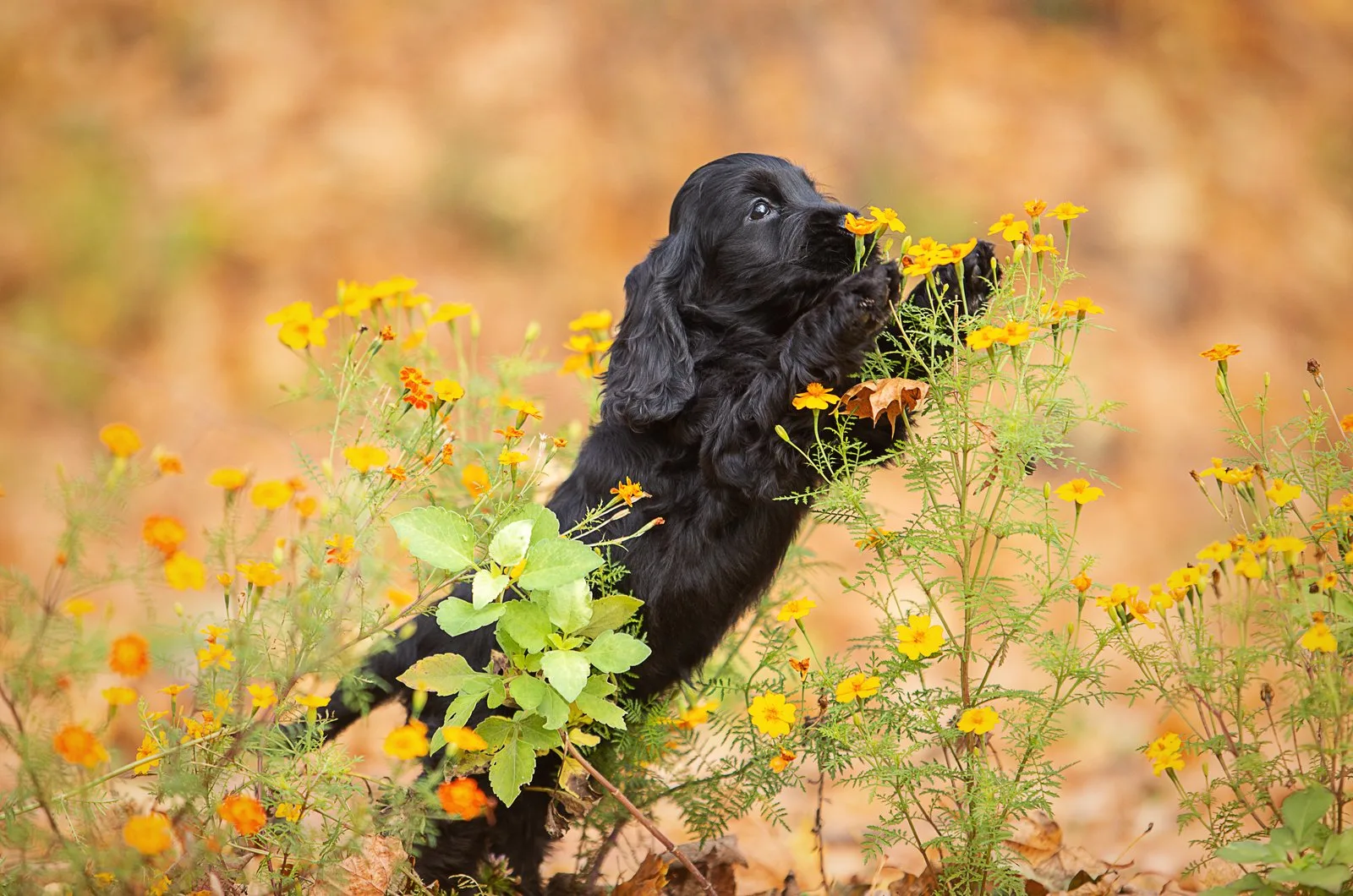 Otter Creek Kennel, from Alabama, breeds, raises, trains, and hunts with field-bred English Cocker Spaniels. Their breeding program is based on the best bloodlines imported from the UK. These dogs are superstars in the field by day, and loving companions by night.
Pointing and flushing dogs are Otter Creek's favorites! Whether you like it or not, hunting with dogs still exists, and Otter Creek pups are very much enjoying it throughout the season. Their hunting team doesn't just consist of English Cocker Spaniels.
Occasionally, this breeder will also have Elhew Pointers, German Shorthair Pointers, and Brittany Spaniel puppies.
The owners and breeders, Frank and Jane Brown, received their first English Cocker back in 2009, and their hard work and expanding knowledge on breeding and raising dogs has not stopped ever since.
Otter Creek Farm is a wonderful place where you can even organize field trips and wedding ceremonies. The family is always happy to see their adopted pups come back and enjoy nature.
Breeder's details
Website: Otter Creek Kennel
Location: 3165 Six Foot Rd., Ohatchee, AL 36271
Phone: (256) 892-2177
Email: [email protected]
Social media: Facebook and Instagram
2. Lynann English Cockers, CA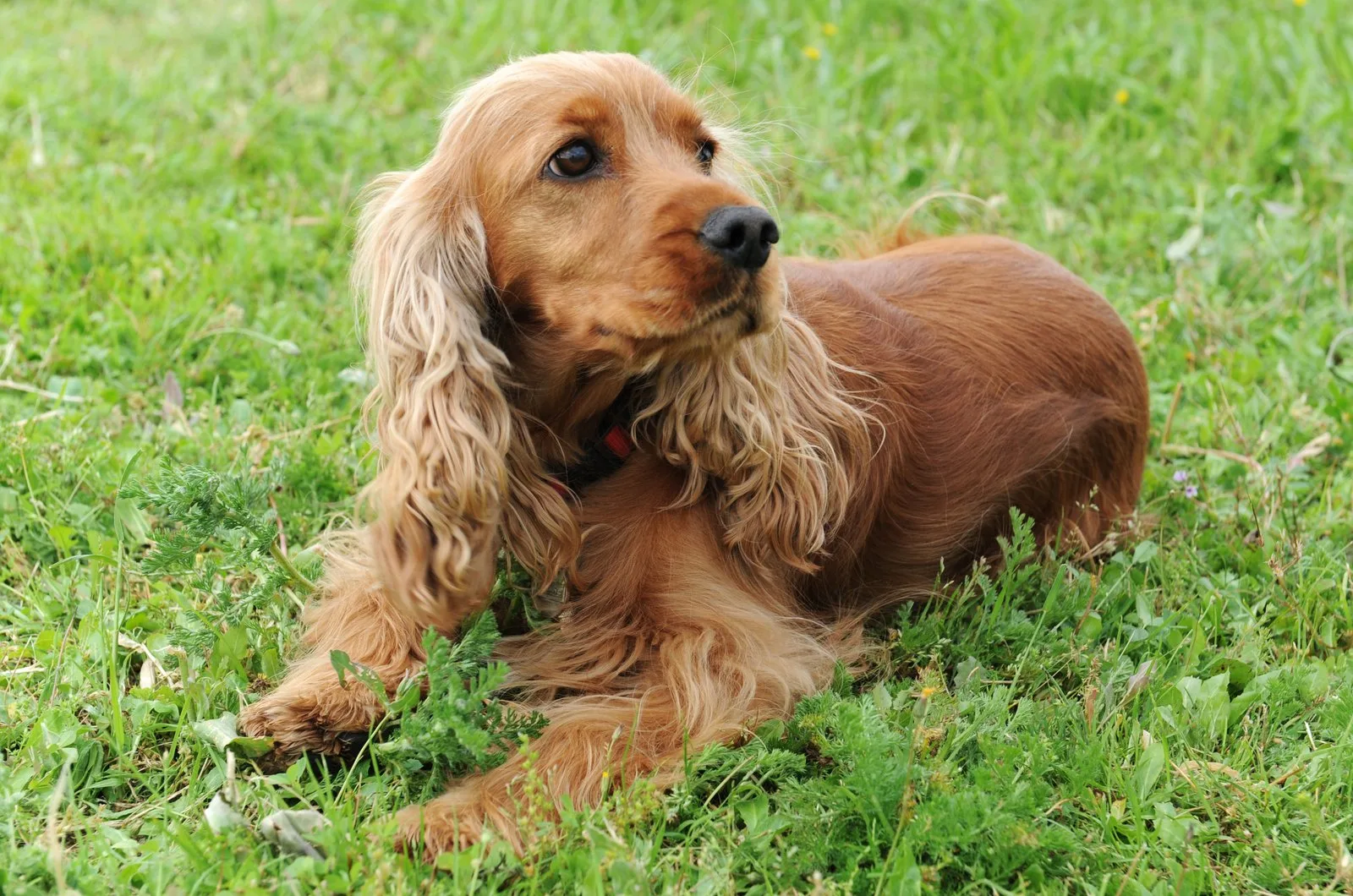 Bob and Lynda, from Lynann English Cockers, started Sport of Dogs in 1976. Their beginnings were tied with English Setters. However, the couple soon got their first English Cocker Spaniel, and it was love at first sight.
Ever since 1978, Bob, Lynda, and their children have been living for their English Cockers, not off of them.
As proud members and award-winners of the English Cocker Spaniel Club of America (ECSCA), and the English Cocker Club of S. California, Bob and Lynda are widely-known for their supreme quality.
When breeding dogs, this family focuses on health, temperament, and great quality. That's why they've enriched their breeding stock with dogs from the famous Vom Schloss kennel in Germany.
Lynann's Cockers are excellent at everything they do, including Obedience, Scent Work, Field, Performance, and Lure Coursing. There's nothing these pups can't do in the show ring.
You can absolutely get a Lynann's Cocker if you want a companion dog; however, enrolling them in competitions would be even better!
Breeder's details
Website: Lynann English Cockers
Location: California
Phone: (805) 498-5347
Email: [email protected]
3. Foxwoods Kennel, VA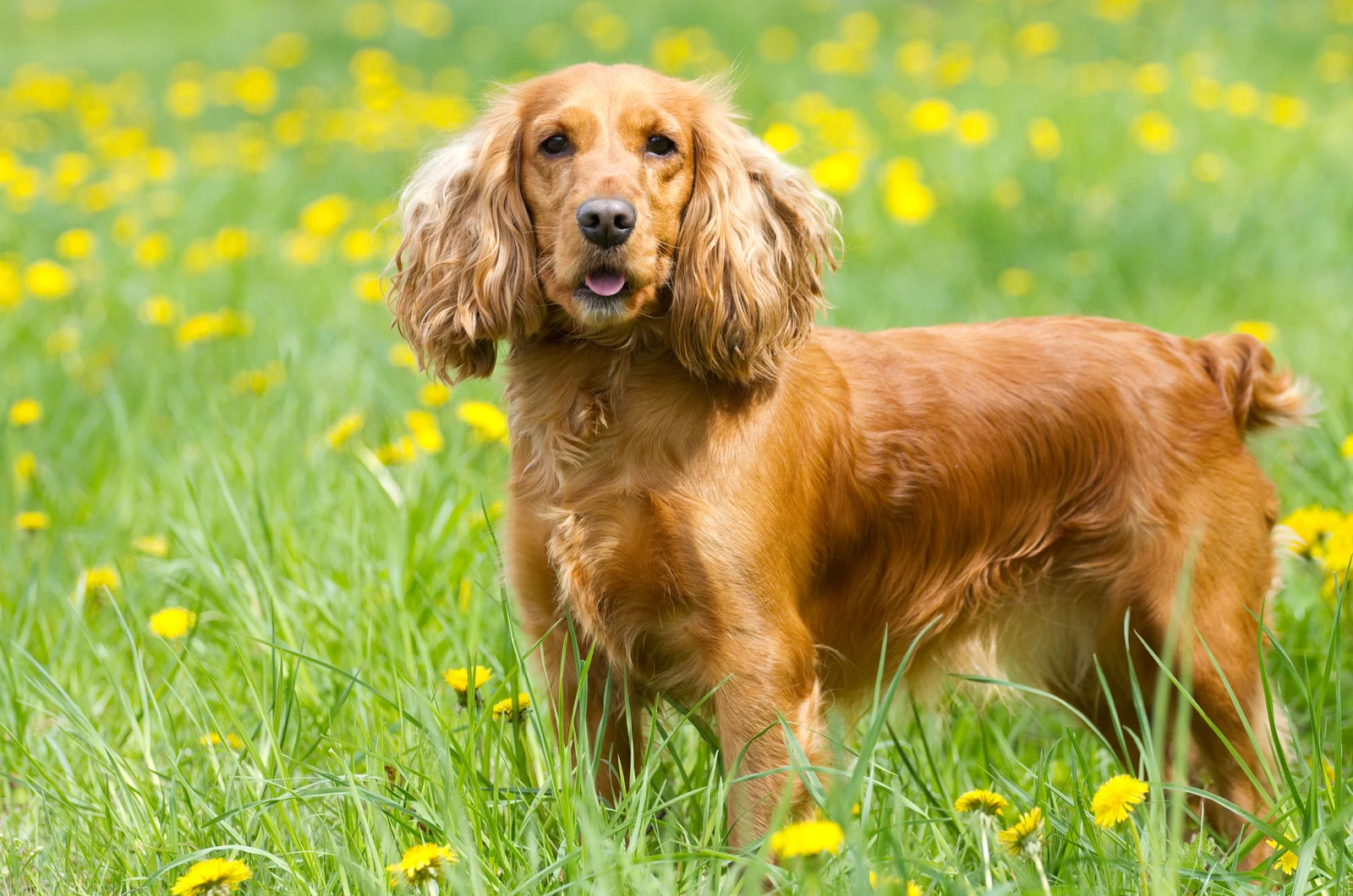 Foxwoods Kennel is home to lovely English Cocker Spaniels and their buddies, Golden Retrievers.
Before we get started, I have to mention that this is an AKC Breeder of Merit, so prepare yourself for meeting some exquisite English Cocker Spaniels.
Kristin and her family have been into breeding and showing dogs since 1980. They first started with Golden Retrievers, but continued on with ECS. Kristin is simply used to producing conformation champions. But, she did not make a full-time job out of it.
Breeding and raising perfect puppies is still a passion for this small, hobby breeder from Virginia. However, that does not affect the high quality of her work.
Breeder's details
Website: Foxwoods Kennel
Location: 4881 Sugar Hollow RD., Crozet VA 22932
Phone: (434) 823-1548
Email: [email protected]
Social media: Facebook
4. Bellamy English Cocker Spaniels, NV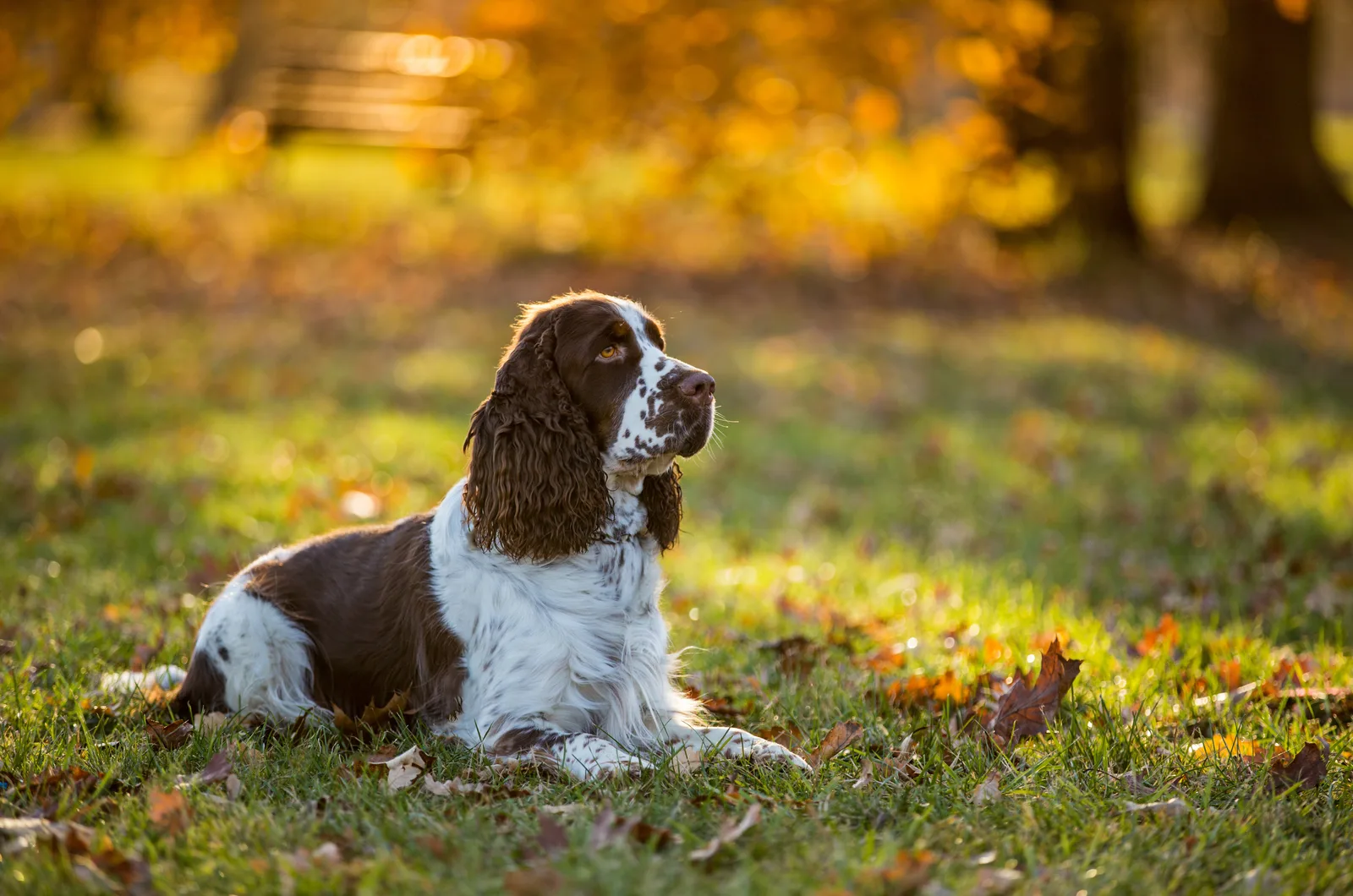 Hidden away in Gardenville, Northwest Nevada, Bellamy English Cocker Spaniels are waiting for you to come and pick them up!
Well, that's technically not possible since they don't have puppies available all the time, but still… you get the point, don't you?
Bellamy ECS is one of those hobby English Cocker Spaniel breeders focused on making English Cocker Spaniels a part of the family. They only breed exclusively, which means they really don't have a strict plan for future litters. If you want to be on their list, please contact the breeder.
The breeder and owner of Bellamy, Hillary Arnaud, is really focused on breeding according to the breed standard written by the American Kennel Club. Hillary breeds to improve the breed and produce litters of supreme quality.
Her pups are completely sound, and come without common health problems such as hip dysplasia, deafness, or PRA (progressive retinal atrophy).
Even though Hillary enrolls her pups into AKC conformation shows, these Cockers are still wonderful family pets. They're not snobbish at all for being champions of the ring. Besides English Cocker Spaniels, the family also breeds English Springer Spaniels – their cousins!
Today, their breeding stock consists of 10 dogs, even some imported pups! They've come a long way since their establishment in 2003 to be named one of the best English Cocker Spaniel breeders in the States!
Breeder's details
Website: Bellamy English Cocker Spaniels
Location: Gardnerville, NV, US 89460
Email: [email protected]
Social media: Facebook
5. Ryglen Gundogs, IL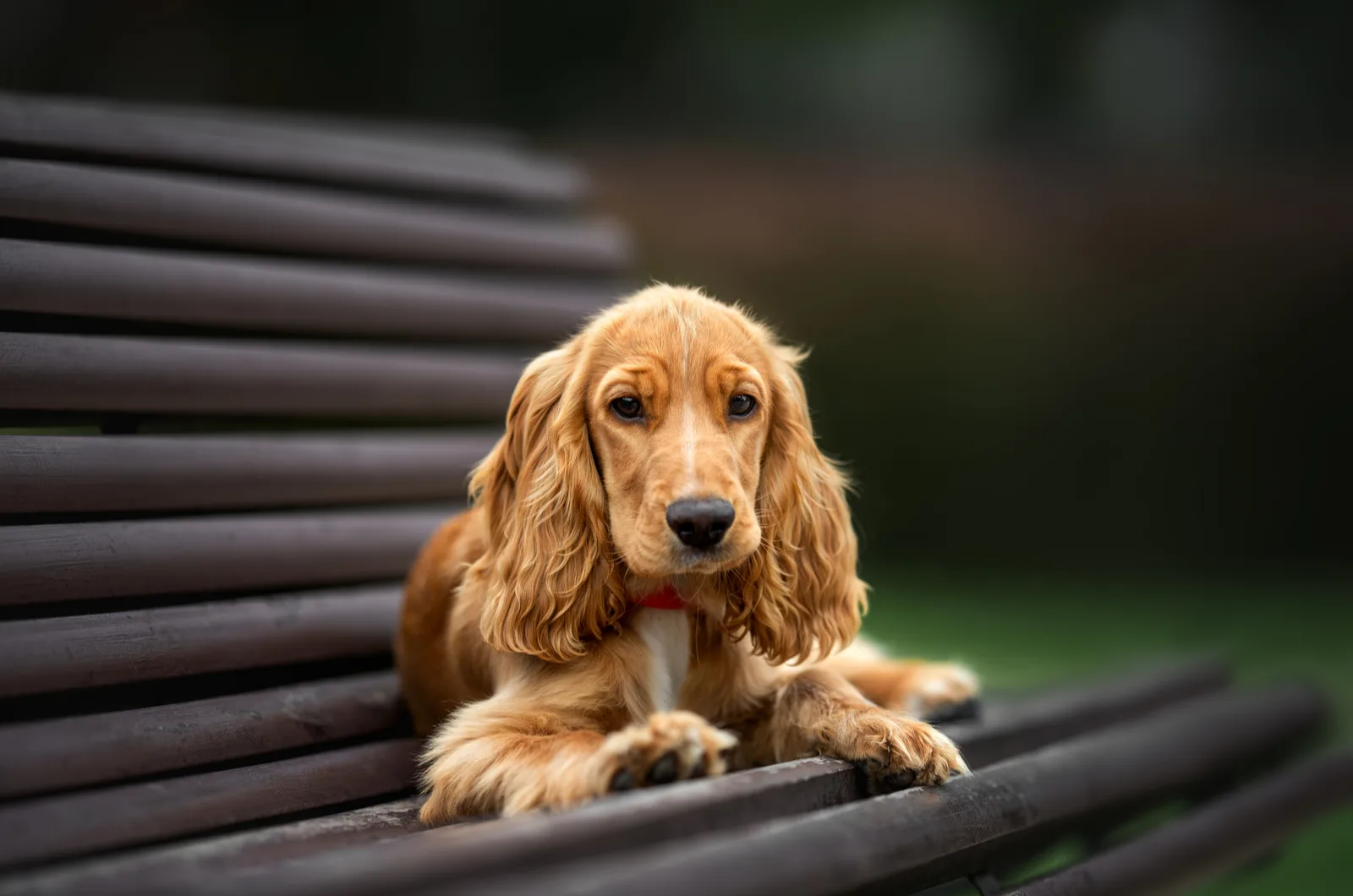 Let's meet some of the finest imports from the UK!
Ryglen Gundogs is focused on importing, raising, and training exceptional English Cocker Spaniels from the land of their origin.
Even though Jay, the owner, bought his first hunting dog in 2003, a Labrador Retriever, that didn't mark his breeding career. It took 10 years of dog training and learning for Jay to get his first English Cocker Spaniel.
Shortly after his trip to the UK, Jay imported his first ECS, Cassie.
Today, Jay's breeding stock is pretty impressive. He's got nine incredible English Cocker Spaniel females, and four Cocker boys. Together, they produce probably the best Cocker Spaniel puppies in this part of the United States.
All of the Ryglen Cocker puppies are born and raised in a secured facility, far away from adult dogs. Don't question this breeder for having state-of-the-art breeding buildings. This is not a puppy mill. This is a hobby breeder with a fancy twist.
Ryglen Gundogs always come with limited AKC registration. If you want to know more about their breeding schedule or the prices, make sure you contact Jay or pay them a visit.
Breeder's details
Website: Ryglen Gundogs
Location: 1706 E 1500 Ave, Brownstown, IL 62418
Phone: (618) 322-0544
Email: [email protected]
Social media: Facebook and Instagram
6. Beach Bum English Cockers, MD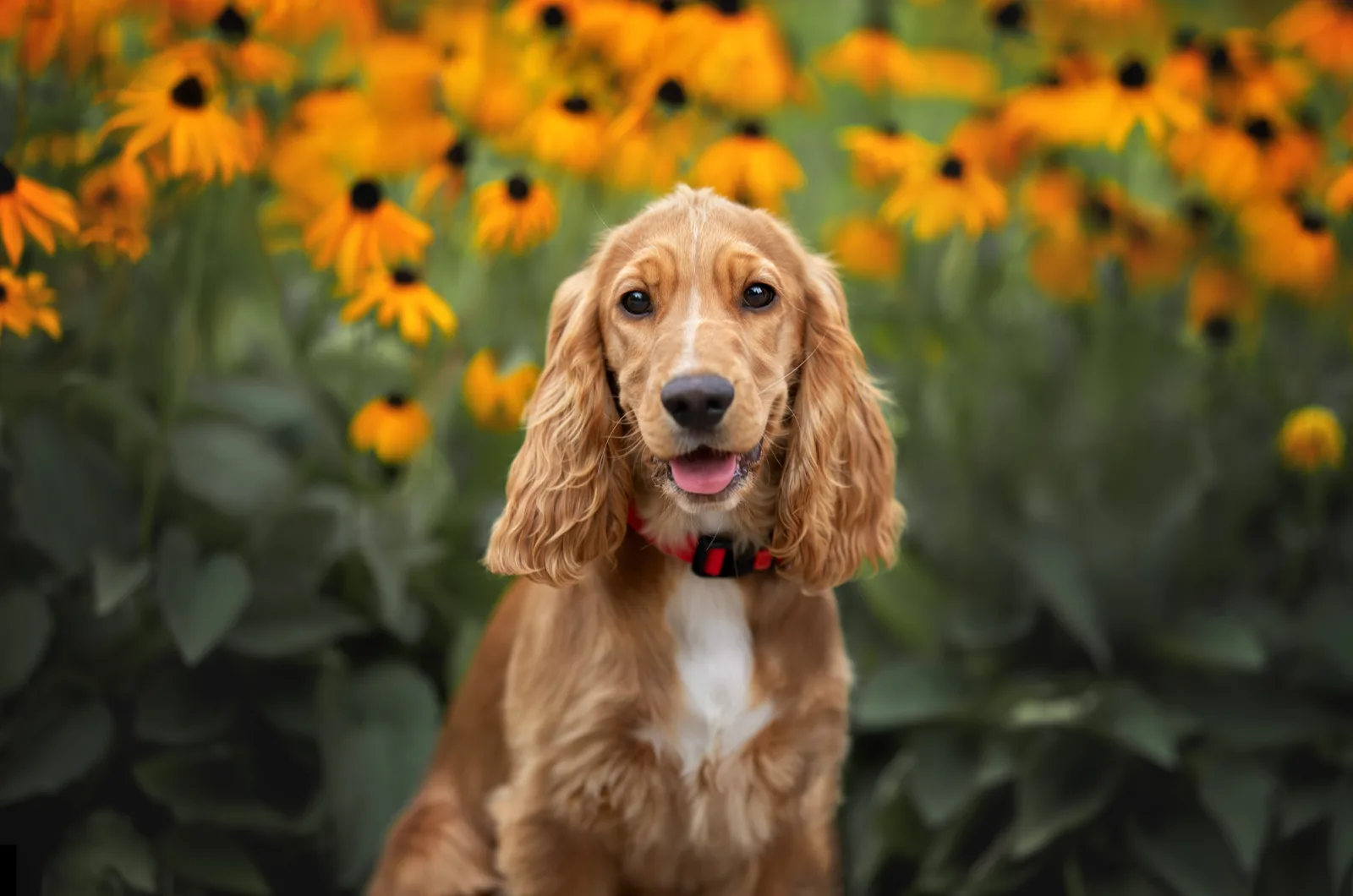 Although they have a funny name, there's nothing funny about this AKC Breeder of Merit!
Meet Beach Bum English Cockers – a family of dogs and their caretakers that enjoy beaches and car rides more than anything! This is home to lovely ECSs that are treated as equal family members.
The days of hunting woodcock are over for these Cockers. It's time for them to enjoy life and maybe bring home a couple of prizes from the Nationals. As award-winning Cockers, Beach Bum pups will make you lose your mind over them!
Besides having a lovely temperament, Beach Bum Cockers are fine-looking sires and dams that produce even prettier puppies!
Let me clear up something… Beach Bum is not a serial breeder. They won't have puppies for you all year long. Usually, they breed only a few litters every few years. But, they do have adult Cockers retired from dog shows for adoption.
I have to say something about this breeder, and I really hope that it won't scare you away from buying one of their puppies. The waiting list is exceptionally long, from 18 to 24 months!
But, think of this as an advantage. If it takes that much time to get one of their puppies, then they surely are worth the wait. Each Beach Bum puppy will be listed at $3,000, but you'll have plenty of time to think about adopting one and save up additional money for puppy costs.
Breeder's details
Website: Beach Bum English Cockers
Location: Forest Hill Maryland
Phone: (443) 528-0585 Tina or (410) 652-0394 Gina
Email: [email protected] or [email protected]
7. Crack O' Dawn English Cocker Spaniels, OR
If you live in Oregon or in the area, and you're looking for a field-bred English Cocker Spaniel, then you must certainly know about Crack O' Dawn English Cocker Spaniels!
This is the home of well-behaving Cockers, with supreme work ethics and great socialization skills.
Living with a Cocker means that every day is a party! They're fun dogs to have around, and even more fun when they're in the field. Some people even call this dog breed "pocket rockets" since they cover a field so fast. Nothing goes by them unnoticed.
Crack O' Dawn's English Cockers will be socialized from an early age, and submitted to ENS (Early Neurological Stimulation). They will go through the transition period from mom's milk to puppy dog food at the age of four weeks.
After that, it's only learning and training for these pups. Of course, fun is implied.
As far as their prices go, I can't help you with that. You'll have to contact the breeder. Usually, standard colors like blue roan will go for smaller amounts than lemon and white Cockers.
However, it's not the coat color that's important – it's the Cocker's strong work ethic, fine temperament, and exceptional health status that really count!
Breeder's details
Website: Crack O' Dawn Cockers
Location: Ashland, Oregon
Phone: (541) 951-1119
Email: [email protected]
Other Spaniel Breeders
In case you're interested in other Spaniel dogs, you should check out the top lists of Spaniel breeders by PupVine!
Cocker Spaniel breeders in Ontario
Cavalier King Charles Spaniel breeders in Ontario
To Sum Up…
The English Cocker Spaniel can easily be a great family dog. Just ask any English Cocker Spaniel breeder!
Between all land and water Spaniels, English Cocker Spaniels (as land-based ones) are true superstars. They're trainable pups that can learn anything you want to teach them. They're loyal, obedient, and will do anything to make their owner proud.
Even if you're only looking for a companion, you will enjoy every moment spent with your ECS throughout its entire lifespan!
So, don't hesitate anymore! Contact any of the English Cocker Spaniel breeders listed here and you'll soon have your ideal companion!
Read Next:
• 11 Brittany Spaniel Breeders In U.S.: Quality Comes First
• These 8 English Springer Spaniel Breeders Have A Puppy For You