With their lean bodies, pointy ears, and black and tan markings, Doberman Pinscher dogs have a unique look. Dobermans are fearless and loyal, excellent guard dogs praised for their intelligence and obedience all around the world.
And guess what? They are very popular in Florida too.
Florida needs guard dogs too. Who's going to keep all those gators out? Jokes aside, they are very popular, and people are constantly looking for good and reputable breeders to find a perfect Doberman puppy for themselves.
Even though they are popular, it can be a problem to find Doberman dogs that come from a healthy bloodline that won't have a lot of health problems. It is not a problem to find a breeder. The problem is to find a good one.
That's why we have a list of the 13 best Doberman Breeders in Florida to help you with your search.
You can see info about them including the most important facts about the breeder and the dogs they have, their contact details, and their location.
Let's meet the breeders.
Doberman Pinscher Puppies For Sale In Florida
The Doberman Pinscher and The German Shepherd dog go side by side as two of the best guard dogs in the world. Now, that tells us a lot about the Doberman and his amazing working abilities.
They are used by the Police and Military, and they are also brilliant as service and therapy dogs.
Breeders in Florida understood the beauty and excellent mental abilities of this fabulous lean dog and did everything in their power to start breeding Dobermans of exceptional quality.
Everyone on our list of 13 Doberman breeders in Florida is a reputable breeder and a dog lover. They love their dogs, and they aim to find a good new home for their Doberman puppies.
1. Doberman & Company, Tampa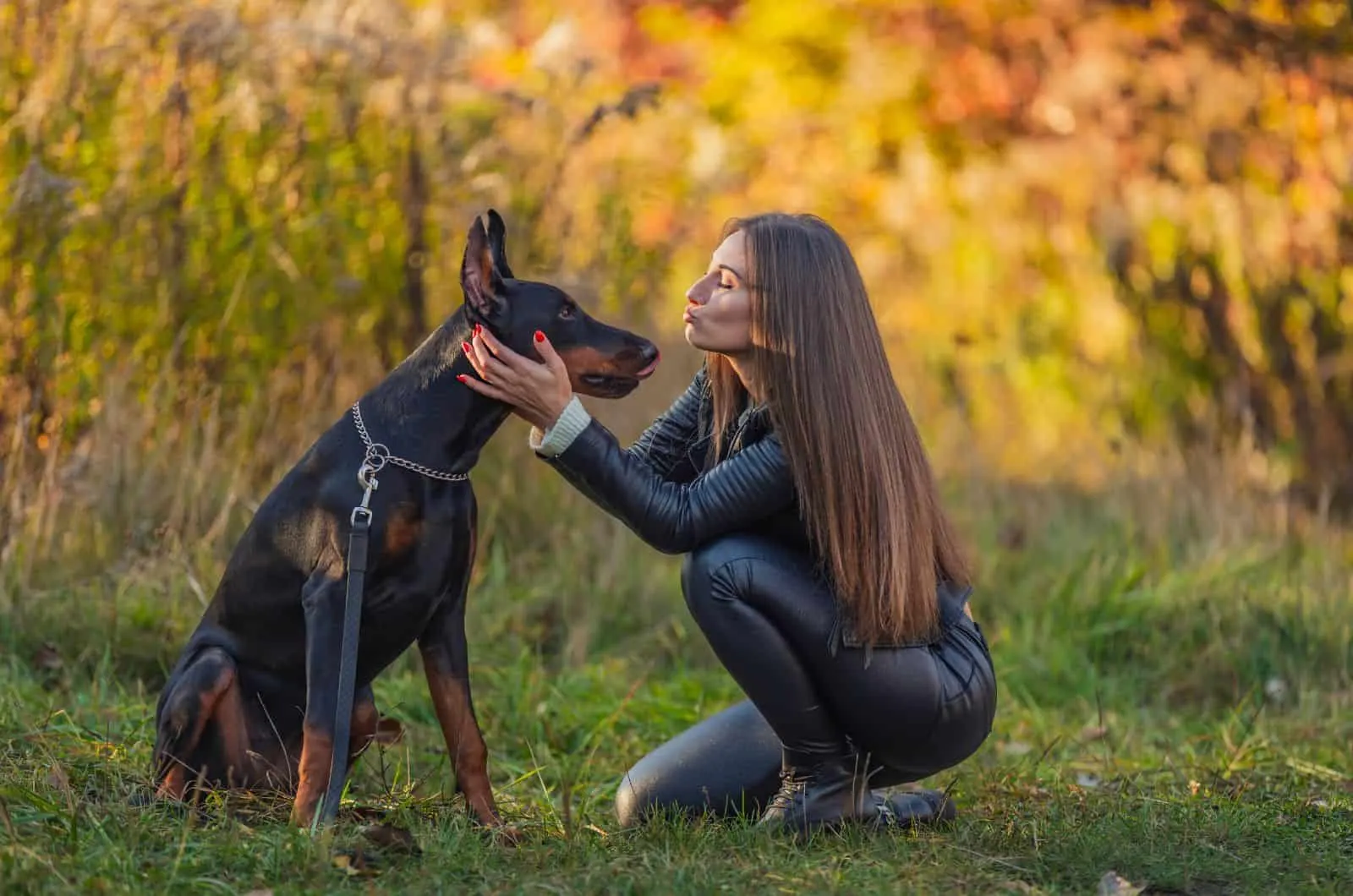 This is a small home breeder of traditional Doberman Pinscher dogs. When we say "traditional" we mean the traditional black coat color with rust markings and the red coat color with rust markings — the red Doberman Pinscher.
The dogs from Doberman and Company are registered by the American Kennel Club (AKC) and they come from a European bloodline of champions.
All of the dogs come with a one-year health guarantee. Also, all of their dogs have regular vet checks, they have all been vaccinated and they are regularly dewormed.
All in all, the Doberman dogs from Doberman & Company are beautiful and healthy. They will certainly become amazing family members to any pet owner. If you are looking for breeders that have "traditional" coat-color Doberman puppies for sale — this is the place to find one that suits you.
Address: 2907 Forestwood Dr, Seffner, FL 33584, United States
Phone: +19546936243
Website: Doberman & Company
2. Epic Dobermans, Dade City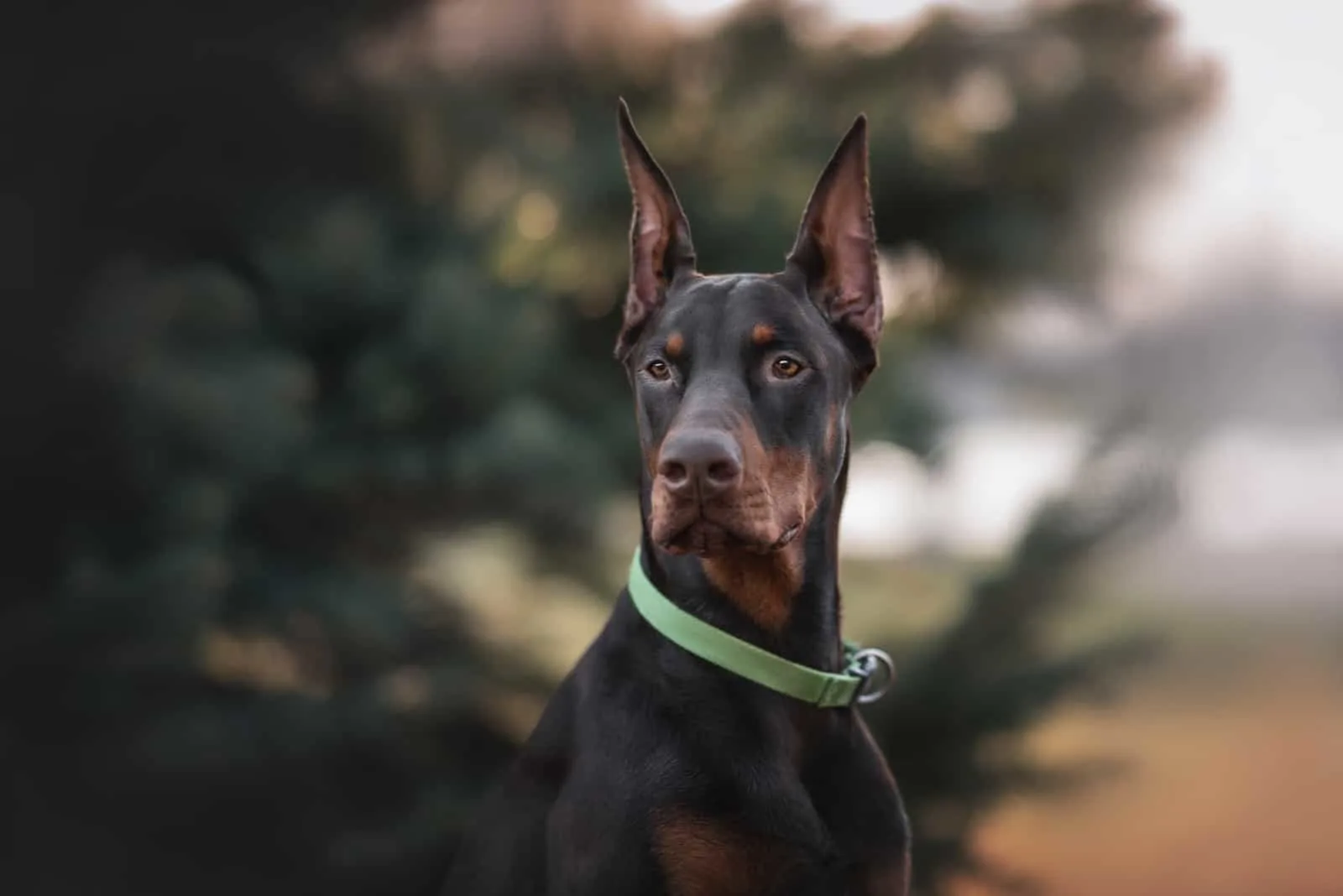 Meet Eric Glofka, the owner of Epic Dobermans and a member of the DPCA (Doberman Pinscher Club of America) and the Central Florida Working Dog Club.
Eric's dogs are AKC registered and his breeding program is directed at breeding a Doberman puppy of great health and temperament. His dogs have a lot of titles behind them. They are good dogs of great conformation and agility, with overall excellent physical and mental traits.
If you are interested in getting a puppy from Epic Dobermans, you can contact them and meet them in person, too. They are highly invested in where their pups go, so be prepared to not only ask questions but to be asked questions, too.
They have black and rust and red and rust Doberman puppies. All of their dogs are a part of their family and are raised as such in the warmth of a home. The puppies are well-socialized, gorgeous, and healthy.
The dog's parents are clear of genetic diseases, and they deliver healthy puppies. So, no matter if you are located in Florida or Texas, or any other State — pick up your phone and call Eric to reserve your new Dobie puppy.
Address: Dade City, FL, United States
Phone: +18132993534
Website: Epic Dobermans
3. Providence Dobermans, Rockledge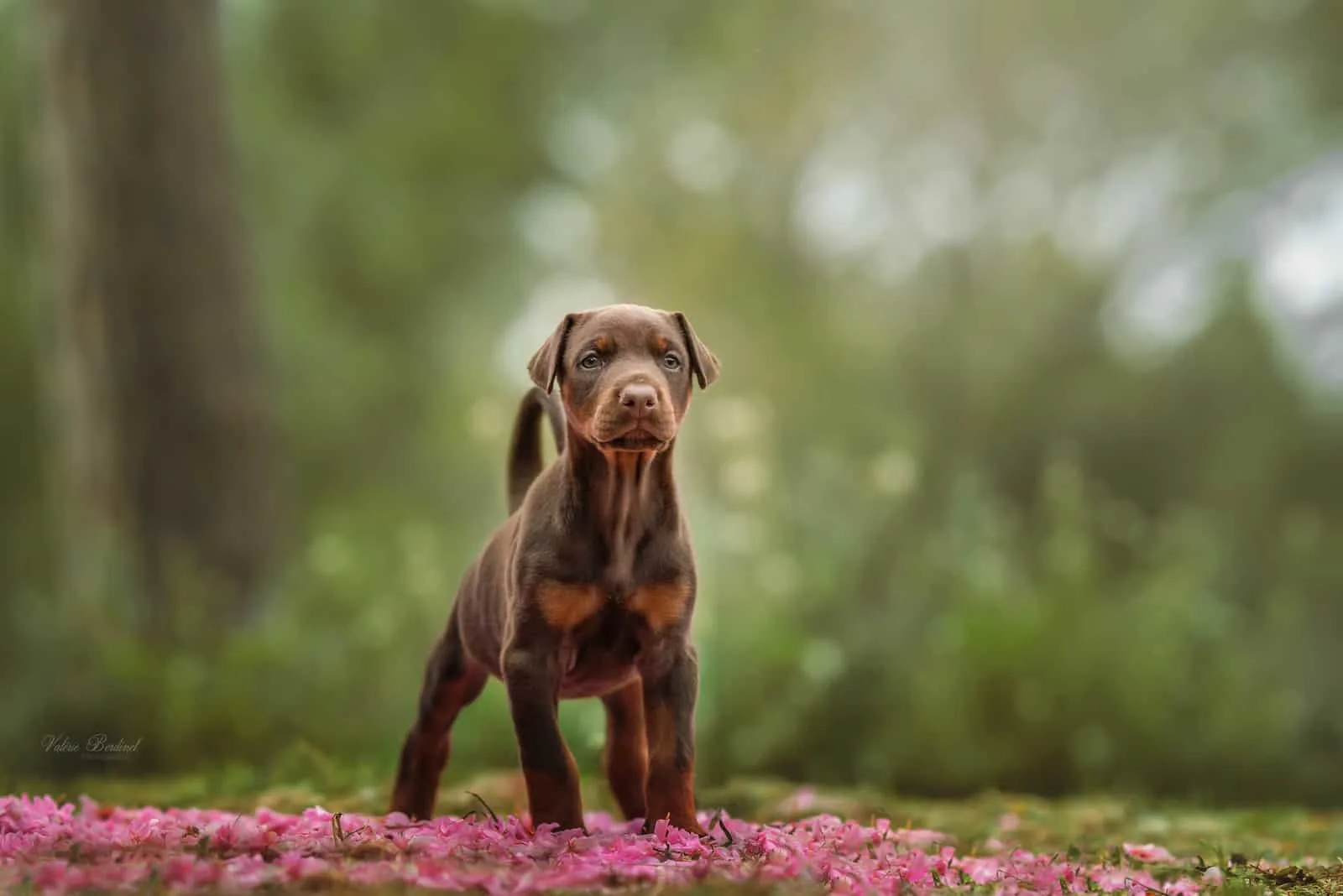 From Naples, we go to North Central Florida and Providence Dobermans. This is one of the 13 best Doberman breeders in Florida for many reasons.
They are professional family breeders, and their breeding program is according to AKC standards. Their dogs are, of course, AKC registered but they are also members of the Doberman Pinscher Club of America (DPCA).
In Providence Dobermans, they are strongly against breeding the Albino Doberman (the Z-factor Doberman) and the so-called Warlock Doberman. Their aim is to breed healthy Doberman Pinscher puppies that will have all the qualities of a regular Doberman Pinscher breed.
This is an excellent dog breeder that has Breeder of Merit and HEART certificates, and they have been members of DPCA since 2011. All of their dogs have been health tested and they all live with the family inside their home.
This breeder keeps the dogs at home and treats them like family members. With constant socialization with the people and other dogs, they raise healthy and well-socialized puppies. The dogs also have a yard to run around.
Address: 433 Richard Rd, Rockledge, FL 32955, United States
Phone: +13218486105
Website: Providence Dobermans
4. AJT European Dobermans, Naples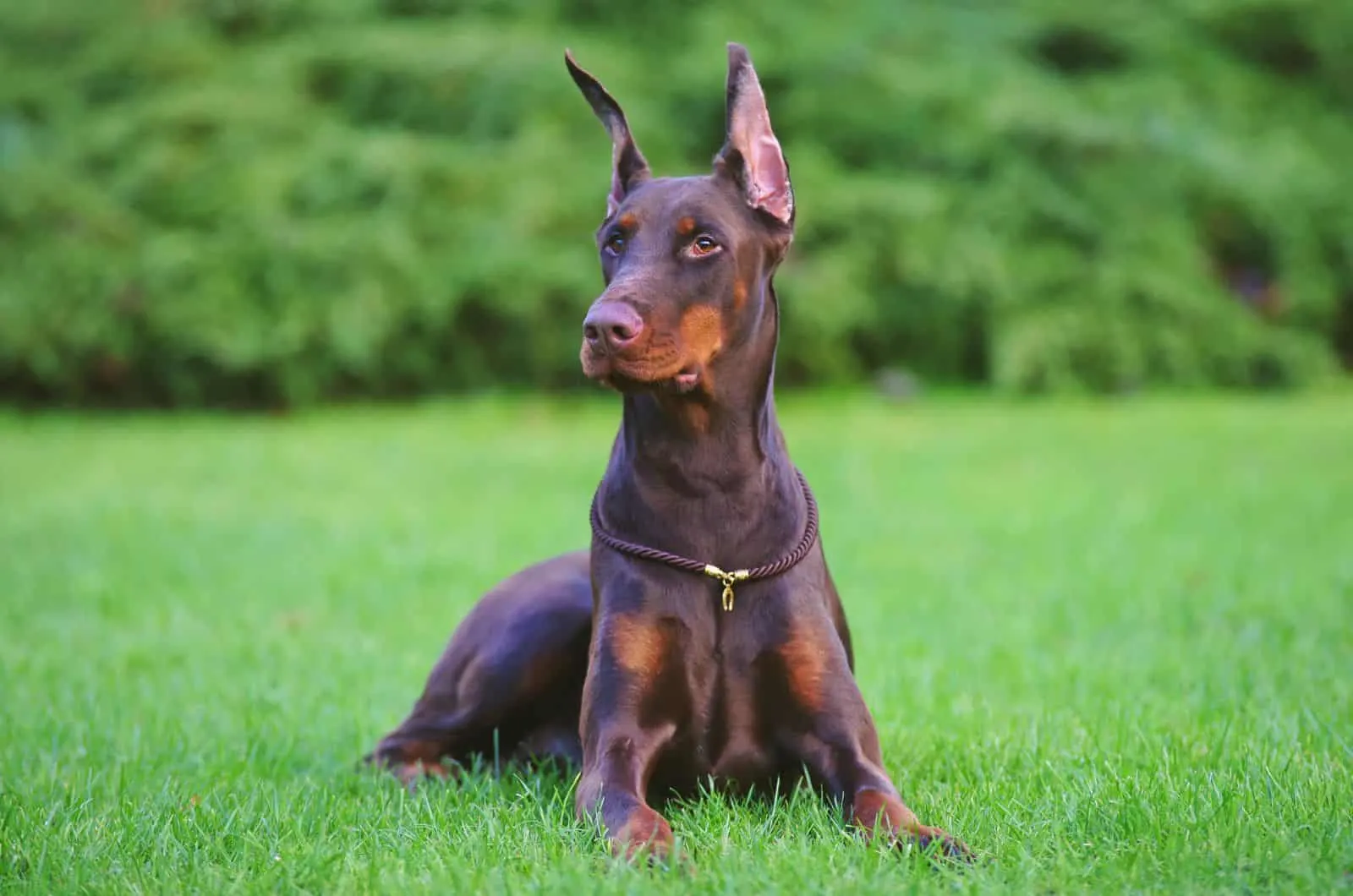 The owner of AJT European Dobermans is Jermaine Anderson. He has been around dogs taking care of them and teaching them tricks all of his life. It was only natural that he professionally follows this path, too.
So, here we are today at AJT European Dobermans where Jermaine not only sells quality Doberman puppies but also pre-trains them. That means, the puppies you get from him will already be well-behaved and you won't have to spend a lot of time teaching them basic obedience lessons.
Their Doberman dogs have been tested and cleared of hip dysplasia and eye diseases. The breeding program that Jarmaine implements creates Doberman Pinchers of excellent conformation and temper.
Another amazing fact about this reputable Doberman breeder is that his three children spend time with the dogs. That means the puppies are exposed to children from a young age, making them prepared for any type of family and well-socialized.
Located in beautiful Naples, this breeder makes sure all of his dogs are both excellent future family companions and working dogs. Whatever you choose your Doberman to be — just a pet or a therapy dog and a pet, AJT European Dobermans has it.
Address: Naples, FL, 34112, United States
Phone: +12393160785
Website: AJT European Dobermans
5. Beshara Kennels, White Springs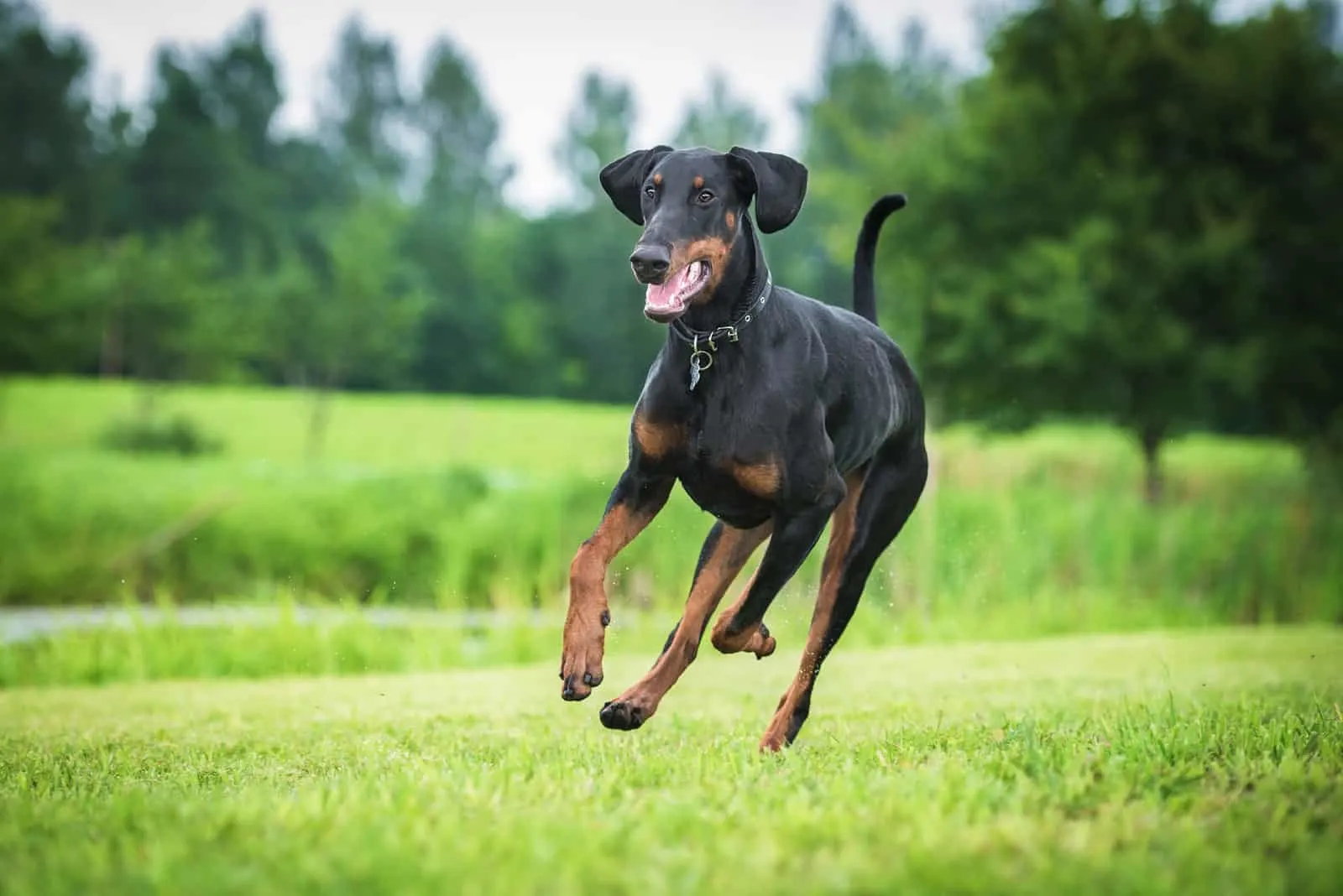 Adel Beshara, the owner of the Beshara Kennels, breeds and sells more than one dog breed — Doberman Pinscher, Rottweiler, German Shepherd, and Yorkshire Terrier puppies.
All of his dogs are in excellent health. They are very well taken care of, and the Kennel premises are clean and with enough space for dogs to grow happy and healthy.
Beshara Kennels is one of the Doberman breeders in Florida with the highest number of positive reviews, flowing from all sides of the country. But don't worry, you don't have to be in Florida to get a puppy from Adel. They ship the puppies, or you can come and pick them up.
That is another wonderful thing about Beshara Kennels — you can always come and see the puppies and dogs. If you decide you want a Dobie from them, you can either make an in-person reservation or via phone.
He has black and rust, red, and blue Doberman dogs. If you are interested in buying a puppy or you have any questions, you can contact them via email as well. ([email protected])
Address: 14797 SE 95th St, White Springs, FL 32096, United States
Phone: +19045202847
Website: Beshara Kennels
6. Legendary Dobermans Of Apolda, Miami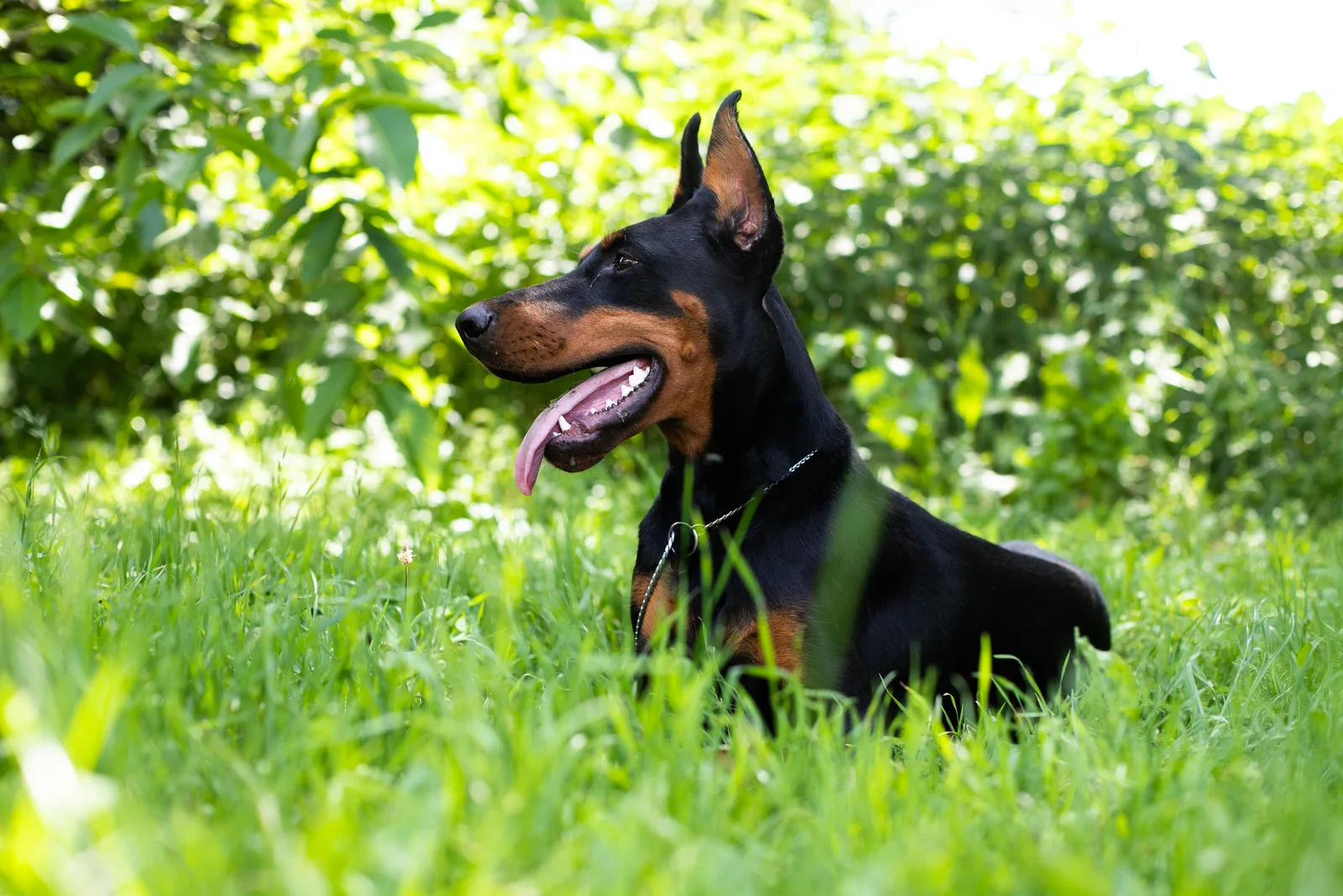 This breeder has Doberman Pinscher dogs of various coat colors. But, they do not breed the Albino Doberman or Warlock Doberman.
All of their dogs are healthy, loyal, and strong Dobermans of the standard size accepted by AKC. They are also AKC certified. This breeder imports Dobermans from various European countries to ensure the breeding of puppies from different bloodlines.
This kind of breeding program makes sure that hereditary diseases are kept down to a minimum. The dogs are also raised in a family as family members. This is why their Dobermans are so well-socialized and ready to adjust to a new family.
Puppies they sell also come with AKC certification — Pedigree and Litter Certification. They are also microchipped, vaccinated, dewormed, and tail-docked, and they have a certified USDA travel certificate. To sum it up — the puppies are ready to go.
They do not crop the ears of their Doberman dogs, but they will do that too upon request. In fact, all of their male dogs do not have cropped ears.
Address: 20329 SW 122nd Pl in Miami, Florida 33177, United States
Phone: +13057720447
Website: Legendary Dobermans of Apolda
7. Love Of Dobermans, Ocklawaha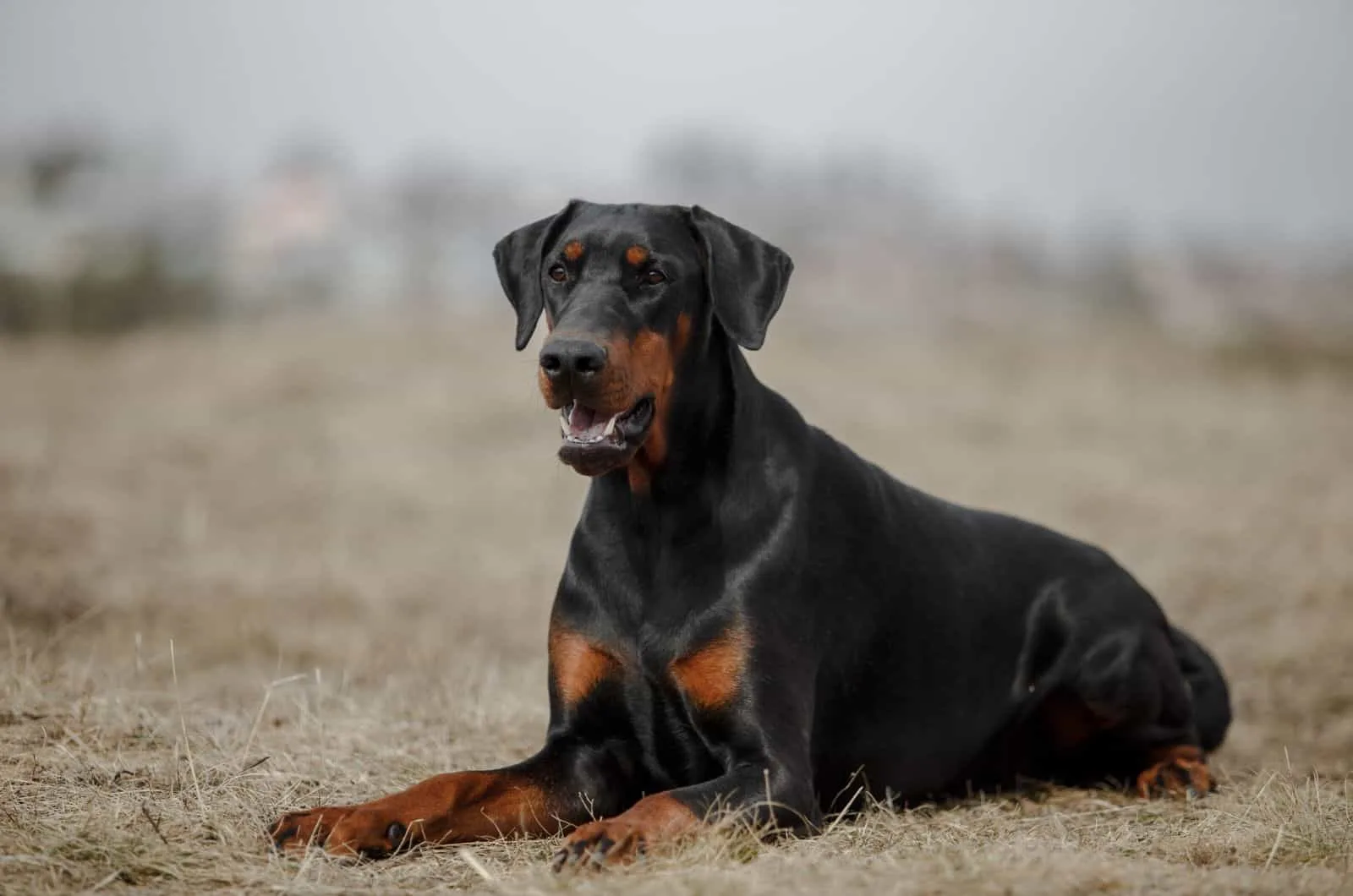 Meet Sharon and her lovely Dobermans from Love of Dobermans in Ocklawaha. She is one of the best Doberman breeders in Florida and she has made a lot of families happy with her beautiful Dobies.
Sharon has sent her puppies to families all across the States, and you can see photos of all of her dogs and previous and upcoming litters on her website or Facebook page.
Sharon and her husband Michael focus on breeding healthy Dobermans with sound bodies and good temperaments. Their dogs are a real example of a Doberman dog — intelligent, graceful, loyal, and with a shiny short coat.
They don't have a lot of puppies during the year. Usually, they have one litter per year, and they make sure the puppies are held and taken care of from day one. Sharon's Doberman dogs are well-socialized, obedient, and good dogs.
Address: 16090 SE 112th Place Rd, Ocklawaha, FL 32179, United States
Phone: +14074615093
Website: Love of Dobermans
8. Kiefer's Corner, Geneva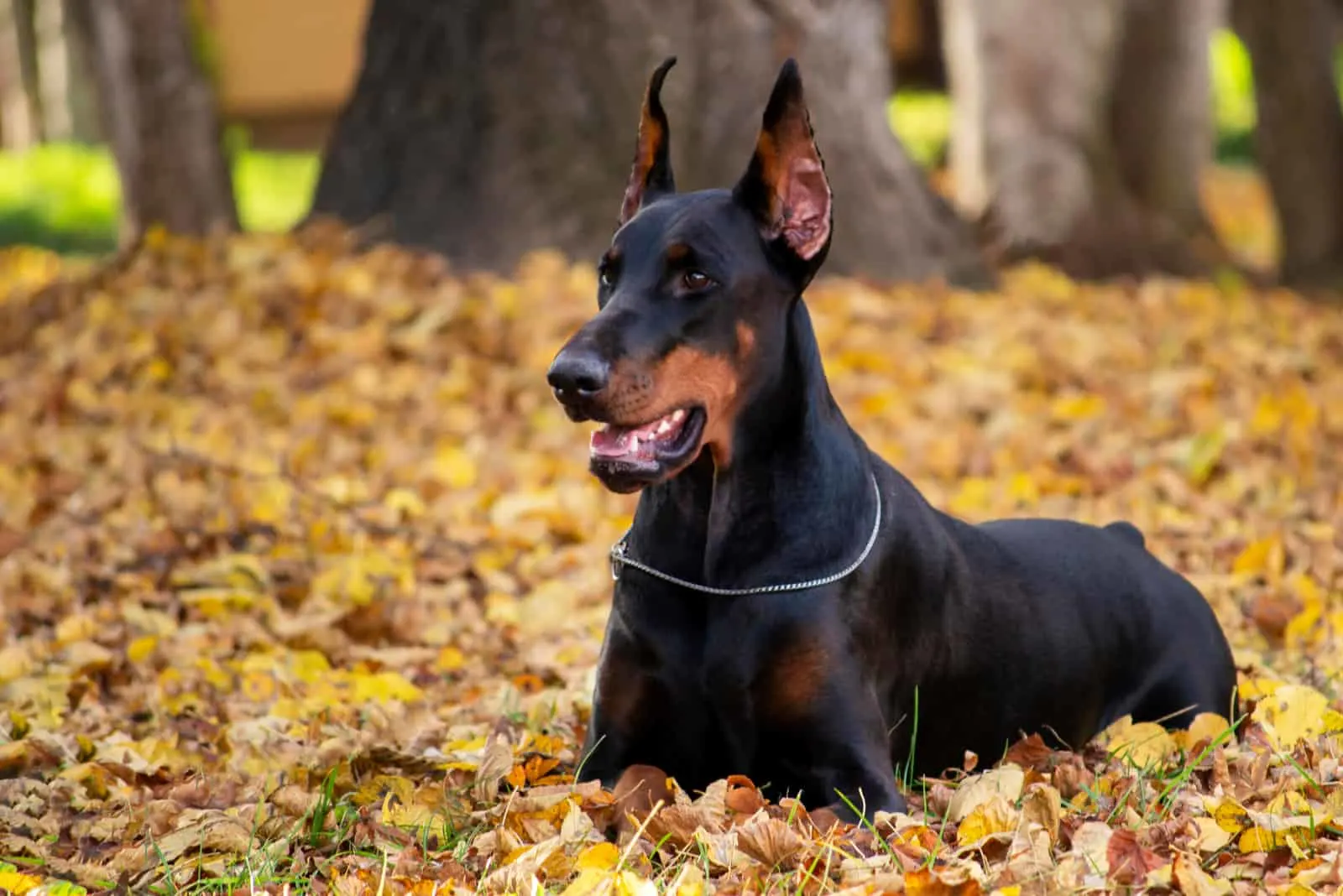 Linda and her Kiefer's Corner Dobermans are located 20 miles northeast of Orlando on a 5-acre property in Geneva. She makes sure her Dobies get all the necessary exercise and fun. They can run and roam, sniff and explore.
Linda has been breeding Doberman dogs for more than 20 years, but she has had them for more than 40! That is a lot of experience in the breeding business and in taking care of this wonderful dog breed.
This breeder focuses on making the puppies' transition from their home to a new home as smooth and easy as possible. That's why she takes good care in socializing puppies from an early age. The dogs are exposed to all kinds of smells and sounds and introduced to other dogs and other animals.
Puppies are not put in cages. They are in the yard, or their family home and they have all the toys to play with and nature to explore. Linda focuses on breeding working line Dobermans. That means they will make excellent guard dogs and family pets. You will be safe with Kiefer's Corner Dobermans.
Address: 1237 W Garon Cove, Geneva, FL 32732, United States
Phone: +14079076127
Website: Kiefer's Corner
9. Pierre Dobies, Lakeland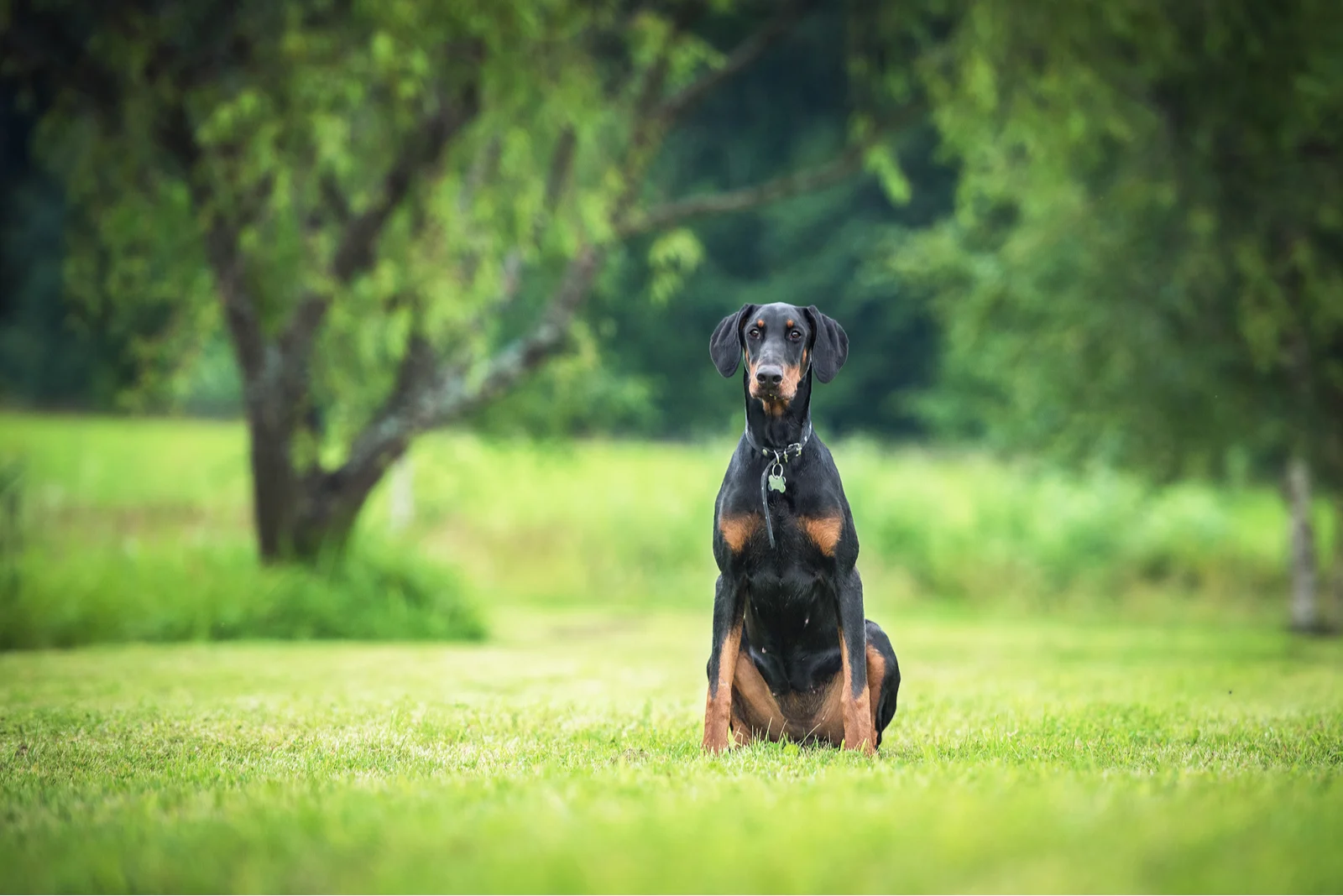 The owner of Pierre Dobies is Anthony Pierre from Lakeland, Florida. He fell in love with Dobermans a long time ago. But, as he mentions on his website, he had a problem finding reputable Doberman breeders in Florida, so he did the only reasonable thing — he became one himself.
Anthony breeds European Dobermans, not the American type. All of his dogs are loyal and affectionate to their owners, but brave and fearless when it comes to protecting the home they live in. Simply said, Anthony's Dobermans are a true representation of European Dobermans.
Anthony only breeds black and rust or red and rust Dobermans. He and his family take excellent care of the dogs and you can be sure you are getting beautiful, obedient, and loving Doberman puppies.
The dogs are well-socialized, vaccinated, and regularly dewormed. They are loved and treated like family members.
Address: Lakeland, Florida 33810, United States
Phone: +18632556757
Website: Pierre Dobies
10. Thunderfoot Kennel, McDavid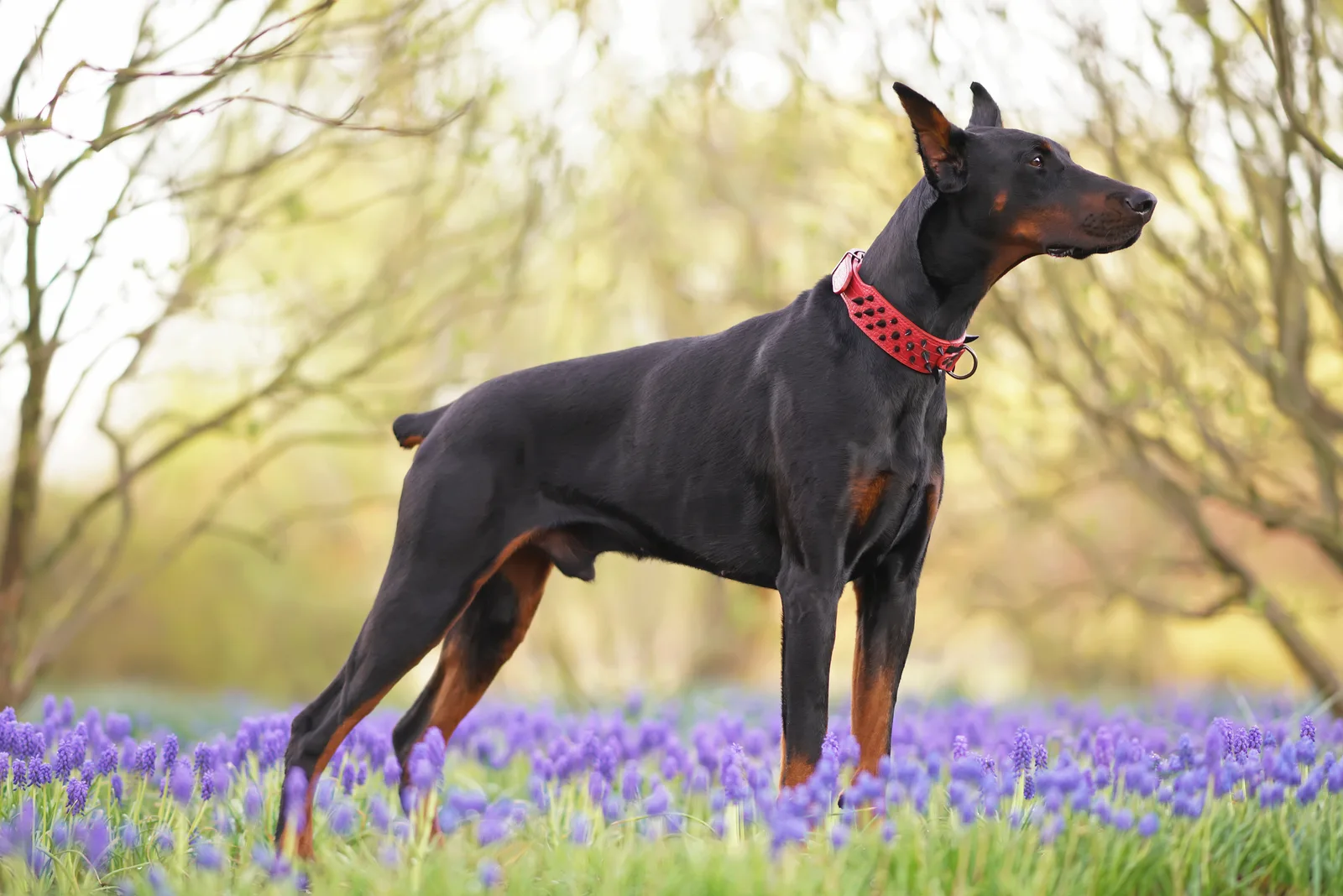 The Thunderfoot Kennel is located in Escambia County in Florida and is a part of the Pensacola community.
This breeder has black and rust and red and rust Doberman Pinscher dogs. They do not breed dogs with other coat colors. But this is the "original" coat color of Doberman dogs.
Their Dobies are wonderful and obedient, and each puppy is in great health. You can see all the happy and positive reviews on their Facebook page. People keep posting pictures of the Doberman puppies they got from Thunderfoot Kennel.
As for the size of the Doberman dogs from this breeder, they are all larger than the average American Doberman Pinscher, and their male dogs usually weigh more than 100 pounds. But they are gentle and affectionate no matter the size!
The dogs are well-socialized, loved, hugged, and kissed!
Address: McDavid, FL 32568, United States
Website: Thunderfoot Kennel
11. Got My Back Dobermans, Hawthorne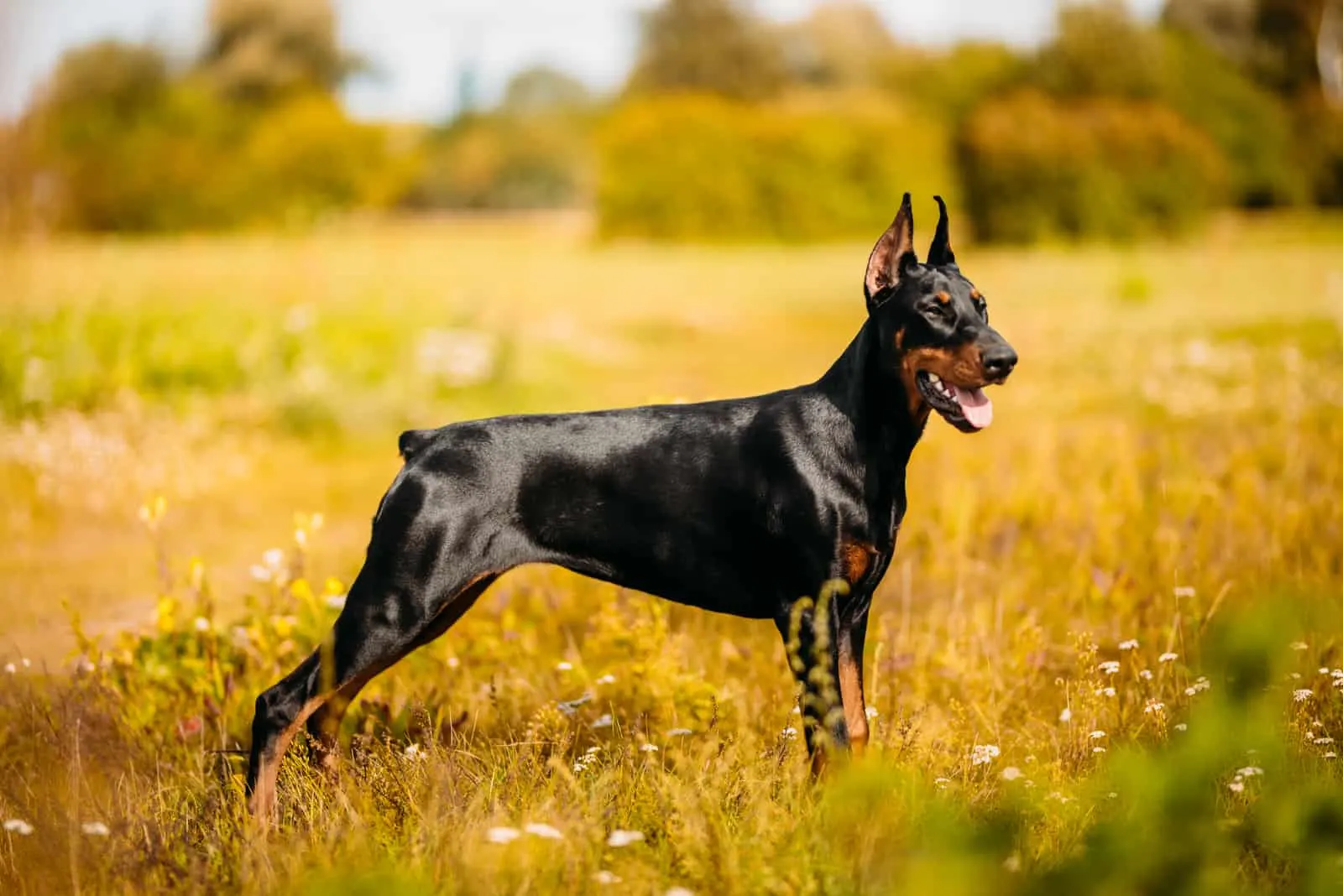 The owner of Got My Back Dobermans from Hawthorne is Debi. She is a true example of what reputable Doberman breeders in Florida should be like.
Her love for dogs, and Dobermans particularly, can be seen through the way she treats them and talks about them. And it can be seen through the photos she posts and other people post too. Everyone's happy with Debi and her dogs.
She is very serious about finding a good new home for her puppies. So, get ready to answer a couple of questions. Of course, she is open to answering any question you might have about her breeding program, her home, and her dogs — past and upcoming litters.
Dogs from Got My Back Dobermans are healthy, and Debi has a certificate of health to show to you. Her dogs are AKC registered, as well. If you get a puppy from her your dog will have a limited AKC registration.
Her dogs have been OFA (Orthopedic Foundation for Animals) tested and cleared, as well as tested and cleared for DCM (Dilated Cardiomyopathy).
Debi's dogs are just as she describes them on her website — majestic, obedient, and loving. To keep the gene pool and the bloodline healthy, she imports dogs from Europe. The latest addition came from Greece.
Her dogs carry exceptional F.C.I. Pedigrees. You can check the lineage on her website by following the link provided by Debi.
And one of the best things about this breeder is that her dogs enjoy the outdoors of the farm where they live and indoor activities as well. They can run and play outside or lounge on the sofa, whatever they feel like doing at that moment.
Address: Hawthorne, Florida 32640, United States
Phone: +13524701487
Website: Got My Back Dobermans
12. Roman's Imperial, Jacksonville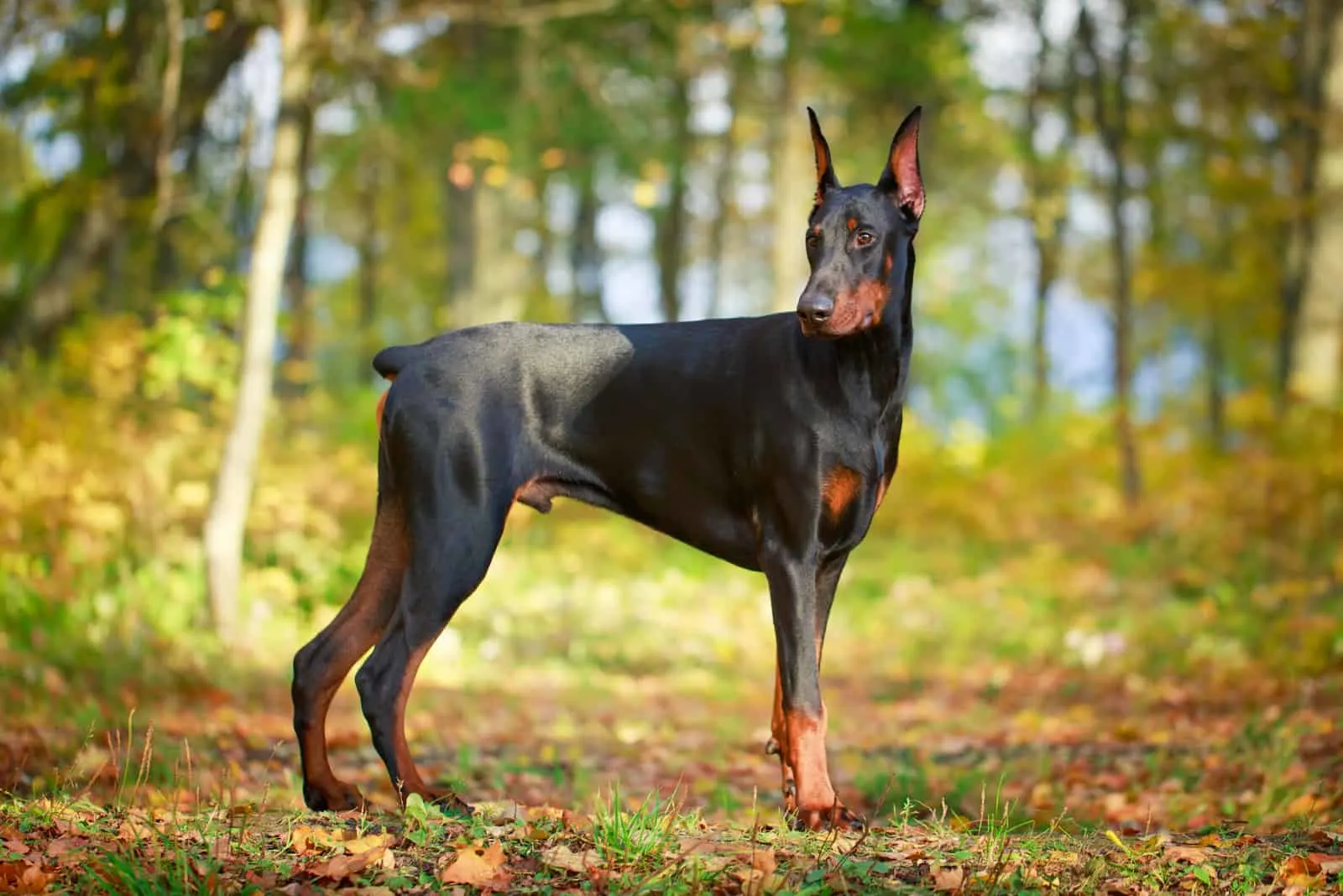 The owner of Roman's Imperial is Allison Yates, and she has been breeding Dobermans since 2014. Besides Dobermans she breeds Frenchies, too.
Allison's dogs are AKC registered, and they competed in the AKC event of obedience. Of course, her dogs are healthy and as proof, all of her puppies come with a health guarantee. But the dogs are also loved and they are treated as a part of the family.
To understand how serious she is when it comes to her dog's health, take a look at the list of all the tests she does to make sure her dogs are healthy and free of diseases.
Von Willebrand Disease Type I
Narcolepsy (HCRTR2 Intron 4, Doberman Pinscher Variant)
Dilated Cardiomyopathy (DCM1 and DCM2)
Ehlers Danlos (ADAMTS2, Doberman Pinscher Variant)
The dogs stay indoors with her and her family. They go through proper early socialization, which prepares them for a life in a new family one day. Besides a health guarantee, Allison offers lifetime support.
If you have any problems with the adjustment period — lovely Allison is there to offer you help. You can send a message or contact her via phone.
Address: Jacksonville, Florida 32218, United States
Phone: +16189747203
Website: Roman's Imperial
13. Wizard Dobermans, Tampa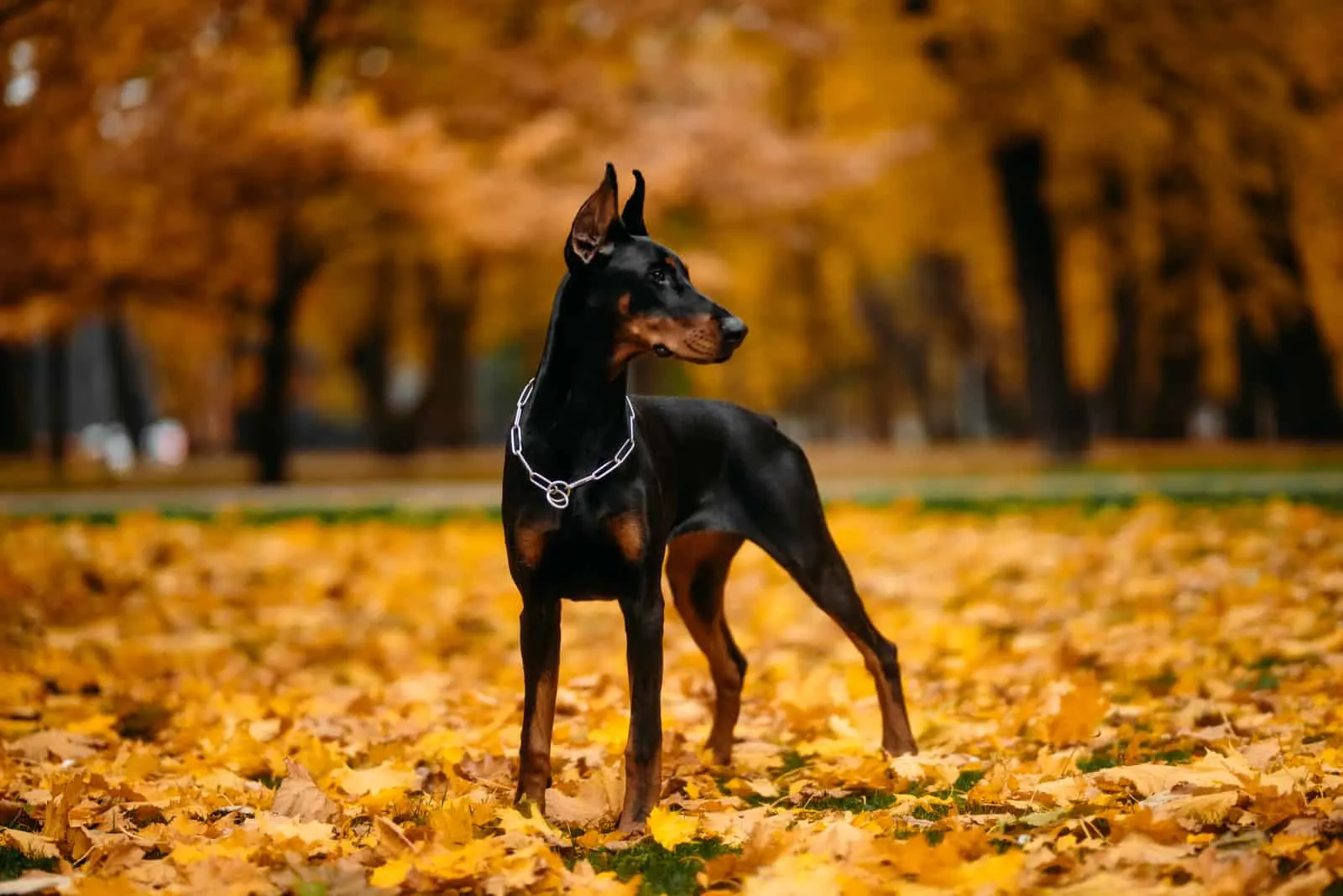 Wizard Dobermans belongs to Viana Mollinedo, and she is one of the types of Doberman breeders in Florida that import their dogs from Europe. This breeder particularly imports them from Greece, Russia, and Serbia.
And they are gorgeous! Not only are these dogs the perfect blend of power and beauty, but they are healthy and of excellent temper. All of the dogs from Wizard Dobermans enjoy both a good hike and a good pamper on the couch.
We are certain they get all the best a Doberman dog can get — from Doberman collars to Doberman beds and brushes.
Viana got the desire for breeding from her father. He was a Doberman breeder too and she fell in love with the breed and the job.
Her dogs are DNA tested and cleared. The tests include:
Hip and elbow evaluation
Cardiac evaluation
Genetic evaluation
Dogs are also well-socialized, gentle, affectionate, and obedient. They make great family dogs and guard dogs at the same time. This is another perfect combination present in all of Viana's dogs.
Address: Tampa, Florida, United States
Website: Wizard Dobermans
Email: [email protected]
The Doberman Pinscher Price
The Doberman Pinscher dog breed is very popular. As mentioned, there are two types — the American and the European type. The European type is larger than the American type.
But no matter the size or the type, the average price of a Doberman puppy is between $1500 and $3000.
The price depends on the Pedigree, health tests done on a dog, and the breeder's name — or in other words if it's a reputable breeder or a hobby breeder that doesn't have AKC or health certificates.
Of course, buying a Doberman puppy can be expensive but it is worth it. The reputable breeders from our list of these 13 Doberman breeders in Florida take excellent care of their dogs. When you get a puppy from such breeders, you are certain the dog will have a good temper and great health.
That's why paying a bit more can make a huge difference. But, if you are interested in a dog without worrying about his lineage or health certificates, you can always find local Doberman rescues for adoption.
The Conclusion
These 13 Doberman breeders in Florida we have mentioned all share the same trait — love for dogs and all animals in general.
They look out for their dogs and carefully choose a new home for their puppies. They are also open to answering any questions you want to ask about the breed, their breeding program, or their family.
When you look for a dog, any dog breed, pay attention to how dogs behave in front of their owner and strangers. Are the dogs clean? Are the premises clean? Are the dogs anxious or too shy? — these are some of the questions to ask yourself when you go to meet the breeder and see the dogs.
But no matter what breeder you choose from our list — they will not disappoint you!