Chesapeake Bay Retrievers aren't dogs you usually see walking down the street. You'll have more luck finding them jumping up and down meadows, or taking a dip in the creek. This bird dog breed is strongly in touch with nature. They're not designer pups or fashionistas that you can take for a stroll down the street.
Chessies are gundogs with strong working ethics. After all, they were bred to assist people and fetch small prey.
It really doesn't surprise me to see so many Chesapeake Bay Retriever breeders in the States. What I did figure out is that they're usually located where there are large water surfaces, i.e. near the border with Canada around the lakes, or on the East Coast.
Chessies love water way more than they love land. The ideal living arrangement for these dogs is a home near a river or a lake. Water gives them their much-needed exercise. It also helps a lot with their adaptation to their new home, since all Chessie breeders seem to live near water.
If you want a compact dog with strong ethics, amazing agility, and fine social skills, then you'll like Chessies. At the very least, they'll be a great conversation starter. People will approach you with "Wow, that's a nice Lab" and you'll answer "Nah, that's my Chesapeake Bay Retriever!"
Chesapeake Bay Retriever Puppies For Sale In The States
Even though they're the official dogs of the state of Maryland, Chesapeake Bay Retrievers can be found in other US states. In fact, I was pretty surprised to learn that we have lots of reliable breeders around the country.
1. Longmeadow Chesapeakes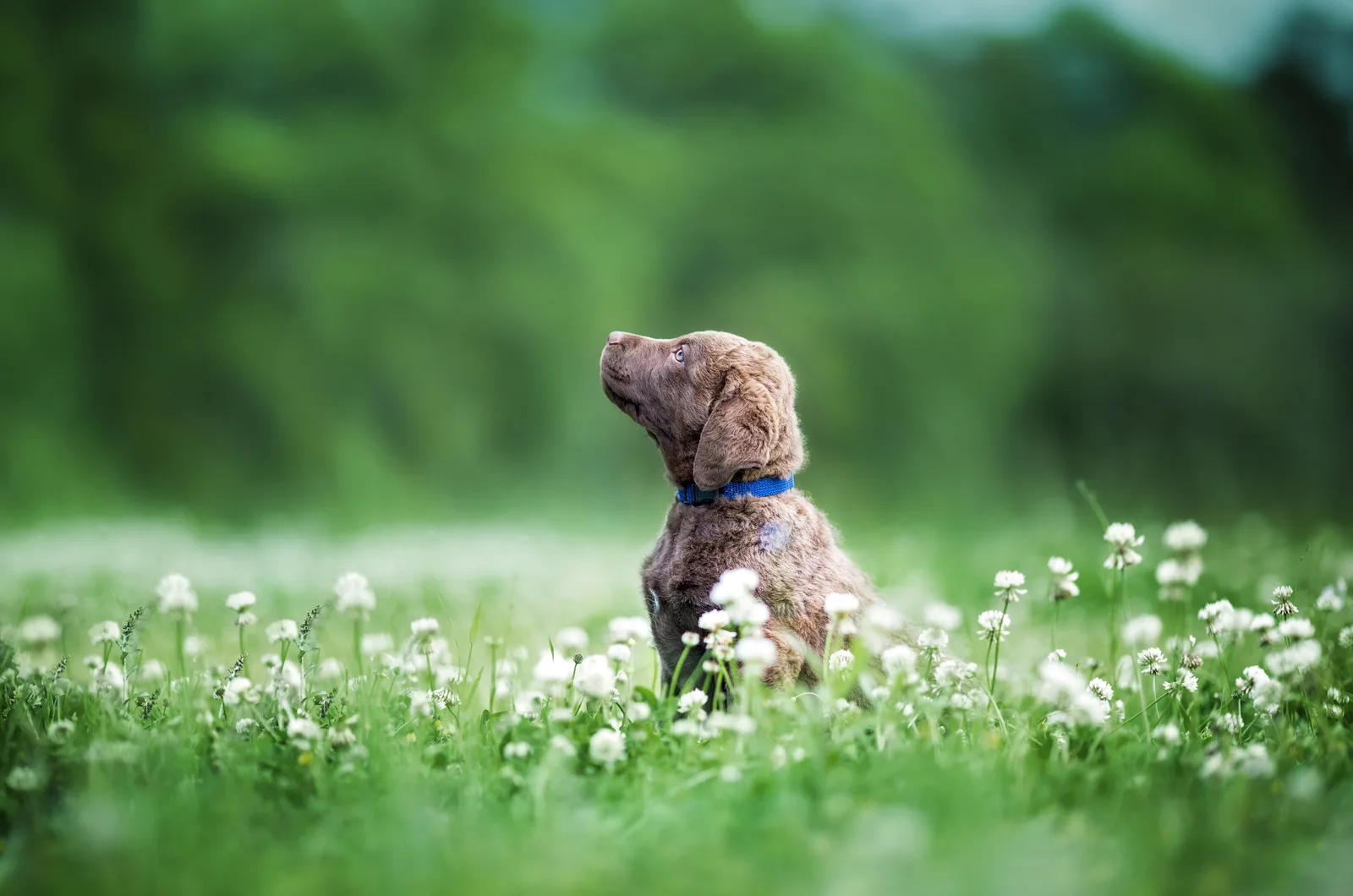 As valued members of the American Kennel Club (AKC) and The American Chesapeake Club (ACC), Longmeadow Chesapeakes is a wonderful place to start your search for the ideal Chessie.
The breeding program of this Chessie breeder is focused on breeding and raising litters of sound dogs with terrific temperaments and exceptional conformation. Longmeadow Chesapeakes want to make sure that their dogs are sound in every possible way.
Their Chessies come from many lines of show and field Chesapeake Bay Retriever dogs. Their entire breeding stock, as well as their litters, are free from any health issues. You can see clearances from OFA for their hips, elbows, and cardiac conditions.
Also, there are test results available for OFA/CERF, for conditions like Progressive Retinal Atrophy (PRA) and Degenerative Myelopathy (DM).
What's worth mentioning is that the Longmeadow kennel has more OFA Excellent ratings for hip conditions than any other Chesapeake Bay Retriever Breeder in the States!
To get a Longmeadow Chessie, you'll need to have a budget of $1,800 to $2,500. The final price will depend on gender, coat color, etc. Since Longmeadow kennel carries all sorts of Chesapeake Bay Retriever coat colors, you will definitely be able to find a puppy for yourself.
All their pups are sold with limited AKC registration paperwork, meaning you won't get breeding rights. But, that's perfectly fine if you're only looking for a BFF!
Breeder's details
Website: Longmeadow Chesapeakes
Location: Dover, PA
Email: [email protected]
Social media: Facebook
2. Chessieville Bay, NJ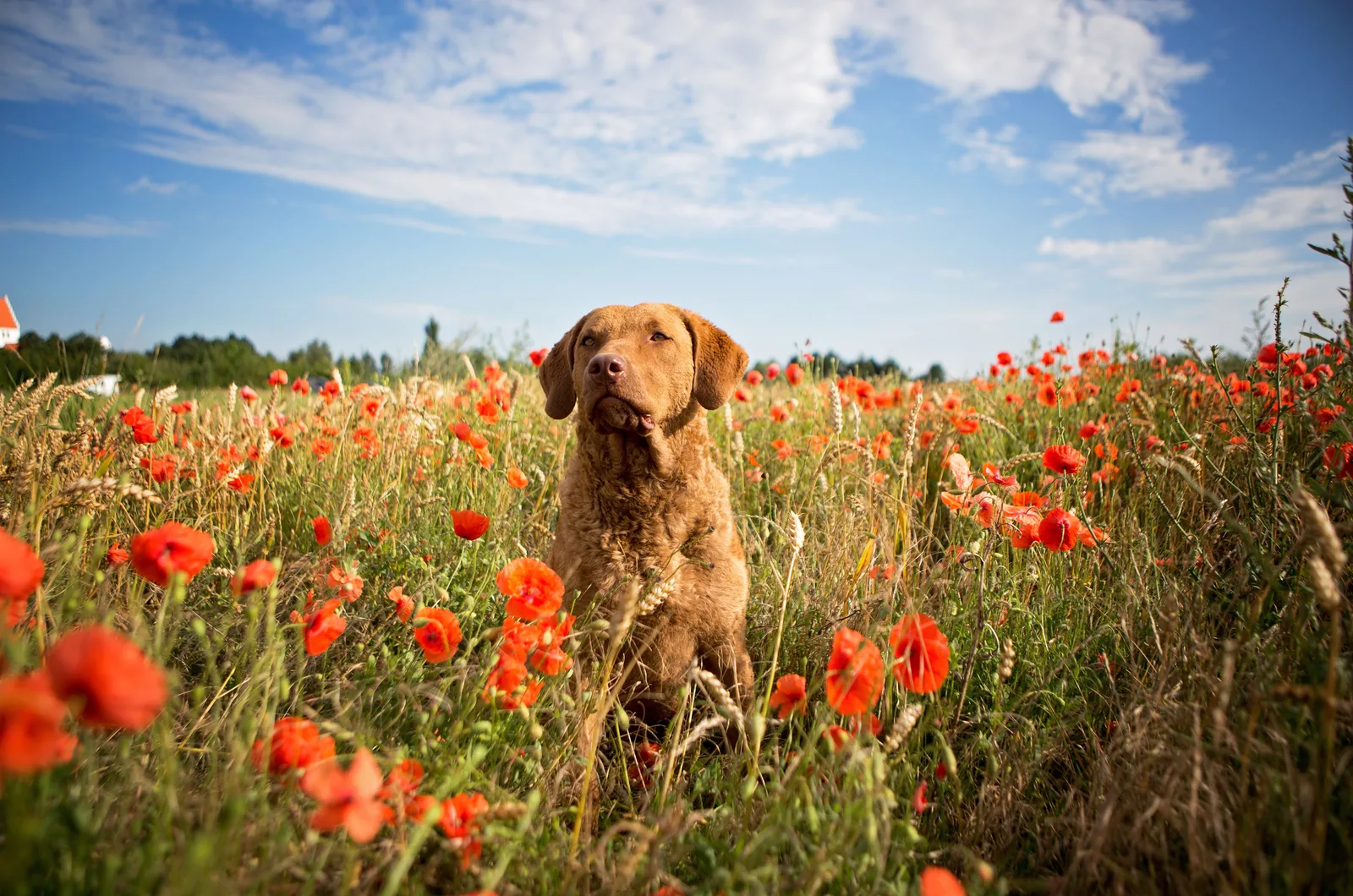 Chessieville Bay is probably the finest Chessie breeder in New Jersey and the surrounding area. Even though this is a hobby breeder, that hasn't stopped them from reaching for the stars.
The Chessieville Bay kennel has existed since 1995. Throughout the years, the kennel dogs have competed and won numerous shows in agility, conformation, obedience, and hunt. No matter which shows they enroll in, these pups are sure to win all the blue ribbons!
Chessieville Bay pups are bred to become the soundest of them all. This breeder puts special efforts into shaping their temperament and creating well-socialized beings. Yes, socialization is important, even with hunting dogs. You can't just let them run into the wild.
All Chessieville pups enjoy their lives on several acres of nature surrounding the family home. There are ponds, meadows, and streams around it, which makes Chessiville Bay a real paradise for Chesapeake Bay Retrievers and any other hunting dogs.
The foundation of their breeding stock is Ginger, a female from the widely-known Pond Hollow kennel.
Each litter is bred to minimize health issues. The pups will have solid bone structures, an overall pleasant appearance, and a kind temperament.
For more information on the prices of the Chessieville Bay pups, you'll have to contact Heike Frattalone, the owner, breeder, and trainer of these wonderful dogs.
Breeder's details
Website: Chessieville Bay
Location: 30 Hilltop Road, Washington, NJ 07882
Phone: (908) 399-9718
Email: [email protected]
3. Red Lion Kennel, NJ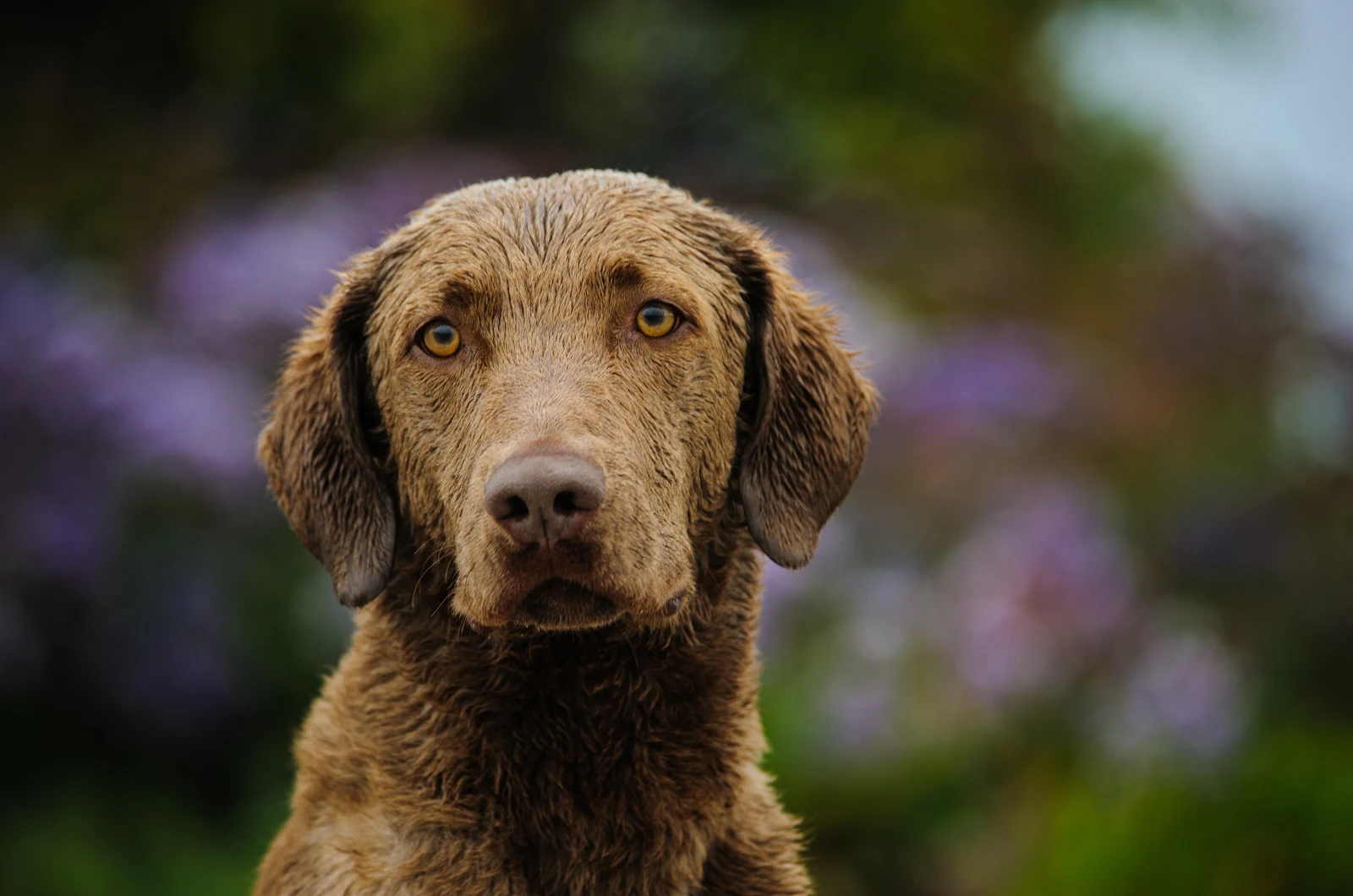 The Red Lion Kennel is another excellent breeder from New Jersey. Besides Chessies, this breeder also breeds and raises Labradors and Golden Retrievers. As you can see, they only breed retrieving-type dogs.
This kennel strives to produce fine-looking dogs with great trainability and instincts for superb hunting, obedience, show, and field competitions. But, their biggest mission is to breed and raise Chessie puppies that will become loyal companions.
Red Lion Chessies have been ranked numerous times as one of the top ten dogs in the USA. Their breeding stock only produces future champions. Whether the puppies are the result of breeding their own stock or from a stud service, they will all be classified as pawesome!
These pups are known to be dual-purpose dogs. But, what does that even mean? Dual-purpose dogs are capable of performing in the field, as well as being wonderful buddies.
This breeder will send you photos of the puppies from day one and will keep you updated on their progress. However, you will need to put down a $400 deposit to reserve a puppy.
Once the time comes for the puppies to go to their forever homes, you'll need to pay around $2,400, depending on the puppy's quality.
Breeder's details
Website: Red Lion Kennel
Location: Southampton, NJ
Phone: (609) 859-3570
Email: [email protected]
4. Silvercreek Chesapeakes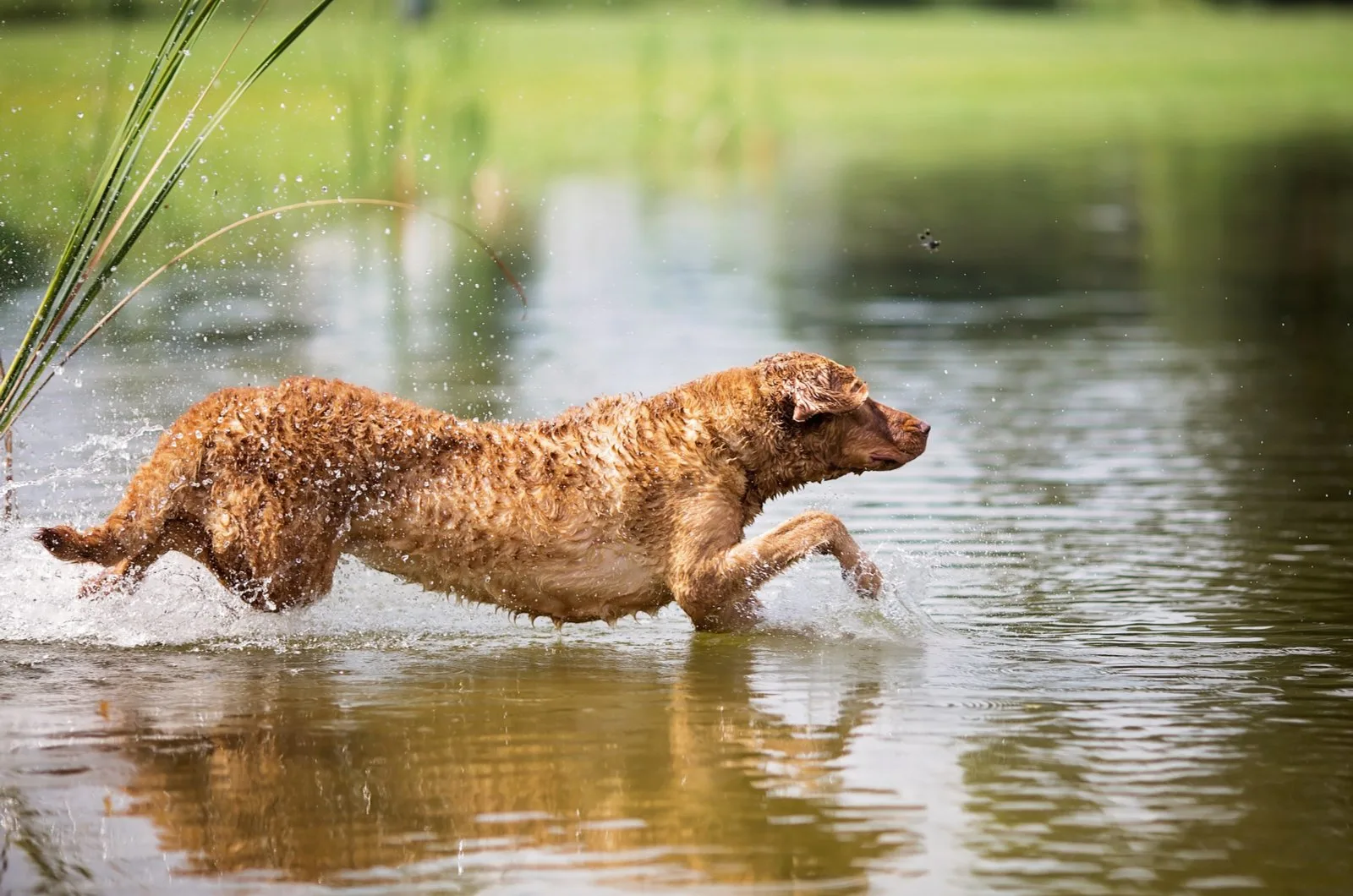 Back in 1973, Joanne and Stan Silver started breeding dogs, Golden Retrievers. Some 15 years later, the couple was introduced to a dog breed that's even more up to their standards – the Chesapeake Bay Retrievers. The rest became history.
At the beginning of their breeding career, the Silvers realized that raising Goldens was not the same as raising Chessies. Chesapeake Bay Retrievers have a much smaller breeding pool. It takes expertise and knowledge to learn how to breed the finest specimens of this breed.
Officially, the Silvercreek Chesapeakes began producing litters in 1989. These dogs are bred for their intelligence, kindness, and most importantly, because the Silver family loves them dearly. I mean, who wouldn't love a sweet Chessie?
Silvercreek Chessies are approved by all major and official dog clubs in North America and the rest of the world. They're superstars of the show ring and excellent at performing at any competition, including conformation, field trials, hunt tests, scent work, dock diving, and many more.
What's so amazing about Silvercreek Chessies is that they're enrolled in the Therapy Dogs program. These pups visit local veteran and nursing homes, as well as children's hospitals. Silvercrest Chessies have been proven to be excellent support dogs for those in need.
Silvercreek Chesapeakes will cost you $2,400. Of course, they're all disease-free and come with mandatory health warranties.
Breeder's details
Website: Silvercreek Chesapeakes
Location: Smyrna, Delaware
Phone: (551) 427-1647
Email: [email protected]
5. Claddagh Farm, SC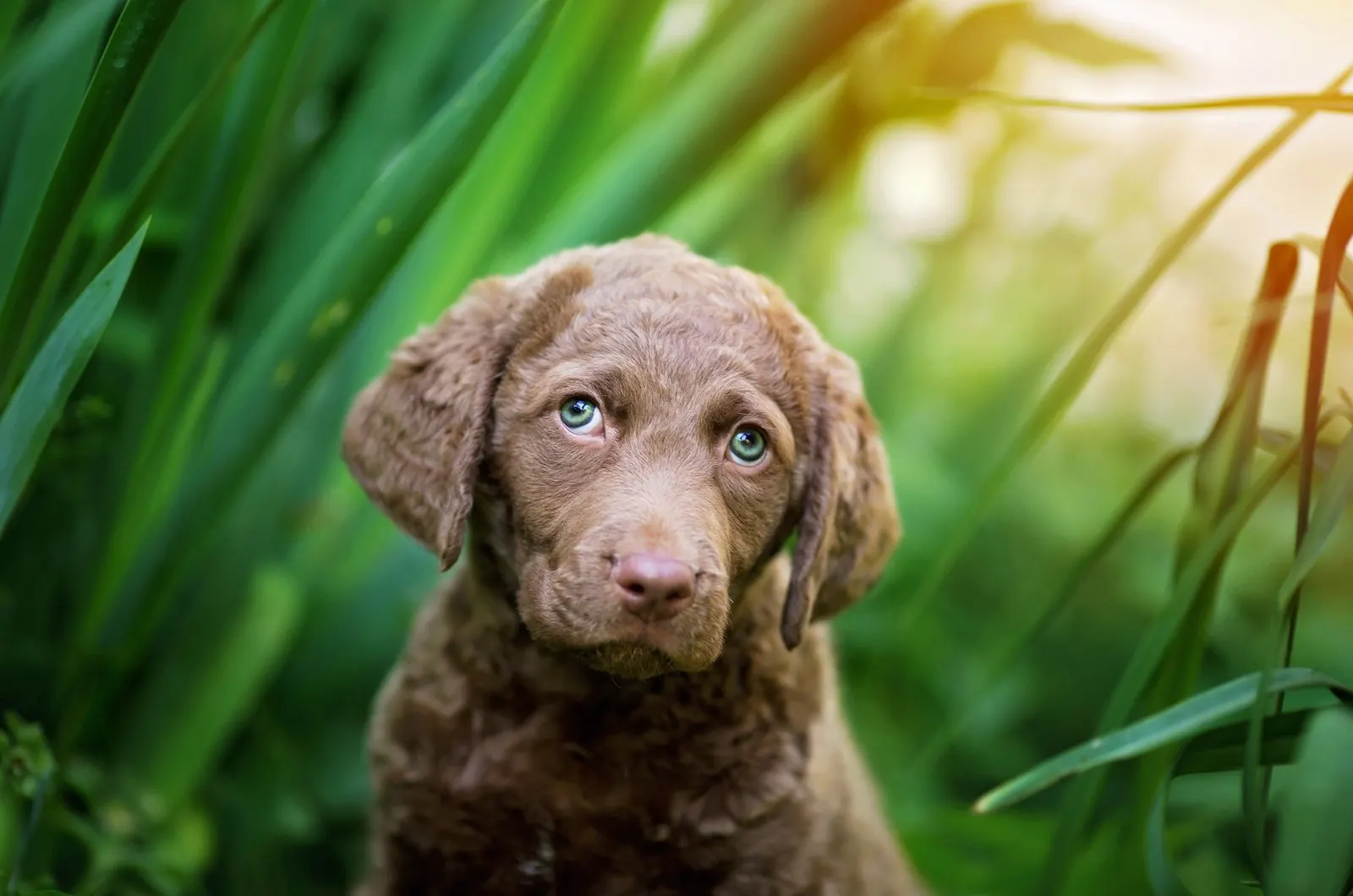 The Claddagh Farm is home to versatile gundogs with champion backgrounds. The Farm has been raising wonderful Chessies for over 25 years. Although they don't breed as much as they'd like, the Claddagh Farm focuses on the quality of the breed.
That's why their pups go to homes with different preferences, such as hunt homes, conformation show homes, or simply to those people who want a sweet companion. Also, some of Claddagh Farm's Chessies have shown remarkable results as therapy dogs or crisis response canines.
Living on an 80-acre farm really benefits all Claddagh dogs. They are a huge community of animals and animal lovers. Claddagh Chessies enjoy spending their days playing with horses and cats on the farm.
This proves how well-socialized these dogs are. Generally speaking, Chessies have a strong prey drive since they're gundogs, but if you socialize them from birth, you shouldn't have any issues with their behavior.
Claddagh farm tries to cover every Chessie color when breeding their pups. I'm sure they will have a pup up to your standards.
I suggest you contact the breeder for more information about their upcoming litters. These Chessies are dogs with pedigrees and their puppies always get sold very quickly!
Breeder's details
Website: Claddagh Farm
Location: Wagener, SC
Phone: (803) 587-0971
Email: [email protected]
6. Pond Hollow Chesapeake Bay Retrievers, PA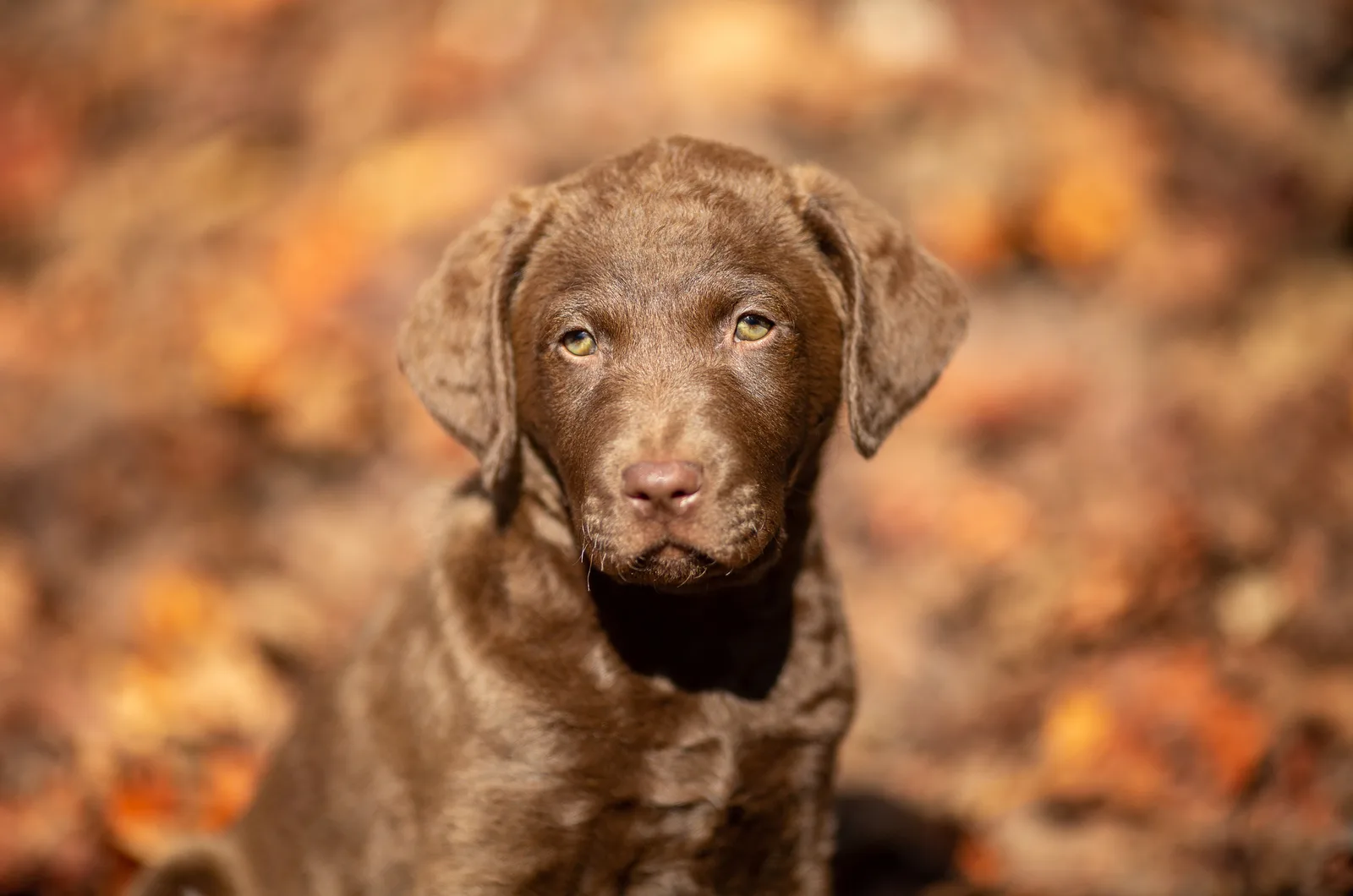 Back in 1976, Bill and Dyane started breeding amazing Chesapeake Bay Retrievers. Over the years, the couple managed to build a canine empire on strong foundations. Pond Hollow is blessed with a large property, where dogs enjoy living close to nature.
This breeder is really proud of their 35 acre property in Central Pennsylvania, with spacious meadows, streams, creeks, ponds, and woods. Even adult dogs love it here, and the breeder finds the environment quite stimulating too.
The great amount of experience that she's been taught over the years has made Dyane one of the USA's best Chesapeake Bay Retriever breeders. Sadly, her husband Bill passed away, but Dyane managed to pull it together and continue the hard work.
Her Chessies are quite spectacular in agility, obedience, hunting, field, conformation, and tracking events. But, they also make great family pets.
What you need to know about Pond Hollow is that this isn't a professional kennel. This is a home-based breeder, who treats Chessies as their family members. The dogs stay in the main house, they eat, sleep, and live with the family and even travel with the breeder!
The long tradition and fine specimens of the breed have rewarded Dyane with the title of AKC Breeder of Merit.
Pond Hollow Chessies come with a limited AKC registration. However, they do come with a written health guarantee covering all major health conditions. Their pups will be dewormed, vaccinated, and microchipped. Once they turn 8 weeks of age, you'll be able to pick them up.
Breeder's details
Website: Pond Hollow Chesapeakes
Location: Newport, PA
Phone: (717) 582-4997
Email: [email protected]
7. Camptown Chesapeakes, NY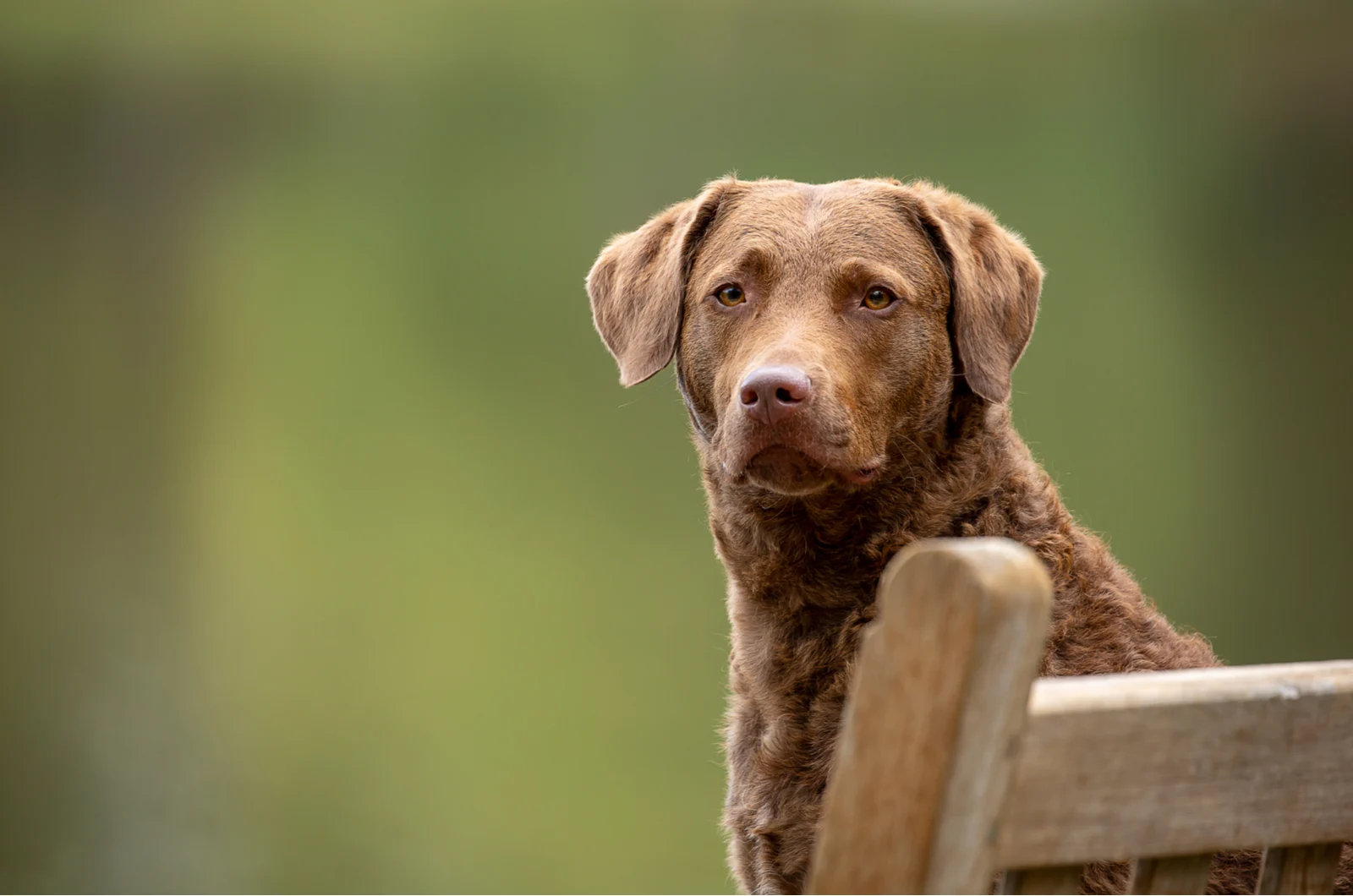 Camptown Chesapeakes, one of New York's finest dog breeders, has been around since 1990. For more than thirty years, this breeder has been at the top of the game, raising wonderful Chessies for their great temperaments, soundness, and hunting abilities.
This is a completely family-based breeding business, where the dogs and humans stand equal to each other. The family is blessed with a 30 acre property in Hudson Valley, far away from city noise and crowds.
These Chessie dogs can enjoy their freedom here, while they chase squirrels or play in the unspoiled nature.
Camptown Chesapeakes only breeds dogs occasionally. They will have a litter or two every year. Meaning, they don't overbreed their breeding stock. Speaking of their breeding stock…
The founder of their breeding practice, a Chessie girl, received her Therapy Dog International title and served as a seeing-eye dog. Isn't that incredible!
What else is incredible is their commitment to breeding sound dogs. All their dogs, including puppies, are submitted to genetic testing and will be cleared from any hip and eye conditions.
If you visit their website, you can find the entire bloodline of their canines. They're dogs with pedigrees and as such, produce only the finest litters.
I recommend that you contact them for more information on their next litter, since they have already had puppies in 2022.
Breeder's details
Website: Camptown Chesapeakes
Location: Middletown, NY
Phone: (845) 361-4761
Social media: Facebook
8. CopperCast Chesapeake Bay Retrievers, MD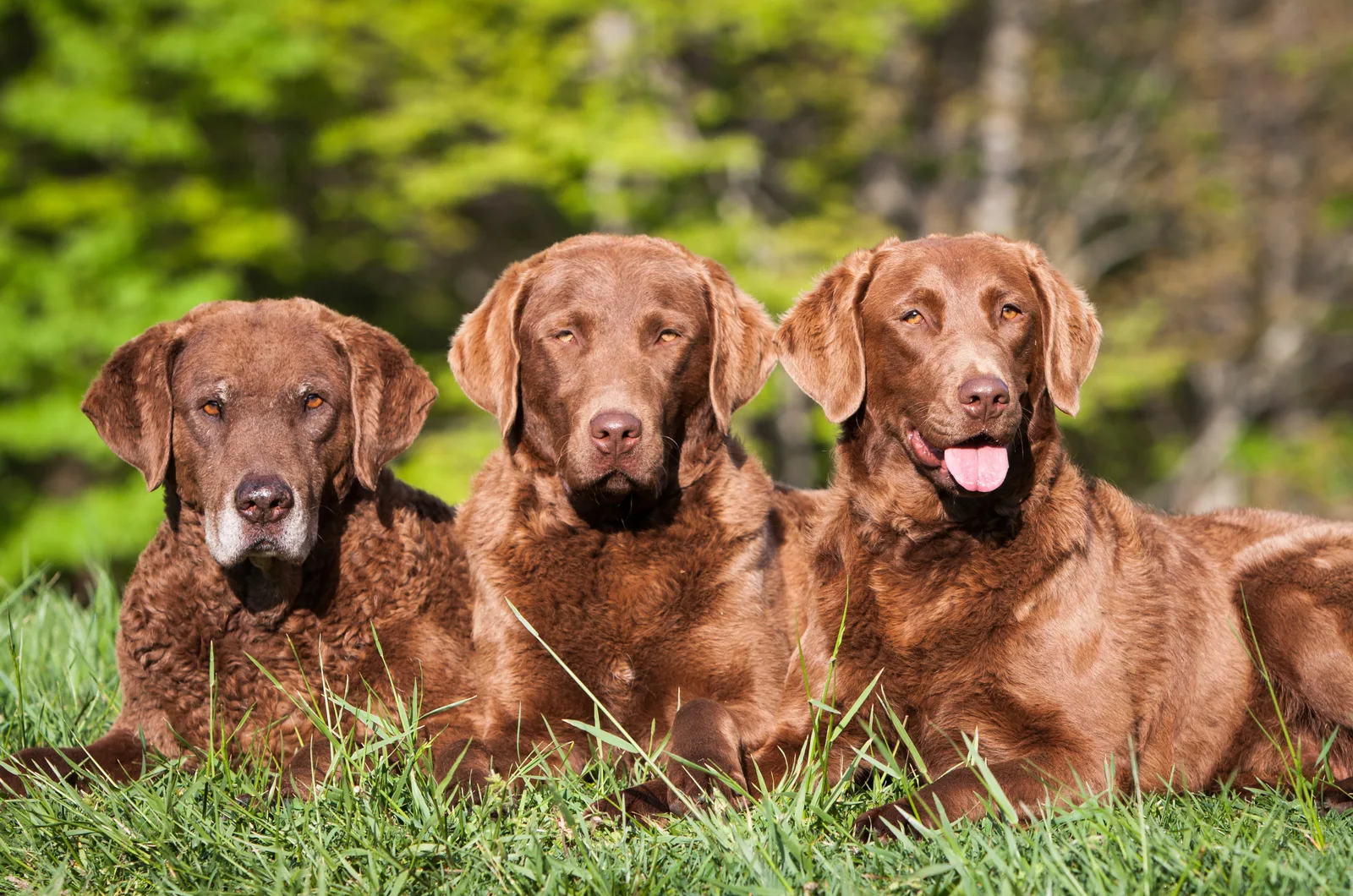 CopperCast Chesapeakes is one of the reasons why the state of Maryland has declared Chesapeake Bay Retrievers as their state dogs. The amazing quality of these dogs has placed CopperCast Chesapeake among the finest Chesapeake Bay Retriever breeders in the USA.
Ever since their foundation dog, the popular Tonka, CopperCast kennel has worked hard to produce top-notch litters.
Diane and Mitchel Horowitz have been living with Chessies and raising them since the 1990s. They breed only occasionally and carefully select their breeding stock. You won't find many puppies available with this breeder, so stay tuned for upcoming litter news.
The Horowitzs are one of those breeders that follow a breeding program focused on breeding all-purpose Chessies. They want to raise Chessies that will be excellent hunters, fine protectors, and overall great companions.
The family has been declared as an AKC's Breeder of Merit.
Now, as for the puppies… All CopperCast puppies will have their rear dewclaws removed shortly after birth. They will be vaccinated according to the usual schedule and cleaned from parasites regularly. Also, the pups will be microchipped.
The Horowitzs are not only breeders but also good dog trainers. Their puppies are introduced to hunting lessons, water, and birds at an early age. In addition, they are handled and socialized from birth, so they grow up into pawmazing adult Chessies!
Breeder's details
Website: CopperCast Chesapeake Bay Retrievers
Location: Trappe, MD
Phone: (631) 834-8893
Email: [email protected]
9. Skoog Kennels, IN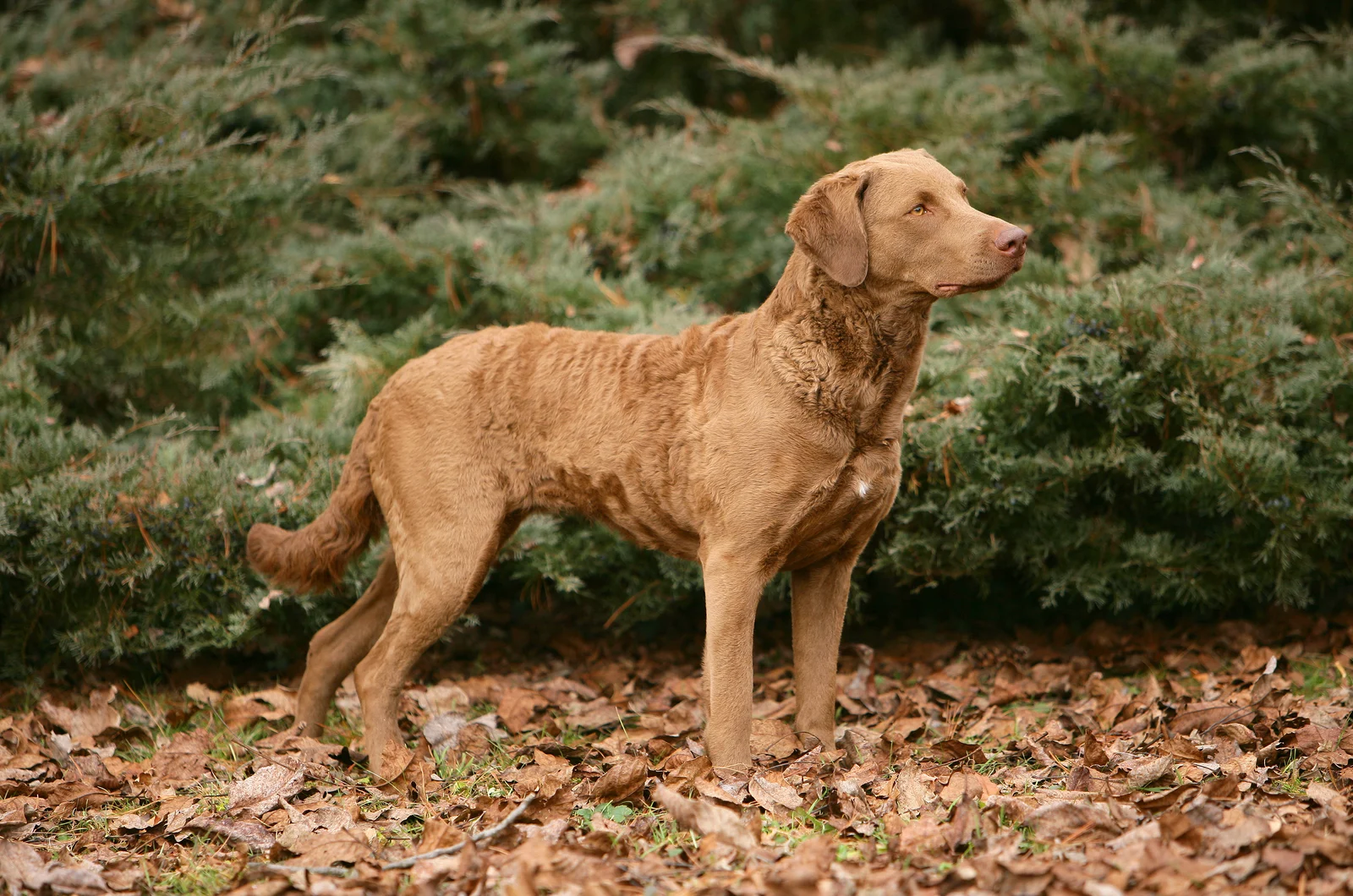 Ever since 1992, the Skoog Kennel from Indiana has been raising and training Chesapeake Bay Retrievers.
Although many Chessies we've encountered today are fine show dogs and sweet companions, Skoog Chessies are the real specimens of hunting dogs. They're bred to assist on the field and prove themselves worthy.
Skoog Chessies love spending their days outside with their breeder, hunting waterfowl and upland prey.
These pups truly have a remarkable appearance, which would make them fine fits for conformation shows. However, they've decided hunting and field tests are their cup of tea. Together with their breeder/owner, Skoog pups are regular participants of UKC dog shows.
All Skoog pups will go to their forever homes with a terrific 26-month health guarantee. You'll need to put down a $750 deposit if you want one of their puppies. Each puppy will cost around $1,500.
As you can see, the price isn't that big for what you're getting: a supreme example of a Chesapeake Bay Retriever!
Breeder's details
Website: Skoog Kennels
Location: Kokomo, IN
Phone: (765) 860-8593
Email: [email protected]
10. Blue Collar Chesapeakes, NY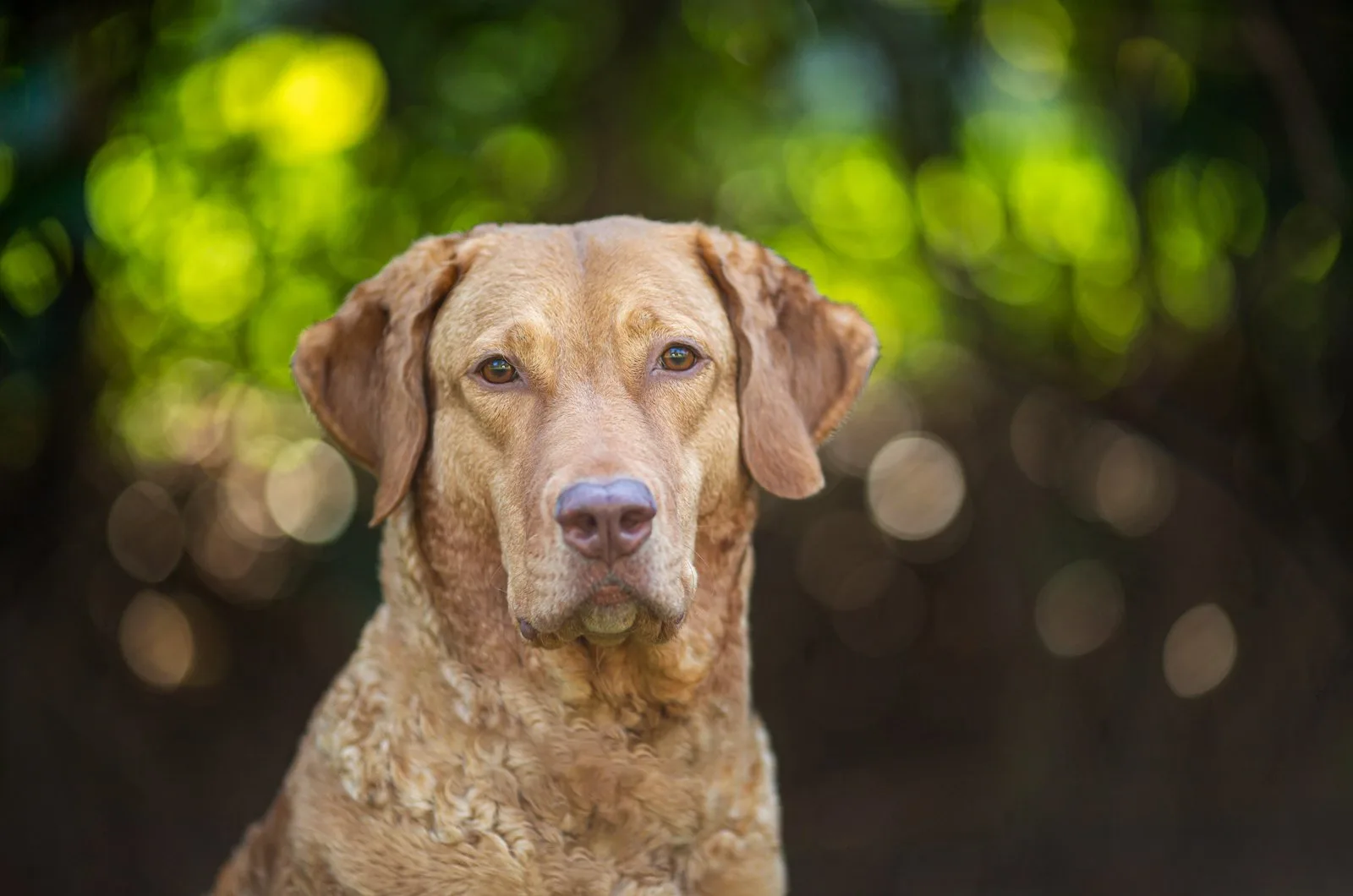 Michelle Dunn and her husband Barry White received their first Chesapeake Bay Retriever in 2002. Ever since, the couple has been in love with Chessies, claiming they will never find a dog breed that's more perfect for them than Chessies
Ranger, their first brown-coated Chessie, was the foundation dog for what became the Blue Collar Chesapeakes kennel. A year later, a bitch named Abby, from Virginia, joined the family.
However, the breeding business did not take off until 2007, when Abby and Ranger's first litter of puppies was welcomed.
When Michelle and Barry breed Chessie puppies, they want to make sure that all their dogs will be born sound, with good temperaments, and fine appearance. The couple is led by a true passion for raising Chessie dogs.
What you need to know is that Blue Collar Chesapeakes is not a full-time kennel. They breed puppies only when they want to do so. As far as
I'm concerned, it's always better to wait for a puppy from a trusted source like this one, than to buy just any available pupster!
Breeder's details
Website: Blue Collar Chesapeakes
Location: Amsterdam, NY
Phone: (518) 573-6225
Email: [email protected]
Breeders Of Retrieving Dogs In The USA And Canada
Just like Chessies, other retrieving dogs might be your cup of tea too. Check out the following dog breeders down below!
Nova Scotia Duck Tolling Retriever breeders
Golden Retriever breeders in New York
Labrador breeders in California
To Sum Up…
Chesapeake Bay Retriever breeders are, surprisingly, a large group of people who breed Chessie pups that are up to the breed standards. As you can see, we have listed the top 10 Chessie breeders in the States, each one better than the next. It will definitely be a hard job picking only one.
What you need to know before bringing a Chessie into your life, is that these dogs are so versatile. They're not only gundogs or field pups. The Chesapeake Bay Retriever can also be a wonderful companion. These dogs are capable of pretty much anything.
If you read our breeder's descriptions carefully, you will notice that they usually breed dogs that will compete at dog show competitions. They've had a lot of champions in the past years. If you're even a little bit into dog shows, then you should enroll your Chessie into one.
Although Chessies make fine family pets, they're still dogs that are bred with a purpose. Give them something to do on a daily basis. Never forget fun toys and puzzle games when you're away working and your dog stays home alone.
Dogs like the Chesapeake Bay Retriever need to stay occupied or they'll turn to destructiveness. And that's not something you'll want to see from your Chessie!
Read Next:
• Top 8 Portuguese Water Dog Breeders In The USA And Canada
• Big Dogs With Curly Hair + Medium-Sized Curly Cuties