Golden Retrievers and Labradors are America's most beloved purebred dog breeds. But, today, we're going to talk about a favorite of mine, the Golden Retriever.
Golden retrievers are dogs with a heart made of gold. You can't say anything bad about their friendliness. That's why these pups are so in demand.
But, finding a good Golden Retriever breeder in New York is quite difficult. This state is boasting of pet shops, puppy mills, and unreliable breeders. I'm not saying the situation is any better in other states.
The truth is, you have to be careful with who you trust.
Or, you have to take a look at this list and pick a breeder to trust.
Without further ado, let's dive into this little pool of best Golden Retriever breeders in New York.
Golden Retriever Puppies For Sale In New York
Here, we have listed only the best Golden Retriever breeders in New York. Keep in mind that each breeder might change their breeding practice and become unreliable at some point in their career.
That's why you never lose your guard, and always ask detailed questions about their puppies and breeding practice.
1. Siberian Husky & Golden Retriever Puppies, Long Island.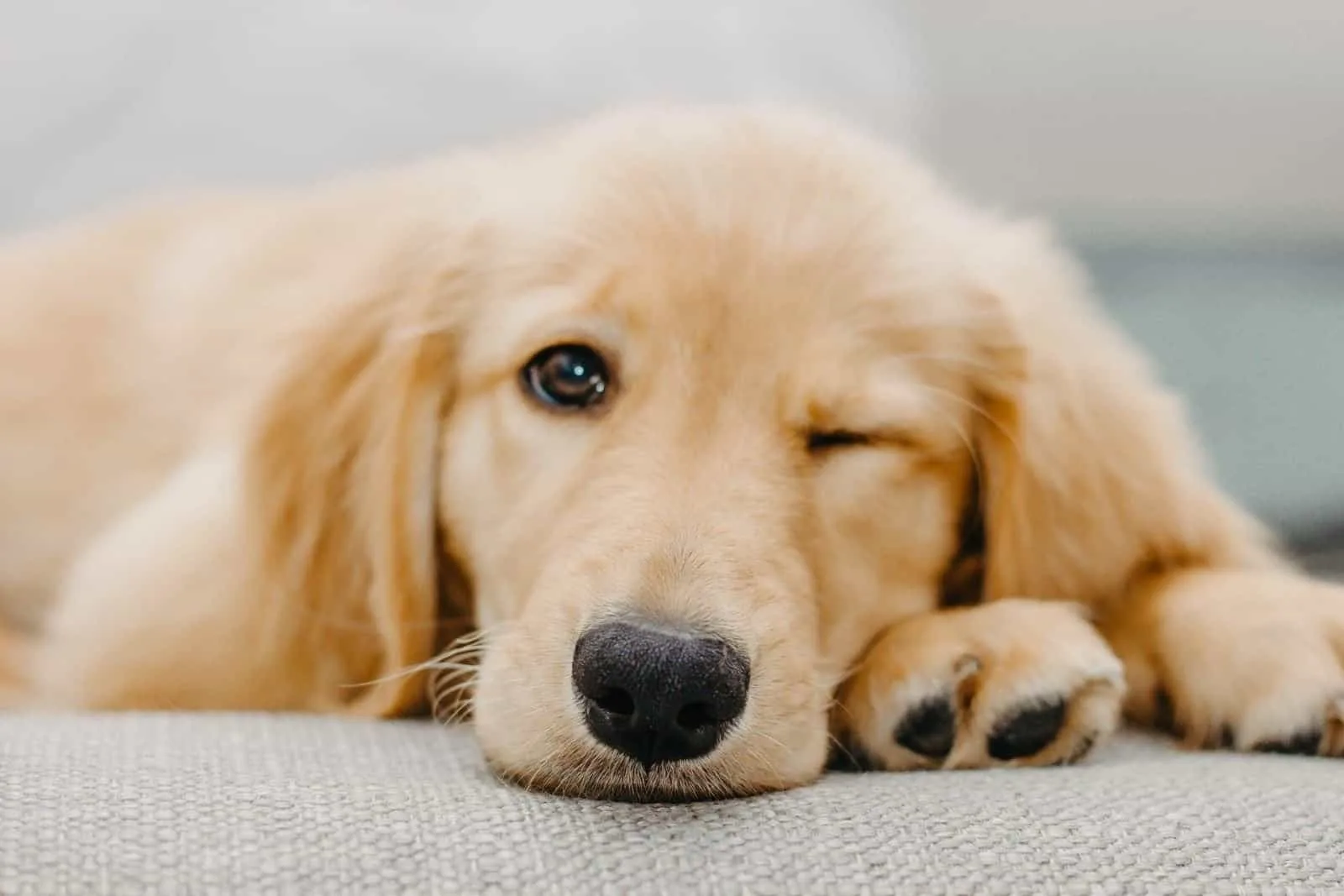 If you want one of the best Golden Retriever breeders with experience of over 26 years in the field, go and click on this website.
What once started as a kid's school project with the goal to make a difference in the world now is a place where you can get premium Golden Retrievers and Huskies.
Siberian Husky & Golden Retriever Puppies, Long Island, also used to rescue dogs in need. No one can tell you how many lives they've saved! Sadly, recently, their rescue mission came to an end.
But, still, you can visit if you're interested in getting a Golden puppy.
All of their dogs come pre-screened and checked by the vet, and they can be adopted at eight weeks of age. Their puppies, no matter if they're Goldens or Huskies, all have health clearances and a year health guarantee.
Once adopted, the puppies come to their new home with a puppy package containing some vitamin supplements, a bag of dog food, four rounds of deworming treatments, and their first round of shots.
Put down a $500 deposit and contact the breeder for info on purchase prices. You won't regret a thing about these Goldens!
Breeder Details
Website: Siberian Husky & Golden Retriever Puppies
Address: 24 Robin Drive, Hauppauge, NY 11788
Phone: (631) 760-7908
Email: [email protected]
2. Famn Damily Farm.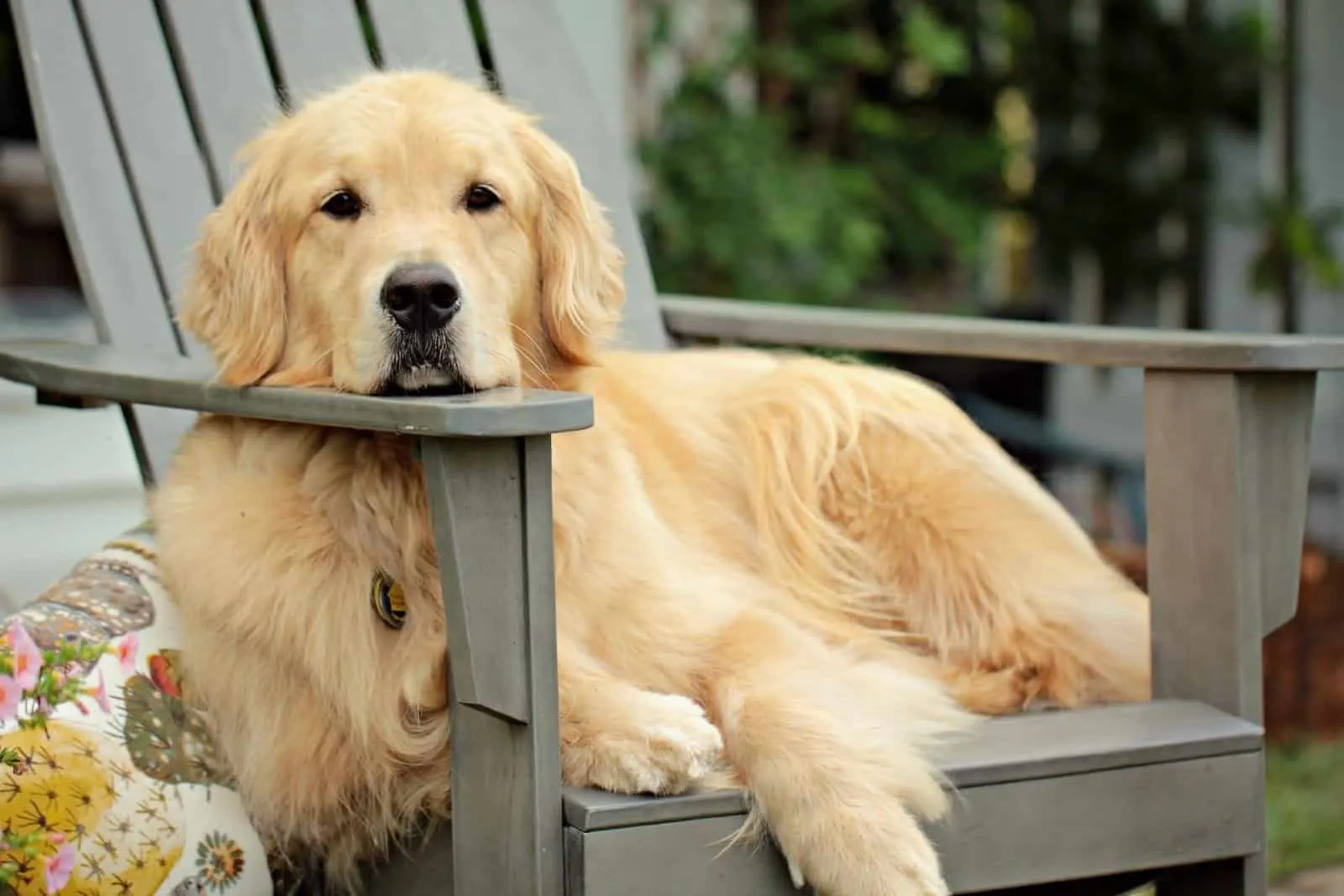 In the summer of 2000, one daughter begged her mother to get a puppy. It was the autumn of that same year when one mother agreed to get a Golden Retriever puppy exclusively.
The rest is history.
This is how Cassie came into the lives of Famn Damily. She was bred at the age of two years, following a detailed breeding program with the assistance of a professional vet. From then on, Famn Damily's focus has been on exceptional breeding stock with calm temperament.
Damily's Golden puppies spend their days playing with kids and cats, so you don't have to worry about their socialization. They're equal family members that stay precious to the breeder even after the adoption process is finalized.
Speaking of adoption, here are a few technical things you should know about Damily's Goldens.
Almost all of their clientele comes from previous referrals, so you know their reputation is strong. Puppies' prices start at $3,500, plus an additional 8% of New York state taxes.
For this price, you get a puppy with an AKC registration application. They're all vaccinated and dewormed, and have health and pedigree certifications to prove their quality and good health.
Make sure you check out their Facebook page for the latest updates on this lovely Golden family!
Breeder Details
Website: Famn Damily Farm
Address: Trumansburg, NY 14886
Email: [email protected]
Social media: Facebook
3. Gotta Be Golden Retrievers.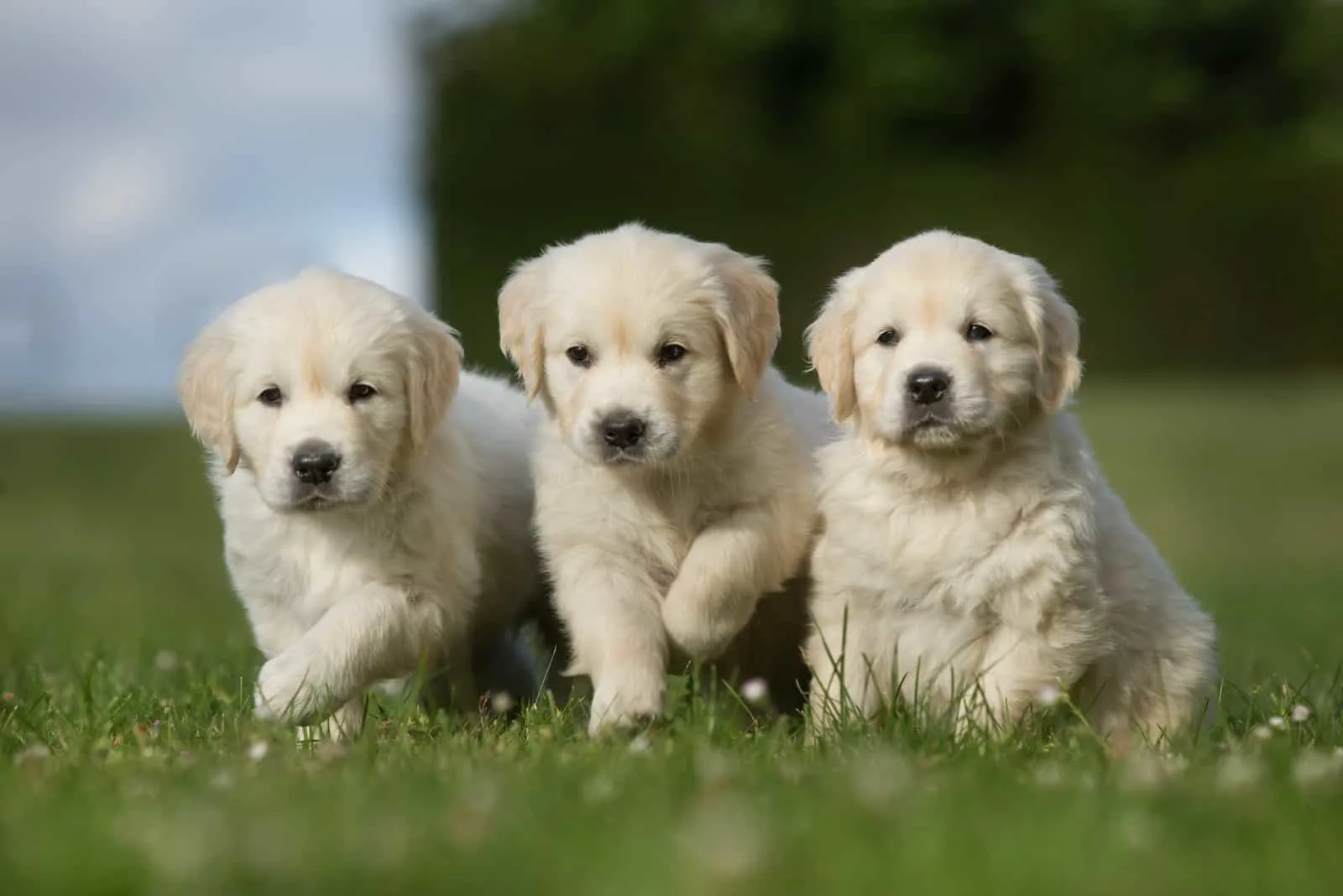 Ever since 1999, Kathy, from Gotta Be Golden Retrievers, has been breeding healthy Golden Retrievers with utmost love and care.
As a member of the Golden Retriever Club of America, and also a reputable breeder, she has been focused on breeding dogs that will go into new homes all socialized, groomed, trained, and handled with lots of attention.
Her Goldens come with OFA and PennHip health records, as well as genetic testings for eye (CERF) and heart conditions. These records can be traced back for generations.
Gotta Be Goldens are not only meant to be family pets; they're also therapy dogs capable of competing in conformation or agility competitions.
The puppies come with an AKC registration that's limited, all dewormed bi-weekly, vaccinated, and ready to make your life a whole lot better.
Kathy's Golden beauties have no idea what kennels are because they're born and raised indoors, in the family home. This makes socialization a lot easier since the puppies are constantly hanging out in the family room and only go out to play or take a walk.
Breeder Details
Website: Gotta Be Golden Retrievers
Address: 5848 Lanson Road, Ontario, New York 14519
Phone: 585-729-7200
Email: [email protected]
4. River Valley Goldens.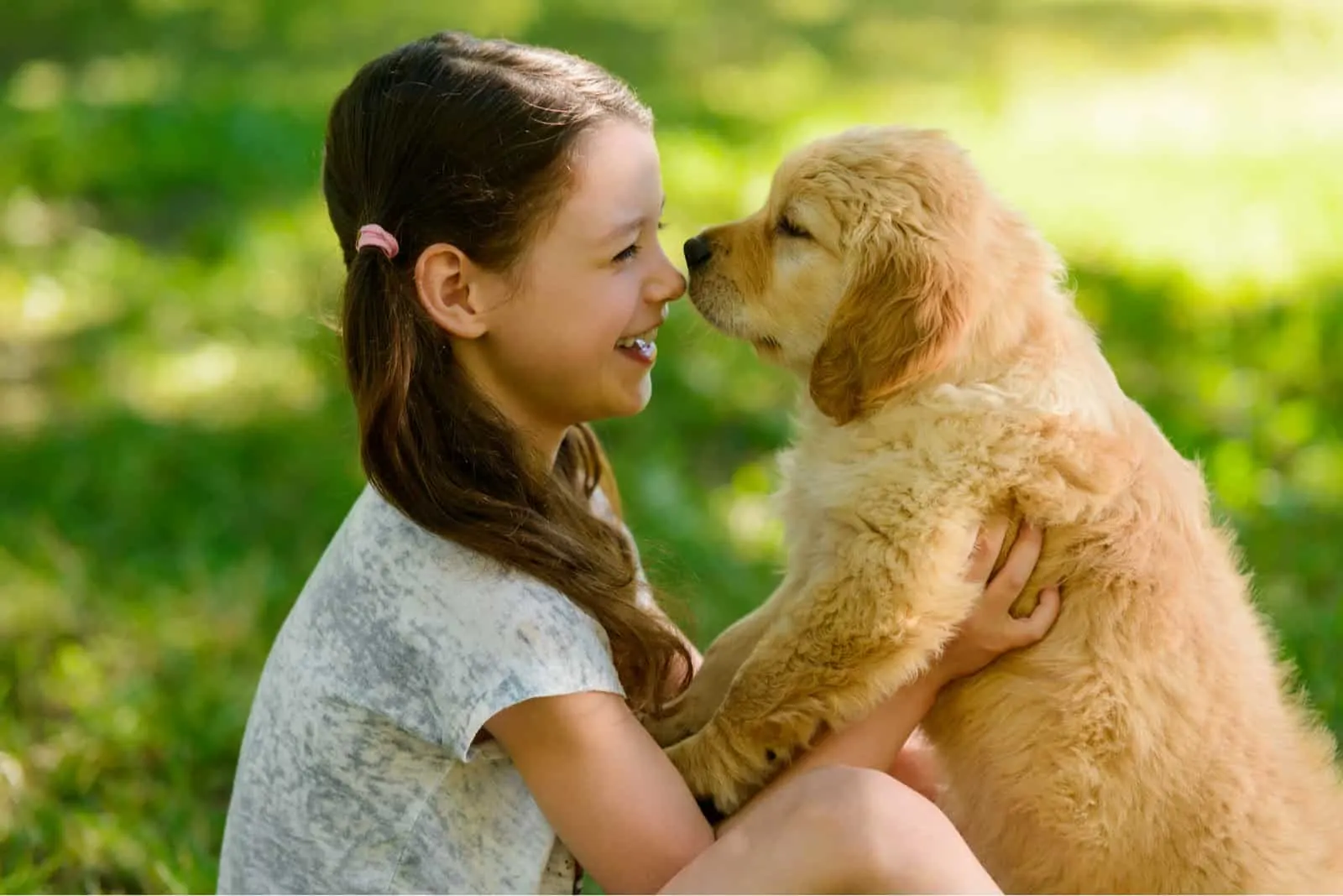 Small, home-based breeders are always a favorite of mine because I believe they're more devoted to raising healthy puppies than those breeders with a lot on their plate.
One of these reliable breeders are the guys at River Valley Goldens.
This small, upstate New York breeder has a stunning 27-acre home, safe and secured, with lots of greenery for the pups to enjoy. Dogs here can run freely and enjoy their liberty. They're not kennel-born and raised.
Two River Valley boys and five girls are producing top-class English Cream Golden Retriever puppies. Their dogs are a European import, completely registered with the American Kennel Club (AKC) and up to date with all their vaccination shots and deworming treatments.
The puppies come with their health clearances, and you'll be able to pick them up at the age of eight weeks. But, you will need to put down a $400 deposit first. This isn't a first-come-first-serve kind of breeder.
There's a waiting list with additional bonuses so you can pick a gender or a color depending on the availability in the litter and your preferences.
At River Valley, you're not getting just a furry friend… you're getting a new family member that will give you love and ask the same in return.
Breeder Details
Website: River Valley Goldens
Address: Oxford Rd., Norwich, New York 13815
Phone: 607-244-2621
Email: [email protected]
5. White Stone Goldens.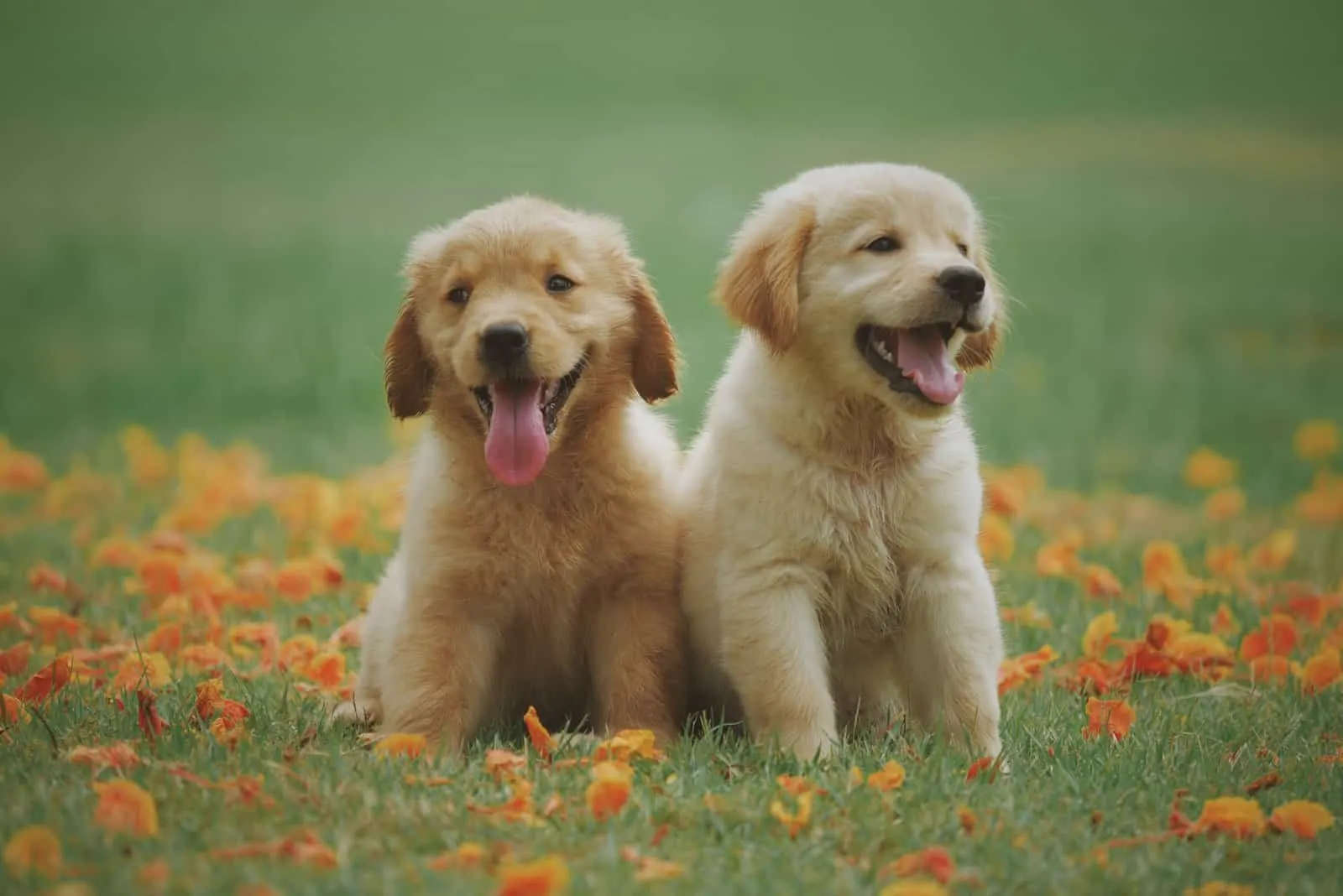 A growing family wanted another addition in the form of a four-legged friend, so they got a Golden Retriever! This is how White Stone Goldens began raising purebred English Cream Golden Retrievers.
After extensive research, Anna and her family decided that English Creams were the breed for them. These good boys and girls are kind, smart, devoted, and calm. Also, some researchers have proven that English Goldens are healthier than their American fellows.
White Stone Goldens are European imports with a tradition in World, International, and National championships. Even if you're not looking for a show Golden Retriever, you will get a tremendous puppy!
These Goldens are home-raised, and they spend lots of quality time socializing with kids. In addition, White Stone puppies are submitted to ENS. But, what exactly is ENS?
The term "ENS" stands for Early Neurological Stimulation lessons; a bio-sensor program that improves a puppy's trainability.
In order to get a White Stone Goldie, you need to put down a $300 deposit. At the age of six weeks, you'll be able to pick your puppy, which will get to go home with you in two weeks. All puppies are treated, vaccinated, and tested. You will also have their health certifications.
I see no reason why White Stone Goldens shouldn't be a part of your world.
Breeder Details
Website: White Stone Goldens
Phone: 315-941-2292
Email: [email protected]
6. Buck Family Farm.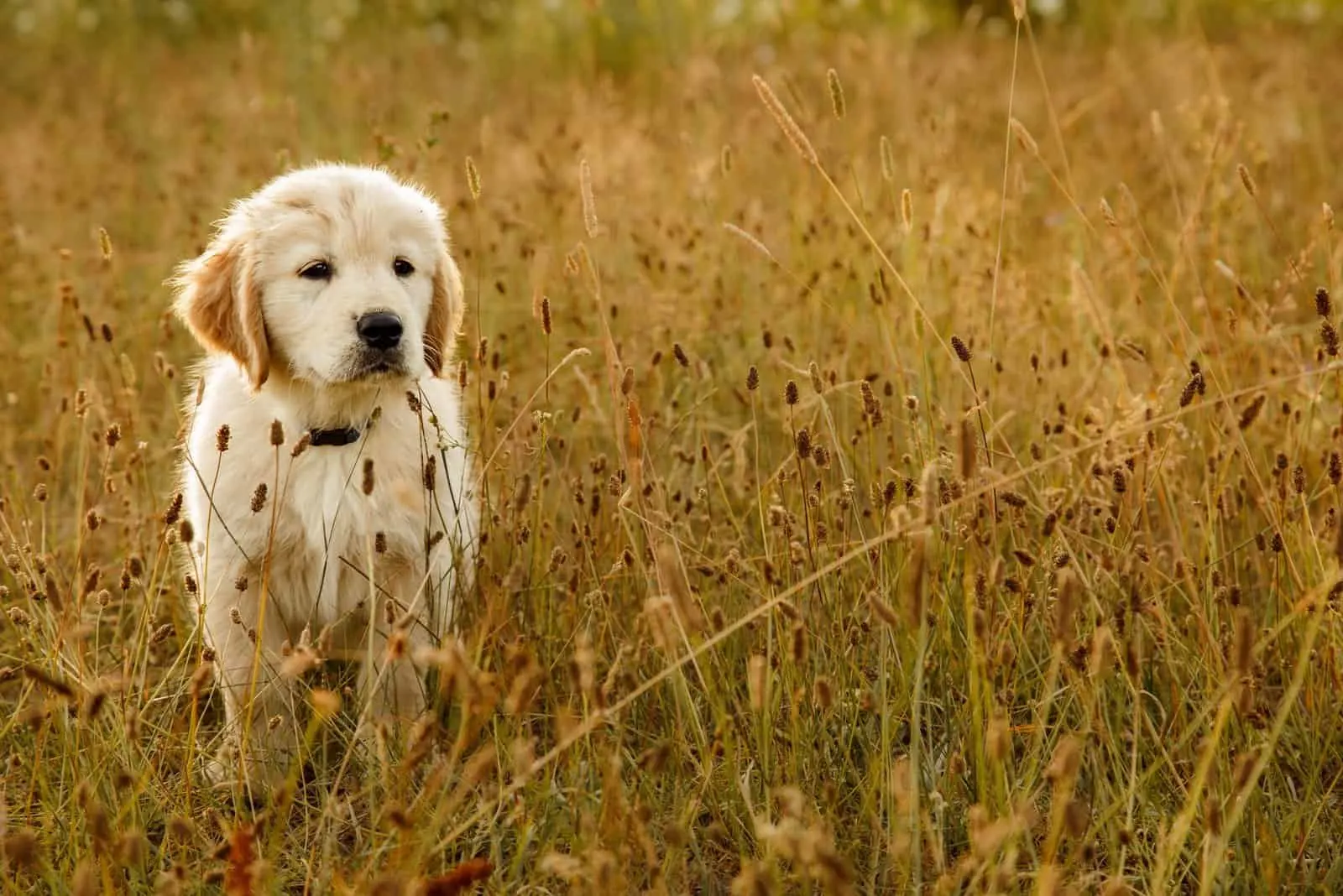 A vast majority of breeders are focused on breeding and raising strictly one coat color or one Golden Retriever type. But, Buck Family Farm doesn't belong in the same basket. These guys are doing a great job of raising all Golden coat colors.
Having a facility of 20 acres hidden in nature is pretty luxurious these days. Buck Goldens are enjoying that luxury, playing freely and socializing with kids, adults, and other animals.
The Buck Family makes sure that all their puppies are satisfied in every possible way. These are healthy and happy doggos. You can even ask for many health certifications to prove this statement!
Besides all the standard goodies (certifications, puppy food, shots, and treatments), all puppies will go to their new home with a blanket carrying their mom's scent. This makes the transition simpler for you and the puppy.
The Buck Family has a waiting list. However, a place on it will only cost you $25. Once the puppies are born, you should put down a deposit of $400. As with other breeders, Buck Golden puppies can be adopted at the age of eight weeks.
You can definitely trust this AKC Bred with H.E.A.R.T. breeder as their only goal is to get you premium-class Golden Retriever puppies.
Breeder Details
Website: Buck Family Farm
Address: Burke Hill Road, Warsaw, New York 14569, United States
Phone: 585-689-4369
7. Golden Beauties.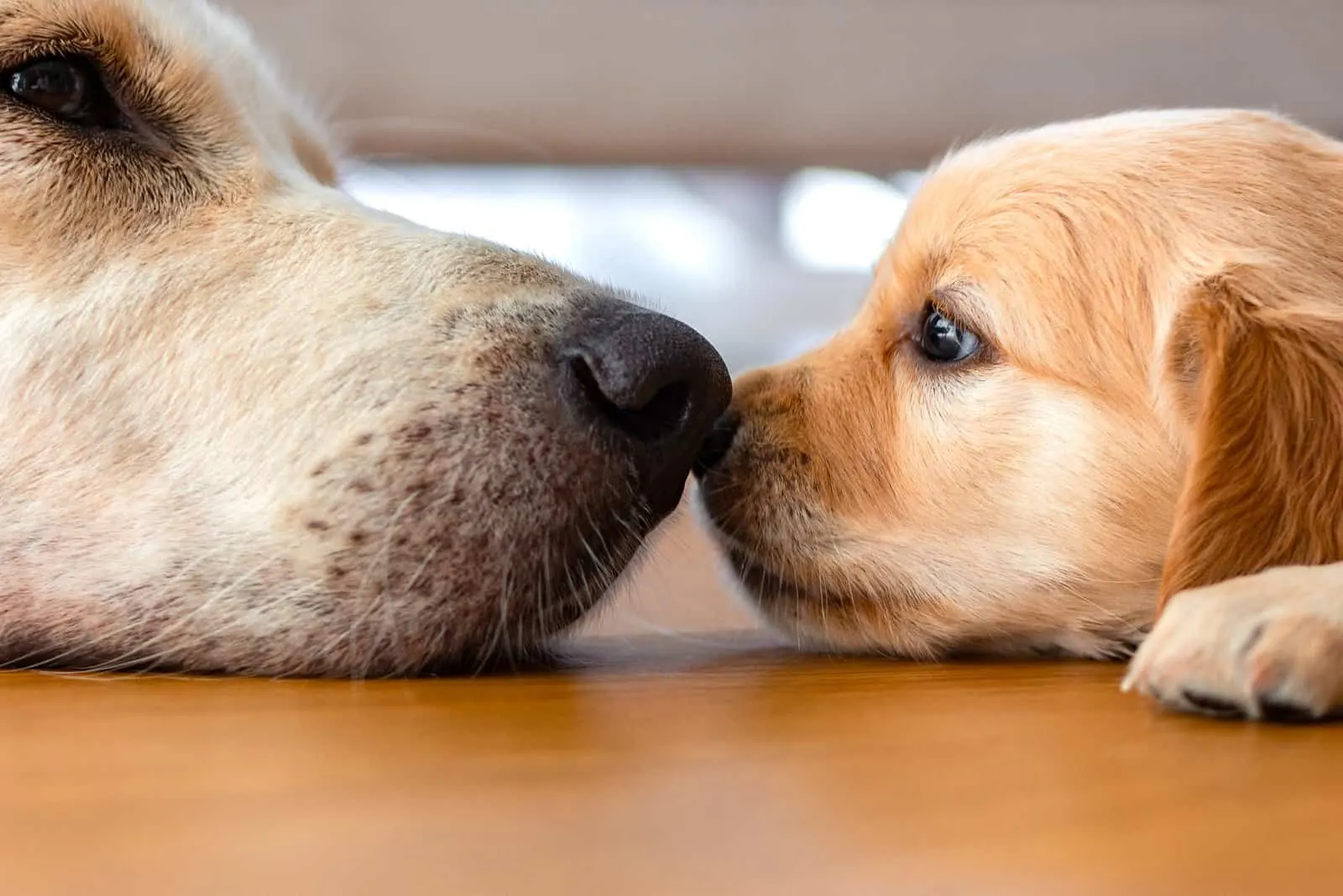 If you're looking for the perfect Golden Retriever or Goldendoodle, ask Stacy Albahari! She has been breeding exceptional pets, service doggos, and support animals since 2004. But, Stacy isn't only a breeder. She's also a behavior consultant, making sure her puppies are well-socialized.
Stacy's Golden Beauties can only be adopted with a spay/neuter contract. This ensures that you won't breed your puppy for the sake of money.
If you pick a Golden Beauty from Stacy, you'll get a fully vaccinated and treated puppy with health clearances upon request. But, that's not all! Golden Beauties come with an incredible six-year guarantee that covers numerous health conditions!
If this isn't enough for you to pick their Goldendoodle or Golden Retriever puppy, I don't know what is.
Breeder Details
Website: Golden Beauties Driven to Doodles
Address: 100 East Ave, Hilton, NY 14468, United States
Phone: 585-392-5995
Email: [email protected]
Social media: Facebook
FAQs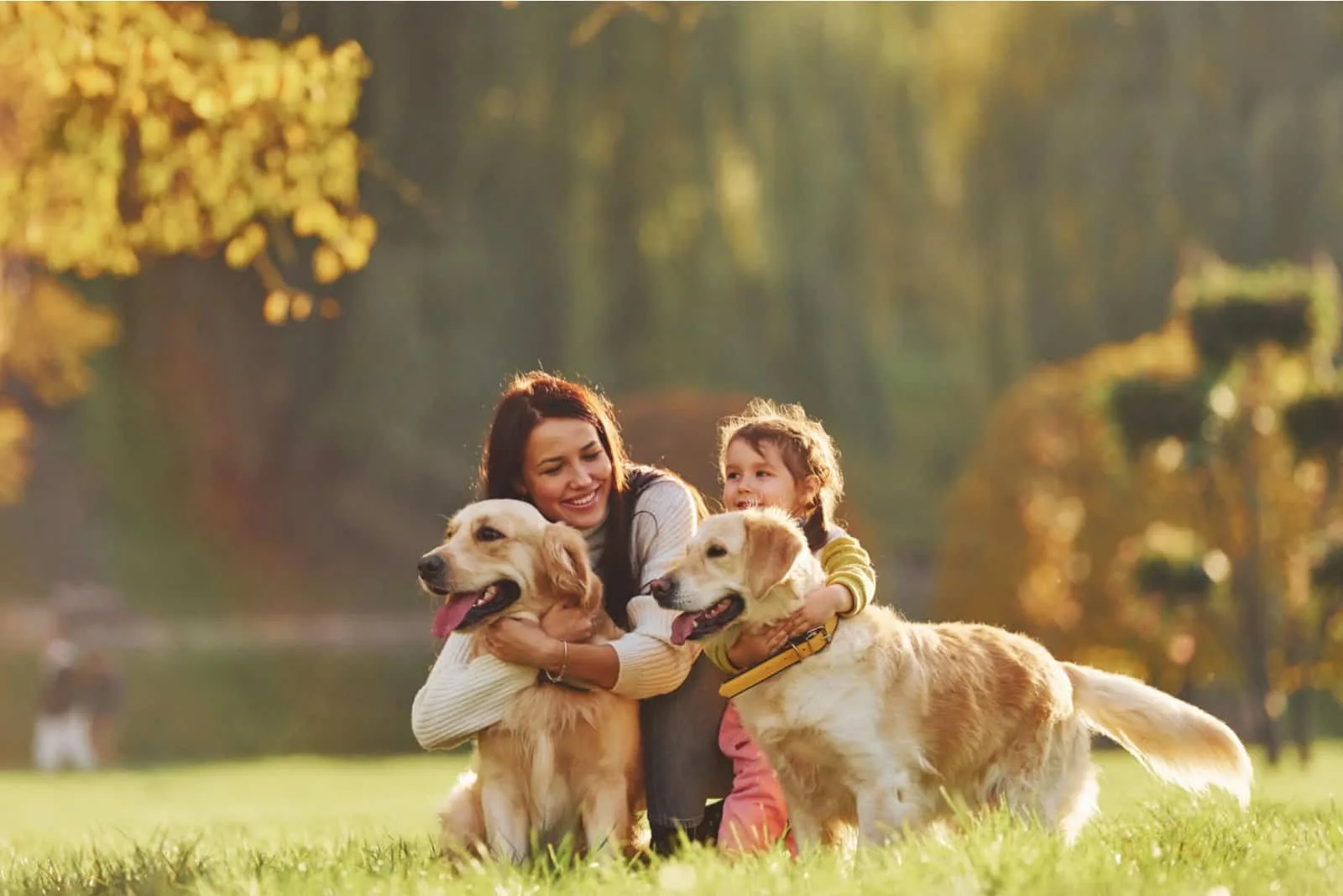 Golden Retriever Puppies: Price In New York
Golden Retrievers aren't mutts, but they aren't super pricey either. If you take into consideration that the state of New York is a pretty expensive place on the East Coast, the purchase price of a Golden Retriever puppy is absolutely justified.
Golden Retrievers are on the medium part of the price scale. On average, they go for $2,500 or more. If you find a Golden puppy for a cheaper price than this, I suggest you be extremely careful. The truth is: low prices are often a sign you're dealing with a scam.
Unreliable breeders will breed puppies without taking care of their health. As for their breeding stock, they often use dogs that are suffering from certain genetic conditions. As such, they bring into the world puppies that will eventually show signs of illnesses.
The only goal of such breeders is to make money fast. In other words, they're the same as puppy mills with mass production of puppies.
Also, people who have dogs and don't spay or neuter, but instead breed them because of an accident or on purpose are not better either.
When looking for a Golden Retriever breeder in New York, look for reputable people who will provide you with the necessary paperwork that proves that their breeding stock and litters are completely disease-free.
At the moment of my research, I came across some popular breeders that proved they're not trustworthy anymore, i.e., Hilltop Golden Retrievers.
Why Are Golden Retrievers So Sought After?
If you ask a dog breeder why he chose Golden Retrievers, he would go on and on about how wonderful they are. And, that's really the truth. Golden Retrievers are so sought after because they're one of the most friendly dog breeds in the world.
But, that's only the tip of the iceberg as to why Goldens are so popular.
Being the 4th most intelligent dog breed, Goldens enjoy having something to do. After all, they were bred to aid during hunting trips. Their high prey drive has survived over the years, and fetching things, especially in the water, is a Golden's favorite gameplay.
Golden Retrievers are more than helpful in different aspects of life. They're being used as service dogs for disabled people, as well as therapy pups, providing emotional support for people in need.
I believe it's their calm and kind temperament that makes Goldens so sweet and caring. Nothing better than a soft hug at the end of the day, right?
Besides their friendliness and affectionate side, Goldens are very appreciated because of their intelligence. Training them is pretty simple since they love listening to their owner and proving themselves worthy.
Related article: Are Golden Retrievers Aggressive
Another reason why people like getting Golden Retrievers as family dogs is because of their overall good health. Goldens have a fairly long life expectancy of up to 12 years. I've also seen many of them live past this borderline.
If you provide a good life for your dog and take him to the vet every so often, your Golden will happily live into its golden years.
Why Shouldn't You Own A Golden Retriever?
It's hard to believe that these amazing dogs have downsides. But, that's simply how things function. All dogs, no matter how great they are, have their flaws.
Goldens don't have that many, but it depends on which angle you look at things.
However, the biggest downside of owning a Golden is their shedding. I wouldn't recommend this dog breed to people who are prone to allergies or those of you who don't have time to groom and clean up.
The facts are straight: Goldens shed massively! They also shed excessively during the shedding season in spring and fall. Their soft, double coat can be quite long, which makes maintenance pretty difficult.
But, that silky coat doesn't stay silky, soft, or spotless without effort.
You will need to commit to weekly grooming sessions. I recommend daily brushing for best results. Goldens need to be groomed using brushes with pins of different lengths so they can reach into the undercoat and remove dead hair.
All in all, grooming a Golden isn't so… golden!
Moving on… the second biggest downside of owning a Golden is their activity. These are not couch potatoes! Goldens are active dogs that need to stay in shape.
You won't find this doggo snoozing on the couch. They're sporting dogs, bred to retrieve stuff. You'll find your Golden Retriever in the backyard running around and most likely chasing squirrels.
Speaking of backyard animals… Goldens can act destructively, and that's another reason why they don't make good pets. Their destructive side appears when they're not exercised enough or when they don't get the much-needed affection.
You see, Goldens are very affectionate creatures and they demand the same in return. They won't be satisfied with you greeting them at the front door. These pups need their owners all the time, making sure they're completely devoted to them.
Even though Goldens are pretty trainable, and they love listening to our commands, they're still quite mischievous. That's a natural trait for these dogs. If you're all about discipline and don't appreciate a dog running away with your shoes, then you shouldn't consider Goldies.
Lastly, I want to address their use. Goldens are simply pets with a general tendency to retrieve things. This means they're not good guardians or watchdogs. You can't expect a Golden to keep your property safe from intruders and thieves since they're so friendly.
Your Golden will most likely greet the newcomer and beg for a belly rub. And, that's not something a dog used for guarding and protecting should do.
Don't let these facts discourage you from getting a Golden Retriever. They're simply magnificent pets, but it does depend on what you're looking for. Make sure you're familiar with this list of flaws before you decide to adopt a Goldie.
Conclusion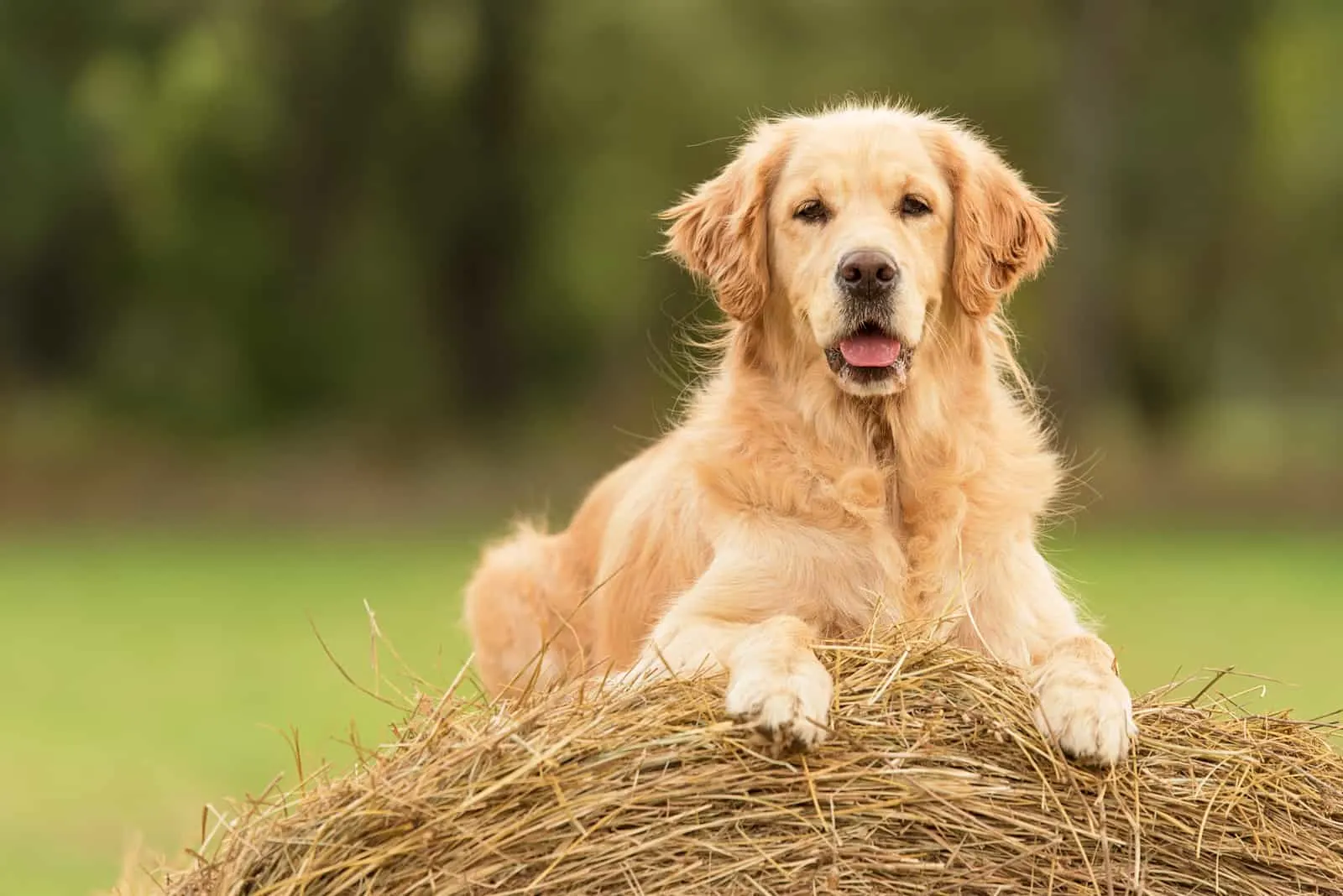 So, which one of these Golden Retriever breeders in New York is the best one?
I have my favorites, but I'll let you choose yours.
Not every breeder will work out for every one of you. Some might have short health guarantees. Others will be too expensive or live far away from you, and this is absolutely fine.
Filter these breeders according to your needs. See which one ticks the most boxes. And, lastly, go talk to the breeder.
You can't buy a puppy online! You simply must visit or talk to the breeder to get a better insight on the breeding practice and the puppies.
Only then can you be sure you'll get a healthy puppy that will make you happy for many years to come.
Related Articles: