The Boston Terrier feeding chart is the first lesson you should go through when you're getting a Bostie as a pet. I mean, you have to learn how to feed your dog, right?
Believe it or not, there's a whole science behind a dog's diet. You must know which ingredients are desirable and which should be avoided.
Food shouldn't lay around all the time so your Bostie could nibble on it anytime he wants, or did you think the opposite?
Fellow Boston Terrier lover, you have lots to learn. But, don't worry – this feeding guide will help you a lot. By the time you finish reading it, you will call yourself a Bostie nutritionist!
Just kidding… but you'll definitely have good knowledge of what's right and what's wrong when it comes to feeding your Bostie.
I do have to warn you that I won't tell you which dog food brand to choose. I won't tell you that maybe Purina is better than American Journey. Let's not talk about brands. Let's talk about what is on the back of the bag.
And, you'll learn exactly what's supposed to be written on the back of great food bags for your Boston Terrier!
How Much Should An Adult Boston Terrier Eat?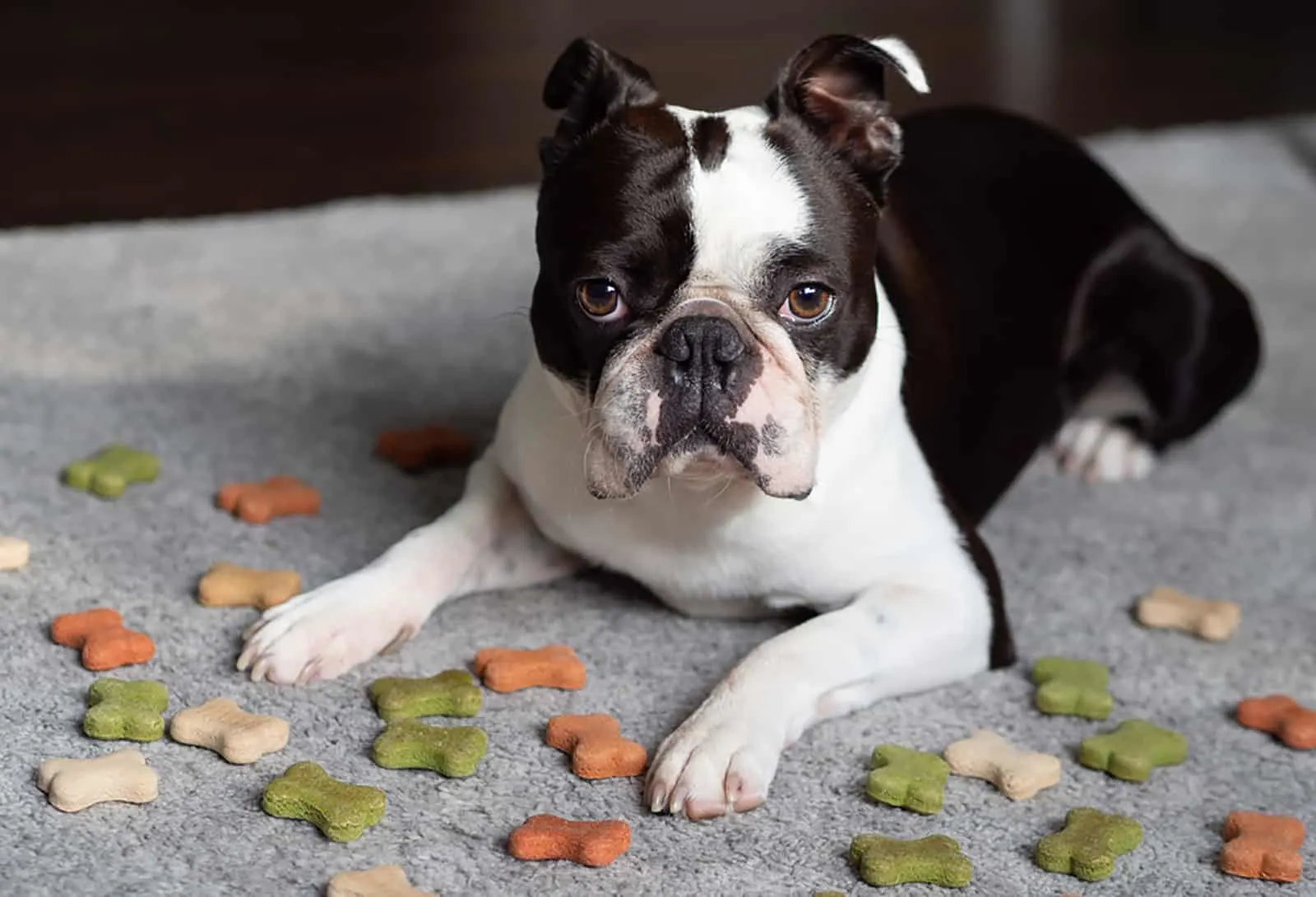 | Weight | Min Food Amount | Max Food Amount |
| --- | --- | --- |
| 10 lbs | ¾ cups | 1 cup |
| 15 lbs | 1 cup | 1¼ cups |
| 20 lbs | 1¼ cups | 1¾ cups |
| 25 lbs | 1¾ cups | 2 cups |
Grown-up Boston Terriers should have two major meals a day: breakfast and dinner. The amount of adult dog food should not go over two cups if your Bostie is a large doggo.
The amount of dog food depends on your dog's age, weight, activity, and condition. The number of cups of food a day should not exceed the recommended amount.
Otherwise, you may cause obesity, and your dog might end up with digestion issues.
More on overeating further in the article.
Stick to the general guidelines and you can expect a healthy weight from your Boston Terrier.
How Much Should Boston Terrier Puppies Eat?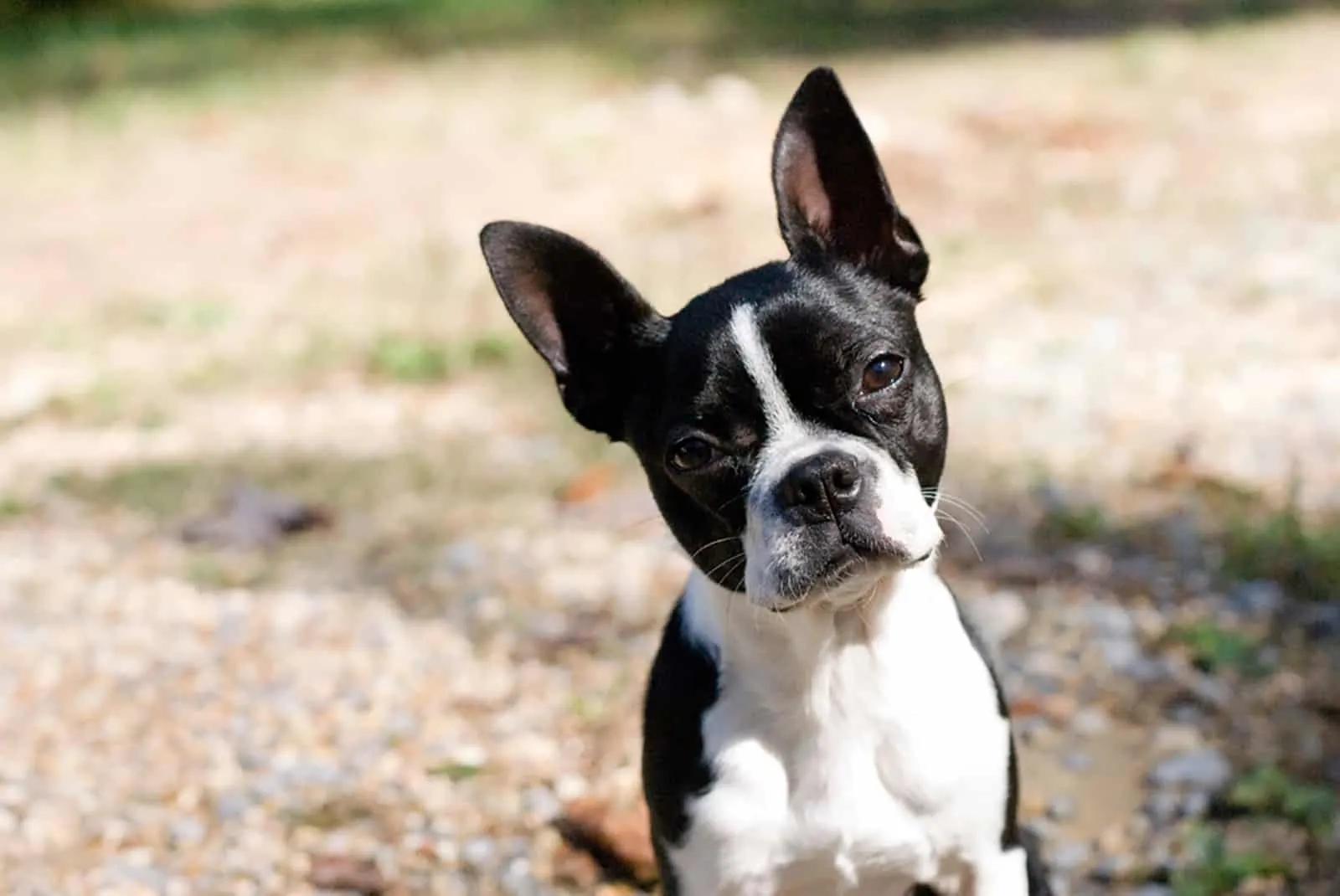 | Weight | Cups per day |
| --- | --- |
| 3 lbs | ¾ cups |
| 6 lbs | 1 ½ cups |
This Boston Terrier feeding chart applies only to puppies from the age of six weeks up to 16 weeks.
Puppies of age 16 to 52 will have the following feeding chart:
| Weight | Cups per day |
| --- | --- |
| 3 lbs | 2⁄3 cups |
| 6 lbs | 1¼ cups |
| 10 lbs | 1 2⁄3 cups |
| 15 lbs | 2 cups |
| 20 lbs | 2 ½ cups |
Boston Terrier puppies have higher nutritional requirements than adult Bosties. That's because puppies still grow, and they're quite active.
They need more food to satisfy their growing needs as well as to support their activity. Also, puppies have faster metabolism than adults.
Daily food intake for puppies is roughly 450 calories. Detailed information can be found down below. What you'll need to do is divide those calories within three to four meals.
Boston Terrier puppies eat more often than adults for obvious reasons: they can't eat a giant meal in one sitting.
Frequent meals will sit better on their tummy, and will keep them satisfied all the time.
Daily Calorie Intake For Boston Terriers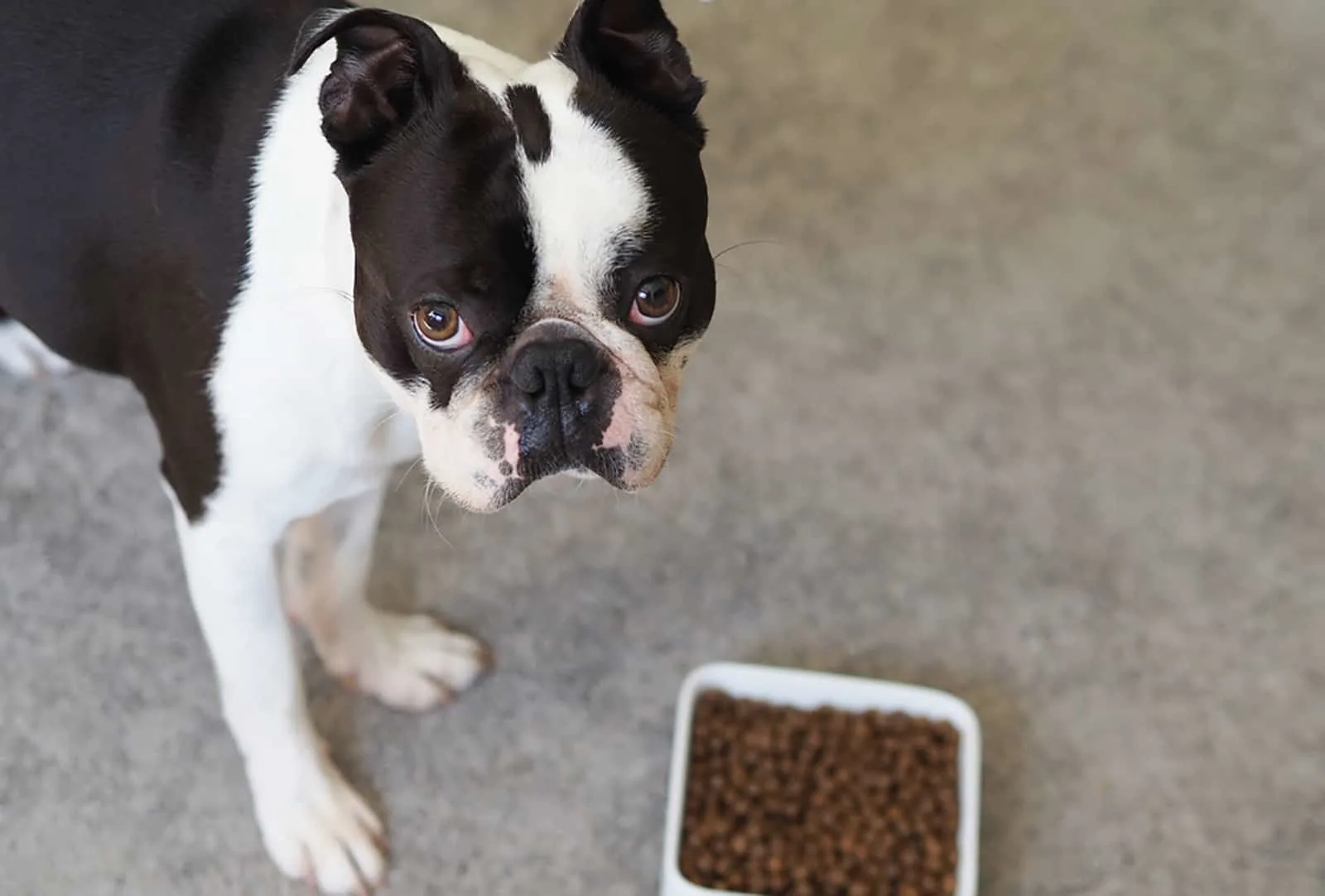 | AGE | WEIGHT | CALORIES PER DAY |
| --- | --- | --- |
| Young Active Boston Terrier | 10 lb | 436 |
| Adult Active Boston Terrier | 10 lb | 404 |
| Senior Active Boston Terrier | 10 lb | 327 |
| Senior Inactive Boston Terrier | 10 lb | 296 |
| Pregnant/Nursing Boston Terrier | 10 lb | 518 |
You shouldn't expect your Bostie to take in too many calories during the day. These are small dogs, and they don't need as much food as you might think. Relax… your dog won't starve.
Your Bostie will take the exact amount of food he needs in order to keep his engines running and that energy bar drained.
On average, Boston Terriers need about 650 calories a day. Divide these calories into two or more meals depending on how big your Bostie is or in which life stage he's in.
Naturally, more active dogs will need more calories. You're supposed to watch your dog and listen to his needs. If he still seems hungry, throw some more kibble in that bowl. But, let's keep it under control.
Once you notice your dog is putting on extra weight, reduce the amount of extra food.
Don't increase the number of calories if your dog is not that active or if he's an old Boston Terrier.
Should Boston Terriers Be On A Feeding Schedule?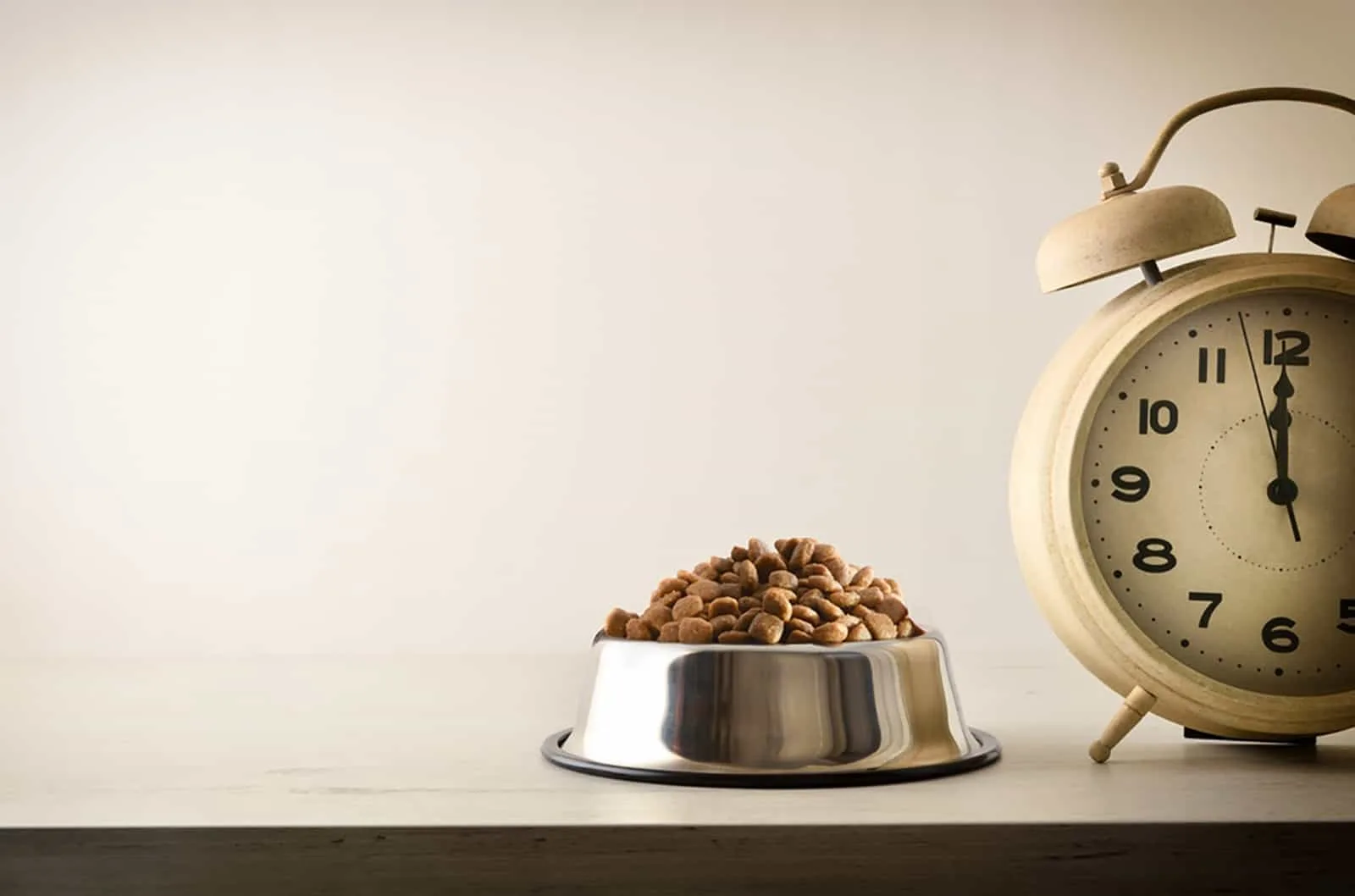 | BOSTON TERRIER AGE | NUMBER OF MEALS A DAY |
| --- | --- |
| 8 weeks | 5 meals |
| 3 months | 4 meals |
| 6 months | 3 meals |
| 12 months | 2 meals |
Yes, yes, multiple times – yes! Boston Terriers should always be on a feeding schedule. In fact, all dogs must know when it's mealtime and when it's not.
This ensures that your dog's weight is healthy and that he will not lean toward obesity. Excessive weight gain can cause lots of trouble for a small pup like the Bostie.
Free Feeding is never a good idea no matter if you have a Corgi, a blue Bostie, a Poodle, or a red Boston Terrier. No dog should be free-fed. Period.
If you're really not around that often, either schedule meals when you're around or invest in a fancy automatic feeder that won't let you down.
It's quite simple to create a feeding schedule for adult and senior dogs. They usually have two meals a day, with some alterations if they suffer from some sort of health condition.
But, it's tricky with puppies.
Newborn puppies nurse, and they depend on their mom's milk up until the age of five weeks. Then, they start with solid foods.
Their first meals are usually puppy food turned into a mash. PupVine has done a piece on making the ideal puppy mush, so look it up here!
As you can see, young puppies at the age of eight weeks have five meals a day. That's quite a lot, but it covers their nutritional needs.
As they grow up, the number of meals will be reduced, and the puppies will gradually transfer from puppy food to adult dog food.
I want to recommend that you keep a strict feeding schedule, so you will always have your dog's weight under control.
Nutritional Needs: What Do Boston Terriers Need In Their Food?
Every adult dog, including our Boston Terrier, should be on a protein-rich diet. Proteins are necessary for good development, as well as for normal functioning as adults.
Dry dog foods we see on the market are always protein-based. However, lots of them contain meat by-products, which should not be a part of a dog's nutrition, or even dog treats.
We're lucky to have lots of good dog food brands for a good price, so you don't have to pay an arm and a leg for natural ingredients and high-quality products.
Chewy and Amazon have lots of amazing brands. I won't recommend the exact brand, but I will tell you what your Boston Terrier needs.
Besides a healthy amount of proteins, which is usually 25% for adult dogs, and 29% for puppies, your Bosties diet will also need to be packed with omega-3 fatty acids, DHA, AHA, vitamins, and minerals.
If a recipe is supported with supplemental goodies such as l-carnitine, glucosamine, or chondroitin, even better!
Look for recipes that are grain-free because Bosties are highly prone to allergies. Make sure the first five ingredients are real animal proteins, and/or fresh fruits and veggies.
I don't need to mention that fillers, artificial flavors, and colors are a huge 'no', right?
Whether you pick wet food or dry dog food, that's completely up to your dog's preferences. The most important thing about the best food for your Bostie is that it meets nutritional requirements.
What's a Big 'No' When It Comes To Feeding A Bostie?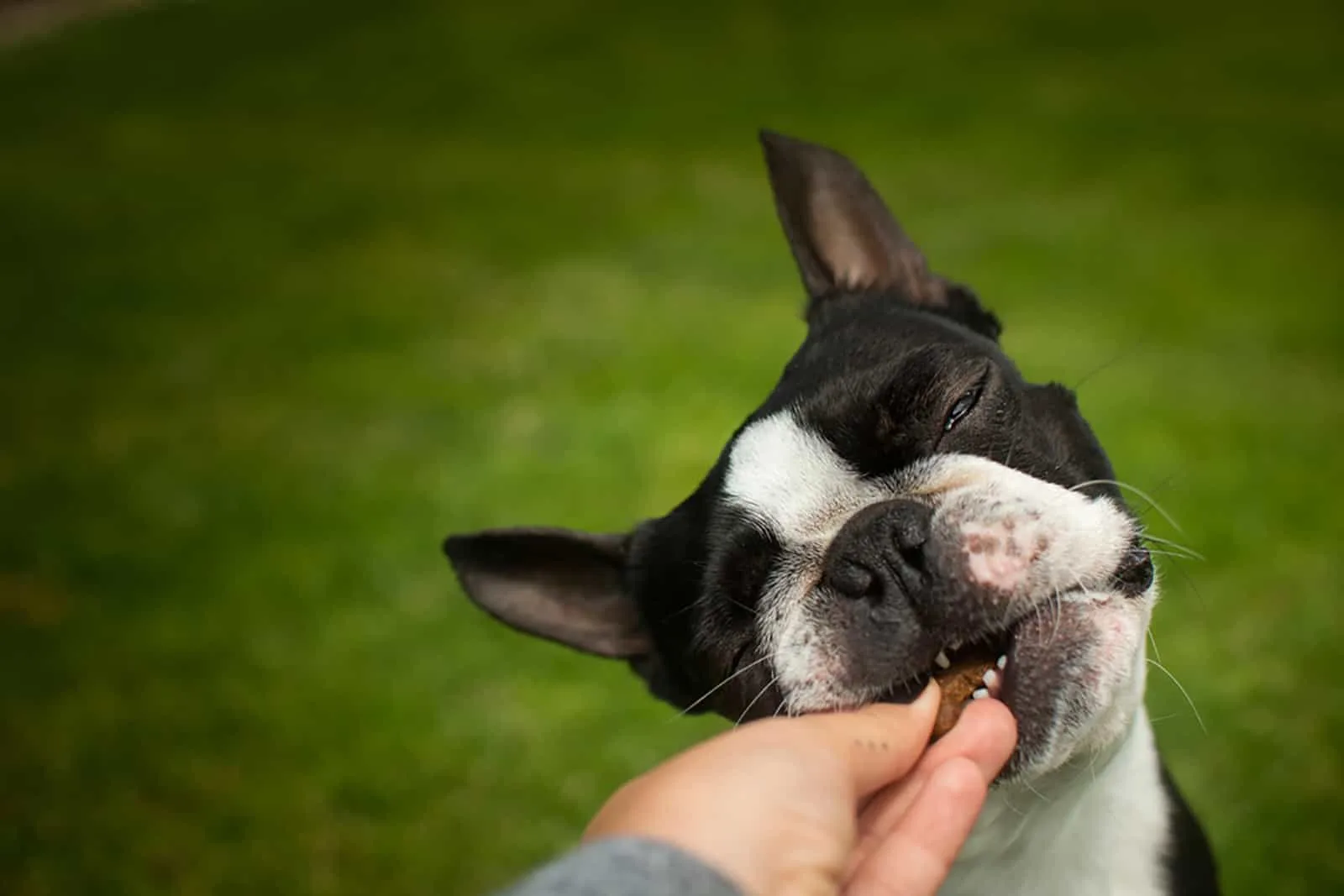 Boston Terriers are small dogs, but they can develop quite an appetite. That doesn't mean you should break down and hand over the last piece of your sandwich to your dog.
I know… all dog owners sneak some human food to their pups from time to time.
That practice is absolutely wrong, especially when you eat something unhealthy. Dogs aren't supposed to eat human food. PupVine has talked about which human foods are off-limits for all dogs.
Let's remind ourselves a bit! Here's what your Bostie should never consume:
poppy seeds, etc.
The list of forbidden foods also contains chocolate, all sorts of onions, and garlic.
Besides this list of forbidden ingredients to your Bosties diet, you should make sure that your dog doesn't consume grains, especially not wheat and corn.
One of the biggest health problems with Boston Terriers is numerous skin conditions that become even worse when a dog eats some corn, for example.
Wheat and corn are two major allergy triggers. A Bostie that suffers from skin breakouts should consume a sensitive formula without grains.
Also, wheat and corn may cause severe digestion issues. They're not really necessary in your dog's diet, and usually serve as fillers. There are much better ingredients to add to your pup's meal if he needs a healthy dose of carbohydrates.
Health Problems Related To A Boston Terrier's Diet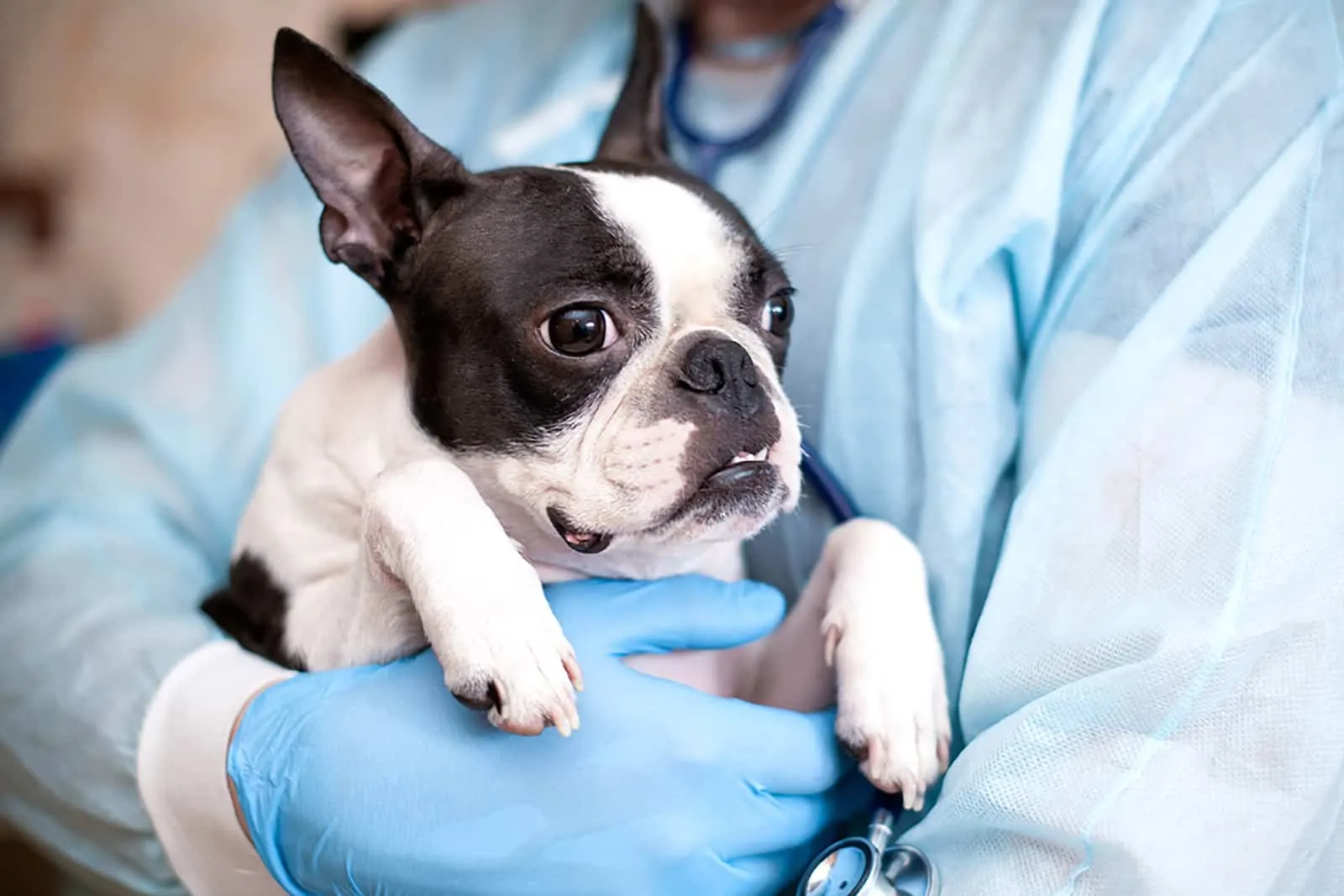 Just like any other dog breed, the Boston Terrier breed is prone to some health conditions that could become worse if they don't consume the right type of food. Normally, these conditions aren't lethal, but they do affect the dog's everyday life if not treated.
The biggest health issue related to a Bostie's diet is food allergies. Every Bostie owner should know which ingredients to avoid in a dog food recipe.
For example, some Bosties can be allergic to chicken. This allergy can manifest in redness of the skin, itchiness, or atopic dermatitis.
If your dog keeps on having skin allergies, the only thing you can do is find the trigger and isolate it. If it's food-related, i.e., corn, you should find kibble recipes that contain 0% corn and that were not in touch with corn products.
Only then will your dog's allergies calm down. There's no magical cure nor pill to sneak in your dog's food, so he can stop being allergic.
Another major health problem related to a dog's diet is obesity. With Boston Terriers, being underweight isn't a common issue.
These dogs love to munch on food, so obesity is rather usual, especially if your dog is already spayed or neutered.
Since this is a small breed, you must be extra careful if your dog puts on extra weight. Imagine carrying too much weight on a fragile body frame.
Chances are that dog will develop some sort of mobility problem, i.e., IVDD (or Intervertebral Disc Disease).
Maintaining proper body weight is crucial not only for mobility's sake, but also to prevent dog cholesterol, diabetes, and cardiac diseases.
Should Boston Terriers Eat Raw Dog Food?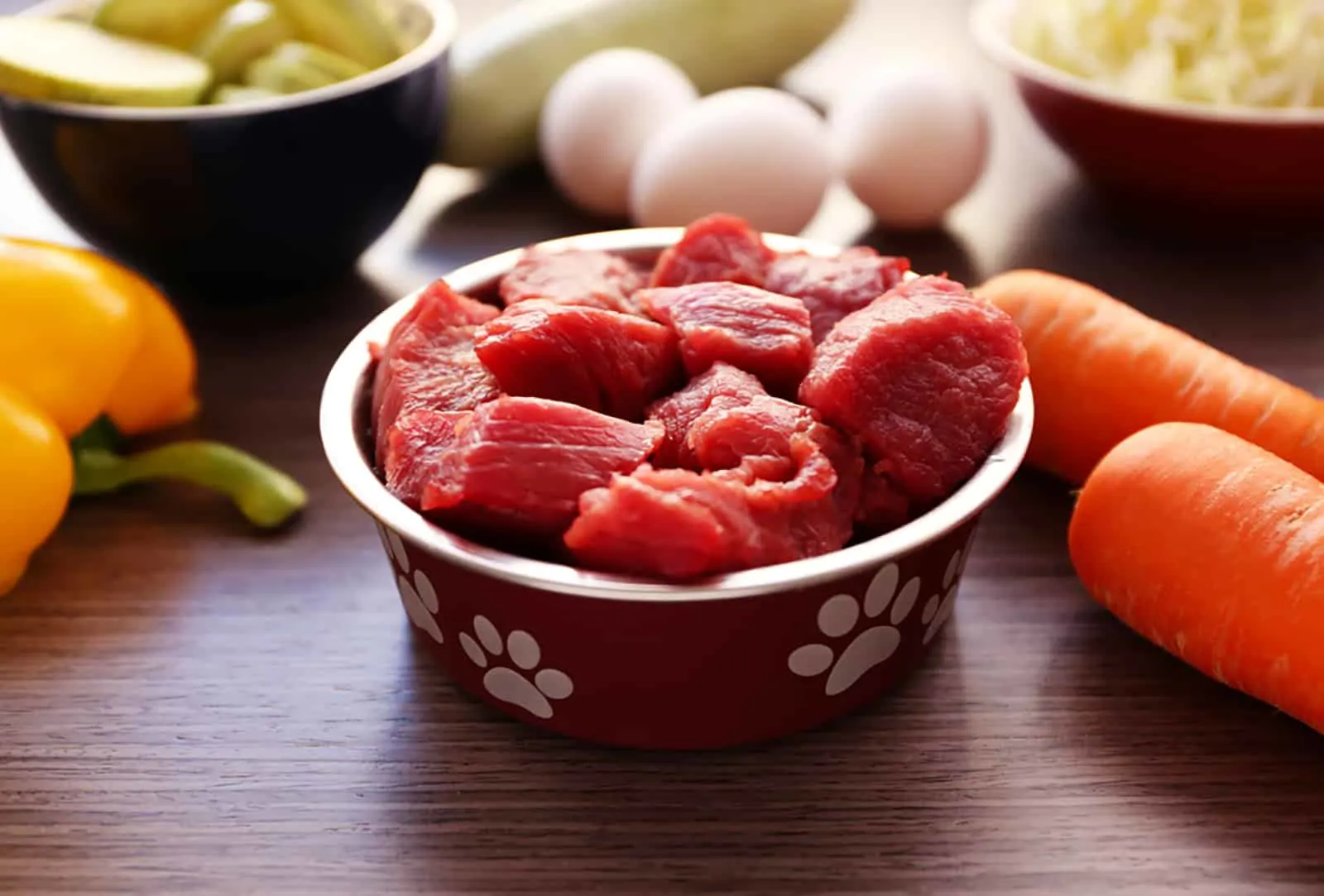 I see no reason why your Boston Terrier dog shouldn't consume raw dog food. If you have a Bostie puppy and you want to feed him raw, I suggest you check out PupVine's article on feeding puppies raw food here.
The whole point of feeding raw to your dog is going back to the origins and feeding your dog the way his ancestors used to eat.
A raw diet is something that lots of dog owners dread because they believe it's not good for their dog. Some even believe that raw food may lead to aggressive behavior.
Of course, that's ridiculous. Raw food has nothing to do with a dog's behavior. Still, it may cause some digestive problems, so it's better to watch your dog for signs of discomfort and poor digestion.
Raw dog food is great, but it does not suit every dog. For example, Cane Corsos take a raw diet very well, but a Maltese might have issues with it.
Raw dog meals mean lots of high-quality proteins for your dog. But, this kind of diet is quite pricey, and meals can go bad pretty quickly. It's better to make these meals fresh every time your dog wants to eat.
Can I Prepare Homemade Meals For My Boston Terrier?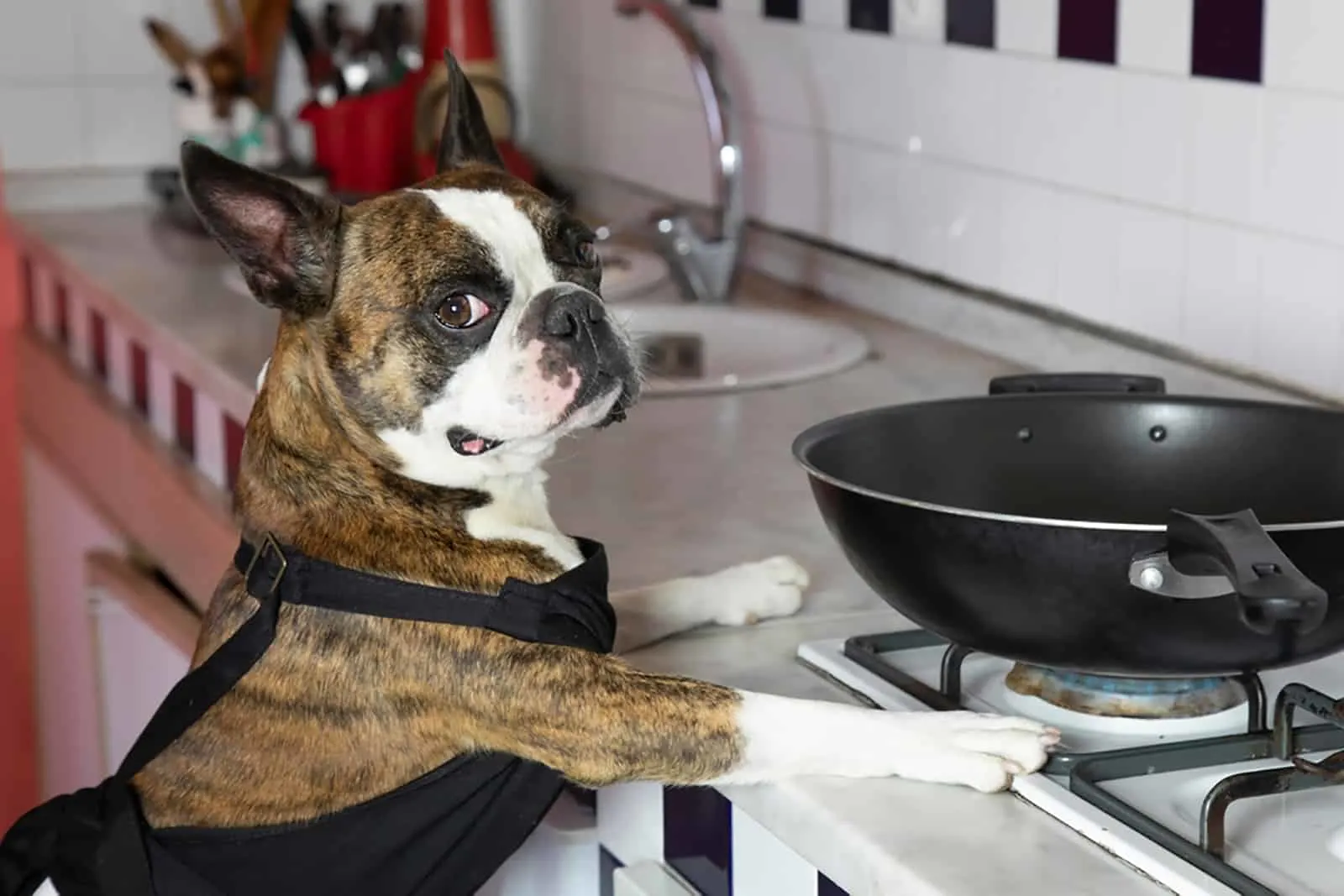 Lots of dog owners have turned to preparing homemade meals for their Boston Terriers. In fact, the same thing happens with other dog breeds.
A homemade diet has numerous benefits and only a few downsides. I'm really not surprised that it has gained so much popularity.
So, the simple answer to this question is 'yes', you can prepare homemade meals for your Boston Terrier!
But, what can you include in those meals? It can be pretty confusing once you start, but you'll catch the drift pretty soon. The first couple of tries might be a failure because your dog won't show interest in a meal prepared with specific ingredients.
That's okay – you'll figure out what your Fido prefers.
The best thing you can do for such meals is to use fresh ingredients, lean meat, organs, bones, and even fruits and veggies.
The cheapest option is to buy chicken meat and gizzards, but you can also buy in bulk or on sale where you can get good-quality turkey, beef, pork, or similar proteins.
What's great about homemade meals is that you know exactly what you're serving your dog. You can include ingredients he likes, and design the meal according to your dog's nutritional needs.
The biggest downside of homemade meals is that they're time-consuming. You need quite some free time to prep these meals.
But, once you have them ready and frozen, you can rely on them for a while.
I would recommend you try serving your Boston Terrier some homemade meals. There are lots of recipes online, but make sure you use only real animal proteins and fruits and veggies that your dog is allowed to eat.
Different Ways Of Feeding A Boston Terrier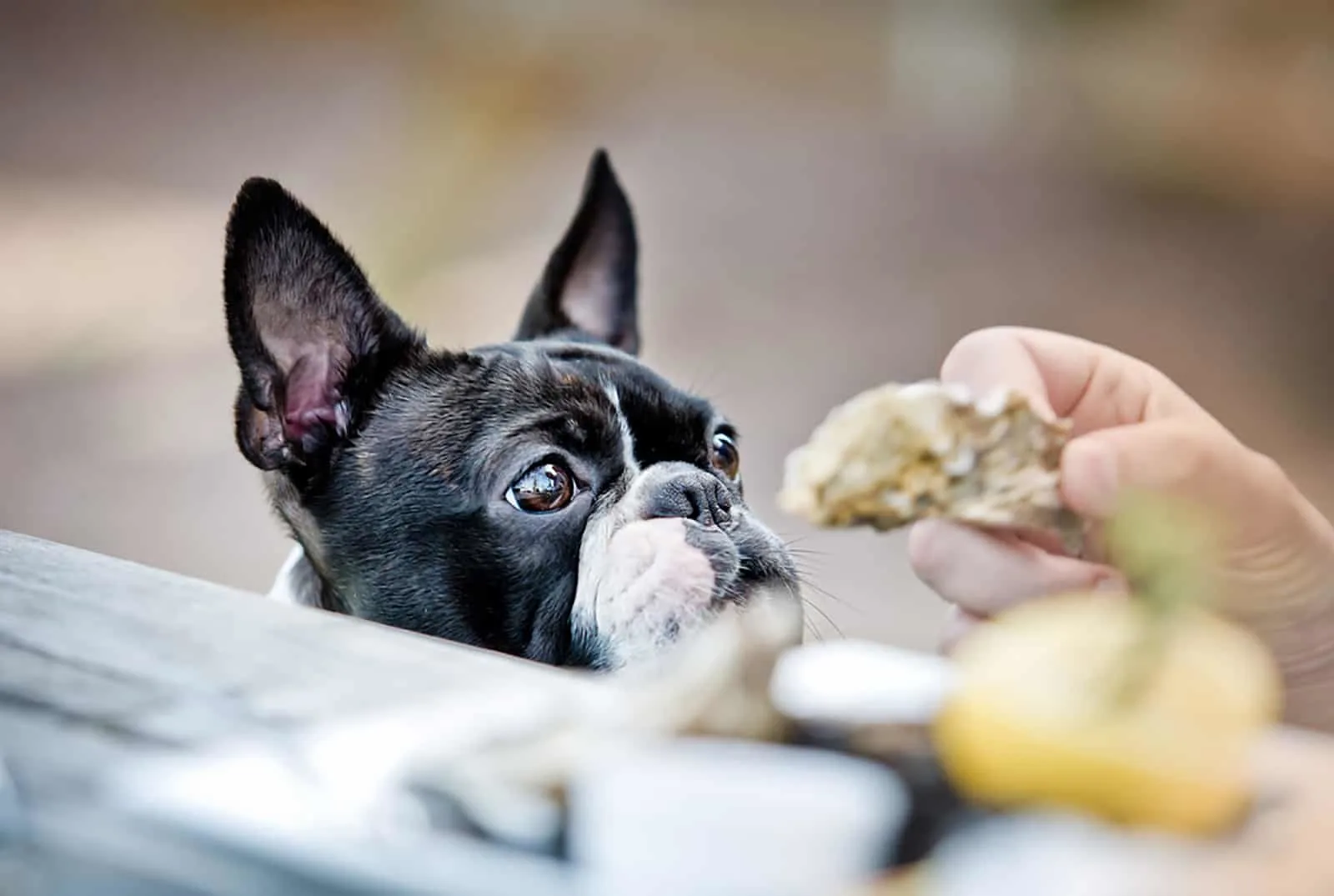 I know you might think this is ridiculous, but trust me… this section really does have a point. There are really different ways of feeding Boston Terriers.
You can't decide which one you prefer before you actually get to know your Boston Terrier. There are dogs that don't like eating out of a bowl.
So, what other feeding ways are popular in the canine community?
Believe it or not, hand-feeding is one of the options. I've seen dogs so spoiled (ha-ha) that they like to be fed only by hand.
Personally, I wouldn't pick this feeding method because it's messy and time-consuming. However, I do understand that dogs like it because it's their way of making a connection with their owner.
Bowl-feeding is what most dog owners choose, but it's important which bowl to pick. When a dog eats greedily and gobbles up his food within moments, it's better to buy a slow-feeding type of bowl.
These bowls have swirls and mazes that slow dogs down, so they don't swallow too much air while eating. It's proven that slow-feeding bowls reduce the chance of a dog getting a condition called bloat.
Lastly, some dog owners use dispenser feeders. A lot of them are automatic and operate on batteries. They're not the most reliable thing, but they will work just fine if you're not around to feed your pup.
Feeding Plan For A Boston Terrier Puppy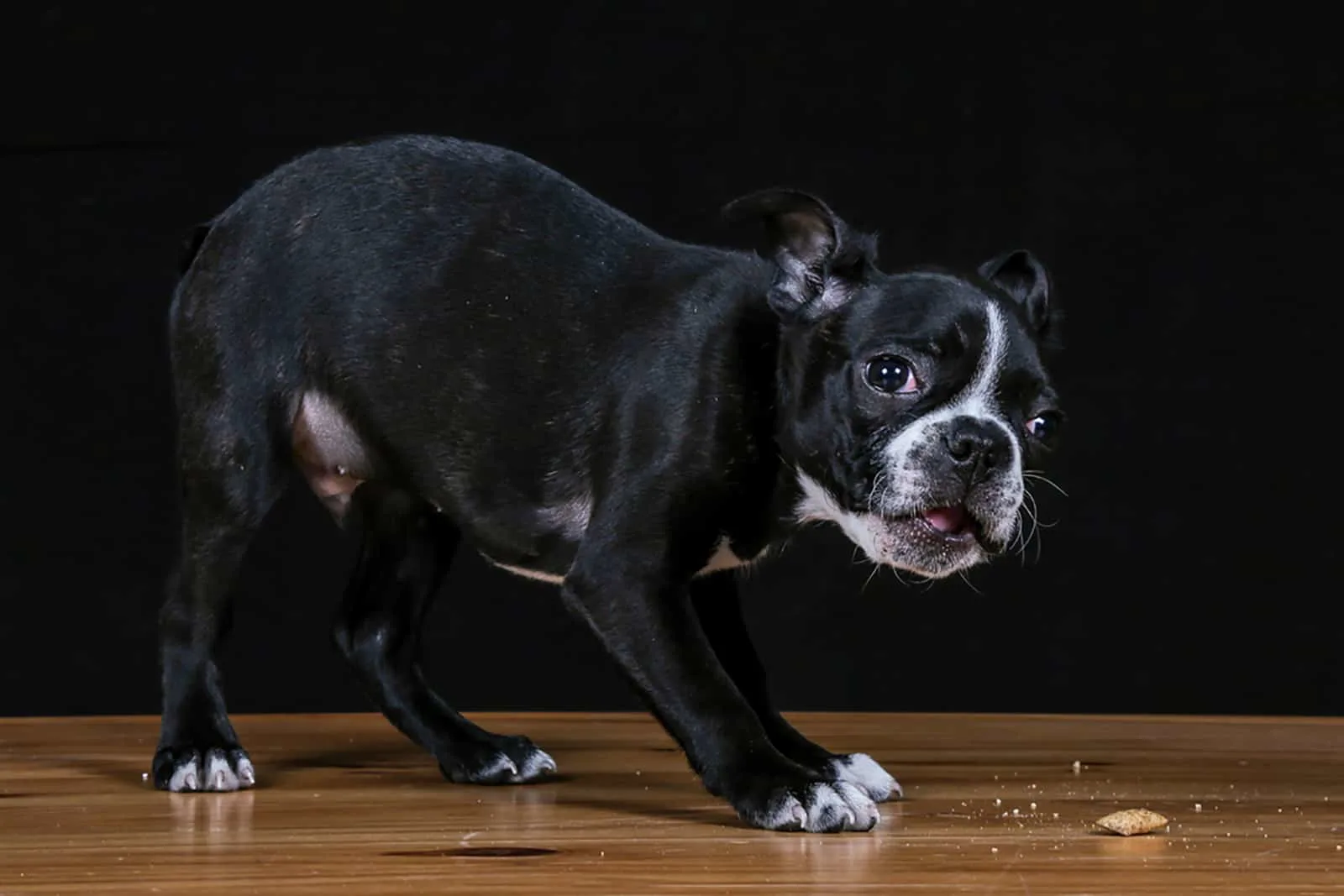 For the first few weeks of their life, puppies depend completely on their mom. Moms are their food, shelter, and comfort. Moms are their guides into the world of older puppies and adult dogs.
Most importantly for young puppies, moms are their only source of food.
Puppies stay with their mom up until they become eight weeks old. It's also the time when the breeder will wean them from their mom's milk.
Dog experts have agreed that eight weeks is enough time for a puppy to receive all the nutrients his mom has to offer him.
But, what do you do if a puppy loses his mom too early?
To ensure a proper way of feeding a pup without his mom, you should take 5% of his weight as the food quantity needed.
Boston Terrier puppies don't need as much food as adults do, but they still need lots of nutrients – even more than adult dogs.
The reason is quite obvious: puppies need up to 29% of real animal proteins because they're still growing.
Another major difference between feeding puppies and adult Boston Terriers is the fact that they have different meal frequencies. Puppies eat more often, and usually go through four to five meals a day depending on the puppy.
Adult Boston Terriers need two big meals a day if nothing seems to be wrong with their health status.
Feeding Plan For A Boston Terrier Adult Dog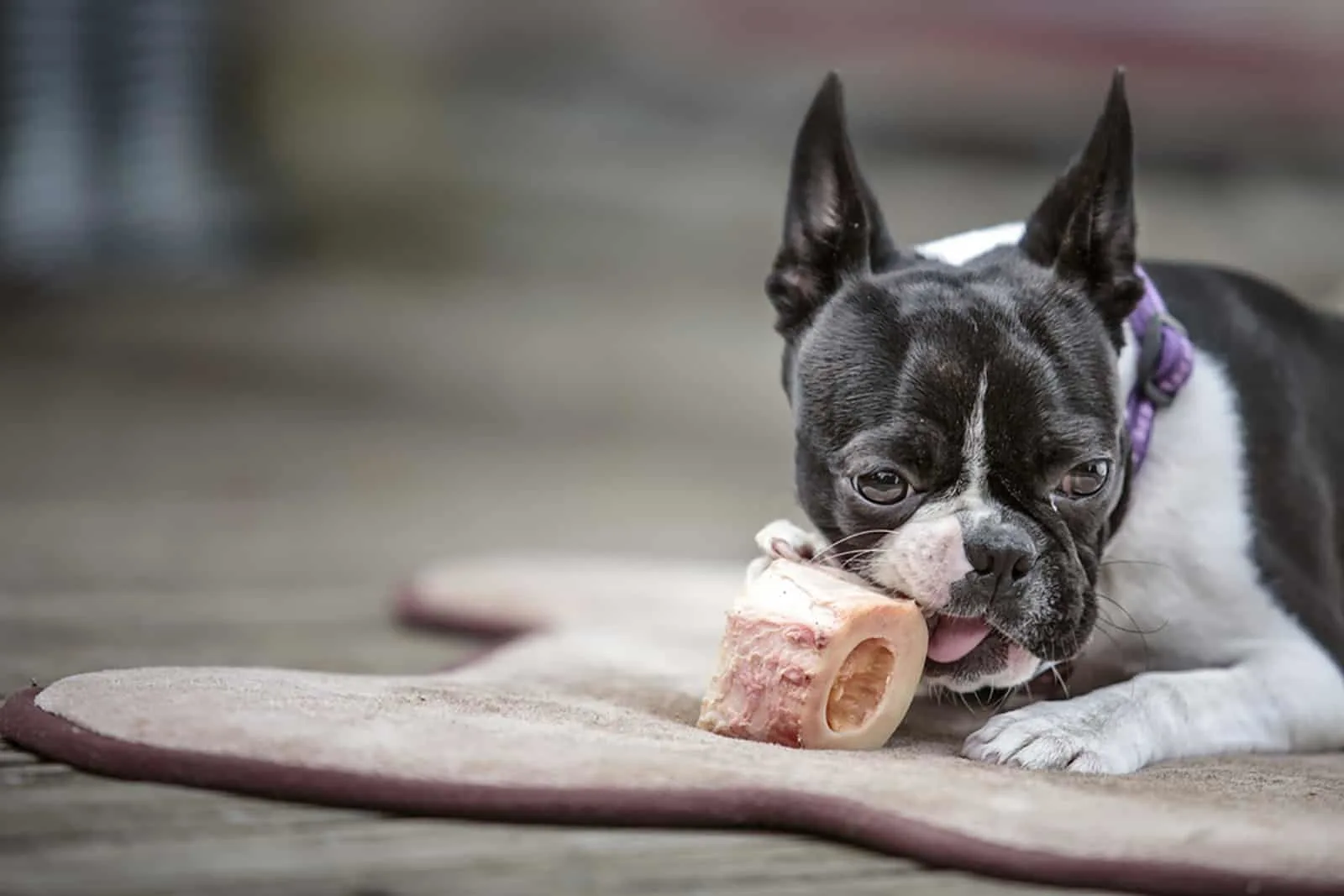 So, your Boston Terrier is an adult dog now, huh? But, how can you tell that?
Boston Terriers are one of those pawdorable small dog breeds. Even as adults, they look a lot like puppies. The best thing to help you figure out if your Bostie is a big girl or boy now is the Boston Terrier growth chart.
It should tell you how big a Bostie should be at a specific stage.
Dogs don't really turn into adults as soon as they turn twelve months of age. It works completely different. Some pups even tend to grow up until they turn two years of age.
As far as the Boston Terrier dog breed is concerned, they become adults as soon as they gain 90% of their expected adult weight. This is expected to be achieved sometime between their 12th and 14th month of age.
Adult Boston Terriers need up to 25% of real animal protein in their diet. The more protein, the better, especially if they come from freshly caught fish or free-range animals like chicken or beef.
Also, they need around 10% to 15% fat of their weight to ensure balanced dietary habits.
If your adult dog seems to have difficulties with food allergies, sensitive stomach, or any other severe health condition, he should be on a special kibble formula chosen by your vet.
Make sure you never switch kibble just because you want to. The transition may be too hard for your pup.
In case your Bostie is a highly active dog, and chances are he will be one, you will need to add 20% more food to their daily meals.
Active dogs have higher energy levels and need more food, so they can spend it all before the day ends. Food is their fuel, so let's make it a habit!
Feeding Plan For A Senior Boston Terrier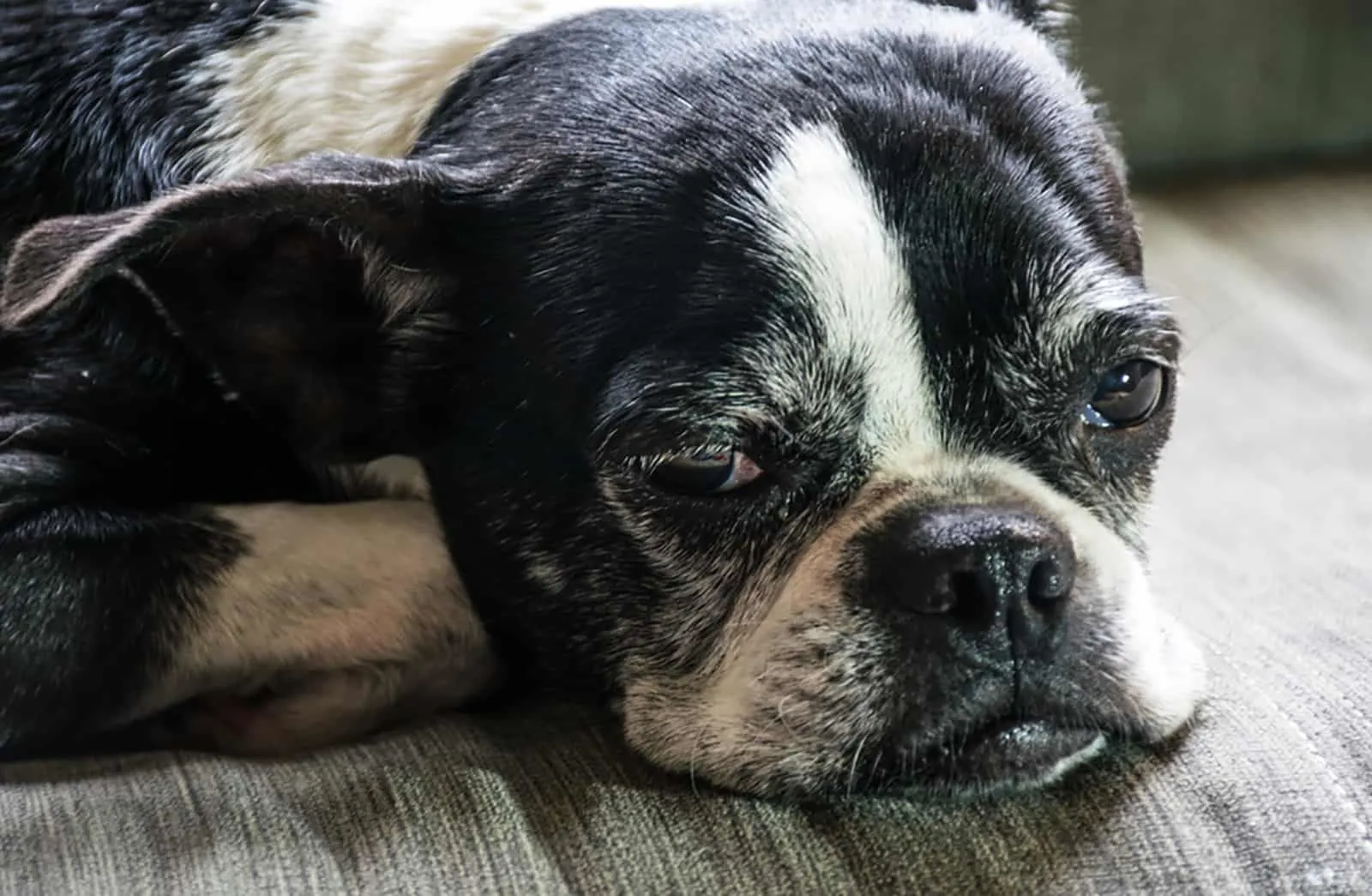 The average lifespan of a Boston Terrier is 13 to 16 years. That's quite a lot compared to some other dog breeds that live only about eight years or so.
Boston Terriers are dogs that are blessed with a long life expectancy, and we should make sure that they have a happy life.
Every dog's life consists of three life stages: puppyhood, adulthood, and senior years.
We have discussed the first two phases, and now it's time for the golden years.
Bosties become senior dogs somewhere around their seventh or eighth birthday. This is the time when the first signs of maturing become visible, i.e., white hair around their muzzle.
But, those aren't the only changes a dog goes through. Other, non-visible modifications inside the dog's body are being made, such as metabolic changes. That's why senior dogs tend to pack on more weight.
Their metabolism slows down. Also, the dog's immune system seems to become weaker.
Another issue that could strike your senior Bostie is the one regarding its digestive system. Older dogs seem to have lots of problems with regular bowel movements.
To encourage proper functioning, you should keep feeding your senior Boston Terrier two meals a day.
In case you notice difficulties with digestion or introducing another meal within the recommended daily calorie intake, feeding your senior Boston Terrier two meals a day should be a good idea.
Most senior dogs must transition to a special dog food formula that is suitable to their needs. They're not as active as before, and their bones are getting fragile.
Senior kibble formulas are enriched with goodies like chondroitin and l-carnitine for safe steps through their golden years.
Compared to adult Boston Terriers, senior Bosties need 20% fewer calories on a daily basis.
Also, I'd like to warn you that reducing the number of proteins in this stage is a must. A protein-enriched diet may lead to problems with the dog's renal structures.
What do you Feed Pregnant And Nursing Boston Terrier Females?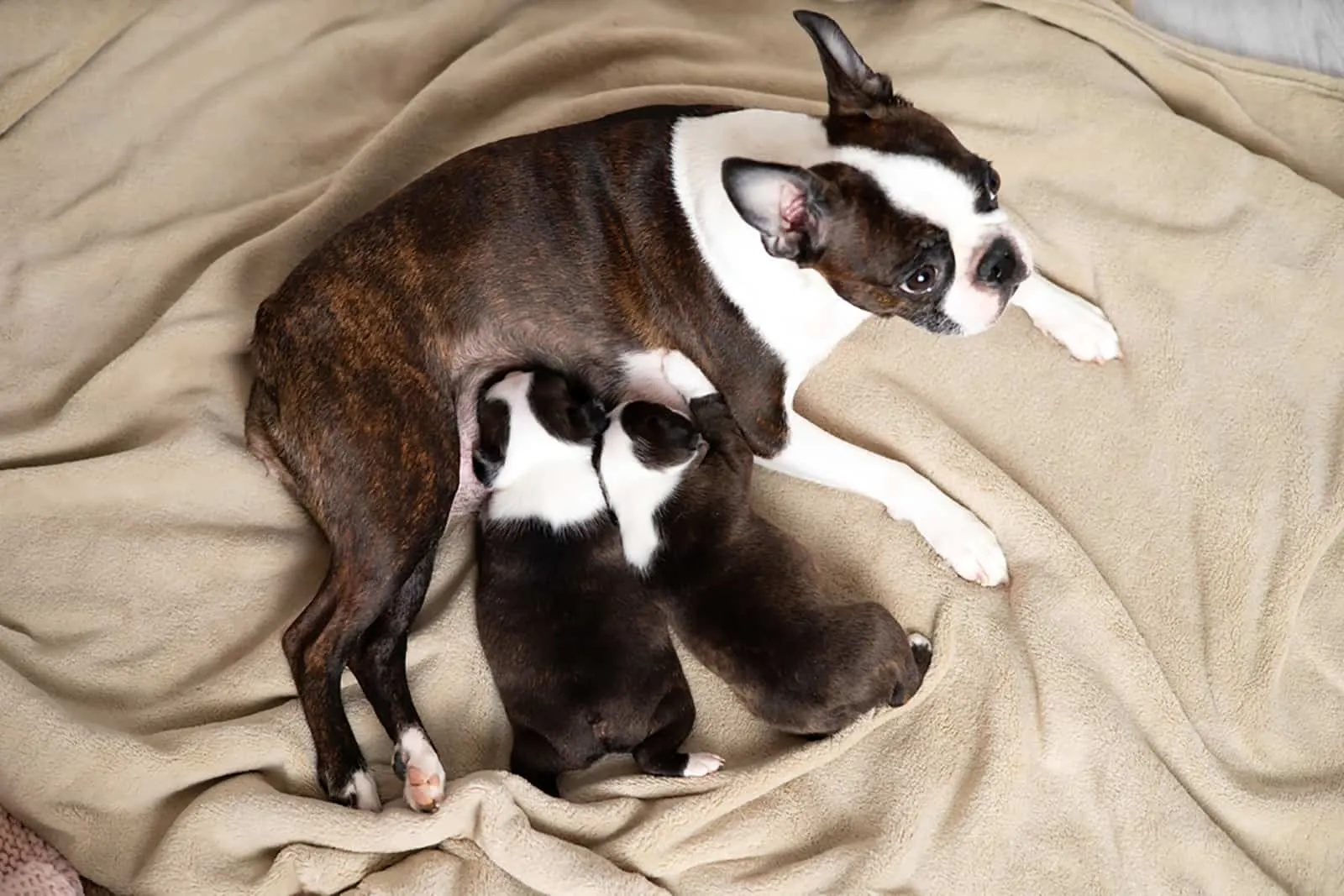 When you compare Boston Terrier males with females, you'll notice that there's really no big difference. Still, there is a difference between feeding male Bosties and pregnant or nursing female Boston Terriers.
Males are always stronger and more active. But, a pregnant dam can't be too active. She has different needs, and requires special dog food designed for her condition.
Pregnant female Bosties should not eat too much kibble as it may cause them general discomfort, and will pack on additional weight. It's almost the same as with pregnant women. Quality matters, not quantity!
When it comes to nursing females, we always make sure to provide them with the best dog food possible, enriched with goodies like vitamins and minerals.
Since females nurse their little ones for around six weeks, it's essential to provide them with nutrition that is rich in calcium.
Thus, puppies will grow up with stronger bones and fewer chances of developing any mobility issue.
Water Intake For Boston Terriers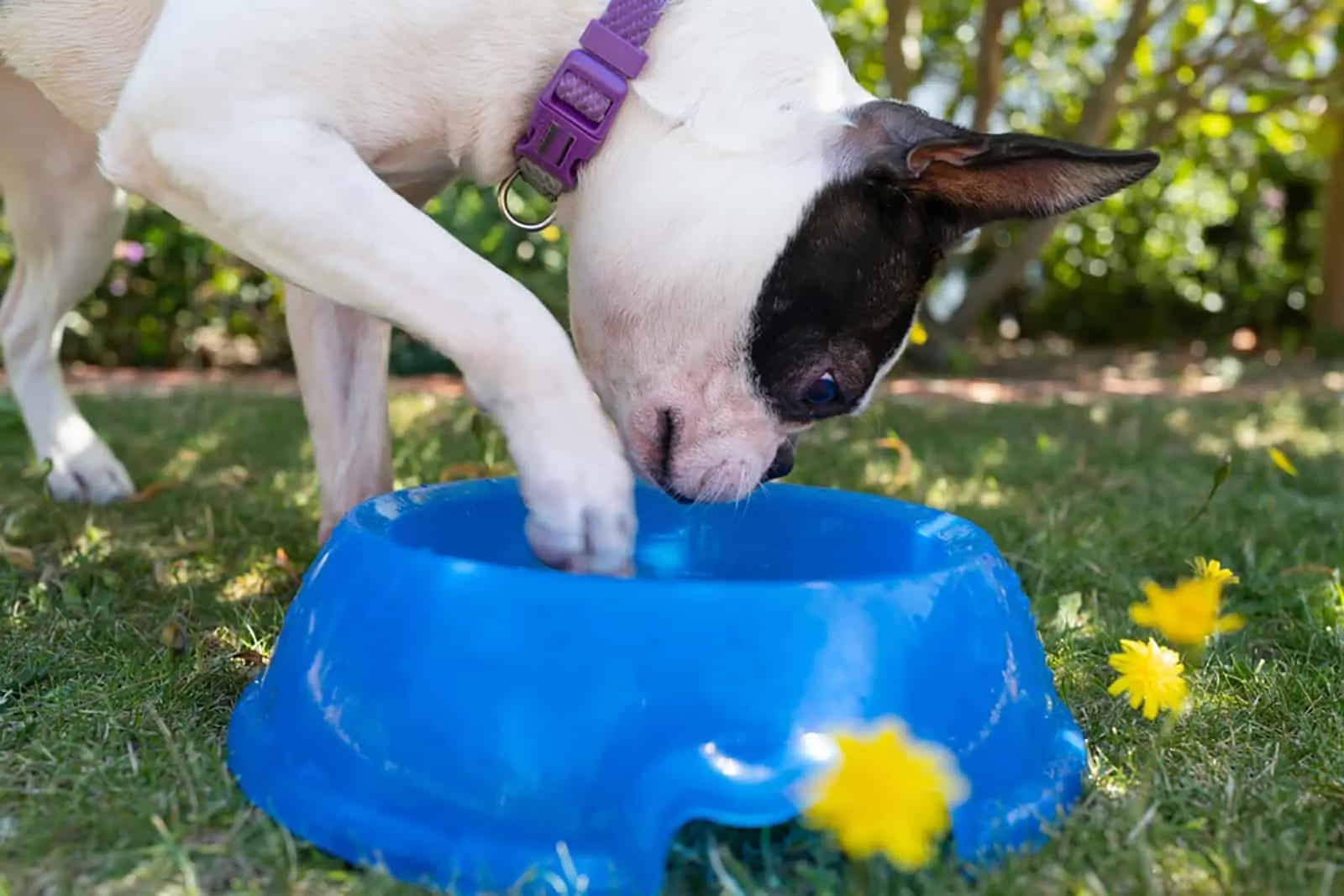 | BOSTON TERRIER WEIGHT | WATER QUANTITY IN CUPS |
| --- | --- |
| 5 to 10 lb | 1 per day |
| 15 to 25 lb | 1 to 2 per day |
Water intake is extremely important for all dogs. You must make sure that your dog takes in enough water on a daily basis, especially if you live somewhere where it's too hot. Dehydration is a severe condition, and you must prevent it at all costs.
Otherwise, you're risking kidney failure, which may lead to fatal consequences.
The best way to do this is to provide plenty of fresh water for your dog.
On average, Boston Terriers drink one cup of water per five pounds of their weight.
As much as hydration is important, it's also important not to allow your dog to drink too much water. Overdrinking may be a clear sign of some health problems that your vet should address.
If you see your Bostie drinking too much water daily for a significant period of time, this issue should be checked out.
Also, excessive drinking can lead to hyponatremia, otherwise known as water intoxication. It's a real thing… look it up here!
A poor diet with too much sodium can also be a reason why your dog drinks so much water.
However, some conditions that aren't health-threatening require extra amounts of water. Lactating Boston Terrier females need more water, as well as highly-active dogs and puppies. In fact, puppies need 1/2 cup of water every two hours.
Final Words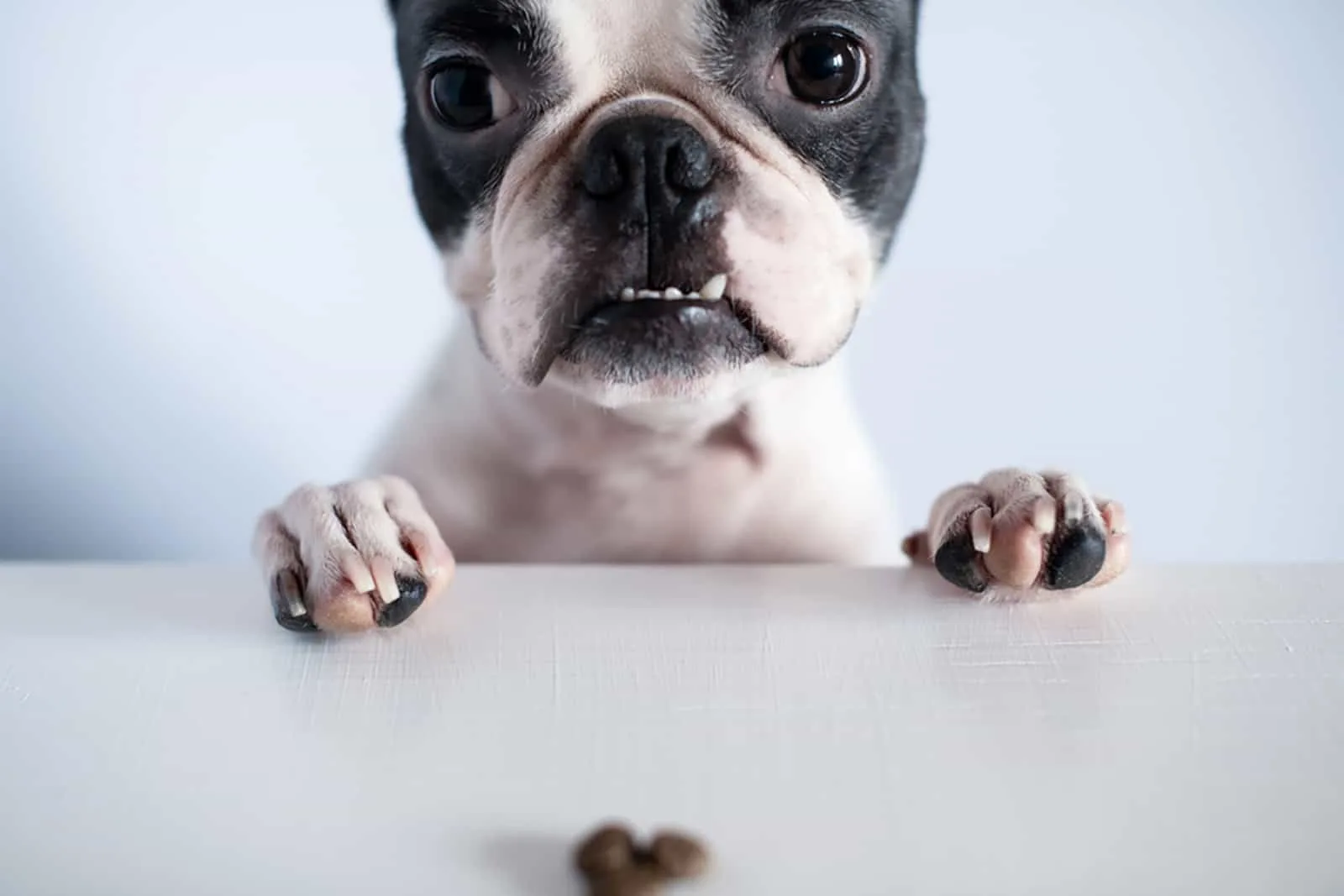 The Boston Terrier feeding chart is there to help you decide what the proper amount of food your dog needs on a daily basis is.
However, not every dog is the same. Maybe your pooch will need more food than what's recommended because he has a high activity level.
Less active dogs don't need too much food, so try to stick with the Boston Terrier feeding chart you've seen in this article.
Besides the much-necessary charts for every fresh Bostie owner, you could see which dog food recipes to look for, and which to avoid.
Also, we've presented to you lots of useful tips on proper feeding schedules and nutrients you must include in your pup's diet.
I hope this article will be very helpful for all Boston Terrier dog owners and lovers. Feeding guidelines are something we all must go through before our new puppy arrives in its forever home.
Taking care of a dog isn't as simple as you might think. You must know exactly what he needs in his diet, and of course, which ingredients to skip.
I hope you realize that human food, especially processed goods, are off limits, but some fruits and veggies are more than welcome.
That's it for today, fellow Boston Terrier lovers! Stay focused on the proper diet and everything will be A-okay with your bestie, Bostie!
Read Next: Is The Teacup Boston Terrier The Right Dog Breed For You?