They're escape artists. They're alert doggos. They're crazy with all their pawsitive energy.
They're Border Terriers, and today, we will discuss only the best Border Terrier breeders in the USA and Canada.
These listed breeders are not puppy mills or backyard breeders. They're people you can trust. Otherwise, they wouldn't be on this list. Border Terriers from these sources are AKC-registered pups with a pedigree and a predisposition to becoming excellent show dogs, and even better buddies!
So, sit back, relax, and let's find you a family dog!
Border Terrier Puppies For Sale In USA And Canada
Down below, you'll find the top six Border Terrier breeders in the USA and Canada that might have the right Border Terrier puppy for you. These are reputable and reliable people who care only about improving the breed – not about the profit.
1. Big Sky Border Terriers, Montana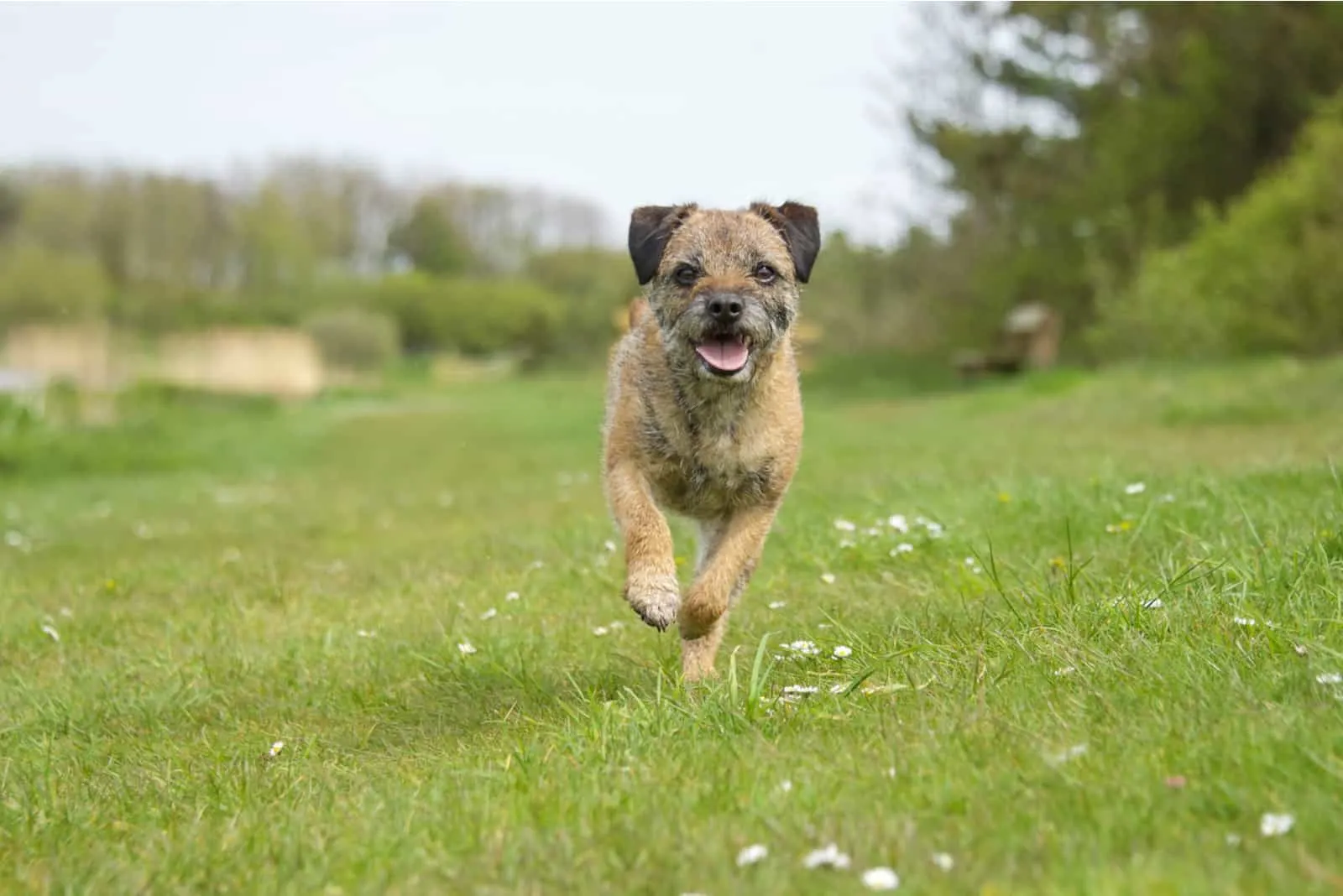 Only the sky's the limit with Big Sky Border Terriers!
Meet a breeder on our list who is focused on making Border Terriers a part of their family. BT's are their equal family members since they're being born and raised right inside their house. I want to point out that Big Sky isn't a kennel or a state-of-the-art breeding facility.
They're Border Terrier lovers turn breeders for the sake of improving the breed.
Big Sky's BT's are all AKC-approved pups. They come with their health guarantee, as well as all their vaccinations, microchipped, and with a lovely puppy pack. Oh, and also a pedigree! Let's not forget their pedigree!
Roy and Linda are still truly devoted to raising healthy Border Terriers. You will find many testimonials on their website praising their work. I sincerely hope yours will end up posted on their website, too!
Breeder's details
Website: Big Sky Border Terriers
Email: [email protected]
Phone: 406-218-1707 or 406-594-7575
Social media: Facebook
2. JoTeel Border Terriers, Nebraska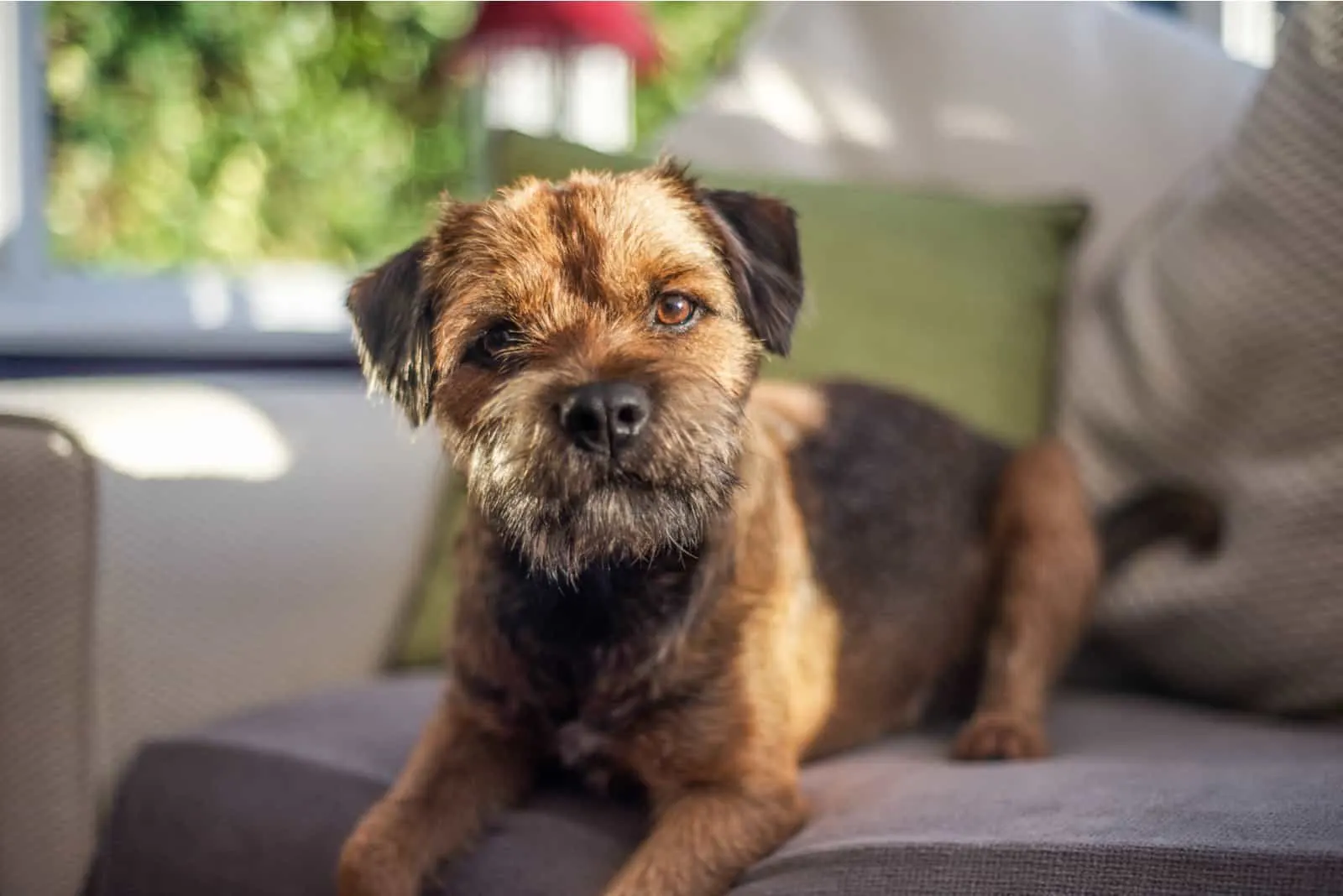 Meet a proud member of the BTCA (A.K.A. the Border Terrier Club of America!)
When they started their breeding career, JoTeel was focused on breeding Boxers. Soon enough, they fell in love with a smaller dog breed. It was a lovely little Border Terrier named Mason.
All of JoTeel's first Border Terriers became champions in a short period of time, and that's quite impressive!
Today, JoTeel breeds BT's of top quality. Many of their adopted pups have become AKC champions in conformation of their own. This breeder usually sells puppies with limited registration. They're mainly great family members, then superstars of the show ring.
JoTeel Border Terriers is a breeder with one main goal: to keep the breed clean and improved at all costs. They don't care about the profit. They don't care about popularity.
I always recommend breeders like this one. They're people who really love Border Terriers, and they want the world to know how amazing these pups are!
If you have any questions about their upcoming litters, make sure you contact them through phone or email. John and Mateel will be happy to answer your questions and find a BT puppy for you!
Breeder's details
Website: JoTeel Border Terriers
Address: Omaha, NE 68136
Email: [email protected]
Phone: 4025164790 or 4026608234
3. Rushwind Labs & Border Terriers, Wisconsin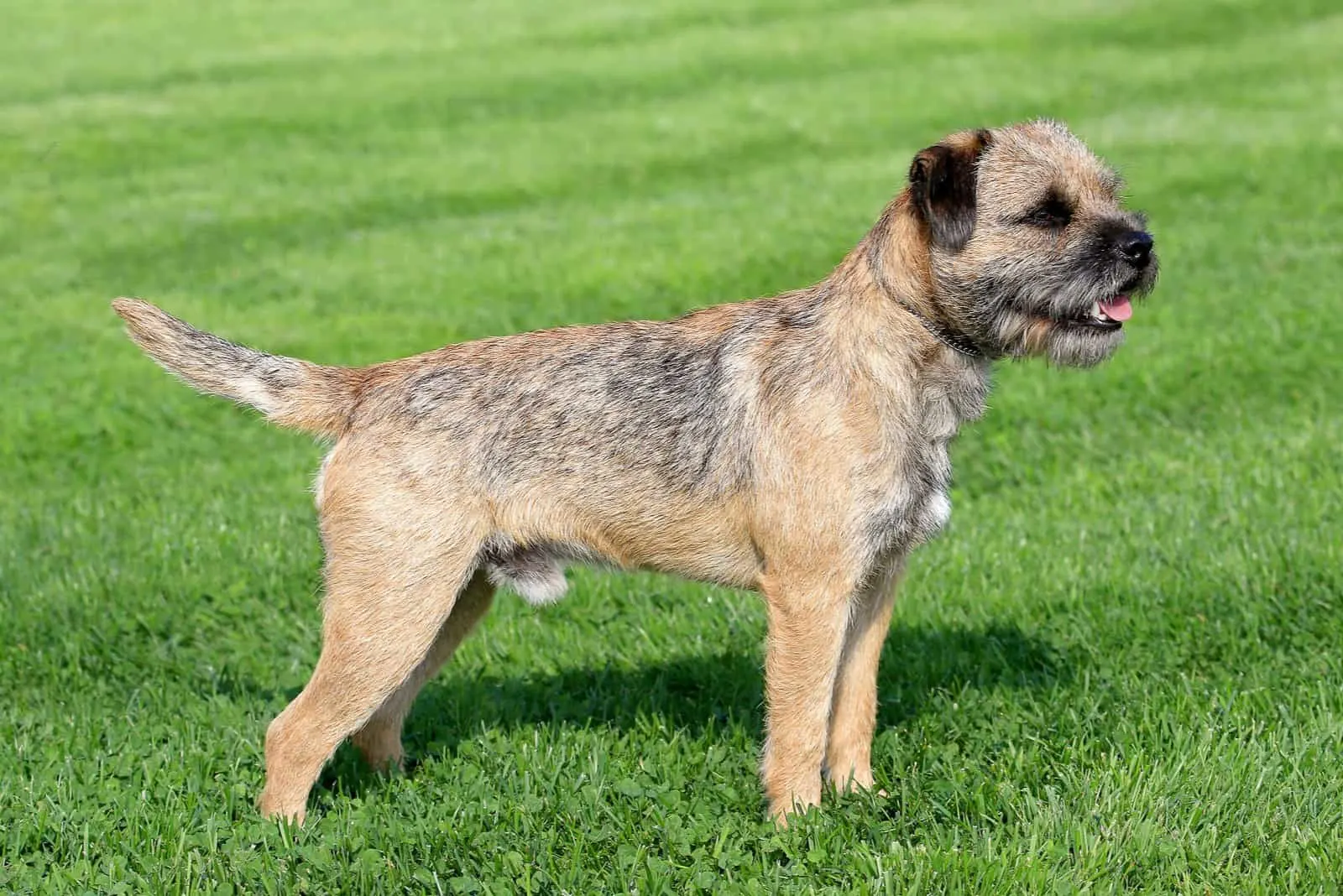 Here's another small hobby breeder that holds Border Terriers close to their heart!
Meet Rushwind Labs & Border Terriers! Located in Western Wisconsin, Rushwind has their mind set on one or two litters every year. This is a hobby breeder with a professional approach, ready to produce puppies of premium health.
You will come to Rushwind expecting to see happy puppies, but you'll get even more!
I was honestly surprised to see that their puppies come with all the necessary health clearances, i.e., OFA and CERF papers for eyes, elbows, patellas, hips, and cardiac conditions.
This proves to me that the Rushwind kennel is more than just a kennel. They're a place where joyful, healthy pups are being raised!
Normally, I don't recommend breeders with more than just one dog breed. But, I had to include Rushwind Labs & Border Terriers. These guys are truly taking care of their breeding stock! I mean, who says we can't love more than just one dog breed?
For a devoted Border Terrier breeder, raising Labrador boys and girls, as well as BTs is a piece of cake!
Before you can get your paws on one of Rushwind's BT puppies, you will need to fill out a detailed questionnaire. This is for the breeder to know that your mind is set on the right things.
Breeder's details
Website: Rushwind
Address: Beldenville, WI 54003
Email: [email protected]
4. Aardehond Border Terriers, Ohio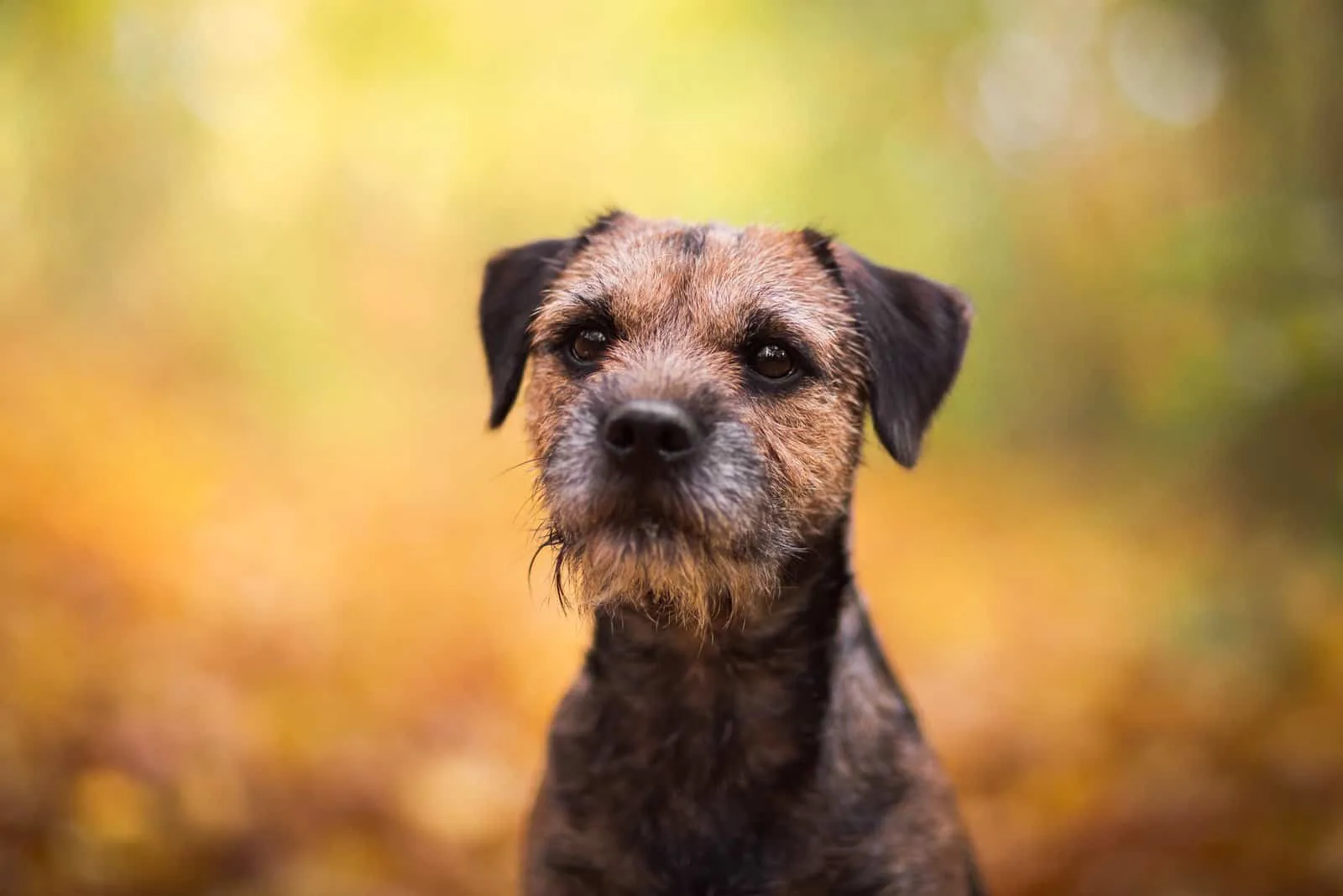 Aardehond Border Terriers are not only sweet companions – these pups are specially bred for conformation, agility, rally, obedience, and earthdog competitions.
They're superstars of the show ring, and bred according to the BT's breed standards.
And, let me tell you something: these Border Terriers are truly fantastic!
Ever since the 2000s, the owner and the breeder have been a member of the BTCA, as well as a member and vice president of Ohio's BT Club. When you see that your chosen breeder is also an AKC-registered judge, you'll know you're getting the best deal possible.
What really bought me with this Border Terrier breeder is the fact that the puppies are raised in a smoke-free home. I mean, it should be implied, but still… it's a nice touch to see this emphasized on their website.
Aardehond puppies come with a spay or neuter contract, and they should not be used as future breeding stock. These puppies are socialized from day one, and they are meant to serve as loyal companions or occasional champions of fun, dog sport competitions!
I truly admire the Aardehond breeding program because it's very strict, professional, and has no place for fluff or scams.
Breeder's details
Website: Aardehond
Address: Columbus, Ohio
5. Full Throttle, Idaho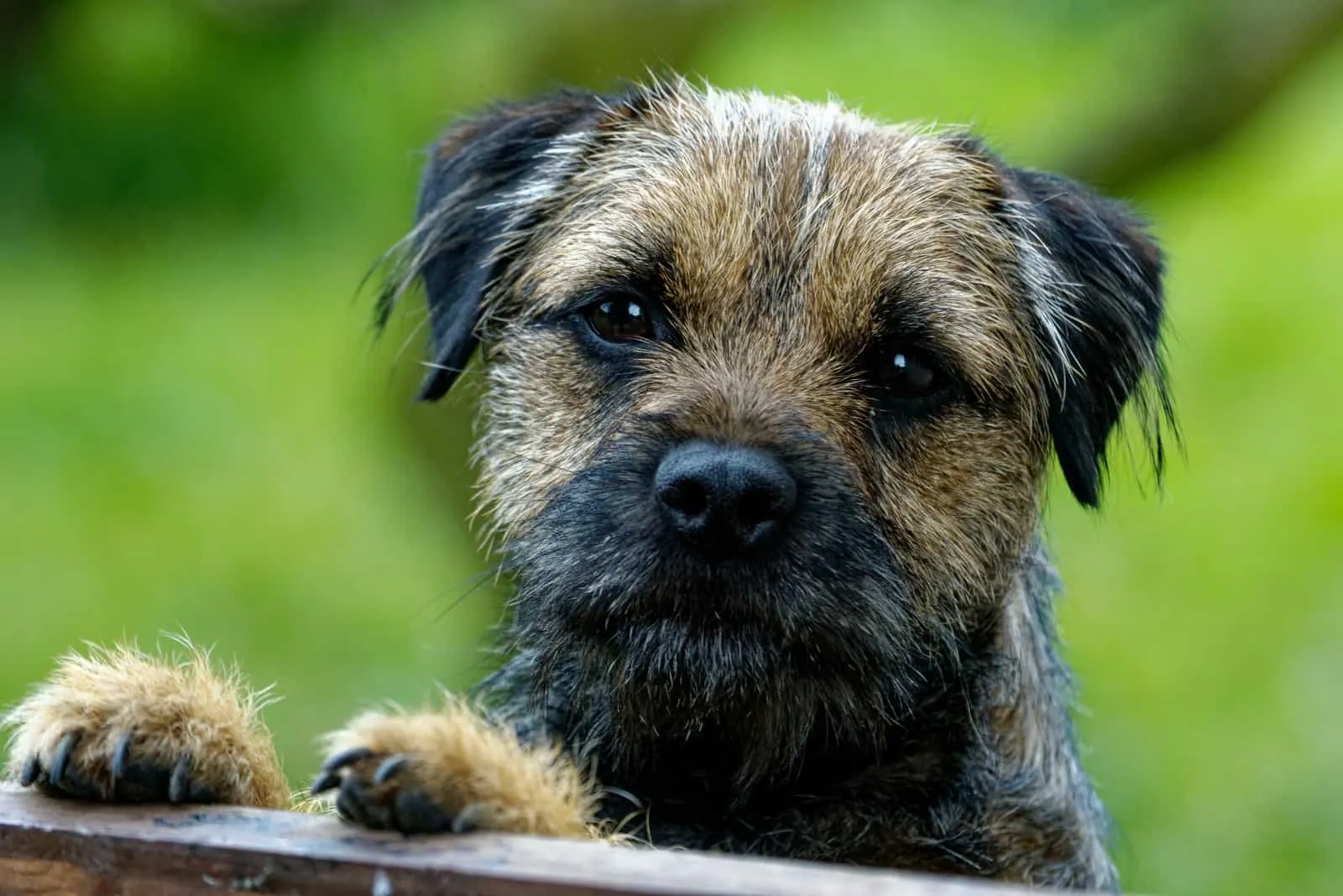 If getting a healthy dog is your #1 priority (which it should be), then you should definitely check out Full Throttle, a Border Terrier breeder from Idaho. They're breeding these small dogs of great energy levels with utmost care.
And, let me tell you something: they're doing a pretty fine job. In fact, I'm truly surprised with their approach and special care that is devoted to genetic testing and reducing hereditary health problems with puppies.
Full Throttle Border Terriers are dogs of champion bloodlines from England, Scotland, and America. They're all sound puppies with a sweet temperament. Trust me, you're gonna love their BT's character!
Unlike previous breeders, I was able to find the price for Full Throttle Border Terriers. It's on the high end, but keep in mind they're all puppies from champion bloodlines. For a Full Throttle BT, you will need to pay $2,500.
Breeder's details
Website: Full Throttle
Address: Pocatello, Idaho
Email: [email protected]
6. Boldwind Border Terriers, Winnipeg, Canada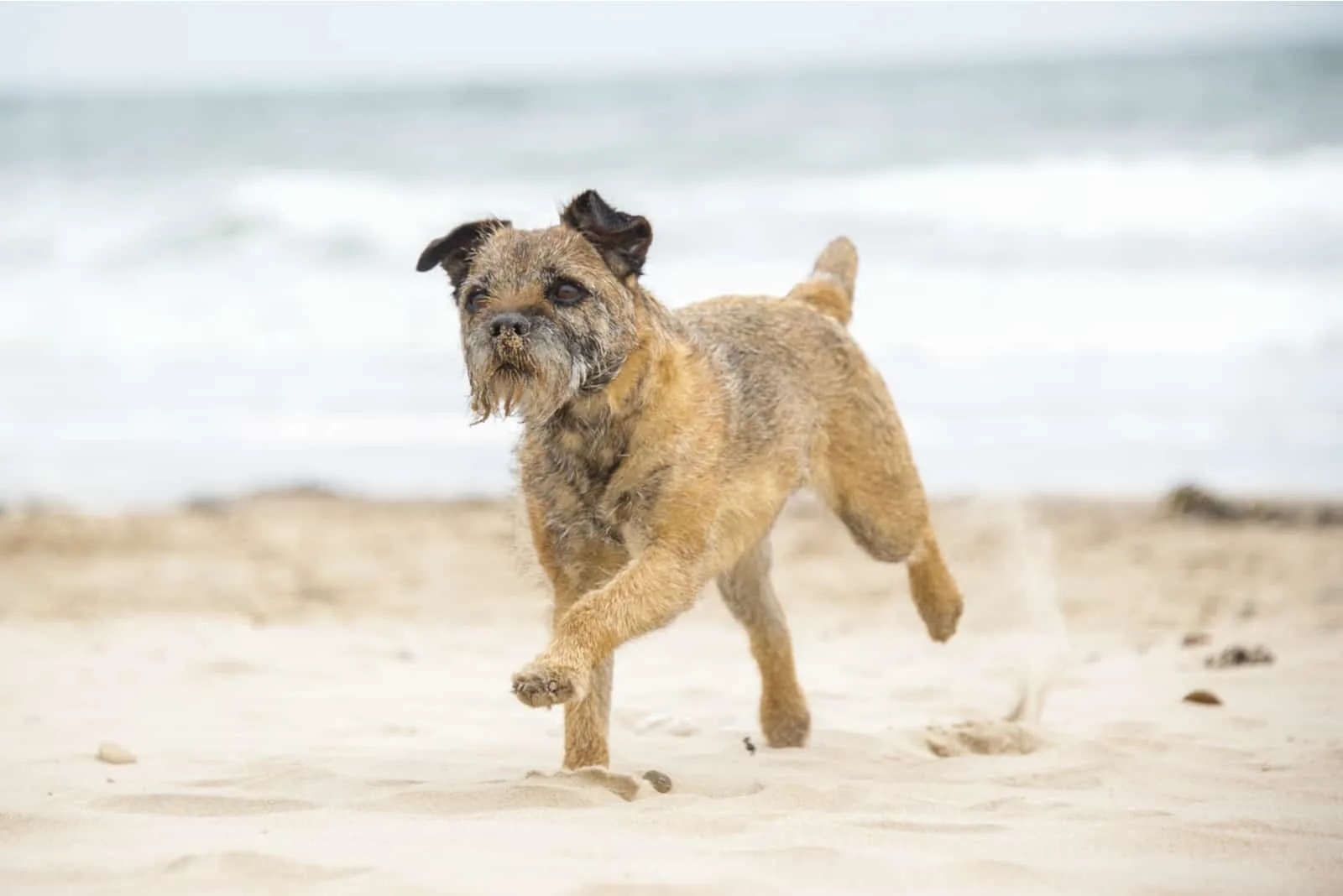 Boldwind Border Terriers are puppies from English and Canadian imports. Their breeding stock consists of champions that come in an array of coat colors, from grizzle to wheaten.
Boldwind is focused on breeding BT's the natural way. They prefer this approach in pretty much everything, including dog treatment. I see nothing wrong with this approach.
Boldwind puppies are also fed a raw diet. They may not be like Cane Corsos and their raw diet preferences, but they still enjoy a fresh meal!
What Boldwind really wants to do is get in touch with nature, and get in touch with the original Border Terrier. Their breeding practice makes me believe that a return back to nature is truly possible.
Breeder's details
Website: Boldwind BT
Address: Winnipeg, MB R2N 4B6
Email: [email protected]
Phone: (204) 475-1112
FAQs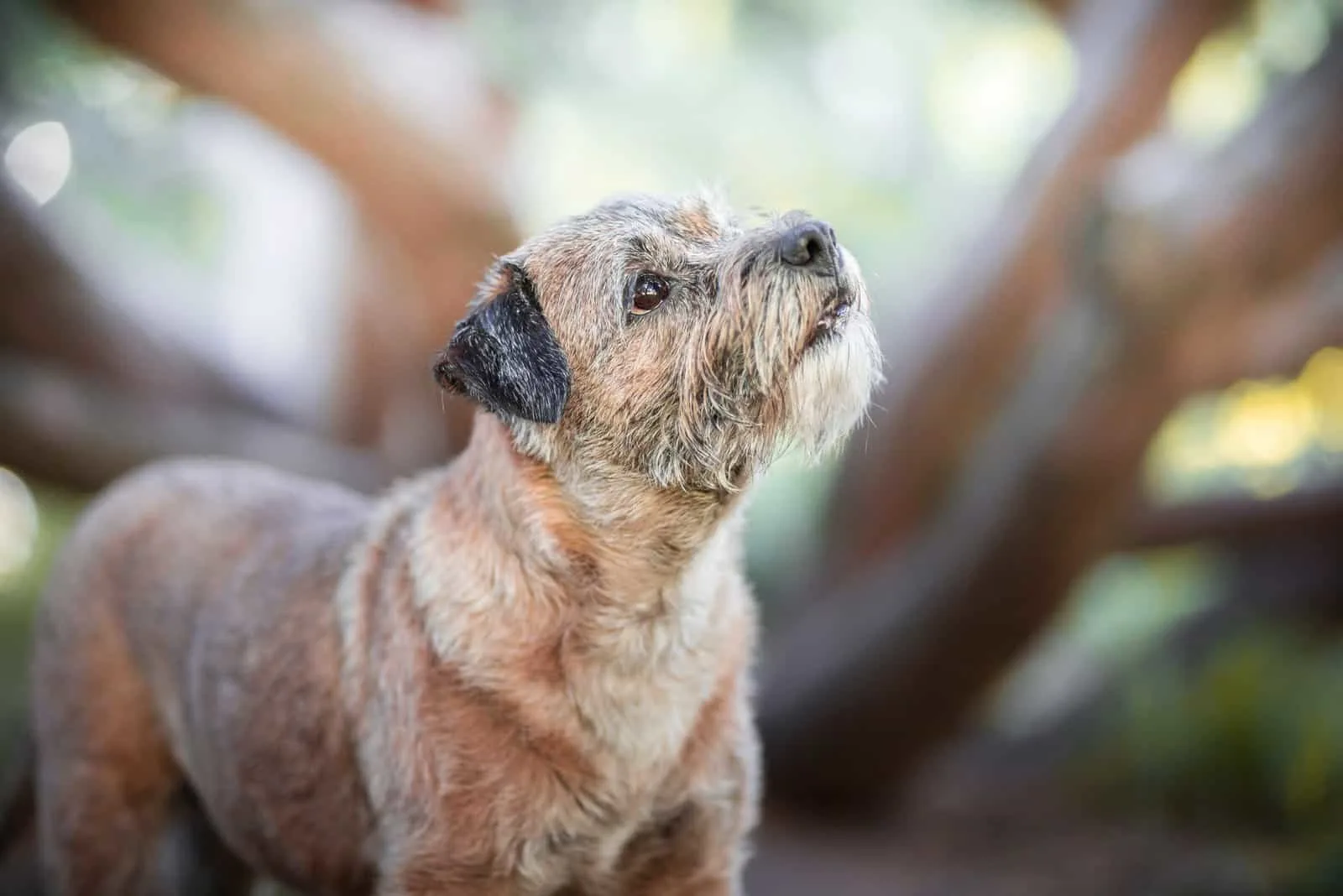 What Are Border Terriers?
They're hunters. They're diggers. They're energetic pups.
Yup, they're Border Terriers!
Border Terriers are one of the many purebred dog breeds designed specially for assistance during a fox hunt , along with English Foxhounds. Think of them as distant cousins of Dandie Dinmont dogs.
One of the most alert pups of the terrier breed, the Border Terrier has lots of energy that will keep him on all four feet for the entire day… and night!
If you control their immense prey drive, Border Terriers can be excellent partners in crime and affectionate buddies. They're kind-natured and sweet.
Because of their scruffy, wiry coat, some people may think they're mixed-breed pups. But, the truth is far from that. They're clear pups with a double coat. Their outer coat is scruffy, but their undercoat is soft.
If you're interested in getting a Border Terrier, then you definitely need to read the following sections. You will learn what's good about Border Terriers, what's not, and how much money you'll need in order to get one.
What's The Average Cost Of A Border Terrier?
Unlike many purebred dogs, Border Terriers are not on the expensive end. In fact, they're quite affordable, and cost around as much as normal dogs you see on the streets every day.
On average, Border Terriers will cost you somewhere from $900 to $1,500. The prices vary, but the difference isn't significant. It's mostly because of the location and the breeding stock.
Reputable breeders with champion bloodlines will always list their Border Terrier puppies for more. However, you're the one who has to decide if a champion bloodline is worth the extra money.
Why Should You Own A Border Terrier?
One hour spent with a Border Terrier and you'll see that you're dealing with a happy puppy. Truly, Border Terriers are contagious with pawsitive energy. These dogs are hidden gems of the canine world, and I'm here to let you know why Border Terriers make great pets!
Trainability
Border Terriers were bred to assist with hunting trips. Those trips required obedient dogs that would listen to their owner no matter what.
Border Terriers are intelligent dogs that can be trained to perform all sorts of tasks in a short period of time. They're fast learners, and they will amaze you with how fast they perform their job.
Loyalty
Along with obedience and intelligence, there comes loyalty. Border Terriers are loyal to the bone. They can be stubborn and have a will of their own, but they won't disobey you or show disrespect.
Border Terriers will stay true to their family members.
Long Lifespan
The Border Terrier is one of those dog breeds that can brag with an extremely long lifespan. Most dogs live up to 12 years, but that's not the case with our Border Terriers.
These dogs can live from 12 to 15 years. They're fairly healthy, and they usually don't show major issues.
Why A Border Terrier Might Not Be The Dog For You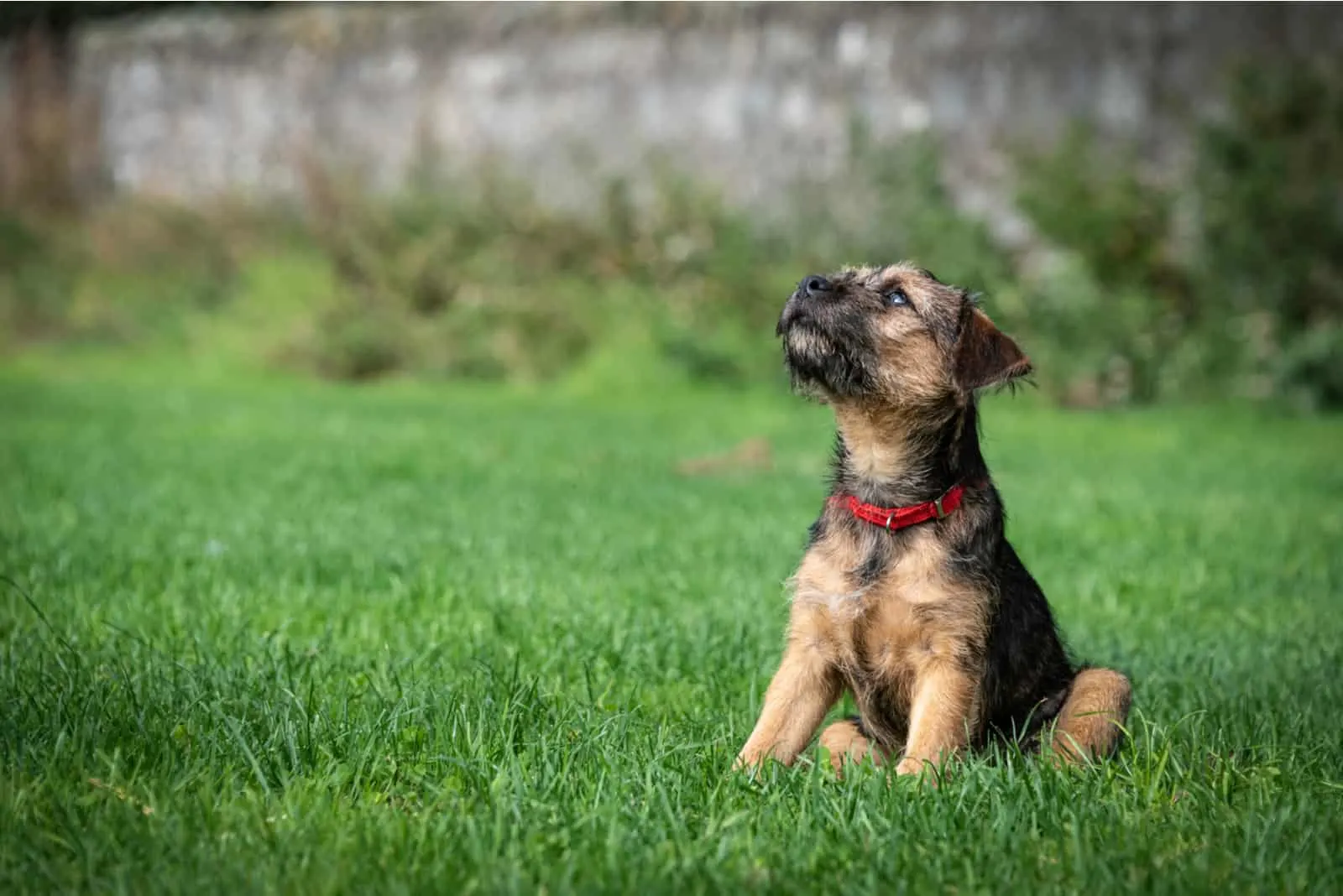 Every dog breed has its flaws. Border Terriers are great dogs, but even they will have something that you might not like.
We can't really consider the following traits flaws. Let's just say they're not everyone's cup of tea.
They're Diggers And Barkers
This is something that didn't go away over the years. Barking and digging holes are in a Border Terrier's blood. After all, they were designed to chase foxes out of their holes.
So, instead of letting your Border Terrier dig holes in your backyard, you should enroll him in earthdog competitions!
As for the barking part, the only way you can curb this is by obedience training, but even then they can be vocal.
Strong Prey Drive
If today's Borders have a strong prey drive, imagine the drive of the first Border Terrier!
I won't repeat myself with their origin and purpose of breeding back in the days. What I want to say is that you must have your Border Terrier trained. Socialization is also something you should not skip.
Otherwise, you'll have a pretty fast dog that will chase anyone, from small kids to small animals or even strangers approaching you.
Terrier Temperament
Before adopting a Border Terrier, you should read about what the Terrier temperament is. They're not calm dogs like Retrievers. Terriers are feisty, energetic, and they seem to have the zoomies all the time.
I like to say they're crazy in a pawsitive way.
If the Terrier temperament is too much for you, then getting a Border Terrier should not be an option.
Related Articles
Since our Border Terrier is obviously a Terrier type of dog, I'd recommend that you do some reading on Terrier dog breeds. You can find some pretty pawsome articles on PupVine:
To Sum Up…
There you have it: a list of the best Border Terrier breeders in the USA and Canada.
Remember, these dogs are originally from England, near the border with Scotland. There aren't a lot of breeders in North America. Only a handful of people you'll meet are truly reputable breeders you can trust.
I mean, everything is pretty much clear once you see that the breeder is accepted in major kennel clubs like The American Kennel Club, The Border Terrier Club Of America, and The Canadian Kennel Club.
Those people breed to make the breed better; not to make their bank account a happy place.
Read Next:
• Border Terrier Colors: Which One To Pick?
• 6 Norfolk Terrier Breeders: The Best In The States
• These 5 Silky Terrier Breeders Will Make You Want To Have One