I see you're looking for Norfolk Terrier breeders in the States…
Well, you must definitely be looking for a Norfolk Terrier puppy as your new buddy!
The Norfolk Terrier is a small dog with a rich history, but with a poor reputation. Unlike some other small dog breeds, the Norfolk isn't too popular. And that's completely wrong! Norfolks are amazing pets.
These little guys and girls have been around since the early 20th century. First, there were Norwich Terriers and Norfolk Terriers, both considered as one. The Norwich, with its ears upright, and the Norfolk, with ears down, have been separated into two breeds, and the Norfolk got recognized as a distinctive breed in 1964.
Norfolks didn't wait for long until they got recognized by the American Kennel Club (AKC). It happened in 1979. Fast forward a couple of decades, and The Norfolk Terrier Club of America was founded in 2009.
The Norfolk is a pup with big energy levels, and an even bigger temperament. They're super friendly and sweet, capable of being everyone's friends.
Norfolk Terrier Puppies For Sale In States
Norfolk Terriers aren't used as vermin control anymore, but that doesn't change the fact they're a quality dog breed fit to be anyone's companion. Norfolk will steal your heart and will never return it.
If you don't believe me, just ask these top 6 Norfolk Terrier breeders. They'll tell you the same about their puppies!
In case you can't find the Norfolk breeder up to your standards, you should consider these Norfolk terrier mixes!
1. Regency Norfolk Terriers, TX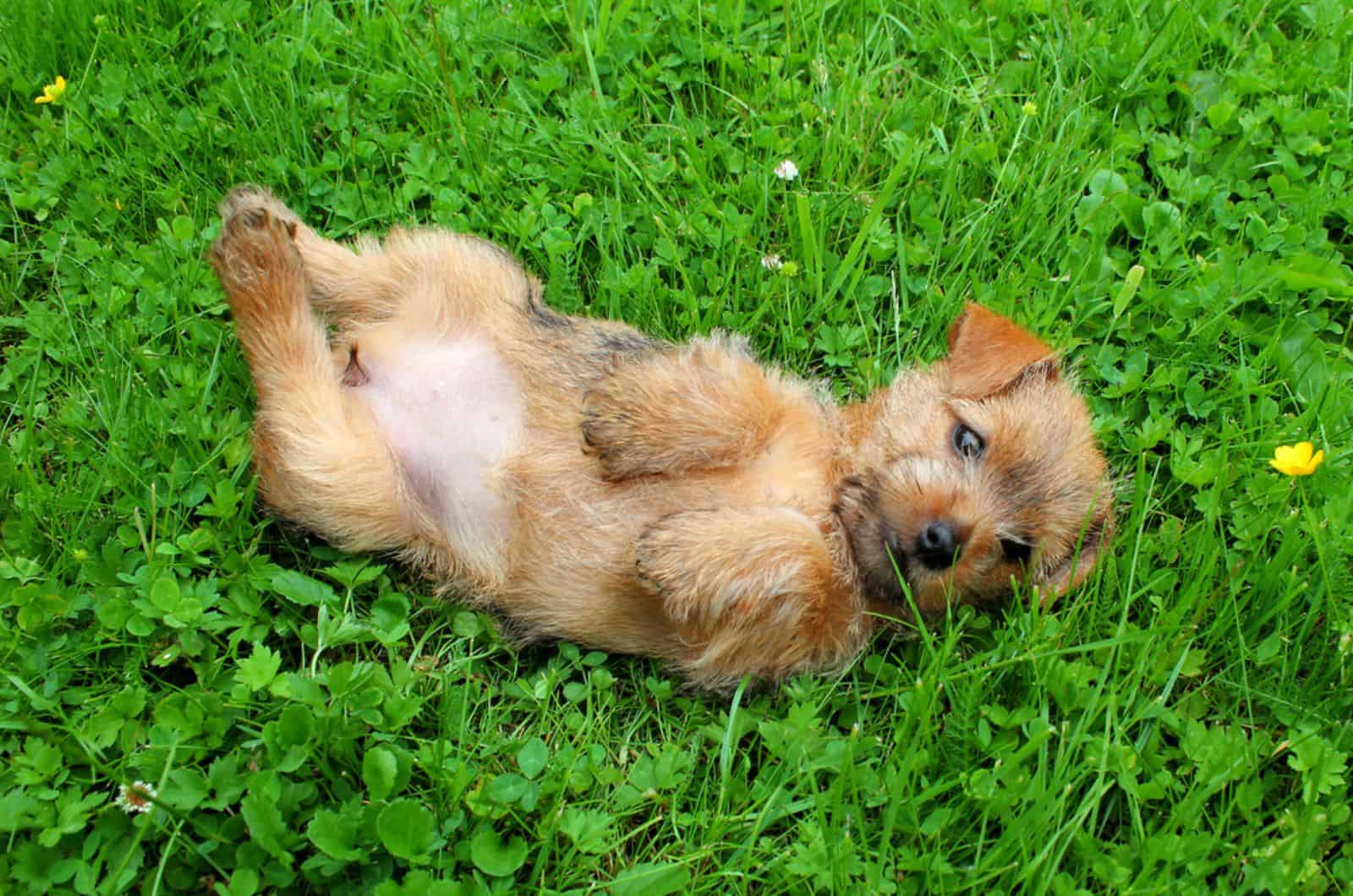 Ever since 1995, Mike and Tina have been breeding wonderful little Norfolk Terriers as companion dogs. Their breeding experience is a rich one because the couple was raising Labrador Retrievers for 16 years before they switched to Norfolks.
Regency Norfolks are pristine puppies bred for companionship and conformation shows. The couple has bred over 40 champions (International, American, Mexican, and Japanese). This says a lot about the quality of their dogs.
But, their overall appearance isn't the only thing spectacular about these pups. Regency Norfolks are also excellent dogs for various events, including Go to Ground, Barn Hunt, Agility, Trick Dog, and Nose Work.
The excellence of these Norfolks is absolutely justified given the fact that they come from great bloodlines from Europe, Great Britain, and the USA. Norfolk puppies aren't cheap at all. For a lovely little Regency puppy, you'll need to pay $4,250.
These pups come from healthy parents. All Regency dogs are home-born and raised, and they are tested on various health problems, such as patellar luxation, to ensure completely healthy litters.
I recommend you visit this AKC Breeder of Merit if you want a Norfolk Terrier puppy to become your valued family member.
Breeder's details
Website: Regency Norfolk Terriers
Location: McAllen, Texas
Phone: 956-687-8824
2. Huntwood Kennel, WI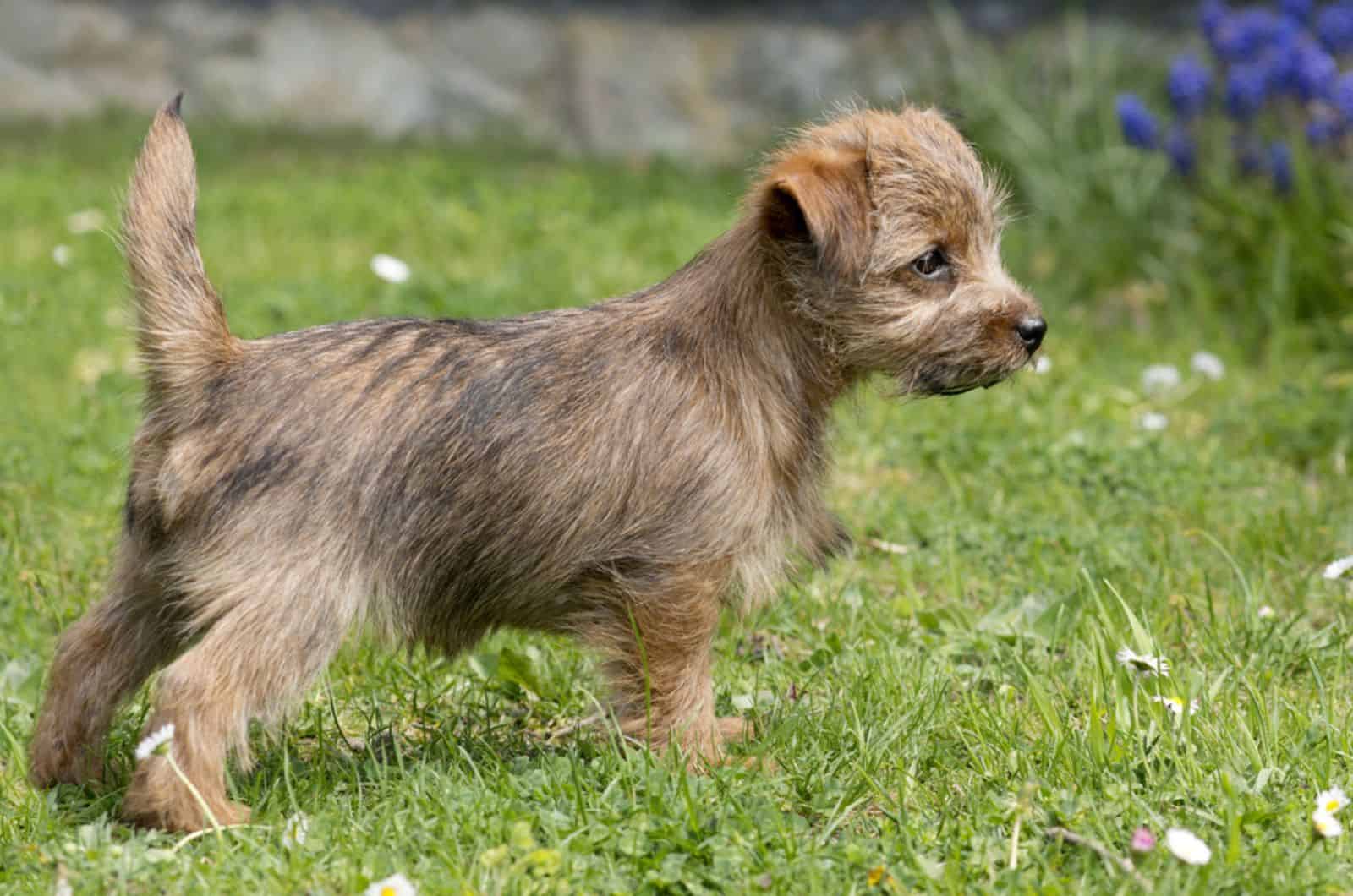 For over 30 years, Susan Kipp has been breeding sweet little Norfolks. Her breeding business is super successful, and the proof lies in over 100 champion dogs of pristine quality.
Huntwood Kennel is very proud of their bloodlines from all over the world, including Japan, Finland, Sweden, and Columbia. Norfolks from across the globe have united to create wonderful little puppies.
But, Susan doesn't breed just to take home all the ribbons. She puts the dogs' health first, and puts in lots of effort to breed spectacular pups. Before each litter is born, Susan makes calculations and does evaluations to ensure that each sire and dam fits each other. It's the only way she can guarantee good litters.
What sets Susan apart from other breeders is her commitment to breed and raise Norfolk puppies as if they were her children.
Susan guarantees professional handling of all her dogs. She breeds not only Norfolk Terriers, but also Brussels Griffons and Airedale Terriers. As you can see, she enjoys breeding small breeds, and she does a fine job.
Breeder's details
Website: Huntwood Kennel
Location: Union Grove, Wisconsin
Phone: 847-341-2319
Email: [email protected]
Social media: Facebook
3. Orchard Hill, VA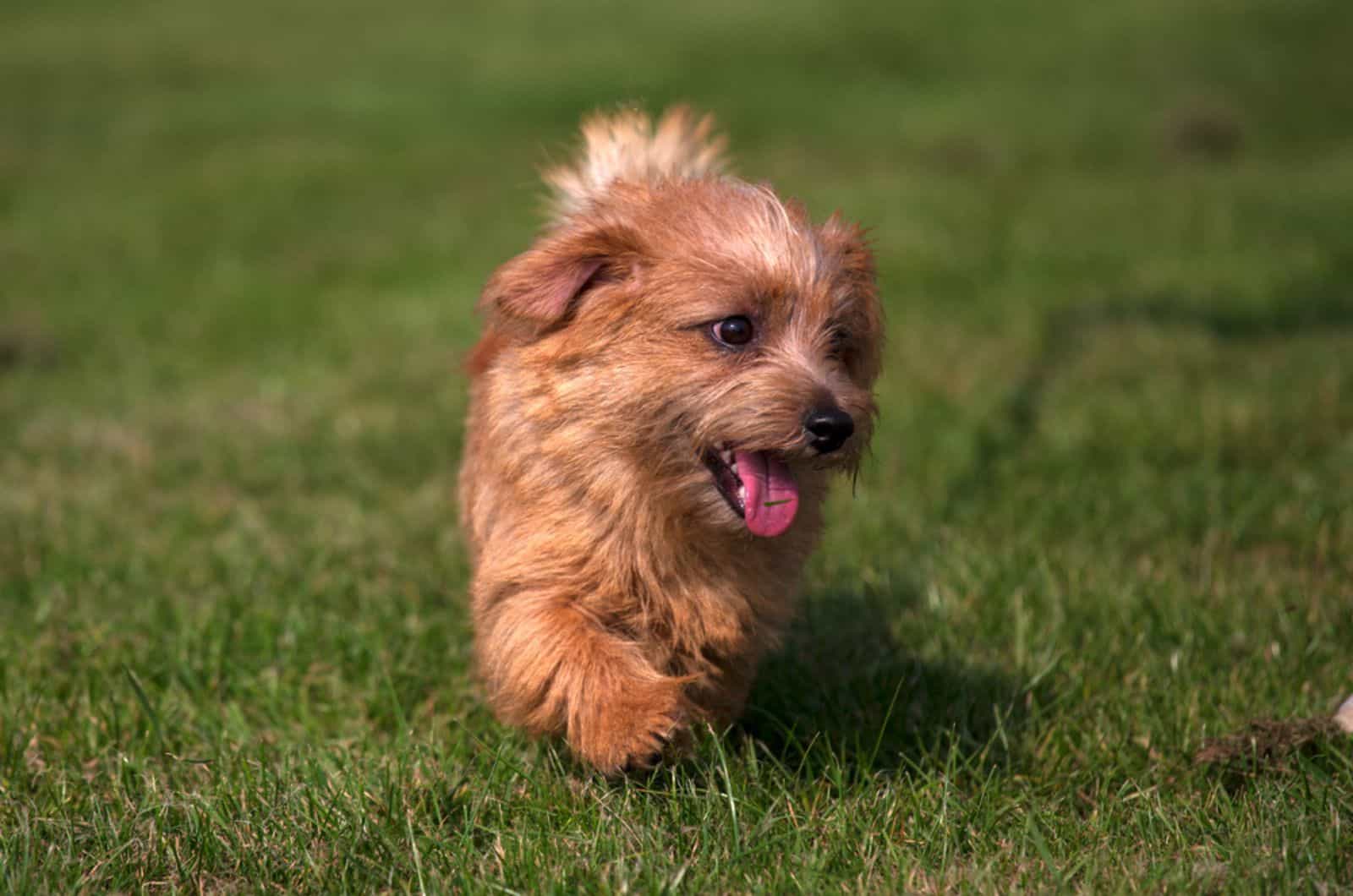 The Orchard Hill Farm became alive back in 1978, when the Venier family moved there and started raising beautiful Shetland Sheepdog puppies. They wanted to raise their three daughters surrounded by the love of puppies.
When the girls grew up, the family decided it was time to try a bit smaller dog breed, and thus, started breeding Cavalier King Charles Spaniels and Norfolk Terriers. This breeding program started in 1996, and it has been active ever since.
What you should know about the Orchard Hill Norfolks is that they do not come in a large number. The family owns just a couple of Norfolks, and they have their litters occasionally. Still, the family makes sure that all of their puppies get the recommended health care, and that all dogs will be health tested.
Don't let the fact that they're not a Norfolk breeder discourage you. Just because they have only a few Norfolks as their breeding stock doesn't mean they're not good. Orchard Hill breeders know what they're doing. They have a successful breeding program that has lasted for decades.
You should definitely give Orchard Hill puppies a chance!
Breeder's details
Website: Orchard Hill
Location: Alexandria, Virginia
Phone: 415-516-9248
Email: [email protected]
4. Caprock Golden Retrievers and Shetland Sheepdogs, TX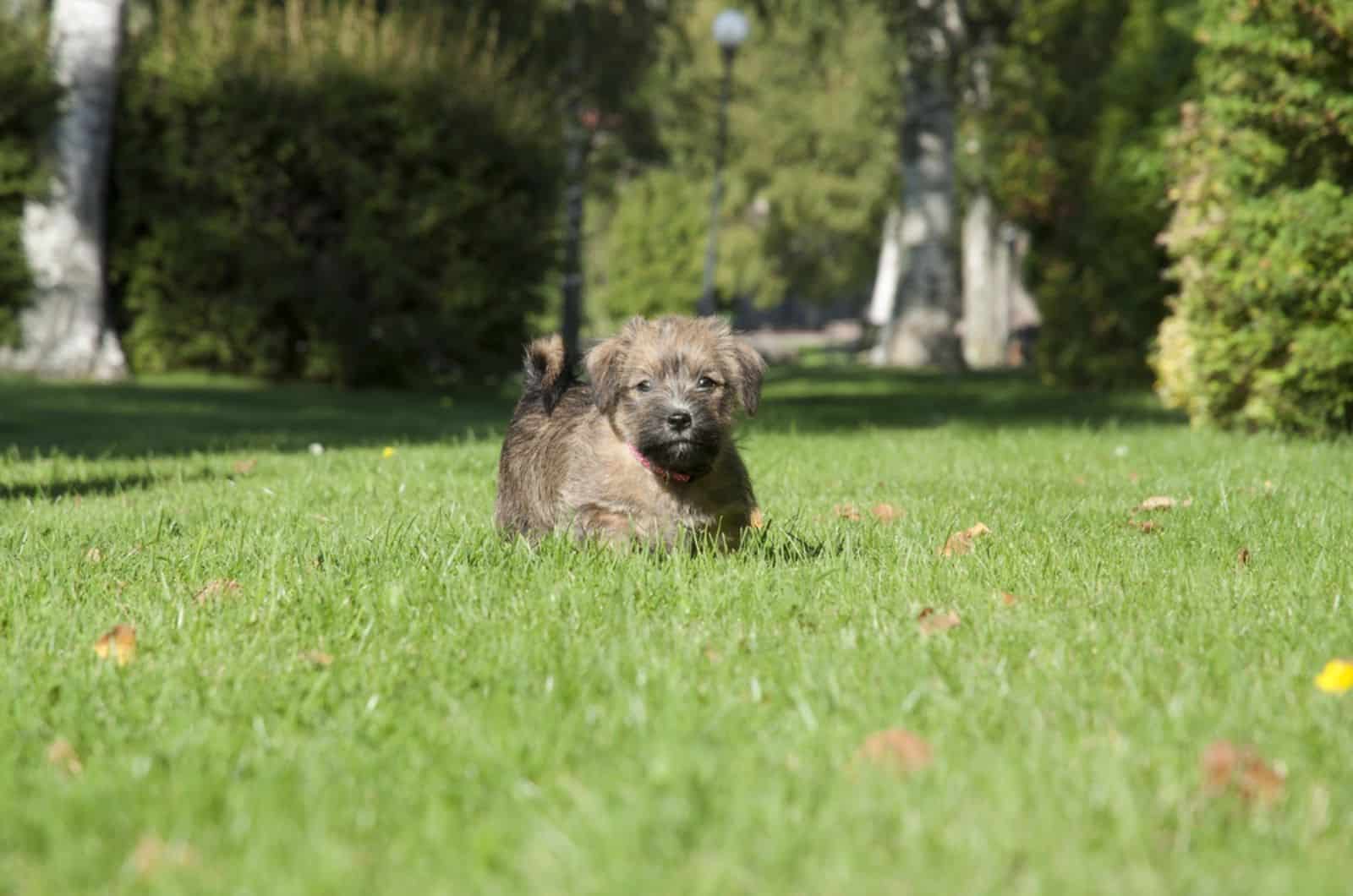 Don't let the name confuse you. Although it states that this breeder has only Golden Retrievers and Shetland Sheepdogs; that's not the whole truth. They also have lovely little Norfolk Terriers!
David and Jennifer Harper, at Caprock, are extremely proud of their breeding program, which includes several dog breeds. And, every breed is champion-quality! They have been breeding and showing dogs for more than 30 years.
But, their dogs aren't just champions in progress. They're beloved family members, treated as equal parts of the family.
All Caprock dogs are tested for genetic conditions, including issues regarding hips, elbows, the heart, and eyes. As for their Norfolk Terriers, you can find proof that they've passed eye and heart tests with exceptional grades.
Caprock has produced numerous Best in Show winners. They're one of the finest breeders / show trainers I know. Besides breeding, raising, and showing their own dogs, Jennifer and David will handle anyone's dog if they're interested in dog shows.
You can find a list of handling fees on their website, as well as information on future litters. Be on the lookout for champion Norfolk Terrier pups.
Breeder's details
Website: Caprock Golden Retrievers and Shetland Sheepdogs
Location: Pinehurst, Texas
Phone: 832-421-8877
5. Dove Hill Labradors, VA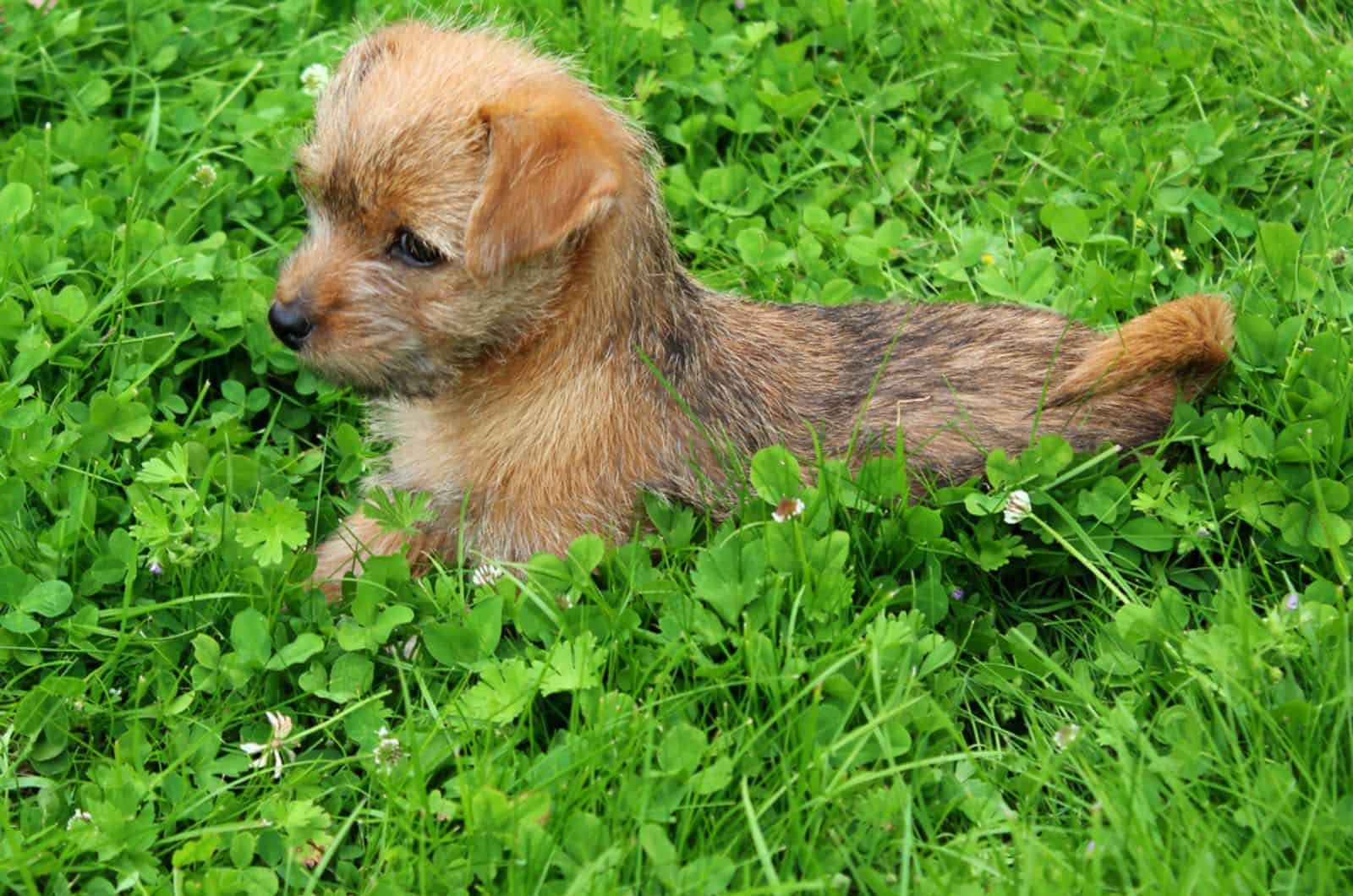 Ann Parris Kelley has been into breeding dogs since 1976. But, her journey with Labradors began in 1983, and it still continues! A couple of years later, after getting introduced to Labradors, Ann decided she needed another dog breed.
Enter the scene: Norfolk Terriers.
Ann began breeding Norfolk Terriers back in the 1990s. Their friendly temperaments and readiness to show affection all the time are what made Ann glued to these little pups, and the love still lasts!
Although Ann retired back in 2011, she's still surrounded by Norfolks. They're great companion pups, and Ann has three full houses of Norfolks. They're so spoiled and loved that some even think they're Labradors. Ann's home is a wonderful place for dogs to live.
What's so great about her is that she doesn't overbreed her dogs. You won't find puppies available here all the time. Ann breeds only a few litters every year, so she has enough time to devote herself to raising puppies the pawfect way.
Contact Ann and see if you can come over and check her lovely dog farm spread on 13 acres and surrounded by ponds, creeks, and woods. Once you see where her sweet Norfolks grow up, you'll definitely want to own one!
Website: Dove Hill Labradors
Location: Culpeper, Virginia
Phone: 540-825-4358
Email: [email protected]
6. Summer Breeze Kennels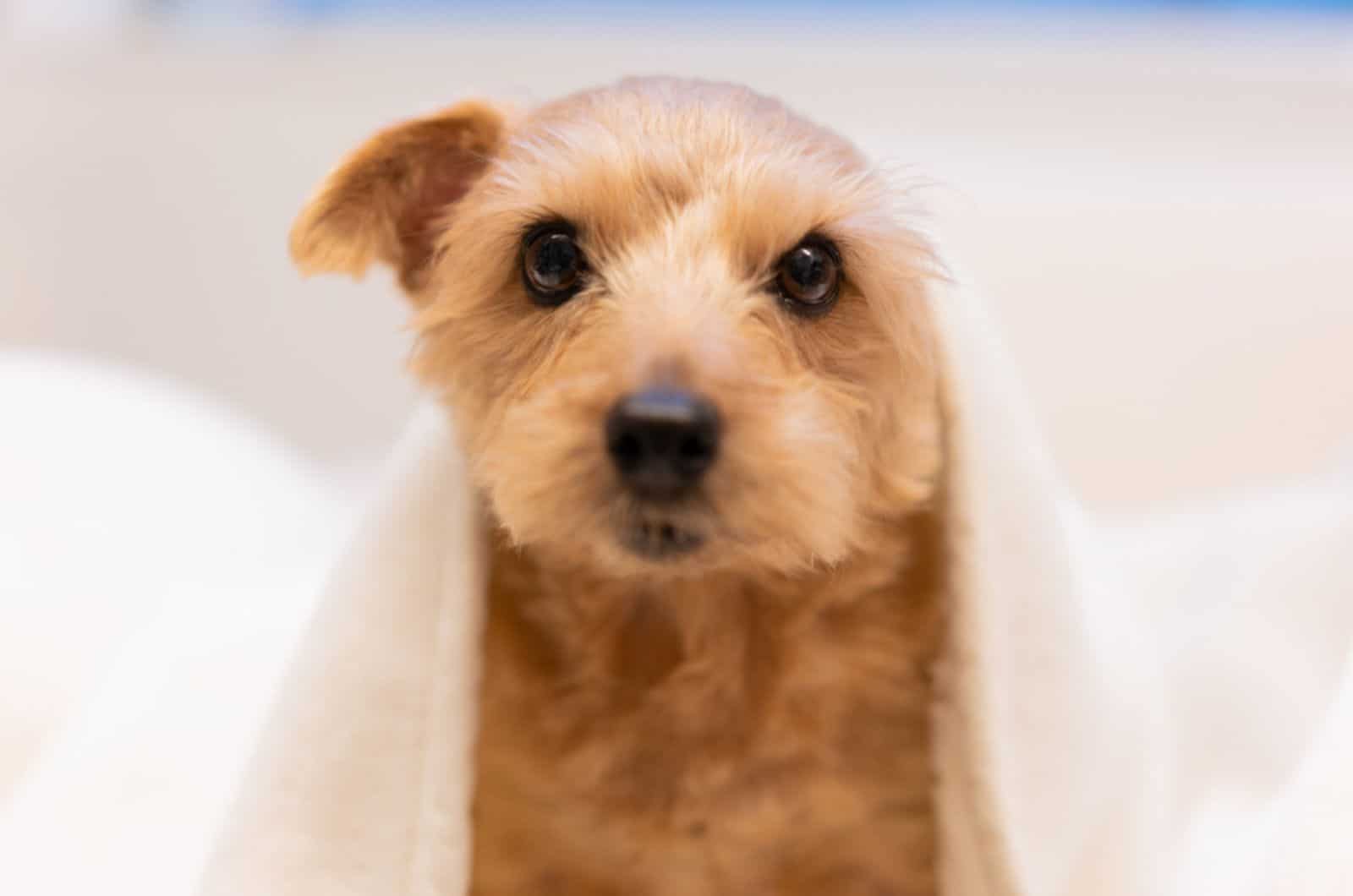 Even though they've been in the breeding business for more than 30 years, Summer Breeze Kennels is new in the field of breeding Norfolk Terriers.
Ever since 1988, Julie Crabtree, from Summer Breeze, has been devoted to raising wonderful Dachshunds and Cocker Spaniels. Just recently, she turned her attention to Norfolks. At her farm, you can also find Shetland ponies.
The animals at Summer Breeze Kennels enjoy their 60-acre farm, surrounded by pristine nature.
All of Julie's dogs are home-born and raised. They enjoy the attention of the entire family, and seem to be pawfectly socialized. They make wonderful family pets! Julie makes sure she gives her best, so she's very strict about their socialization lessons as well as health tests coming back clear of all diseases.
I'd say you should give Julie a chance and visit her to see her new Norfolk buddies. She's a woman who possesses great knowledge on raising dogs. It would be a shame not to check out her Norfolk puppies.
Breeder's details
Website: Summer Breeze Kennels
Location: Vevay, Indiana
Phone: 859-250-1776
Email: [email protected]
FAQs
Do Norfolk Terriers Make Good Family Pets?
Yes, Norfolk Terriers make wonderful family pets!

The Norfolk Terrier was bred to be a hunting dog for small vermin. But, those days are long gone.
Still, their prey drive has persisted over the years, so keep an eye on that. Even though Norfolks are friendly and sweet, they can still chase down small pets like hamsters.

But, in case you don't live with any pets, you can rest assured your Norfolk will be on his best behavior.

These small pups love feeling like a part of the family. They're kind, friendly, affectionate, and buzzing with playfulness. Long walks won't do for these dogs. They love to play ball with their humans and stay active.

You shouldn't be worried about aggression with Norfolks at all. Every breeder will have their puppies started on socialization lessons. You can be sure that a Norfolk will be super friendly and never aggressive without a reason.

Norfolks also make great watchdogs. Bonus points!
Is the Norfolk Terrier Considered To Be A Beautiful Dog?
The Norfolk Terrier is a lot similar to Norwhich Terriers, but their droopy ears set them apart and make separate breeds. These working Terriers are both beautiful, but we'll give the advantage to Norfolk Terriers – the start of today's article.

To answer the question from above… yes, Norfolks are beautiful dogs!

Norfolk Terriers are dogs with a double coat. Their hair is short, wiry, and harsh; thus, requiring grooming for a neat look. Still, Norfolks always have a bit of a scruffy appearance. These dogs come in red, grizzle, black and tan, and red wheaten. However, wheaten and brown are non-recognized colors.

Norfolks have quite a pleasant appearance. At up to 10 inches at the withers, and only 12-ish pounds, Norfolks make the best cuddle buddies to sit in your lap.

If you're a fan of Teddy bear dogs, you'll definitely love a Norfolk Terrier because they look exactly like lovely little plush toys.
What's The Life Expectancy Of Norfolk Terriers?
Surprisingly, Norfolk Terriers have a pretty long average lifespan. They're considered generally healthy, and given the fact that they're active and stay fit throughout their life, they shouldn't experience any major issues.

The Norfolk Terrier is supposed to live from 13 to 15 years.

You should take your Norfolk to the vet's office for regular checkups, and keep him exercised daily so he can live to the maximum of his expected years. Also, don't forget to provide top-quality dog food and groom your dog regularly so he feels good and looks good, too.
Final Thoughts
The listed top 6 Norfolk Terrier breeders are definitely the best of the best in the States.
If you visit the AKC MarketPlace, you'll find some more Norfolk Terrier breeders, but they're a bit old school, and don't keep up the pace with modern technologies.
I reckon these breeders we talked about would be enough for you. One of them will definitely have the pawfect Norfolk puppy!