This post contains affiliate links, and I will be compensated if you make a purchase after clicking on my links.
Every dog needs to have some time dedicated to healthy play, especially the ever so playful Goldendoodle, but what are the best toys for Goldendoodles to play with?
The best toys for Goldendoodles are ones that can occupy his attention more so than anything.
Groodles are easy to please and they'll find anything fun, especially if you're there having the fun with them.
However, if you want to find somewhat of a diverse roster to keep him occupied, you may want to get toys that perform different functions.
Chew toys are always a great default start as are fetch toys.
You can further expand from that by getting some puzzle toys or treat dispenser toys if you're looking to give him more of a mental challenge.
Of course, every dog loves tug of war so getting a rope toy would do you some good too, especially since it lets the two of you have some fun together.
And finally, a plush toy can cap off a collection real well to serve as your dog's best bud for when you're not around to keep him company.
All of these toys have various purposes, but share a crucial one, which is to make your furry friend a happy clam.
That said, there are plenty of low quality options out there that simply aren't worth your time, money or effort for that matter, but it's hard to find the silver lining in all the muck that oversaturates the market.
That's why I'm here, to help you out by diving into that sea of mediocrity and finding the hidden gems of toys for Goldendoodles.
So, read on to find out what these toys are as well as find some answers to questions that people often ask regarding said toys.
The 9 Best Toys For Goldendoodles To Play With
While Groodles enjoy a variety of different toys, here are some that appear to be real popular with the breed and other dogs in general:
Starmark Treat Dispensing Chew Ball
Key Benefits:
Entertaining, interactive dog toy that acts as a treat dispenser providing a mental challenge for the dog while also serving as a durable chew toy

Made from safe, non-toxic materials

Dishwasher safe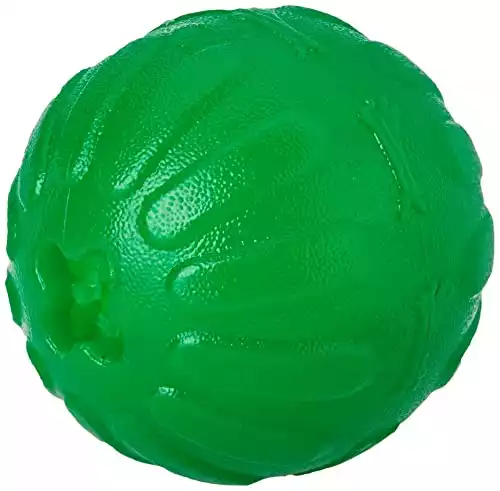 Starting off with one of the more popular picks for dog owners all over the world is this neat, interactive dog toy.
While it seems simple, it's a pretty entertaining toy for your darling doggo especially when you fill it with treats and make him try to figure out how to get them out of there.
The ball itself is made from high quality, durable and non toxic materials to provide your canine companion with a toy that lasts and is completely safe for him.
It features a very vibrant color that's easily noticeable by any dog and is sure to keep him occupied for longer periods of time.
While the company recommends using their own treat brand, Interlocking Treats, the ball can easily fit your pooch's favorite kibble in too, or peanut butter if you're feeling real adventurous.
But don't worry, the ball is easy to clean as it's completely dishwasher safe so any food leftovers can be properly washed out and the ball be ready for use almost immediately.
It makes for a great chew toy too, one that'll help your canine partner deal with separation anxiety and help him develop less destructive behavior in case you're not around.
There are two sizes to choose from as well in case you wanted to get your Goldendoodle a different sized ball, the medium which I'd recommend for a Groodle, or a large which is better suited for large dogs, but can be used by any.
Cost-wise, it's a decently affordable pickup, but you may wonder if the toy is a little bit too simple for use as some of the other potential buyers have pointed out.
Though personally I believe its simplicity is what makes it one of the best dog toys for any dog breed, not just the Goldendoodle.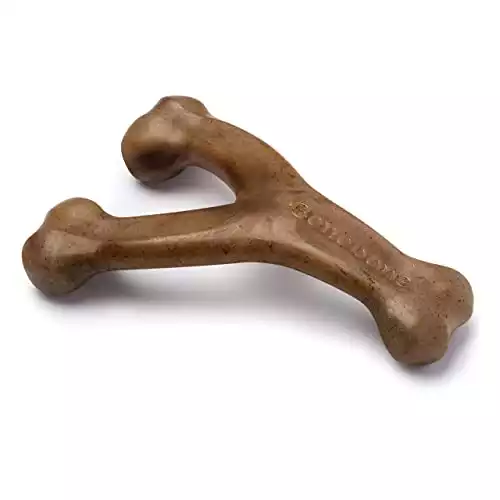 Speaking of chew toys, how about one that's deemed as one of Amazon's best sellers, the Benebone wishbone?
It's a product fully made in the USA, from material acquisition to production and it's made with no toxic materials or harmful chemicals in general.
Made from durable material specifically tailored to take on even the most powerful jaws, the Benebone is a great example of a product that gets you the bang for your buck.
The appeal isn't just in the durability, however, the material is infused with real bacon flavor that every dog is sure to love.
However, if your dog has a different preference, you can also choose a different flavor, peanut butter or chicken to be more precise.
The chew bone toy is shaped like a wishbone for ease of access so it can fit into any dog's mouth regardless of angle of approach.
As for its size, it comes in 4 different sizes for you to choose for your doggo, going from small, all the way to giant, though the medium may be the most adequate one for a standard Groodle.
The pricing itself is somewhat decent, if not a bit on the expensive side compared to some of the other chew toy options out there, but it's decent enough.
Though, do be wary that it may be a bit hard for puppies to chew on, so you may want to wait a few months before getting them this, otherwise it's an extremely recommended product in my opinion.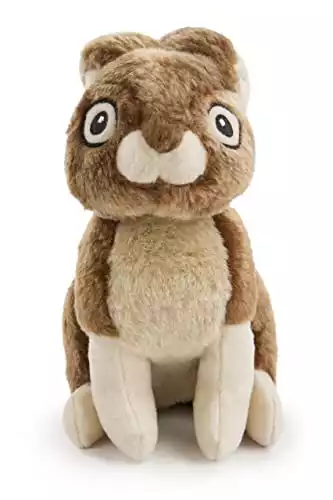 Moving on from chew toys we have a plush toy entering the mix, the goDog wildlife squeaker plush toy.
While it's likely to end up as a chew toy at some point, its primary use is emotional relief for your canine companion, something he can snuggle up with and enjoy a little bit of stress relief with.
A buddy he can sleep with and to keep him company, even when you're not around.
While this toy doesn't come in the standard teddy bear form, it does offer 3 other animals for you to choose from to get the one that best fits your dog's preferences: a rabbit, a chipmunk, or an armadillo.
This plush toy is made from high quality and durable material sown together with their patented ChewGuard technology.
This entails chew resistant lining and properly reinforced seams to keep it together regardless of how strong or sharp your dog's teeth are.
The toy also contains a squeaker inside that's sure to catch your dog's attention regardless of how many times he may end up squeezing on it.
That said, no toy is truly indestructible and eventually your Goldendoodle may end up wearing it down to the point where it does tear up.
Thankfully, the people over at goDog offer a one-time replacement should this happen (though do keep in mind that said replacement may not be the same animal shape as the one purchased last time).
This just proves how welcoming they are to their users.
As far as costs are concerned, it's about average for stuffed toys so you won't be breaking your bank with this one, and a long-lasting plush toy is a must have in any doggy satisfaction arsenal.
That said, when it does actually tear, be careful with the squeaker as it may pose a choking hazard, especially for smaller dogs.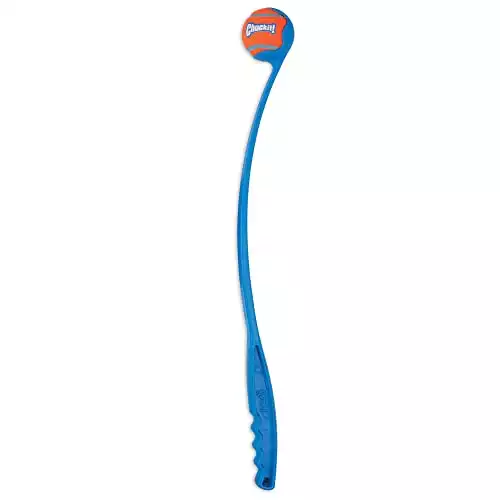 Next up we have a fetch toy entry and one of my personal favorite toys for dogs in general, not just Goldendoodles, the Chuckit! classic launcher, a product fully made in the USA in case you're looking to buy local products only.
While it may be simple, it's always the simplest tools that have the most versatility in them, and this one is no exception.
It's honestly an ingenious design; the plastic it's made out of is flexible and lightweight so the long handle doesn't bend and malform under the weight of the ball, and it helps provide the extra swing power on your end.
It certainly gives an exciting new spin to games of fetch.
Not to mention the hygienic properties of you not having to touch slobber or mud covered balls and can instead just scoop them up.
I recommend it greatly if you're someone who has a massive backyard play area to work with or if you have access to an extremely large field where you can just let loose with your canine companion.
The simplicity, however, has been innovated upon a little through the ball variety that you can get from Chuckit! if you're willing to shell out a little extra money for the different balls they have on offer.
You have anything from glow in the dark balls for more low-light enjoyment or rubber balls with a slightly different shape that offer a wildly unpredictable bounce which will keep your dog on his feet trying to master the pattern.
The handle is offered in 2 different colors for you to choose from, should you want it, and some sellers even offer 5 different sizing options too so you could fine tune the boost in pitching power.
There's even a foldable one for easier storage.
That said, it's simple, meaning it's pretty affordable in terms of budget too.
And, honestly, this would definitely be my vote as contender for one of the best toys for Goldendoodle dogs, if not all dog breeds in general.
Another fetch toy, and this time it revolves around the classic frisbee, albeit slightly modernized with the use of Zogoflex.
Zogoflex is a material that's both non-toxic and extremely durable, making for a great option to construct dog toys out of, especially ones that often get bitten into or chewed on like frisbees, balls or similar.
That's why West Paw uses it in their toys, especially this one so it can remain aerodynamic by seeing little to no wear from even the most powerful of dog jaws.
The Zogoflex material is pretty lightweight too so it's easier to fling and won't tire out your dog's jaw from carrying it over longer distances or hurt him if he tries too hard to catch it.
The weight also makes it usable on water too as it will stay floating on top for easier retrieval.
And it doubles as an emergency bowl too if you need it. All you need to do is to flip it over and it's good to go.
It's environmentally friendly too as it's made from recyclable material and it's recyclable itself.
Plus, if it ever gets too dirty, it's extremely easy to clean as it's dishwasher safe too.
It contains no latex or other harmful chemicals and materials that may infringe on your dog's health.
Finally, it's a fully US made product in case you're looking to support local businesses and help them grow.
It's relatively affordable too considering all of the benefits it has and it's likely to last you a very long time.
Though, despite its durability, the middle portion is very thin and prone to puncture holes from dog bites from some of the more aggressive chewers out there.
That said, it should be more than fine for a Goldendoodle as they aren't exactly known to have insanely powerful jaws.
Outward Hound's Nina Ottosson Interactive Treat Puzzle Dog Toy
Key Benefits:
Intermediate level puzzle toy with two different puzzles baked in to challenge your dog's mental and mechanical capabilities

Made from durable composite wood that doesn't splinter without the use of BPA, phthalates or PVC

Easy to clean with the use of some soap and warm water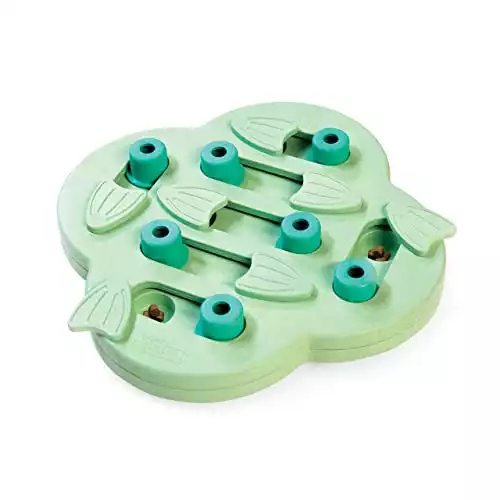 Here's an interactive puzzle toy that may be of great interest for your dear doggo.
A neat hide and seek puzzle that'll help teach your dog some mechanical skills and end up rewarding him with some dog treats.
It is intended for a more advanced canine, but Goldendoodles are a naturally intelligent dog breed so it should prove adequate for them.
It's a bit more complex in a way that it will require more than random fiddling around and the use of several different moves to get to the desired reward, but it should feel pretty rewarding to your Groodle once he manages to complete it.
You can either hide them under the flippers or pop them through the holes on the other end, making your doggo learn to either swivel the former or slide the latter to get his rewards in.
Plenty of fun to be had, for sure.
As far as the construction itself is concerned, it's made out of extremely durable composite wood to prevent splintering and for added chew-proof properties.
If you do end up having problems with him just gnawing on the toy itself rather than going for the treats, you can always just put it out of his reach to teach him a lesson.
The construction is free from Phthalates, PVC and BPA as well as any other potentially toxic chemicals to your dog's health.
The lack of removable pieces makes it relatively easy to clean through the simple use of soap and warm water should it get too dirty.
It's only one in a series of various puzzle toys offered by Outward Hound, so if your dog does end up liking this one, I suggest taking on some of the other options out there too if you can spare the storage space and the money.
Speaking of money, the cost is pretty reasonable considering the kind of toy it is and the material used.
That said, while the wood is durable, the toy isn't indestructible. Once play is done, take the toy away so your dog doesn't end up chewing on it out of boredom which could shorten its lifespan.
Give him something else to nibble on instead.
KONG Classic Medium Dog Toy
Key Benefits:
Made from durable, non toxic rubber that's soft on your dog's teeth and helps him develop less destructive chewing habits

The rubber material provides a good bounce to the toy an allows it to be used as a fetch toy too

Usable by all adult dogs regardless of size or breed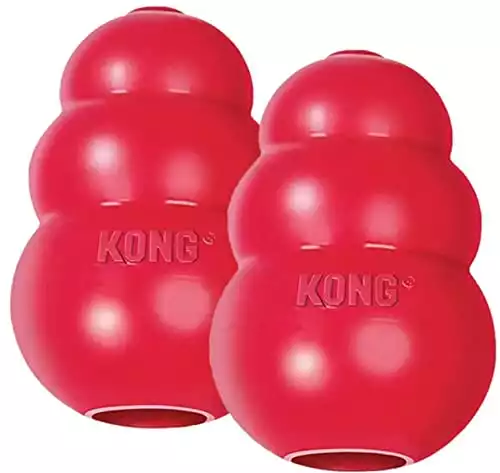 Time for a true classic, the KONG toy Classic to be precise, a chew toy that many of you may already be familiar with.
The iconic shape is what makes them stand out from the rest, entertaining, easy to bite down on and allows it to roll off from time to time, giving your dog some entertainment in-between chewing sessions with a few games of fetch.
It's hollowed out too in case you want to give your dog a little bit of a challenge or a treat inside by putting some dog food or peanut butter inside and allowing him to lick it all up.
Sure, it makes him work for his food, but ultimately he'll find it to be a lot of fun.
The classic version is one that's recommended by all dog owners as the extreme variant is too hard even for the toughest of chewers while the puppy one has its intended audience baked into its name.
The classic is made out of nice, soft and natural rubber which can withstand the biting and gnawing of even the most destructive of dogs for a good while.
Said rubber, paired with the unorthodox shape is what gives the toy the unpredictable bounce which makes it so entertaining when used as a fetch toy rather than a chew toy.
The property also lets you cover multiple bases with one toy letting you save some money up in the process.
With the way it's constructed, it's usable by dog breeds of all sizes, from Corgis and poodles to Goldendoodles and Labradoodles or even bigger good boys and girls.
It does only come in one color variant sadly, but the vibrant red should help your dog find the toy easier if you throw it a bit too far out.
Plus, they use the colors as a measure of hardness so getting a deviation on a specific one is, sadly, impossible.
Finally, it's a US made product too and one of "Amazon's choice" products so you can be sure it's made from quality material that's been properly tested.
It's also pretty cheap all things considered. Sure it's simple, but it covers being a chew toy, a fetch toy and a simple treat dispenser all in one.
Though, as with any chew toy, it's always best to let your dog go at it under supervision as even the most durable of toys will eventually be worn down and start breaking apart.
Should that happen, smaller pieces can pose a potential choking hazard, so be ready to move those and the toy away once it starts breaking apart.
Starmark Hot Bob-A-Lot Interactive Dog Toy
Key Benefits:
Adjustable difficulty to help your dog progressively train his mental and mechanical skills

Durable plastic should be able to withstand all but the most aggressive of chewers

Non-slip base keeps it from rolling off if your dog really gets into it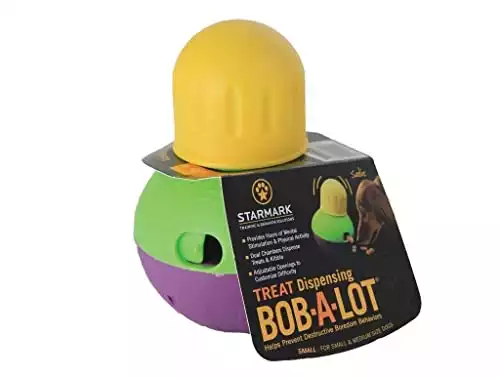 Another great product by Starmark that provides a good bit of mental stimulation, this time a little bit more complex than the first product on this list, the bob-a-lot dog toy.
It's made from highly durable plastic and is made to make your dog work for his dollar, or treat in this case.
It offers adjustable difficulty depending on how hard you want to make it for him to get said treats. As always, best to start from the beginner level and have him work his way up once he masters one.
Load it up with his favorite dry dog food to give him that extra bit of stimulation to start too and you'll see him get fixated on the thing.
The toy is made up of 3 different colors, each different and eye-catching to keep the dog's attention on it.
And don't worry about it rolling off as the bottom is covered in an anti-slip base to keep it steady when your furry friend starts pawing at it to get those treats rolling.
Price wise, it's on the decent end, maybe a little bit on the expensive end depending on your budget, but it's well worth the investment.
That said, it's not meant for really aggressive chewers which, hopefully your Goldendoodle isn't as it doesn't tend to last very long around them.
ZippyPaws Skinny Peltz
Key Benefits:
Made from fleece and plush for a more durable toy

Cutesy designs that make for great bed buddies for your Groodle pup

12 different options to choose from (3 are the same animal with a different pattern)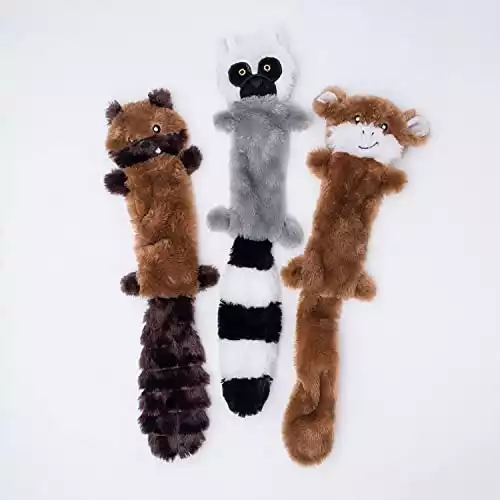 Last, but not least, we have another squeaky toy to add to your arsenal, the ZippyPaws Skinny Peltz.
They're a great option for Goldendoodle puppies as they're relatively simple and make for excellent bed buddies for your darling doggo.
Made from fleece and plush, the toys are relatively durable, containing no stuffing to prevent messes should the toy eventually tear.
They're cutesy, comfy, and pretty noticeable which should make your doggo easily gravitate toward what's likely to be his new favorite toy.
What keeps their interest, however, is the addition of the two squeakers inside each toy which will produce a sound that'll get picked up by your dog and keep his attention on it for a good while.
The animal variety has increased greatly since the last time I wrote about them with 10 different options to choose from, albeit separated into 4 different packs as they do come in a set of three.
The first one is the chipmunk, monkey and lemur option, the second is the classic fox, squirrel and racoon, the third that of the wolf, skunk and weasel and, finally, the last one is that of a snake with 3 different pattern variations.
And for the use your dog is going to get out of them, they're incredibly affordable and should add to the growing variety of toys that you're building up for your precious pooch.
That said, they do have squeakers, so you may want to be careful in case your Goldendoodle ends up tearing through his toy as it may end up becoming a choking hazard.
So, make sure to always be around to supervise him.
Before You Buy: What To Be On The Lookout For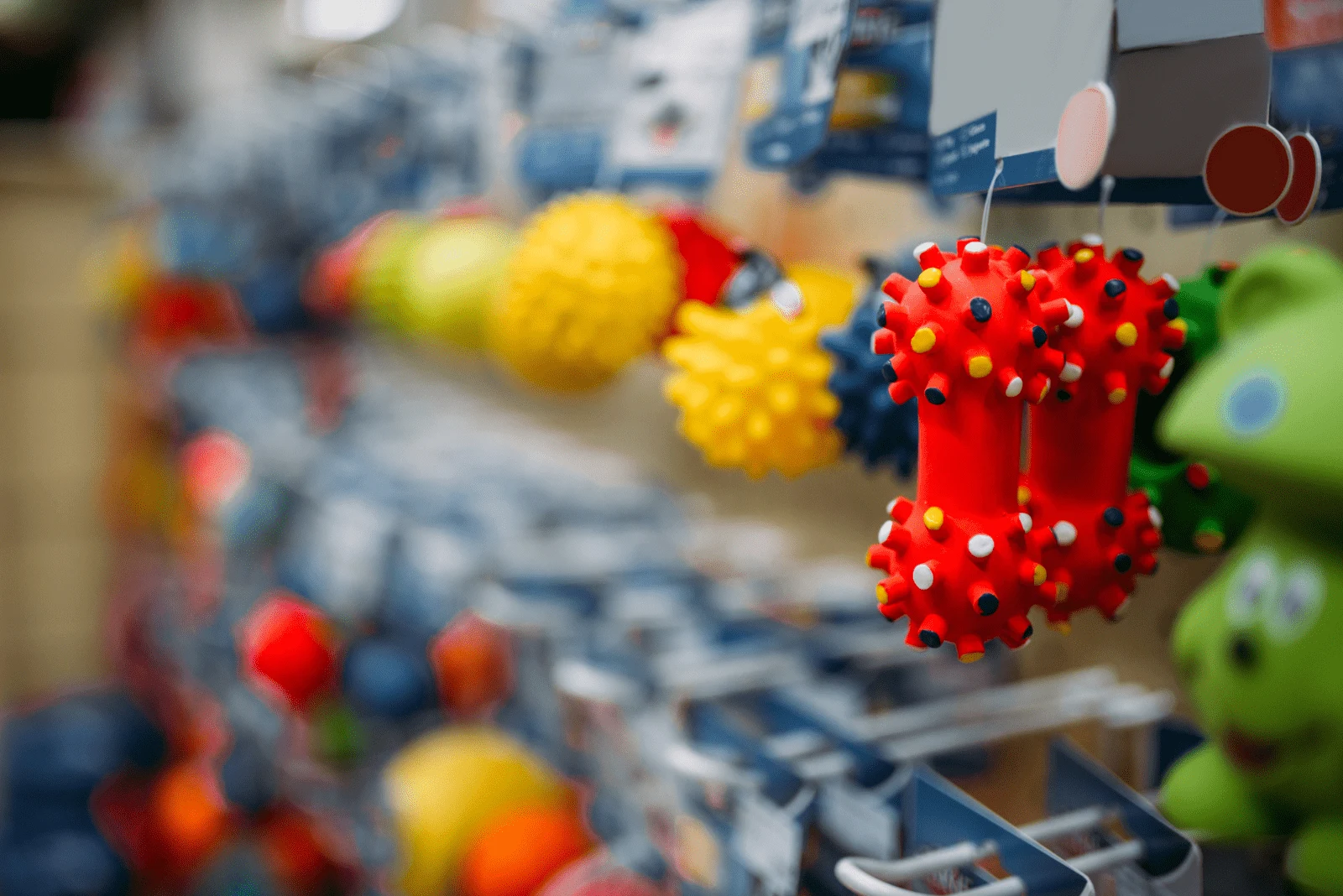 While I've offered you a variety of toys that are available on both Chewy and Amazon as far as the more popular marketplaces are concerned, I figured not everyone has been satisfied.
If that's the case, I'd like to at least offer you some help in finding the perfect dog toy for your Goldendoodle by giving you some tips on what positive traits to look out for when sifting through so many products.
1. Made From Durable, Non Toxic Materials
Toys will be spending most of their time in your dog's mouth or will have food stored in it in the case of puzzle and treat dispensing toys.
It's only natural to want these products to be made from non-toxic materials and be free of any other harmful chemicals.
2. Making Sure It's Entertaining For The Dog
While dog toys are great in their own regard, a good number of them only interest the dog for the first 30 minutes, which isn't really a sign of a good toy.
A good toy would be able to provide countless hours of entertainment.
That's why you don't want them to be too complex as the dog may just end up giving up, but you also don't want them to be one trick ponies that you'll just throw away as soon as the challenge is done.
Things like fetch toys are evergreen as physical activity is always desired by almost any dog, especially a Goldendoodle.
Stuffed toys will too as dogs often love having a cuddle buddy regardless of age and they'll usually get attached to the first one they're introduced to, especially if done at an early age.
3. Have A Good Variety Of Toys
It's good to diversify your arsenal, that'll ensure that the entertainment value of each toy lasts as long as it can by allowing you to mix it up every now and then.
If you can afford it, it's good to have one of each type of toy: a rope toy, a chew toy, a stuffed toy, and a few different fetch toys.
The interactive puzzle toys or the treat dispensers are optional as their gimmick does wane over time if they don't have anything else to offer, but your dog may still find some use with them.
4. It's Good To Carry A Few Health Benefits
While mostly relating to chew toys, finding ones with textures specifically made to help fight plaque and tartar is what makes a great chew toy perfect for your doodle or any other dog breed.
FAQs
So What Is The Best Toy For A Goldendoodle?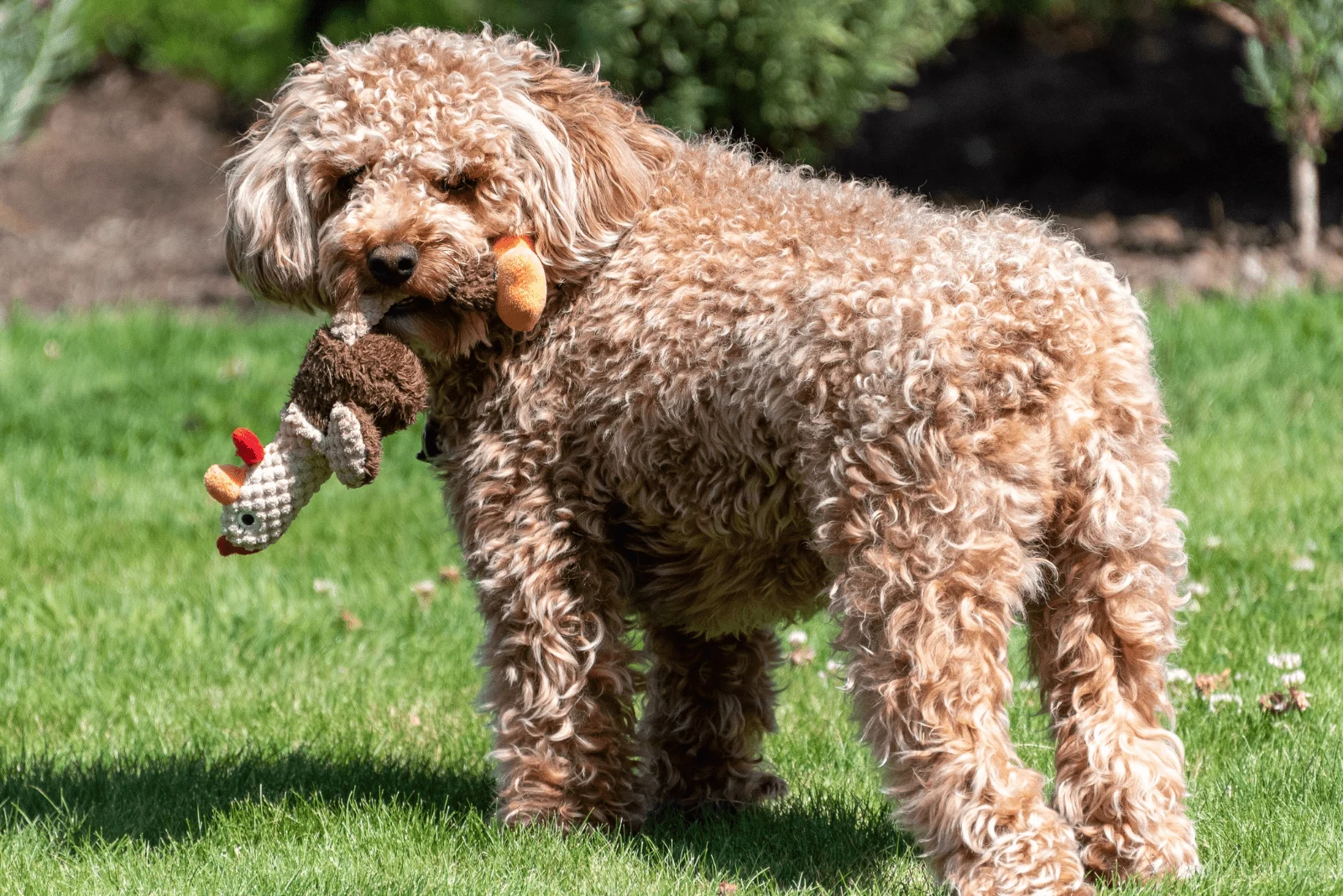 The best toy for a Goldendoodle is one that can challenge him mentally or one that can provide him with a lot of physical activity.
Since I tend to lean on the latter of the two, I prefer the Chuckit! ball launcher, but if you're looking for mental stimulation, the Nina Ottoson interactive dog toy.
Do Goldendoodles Like To Play With Other Animals?
They, in fact, do. Most Goldendoodles share that trait from their Golden Retriever bloodline as most of them tend to be friendly with all animals, even cats!
They're incredibly social creatures and will often seek a playmate out to partake in the fun with them.
What Do Goldendoodles Like For Fun?
Goldendoodles are, as stated earlier, very social, so they like any group activity or anything they can do with their pet parent.
Look for fetch toys or rope toys or any other ways you too can be included in his play time and you can be sure he'll have a blast regardless.
Do Goldendoodles Like Chew Toys?
While not exactly a social toy, Groodles love to chow down on things.
And that's a good thing too since it helps with teething pains in puppies and helps keep their teeth clean in general by removing any leftover food stuck between their teeth and helps fight plaque and tartar buildup.
In Conclusion
The best toys for Goldendoodles and Golden Retrievers alike, as well as any other dog breed are ones that will provide him enough entertainment and keep him occupied for a good while.
Ones that will keep their mind off things and will get them either physically or mentally active.
And finally, ones that will help stave off destructive behavior and help deal with their separation anxiety for the times when you're not around.
It's always good to have a couple of them on hand, but don't get too ahead of yourself and buy up a bunch at once.
Introduce your dog to them one at a time and see what his preferences are, which toys stick and which don't.
Do that and I guarantee that you'll build up an admirable arsenal real quick. I trust that you'll pick the ones your doggo favors the most. Until next time.
RELATED LINKS:
• Goldendoodle Growth Chart: Different Sizes Of Goldendoodles
• Top 9 Goldendoodle Breeders In Texas: Let's Find Available Puppies
• Goldendoodle Names: Finding The Cutest Name Idea For Your Teddy Bear
• Best Dog Food For Goldendoodles: 15 Tasty Kibble For All Life Stages
• Best Goldendoodle Rescue For Adoption: Where To Find Your Doodle
• The Goldendoodle Lifespan: How Long Do Goldendoodles Live?
• Mini Goldendoodle: What You Need To Know Before Buying!
• Standard Goldendoodle: The Best Buddy For Life
• What Is A Medium Goldendoodle? Mini Vs. Medium Vs. Standard Goldendoodles