Disclosure: This post contains affiliate links, and I will be compensated if you make a purchase after clicking on my links.
Finding good dog food is crucial. Your dog needs to get all the necessary nutrients for healthy growth for its daily meals. If you buy generic dog food, chances are you're feeding your dog fillers, by-products, and poor nutrients. Your Goldendoodle deserves more; hence, why we've come up with this list.
New Goldendoodle owners (okay, older ones, too!) should take a look at the top 15 best dog foods for Goldendoodles. We've got 5 top picks for all life stages, from puppyhood to senior years. Are you hungry for helpful info?
Your growing Doodle puppy needs lots of nutrients to become a healthy Goldendoodle dog. But, what are those nutrients? What does a Goldendoodle puppy need? It needs a Taste Of The Wild Prairie puppy food!
This food contains water buffalo meat as the first ingredient, supported by roasted venison, peas, and sweet potatoes. The entire protein count is quite high; an incredible 28%!
This grain-free recipe is packed with supplements like omega-3 fatty acids for healthy skin and coat, as well as antioxidants, vitamins, and minerals. What's so great about this recipe is that the mentioned supplements come from natural sources and freshly picked fruits and veggies.
Besides a healthy coat, your Goldendoodle will love the good condition of its bones, and how much energy it has after nibbling on the TOTW puppy food.
This food also contains a species-specific K9 Strain Proprietary Probiotics blend, which ensures the dog's digestion and immune system work like a clock!
This brand is USA-based, and it makes dry dog food without any fillers, artificial colors or flavors, or ingredients like corn, wheat, or soy. Support home-based brands that care about sustainability!
Dog food recipes with grains don't benefit your Goldendoodle puppy. These pups need a recipe without bad carbs. They need ingredients that will turn fats into energy, which will get them through their daily adventures.
Stella & Chewy's Wild Red kibble is one of the best pet foods on Chewy, with quality ingredients. The recipe features poultry proteins from real meat (chicken, turkey, quail, guineafowl, geese, and duck).
This dog food brand uses a whole prey approach, meaning it creates a balanced meal for your puppy by using muscle meat, organ meat, and cartilage. In fact, an incredible 92% of proteins come from natural sources.
The freeze-dried raw meat coat bites are there to ensure every bite of this dog kibble is delicious, and that the dog asks for more.
This recipe was made without the use of legumes or whole grains. There are no artificial ingredients, preservatives, fillers, or even bad carbs. Stella & Chewy's Wild Red kibble only has the good stuff for your Goldendoodle.
All puppies deserve a nice future to be someone's beloved pet one day. How else will they become this if they don't grow up happy and healthy? With FARMINA N&D Prime Chicken kibble, only a bright future is guaranteed.
This dog food is made by using real chicken as its first ingredient, supported by dehydrated chicken, sweet potatoes, carrots, eggs, herring, blueberries, etc. The formula provides an excellent source of protein, and it offers a balanced meal for growing puppies.
Packed with good nutrients like minerals, vitamins, omega-3 and omega-6 fatty acids, this kibble offers well-working digestion as well as a powerful immune system. Your Goldendoodle will be healthy inside and out!
FARMINA N&D Prime Chicken food was formulated for medium to large dog breeds, and since one of the Goldendoodle parents is a large dog, the food is suitable for this crossbreed. Its grain-free formula is perfectly suitable for puppies with sensitive stomachs, it is low-glycemic, and it doesn't contain peas, pea starch, lentils, or chickpeas.
The American Journey dog food brand is well-known among dog experts for being one of the best puppy foods for Goldendoodles and other dog breeds or crossbreeds. Their assortiment carries many delicious flavors, but we've decided that the lamb flavor deserves a special place on our list.
This puppy food recipe features real deboned lamb, chicken meal, turkey meal, sweet potatoes, carrots, chickpeas, flaxseed, blueberries, and kelp. Such an ingredients list only means one thing: your dog will have a fully balanced meal every day. With a healthy dose of carbs, your
Doodle will get the much-needed energy for playing around, while the fibers in the recipe will take care of the dog's digestion. American Journey takes care of the supplements they're using, which means that there are plenty of goodies like antioxidants, phytonutrients, omega-3 fatty acids, and DHA in every bag.
This ensures a generally healthy dog with a super healthy coat condition. You know when the dog is not getting enough nutrients when you look at its coat.
This grain-free dog food is rich in nutrients, proteins, vitamins, and minerals, but lacks fillers, artificial flavors, and colors, as well as corn, wheat, and soy. It's a formula suitable for puppies with sensitivities and food allergies.
Their clean design might not tell you immediately that it's dog food, but when you look closer, you'll notice it's one hella great dog food! The Freely Turkey Recipe Puppy kibble is high-quality, protein-based dog food for puppies of all breeds and sizes.
No matter if you own a small breed dog or a relatively large one like our Goldendoodle, your pup will enjoy every bite of Freely, and most importantly, he'll feel free as a bird!
The main ingredient of this dry dog food is real deboned turkey, supported by turkey meal, eggs, oat groats, brown rice, and pearled barley. As you may notice, real turkey is the only protein source. Actually, turkey meat is packed with excellent nutrients.
It's no wonder why Freely decided to go with just one protein source when it's that good! This recipe includes DHA for your dog's good cognitive development, as well as complex carbs that give an abundance of energy for daily missions.
The Freely Turkey recipe is good for dogs that have to be on a limited-ingredient diet. This kibble won't irritate your dog's stomach or cause allergies. Also, it's easily digestible, and it supports good digestion.
As your puppy transitions from puppy food to adult food, it's important to find a good dog food brand that will follow you for years to come. Goldendoodles have a fairly long lifespan, and they will need something to satisfy their nutritional requirements until they reach seniorhood.
The American Journey Salmon & Sweet Potato recipe is one of our top picks for adult Goldendoodles, and this is exactly why. This recipe has real, freshly-caught salmon as the main ingredient, followed by goodies like chicken meal, sweet potatoes, chickpeas, blueberries, kelp, carrots, and turkey meal.
These ingredients are rich in fibers, and they include good carbs, antioxidants, phytonutrients, amino acids, vitamins, and minerals.
This ensures your dog has healthy skin and coat, a mighty immune system to fight all health issues, good cognitive development, and sharp vision, even as he approaches his senior years. Dogs that eat American Journey Salmon kibble have plenty of energy, and they feel good overall.
Good digestion is more important than you think, especially as the dog matures. Luckily, this formula supports good digestion, and it is suitable for dogs that are prone to food allergies or stomach sensitivity. It's free from grains, soy, corn, and wheat, which is always good.
Experienced dog owners and dog lovers already know how good Blue Buffalo dog food really is. This is one of the best dog foods on Chewy, and it is made by using only natural ingredients.
Dry kibble is always a better choice than wet dog food for its economic values, and also because it exercises the dog's jaws and offers more fibers.
The Blue Buffalo Wilderness Chicken formula is a high-protein recipe featuring real chicken, sweet potatoes, and peas for the ultimate taste and excellent nutrition values.
The LifeSource bits that this formula contains are an excellent blend of vitamins, minerals, and antioxidants carefully selected by veterinarians and animal nutritionists. These bits support a good immune system, while omega-3 and omega-6 fatty acids are in charge of the dog's excellent skin and coat health.
This dry dog food is completely free from poultry by-products, preservatives, corn, wheat, soy, and artificial flavors. The grain-free diet is suitable for Goldendoodles that are prone to stomach issues, so when in doubt, you can always safely choose Blue Buffalo.
When your pup asks for holistic food, you give him Diamond Naturals Skin & Coat formula. No other formula takes care of the dog's coat and skin the way Diamond Naturals does. So, what's so special about this recipe? Isn't it just regular dog kibble?
No, it's not regular in any case. The Diamond Naturals Skin & Coat formula features wild-caught salmon as its first ingredient, followed by fish meal, and whole foods like papaya, blueberries, lentils, peas, and pumpkin. These superfoods offer an abundance of great nutrients that are needed in every life stage.
Each meal served with Diamond Naturals contains species-specific K9 strain proprietary probiotics, prebiotics, and antioxidants. The formula guarantees healthy skin, a lustrous coat, and a good overall health status. If you add omega-3 and omega-6 fatty acids to the equation, the final result is premium dog food.
The recipe contains lots of good minerals like calcium and phosphorus for good bone condition. What it lacks are fillers, artificial flavors, corn, soy, wheat, and chicken protein. Did you know that some dogs with sensitive stomachs shouldn't have chicken?
Chicken can trigger allergic reactions because it may contain hormones and antibiotics if not raised correctly. Now you know what to avoid if your Doodle is suffering from tummy aches.
Fish food is not that popular among dogs, but we see no reason why your Goldendoodle shouldn't try this kibble. The Sox Fish formula from Orijen is as tasty as any other food on our list, and it has six times more benefits than some generic dog food from the supermarket.
This unique recipe features fresh fish ingredients. In fact, an incredible count of 85% of fish ingredients is what makes this dog food one of our top picks. The fresh ingredients used in the preparation are frozen raw at the peak of their freshness.
Orijen knows how important it is to wake up the ancestral carnivore inside every dog. In other words, it's in every dog's DNA to thrive for a whole-prey diet.
That's why they've included the most succulent parts of the fish in their recipe, including the bones, organs, and whole fish. This formula was designed by using raw, whole mackerel, whole herring, monkfish, redfish, flounder, and whole-silver hake.
The ultimate delicious flavor is achieved by adding freeze-dried coated bites into every bag. It's the raw flavor that makes the Six Fish formula the favorite among canines. But, do you know why it is our favorite? Thanks to an abundance of minerals, vitamins, and proteins, the Orijen Six Fish Formula will stay our favorite for a while.
It would be best if all dog owners could afford a completely natural dog food for their buddies. There's too much dog kibble packed with fillers and by-products. If you're blessed that you can afford high-quality dog food, don't hesitate buying it.
Nutro Natural Choice dog food is the natural choice for your best friend, and it offers a well-balanced meal and premium flavor. The recipe was specially formulated by using real lamb as an excellent protein source.
Nutro believes that every dog should get its share of omega fatty acids, fibers, and antioxidants in every meal in order to ensure good coat and skin health, as well as a strong immune and digestive system.
You can feed your Goldendoodle Nutro Natural Choice as soon as he turns one. Just make sure you follow the transition guidelines from puppy food to adult food. You won't have to be worried about whether your pup will like Nutro.
This food is completely GMO-free, and also free from chicken by-products, corn, soy, wheat, and fillers; thus, leaving only high-quality ingredients and exceptional taste.
When senior years kick in, the activity level of every dog decreases. Once, it was a hyperactive dogo, but now it's a cuddly buddy that doesn't leave your side. Senior dogs need more nutrients to stay healthy for many years to come.
However, you need to be careful about what you're feeding your senior Goldendoodle or you'll be risking obesity and severe health conditions.
Blue Buffalo Wilderness Senior dog food is the favorite of many old champs. The recipe features real chicken as its very first ingredient in order to support a lean muscle structure and your dog's meat cravings.
It's also packed with antioxidants, fatty acids, vitamins, and minerals from superfoods like sweet potatoes, blueberries, carrots, cranberries, kelp, etc. This ensures your dog will have a healthy coat, good digestion, and an immune system that will be able to fight all diseases. The Blue Buffalo's LifeSource Bits is what makes this dog food one of the best dog foods for Goldendoodles.
If you take into consideration that this brand is GMO-free, and it doesn't use corn, wheat, soy, or meat by-products, you'll see why Blue Buffalo quotes way on top of the ladder.
Once your dog goes past its 6th birthday, he'll need something special to keep him feeling good, even when rainy days come. Hill's Science Diet is there to show love and provide the best possible nutrition.
This recipe is specially designed to give your old pal plenty of energy to get him through the day. It features real chicken as its first ingredient, followed by brown rice, whole grain oats, chicken meal, cranberries, carrots, broccoli, etc.
These high-quality ingredients ensure a healthy dose of supplements like glucosamine and chondroitin, which take care of your dog's achy bones.
We all know how prone to orthopedic issues senior dogs are, so you better make sure that you do your best to provide food that will improve their condition. The recipe also contains a balanced dose of minerals and vitamins E and C, as well as amino acids for well-functioning kidneys and a mighty immune system.
Not only is it delicious, but Hill's Science Diet 6+ guarantees your senior pal will stay at the top of its game. Completely made in the USA, this kibble is free from gluten, corn, wheat, preservatives, soy, and artificial flavors. If you want the best for your pooch, then go on Amazon or Chewy and order a bag of Hill's Science 6+ senior food.
A good dog food has to be tasty, not only rich in nutrients. If dogs could choose, they'd go online and order a bag of Merrick Grain-Free senior food. Its delectable taste can never be forgotten.
This formula features real chicken and sweet potatoes, along with apples, blueberries, flaxseed, etc. An incredible 77% of animal proteins is what makes Merrick one of the finest dog food brands. This recipe is specially designed with less fats and calories to help your dog maintain healthy weight.
We all know how serious overweight conditions can be. A senior dog with proper weight will have more energy for daily adventures. Besides obesity, orthopedic problems are the second biggest health issue with senior Goldendoodles. Dog food with plenty of chondroitin and glucosamine will take care of such issues, and support excellent bone and joint condition.
Merrick senior food is packed with omega-3 and omega-6 fatty acids that support good skin and coat condition. Also, this recipe is made by using lots of natural L-carnitine sources, which turn fats into energy. It's exactly what a tired ol' buddy needs.
Wellness Core Grain-Free senior food will ease the care of your senior Goldendoodle. With such great dog food, you won't have to worry whether your buddy is getting enough nutrients. You can rest assured that this is the only dog food brand your dog will eat for the rest of its life.
This grain-free formula features deboned turkey and chicken meal, followed by superfoods like spinach, broccoli, carrots, parsley, apples, blueberries, and kale.
These ingredients are a valuable source of omega fatty acids, chondroitin, glucosamine, antioxidants, vitamins, and minerals. It's quite a combination, don't you think? Well, your Goldendoodle will agree with us: Wellness Core is yummy and nutritional. Can't find better than that!
This dog food brand uses an advanced natural nutrition approach that combines premium protein and superfoods that are packed with all the imaginable goodies. In case your Doodle has a sensitive stomach, you can still feed him this senior kibble because it's gluten-free, and it is made without soy, corn, or wheat.
Purina is a dog food brand that has been around well… since forever! Even though they have some great recipes, they still have quite a few misses. Luckily, the Purina Pro Plan FortiFlora is an absolute hit among senior pups! Here's why this recipe is so special.
The 7+ formula features real chicken meat, supported by rice and live probiotics for a well-functioning digestive system.
Having proper digestion is often a problem for senior dogs; hence, why you should buy dog food that features ingredients that are good for the dog's bowel movement. The crunchy kibble that's inside this bag is combined with tender meat pieces for ultimate flavor. Your doggo will definitely look forward to every meal.
Each bag of Purina Pro Plan 7+ contains a healthy dose of EPA, omega-3 fatty acid, and glucosamine. These supplements will take care of those achy bones, and help your dog move around without pain.
FAQs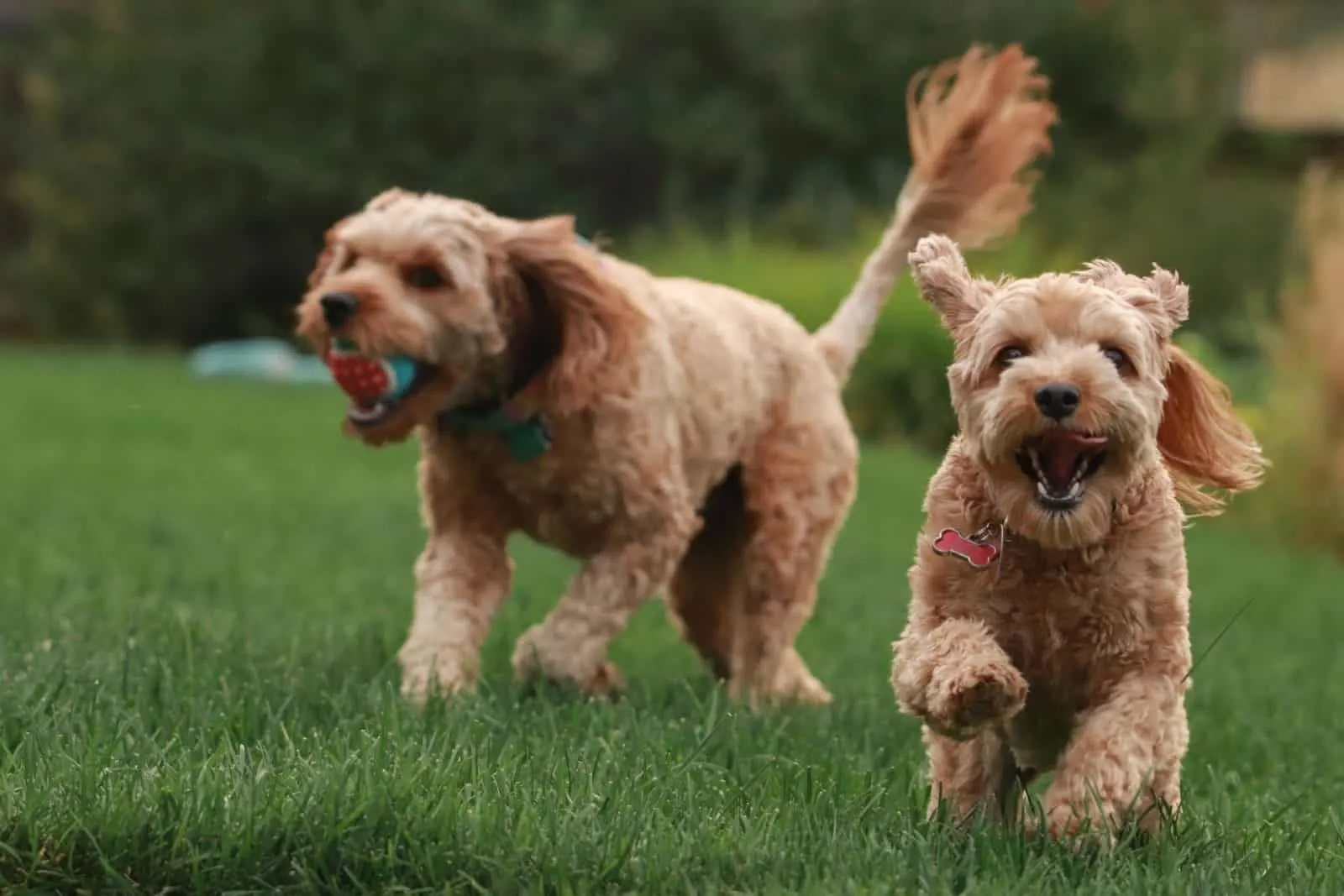 1. What's The Best Goldendoodle Puppy Food?
Goldendoodles are a cross between Poodles and Golden Retrievers. Since one of the parents is a large breed dog, you can consider a Goldendoodle to be a large-sized dog.
Thus, you need to find appropriate dog food for such puppies. Goldendoodle puppies are prone to many bone- and hip-related health problems like hip dysplasia, elbow dysplasia, arthritis…
Make sure you find puppy food rich in glucosamine and chondroitin. These supplements support healthy bone growth and reduce the chance of your dog suffering from one of the abovementioned orthopedic conditions.
2. What's The Best Food For Miniature Goldendoodles?
The better question would be: How much should a miniature Goldendoodle eat?
Mini Goldendoodles can eat the same food that standard Goldendoodles eat. It's still a crossbreed of the same purebred dogs, only slightly smaller.
As a general rule, a miniature Goldendoodle should eat 1 to 4 cups of kibble divided into two meals.
3. What Are The Best Food Brands For Goldendoodles?
Why don't you scroll up and check out our list of the best dog food for Goldendoodles? We've got some interesting brands that you don't see around all the time.
But, you don't have to follow our list blindly. As long as your dry dog food of choice contains real meat and no artificial flavors and fillers, it's good-quality dog food.
4. What Do You Pay Attention To When Buying Dog Food For Goldendoodles?
You can't just go to the supermarket and get the first dog food you see. Okay, technically, you can, but you shouldn't. Generic dog food brands contain fillers, poor ingredients, and almost always no real-meat proteins. Most importantly, they will not satisfy your dog's nutritional needs.
A growing puppy, a pregnant female, or a lactating female need plenty of proteins (22% of it) and an additional 8% of healthy fats.
If a dog food contains a minimum of 18% of proteins and 5% of fats, it will be considered good dry dog food. However, the higher the count is, the better!
When in doubt, look for the following ingredients on the back of the kibble bag:
• real animal proteins as its first ingredient
• animal fat, i.e., chicken fat
• good carbohydrates from whole grains and vegetables
• no artificial flavors, colors, preservatives, or fillers
• a high count of whole foods
• omega-3 and 6 fatty acids
• glucosamine and chondroitin
• L-carnitine
5. How Many Times A Day Should I Feed My Goldendoodle?
Goldendoodles should consume 1 to 4 cups of high-protein dog food a day, divided into two meals. Goldendoodle puppies have three meals a day, but that number decreases as the puppy grows up.
The important thing is not to allow your dog to eat too much and then exercise afterward; otherwise, he might develop a condition known as bloat.
6. When And How Do You Switch From Puppy Food To Adult Food?
Although they may stay puppies at heart forever, our lovely Goldendoodles technically become adult dogs at around 15 to 18 months of age.
Around this age, you should begin the transition from puppy food to adult dog food. Each brand of dog food has recommendations on the back saying how to transition from puppy food to adult food. The bottom line is you have to do it gradually in order to reduce the risk of your dog developing diet-related diseases that are usually linked to bones and hips.
7. What Kind Of Goldendoodle Health Problems Are Linked To Poor Nutrition?
The good news for all Goldendoodle owners is that this crossbreed is actually a generally healthy one with a long lifespan. Besides inherited health issues from the Poodle and the Golden Retriever, poor nutrition may also cause severe problems affecting your dog's health.
Bloat, or Gastric Dilatation-Volvulus (GVD), is a life-threatening condition that can be avoided. However, you need to prevent extensive exercise before and after meals, as well as consuming large meals.
Foods with too many fats also increase the risk of getting GVD. In case you notice a painful abdomen, retching, restlessness, or excessive salivation, run straight to the vet!
Eye disorders are also linked to poor nutrition. Dog foods with plenty of antioxidants can reduce the risk of getting one of the most common eye conditions, as well as improve your pup's vision.
Most dog breeds are prone to hip dysplasia. It's a common health problem for large-breed dogs, and it is when the hip joint doesn't form properly. Still, it's a condition that can be prevented.
Choose foods with lots of chondroitin and glucosamine since these supplements will ease symptoms of arthritis or other orthopedic issues.
Goldendoodles come from a parent that often suffers from aortic stenosis. The Golden Retriever dog breed gets this condition when the aortic valve of the heart becomes narrower than it should be.
It becomes more difficult for the heart to pump the blood, leaving the dog feeling tired and without any energy. Even though there are not enough studies to support a link between a proper diet and aortic stenosis, we do have a study claiming that the key amino acid, taurine, may reduce the risk of this health condition.