While many people see Pitbulls in a negative light, they can be a truly loving breed if treated well. Part of their image revolves around their hygiene, but what is the best shampoo for Pitbulls?
The best shampoo for Pitbulls needs to worry about being gentle and great for your dog's skin.
It also needs to make sure your dog's hair, however short it may be, is kept nice and shiny with strong hair follicles.
This is usually why you look for ingredients like honey or Aloe Vera as those help seal moisture back into the skin and preserve their and the fur's natural oils.
Other than that, you'll always want to go for shampoos made with all-natural ingredients as they're oftentimes gentler than the various hazardous chemicals some of the lower quality, cheaper options utilize.
Anything that reads phthalates, parabens, sulfates, phosphates and the like should be avoided, as should anything artificial.
Make sure the shampoo you're buying is indeed for dogs. You'll know this if you see that it says that it's pH balanced for them as a dog's skin has a different pH level than ours, making our shampoos less compatible with them and more irritating in comparison.
Finally, you also want something that's affordable. Pricier options don't always represent a better product.
Not to mention, there's a high chance that there's a similar product for a lower price where the only difference is brand recognition.
This, however, is a lot to take in and dog owners like yourself likely don't have the time to sift through the back of the bottle of every single product out of the dozens and dozens of options out there.
That's why I'm here, it's my duty to help you out and at least narrow your options down to a select few ones which excel in their own right.
Ones that stand out from the crowd for one reason or another and are largely favored in the Pitbull community.
The best performers on both Amazon and Chewy.
Otherwise, it'd take way too much of your precious time to find the ideal option for your canine companion.
So, read on if you'd like to see what the top dog shampoo options for your Pittie are, find out more info on bathing your pooch and things to look out for when choosing a shampoo, as well as some other commonly asked questions regarding the topic.
The 11 Best Shampoos For Pitbulls
Earthbath 2-in-1 Conditioning Shampoo for Pets
Key Benefits:
Pet and environmentally-friendly option with a cruelty-free practice and 100% biodegradable bottles

Coconut-based cleanser paired together with Aloe Vera and various vitamins, all topped off with a pleasant mango smell

Free from any sulfates, parabens, phthalates, gluten and other hazardous chemicals and ingredients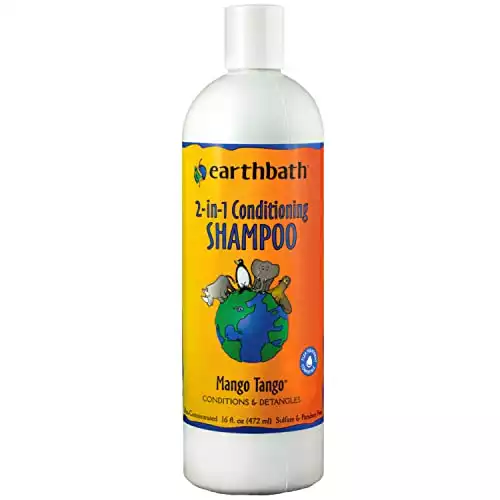 The first contender on our list for the best shampoo for Pitbulls is Earthbath's option, one that's both environment and pet friendly.
The Ingredients
It uses a coconut cleanser as a base, one of the two most popular options, and pairs it with Aloe Vera alongside a number of vitamins.
This ensures good skin and coat health through the preservation of moisture in the skin and the natural oils of both the skin and the dog's fur in question.
All of this is capped off with a luxuriously tropical mango scent from the mango extract.
The Benefits
The shampoo will also help detangle the dog's hair during bath time, though Pitties don't have to worry about that one as much as other breeds might need to.
It doesn't contain any phthalates, sulfates, parabens or phosphates. It also has no hazardous chemicals or gluten, all of which are equally detrimental to your dog's overall health.
This makes it gentle enough to the point that it doesn't interfere with any topical flea or tick ointments as long as the instructions on the package are followed.
I did mention earlier that the brand is both pet and environment friendly.
The former is achieved by being cruelty-free and not opting to test on animals like a lot of other unethical companies do, while the latter comes from their 100% biodegradable bottles.
The only real issue can be the price. While not overly expensive, it's definitely a little more than the average, which may pose a problem for some Pitbull owners depending on their budget, but I assure you that it's well worth the price.
Other than that, the only other thing resembling a problem may be the dated packaging, but that won't affect its overall performance.
TropiClean Gentle Coconut Hypoallergenic Puppy and Kitten Shampoo
Key Benefits:
Wonderful tropical scent of coconut, papaya and kiwi with a hint of chamomile for an extra relaxing time

Gentle on the dog's skin and made from a hypoallergenic formula that caters to even the most allergy prone canines

Contains no phthalates, parabens, soaps or other potentially harmful chemicals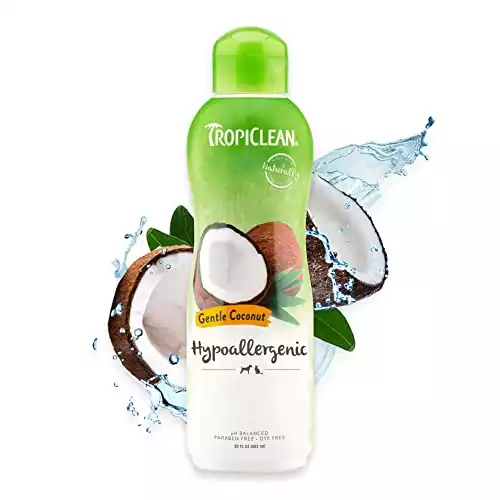 A good option with a pretty lovely scent accompanying it is the TropiClean gentle coconut shampoo, and it's a hypoallergenic dog shampoo option to boot!
The Ingredients
A lot of dogs tend to have some form of allergy.
However, thanks to the use of safe ingredients like an oatmeal base alongside Aloe Vera and a variety of other, natural ingredients like chamomile, kiwi and papaya, that's something your doggo doesn't have to worry about.
The first two ingredients are a tried and true combination that ensure a soft and comfortable touch during the lather and rinse processes, keeping your doggo comfortable and less prone to trying to run away from bath time.
Meanwhile, the latter three ingredients provide a unique blend of scents that only serve to amplify the freshness of your doggo post bath and that soothing feeling after one takes a bath which will keep your Pittie in a zen-like state for the next hour or so at least.
The Benefits
The product is fully US made and contains no harmful chemicals that could irritate your dog's skin or things like parabens, or phthalates.
And, it's soap free too.
It's also fully pH balanced for dogs, as every proper shampoo is, at least ones that aim to be as gentle as possible to minimize the chances of skin irritation.
It's a good thing too as the shampoo was made to cater to pups that are at least 3 months old.
The bottle itself is made from 50% recyclable material. Not as high of a percentage as some of the other options out there, but at least they're making a conscious effort in staying green.
The product is somewhat affordable, albeit its price is definitely slightly above the average curve, so you may want to keep that into account in case you end up stuck between it and another option.
As far as any issues go, the product has been known to arrive with damaged caps in the past, though the company has made sure to reinforce them and add an induction seal on top of it all too to minimize the spillage risk.
Healthy Breeds Pit Bull Avocado Herbal Dog Shampoo
Key Benefits:
Unique selection that differs between each breed

Oatmeal base with Aloe Vera support with the addition of various botanical extracts and essential oils to ensure your Pitbull has healthy skin

Phthalate and paraben free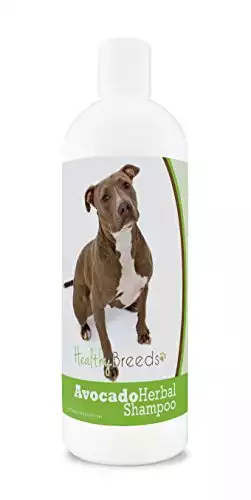 Healthy Breeds shampoos are known worldwide for their willingness to produce a shampoo variant for each and every dog breed under the sun, and it's no different with Pitties.
For them, it's all about keeping their skin protected from irritation and their short coats strong and soft at the same time while giving them a delightful avocado scent.
Sure, a Pitbull's hygiene demands aren't the most demanding of the bunch, but one still needs to accommodate them while providing a gentle enough experience.
Thankfully, this US company does all of that.
The Ingredients
It uses a coconut base, the other popular option aside from oatmeal, and pairs it with a variety of vitamins essential to maintaining good skin health like vitamin A, D and E as well as a variety of botanical extracts for that genuine spa feel.
The Benefits
What it doesn't have are any sulfates, phthalates, parabens or any harsh chemicals that could cause your dog discomfort or harm, especially when his sensitive skin is to be considered in the equation.
It's gentle enough that it doesn't interfere with any topical flea or tick ointments if your dog ever finds himself troubled with the little pests.
And the price is pretty fair too, especially considering the care to provide a specialized product for the specific breed.
That said, a good number of people claim that the marketing of each bottle being unique is a bit overblown considering how many dog breeds are out there and that most products have similar, if not the same, ingredients.
However, most dogs do tend to enjoy shampoos with similar or identical formulas, so, as long as it works and doesn't harm your pooch in any way, is there even really a problem?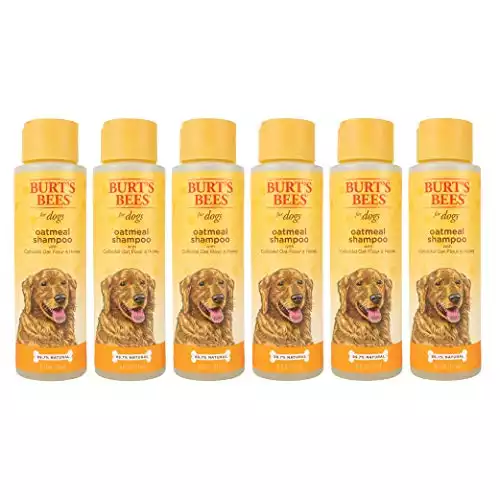 Next up is a pretty well known brand to all dog owners, Burt's Bees, one that's commonly used for almost all dog breeds and is an all natural product.
The company is also known for creating baby products which only further shows how much they care about gentleness and comfort.
The Ingredients
Also, unlike most of its competition, it uses an alternative to Aloe as the ingredient to seal moisture in and help preserve natural oils, honey.
It's naturally occurring and can be harvested sustainably, plus it's easier to get, which also plays a part in its absurdly low price compared to a lot of the other options on offer.
Aside from the honey, the shampoo also uses a colloidal oat flour base which provides the concoction with that silky smooth feel.
There's also some green tea extract in the mix which further helps out with overall coat health and strength, preventing any bald spots from forming.
The ingredients are 97% natural which is pretty decent and hard to achieve for a good number of their competitors.
The Benefits
The product is also made cruelty free as all good options should be. No animal deserves to suffer for the creation of any product.
Speaking of animal comfort, the shampoo is perfectly pH balanced for dog use. It, however, isn't intended to be used on humans despite some others having the potential to do so.
The shampoo is also environmentally friendly to a degree with the bottle being made out of 80% recyclable material with the other 20% serving to improve bottle quality and to prevent spills, a flaw of many fully biodegradable options.
Whether that's a good thing or not is up to you to decide, but some sacrifices have to be made for a commodity which some people view as a fair trade-off.
Given its love for animals, the people over at Burt's Bees didn't include any phthalates, SLS, petrolatum, parabens, artificial dyes or any similarly harmful chemicals in the shampoo's formula, keeping your Pitbull puppy safe from harm.
The lack of these hazardous ingredient options makes it a lot gentle, to the point where it won't interfere with any topical flea or tick ointments if used properly.
For all you patriots out there, this product is fully made in the USA and getting it will help support our economy.
As far as the cost is concerned, it's definitely one of, if not the cheapest option out there while still retaining a standard of quality that's to be expected of a product that's up for contention to be the best shampoo for Pitbulls.
The only other downsides apart from the non-fully biodegradable bottles revolved around the very problem that the extra 20% is trying to resolve, that being leaky or damaged caps from delivery or otherwise.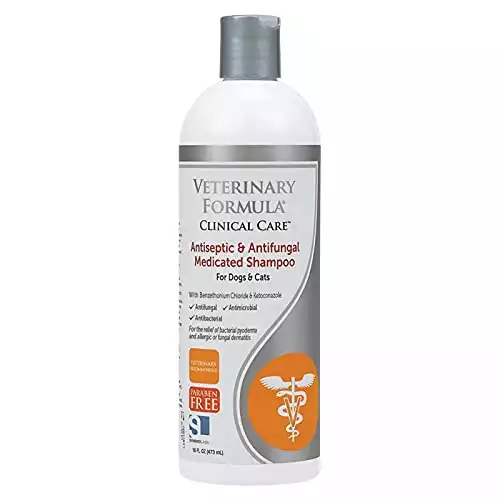 Here we have a more medicated shampoo, primarily intended to help deal with existing skin infections, the Veterinary Formula Clinical Care shampoo.
While most medicated shampoos tend to be somewhat harsher than regular shampoo options, this particular one aims to be gentle while still providing results.
The Ingredients
It uses coconut oil as a base and is paired with Aloe Vera alongside various other ingredients to help combat smells and fungal infections while still providing your doggo with that gentle, spa-like feel with the soft texture of the coconut oil cleansers.
The Aloe Vera is a known organic ingredient which helps your Pitbull puppy's skin recover from any hot spots or similar forms of irritation by aiding it in retaining moisture.
The Benefits
The shampoo doesn't contain any parabens, phthalates and other, similarly hazardous ingredients and chemicals that could harm your canine companion.
However, it's still not as gentle as some of the other options, so keep it away from your dog's eyes or his other sensitive areas and you should be just fine.
Do keep in mind that this isn't a shampoo intended for constant use, but rather a concentrated usage within the irritation or infection period to help curb some of the symptoms and to help with its treatment.
The usual use that's recommended is using the shampoo twice a week, much more often than a dog would usually need to be bathed to make sure that the infection doesn't progress and that it starts to lose its stride.
And, despite being a medicated shampoo, it's still cheaper than most other ones on the market that serve a similar function.
As far as any drawbacks, the only ones I've heard of relate to some users complaining that the shampoo isn't as strong as some of the other options out there.
However, you can be the judge of that, though it may be the result of such an affordable price.
FURminator Deshedding Ultra Premium Dog Shampoo
Key Benefits:
Contains Omega 3 and 6 fatty acids which work wonders in moisturizing a dog's skin and preventing any excess shedding of his fur

Contains no parabens, phthalates or any other chemicals detrimental to a dog's overall health

Has a pleasant smell and is extremely soothing for the dog with every lather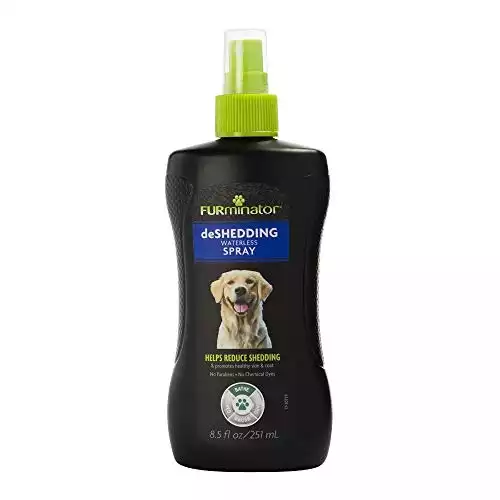 Another pretty popular brand, this time it's FURminator. And don't worry, the name isn't referring to terminating fur, but rather the excess shedding of it which Pitties are often known for.
You'd think that a dog with such a short coat doesn't shed, but they do, and they do it often.
The Ingredients
The product is made by a US based company using a formula made from oat protein being used as a base paired together with the classic Aloe Vera for better skin and coat quality.
On top of that you also have a number of botanical extracts like papaya leaf, calendula and chamomile which not only provide the shampoo with a tantalizing scent, but also give it a tantalizingly soothing property that'll have your doggo relaxed in no time.
Finally, the crown ingredients are the omega 3 and 6 fatty acids which further boost the effects of the Aloe Vera by making sure to strengthen your Pittbull's hair follicles and moisturize his skin to prevent any excess shedding from occurring.
The product also has a natural deodorizer. This is a great help when you want to combat the ever-present wet-dog smell and replace it with a more pleasant one mentioned prior.
This way they don't end up mixing together into something even worse.
The Benefits
What the shampoo doesn't have are any parabens, phthalates, artificial colors or dyes, strong detergents or other harmful ingredients that could pose a risk to his overall coat and skin health.
The affordability hinges on the slightly expensive for the average pet parent, but it's still not an egregious price tag considering how seldom a dog needs to be bathed.
It does have some cons to it however, one of them being that the natural scent can be pretty potent which could irritate your dog's nose or your own.
The other refers to its deshedding capabilities which is its main selling point, and people claim that it doesn't work for their furry friends as well as advertised, but you can be the judge of that.
4Legger Organic Dog Shampoo
Key Benefits:
All-natural ingredients featuring an oatmeal base which is further supported by Aloe Vera, lavender and coconut oil, and lemongrass extract to moisturize your dog's skin and help keep his coat shiny and durable

Ingredients procured through sustainable means and shampoo produced in small batches

Made cruelty free using non-GMO ingredients with 100% biodegradable bottles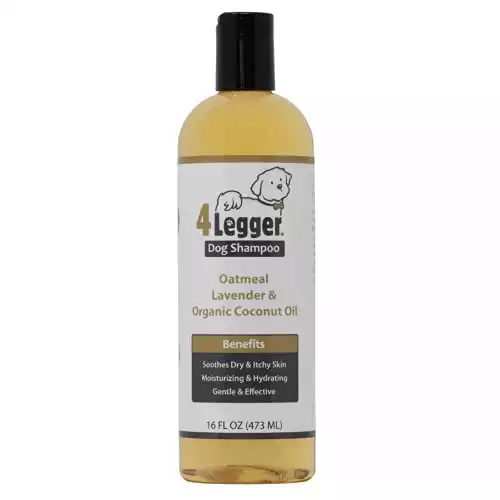 Coming up next is one of my personal favorites, the 4legger organic dog shampoo.
However, it's not just me, plenty of other dog owners and groomers alike prefer it over a lot of the other options out there.
The Ingredients
While it does contain the standard oatmeal base mixed with Aloe Vera that a lot of others do in order to help moisturize dry skin back up again, it also contains lemongrass.
This particular ingredient has great antibacterial and antifungal properties which can be a hassle to deal with otherwise, and it's known to help repel various pests.
Aside from that, you'll also find lavender and coconut oil in the mix which add a lovely scent to it all and add some extra soothing properties for your dog's scheduled spa day.
The Benefits
The product is never wasted as it's made in smaller batches, usually leaving no excess that has to be dumped off due to an expiration date.
It also helps reduce eco waste in general. Speaking of which, their bottle is fully biodegradable, and, with all natural ingredients that aren't GMO and come from sustainable sources, it's as environmentally friendly as it can be.
All of said ingredients easily meet USDA standards meaning it's a product of exceptional quality, at least as far as our country is concerned.
This also means that it doesn't include any potentially harmful ingredients like phthalates, parabens, artificial thickeners, fragrances or preservatives, or any sulfates.
Aside from being eco-friendly, it's also a cruelty-free product, another reason why I like it as all animal friends should be respected and treated equally.
It's a good option for any doggos with sensitive skin too due to the lack of artificial ingredients, helping reduce and prevent skin irritation issues altogether with repeated use.
While it is somewhat pricier than other options, I still stand by my opinion that it's one of the best, high quality options out there on the market, at least for my furry friend. It may be different in your case.
Though, even though I'm somewhat biased, that doesn't mean that the product is perfect as it does have a flaw or two, one being that some users have found the scent to be too potent and to irritate their and their dogs' nostrils.
If you or your dog have overly sensitive senses of smell, then this may not be the best option for you.
Rocco & Roxie Dog Shampoo for All Dogs & Puppies
Key Benefits:
Uses oatmeal as a base, paired with Aloe Vera to lock in natural oils within the skin and utilizes olive oil and Shea butter to further strengthen the hair of the dog's coat

Contains no phthalates, parabens, strong alcohols, artificial dyes, formaldehyde and similarly irritable or harmful ingredients for the dog's skin or his overall health

Shampoo brand provides a 100% satisfaction guarantee or your money back should you or your dog find the product lacking in any way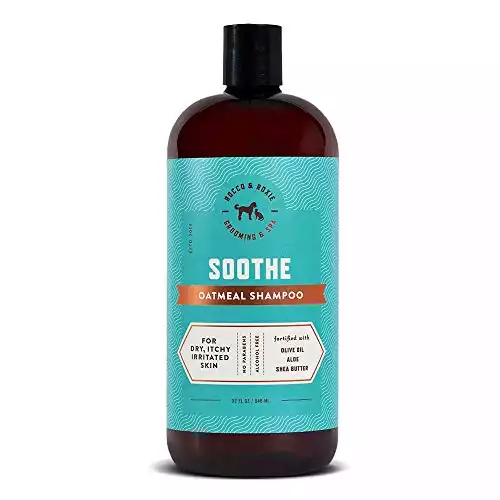 This next one is a slightly less known brand, but equally as good as the others, if not better in some aspects.
The Ingredients
While it does have many similarities to other, more popular options like oatmeal extract being used as a base and paired together with Aloe Vera to help retain moisture in a Pitbull's skin as well as preserve the skins' and the coat's natural oils, it has some of its own perks.
One such perk of this puppy shampoo is the addition of Shea butter and olive oil, both of which help further improve the smoothness of your dog's skin and to re moisturize and protect it with their own oils.
On top of that, the two ingredients contain some of the necessary nutrients that help your dog's coat remain shiny and soft like he was a young puppy again.
The Benefits
To avoid any irritation or other potential issues, the product contains no formaldehyde, phthalates, parabens, artificial dyes, strong alcohols or other hazardous chemicals in its formula.
After all, all good shampoo brands put your dog's comfort and safety above all else.
The only real problem that you're going to be facing in regards to this product is the price itself as it's certainly one of the more expensive products of the bunch, and certainly much higher than the average.
However, there is a silver lining in the fact that the people over at Rocco & Roxie offer a 100% satisfaction guarantee with your purchase, or else they'll issue you a full refund if they're unable to satisfy you and your doggo with their offer.
Vet's Best Allergy Itch Relief Dog Shampoo
Key Benefits:
Contains the classic mix of oatmeal and Aloe Vera for a soothing doggo bath time as well as tea tree and neem oil for some extra comfort and relaxation

Gentle enough to not wash away any topical pest ointment while still remaining potent enough to be able to clear up any allergens and irritants

Has a nice and pleasant lavender scent

A medicated shampoo option, specifically catering toward dealing with rashes and other forms of skin irritation, this is a solid choice for any dogs currently suffering from any more serious forms of it.
The Ingredients
The formula used was created with the help of various veterinarians, mixing in a number of essential oils with an oatmeal base with Aloe and some tea tree oil to help deal with the pesky irritants and allergens that plague our dogs from time to time.
The Benefits
The ingredient mix helps peel said irritants away with ease while still being gentle enough to not wash away his skin and coat's natural oils, helping preserve their moisture and keep them from getting damaged.
It also won't wash away any topical flea or tick treatments either.
Since it's a medicated shampoo, it's designed to be used more often than the standard stuff too, but that's also why its price is on the higher end as compared to a lot of the other products out there, definitely hinging on the expensive side of things.
The one complaint I've seen that's common across a lot of buyers is that the shampoo doesn't lather all too well which can be a bit of an issue.
Pro Pet Works Organic All Natural 5 in 1 Oatmeal Dog Shampoo & Conditioner
Key Benefits:
5-in-1 option that helps cover all needed bases for a doggy bath

Uses oatmeal as a base together with Aloe Vera, vitamins A, B12, D and E and almond oil to provide your dog with a bath experience that he'll never forget

It's hypoallergenic, and is soap and alcohol free, ensuring it's as gentle as it is potent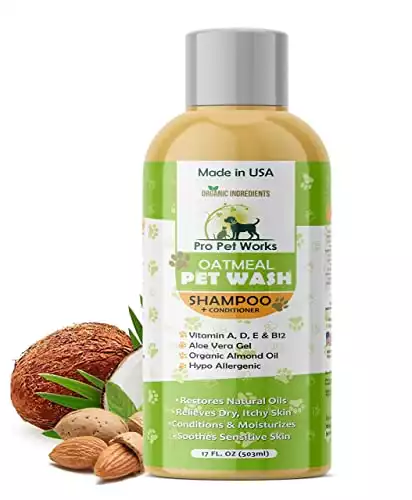 The next entry comes from Pro Pet Works and is a great all-in-one option to grab.
The Ingredients
It utilizes the usual oatmeal paired with Aloe Vera to help treat existing skin infections and prevent them in the future, as well as a mix of almond oil and vitamins A, B12, D, and E to further bolster and nourish the skin and the coat.
The Benefits
It's also great in helping detangle hair with the initial wash, making it easier to straighten out with the post bath brushing session.
The shampoo is also relatively gentle with it being soap free as well as free of any alcohols, sulfates, parabens, and phthalates.
A US product that values itself on the potency of its formula while making sure it remains gentle enough for your pet's sensitive skin to not get irritated.
The price is a bit on the steeper side, but considering it does 5 things in one, it'll end up being cheaper overall than you having to buy each individual option.
The issues pertaining to this shampoo seem to be all over the place, though the most common one seemed to be the lack of lather and overall effectiveness against itchiness, but those could only be a few edge cases.
Wahl Dry Skin & Itch Relief Pet Shampoo for Dogs
Key Benefits:
Great option to help deal with itchy skin thanks to the oatmeal and Aloe Vera mix

Wonderful post-bath scent thanks to the addition of coconut lime verbena

Contains no parabens, phthalates and similarly hazardous ingredients to your dog's health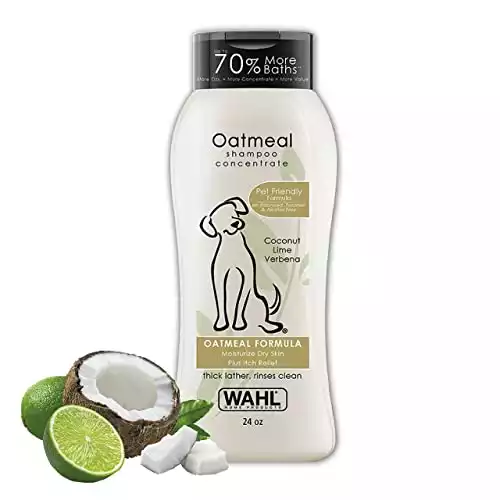 The final option presented today is one that has earned the "Amazon's Choice" tag for being a highly rated and equally high quality product, Wahl's dog shampoo.
It's a fully US made product, using natural ingredients that are gentle on a dog's sensitive skin.
The Ingredients
The base is, once again, oatmeal, mixed together with Aloe Vera for the foundation of comfort mixed together with coconut lime verbena to add a subtle, but delightful scent to it all.
The Benefits
It's considered to be good for allergy prone dogs too according to some users due to its relatively gentle ingredients that avoid causing any allergic reactions.
It also doesn't contain a good number of problematic substances and ingredients like parabens, phthalates and similar.
The price is insanely low considering how much of the product you get, and it's more concentrated than the other options too.
It does, however, contain SLS which is known to not play too well with the natural oils on a dog's coat and skin, so it may lead to some damage and irritation.
BEFORE YOU BUY: What To Be On The Lookout For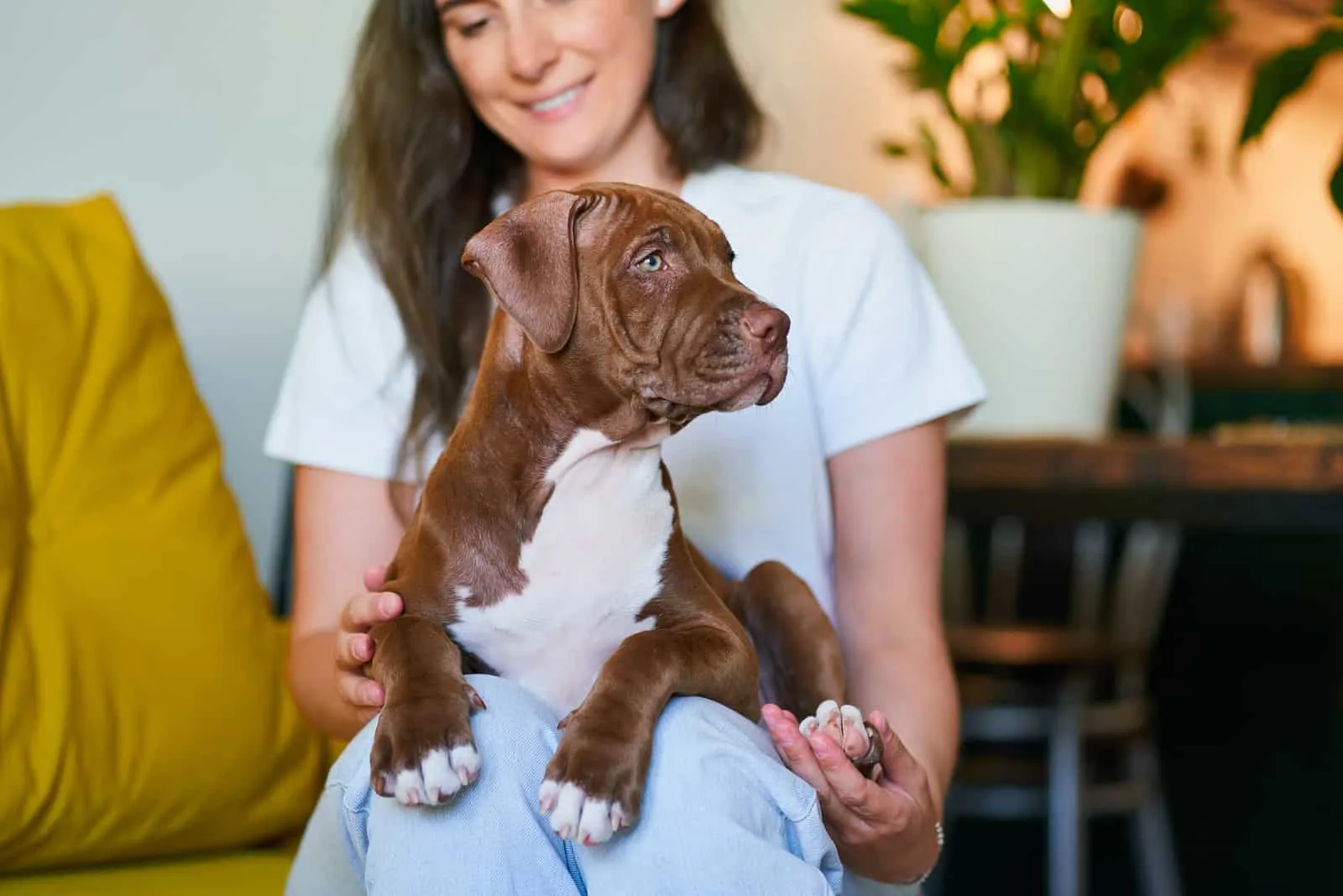 While I have offered a wide array of options, they all ultimately do have similar ingredients with only a few things here and there making them stand out against one another.
This may mean that some of you still may not have found the ideal option for your dear Pittie, however, don't worry as I'll help you out as best I can by showing you the things you need to keep an eye out that mark a quality pet shampoo.
Here are some of the crucial factors:
Naturally Gentle And Soothing
As you've seen with every product here, a dog's skin is awfully sensitive at times so you need to pick shampoos with ingredients that provide a gentle and soothing sensation, and ones that are flagged as tearless.
The key ones to look out for are Aloe Vera and either a coconut or oatmeal base.
These will provide the gentleness that dogs require to be calmer during bath time, reducing the chances that they'll make a mess during the process.
Skin And Fur Care
While a Pittie doesn't exactly have the coat of a Golden Retriever, there's still a short line of fur covering his skin to act as protection against the elements and debris and it needs to be maintained.
Dandruff can be a real pain too as well and will need to be cleaned up every now and then, as will hot spots and other forms of irritated skin that may come up over time.
This is why you'll need to get your dog a shampoo that'll cater to these needs, ones that contain the aforementioned Aloe or honey as an option, or anything that contains omega 3 and 6 fatty acids.
Said ingredients are usually various botanical extracts or essential oils like jojoba, chamomile and the like, so keep an eye out for them too, as well as vitamins A, D and E.
pH Balanced For Dogs
Speaking of skin sensitivity, you'll want to make sure that the shampoo you're buying contains the right pH levels as that can play a pivotal role in a shampoo's usefulness and potential harm to your furry friend.
Look for ones that say are pH balanced for dogs specifically as that'll ensure they're gentle and neutral and won't pose a skin irritation risk by default.
Natural Ingredients
Only a small percentage of shampoos on the market are made with all-natural ingredients, however there's still a large number of them who come close.
Seek these out as they're another guarantee that the shampoo is made to be gentle and non-abrasive to a dog's skin or hair follicles.
If possible, look for ones that are made with sustainable ingredients and ones that are made cruelty-free or are kept in biodegradable bottles, or both!
Hypoallergenic
Your Pitbull can be as prone to skin allergies as you, so getting a shampoo that doesn't use any of the common dog allergens can be a literal lifesaver.
Look for ones branded as hypoallergenic or ones that don't contain common allergens like grain protein in their ingredient list and you're sure to find one that your doggo won't mind.
Affordable
Finally, a product can be as perfect as advertised, but if its price tag is way too high, it's not going to be worth the trouble.
If you ever find an option that seems perfect in your eyes, I suggest looking through a few extra options just in case.
Like I've said, a lot of the shampoos use similar formulas and you may just end up stumbling upon some that are nearly identical, but one is much more affordable than the other.
The differences are usually miniscule, and if said difference doesn't worsen your opinion of the product, then the cheaper option is gonna be the way to go.
FAQs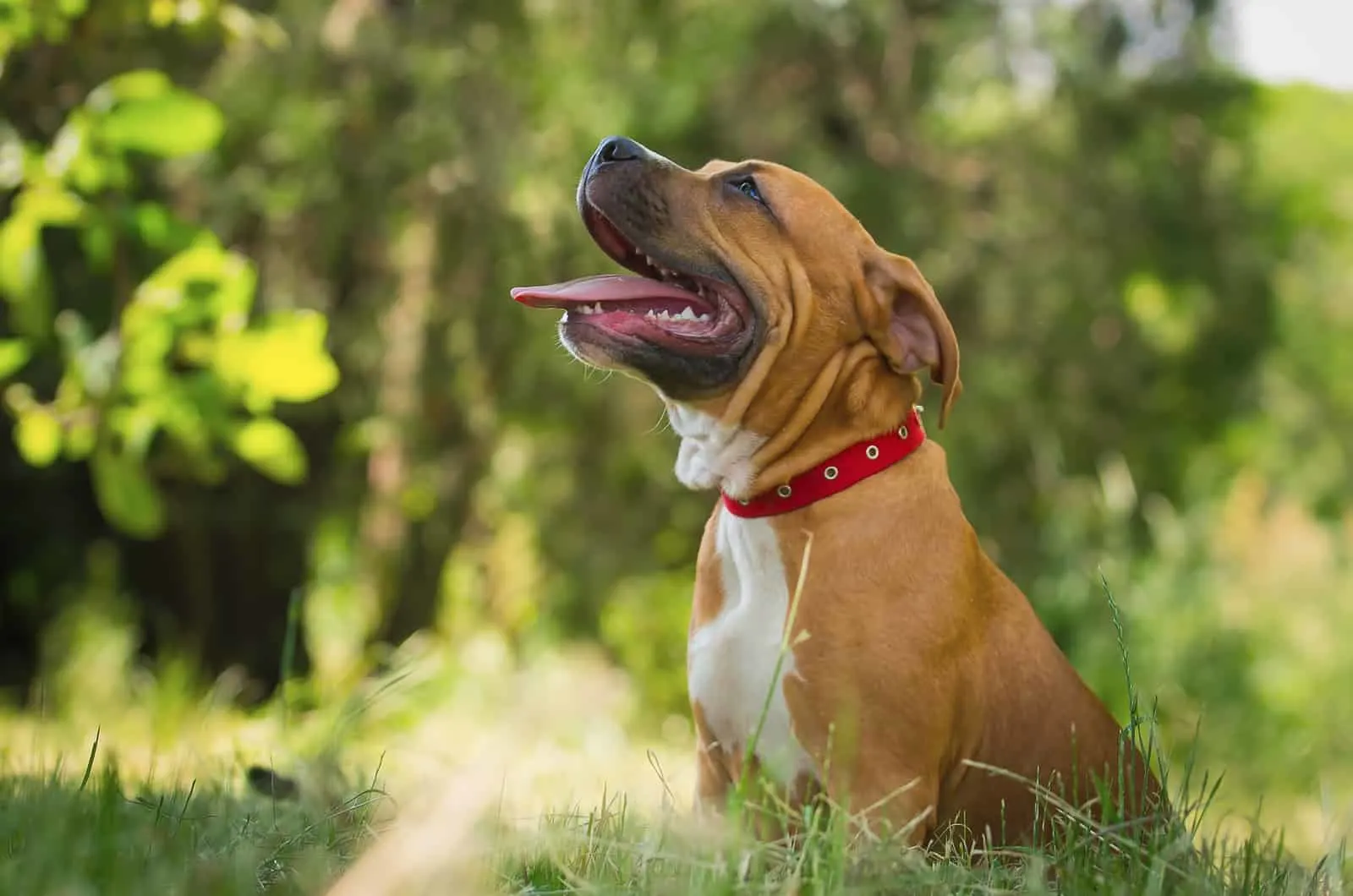 So, What Is The Best Dog Shampoo For Pitbulls?

Well, the answer to this entirely depends on what you personally want the shampoo to do.

The best shampoo for Pitbulls would be one that's gentle enough to not harm your dog in any way while still helping him deal with his skin issues and prevent them in the future, be they pest or bacterial infections, or anything similar.

One that's made from natural ingredients and that is made cruelty free as well as being environmentally friendly.

An ideal dog shampoo option would also be hypoallergenic, tear-free, and would help calm him down during a bath.

Our favorite option is the 4legger, hands down, as it does cover a lot of these bases, but again, that's personal bias.

I don't know your doggy as well as you do, so that decision is ultimately left up to you to figure out, which I've hopefully done with this article.

Can I Use A Human Shampoo On My Pitbull?

Absolutely not. Our skin has a different pH level compared to a dog's, and the shampoo will end up being too strong for it, likely causing rashes, hot spots and other forms of irritation, not to mention potentially damaging the Pitbull's coat in the process too.

Unless a shampoo specifically states it can be used by humans and dogs alike, you should stick to using it for its intended users.

How Often Should Pitbulls Be Bathed?

Thankfully, Pitbulls don't need to be bathed all too often so the issue of price isn't as big as it would be for some other dog breed.

Depending on the Pitbull, the intended downtime between each bath can be anywhere from 1 month to 6.

What Types Of Shampoo Exist?

There are actually a number of different options in terms of what types of shampoos are out there.

Some of them may be of similar functions, but they're different kinds nonetheless. Here are some of the more common ones:

• Deshedding shampoos – to prevent any excess hair from shedding off your dog

• Soothing shampoos – to make bath time more enjoyable for your canine companion

• Medicated shampoos – to help deal with any particularly nasty skin conditions or invasive pests like ticks and fleas

• Puppy shampoos – extremely gentle options that cater to dogs when they're at their most vulnerable

• Deodorizing shampoos – to help combat that notorious wet dog smell

• Natural shampoos – shampoos made with all-natural ingredients

• Multipurpose shampoos – ones that end up performing multiple roles on top of being a shampoo, like a deodorizer, conditioner and similar
What Are Some Of The Most Common Skin Infections In Dogs?

Apart from hotspots, the most common skin infections in Pitbulls are mange and seborrhea, each having clear visual indicators of the problem.

Mange is caused by mites while seborrhea is caused by an incorrect amount of keratin being produced.
In Conclusion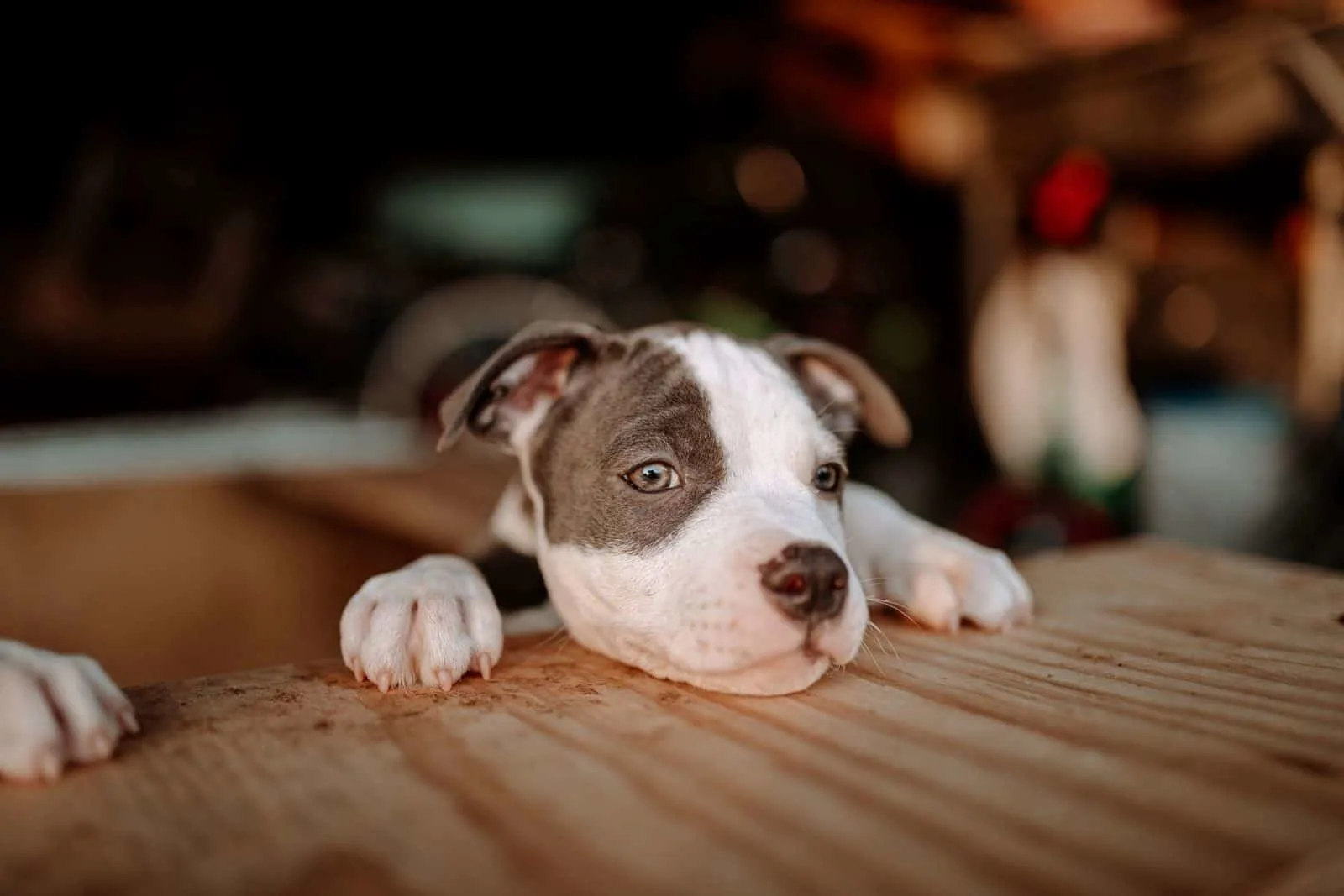 The best shampoo for Pitbulls is one that'll provide the gentle touch that he needs to stay calm in a bath, and that won't strip off his skin and fur's natural oils while still being potent enough to cleanse off any dirt, allergens or other irritants.
The variety available is absolutely massive and it can be tough to find the right one for your furry friend, but you're the best option here to make that choice.
I don't know your dog well enough to know the specific needs that he and his skin may have, but you do, and I fully trust that, with this article, that choice will be made at least a little bit easier. Until next time.
RELATED LINKS: