The Pom is a really adorable small doggo, one that finds popularity with a lot of dog owners looking to attend shows or folks who like a small, soft pupper, though that requires proper grooming care, but what are the best shampoos for Pomeranian dogs?
Well, the best shampoo for Pomeranian dogs is one that's effective, yet delicate. One that can keep that fluffy furball looking clean and shiny without irritating his sensitive skin on its own.
The best shampoos are made from all natural ingredients for that very reason, ones that won't harm, but will rehydrate his dry skin while also providing a soothing effect as a lot of dogs are averse to water when it's forced on them.
Not to mention, the double coat of the Pomeranian is really dense and can get tangled up real easily, which is why a shampoo that can soften that fur up to make it easier to detangle is going to be of paramount importance for his grooming.
Naturally, you want it to be affordable too, though due to the Pom's size, you won't be spending all that much anyway.
Thankfully there are plenty of high quality, affordable shampoos out there that do just that.
The problem is that there are too many and it's often incredibly difficult to choose between each one.
Thankfully there are small differences which may put one above the other in your eyes, and I'm here to do exactly that.
As with the many other dog breeds before the Pom, I've gone through a good portion of the products on both Chewy and Amazon's marketplaces and have filtered out a number of what I believe cover the bases needed to contend for the title of best shampoo.
So, if you'd like to find out what the best shampoo option is as well as find answers to some of the more common questions regarding the Pomeranian and its grooming habits as well as his health, be sure to read on.
The Best Shampoo For Pomeranian Dogs: 8 Top Options
Earthbath Oatmeal & Aloe Pet Shampoo
Key Benefits:
Hypoallergenic and deodorizing shampoo

Cruelty-free and contains no potentially harmful chemicals in the mix

Extremely gentle and perfectly pH balanced for dogs, specialized for hydrating dry skin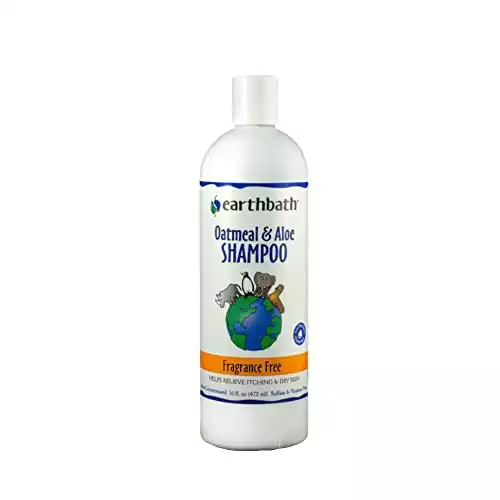 Starting off with #1, we have Earthbath, a classic among dogs everywhere, and for good reason.
They've maintained their quality for over 20 years and aren't stopping anytime soon.
The Ingredients
The shampoo in question utilizes an oatmeal base where the oats provide a smooth, soft texture to the shampoo which helps relax the dog during bath time.
And, it comes with everyone's favorite extra ingredient in shampoos, Aloe Vera, whose job is to help rehydrate a dog's dry skin and reduce the effects of or entirely prevent further skin irritation, hot spots and the like.
The Benefits
It's free of any artificial fragrances and of any soaps which means that the shampoo itself won't end up acting like an accidental irritant to your canine companion.
To further prove how gentle it is, the shampoo contains no sulfates, parabens, phthalates, or phosphates for that matter as the people over in Earthbath made sure to not have any potentially dangerous chemicals included in the formula itself.
They're friends to all animals, which is proven through their cruelty-free ways of not testing the shampoo on animals.
The other reason why people consider this the right shampoo for any dog is the fact that it's also made to be environmentally friendly with a biodegradable container to reduce the negative impact it would have on the environment.
It's perfectly pH balanced for dogs as well, helping to eliminate any foul odors on top of cleansing his skin and fur.
It has earned the prestigious "Amazon's choice" tag which means it's doing something that's putting it a cut above the rest, which is more than obvious given the lengthy list of benefits.
That said, it's not without warnings or detriments.
The warning is that, despite being relatively gentle, it's still not safe to be used by pups who are younger than 6 weeks of age given how sensitive their body is overall at that age.
Other than that, the entire product can be somewhat more expensive than the average when taking other products into account, but it's well worth it.
And, if you end up not being satisfied by it, the company does offer a 100% money back guarantee, and their support will eagerly help you with any problems you may have with their product.
4Legger Organic Dog Shampoo
Key Benefits:
Uses sustainably sourced, all-natural, vegan ingredients

Great for fighting against skin irritation and keeping a shiny and lush dog coat

Free of artificial fragrances, thickeners, parabens, phthalates and other harmful chemicals, and hypoallergenic to boot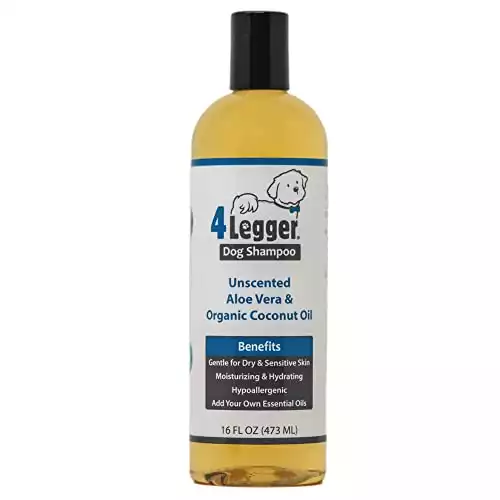 After Earthbath we have one of my personal choices for best dog shampoo candidates for all dog breeds, the 4Legger organic dog shampoo.
The Ingredients
Not only is it made from all natural ingredients, but it's hypoallergenic to boot in case you have a particularly sensitive Pom pooch in your household.
The base is a mix of Aloe Vera and coconut oil, providing smoothness of texture and a sense of relief when you lather the pup up, making him less likely to try and pry himself from your grip.
The Aloe, of course, helps by hydrating the skin and allowing it to retain its natural oils even during bath time to preserve the fur's sheen and overall strength.
It also helps prevent a myriad of skin infections and irritation in general.
It has a number of fully organic oils that further assist the Aloe in its task.
The Benefits
The gentleness doesn't come from the ingredients alone though, but lack thereof, as it doesn't contain any ingredients deemed harmful.
This means that things like phthalates, parabens, artificial thickeners, detergents or any similarly hazardous chemicals that normally find their ways in aren't present.
It's fully fragrance free, not masking scents but eliminating them outright.
The shampoo also uses a variety of USDA certified ingredients, meaning they're of the highest quality.
Aside from that, the entire product is eco friendly, made from sustainably sourced ingredients.
It's so great, in fact, that it has been a 3 time winner of the EcoExcellence award as of writing this article with just how green the shampoo is.
The rewards aren't the product's only set of accolades either with the company's cruelty free policy being one of the other major driving factors for its success, just like with any other dog product manufacturing company worth its salt.
The price is definitely more expensive than the average, but I wholly stand by the quality of the product and recommend it due to positive personal experiences.
Burt's Bees for Dogs 2 in 1 Dog Shampoo & Conditioner
Key Benefits:
Buttermilk and linseed mix provide an exceptionally smooth bathing experience for the dog and stimulate the production of natural oils

Phthalate, sulfate and paraben free as well as free from any artificial colors and fragrances

Cruelty free and environmentally friendly with 80% of the bottle made from recyclable material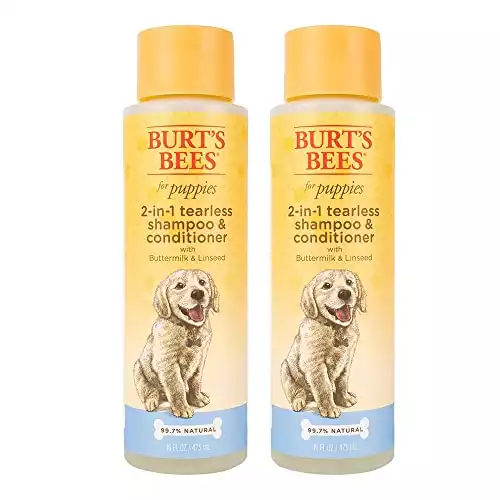 Another relatively popular shampoo option is Burt's Bees for dogs, one that functions as both shampoo and conditioner.
Burt's Bees may seem like an odd inclusion to a lot of mothers out there who know them from their manufacture of baby gear.
Though, you'd be pleasantly surprised when I tell you that their quality and level of care for their dog products are just as good, if not better.
The Ingredients
This specific shampoo utilizes buttermilk as a base, a nice and soothing texture that's further shared with linseed which further adds to the relaxation factor.
Despite the lack of Aloe Vera, the ingredients provided will still make sure that your Pom's fur is as fluffy and as silky smooth as it always was.
The Benefits
The product is pH balanced for dogs as well, meaning there are barely any risks of potential irritation and it ensures that the shampoo is as gentle as it can be.
It also means that the shampoo is b, so long as too much of it doesn't end up going in your doggo's eyes.
It's also completely cruelty free, meaning that the people over at Burt's Bees don't perform any of their product testing on animals whatsoever as they love them as much as they love making sure our human babies are well taken care of.
This is further proven with their exclusion of various phthalates, parabens, sulfates, artificial fragrances and coloring as well as the many other likely dog health hazards.
Eco friendly is yet another tag you can find on this amazing product with well over 80% of the bottle being made from recyclable material and kept up to high quality standards.
The other 20% may seem like a lot, but it's still a step in the right direction and is better than what most others offer who haven't even bothered to try going green.
The one other thing that may seal the deal here is the fact that it's one of the most affordable options out there in terms of quality for cost and it's likely one of the best and safest first purchases for shampoos that you can make.
There's no actual downside this time, other than their dated bottle design, but function over form is what I always say.
2-in-1 TropiClean Dog Shampoo And Conditioner With Coconut And Papaya
Key Benefits:
Coconut and papaya base provide a gentle texture and a deodorizing component to the shampoo

Aloe Vera alongside kiwi, chamomile and mallow flower as well as some other exotic fruits reduce skin irritation, keep the Groodle's fur fluffy and make him smell amazing

No phthalates, parabens, artificial dyes or any other harmful chemicals included, plus it's made cruelty-free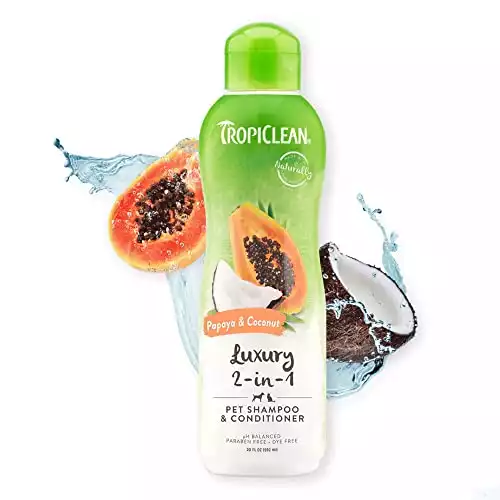 If you're someone who prefers to have a little bit of a fresh and fruity scent coming off your doggo without any harm coming to him, then you may wanna give TropiClean a go.
It's merit isn't just in the wonderfully tropical scent either, but the fact that it's both shampoo and conditioner, a two in one deal.
The Ingredients
The product has coconut as the base acting as a gentle cleanser, with a mix of papaya to help smooth the texture out even further and add to the batch of other tropical scents.
Naturally, it's mixed in with Aloe Vera as the industry standard, extremely beneficial in the prevention of skin irritation among other things.
Chamomile can also be found in the mix, another soothing ingredient to help keep your small pup steady when taking a bath instead of running around the place and making a mess.
Other than that, mallow flower and kiwi are there too to add to the natural scents and to provide an extra layer to the already smooth texture provided by the base ingredients.
They all also serve as a great way to deodorize an otherwise smelly dog, helping avoid that wet dog smell and instead having him smell like he just came out of a nice tropical jungle haven.
The Benefits
The shampoo is a perfect example of an all natural product too with the exclusion of the standard set of harmful chemicals, especially parabens and phthalates as well as any artificial dyes.
No animals were used in the creation of the shampoo either, I make sure to only pick the ones that treat man's best friend with the respect and recognition that he deserves.
With that in mind, I want to turn your attention to the fact that the shampoo isn't intended for extremely young pups. None below 12 weeks of age shouldn't be bathed with TropiClean as it may prove too strong for them and their overly sensitive skin.
Though, even with that restriction, it still managed to get its way to an "Amazon's choice" tag for the fantastic set of benefits with very little cons.
The only real con is that their products used to arrive with busted bottle caps, but they've since introduced industrial seals which help reduce the risk, even if the bottlecap should get damaged mid transit.
And the cost of it is pretty affordable too, slightly below the average price for one at least.
Buddy Wash Original Lavender & Mint Dog Shampoo & Conditioner
Key Benefits:
Wonderful mix of botanical extracts and essential oils on top of a coconut and Aloe Base

Provides a nice and relaxing atmosphere ideal for bathing your dog with minimal incidents

All natural ingredients with very little artificial chemicals in the mix.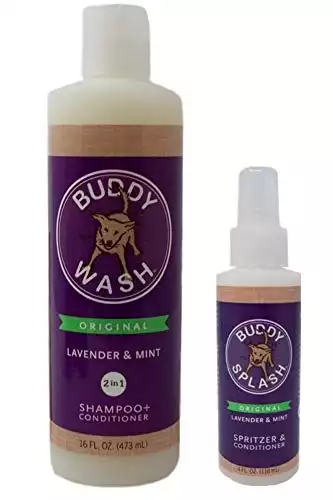 Speaking of good classic all rounders, Buddy Wash also functions as both shampoo and conditioner and brings with itself the lovely, fresh scent of mint and lavender.
The Ingredients
The coconut base is the main ingredient to give that oatmeal-esque feel when the concoction is lathered on, paired together with Aloe Vera in one of the most common but also the most efficient combos for a shampoo.
The Aloe in question provides great relief against hot spots and other forms of skin irritation while also helping prevent them in the future, not to mention the fact that it helps hydrate dry skin and helps the body retain its natural oils during a bath.
Aside from these two, we have the two other ingredients mentioned at the start of the review, mint and lavender which are key not just for the smell, but the soothing benefits that they provide as well.
There's sage, chamomile, rosemary and green tea as well as many other botanical extracts and essential oils that make for an incredibly beneficial combo for your Pomeranian as an extra method of relaxing, like getting a full treatment in a doggy spa.
The Benefits
The brand doesn't experiment with their products on animals either, making them a proper, cruelty free option for you to pick from.
They've also opted to exclude a good number of potential irritants like strong alcohols and various soaps that could abrade the skin and make it more prone to irritation.
And don't worry, a product this good is, shockingly enough, surprisingly cheap, so it's a great budget pickup if you need to save up for something special.
The one downside it does have mostly applies to allergy prone dogs as it does contain some wheat protein.
Though it should only cause mild allergic reactions, I still advise straying away from it if your doggo is prone to skin allergies caused by such a common allergen.
Isle of Dogs Tearless Puppy Shampoo
Key Benefits:
Incredibly unique scent of cotton and fresh orchid.

Doesn't contain sulfates, parabens, phthalates, or artificial dyes

One of the more affordable options on the market and made in the United States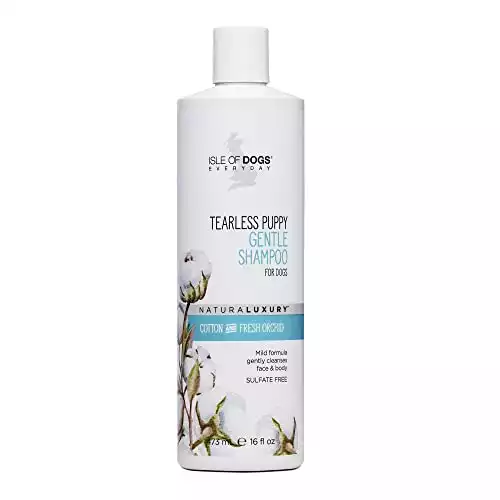 The Isle of Dogs shampoo is another particularly interesting option to be considered as a candidate for best shampoo for Pomeranians, but it certainly has some merits.
The Ingredients
The unique thing about it is the pretty uncommon fragrance of fresh orchids and cotton of all things, making it feel like your dog's fur is as soft and clean as a shirt that had tangled with fabric softener while smelling like heaven.
The Benefits
The whole product is relatively tear free and doesn't contain any artificial dyes, phthalates or sulfates, and it's paraben free to boot.
That said, it's still relatively strong and people buying it often recommend diluting it from one part shampoo to fifteen parts water.
But, even then, the shampoo is known to be somewhat irritating for some dogs.
So, if your doggo has particularly sensitive skin, it may be wise to skip this one. This also includes the nose too as the scent can sometimes be too powerful for your canine companion to deal with.
At least it is on the cheaper side of things and it is fully US made with products sourced locally, so it does have a lot going for it too. Not a lot as some of the others might have, but it's a semi-decent pick still.
Details
Gentle, tearless formula that can be used on any coat type
Ideal for a puppy's sensitive skin, won't irritate eyes or skin
Sulfate & paraben free
Signature cotton & fresh orchid scent
Made in the USA
Earthbath Shed Control Green Tea & Awapuhi Dog & Cat Shampoo
Key Benefits:
Both a soothing and an anti-shedding shampoo

Contains shea butter, green tea leaf extract, Aloe Vera, and ginseng to help Corgis relax

Omega-6 fatty acids and lack of soap help reduce skin irritation while keeping the coat shiny

No parabens, phosphates, or sulfates

Cruelty-free product

Fully biodegradable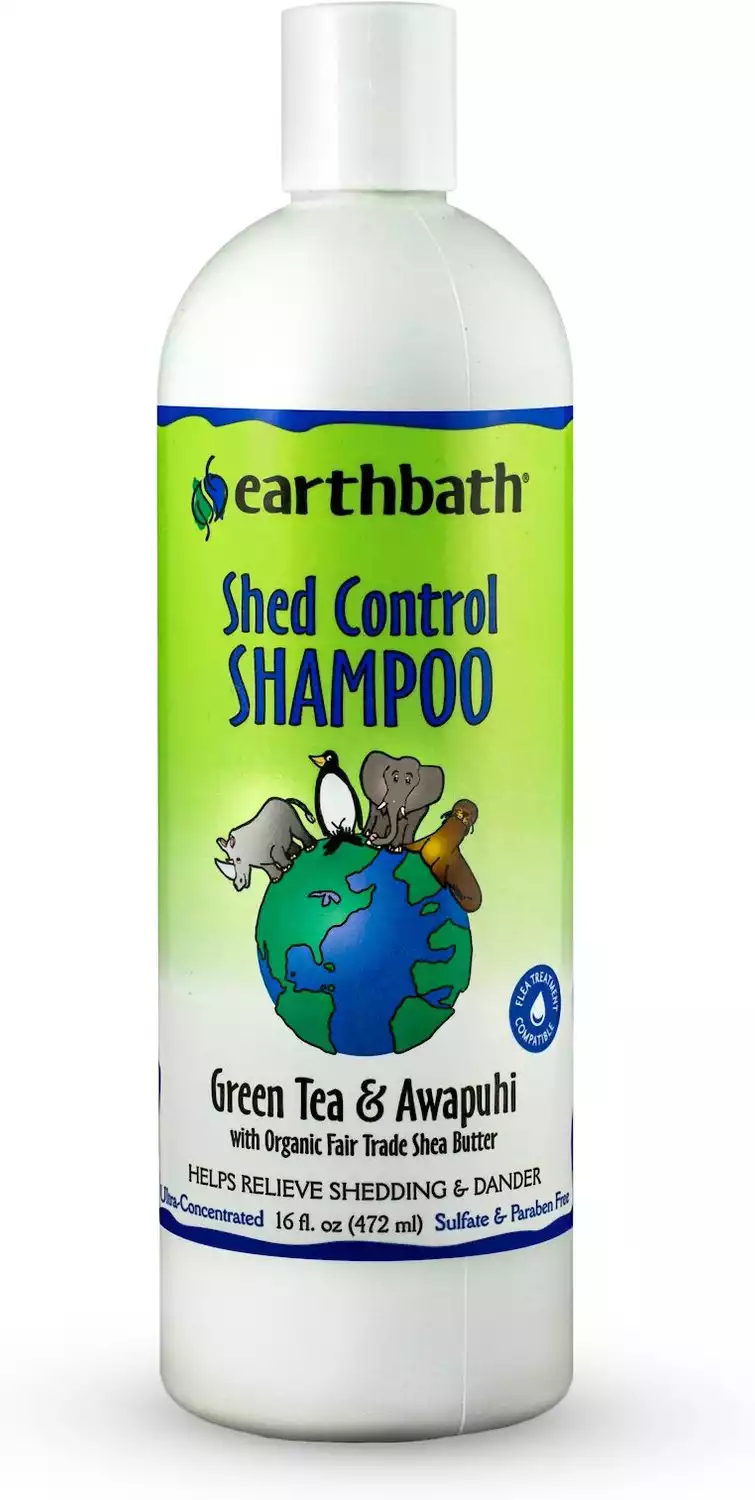 Earthbath has always been a trustworthy candidate in terms of shampoo options, and its green tea and awapuhi combo is one of the best quality shampoo options to treat a Pomeranian's coat well.
The Ingredients
It uses the aforementioned awapuhi and Aloe Vera as a base for revitalizing and hydrating dry skin and by making the Pom's coat stronger and shinier.
Other than those options, you'll find a lot of plant based essential oils with either green tea tree leaves or ginseng in the mix, as well as some shea butter, all aiding in enhancing the relaxing properties of the shampoo.
The Benefits
Naturally, the product is perfectly pH balanced for dogs so it wouldn't end up being a detriment to their skin after repeat uses, though it can be used for dogs and cats alike.
And, as an added bonus, the product itself is fully biodegradable and eco friendly.
It also contains no phosphates, parabens, sulfates, or any other potentially hazardous chemical to your dog's coat or skin.
The shampoo is relatively gentle too, capable of keeping any topical flea and tick treatments on the pooch without washing them away.
It's certainly one of the best products on the market using high quality ingredients, and yet somehow manages to give out a relatively average price in terms of affordability, making it more easily available to the general public.
That's probably why their bottles have remained somewhat plain which is the only blemish to an otherwise amazing product.
Zesty Paws Itch Soother Dog Shampoo
Key Benefits:
Aloe Vera and oatmeal as base ingredients

Contains vitamin E, which helps improve skin health

Scented with natural vanilla

A groomer favorite

Colorful bottle design

This last product comes from Chewy, an oatmeal shampoo that all groomers like using in particular as their favorite of the bunch, and, once again, for good reason.
The Ingredients
While the base is the standard oat and Aloe Vera one, the default setting for a decent shampoo at this rate as one needs a way to get rid of any potential skin irritation, there are a few other interesting additions too.
Namely, vitamin E is a big one as it's a key component in not just eyesight, but in hair follicle strength, allowing your Pomeranian puppy's double coat to remain strong and sturdy as well as beautiful.
The Benefits
Aside from that, there's also a very pleasant, and subtle, vanilla scent that'll have your dog smelling absolutely divine.
The shampoo also holds decent antifungal and antibacterial properties aside from making the coat shiny, and it works on more than just Pomeranians.
This universal application, when paired together with the conditioner from the same brand is the reason why groomers nationwide consider this to be one of the best shampoo options out there.
Though with great power come great prices, and the Zesty paws option is definitely up there in terms of price, so do be wary of whether or not this can fit your budget before you buy.
Things To Note Before You Buy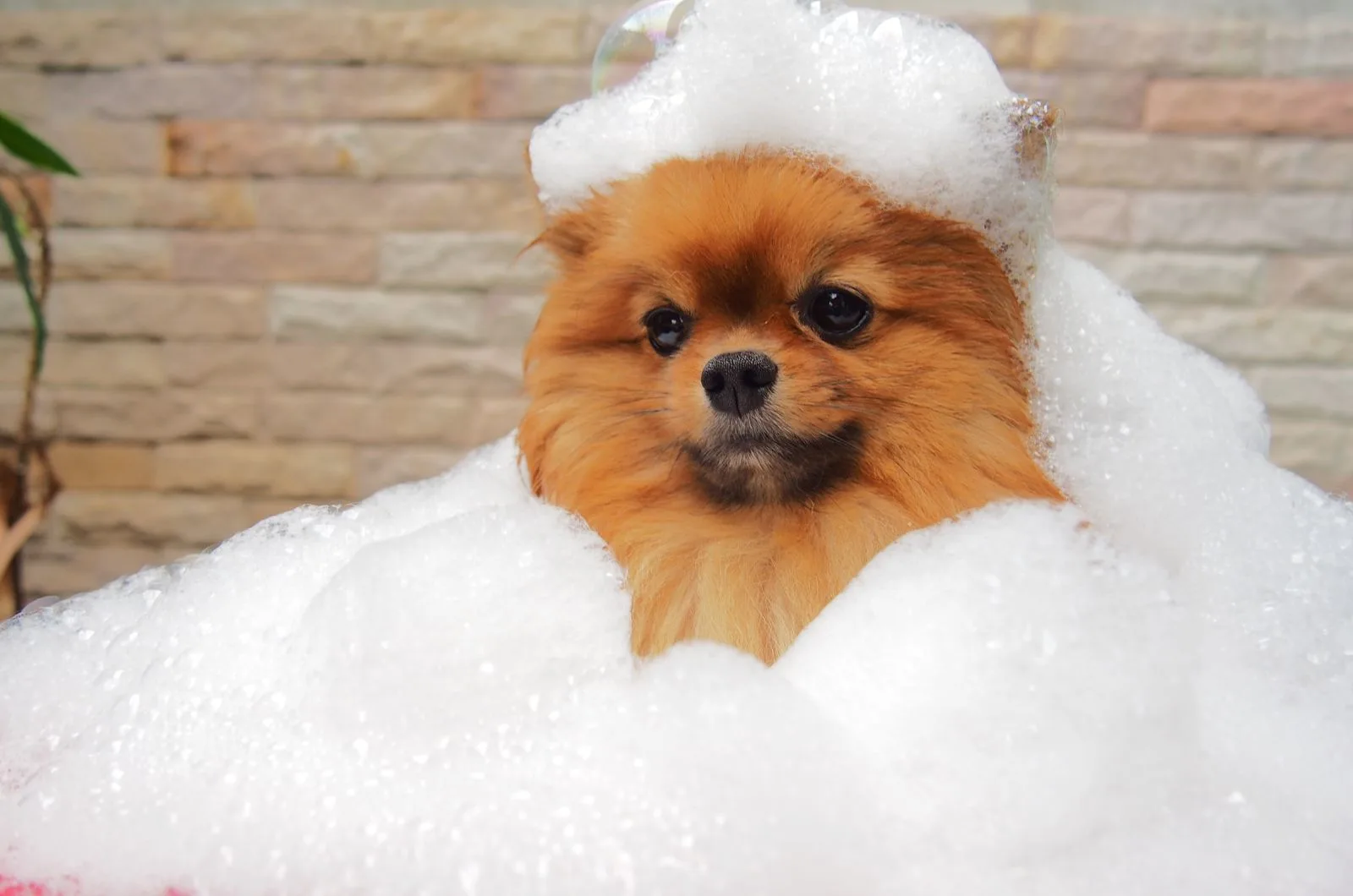 As it is with every case, I'm sure that some of you haven't found any of these fit your ideal idea of a proper shampoo for dogs, particularly Pomeranians in this case.
Or, you may just still be indecisive about which one to pick, which is why I'm here to help give you a few pointers on what traits to look out for in shampoos in particular to get the best out of it.
Here are some of the more important aspects that determine the best shampoo for Pomeranians:
All-Natural Ingredients
There's no doubt that all natural is usually the way to go as it's normally less harmful to the dog and has less chances of irritating his skin with the lack of hazardous chemicals.
They're normally milder than their artificial counterparts too so less tweaking is needed even if they were, that's why every good shampoo strives to have as high a percentage of them as possible so dogs can retain a healthy coat with as little fuss as possible.
Keep in mind that not a lot of them do have a 100% all natural ingredient list, but that's only natural, for lack of a better term.
It's hard to achieve a decent product if you're just flinging stuff into the formula to see what sticks and some companies may not have discovered the secret to the 100% just yet, so you may see labels that range from 98% to 90%.
That's still a pretty decent amount and one that will undoubtedly keep rising as the company learns how to improve on the formula to keep up with the competition.
For instance, things like Aloe Vera, coconut or oatmeal are always found in these shampoos as not only are they considered all natural, but they also help prevent dryness and itchy skin in dogs by helping to cleanse it and hydrate it back.
Skin And Fur-care Properties
In the same vein, you want a shampoo that actually cares for the dog's fur and skin as those are his main visual appeal and protection.
Other than the ingredients mentioned above, vitamin E is usually considered to be a pretty good choice for coat health, and honey can be a good alternative to Aloe Vera if you find a product like that buzzing around.
Omega 3 and 6 fatty acids fall under that category too, albeit these ones won't be found in kibble but would be lathered directly on the dog and would help with improving skin and fur health.
Look for products that help deal with dandruff as well if your dog has any issues regarding that, or Pomeranian shampoos that help get rid of tangles in his luxurious mane.
Soothing Properties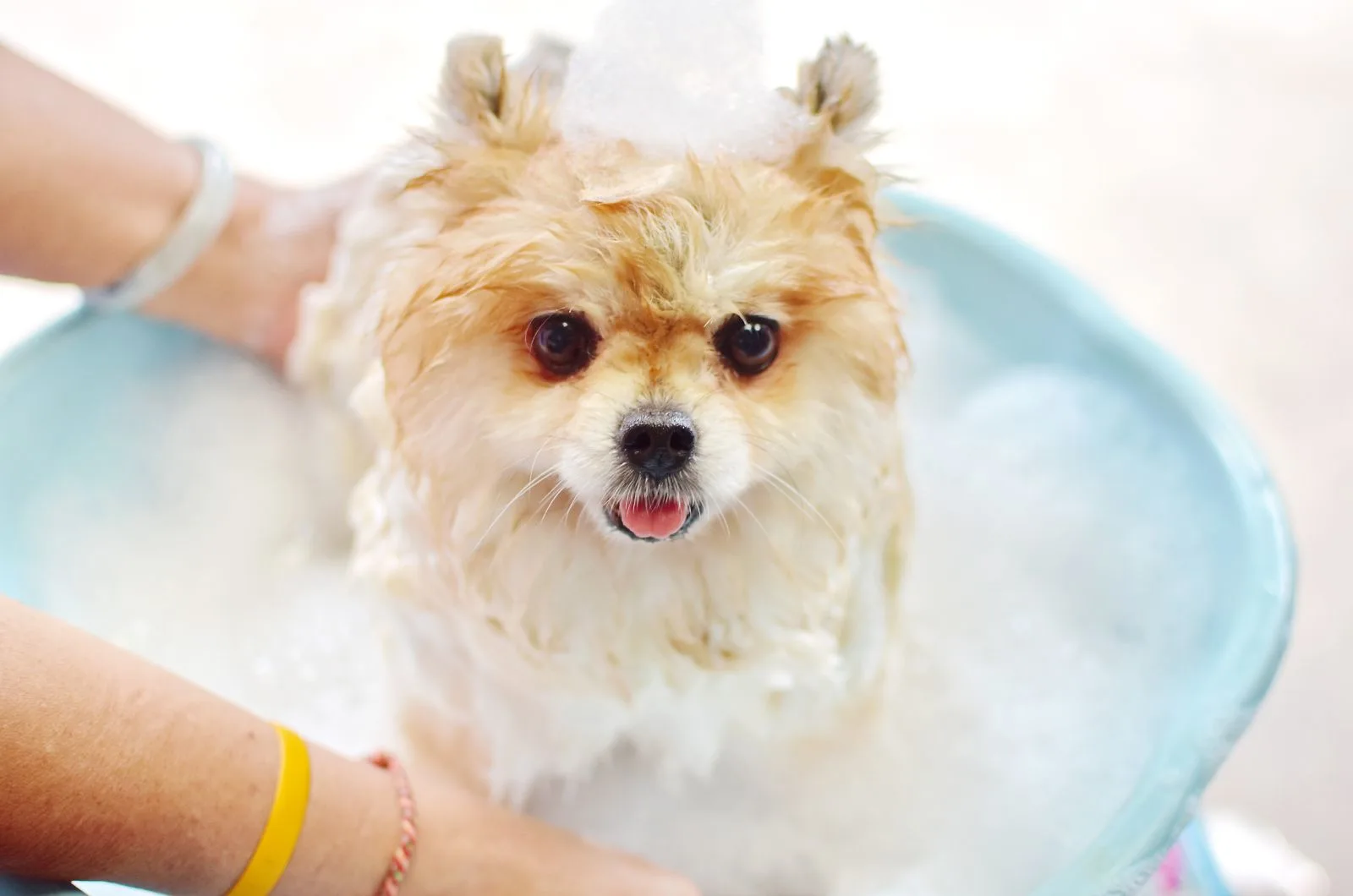 The real key part in regards to doggo bath time is how calm you can keep him during it.
Turns out dogs only love swimming when it's done of their own volition, but when water is 'forced' on them from a hose or a showerhead, they go absolutely crazy.
This can be a real issue for any sort of bath as it risks leaving a bigger mess than you started off with, except this time it's on every participant and the area itself.
That's why Aloe and plenty of other natural ingredients are often found on the ingredients list as they help calm your dog down.
So, all you Pomeranian owners make sure to be on the lookout for any botanical extracts or essential oils that do just that and you should be fine.
Hypoallergenic
If you have a dog that has any sort of skin allergy, or otherwise, it may be wise to invest in a hypoallergenic shampoo.
While this goes without saying, I figured it needed mentioning as even mild allergic reactions on a dog's skin can be particularly irritating for them and we only want what's best for our furry little friends.
That said, a lot of the shampoos branded as hypoallergenic tend to be medicated ones when particular issues get out of control already, but there are a few of them that are labeled as such that are for general use.
Soap-Free
Gentleness doesn't just come from the all natural stuff and the lack of the artificial, but there also needs to be a lack of the other potential abrasives.
Soap is one such thing, better suited to be in human shampoo rather than an animal's as it often irritates the eyes and doesn't tend to be pH balanced properly in some cases.
It won't hurt your dog too much, but may make him upset which can counteract the calming properties mentioned earlier
Deshedding Properties
Pomeranians are notorious shedders, so getting a deshedding shampoo certainly won't be to your detriment.
Their double coats can be a mess as both their undercoat and topcoat tend to shed a lot, but getting them a deshedding shampoo can slow the process down at least a little so your home isn't littered with dog hair.
FAQs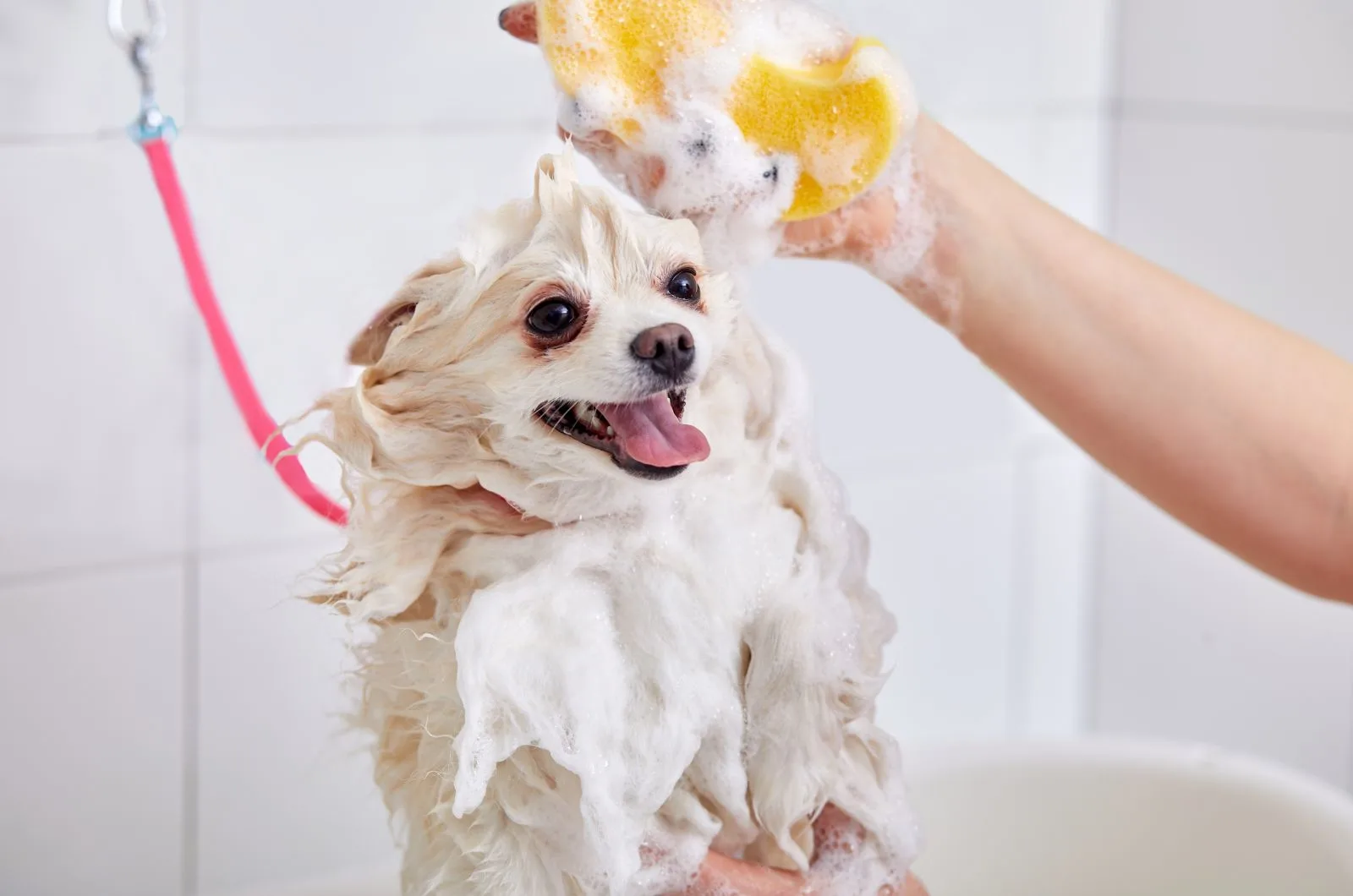 How To Properly Bathe A Pomeranian?
Now that the shampoo dilemma has hopefully been sorted out, it's time to learn about the best currently known way to bathe a Pomeranian and any other small dog for that matter.

Here are the needed steps:

1. Brush Your Dog Down Before A Bath
The initial brushing's intent isn't to make your dog look pretty, but rather to minimize the amount of hair that'll be falling off during a bath to reduce the risk of it clogging up.
Plus, getting rid of any of the excess maxes detangling it after the fact is a lot easier.
2. Choose A Proper Place To Bathe Him In
For small dogs, it's best to take a more confined space as it makes it easier to bathe him in. Usually a bathtub works, but a raised kitchen sink is the best option as it means you don't have to bend over as much, keeping your own back in a healthier shape.
3. Provide As Much Warmth As You Can
Chilly weather and small dogs don't mix, or any dogs for that matter, so if you're bathing him in a cold space or somewhere mid winter, it's good to have the area heated properly to make him as cozy as can be.
It'll help calm his nerves and, in turn, make it less likely for him to bolt out of the tub or kitchen sink, depending on where you're bathing him.
The water itself should be lukewarm to warm and the towel should be nice and warm too for the best bathing experience.
4. Make a proper gripping surface
If you're bathing your dog inside, which, with smaller dogs, is more likely, provide your dog with something to sink his paws into as porcelain isn't the best of surfaces and might make them nervous if they start slipping around.
All you really need here is a towel placed underneath and it should be enough, nothing too special.
Of course, anyone bathing their doggo outside can freely skip this step.
5. Prevent hair from clogging the drain
I've mentioned the possibility of clogged drains earlier which is very likely with a heavy shedder like the Pom.
It won't really improve your dog's bathing experience, but it will save you from having to unclog a massive hairball from the drain.
The standard plug won't work as the water needs to drain off somehow, but some steel wool does as it will still act as a blocker for the hair to get stuck onto while water passes freely by.
6. Use Gentle Shampoos
Though this was already mentioned in the 'things to note before you buy' section, it's worth reiterating that dogs do have sensitive skin and that gentler shampoos are often better and are less likely to make him upset.
Getting a shampoo that helps hydrate the Pom's skin while protecting the natural oils found on it and the dog's coat is the best thing that one can do for their canine companion.
7. Brush After The Bath Too
After the bath, it's time for a final grooming session as we don't want to leave in any excess fur that may have come loose during the bath.
And it makes it a lot easier to brush it out after the bath because the fur becomes somewhat after and said loose fur detangles a little.
Dry your doggo out first before brushing him as that'll make the process a lot easier.
One trick that's commonly used in forming less tangles during the actual bath is dabbing the shampoo on the dog instead of the usual rubbing method.
This makes the fur move around less in the overall shower and is less likely to tangle the fur up in the first place.
So, What Is The Best Shampoo For Pomeranian Dogs?
Well, whenever this question comes up, know that I'm biased toward the 4Legger as that's what I use for my dogs seeing as it has everything they need and it's affordable for my budget.

However, I do recommend Earthbath as an alternative as it does cover a lot of bases that the Pom requires and is still relatively affordable.
How Often Should A Pomeranian Be Bathed?
Poms should be bathed every 3 weeks or so as doing it more often would strip his skin of his natural oils, risk potential skin issues and damage his fur.

In Conclusion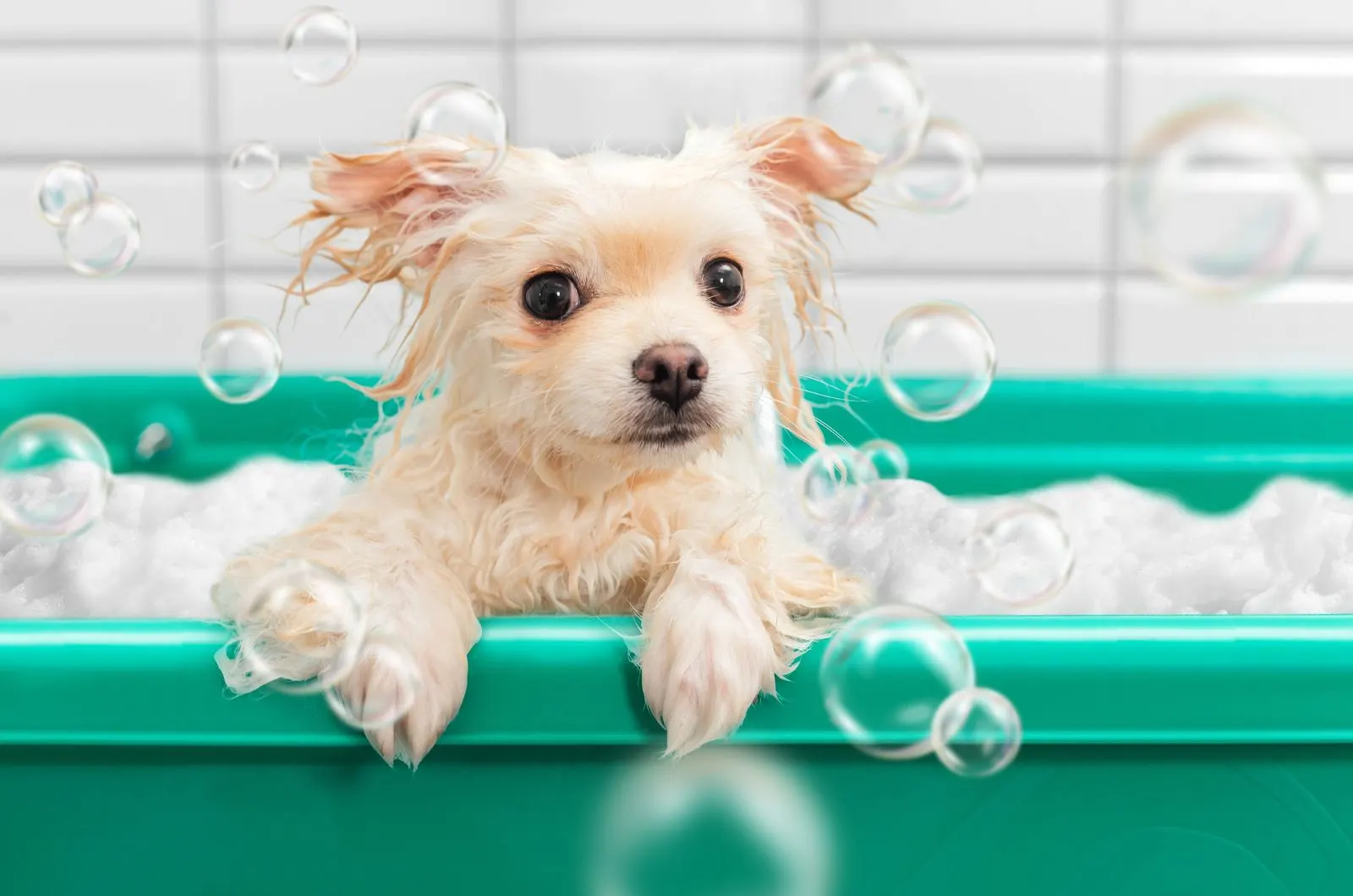 The best shampoo for Pomeranian dogs needs to be able to provide support for their incredibly fluffy double coat and needs to be gentle enough to not cause him any potential skin irritation or infection.
It also needs to be made from all natural ingredients, or as close to that as one can get while still being affordable enough so it doesn't cause such a big dent in your budget.
There are plenty of options out there, more than I've counted here, but rarely will you find any better product out there for your Pomeranian.
That said, everyone's tastes are different, and this includes dog preferences as well, so what works for your dog may not work for others and vice versa.
I've given you everything I can that I believe will help you choose the best option for your canine companion and I trust that you'll do exactly that. Until next time, pet parents.
RELATED LINKS: