This post contains affiliate links, and I will be compensated if you make a purchase after clicking on my links.
As dog owners, we know that with the unbridled joy of owning a dog comes a bundle of pain. Apart from the usual problems such as housetraining, potty training, teaching your pup to walk on a leash, and not to lick your hand all the time, there are a few others that are much more concerning.
For instance, you probably already know that it can be very difficult to keep your pooch from happily running off from your back yard. If your furry friend is prone to overstepping its boundaries, especially if the boundaries of your property are rigidly defined, you may need some assistance with ensuring your pup's safety.
So, unless you want to spend your days constantly monitoring your furry bestie, what can you do to ensure that it won't leave your yard?
Fortunately, there are a range of different solutions at your disposal if you want to contain your canine companion in the garden, and that is what this article is going to focus on.
We will go over both in-ground and above-ground fences, so you can choose the one that suits your pooch the most. We will dive deep into each product and discuss their pros and cons, and we will also include a buying guide so you can choose the best electric dog fence for your pet!
The best electric dog fence: ratings
Best in-ground electric dog fence
SportDOG In-Ground Dog Fence
Key Benefits:
The in-ground fence system is specifically designed to keep your dog safe and contained

It includes 100 flags and 1,000 feet of wire to contain an area as large as 1 1/3 acres

It comes with seven levels of static stimulation

It corrects with both vibration and tone

The waterproof collar contains a Li-Ion battery that has a battery life of up to two months, and it charges in just two hours

The fence transmitter comes with a built-in wire break alarm, along with lightning protection for extra safety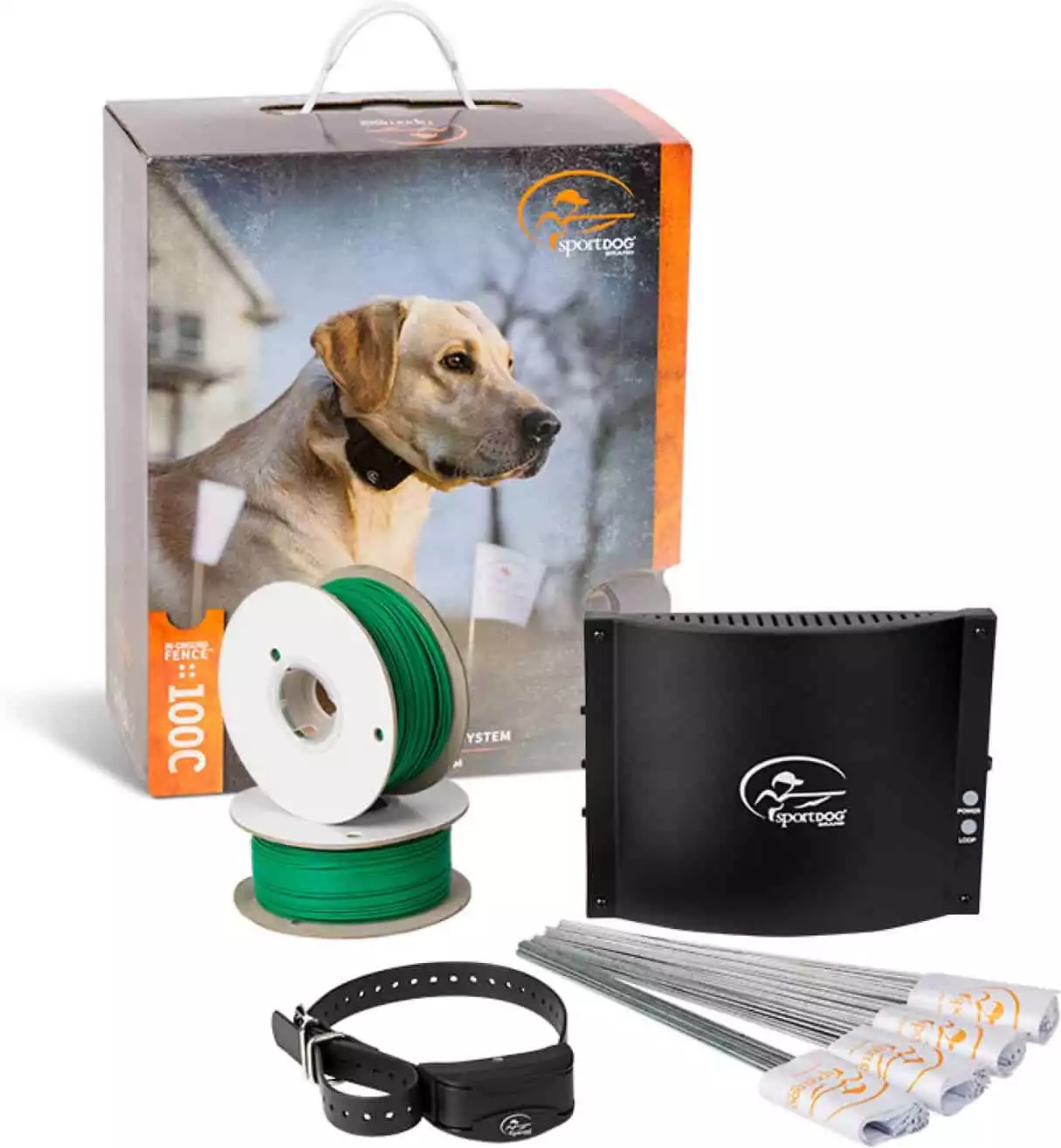 This collar is perfect for households with several pups as you can save money by buying extra collars that work with one transmitter. This dog fence collar from SportDOG comes with a rechargeable battery that is capable of delivering up to two months of runtime. Furthermore, the collar is completely waterproof, so you don't have to worry about your dog's safety regardless of the weather.
With this product, you have the option of training your canine companions by using multiple levels of static correction. If you are not a fan of shocking your little furball, you can use ultrasonic sound or vibration instead.
With the requisite training flags thrown in, along with a whopping 1000 feet of wire, you will have everything you need to get started from the moment you open the box.
With that said, you should know that as with all containment fences, one should go into the purchase with their eyes wide open. Keep in mind that you will need to set aside some time for installation.
On top of this, you need to take into account the training period during which you will be showing your pooch the new boundaries. If you do this successfully, you can rest assured that your pup can safely roam your back yard without running off down the road with the first chance it gets.
Pros:
Cons:
• Great for one or many dogs
• Offers multiple levels of correction, from beeps and vibration to static shocks
• Comes with lightning surge protection

• A rather intensive training period is required
Extreme Dog Fence Kit
Key Benefits:
Covers 1/3 acre of area (can be extended up to 6 acres)

Features a small, lightweight, and fully waterproof collar

Uses heavy-duty twenty gauge, high tensile boundary wire

Comes with an advanced transmitter that monitors wire temperature and automatically adjusts it

The collar can be submerged up to ten feet, and it is designed for dogs as light as eight pounds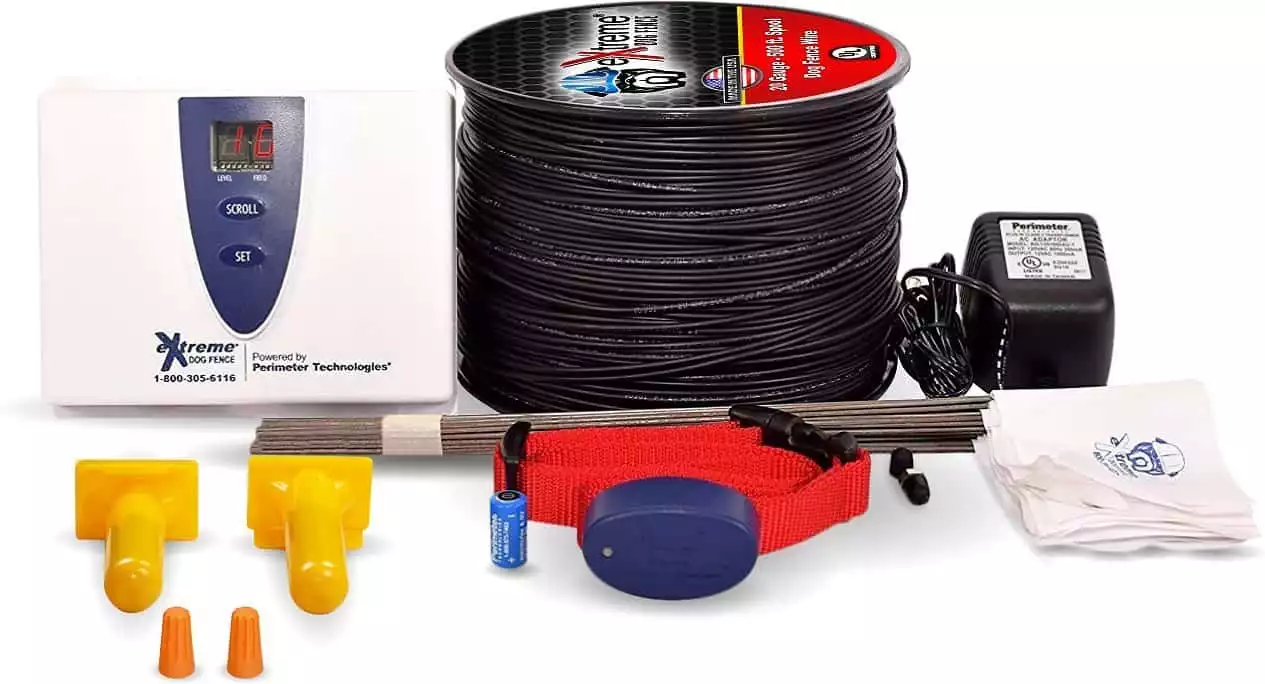 The runner-up is a solid in-ground model from Extreme Dog Food. But, is it worth the money?
Well, for starters, with the Extreme Dog Fence Standard Grade Electronic Dog Fence System, you get an enormous potential coverage of up to six acres, making it a great choice for huge gardens. Furthermore, the multiple system technology gives you the ability to safely contain up to five pets.
This is the second generation of this product, and it features overhauled electronics and an enhanced, lightweight collar. But, even though it is lightweight, the collar is deceptively rugged. It is also waterproof and completely submersible up to ten feet, meaning that your furry bestie can wander around your yard in any type of weather without compromising the containment system.
The dog fence system installed in this kit checks the battery level every couple of hours, so you don't have to worry about getting caught short. One thing to keep in mind is that you will need to use proprietary batteries to keep the system going. So, you should factor the battery cost into the budget.
The whole kit comes with a 1-year warranty as a standard option. However, once you register the fence, the warranty is extended to five years, giving you complete peace of mind. Fences are made in the United States, and with American-based customer support, rest assured you will be amply supported every step of the way.
Pros:
Cons:
• A number of bundles available to suit your circumstances
• Offers a six-acre coverage, ideal for farms or sprawling gardens
• Fully waterproof and submersible
• Everything you need to get started is included in the kit
• A major downside is that proprietary batteries don't last as long as they are claimed,
which will lead to a greater overall cost
PetSafe In-Ground Dog Fence
Key Benefits:
Features a waterproof, battery-powered transmitter

Increases the play area for your canine companions

Adjustable levels of static stimulation

Covers 1/3 acre of area; expandable up to 1.3 acres with additional wire and boundary flags

Comes with a rechargeable and waterproof collar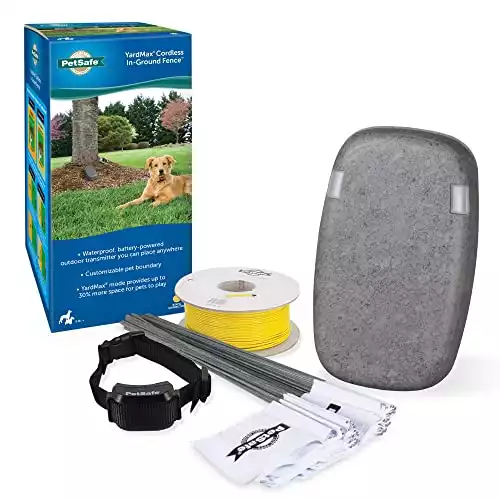 The PetSafe company has been around for decades, and you can benefit from their brand heritage as well as US-based customer service that is ready to help in case anything goes wrong.
The PetSafe YardMax Battery-Operated In-Ground Dog Fence is somewhat tricky to set up, and it is not the easiest fence to use on our list. So, if you are a first-time owner, or if you have no previous experience in setting up a dog containment system, this product might be a challenge.
With that said, this YardMax version is designed to provide your pup with even more space to goof around. There is enough wire included in the kit to secure an area up to 1/3 acre. If by any chance you need more than that, you can grab an additional 1/4 acre of coverage by
investing in more underground wire and training flags, which are sold separately.
Also available separately are the barriers that you can connect to the system to create physical off-limit zones for your pup. Static-free reentry is just the cherry on top as your smaller dog won't be given a jolt when it returns to the safety of its home. Invest in some extra equipment and you will be able to contain any number of pets with a single transmitter – what's not to love?
Pros:
Cons:
• US-based customer service is helpful and responsive
• Highly adjustable setup
• The waterproof transmitter can be installed both indoors and outdoors

• Not the best choice for first-time pet owners
Covono Pet Containment System
Key Benefits:
Covers up to 3/4 acre of area

Supports multiple dog collar receivers

The system allows you to control the width of the boundary

Comes with a lifetime warranty

The collar is waterproof, rechargeable, and suitable for all dog breeds that weigh between 10 and 120 pounds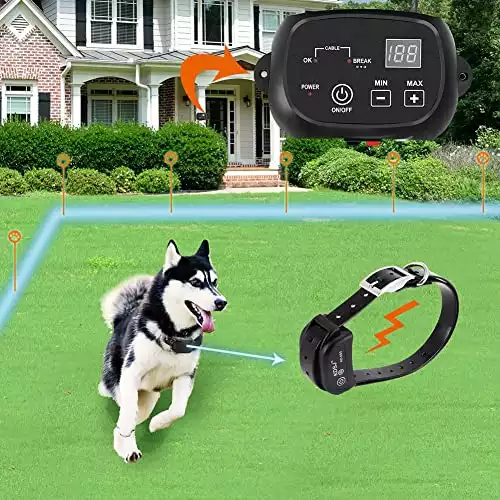 The Covono Electric Dog Fence Pet Containment System is one of the cheapest electric dog fences you can come across. But, is it any good?
In all honesty, yes! Firstly, just like with most other top-quality e-fences, you will be able to contain multiple dogs by purchasing extra collars. However, being a budget option, this system supports only two dogs, and if you want a single-dog system, you can get it at a discount.
The coverage of 3/4 of an acre is ideal for most medium-sized yards. Also, you can tweak the radio signal to adjust the boundaries. The coverage and the adjustability of the signal width give you a very versatile method of keeping your pup safe and sound.
A thing to note is that while the receiver collar is waterproof and rated IP66, the transmitter, unfortunately, is not, so make sure you set it up in a place where it won't get wet.
When it comes to correction, you can switch between sound-only mode and static shock. The electric shocks delivered from the fence are similar to what humans feel after walking on a fuzzy carpet and then touching a metal object. Even though they are quite harmless, the shocks are more than enough to correct your dog's behavior and prevent it from running off.
With that said, if you feel that the static shocks are a bit too strong for your liking, you can switch to the sound-only mode, which will send out a warning tone every time the boundary is breached.
You should devote some time to training your furry friend to adhere to the new boundaries you've set. This might take two or three weeks depending on your pooch and your patience, but make sure you incorporate plenty of positive reinforcement into your training sessions!
Pros:
Cons:
• Thick, but flexible boundary wires
• Features a speed detection function
• Supports up to two canines
• Can be awkward to contact the manufacturer
Best in-ground electric dog fence for large areas
Dogtra E-Fence 3500
Key Benefits:
Covers up to forty acres, so your dog is safely contained on your property

Comes with an advanced filtering system

Includes a vibration-only mode option

Offers static stimulation mode in case your dog needs a stronger reminder to stay within the boundaries

The waterproof collar is secure and safe even if it rains or snows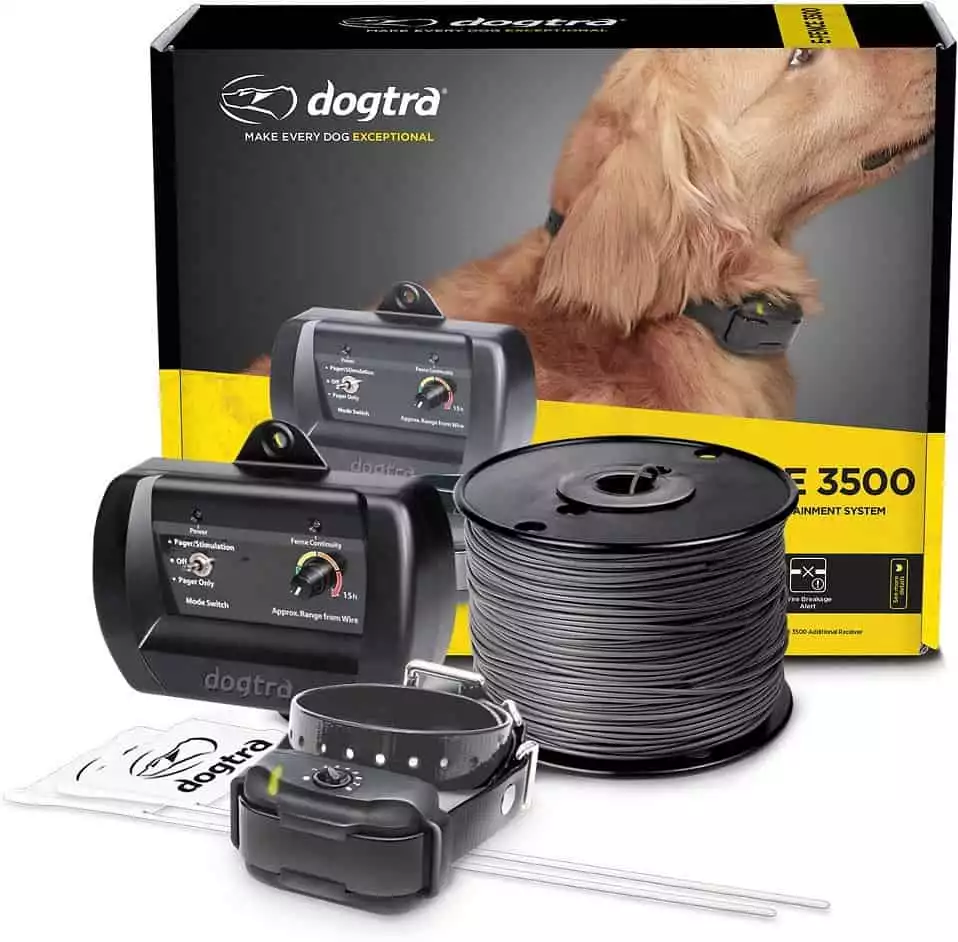 Capable of securing even the largest of yards, the Dogtra EF 3500 Electronic Dog Fence System is ideal for the job. By giving you an incredible forty-acre range, you will be able to keep your furry buddy in check even on a large rural property, farm, or orchard.
But, it is not only the vast range of coverage that makes this e-fence special. The system allows you a great degree of adjustability as you can tweak the width of the signal field to your liking.
You can also switch between vibration only and static stimulation modes depending on how stubborn or obedient your pooch is. Also, there is a boundary wire continuity light installed to let you know if the wire is broken in any place. The system will alert you with a beep and a flashing light in case the wire is damaged.
The company behind this amazing dog fence has been in business for over three decades, delivering dog owners high-quality containment systems. You can let your furry friend freely roam around the garden while you relax without worrying about him breaching the confinement and unleashing havoc on unsuspecting neighbors.
This dog fence system is the ideal fit for mild-tempered pups with its vibration-only mode. It is also a great option for more stubborn canines that may need to be corrected with a more vigorous static stimulation. The advantage of the dual-mode fence system is that you can step the correction up or down depending on the situation.
The receiver is waterproof, and the system can be expanded to accommodate multiple dogs by adding separate collars. Overall, we think this is one of the best electric fences that you will come across for large areas, and it comes from one of the well-known and loved brands in the industry.
Pros:
Cons:
• Vibration-only mode is ideal for mild-tempered dogs
• Static stimulation is available for more stubborn canines
• The signal field width is adjustable
• The battery drains quickly and needs frequent charging
Pet Control HQ
Key Benefits:
Custom perimeter fence wire for any yard

Dual-zone pet containment system

Features a rapid recharging battery station

Comes with a safe and effective collar that fits all breeds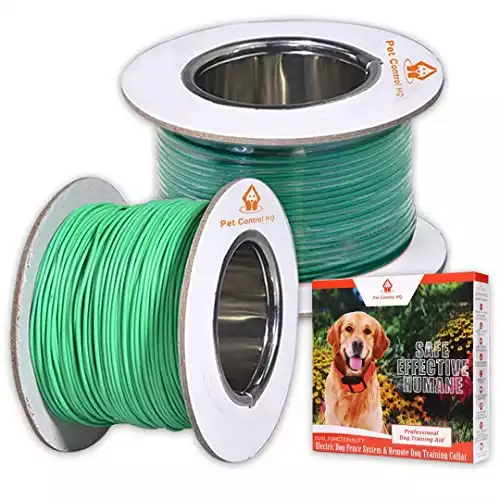 If you are looking for a bit more capability from your dog fence system, or if you just need some aid in training, the Pet Control HQ Wireless Pet Containment System is probably the best product for you. This Pet Control system provides the benefit of an invisible dog fence with the convenience of a training remote.
The kit comes in a bundle, including a wall-mounted transmitter, a collar receiver (or two depending on the kit you choose), a rechargeable remote control, and 492 feet of wire.
The system can set boundaries around your yard, while also blocking off areas, such as swimming pools or garden beds. With the remote control, you will be able to deter any unwanted behavior, such as jumping and barking. Furthermore, you can use the same remote on three separate collars (need to be bought separately).
The main advantage of this containment system is that you are not limited to the default area coverage. In fact, it allows you to add enough wire to cover ten acres if you need it.
Pros:
Cons:
• Safe for both in-ground and above-ground installation
Features ten static levels
• Comes with a training remote
• Includes rechargeable batteries
• Needs frequent charging
Best wireless dog electric fence
PetSafe Invisible Fence
Key Benefits:
Features 1/2 acre of circular coverage

The wireless technology allows you to create a barrier without the hassle of burying wires

Allows your pet to return to the yard without being corrected

Easy set up

Comes with a waterproof collar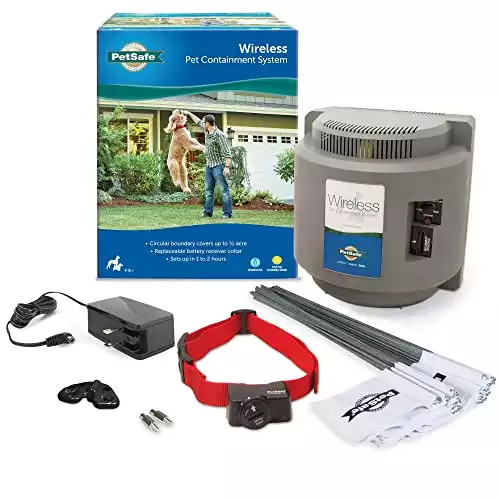 PetSafe is one of the first brands to introduce invisible fence technology, and they outdo themselves with each generation of the product.
With enough coverage for a 1/2 acre of space, the PetSafe Wireless Fence Pet Containment System should be enough if you have a larger back yard and several pets running around.
All you need to do to keep multiple pets safe is add more collars to the wireless system. You can always buy the additional collars separately in case your household gets a new furry member.
The collars are waterproof, so you have nothing to worry about even during the heaviest of rains. They are fueled by a rechargeable battery that will provide at least a month of runtime before it needs recharging.
The collars that come with this containment system are also very versatile, and they fit dogs from eight pounds and up, with neck sizes between six and twenty-eight inches.
Most regular in-ground fences will correct your pooch with sound, vibration, or even static shock whether your dog is running out of the yard or back in. With this wireless model, there are no such issues. This PetSafe invisible fence ensures that your pup is zapped only when it runs out of the yard.
You won't need to fiddle around with a complicated setup either. Everything you need to start training your pup is included in the set.
However, as with all other containment systems, you will need to invest some time into training your dog. This will help him stay within the boundaries for fear of correction.
Pros:
Cons:
• Easy to set up, and has everything you need to get going right out of the box
• Ideal for larger gardens with up to 1/2 acre of coverage
• No need to bury any wires
• Your pets can return to the yard static-free

• Some issues with problems developing over time have been reported by users
Best wireless dog fence for large areas
PetSafe Stay & Play Battery Collar
Key Benefits:
The transmitter can be plugged in any standard outlet, and it has a ¾ acre of circular coverage

Features five adjustable levels of static stimulation, and a tone-only option

The kit includes fifty training flags to teach your pup where the boundaries are

It has the ability to add as many extra dog collars as needed, making it perfect for multiple-pet households

Comfortable and waterproof collar fits dogs five pounds and up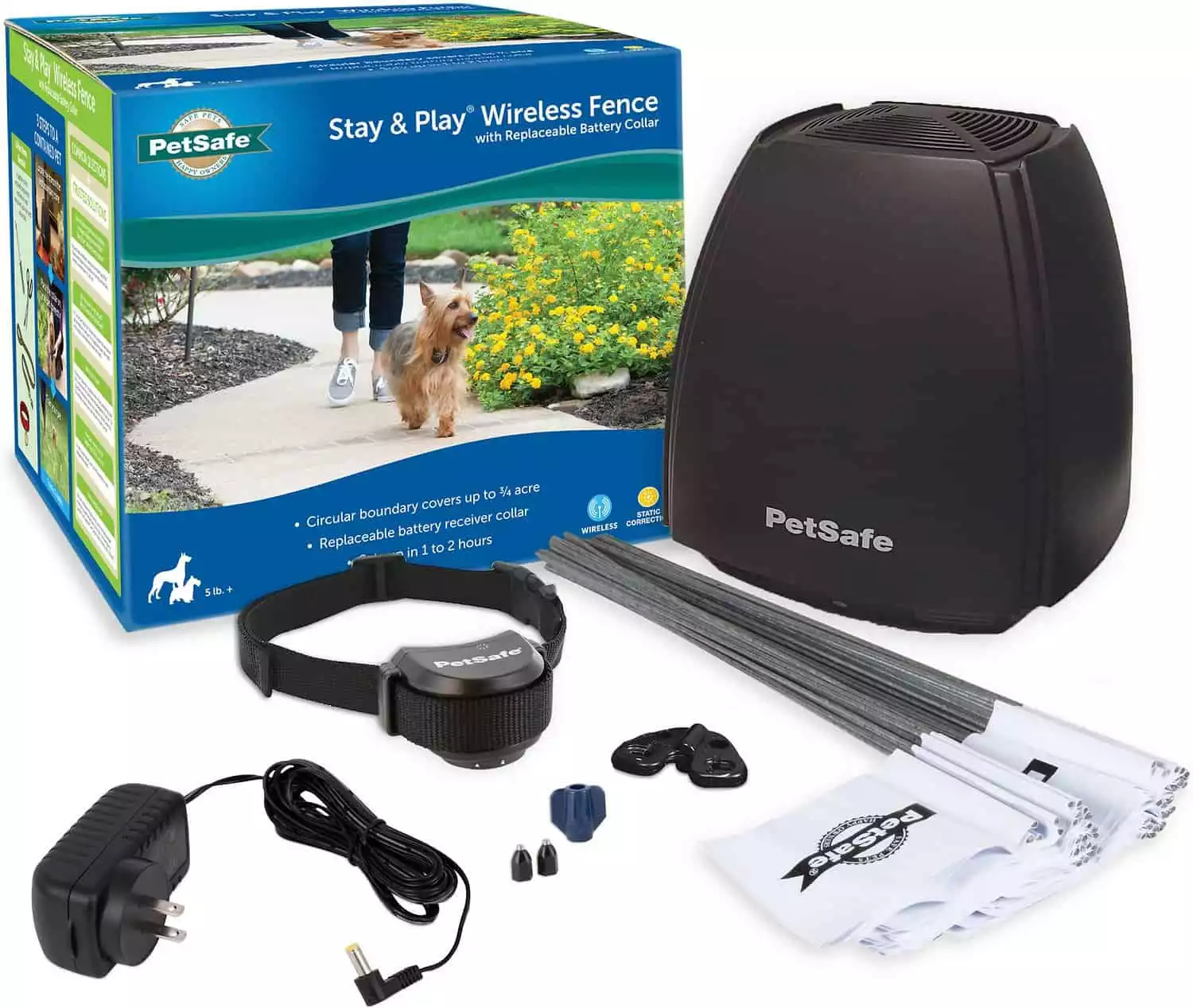 For homes with multiple dogs running around, the PetSafe Stay & Play Wireless Fence with Replaceable Collar Battery is an absolute blessing. But, why is this the best wireless dog fence, you might ask?
Well, firstly, you will be able to choose between correcting your pooch by using electric shock or ultrasonic beeps that are inaudible to the human ear. This will give you the option to first test the completely humane strategy, and if that fails, you can switch to the more robust correction.
Secondly, the rechargeable battery in this wireless dog fence system gives up to two months of usage, giving you a worry-free experience every step of the way. Also, this fence from PetSafe can easily slip into the RV or you can easily set it up while camping to give your pets a taste of the outdoors without worrying about them roaming too far.
A word of advice is not to fall for the marketing hype that follows this product. Although the manufacturer claims that the system works great with cats, the collar is too bulky and heavy for felines to wear, and we would not advise it.
Pros:
Cons:
• Gives you the choice of tone-only or static shock correction
• The system can handle multiple collars to contain multiple dogs
• The battery lasts for two months on a single charge
• The portable nature of the product makes it great for traveling
• Doesn't work well on cats despite what the manufacturer claims
Best above-ground electric dog fence
PetSafe Stay & Play Compact Wireless Pet Fence for Dogs & Cats
Key Benefits:
Features a 3/4 acre circular coverage

Fully wireless, no need to dig up your yard to set up wires for it to function

Collar fits any dogs that weight 5 or more pounds with a neck size between 6 to 28 inches

Easy to install with detailed instructions for setup and maintenance

The system features a waterproof, rechargeable collar that fits dogs of five pounds and up

The collar has five levels of static correction

Easy to set up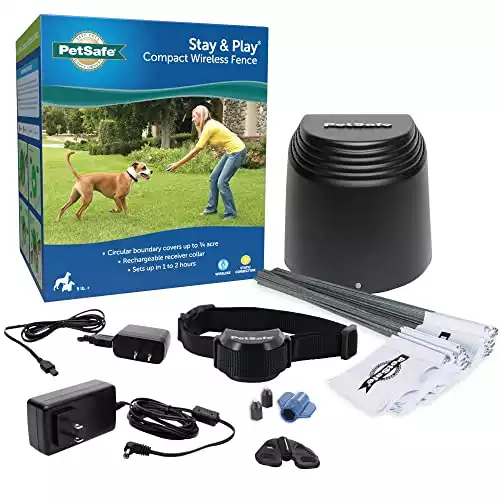 If you have a larger back yard or garden and a number of pooches that need to be contained, then the PetSafe Stay & Play Compact Wireless Fence for Dogs might be the perfect product for you! It is a cheap and effective above-ground solution for curious pups.
Due to the super-portable system and set-up, this dog fence is excellent both in your back yard or on a camping trip. The wireless technology makes installation a breeze, and it doesn't send you digging up the garden to bury wires.
It is recommended to allow approximately two hours for the system to adjust and then you can start training your canine companions at once. Your doggy can be corrected through multiple progressive levels of shock.
However, if shocking your pooch isn't exactly your cup of tea, you can disengage the shock correction and take a little less direct approach.
There are ultrasonic beeps you can use to dissuade your dog from wandering outside your yard.
Most in-ground and some above-ground fences tend to zap your pup even on its way home. But, with this PetSafe dog fence, your pup can safely return to the area without being shocked, so he won't be reluctant to head back if he manages to wander off.
The only minor disadvantage of this pet product is an annoying sound that emits at the highest non-shock setting. But, with all things considered, with this dog fence, you will get amazing performance with unrivaled value.
Pros:
Cons:
• Portable and compact solution
• No need to dig and bury wires
• Multiple levels of progressive static correction, and a tone-only mode for a more humane approach
• Rechargeable and waterproof collar
• An annoying buzzing sound can be heard on the highest tone setting
Best underground electric dog fence
PetSafe YardMax Pet Fence System
Key Benefits:
Up to 30% more space for your pets to play

Exclusive PerfectFit and ReadyTest technologies ensure that the receiver collar is always ready and working

Designed for dogs of five pounds and up

Features five adjustable levels of static correction

Includes a waterproof receiver collar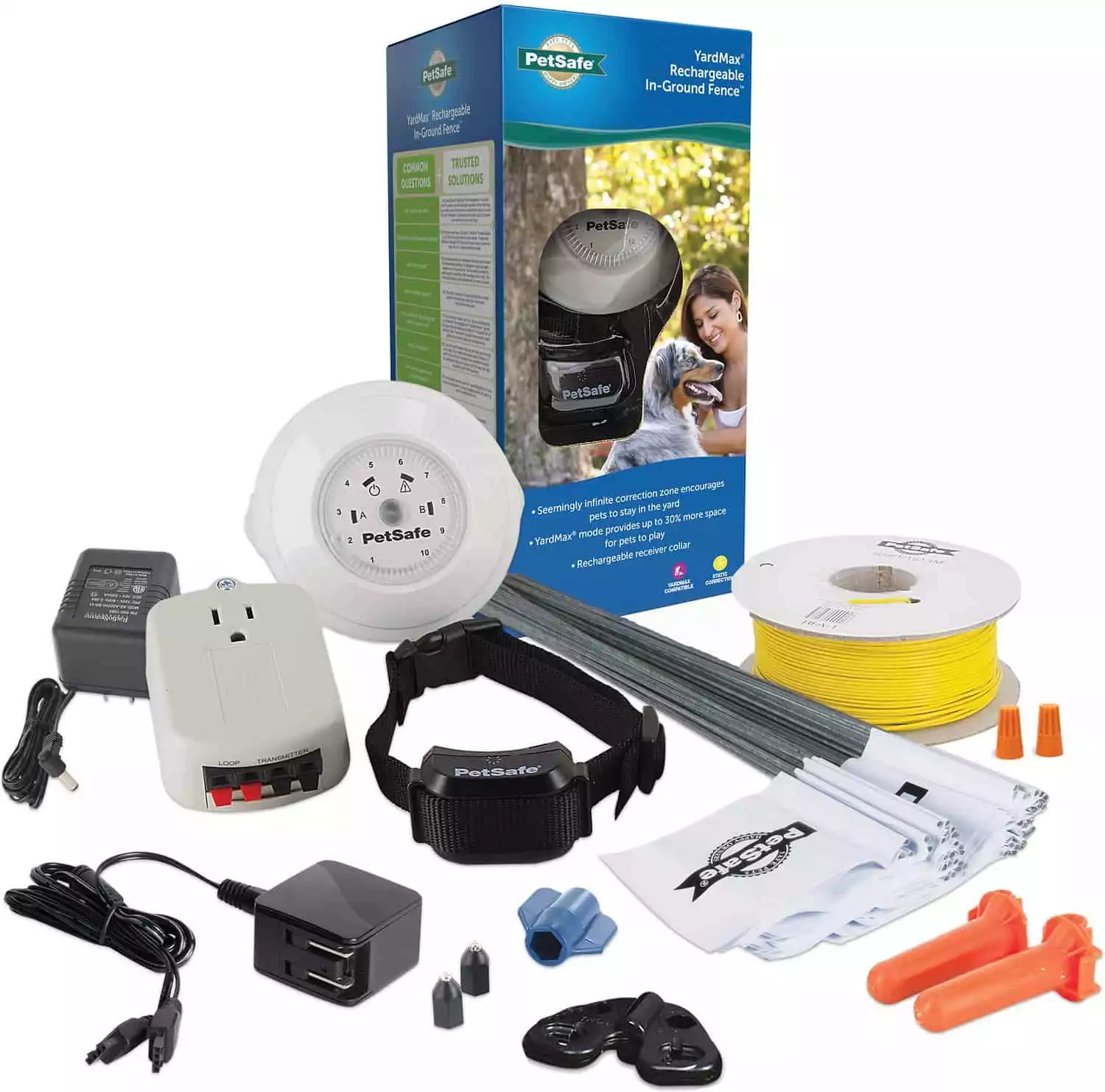 The PetSafe YardMax Rechargeable In-Ground Pet Fence System is the ideal choice for small or mid-sized areas up to 1/3 acre. The kit comes with absolutely everything you need to train your canine companions to respect the boundaries you set.
The standard correction method in this PetSafe dog collar is static stimulation. This administers a static shock to your pooch that is roughly the intensity of the static shock that humans experience from time to time. If you don't like the idea of shocking your pup into obedience, you can switch the static stimulation mode to the tone-only mode. But, be warned that your pooch may not respond at all to tone, and you may need to revert back to static stimulation in case it gets out of hand.
The main advantage of this electric dog fence is that there is no limit to the number of animals you can keep contained with it. And, to minimize the expenses, you can add multiple separate collars to the same receiver!
Another cool thing is that even though it is an underground fence system, it doesn't zap your pooch on the way back. It only corrects with tone or static shock if your dog tries to leave the designated area.
The one minor downside to this product is the lack of manual override. This can be a mild annoyance, and it will probably be fixed with future iterations of the fence.
With all things considered, though, this is a serious and highly efficient way of keeping your furry friends in a small garden or back yard without having to constantly supervise them.
Pros
Cons
• Great for small and medium-sized yards up to 1/3 acre
• Multiple levels of static stimulation to help train your pooch to respect boundaries
• Static-free return home
• Rechargeable and waterproof collar
• Fits dogs with neck sizes from six to twenty-eight inches
• Lack of manual override
PetSafe Underground Dog Fence
Key Benefits:
In-ground fence system designed for small dogs

Covers up to 1/3 acre of area

Features an adjustable and waterproof dog collar with a reflective strap

Can contain an unlimited number of pets

Has a low battery indicator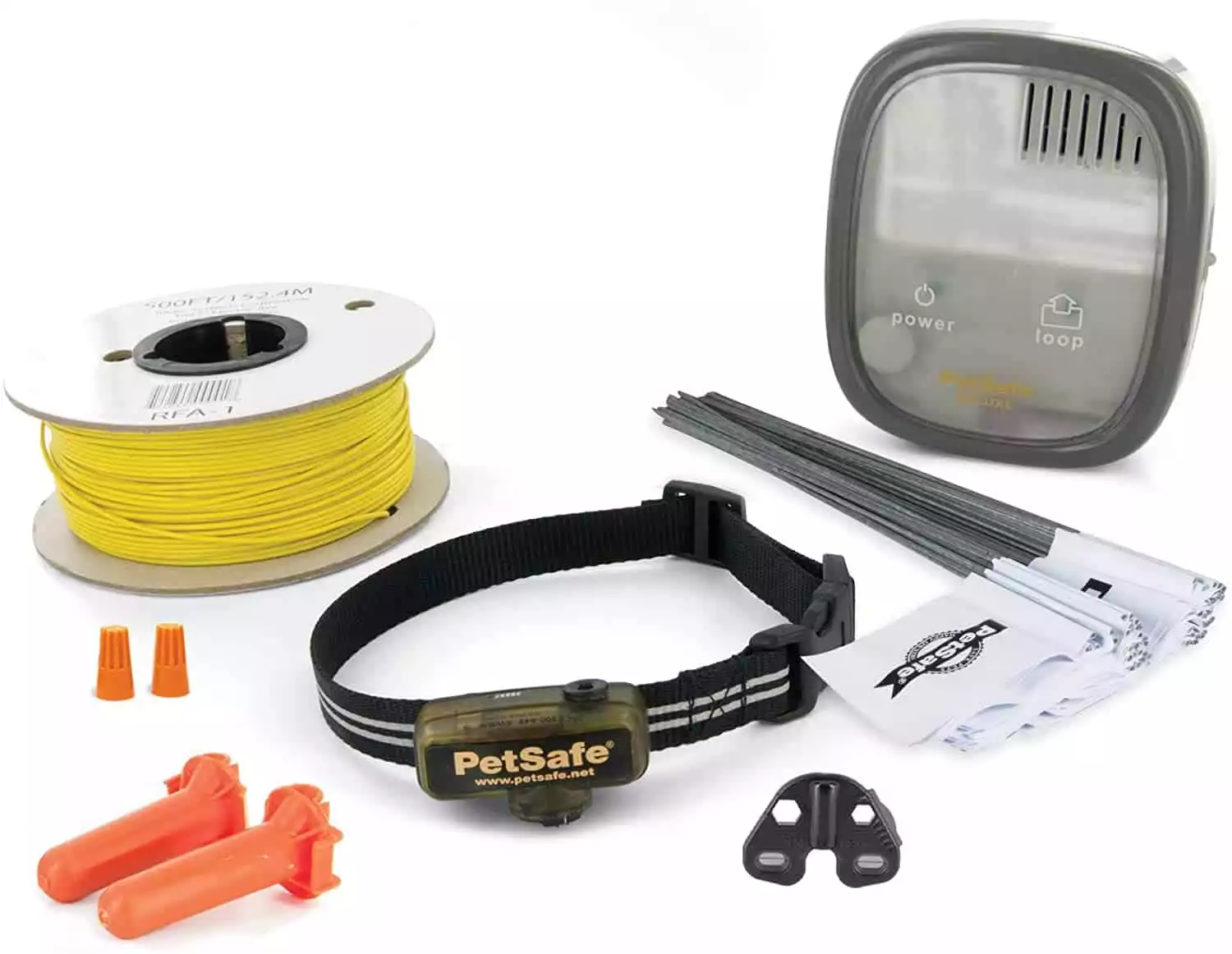 Another great product from PetSafe is the PetSafe Elite Little Dog In-Ground Fence. As you can see, this manufacturer dominates our list, and you can find something regardless of your circumstances or the size of your garden.
Is your yard up to 1/3 acre large? If yes, you can keep all of your canine companions safe from harm by using extra collars to contain them via one system.
On the other hand, if your yard or garden is larger than 1/3 acre, don't worry – PetSafe has you covered! There is additional wire available for purchase, which can expand the field that the system covers to an area of 25 acres. Unless you are royalty, this should be more than enough.
The collar that is included in the system is waterproof and reflective, so you can have visibility over your pooch even during nighttime. The collar is also lightweight and quite comfortable as well as completely adjustable.
Take your time when adjusting the collar to get the fit just right. Also, keep a close eye on the skin underneath the collar, so it doesn't get infected, and make sure the prongs are always clean.
The shock collar comes with four levels of progressive correction that administer increasingly sharp static stimulation. Note that the shocks are not painful, but they are annoying enough to stop your dog from wandering off.
Pros:
Cons:
• Produced by one of the most reputable brands in the industry
• Contains an unlimited number of dogs by adding extra collars
• Comes with a tone-only mode and four levels of static correction
• Up to 1/3 acre of coverage (can expand to 25)

• Installing the product can be relatively complicated, so pack plenty of patience
Best electric fences for big dogs
PetSafe Stubborn Dog Fence
Key Benefits:
Features a waterproof receiver dog collar for dogs of eight pounds and up, or neck sizes from six to twenty-eight inches

Covers up to 1/3 of an acre, with included wire

Comes with four adjustable levels of static stimulation with the highest intensity levels available

Works with multiple dogs and cats with additional collars

Low-battery indicator collar with an included battery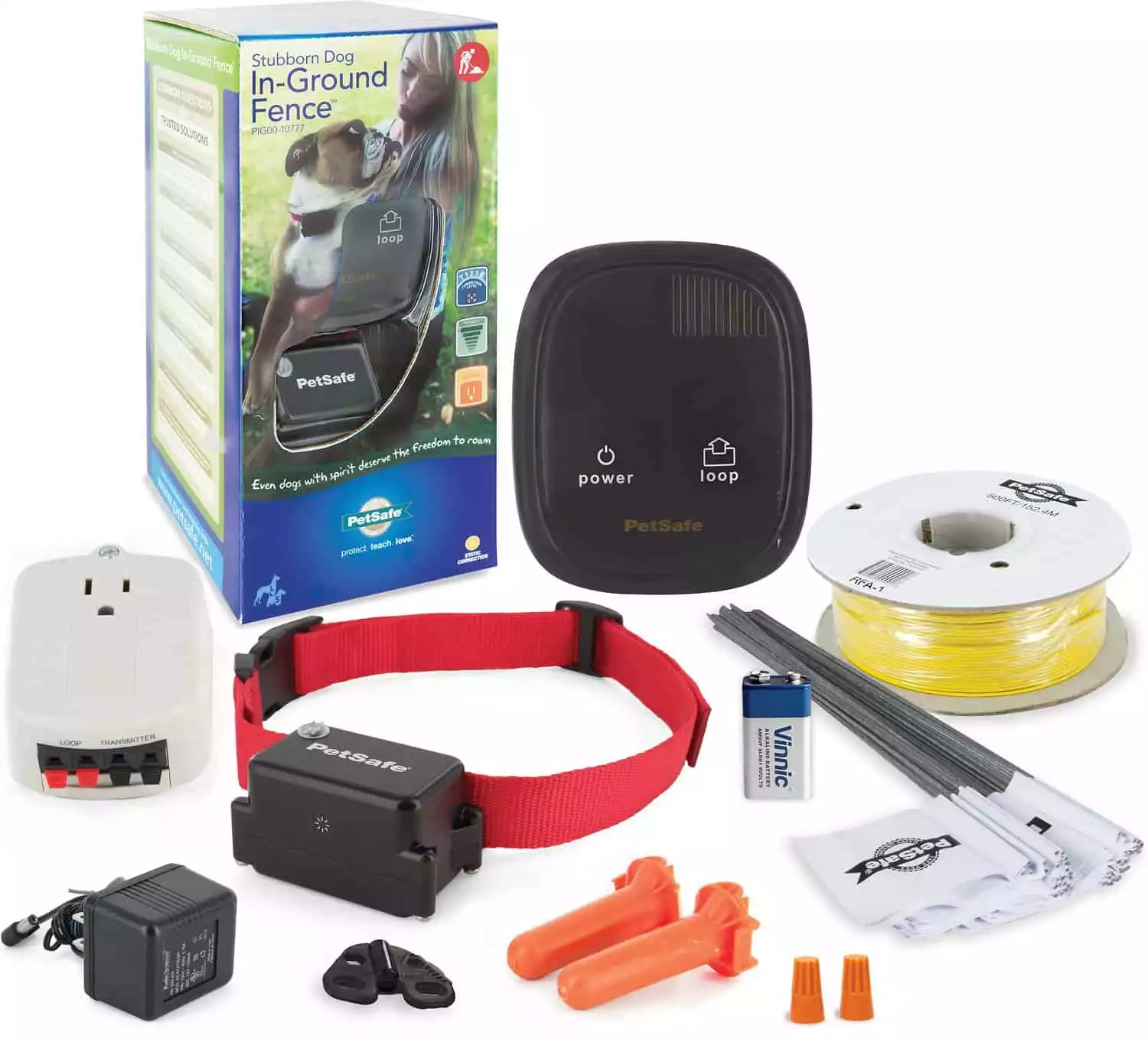 It shouldn't be a surprise that yet another excellent dog fence model comes from the same well-known manufacturer. However, the PetSafe Stubborn Dog In-Ground Fence System is specifically designed to keep stubborn and willful large dogs from wandering afar.
Your beloved furry friends will be contained in an area up to ⅓ of an acre, so it is a great solution for small or mid-sized gardens. The product comes with 500 feet of wire, which is enough to get the job done. However, if you need more coverage, you can expand the system to a huge 25 acres by buying additional wire.
As with most in-ground fences, you will need to set aside some time to get the equipment set up. At the end of the day, all that wire needs burying, and if you are not up to the challenge yourself, you will need to factor in the cost of professional installation.
If you have an especially large dog known for being stubborn, you might need to use the highest level of static stimulation to keep it inside the designated area. For most other dogs, though, the lower levels or even the vibration-only mode should be more than enough to keep them inside your yard.
Pros:
Cons:
• Ideal dog fence for stubborn and feisty pups
• Multiple modes and levels of stimulation to choose from
• 1/3 acre of coverage for small yards (can be expanded to 25 acres)
• Easy to set up kit, with everything you need inside the box

• The system set-up can be a bit complicated
Extreme Ultimate Performance Fence System
Key Benefits:
Covers up to 25 acres, with the widest signal field possible

This invisible dog fence comes with a ten-year warranty

The collar is waterproof and submersible

Manufactured in the United States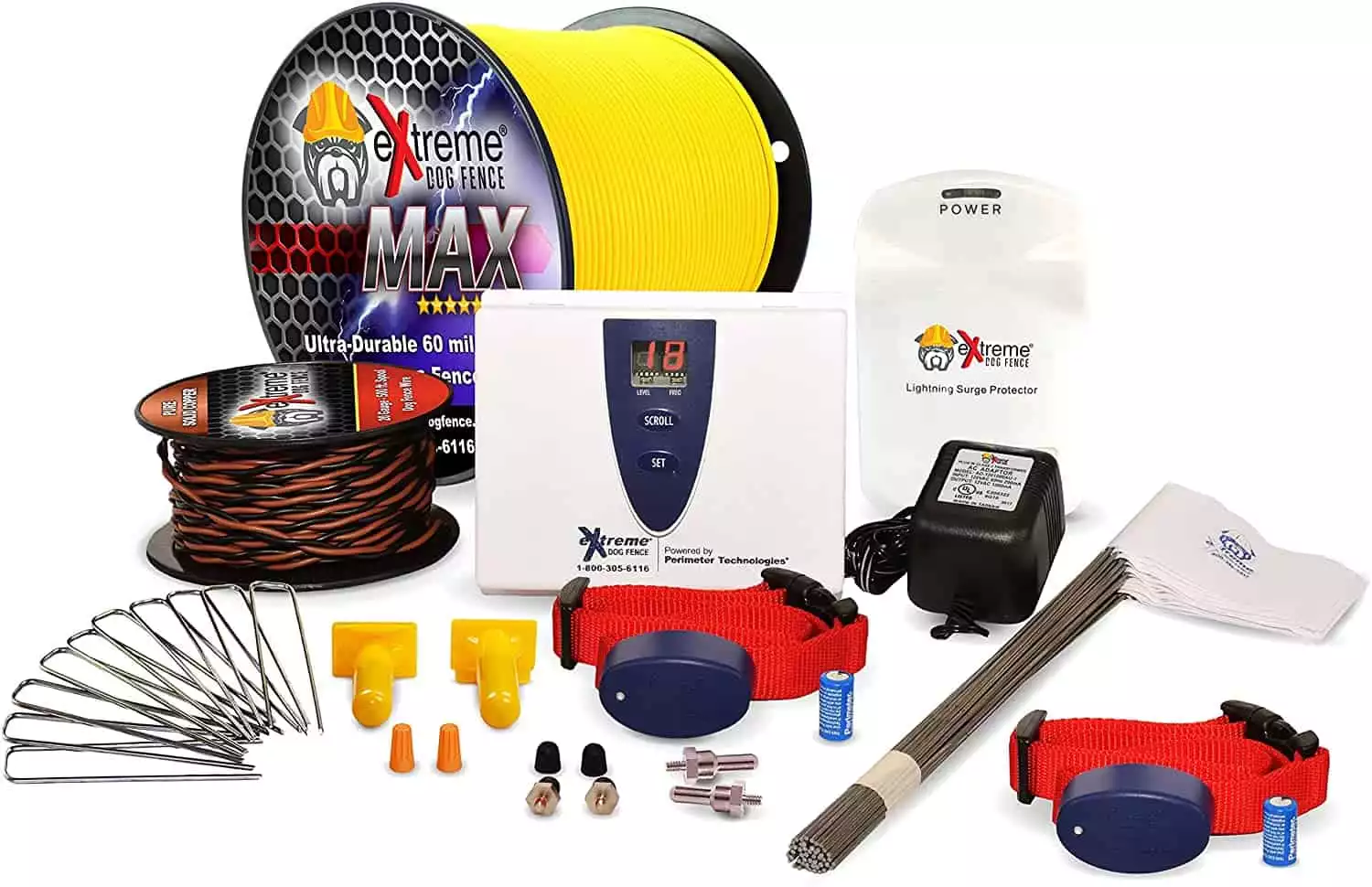 If you are looking for a heavy-duty dog fence that will withstand all types of weather without letting your big pooch escape, then the Extreme Dog Fence Max Grade Electric Dog Fence might be your best bet! This model is the company's most rugged containment system, so let's see what exactly you get for your money.
The key selling point of this Max Grade Dog Fence model is the level of versatility it offers. First of all, there is no limit on the number of pets you can add to the system as long as you provide a collar for each one. Furthermore, all of the collars that connect to this system are completely waterproof, and they can be submerged up to ten feet.
Next, the kits are arranged according to the number of dogs it needs to accommodate and the amount of wire it contains. This particular variant contains two collars and 500 feet of highly durable wire to keep your furry bestie safe and sound. Once again, if you have multiple dogs running around your yard, all you have to do is invest in extra collars and connect them to the system.
The correction is administered through seven different levels of static stimulation, but you can also switch to the tone-only mode if you are worried that your pooch might not react well to static shock.
The build quality is top-notch with this US-made and worldwide approved kit. Everything you need is included in the box right from the get-go, including contact probes, collars, 50 boundary flags, and 500 feet of wire. And, on top of all this, there is even a surge protector installed to protect the system from lightning strikes!
So, if you have experience with electric dog fence systems, but each one has let you down, you might consider this option for a stable solution against escape artists.
Pros:
Cons:
• Comes in multiple sizes
• Features a waterproof and submersible collar
• 500 feet of fence wire covering ⅓ of an acre
• Everything you need comes bundled in

• Battery life is poor compared to some other models, and the battery is non-replaceable
How does an electric dog fence work?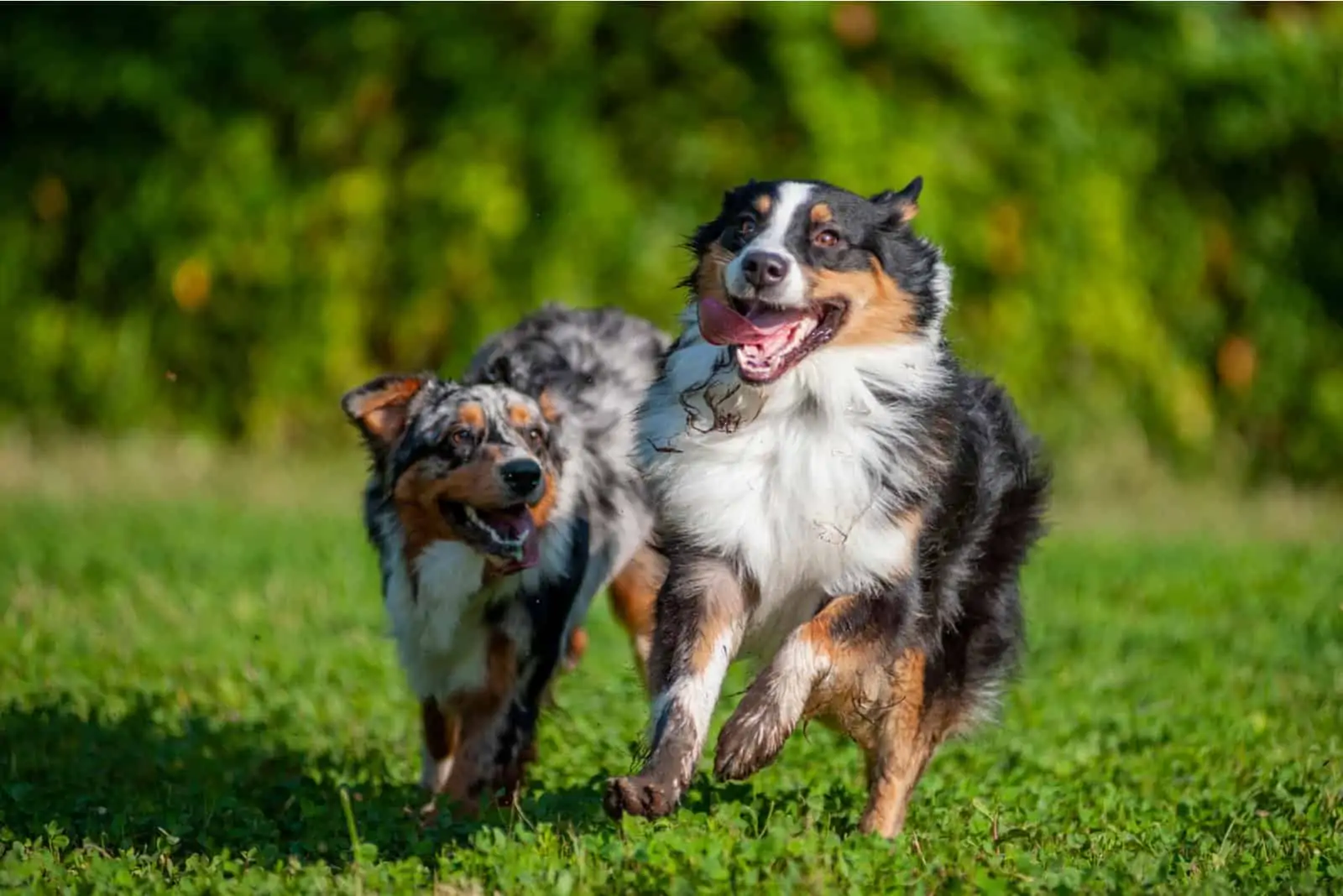 If your furry bestie keeps running away at any chance it gets, or if you need to retrieve your pooch from your neighbors down the street every morning, you might want to consider getting an electric dog fence.
In contrast to traditional fences where the boundaries are physically set, an electric fence creates an invisible boundary, so that your dog can roam around your property wherever it wants to, but it will get corrected if it tries to escape.
Basically, there are two types of electric dog fences you will come across:
• Wireless electric dog fence (wireless pet containment system)
• In-ground electric dog fence (underground or invisible pet containment system)
1. Wireless dog fence.
As you can probably tell by now, an electronic dog fence has the purpose of keeping your dog safe and secure. So, if you don't have the time, budget, or space to build a physical fence, a wireless dog fence is the next best thing. A plus to wireless dog fences is that you can take them camping and prevent your dog from running after squirrels!
How do these fences work exactly?
Wireless pet containment systems work through a transmitter that emits a radio signal in a certain area. The only thing you need to do is plug the transmitter into a power supply and relax as your pooch stays within a well-confined space.
The transmitter sends radio signals to a receiver on your dog's collar. Whenever your pup tries to cross the invisible boundary, it will receive a mild electrical shock (most models have vibration-only, or sound-only correction alternatives). But, don't worry – the static shock is not strong enough to fry your pooch or hurt it in any way.
Wireless dog fences are great if:
•You don't want to dig up your back yard to install an underground electric dog fence
•You are unable to build a traditional metal or wooden fence for whatever reason
•You don't want to block the view of your garden, pool, or any other feature in your back yard
•thiYou want something easy to use to contain your dog in an area
•You want something in conjunction with your physical fence (if you want to prevent your pooch from digging up your tomatoes)
•You need a portable fence for camping trips
• If you want your pooch to freely roam your yard unattended
2. In-ground or invisible pet containment system.
In-ground electric fences are more of a permanent solution when it comes to containing your four-legged escape artist. They are also an alternative to the traditional physical fence and a great way to confine your pooch to an area without a leash.
In-ground dog fences are also referred to as invisible dog fences or underground dog fences. These work similar to wireless ones, except that there is a little bit more effort required on your part.
How do underground fences work?
Underground dog fence systems use a durable, but flexible wire to transmit radio signals to a dog training collar. Whenever your furry friend approaches the boundary (or the buried wire in this case), the transmitter emits the correction of your choice. This causes canines to learn quickly to stay in the designated area.
You can install one of these electric fences quite easily as a weekend project. On the plus side, you can create the boundary in any shape you choose, and you can customize this type of fence to your landscape.
Once you've buried the wire, the next step is to start placing flags above them on the ground as visual hints for your pooch, so it knows where its confined area ends. Once your pup gets used to the boundaries, you can remove the flags.
Wired in-ground systems allow you to create several no-go zones in your yard, so your pooch doesn't end up in a pool or in a landscaped area. The main advantage of wired underground fences is that you can go as large as you wish while the wireless fences only reach around 3/4 of an acre.
Things you should consider when choosing an electric dog fence system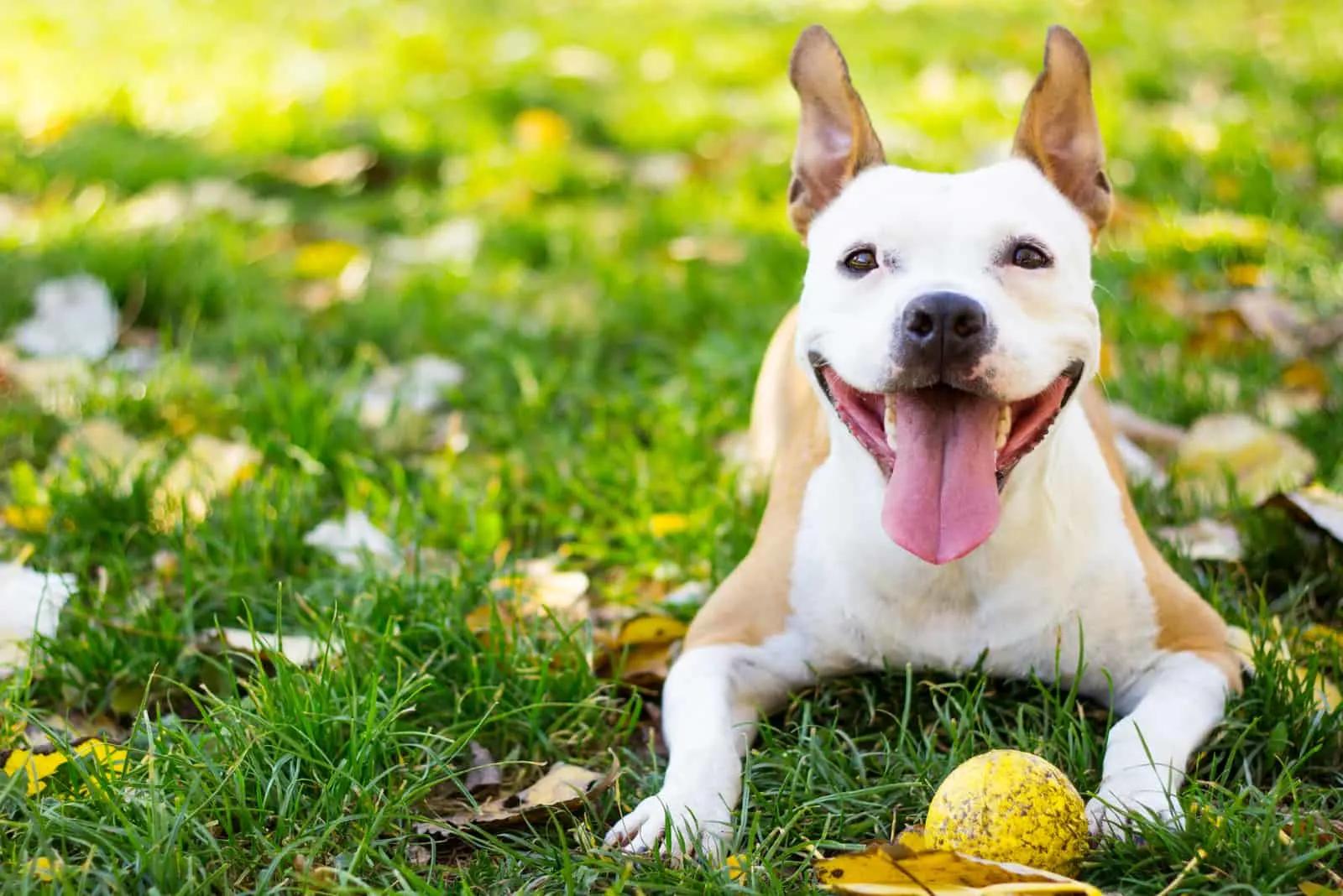 Traditional metal or wooden fences are still the best way to keep your dog from escaping your back yard, but when these are simply not possible, electronic fences are the next best thing.
Here are a few things you should take into account when deciding what type of electric fence to buy:
•The shape of your yard
•Your dog
•Other dogs
•The set-up of your electronic fence
•The location of the fence
•The price
The shape of your yard
Electronic dog fences are a great option for awkwardly-shaped back yards. If you have a yard with features such as vegetable patches, or a rock garden, or even an exotic tree or two, an underground dog fence might give you the flexibility you need.
Also, if you live in a place where fences are not allowed, such as apartment blocks or condos, electronic fences might just be able to stop your pooch from running after squirrels or pigeons.
Your dog
Some larger breeds such as German Shepherds, Belgian Malinois, and Huskies can jump surprisingly high and be quite the escape artists.
So, if you are tired of your dog jumping over the fence and escaping into your neighbors for a treat, an electronic fence will work no matter how high it jumps.
Other dogs
We often focus only on our pups and forget that other animals can also trespass onto our property. Your dog may be safe and sound in your back yard, but it doesn't prevent other dogs from coming in.
This is where electronic systems might let you down, and you might want to go for the wooden or metal traditional fence.
The set-up
If you are installing an underground pet containment system by yourself, be prepared to put in some effort. Digging the ground to bury the wires is extremely exhausting, and it can take some time.
Another option is to place the wire over the ground instead and secure it with specially designed staples that can be bought separately.
Of course, there is always the option of hiring a professional to do it for you, but then you would need to spend additional money on top of the price of the containment kit.
But, if you do opt for hiring a professional dog fence company to install the fence for you, make sure that there are no gaps in it because your Sherlock will surely find them.
The location
The most important thing to remember is not to install the fence right to the edge of your yard, or by a road or pavement. That is just calling for trouble!
Dogs of all breeds can become quite territorial and start barking or even lunging at people passing by. As pedestrians, cyclists, and motor vehicles go by, your dog might develop bad behaviors, which is not a good look to have in a neighborhood.
Make sure to install the fence at least ten feet away from the edge of your yard. This ten-foot buffer zone between the pavement and the fence is vital for preventing unwanted behaviors.
Price
Your budget will probably be the determining factor in deciding which type of electronic dog fence you choose. Generally speaking, underground dog fences are more expensive than wireless ones. Also, wireless fences don't require much cost or time to install – you just plug it in!
Invisible pet containment systems, on the other hand, require several accessories such as wiring, a voltage meter, a charger, batteries, and sometimes staples. You may also choose to hire a professional to install the fence, which will increase the cost significantly.
Frequently asked questions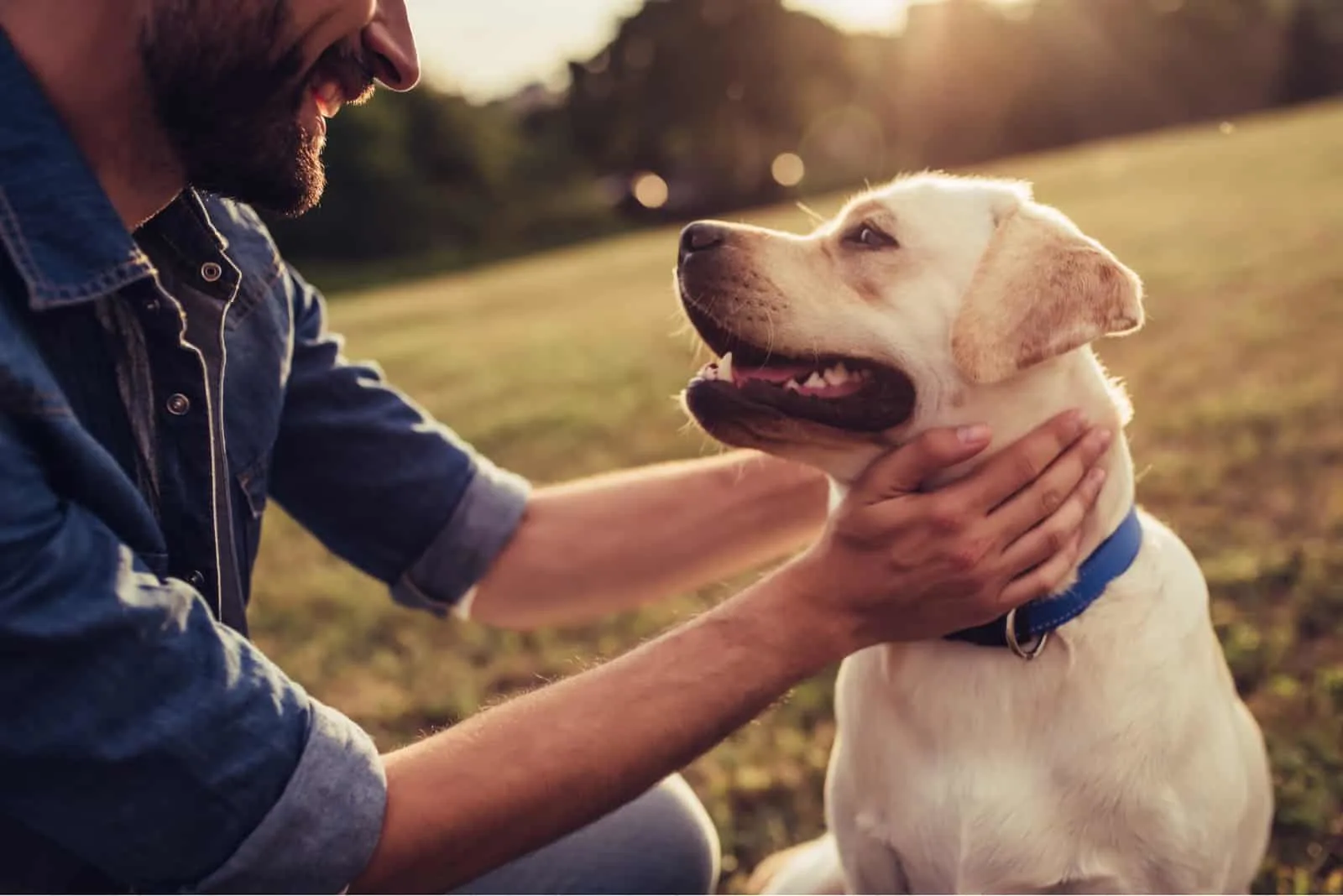 Do electric dog fences really work?
Fortunately, for all pet owners, wireless electric fences do work as long as they are set up properly. However, this doesn't mean that you can just leave your dogs to roam freely.
There might be situations where your pup ignores the electric shock if something piques its interest, and thus, goes running off. Then, when your dog decides to come back, it might get shocked on reentry and run off again.
Also, dogs need plenty of both mental as well as physical stimulation every day. Even though an electric fence is great in many ways, your pup will still need its daily walks and bonding sessions, so that it burns off energy and has a healthy life.
How far do electronic dog fences work?
A wireless dog containment system will generally work between 1/2 acre and ¾ of radius, or roughly 2000 to 3000 meters squared. You plug the transmitter in a power supply anywhere you want, and once you switch it on, your furry buddy should stay within the radius of the boundary transmission.
With underground systems, though, you can go as far as you like. Even if you have a big country estate, there is no limit as to how big of an area it can cover. But, the larger the area you want to use, the more expensive the fence will be, and it will require more digging to bury all the wires. Luckily, there are companies that specialize in that kind of work, so if you find it a bit overwhelming, you can always hire a professional.
Can an electric fence be used with a puppy?
It is not recommended to use an electric collar of any sort with a dog under six months of age. It is best to wait for your puppy to reach the six-month mark, or even longer if possible.
The main thing to remember is that your puppy must be mature enough to understand and obey your commands. If they don't, you will have a difficult time teaching them about the boundaries they need to respect and shocks that come from their collar.
In general, you should wait with installing an electronic dog fence until your pup is fully trained in order to understand and obey commands such as heel, down, stay, sit, and leave. Also, it might be a good idea to wait until your pup is fully potty trained.
My garden is awkwardly shaped. What type of fence should I get?
If you have a large yard with complex landscaping, the signal from the circular radio transmitter might be blocked by that same landscaping. The signal will be constant, but it will not go through the obstruction.
Also, you may notice that the circular radius of the wireless boundary is a bit too restrictive for your canine companion if you have a large, narrow garden. Your pup won't be able to run the full length of your yard. Because of this, wireless fences are best used in flat areas without too many irregularities.
Underground electric dog fences, on the other hand, will give you the ability to customize the area, and shape it to more unusual and landscaped yards as this will give your dog the maximum ability to roam. Keep in mind, though, that it should be placed at least ten feet from your garden boundary.
What can affect the radio signal of a wireless dog fence?
Any heavy metal object (except your Iron Maiden CDs) inside or outside your homes such as refrigerators, freezers, stoves, metal cupboards, A/C units, or electrical junction boxes. These types of things can affect the signal that your wireless transmitter sends out. Because of this, you should make sure that the base is located at least three feet away from any large metal object.
Additionally, stone or thick concrete walls can also cause issues. The boundary accuracy will be compromised by signal interference, and your dog might get zapped even though it is not near the edge of the designated area. This might lead to your dog being nervous every time it goes outside.
Lastly, thick trees might cause some interference between the boundary and the transmitter, although this shouldn't be a problem unless your garden is thick with trees and branches.
Will an electric dog fence hurt my dog?
Most electric dog containment systems only produce a very mild electrical correction that can't cause any real harm. It feels like a tiny ping, just like when humans touch static electricity.
All it's meant to do is surprise the pup and grab its attention. The majority of electric collars are powered by small batteries, so the size of the shock can't be dangerous to your pet. Also, most of these collars come with the option of adjusting the level of static stimulation.
Electric collars are totally safe for our four-legged friends, and they are recommended in the canine product industry. If you are still unsure whether or not it can hurt your beloved companion, try testing it on your arm.
How much do electric fences cost?
For a wireless electric dog fence, you can expect to pay between $100 and $350 dollars. This type of dog containment system usually comes with one dog collar, a remote control, and a bundle of flags to train your pup.
Underground systems are a bit more expensive, and the higher-end ones can cost as much as $1500.
Add professional installation and training to that and you can end up with around $3500 in total.
But, if you are happy with digging the ground, burying the wires, and training the dog yourself, then the total cost of a high-quality underground system will be between $1800 and $2000.
Note that the more expensive the system is, the more accurate the boundaries are. Systems on the lower end of the price tag tend to be inaccurate sometimes, and zap your pooch even when it is not near the boundary.
If possible, it is always better to choose the higher end of the market. This will give you peace of mind, and professional installation will ensure that there are no gaps in the boundaries.
Can I use it with multiple dogs?
Most electric dog fence systems allow you to use the same transmitter on multiple dogs. The only requirement, though, is that all dogs wear an e-collar that is connected with the transmitter.
If you have multiple pets in your yard, you will probably need more correction modes, so you will need to spend more money on electric collars.
Electric dog collars range from $40 to $150, and it is recommended to go for the higher-end models if you have multiple dogs.
Collars with a higher price also come with higher accuracy levels, so your furry friends won't get shocked accidentally. They will also come with more training modes, so you can have more flexibility during training.
How do electric collars work?
E-collars are easy to use. They come with two metal prongs that sit on your pup's skin. Some may come with longer prongs for long-haired breeds like Siberian Huskies or German Shepherds, but most are designed for short-haired dogs like Dobermans or Great Danes.
There is a power button you turn on when your pup wants to go outside of the house. Power buttons are usually located on the inside of the collars to prevent them from accidentally being switched off while the dog is out.
Most electric dog collars come with a remote control that allows you to adjust the levels and modes of stimulation. The types of stimulation can be audio-only, vibration, or mild static shock.
Note that you will need to shock your pup once or twice before it understands what is going on.
Once it figures out the rules, you can switch the correction mode to vibration or tone only.
To let you know how long the battery will last, most electric collars have a small light that shines until the battery power gets low, then it turns red. The majority of collars come with rechargeable batteries, so you just plug them in to charge.
Will I need to teach my pup to use an electric fence system?
Most dog collars that come with dog containment systems have three training modes: tone, vibration, and static stimulation.
So, when your pup gets near the edge where the boundary line is, the collar will first give out a warning tone. If your dog doesn't respond to this sound, you can change the mode to vibration.
If it crosses the wire or goes out of the wireless radio signal radius, the collar will issue a mild shock. All systems come with training flags that you put in the ground, so your dog knows where the correction line begins. Your dog will eventually learn where the boundaries are and then you can remove the boundary flags.
Conclusion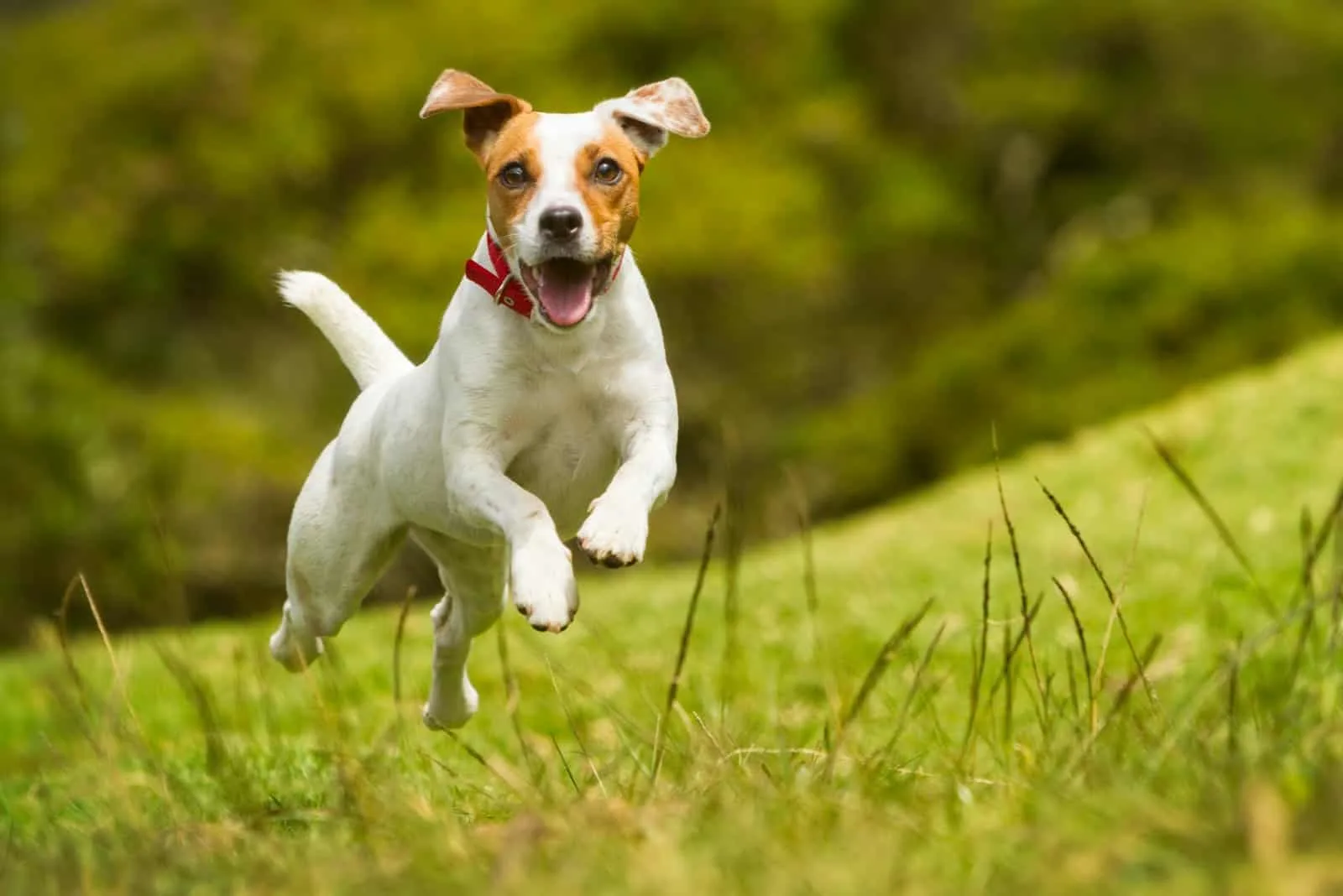 We hope that you are now armed with the knowledge to choose the best electric dog fence for your furry friends. If you are still unsure as to which one to get, we would recommend getting the SportDOG Brand In-Ground Fence System if you need an invisible dog fence.
On the other hand, if a wireless dog containment system better suits your circumstances, then the PetSafe Wireless Fence Pet Containment System will do the job.
Regardless of which type you choose, keep in mind that your pet will need some time to adjust and get used to the new boundaries. Be calm and patient, and make sure you give them lots of positive reinforcement during this period!