Disclosure: This post contains affiliate links, and I will be compensated if you make a purchase after clicking on my links.
Whether this is the first collar you are buying for your Husky, or you are looking for a replacement, you will probably find the assortment that is available quite overwhelming.
There are hundreds of different models available in all levels of quality and sizes. Navigating through all of these options can be a bit tiresome, and that is why we are here!
We know a thing or two about dogs, and you can trust us to objectively review the best collars for Huskies in your stead. For the regular Husky collars, we chose six brands to review so you can get a clear picture of what you need and want.
On top of that, we will also review the best shock collars for Huskies as well as the best training collars for this breed. We have more than just a collection of reviews in store for you as we've also included a husky collar buyer's guide where we go over what you should look for in a collar and what you should avoid.
So, continue reading our detailed Husky collars guide where we compare the effectiveness, comfort, and durability of each of the most popular brands. Let's dive right in!
Best collar for Huskies
Editor's Choice
Starmark Pro-Training Dog Collar
Key Benefits:
A humane alternative to choke and prong collars

Used to train better walking techniques

Competitive price
Cons:
It doesn't work on all dogs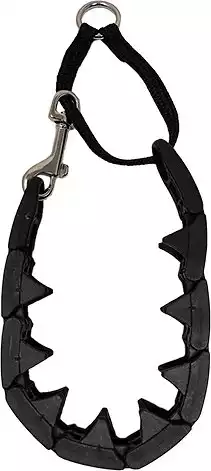 This product from Starmark is a humane, polymer training collar. It functions similarly to prong collars, but the prongs on this collar are of softer foam.
The Starmark Pro-Training Plastic Dog Collar uses a link style design, just like what you can find on a wristwatch, making it easy to adjust the size to fit your dog's neck. Keep in mind that this kind of collar isn't designed for everyday use, and it should only be put on your Husky during training sessions.
However, it can be used to help you assert dominance and give your Husky a clear picture of who the boss is in the household. Also, it will prevent your pup from pulling ahead and charging at other dogs or people.
If your dog decides to lunge at someone, the polymer cones will constrict against the neck. The cones don't constrict too hard, but just enough to force your dog to stop.
When backed up with positive behavior training, this collar will eventually result in your Husky being a well-behaved walker and runner.
The humane cones found on this collar do work for most dog breeds, including Pit Bulls, and it can be a highly effective walking training tool for use with your Husky. Because of this, we have chosen this product as the very best overall collar for walking your Husky.
With that said, you should bear in mind that this collar won't be as effective with all dogs. Some will just shrug off the cone pressure and continue to pull. The best way to use this collar is in conjunction with other training techniques.
Frisco Solid Nylon Martingale
Key Benefits:
Wide selection of colors and designs

The Martingale design improves the walking experience

Low price
Cons:
Larger than anticipated

Dogs with sharp teeth will manage to chew through it eventually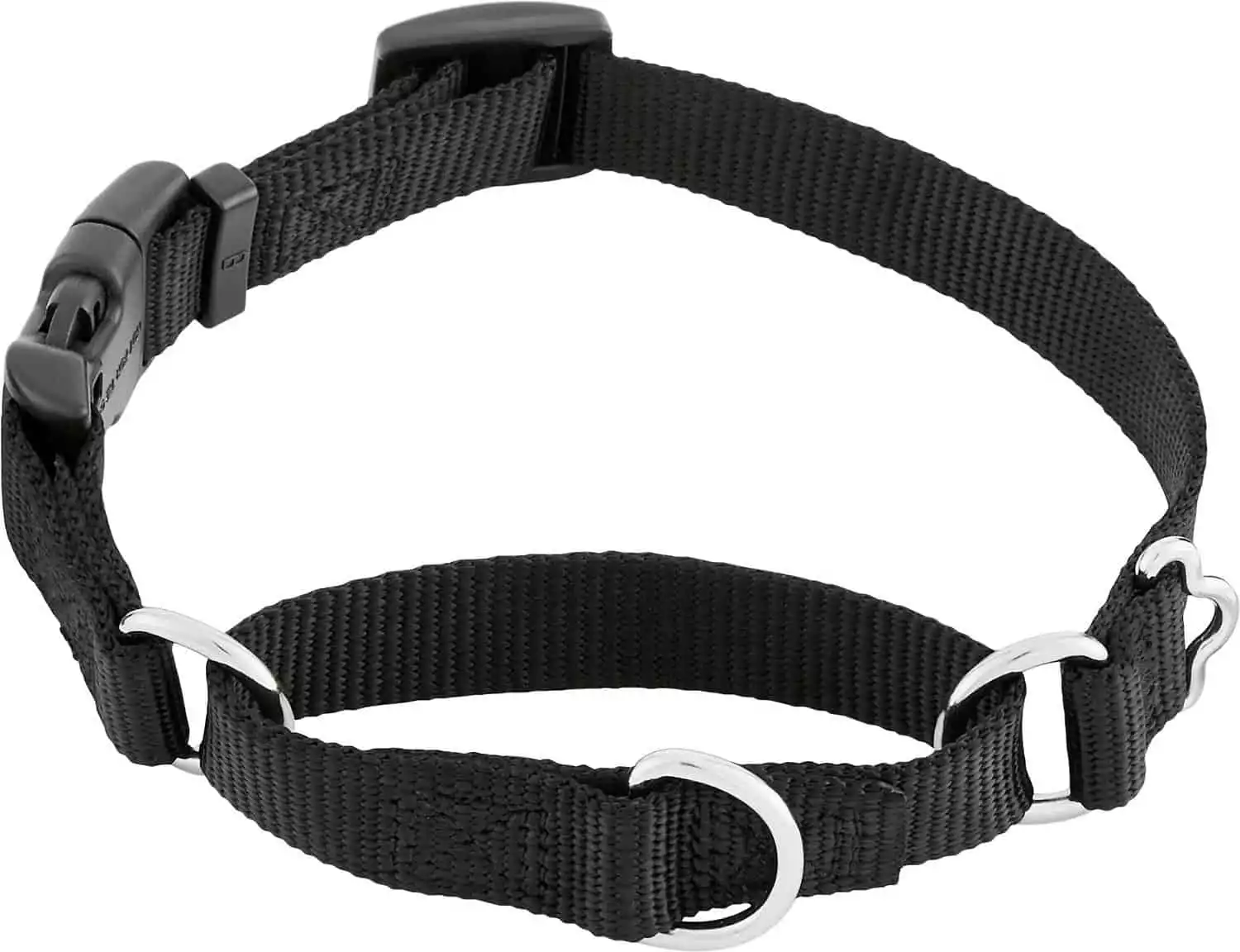 The Frisco Solid Nylon Martingale Collar is made from high-quality, durable nylon, and it is sold at a very competitive price.
It comes with one loop that sits around your Husky's neck like any other collar, and another loop that tightens slightly around its neck in case your pup tries to pull or back up.
Most Huskies usually want to be ahead and will try to get ahead of you whenever they can, but this can and needs to be discouraged. Walking in front of your furry friend means that you are asserting your pack leader status.
This product from Frisco is a humane and friendly way of achieving the pack leader status, and it can turn otherwise tiresome walks into more relaxed and enjoyable ones.
This specific collar is designed with large breeds in mind so it will fit comfortably around your Siberian Husky's neck. The nylon, although durable and hard-wearing, can be chewed through by the sharp teeth of this breed, so you will need to ensure that your dog keeps its teeth away from it.
Before purchasing, you should also take into account that the collar is quite large. But, with all things considered, the combination of general durability and cost makes one of the best collars for Huskies.
OneTigris Nylon Military
Key Benefits:
Padded interior for extra comfort

Metal hardware

Range of sizes and colors

Tough nylon finish
Cons:
Can be smaller than expected

The dog's fur can get caught in the Velcro or other embellishments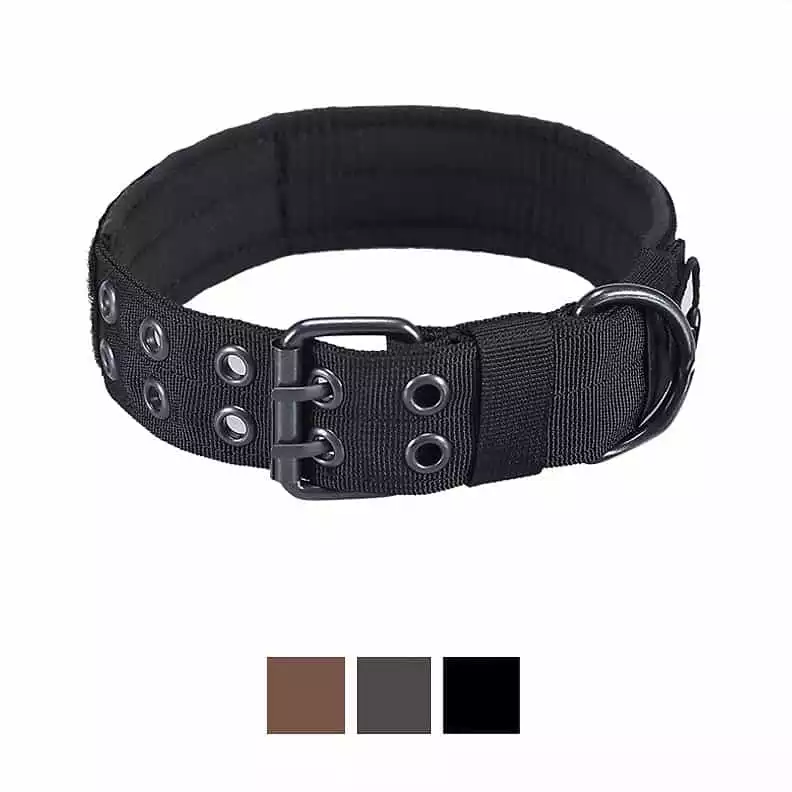 The OneTigris Nylon Military Dog Collar is a bit more expensive than others on our best collars for Huskies list, although it is still an affordable price. Nonetheless, this flat collar is very strong, and it has a stylish design.
The nylon is durable and tough, while the inside of this OneTigris product has been padded for extra comfort. You can adjust the fittings in five different positions, and the hardware is made out of metal, so rest assured it will withstand even the most vigorous of pullers.
The leash ring is a strong D-ring, which adds more strength and rigidity when in use. There are a variety of sizes and colors to choose from, but keep in mind that this collar tends to come in a slightly smaller size than you might expect, so you should consider buying a size up.
If you wish to customize your dog's collar, there is a Velcro panel, allowing you to add embellishments. However, you will need to keep an eye out in order to ensure your Husky's fur doesn't get caught in them.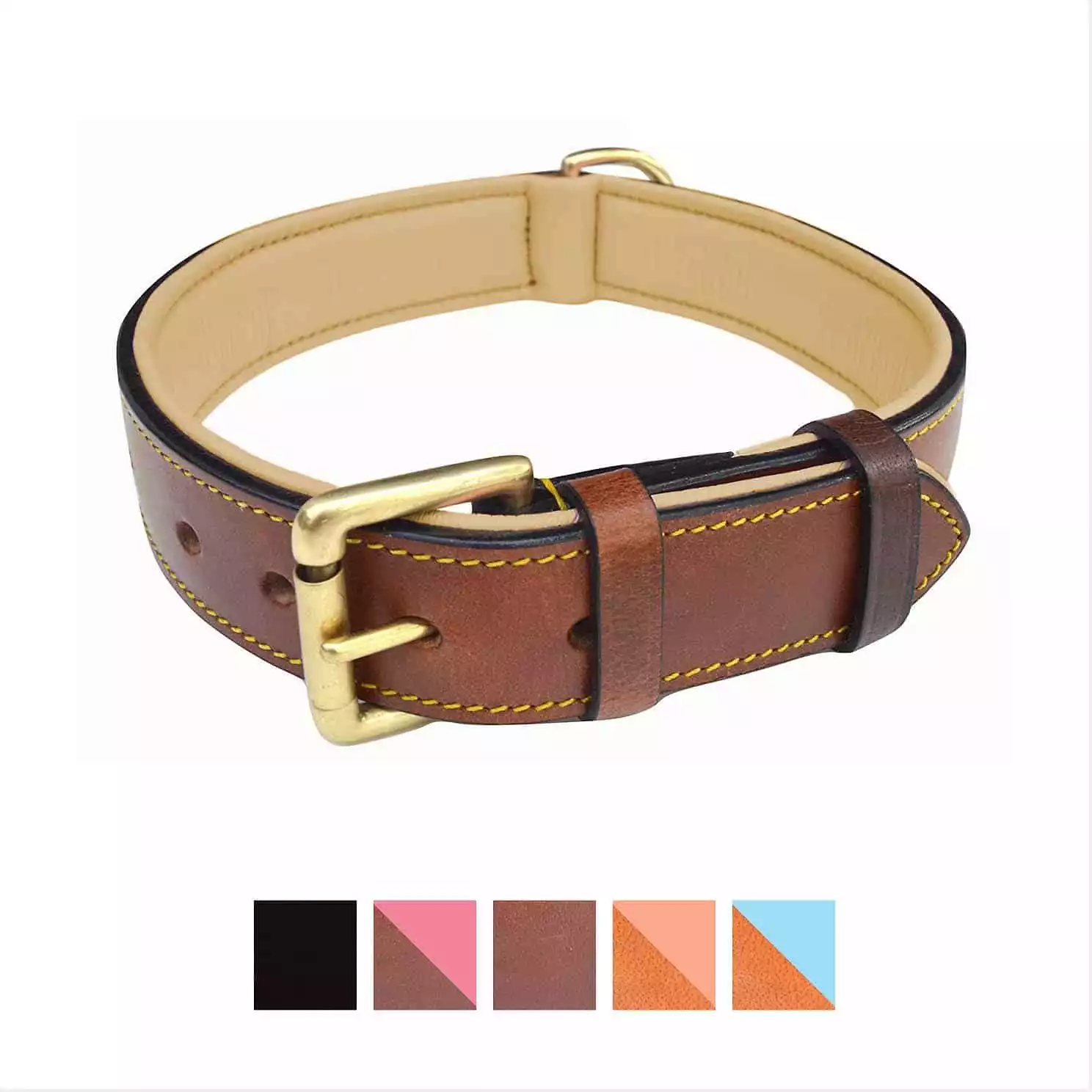 Even though nylon collars might be more durable, almost nothing beats the softness and feel of the genuine leather collar that the Soft Touch Leather Two-Tone Padded Dog Collar brings.
Not only is this collar made from handmade, full-grain leather, but its inside is also padded with soft and gentle sheepskin to prevent skin irritation and chafing.
On top of that, the metal D-ring allows you to attach a personalized ID tag or card. Also, both the leash attachment and the D-ring buckle are lacquered to counteract rust.
Depending on what you want out of a collar and your Husky's size, you should know that the collars come in a range of different colors and sizes.
Nite Ize NiteDawg LED Collar
Key Benefits:
You will always have a visual on your pup no matter how dark it is outside

Made from high-quality nylon

Lithium battery included
Cons:
The price is a bit higher than most other collars on our list

Although reflective dog collars stand out in low lighting, nothing shines brighter than this product on our list. The Nite Ize NightDawg LED Light-Up Dog Collar is made from high-quality nylon webbing, and it uses a light-transmitting polymer core to glow in the dark.
Even if it's visible outside, you can still put this collar on your Siberian Husky; just refrain from turning it on. This LED collar comes with two different working modes that you can use: a flash mode (if you really wish to keep your Husky visible to all), and a steady glow for a more subtle look. The lithium battery is designed for long-lasting use, and it comes with the product, but it is also easily replaceable.
Max and Neo Nylon Dog Collar
Key Benefits:
Safety latch

Collars are available in several colors

Reflective stitching
Cons:
Flimsy fabric tag rings rip

Occasional size slips

Poor quality construction, with sharp edges on the collar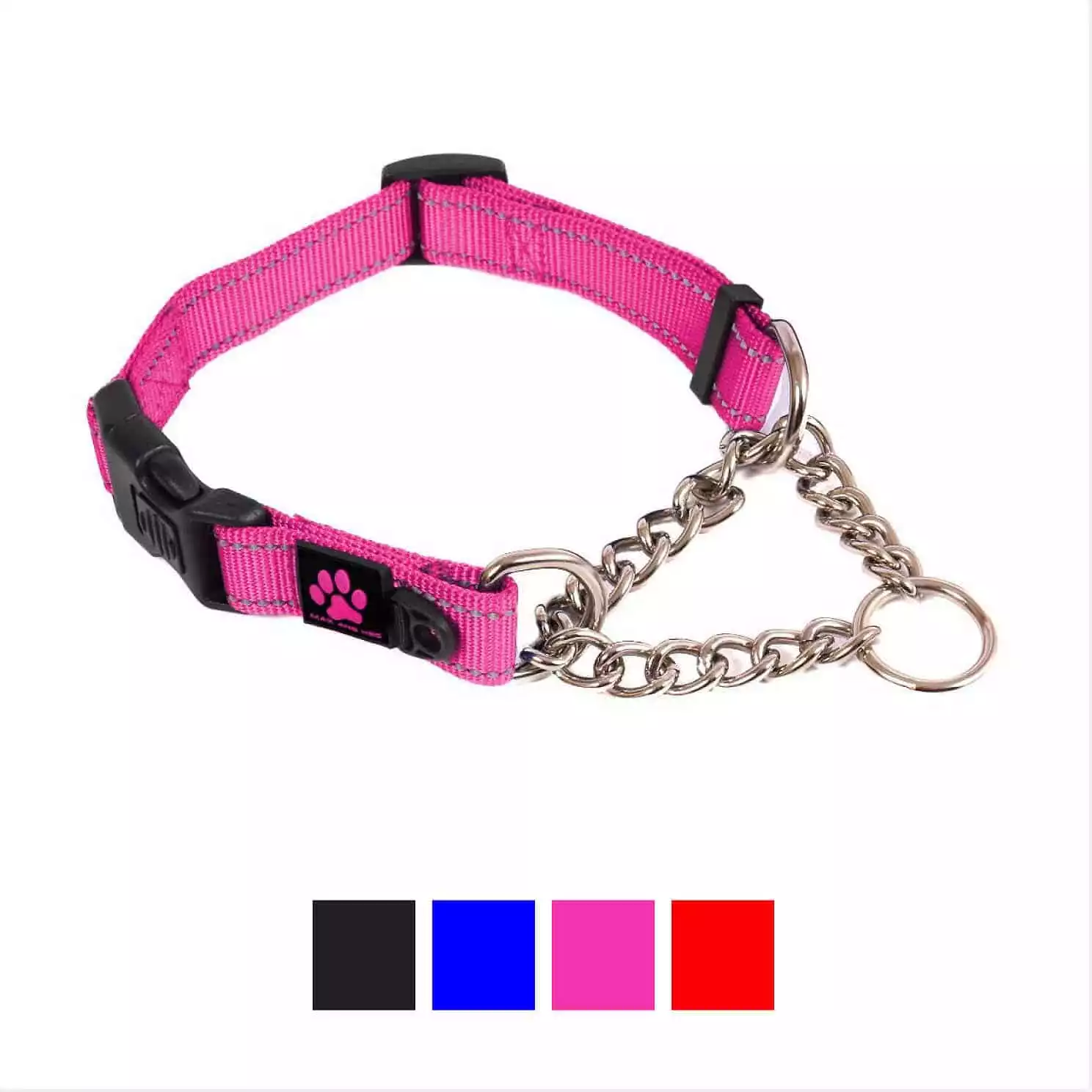 The Max and Neo Nylon Buckle Reflective Dog Collar is the last one on our list for this section of the article. This Husky dog collar comes in a wide range of colors and sizes. Also, the company vows to donate one collar to the animal rescue for every collar purchased. This way, not only are you getting a stylish collar for your furry companion, but you are also giving one to a dog in need.
The one thing we dislike about this brand is that the poor quality of construction left some sharp edges on the collar. These sharp edges disturbed the dogs wearing the collar after a few days.
The edges can be trimmed off; however, if you are not aware that the collar is the problem, it might take you a while before you realize what your Husky is actually complaining about. In addition, the collar is secured with two pins, and some dogs are able to work them loose. Lastly, the loop that holds any embellishment or dog tag you would want on your pooch is a fabric that can rip easily and lose the tags.
Frequently asked questions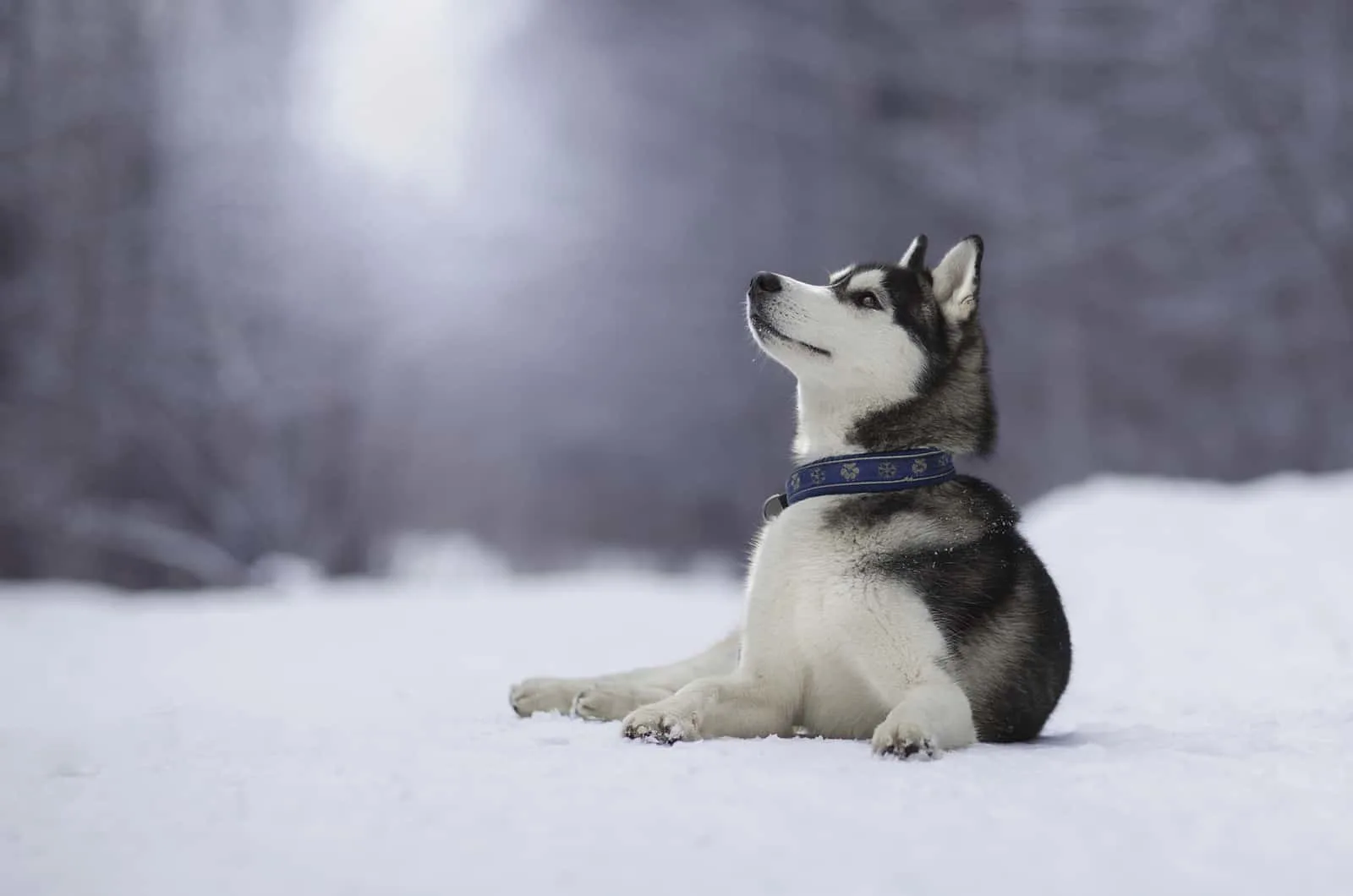 Are Huskies hard to train?​
Siberian Huskies are known for their strong will, stubbornness, and independence. They are also pack dogs that are famous for their dominant behavior. Thus, it is only natural that training them can be quite a challenge.
These awesome canines require you to pay proper attention and follow appropriate methods in order to teach them. Even though this can be rather difficult, it is in the realm of possibilities.
Why do Huskies ignore their owners?​
Huskies, similar to most other dog breeds, can be easily distracted by almost everything that goes on around them. That is perhaps the main reason why these pups sometimes might not listen to everything their owners have to say.
The best way to remedy this is to train your furry friend outside, so it can get used to your commands even when a lot of things are going on around it.
Both genders of this fluffy breed make excellent family pets, and you will adore them equally. However, male Siberian and Alaskan Huskies are expected to be more dependent on their owners, and they will always prefer staying with you rather than alone.
Females, on the other hand, are more independent in this regard.
With that said, you should always try to do some research before deciding on the sex of your new dog, and there are other things to consider.
Female Huskies are easier to train than males because they mature sooner and exhibit less dominant tendencies than males. Females are also relatively weaker than males, and are much less stubborn, making them a breeze to train.
At what age do Huskies calm down, and can they ever be trusted off-leash?
This is an important topic for your and other people's safety. Siberian Huskies, even when properly trained, should never be trusted off-leash as an accident can occur in a matter of seconds. Huskies are considered aggressive dogs; hence, they should be kept on a leash at all times.
However, just like other dog breeds around, you can expect a Siberian Husky to get calm as it gets older. Some dogs of this breed settle down at around the six- to twelve-month mark. On the other hand, some high-energy representatives of the breed might take two to three years to settle down.
Buyer's guide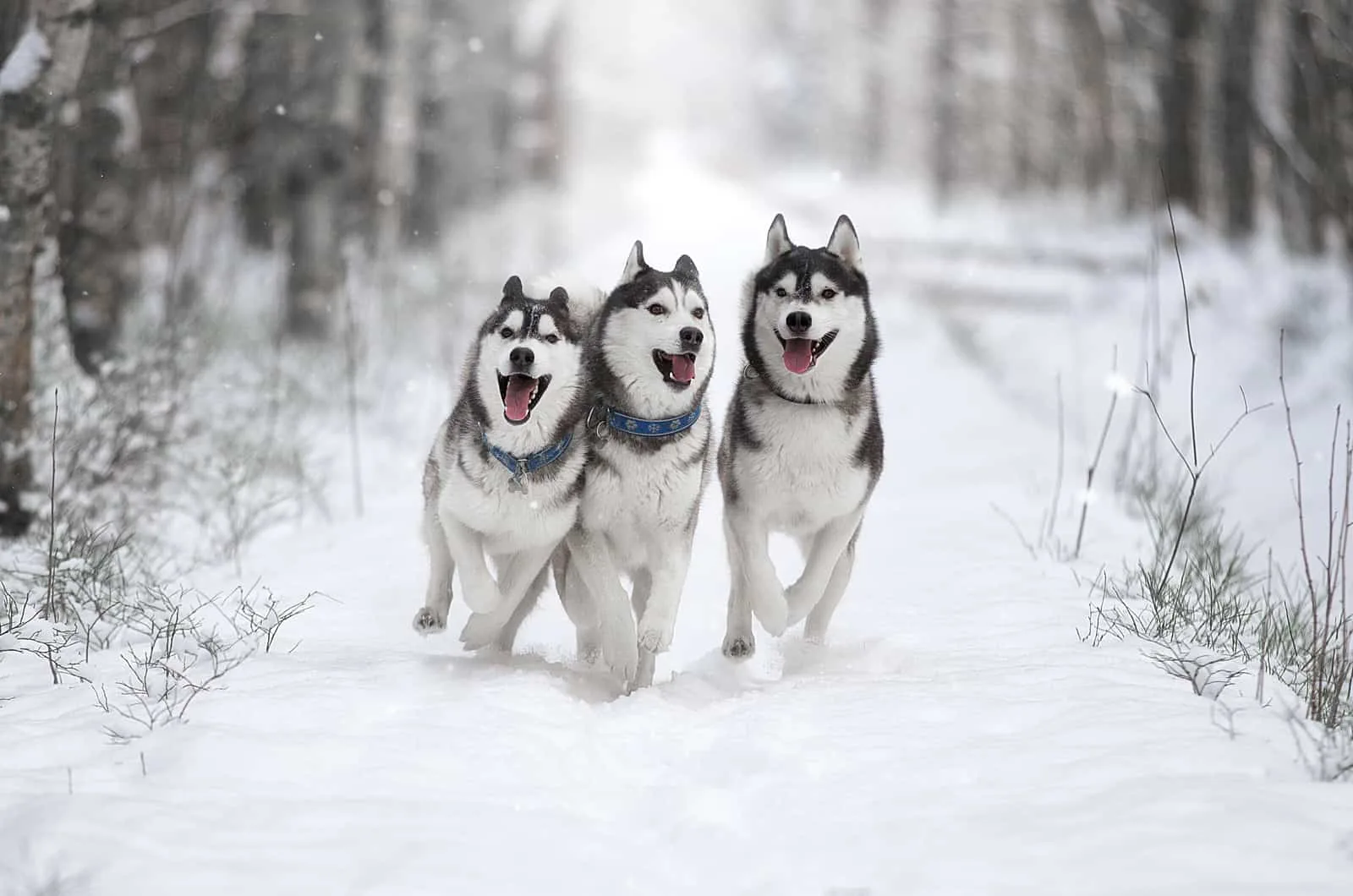 Here are some of the most important things you should look for when choosing a collar for your Siberian Husky pooch:
Durability
Huskies are big dogs with a lot of strength. They love to pull and play, and if your collar is not durable, your dog will snap the collar or make it loose enough to break free. Poorly designed collars can also weaken over time and eventually fall apart.
Reflective
Having a Husky collar made from reflective stitching is always a good idea. Reflective stitching will help you and everyone around you know exactly where your Husky is at all times. In areas with high traffic, reflective collars can be the difference between the harm and the safety of your furry friend.
Putting it on
The two most common ways to put a collar on your Husky are the buckle style and the quick clip. Both have their pros and cons, and it really boils down to your preference.
Quick Clip
The quick clip, or snap collar as it is also referred to, has a clip on each end that snaps together and holds the collar tightly in place. Quick clip collars are the most common style in use today as they are suitable for the majority of situations and are rather easy to use.
One downside to this type of collar is that it is a little more lightweight, and it might not hold up to the challenge of restraining active dogs or aggressive dogs that tend to pull a lot.
Also, the clip is usually made out of plastic, but there are some made from aluminum or other metals if you wish to have a more sturdy quick clip collar. As for the collar itself, it is most often made out of nylon webbing, neoprene, or some other type of durable but lightweight fabric.
We advise you to thoroughly inspect this collar style before committing to buying it in order to ensure that you get a high-quality, durable collar that won't fail when needed most.
Buckle style
This type of collar is usually much more substantial than the above-mentioned one. A buckle-style collar resembles a belt or a wristwatch, and it fastens to your pet in the same way.
Most buckle-style collars use two metal pins that are pushed through a metal grommet to tighten it in place, and a quick release buckle is the easiest one to use.
This type of collar can hold its own against the extreme tugging and pulling that large dogs like Huskies are quite capable of doing. These are usually made out of leather or similar extremely sturdy material.
The downside of this collar style is that they are often heavy and huge for some dog breeds, especially those smaller than a Husky. Also, in most cases, these collars are less flexible, making them uncomfortable for some pets, especially at first.
It is also a common practice to use harsh chemicals to maintain the quality of the leather, which can be hazardous to your Husky in certain situations. Because of this, using real leather is discouraged, and suitable synthetic leathers are quickly taking its place.
We advise getting this type of collar if you own a strong and aggressive dog. However, you should always thoroughly inspect any collar for any signs of chemical use before putting it on your Husky. Also, we would recommend getting a leather alternative if possible.
Comfort
With any luck, your Siberian Husky will be by your side and wear its collar for a long time, so comfort is as vital as durability. If the collar is stiff, bothers your dog's skin, pulls at its hair, or jabs its neck with sharp edges, your pooch will not enjoy wearing the collar all that much.
Your pet will find a way to tell you if it is not happy, and we recommend that you pay close attention to the signs. Your pup will struggle to get the collar off when it is uncomfortable, and the more time it spends fiddling with it, the higher the chances are that it will figure out how to get it off.
Best training collars for Huskies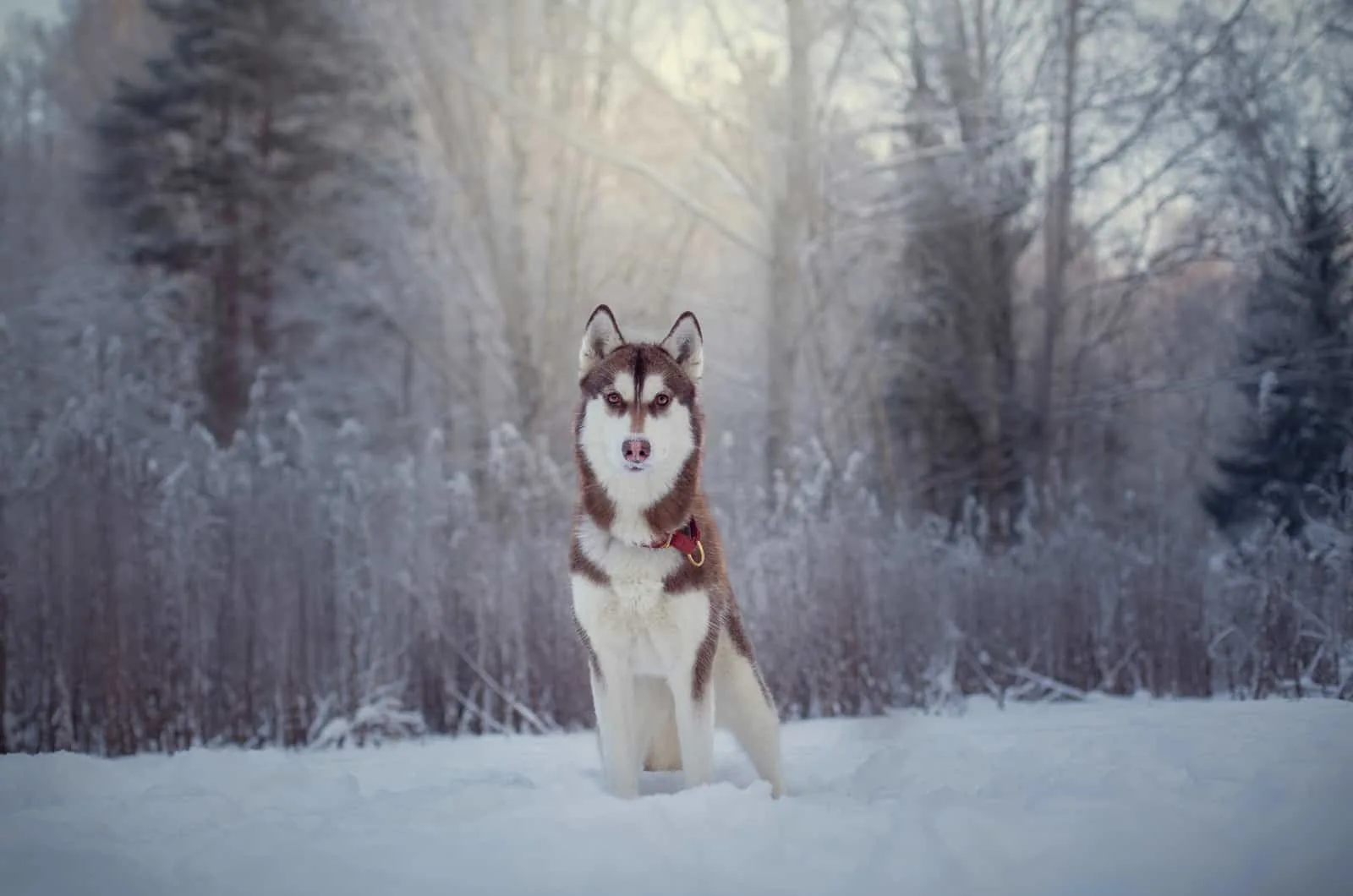 Before we dive deep into the best collars for Huskies when it comes to training, we need to introduce you to the different types of these collars.
While most of these collar types have their merits, some can be very counterproductive and quite uncomfortable for training your pooch. For this reason, you should be aware of the different types and know which ones to avoid.
So, without further ado, here are the most popular types of training collars for Huskies:
Flat Collar
These are your standard collars or basic bands around a pup's neck, and they are the most widely produced and sold collars today. With no shocks or vibration, they can't be used for behavioral training beyond a certain point, but in return, they will not harm your pup in any way.
Prong Collars
The prong or pinch collars dig deep into a canine's neck if it tries to pull while wearing it. Even though this type of collar uses relatively less force than other types on the market, it can still be quite harsh. These collars are also quite easy to misuse, and that is one of the reasons why they are being discontinued rapidly.
Shock Collars
This type of training collar is also called an E-collar, and it can lead to some problems with aggression in the long run if the shock stimulation levels are too strong.
Because of this, the use of these collars has been banned in several countries across the globe. Even though they might be available in your country, we only recommend using them for notorious and extremely misbehaving dogs as the last resort.
Vibration Collars
This type of collar is often mistaken for shock collars, but it is not nearly as harsh on your Husky. Furthermore, the vibration produced by this type of training collar is startling, but not painful.
This is why you can use vibration collars for correcting behavior and positive training techniques.
However, the vibrating feature is more often than not included in shock collars, and likewise, shock stimulation is often included in vibrating collars. Hence, the best approach is to use this wisely in order to avoid aggravating your Husky further.
Choke Collars
These types of collars are not the best choice for you if you adore your canine companion as they provide quick choking to correct its behavior. You can initiate the choking effect by pulling the leash on your end. Similarly, the choke collar will provide the choking effect if your Husky struggles and tries to escape.
Martingale Collar
The Martingale type of collar has an overlapping design that is similar to that of a choke collar, but it only tightens and doesn't choke your pooch.
On top of that, it doesn't have a buckle; instead, you have to slip it over your furry friend's head. You can use this to prevent your misbehaving Husky from running away.
Best shock collars for Huskies
This wouldn't be a complete guide to best Husky collars if it didn't include shock collars as well. So, here are our top picks for you to choose from: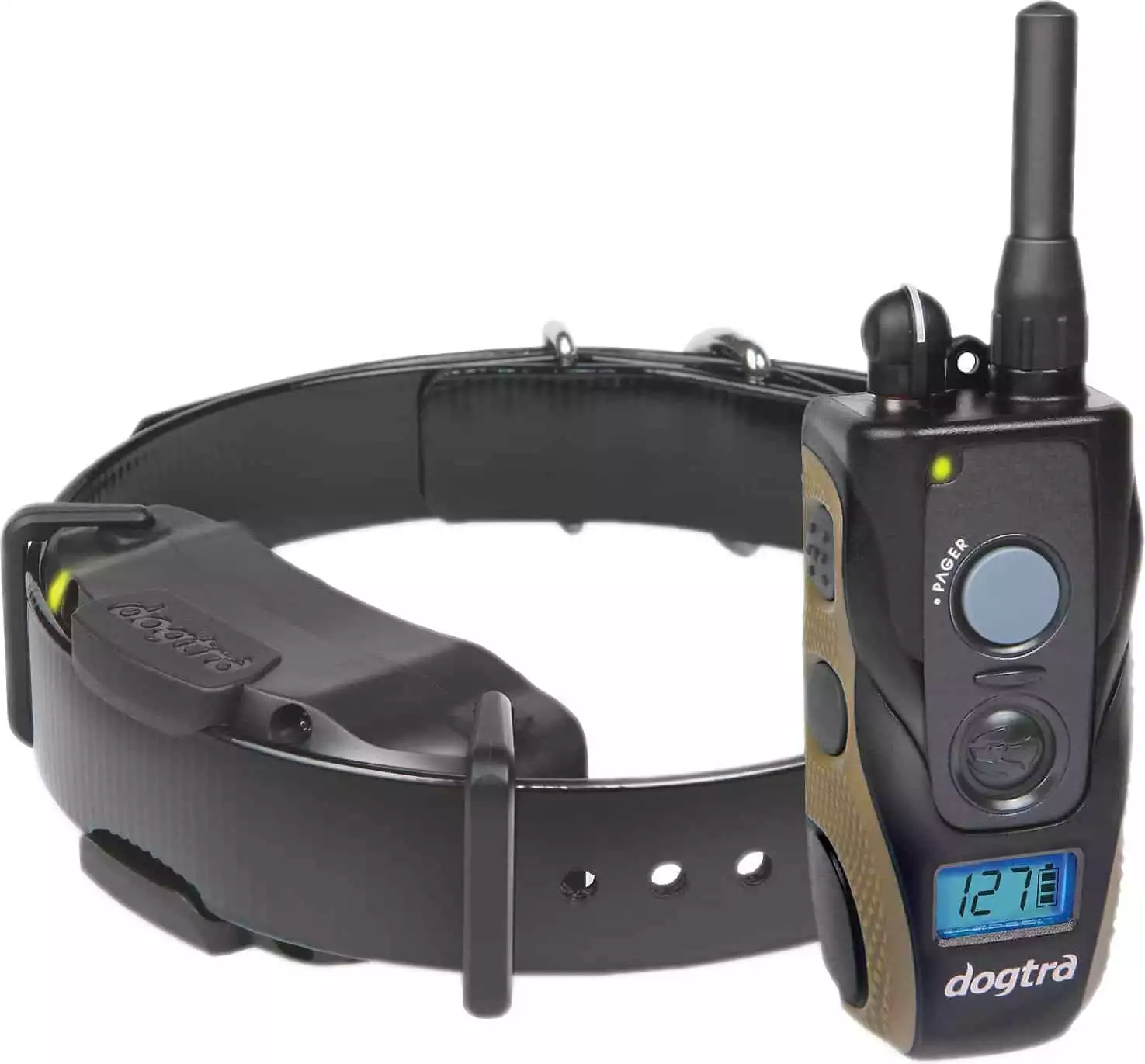 The Dogtra 1900s WETLANDS Remote Dog Training Collar works very well for a Husky and other large dog breeds, and it comes with a remote that is designed for a no-look experience.
This awesome training collar also comes with a receiver, a wall charger, and metal clasps. Like most other e-collar kits, it has a built-in tester that lights up notifying you when you put it in the receiver's prongs. The Dogtra 1900s is wide enough to fit neck sizes of 26 inches and narrower, so it fits all Huskies and other similar breeds.
Range and control
The receiver on this remote control collar has an above-average range of around 1300 yards or 3/4 of a mile. The remote itself has a wide range of static stimulation levels ranging from 1 all the way to 127.
This, however, doesn't mean that this product is 10 times more powerful than the latter ones on our list; it just means that there are many in-between levels and weaker levels for you to choose from.
With this, you can adjust the intensity to minimize or maximize the levels of static stimulation needed to get the attention of even the most stubborn of dogs. The small LCD screen on the bottom of the remote tells you the general battery level, along with the current intensity level.
Features and functions
This electric collar from Dogtra comes with three different training modes: vibrate, tone, and static stimulation. To choose any of these functions, the remote controller has buttons with specific bumps or patterns that help you feel which button is which without looking.
The remote comes with three triggers: one at the front, and two on the side. The two side-triggers are for continuous stimulation and a millisecond of static shock. The front button on the shock collar remote is for both sound and vibration.
The receiver's battery consumption is quite low. With a rechargeable lithium battery that lasts roughly forty hours, and can be charged by using the standard wall charger that comes with it, you won't have any problem during long behavior-adjusting sessions. Also, the wall charger has split plugs, so you can charge both the receiver and the remote at the same time.
Educator Pro E-collar Kit
Key Benefits:
A "mild" static shock

USB rechargeable

Wide range of shock levels
Cons:
Average range

It can only handle one dog at a time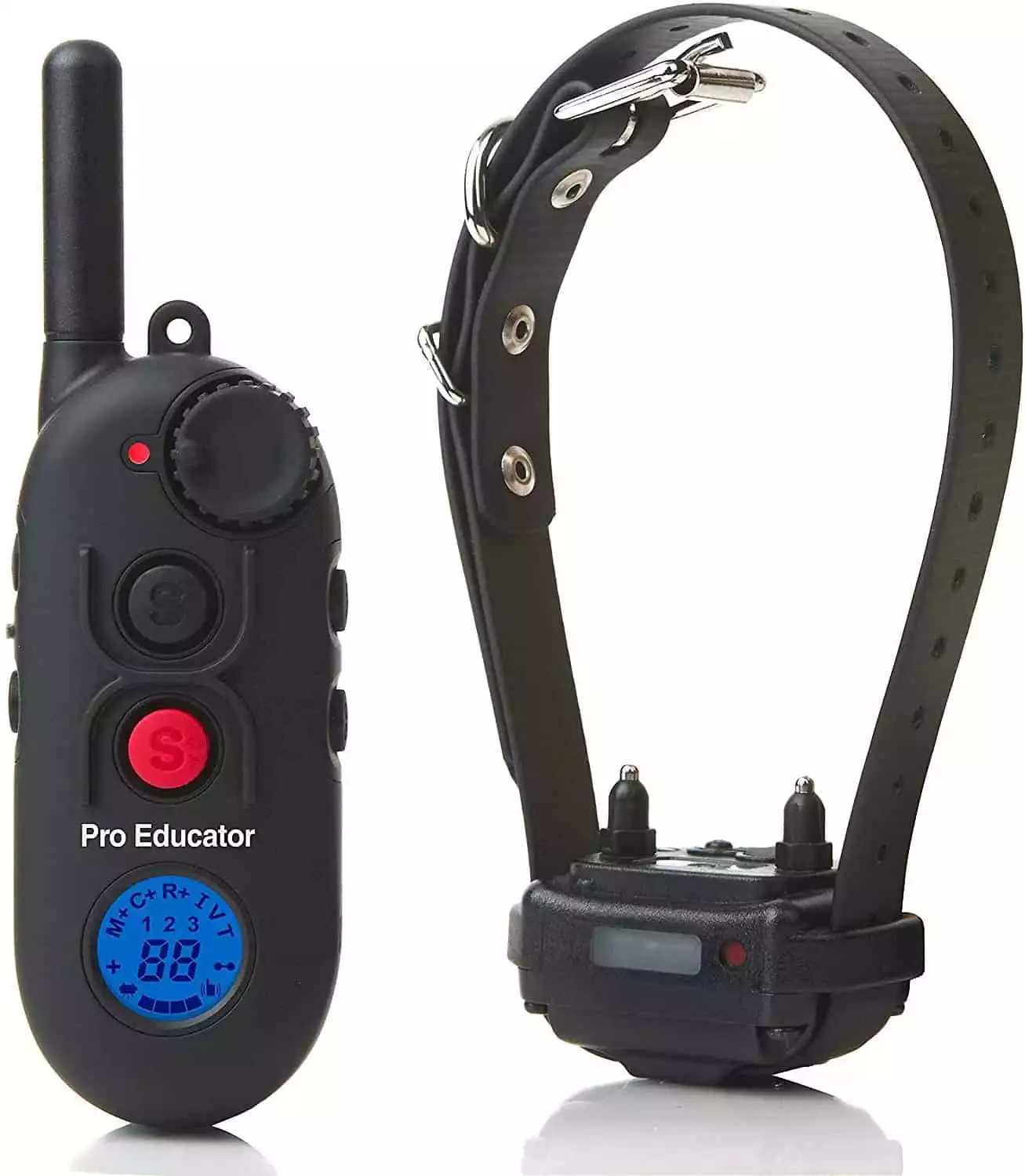 The second collar on our best shock collars for Huskies list is from the Educator Pro series. This shock collar works very well for a Siberian Husky, and it comes with a flat collar, a split USB charging cable, a remote controller, and a wall plug.
Additionally, it comes with a tester for the receiver, and even a tiny wrench to help you secure the prongs. The collar can fit any neck size below thirty inches, so it will definitely fit all Huskies. You may find the control scheme of several functions that is made to fit a few buttons a bit hard to use at first. But, with a small bit of effort, you will get used to it in no time!
Range and control
The receiver can pick up signals from the remote at 880 yards or half a mile. Note that in places with plenty of obstructions like a forest, or between houses or buildings, the range can decrease.
When it comes to the shocking feature, this collar has an impressive 256 sensitivity levels! However, the LCD screen only shows up to 100 levels. This shouldn't be much of an issue because you will very rarely have the need to use levels higher than 100. With that said, it is not unheard of to find Huskies and other dogs that can tolerate pretty high levels of stimulation before they stop misbehaving.
Features and functions
Like every other collar we have in this section, the Educator Pro E-training Kit also comes with tone, vibrate, and static shock modes. When set to vibrate, the remote also gives you different vibration levels. This series from Educator appears to have a "milder" static shock than most other shock collars, which may be unique to the product.
When it comes to the number of collars the remote controller can handle, the standard one in this series can handle only one Husky at a time. However, if there is ever a need to control more than one pup, there is the option of upgrading to versions that can handle up to three, but, of course, this costs extra. So, if you are handling two or more dogs, this is the way to go with this brand. If not, you can use this cheaper e-collar without a sweat.
The rechargeable battery is one of the strongest on our list, and it lasts between 40 and 50 hours on standby mode. Also, it can be fully charged from 0 to 100% in just two hours. The collar comes with a nightlight, which is perfect for finding playful pooches in the dark. The light also comes with a steady mode as well as a strobe mode for higher noticeability.
SportDOG Brand 425X
Key Benefits:
Very good stimulation control

Great battery life

No-look design
Cons:
No LCD

No nightlight

Can't be used as an anti-bark collar

Average range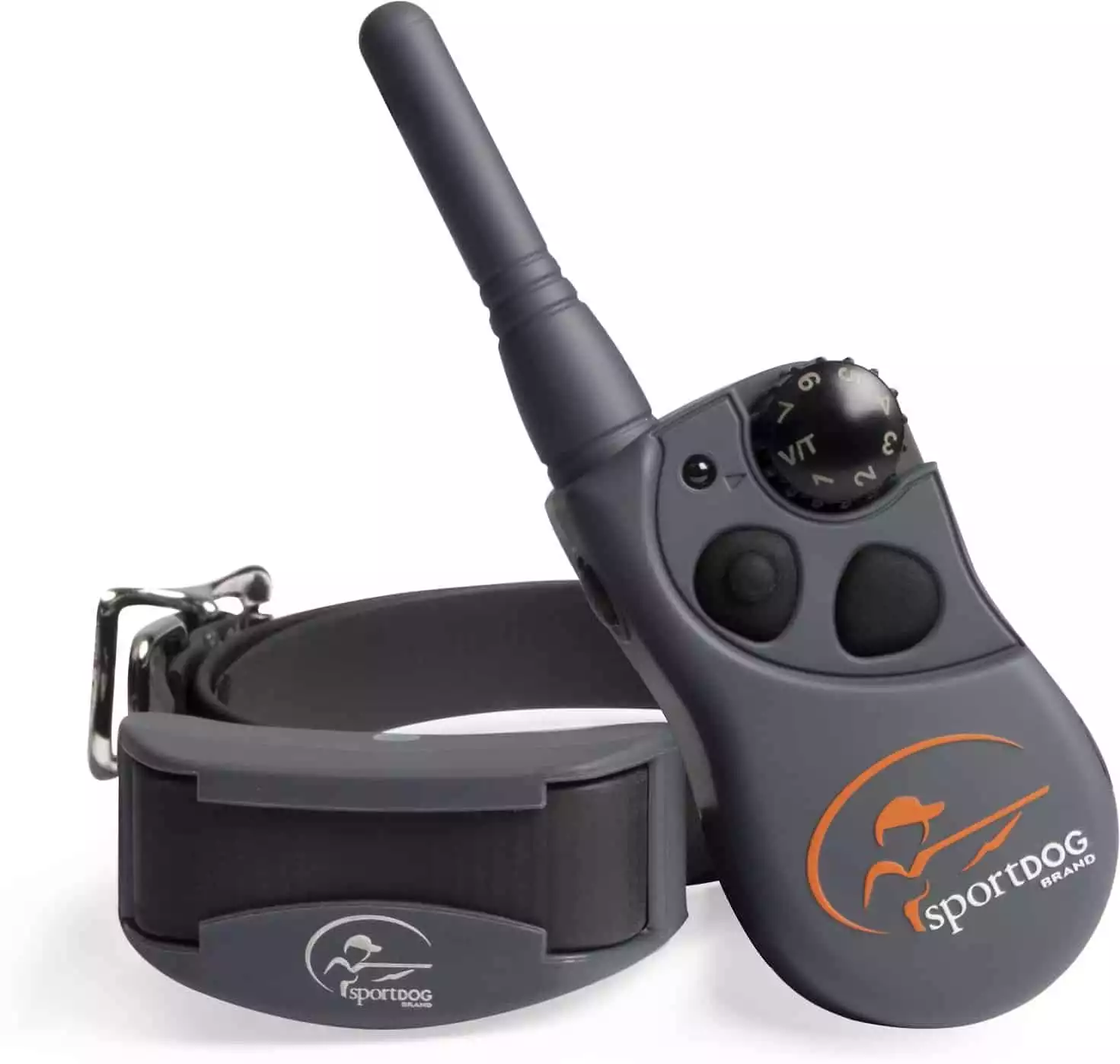 The third shock collar on our best collar for Huskies guide comes with a noticeably smaller remote that comes with even more emphasis on the no-look usage.
The SportDOG Brand 425X Remote Training Collar contains all the things a standard shock collar needs: a long flat collar with the receiver connected, a remote controller, and a charger. This kit also has a slightly different set of controls for getting your dog's attention, which we will cover in detail in just a bit.
Range and control
The remote has a pretty low average range of just 500 yards. However, despite us labeling it as pretty low, the range is more than enough when training your beloved pooch in the back yard or when you are in the dog park letting your Siberian Husky run around.
The remote controller also comes with up to 21 adjustable levels. Instead of the two usual buttons for continuous and "snap" stimulation, the remote comes with three buttons for continuous stimulation with three different levels: low, medium, and high. With the dial on top of the remote adding seven levels on top of the three already mentioned, this gives you a total of 21 levels of correction.
A thing to note is that this kit doesn't have an LCD screen. However, even though it won't show you the level of intensity or the battery level, it does have a long battery life of around fifty to seventy hours depending on usage.
Features and functions
This adjustable collar for a Husky from SportDOG Brand comes with the three standard training modes: vibration, tone/page function, and also 21 levels of shock stimulation.
With the three continuous buttons at your disposal, you can simply release the button as soon as you press it if all you want is a short static stimulation. But, because of the limited number of buttons, you will often need to change modes in order to switch the button functions.
The remote controller can handle up to three different collars, and like all other shock collars on our list, the flat adjustable collar can fit any neck size of medium to large dog breeds like Siberian Huskies.
Given the three different training methods and the high control range, the only things that are missing in this kit are the nightlight feature and an automatic anti-bark system. It does, however, make up for it further with lengthy battery life and a two-hour fast charge.
"The Boss" ET-800
Key Benefits:
Strong nightlight

Very high range

100 control levels
Cons:
Anti-bark option

More than one collar support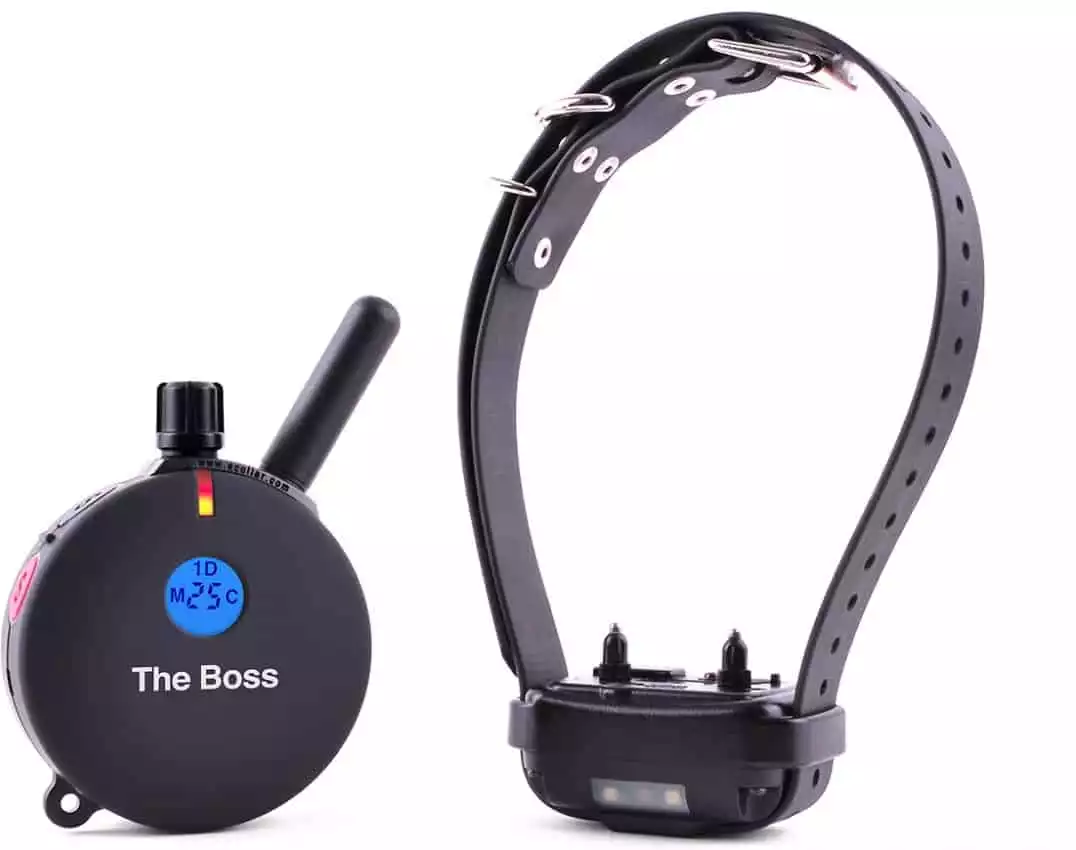 The fourth product on our Husky shock collar section declares itself as "The Boss." It has all of the quality features seen in the previous collars we mentioned, but it comes with a steeper price.
As soon as you open the package, you will see the receiver attached to the collar, the dual wall-plug charger, a pair of slightly longer spokes, and the remote controller.
Range and control
This product has, by far, the highest remote range on our list, going as far as 1800 yards or one mile. Keep in mind that this range is measured in open spaces.
This shock collar, and almost any other, use certain radio frequencies to communicate, and the signal can pass through bricks and wood; however, metal, trees, and insulation can dampen it.
The small button on the top of the remote lets you adjust the stimulation levels from 1 to 100. The Boss' overall strength of static stimulation is considered higher when compared to most other collars, so take that into account when using higher levels.
Features and functions
The stopwatch-designed remote controller has three different modes: vibrate, tone, and static stimulation (shock). As an additional function, you can use the tone as a way to locate the collar in case you misplace it, provided the battery in the receiver is not drained.
The remote of this electric collar can handle only one dog at a time. This might be more than enough if you have one particularly moody and stubborn Husky, and most Husky owners agree that these pups are as temperamental as they are cute. Another cool thing about this product is that it comes with a nightlight, which might come in handy when your Siberian Husky goes out in the dark.
How to choose the best dog collar for a Husky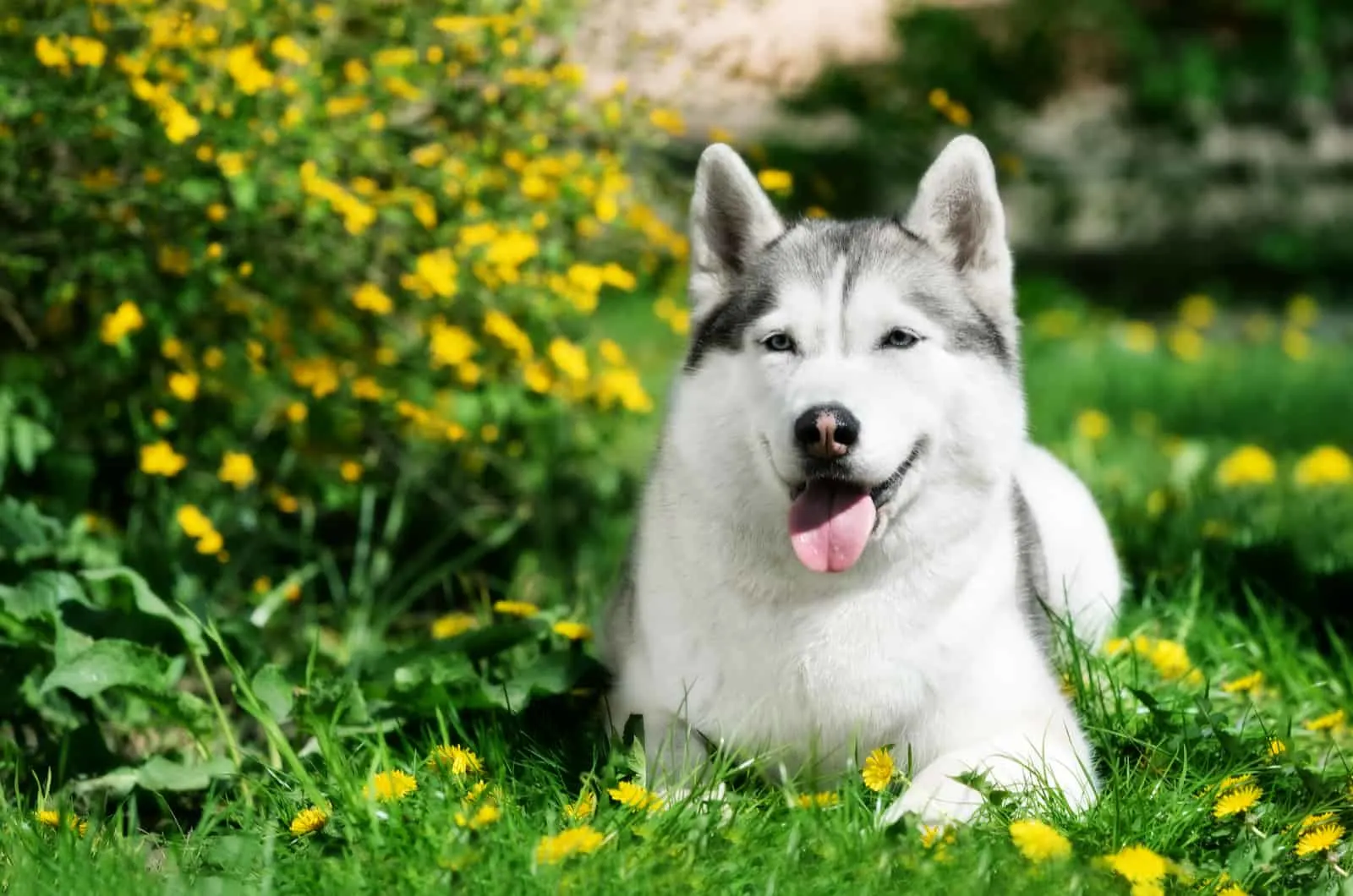 Now that you've seen all of the different types of training collars, and our top shock collars for Huskies, you should have a pretty clear picture of what features a modern electric collar has.
In case something is still giving you doubts, we offer you some buying tips to help you decide which one is best for your situation.
1. Ask yourself why you need a shock collar.
Getting a shock collar for your canine companion is an investment meant to help you correct unwanted behavior in the long run.
You might need a shock collar because your Siberian Husky is too aggressive towards others, or it excessively barks, or it loves to go on a joy run towards a busy street.
An e-collar can be an excellent tool in correcting these behaviors by conditioning. It is similar to the way choke collars, Martingale collars, and prong collars condition a pup to follow the leash when it is tugged.
If you do need to correct your Husky's behavior or excessive barking, you should aim to get a collar that has a higher-than-average range, and an anti-bark mode. If you think that a static stimulation shock is too much for your beloved pooch, don't worry. As we've seen above, most shock collars have various vibration levels.
2. Check the range and effectiveness of the collar.
The range that an electric collar needs to have depends on what you will be using it for. Generally speaking, you would want a range as far as you can afford to spend.
As we've seen above, some collars come with a standby mode that helps conserve battery life. However, this means that there can be a delay between giving the command to the remote and the receiver actually registering it. That can be a bit of a problem as we know that timing is crucial when training a dog of any breed to correct unwanted behavior.
3. Consider the function-to-price ratio.
If you don't want the best bang-for-buck ratio when buying, then kudos to you! Joking aside, when you know exactly what functionality you want from your electric collar, the next thing is to compare the price.
Most shock collars have premium quality on a few functions, but come at a higher price. Others, though, might come with a simple and wide variety of functions for much less.
How to use a shock collar: tips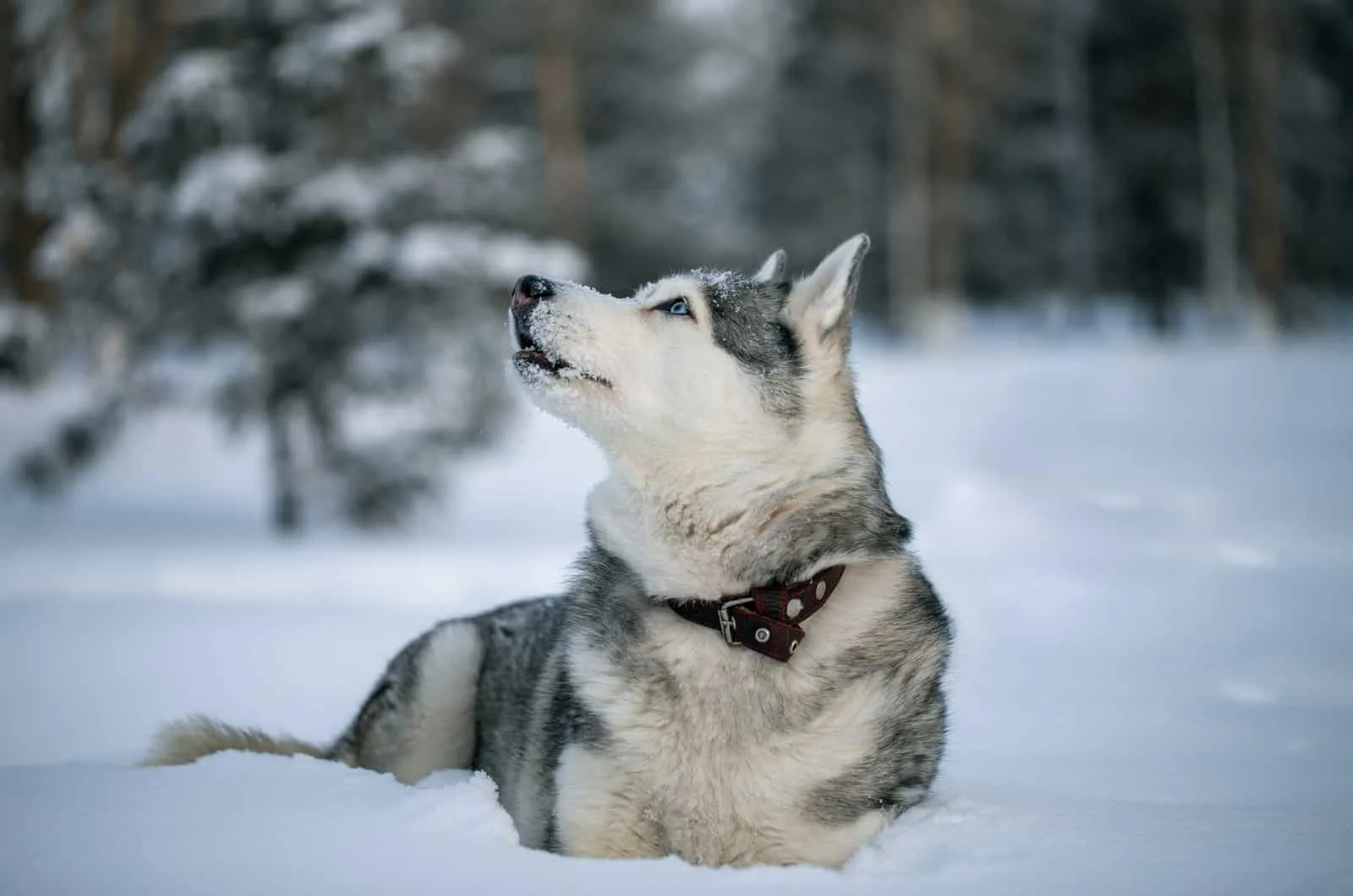 At this point in our guide, you might have made a decision on which type, or even a specific collar you want to buy. In case you opted for a shock collar, here are some tips to ensure that you and your furry friend have the best experience while using it.
1. Let your dog wear the collar for a few days.
Siberian Huskies are smart dogs; often too smart. Some of them will eventually figure out that they are wearing an electric collar instead of a normal one. What's more, they might even figure out whether the collar is turned on or not.
To avoid this, let your pooch wear the shock collar for a week for around six to twelve hours a day. Play with your Husky, take it out for walks, and let it sleep with the collar on, all without activating it. By doing this, you will allow your pooch to get used to the collar, and let it think that it is just another collar you put around its neck.
2. Rotate the collar every hour during use.
Most collars have a receiver that transmits the shock in only one place. So, it is wise to relocate where that point is every now and then. Responsible owners and dog trainers do this to avoid skin irritation and pressure blisters.
Despite these collars not exactly electrifying your Husky, the spokes are still pressed against the skin. Therefore, prolonged use can cause problems.
3. Make sure the collar is tightly fitted, but still comfortable.
You wouldn't want the electric collar to loosen each time your pooch tries to dry itself, or slip over your Husky's head without a warning. So, to prevent this, fit the collar on your dog's neck so that you can insert two fingers in between them in order to ensure a snug but comfortable fit.
4. Use the collar as humanely as possible.
Similar to Martingale, choke, and prong collars, shock collars are only as bad as people use them. When using one of these collars on your Husky for the first time, make sure to start at the lowest stimulation level and go from there.
Observe your pup's response, and if the lower levels are not enough to get its attention, amp up the stimulation until you reach a level that gets its attention. But, if you notice your pooch twitching their head or yelping, then it is obviously too much. Keep in mind that the key is moderation!
Final thoughts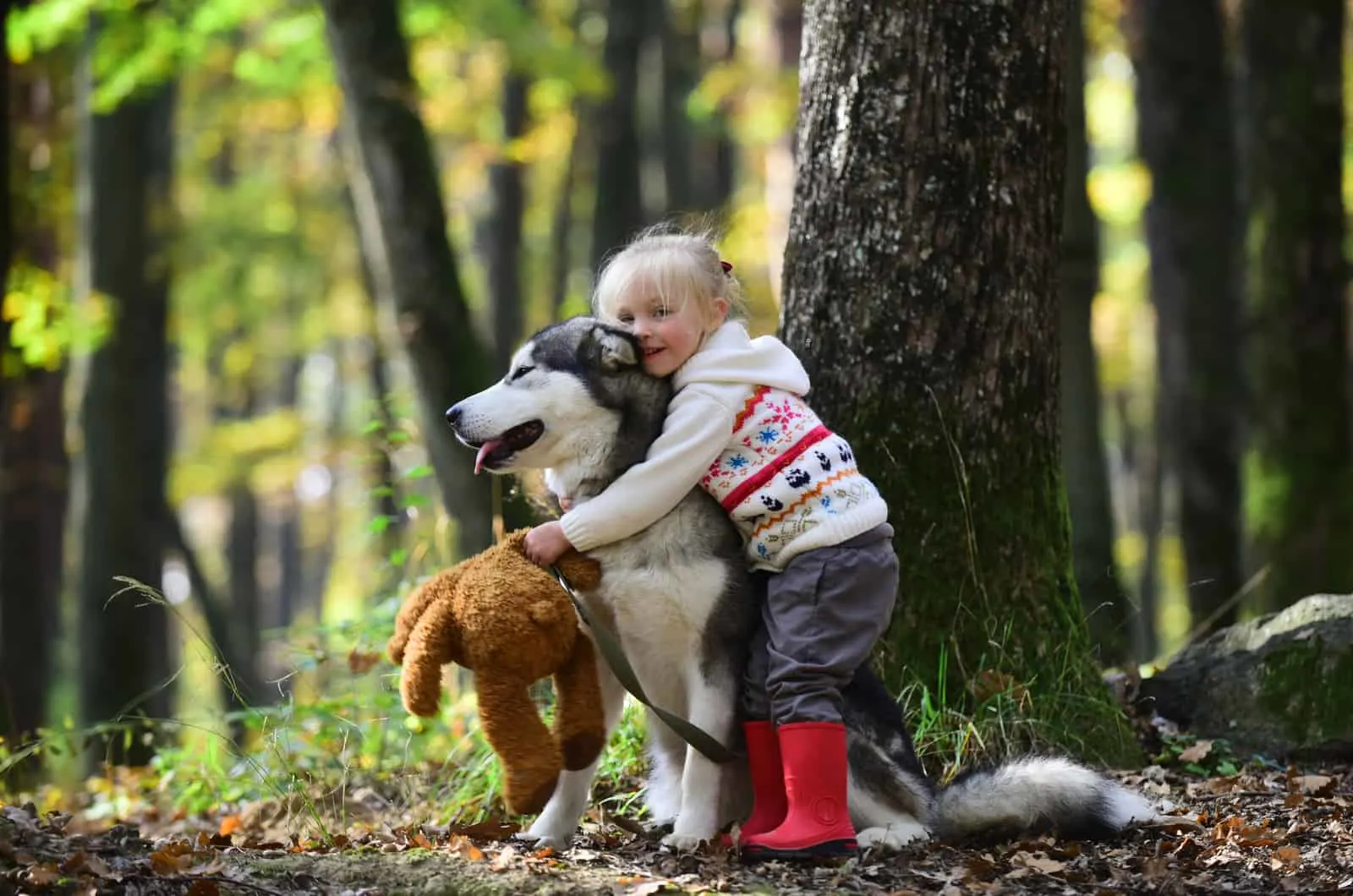 We hope that our "best collars for Huskies" guide, filled with reviews and tips, has gotten you close to a new collar for your furry bestie. If you are still undecided, we would recommend getting the Starmark Pro-Training collar as it is the best overall. This collar comes in plenty of sizes, and it's made from extremely durable and waterproof materials.
When it comes to shock collars, we would suggest getting "The Boss" ET-800 E-collar as it is one of the best out there. It has a far better range compared to most other electric collars, and it comes with 100 control levels as well as a strong nightlight.
For a Husky puppy, you can't go wrong with the Frisco Solid Nylon Martingale collar as it comes in plenty of sizes, and is waterproof. Combine it with a heavy-duty dog harness and you will have the equipment to tackle even the most stubborn of dogs!