This post contains affiliate links, and I will be compensated if you make a purchase after clicking on my links.
If it's tough for you to decide on the best dog waste disposal system, leave that up to us!
Instead of endlessly searching for the perfect product or trying to DIY your own waste disposal tool, just go through this article and choose one of these great systems that'll get rid of your pet's waste from the garden.
Now is the right time to potty train your pup if it isn't trained yet, so you can collect the poo from the same or similar place and get rid of it before you step on it!
Best Dog Waste Disposal System: Meet PupVine's Favorites!
Not being able to decide on the right waste disposal tool is completely understandable, especially if you're a first-time owner who has no clue up until yesterday on how much dog equipment is needed to have a pet.
That's why we're here to guide you and help you make the final choice without spending too much time on it.
Let's start with the first three choices that we found suitable for most pet owners:
Dog Waste Station
Key Benefits:
Cool Design

Can be used in different environments (dog parks, yards, vet clinics, campsites, pet-friendly hotels, cafes, etc.)

Easy to assemble

Made from durable materials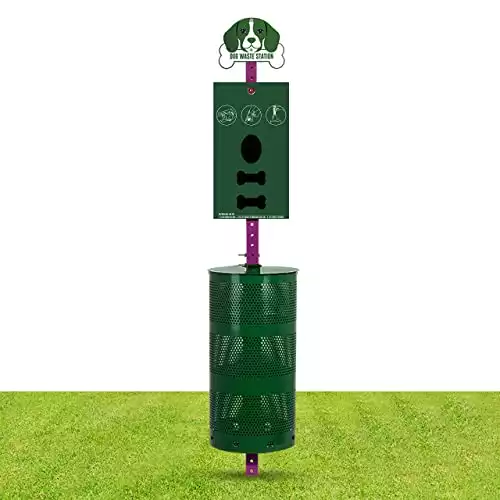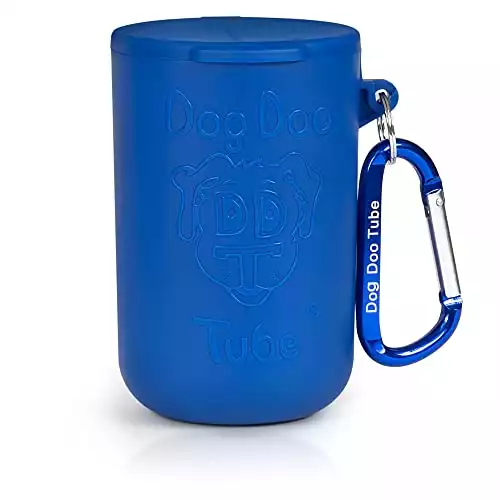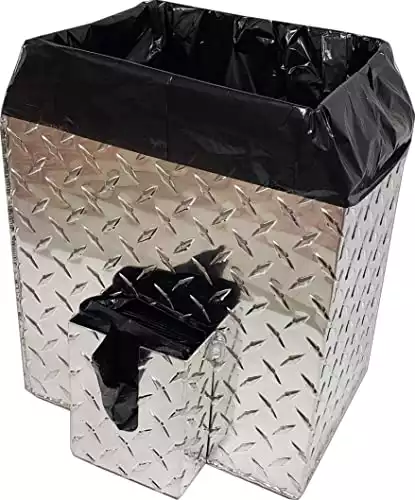 Dog Waste Station
Key Benefits:
Cool Design

Can be used in different environments (dog parks, yards, vet clinics, campsites, pet-friendly hotels, cafes, etc.)

Easy to assemble

Made from durable materials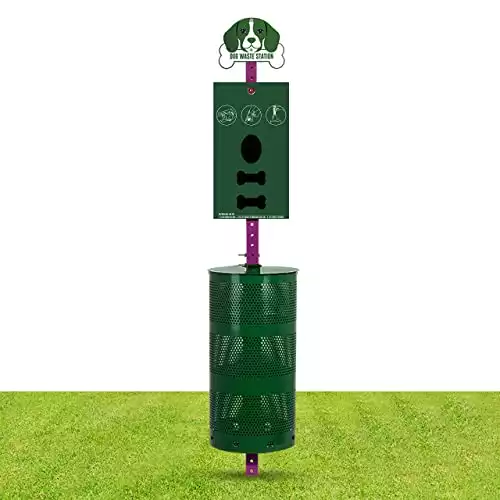 Most pet owners will agree that it's rather difficult to find a good-quality dog waste system that can be used by multiple people.
Some of the reasons why most poop disposal systems aren't practical are possible complications during use (not user-friendly), the fact that they easily get dirty, and corrosion, which changes the color of the disposal and spoils the quality of the station.
That's exactly why this dog waste station set was made from aluminum and steel so that it is kept as good as new.
It can hold up to ten gallons of dog poop, so it doesn't need to be emptied several times a day.
Why Should You Buy It?
At first, this station doesn't look any different from other poop stations, but once you get a good look at it, you'll notice a few differences that make this product worth buying.
First of all, this station is easy to assemble, and it fits almost everywhere.
If you're fed up with cleaning someone else's dog poop in your yard, you can put the station in front of the house.
The capacity of this dog poop disposal will be more than enough for neighbors to use it as well and save you from stepping on another unpleasant surprise when you go outside.
Also, this is one of the rare stations that offers you to pick between two poop bag options. You can choose whether you'd like to get a roll or a pull bag for your dog's waste.
A big bag holder may store about 400 rolls and pull bags each, which is more than most stations can hold!
One of the things that most dog owners find annoying is the fact that they have to bend down to pick up their dog's waste, which is almost impossible if you have any back pain or other health issues that might prevent you from getting into that position.
However, if you choose a pooper scooper, you'll finally be able to pick up the pup's poop without having to make any awkward movement.
It doesn't pick up the poo by itself, but it's not far from that either, which is more than good enough for me!
The tray comes together with the rake that is easy to clean; all you need is some water and wipes to dry it.
Another important aspect of this useful tool is its size. Most owners are looking for something they can carry around to dog parks or on hiking trips.
The length of the rake is 37.8 inches, together with the tray, while the rake stands at 36 inches. The tray length is nine inches, with a width of 9.5 inches, which is more than what most scoopers offer.
Why Should You Buy It?
For all those who love their dogs, but don't like the smell of their poop (let's face it, it doesn't really smell like flowers), pooper scoopers are a great option!
This pooper scooper will work perfectly on almost every surface, including grass, concrete, or even rocky areas.
One of the things that I love about this scooper is the fact that you don't have to use any tool in order to assemble it. It's all about push and clicks, which is the most practical way of assembly, especially when you're outside the house.
The large tray enables you to use this scooper for other purposes, as well!
If you need to pick up leaves or debris from your yard, this pooper scooper will help you finish the task in the blink of an eye!
The manufacturer states that their product is one of the best dog waste disposal systems because you can collect plenty of dog waste without having to go back and forth all the time.
There are a lot of people who had unpleasant experiences with poop scoopers in the past, mostly because of the bad materials that caused them to break shortly after the purchase was made.
However, this product is made from stainless steel, in combination with a rust-proof coating and plastic sleeves that are placed on the top of the handles.
When it comes to the top part of the scooper, it's important to mention that it's designed to fit the owner's hand perfectly so that you can have maximum comfort and control over it.
Why Should You Buy It?
The non-stick material got me right away, along with the fact that it doesn't include only a rake, but also a spade, which is why it's multipurpose.
Another great thing about this dog waste dispenser is the fact that it can be easily stored because it's easy to assemble. On the other hand, this set is lightweight, too, so you don't have to worry whether you'll get tired carrying it around.
If you have a pup that poops a lot, this will be a great solution, especially if you're in the park or in someone else's yard.
Scoop the poop while you're there, and throw it all away once you're ready to go home!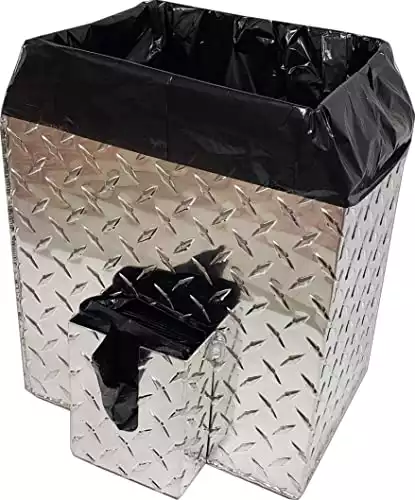 This is one of the American products that was designed and made by members of a family who were looking for a dog waste disposal system for large dogs.
Their idea was to create a set of tools that would be good enough for dog owners and kennels, which are homes to a great number of dogs.
Some of the greatest characteristics of this product are the ability of the scooper to spread as much as needed and pick up all sizes of dog poop, especially when you have a big canine that loves to go potty several times a day.
Aluminum that won't corrode, and handles that are 38 inches long make the scoop easy to use without bending over.
You have the option of selecting between a flat-edge or a teeth-edge scooper; both are made from the same material.
Why Should You Buy It?
Most people who use scoopers are satisfied with their tools, but I'm sure a lot of them would agree that it can become tedious to run to the waste bin all the time or to mess with a dog poop bag, trying to hold it with one hand until you put the poop inside.
That's why this manufacturer came up with the idea of a pet waste remover that comes with a high-quality garbage bin, which has quite a large capacity.
This way, you can clean a bigger surface without the need to empty the bin or the bag.
The bucket also comes with a poop bag storage, so you can carry the bags and switch them whenever you need to.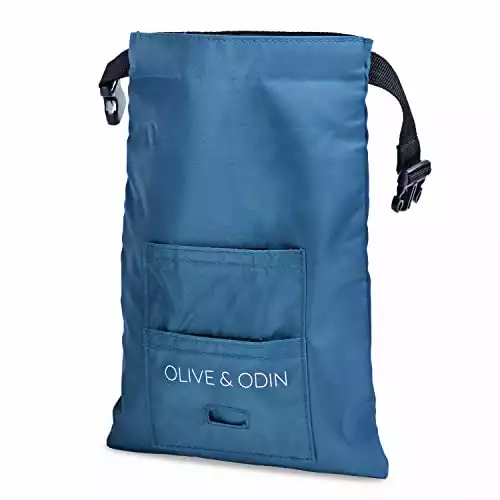 This is one of the products that highly benefits both people and nature as well. Instead of using additional plastic bags to dispose of the canine's waste – this way, you can collect your pet's poop until the bag's filled up.
These bags are one of the best ways to transport your pet's feces to a garbage can if there's none around you.
It is made from odor and waterproof materials (five layers, to be exact), and it's easy to clean.
The bag comes with two pockets as well, which can fit bags, your wallet, keys, dog treats, or something similar.
Don't worry about whether your stuff will have the smell of poop because this product is indeed odorless, and it never leaks.
Why Should You Buy It?
The fact that you don't have to carry anything with you except a small bag that can be added to your backpack is a great selling point, especially for people who go traveling and hiking often.
It doesn't require too much space even when you're not using it – all you need to do is fold it up and put it anywhere you want.
Essentially, you can forget about carrying anything with you – no more rakes, huge handles, or stinky bags. Now, you can securely stash all your pet's poop, dispose of it later, and not be worried about any smell around you.
The material is sturdy enough to last for a long time, so you don't have to think about whether it'll break at some point.
I'm sure that most of you thought at least once in your life how good it would be to get rid of your pet's poop the same way you get rid of yours – through a septic system.
The owner of the Doggie Doo Drain must have thought the same, so they came up with the waste digester, which connects to the sewer pipe and takes the waste far away from your back yard.
This is a great tool for those who know where their sewer clean-out is placed, so they can just remove the lid, place the drain system, remove the plug, put the waste in the cylinder, and rinse everything off with a hose once it's done.
This small tool will be a lifesaver for many people who are looking for a good dog poop disposal system that can be connected to sewers.
Why Should You Buy It?
Just because some dog owners don't like to mess with dog or cat waste doesn't mean that they don't like their pets. It's just that they can't stand the smell of the poop, and they don't want to keep it in bags until the garbage is picked up by waste collectors.
Instead of having a smelly garbage bin in front of your house, you can simply get rid of the poop the same way you get rid of human feces.
It's easy to assemble, easy to use, and easy to clean – three essentials for everyone who loves and keeps animals on their property.
However, some pet owners don't like the fact that it doesn't come with a scooper or any tool for picking up the waste, so you might need poop bags to collect the feces.
This is one of the best dog waste disposal systems according to a great number of users who were thrilled with this product.
There are several reasons why it'll be the number one choice of many people who are looking for a good pet waste disposal system.
Every product has its pros and cons, depending on what you were expecting from it in the first place.
The pooper scoopers that I mentioned above are great and are of good quality, but some people say they might be missing something, and that's a trash can.
This scooper set comes with rakes, a tray, and a garbage bin, which contains an inner bucket that can fit four gallons of waste (you can use regular plastic bags if you prefer).
Why Should You Buy It?
If you don't like the idea of mixing dog waste with other garbage and the smell that your regular trash bin will get, then this is something that you really need.
You can clean up your back yard in a short time without having to bend down, as the rake and the tray are long enough to offer you the full comfort of picking up waste while you stand.
The trash can is easy to use as you can take out the inner container and wash it as soon as it starts smelling bad.
Another great thing is the hands-free can, meaning that you don't have to touch the lid or any other part of the bin. You simply step on the pedal, remove the waste from the tray, and continue your work.
I'm sure many will agree that this is one of the better disposal systems that is very practical for the majority of dog owners.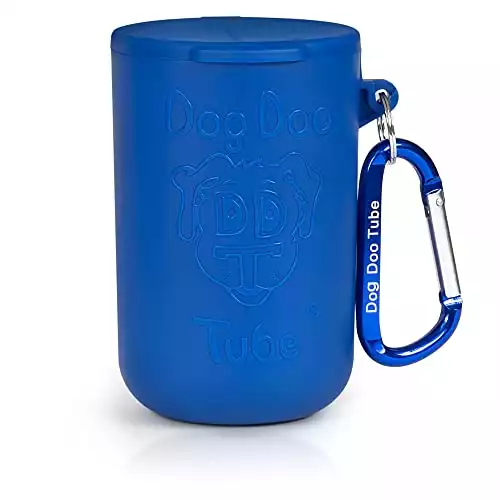 Carrying the rake, tray, cans, and big bags filled with dog poop might not be very practical in dog parks or walks through the woods.
That's why active dog owners look for smaller containers and portable dog waste disposal systems, which will serve the purpose for a few hours… up to the whole day at the most.
No one will even notice that you're carrying a portable garbage bin with you as it has a great design and doesn't let out any uncomfortable smells.
Unlike bag dispensers, this plastic container is sturdier, and has fewer chances of breaking the bags inside and making a mess even if the tube is dropped or stepped upon (although I wouldn't recommend the latter one because it might break).
It comes in two different sizes for large and medium-sized pooches.
Why Should You Buy It?
If you take your dog for short walks or one-day hiking trips, you'll need something to dispose of your pet's feces.
Instead of walking with your hands full of tools, you can simply take a small tube that you can hook to your backpack or whatever you have and take it with you until you're able to drop all of the waste.
One of the best things that I love about this tube is that it can be attached to a leash as well, so you don't have to carry it on yourself if you don't want to.
It might not have the same life expectancy as your Cane Corso or a Dachshund, but you'll be able to use it for years!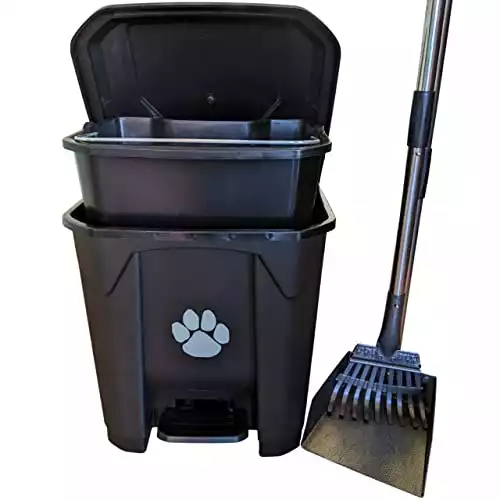 Forget about plastic poop bags that save you from dog and cat litter, but pollute our Mother Earth and choose an eco-friendly pet waste disposer, such as the ZubyDog trash can and scooper.
A big tray enables you to pick up plenty of waste before you need to take it to the trash can, which saves your time and your legs.
The height of the scooper is 37 inches, which is why it's perfect for the majority of people who can not bend anymore.
The rake-tray set is made from sturdy materials – a combination of metal and aluminum, which is why they're both rust proof and waterproof.
Why Should You Buy It?
It's lightweight, which is why you won't have any pain in your arms after using it.
Most people praise this product for not having to use bag dispensers every single time your pet poops, which is how you keep the planet cleaner and safer for all of us to live.
Another great feature of this set is the no-tool assembly. You don't have to run around looking for those screwdrivers you once left in the garage and have no idea where they are now because you only need to push and click the pieces until you get the complete set assembled.
Also, I've got to mention that this business is operated by an American family, so if you like to support small brands, now's your chance to do so.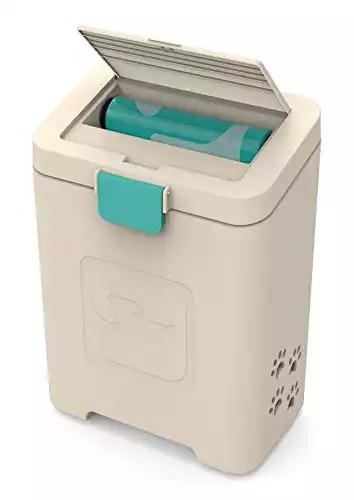 Here is an above-ground pet waste station that will keep your pet's waste and its smell far away from you and your pup.
One of the most important things for most dog owners is the odor reduction abilities of a waste disposal system.
If your yard or even your house smells bad because of the canine's litter, I'd say it's time to change the waste disposal system.
Although you need to use poop bags to pick up and store the poop, there's no need to put a bag in the container as it's odor-free and removable. You just need to take it out, throw in the waste, and put the container back into the bin.
This way, you protect landfills that get filled with plastic bags while you also dispose of all of the waste your canine produces.
Why Should You Buy It?
Except for being environmentally friendly, this type of disposal system is also made from durable and strong materials that provide this bin with a longer life expectancy than most of the trash bins you can find on the market.
It comes together with a compartment that can fit more than 200 bags, so you don't have to carry them separately.
You can keep it outside if you'd like, and you don't have to take it inside even if it rains as this bin is weatherproof as well.
While it possesses plenty of positive sides, some people might find it rather too expensive, so if you're looking for budget-friendly dispensers, this might not be the best dog waste disposal system for you.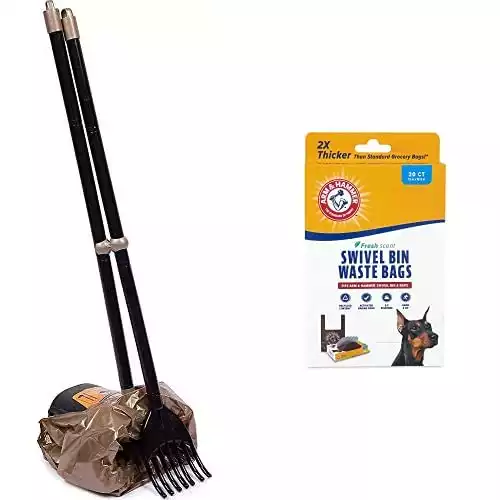 Now, this is quite a treat for people who are tight on their budget. I have to admit I was a bit skeptical about the whole usage of the bin and the bags as I thought all poop would go out again as soon as I started moving the tray/bin.
However, I was pleasantly surprised by the ease of use, along with the odor-free bags that enabled me to clean the whole yard without having to drop any waste into the trash can.
This is an excellent tool for all pup owners who would rather skip touching the poop with their hands, even if it's through bags and gloves.
The rake fits people of all sizes as the handle adjusts up to 32 inches in height.
Why Should You Buy It?
A lightweight tool for picking up dog poop without having to bend, kneel, or even touch the poop is one of the biggest dreams of almost every dog owner, especially ones who don't have a big yard that can fit multiple trash cans.
The bags that come with this set are two times more durable than the regular plastic bags (that's what the manufacturer states), so you don't have to worry whether it'll break and drop out all the poop again.
Essentially, all you need to do is hook the bag, fill it up, and then unhook it from the handles that are placed on the side of the tray.
The rake is quite good, but it could be sturdier, which is why you should be a bit more careful during raking.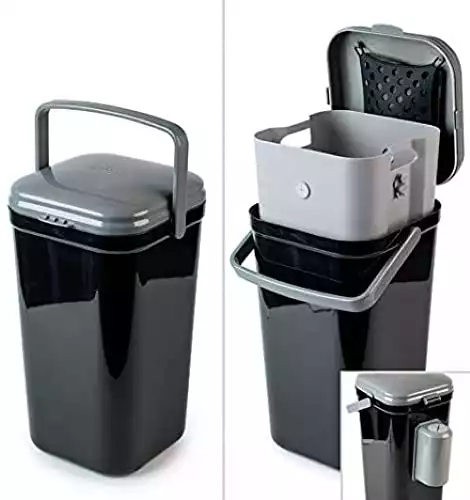 You might agree that the majority of these products have a lot of things in common (with pup poop being at the top), but they all have at least one characteristic that sets them apart from others.
When it comes to PetFusion's waste disposal, most people would agree that it has the same function as all other poop waste cans and bins.
Although you wouldn't be wrong, there are a few traits that make this can distinctive from other cans on this list.
First of all, this bin has a lock on the lid so that the odor stays trapped in the can. However, that's not all.
This product also comes with a silicone gasket, which is found all around the lid's edge. This way, there's no chance that the potential smell could get outside and take over the yard.
Why Should You Buy It?
I love that the owners of this product were so focused on the smell that they even added an active charcoal net on the lid, which neutralizes the odors from the poop.
I've got to admit I find this waste disposal system quite elegant as well, with a sleek design and a black and gray combination of colors.
I also love the fact that there's a special compartment for bags, but it's behind the bin, so it doesn't impact the visual appearance of the bin.
However, some customers report that it's not completely weatherproof as rain might get inside, so I'd recommend that you keep it in a dry place just in case.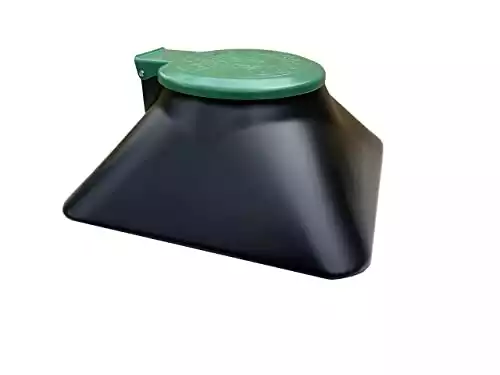 This is one of the best dog waste disposal systems that is used in-ground. It's an eco-friendly solution that will save you from having to carry the poop to the trash can and dealing with odors, especially during hot weather.
It takes a little bit of work to assemble this pet waste digester, but once you stop using plastic bags, you'll notice what a good solution this is for you and our planet.
All you need to do is dig a hole, place the product, and then follow the instructions (add water, dog waste, and one tablet with enzymes that break down the poo).
Why Should You Buy It?
I usually call this a budget-friendly waste terminator (although there's another Doggie Dooley product named that way) because it breaks down the feces without polluting the Earth by any means.
A hands-free lid opener is just another reason why you should get this disposer as soon as possible.
However, if you're looking for a more septic tank-like waste digester, I'd recommend you look at the Doggie Dooley 3000 Septic Style.
It looks a bit bigger, and it also has the capacity for a wider hole in the ground.
However, the original Doggie Dooley will do the job just fine.
Final Thoughts
I hope this list of the best dog waste disposal systems has helped you decide which waste disposal tool fits you the best.
Keep in mind that most of the above-ground disposers need to be cleaned and emptied regularly or else no odor-free features will help contain the smell.
If the odor is one of your biggest issues (and it is for most dog owners), you should pay attention to the dog food that your pup is eating.
It's better to buy high-quality food for German Shepherds, Huskies, Maltese, or any other dog breed that you might possess than to look for a completely odorless bin or bag that could cost a fortune.
Most of the pet waste disposal systems from this list are budget-friendly, and they are the best deals that you might find on Amazon, Chewy, and other shopping sites.
READ NEXT:
Why Does My Dog Fart So Much? How Can I Make My Dog Fart Less?
Puppy Diarrhea At Night: Why Does It Happen?
Dog Pooping In The House: Common Reasons And Helpful Solutions
Yellow Dog Poop: 7 Possible Reasons, And How To Help