Disclosure: This post contains affiliate links, and I will be compensated if you make a purchase after clicking on my links.
If you want to find the best dog food for Maltese but are overwhelmed by all the choices available, don't worry, you are not alone.
It can be quite frustrating scratching your head in front of hundreds of different brands and foods, all of which look the same at first glance. Because of this, we came up with this Maltese-specific guide for you and other Maltese owners!
We will go over our favorite picks one by one and hopefully give you a clear picture of what each of them brings to the table (or bowl, in this case). We hope to answer all of your questions and be right at your side through the process of choosing the best dog food for your furry companion.
Best Dog Food For A Maltese: Our Top 13 Picks
Best Dog Food For Maltese: Product Reviews
If you are searching for the perfect dog food for your Maltese companion, Blue Buffalo Life Protection Formula Small Breed Adult Chicken & Brown Rice Recipe Dry Dog Food is the one for you!
It provides great nutritional value at an affordable price. The formula in this product consists of carbohydrates like brown rice to keep your pooch active and energetic as well as high-quality chicken protein to nourish its muscles.
On top of that, veggies like sweet potatoes and carrots bring important minerals and vitamins into the mix, while blueberries, rich in antioxidants, help in developing a stronger digestive and immune system.
This Blue Buffalo Recipe also includes omega fatty acids to help nourish your Maltese's skin and glucosamine for increased mobility and healthy joints.
Food allergies can be devastating for your pup's digestive system and overall well-being. That is why Wellness made the CORE Grain-Free Small Breed Turkey & Chicken Recipe Dry Dog Food that is specifically designed to provide your pooch with the highest quality protein-rich diet alongside other vital nutrients.
The source of protein in this dry dog food is premium-quality turkey and chicken, which support muscle development, while grain-free carbohydrates like peas and potatoes provide energy to keep your Maltese going throughout its daily activities.
Vegetables and fruits such as broccoli, apples, carrots, and sweet potatoes provide your Maltese with the vitamins and minerals vital for good health. Additionally, antioxidants and probiotics lead to a strong immune system and healthy digestion.
On top of all this, this recipe from Wellness is enriched with chondroitin and glucosamine for improved joint health as well as omega fatty acids for healthy skin and a soft coat.
As dog owners, we want to provide our canine companions with a well-balanced diet that completes their nutritional requirements. Luckily, the Nutro Ultra Small Breed Adult Dry Dog Food does just that!
This small dog breed recipe from Nutro combines a mix of quality grains and proteins necessary for a small dog like the Maltese to stay active. This dry dog food contains necessary amino acids as well as a mix of three different proteins (lamb, salmon, and chicken) for muscle maintenance.
To encourage healthy digestion and proper nutrient absorption, Nutro uses whole grains such as brown rice in this formula. The recipe also contains sunflower oil and anti-oxidants, which promote the growth of lustrous and healthy coats as well as strengthen your pup's immune system.
Taurine found in this formula further helps properly develop and maintain your dog's eyesight and hearing. In addition, Nutro Ultra adheres to a strict policy of using only all-natural ingredients that are completely void of artificial coloring, preservatives, and flavoring, which can sometimes cause stomach upset in dogs with a sensitive digestive system.
All of Blue Buffalo's Wilderness diets are designed based on the ancestral diet of wolves. The protein-rich Blue Buffalo Wilderness Small Breed Chicken Recipe Grain-Free Dry Dog Food formula is no exception as it begins with turkey and chicken to ensure that your Maltese's muscles stay nourished.
To replace grains, Blue Buffalo uses a mix of peas and sweet potatoes to provide your pooch with enough carbohydrates to stay active throughout the day. To further enrich your Maltese's diet, a mix of blueberries and cranberries provide essential anti-oxidants and vitamins.
The anti-oxidants play a vital role in building a strong immune system while giving a helping hand to your dog's urinary tract. Another crucial ingredient, chicken meal, acts as a primary source of glucosamine, which is necessary for the smooth functioning of your dog's joints and bones.
We know that some dogs can be a bit stubborn when it comes to eating food that meets their dietary needs. If your Maltese is one of those picky eaters, try giving it Taste of the Wild Appalachian Valley Small Breed Grain-Free Dry Dog Food.
This dry dog food includes a wide selection of protein, such as fish, lamb, duck, and real venison, and was made with canines' ancestral diet in mind. Additionally, it provides multiple essential vitamins and minerals vital for a healthy immune and digestive system.
​Moreover, this recipe includes a blend of fiber, probiotics, and prebiotics. The probiotic bacteria are naturally found in every pup's gastrointestinal tract. Their purpose is to strengthen the immune and digestive system, which leads to better digestion.
On top of all this, your Maltese will get a healthy supplement of omega fatty acids from the ocean fish meal and salmon oil found in this recipe. Omega fatty acids are necessary to maintain your dog's coat and skin, completing your Maltese's nutritional requirements.
Merrick's Classic Small Breed Recipe Adult Dry Dog Food is made specifically with the nutritional needs of small, petite, and toy breeds like the Maltese in mind. It brings a mix of wholesome and healthy proteins along with vegetables, fruits, and grains to fulfill all of your dog's daily needs.
Furthermore, Merrick's recipe is enriched with chondroitin and glucosamine to ensure your Maltese's bones stay healthy and maintain their joints. In addition, omega-3 and omega-6 fatty acids are present in high amounts to nourish your gentle friend's skin and make its fur soft to the touch and shiny.
The Wellness Small Breed Complete Health Adult Healthy Weight Turkey & Brown Rice Recipe Dry Dog Food is an excellent choice for middle-aged and senior Malteses. As canines get older, their metabolism tends to slow down, and it is very important to keep an eye on their caloric intake. Otherwise, they might have problems with their body weight, which can lead to other, more serious issues.
That is precisely why this formula from Wellness incorporates L-carnitine. This substance helps your dog's body make use of the fat instead of adding unnecessary weight.
Moreover, this formula provides all the necessary nutrients from wholesome sources, including grains, proteins, and a combination of fruit and veggies. It also has chondroitin and glucosamine to ensure that your dog's joints function properly and support bone health.
Merrick's Lil' Plates Grain-Free Real Beef & Sweet Potato Dry Food offers a well-balanced and highly nutritious meal from a reliable brand. Unlike some other dog foods you'll come across on the market, the main ingredient and source of protein in this product is real deboned beef, which aids in muscle repair.
Also, because this Merrick's grain-free recipe is completely grain-free, it uses potatoes and peas as a substitute to ensure your Maltese continues to receive balanced nutrition.
A mix of fruits such as blueberries and apples provides your pooch with essential vitamins and minerals. Apart from these benefits, the kibble size is smaller than other dog foods, allowing your dog to chew more easily. This helps clean their teeth and maintain great dental health.
And last but certainly not least, this grain-free dog food from Merrick is packed with probiotics and prebiotics to improve your Maltese's digestive health.
Hill's Science Diet Adult Small Bites Chicken & Barley Recipe Dry Dog Food is one of the best dog foods for Malteses on the market.
The formula is a combination of high-quality proteins from chicken sources and plenty of grains, including corn and wheat, which maintain your dog's muscles and ensure it stays active throughout the day.
Hill's Science Diet's recipe uses vitamins C and E and anti-oxidants to strengthen and support your doggo's immune system as well.
It contains a combination of omega 6 and omega 3 fatty acids along with the aforementioned vitamin E to maintain your dog's skin and promote the growth of a shiny and healthy coat. Only highly digestible ingredients are found in this formula, and it contains no artificial flavoring, preservatives, or coloring to ensure the best digestion.
Iams Proactive Health Adult MiniChunks Dry Dog Food delivers a nutritious diet along with plenty of additional benefits!
The main protein sources in Iams's formula are egg and chicken, which aid in muscle development. On the other hand, whole grain corn and sorghum provide additional nutritional benefits to support your pooch's overall health.
This high-quality dog food contains vitamin E and antioxidants, which support the immune system and help fight free radicals. This Iams dog food also contains prebiotic fibers that promote healthy digestion, leading to the better general health of your pup.
To make matters even better, this dry dog food features crunchy, smaller kibble. This makes it not only easier for small breed dogs like the Maltese to chew but also helps in removing tartar buildup and cleans their teeth!
Purina Beneful IncrediBites for Small Dogs with Real Beef Dry Dog Food is made with the needs of small, toy, and petite dog breeds in mind by one of the most reliable brands in the industry.
This recipe features a high-protein-based diet with real, farm-raised beef being the major source of protein, which helps repair and nourish your Maltese dog's muscles.
The formula also contains an incredible 23 essential vitamins and minerals, including vitamin A, vitamin E, and vitamin B-12, which help nourish your pup's heart and nerves and strengthen its immune system.
​For flavor, Purina uses real peas and carrots to keep your pup drooling for more. And, while we are on the subject of flavor, the formula also features crunchy, small-sized kibble that easily fits in the mouths of small, petite, and toy dogs, allowing them to munch on the food with ease while cleaning their teeth at the same time.
If your Maltese pooch has a sensitive stomach or skin, the Hill's Science Diet Adult Sensitive Stomach & Skin Small & Mini Breed Chicken Recipe Dry Dog Food is your best option.
This adult dog food is designed to meet your furry friend's nutritional needs while containing zero substances that would irritate its stomach or skin.
This small breed dog food formula is made with barley and chicken meal to support energy levels and muscle growth while ensuring the best digestion possible.
It also comes with a healthy mix of vitamins, minerals, and anti-oxidants that fulfill your dog's nutritional needs and support its immune system.
Furthermore, omega-6 fatty acids found in this amazing dog food promote the growth of a soft and shiny coat. Lastly, with Hill's Science Diet, you can rest assured that only premium quality ingredients are used, and no artificial flavors, colors, or preservatives are added.
Nutro Wholesome Essentials Small Breed Adult Farm-Raised Chicken Dog Food comes with a mix of premium-quality all-natural ingredients to offer a recipe that has everything your Maltese needs.
Starting with protein, the first ingredient is real chicken, which supports your adult Maltese's immune system and ensures proper muscle development. Moreover, a mix of grains like brown rice and sweet potatoes provides the necessary carbs for your pup to stay active all day long.
Another amazing ingredient, sunflower oil, helps supply your fluffy companion with omega-6 fatty acids, which promote the growth of a healthy, lustrous coat. Lastly, this recipe features a small kibble size with a crunchy texture that reduces plaque buildup and leads to your dog's better dental hygiene.
Best Dog Food For Maltese Tear Stains
Sometimes the food we give our pups can have an impact not only on their health but also their appearance. This is certainly the case when it comes to Maltese dogs and tear stains.
Feeding your pooch high-quality food that improves the quality of the coat can make tear stains less likely to appear, so you can spend more time cuddling your pet instead of grooming it.
The most important qualities you need in dog food for tear stains include:
• Good taste
• Quality ingredients
• Appropriate kibble size
• Affordable price
• Easy digestibility
With that said, let's go over a few of the best dog foods for Maltese tear stains.
Most Maltese owners prefer to feed their pets a limited ingredient diet. If you are one of them, you will find that the Blue Buffalo Basics Limited-Ingredient Formula Adult Dry Dog Food is one of the best in that group!
With high-quality ingredients and a recipe designed to promote a healthy coat and skin, Blue Buffalo's formula can be a big help in your battle against tear stains.
Hill's Science Diet is trusted by millions of pet owners and veterinarians across the globe. If you are on the quest of getting rid of tear stains on your Maltese coat, the Small & Toy Breed Dry Dog Food from Hill's Science Diet is a great place to start!
Hill's Science Diet's Small & Toy Breed formula is specifically designed with the nutritional needs of small dog breeds in mind and has everything your furry friend needs.
If your pooch has a problem with tear staining, Nature's Recipe Grain-Free Dry Dog Food might just do the trick! This amazing formula from one of the best brands on the market has a lot to offer, and it shouldn't be a surprise that it found its way onto our list.
As the snow-white coat of the Maltese is one of the main features of the breed, you wouldn't want that majestic coat to be stained by tears. That is why we recommend giving this formula from Nature's Recipe a try, and we promise you will spend a lot less time grooming your pooch!
Is your Maltese vegetarian? Maybe he just doesn't know it yet? Whatever the case may be, Natural Balance Vegetarian Dry Adult Dog Food Brown Rice Oat Groats Barley & Peas Vegetarian formula will help remove dog tear stains from its coat in no time!
Vegetarian and vegan dog foods contain monounsaturated fats, which greatly benefit a canine's digestive tract. Moreover, plant-based dog food recipes are generally more easily digested than regular kibble, which leads to less toxin secretion.
Your Maltese pooch will find this formula from Natural Balance highly energizing, rejuvenating, and digestible, so make sure you give it a try!
Are you searching for wallet-friendly Maltese dog food for tear stains? Look no further as Blue Buffalo Basics Limited Ingredient Grain-Free Formula Turkey & Potato Recipe Adult Dry Dog Food maximizes nutritional value while minimizing food sensitivities!
It's made with LifeSource bits or specially designed pieces of food that contain a blend of the highest-quality ingredients, including antioxidants, vegetables, vitamins, minerals, and whole grains, all blended with the finest precision to create the healthiest possible food option for your pooch.
This formula from Blue Buffalo uses real turkey as its first ingredient and adds pumpkin and peas to support the normal functioning of your dog's digestive system. It doesn't contain gluten, and thanks to the carefully selected hypoallergenic ingredient list, it may be a great sidekick in fighting off tear stains on your Maltese!
Buyer's Guide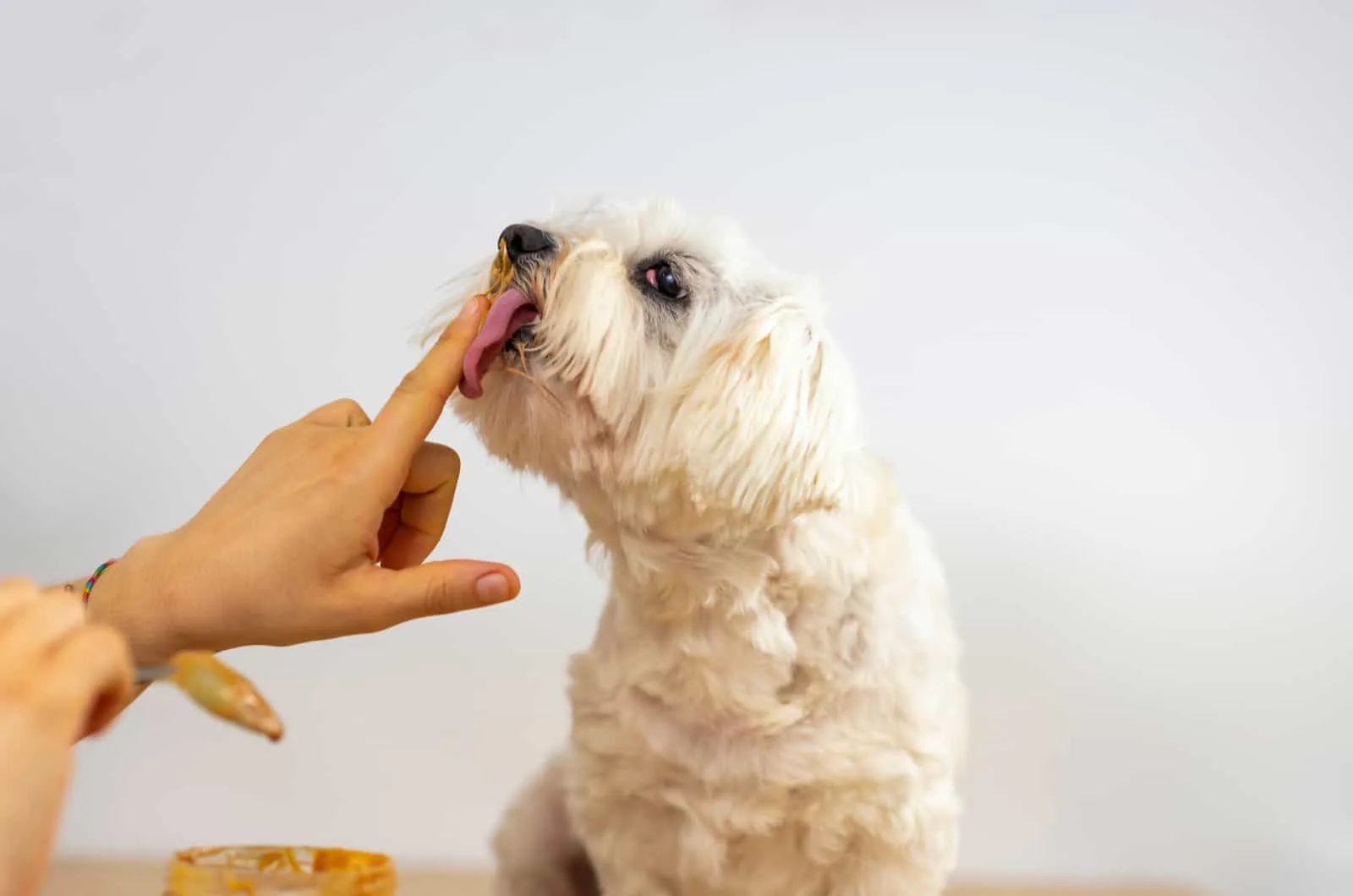 When we say that going through over a hundred different brands and dog foods that look alike and have ten to fifteen words in their name is a total nightmare, more than half of you would agree.
Luckily, there is good news. You won't have to go through all of that trouble, at least not by yourself. We have prepared a buyer's guide in which we will go over all of the important stuff you need to consider when choosing the best food for your Maltese puppy.
Things To Take Into Account Before Purchasing
You might be tempted to run outside and buy the first dog food you come across, but a little research before the actual purchase can prove to be a wise decision in helping you choose the optimal food for your pooch.
So, before we dive deeper into what you should look for in pet food, let's first take a look at what you need to know about your dog. For this, you need to know and understand your Maltese puppy quite well.
Here are some of the most important things that will determine what kind of dog food your dog needs:
• Your Maltese's age: At different life stages, dogs have different nutritional needs. The same goes for Maltese pups. Younger canines need more calories and should be fed more frequently due to the risk of developing hypoglycemia. On the other hand, adult dogs of the Maltese breed need fewer calories and should be fed fewer times a day.
• Your dog's body weight: Weight plays a vital role in deciding what dog food you should go for. Generally speaking, canines over five pounds require a larger serving, while those under four pounds require a smaller one.
Also, if your Maltese is overweight or (hopefully not) obese, you should consult with your vet to develop a diet that helps them lose weight while fulfilling their nutritional requirements.
• Your dog's allergies and sensitivities: It is not uncommon for canines to be allergic to certain types of foods. However, some Maltese puppies can have allergic reactions to very common items as well. Allergies can be both mild and severe and can cause several health issues. Some of the foods Malteses are usually allergic to are dairy, grains, gluten, and sometimes a specific type of protein.
Fortunately, there are plenty of dog foods on the market that don't contain any of the common allergens, making the process of choosing easier for you. Remember to carefully look at what you are buying and make sure to check the ingredients list to rule out anything that can potentially trigger an allergic reaction in your pooch.
Sensitivities are kind of the same thing. They are capable of disrupting your dog's eating behavior by causing digestive upsets. Because of this, make sure that you are on top of everything that causes sensitivity issues and allergic reactions within your Maltese dog.
Features Of The Perfect Maltese Dog Food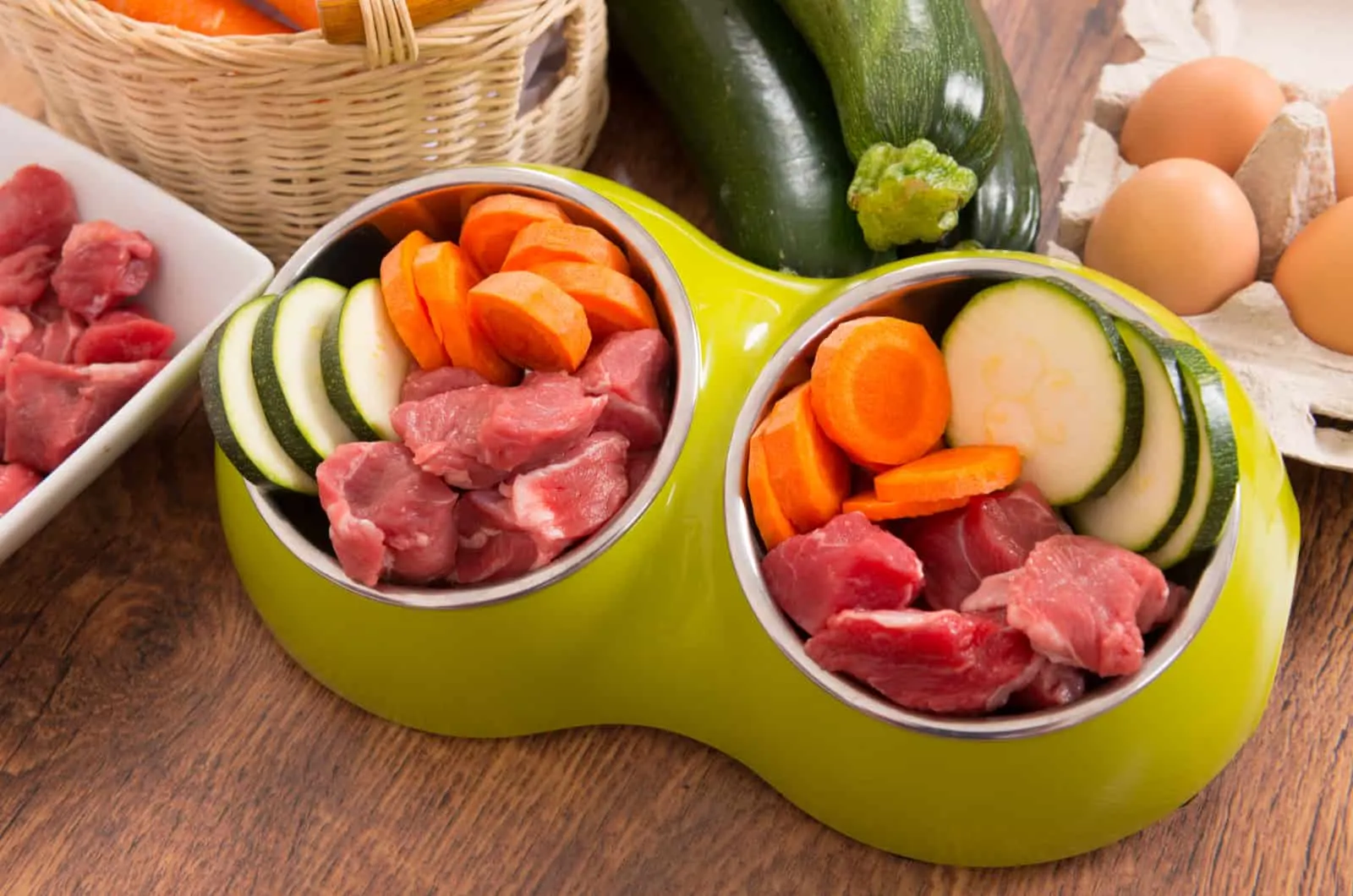 Narrowing down your search and finding the best dog food for your canine companion is our main goal here. Hopefully, by this time, you are done analyzing the needs of your Maltese and are ready to begin browsing the products.
So, let's start by taking a look at what makes up amazing dog food and the ingredients that you should be on the lookout for:
• Wholesome and healthy proteins: Protein is undoubtedly the most important macronutrient in a canine's diet. They are made up of essential amino acids necessary for muscle maintenance and development, supporting the immune system, and tissue repair. Furthermore, healthy proteins help pups with weight issues in burning fat, leading to weight loss.
It is essential to ensure that the protein in your choice of pet food is both healthy and in adequate quantities for your dog's needs. Also, make sure the brand uses only real protein, such as real lamb, fish, beef, turkey, or chicken.
Note that if the food contains protein from sources like turkey meal or chicken meal, it's completely fine. Just be sure to stay away from any protein by-products as those provide little to no nutritional benefit for your dog.
When it comes to the Maltese breed, the protein requirement for an adult dog is at least 22% of the whole formula. Most dog foods you will come across meet this requirement. If you find a dog food made out of real meat that contains more than 22% protein, then that is even better!
• Plenty of fats: Just like proteins play a crucial role in your pup's well-being, so do fats. These nutrients not only provide your Maltese with the energy to accomplish their daily tasks but are also important for the normal functioning of muscles, tissue, and nerves. Furthermore, fats are the nutrients that give dog food structure and taste.
Omega-6 and omega-3 fatty acids are two such nutrients that help keep your dog's skin healthy by promoting the growth of a healthy coat and ensuring the normal functioning of the brain and heart.
When it comes to Maltese doggos, they require food that contains at least 10% fat. Some of the best sources of fats include animal fat, fish oil, and flaxseed oil.
• A fair portion of carbs: Carbohydrates are sometimes frowned upon because of their reputation, but they make up a crucial part of a dog's diet. Most people have a misconception that our furry friends are carnivores when they are actually omnivores, meaning they do eat carbohydrates and convert them into energy.
There are plenty of dog foods with grains such as barley, oats, and rice as well as those that are grain-free. The latter ones provide the necessary carbohydrates in the form of vegetables such as peas or sweet potatoes. Carbs allow your dog to maintain sufficient calories, which in turn gives them enough energy to live an active life.
• Lots of minerals and vitamins: Vitamins and minerals are needed for a well-balanced diet. They help in pretty much everything from improving skin health and eyesight and supporting the immune system to strengthening bones and teeth.
Your pooch should get most of its vitamins and minerals from whole foods like veggies and meat. Because of this, you should aim to buy dog foods that use these types of whole foods as the primary source of essential vitamins on top of the basic nutrients.
Many of the dog foods we listed above include formulas that contain different types of vegetables, such as kale, tomatoes, broccoli, carrots, and spinach, to name a few. These awesome veggies provide a wide range of vitamins and minerals for your canine companion.
Moreover, these dog food formulas also contain multiple types of fruit, such as pumpkin, apples, raspberries, and blueberries, which are great sources of antioxidants and minerals that are vital for your pup's overall health and well-being.
Ingredients To Avoid In Dog Foods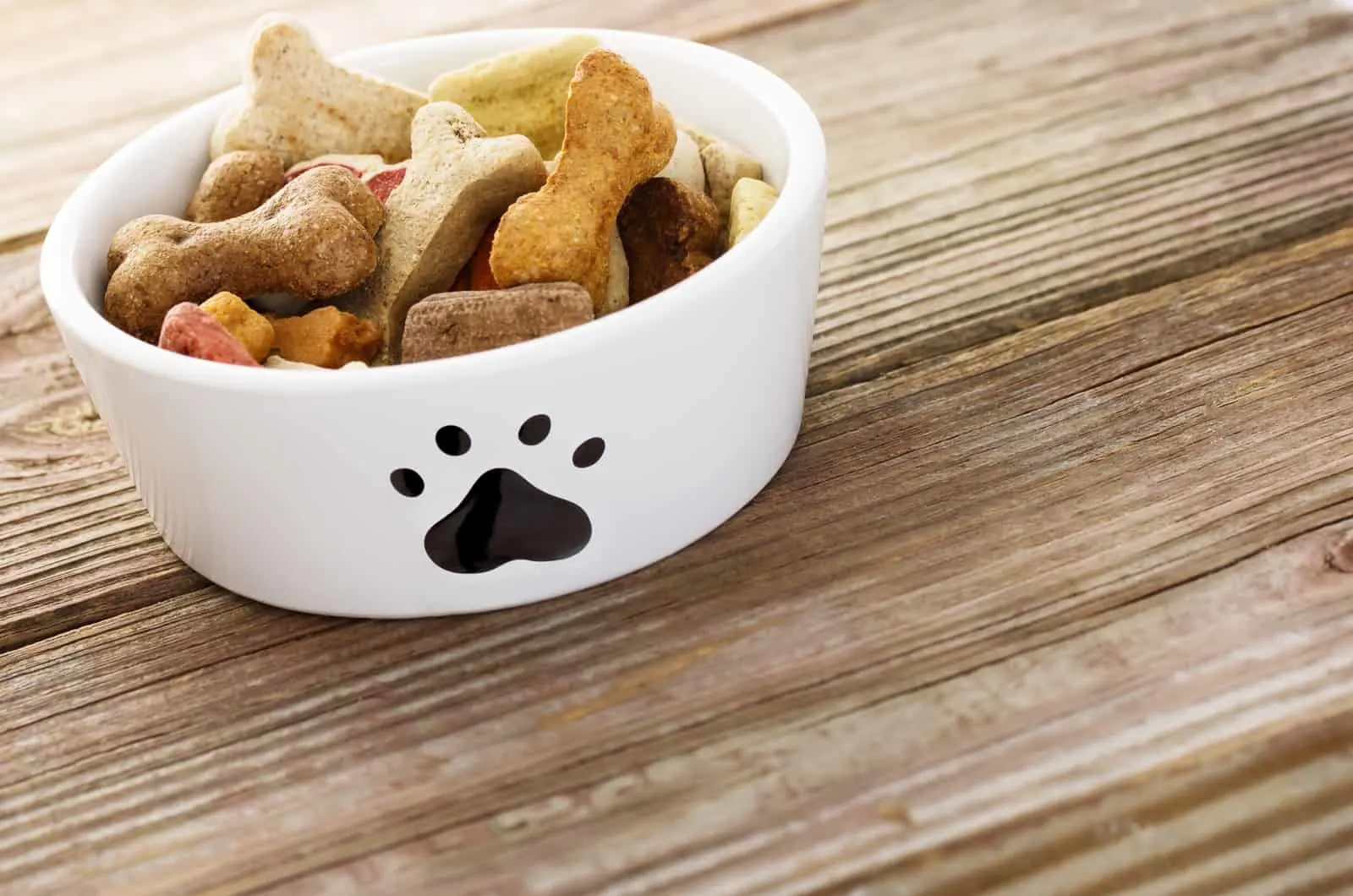 By now, you might have the impression that you know all there is to know when it comes to purchasing dog food. However, knowing what you should avoid is just as important as knowing what your dog needs.
There are many cheap, low-quality pet foods on the market that use fake fillers and cheap ingredients that can be devastating for your Maltese's health in the long run.
So, to give you a complete picture when it comes to buying dog food, here are some important ingredients you should stay away from:
• Meat by-products: You might have seen the term "by-products" while browsing for your dog's next food and thought that it doesn't sound that dangerous. But, what by-product actually stands for is any part of an animal that is not suitable for human consumption. These animal parts can be anything from intestines, eyes, feet, lungs, spleen, or brains; anything that would normally go to waste.
Try to steer away from dog food products with meat by-products as they are not nearly as healthy or beneficial as the ones that contain whole proteins. Instead, look for brands that use whole and lean protein, such as whole turkey, whole chicken, and those with real meat as the main source of protein.
• Artificial additives: Additives, by definition, are anything used in the process of making food to enhance its taste, color, or appearance in any way to make it more appealing to your pooch. However, most artificial additives contain little to no nutritional value and may even be hazardous for your Maltese in the long run.
When these additives reach a dog's digestive system, they can cause issues like loose stools, bloating, diarrhea, and general unease.Furthermore, these additives are known to cause major allergic reactions in canines. They can trigger reactions leading to all sorts of skin issues ranging from itching and dryness to rashes and can even cause the fur of your pooch to thin and fall off.
• Preservatives: Preservatives, as you might deduce from their name, are used to prolong the shelf-life of dog food (and some human foods, for that matter). However, these artificial preservatives are also known to cause allergies in canines. They are mostly responsible for skin issues like drying and itching. Some preservatives are even linked to organ damage and behavioral changes in dogs.
On the other hand, many high-quality dog foods use completely natural preservatives, and by doing so, they increase the life of dog foods that are perfectly safe for consumption by Malteses and other small fur balls.
• Fillers: Fillers are ingredients typically found in cheap, low-quality dog foods with almost no nutritional benefits to your Maltese. These substances are used to increase calorie content and give your pooch the feeling of fullness while lowering the costs of manufacturing the food.
Some fillers are known to cause gastrointestinal upset, especially in dogs with sensitive stomachs. Corn bran, corn cobs, wheat shorts, citrus pulp, and rice hulls are just some of the most common fillers you'll come across in cheap dog food.
Frequently Asked Questions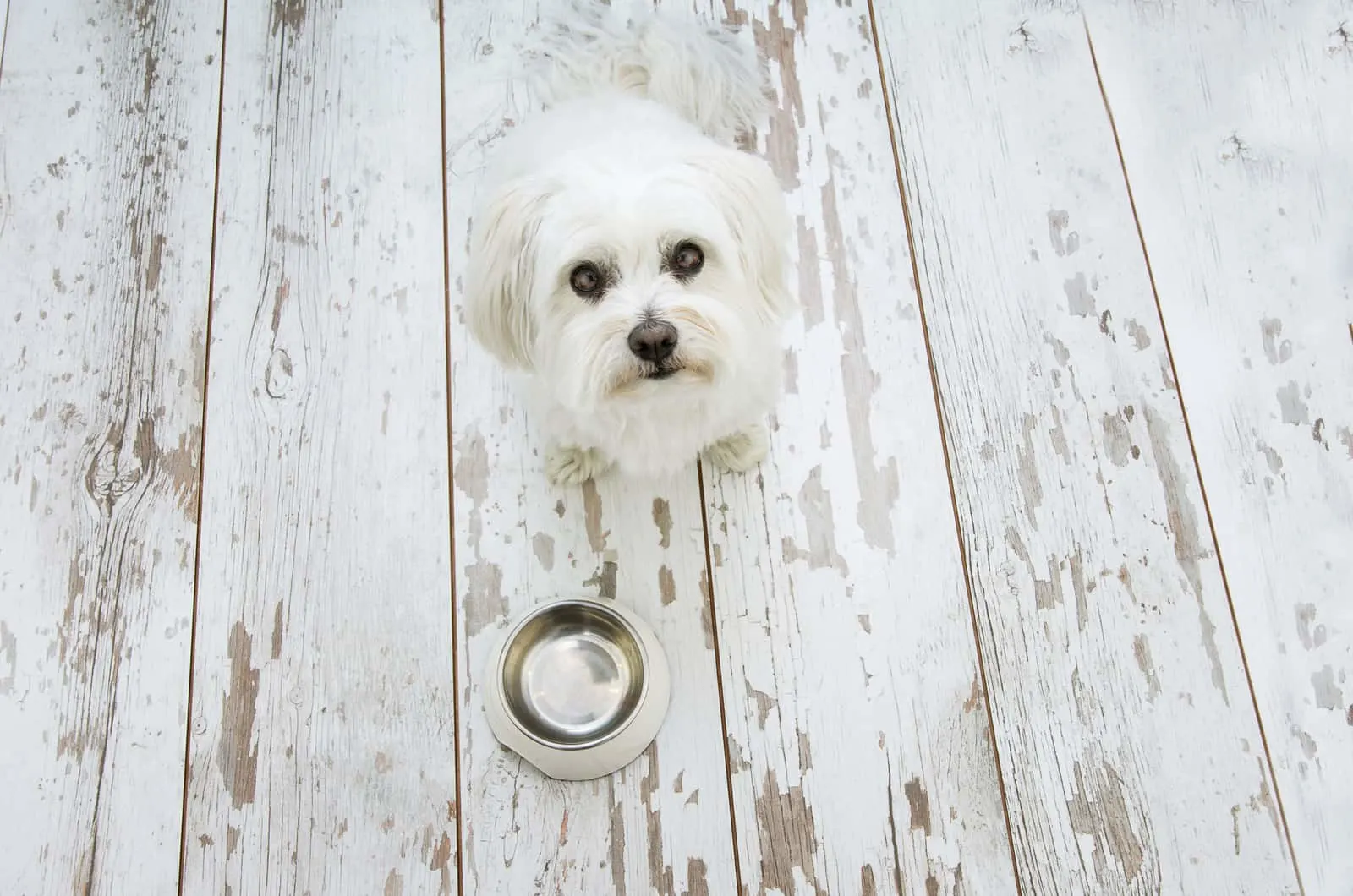 What Should Dog Food Contain?
A well-rounded dog food formula for the Maltese breed should consist of at least one source of wholesome and healthy protein and carbs in adequate quantities. It should also have other essential nutrients, such as vitamins, minerals, antioxidants, and fats.
Which Proteins Are Best For Maltese Dogs?
Proteins derived from fish, lamb, turkey, and chicken are the best for this breed. We recommend making sure the food you buy contains whole proteins and not by-products.
How Much Should I Feed My Maltese Dog?
Generally speaking, Maltese dogs that weigh between two and four pounds should be fed anywhere between a quarter to a half-cup each day. If your pooch weighs more than five pounds, you should feed it a quarter to three-quarters of a cup each day.
Should My Maltese Pup Eat Grains?
We suggest purchasing grain-free dog food formulas if your Maltese suffers from sensitivity issues or allergic reactions. Otherwise, you can give it normal dog food without any worries.
What Should I Avoid Feeding My Maltese?
Foods such as raisins, chocolate, avocadoes, garlic, onions, and macadamia nuts can be lethal to Maltese dogs. Even a tiny amount can be fatal, so make sure you keep them out of your dog's reach.
Also, make sure your pooch doesn't get its paws on human foods such as hummus, Cheez-Its, Cheerios, salsa, and wasabi. Even though they are not fatal in small amounts, they will lead to digestive problems in the best-case scenario.
How Many Calories Does A Maltese Need?​
Dogs that are under nine months of age require around 55 calories per pound of their weight daily. Adult dogs of the Maltese breed above nine months of age need 45 calories per pound of bodyweight every day.
How Do You Know If A Maltese Is Allergic To A Specific Substance?
The first symptom you should be on the lookout for is itchy skin. If this is followed by diarrhea or vomiting, a food allergy might be the cause, and you should speak to a veterinarian about what steps to take next.
What Type Of Treats Should I Feed My Maltese?
The best treats for this breed contain healthy, natural foods, such as fruits, veggies, and real meat. Just make sure they are free from artificial additives and coloring.
Is A Smaller Kibble Size Necessary For Maltese?
Although it is not really necessary, your pooch will appreciate it. Smaller kibbles are easier to chew by Malteses and other small dog breeds due to their smaller jaws. Also, large kibbles are a bit dangerous as they can lead to choking in smaller dogs.
Is Overfeeding A Maltese Dog Dangerous?
Accidentally overfeeding your Maltese pooch from time to time can cause bloating and discomfort to your furry friend but doesn't pose any real danger. However, if you turn it into a daily habit, it can cause several health problems in the long run.
What Should I Feed A New Maltese Puppy?
The best dog food for your Maltese puppy after you bring it home is the same one it was given at the breeder's place or the pet store. We suggest you keep them on that dog food for at least some time before trying something else.
How Do You Transition To New Dog Food?
The best way to do this is to mix a quarter of the new dog food with three-quarters of the old one. Change this ratio to half old and half new food after a week. After that, change the ratio again to three-quarters of new food and a quarter of the old food in week three. By week four, your pooch should be ready to consume the new food alone.
How Should Dry Food Be Stored?
The best way to preserve the food's freshness is to protect it from heat and moisture. You can do this by placing the food inside an airtight container.
Should Maltese Dogs Be Fed Home-Cooked Food?
Yes, Maltese dogs and other dog breeds can be fed home-cooked food. Although cooking for your Maltese every day can become tiresome, home-cooked dog food has been proven to be more beneficial than packaged dog food.
Is It Better To Feed Your Maltese Home-Cooked Food?
We've mentioned above that home-cooked dog food is better in many ways since it doesn't contain any artificial flavorings or preservatives. Also, it is usually tastier and fresher than the dog food you find on the shelves at the store, and you have the satisfaction of using only natural, high-quality ingredients.
What Are The Best Ingredients For Home-Cooked Dog Food?
The best ingredients are proteins like fresh fish, turkey, and chicken. You should also toss in a few carrots, sweet potatoes, and peas into the mix as well as fruits like blueberries and raspberries. Pasta can also be used as an excellent source of starch. Just make sure to avoid using onions or garlic.
Can I Feed My Maltese Eggs?
Yes, cooked eggs are an excellent source of animal-based protein. However, not all canines will happily eat eggs, so make sure to start with a small amount and watch how your dog reacts.
What fruits should you avoid feeding your Maltese?
You should generally avoid feeding your pooch grapes, cherries, and raisins. Also, make sure to steer away from fruits with seeds and pits due to the choking hazard.
Conclusion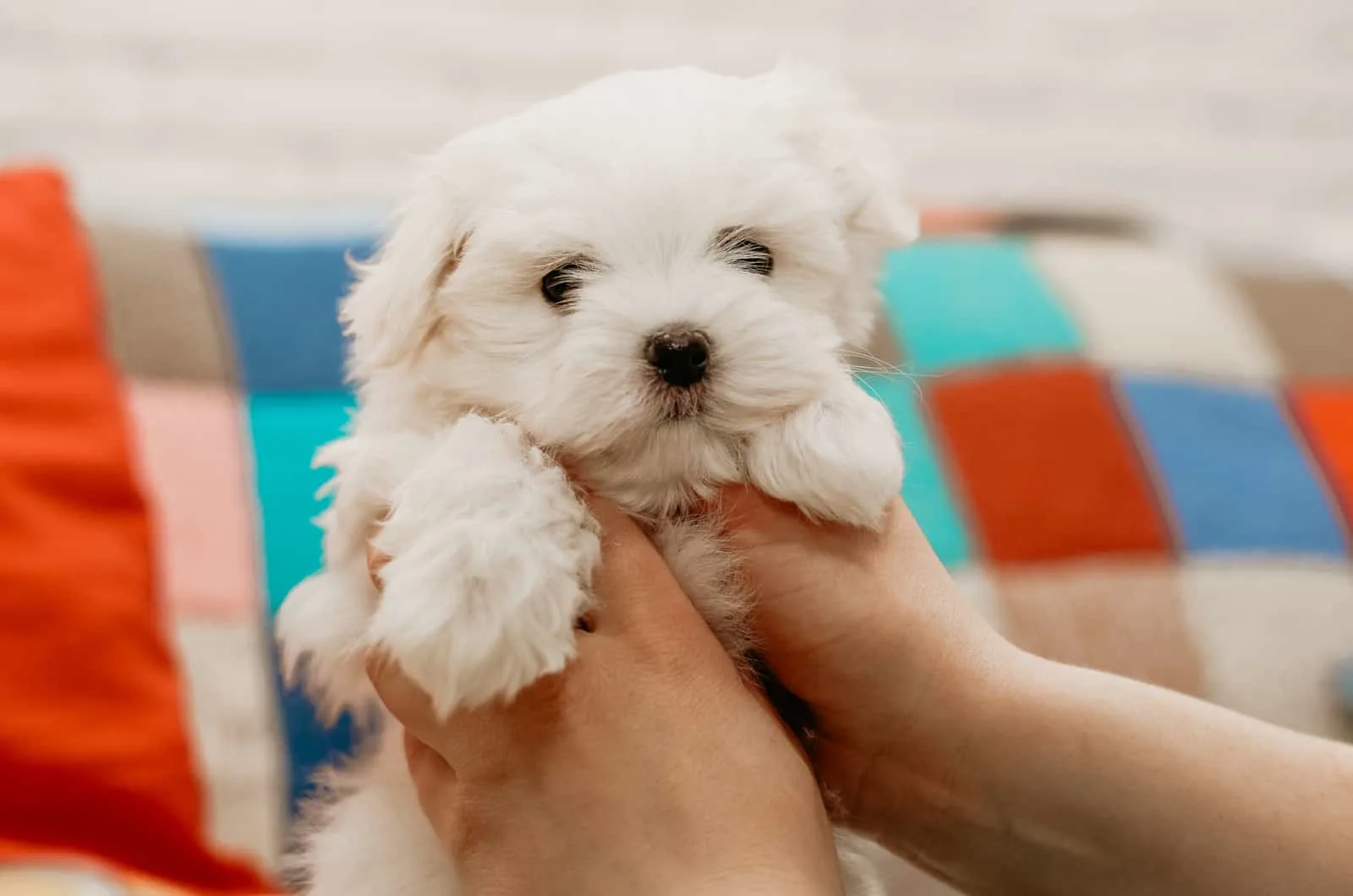 Taking care of an energetic and spunky furball like a Maltese can be quite a challenge, especially when you are confused about what food formulation is right for them.
Hopefully, our best dog food for a Maltese guide made the job of feeding and owning your pooch a little easier. We highlighted our top picks and gave you a few more options to choose from.
To recap, our favorite Maltese dog food is the Blue Buffalo Life Protection Formula. This is simply because it provides a well-balanced diet specific to the breed at an affordable price.
This, however, doesn't mean that you shouldn't at least give other dog foods on our list a try. Who knows, your Maltese might love each and every one equally!