Disclosure: This post contains affiliate links, and I will be compensated if you make a purchase after clicking on my links.
What dogs are more wolf-like than Siberian Huskies? These mighty canines are rather glorious. Their appearance makes them look quite endearing sometimes, but they are affectionate, athletic, and intelligent.
In fact, they can match many other dog breeds such as German Shepherds and Belgian Malinois when it comes to who is the best guard dog and family companion!
Huskies have been known as extraordinary working dogs ever since the Chukchi people of the Siberian Arctic started breeding them. They were conditioned to survive harsh northern winters, pulling sleds over tens of miles with nothing but a limited amount of food and water.
As you can see, these often mischievous dogs don't really need that much food to survive, despite their strong build and large size. However, this doesn't mean that you should give them anything less than the best dog food for Huskies you can find.
Just like any other canine, Huskies require a balanced diet with high-quality ingredients that will meet all of their nutritional needs. A general rule of thumb is that they require high protein levels and also a high-fat content.
Just because you know this doesn't mean you instantly know what the best dog food for Huskies is. Don't worry – we've got you covered.
Here are our top 13 choices for best dog food for Huskies, as well as the answers to many questions you might have about the Husky's diet:
What Is The Best Dog Food For Huskies?
Today, there are many great brands of high-quality dog food, as well as many amazing products. You can find numerous choices in pet stores but also online on websites like Amazon and Chewy.
While it's challenging to pick the best food out there, some products truly stand out from the rest. Here are 13 such Husky foods we've found:
Huskies are dogs that share a resemblance with wolves, and Taste of the Wild sticks to this fact. They produce food that contains a similar nutritional value to the food canines used to eat in the wild.
The main protein sources in this kibble are wild-caught salmon and ocean fish meal, which also means this dog food is rich in beneficial fatty acids that are great for the dog's skin and coat health. At the same time, a large number of probiotics are there to help the digestive system while also improving the dog's immune system.
This dog food is also rich in vitamin E as well as many other antioxidants that ensure your dog stays in good health. Dry chicory root serves as a source of prebiotic content, further increasing the health benefits.
Not just that, but the recipe doesn't contain any grains, wheat, corn, artificial flavors, as well as artificial colors, or any type of filler. On the other hand, it contains lots of healthy ingredients, such as taurine, sweet potatoes, and vitamin D.
This dog food is unique in that you can serve it as dry dog food or wet dog food – whichever your Husky prefers. This can also keep your pooch from becoming bored with his food.
The ingredients of this dog food are suited for all large breed dogs, but they do lean a bit more toward senior pups. We wouldn't suggest giving it to Husky puppies, as they require a higher amount of protein and fat.
Chicken meat is listed as the main protein source, which is usually a tasty option for even the pickiest of eaters. As it doesn't contain any fillers, every bite will provide your Husky with all the nutrients it requires.
A nice addition that the brand offers is their 'Check up challenge.' If you buy two bags of this dog food, Iams offers to pay for vet visits. This is a nice way the brand encourages keeping your dogs healthy and well-fed.
Orijen Original isn't the same as Origen Adult as it contains a higher percentage of protein with a lower percentage of fat. However, this still makes it excellent for Huskies.
In fact, this might be the best dog food for Huskies if you want animal-based food. The first 15 ingredients are animal sources of fat and protein! This makes it truly stand out from the rest. Some of these sources are chicken, turkey, as well as fish like Atlantic mackerel, Atlantic herring, and flounder.
This dog food is also enriched with DHA, EPA, glucosamine, and chondroitin, making it great for your pup's bone and joint health. It also contains no less than 14 essential amino acids, as well as zinc, selenium, choline, copper, and iodine for added benefits.
It is grain-free, gluten-free, and free of plant protein concentrates, making it a great choice for pups with a sensitive stomach.
This is likely the best dog food for Huskies who happen to have a sensitive stomach as it doesn't contain grains or gluten. It's highly unlikely to cause any food sensitivities, especially for Huskies who aren't prone to allergies as a breed.
This formulation contains mostly fresh ingredients, providing optimal nutrition for your beloved pup. In fact, 70% of the ingredients in this dog food come from high-protein animals. This ensures your doggie has enough energy while also staying fit.
The other 30% are also fresh ingredients that originate from fruit and veggies, keeping your pup's nutritional diet balanced and healthy. This also serves as a source of vitamins and minerals that will improve the immune system.
As the ingredient list is so simple, this dog food is suitable not just for adult Huskies but also for elderly dogs and puppies.
If you're on a budget but still looking for the best dog food for Huskies, then this might be the right product for you. It contains rather high amounts of both protein and fat, which will provide your pup with lots of energy throughout the day.
As all the protein comes from chicken, this makes this dog food highly digestible and nutritious. Not to mention how most dogs will find it rather tasty.
Omega fatty acids, antioxidants, and probiotics have all been added to the ingredient list to make the entire recipe healthier. This will make sure all your Husky's needs have been met, and it will keep it in optimal health.
Not to mention how all of these ingredients will also take good care of your Husky's coat, promote healthy skin, and they might even help reduce shedding!
Hill's is one of the more popular dog food brands, which is no surprise when you learn that they center their brand on scientific facts that prove the benefits of certain ingredients. This is what makes Hill's Science Diet products so healthy and beneficial.
This is the best dog food for Huskies with delicate stomachs, as it contains probiotics, prebiotics, as well as many other supplements that will fit the dietary needs of all large dogs. The high protein content is great for high-energy canines that run around all day.
The high content of omega 6 fatty acids will also make sure your pup's brain is fully developed, and his coat is lustrous and shiny.
If you aren't certain about the quality and benefits of this dog food, just look at the reviews that can be found all over the internet. This is easily one of the best-rated dog foods out there!
Dog owners looking for the best dog food for Husky puppies should take a look at this product. This food is everything a young dog's diet requires, and it's perfect for a growing puppy.
The high-quality ingredients, such as chicken meal as its main protein source, will provide puppies with just the right amount of energy. While we're at ingredients, there are less than 10 of them! This simplified recipe makes sure everything is perfectly balanced for the dog's digestive health.
This food is rich in protein, making it perfect for an energetic dog breed – especially for puppies with high energy levels. It also contains many added nutritional supplements that will encourage healthy growth.
Omega 3 and omega 6 fatty acids will make sure young puppies' brains develop properly while also ensuring their coat is shiny and healthy, even in that awkward stage when they are still growing.
Blue Buffalo is another well-known brand, and their Life Protection Formula is the best dog food for Huskies it produces.
Other than the perfect protein and fat content, this dog food contains fermented products that provide five beneficial probiotic organisms, making it easy to digest for Huskies of all life stages.
It comes with an ideal ratio of omega fatty acids, which means it's great for the dog's brain, coat, and skin. The natural ingredients and quality protein source that comes from real meat make it a top pick for many dog owners. Also, the food doesn't contain any by-product meals, making it a quality energy source.
While not grain-free, this dog food omits cereals from its recipe, opting for whole grains, which are healthier and much more beneficial. The reasonable price will also make this premium-quality food affordable for many people.
This food is also enriched with calcium, glucosamine, l-carnitine, vitamin E, phosphorus, as well as many other healthy ingredients, including brown rice, blueberries, and flaxseed.
This dog food is great for dog owners who think their Huskies might be a bit on the chubby side. It will provide optimal nutrition while ensuring your pooch isn't likely to gain any weight.
The food is designed to give your Huskies all the energy they need, without the added calories. It uses chicken meal as the main protein source, but without any by-products or grains. This also makes it a decent choice for Huskies with sensitive stomachs.
The food also contains probiotics and prebiotics, live yogurt cultures, antioxidants, natural fiber, and digestive enzymes, all of which will help your pup's overall health.
This is the best dog food for Huskies if you're looking for grain-free pet food. In fact, it's fairly similar to the recipe used by Orijen Original, except that Wellness Core is a much bigger and trustworthy brand (according to the many reviewers and testimonials we've seen!)
This dog food has a high protein content as well as the optimal fat content, and most of it comes from animal sources, such as real chicken and turkey, turkey meal, chicken fat, and fish oil. This also makes it rich in omega 3 and omega 6 fatty acids, which are necessary for the dog's health.
Not just that, but the recipe doesn't contain any grains, despite it having many fruits and vegetables, as well as lots of probiotics that will help your dog digest this food. The green tea extract is a unique additive that further increases your dog's health.
As if that wasn't enough, this dog food also contains calcium, vitamin E, phosphorus, beta-carotene, chondroitin, and glucosamine – all of which are perfect for the immune system.
This versatile recipe is an amazing choice if you don't feel like skipping from puppy to adult dog food. It contains just the right ingredients for both life stages, making the transition unnecessary.
This dog food has a single protein source, keeping everything simple so it doesn't irritate a dog's sensitive stomach. It's enriched with canola oils and omega fatty acids that will ensure your pup's coat and skin are in perfect health.
The formula is loaded with many probiotics, such as GanedenBC30, specially formulated to keep a dog's digestive tract healthy and working. Added vitamins, minerals, and antioxidants will further help with your dog's health.
Finally, the tasty salmon meat can make even the pickiest eaters want to try this dog food.
This might be the best dog food for Huskies that love canned, wet dog food with a stew-like texture. It will give your dogs all the nutrition they need while staying palatable and easy to digest.
While real chicken is the first ingredient, this food also contains chicken broth for additional flavor and proteins. At the same time, it's free of by-product meals, grains, wheat, soy, corn, and any artificial colors, artificial flavors, and preservatives.
Other than real meat, this dog food contains healthy veggies and fruits, such as carrots and peas. It's rich in omega fatty acids, as well as minerals and vitamins.
Not only is this food made from all-natural ingredients, but the brand also ensures the cans are BPA-free! This will further increase the product's safety, and it proves how truthful the company is to its claims.
While Nature's Logic isn't as well-known as some other brands we've covered, it doesn't fall much behind much more popular names. The brand prides itself on creating natural dog foods that are healthy and beneficial, and this product is one of them.
This is a great product for people looking for the best dog food for Huskies that prefer natural ingredients. It contains lamb as the main protein source, as well as lamb liver, lamb broth, and herring oil.
This dog food is made with whole foods and is rich in nutrients thanks to its great combination of meat, fruits, and vegetables. It even contains animal plasma for added benefits, such as extra vitamins, minerals, as well as globulin and albumin proteins.
At the same time, this food is low in carbs and is made with 90% animal ingredients. As it's grain and gluten-free, it's also a great choice for dogs with sensitive stomachs.
How Much Food To Give Your Husky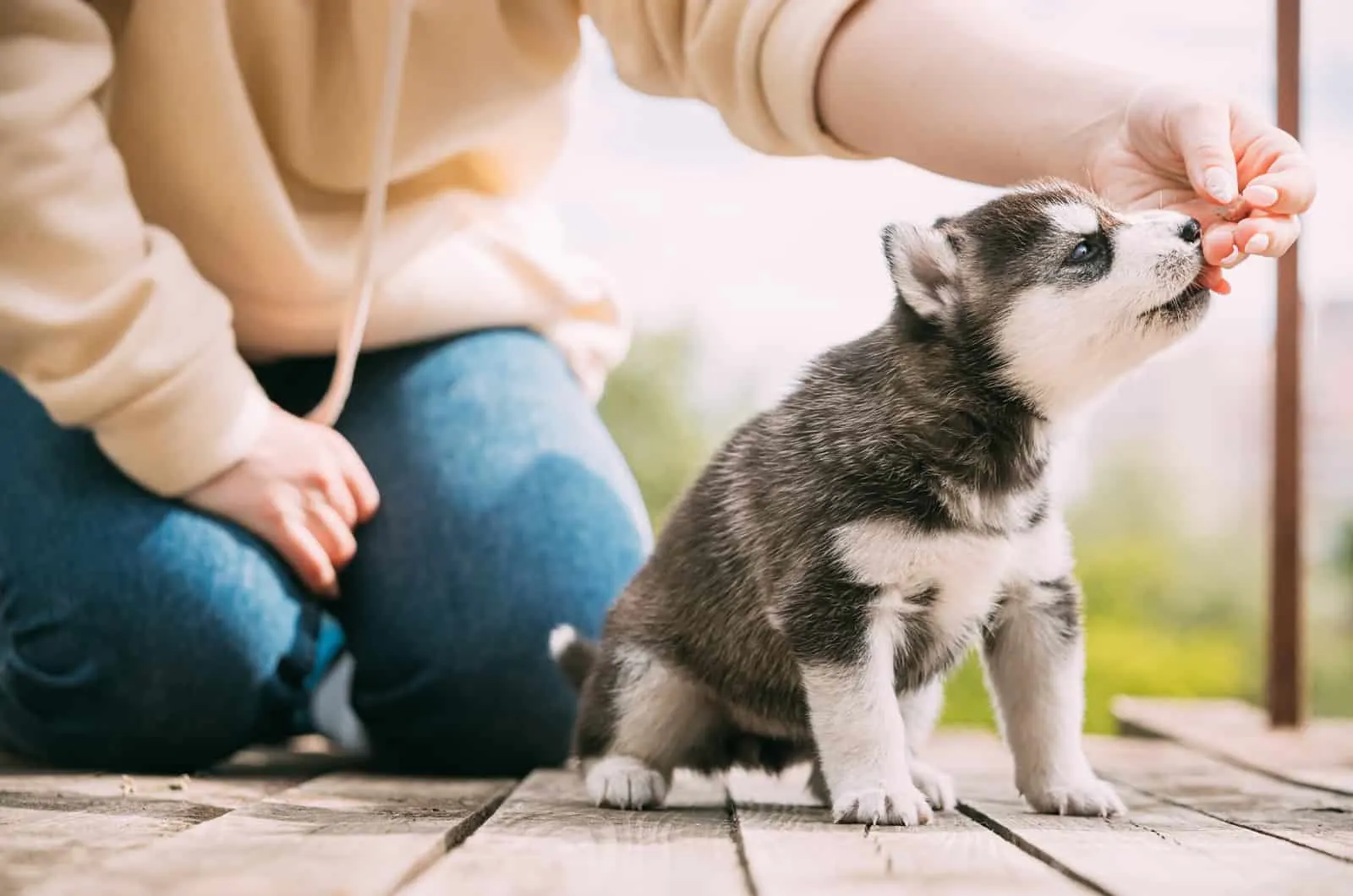 Once you've found the best dog food for Huskies that you're interested in, there are still things that might concern you. The most important one surely is the amount of food you need to feed your Husky.
Determining just how much dog food your Husky needs isn't as straightforward as you might think. Many things influence the required food amount. We'll go over them in a moment, but there are a few more things to understand beforehand.
Huskies have some feeding habits that are quite unique to this dog breed. Many dogs have a habit of so-called 'eating until they burst.' Because they were opportunistic eaters in the wild, they don't have limitations when it comes to the amount of food they consume. If food is available, they will eat it.
However, Huskies aren't like that. In fact, here are some behaviors unique to them:
• If they feel full, they will refuse to eat.
• If they aren't as active as they usually are, they will eat less food.
• Similarly, if they're more active than usual, they will eat more.
These things will influence how much your Husky will eat. Still, there are a few more things that influence this, such as:
The Dog's Age
Overall, Husky puppies and senior dogs require less food than adults. However, they'll also require different nutrients, which can make things even harder to understand.
For example, puppies require more protein and fat in their diet than adult dogs. Also, while they require smaller portions, you might want to give them more servings. Just make sure the calorie intake is right!
Activity Level
We've already mentioned that Huskies were bred to survive on minimal food while working hard. Does this mean they require even less food now that they are living comfortably in our homes?
A general rule of thumb is that the more active the dog is, the more calories he needs. When a dog is lying in his bed all day long, he isn't expending much energy, so he doesn't require as much food as he normally would.
While this doesn't mean that inactive dogs should be kept hungry, we should still be more careful about the amount of food we give our lazy pups. Fortunately, many Huskies know on their own when to stop eating, which makes things a lot easier for us.
Still, we should strive to achieve a perfect balance between calorie intake and the amount of energy a dog expends during the day. If the dog eats more calories than he uses up, he is at risk of becoming obese. On the other hand, a dog that expends more than he intakes will become malnourished.
Health Condition
Just like activity levels, health status can help determine how much of the best dog food for Huskies your fluffy pooch needs.
We've already mentioned that puppies require less than adult or senior Huskies, but the food needs to be rich in protein and fats.
Similarly, pregnant Huskies require more food as they need to feed the unborn puppies they carry. Also, breastfeeding Huskies require more food rich in protein, fat, and moisture. All of these are important nutrients that help produce milk.
If your Husky is sick, the amount of food he needs will have to change. Depending on the illness, he might require more or less food than usual.
So, How Much Food Does A Husky Need?
As you can see from what we've listed, a lot of things influence how much food a Husky needs. What is clear, though, is that most vets agree that the average amount of food for an adult Husky should be 1.5 to 2 cups of dry dog food per day, divided into two separate meals.
Of course, this amount is adequate for healthy, fairly active dogs. This is why you should always consult your vet to find out the health status of your pooch. This will help you determine how much food your Husky should consume every day.
Recommended Husky Diet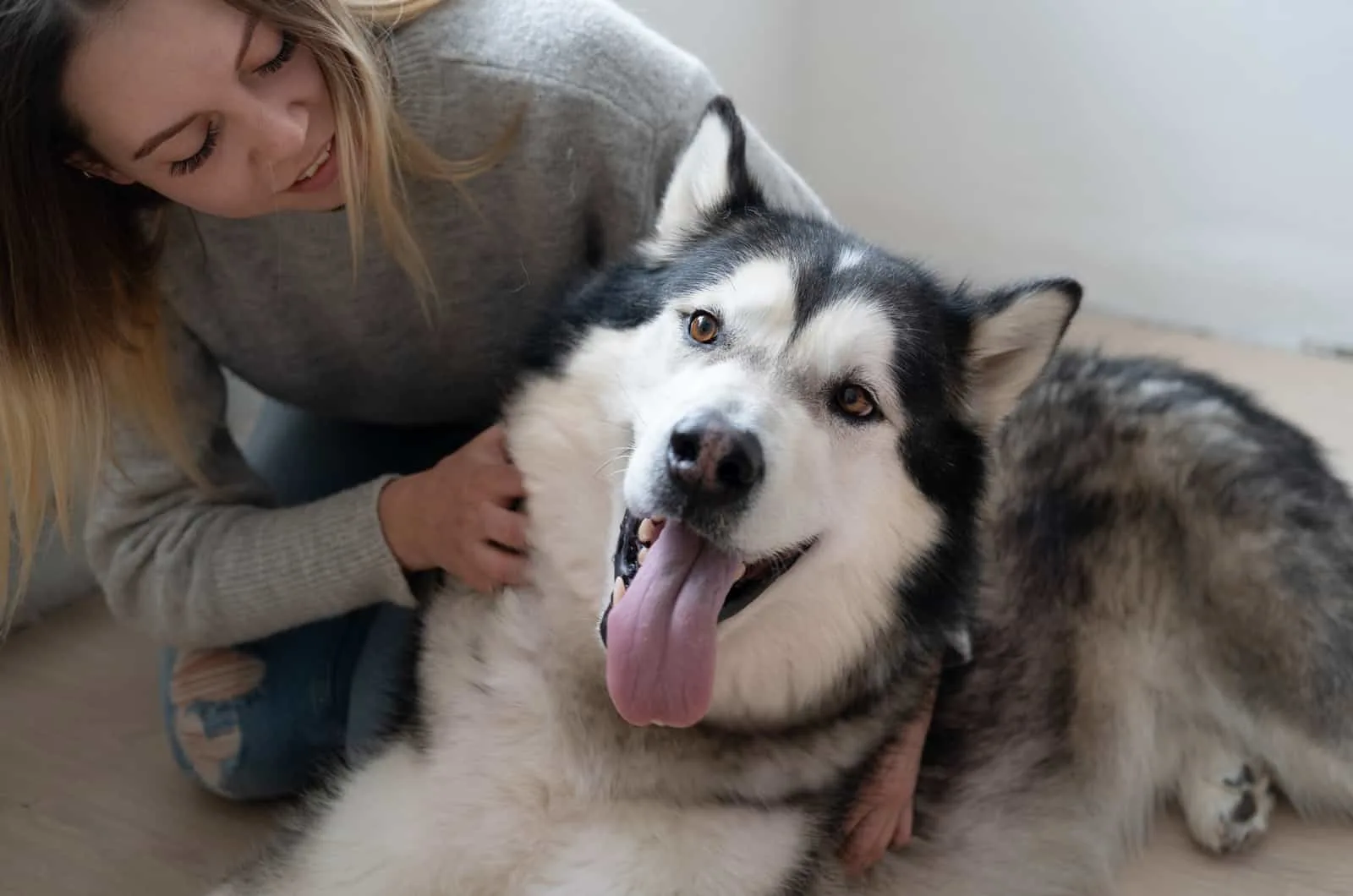 In the wild, Huskies used to eat lots of fatty meats as this is what they needed to retain their energy levels. Fat contains lots of calories and produces much more energy than other nutrients.
To make things more clear: A gram of carbohydrates contains 3.5 calories of metabolizable energy. On the other hand, a gram of fat contains 8.5 calories, which is more than twice the amount produced by carbs.
A diet high in fats is still given to Huskies in the north, as this helps them have enough energy to do their work. However, this type of diet isn't necessary for modern-day Huskies in urban areas – which isn't to say they don't require high-fat diets.
Siberian Huskies kept as family pets have some unique feeding behaviors, such as:
• They get bored if they eat the same food all the time.
• If they have had a negative experience with a certain food, they'll likely never want to eat it again.
• They are really picky eaters.
All of this can make it really hard to pick the best dog food for Huskies. For example, even if you find a dog food brand they really like, they'll likely get bored of it in a few months. This can result in your Husky refusing to eat, which can lead to many problems later on.
However, let's imagine you decide to experiment by giving them a new type of food. If they end up feeling sick or vomiting, they might never want to eat any food of that type ever again.
All of this narrows down your choices, which can make finding the best dog food for Huskies a rather intimidating task.
To ensure you get the best possible diet your Husky will enjoy, we suggest picking a base dog food rich in fats, proteins, and micronutrients.
To ensure your Huskies don't get food boredom, you should also pick many food additions that will help enhance the taste and palatability of that base food you've chosen.
You should aim to provide your Siberian Huskies with high-quality food they'll never grow bored of and one they'll enjoy eating. Choosing a base food that is healthy and nutritious and adding tasty food to help provide a variety of flavors should provide you with exactly what you need.
Husky Nutritional Requirements
Siberian Huskies require a specific amount of protein, fat, and calories to keep them at optimal health. A healthy Husky that weighs 50 lbs should eat 1,300–1,400 calories daily. However, if they have been spayed or neutered, this amount will be lower.
All the factors we've mentioned before should also be taken into consideration.
Similarly, calories are not the only thing you should be mindful of. For example, adult Huskies should eat food that contains at least 18% protein and 5% fat, while Husky puppies require 22% protein and 8% fat or more.
Huskies also require these nutrients:
Zinc
Huskies are prone to a specific type of dermatitis that is caused when there isn't enough zinc in the dog's blood. This is why they require a lot more zinc than most other dog breeds.
This type of dermatitis is hereditary and reputable breeders can detect it when they conduct health tests. However, it can be kept under control if you provide your pooch with the best dog food for Huskies that also has high zinc content.
Phosphorus And Calcium
Just like all other canines, Siberian Huskies need to eat food that will make sure their bones are healthy. This will keep them mobile and active. Calcium and phosphorus are nutrients that can help them with that.
In fact, the best dog food for Husky puppies has to have a high amount of phosphorus and calcium as they are still developing. Once they reach adulthood, this amount may be lowered.
Vitamin E
While all vitamins and minerals are important, vitamin E is extremely important for Huskies as it helps the health of their coat.
All dogs should have shiny coats. However, when you have a fluffy canine like a Siberian Husky, taking good care of its fur is of great value.
FAQ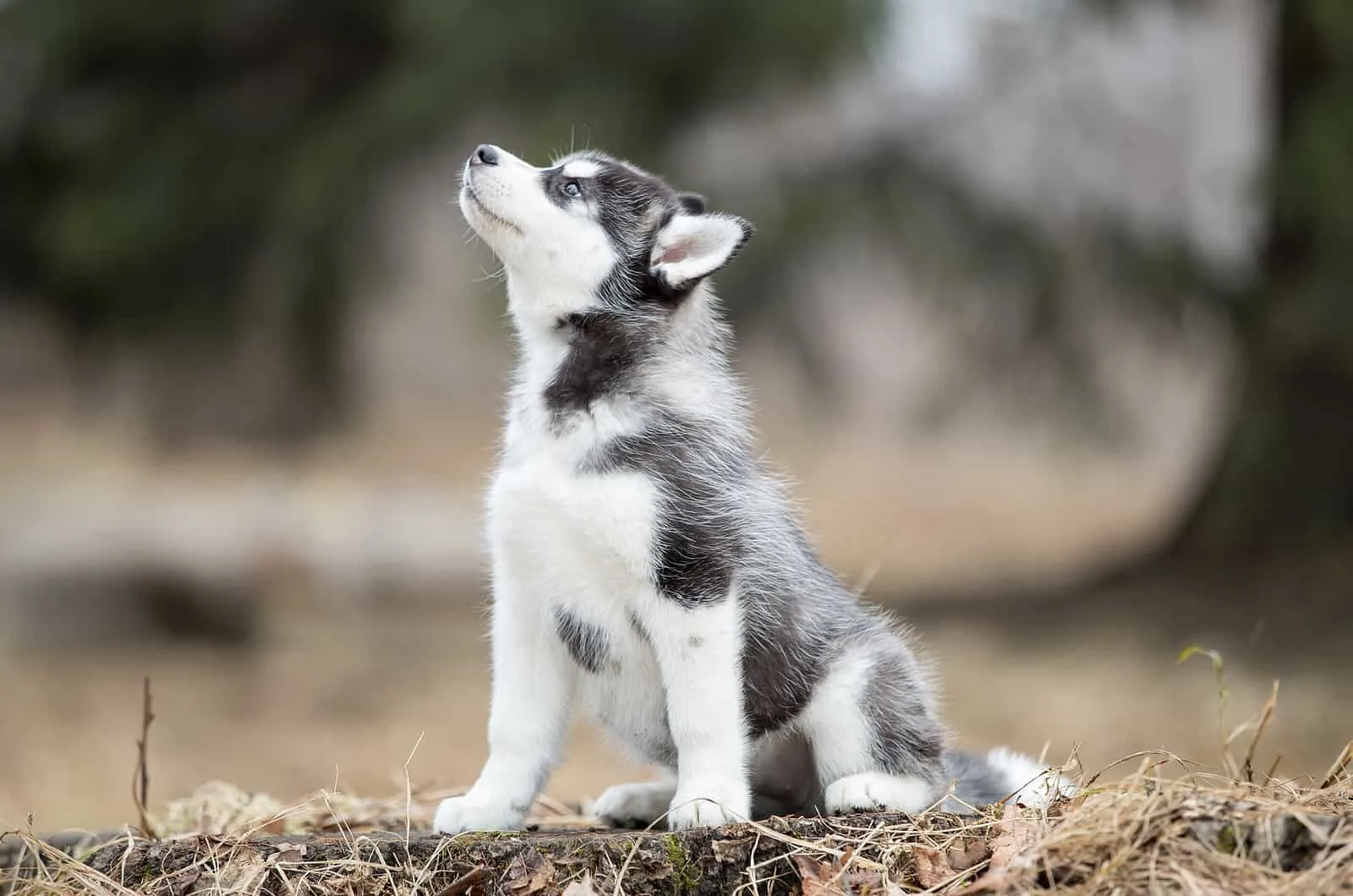 What Is Best Dog Food For Huskies Puppies?
Husky puppies have a slightly more sensitive tummy than adults. Because of this, the best dog food for Husky puppies shouldn't contain dairy, whole grains, preservatives, and other things that might irritate their digestive system.
Also, puppies require higher fat and protein content than adult dogs because they require more energy to grow big and strong.
What Is The Best Dog Food For Huskies To Gain Weight?
If your Husky is underweight, you might want to give him food with higher protein and fat content. Also, you might want to include more treats in their diet, as long as they are healthy and not too rich in sugars.
You might also want to change their feeding schedule. A dog's metabolism works similar to humans, and sometimes a change in feeding schedule can really help them with their weight. Try to give them smaller meals more frequently, or if you're already doing this, give them fewer but bigger portions.
Of course, before you do any of that, you should visit your vet to rule out any medical reasons your Husky is underweight – especially if the weight loss was sudden.
What Food Should You Avoid?
Siberian Huskies will rarely have a sensitive stomach and are resilient against most food allergies. They can handle whole grains much better than most dog breeds. This is why many Husky owners think they can feed them just about anything.
Still, there are some foods you should avoid, and this includes:
• Chocolate
• Cooked bones
• Dairy
• Fat trimmings
• Garlic and onion
• Prunes
• Raisins