This post contains affiliate links, and I will be compensated if you make a purchase after clicking on my links.
When speaking with Australian Shepherd owners, the most common question that I get is: "What are the best brushes for Australian Shepherds?"
Since there are so many different brushes on the market, many dog owners struggle with finding the perfect brush for their furry baby.
Australian Shepherds are medium-sized dogs that were bred to be herding dogs on cattle farms. Despite their name, they did not originate in Australia. They actually came from Europe's finest herders, but their breed was perfected in California, USA.
Among all the shepherds, they are probably the friendliest and most affectionate ones. They are very agile and intelligent dogs that have a very recognizable coat type that sets them apart from other breeds.
They have a medium-length, water-resistant, double coat with unusual markings that make them so unique and special. Aussies are not the most high-maintenance dogs, but they do require regular brushing to keep their coat in the best condition and healthy.
It is very important to know what types of brushes are suitable for this dog breed, and which ones will give you the best results. Keep on reading to find out the secret to the quickest and easiest grooming process that both you and your best pal will enjoy.
Best Brushes For The Australian Shepherd – Our Top Picks
What Are The Best Brushes For Australian Shepherds?
If you do a quick Google search, you'll see that there are different types of dog brushes.
The most common ones are definitely slicker brushes, pin brushes, bristle brushes, and undercoat rakes; however, there are also a variety of other grooming tools that could be beneficial for dog grooming.
Metal combs, double-sided brushes, stripping combs, deshedding tools, and flea combs are also worth mentioning. Now that we are familiar with different types of brushes, let's see which ones are actually good for your Aussies.
Most dog owners don't like brushing because of the fly-away hair and how difficult it can be to clean the brush between the strokes, especially if the dog sheds a lot. The truth is that dog brushing can easily become a really messy job, but with the right tools, it doesn't have to be.
The first brush that I would like to feature on my list of the best brushes is the Hertzko self-cleaning slicker brush. What makes this brush so different from others?
The best feature of this brush is definitely its self-cleaning design. When your brush gets full of dog hair, you can simply push a button, which will retract the bristles, and you'll be able to collect the hair easily.
There are millions of pet owners worldwide who trust this brush for its versatility. It is made from fine, angled bristles that are very effective at untangling. The round bristles will be able to reach multiple layers of the dog's fur without bending, breaking, or hurting the dog's skin.
The brush will help reduce shedding, remove dirt and debris, improve circulation, and bring back healthy shine to the dog's coat. It is very easy to use, convenient, and comfortable, so you'll be able to enjoy a relaxed and effortless grooming experience.
The brush is also suitable for cats, so if you have a multiple-pet household, it will be ideal for you since it is good-quality, durable, and easy to use. As with any other brush, make sure that you don't get too rough on the dog's coat.
If you're still not fully convinced, maybe some reviews from Australian Shepherd owners will help you decide:
"This is a great brush. My Australian Shepherd has long fur and a thick under coat and this brush had no problem removing fur and small mats. Easy to remove fur from brush."

– Laurie Lee
There is a lot of dilemma around Furminator products – should they or shouldn't they be used on Australian Shepherds and other double-coated breeds?
This is mostly directed towards FURminator deshedding tools because of the fear that sharp, razor-like brushes will damage your dog's hair. If you check their official website, and the list of dog breeds not recommended for an undercoat deshedding tool, you will see that the Aussie is not present.
It definitely isn't a product for everyone, but it can be an excellent grooming tool if used properly. You should educate yourself on how to use it, and be very gentle doing so. If you do it in such a way, it can be one of the best tools for thick fur and shedding dogs.
Nevertheless, today, we will be talking about the FURminator grooming rake. It is one of the best-rated products and Amazon-recommended ones when it comes to grooming rakes in general.
It is made out of rotating metal teeth that easily remove loose hair from thick undercoats, and it helps prevent any tangles and mats. It is especially recommended for dogs or cats with thick fur and a double coat, so you know that it will be perfect for your Aussie pet and daily grooming.
The brush features a non-slip ergonomic handle that gives maximum control, and allows for a fatigue-free brushing experience.
Many professional groomers actually use this rake because it gently desheds in a fast and effective manner, but it doesn't cut the dog's hair or cause any discomfort. Additionally, it is supposed to be very durable and last you a long time, so it's well worth the price.
Related: Blue Merle Australian Shepherd: All You Need To Know
Having a good double-sided brush in your household is great both for your wallet, and also for practicality. They are very cost effective because you basically get two different products for the price of one!
The GoPets Professional double-sided brush is a great example of such a brush that is suitable for all coat types and different types of combing and brushing needs.
On one side, you have a pin brush with soft pins and rounded ends that are great for longer and double coats, while on the other side, you have a soft and densely-packed nylon bristle brush that is excellent for shorter, single coats and removing loose hair and dirt.
With this brush you definitely get flexibility that other rakes and single bushes don't provide. It can be used on any breed, so it should work amazingly on your Aussie as well.
If your pet has sensitive skin, you shouldn't worry also because due to the rounded tips, the brush is able to penetrate deep into the undercoat without scratching the dog's skin and causing further damage.
Also, the brush features ventilation holes that help keep the pins flexible and able to contour to your dog's body. A comfortable and easy grip is definitely guaranteed with a non-toxic silicone gel handle that contours to your own hand, providing you with an enjoyable grooming session.
The only thing I didn't like about this brush is that the hair tends to stick to the silicone gel handle, and it can be a bit difficult to get it off. Other than that, it is a sturdy and well-built brush that does the job effectively.
I have to mention that by purchasing a GoPets product, you are actually giving back to the animal community. They donate a portion of the profit to animal charities, and as a dog lover, I find it extremely honorable and definitely worth pointing out.
A good grooming process is not possible without a high-quality pet comb. A comb is every groomer's best friend. A comb helps reach all those places where brushes simply can't go, and detangle even the worst mats and knots.
Since matted hair is the number one problem every Australian Shepherd owner encounters at least once in their life, it is absolutely necessary to have one good pet comb in your grooming tools.
A comb with the best reviews on the market is definitely Andis 7-1/2-Inch Steel Comb. This comb comes with a high 4.8 star review and an excellent price point, which is why it secured a place in the best-value product on our best brushes for Australian Shepherds list.
The Andis pet comb is made out of stainless steel blades that include coarse and fine teeth on different sides. This tool is perfect for removing mats, tangles, loose hair, dirt and debris, as well as for finishing, fluffing, and adding fabulous volume.
It can be used on all dog breeds of all sizes and ages, and also on cats. It also features a durable anti-slip handle for fatigue-free grooming.
All in all, this is a great all-around product that offers you a gentle and safe brushing experience that will not irritate your dog's skin. It is even safe to use around your dog's eyes without causing any problems.
"This is a good quality comb that should last a lifetime. There is enough rim to hold onto while combing. It has strong, sturdy tines that worked well while spot combing my Australian Shepherd's thick, curly butt and leg fur. I strongly recommend it."

– Amazon Customer
When you have a dog with a thick undercoat, such as the Australian Shepherd, it is important to invest in a good undercoat rake that will easily remove all the dead hair from the said undercoat and smooth out the top coat.
The Coastal Pet Safari undercoat rake is an excellent brush for dogs with medium and long hair. It features a single-row rake brush head with precision tapered rounded pins that rake through the undercoat with ease and leave it tangle-free.
Since the brush comes with rounded pins, you can rest assured that it will not irritate your dog's skin, but offer your dog an enjoyable, pain-free experience.
If you need a product that efficiently removes dead hair, and also, at the same time, detangles and smooths out the coat, this is definitely something you should try.
"Great working undercoat brush. It works very well on an Australian Shepherd's coat. I've tried other brushes to help the dogs out in summer, but this thing seemed to work the best. It doesn't pull at the dog's hair like some brushes do. In fact, it pulls the undercoat out with minimal effort. The teeth are thick and rounded, so the brush doesn't seem to bother the dogs at all."

– Peter R.
Read also: Australian Shepherd Colors: How Many Shades Are There?
If we could name one brush that almost all professional groomers and pet owners adore, it would be this one – the Chris Christensen Big G dog slicker brush. There is a very good reason why this brush is also called a "groomer's miracle brush".
Don't kill me when you see the price. I know… it is a very expensive dog brush that not everyone can afford, but I simply must mention it because of its amazing capabilities.
This brush comes in three different sizes (large, medium, and baby) to perfectly fit the size of your dog. As they state on their website, it features 30% more pins (called comfort glide pins) than other premium brands.
This means that you're able to achieve more work with less effort. Since the brush head is big, you're also able to cover more area, which means that you'll do the job more quickly.
The Big G slicker brush is the perfect tool for fluffing, detangling, deshedding, and styling all in one, without causing any discomfort or pain to your dog.
The brush also features an ergonomic handle with a unique rubber coating that prevents the brush from slipping out of your hand, makes grooming easier, and prevents brushing fatigue.
If you're looking for a high-quality investment that is worth the money, this brush is definitely it. I am sure that both your dog and you will love it.
"I would have to say I absolutely love this brush. I have two Australian Shepherds that shed like no other and trying to get them to sit and allow me to brush them with the other $60 brush wouldn't happen. As soon as I started brushing with this item they relaxed and allowed me to completely finish their coats. Cleaning up was so easy and man I love this brush."

– Eric Hernandez
If you're looking for something that is more on the cheaper side, but still has good quality, I recommend trying the Hartz Groomer's Best slicker brush.
A high price tag doesn't always mean a better product, and this tool is exactly the proof of that. This is a great grooming tool for everyday deshedding, detangling, and removing mats.
It is made out of fine stainless steel pins, with coated safety tips that are able to gently but effectively grab loose hair and excess fur.
These fine, but sturdy pins are suitable for all coat types. They help distribute the natural oils throughout the coat, and keep it healthy, shiny, and beautiful looking… just the way it is supposed to be.
The brush head features a breather hole that allows for a gentle and smooth brushing experience, so your furry friend will actually look forward to these sessions.
Additionally, the ergonomic handle offers maximum comfort and control, making the brush easy to hold and maneuver while you're doing your brushing magic. The only thing I didn't like about this brush is that it can be a little bit hard to clean; however, you can wash it with warm water and soap.
All in all, it offers you durability, great quality, and a great price, and it is definitely worth trying out.
Related: 7 Healthiest And Best Dog Food For Australian Shepherd Choices
Another great pet comb that definitely deserves to be on our list of the best brushes for Australian Shepherds is the Shiny Pet dog comb.
Unlike some other combs out there, this one features round and gentle stainless steel teeth that effectively remove loose hair and all the dirt that is trapped in the undercoat, while also gently breaking up tangles and knots.
Brushing your Aussie with a comb improves overall pet health. It gently massages your dog's coat, and boosts circulation, which naturally supports the health of your furry baby.
Also, an anti-slip ergonomic handle is finished with a rubbery grip that makes this brush very easy to use. This prevents any unwanted slippery accidents, and makes it completely safe to use on your pet.
If you're constantly dealing with unwanted and stubborn mats, this comb will be a great addition to your grooming tools.
The product comes with a full guide to home pet brushing, which I love. Many dog owners, especially first-time owners, struggle with properly brushing their dog in the beginning, especially when it comes to double-coated breeds.
Just scan the QR code at the back of the packaging and you'll get the full guide immediately. Pretty convenient, right?
"I have an Australian Shepherd with a very thick undercoat who sheds constantly. After spending about an hour on her, she looks fabulous! Now, twice a week for about thirty minutes and I see very few fur balls on the floor. Gone from vacuuming every day to twice/three times a week. One of the best purchases I have made in a very long time."

– Laura Howard
The last product on our list is yet another self-cleaning slicker brush. We started our list with one and we are finishing it in the same manner. So, let us present you with the Coastal Pet Safari slicker brush.
This brush comes in three different sizes (large, medium, and small), and it allows you to easily match it to your dog's size and age.
It is made out of stainless steel pins that help reduce shedding and gently remove mats, tangles, and loose hair for a healthy dog and a clean home.
The self-cleaning design effortlessly removes hair from the brush with a simple push of a button, offering you a hassle-free brushing experience. It is easy to use, convenient, and easy to clean as well.
The brush works on all coat types, and the comfort grip handle ensures that it fits comfortably and safely in the groomer's hand. Not only will this help you achieve fatigue-free brushing, but it will also provide you with amazing grooming results.
"This brush is AMAZING and works fantastic for me. I can not recommend this enough. Between two cats and an Australian Shepherd, this brush helps me maintain my sanity when it comes to shedding."

– Cassie Chavez
Read also: How Much Does An Australian Shepherd Cost? A Price Breakdown
Frequently Asked Questions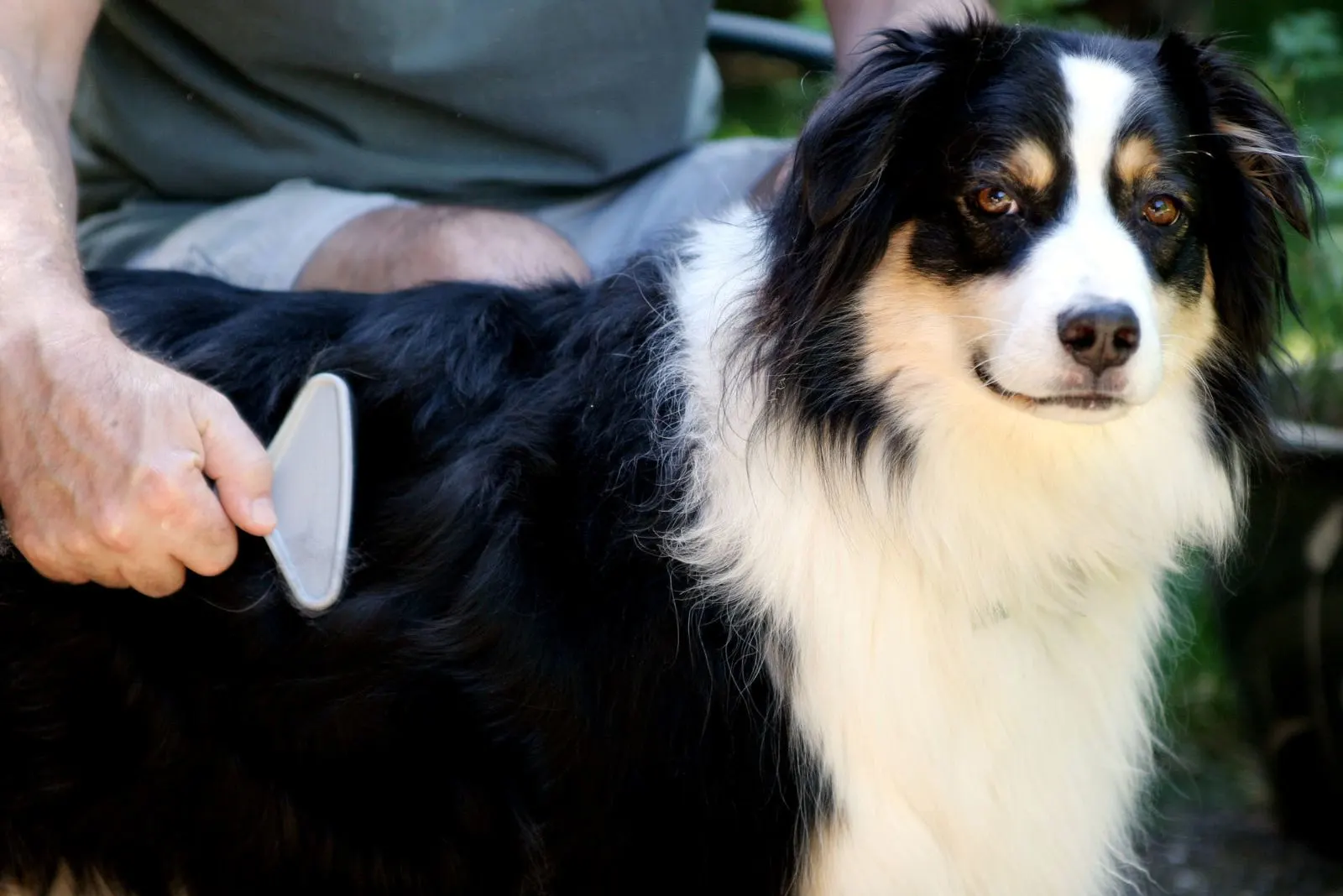 Final Thoughts
Choosing the right brush will definitely help you do the brushing job properly, and make it easier and much quicker.
By following our list of the best brushes for Australian Shepherds, and our buying guide, you'll be able to find the right tools that will make you enjoy some grooming time with your best friend.
It is the ideal opportunity to spend some quality time with your dog, and it also helps his coat stay well-maintained, healthy, and looking beautiful as it naturally is.
Try to pick products made of high-quality materials because they will last you for a long time. I am sure that you don't want to constantly have to buy new products and spend more money on them.
If you have any more doubts about brushing your Aussie, please consult either your veterinarian or a professional groomer for more advice.
Nevertheless, we always appreciate feedback from our readers, so please tell us what your favorite Aussie brushes are?
You Might Also Like
11 Best Dog Brushes For A Sheepadoodle: No More Mats
Top 6 Best Brushes For Cocker Spaniels
7 Best Brushes For Basset Hounds On The Market
11 Best Brushes For A Corgi: Grooming Tips And Brush Types