This post contains affiliate links, and I will be compensated if you make a purchase after clicking on my links.
The Australian Shepherd is an exceptionally smart and friendly dog breed, one that deserves the best their owners can provide, and that includes dog food, but what is the best dog food for Australian Shepherds?
Well, the best dog food for Australian Shepherd dogs needs to be able to nurture both a healthy body and mind to promote the Aussie's active lifestyle.
A healthy food option that avoids using meal, by-product and other fillers when it can to not pack on needless calories and should instead rely on proper meat protein, preferably chicken or beef, but turkey and fish are decent replacements if need be.
It needs to be made with high quality ingredients, all natural ones too and be able to meet your dog's daily nutritional needs.
Being grain-free is a good thing too for any allergy prone dogs.
And, of course, being reasonably priced would be ideal too, among some other things.
Sounds like a fairy tale, right? Well, you'd be surprised at just how many fit the criteria. Too many, in fact, but not all of them are good.
Some end up being too pricey, while some utilize questionable practices in producing their food, be it extreme pollution or cruelty to animals.
It's important to know how to weed out the good from the bad, but even then, you'll be spoiled for choice and may have a hard time choosing the one that seems just right for your canine companion.
Thankfully, I'm here once again, as I have been with many of the other dog breeds out there to help dog owners out by listing the best options for dry dog food out there, and some wet ones on the side, if there are any.
I go through the lists on both Chewy and Amazon so you don't have to and can instead enjoy your free time with your pooch and use the list provided here as a guide.
And don't worry, it's my job to do so and my pleasure, as all I want is for all dogs to get access to the best kibble for them out there.
So, if you'd like to find out what these options are, as well as what you should be looking out for when buying dog food on your own and answers to several commonly asked questions in regards to Australian Shepherd nutrition, be sure to read on.
7 Best Dog Food For Australian Shepherd Options
First on the list is a brand familiar to many, Blue Buffalo with their classic life protection formula option, suitable for adult dogs, but with options for younger pups too.
The Ingredients
This particular one uses chicken as the main animal protein, paired together with brown rice to make digestion easier.
There are a variety of other flavor options too, made from a mix of veggies and protein depending on what your dog prefers like: beef with brown rice, lamb and fish.
The Benefits
On top of the high quality protein, you'll also find that the mixture includes L-Carnitine, another nutrient that aids further muscle growth.
Chondroitin and glucosamine are present too, key components in fostering healthy bone and joint growth and helping minimize the risk of any problems relating to them developing as the dog ages.
Then there's the addition of the Omega 3 and 6 fatty acids, both of which are of crucial importance for good skin and fur quality by helping prevent skin irritation by helping it retain moisture and keeping hair follicles strong.
Aside from those, you'll find plenty of other beneficial stuff like antioxidants which help increase overall bodily health by protecting the body from the damage caused by free radicals and for better immune system functionality.
You'll also find plenty of vitamins in the mix that are crucial for canine health in general, all packaged into their patented LifeSource Bits.
What you won't find are any common allergens like soy, wheat or corn which could cause harm to your doggo.
You also won't get any by-product meals in the food as the people over at Blue Buffalo make sure your dog gets only the finest quality ingredients.
It's a brand of dog food that even senior dogs can utilize given how nutrient rich it is and how soft the texture is, making it easier to chew.
It's so good that it's considered to be one of Amazon's #1 bestsellers. This often means that they're the best of the best, at least on the given site and the given category, something worth keeping in mind when making your decision on which food to pick.
The price seems to be its only issue as it is a little bit up there, but is well worth it if you can afford shelling out a little bit of extra cash every now and then for premium dog food.
The Ingredients
Next up on the list is Taste Of The Wild with their own entry into the dog food circuit, and with a pretty unique piece of protein, bison.
The meat is fully sourced from the US and passes our rigorous standards unlike some of the more questionable meat options that get imported from less desirable sources.
Aside from the meat, you'll find it paired with ancient grains to help improve heart function and reduce the risk of heart disease.
It's obviously not well suited for pups who are allergic to grains, but it's a great option for those who tolerate it to broaden their palate up a bit.
The Benefits
The protein content is kept high to help build the muscle a dog like the Australian Shepherd would need to help maintain his muscle tone and energy levels while leading an active lifestyle.
Naturally, it also contains other beneficial ingredients like omega fatty acids to further improve your dog's skin and coat quality by helping protect their natural oils from getting washed off or similar.
K9 probiotics also play a big part in this whole mix, helping foster the growth of the dog's gut flora to better protect them from harmful bacteria as do antioxidants in helping strengthen the overall immune system.
Then you also have prebiotics, useful for digestion overall, but greatly important in puppy food as well to help boost a pup's initial digestive tract's operation.
For those who do want to try a grain free option for their dogs, there are a few variants that don't use them which may fit your dog a bit better.
Overall, the food is top notch, the price is certainly up there together with Blue Buffalo, but I do suggest you give it a try if it seems like the right option for your doggo.
After all, it has the "Amazon's Choice" tag for a reason.
If you're looking for high quality dog food intended for the more active breeds, then you may want to give Purina's blend a go.
Their dry dog food has everything a dog needs to function and then some.
The Ingredients
Firstly, their main protein is real chicken, an ideal base for any sort of dog food and one that's most commonly used in kibble, though here it's shredded alongside the hard bits to provide a little bit of difference in texture
It's then paired with rice which provides your dog with a source of carbs, energy to fuel him throughout the day.
The Benefits
Going alongside that, you'll find that it's pretty nutritious too, containing the essential nutrients a dog's body needs to function healthily throughout the day and to replace the ones expended.
Core things like omega 6 fatty acids and vitamin A to help boost the quality of the dog's skin and keep it irritation free.
Probiotics are there too to provide a healthy boost to your dog's gut bacteria which then subsequently improve his overall health.
Overall, it offers a pretty balanced diet that even picky eaters have a hard time saying no to.
As always, there's the issue of price that concerns many, and some have reported that their dogs have sprouted some sort of allergy or have suffered an upset stomach from consuming the product, but those tend to be purely edge cases.
Wellness is another one of the adult dog food brands that I'd highly recommend considering for your doggo.
As the name itself implies, it's made for more active dogs who seek a healthier lifestyle and go for an alternate protein source than the standard chicken option.
The Ingredients
This one, in particular, uses whitefish as its main ingredient and paired with sweet potatoes as a source of healthy carbs.
It's a product made in the USA so buying it also helps support a local business.
The Benefits
Aside from the main stuff, it has the standard array of good nutrients you'll be able to find within.
Anything from glucosamine for sturdier bone structure, probiotics and antioxidants for a healthier immune system, to omega fatty acids for a shinier and stronger coat and better skin.
While they do use whole grains, they refrain from any other sort to minimize the risk of an allergic reaction.
The food also doesn't contain any artificial additives, GMOs, preservatives, fillers or any form of meat by product.
It's definitely one of Amazon's top picks thanks to these specific additions and omissions.
The cost is relatively affordable compared to some of the other options out there.
The only thing that ends up being wrong with it comes down to the personal preference of your doggo as he may end up not liking it.
This option is more oriented toward dogs who may have some health issues they need to deal with to get their digestion back on track, but can be used as standard kibble just as well.
The Ingredients
As with many of the other popular choices, real chicken is used as the main protein and paired alongside barley to help smooth the digestion path along.
It contains everything your dog would ever need in a daily meal, helping him meet his nutritional requirements and to maintain his high energy lifestyle alongside it.
Omega 6 fatty acids are present in the food, a key ingredient that makes both the coat and skin healthier and less prone to any disease or infection.
Then there's vitamin E, helpful in keeping your Aussie puppy's eyesight sharp and allowing it to properly develop as he grows.
The Benefits
The barley is, as mentioned earlier, a good source of prebiotic fiber that helps foster the growth of healthy gut flora which serves to improve your Aussie's immune system and reduce the chance of any digestive issues popping up.
Other than that, you'll also find amino acids in the mix, helpful ingredients that aid any damaged muscles, allowing the protein to bind with it and get it back to tip top shape.
These are all all-natural ingredients with no artificial fragrances, flavors or additives for that matter, or any other chemicals hazardous to your dog's health.
The product has been developed by vets and is recommended by many other vets all over the US, giving it a pretty hefty seal of approval.
With all of these plusses though, there definitely are some minuses to accompany them.
The cost is the biggest offender, being nearly double of what regular dry dog food would be, and then some, though that's par for the course when anything tagged "medical" is involved.
This is why it's often not recommended to be used on a daily basis, but rather something that's purchased every now and then.
Something to get when your dog has actual digestion issues that need correcting as there are cheaper options out there with similar ingredient makeup.
Here's another great choice, one that comes from the US using ingredients that are thoroughly checked and made sure to be of top quality, Nutro.
The Ingredients
It's a mix of all sorts of nutritious ingredients, the main ones being chicken as the main protein.
Not all that adventurous for sure, but it also contains other food ingredients like salmon meal and lamb meal to add a bit of a unique taste to it all.
It's further paired with a variety of other fantastic ingredients like kale, blueberries, tomato, pumpkin, coconut, spinach and chia seeds.
There's flaxseed in there too, which is a fantastic source of omega 3 and 6 fatty acids for shinier coats and healthier skin.
This whole mix is rounded out with brewers rice which provides the essential fiber needed to properly digest all of that down with ease.
The Benefits
The product doesn't contain any form of artificial nonsense like flavoring, colors or preservatives for that matter.
It's also free of any chicken by-products, and is great for grain-free diets as it doesn't contain any soy, corn or wheat, making it extremely gentle on sensitive stomachs.
The price itself is leaning more toward the expensive side of things, but it's not as bad as some of the other options out there.
And, though the various sellers do claim it's free of any chicken by product meal, the ingredient list does state the presence of chicken meal.
While it's not the biggest offense, it is a source of empty calories which you should be wary of.
Here's a wet dog food option for a change, one that includes natural ingredients and steers clear from any of the artificial stuff, IAMS.
The Ingredients
The one represented in the picture here uses real chicken as the main ingredient paired together with whole grain brown rice to make digestion easier through the use of healthy carbs alongside a few other ingredients.
All of this is put in a nice broth and slow cooked to get rid of any potential bacteria while the flavors fuse and elevate themselves to deliver a taste sensation that your dog is sure to never forget.
If your dog isn't the biggest fan of chicken, there are two other options too, using either beef or lamb as substitute options.
The Benefits
As stated earlier, the food doesn't use any artificial ingredients and sticks to all natural stuff while avoiding anything that could be potentially hazardous for your dear doggo.
It does, however, contain flaxseed, which is a great, natural source of omega 3 and 6 fatty acids which you'll commonly find in all of the best dog food options.
They're pretty useful in maintaining good coat and skin health while also helping mitigate any existing rashes.
Other than them, you'll find all of the necessary minerals and vitamins to satisfy your dog's daily nutritional needs.
The rice provides ample prebiotic fiber to allow better digestion of the food and easier nutrient absorption.
Probiotics are included as well for improving the immune system as well as a number of vitamins, namely A, E, and B12.
The whole can comes out at around 425-ish calories which is a respectable meal, all things considered.
Given the ingredient list, the brand recommends giving this only to adult dogs who are at least 1 year of age.
The price is definitely more than you'd be paying for if you went for a bag of kibble and it'll last you for a lot less portions, but this should be considered a luxury treat for your canine companion.
The downside that I see with this one is that the calories seem to be relatively empty, or at least a portion of them does as they do use meat by-product to pump the numbers up.
There's still plenty of healthy stuff in there, but it's worth noting regardless.
BEFORE YOU BUY: Things To Be On The Lookout For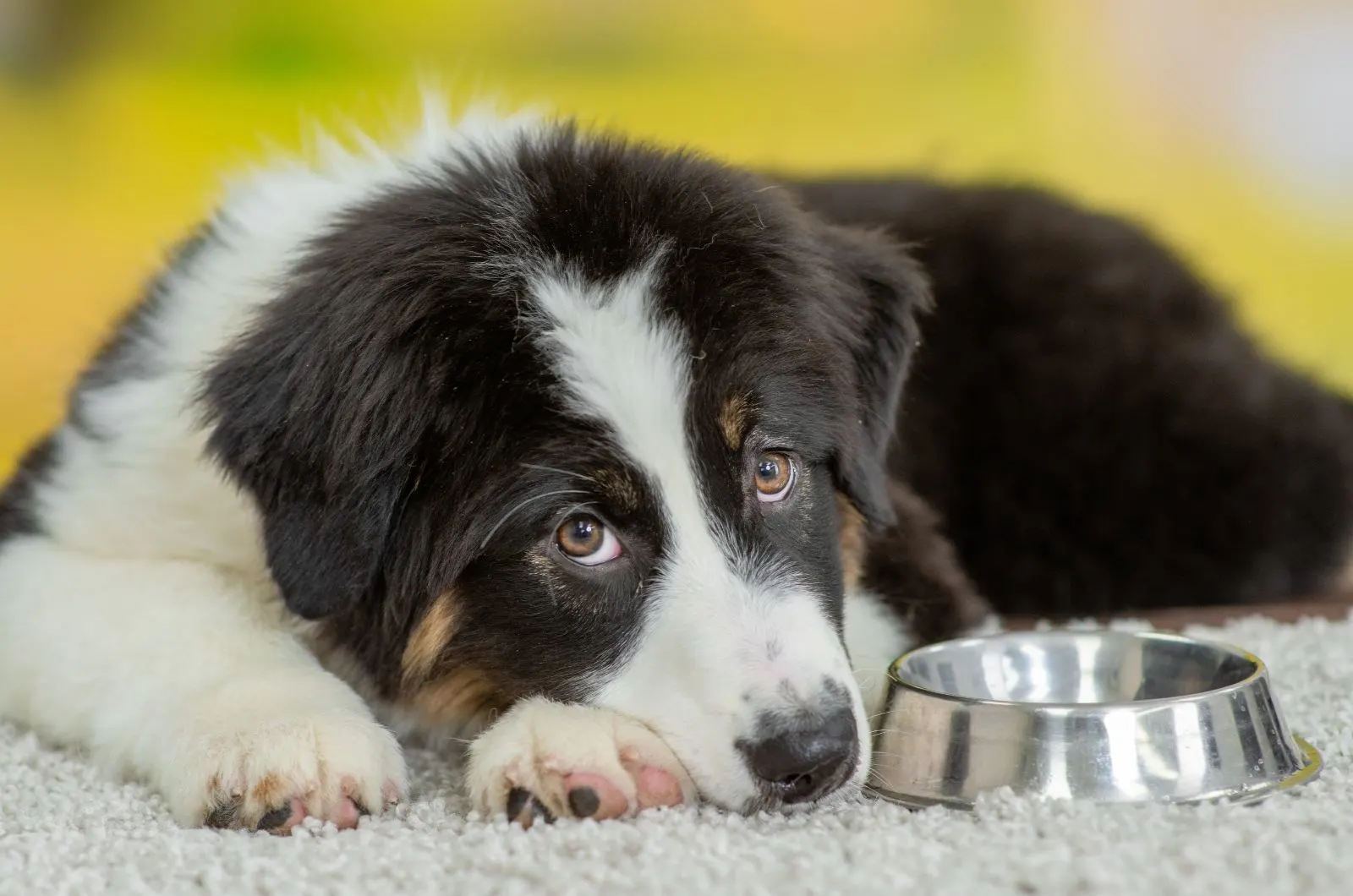 Certainly, many of these options look and feel the same, but that's just how it is when you're looking at top brands, only the most minute of details make the biggest degree of difference.
This is why it's exceptionally hard to find the ideal one, but you don't normally need to.
However, if you're someone who only settles for the best for your doggo, or, if your dog has special needs that need to be catered to, it's worth giving it a look yourself.
All I can do in that case is at the very least show you the key things you should generally be on the lookout for that are the trademark of a high quality food product.
Here are some of the most important traits to keep an eye out for so you can differentiate the good from the bad and get your dog the proper nutrition that he needs from his food:
All-natural Ingredients
Any brand worth its salt is going to use all natural ingredients in their dog food.
After all, they're a lot healthier than any of the artificial stuff floating about due to the process involved in creating them and the damage they're likely to do to your dog in the long term.
Any hazardous chemicals or artificially made stuff, be it coloring, fragrances and similar are a red flag when it comes to buying food for your precious pooch.
The brand using them usually only does it so they can cut costs and increase their own profits without care of what happens to your pets because of it.
These same ingredients are usually to blame for a good number of health problems that your doggo may contract which is why cheaper doesn't necessarily mean better.
Quality Protein
Any potential candidate for the best dog food for Australian Shepherd dogs needs to have a good protein as the main ingredient.
The default option tends to be chicken given how neutral it is, though beef is equally as utilized.
There are other options like lamb, fish and turkey as well as the other odd meat options, but the first two are usually the safest and best for your doggo to dig into, lamb too to a degree while turkey and fish aren't really preferred by most dogs.
A Healthy Dose Of Nutrients And Minerals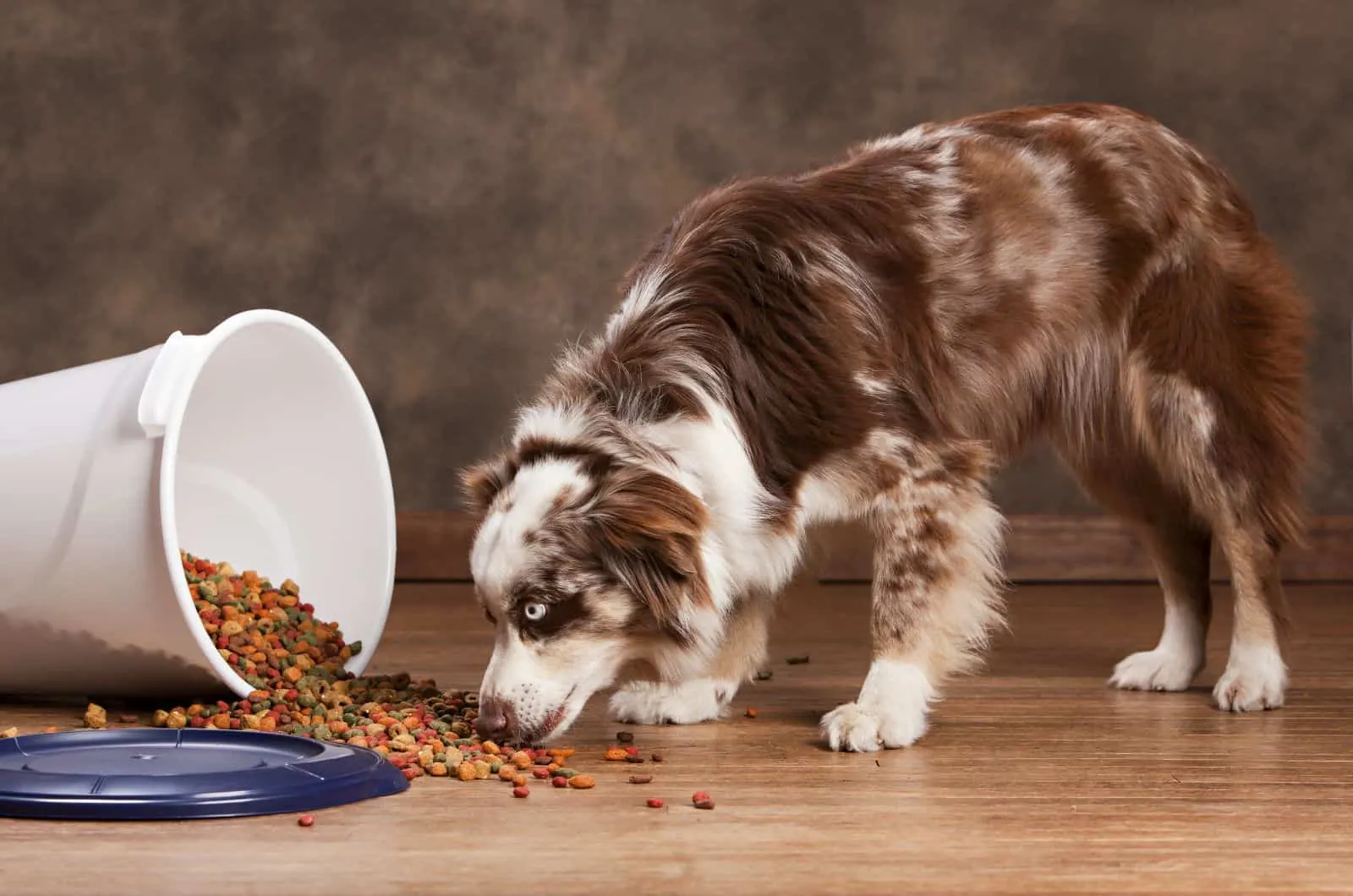 Naturally, no food is complete without its own set of vitamins and minerals, the nutrients needed for the body to remain in tip top condition.
The default addition usually involves omega 3 and 6 fatty acids as they play a vital role in improving coat and skin health as well as bolstering cardiovascular and mental function.
One of the more important ones, especially for pups, are DHA and EPA, which contribute to proper cognitive development and function.
Other than that, you'll want to look into probiotics and prebiotic fiber to be included in the mix, the former to stimulate the growth of the dog's helpful gut bacteria to improve his immune system, and the latter to help with nutrient absorption in general.
For medium and large dog breeds like the Australian Shepherd, it's recommended to find some food that has chondroitin and glucosamine included too as they're key players in maintaining proper bone and joint health.
They're definitely needed as most larger dogs tend to suffer from bone related issues the older they get due to the location of their center of mass.
A variety of vitamins are also needed, but those usually come with most dog foods.
Watch Out For Allergens
If your dog has any potential allergies that you need to worry about, it makes sense to try to avoid the allergens that cause it.
The most common ones tend to be grain related, stuff like wheat, soy and corn as well as gluten in general, but there can be a number of others, it all depends on your Aussie's genetics.
Affordable Pricing
And, last, but not least, you want to make sure that the product you're buying isn't going to milk your entire budget.
Expensive doesn't always mean better in most cases, just like cheaper doesn't either.
For every expensive product priding themselves on some specific niche only they've apparently utilized, there's definitely going to be a lower priced product doing the same.
Always be sure to do your research on the matter and find some similar products to the one you seem to be stuck on, compare their pros and cons, and find out which of them ends up being the better one.
You'd be surprised just how many times the more affordable one ends up winning.
So, What Is The Best Dog Food For Australian Shepherd Dogs Then?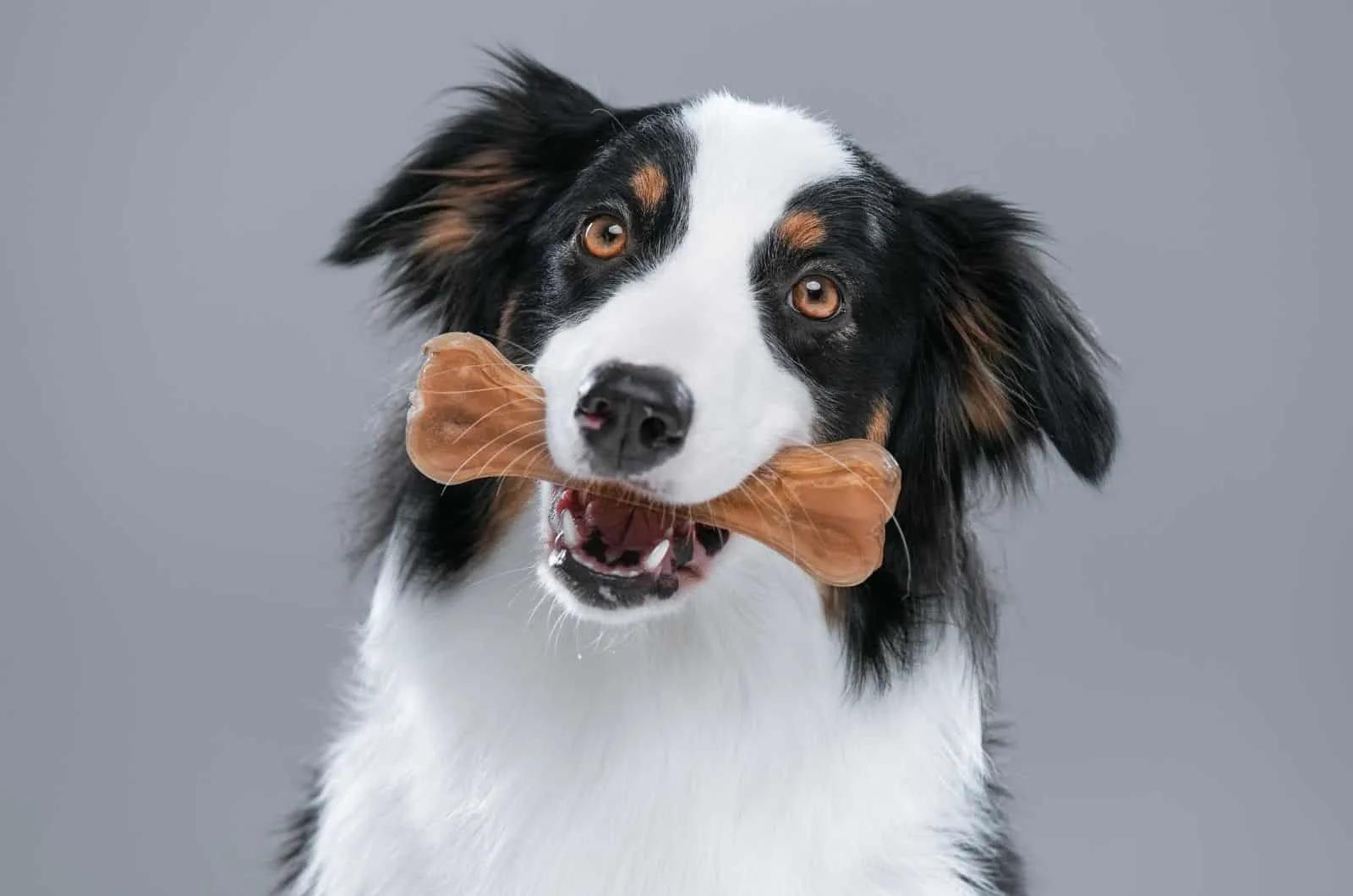 That part is completely up to you as your dog may have some unique needs I may not be aware of that I can't really cover without the information.
That said, if I were to choose based on the average Aussie, I'd say Blue Buffalo's dog food is one of the best ones to go for.
If you're feeling a little bit more adventurous and want your dog to try bison meat, then Taste of the Wild could be the go to.
They both cover a great number of the above mentioned requirements, barring the pricing, but if they're within your budget, I wholeheartedly recommend giving them a go.
In Conclusion
The best dog food for Australian Shepherd dogs is one that helps maintain his luxurious and pristine coat as well as improve his digestion and overall immune system.
It's also important that said food improves bone and joint health where it can and meets the Aussie's daily nutritional needs.
Thankfully there are many such options out there, but not many of them offer all natural ingredients.
While I can only recommend what I feel to be the best option from my years of experience as a dog owner, ultimately it's up to you to decide what the best choice for your dear Aussie would be as you're the one who knows him the best.
I'm sure you'll make the right decision in the end. Until next time, pet parents.
RELATED LINKS:
How Much Does An Australian Shepherd Cost? A Price Breakdown
23 Australian Shepherd Mixes: Meet Cute Aussie Dog Breeds
Australian Shepherd Growth Chart: Your Guide To Aussie Puppy Growth