This post contains affiliate links, and I will be compensated if you make a purchase after clicking on my links.
Your pet is a part of the family – all dog owners know this. As such, you want to make them feel as good as possible. This means taking the best care of them as possible.
When you have a Corgi, this means not just providing it with the best dog food or buying it a properly-sized dog bed. Sure, giving them the best dog toys can help, but your care doesn't just end there. You also need to buy the best brush for a Corgi's double coat.
Brushing your Corgi's coat can benefit it in many ways. It will distribute its natural oils through the skin, preventing dryness and dander, while also getting rid of dirt and debris that might irritate it. Not just that, but it will improve your Corgi's appearance and make it as fluffy as ever!
Grooming your Corgi's hair can even bring the two of you closer, increasing the bond between you and your four-legged family companion.
However, just brushing isn't enough. You need to do this with the best brush for a Corgi possible. If you choose the wrong type of brush, you're risking not maintaining his coat properly or even injuring his sensitive skin.
Today, the market is filled with various dog brushes. You can find dozens of them online, on websites such as Chewy and Amazon. However, the high saturation can also bring confusion, and many first-time owners (but even some more experienced ones!) don't really know what they're looking for.
We're here to help. To ensure everyone can get the proper product, we've included a list that includes everything one might consider when buying the best brush for a Corgi. We're certain one of these products will be the right one for you.
Here are some of the best brushes for a Corgi that you might want to check out:
Best Brush For Corgi – Editor's Choice
11 Best Brushes For A Corgi
Corgi dogs require good grooming tools to keep their shedding under control. While they don't have excessively long hair, a Corgi's fur is still prone to tangles and mats, and this has to be removed with a high-quality brush.
Not just that, but Corgis shed quite a lot, and the only way to prevent this is to give them regular brushing.
However, it's challenging to pick just one best brush for a Corgi. We would always advise getting a few types of brushes as these can help you take proper care of various things such as dematting, getting rid of loose hairs, and making your dog's coat look its best.
Here are 11 brushes that might be a great choice for you:
If you're looking for the best brush for Corgis, this might be the one for you. It is designed to get rid of knots, tangles, and any kind of dirt and debris from your dog's fur while remaining gentle on your Corgi's skin as the wire ends are blunted.
The entire design of this brush is there to help your dog feel comfortable. It can stimulate the skin and increase blood circulation, all the while ensuring your dog's coat looks great.
At the same time, this brush is very easy to clean. With the press of a button, the bristles will retract, allowing you to remove the fur with ease.
Furminator is rather famous for its line of deshedding tools, and the Furminator for long coats might be just what you need for your Corgi.
The design is similar to an undercoat rake as the Furminator can reach the bottom of the undercoat, removing any dead hair that might be stuck there.
The Furminator has a handle with a comfortable grip, so you can hold it without a struggle while brushing your little family companion.
While the Furminator is designed to be gentle on the dog's skin, we would still advise using this only when your dog is shedding uncontrollably, and not every day.
This is a great undercoat rake that can get rid of loose hairs both on the dog's topcoat and undercoat. One side of it has wider-spaced teeth that can loosen up any knot, and the other side has tighter-spaced teeth to get rid of loose fur.
A good undercoat rake, such as this one, can get rid of tangles on the undercoat better than even the best slicker brush, which is why you might want to add it to your collection.
The outside of the teeth is rounded to keep it from scratching the pet's skin, and the ergonomic handle that is easy to grip can help you feel more comfortable during grooming sessions.
The best part of it all is that if you're not satisfied with the brush's performance, you can get a full refund!
This is a unique tool that might be the best brush for Corgis that love to have their grooming session during bathtime. It is made out of Thermoplastic Elastomer, so it's latex-free, making it great for sensitive dogs.
This is a rubber pin brush that can also serve as a toy that your dog will love. This way, he can have some fun in the bathtub before getting groomed.
The brush is easy to use, even though it might not be able to reach deep into the dog's undercoat. However, you can use it with dog shampoo to help you detangle your pup's coat after bathing.
If you want a Corgi grooming tool that is easy to use and suitable for those sensitive areas, such as around the eyes and muzzle, this comb might be perfect for you.
One end of this comb has tightly-spaced teeth that can help you get rid of tougher knots. The other side has wider-spaced teeth that can help you keep your dog looking well-groomed.
The teeth of the comb are blunted, so you can know that your dog's skin will remain safe. This will also increase circulation. Also, the comb is lighter than most grooming brushes, so even if you have to brush your pet for a while, your wrist won't feel tired.
Whether you have a Cardigan or a Pembroke Welsh Corgi, this is a great comb for your pooch. It is specifically designed for small dogs, whether they have long or short hair.
This comb will do wonders on more delicate areas, such as on the dog's face. It has two sides – one with tighter-spaced teeth and the other one where the teeth are set wider apart.
This tool is great not just for pet grooming, but it can also help you detect fleas or ticks. You can even use it on Corgi puppies!
The comb has an ergonomic design, so you can hold it for as long as necessary. Also, the teeth can massage your dog, so you can keep your Corgi's skin in great health.
While this tool might look like a torture device, it is, in fact, the best brush for Corgi owners who would like to provide their dogs with a unique, yet professional experience.
This tool has a two-sided blade made out of stainless steel. It is great for removing loose hair from even the biggest shedders. While it looks intimidating, the blade is gentle enough not to cause any harm on your pup.
If the looped design seems uncomfortable, you can unhook the handle and open the blade up. This can help you cover a larger area. While this isn't something you'll need for your Corgi, it can come in handy if you own another, larger dog.
This is a great tool for all dogs with a thick undercoat, such as Corgis. It will do an amazing job in keeping their amount of shedding to a minimum. It has a row of short, stainless-steel pins, as well as a detangler. This way, it can keep your dog's coat in the best condition possible.
You can get this rake in two varieties: with short or medium pins. This way, you can choose the one that is best suited for your dog's coat length. For most Corgis, we'd recommend buying the medium one.
Also, this tool comes at a fairly affordable price. If you're looking for a good brush that won't take too much money from your pocket, this is a great product.
No matter if you're preferring a slicker brush or a bristle brush, this could be the right tool for you. In fact, its versatility is the reason why many dog owners name this as the best brush for Corgis.
On one side, you have a slicker brush with no-rust steel pins that are great for reaching the undercoat. On the other, you have a high-quality bristle brush to ensure your pup is looking his best.
The ergonomic handle allows a comfortable grip that will allow you to brush your pooch for as long as possible. Also, both sides can help natural oil distribution, keeping your pooch's skin healthy and dander-free.
Yet another dog comb, this product is excellent for getting rid of even the most persistent tangles. It is a great choice for pups that have a habit of getting themselves dirty every time they go outside.
This comb's effectiveness is achieved as it doesn't just tug at mats; it cuts them away entirely. This is accomplished as the comb doesn't have standard teeth, but rather blades that will help cut through any tangle.
Of course, the tips of the blades are rounded to protect your pup's sensitive skin. This ensures the comb is entirely safe to use.
Also, the comb has an ergonomic handle that helps you make the grooming sessions enjoyable for both you and your pooch.
This is the best brush for Corgi owners who prefer slicker brushes over anything else. It is designed for dogs with double coats no matter the length. Yes, this works on both long-haired and short-haired dogs.
This slicker brush can remove loose hairs, dirt, and debris, while also removing any mat and tangle. Also, the tops of the pins are rounded, making this one of the most gentle brushes you can find.
The manufacturer offers a lifetime guarantee on this product, which is even more proof of how certain the brand is in the quality of this brush.
Types Of Brushes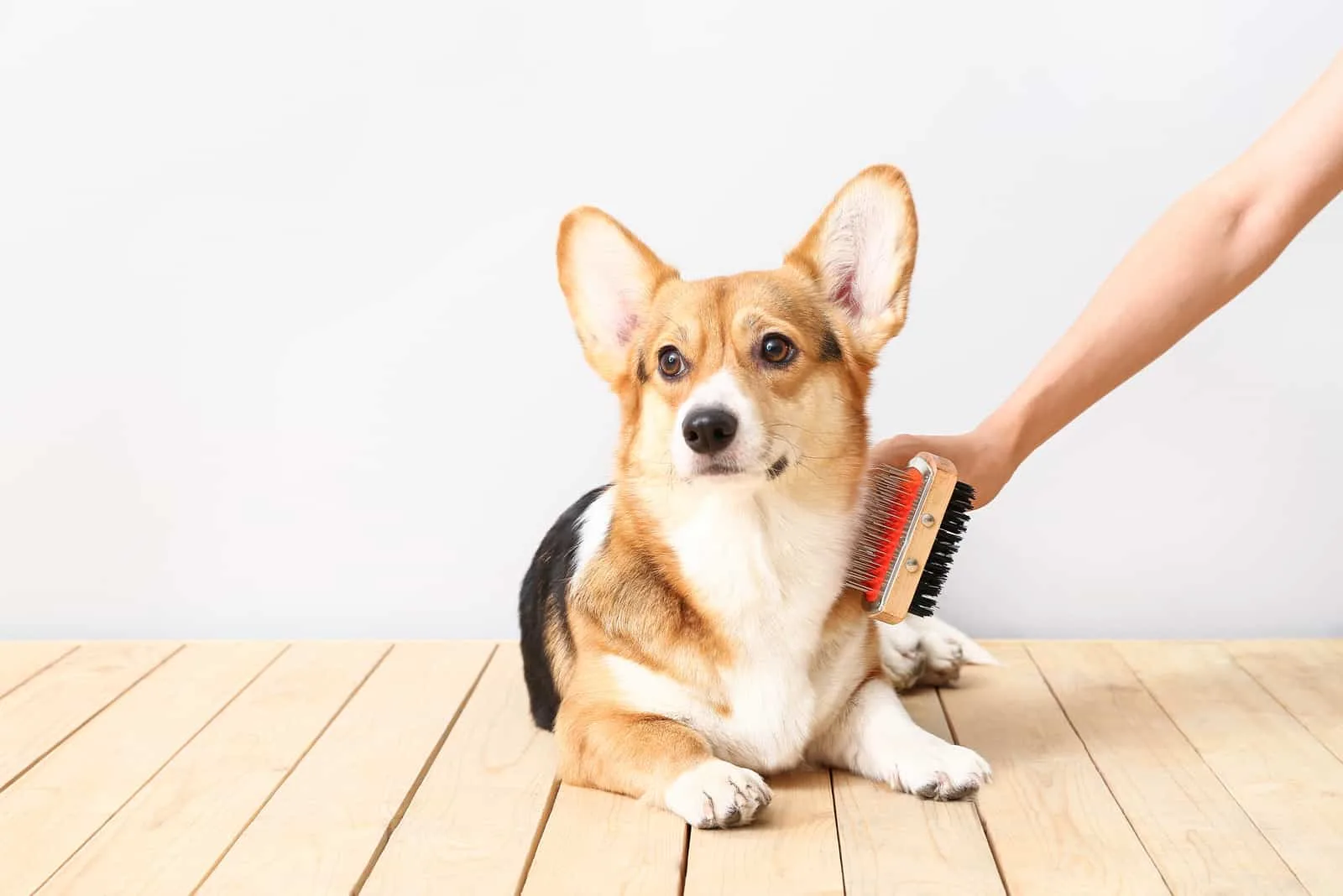 There are several types of brushes that can suit a Corgi's coat. All of them have different purposes and suit different types of coats, but all can be useful for grooming time.
Corgis have a double coat, which includes a long, coarse topcoat and a thick undercoat that serves as insulation. On its own, this means that you shouldn't use old brushes with loose pins as they can harm your dog, and they won't reach deep enough.
With that being said, here are the types of dog brushes you might want to check out:
Bristle Brush
A bristle brush is likely the first thing that falls onto people's minds when they think about the best brush for a Corgi. This is a brush that has long, soft pins, and it is among the gentler brushes out there.
However, it isn't actually that effective when it comes to Corgis as it's fairly soft, so it cannot go as deep as some other brushes. Also, many bristle brushes have wide spaces between the bristles, making them rather ineffective when it comes to untangling and removing loose hairs.
Still, while a bristle brush won't help reduce shedding, it might give your pooch a shiny, healthier-looking coat.
Slicker Brush
A slicker brush is like an improved version of a bristle brush. It also has long pins, but its pins are made of metal and are tightly spaced.
The slicker brush is designed for distributing natural oils, improving circulation, and removing hair and debris from the dog's coat.
This is a great brush for detangling and removing mats, but it can cause discomfort and irritations if you use it too often or too aggressively.
Rake Brush
Rake brushes are a good choice for removing loose hairs, especially from the undercoat, as well as detangling the outer coat. This means that it can be a great choice for Corgis since their fur is known for tangling.
However, just like with a slicker brush, you need to use rake brushes gently; otherwise, you might hurt your pooch's skin.
Grooming Gloves
Grooming gloves (or grooming mittens) are, as their name would suggest, gloves that serve for grooming. You put them on, then gently pet your dog with your hand.
Grooming gloves won't exactly detangle a dog's coat, and they are likely the least useful out of all brush types. However, they are a great choice for adding finishing touches as they'll help pick up all loose hair that might otherwise end up flying everywhere.
Not just that, but grooming gloves can also promote direct contact, which will further help build the bond between your doggie and you.
Deshedding Tool
A deshedder is a tool that isn't for everyday brushing, but it can still help your pooch get rid of dead hair. This tool is similar to a rake brush, but it is usually a bit sharper in order to help you cut and get rid of all the loose hair.
Just like a rake brush, a deshedding tool isn't to be used for daily brushing. Rather, it's to be used during shedding seasons, and when your dog's shedding gets out of control.
How To Brush A Corgi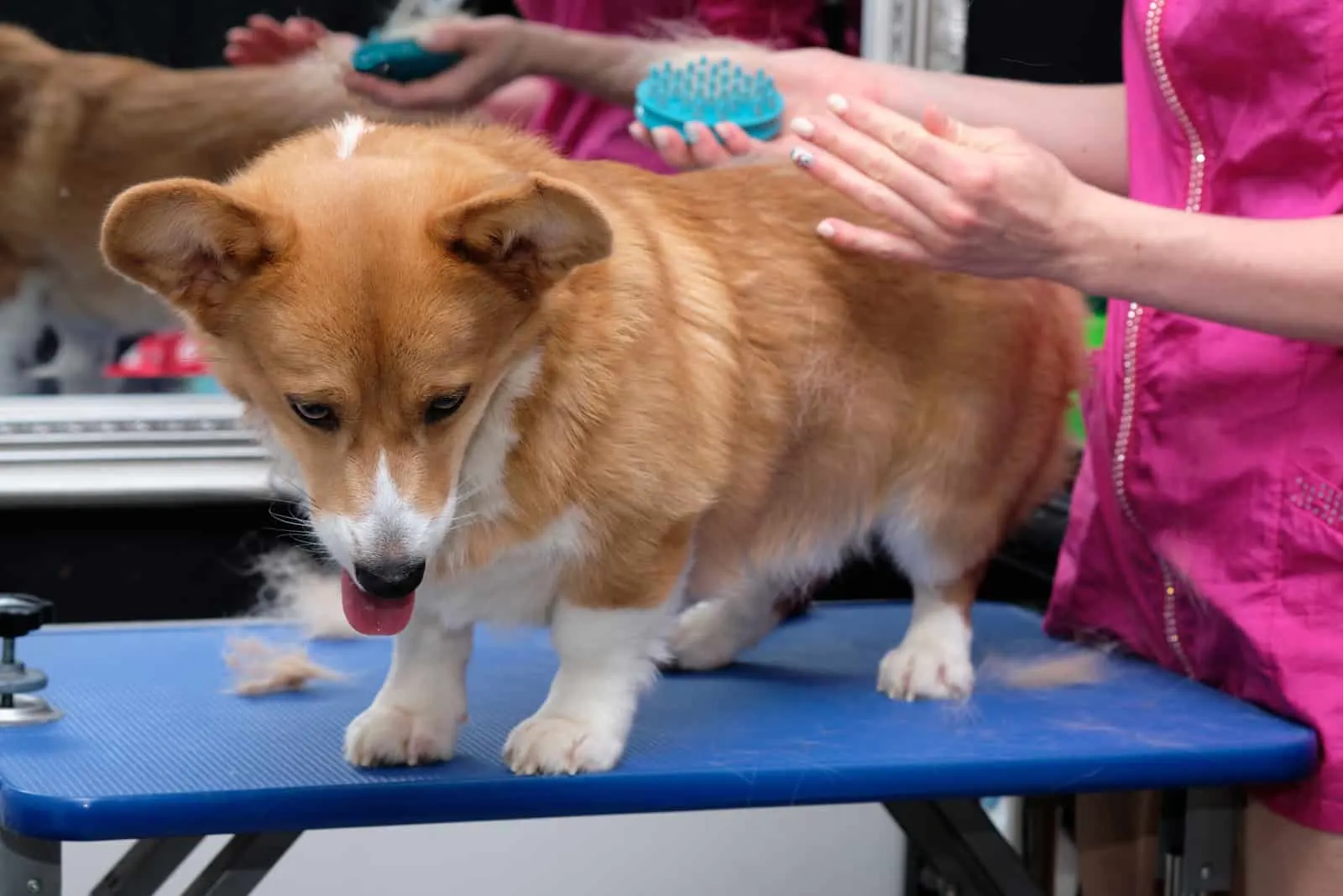 A proper grooming routine and brushing is essential to keep your pooch's coat from matting and to help control the shedding.
While there isn't a single right way for brushing your Corgi, there are some general rules that might help you do the job the best way possible.
Here's what you might want to do:
• Corgis require daily brushing, so make sure this is a regular occurrence. If your Corgi is a heavy shedder, you might even want to brush him twice a day.
• Start by brushing your pooch with a rake brush for 15 to 20 minutes. This will remove all loose hair and help get rid of tangles.
• Remember to be gentle! While it might be tempting to brush with a heavy hand, this might irritate your pooch, which might result in patchiness, dander, or hot spots.
• Use a slicker or a bristle brush to distribute oils through a dog's coat and onto his skin. This can further help get your dog's coat in the best possible condition.
• Finish everything with a grooming glove, and reward your puppy for being a good boy.
How To Get Your Corgi To Stop Shedding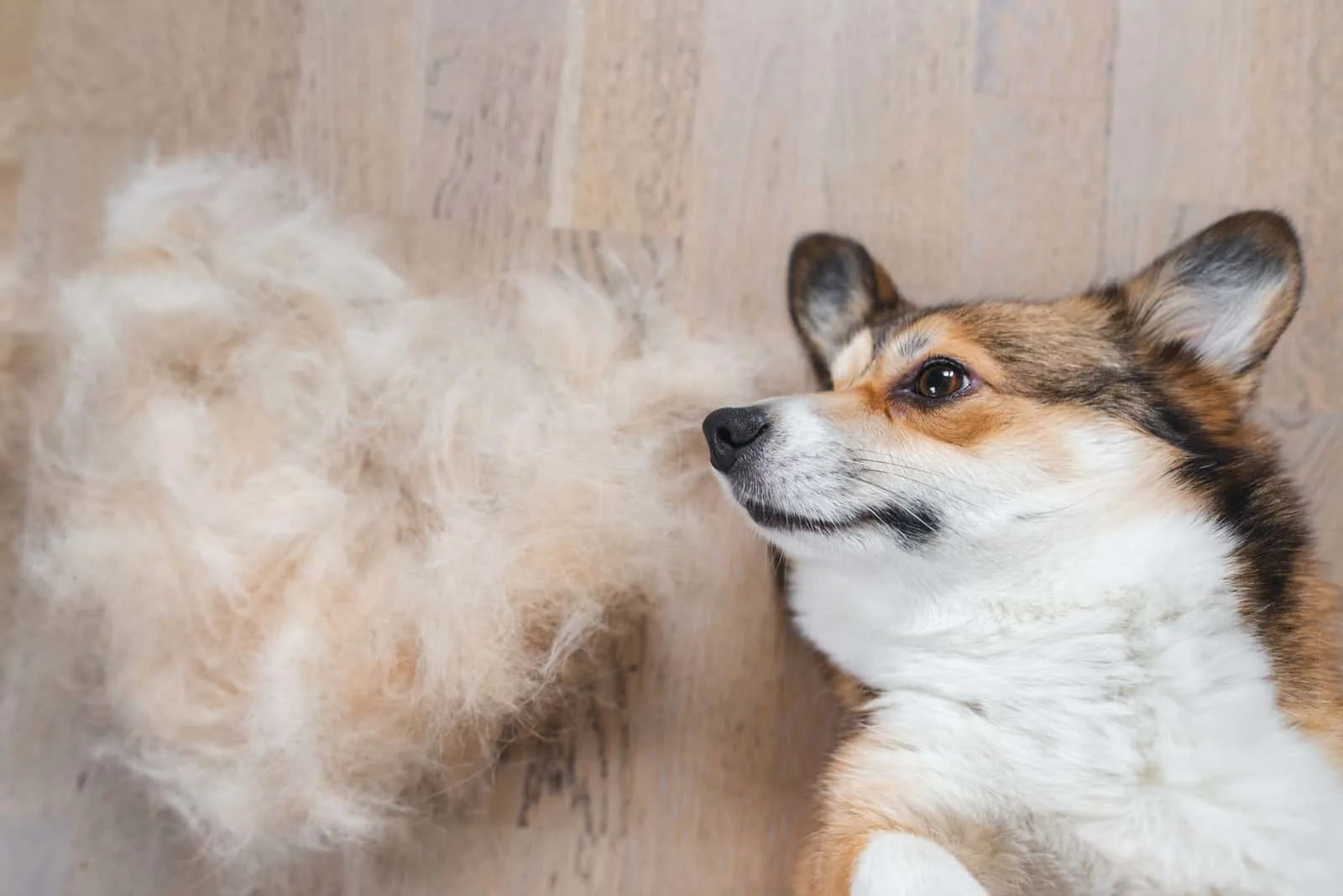 The truth is, you can never entirely prevent your Corgi from shedding. Shedding is a natural process, and every living being with hair goes through it.
What you can do is limit the amount of shedding, so that you don't have to spend ages picking loose hair from your furniture and carpets.
Here are a few tips for keeping your Corgi's shedding under control:
• Daily brushing is the key to picking up any loose hair and making sure they don't end up everywhere. As Corgis are seasonal shedders, you might want to brush them twice a day during spring and autumn!
• While Corgis will require a bath every now and then, try not to go overboard. This can make your pup's skin dry, resulting in dead skin flakes (dander) and more loose hair. Bathing him every two months should be enough.
• Take good care of your dog's diet. Feed him with the best dog food for Corgis and make sure he gets proper nutrients. Also, if you've just changed your dog's food, expect some excessive shedding until his body gets used to the new formula.
• If you notice any sudden increase in the shedding amount, or bald patches, you should contact your vet immediately.
FAQs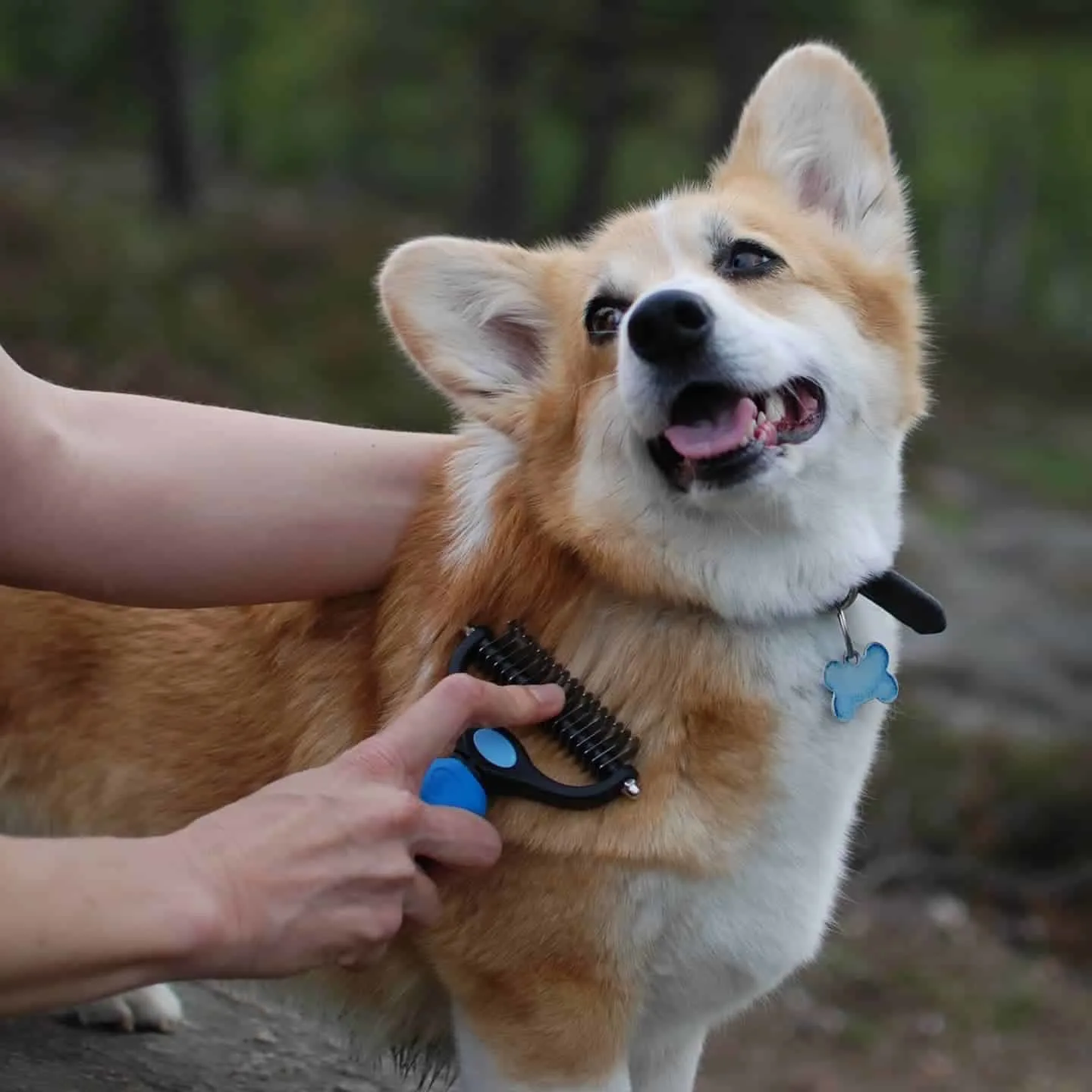 Photo from: frallanthecorgi
Unfortunately, Corgis are huge shedders. While their coat isn't as long as some other dog breed's coat, this doesn't prevent them from shedding. In fact, they are among the dog breeds that shed the most!
If you want to become a Corgi owner, this is something that you need to be aware of. Corgi shedding might affect your daily routine, and you need to be prepared for it.
No matter how often you brush your dog's coat, you can still expect to have dog hair everywhere – from your couch and furniture to your clothes.
What Is The Best Brush For A Corgi?
The truth is, the best brush is the one that you find the most comfortable, and that will do the job for you. This can be any brush on this list.
Overall, the best brush for a Corgi seems to be the slicker brush. It has pins of the right length, and they are strong enough to deal with a Corgi's persistent skin and coat.
However, your best option might be to use a combination of several types of brushes depending on the season, the shedding amount, and whether you want to get rid of dead hair or just make your pooch look cuter.
Do Corgis Have An Undercoat?
Yes, Corgis have a thick undercoat. They have a double coat, which means they also have an inner layer that keeps them warm in the winter and cool in the summer. Their outer layer – or the outercoat – provides additional protection.
While this thick undercoat is rather useful to the dog, it's also responsible for that high amount of shedding that Corgis and other double-coated dogs go through.
What Is The Best Dog Brush To Remove The Undercoat?
You are not supposed to remove your Corgi's undercoat. However, you do want to get a dog brush that will help remove dead hair from the undercoat as this is the main cause of dog shedding.
Brushes, such as the rake brush and the slicker brush, are good for reaching into the deep layers of the coat, including the undercoat, and removing loose hair from there.
From time to time, using a deshedding tool is also a good idea. This brush is the best for when you need to remove dead hair from the undercoat, but can also harm a dog's sensitive skin, which is why it has to be used moderately.