Responsible Bernedoodle breeders in Florida aren't difficult to find, especially now that there's the Internet, social media, and media in general.
These sources provide dog enthusiasts with information about puppy breeders near them, no matter where they are (not only in the USA, but in other countries as well).
If you'd like to get one of these adorable pups, feel free to check out our list of reputable Bernedoodle breeders in Florida. I'm sure you will find at least one breeder who is up to your wishes and standards.
Bernedoodle Puppies For Sale In Florida
Getting a pup is a very exciting occasion, not just for the owner, but for the whole family.
However, there are a few things you should complete after you reserve a pup and before it comes to its new home.
Your home is surely filled with love and affection for the new puppy, but you should also get some of the essential dog equipment, including a cozy bed, a good brush, some toys, and high–quality food for Bernedoodles.
RELATED: Best Brush For Goldendoodle: Top 12 Tools To Make That Doodle Coat Golden
You can get all of these things online on sites like Amazon, Chewy, Walmart, etc.
And now, the time has come for you to discover some of the best Bernedoodle breeders in Florida:
1. CladDoodles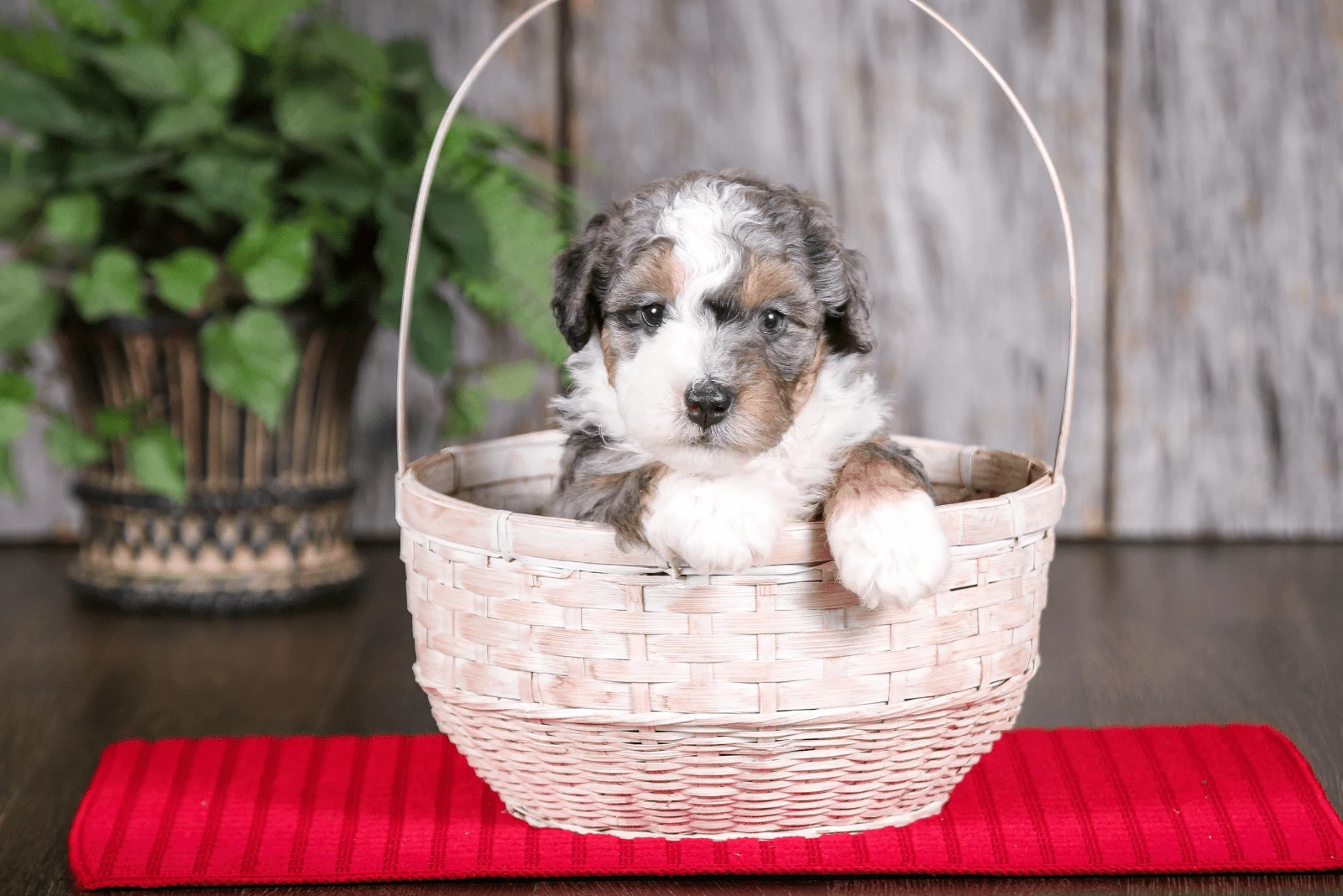 For more than two decades, this breeder has been involved in producing some of the highest-quality Bernedoodles in miniature size, as well as Cockapoos.
They used to breed other small-sized Poodle mixes and dog breeds, but once the first litters of Doodles were born, they knew those adorable crossbreeds and purebred Poodles were their destiny.
Their breeding program is recommended by a great number of satisfied clients for everyone who's looking for reputable mini Bernedoodle breeders in Florida.
Puppy Quality
They are an in-home breeder, which means that they nurture all of their mini Bernedoodle puppies inside their household, where the pups are pampered and cherished as if they were members of their own family.
The Bernedoodles are caressed on a regular basis, and they have the opportunity to interact with both adults and children, as well as with other animal companions.
This breeder uses a wide variety of enrichment strategies to ensure that their offspring are well-rounded and self-assured.
They introduce their puppies to a great number of stimuli and activities while keeping in mind the phases of development that their puppies are in at each age.
This includes household training, where puppies are first taught basic manners inside the house. The breeder also implements crate training, road trips by cars, and grooming in order to get the puppies used to all possible scenarios they might encounter early in life.
The majority of their purebred Poodle parents are registered dogs with either the American Kennel Club (AKC), the Continental Kennel Club (CKC), or the United Kennel Club (UKC).
All of the parent canines have been tested for their health and temperament prior to breeding.
Purchasing Process And Pricing
In order to adopt a dog from this Bernedoodle breeder, you're supposed to make a reservation by paying a deposit fee, which is generally non-refundable, although it can be refunded if the breeder can't provide the Bernedoodle you were looking for.
The price of the Bernedoodle puppies and the deposit fee aren't available on their website, but you can contact the owner and receive all the information you need.
You will receive a one-year health guarantee for every pup from this breeding outfit, a bag with some goodies for the pup, so it can easily adapt to the new environment, a Florida Health Certificate, and a limited registration (if you're getting a purebred pup).
These pups are sold as family dogs only, which means that they can't be used for breeding in the future.
Breeder Details:
Location: Ocala, Florida
Email address: Contact form on the bottom of the page
Official website: CladDoodles
2. Baileys Bernedoodles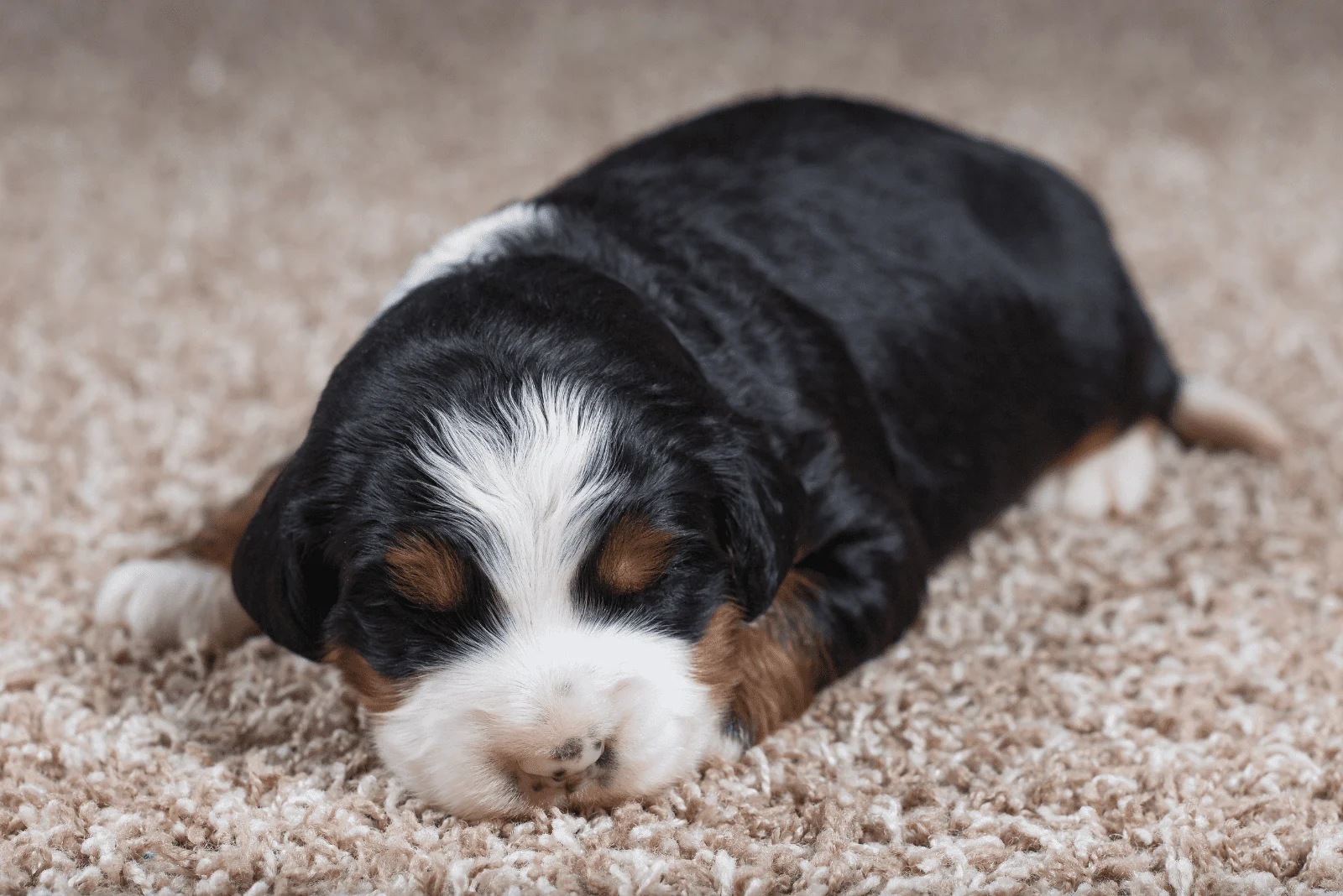 Just like any other reputable breeder, this small breeding program has been committed to raising healthy Bernedoodle doggies with great personalities.
Their main motivation for breeding and raising pups is the love they have for this adorable crossbreed and their parent breeds, Bernese Mountain Dogs and Poodles.
READ NEXT: The Mini Bernese Mountain Dog: Shrinking A Gentle Giant
They decided to keep all of the puppies in their own home, so all of the family could participate in raising and spoiling those cute balls of fur.
Puppy Quality
The breeder is focused on the production of F1 and F1b Bernedoodles in all possible colors and patterns, including apricot, phantom, black and white, and even chocolate pups.
All of their pups are healthy, but they're also of solid temperament, which makes them an excellent choice for families with children.
Another great thing about these pups is that they don't shed too much, so it could be said that Bernedoodles are hypoallergenic. Still, I'd keep them at a safe distance from people with strong reactions to dog hair or saliva.
Purchasing Process And Pricing
There aren't many details regarding the adoption procedure and the prices of the puppies available on their website, but it seems like they're quite new in the business, so their page might not be fully updated yet.
However, there is a puppy application form on their website, which should be filled out if you wish to adopt a pup from this breeder.
If you want to know more details before you complete this step, you can call the owners and ask everything that comes to your mind.
Breeder Details:
Location: Saint Johns, Florida
Official website: Baileys Bernedoodles
Contact number: 850 485 2346
3. Highfalutin Furry Babies, Florida
This is a small-scale breeder who thoroughly enjoys raising adorable Bernedoodle puppies. They take special care of these pups, including cuddling and playing around with them.
They are kept busy, and they even have set hours during which customers and passers-by are welcome to stop by or pay them a visit to see their pups and adult dogs.
This breeder is focused solely on the production of Bernie pups, which is why they are able to concentrate all of their efforts and attention on producing high-quality doggies of this specific crossbreed.
Puppy Quality
The Bernedoodles from Highfalutin Furry Babies usually come in multiple sizes, including small, medium, and standard-sized canines (depending on whether the Bernese canine is bred with a small or a standard Poodle).
In addition to that, they offer the F1 and F1B generations of Bernedoodles, which are available for purchase as well.
Poodle genes make up the bulk of an F1B Bernedoodle puppy's genome, which makes them less prone to shedding than a purebred Bernedoodle.
The breeder states on their website that they get their pups from high-quality breeding lines, which is why their canines are the perfect choice for therapy dogs and service dogs .
Training is an important aspect of healthy development for the pups, which is why this breeder follows the Puppy Culture Program and the Vollhardt testing system.
This way, they can be sure that their pups are ready to go to their new home and that they'll be great pets and service dogs.
Purchasing Process And Pricing
When it comes to the adoption of a pup from this breeder, the process is pretty much the same – you need to fill out the form in order to pay a deposit fee and be able to get yourself one of their beautiful pups.
There are two types of deposits that can be made: a standard one and a premium one.
The standard deposit fee is $515, and it puts you on their waiting list, but without any chance of moving up on the list or choosing a pup before someone who has paid the deposit before you.
The premium fee is double the price of the standard one, but with it, you'll have the right to reserve a specific pup in advance, and get a pup sooner if you can't wait for the next litter.
Breeder Details:
Location: Orlando, Florida
Email address: [email protected]
Official website: Highfalutin Furry Babies
Contact number: 689 777 0267
4. Colorful-K9's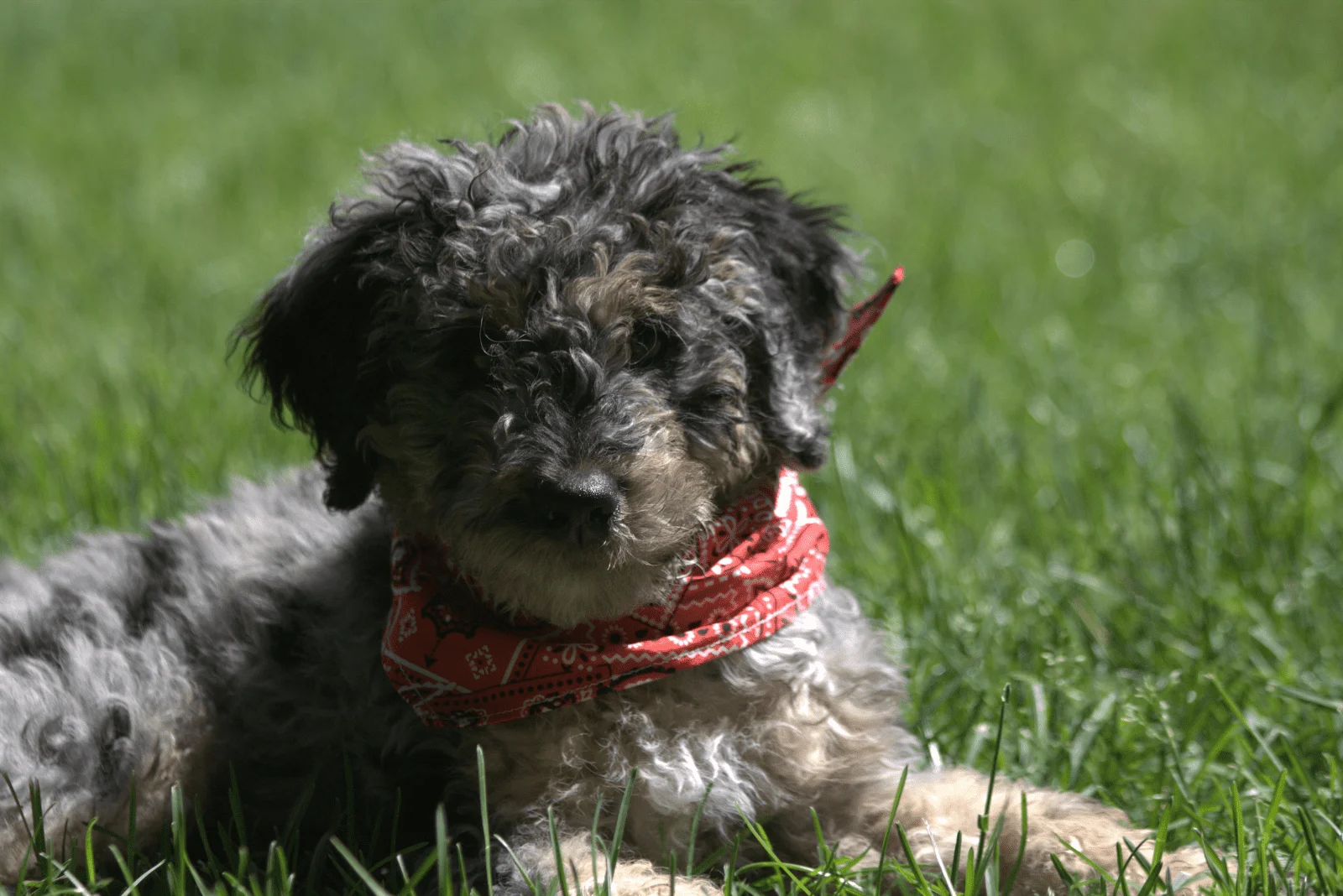 This is a small-scale breeder that has a home-based breeding facility for mini, medium, and standard Bernedoodles, where they all grow in harmony with humans and other pets.
They are a half-hour drive from Tampa and a two-hour drive from Orlando.
Colorful-K9's is completely dedicated to providing a happy and healthy environment for their pups. As a matter of fact, they have more than forty years of expertise in the field of breeding!
They bring up all of their puppies indoors, in a sanitary and loving atmosphere with the rest of the family.
From the very first day, they make it a point to handle and care for each and every one of the puppies each and every day.
Puppy Quality
The breeder has been completely devoted to the production and raising of healthy and happy Bernedoodles for several generations.
The job of Colorful-K9's is of the highest caliber. Not only do they give the mother dogs and their babies a secure and caring home, but many of the puppies that they raise go on to become working guide dogs or therapy animals.
Others have gone on to become excellent PTSD support canines, while some others are trained to aid with the identification of diabetic seizures and epileptic activity.
With more than four decades of experience, it can be said that this Bernedoodle breeder has become an expert in the field of breeding and raising this crossbreed.
They breed F1, F1b, F1bb, and F2b Bernedoodles, along with the ones mentioned above.
Purchasing Process and Pricing
If you'd like to get a Bernedoodle from this breeding outfit, you will need to make an advanced payment, so you can enter the waitlist.
There are plenty of interested clients, which is why the breeder asks only for those who are indeed interested in receiving a pup.
Neither the deposit fee nor the price is available on their website, but the breeder has stated that you can contact them in order to get those details as well.
Breeder Details:
Location: Land O' Lakes, Florida
Email address: [email protected]
Official website: Colorful-K9's
Contact number: 813 486 1843
5. Clovie's Creation Goldendoodles And Bernedoodles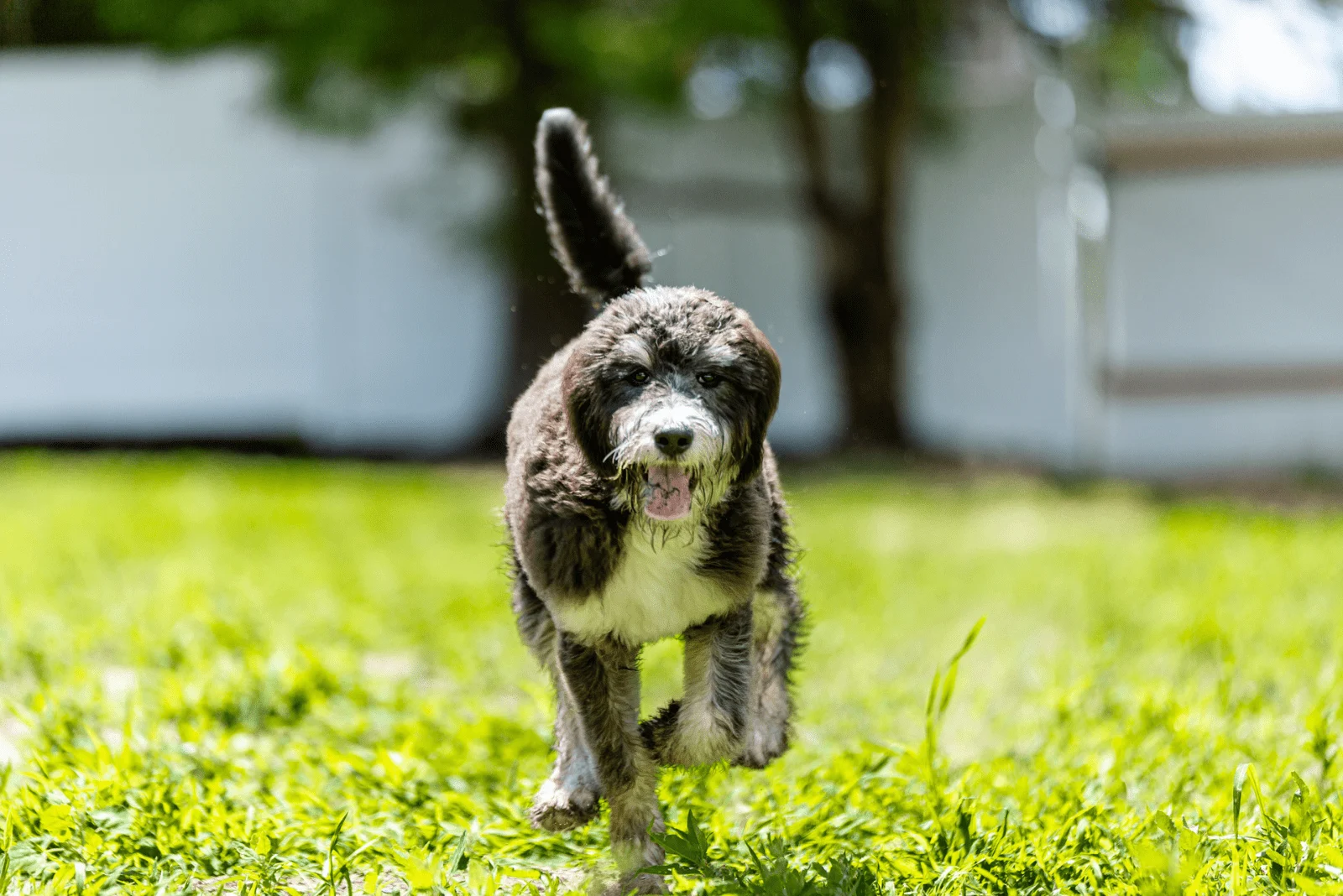 They are a small breeding facility that is owned and operated by a family, and they specialize in the production of cute Bernedoodle, Goldendoodle, and Golden Mountain Doodle pups.
Due to the fact that they are a small breeder operating inside their household, all of their parent dogs reside either with the breeder or with devoted guardian families.
They give their parent canines the kind of tender loving care that they really deserve since they view them as members of the family.
Their dogs accompany them on trips, sleep in their beds, watch television with them while they are at home, and do many other things with the whole household.
Their pups are available in a wide range of coat shades and patterns; in addition to solid hues like red, chocolate, and black, they also offer patterns such as phantom, tri-color, merle, and parti.
Puppy Quality
When it comes to the rearing of their puppies, Clovie's Creation takes a very interactive learning method.
Their entire human family of five is responsible for the care of the puppies from the moment they are born.
It is safe to assume that by the time they are ready to go home, each of these puppies will have been thoroughly socialized and indulged.
That is one of the reasons why their dogs are perfect family pets, although the fact that they're a non-shedding dog breed helps as well.
Purchasing Process And Pricing
If you'd like to get yourself an F1 Mini Bernedoodle (a cross between a mini Poodle and a Bernese Mountain Dog) from this breeder, you'll need to pay at least $1800. The price gets exponentially higher as the Bernedoodles get bigger, so you might have to pay anywhere from $2500 to $3800.
RELATED: 10 Amazing Miniature Poodle Breeders In The USA! (2022)
When it comes to the advanced payment, the fee is $300, and it is essential in order to enter the waitlist.
All other information will be given to you once you make direct contact with the breeder.
Breeder Details:
Location: Jacksonville, Florida
Email address: [email protected]
Official website: Clovie's Creation
Contact number: 912 572 5924
6. Summerfield Mini Bernedoodles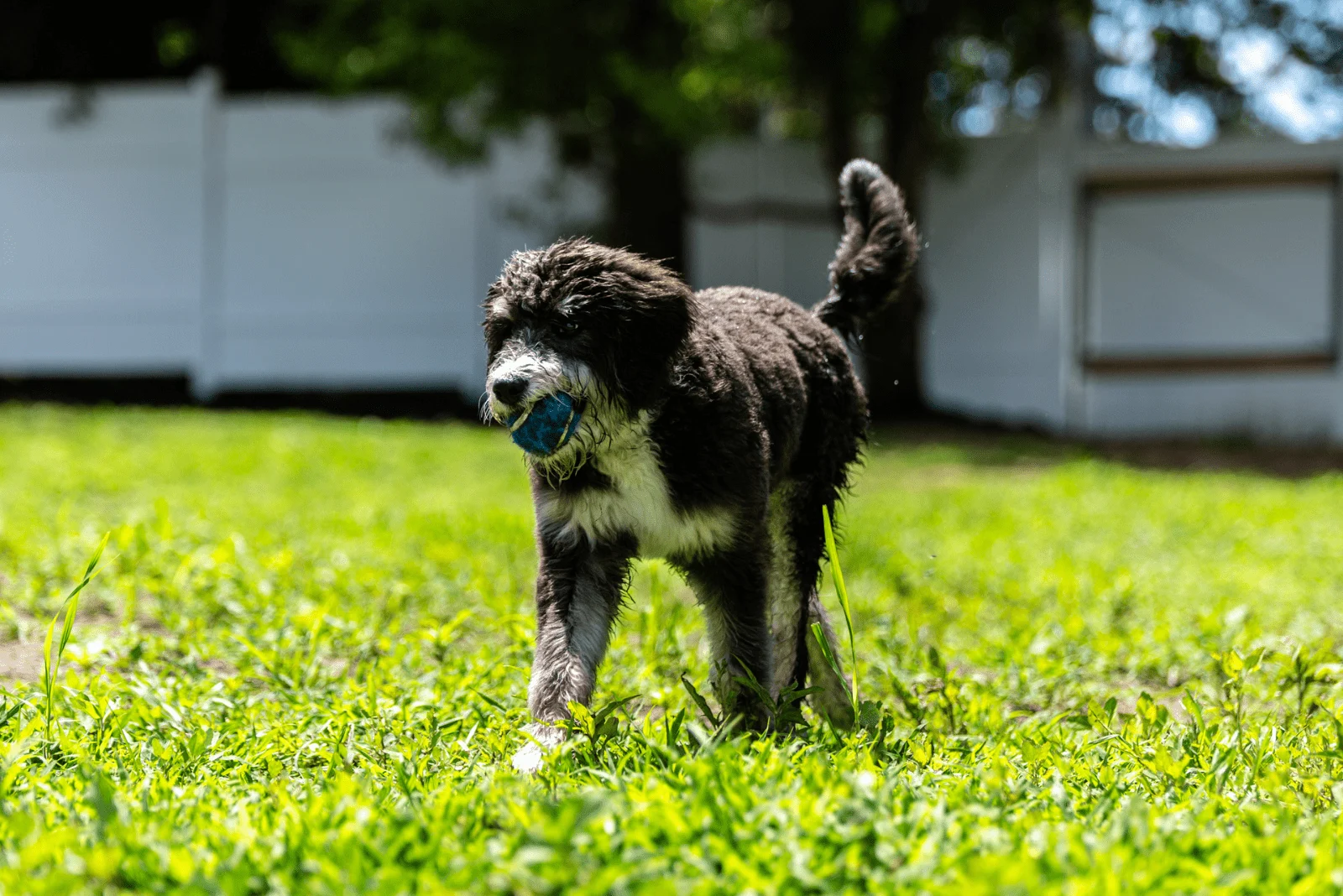 The breeder known as Summerfield Mini Bernedoodles, in Florida, is considered to be one of the best breeders in the state of Florida.
They are well-known and regarded for the quality of their miniature Bernedoodle and Bernedoodle puppies. Over the course of more than a decade, they have refined the process of producing F1 tiny Bernedoodles, and they have become experts in this field.
They put in a lot of effort to ensure that the dogs they produce are of the highest possible quality, and they even make an effort to anticipate the coat and size of their puppies.
Puppy Quality
The moment they are born, each new puppy immediately becomes a member of the family.
They are cared for by a family who adores them and welcomes them into their home each day.
The objective is to produce wonderful companion animals for families… ones that you will adore for many years to come.
There is very little shedding with their little Bernedoodle puppies, and they virtually always have personalities that are calm and attentive.
The USDA has certified Summerfield Mini Bernedoodles as a Class A producer, and they undergo regular quality assurance checks.
They are considered to be one of the most reputable Bernedoodle breeders, and as such, they have had Embark perform extensive genetic and health testing on each of their breeding puppies.
Summerfield Mini Bernedoodles provides a hereditary health guarantee that is good for two years.
Prior to being adopted, each and every puppy goes through their initial puppy vaccinations and is dewormed.
Purchasing Process And Pricing
All of the puppies that are bred by Summerfield mini Bernedoodles have a two-year health guarantee included in the price, which will start from the first day of the puppy's life.
If you want to reserve a puppy, you should fill out a puppy questionnaire and pay the deposit fee of $300.
The price of the Bernedoodle puppies isn't stated on the breeder's website, but you'll probably get all of that information once you call the breeder.
Breeder Details:
Location: Summerfield, Florida
Email address: [email protected]
Official website: Summerfield Mini Bernedoodles
Contact number: 765 863 1838
7. Juniper Crossing Farms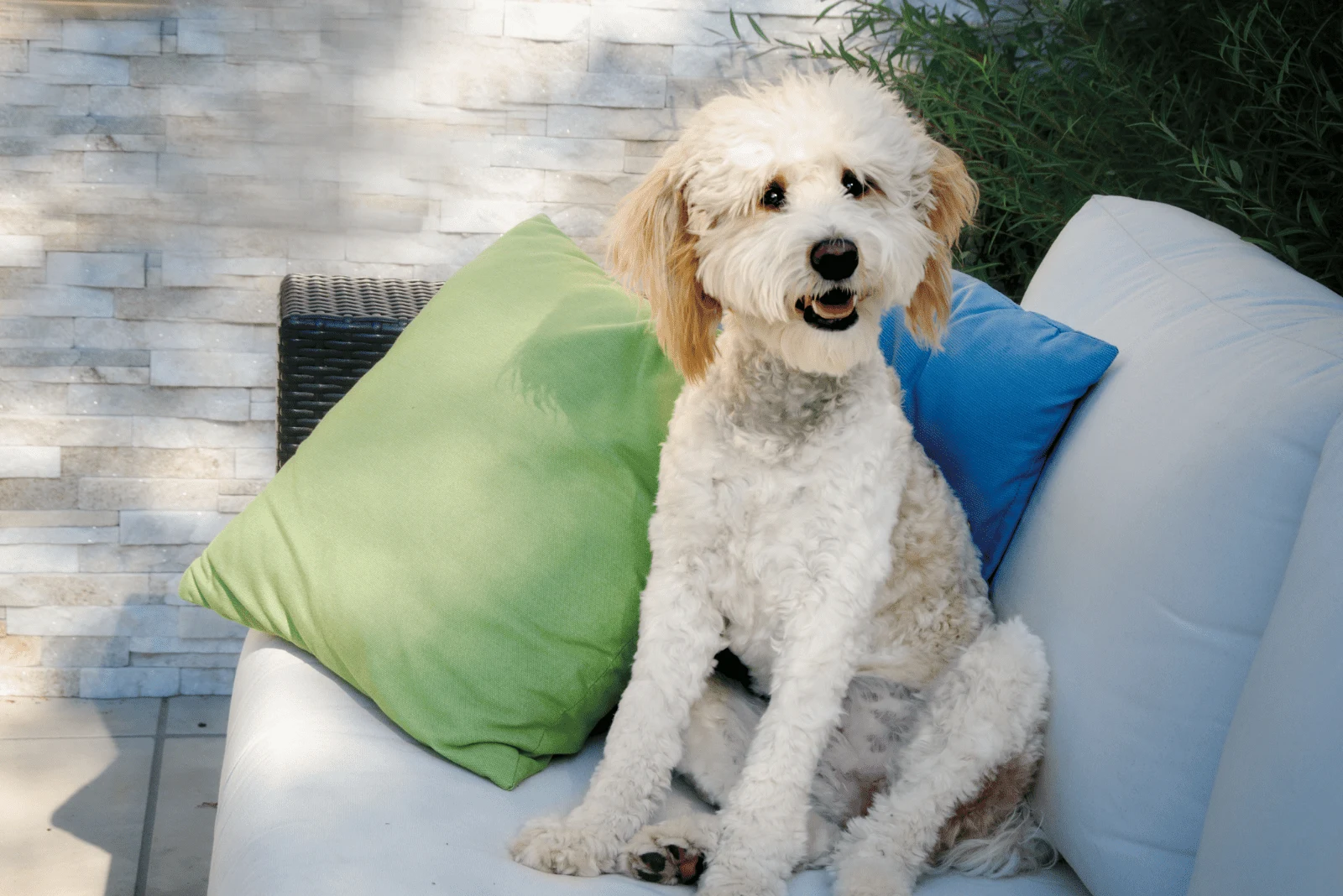 This is a reputable breeder of Bernedoodles and Aussiedoodles, but they are mainly focused on the production of cattle.
There are plenty of animals on their farm, which is essentially the perfect environment for Bernie pups. That's why they're considered one of the best Bernedoodle breeders Florida has.
They raise healthy puppies with great temperament, but unfortunately, they don't have pups available at the time as they're more of an occasional Doodle breeder.
Puppy Quality
This breeder takes great care of their animals, including their pups. Health tests, vaccination, deworming, and microchipping are all implemented in the puppy's development while the breeder takes care of them.
The high-quality of this designer breed is also proven by regular genetic testing of the parent breeds. However, if you need more confirmation, it's good to know that they're registered with the United Bernedoodle Registry.
You may also look over their contract and the health assurances that they offer for their Bernedoodle pups.
All of their puppies are treated as a part of the family from the first days of their life, which is why they will easily adjust to all new environments and their new family.
Purchasing Process And Pricing
As I mentioned above, this is an occasional breeder of Bernedoodles and Aussiedoodles, which means that they don't breed doggies regularly.
There are no available puppies at the moment, but the breeder has stated that you should either visit the site occasionally or give them a call to check whether the situation has changed.
Puppy prices aren't available either, but they will be as soon as the new litter arrives.
Breeder Details:
Location: Quincy, Florida
Email address: [email protected]
Official website: Juniper Crossing Farms
Contact number: 850 510 9393
Wrapping Up
There's a great number of trustworthy Bernedoodle breeders in Florida whose reputations are confirmed by numerous testimonials from their previous clients.
Both mini and standard Bernedoodles are popular choices among families, especially those with children.
However, that's exactly why you should be careful about the purchase of the pup. Unfortunately, there are many puppy mills today, and it's getting quite difficult to differentiate them from reputable breeders.
I hope this article has helped you make the final decision much easier, and that you'll soon enjoy your new family pet!
READ NEXT:
The Bernedoodle: A Complete Guide From Puppy To Fully Grown
15 Best Mini Bernedoodle Breeders In The United States
Bernedoodle Colors: The Berner/Poodle Mix Coat Colors Explained