This purebred dog, also sometimes called a Hungarian pointer, is an excellent mix of a pointer and retriever. They are perfect for active families that can provide them with a lot of attention and exercise and in return, you will get a loving dog and companion that gets attached really easily.
These dogs do best in places where they can be free and run around a garden, so keep that in mind before you choose to buy a Vizsla puppy.
If you are exhausted from going through breeder listings and searching for the perfect Ontario breeder that will meet all your requirements, then you are in the right place. In this article, we will bring you 8 trustworthy Vizsla breeders in Ontario in 2022.
Keep reading to find out more about each of them!
Vizsla Puppies For Sale In Ontario
When choosing the right breeder, there are a couple of things you need to be careful of. A good breeder truly cares about his dogs and makes sure that they grow up in a healthy and happy environment with proper socialization.
Reputable breeders will make sure that the dogs used in their breeding program are healthy and have all the necessary health certificates to prove this.
Other than that, their top priority should be placing puppies in good homes with people that truly care about dogs and who will be able to provide them with the best life possible.
That being said, let's see who the best Vizsla breeders in Ontario are:
1. OnPoint Vizslas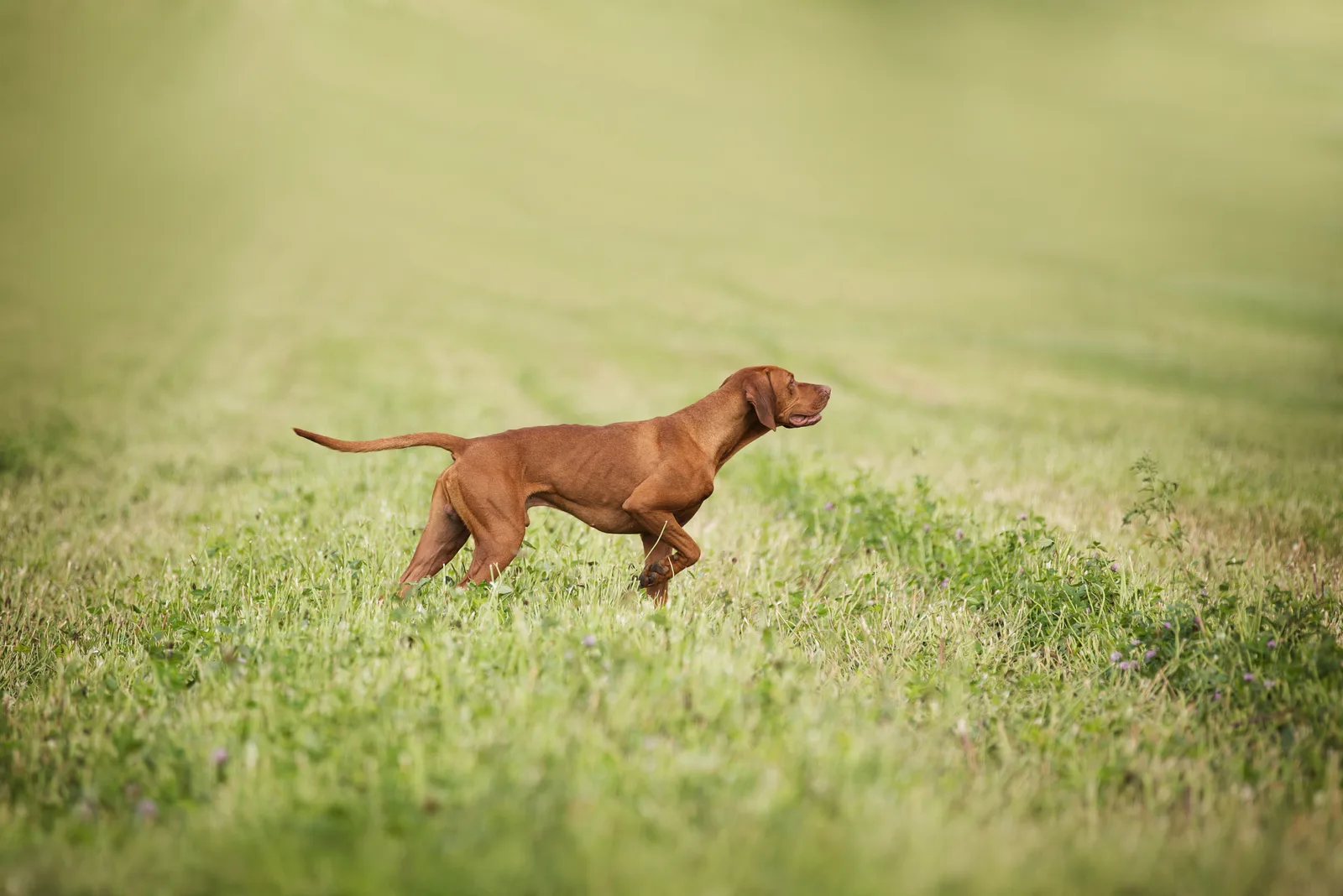 OnPoint Vizslas has been a CKC registered breeder for more than 35 years. It was established in order to bring out the best in Vizslas. Their dogs are raised in their home with their family.
Their top priorities have always been health, temperament, and conformation, so they can produce some of the best pedigrees to be family companions, exceptional hunting dogs, and field trial competitors.
OnPoint Vizsla pups come with:
• a 3-year health guarantee
• a puppy package
• a CKC non-breeding registration
• vaccinated
• dewormed
• and, vet checked.
In 35 years of breeding Vizslas they have won many achievements, proving just how good they are at what they do. Just some of these are many National Field Champions, AKC/CKC Show Champions, Agility & Obedience Trial Champions, and Master Level hunt dogs…
If you are looking for a family companion or perhaps an outstanding athlete that can compete in shows, field trials, hunt tests, agility, and obedience competitions, OnPoint Vizslas is the perfect choice for you.
All potential new homes need to be interviewed beforehand in order to be approved and to match the puppies' temperament to the owners. New owners are also required to participate in a formalized training program once they've taken the puppy home.
If you want to get in touch with OnPoint Vizslas you can call them anytime or use the form on their website to email them.
Breeder Information
• Address: Ancaster, Ontario
• Phone: 647-824-5227
• Email: [email protected]
• Website: OnPoint Vizslas
2. Lienroc Perm Reg'd Vizslas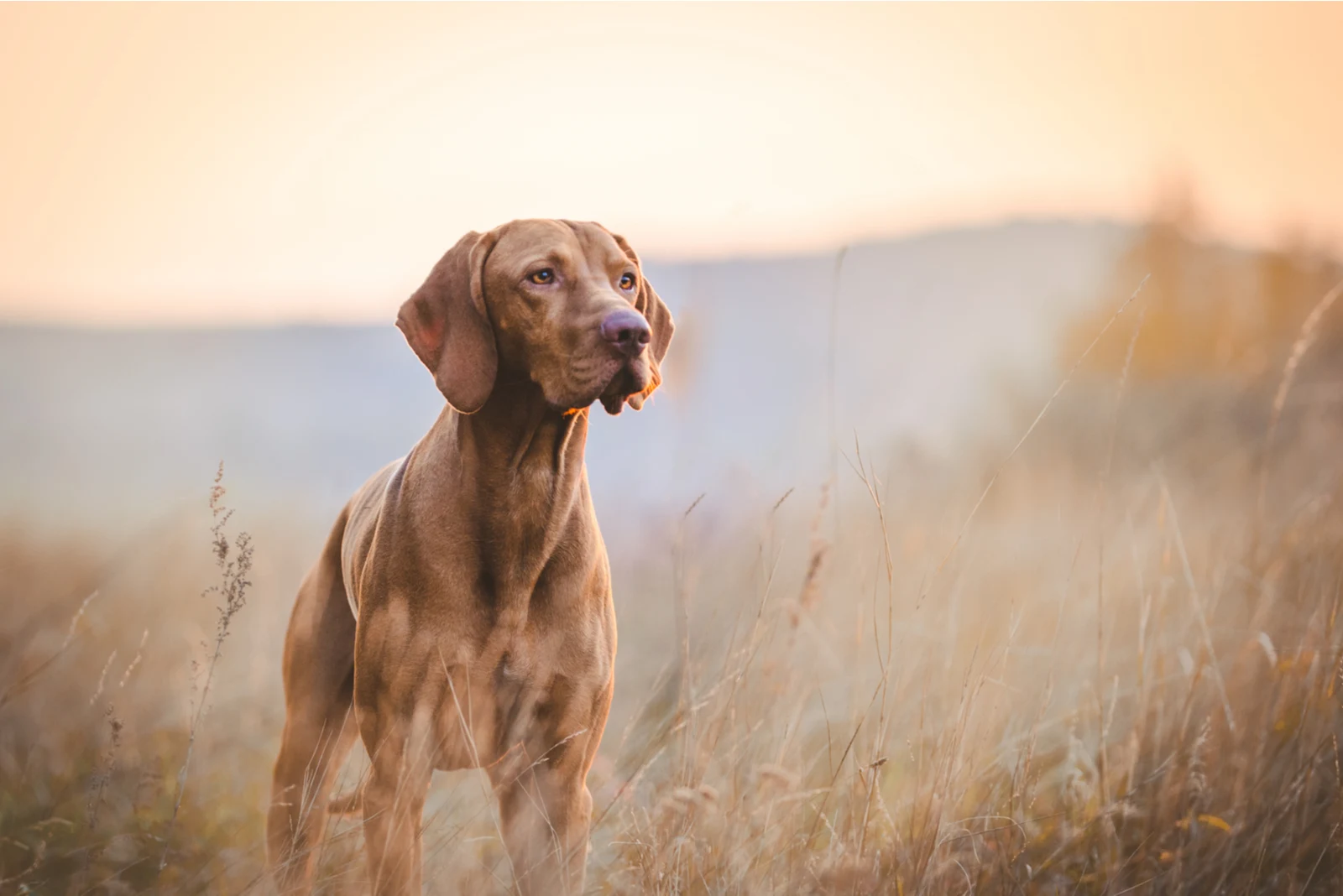 Lienroc Vizslas is located in Cayuga, Ontario, on 14 acres that overlook the beautiful Grand River. Their whole life is dedicated to their dogs and, as they say humorously, they are owned by their dogs, who think they should have every part of their house.
Their breeding program is small, and they only produce a litter once every 18 months, but they are extremely proud of all their accomplishments. They are fully committed to each of their puppies and take their placement in their new homes seriously.
At Lienroc Vizslas, the main priorities are health, temperament, type, and structure. Before breeding, every dog has to pass extensive health testing, such as hips, eyes, and thyroid tests and has to meet the standard for temperament too.
They are also members of the Canadian Kennel Club, Vizsla Society of Ontario, Vizsla Canada, and NAVHDA.
If you are interested and would like to know more about the Lienroc Vizsla family, please visit their website for more information, or you can call or email them, although they prefer email so keep that in mind.
Breeder Information
• Address: Cayuga, Ontario
• Phone: 905-512-8727
• Email: [email protected]
• Website: Lienroc Vizslas
3. Calabri Vizslas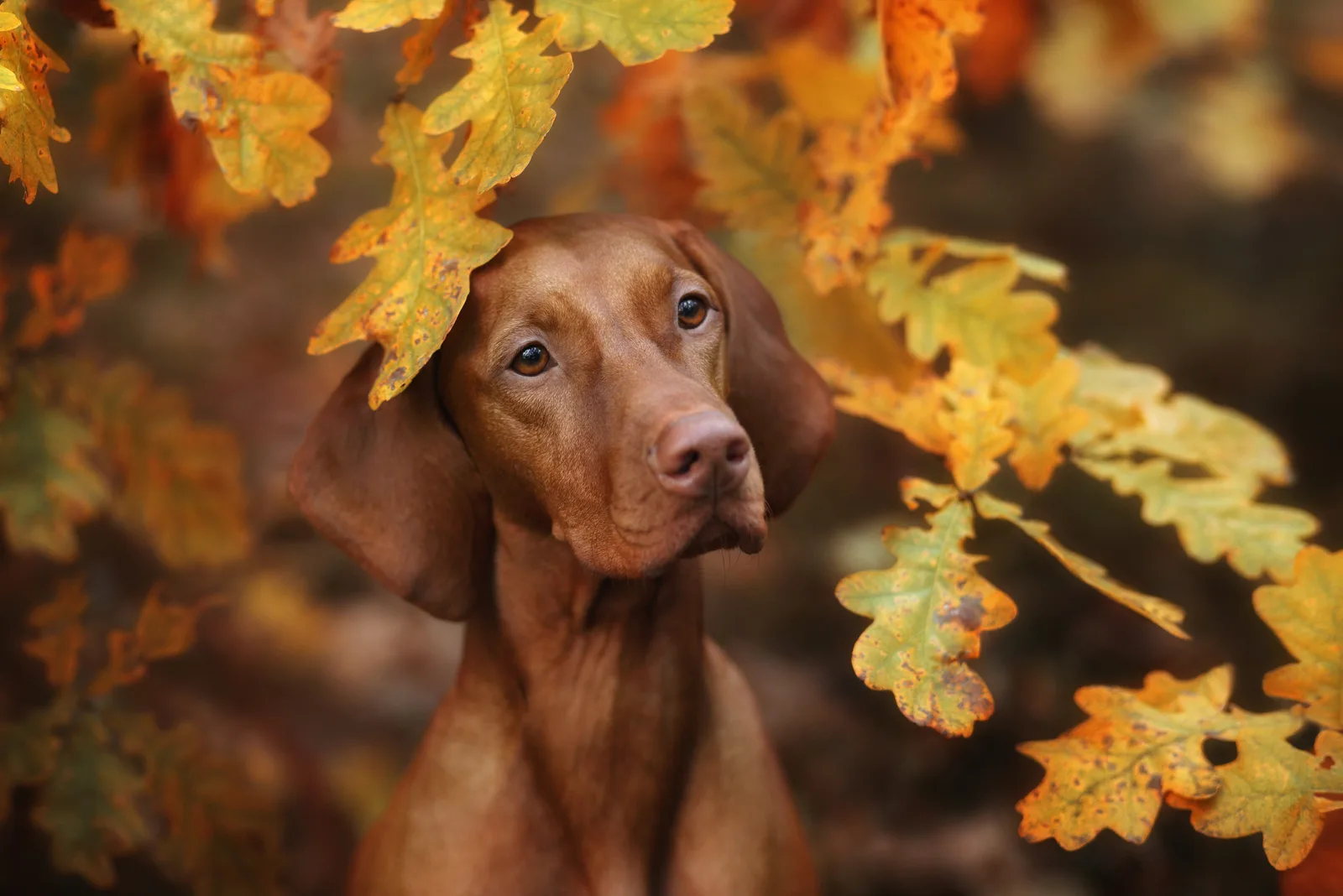 Calabri Vizslas is a small, family-based breeding program that is dedicated to preserving, improving, and promoting the beautiful Vizsla breed. Their story with Vizslas began with their first Vizsla puppy named Kassa, and since then they have been in love with this breed.
They are proud members of many breed clubs that are committed to preserving purebred Vizslas, such as VSO, CKC, Vizsla Canada, and NAVHDA.
Calabri Vizslas especially follow their Breeder's Code of Practice and make sure to undertake extensive health testing before breeding. This includes OFA clearances for hips, thyroid, and eyes, which adheres to CHIC health screenings.
They strive to produce healthy puppies with wonderful temperaments, structure, and natural abilities. All of their dogs are titled because they believe that a title is proof of the breed standard, natural abilities, intelligence, adaptability, and other qualities.
They take their home placement really seriously, and will only choose loving homes that will cherish and care for their dogs.
The first thing you need to do if you choose Calabri Vizslas, is fill out a puppy questionnaire, which you can find on their page. This will then be followed up by several interviews and visits so they can make a proper evaluation.
Breeder Information
• Address: Coldwater, ON, CAN
• Phone: 705-330-9988
• Email: [email protected]
• Website: Calabri Vizslas
4. Dream Vizslas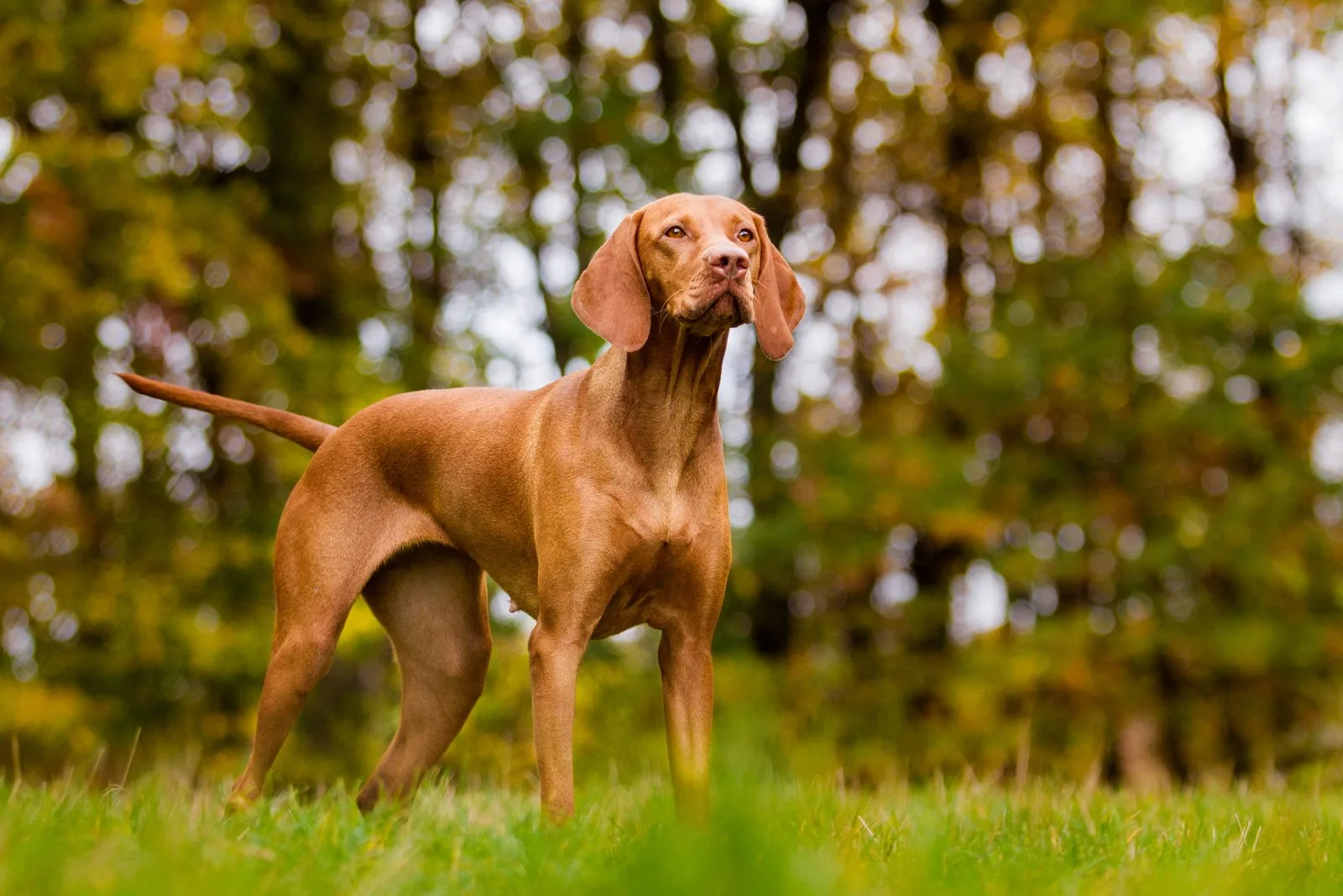 Dream Vizslas is a hobby breeding program located in Southwestern Ontario, near the shore of Lake Erie, where their dogs have a place to hunt, play, and run around.
Their story with Vizslas started more than 20 years ago, when they got their first Vizsla puppy who immediately became an indispensable part of their family.
Dream Vizslas are all:
• CKC registered
• microchipped
• dewormed (min. 3 times)
• tails docked and dew claws removed
• vet checked and come with a health guarantee
• socialized, outgoing, and happy puppies!
They are part of many Vizsla Clubs and organizations, and they make sure that they follow their Code of Conducts and ethical breeding processes. If you would like to contact Dream Vizslas, you can do that via phone or by filling out the contact form on their website.
Breeder Information
• Address: Lakes Erie, Ontario
• Phone: 519-586-7707 or 519-909-9115
• Website: Dream Vizslas
5. Silky Ears Vizsla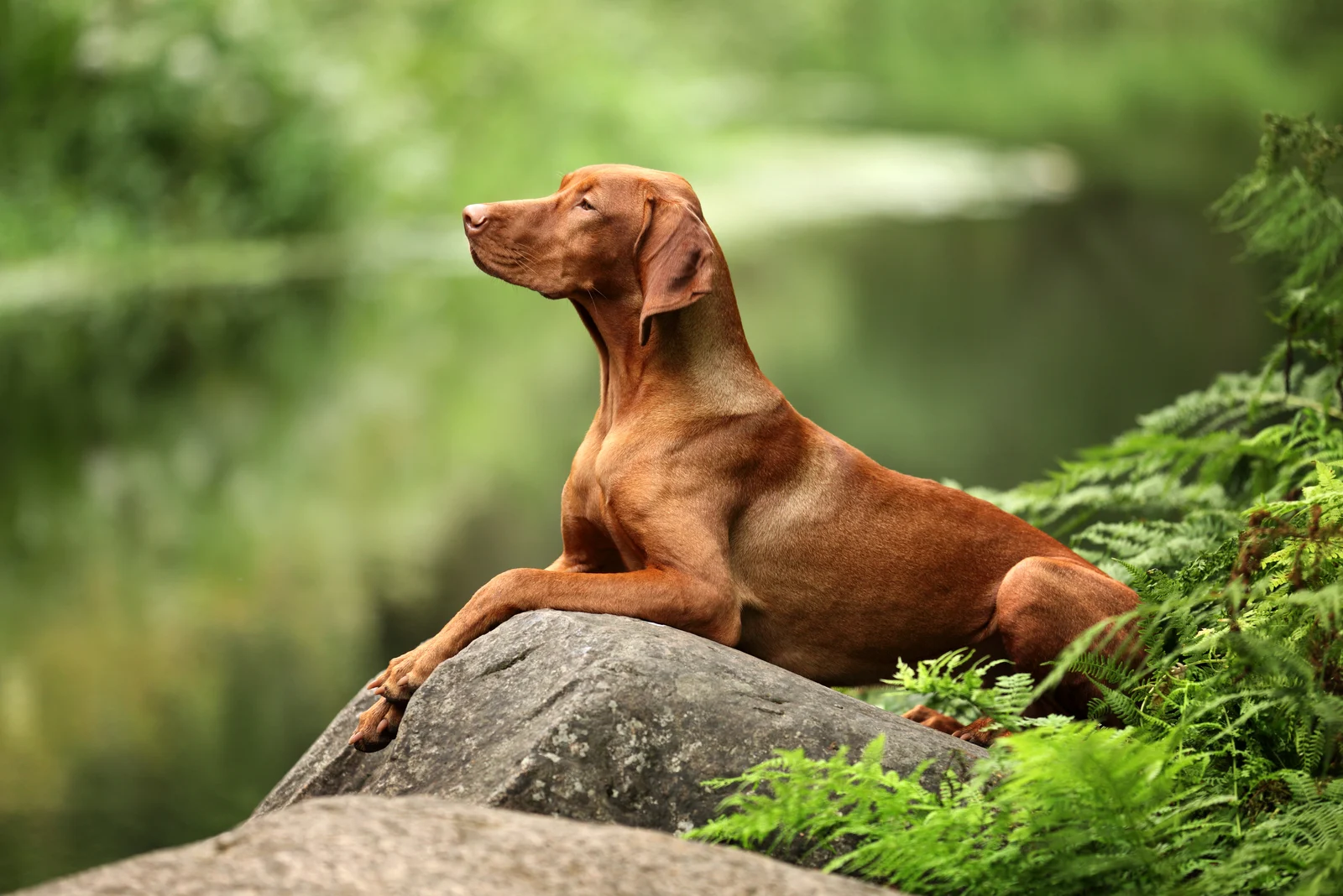 Silky Ears Vizsla got their first Vizsla puppy in 1999 and since then they have been madly in love with this breed, which prompted them to begin a breeding program. They currently have 4 Vizsla dogs that are part of their family.
All of their dogs have OFA health clearances and are CHIC certified. Every day, they take their dogs for a walk in the forest near their house, where they can run around, play with their friends, and even swim (they do love that).
If you would like to know more about the breed or their dogs, please visit their website. There, you can find lots of pictures of their beautiful dogs and previous litters. For any inquiries, feel free to send them an email, and they will get back to you as soon as possible.
Breeder Information
• Address: Ontario, Canada
• Email: [email protected]
• Website: Silky Ears Vizsla
• Facebook: Silky Ears Vizsla
6. Adrian Kennels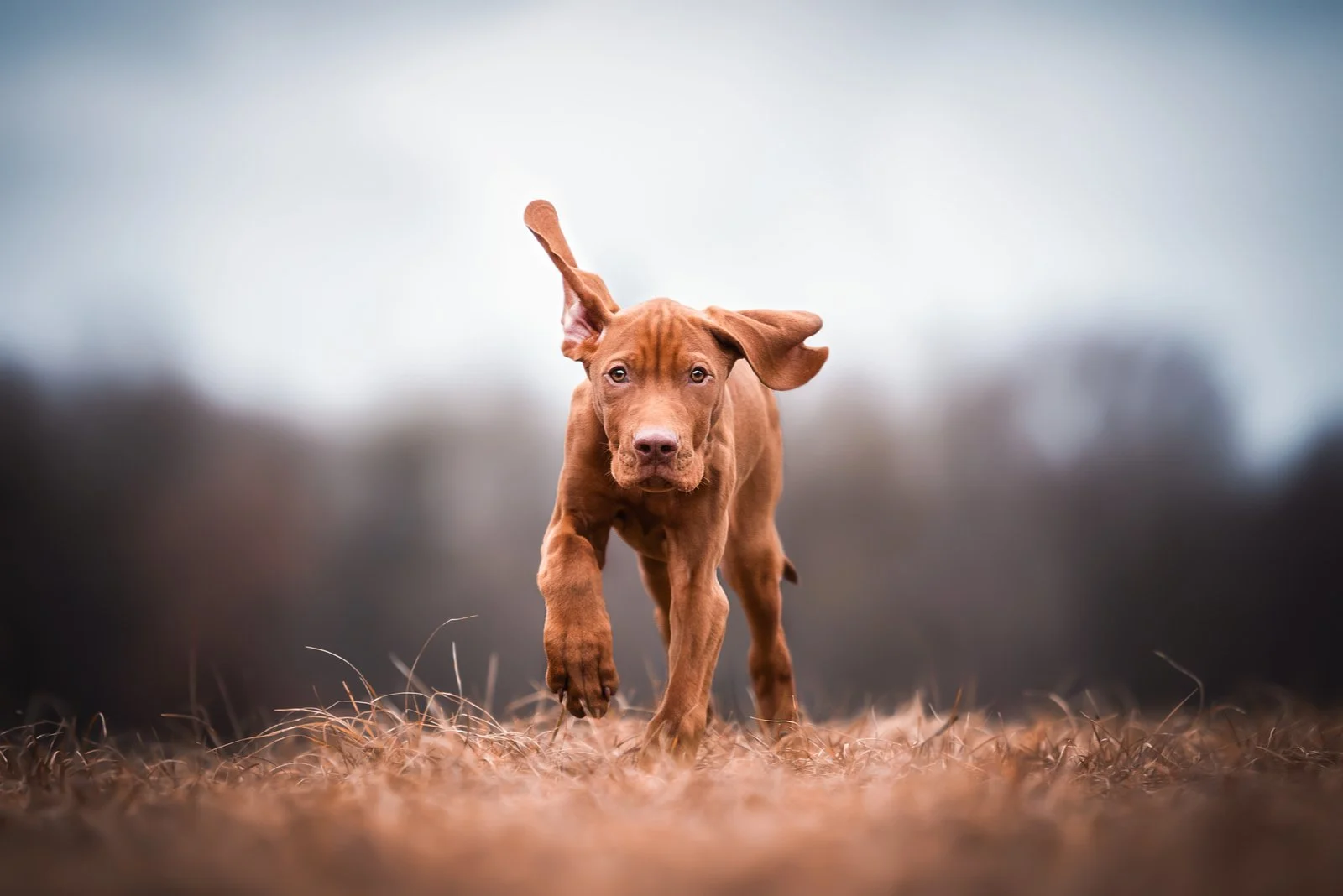 They bought their first Vizsla in 1983 and since then, immediately knew that they wanted to raise their family whilst breeding these beautiful dogs. In 2007, they moved to their new home, where they are closer to nature and their dogs have more freedom to run around and be themselves.
All of their dogs have to pass extensive health testing in order to be able to produce healthy and happy puppies. Therefore, their dogs have OFA hip, elbow, and thyroid clearances and are also CHIC certified.
You can find confirmation of these certifications on their website. Each dog has their own separate page, where you can find out everything about them, how they are raised, which titles they have, and much more.
If you are interested and would like to contact them, you can do that via phone, email, or by sending them a message through their website.
Breeder Information
• Address: Goodwood, Ontario, L0C 1A0, Canada
• Phone: 905-642-3788
• Email: [email protected]
• Website: Adrian Kennels
7. Ourdream Vizslas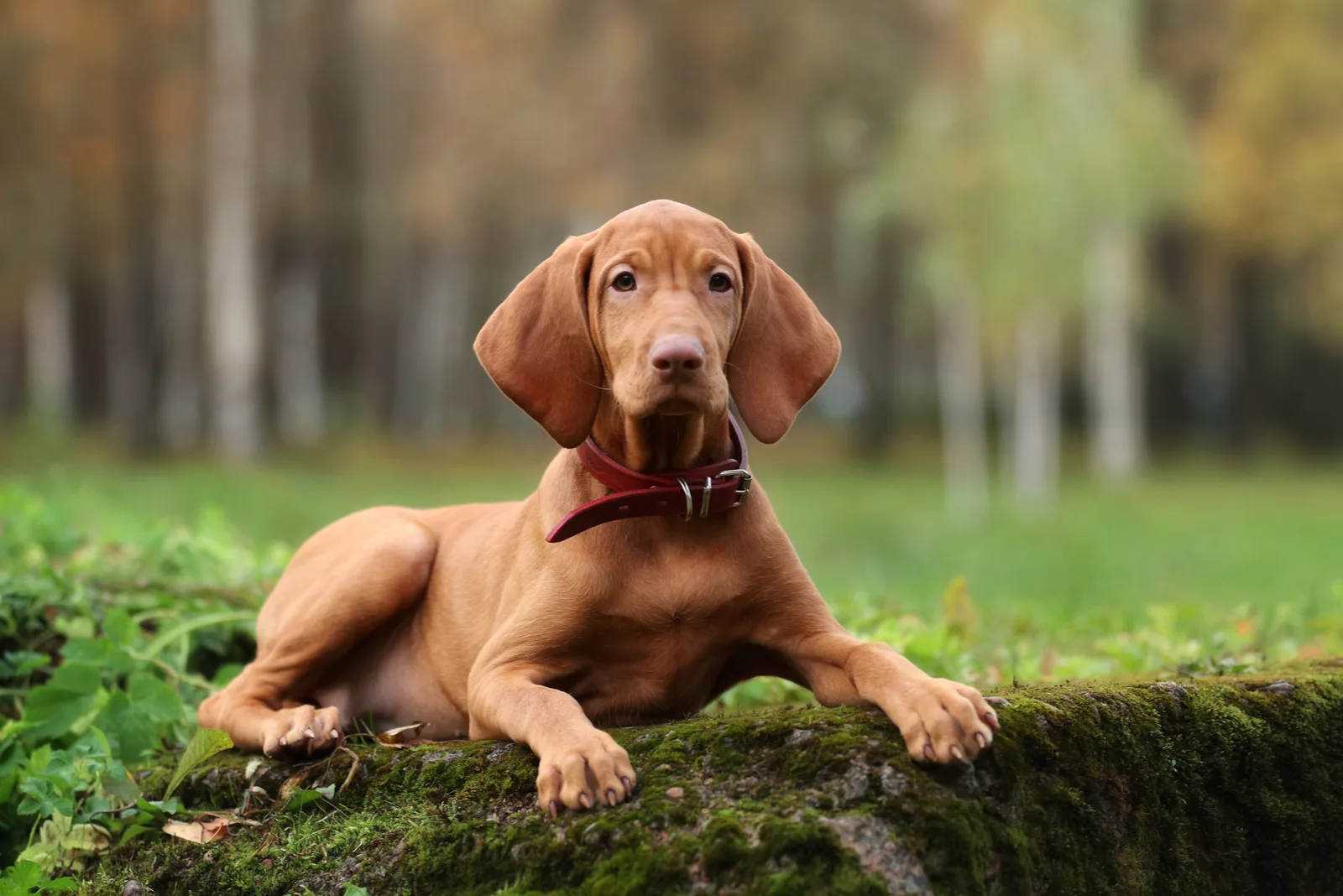 Ourdream Vizslas is a family-run breeding program that is located in Southern Ontario. Their journey with Vizsla dogs began in 2002, when they purchased their first Vizsla dog named Brin. With her, they started to test the waters in tracking, conformation showing, field training, and therapy work.
Over the years, they have also owned German Shorthaired Pointers and competed with them in many fields, but their main priority has always been Vizslas.
They consider their dogs as part of their big family, and everything is done around them. All of their plans must include their dogs, so a lot of the time they go camping with them or, if this is not possible, they cancel their trips. This is proof of their love and commitment to these purebred dogs.
Other than being raised surrounded by family, their puppies also go through the Early Neurological Stimulation exercises in order to make them more well-rounded dogs, increase their tolerance of stress, and raise their ability to fight diseases.
Their breeding goals are to raise healthy and smart canine athletes. Their puppies come microchipped, vaccinated, vet checked, and with CKC registration papers, a 3-year hereditary health guarantee, 6 weeks of pet insurance, 1 year of VSO membership, and a lifetime support.
Ourdream Vizslas will only go to approved families. Usually, preference is given to those who plan to show and train their pups, but every application will be looked over and considered.
Breeder Information
• Address: 755 Concession 5 Rd., Fisherville, Ont, Canada
• Phone: 289-332-0080
• Email: [email protected]
• Website: Ourdream Vizslas
8. Ferngold Vizslas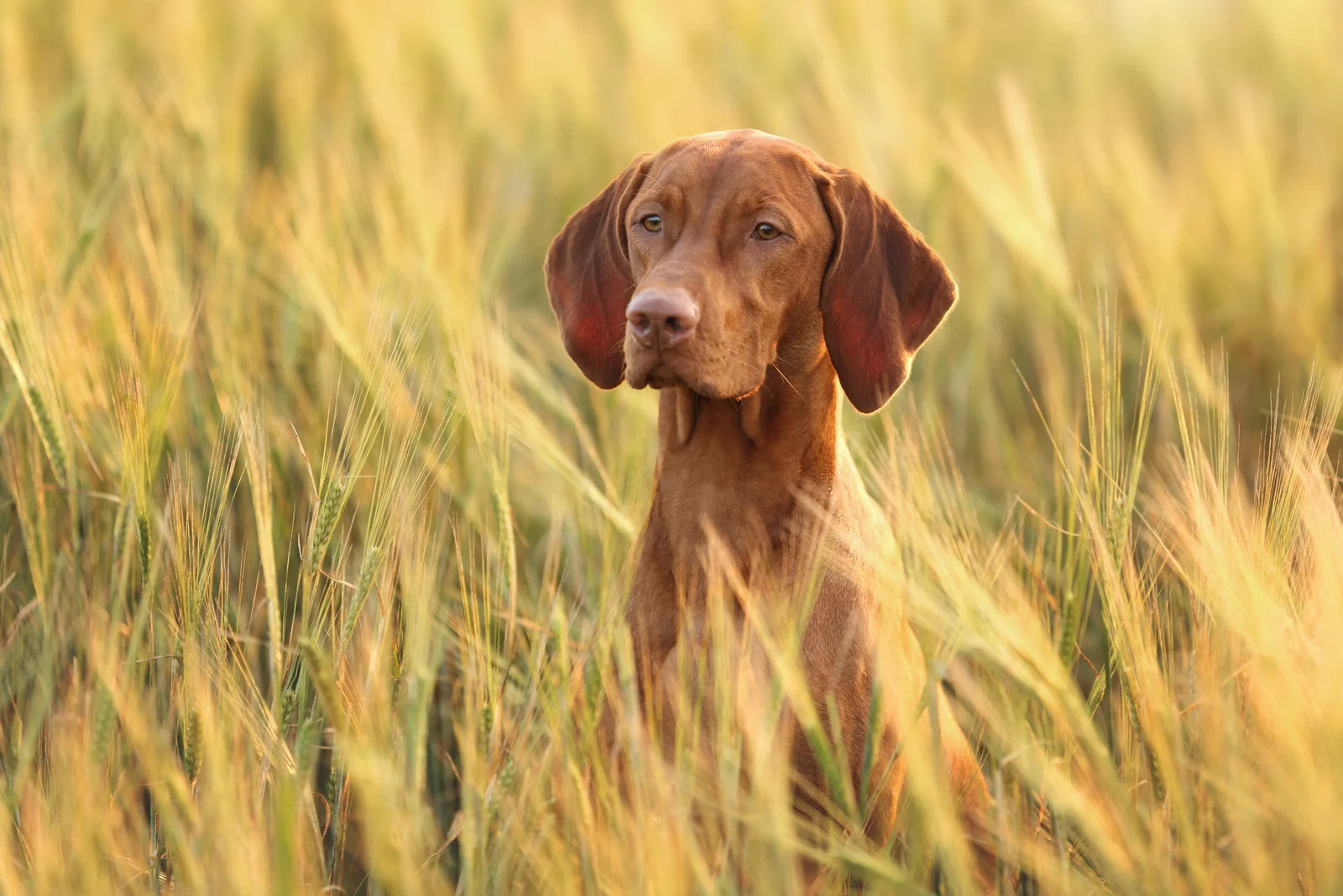 Ferngold Vizslas has been using a combination of European and North American stock since 1993 to produce Vizslas that are sound in structure and temperament.
They have been using an unconventional and bold breeding approach to produce dogs for show, field, and performance.
Their dogs have also won many Champion titles, both in Canada and America, for example, #1 Vizsla in Canada 2021 and Winners Dog at the 2021 US Nationals.
If you want to see the complete list of their titles, check out their website where you can find out much more about their dogs and previous and upcoming litters.
If you are interested in purchasing one of their dogs, you can contact them from the information mentioned below!
Breeder Information
• Address: Oakville, Ontario, Canada
• Phone: 416-450-6580
• Email: [email protected]
• Website: Ferngold Vizslas
What Is The Average Cost Of A Vizsla?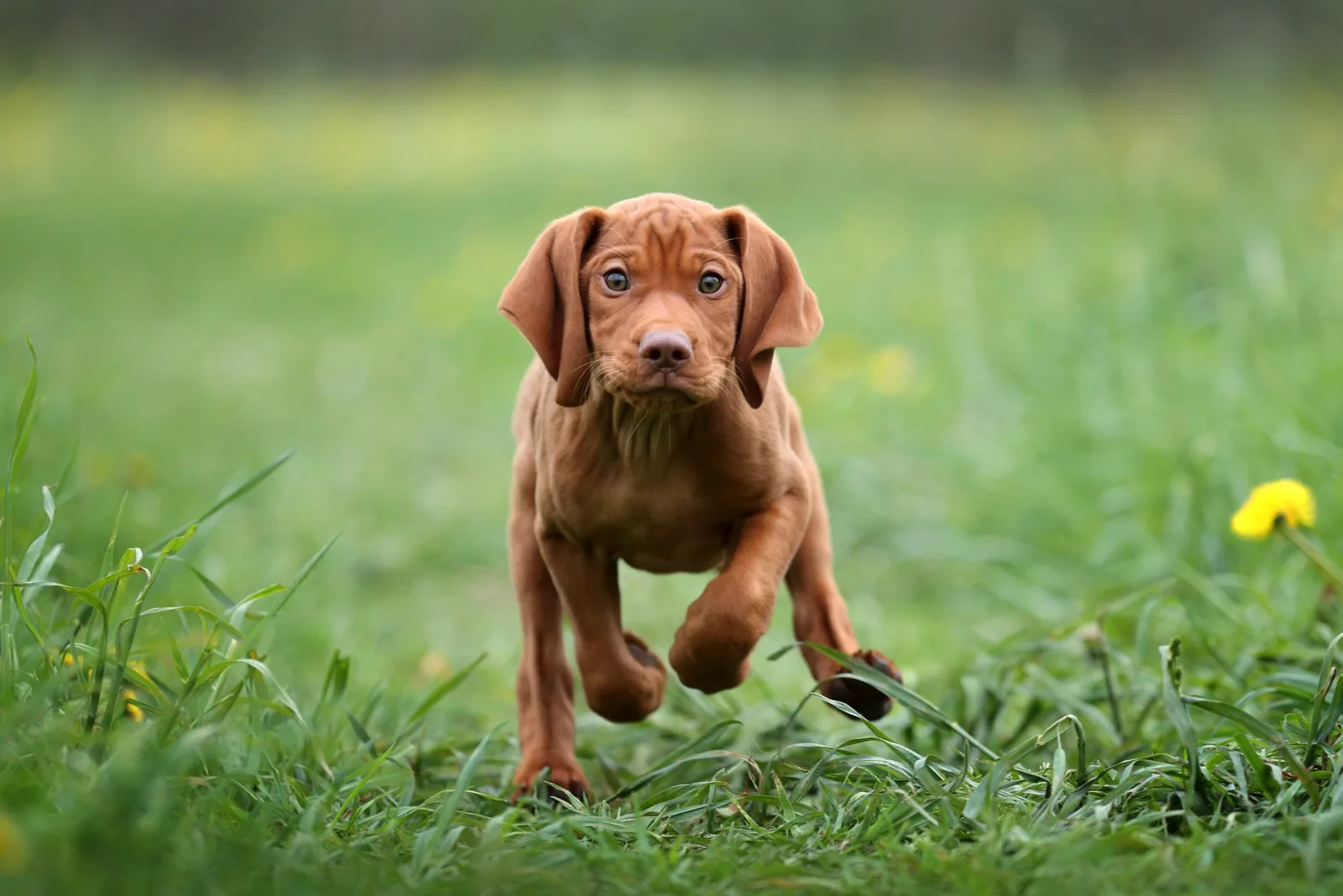 The cost of a Vizsla puppy is somewhere right in between cheap and expensive. There are many factors that can affect the price of a puppy, and those are lineage, sex, color, location, and the breeder's reputation.
If you are looking to get a purebred puppy from reputable Vizsla breeders in Ontario, then you should expect to pay somewhere between $1000-$2000. However, if the puppies come from a champion bloodline, then their price can go up to $3000.
If that is perhaps a bit too much for you, you can always choose to adopt a puppy and this way, do an honorable deed. Adoption fees for Vizsla puppies from rescues range from $150-$300, depending on the puppy and its health condition.
Other than the initial price of purchasing a Vizsla puppy, you also need to consider the costs of Vizsla ownership, which includes food, toys, supplies, vet checks, grooming, and much more. All of this can cost you approximately another $1000.
Owning dogs is a big responsibility of course, and you need to be able to provide them with everything that they need. If you are not sure that you are financially stable enough to take care of another family member, then you need to reconsider your decision of getting a Vizsla puppy.
Read also: Vizsla Growth Chart: Here's The Process Of Your Vizsla's Growth!
Conclusion For Vizsla Breeders In Ontario
We sincerely hope that our list of 8 trustworthy Vizsla breeders in Ontario will be useful to you. Most importantly, we hope that we will be able to bring you happiness by providing you with a good breeder who will then give you the puppy that you have always dreamed of.
A dog is a man's best friend, and a Vizsla is a true example of that. With their lively, energetic, and strong desire to be around people, they are sure to be your best friends and companions for life.
When raised properly and trained, they can also be one of the best champion dogs out there. Whatever you choose, a working dog or a simple companion dog, remember that every dog needs attention and proper care.
Only in an environment like that, can they show their best qualities and, with a lifespan of an average of 14 years, you can rest assured that you will have your best friend by your side for at least a decade, if not more.
Related Content:
• Cavalier King Charles Spaniel Breeders In Ontario
• Rottweiler Breeders In Ontario