The Rottweiler is a well known purebred dog whose roots are deeply grounded in a small southwest German town — Rottweil.
Rottweilers made their first appearance in the U.S.A. back in 1930. Needless to say that they have been one of the most popular dog breeds ever since.
Rotties showed up in Canada at around the same time they appeared in the states. Prior to their popularity, the number of Rottweiler breeders in Ontario grew. Among other provinces, Ontario has many famous Rottweiler breeders.
The Rottweiler is a very unique breed of dog. Breeding Rotties requires experience, knowledge, patience, and a lot of love.
While some people claim Rottweilers are an aggressive breed, others know them as big, goofy babies that love to cuddle.
This incredible working dog is a medium-to-large sized dog. Its appearance is intimidating enough to make your blood run cold, and soft enough to make you fall in love!
Its size greatly depends on the quality of the breeding program. This is only one of many reasons why you should search for reputable Rottweiler breeders in Ontario.
Rottweiler Puppies For Sale In Ontario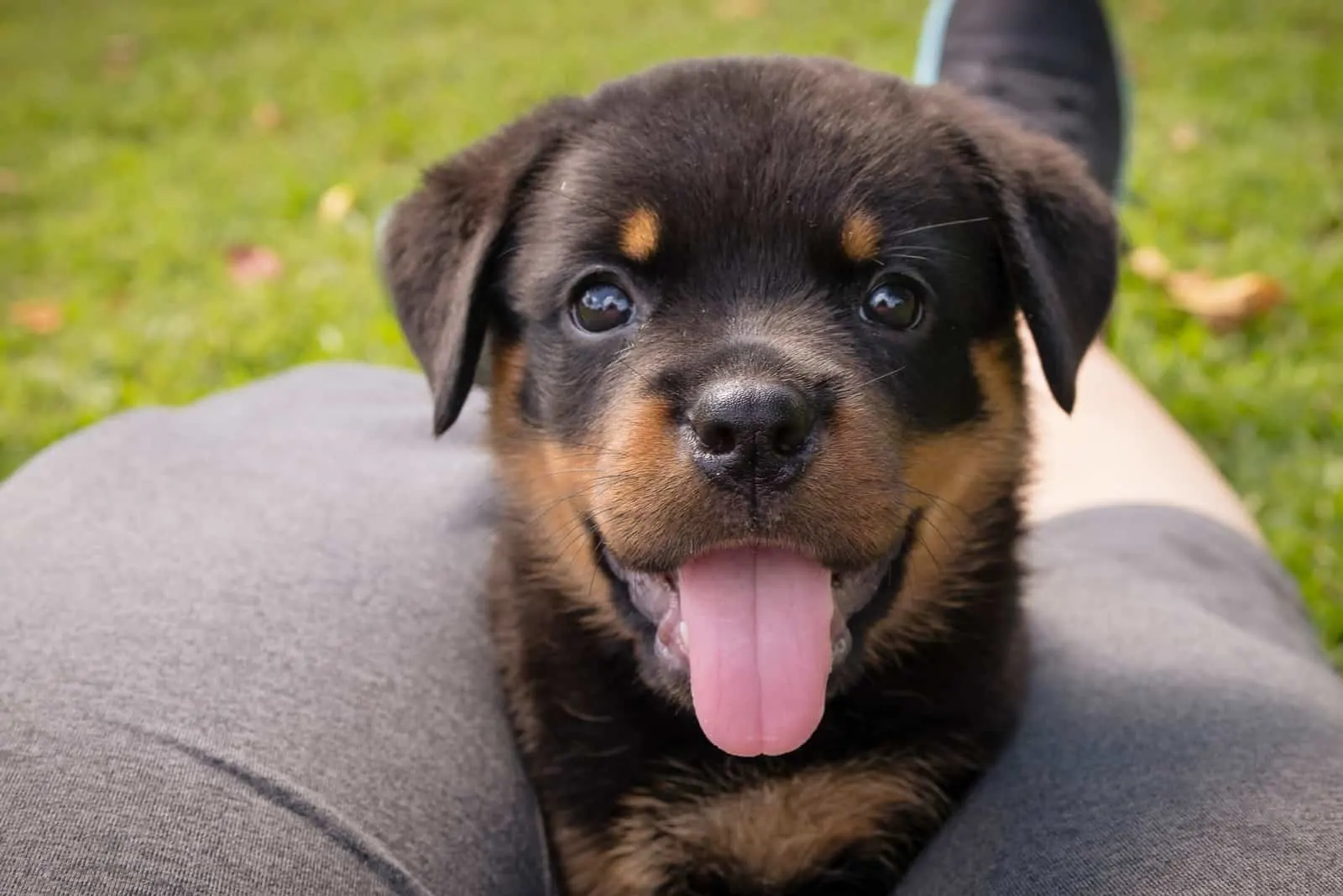 Rottweiler puppies for sale can be found at many places. Prospective buyers usually search for Rottweiler puppies on the internet.
That's exactly how you found us, isn't it?
Well, we want to talk about online sources that offer many breeders with unknown breeding programs. These kinds of sites should be avoided.
Alongside online dog markets, Rottweiler puppies for sale can be found in puppy mills, backyard breeders, and pet stores. Most people are attracted to the low prices that these breeders offer, but in reality, such breeders offer unhealthy Rottweiler pups.
They breed for quantity, rather than quality.
Moreover, Rottweilers are a breed that is often mixed with other breeds like Labrador Retrievers, Cane Corsi, Doberman Pinschers, German Shepherds, and Boxers.
Although these crosses can make very healthy dogs, if you are searching for a purebred dog, you should avoid Rottweiler crossbreeds.
So, never choose unreputable and unverified Rottweiler breeders in Ontario. Make sure to do a lot of research before reaching out to a Rottie breeder.
The 9 Best Rottweiler Breeders In Ontario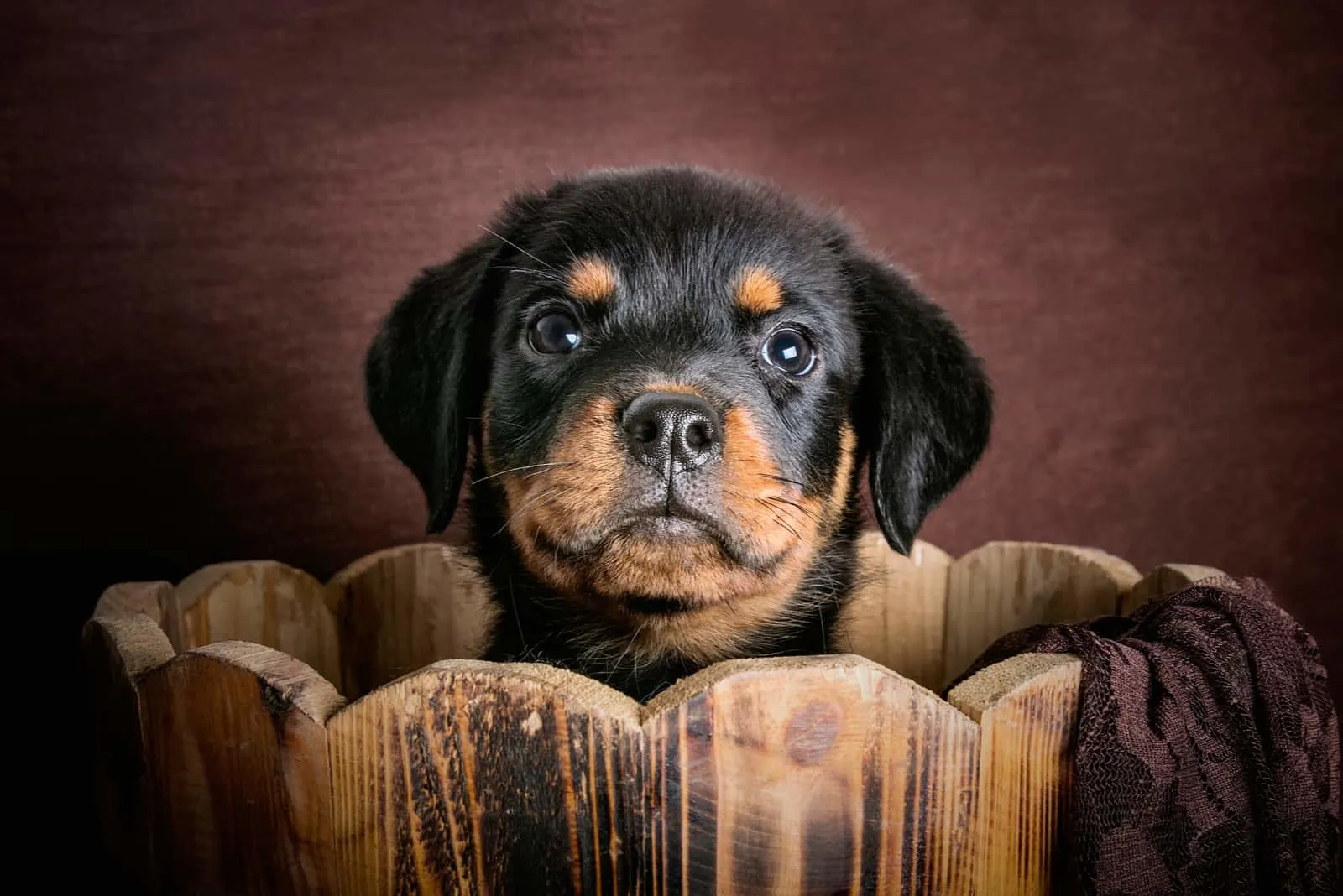 As much as there are many unreputable breeders, there are also many reputable Rottweiler breeders in Ontario who stand out among the crowd.
Reputable Rottweiler breeders strive to raise healthy dogs with strong pedigrees. Once you find an ethical Rottweiler breeder in Ontario, you will definitely get a top-quality Rottie.
Whether you are searching for a show dog, a working dog, a guard dog, or a family pet, these accountable Rottweiler breeders have got your back.
They breed Rotties according to CKC regulations and breed standards. This means that each of their Rottweiler puppies is registered with the Canadian Kennel Club.
You can recognize high-quality Rottweiler breeders in Ontario by their high-quality dogs.
By developing only the best Rottweiler bloodlines, these reputable Rottweiler breeders in Ontario will surpass your expectations!
1. Esmond Rottweilers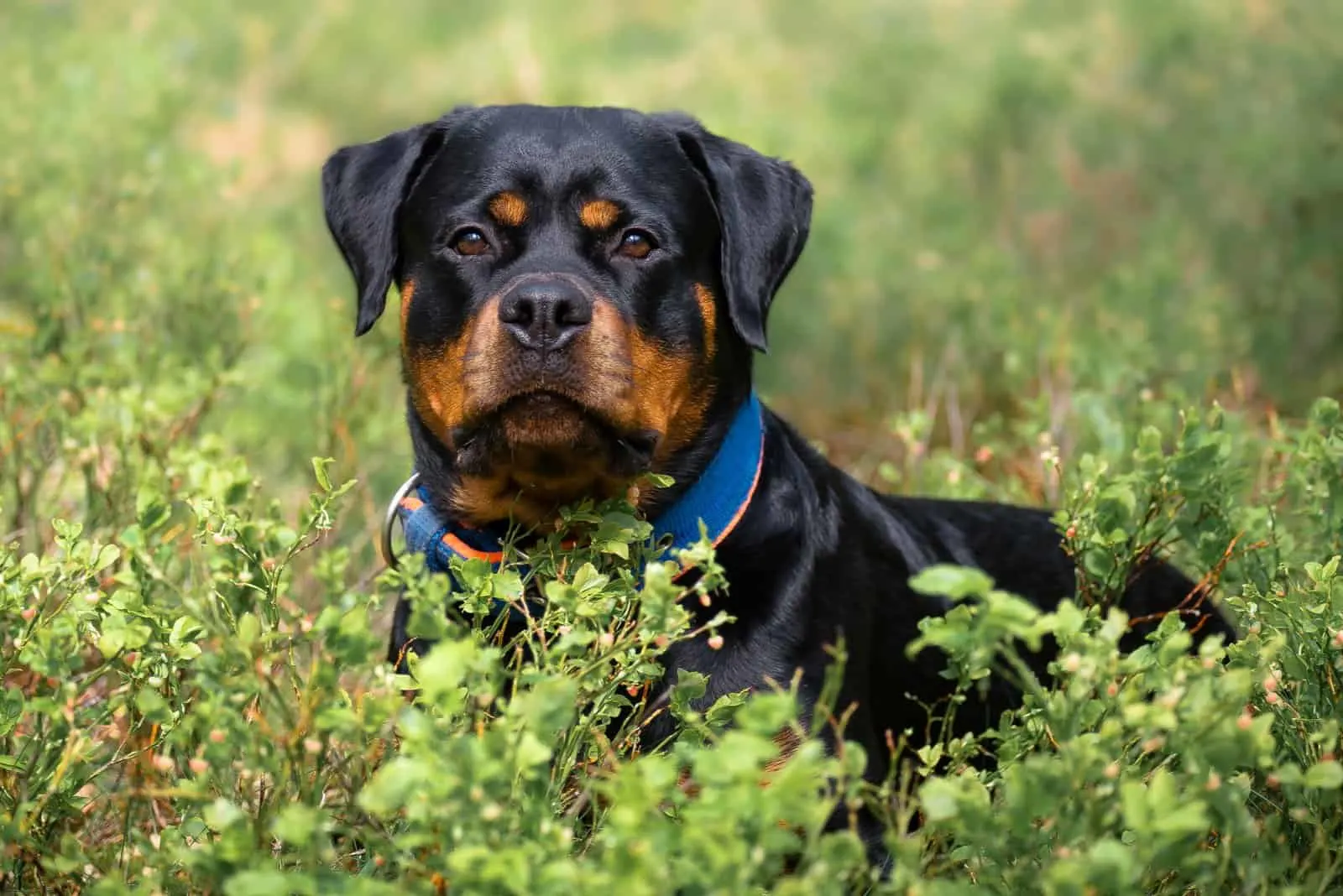 Let's start with Esmond Rottweilers who develop healthy Rottweiler puppies in their home. These breeders have a lot of experience in dealing with the Rottweiler dog breed.
When it comes to the first steps of a breeding program, the Esmond Rottweilers' team takes precautions against genetic health diseases that are specific to the Rottweiler breed.
Esmond Rottweilers are award-winning dogs that excel in conformation shows in the working-dog group.
Each Rottie parent undergoes health screening and regular veterinary check-ups. This means that each adult Rottweiler is carefully selected before entering the breeding program. As a result, healthy Rottweiler puppies are born.
With new puppies come new responsibilities. Esmond Rottweilers' breeders raise these little Rotties to grow up into loyal, smart, and kind-natured adults.
Every Esmond Rottweiler receives necessary vaccinations, deworming treatments, and a microchip.
Their outstanding Rottweilers are known for participating in CKC and AKC shows, as well as taking a spot in the Rottweiler Club of Canada Hall of Fame.
For more information, get in touch with these reputable Rottweiler breeders in Ontario!
Esmond Rottweilers' details
Email: [email protected]
Phone: Mike 705-738-7082 | Ann 705-738-7084
Website: Esmond Rottweilers
Location: Little Britain, Ontario Canada
2. Furyan Kennels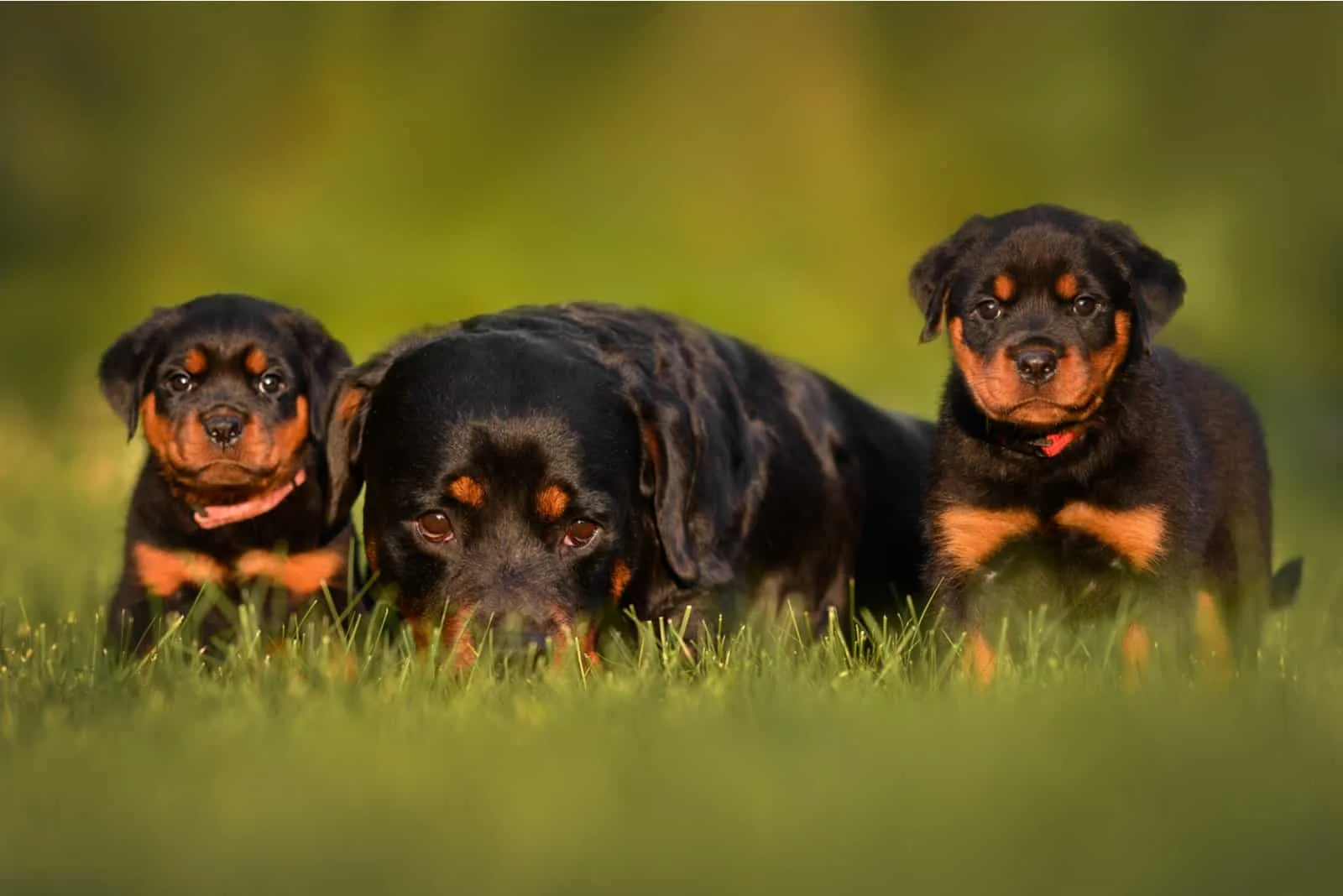 Furyan Kennels has been around since 1994. Having been in the dog breeding world for such a long time, Furyan Kennels has achieved an excellent Rottweiler bloodline.
They take pride in producing highly trainable, show-quality Rottweilers. So, if you are looking for a working dog or a show dog — look no further! Furyan Kennels is everything you've ever asked for!
At Furyan Kennels, you will find loving Rottweilers that are handled with a lot of care. Every Rottweiler puppy is backed with a strong pedigree and a health guarantee.
Prospective buyers are required to fill out a puppy application form. Furyan Kennels has put a lot of effort into breeding and raising their Rotties, and they want to make sure that their puppies find loving homes.
Check out their website for more information about upcoming litters!
Furyan Kennels' details
Email: [email protected]
Phone: 416-464-0996
Website: Furyan Kennel
Location: Toronto, Ontario Canada
Facebook: Furyan Kennel
3. Konigliche Rottweilers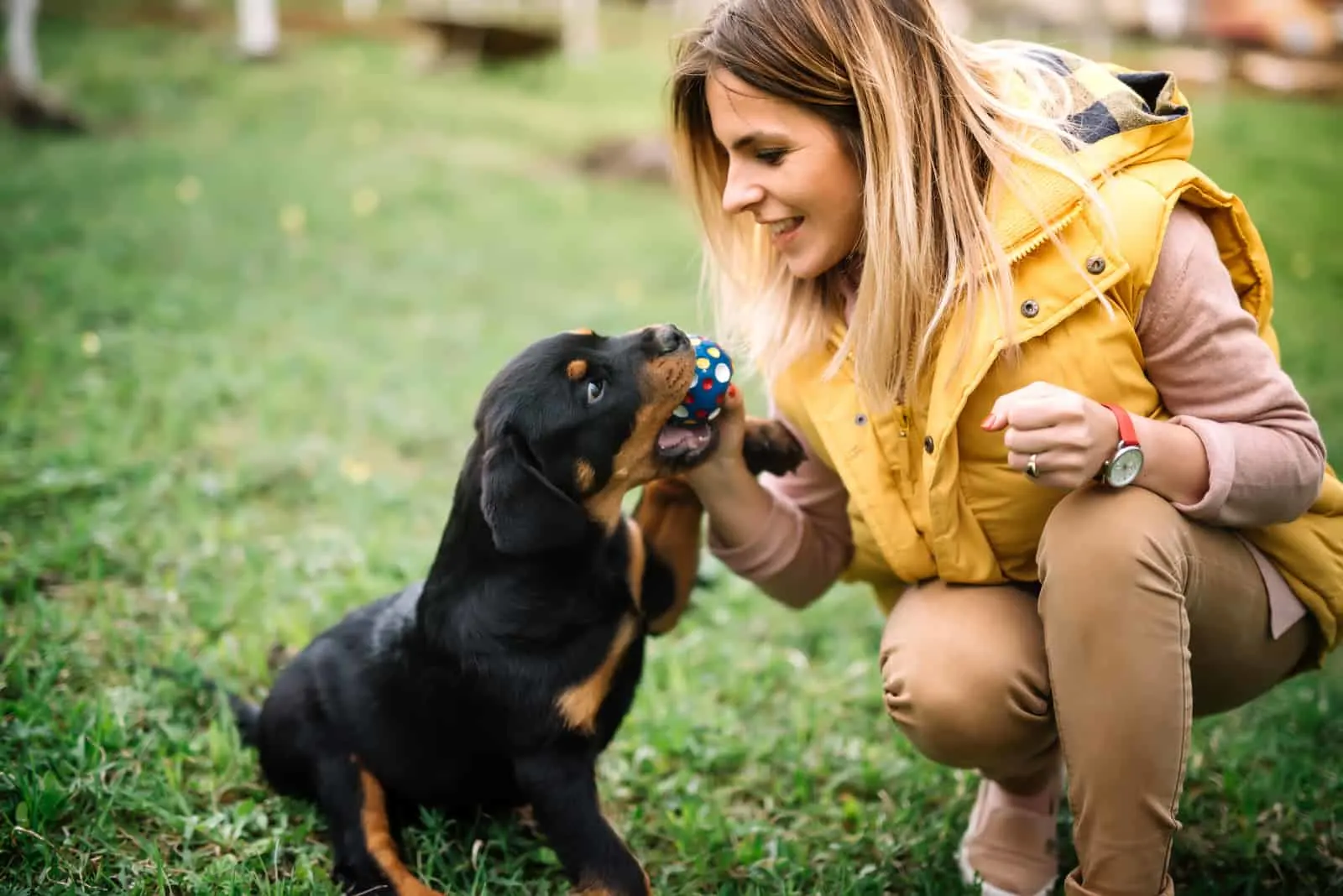 Before breeding Rottweilers, Konigliche breeders were breeding purebred German Shepherds. Throughout the years, they have gathered a lot of knowledge and experience in breeding Rottweilers and French Bulldogs.
Konigliche Rottweilers' litters carry high-quality European genes. Their first Rottweiler was a German Rottweiler female with strong European bloodlines.
These breeders are members in great standing with the Canadian Kennel Club, the Rottweiler Klub of North America, and the Central Ontario Rottweiler Klub.
Even though these breeders have taken a break from dog shows, they still produce some of the best Rottweiler puppies.
If you are interested in their lovely Rottweilers, or maybe their Frenchies, make sure to contact them and find out more about upcoming litters.
Konigliche Rottweilers' details
Email: [email protected]
Phone: (647) 403-2639
Website: Konigliche
Location: Coboconk, ON K0M 1K0
4. Windorff Registered Rottweilers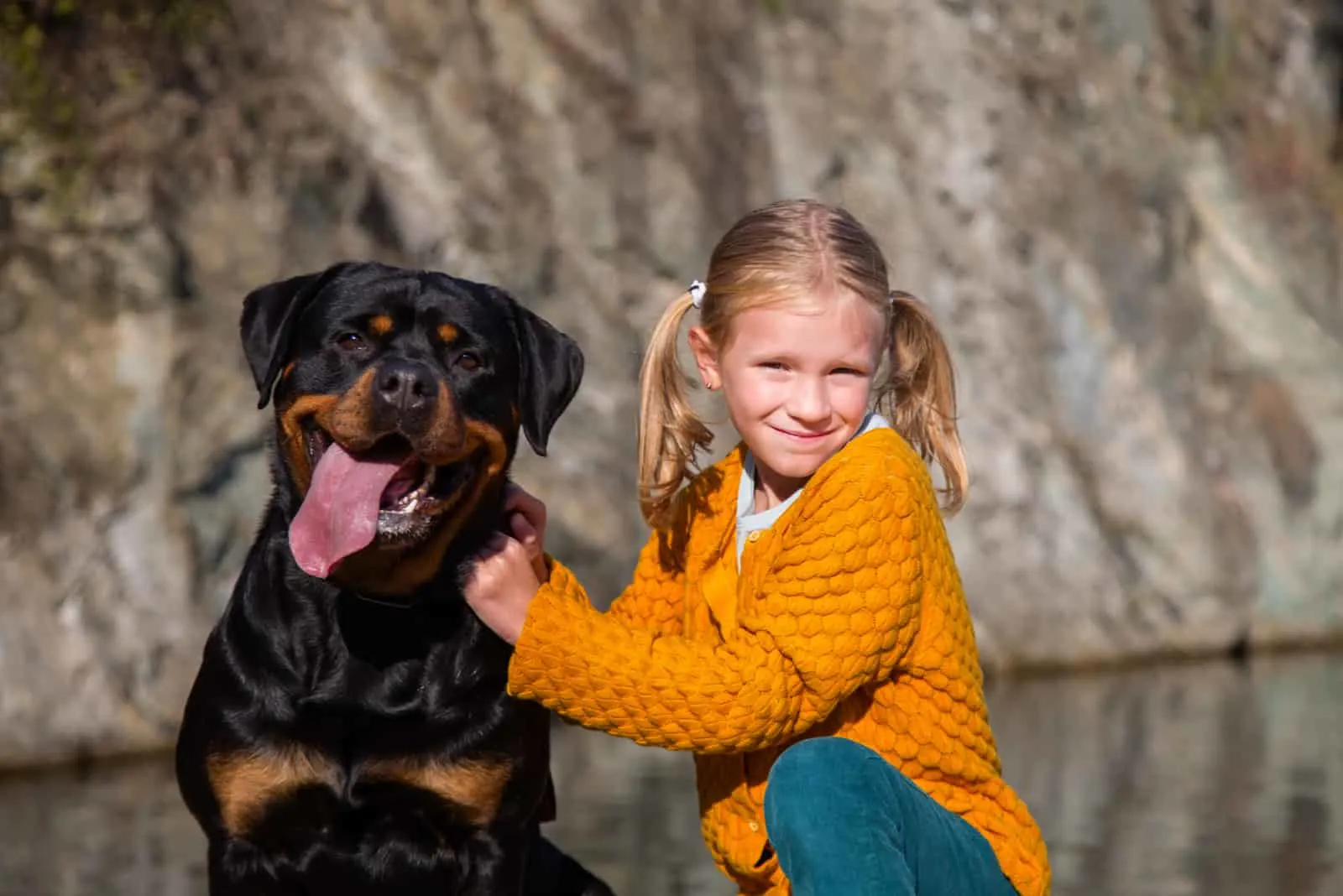 Windorff Reg'd is a small, but well known Rottweiler breeder. These breeders had their first Rottweiler as a rescue dog. What started off as a rescue ended up as a wonderful Rottweiler breeding journey.
Their Rottweilers are respected family members. Every dog is well taken care of and raised to become a loyal companion. These reputable breeders raise their Rotties according to the RCC Code of Ethics.
Windorff's team puts their Rottweiler's health in first place. They have their Rottweiler puppies thoroughly checked for genetic health diseases. Moreover, every puppy undergoes basic veterinary care.
Vaccinated, microchipped, dewormed, backed with six weeks of pet insurance, and a strong pedigree, the Windorff Rottweiler puppy is waiting for a new home!
To reserve a puppy from the Windorff Reg'd Rottweilers kennel, potential buyers are required to fill out a puppy questionnaire and place a non-refundable deposit.
Windorff Registered Rottweilers' details
Email: [email protected]
Phone: 519-364-4556
Website: Windorff
Location: Elmwood, Ontario N0G 1S0 Canada
5. MeiLing Rottweilers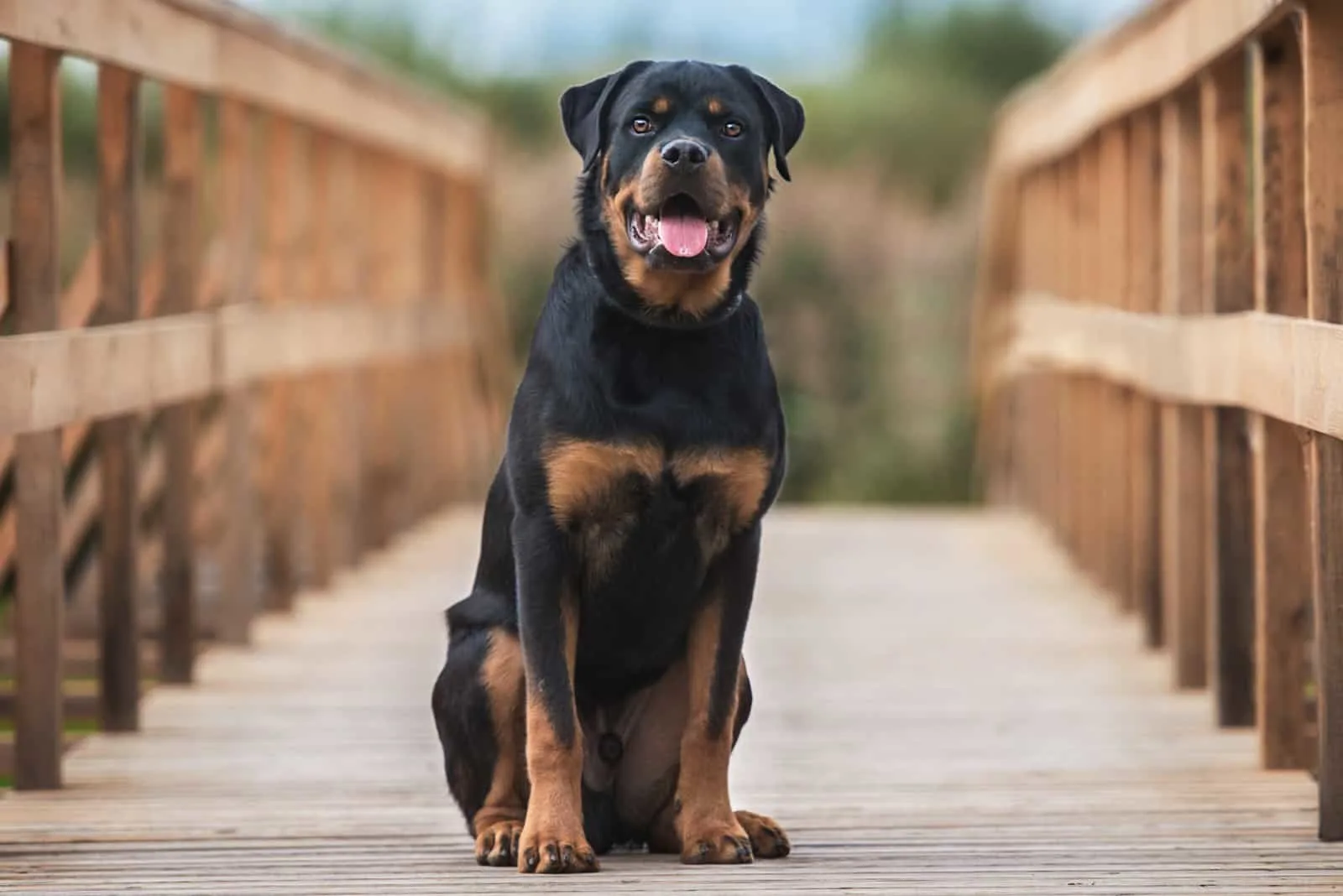 MeiLing is a registered Rottweiler breeder in Hamilton. They are reputable members of the Canadian Kennel Club, and all of their puppies come with a CKC certificate.
MeiLing breeders believe in quality over quantity. Their Rottweiler pups are raised in a wonderful environment. Surrounded by people, these puppies develop fun-loving, people-pleasing personalities.
Their Rottweilers are excellent working dogs and show dogs. Each puppy comes with a natural tail — tail docking is not allowed in this house!
Moreover, every Rottweiler pup is health tested and trained before leaving to a new family.
By placing a non-refundable deposit, you are securing your spot on their waiting list. If you have any further questions, make sure to contact this reputable Rottweiler breeder!
MeiLing Rottweilers' details
Email: [email protected]
Phone: 1-905-515-4400
Website: MeiLing Rottweilers
Location: Hamilton, Ontario Canada
Facebook: MeiLing Rottweilers
Instagram: MeiLing Rottweilers
6. Vom Piersanti Rottweiler Kennel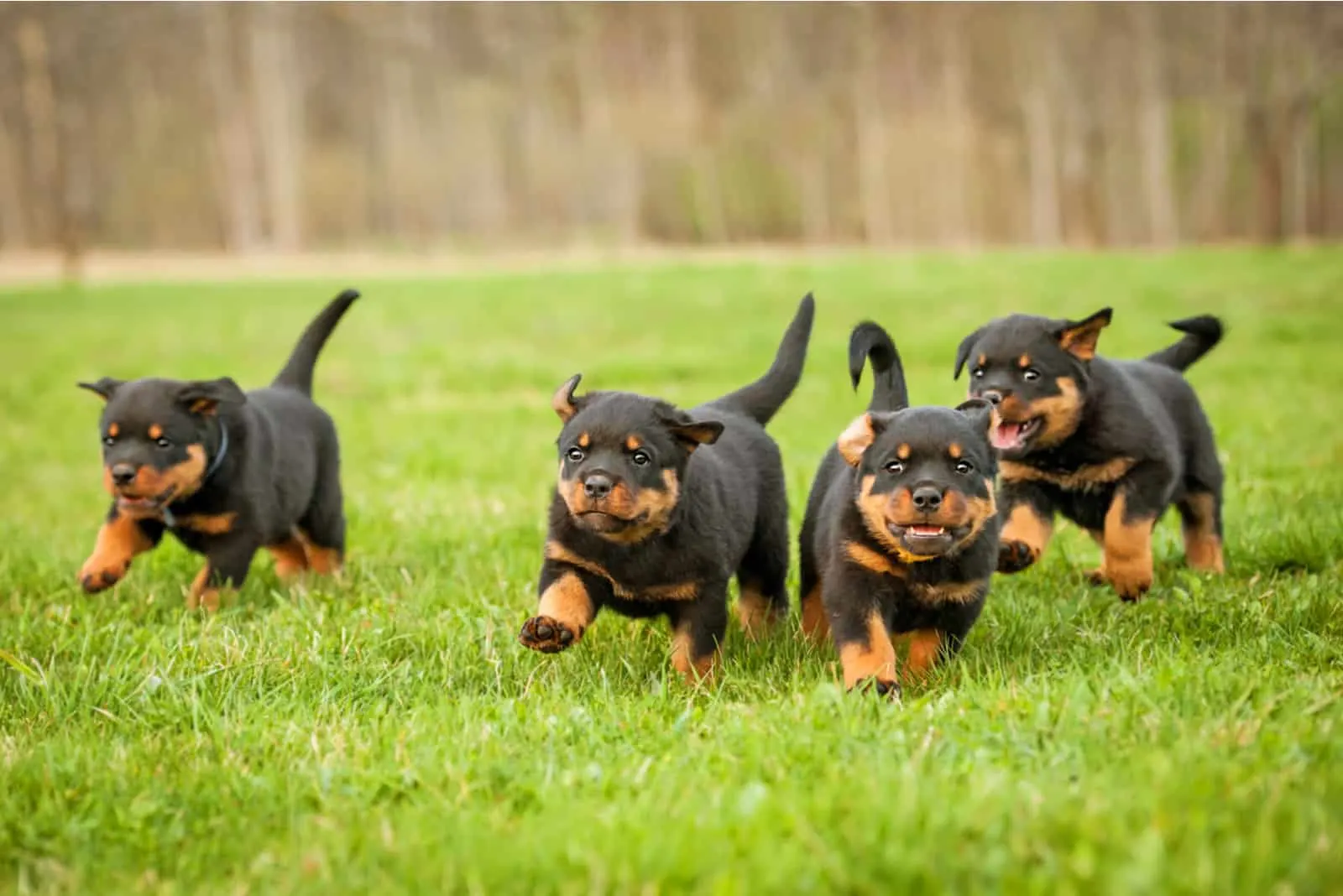 Vom Piersanti's main goal is preserving the Rottweiler breed. The selection process for their unique breeding program is taken very seriously. Purebred Rottweiler parents with excellent bloodlines are bred to produce top-quality Rottweiler litters.
The Vom Piersanti Rottweiler Kennel team believes in early socialization as a means of developing and raising healthy Rottweiler dogs.
Potential buyers have complete insight in their Rottweiler puppy's bloodlines. They make sure that all of their puppies are thoroughly health tested before leaving for their new home.
With many plans for the future, Vom Piersanti's team continues to produce only the best Rottweilers in Canada.
Vom Piersanti Rottweiler Kennel details
Email: [email protected]
Phone: 905-961-2377
Website: Vom Piersanti
Location: West Lincoln, Ontario, Canada
Facebook: Vom Piersanti
7. Dowtree Kennel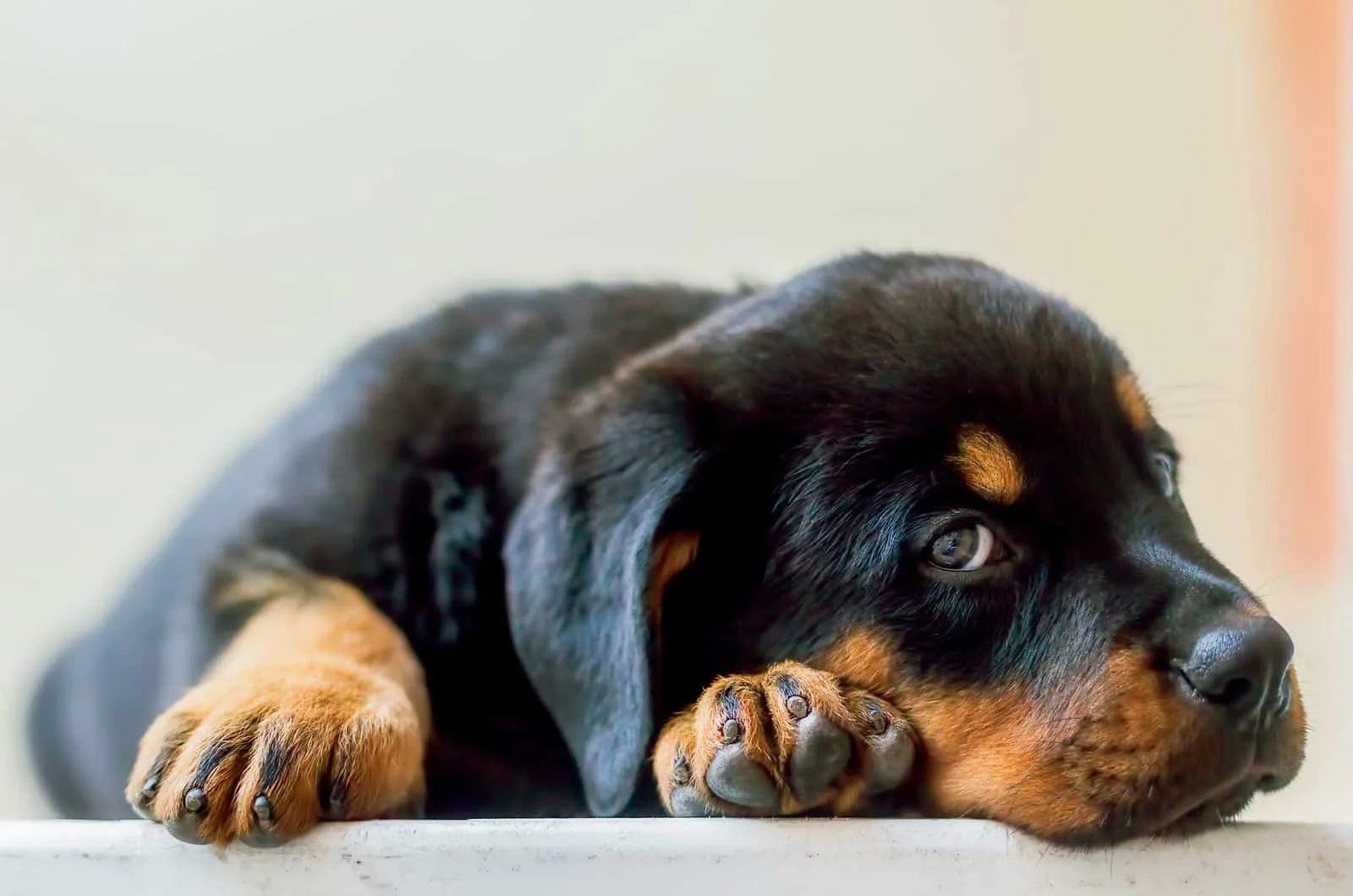 Dowtree Kennel specializes in breeding purebred Rottweilers and English Cocker Spaniels.
These reputable breeders focus on health, temperament, and appearance of breed standards. All of their Rottweiler puppies derive from Champion bloodlines.
Before heading to a new home, each Rottweiler puppy undergoes health screening. Age-appropriate immunization is included in the puppy's price. So, each Rottweiler puppy receives vaccinations, deworming treatments, and a microchip.
But, that is not all that this reputable Canadian breeder has in store. Being CKC members, their Rottweiler puppies come with CKC registration papers.
Moreover, Dowtree Kennel's Rottweiler puppies have their tails docked and their dew claws removed.
By eight weeks of age, their wonderful Rottweiler puppies are ready to go to their forever home!
Dowtree Kennel details
Email: [email protected]
Phone: (519) 375- 2337
Website: Dowtree Kennel
Location: Caledon, Ontario Canada
Facebook: Dowtree Kennel
8. Braxenburg Rottweilers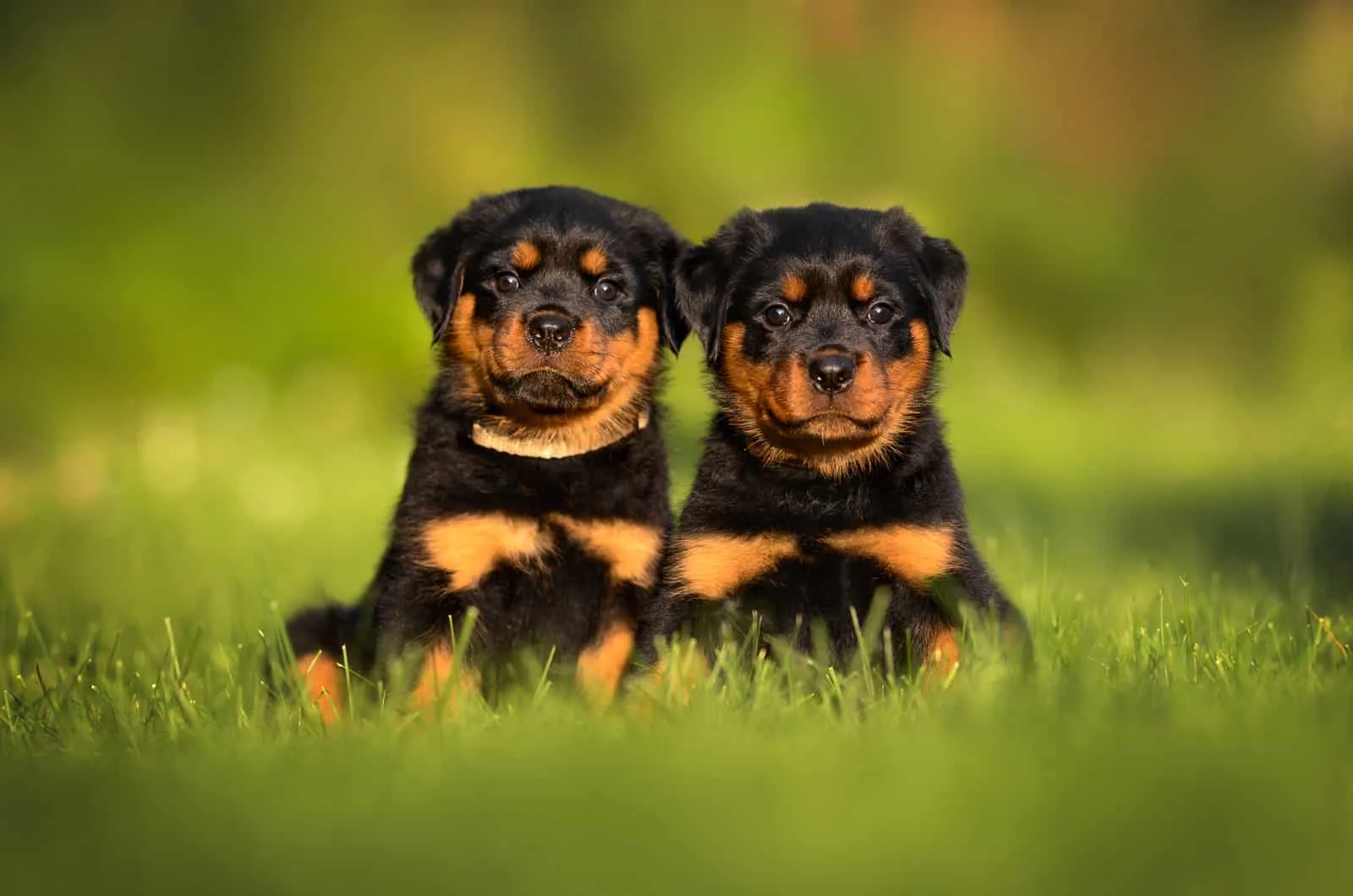 Braxenburg Rottweilers are small-hobby breeders, known for developing fun-loving Rottweilers.
Their puppies have the chance to grow up in a very versatile environment. Alongside small children, their Rottweilers hang out with cats as well.
What makes Braxenburg Rottweilers healthy is the raw diet they are fed with. These reputable breeders strive to keep their Rottweilers in the best condition possible, so they keep track of all health check-ups and feeding procedures.
In the early weeks of life, each of their Rottweiler puppies receives its first set of vaccinations. Deworming treatments, microchip implants, and removal of dewclaws, along with health records and CKC/AKC/UKC certification come within the puppy package.
This reputable Rottweiler breeder offers occasional litters, so make sure to contact them to find out about new puppies!
Braxenburg Rottweilers' details
Email: [email protected]
Phone: 647-438-8964
Website: Braxenburg Rottweilers
Location: Toronto, Ontario Canada
9. Reimer's Registered Rottweilers (Von Reimer's Wray)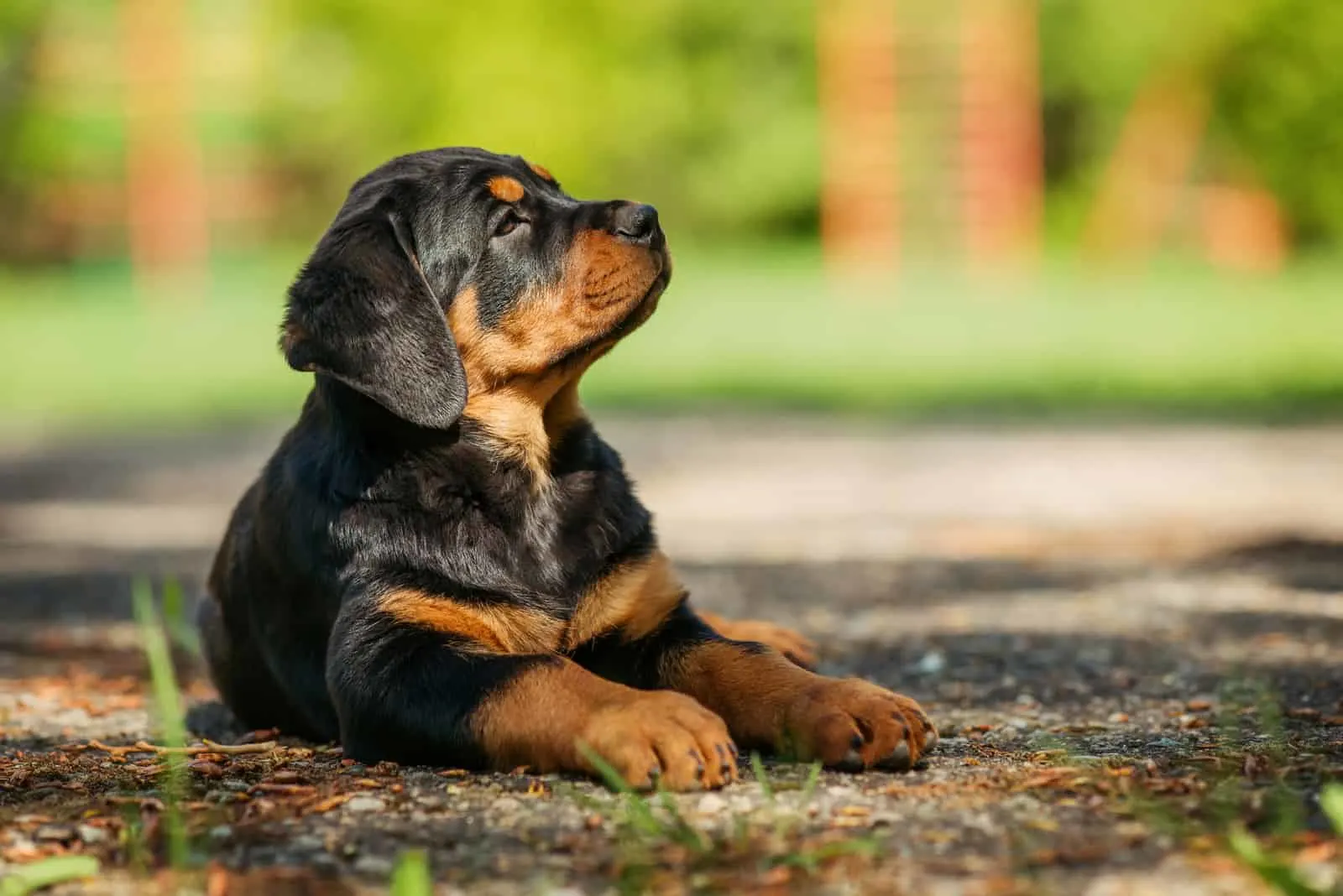 High-performance working dogs and loveable family pets — meet Reimer's Rottweilers! Reimer's Rottweilers is a CKC-registered breeder, located in Burington, Ontario.
For more than fifteen years, the Reimer's team has been producing healthy Rottweiler puppies within European and German FCI breed standards.
According to these standards, Reimer's Rottweilers doesn't dock Rottie's tails nor do they have their front dewclaws removed. Only their rear dew claws are removed.
So much care, effort, love, and patience has been put into producing such lovely dogs. At Reimer's kennels, each dog is treated as a respected family member.
You can read more about this reputable Rottweiler breeder in Ontario. Their website offers a lot of information on the way their Rotties are bred, raised, and prepared for their new home!
Reimer's Registered Rottweilers (Von Reimer's Wray) details
Email: [email protected]
Phone: (905) 632-4618
Website: Reimer's Registered Rottweilers
Location: Burlington, Ontario, Canada
How Much Does A Rottweiler Puppy Cost In Canada?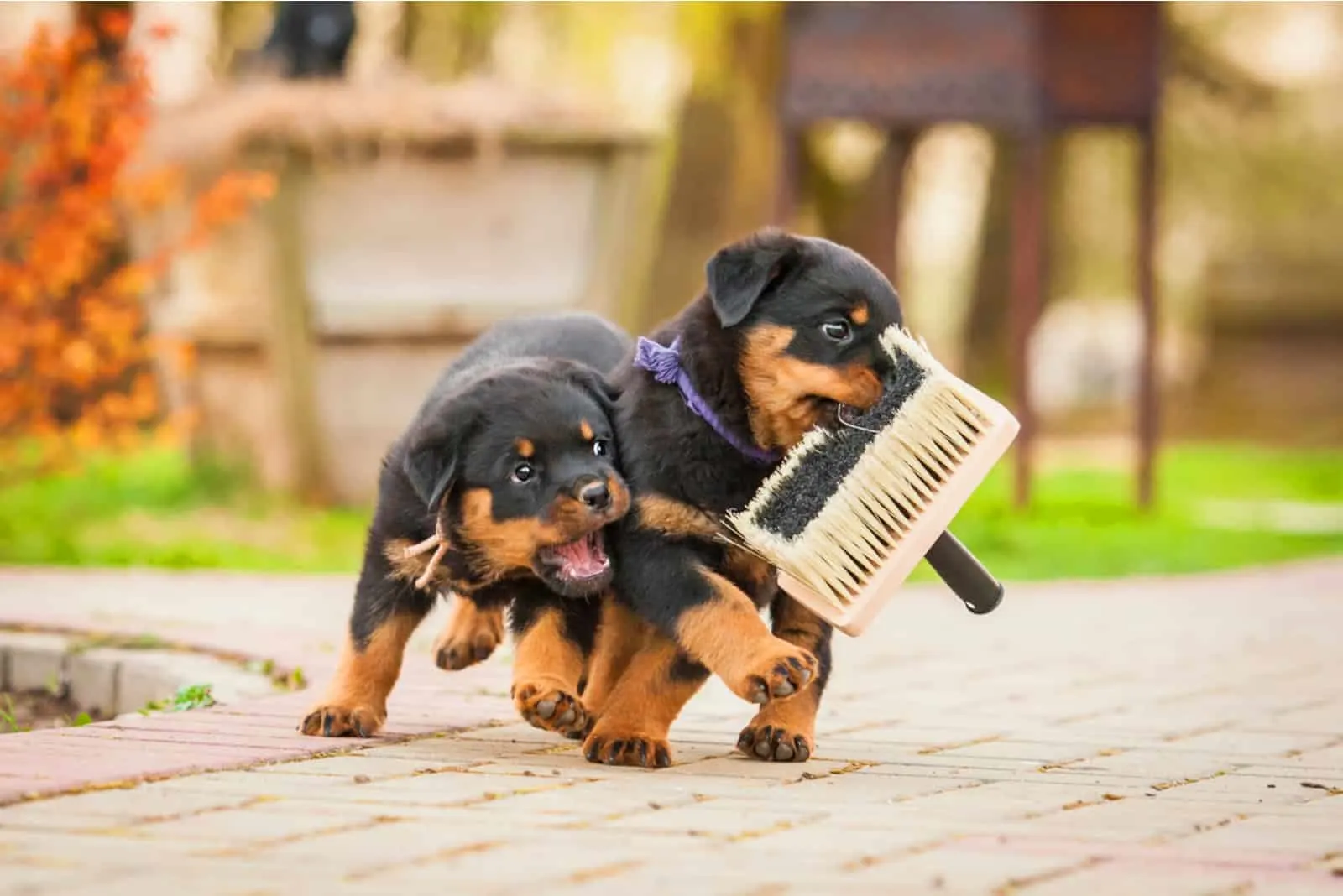 Reputable breeders who develop top-quality, purebred Rottweilers invest a lot into their breeding program. This is why Rottweiler puppy prices in Canada can range between $1500 and $4000.
Keep in mind that special Rottweiler breeding programs require a lot of effort, time, and money. Reputable Rottweiler breeders in Ontario are doing amazing jobs in producing healthy puppies.
So, a lot of the breeders' finances are aimed at health screenings, vaccinations, deworming treatments, microchips, special genetic health testing, etc.
When you purchase a Rottweiler puppy, not only are you getting the healthiest Rottweiler pup, but also all the following documentation, puppy packs, and the breeder's lifetime support.
Conclusion
Rottweilers are extremely powerful, intelligent, and protective dogs. On the other hand, Rotties are very affectionate, cuddly, and loyal pooches that just want to lay on your couch.
But, keeping in mind that this dog is no toy, future owners must do a lot of research before getting a new Rottweiler pup.
Doing research on both Rottweiler breeders and the Rottweiler breed itself will help you prepare for a new Rottie puppy.
We know that time is precious. So, this article can be used to save some time on your journey in finding the best Rottweiler breeders in Ontario.
These reputable Canadian Rottweiler breeders take Rottweiler breeding to a whole new level, and they will be thrilled to show you their amazing Rottweiler puppies.
Now, it's your turn to choose your favorite Rottweiler breeder in Ontario and find the perfect Rottweiler puppy!
Read Also:
17 Best Rottweiler Breeders In Georgia, 2022
Top 5 Roman Rottweiler Breeders In The United States