Humans and their canine friends enjoy a relationship that stretches back in time for many thousands of years. In the days when early humans were battling the elements as they foraged and hunted for food, wolves hovered on the fringes picking up the scraps of food left behind.
They probably thought, Hey, if we hang around these guys long enough, we'll get plenty of food, a comfortable bed, and even a warm fire! Little did these proud animals suspect that some of them would be wearing ribbons and answering to the name of Fifi or Elmo a few thousand years on.
And so, a bond was soon formed that has benefited both species since then and continues to do so to this day. This bond developed into one of mutual trust and genuine affection, leading to dogs becoming 'man's best friend.'
As time passed, humans saw that they could alter the wolf's appearance, character, and temperament, molding the dogs to suit different tasks. This was taken to extremes, resulting in all manner of shapes, sizes, and colors. Today there are around 200 different dog breeds in the world, and every single one of them is descended from the majestic and beautiful Canis lupus.
Today, the vast majority of dogs are kept as companions, though many serve as working dogs because of their exceptional skills and amazing senses.
What has this to do with the Teacup Cavalier King Charles Spaniel? Well, this tiny dog, believe it or not, also has wolf ancestry!
Big Dogs Aren't Everyone's Cup Of Tea!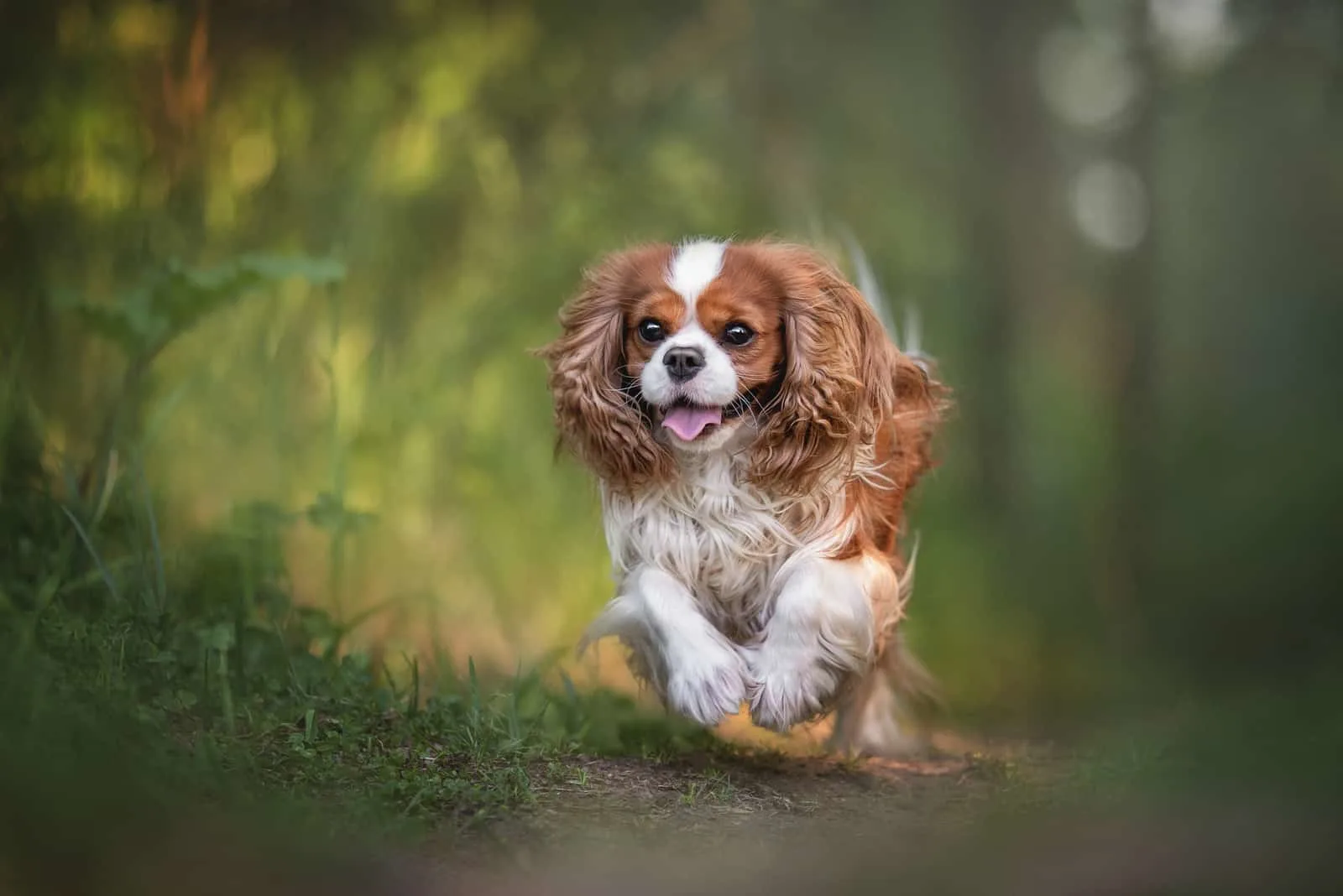 Big dogs are brilliant, but not everyone can handle them. It might be a matter of space. It could also be that the dog is too big and intimidating. It could simply be that you don't relish the sky-high dog food budget. It might also be a question of practicality and portability.
Whatever the reasons, small dogs are in fashion right now. They are super cute, highly portable, and easier to look after than big dogs.
As always, when something becomes popular, some people will tap into the market and push the boundaries further. This is the case with tiny dogs, as breeders produce smaller and cuter pups all the time.
Many breeders have produced miniature versions of different breeds for years, but now teacup or micro-dogs are fashionable. These are smaller versions of breeds that were already small!
One example of this is the Teacup Cavalier King Charles Spaniel, and we're going to investigate them thoroughly to help you understand what they are, how they are made, and what it takes to look after them.
We'll begin with the obvious question…
What Is A Teacup Cavalier King Charles Spaniel?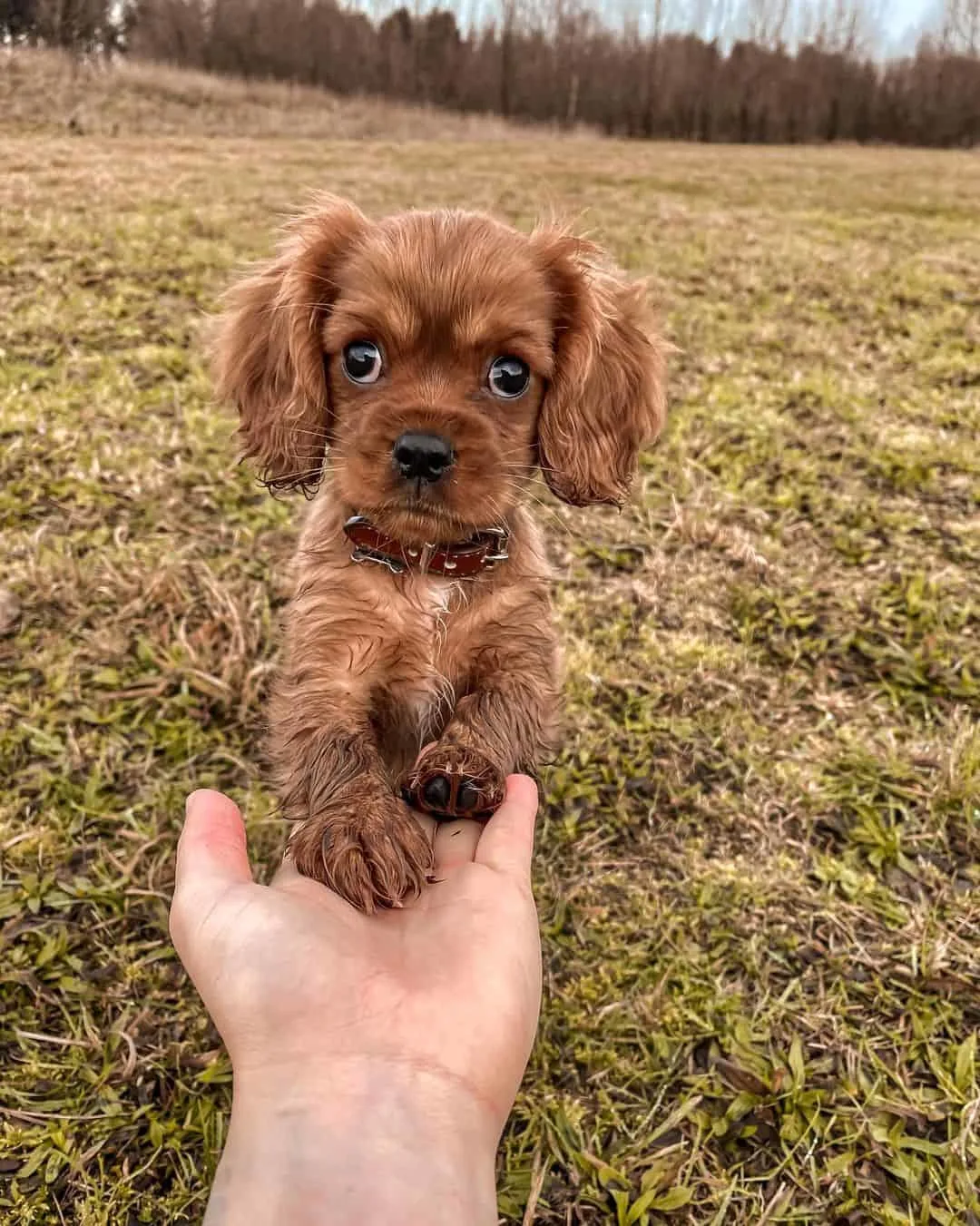 Photo from: @nuka.the.cav
The simple answer is that it's a miniature version of the Cavalier King Charles Spaniel. But what does that actually mean? The Cavalier King Charles Spaniel is fairly small anyway, small enough to be considered a lapdog. It is already classed as a toy breed, though it is listed as the largest of this kind.
First off, a teacup version of any dog is never a separate breed – whatever anyone tells you or whatever you read elsewhere. Many dog breeds already have mini versions, which are generally accepted by most kennel clubs.
To qualify as a teacup dog, they must be below the average height and weight of the official breed standards. It is interesting to note that most kennel clubs, including the American Kennel Club (AKC), do not register or classify any teacup 'breeds.'
Why is this? Read on to find out.
We're going to look at the 'normal' Cavalier King Charles Spaniel next and then see how the smaller version is made.
The Cavalier King Charles Spaniel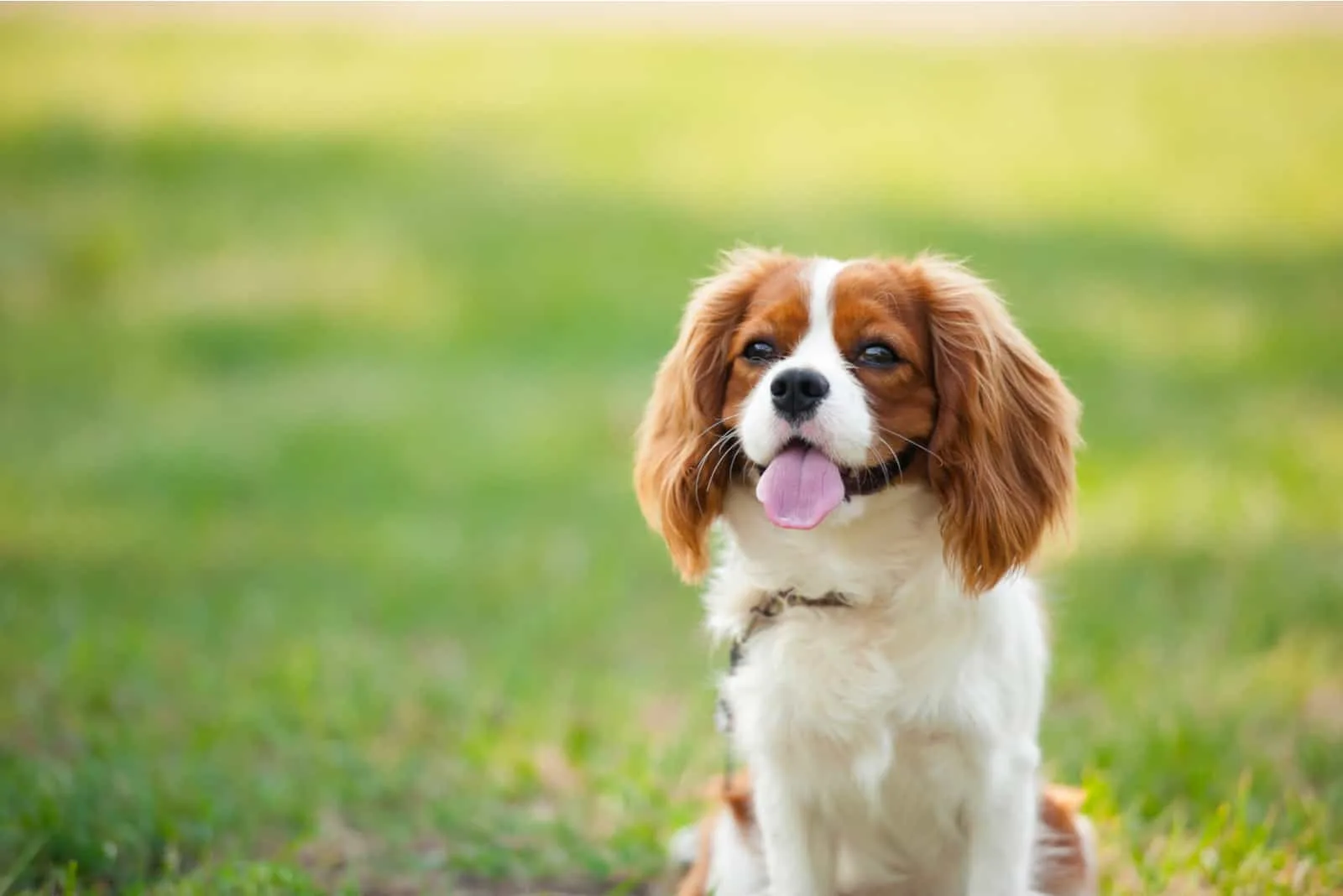 The Spaniel breed has been around since at least the 1500s, first used as a retriever on hunting trips. It was developed in England from earlier breeds that came across from France, possibly using Asian toy breeds such as the Pug and Japanese Chin.
It takes its name from the fact that King Charles II was an avid fan and is often confused with a similar breed beloved by Charles: the English Toy Spaniel, known in the United Kingdom as the King Charles Spaniel (without the cavalier!).
The standard-sized Cav, as they're known, is described as the perfect lapdog, small enough to be ideal for apartment living. They're at the larger end of the toy dog scale but still compact enough to fit comfortably into most living spaces. Learn more about this dog's size in our Cavalier King Charles Spaniel growth chart.
They have been one of the most popular breeds in the UK for many decades, and since 2000, they have experienced a rapid rise in popularity in the US.
With their long ears and wide-set eyes, they exude charm and appeal. And when you combine this with their playful, affectionate, and loveable nature, you have one of the best family dogs that money can buy.
The teacup version possesses all these qualities but in miniature.
So, what's the downside? Surely you can't go wrong with a perfect, teeny little dog that fits in your purse?
Sadly, there's a good chance that these little dogs will have some serious health problems, depending on how they were produced.
Full-Grown Teacup Cavalier King Charles Spaniel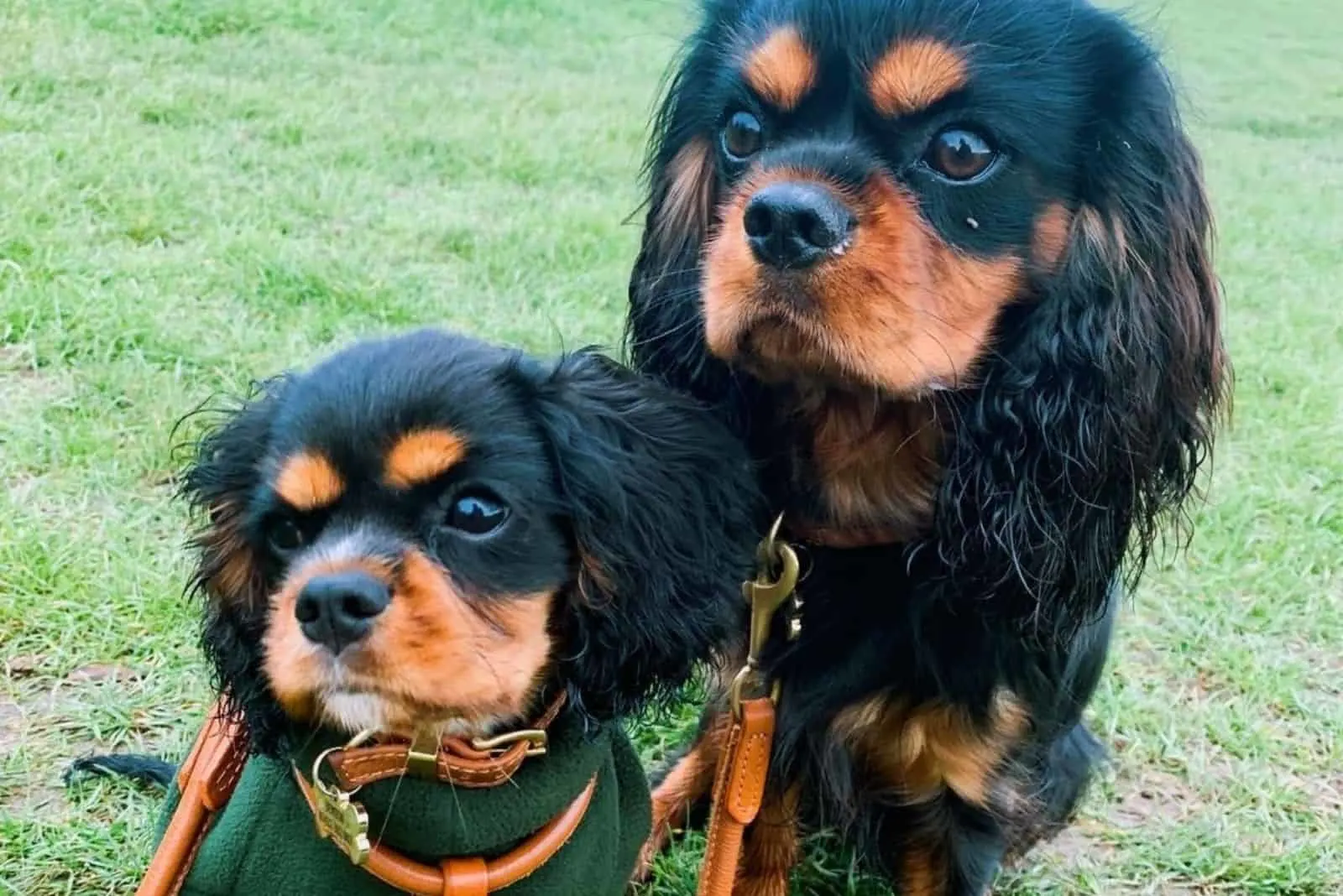 How big do Teacup Cavalier King Charles Spaniels get? On average, they will be no taller than 10 inches and weigh no more than 10 pounds.
Remember, that's when they are full grown. In comparison, the standard Cavalier King Charles Spaniel has an average height of 12–13 inches and weighs between 13–18 pounds.
While there might not seem much between the toy and the teacup version, that discrepancy can make a world of difference in terms of the dog's health, as well as the sort of life it lives. We'll explore that idea further along when we look at the health problems that afflict these tiny dogs.
Now, you might have figured this out yourself, but you'd need a pretty big teacup to fit one of these little dogs in, even if they are only 5 inches at the shoulder (which they can be!). This doesn't stop people from putting puppies in actual teacups and taking photos, as you'll see if you Google 'teacup dogs.'
The name was invented merely to distinguish them from miniature dogs. However, it is frequently used by unscrupulous breeders as a marketing term to sell 'rare' pups.
Let's examine this in more detail.
Teacup Cavalier King Charles Spaniel Breeders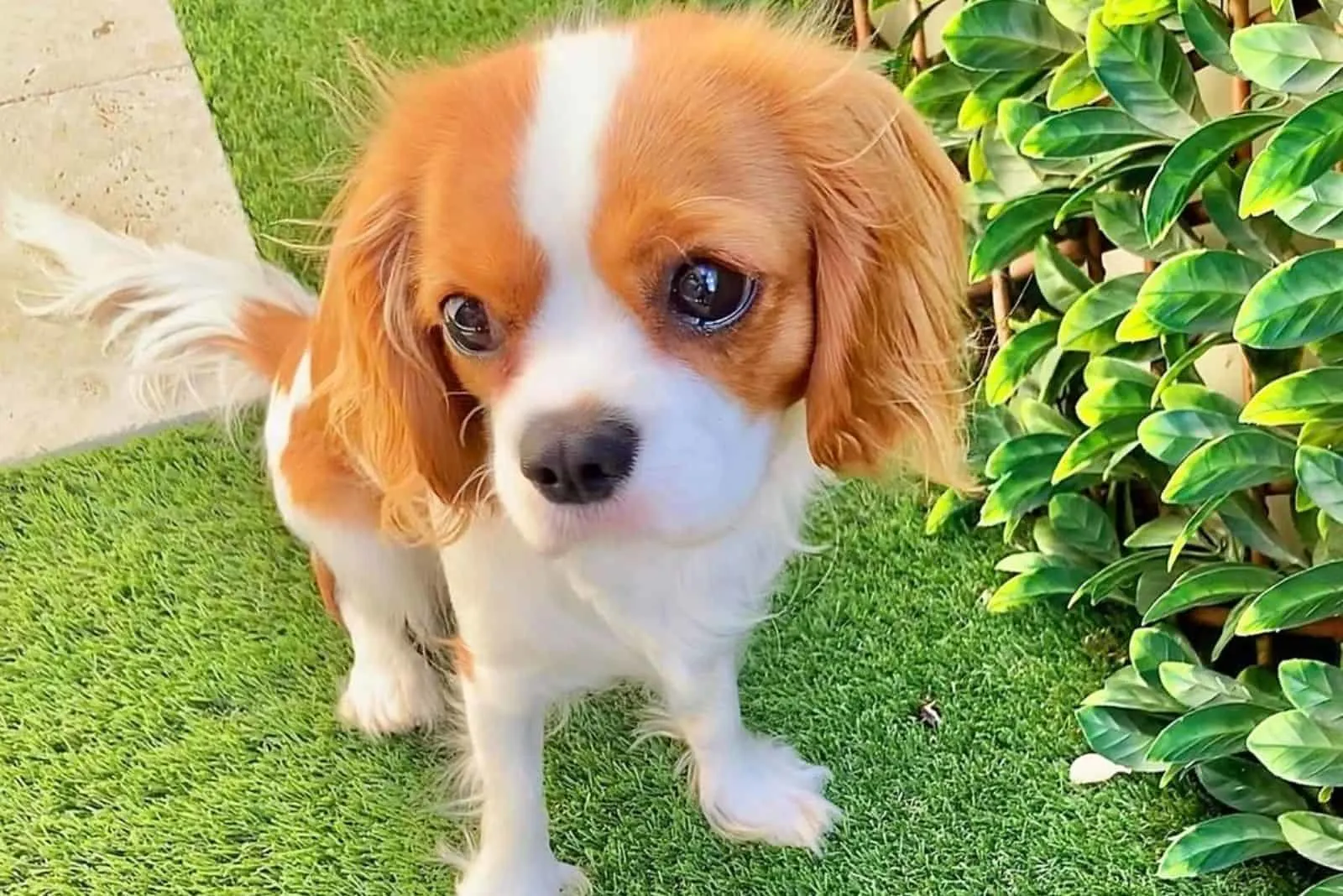 Breeders use a range of methods to produce miniature dogs, some of which are grossly unethical. This is why it is essential to choose your breeder very carefully!
Here are some of the ways that breeders achieve their aim:
• Malnourishment – as with most animals, the time immediately following birth is critical to proper growth and development. This is why babies of any type spend so much time eating and sleeping. There won't be any other time during their lives when they grow at such a rapid rate.
These first few days and weeks will set the foundations for their physical health and stature throughout their lives. Unscrupulous dog breeders will sometimes deliberately restrict the amount of nourishment their pups get, which stunts their growth. Aside from being cruel, this puts the dog at risk of severe health issues later.
• Breeding runts – runts are the smallest and weakest of the litter. Unethical breeders will take two runts, sometimes from the same litter (inbreeding makes the problem worse!), and breed them to produce very small offspring.
They will repeat this process to get smaller and smaller dogs. Once again, this is unethical and results in sickly dogs, often with a range of inherited health problems.
• Dwarfism gene – this is a random genetic mutation that pops up once in a while. Some breeders will purposely select dogs that display this gene and breed them to produce teacup pups. The dwarfism gene carries many of its own health problems, adding to the other challenges of being so small.
• Accident! – sometimes, a small pup will just turn up in a litter of normal-sized Cavalier King Charles Spaniel puppies. Much of this depends on the parent dogs, but the world of genetics can be unpredictable. Small dogs aren't always runts; they're simply smaller in frame and are fairly healthy. Reputable breeders will sell them but will often avoid using the term teacup.
• Mixed breeds – by far the most ethical method, though not without its problems. Breeders will cross the standard Cav with a Mini Poodle, an American Eskimo, or a Chihuahua to produce a Teacup Cavalier King Charles Spaniel.
Each one will have the attributes of both breeds and won't look exactly like a Spaniel, but they will be much healthier than the other examples given here.
Incidentally, the three examples of mixed-breed Cavs are called the Mini Cavapoo, Mini Cavamo, and the Chilier!
One of the biggest red flags is when breeders stress the fact that they are selling teacup dogs.
The best way to discover whether a breeder is ethical and responsible is to visit the premises. Reputable breeders will be happy to set up an appointment for you to visit and inspect the site, as they have nothing to hide. They'll discuss their work with you, and the love and enthusiasm for their chosen breed will be obvious.
Unethical breeders will be exactly the opposite and won't want you snooping about the place. You might see the appalling conditions and the state of the animals.
Puppy mills are there for one reason only: to produce and sell as many dogs as possible and keep costs low to maximize profit. They will sell to anyone, which is why you should also never buy Teacup Cavalier King Charles Puppies from a pet store.
Teacup Cavalier King Charles Spaniel Price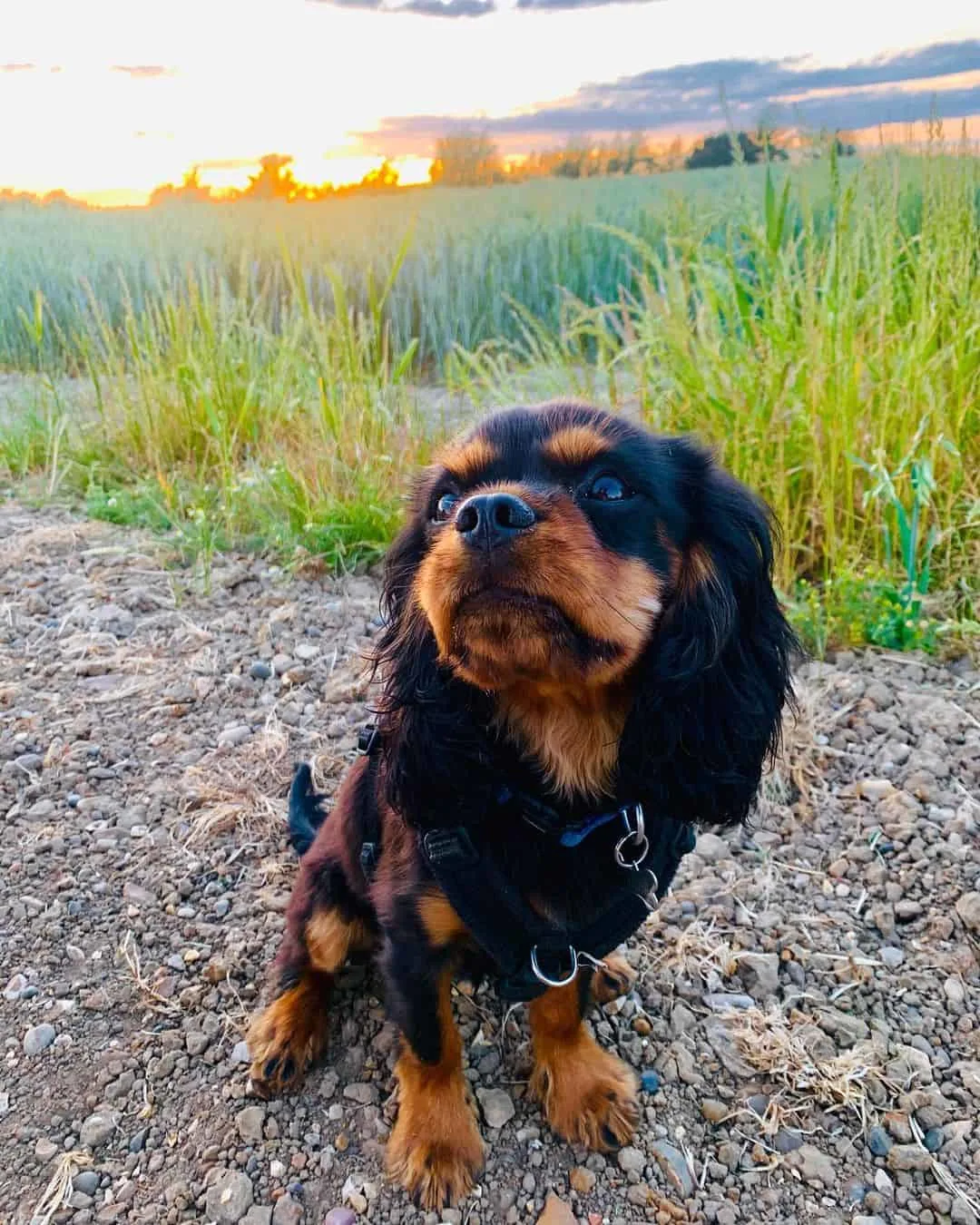 Photo from: @lutherandbenson
Do you really want to know? Then get ready…
A Teacup Cavalier King Charles Spaniel will usually cost between $750 to $3,500, but sometimes as much as $14,000!
That's a huge range, but it will depend on the breeder, your location, and supply and demand. Realistically, you should expect to pay an average price of around $2,000. Any lower than $2,000 and you should be suspicious, as the seller might not be on the level.
Anything above $3,500 should also make you stop and think. These dogs aren't recognized or endorsed by the AKC, so you will not be able to register them.
Why do they cost this much? Reputable breeders invest a great deal of time, money, and effort into downsizing their dogs, but not necessarily aiming for teacup pups. Some of their pups may be below the breed standard but still healthy enough to sell.
Very small puppies will need 24-hour care and supervision when they're born to ensure that they are healthy. This care could last for more than 3 months, incurring a lot of expense.
Dishonest breeders, backyard breeders, and puppy mills will certainly try to overcharge, using some of the unethical methods of miniaturization mentioned in the section above. To them, this is all about money, with no concern for the puppies or their parents.
Puppy Teacup Cavalier King Charles Spaniels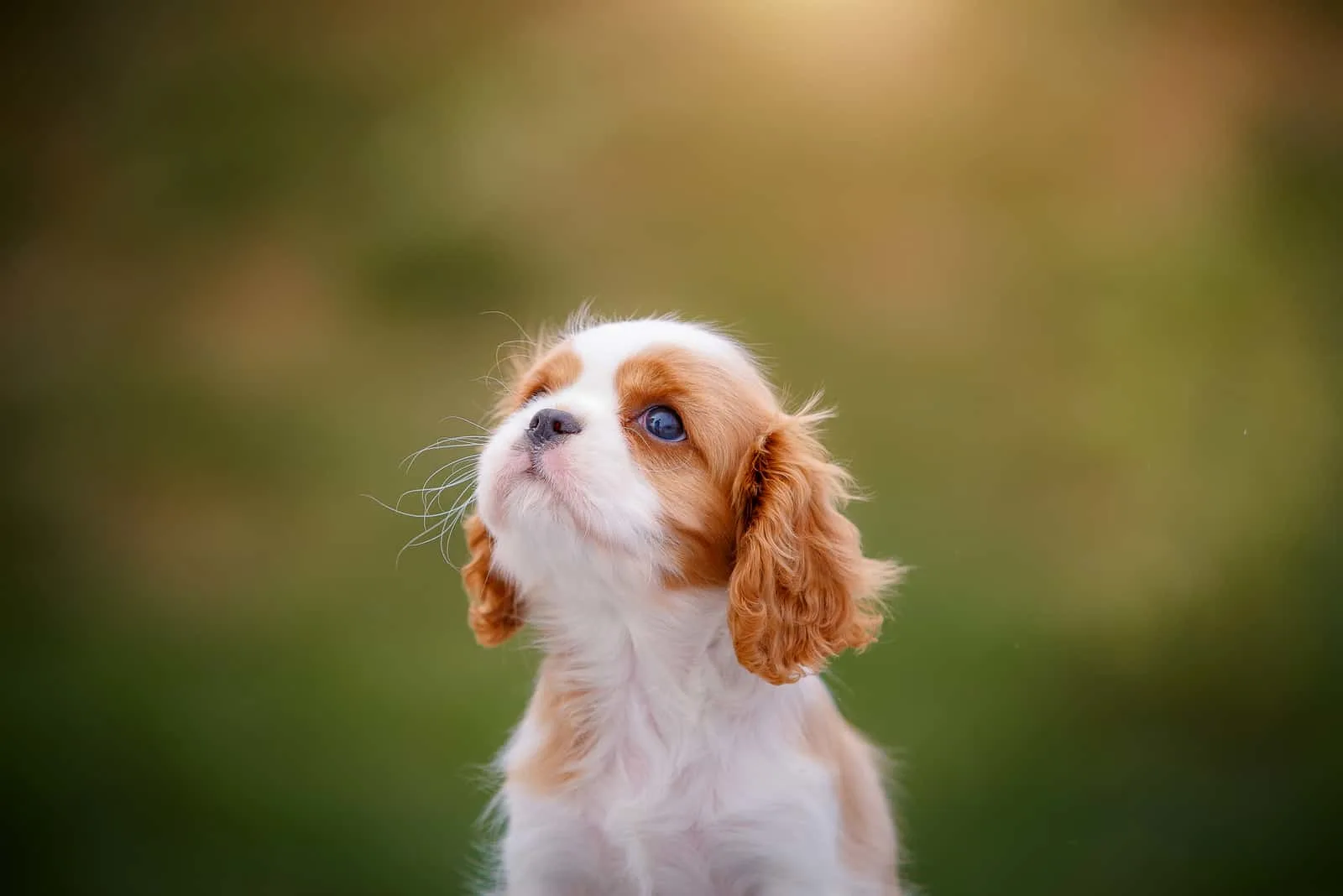 Teacup Cavalier King Charles spaniel puppies are heart-meltingly cute. They are also very fragile and need a lot of care.
On average, your pup will enjoy a lifespan of between 10 and 15 years. This will depend on whether it succumbs to any of the genetic conditions that can affect these adorable pooches. In some cases, these tiny dogs will only live for seven years.
If you buy your pup from one of the better breeders, then there's a better chance of avoiding health complications. Even so, it's up to you to look after your pup and make regular trips to the vet to have them checked over – it always pays to be cautious when it comes to these precious little lives!
The main area of concern, aside from sickness and disease, is that your pup will be fragile. You'll need to be extra-careful, as they will probably get under your feet at times. If you trip over them, step on them or even sit on them, there's a good chance that you'll cause a traumatic injury that might even prove fatal.
You should also take care not to let kids pull them around or pick them up. Understandably, children will want to cuddle them because they are so cute and fluffy, but these are fragile creatures! If the child drops your pup, it may break a bone. It will definitely hurt.
Another thing to bear in mind is that these tiny dogs will struggle to maintain their body temperature at times. You might notice that they are trembling and assume that it's a nervous thing, but in reality, they might be cold. This is why you often see micro-dogs with coats on.
Finally, it is vital that you feed them the correct amount of food and at set intervals, or they may become ill. We'll look into this in the section below relating to grooming, exercise, and care.
Ruby Teacup Cavalier King Charles Spaniels
There are four main colors of Teacup Cavalier King Charles Spaniel, but those with a ruby-colored coat are special. These dogs have a rich, deep-chestnut coat, sometimes with small patches of white (though these shouldn't be too big).
The coat is soft and silky, and sheds quite a lot, but this can be managed with regular brushing. This will help to keep down the amount of hair that sticks to your clothes and furniture.
The other colors are:
• Black and tan – a ​​jet black coat with tan markings on the legs and chest and around the eyes and ears. ​​
• Tricolor – a stunning white coat with black markings around the ears and eyes, also with tan markings around the eyes, cheeks, and ears.​​​​​​
• Blenheim – this coat is chestnut and white, named in honor of the Duke of Marlborough's victory at the battle of Blenheim. The duke kept many Cavs and was known to experiment with coat colors.
Health Issues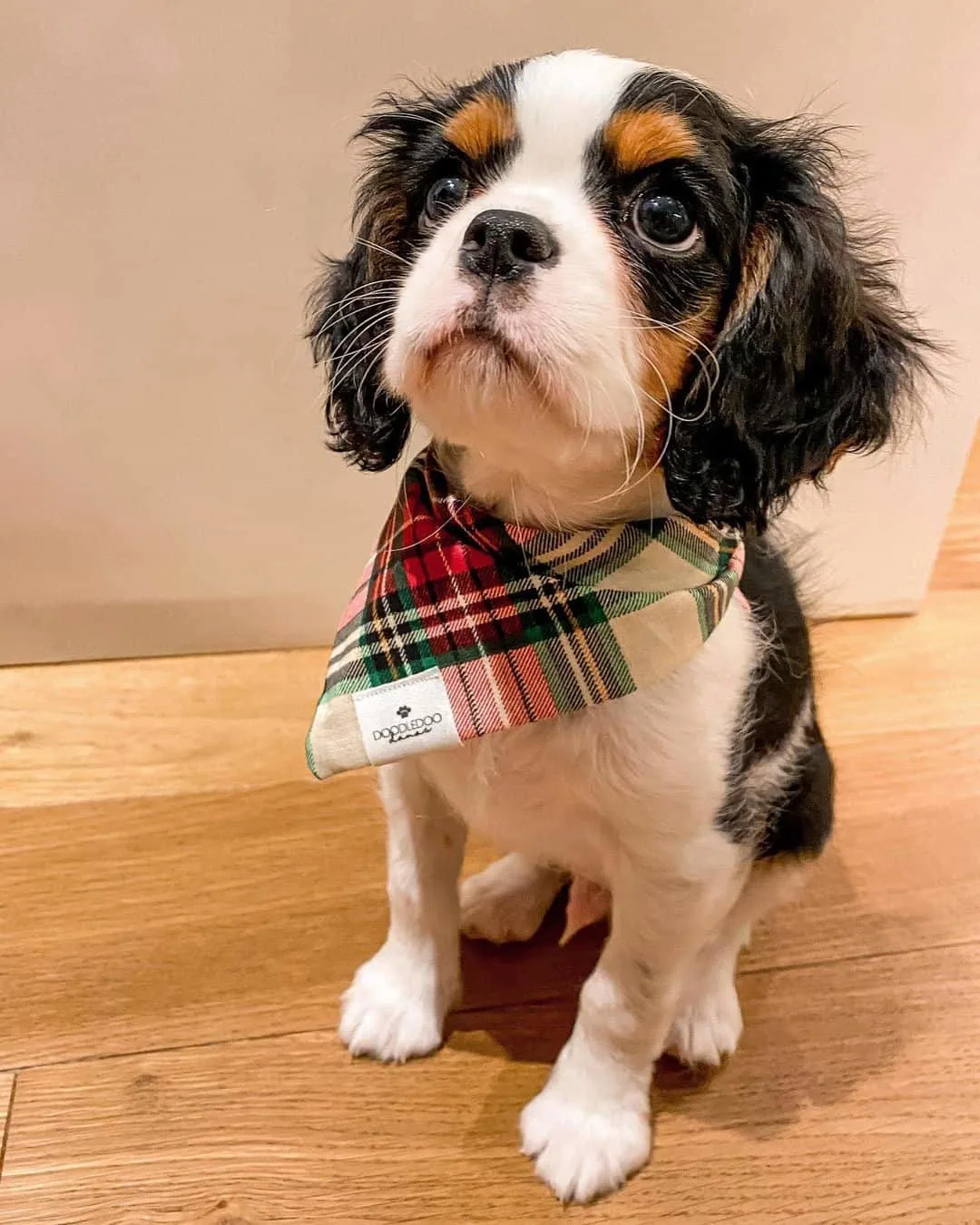 Photo from: @chiefbrodythecav
When it comes to health problems, they inherit some of the Cavs' usual culprits but also have a few other complications because of their tiny frame.
Here are some of the common ones:
• Syringomyelia – a particularly nasty condition affecting tiny dogs, where their skull is too small for their brain. This results in a blockage that prevents spinal fluid from flowing freely, which causes painful pockets of fluid to accumulate along the spinal cord. It is common for dogs with this condition to become lame or paralyzed and have seizures. There is no cure at present.
• Heart disease – mitral valve disease is common in these dogs, often contributing to premature death. This is caused by rheumatic heart disease, which leads to an infection that allows blood to leak back into the left atrium because the valve has become hardened and thick.
• Hip dysplasia – caused by a malformed hip joint, this is a painful condition where the bones grind together as the dog moves. In severe cases, surgery is the preferred treatment.
• Luxating patella – another joint problem, this time affecting the kneecap, which slides out of place. Surgery is sometimes used to correct this, involving the deepening of the groove in the bone where the patella sits to stop it from becoming dislocated.
Teacup Cavalier King Charles Spaniel mixed breeds may have other complications connected with the parent breeds, so it is always wise to check that the breeder has performed a health screening for common conditions.
None of these problems are guaranteed, but you must be prepared for the reality of the situation financially and emotionally: teacup dogs can be predisposed to many health issues that will be expensive to treat and which could end their lives.
Teacup Cavalier King Charles Spaniel Rescue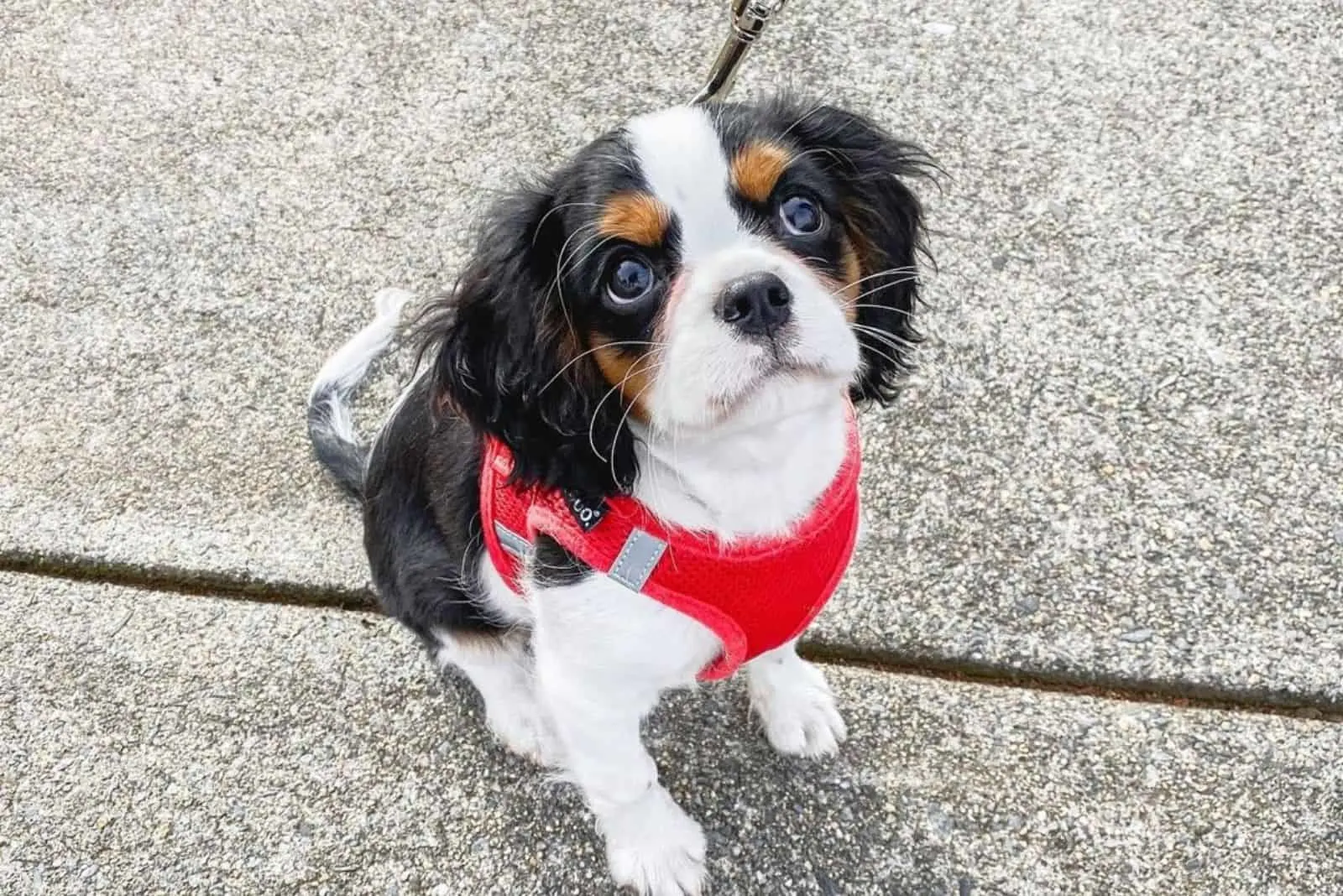 As an alternative to buying from a breeder, you might consider visiting a rescue center or dog shelter. It's hard to accept that anyone would reject one of these little beauties, but it does happen.
Over the course of the lockdowns due to the Covid-19 pandemic, pet ownership rose significantly in some parts of the world. People were spending more time at home and decided to buy new pets, many of which were dogs.
Inevitably, some of these same people soon decided that this had been a mistake and took their new pups to rescue centers. Even if this has not happened where you are, it is a distinct possibility in the near future.
If you want to adopt, organizations such as the Cavalier King Charles Spaniel Club can give you help and advice. As well as giving an abandoned dog a forever home, it will only cost you a few hundred dollars, as opposed to a couple of thousand!
Grooming, Exercise, And Care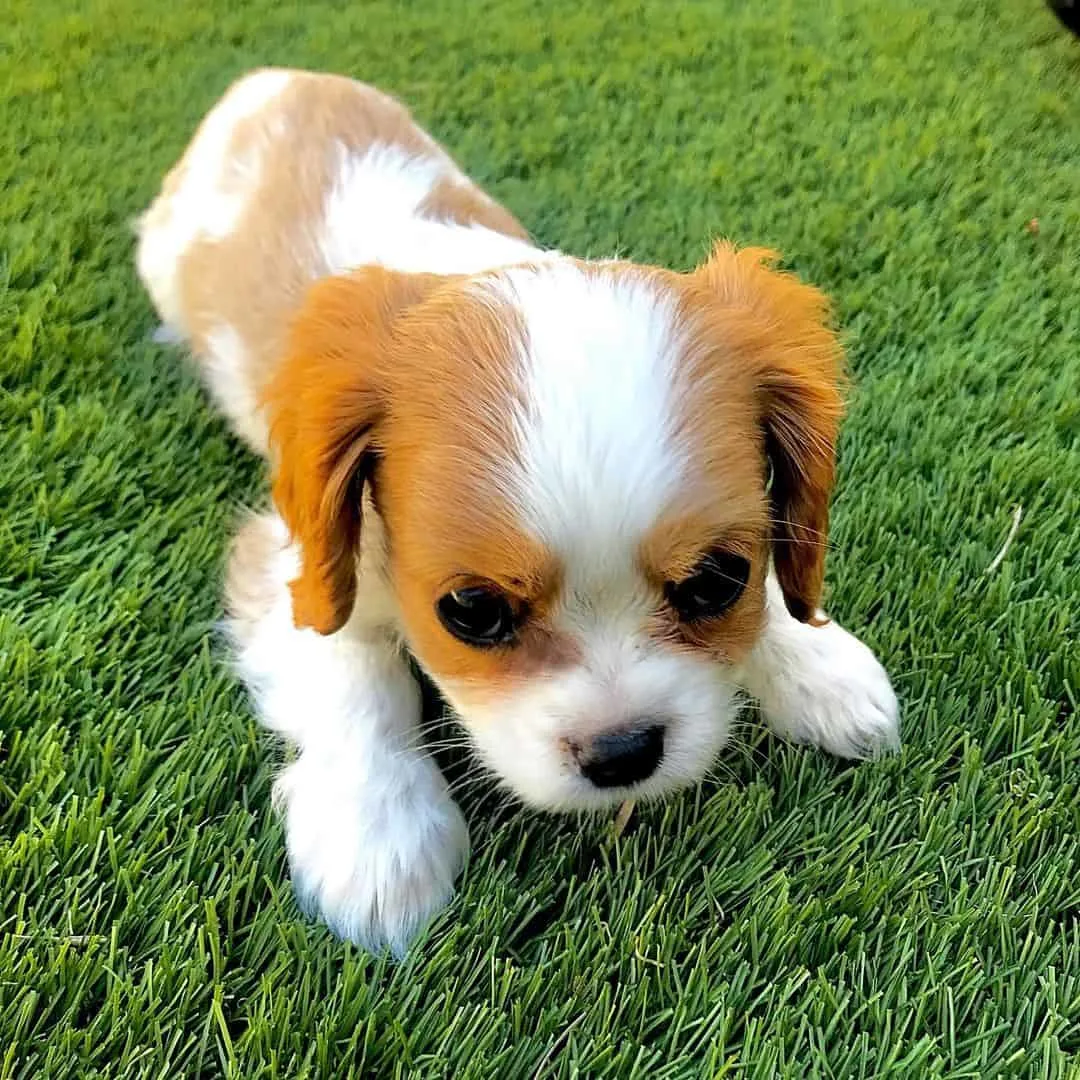 Photo from: @coco.the.cavi
Grooming you Teacup Cavalier King Charles Spaniel shouldn't be too taxing! They're so tiny that it should take only a few minutes to brush that beautiful coat.
Even so, it is a job that you should never neglect as their coat can easily become knotted and tangled, which can be painful. Brush them daily if possible, and start this process when they are young so that they get used to it quickly.
Pay attention to the feathering on their legs, as this is where knots usually form. Be gentle, and tease out the fur, taking care not to pull on the knots too hard.
As part of the grooming process, you should check inside their ears and make sure their eyes are clean. Their nails should be clipped regularly to stop them from becoming too long, which can cause mobility problems.
If you don't feel comfortable or confident doing these jobs, then you might want to take your pup to a professional groomer every couple of months.
Feeding your dog the right amount and at the right times is vital. If these tiny pooches miss even one meal, their blood sugar levels can fall dangerously low, possibly leading to unconsciousness.
Their dog food should be high-quality and specifically designed for smaller breeds. Human foods such as papaya, guava, plantains, and edamame can help you battle any nutrient deficiencies in your teacup Cavalier King Charles Spaniel.
Training and socialization of any dog are key to its development. You should begin as soon as possible before the pup gets into bad habits. Thankfully, the teacup Cav is pretty easy to train, so it shouldn't be too much of an issue. Still, it is important for overcoming small dog syndrome, which some small breeds suffer from. This is a collection of behaviors that the dog displays because they are fearful of being hurt by larger dogs or people, and as a way of asserting their place in the pack.
You should use positive reinforcement to train your pooch, as this is the best way to achieve quick results. Harsh rebukes rarely work well for any breed and usually backfire. Take care when giving treats, as your furry friend is prone to obesity!
As for exercise, twenty minutes a day is sufficient. These dogs might have a lot of energy (Cavamos even more so!), but they soon use it up when they run around. Never push them too far, though.
Overexertion can endanger their health, especially on hot days.
All of these facts need to be taken into account before you consider buying a Teacup Cavalier King Charles Spaniel.
Should You Buy A Teacup Cav?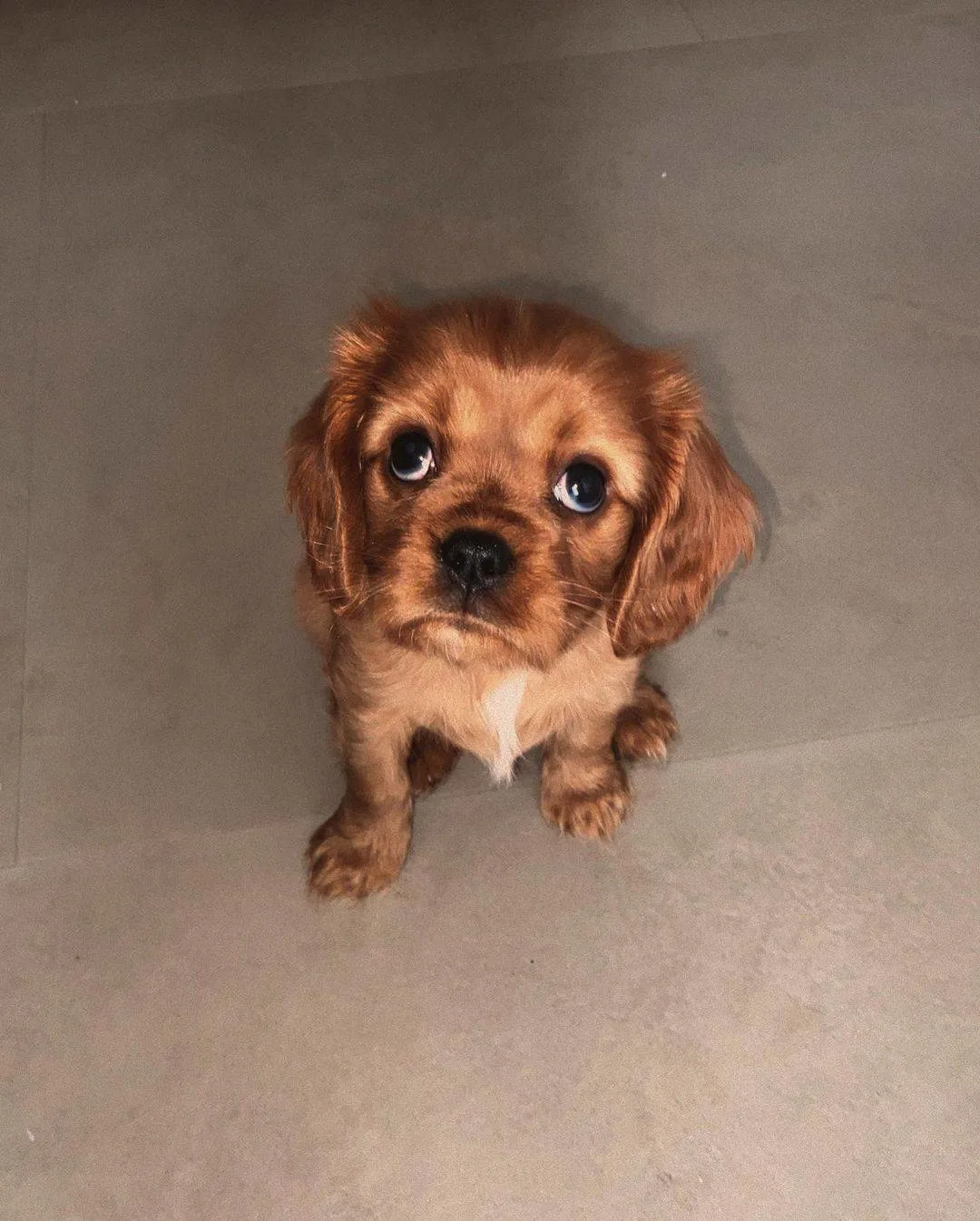 Photo from: @nuka.the.cav
Of course, the choice is entirely yours.
You've seen the facts regarding the methods used to produce teacup dogs.
Celebrities and influencers have had a hand in the increased demand for micro-dogs. TV shows and social media are filled with images of famous people and their prized pooches carried in purses or pampered in grand houses. Popularity drives up demand, which attracts the unscrupulous and unethical who seize the opportunity to make money with little regard for the dogs involved.
It is possible, if you search hard enough, to buy from responsible breeders who run their kennels ethically, but you need to be alert and conduct some research before going ahead.
Once you get your pup home, it's your job to give this tiny life the best possible care and attention. Its grooming, feeding, and exercise needs will be low. Even so, you'll need to make sure that it is fed on time and keep an eye out for any health issues.
You'll need to ensure that overenthusiastic children aren't too handsy or are tempted to pick up the dog and walk about with it. Injuries and death from being dropped are all too common.
On the whole, the best advice is to avoid buying a teacup Cavalier King Charles Spaniel. There's no doubting the fact that they are amazingly cute and utterly adorable. But that doesn't justify the processes or methods involved in creating some of these beautiful dogs.
The American Cavalier King Charles Spaniel Club actually advises against buying teacup dogs because of the concerns about health and welfare.
Unless you can buy from a respected, established breeder or a rescue center, then it might be best to leave it.
Instead, why not go for a standard-sized one? They're one of the smaller breeds anyway, will probably be healthier, and will be just as sweet and loveable.
Read Next:
• Applehead Teacup Chihuahua: All You Need To Know
• Is The Short-Hair Cavalier King Charles Spaniel A Myth?