If you need some ideas for Shih Poo haircuts, you have come to the right place! I have gathered the best dog hairstyles for this adorable mixed breed that you're going to love.
What do you get when you mix a miniature Poodle with a Shih Tzu puppy? One of the cutest canine breeds in the world, I'd say!
These designer pups are so sweet that every haircut looks perfectly fine on them.
However, if you're looking for something specific, make sure to read this article until the end as you'll find at least one hairstyle suitable for your Shih Poo pup.
Best Shih Poo Haircuts
1. Puppy Cut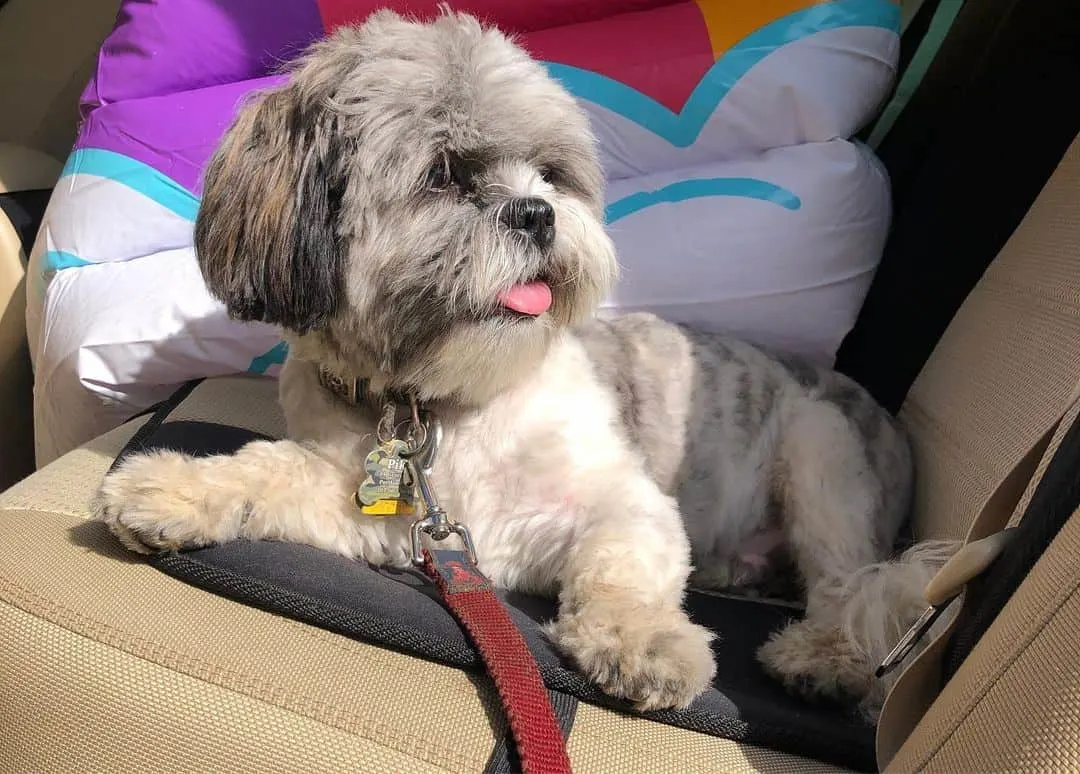 Photo from: @_pikatzu
The Puppy Cut is quickly becoming one of the most popular cuts for Shih Tzu and Poodle mix puppies, as well as for other Doodle breeds. In spite of the fact that this hairstyle is known as the Puppy Cut, it looks great on mature dogs as well.
This cut works particularly well for canines with longer, wavier hair that is susceptible to tangles and knots. Only half an inch of body hair is left after the trim in order to prevent any possibility of tangling. The dog's face, including its ears, is shaped as well, and the tail is slightly cut with scissors to achieve a feathery, crowned impression.
Even though the cute Puppy Cut does remove a fairly substantial amount of hair, you still have to take some time to comb your Shih Poo on a daily basis. The best tools for brushing sessions are those that are for Doodle breeds, such as the brush for Sheepadoodles, Cockapoos, Goldendoodles, etc.
2. Longer Hair
Some consider this to be a type of Puppy Cut that illustrates how the hairstyle might seem if you go for length instead of the practicality of shorter hair. One of the things that is kept the same is the magnificent feathery tail, which has such a stunning appearance and definitely makes them stand out from other pups.
The longer length is definitely a sight to see, but those who have to groom such a coat probably wouldn't agree with it.
It requires a lot of work and patience on both sides, and it's hard to tell who usually becomes more nervous during the brushing sessions.
But, at least it looks cute!
3. Short Cut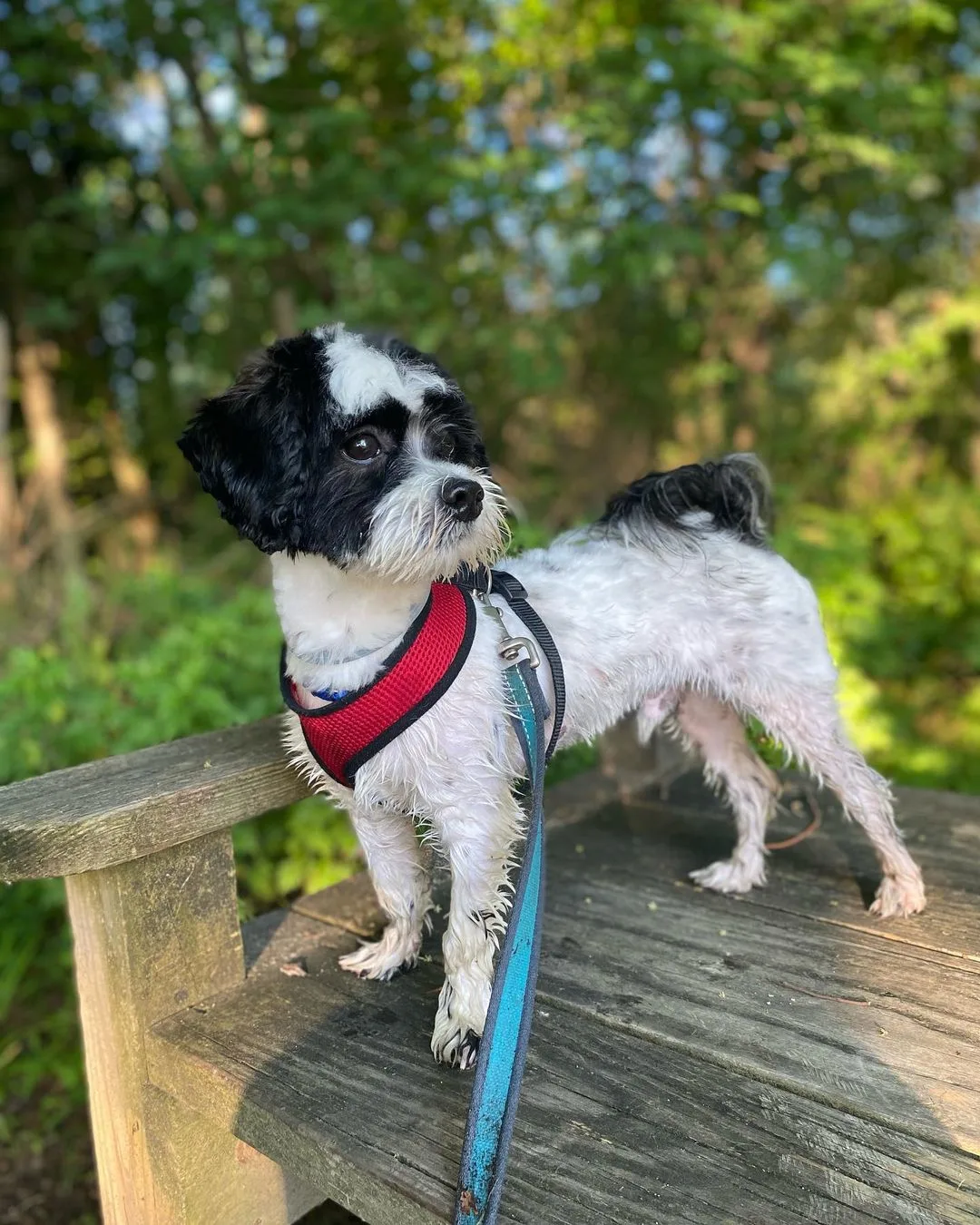 This is the perfect cut for those groomers and dogs who are really not fond of lengthy hair. A practical trim is just what they need, without any thinking about which parts should be longer and which ones should stay at shorter lengths.
Sometimes, it's nice to keep things as simple as possible, with no need of thinking about it too much.
However, with the Short Cut, you won't actually be able to make different hairstyles for your pup as there will not be enough hair.
But, if you care more about the practicality and the health of your pup's coat, you'll probably go with this type of haircut.
4. Basket Case
This is an adorable haircut for Shih Poo puppies, and it can be even sweeter if you put the pup in an actual basket, at least for a short photo shoot.
The main point of this haircut is to trim the excess hair around the eyes and muzzle while leaving the majority of the coat untouched or just a little bit trimmed, so the pup doesn't look like it's neglected.
5. Too Adorable
This puppy look enhances all of the best physical features of Shih Poos, including their small muzzle, cute ears, and tiny body.
Shih Poos usually resemble both parent breeds, but when it comes to the colors of their coat, they can usually be found in Shih Tzu shades such as blue, black, white, brindle, black and white, silver, etc.
This type of hairstyle enhances the beauty of these coat hues, and makes the Shih Poo's appearance even more striking.
No part of the body is fully covered in longer length with the Shih Poo's coat, but they're not completely cut to the point that you can see the skin.
6. Lamb Haircut
The lamb trim is a type of Shih-Poo dog haircut that is typically given to dogs that resemble Poodles more than Shih Tzus.
The area around the paws is usually kept at longer lengths, and the tail keeps that high, curly-crown look instead of being chopped.
Hair can be kept shorter inside the ears to prevent any knots and possible ear infections while the hindquarter's area can be trimmed only if necessary.
I have to admit this is one of my favorite hairstyles as the pups look adorable with all the fluff on their body and on the top of their hair.
7. Shih Poo Bow Hairstyle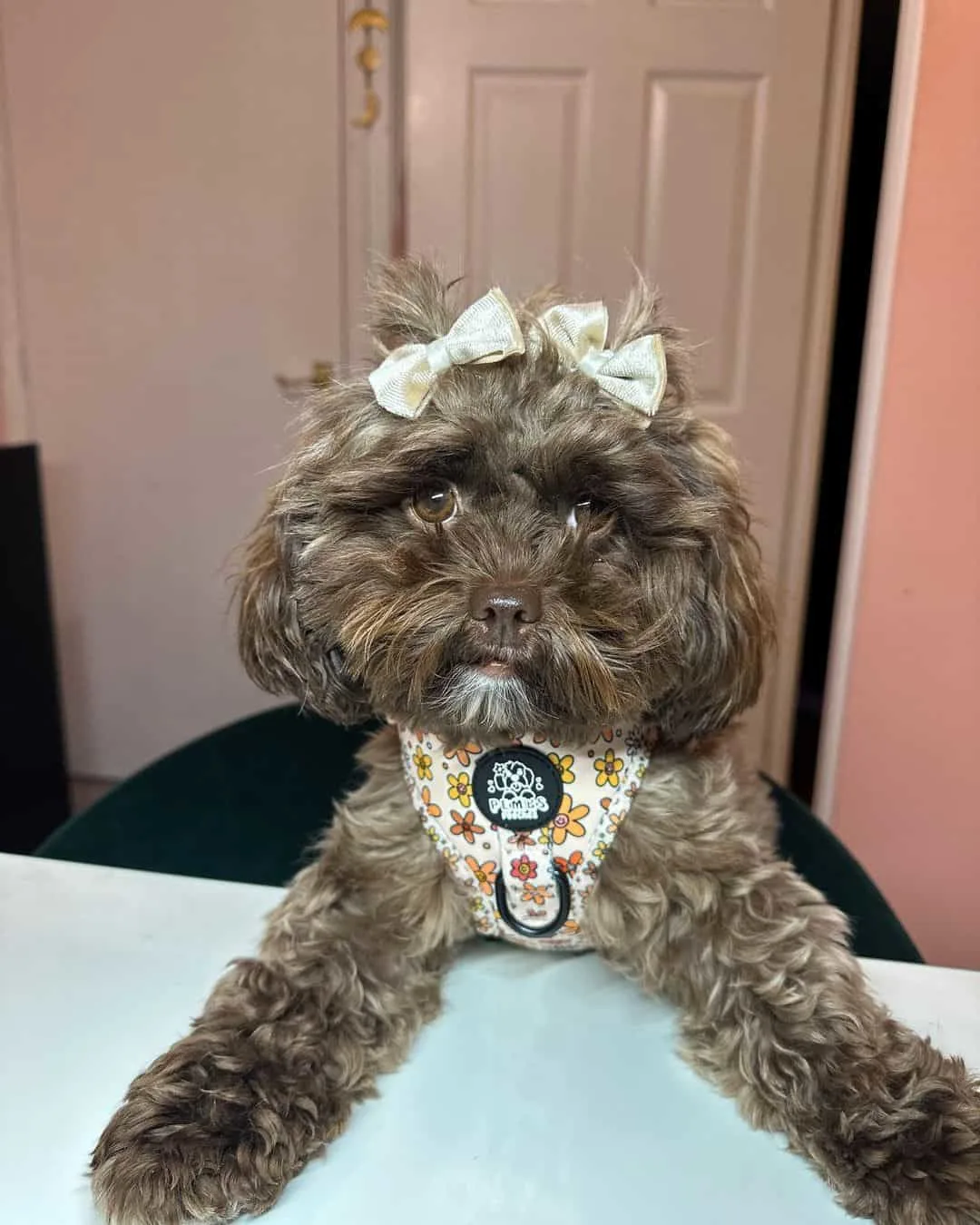 As we're talking about adorable Shih Poos, it's impossible to skip the ones that have hair long enough to decorate them with bows.
This breed of hybrid dog is lovely for many reasons, including its small size. People's fondness for dressing them up by perching cute bows on top of their head is perhaps one of the most widespread motivations for this practice.
8. Tiny Grooming Shih Poo Haircut
Even as young puppies, dogs of this breed need to have their hair trimmed, particularly in the area between their paws where it may quickly become tangled.
Additionally, because you do not want fluids and feces to remain in the area, we strongly advise that you trim your dog's upper leg area as soon as possible.
9. White Coat Trim
After roughly eight to ten weeks of their life, it is necessary to start grooming pet pups. Be careful to cut the tangles all around their ears, claws, belly, and tail, as well as around the crotch area, and clip it all so that it stays purely white.
Additionally, because this breed is prone to tearing, which leaves stains on the coat, the fur below and around the eyes has to be trimmed.
White color is quite sensitive, and it stains easily, so it has quite an impact on the pup's appearance. In order to avoid it, it would be better to cut all of the stained parts every now and then.
10. Teddy Bear Cut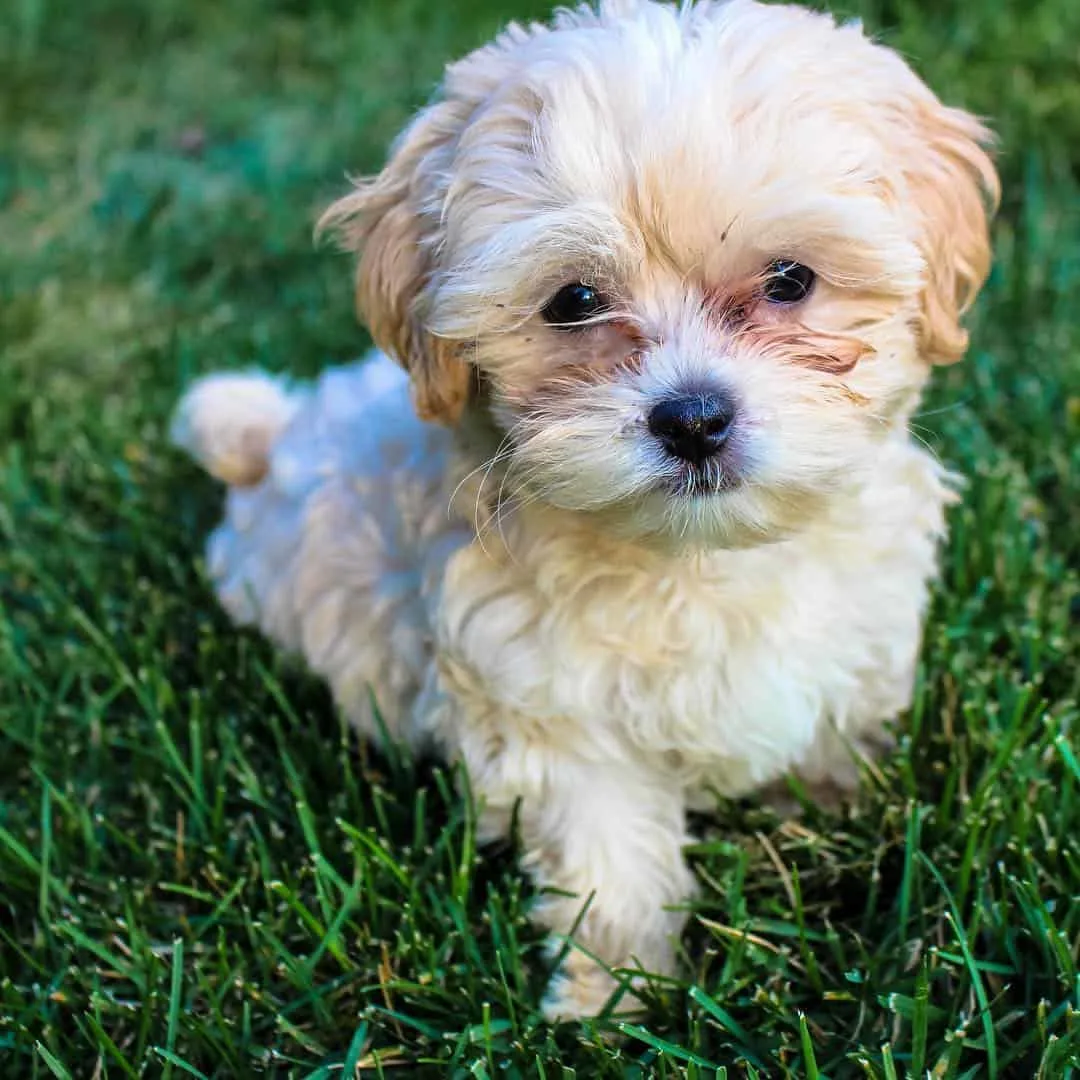 The Teddy Bear cut involves shortening the locks all over to the length of around half an inch to three-quarters of an inch.
The tail is shaved, the ears and facial trimmings are clipped, and the feet are meticulously cut into a round or curved form.
In order to get the appearance of a rounded, soft toy pup, the hair on the face of the puppy is fluffed out.
This haircut gets rid of the chunkiness of hair in a great manner, which can improve your pet's mobility. It is also a practical and useful style for energetic canines, such as those that like to play with their doggie buddies outside.
The Teddy Bear cut, much like other short haircuts, is an excellent choice for you if your canine companion is susceptible to developing mats and knots, and it may also save you a significant amount of time when it comes to grooming their coat.
RELATED: 27 Teddy Bear Dogs: Tender Hearts You Will Love A Lot
11. Shih Poo Modern Cut
The Shih Poo Contemporary Cut is one of the most well-liked haircuts for Shih Poos. This style pays homage to the Shih Poo's Poodle ancestry since it is also a popular cut for Poodles, especially show dogs.
The Contemporary Cut is also sometimes referred to as the Scandinavian Trim or the European Cut.
Your dog's inherent characteristics will shine through when you get him a Contemporary Cut that follows the contours of its body and draws attention to its best qualities.
In most cases, the puppy will have a highly fluffy appearance all throughout, but the head and the tail are kept longer so that they have more volume.
12. Summer Cut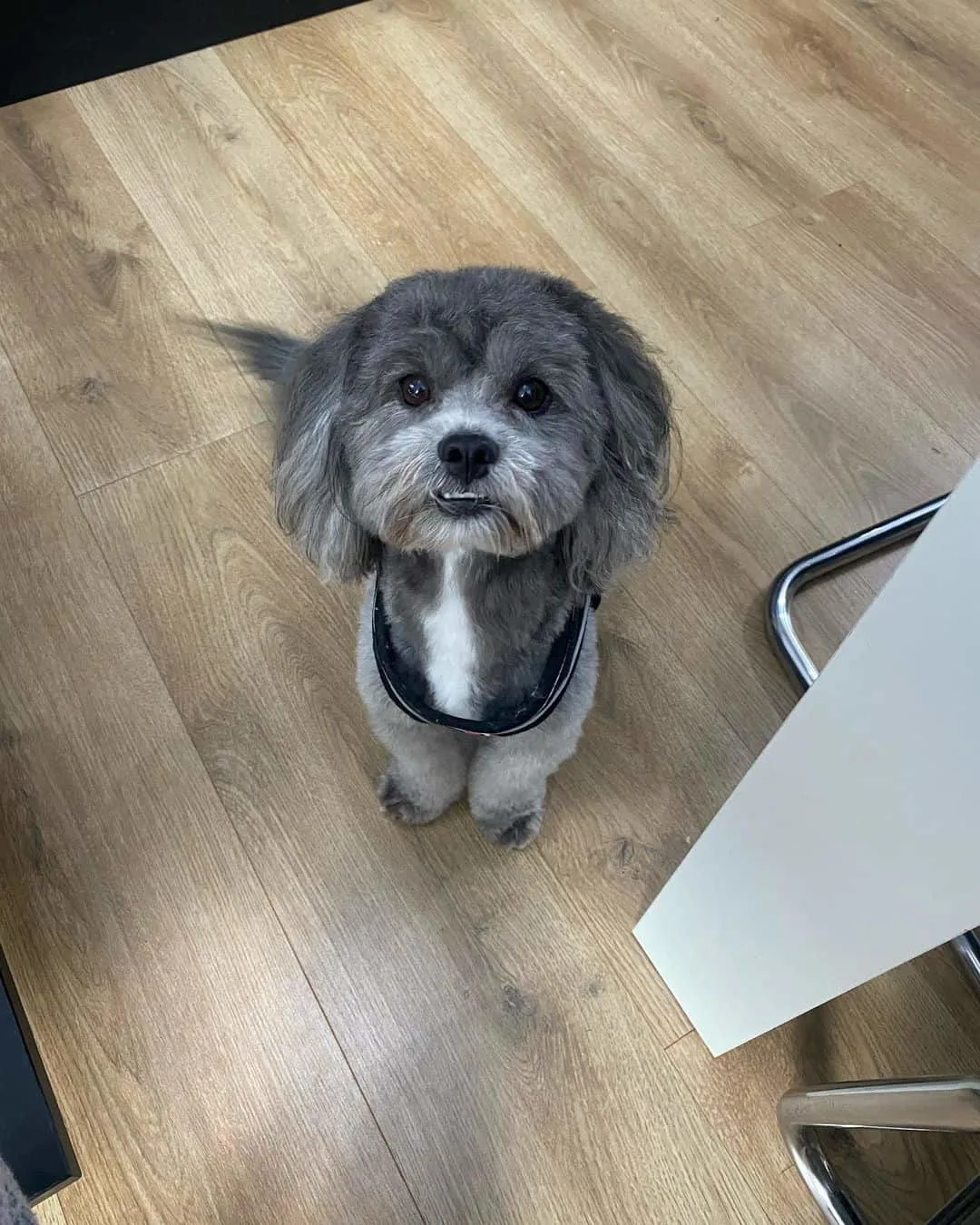 You may need to adjust the cut for the warmer months depending on the type of fur that your little friend has.
You should make sure to regularly brush its tail in order to maintain its magnificent length while cutting out all of the parts that get the most heat during hot weather.
Another reason for getting this type of cut is that the fur tangles fast, particularly if the dog wanders in thick grass or brushes against stinging nettles in a park or back yard (which usually happens during spring and summer).
This type of haircut is also popular in their purebred parents – both Shih Tzus and Poodles.
13. Summer Cut with Bandana
To get an even length throughout the coat, use a trimming machine equipped with clippers to work on the back, chest, legs, crotch, and thighs.
In addition, if you notice any tangles in the armpits, you should remove them since your dog will experience discomfort if they are there. This area is highly sensitive.
This is definitely an adorable cut that will steal the hearts of many dog enthusiasts, especially those who love small breeds such as Shih Poos, Shih Tzus, Yorkies, Maltese, mini Poodles, and others.
14. Straight Hair Cut
If your dog appears to have straighter hair than Poodles, it will not be difficult for you to clip its hair at home.
Employ the same pair of clippers for all of the body. Remember to trim the hair that's below the pup's chin as well in order to get that rounded face look, which will make your Shih Poo furbaby even more adorable.
Make use of the scissors to clip off any portion of hair that you missed the first time around.
15. Medium Shih Poo Haircut
Frequently clipping and brushing your dog's fur is one of the most effective strategies for maintaining the cleanliness and healthy fur of your pet.
To properly care for your furry companion in the comfort of your own home, invest in a grooming kit designed specifically for canines of a smaller size.
However, if you don't feel confident doing the trimming on your own, you may always seek the assistance of a professional.
16. Winter Cut
If there's a summer cut, there is a high chance that a winter cut will be needed as well.
It's important to give your dog a haircut even in the winter, so that its fur stays clean. If it has to be somewhere around a quarter inch during the summer, then the coat has to be longer and warmer during the winter months.
During the method of clipping the dog's nails, we strongly suggest that you get the assistance of another person who can help you hold the dog still while you work.
If you're not sure whether you'll be able to keep your pup still during the trimming, you might consider taking it to a professional groomer, at least for the first few times until you're able to try it by yourself.
17. Long Coat Hairstyle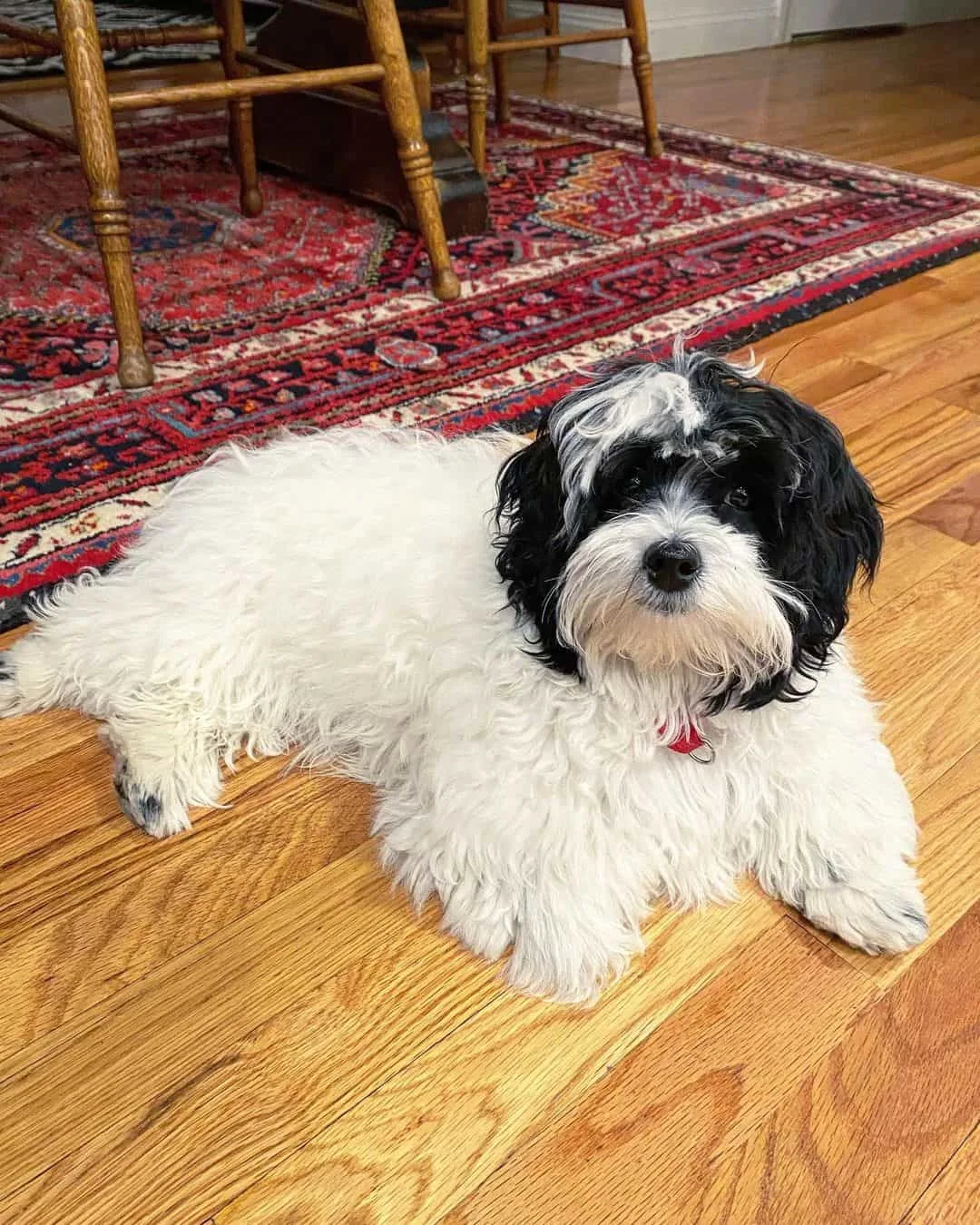 This type of pup is often considered a rebel among pups that have said "no" to trims and cuts.
This type of hairstyle is perfect for winter as it'll keep the pup warm even during the coldest weather. However, it's also important to say that it can get really complicated during regular grooming sessions, especially if you don't have a suitable grooming kit.
Fortunately enough, both Poodles and Shih Tzus are usually bathed every three to four weeks, and the same can be applied to Shih Poos.
Regular bathing can prevent matting and tangling in a great manner, especially if you use a high-quality shampoo and conditioner.
18. Lion Cut
The lion cut is unquestionably one of the more adventurous haircuts that can be done on a Shih Poo. To be successful in this endeavor, your pup and you must have a huge and bold personality. To our good fortune, the Shih Tzu is up to the challenge, and I'm sure you are as well.
The Lion Cut, as you may already imagine, will give your Doodle an appearance that is quite reminiscent of a lion.
The Lion Cut is characterized by shortening the hair on the body, with the exception of the neck, chest, head, and paws, where the hair is kept longer.
Pom poms can also be left on the ends of the paws and the tail of the animal. Because the hair on the body is maintained at such a short length, it is quite simple to take care of.
However, you should make it a habit to regularly brush the coat in order to remove any tangles and filth that may have accumulated.
19. Scissor Face Cut
The use of clippers is strongly suggested for the area around the face, and the muzzle should be sculpted.
When cutting the top, use the machine and cut in the same direction as the hair grows.
If you do it the other way around, you will end up with those unsightly disparities in levels of hair on its head, which will make your dog's haircut appear like it was done by a novice.
20. Curly Medium Cut
If you want the hair on top to mix in with the long hair behind the ears, you shouldn't use the cutting tool on the hairline.
Create a fading effect by giving the top of the head a small cut while also raising the ears and making sure you're keeping the same length on both sides of the cheeks.
This type of look resembles a Teddy Bear cut a bit, but with its own twist.
21. Shih Poo Practical Topknot
This Shih Poo hairstyle was designed with functionality in mind, thanks to its Shih Tzu ancestry.
When they have longer facial hair, Shih Poos look quite stunning. When, on the other hand, it starts to stick in your pet's eyes or mouth, or if it appears to be getting in its line of sight, this may become quite a bother.
The straightforward solution to that problem is a braided bun.
After combing through the pup's hair, just gather it into a ponytail and softly draw it back.
If you want to keep the topknot in place, you may either use a pin or a bow. This way, your Doodle will come along with a great hair ornament as a special extra, and won't have any hair in their way.
22. Bundles
The Topknot hairdo can also be done in the form of bundles. You won't believe how adorable your doggie can look until you try out this hairstyle. You will also be surprised by how simple it is to achieve this effect at home.
All that is required of you is to give the dog's head hair a good brushing and then collect it into two neat bundles. Attach the ribbons or pins to the hair so that it stays in place.
23. Haircut for Senior Shih-Poos
Who says that mature pups shouldn't have a nice haircut style as well? Just because they're older doesn't mean they don't deserve a decent dog look as well.
Any person who has a Shih Poo should make it a regular habit to maintain the dog's physical appearance and keep its hair in good form, even in their senior years.
If you intend to do the cut in the comfort of your own home, we highly advise that you get yourself prepared as you're going to perform surgery.
Bring along a trimmer that not only trims, but also cleanses, styles, and brushes hair to perfection.
What Are The Essential Dog Grooming Tools For Shih Poos?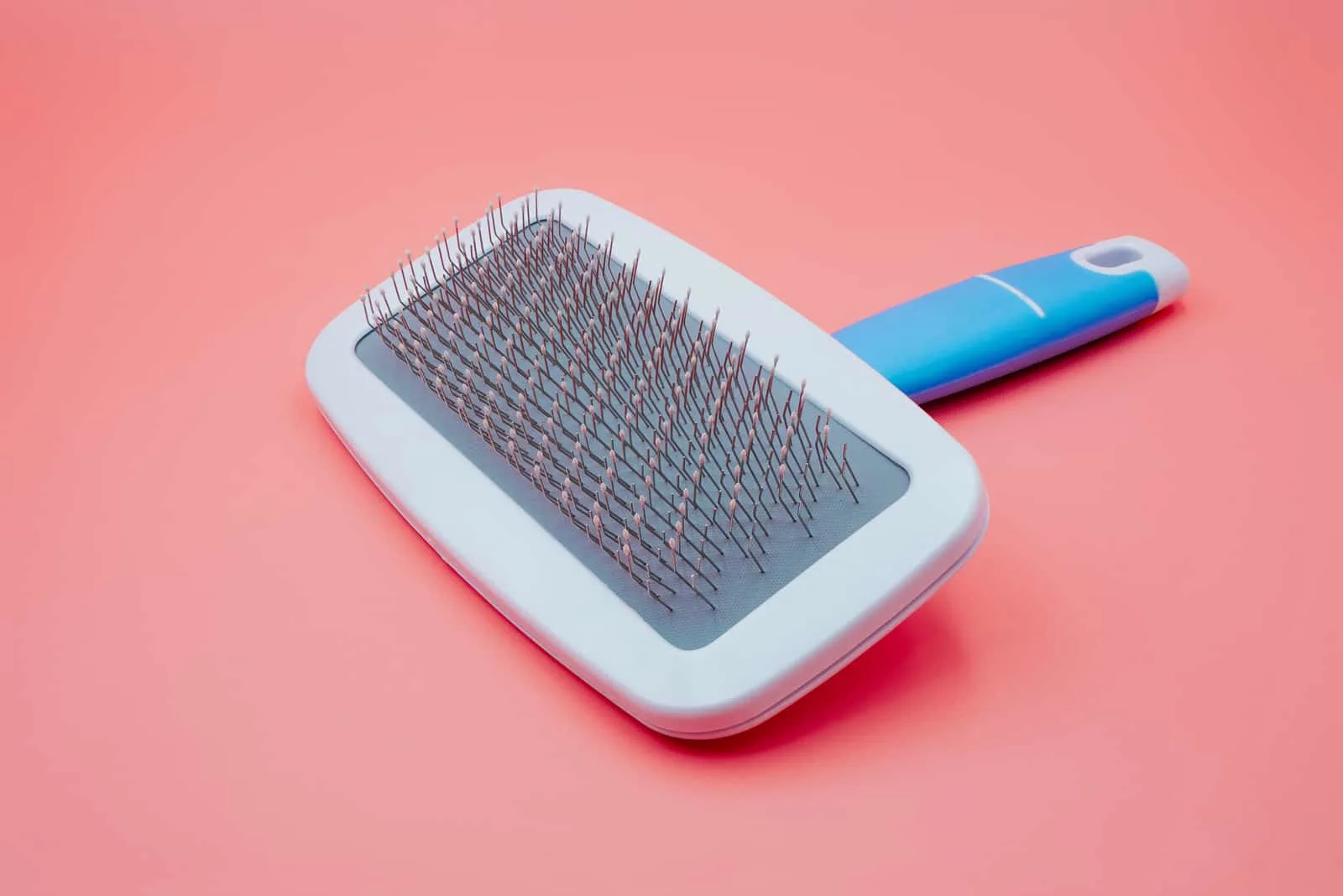 If you want to groom your cute Shih Poo at home, there are certain tools you need to own before you can even think of grooming your pup.
Dog groomers usually have professional sets of tools that cost a lot of money, but you'll be just fine with a regular kit that includes:
• A Comb
• Scissors
• A Brush
• A Dog Clipper
• Detangling Spray
• Dog Shears
• Nail Clipper
• Ear Cleaning Tools
• Shampoo And Conditioner
How Do You Use These Tools?
Some of these tools might not seem easy to handle, especially with small dog breeds like Shih Poos, Maltese, Shih Tzus, and other pups.
However, with time, you'll notice that you will be getting better with both the scissors and the clippers until you become a true master!
You can ask your dog groomer to show you some basic grooming tools and the way that they use them.
Of course, today, there are plenty of online tutorials as well, which might be of great help in the DIY maintenance of your dog's hair.
How Often Should You Groom Your Pet?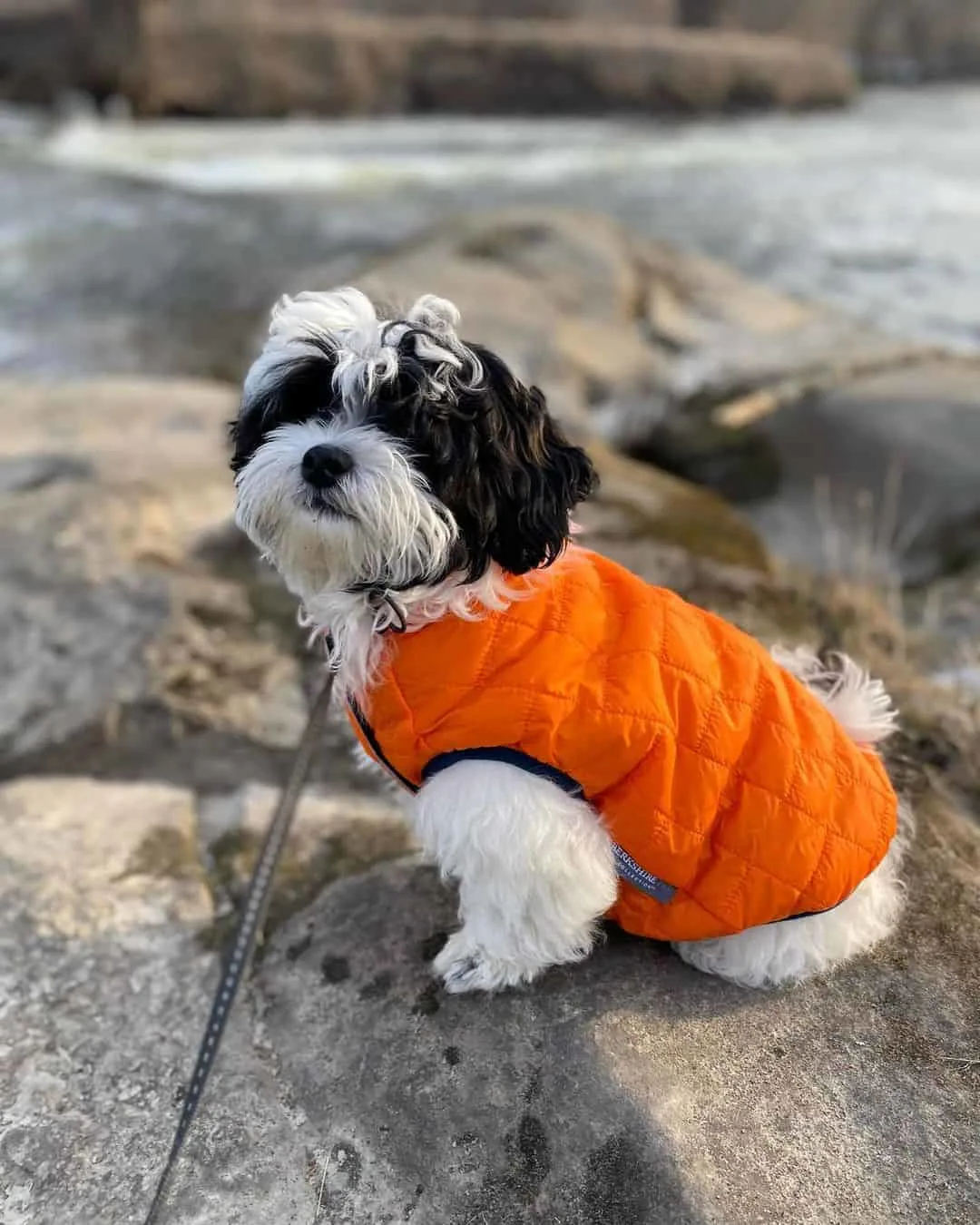 As was said previously, it takes a lot of time and work to keep the Shih Poo coat in good condition and to maintain its beautiful appearance.
When there are a lot of different factors to take into consideration, it might be difficult to maintain your Shih Poo's regular grooming routine.
However, if you organize your time well, you won't have any issue maintaining your dog's body hair on a daily basis (although most of the work doesn't have to be done every day).
Your pet will probably inherit a thick dog coat, no matter which parent breed has more dominant genes. That is why it's recommendable to brush out your pet's fur at least once every day or up to four times a week (although the first option would be ideal).
When it comes to hair trimming and bathing, it can be done in a range of one to two months depending on how dirty the coat has become.
Fortunately enough, both Poodles and Shih Tzus are hypoallergenic, so there are high chances that your Shih Poo won't shed much, and you won't have to vacuum your house several times a day!
Wrapping Up
There are so many amazing Shih Poo haircuts that it's very difficult to choose only one for those adorable pups with Teddy-Bear looks.
You can choose the hairstyle for your pup based on the hair length it currently has or make a cut to get the haircut you want.
The best thing about Shih Poos is that even if you don't like the haircut you gave, you only need to wait a few weeks until the hair grows back.
However, with a little bit of help from an online tutorial or a groomer, I'm sure your little furry buddy will look awesome!
READ NEXT:
Poodle Colors: 35 Poodle Coat Colors And Genetics Explained
Busting The Myth: Male Vs. Female Shih Tzu