Seeing the Rottweiler Dachshund Mix in public is not a frequent phenomenon. However, this mixed breed is becoming more and more popular in the United States.
The biggest dilemma that dog owners may have is whether these canines are good family dogs or not. Well, to be honest, there is no universal answer to this question as a good part of their character depends on the owner.
However, there are things that might help you decide whether the Dachsweiler puppy is or isn't the dog for you.
One thing is for sure – this dog has a unique character that derives from its purebred ancestors. Having one in your home will be long-term fun.
What Is The Rottweiler Dachshund Mix?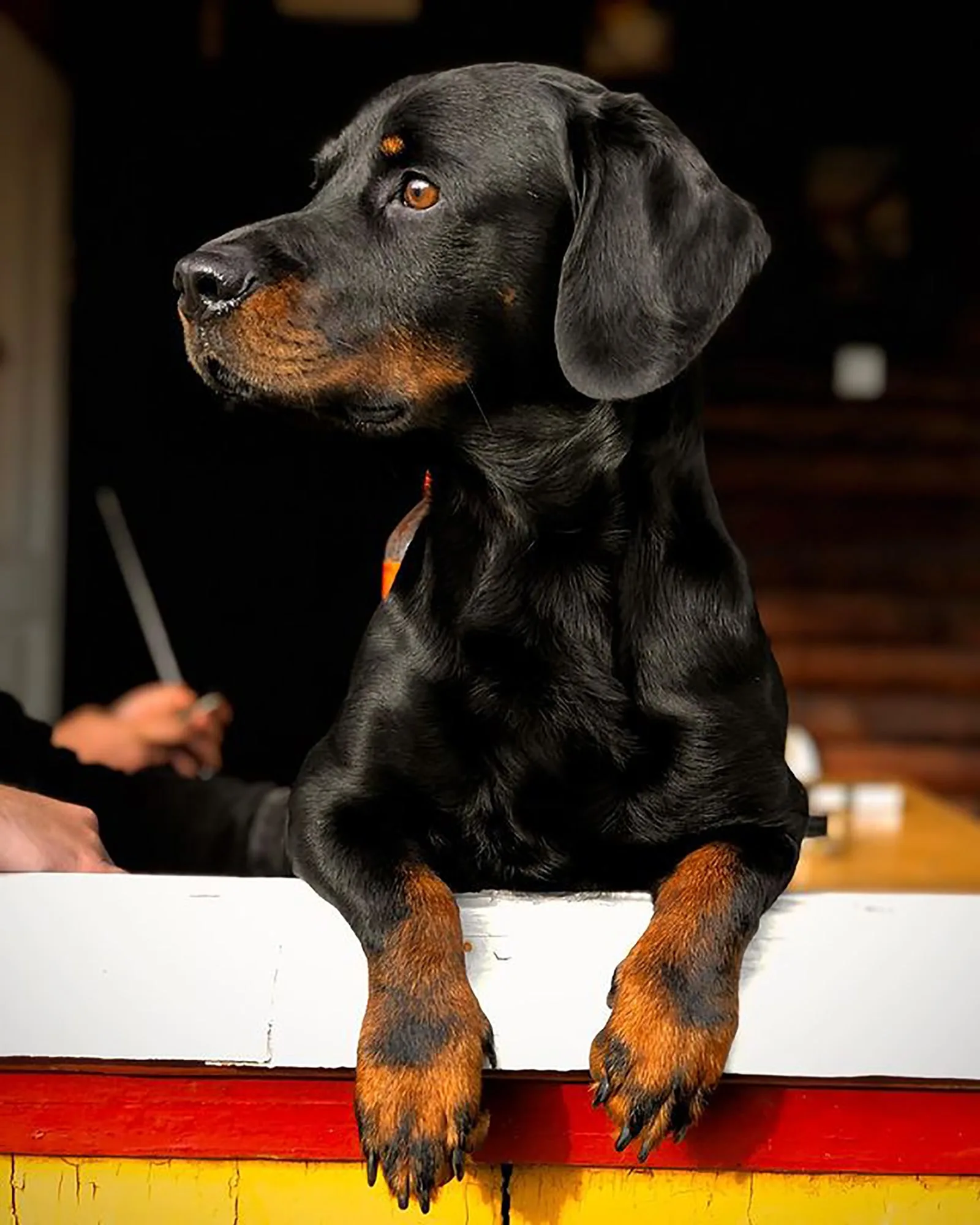 To start off, it is essential to say that this mix has two very dominant parent breeds – a Rottweiler and a Dachshund. This mixed breed appears as a very good, reliable, and playful successor of these two dogs.
Still, the breed is not recommended for first-time dog owners as both Rottweilers and Dachshunds have stubborn behavior at times. You will need a lot of patience, hard work, and commitment in order to socialize and train your Dachsweiler puppy.
However, this is a very intelligent dog if we take into consideration that both of its parents perfect their skills easily. This is especially related to Rotties as these dogs are long-time police officers as well as law-enforcement dogs.
Even though none of its parents are among the healthiest dog breeds in the world, Dachsweilers are pretty healthy as they live up to 16 years. In respect to other family dogs, this breed is much easier to maintain as they don't face many health issues.
Still, the Rottweiler Dachshund mix requires regular vet checkups as well as proper feeding and proper exercising. This is not a dog for lazy families, nor is it a dog that loves spending all of its time indoors.
These doggies love outdoor activities as both of its parents are considered to be very active dog breeds.
What Two Dog Breeds Make The Rottweiler Dachshund Mix?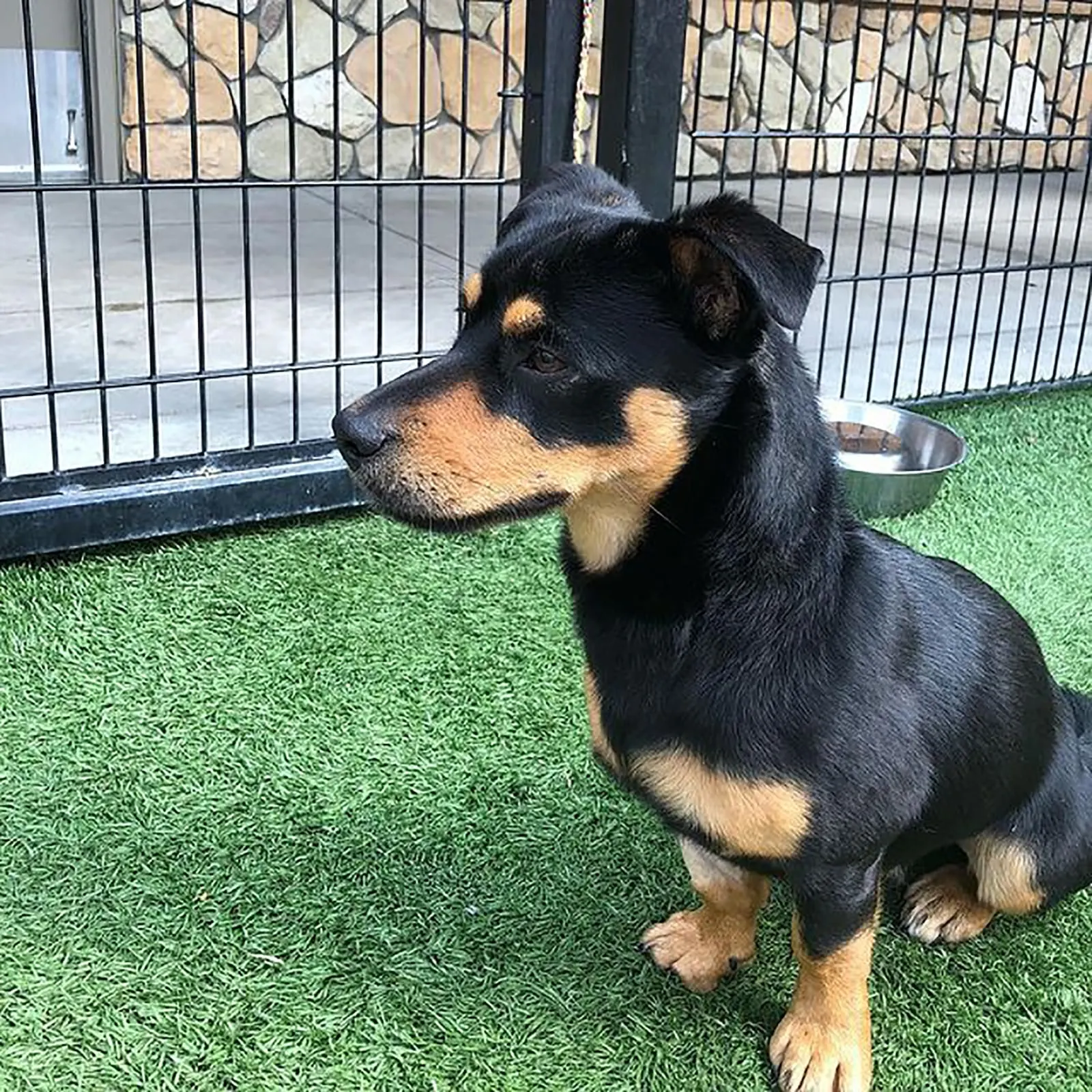 In order to get to know the Dachsweiler in detail, we need to dig into its parent breeds' history first.
Every Dachsweiler puppy has relative traits as their bloodline may vary from litter to litter. We cannot find the universal formula for all Dachsweiler puppies as they differ based on bloodline.
However, we can predict their behavior and traits based on their parents' general traits.
Both Rotties and Doxies have a unique nature. The first ones are often misperceived by many dog enthusiasts as they are seen as an aggressive dog breed. However, the truth is that Rottweiler puppies are excellent family dogs when socialized.
Rottie puppies have multiple purposes as they have been watchdogs, property guardians, police dogs, and family dogs throughout history. Their strong and intimidating look makes them appear violent, which is not the case with socialized puppies.
On the other hand, Doxie puppies have a more friendly look as they are significantly smaller than Rottweiler dogs. Still, this breed is known to be a hunting dog as they were initially used in Germany for hunting badgers.
The Dachshund Rottweiler Mix can have a very unpredictable nature, which is why it is highly essential to socialize and obedience train these puppies from an early age.
One thing is for sure – this crossbreed is definitely a loyal family dog that won't hurt anyone as long as it is properly trained.
Rottweiler
Rotties have a long-term history of being an AKC-recognized dog breed as they were accepted in 1931. The breed dates back to Roman times. It is believed that these strong puppies have been used as cattle dogs.
Just like Mastiffs, these canines are magnificent in their look and strength.
Considering its strength and athletic body physique, we can say with certainty that this is one of the strongest dogs in the world. Rottweiler breeders always emphasize the importance of early socialization training in Rottie dogs.
Given their exquisite strength, these canines can easily hurt smaller dogs or children. They were used to rough play, which is why Rotties aren't the best solution for families with small kids.
Still, properly socialized and obedience-trained Rotties can be very good with children. Some of them are actually pretty good nannies.
These canines stand up to 27 inches in height, and their weight revolves between 95 and 135 pounds. If we compare this breed with other large dog breeds, we will see how Rotties are actually standing between XL and medium-large dog breeds.
There are three basic colors in these canines: black and mahogany, black and rust, and black and tan. These canines have a smooth, short coat type, which makes it easy to groom. They are moderate shedders, which means weekly brushing will be perfectly fine.
Rotties require a proper feeding chart. Raw food is fine as long as it is given in reasonable amounts. These canines have a tendency to develop bloat, which is a pretty serious issue, especially if not treated timely.
The average lifespan of this pure breed is 9 to 10 years.
Dachshund
The fact that Dachshunds are much smaller than Rotties doesn't make this breed less exciting. In fact, if you own a Doxie, you probably own one of the loudest dogs in the world.
These canines have a long body, which is why their chest is much bigger than in other small dog breeds. That's why their barking is strong, loud, and resembles that of a large dog.
There was a huge decrease in popularity of Doxie puppies after the first World War. However, their movement to the soil of the United States has made them reestablish their well-known reputation.
Doxie puppies are somewhere between 8 and 9 inches tall. Their average weight revolves between 16 and 32 pounds. There are two basic versions of this puppy – standard and medium.
Their coat has three different variants – wirehaired, smooth, and long-haired. Still, their grooming is low-maintenance.
Due to its short legs and long body, these canines have been known as ''weiner dogs'' all over the world. However, their physical look is not as funny as it appears as these canines require proper training and carefully-monitored exercise.
Jumping is not recommended in a Doxie's exercise routine as they can develop IVDD (intervertebral disc disease). This is a pretty serious issue that requires immediate vet intervention and treatment.
Other than this, Doxie puppies are pretty healthy, and they easily reach up to 16 years in age.
When it comes to their trainability, we can say that these puppies are not the easiest dogs to potty train. Even though they are highly intelligent, Dachshund puppies can be pretty stubborn at times. They require firm leadership and an experienced owner.
Once you socialize and obedience-train your Doxie puppy, it can be a very friendly dog, even towards strangers. Its level of adaptability is pretty high, which means these dogs are perfect for apartment living.
Read More: How To Potty Train Dachshund Dog Breed: Explained
What Is The History Of This Designer Dog?
The history of this designer dog is still vague as we don't have the exact birth date of a Rottweiler Dachshund mix.
However, it is believed that these canines have been designed for family purposes. The idea of breeders was to design a slightly bigger Dachshund version for families with small kids.
Both male and female Dachshund puppies of standard and medium size are pretty vulnerable and can get easily hurt.
Once they are mixed with a Rottweiler, they make significantly stronger dogs with better body physique.
These mixed-breed dogs are perfect for sporting people and people who enjoy spending time outdoors. They have good stamina, which means long hikes or exhausting road trips won't be a problem for these canines.
This hybrid dog can be a good, reliable family dog as both Doxies and Rotties have been among families for a very long time. They are loyal, protective, and affectionate towards their owner. Still, considering the nature of both parents, this dog needs socialization.
If you're an inexperienced dog owner, but you're still irreversibly in love with this dog breed, then look for advice from professional dog behaviorists and dog trainers.
The Dachsweiler's Physical Appearance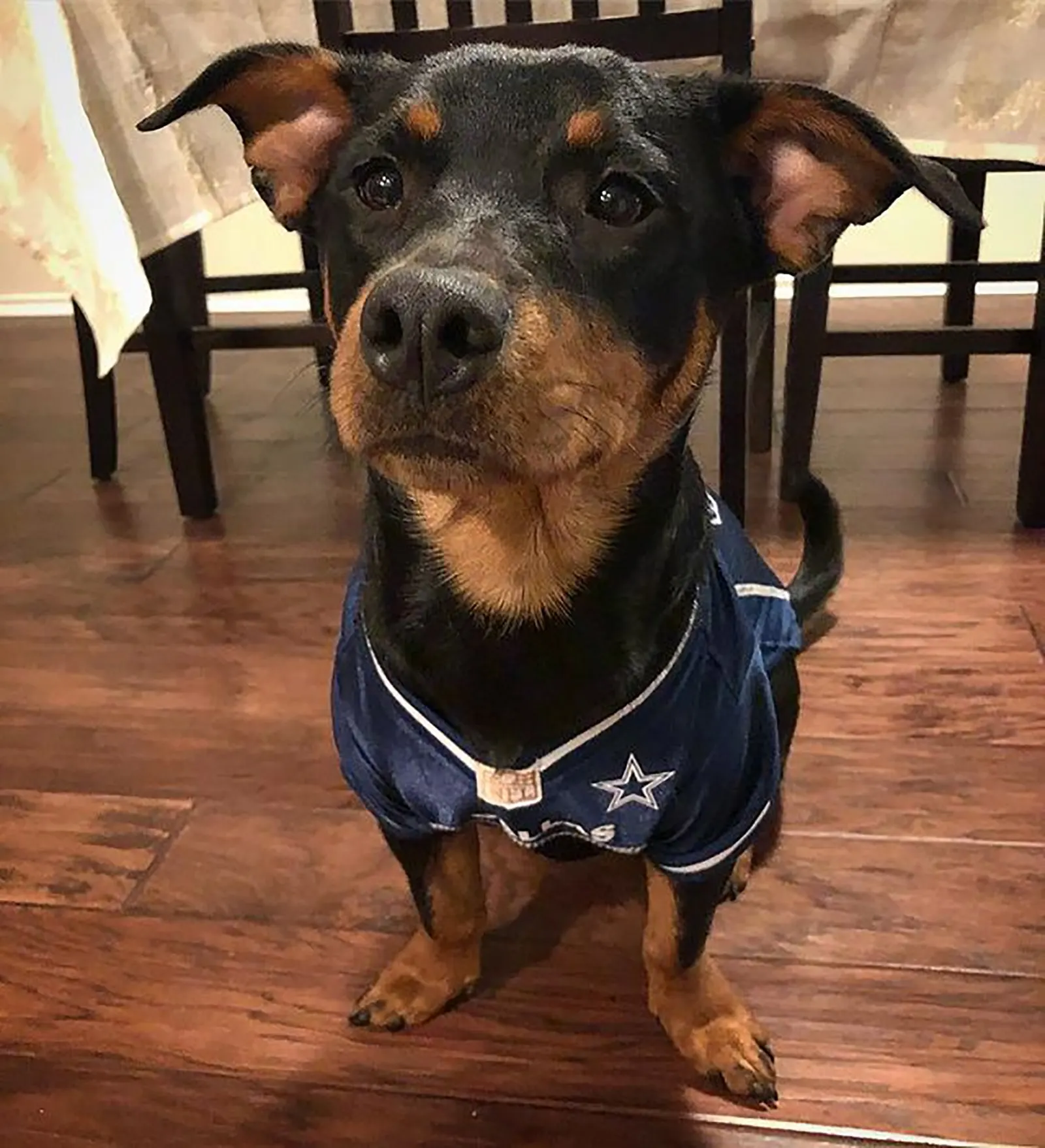 Now, the physical appearance of a Dachshund Rottweiler Mix is a pretty debatable subject. That's because the look of these canines varies and depends on the bloodline. Even two littermates can look differently as one can be slightly larger than the other.
Generally, Doxie Rotties have the head and body of a Rottweiler puppy. This means they will be solidly-built and strong by default. However, this hybrid dog will have shorter legs, just like its Dachshund parent.
Its coat is short to medium-long, and it can either be smooth or wiry.
There are different variants of the Doxie Rottie Mix when it comes to size. That's why we cannot predict their overall look until they reach at least eight weeks of age.
However, regardless of their size, these canines are eager to play, which means their exercise needs will remain the same.
They generally need one to two hours of exercise during the day. Puppies that don't receive the proper amount of exercise may be self-destructive and frustrated.
The usage of dog training collars is a good option for a Rottweiler Dachshund Mix puppy.
Also, overfeeding a Dacshweiler is not an option. Both of its dog parents have a tendency to gain weight, which is why the establishment of a proper feeding chart for your hybrid pet is highly recommended.
Size
When it comes to size, these hybrid dogs generally go from 30 to 100 pounds in weight. On the other hand, their height revolves between 12 and 24 inches.
The fact that Doxie Rottie puppies can weigh either 30 or 100 pounds tells us that there is no exact rule when it comes to their physical appearance.
However, puppies that have more than 70 percent of the Rottweiler's DNA tend to follow the Rottweiler growth chart. Still, many Doxie mixes keep their parents' floppy ears and short legs, which makes them susceptible to IVDD.
Taking care of your puppy's feeding chart is essential as obesity doesn't do a favor to this hybrid dog. Obese puppies are more prone to injuries. Short legs and a long back in your dog will also mean that you need to adapt the training routine and avoid excessive jumping.
Even the tallest Doxie mixes have a tendency to develop intervertebral disc disease, which is why you should consider lighter activities, such as walks or hikes to be your first option.
Coat Type And Coat Color
Just like their parents, these dogs can also have a short to medium-long coat. It revolves from a wiry to a smooth coat variant. These puppies are low-maintenance when it comes to grooming as they don't need more than a weekly brushing.
Still, puppies that go out a lot will need an occasional bath. Typically, these dogs need a bath every two or three months.
If you're wondering if these canines are hypoallergenic, the truth is – they are not! Generally, neither Doxies nor Rotties are hypoallergenic dogs.
If you or some of your family members suffer from severe dog allergies, the recommendation is to look for a dog with a hypoallergenic coat. In fact, Poodles are a great option in that regard!
When it comes to coat colors, these canines usually come in a bi-color variant, just like their Rottie parents. Rottweiler colors are generally represented in this mix, even though there may be some Rottie Doxies that have Dachshund color variants such as merle, cream, or fawn.
Temperament Of The Rottweiler Dachshund Mix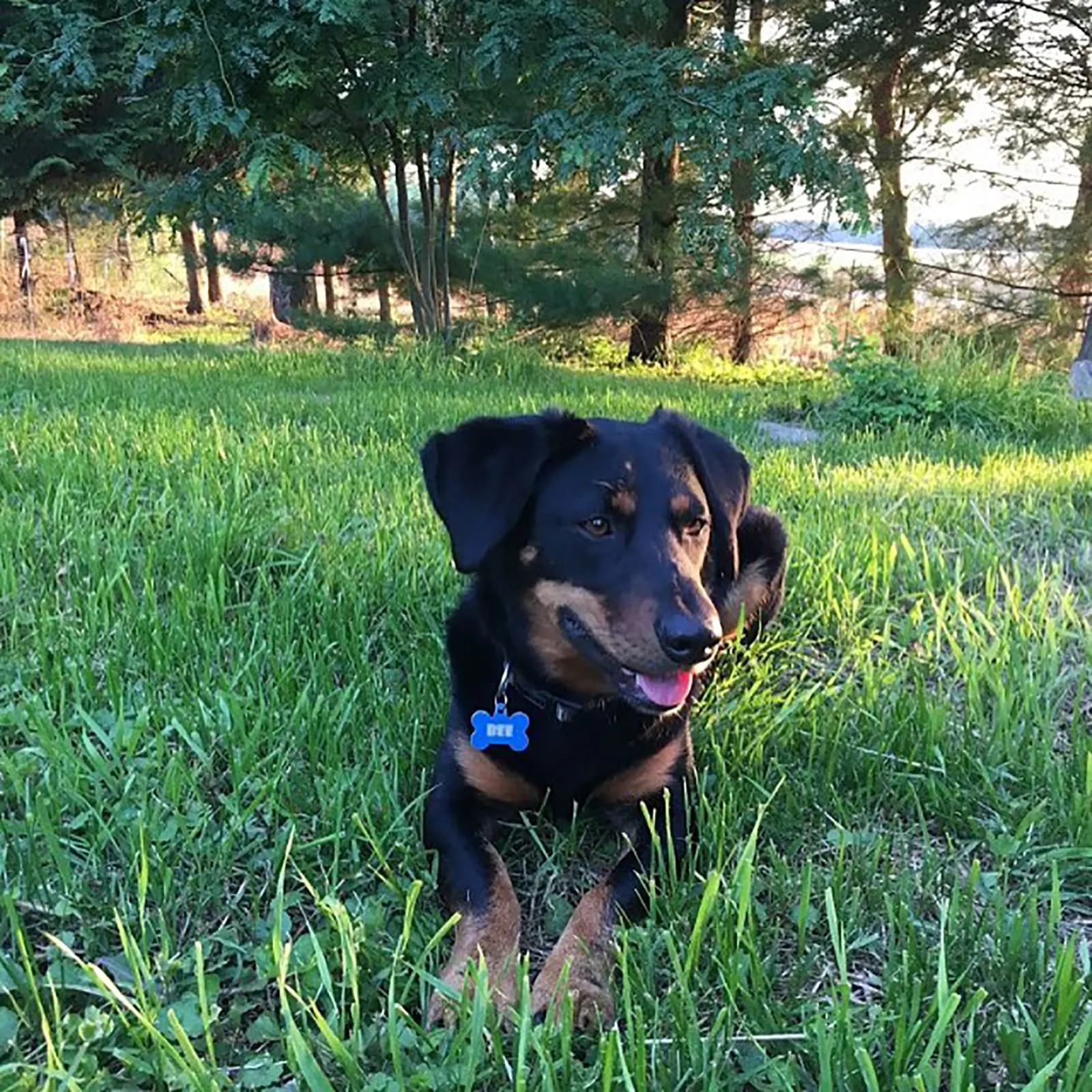 Temperament is a pretty debatable issue in these canines, too. There is an ongoing dilemma called ''Are Rottweilers good with kids?'' This is because Rottie puppies have a pretty bad reputation among inexperienced dog owners and dog enthusiasts.
Unfortunately, the same goes for this Rottie Mix. There is a rumor that these canines are not exactly the friendliest dogs in the world. However, the truth is that all dogs need a certain dose of socialization in order to become friendly.
The same goes for these canines. In fact, being friendly to strangers isn't exactly what you seek in a guard dog or a working dog, and Rotties are most certainly designed for guardian services.
Still, Rottweilers are more recommended for families with small kids than their counterparts – Doxies. This is because Doxie puppies have a pretty vulnerable body physique, which is not exactly what you would seek for a family with small kids.
Generally, these canines are loyal, affectionate, and easily attached to their family members. Still, this Dachshund-Rottweiler breed can be pretty stubborn at times, even though the dogs are extremely intelligent.
Having them around small animals is not the best option as their Dachshund descent has made them badger dogs, too. This means they are highly unfriendly towards cats, birds, rabbits, and other small pets.
Socialization
Socializing this hybrid dog requires deep commitment. The best way to do this is if you start from an early age. Canines at six to eight weeks of age are mature enough to start learning dog manners.
The usage of positive reinforcement tools, such as healthy snacks or interactive dog toys is a great way to mentally stimulate your puppy. All Rottie mixes require early socialization, especially if you plan on keeping these puppies inside a house.
The same goes for Dachshund mixes, though. In fact, there is a high possibility that a Rottie will adapt better among smaller pets than a Doxie. However, having a Rottie next to your other dogs is not exactly the smartest option.
Neither Rottweilers nor their offspring stand the idea of sharing a house with other dogs. That's just who they are.
Further advice that I can give you is to always walk your puppy on a leash. Even the most socialized Dachsweilers can display undesired behavior in the company of other dogs.
That's why letting a Dachsweiler puppy run in a dog park without supervision is not the best option.
Are Dachsweilers Good Family Dogs
To be short and to the point – yes, these canines are good family dogs.
However, they require early obedience training, as well as early socialization. All Rottweiler mix puppies need proper leadership. These are dominant dogs, which means they need to realize you're the pack leader.
These dogs are not exactly qualified among the best family dog breeds in the world such as Golden Retrievers, Labs, or German Shepherds. However, they can be pretty good human companions as they like common activities such as long walks, frisbee fetching, hunting, and hiking.
In case you enjoy cuddling or staying at home most of the time – don't adopt or buy this dog. This puppy prefers sporting families or families who love engaging in various outdoor activities.
One of the most important things that you need to do when choosing a Dachsweiler puppy is to choose a reputable breeder. Reputable breeders will make sure you get a well-trained and properly-socialized puppy from the start.
Otherwise, socializing a disobedient dog can be a pretty painful experience.
Aggressive Or Not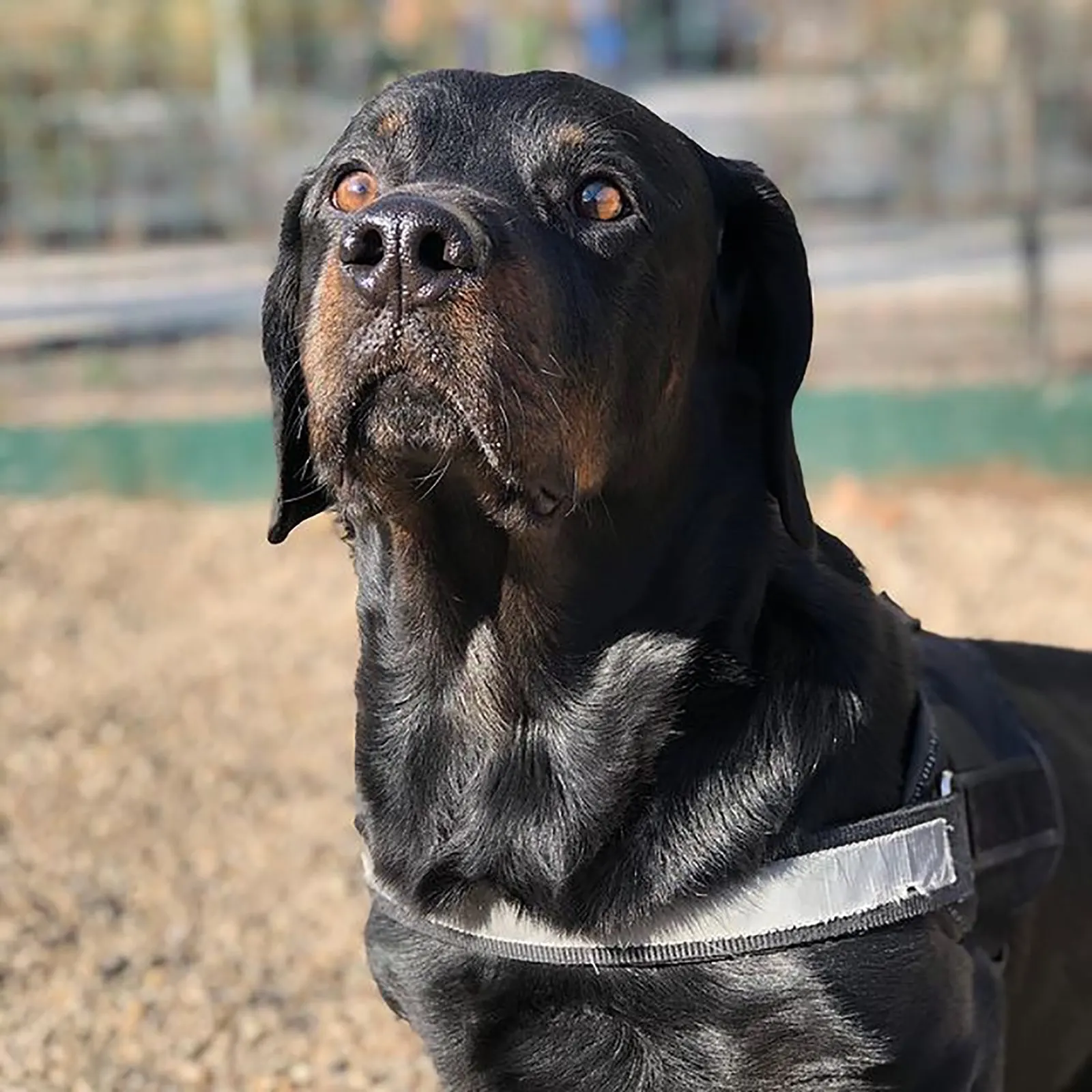 Considering their origin – these puppies can be aggressive at times.
However, properly-socialized Dachsweilers are highly unlikely to display aggression towards their family or toward strangers.
Still, there are times when these puppies can react aggressively. As this is a puppy derived from a guard dog – a Rottweiler – a Dachsweiler might act aggressively towards enemies.
Being aggressive is a part of their natural instinct, especially when they feel endangered by other predators.
On the other hand, puppies that don't receive the proper amount of exercise during the day can display aggression. In those times, being aggressive is a part of their frustration, which is why you should never skip daily exercise.
''How to socialize an aggressive dog'' can be a pretty unpleasant dilemma, especially in this case. Rottweiler mixes, as well as their purebred parents, are not exactly harmless.
The last situation in which your puppy can display aggression is if they suffer from anxiety. This is an extremely intelligent dog that doesn't stand the idea of being left alone. Solitude is not the best option for your Dachsweiler, which is why you need to adapt your daily schedule to your puppy.
If your daily schedule involves being away for the most part of the day – don't get this puppy.
Dachsweilers Around Other Pets
If you're wondering if Dachsweilers are aggressive towards other pets, the answer is – most of the time! This is a characteristic picked up from the Doxie parent. The ''Are Dachshunds aggressive towards smaller pets'' is a constant dilemma for all Doxie owners.
Socializing a Doxie mix is a pretty exhausting road.
Simply, the majority of Doxie puppies display undesirable behavior around smaller pets as they perceive them as prey. Doxies are well-known badger hunters, which means they will see any smaller animal as prey, too.
That's why having a Dachsweiler around other pets is not the smartest decision that you can make.
However, those canines that have over 70 percent of Rottweiler DNA are more likely to display friendly behavior towards other pets. Rotties, once they are properly socialized, can be reliable companions of cats or other small pets.
In order to make sure your mixed puppy won't madly chase anything or anyone inside the house, you need to socialize your puppy from the start. This means implementing early socialization techniques and obedience training.
Trainability
Many dog owners think that the level of a dog's intelligence and its trainability level have a positive correlation. However, this is not factual as there are many intelligent dog breeds that display stubbornness and mischievous behavior.
That's the case with this mixed breed. Their trainability is not exactly on the same level as in German Shepherds or Labradors.
These canines need to be trained from an early age. Any postponement in their training could mean possible aggression.
There are various training techniques and supplements that you can try on your Dachsweiler puppy. Some of them are positive reinforcement, games for mental stimulation, and even toys. The best toys for Dachshund puppies can be used for their offspring, too.
I know that it sounds repelling if we say that these dogs are not exactly the best trainable puppies in the world. However, with lots of love and positive reinforcement, you can train them to be extremely desirable family dogs.
Every dog seeks human touch. Even the most affectionate puppies can display undesirable behavior if they are not properly trained. That's why having a Dachsweiler shouldn't be a discouragement. These canines crave human companionship and love.
If you do it properly, you will have a companion for a lifetime.
Rottweiler Dachshund Mix: Health Issues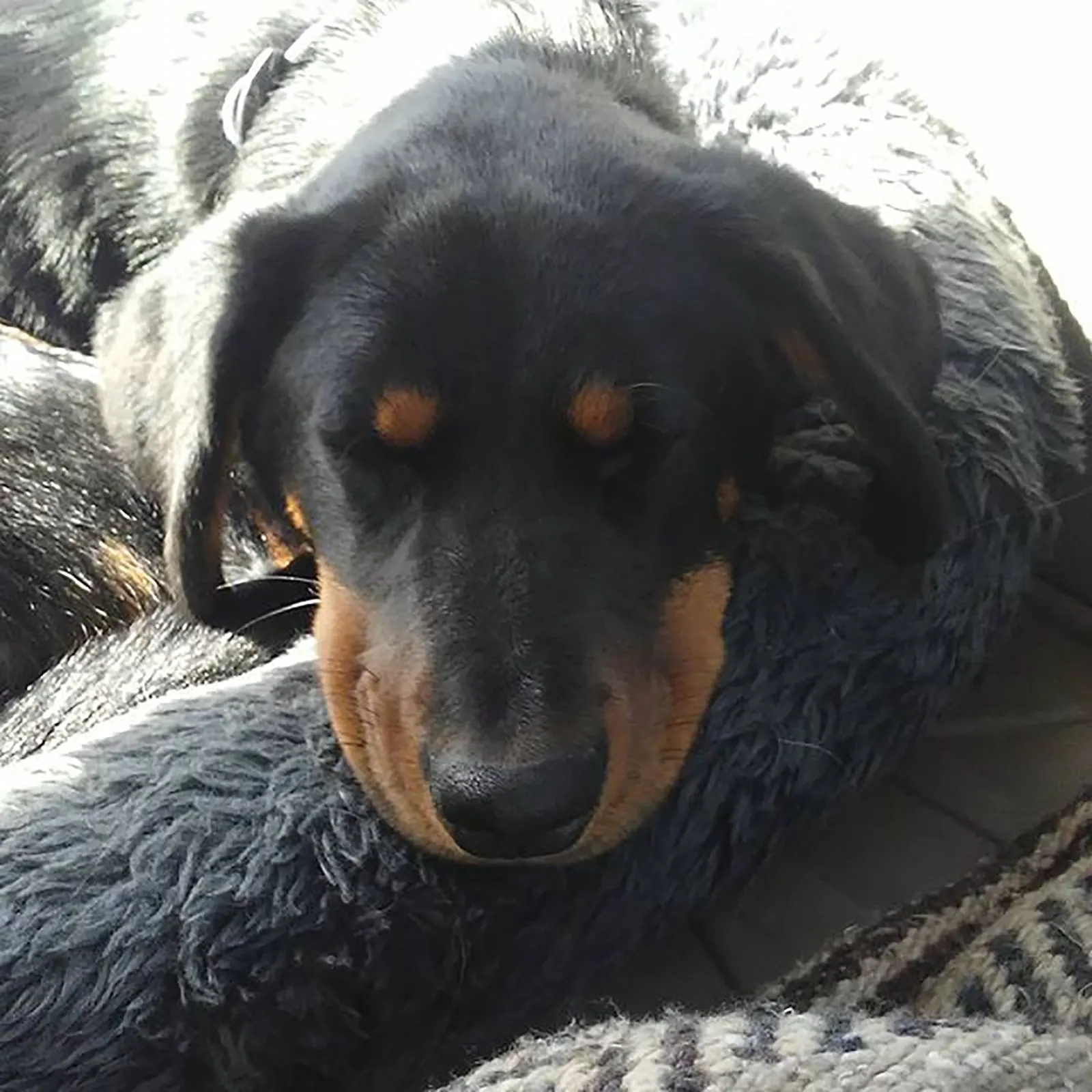 In order to understand what health problems this mixed breed might have, you need to look into their parents' overall health first.
Luckily, both Rotties and Doxies are generally healthy dogs, which means there is a high possibility that your hybrid dog will probably live a long and healthy life.
However, there are some health issues that Dachsweilers might face. The biggest problem in each Doxie mix is IVDD (intervertebral disc disease). Other than that, these canines can suffer from hip dysplasia, bloat, and patellar luxation.
Furthermore, the important thing is to say that these puppies are prone to obesity. Taking care of a Dachshunds' and a Rottweiler's feeding chart is highly essential. Consequently, the same goes for their offspring – the Dachsweiler.
Puppies with higher representation of the Rottie's DNA will probably need two meals in their adult age. However, if your puppy has a tendency to suffer from bloat, make sure you give it smaller portions and timely meals.
Voracious eating is a characteristic of all Rottie puppies, which means there is a high possibility that your Dachsweiler puppy will be a passionate eater, too. Excessive swallowing and voracious eating can only do damage to your puppy and develop bloat.
Intervertebral Disc Disease
Intervertebral disc disease in dogs is a characteristic related to Doxie puppies. It represents a herniation of an intervertebral disc, which can cause severe pain and lack of movement.
Other symptoms related to this issue are lethargy, inability to move properly, shaking or trembling, severe pain in the neck area, and even difficulty urinating.
The reason why Doxies and their offspring – Dachsweilers – are prone to IVDD is that they have a long back and disproportionate body physique.
In order to avoid this unpleasant condition, avoid high-intensity exercises and jumping. Dogs that jump excessively have a tendency to develop IVDD more than dogs that engage in moderate exercises.
Considering the severity of this issue, surgery is the most popular option. Surgery is almost 90 percent successful in most cases. However, there are times in which even this complicated procedure cannot help your puppy heal.
Additionally, you should know that IVDD surgery is not cheap. The average cost of this procedure revolves between $2000 and $4000.
The advice to a Dachsweiler owner is to report to a vet as soon as you notice IVDD symptoms. The treatment of this disease is much more complicated in its latter stages.
Hip Dysplasia
Hip dysplasia in dogs is a much less invasive health issue in respect to IVDD. This condition represents a loose hip joint, which causes a plethora of symptoms.
The most popular symptoms of this disease are lack of movement, bunny walk, disinterest in any sort of activity, and, in the latter stages, inability to walk properly.
This condition can be a cause for muscle atrophy and arthritis in older dogs.
Generally, hip dysplasia is noticeable at an early age, which means puppies at eight weeks of age display the first symptoms. Most of the time, this issue is related to larger dogs, which relates to Rottie puppies.
When choosing a breeder of a large dog breed, you should always pick those who subject their puppies to regular vet exams. If their puppies are not hip- and elbow-dysplasia tested – don't do business with them.
Still, if you happen to have a dog with this condition, you should know that surgery is the most common treatment. The average cost of hip dysplasia surgery revolves somewhere between $1500 and $2500.
Also, if you have a puppy that's suffering from this health issue, avoid excessive activities, such as jumping. It may hurt your puppy in the long run and cause further injuries.
Bloat
Generally, bloat (or medically known as Gastric Dilatation Volvulus) is a treatable condition if noticed timely. However, bloat can have deadly repercussions if not treated at all. This issue is typically related to large dogs with a deeper chest.
It represents the stomach being filled with gas or food, and then twisting on itself. Symptoms that characterize this health issue are severe stomach ache, lack of movement, bloated stomach, lack of energy, and decreased appetite.
In some cases, ''Will a dog with bloat drink water?'' will be a huge dilemma as puppies refuse any substance intake.
In order to prevent bloat in your dog, you should take care of your puppy's feeding habits. In the first place – divide its daily meals into several smaller portions. Larger dogs have a tendency to eat voraciously, which causes them to swallow big bites.
Furthermore, take care of feeding time. Avoid large meals before bedtime, and make sure your dog eats at least two to three hours before sleeping.
The last advice that I can give you is a little bit unusual, but some research shows that dogs that eat from elevated bowls tend to deal with bloat less frequently. The position of their head allegedly plays a big role during meals.
As soon as you notice some of these symptoms, you should rush to a veterinarian. Untreated bloat can cause death in no time.
Patellar Luxation
Patellar luxation in dogs represents a misaligned kneecap, which can cause severe pain and irregular movement. It is usually manifested in skipping, or hopping, which is noticeable even by the untrained eye.
Generally, the treatment of this condition depends on its severity. In many cases, physical therapy is sufficient and shows excellent results.
However, there are times when surgery is needed. The average cost of this type of surgery is between $1500 and $3000. Even though it is not cheap, surgery is successful in ninety percent of the cases.
In order to prevent this issue from happening, you should keep your puppy's weight healthy. As long as your canine has normal weight, there is a pretty low chance of it being affected by patellar luxation.
Also, you should probably consider giving your puppy healthy joint supplements. Discuss this possibility with your vet and see what the best options are for your puppy.
Another good tip for patellar luxation prevention is to take puppies swimming. Swimming is excellent exercise that could help your dog develop good body muscles.
FAQs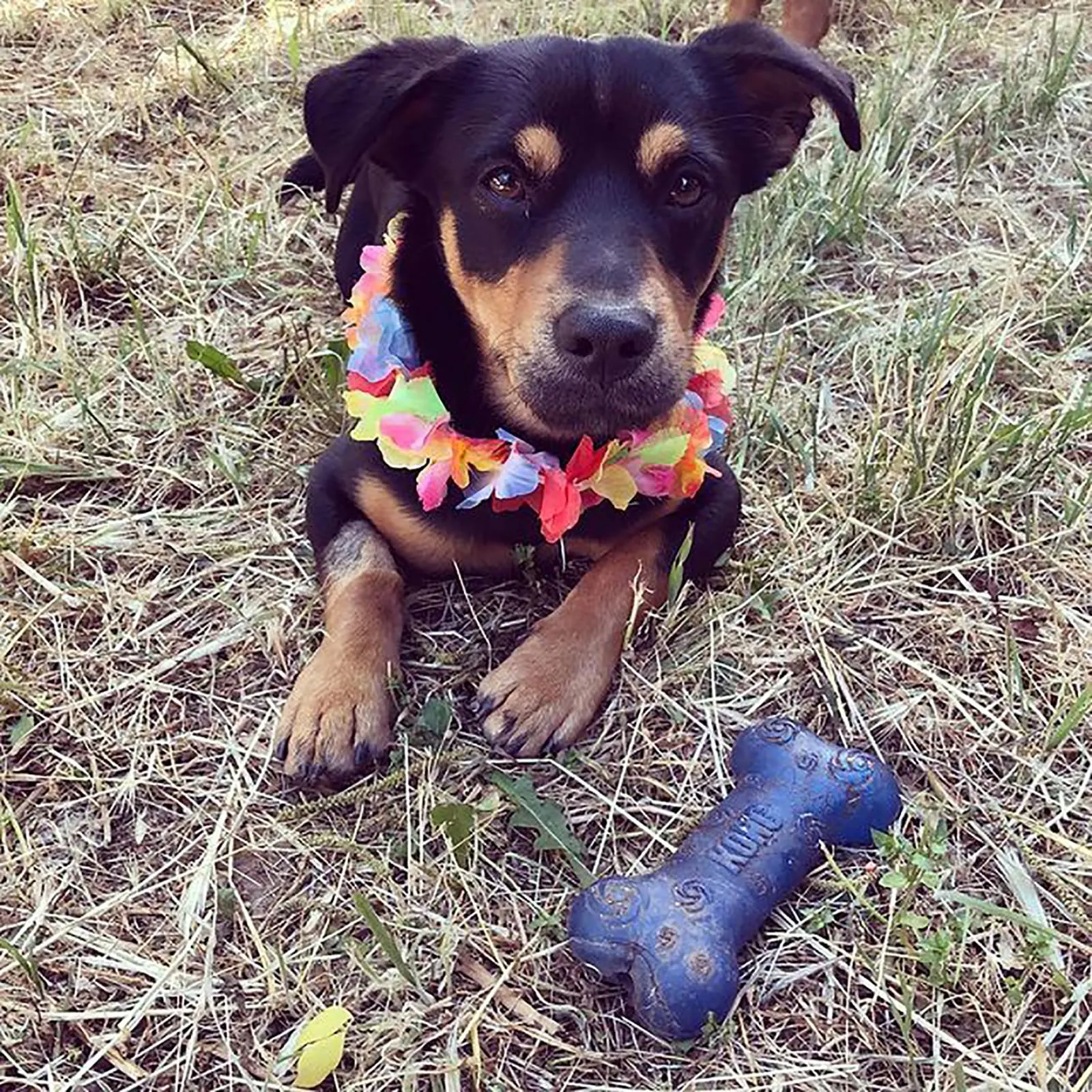 1. What Is A Dachshund And Rottweiler Mix Called?

Generally, the mix of these two purebred dogs is called the Dachsweiler. This is the most popular name for the crossbreed as it is easily remembered and catchy.

Dachsweilers, being a mix of a Rottie and all types of Dachshunds (including Teacup Miniature Dachshunds) are not that popular as a family pet, but the breed has been among families for quite some time.

That's why the breed doesn't have as many names as some other, more popular dog breeds.
2. What 2 Breeds Make A Dachshund?

The Doxie puppy is a one-hundred year old purebred dog. It was AKC-recognized in 1885, which makes it an almost 140-year-long tradition.

Still, if we perceive these dogs from a historical point of view, we should know that Doxies (or Dachshunds) have been designed by crossing a French Pointer with a Pinscher puppy.

To this day, these canines have been known for being the best dogs when it comes to badger hunting. They are low-maintenance dogs when it comes to grooming, and their life expectancy of 12 to 16 years makes them a healthy dog breed. These canines are adaptable in all climates.

Nowadays, we have many Doxie mixes, such as the Golden Retriever Dachshund Mix, and the Rottweiler Dachshund Mix.
3. What Is The Cutest Rottweiler Mix?

There are so many incredible Rottweiler mixes for all kinds of Rottie lovers. Among them, probably the cutest ones are Rottskies, Labrotties, Rottles, Golden Rotties, and French Bullweilers.

However, deciding on which Rottie mix is the cutest is totally up to dog enthusiasts as everyone's taste is relative. So, if you're a Rottie mix enthusiast, go and check which one suits you the most!
To Sum Up
To answer whether a Rottweiler Dachshund Mix is a reliable family dog, we need to take a good look into the history of this crossbreed. Both Rotties and Doxies are good family dogs, but both of these canines need early socialization and obedience training.
A good part of your Rottie mix depends on how you treat it. These are not well-mannered dogs by default.
They need deep commitment, a lot of time and patience, as well as a lot of love. When you combine all these together, you will get a good, reliable human companion.
Otherwise, this can be a high-maintenance dog breed, especially if you are a first-time dog owner.
Read next: The Schnauzer Dachshund Mix Has Short Legs And Grunge Rags