They might not be as easy to handle as Labradors or Golden Retrievers, but Newfoundland dogs are equally popular in Canada. I dare say they're slowly starting to take over the country. You know, in a polite, Canadian way.
No wonder why there are so many great Newfoundland breeders in Ontario – one of the ten Canadian provinces.
During my research on the best Newfie dog breeders in this area, I didn't encounter many puppy mills. I did see some popular pet shops, and I advise you to skip them.
The breeders mentioned down below are trustworthy people who know what they're doing. All of them are family-oriented people who started breeding in their own home. Today, these people are real professionals, making sure that no Newfie lacks anything.
Their pups are healthy, they have nice temperament, and they're truly stunning.
I do have to warn you that you will end up on a lot of puppy waiting lists because these breeders don't breed all the time. They only have one or two litters a year, depending on their breeding stock.
This only proves how serious their breeding program is. Now, let's hear a word or two about those great breeding programs!
Newfoundland Puppies For Sale In Ontario
I've managed to find the top five Newfoundland breeders in Ontario. They've got lovely puppies listed. All you've gotta do is pick one and figure out where in the world could a dog bed fit in your house?
1. Recurve Kennels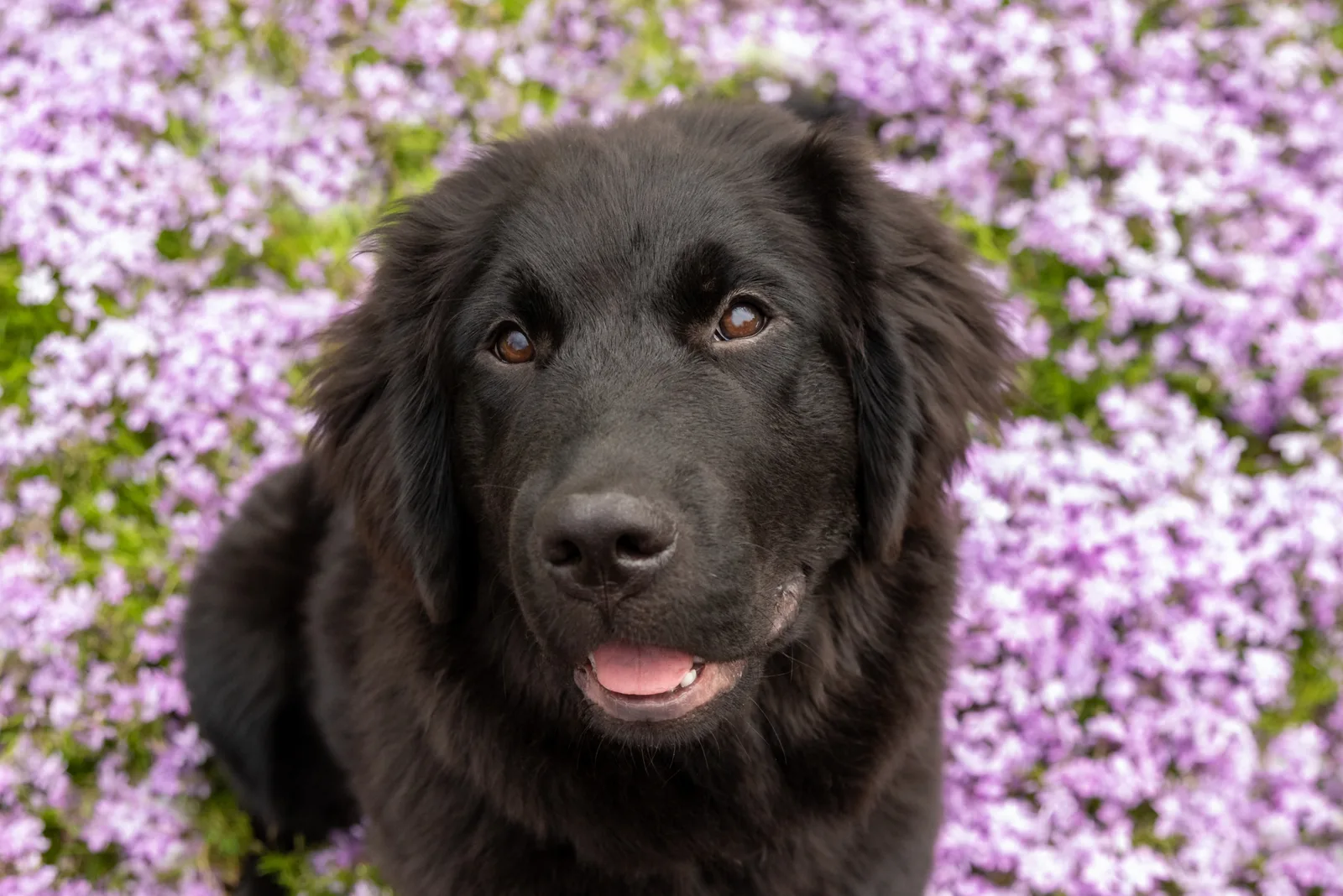 Those of you who are interested in dog shows and conformation will love the following breeder.
Meet Recurve Kennels, a CKC-approved place where only the finest Newfies are being raised for competitions. This reputable breeder is an excellent source for purebred Newfoundland dogs as they breed for soundness, conformation, and kind temperament.
In other words, they put the gentle in "gentle giants".
Even though they're professionally devoted to breeding the creme de la creme of conformation dogs, Recurve Kennels isn't into serial breeding. They don't produce many litters a year.
In fact, this kennel only has puppies occasionally, so you'll have to be put on their waiting list.
As you can figure out yourself, Recurve Kennels are breeding Newfies to preserve the breed and make it much better. I mean, as if these pups could get any more perfect than they already are, right?
Recurve Newfie puppies are always clear of all health conditions, and they will be checked by a cardiologist and treated for worms.
Besides Newfies, this kennel offers another gentle giant, the Bernese Mountain Dog, as well as lovely Collies.
At the moment, they're more focused on the Newfoundland breed, so make sure you follow their social media for updates on upcoming litters.
Or simply, head north of GTA to meet these lovely giants.
Breeder's details
Website: Recurve Kennels
Address: Hills of the Headwaters, Mono, ON, Canada, L9W 6H3
Phone: (647) 680-3399
Email: [email protected]
Social media: Facebook, Instagram, Tik Tok
2. Hunterhill Kennel Newfoundlands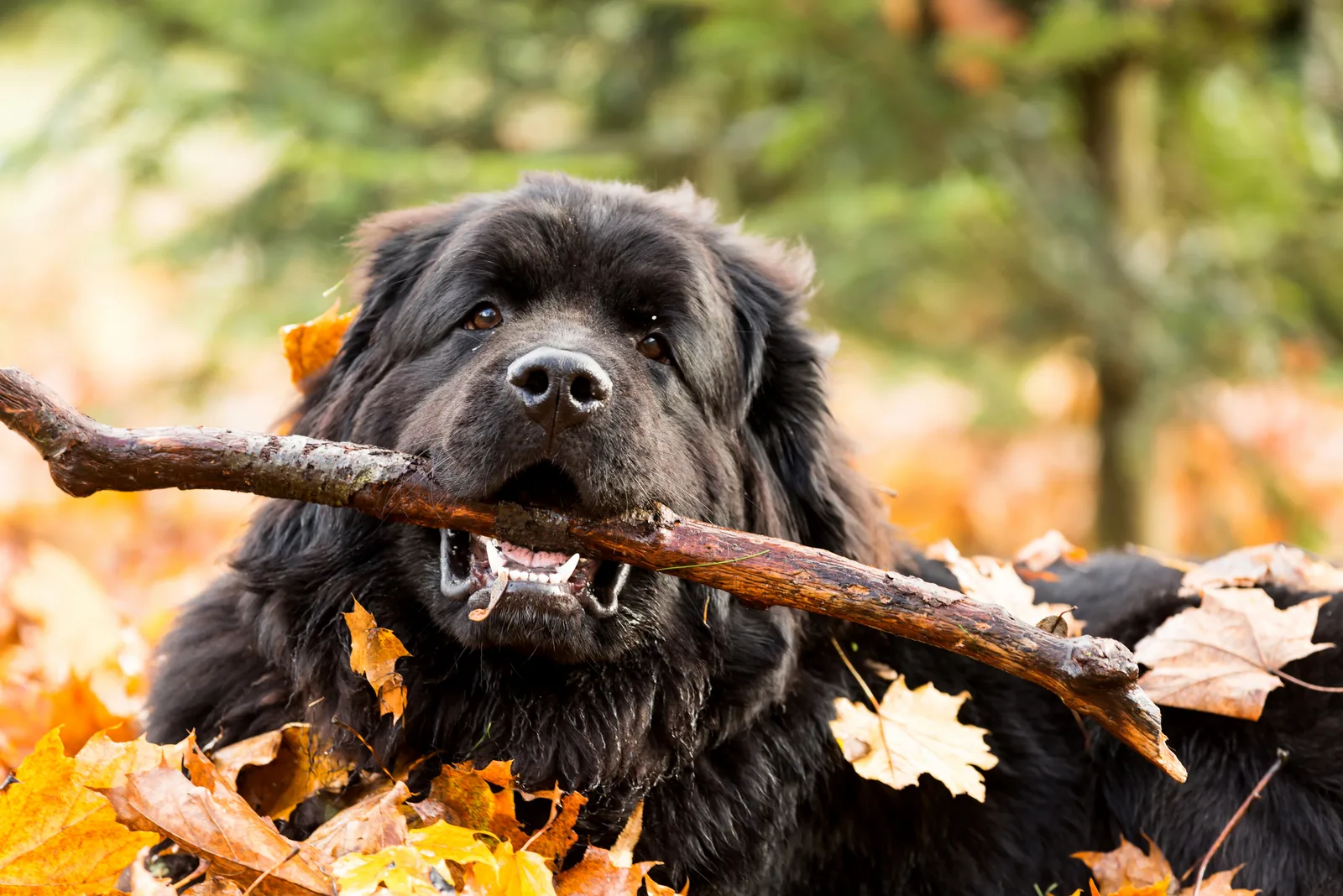 Hunterhill Kennel has been standing proud since 1997.
They wouldn't be here today without the amount of dedication and professionalism they have for their breeding practice.
Hunterhill Kennel is a modern kennel equipped with air-conditioned facilities, with a huge outdoor area where dogs can play as much as they want. The pups only go inside to sleep. They spend most of their time outside in the fresh air.
Nothing beats such an approach!
All Hunterhill Newfies are considered their personal pets. These pups are spoiled, very much loved, and well taken care of.
Hunterhill is breeding Newfoundlands of gray, black, bronze, and black and white (Landseer) coat options. Trust me – you're gonna love them all.
These Newfies come with a two-year health guarantee. They're checked by their vet, free of parasites, registered with the Canadian Kennel Club, and even microchipped!
Once the puppies are ready for adoption, you will need to have a budget of $2,500. Hunterhill also requires a mandatory deposit worth half of this purchase price. But, this ensures that you will get your desired puppy, and it will be healthy and ready to win over its new home!
Hunterhill Newfies aren't only mighty pups in terms of their appearance. Their temperament is sweet, and their heart is even bigger than their massive body.
Breeder's details
Website: Hunterhill Kennel
Address: Hunterhill Kennel, 83876 Southgate Road 8,, Mount Forest, ON, N0G 2L0
Phone: 519-261-1101
Email: [email protected]
3. Newfhill Kennels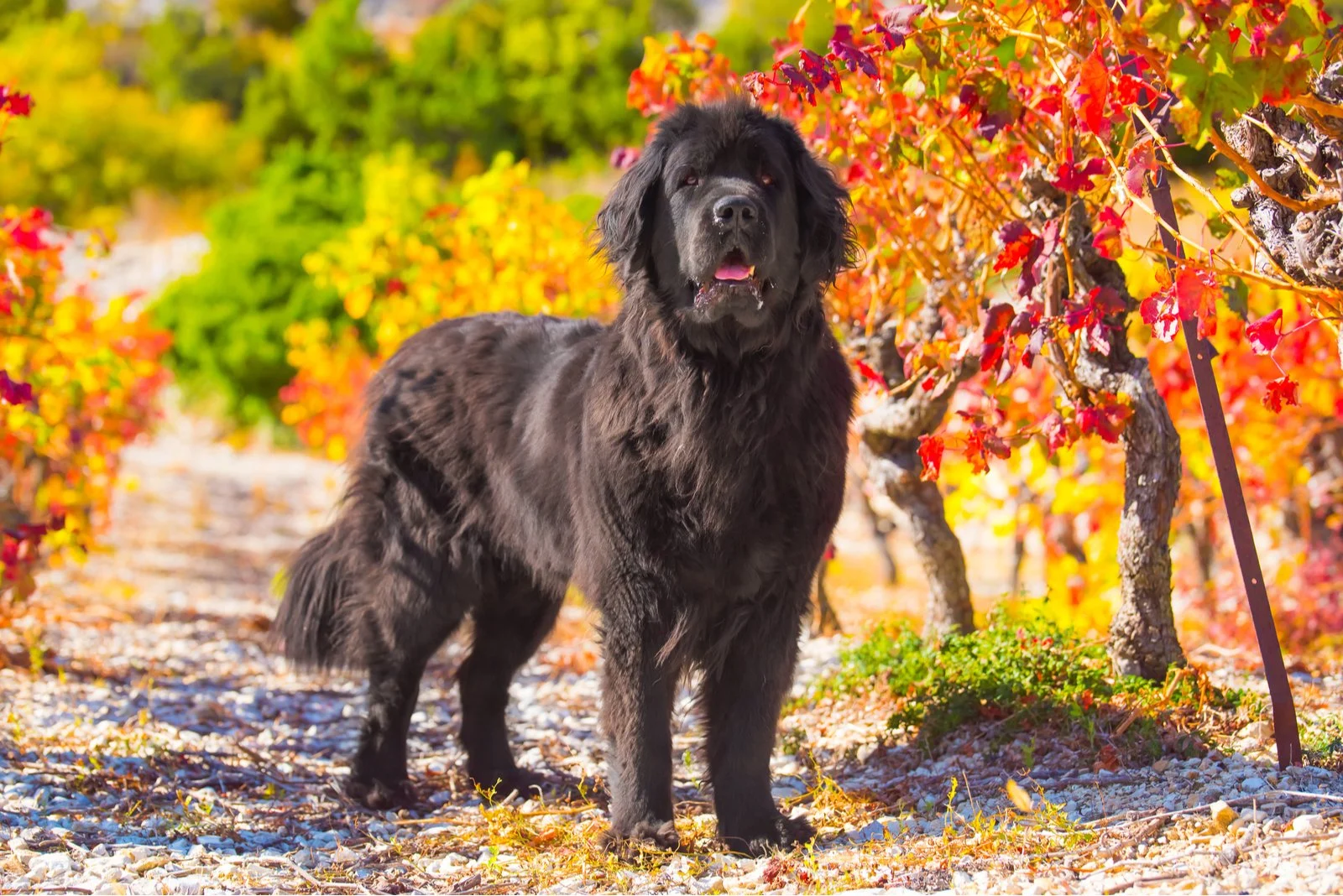 Getting a Newfoundland dog and introducing everyone in your life to this giant is not something that goes that easily. Often, people will be unpleasantly surprised by the size of these dogs. I suggest those people spend some time around Newfies. That's the only way they'll get a clear picture.
When you first visit the Newfhill Kennel, you will definitely be overwhelmed with how many Newfies this family has. They sure have a large family, including 10 of their Newfies, plus puppies, if they're available at the moment.
But, don't be discouraged – Come spend some time with Carol and Ralph, and you'll see how these dogs adapt to their breeders / owners. Newfies are calm. They listen. But, these Newfies from Newfhill Kennels will amaze you.
Carol and Ralph's goal is to breed Newfies according to the Newfoundland Dog Club Of Canada breed standard. They want sound pups that will show how brilliant their temperament is.
Their Newfies aren't only companions – They're strong working dogs, able to perform water rescues, serve carting needs, as well as act as protectors of the entire family.
Their pups are certified by the OFA, and they have straight A's on all their health records.
You will come to Newfie Kennels for the high quality of their breeding program, but you'll fall in love with the sweetness these dogs have.
Breeder's details
Website: Newfhill Kennels
Address: 1450 Buckhorn Road, Lakefield, ON, K0L 2H0
Phone: (705) 868-3647
Email: [email protected]
4. Jen's Newfs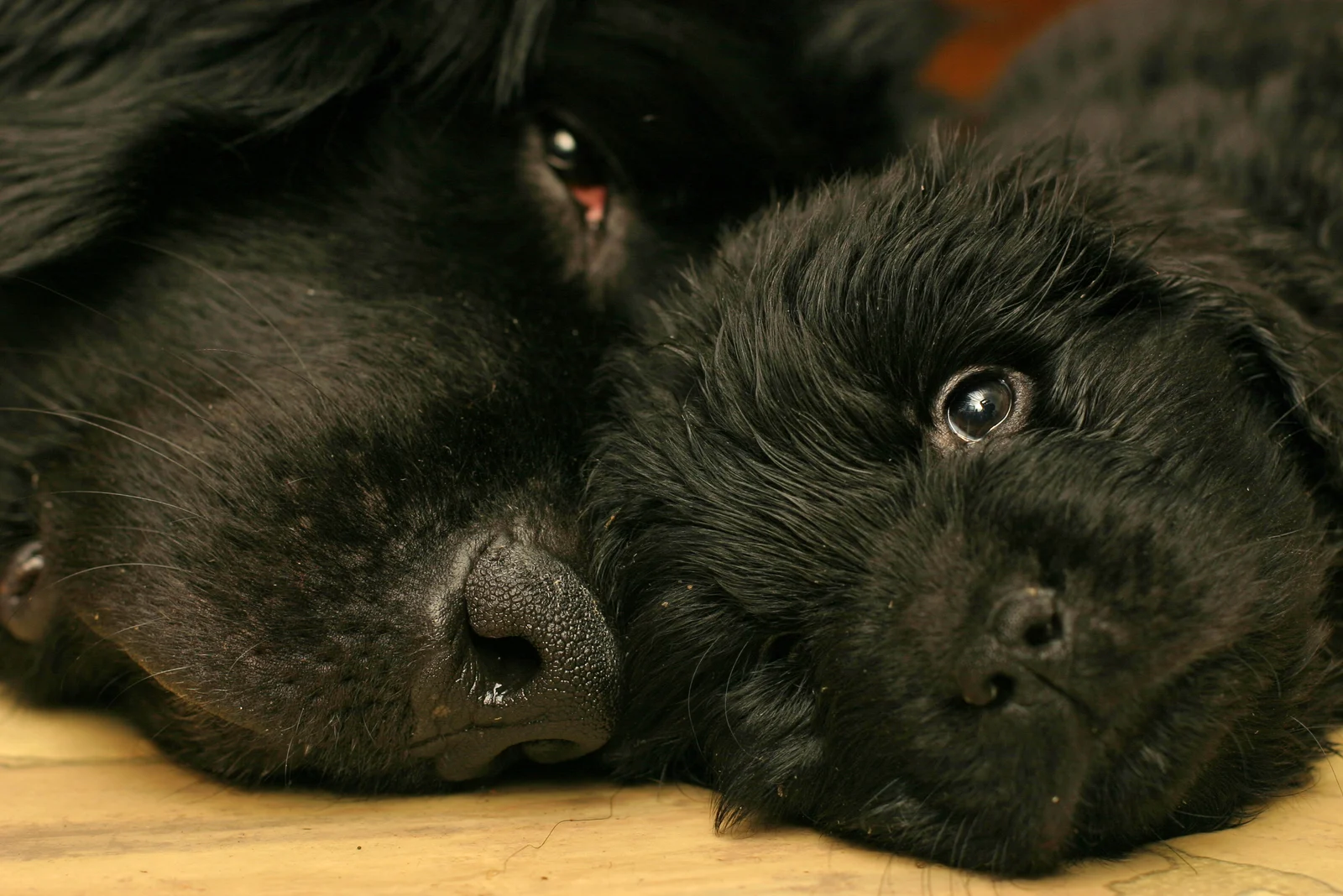 Breeding purebred dogs like Newfoundlands isn't really that simple. But, Jen, from Jen's Newfs, sure makes it look like a piece of cake. It must be because of her great love for this dog breed.
Jen's Newf's is a place where you can find Newfie puppies with absolutely no issues – temperament- or health-wise. I've rarely seen anyone who is so professional and so exclusive in achieving the highest potential possible.
That's why Jen has a two-year health warranty. I mean, one year is good, but two years is pawmazing! When you add lifetime support from Jen, then no matter which question you have about your Newfie, you've got yourself a bloody good deal.
After the adoption is finalized, Jen will encourage you to stay in touch. She's creating one giant family of gentle giants where everyone shares advice and love for these doggos.
Newfoundland dogs are known for their mild temperament in contrast to their huge size. However, it's Jen's extremely hard work and dedication that make her Newfies so calm and easygoing.
What's interesting about her breeding practice is that all dogs, no matter if they're puppies or adult Newfies, are fed raw dog food. This helps them get the most nutrients from food. Jen also encourages you to keep on the raw diet as it's super beneficial for the Newfie breed.
Right now, she's selling pups without breeding rights. Still, you will need to wait for the next litter. So, make sure you fill out that puppy application asap!
Breeder's details
Website: Jen's Newfs
Address: St. Mary's, ON, Canada
Phone: (226) 235-2527
Email: [email protected]
Social media: Facebook
5. Aberforth Newfoundlands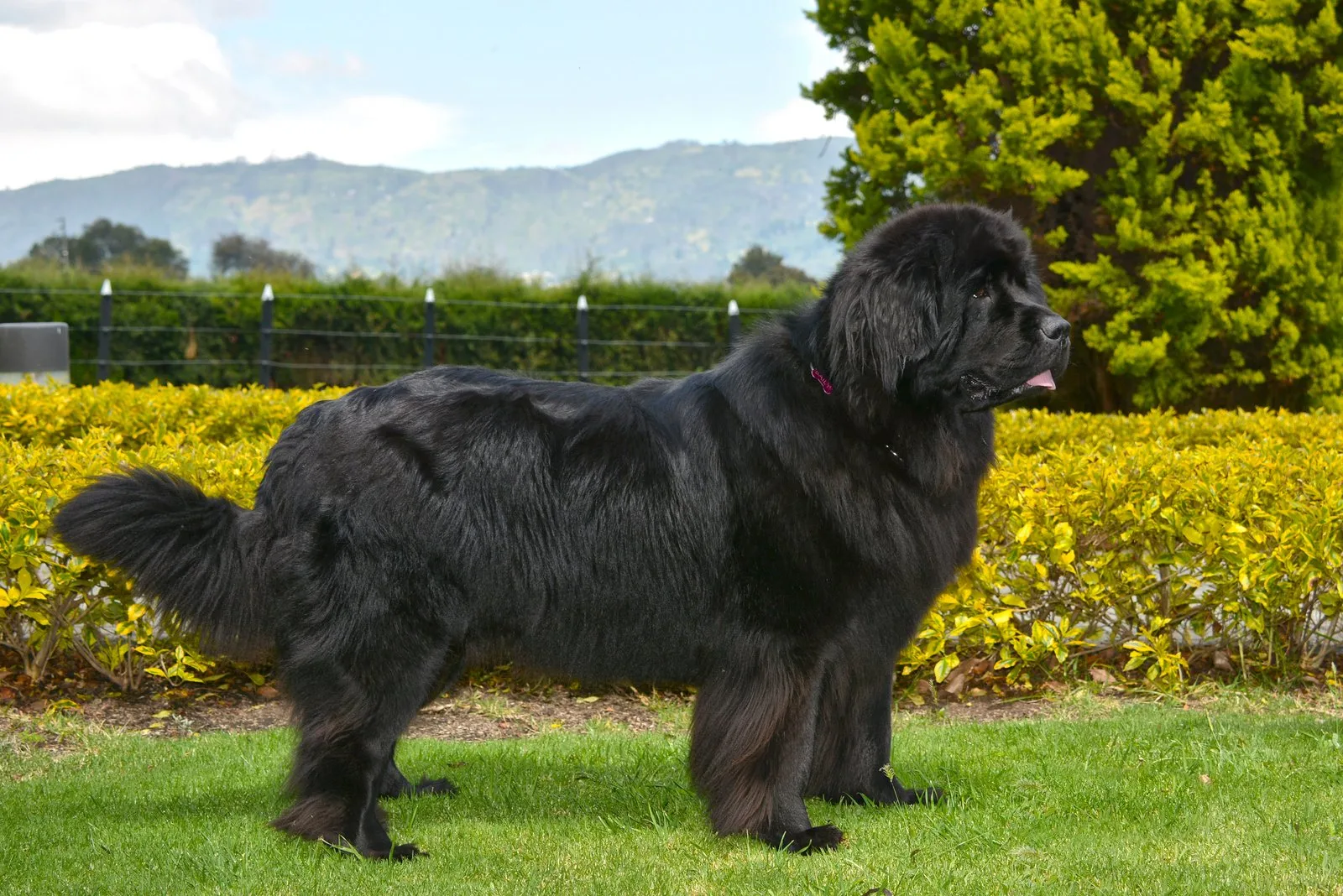 Aberforth Newfoundlands is a small breeder focused on delivering exceptional Newfie puppies.
Their love for this dog breed started in 2004, when Sasha, the breeder, got the family's first Newfie. Ever since then, Newfies pretty much rule this place. The family likes to joke and say they only pay the mortgage, but Newfies are the ones that live here.
Aberforth puppies are submitted to early socialization. Sasha and Chris make sure that the puppies spend as much time as they can with other animals, like cats, as well as with kids and other adults. This prepares them for their future life as someone's BFF!
These puppies are home-bred and raised. They will start crate training at the age of six weeks. However, housebreaking starts even earlier… around two weeks of age.
Once you get an Aberforth Newfie puppy, you'll enter a small family of Newfie lovers in this part of Ontario – A family that's slowly growing and becoming a big society of Newfie supporters. Sasha will be glad to answer all your questions, even after the adoption.
Lifetime support is what this breeder offers, and you should happily accept that.
Breeder's details
Website: Aberforth Newfoundlands
Address: Gananoque, ON
Email: [email protected]
FAQs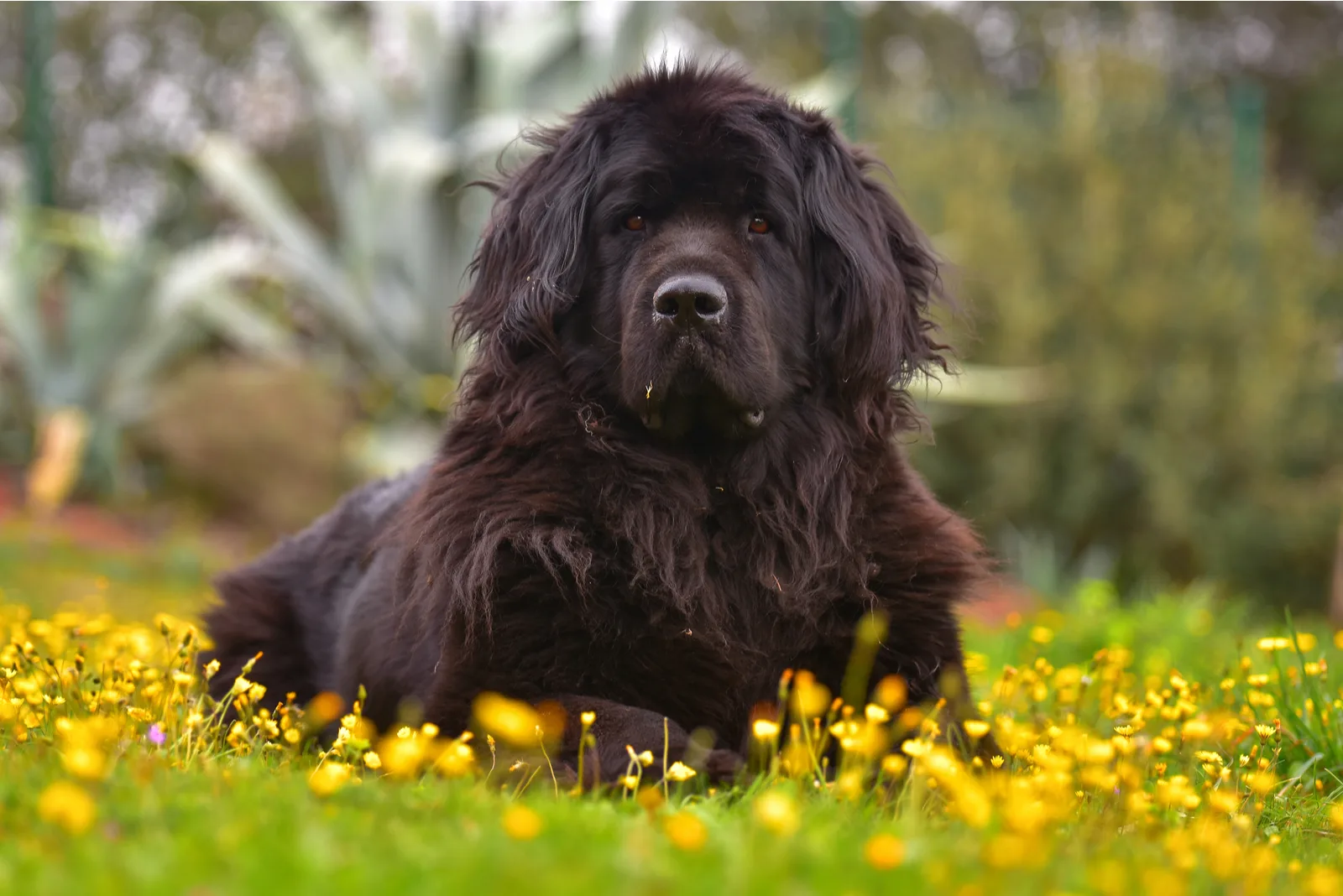 How Much Does A Newfoundland Puppy Cost In Canada?
There is something you should realize before getting a Newfoundland puppy. It's not their size or maintenance – that's obvious.
It's their price.
Ontario and other Canadian breeders list Newfie puppies for as much as $4,000. This is the price for a pet-quality Newfie. Such dogs come without breeding rights, and only with limited registration.
If you want to show your Newfie and demand breeding rights, that will cost you even more. On average, a couple of thousand dollars will be added to the starting price of a pet-quality Newfie.
And, where are other expenses such as vet visits, puppy-proofing the house, or even buying enough dog food?
Newfies are expensive dogs to own, so you should realize that in time.
What Do I Need To Know Before Buying A Newfoundland?
As with adopting any dog breed, there are some things you should know about the Newfoundland dog breed.
Size
The first thing is definitely an elephant in the room – or, should I say a Newfie in the room?
Newfoundland dogs are big. They're massive! Not only will you have to find plenty of space for them to sleep in, but you'll also have to have a spacious home for these dogs to move around in. Otherwise, expect knocking over vases or lamps.
Newfoundland dogs grow fast, so you might as well ask your breeder to provide you with some useful Newfie growth charts.
Since they belong to the giant group of dogs, expect your Newfie to have a rather short lifespan.
Exercise Needs
Dogs that are this big will have lots of energy. They will need to work out daily, and those workouts shouldn't be light. If you don't have the time or strength to work out with your Newfie, then this isn't the dog breed for you.
Grooming Needs
Yup – they shed like crazy. How else would you imagine keeping that gorgeous coat so spectacular? Grooming is simply a must with this dog breed. It requires time and some efficiency. If you can, take some grooming lessons. You'll need them.
Gentle Giants
Newfoundlands are real gentle giants. These dogs aren't meant to be guardians or watchdogs… they're not as alert as Dobermans. Despite their massive body, Newfies won't do you harm. They're sweet, calm, and they don't have a single bad bone in their body.
If you're looking for a huge cuddle buddy, the Newfie is the perfect choice for you!
Intelligence
Newfies are blessed with being very intelligent.
This means you should never leave them alone at home without any interesting toys and puzzles to play with. You need to find a way to stimulate your Newfie's intelligence. Otherwise, you would be risking boredom and destructive behavior.
Just imagine the level of destruction these dogs have!
Reliable Large Dog Breeders In Ontario
Sure, Newfoundland dogs are giants. They're sweet, but their size makes them pretty undesirable for many families. If you live in the province of Ontario, and you want a bigger dog, maybe some of the following breeders might help you:
Cane Corso breeders in Ontario
German Shepherd breeders in Ontario
Siberian Husky breeders in Ontario
Golden Retriever breeders in Ontario
Rottweiler breeders in Ontario
Belgian Malinois breeders in Ontario
To Sum Up…
These listed Newfoundland breeders in Ontario are absolutely worthy of your attention. They are people completely devoted to their puppies, making sure that all of their needs are taken care of. Trust me – you won't find better people to raise your future Newfie pup in the whole province.
I encourage you to contact the breeder and browse through their website. Call in and arrange a meeting. You can't buy a puppy based on pics or videos posted on their website. A simple visit will satisfy all your questions.
Your biggest issue will be who will have puppies sooner. I know you can't wait to run your fingers through that rich Newfie coat. But, sometimes time and patience bring the finest results.
Read Also:
8 Most Reputable Newfoundland Breeders In The UK (2022)
The 13 Best Dog Breeders In Canada That You Can 100% Trust