When you think of a Goldendoodle, the first thing that pops in your mind is its cuteness and adorable temper. Goldendoodles are one of the most popular mixed dog breeds in the world. They are in the doodle family, alongside the Labradoodle and many more.
This means that these breeds are mixed with a Poodle and other dogs. In the case of a Goldendoodle, the parent breeds are a Poodle, or a miniature Poodle, and a Golden Retriever. What is amazing about these dogs is that they come in different sizes.
For the people who like bigger dogs, you have the large standard Goldendoodle, but for the people who find this dog too big, you have the miniature Goldendoodle.
Goldendoodles have the best personalities, which is why they are considered one of the best family pets. They are not considered to be hypoallergenic, but they don't shed that much.
These cuties get along with everybody. They love to spend time with their owner, kids, and other animals. Lounging is something they love, but playing is more up their alley.
We can write a whole article about this dog, but today, we are going to talk about the best mini Goldendoodle breeders. If you have decided on getting this cutie patootie, we prepared a list of the most reputable breeders from which you can get your new puppy.
Mini Goldendoodle Puppies For Sale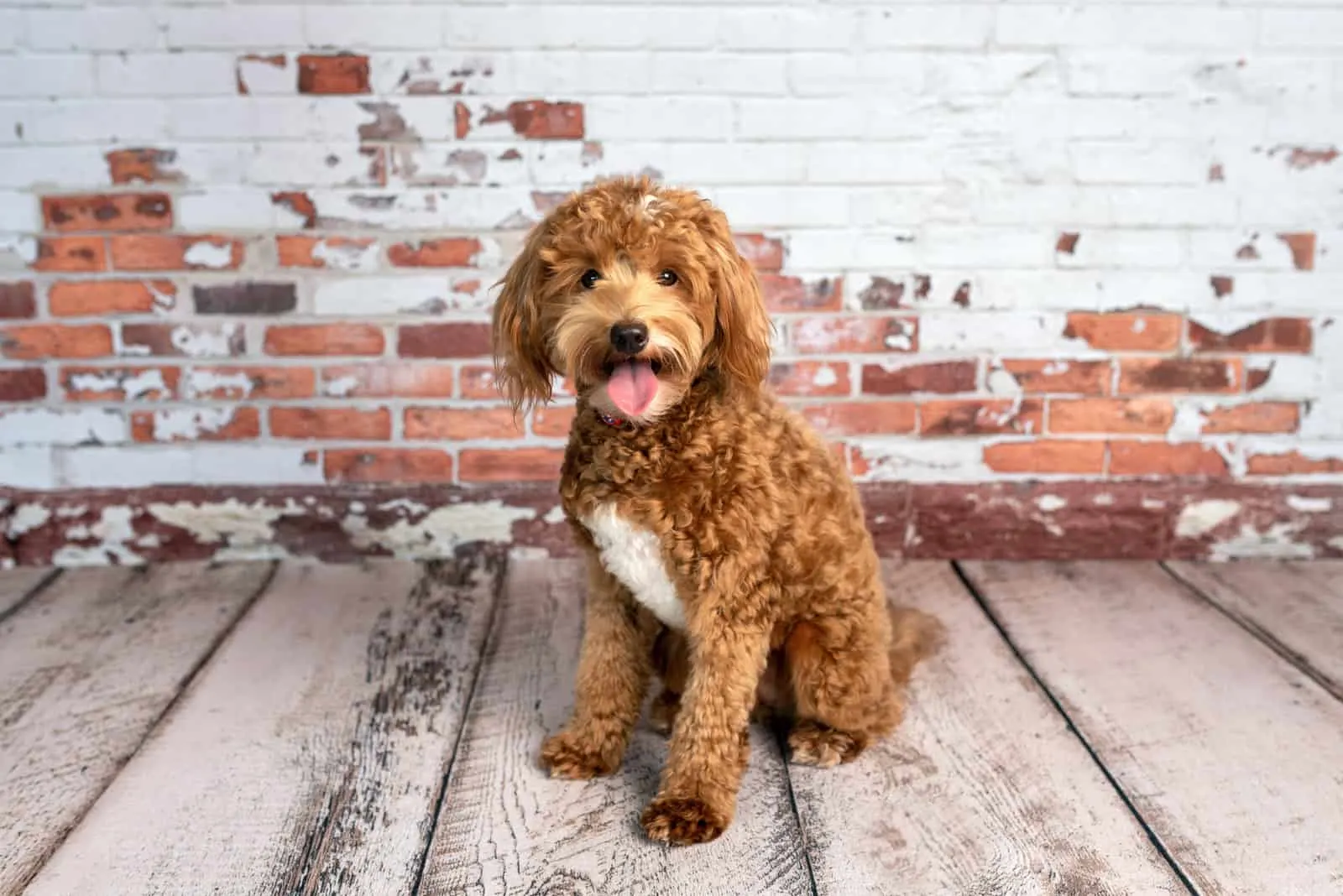 When deciding on buying a dog and bringing a new family member into the house, there is a lot of research that needs to be done. The first and main thing is to find a breed that matches you and your family perfectly.
If you are reading this article, you have probably decided on a breed or at least narrowed your choices down, and we congratulate you on that. When you decide on the breed, the job doesn't end there. The next step is finding a breeder who is trustworthy.
But, before we start with the list of mini Goldendoodle breeders, we need to go through some stuff first.
What To Know Before You Buy
We believe that you have done your research and know all of this, but we want to list them just in case. Don't worry – all of these are positive… well, at least in our minds. Here are some of the things you need to know about these amazing dogs:
– They are friendly. This is great in most cases, but when it comes to protecting your house… not so much. They will befriend every person and animal. You won't have to worry about your dog not having friends and not getting along with the people you know.
– They are not hypoallergenic. Every dog sheds, but some can be considered hypoallergenic. Mini Goldendoodles don't shed that much, and they can be a good fit for people who have a small allergic reaction to dogs. But, if you have severe allergies, you might want to look at another option.
– They need space to roam. This is logical for the bigger Goldendoodles, but it is also necessary for the mini Doodle. The good thing is that because of their size, an apartment will be enough for them. Try to designate a part of your apartment where they know they can run and play.
– They have energy. These dogs love to play and to be on the move. You need to provide them with at least an hour of exercise a day. Since they are small, they might tire quickly, but they will have bursts of energy throughout the day.
– They are intelligent. These dogs are very smart, and they will pick up on every trick that you teach them. It is a pleasure to teach them new things, and you can make it fun.
– They are food driven. These cuties will do anything for food. This is a good way to teach them new things as well. But, you have to resist those puppy eyes because you don't want to get your dog overweight.
– They make great therapy dogs. Because of their gentle nature and friendliness, they can be therapy dogs, and will do a good job. They are amazing for visiting children's hospitals and calming the kids down.
– They are family dogs. When you combine all their positive traits, you will get an amazing dog suited for many different families. They get along in any environment, but the most important thing for you is to give them a lot of kisses and hugs.
Buying VS. Adopting
When you decide on the dog breed, there is always the option of buying or adopting. If you don't mind getting an adult dog, then you might just explore the option of adoption. Goldendoodles are a popular breed, and because of that, there is some possibility for them to end up in a shelter.
It is quite rare, but there might be a mini Goldendoodle waiting for a forever home. When it comes to Goldendoodle puppies, there is a 1% chance of finding them in shelters. If they pop up in a shelter, you better believe that they will be adopted immediately.
So, if you are willing to give a new home to an adult mini Goldendoodle, please check your local shelters.
If you want to get a puppy and want to raise it from scratch, then buying is the better option. And, you don't have to feel bad. If you dedicate your time and put in a lot of effort to finding a suitable breed and a reputable breeder, then we are sure you will give all the love to the puppy you purchase.
There are a couple of ways of purchasing a dog. You have breeders who own their own kennels, and do it for a living. You have some websites on which you can find puppies for a bit cheaper of price. But, however you choose to get your puppy, make sure that the person selling it to you is honest and responsible, and that they love their job and are not doing it only for profit.
The only place you should avoid at all costs is puppy mills. Those places treat their dogs horribly, and are only selling puppies because of the profit.
The List Of 11 Best Mini Goldendoodle Breeders In The USA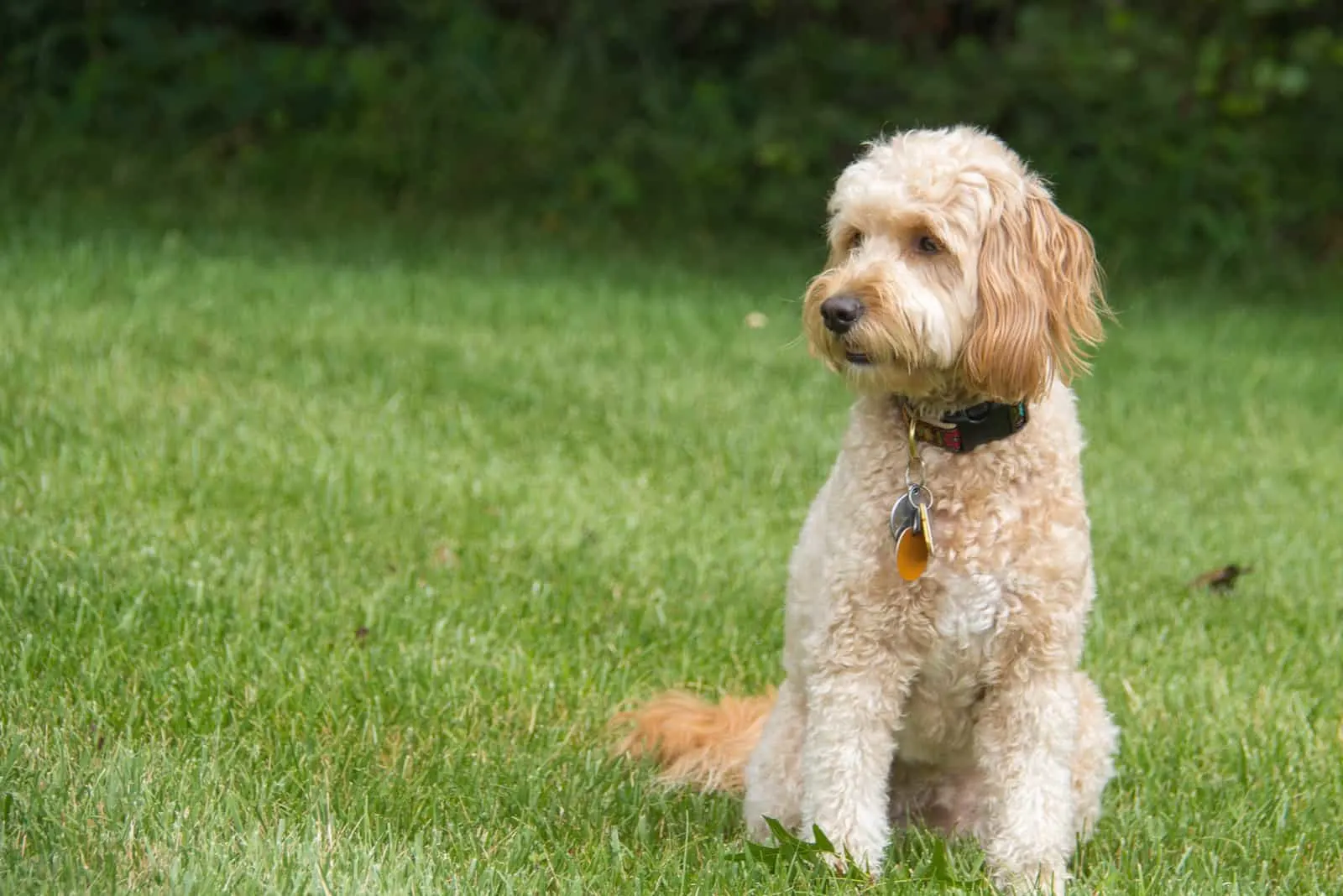 After going through some of the facts about Goldendoodles that you need to know before buying, and after the debate between adopting and buying, we can start with the list of the best mini Goldendoodle breeders in the USA.
1. Bella's Mini-Doodles
Bella's Mini-Doodles is owned by married couple, Nell and Andy. When they started their breeding journey, they had small kids. The kids, the puppies, and the breeding dogs were all raised together. Their kids were home-schooled, and they included the puppies in the teaching process.
They are breeding micro, petite, and mini Goldendoodles. The puppies are bred for their loving, playful, happy, and loyal nature. Now that their kids are grown up, there are nieces and nephews that are always around the puppies.
Puppies being around kids from a young age is amazing for their socialization. These puppies will come to you used to various sounds and environments. Their pups will never be in a kennel, garage, or basement. They live with them in the house, but they prefer the kitchen the most.
When you call Nell on the phone, you will most likely hear the puppies playing in the background and around her feet. When you visit their website, you will be able to see if there are any available puppies.
If there are not, you can always contact them and get on their waiting list. They celebrate every litter, and they pour so much love into every puppy. The puppies will be health tested so you can be sure that you will be getting a happy and healthy puppy.
Besides seeing free litters on their website, you can see all the pictures of their breeding dogs and previous puppies, as well as many testimonials.
Bella's Mini-Doodles' Details
Website: Bella's Mini-Doodles
Location: Rochester, New York
Email: [email protected]
Facebook: Bella Mini Doodles Facebook
Instagram: Bella Mini Doodles Instagram
2. Doodle Country Mini Goldendoodles
Doodle Country Mini Goldendoodles is owned by Dennis and Angie Freidline. They are breeding only the mini Goldendoodle breed, and they have been doing it for 15 years.
They believe that these dogs are amazing family pets, and they would love to give you many memories with your puppy. Because of this, they are offering a refund in the first two years after you take your puppy. They understand that life sometimes happens, and they don't want you to feel bad.
They raise F1 mini Doodles (a Golden Retriever mom, and a mini Poodle dad), F1b mini Doodles (a standard Doodle mom, and a mini/toy Poodle dad), and F1b toys (a mini Doodle mom, and a mini/toy Poodle dad) each year.
Their site is full of pictures that you will enjoy, and you can always see if they have any available litters. They always answer their emails, calls, and texts, and are more than happy to answer all the possible questions you may have.
They care that you and their puppy are the perfect match. They like to get to know the people who will buy puppies from them so they can see if you are more fit for a calmer puppy or a puppy with more energy. Basically, they want to give you the best furry friend possible.
Doodle Country Mini Goldendoodles' Details
Website: Doodle Country Mini Goldendoodles
Location: Frankfort, Indiana
Email: [email protected]
Facebook: Doodle Country Mini Goldendoodles Facebook
3. Country Mini Doodle Farm
Country Mini Doodle Farm was established in 2005, which is a good sign that their Mini Goldens are of top-notch quality, and that they are breeding puppies out of love. They have been providing families with amazing Miniature Goldendoodles for years, and you might be the next one on their list.
They are USDA-licensed Class A breeders. Their dogs, facilities, puppies, and records are inspected once a year (or sometimes even more) by USDA inspectors. Detailed DNA tests and breed tests are done on their parent dogs by Embark.
All families that get their puppies will get a copy of the DNA health results from both the puppy and its parents. The puppies come with a two-year health guarantee when it comes to genetic issues.
If something happens during this two-year period, they will cover all the costs of any potential treatment that your puppy needs up to the price of the puppy. There is an option to return that puppy and get a new one, but only if you want to do so.
They carefully pick the two parents to make sure that they achieve great health and temperament in their puppies. Their puppies and parent dogs live with them on the farm, and a lot of family members are part of the caring process for all their dogs.
Their puppies are raised in an open environment, and are used to many other animals and sounds as well as people and kids.
Country Mini Doodle Farm Details
Website: Country Mini Doodle Farm
Location: Summerfield, Florida
Email: [email protected]
Facebook: Country Mini Doodle Farm Facebook
Instagram: Country Mini Doodle Farm Instagram
4. Lily & Chloe Mini Goldendoodles
Lily & Chloe Mini Goldendoodles were started because of two dogs that are called… you guessed it, Lily and Chloe. Lily & Chloe Mini Goldendoodles are owned by Matt, Amy, and Megan. It all started with Matt and Amy, who are brother and sister.
They both shared their love for the Mini Goldendoodles and decided on starting their business. Megan is Matt's wife, and all three of them have their own duties when it comes to running this kennel.
Amy is the one who is around the puppies the most. Her husband is a vet, and she has a lot of experience when it comes to being surrounded by animals. Amy and the four kids are always with the pups, which is amazing for them because that is the first step in the socialization process.
Megan handles the logo design and all the paperwork that needs to be done in the adoption procedure. Matt is the one who contacts you and answers all of your questions, and photographs the puppies to put them on the site.
Your potential future puppy will be surrounded with love, and will go through all the necessary health tests so you can be sure that your puppy will be healthy.
If you want a puppy from them, you will need to fill out the application telling them why you would like their puppy. If they see that you are a good fit for their puppies, they would like to be in contact with you. You will need to give a $500 deposit so they can be sure that you are serious about getting their puppy.
We encourage you to visit their website and see all the details on their parent dogs, and to also see if there are any available litters.
Lily And Chloe Mini Goldendoodles Details
Website: Lily And Chloe Mini Goldendoodles
Facebook: Lily And Chloe Mini Goldendoodles Facebook
Instagram: Lily And Chloe Mini Goldendoodles Instagram
5. Puppies Up North Goldendoodles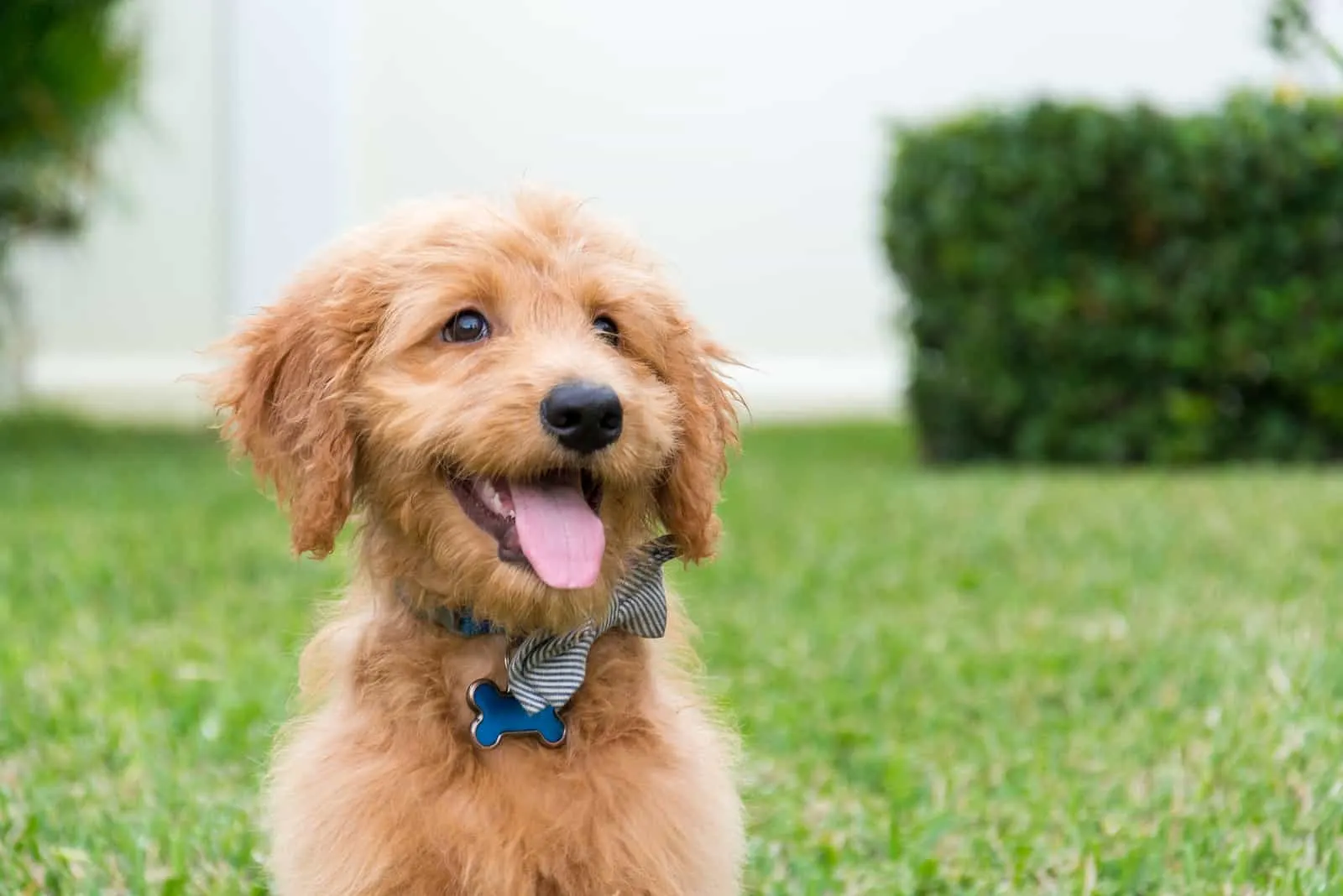 Puppies Up North Goldendoodles are not just your typical breeders, they consider themselves as puppy specialists. One of the breeders, Pamela, often goes to Minneapolis for a quarterly meeting where she discusses the program, and animal and facility safety.
The inspectors and vets of the Minnesota Board of Animal Health described this place as an amazing place for dogs and puppies where they can feel safe, loved, and cared for.
Besides mini Goldendoodles, they have a couple more breeds that they love, and decided to dedicate their lives to breeding them and taking good care of them and the puppies. When you visit their site, you can read all the fun and educational facts about all the breeds.
There is a big application that you should fill out so they can see what you want and get a picture of who you are. There are many details before the application that we advise you to read before filling it out.
If you don't get an answer within five hours after you fill the application out, they encourage you to contact them by giving them a call.
Puppies Up North Goldendoodles' Details
Website: Puppies Up North Goldendoodles
Location: Staples, MN 56479, USA
Email: [email protected]
Facebook: Puppies Up North Goldendoodles Facebook
Instagram: Puppies Up North Goldendoodles Instagram
6. Almond Blossom Doodles
The Almond Blossom Doodles was established in 2004, and is owned by two sisters, but all of the family members are included in this process. They are located in the countryside fields, which means that the pups and dogs will have a lot of space to roam free and explore.
You can expect that your puppy will come with these services:
– Crate trained one week before you get to take them home
– Dewclaws removed
– Microchipped
– Vaccines and deworming, with records that you get to take home
– A two-year health guarantee
– A collar and leash
You can get your puppy when it turns eight weeks old. The eight-week-old puppy will be socialized, which makes the future dog owner's job much easier.
They put a piece of their heart into every single one of these teddy bears. They are certified by the American Kennel Club (AKC), which means that they fulfill a lot of criteria that the AKC sets for the breeders who are their members.
They have a VIP Premium waitlist for people who would love to get their hands on one of their puppies. You need to fill out a form, and you will afterwards be contacted by one of the breeders.
Almond Blossom Doodles' Details
Website: Almond Blossom Doodles
Location: Central California, 1 1/2 hours from San Francisco and Sacramento
Facebook: Almond Blossom Doodles Facebook
Instagram: Almond Blossom Doodles Instagram
7. River Valley Doodles
River Valley Doodles is proud to produce healthy, loving, trained, and socialized mini Goldendoodle and Sheepadoodle puppies. The puppies are held in the family environment, which means that the dogs and puppies are held in the home of the breeders.
The owners and their families spend hours playing and teaching puppies many things, caring for them, and cleaning the environment that they live in daily. Since the puppies are surrounded by many people as soon as they are born, they will adjust quickly to your family as well.
The prices of their puppies range from $2,500 to $4,000. They never offer discounts on their puppies, and neither do any of the best breeders. You may think to yourself that the puppies are a bit expensive, but they invest a lot of time, effort, money, and sweat into raising the perfect puppy.
When you purchase your puppy from them, you can expect that it will come with:
– A collar
– Toys
– A bean tote bag
– A litter blankie
– Its first shots
– A health guarantee
– Food
– The best bloodline
They offer their support and help after you take your puppy home. They know that bringing a puppy home can be a bit scary so if you have any questions or dilemmas, you can always contact them.
Their site is something you definitely need to check out. They have a lot of useful information like a shopping list that you will need to go through before the puppy gets home.
River Valley Doodles' Details
Website: River Valley Doodles
Location: New York
Email: [email protected]
Facebook: River Valley Doodles Facebook
8. Copper Oaks Goldendoodles
Copper Oaks Goldendoodles breeds F1b Goldendoodles, and they are owned by married couple, Nathan and Becky, with their seven children. They are happy that their puppies are surrounded by that many kids because it ensures their friendly nature and socialization.
All of their parent dogs are genetically tested for any possible health issue. They really care about the health and well-being of their puppies and dogs so you can be sure that every measure is taken to provide the best health care.
Their puppies are introduced to many environments, and they are even thought to be getting used to the pool. The puppies often have tea parties with the girls, and we think that is just the cutest thing we have heard in a while.
Here is the list of everything that you will be getting, and all the services they provide:
– A blanket with the mothers scent
– A two-year genetic health guarantee
– Genetic tested by parentage
– Vaccines
– Microchipped
– Dewormed
– A vet health check
– Early potty training
– Family raised
They offer delivery, but they would prefer if the distance is not that big because it can stress the puppies. If you are not that far, but not in the position to get the puppy in person, they are more than happy to safely bring the puppy to your home.
Copper Oaks Goldendoodles Details
Website: Copper Oaks Goldendoodles
Location: Frederick, Maryland
Email: [email protected]
9. Goldendoodle Acres
Goldendoodle Acres is led by a team of experienced breeders. They breed Mini Bernedoodles, Micro Mini Goldendoodles, Petite Mini Goldendoodles, Mini Goldendoodles, Medium Goldendoodles, and Standard Goldendoodles.
There is a big list of things that they ensure, and we will list them so you know how dedicated they are to their job:
– Dogs are raised in the family environment
– Puppies have a disposition for being great pets and therapy dogs
– Disease testings
– Orthopedic testings
– Early neurological stimulation
– Introduced to many sounds and places
– A two-year money-back guarantee on all the tests
– Sound desensitization
– Puppies are examined by a licensed vet
– Vaccines and deworming
– They provide their puppies with high-quality food
– Litter box training that begins when they are three weeks old
– Microchipped
The puppies are born in their bedroom, and they sleep there until they go to their new home. They feel most comfortable with that option because they are close to the puppies if they need anything during the night.
They provide them with a bigger area when they grow up a bit, but the puppies always like to sneak into the bedroom.
Visiting their website is super worth it because they give much more detailed information about the way they keep their puppies, and many more interesting things. You can see the pricing of the puppies according to their size as well.
Goldendoodle Acres Details
Website: Goldendoodle Acres
Location: Neenah, Wisconsin
Facebook: Goldendoodle Acres Facebook
Instagram: Goldendoodle Acres Instagram
10. Copper Canyon Doodles
Copper Canyon Doodles is a kennel-less kennel that is owned by Paul and Emily. They breed Red and Copper-Brown Mini and Micro Mini Goldendoodles. They fell in love with this breed 12 years ago, and realized that they are perfect family dogs.
Since then, they decided on breeding these cuties and providing many people with high-quality puppies with amazing tempers.
All of their puppies come with:
– A three-year genetic Hip, Heart, and Eye Guarantee
– Vaccination/Health Records
– Dewclaws removed
– Shots and dewormed that are appropriate with age
– Life's Abundance food sample
– Lifetime support for you and your new family member
– A custom Copper Canyon Doodles Puppy Packet
They truly care about the food that they give to the puppies, and because of that, you have a whole segment on their website about the food that they are giving them.
Another thing you can find on their website is the application form that you can fulfill, and there is a space at the end where you can write what you expect from your Goldendoodle; for example, if you want them to be more energetic or calm.
This way, they can match you with the perfect puppy, and can see if you are a good match for their puppies in general. You can also see many cute pictures of their previous and current puppies, and read testimonials of previous clients.
Copper Canyon Doodles' Details
Website: Copper Canyon Doodles
Location: Utah, USA, 2 hours from Las Vegas, NV
Email: [email protected]
Facebook: Copper Canyon Doodles Facebook
11. Royal Minidoodles
Royal Minidoodles are the premiere breeders of English Cream Goldendoodles in miniature form. They are family-run, and they like to say that their puppies turn heads and melt hearts.
They put a lot of effort into finding the best bloodlines of the parent dogs, and they are (for the most part) from champion bloodlines. This means that they care that the puppies are in the best health and temper.
They find their bloodlines from Sweden, Serbia, Japan, Ukraine, the UK, and many more places. The health of the dogs and puppies is very important to them. All of their dogs are examined in detail by the best vets.
Some of the tests are for hips, elbows, eyes, heart, and ICH testing. All of their dogs and puppies are AKC-registered. Their puppies come with ENS and Puppy Socialization. There is the option of a two or a four-week trial program to ease the transition into your family life.
If you like what they offer, you should fill out their form to get on their waitlist because they are quite in demand. The application process is described on their website, and it doesn't take a long time to fill it.
Royal Minidoodles' Details
Website: Royal Minidoodles
Location: Sheridan, Central Indiana
Email: [email protected]
Facebook: Royal Minidoodles Facebook
Cost Of A Mini Goldendoodle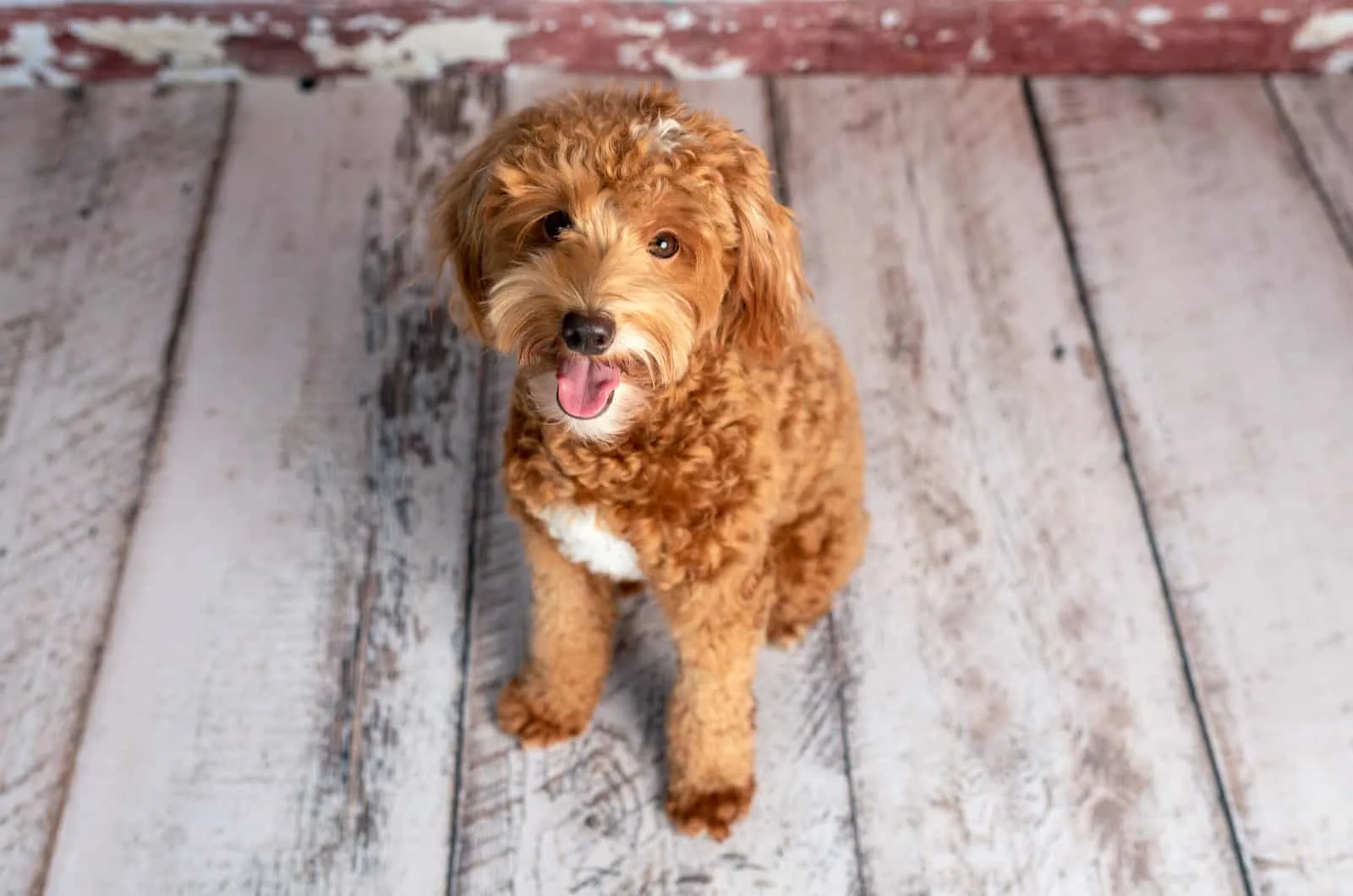 As you can see from all the breeders that we listed, they deeply care about their dogs, and put their souls into the puppies and their well-being. Raising a puppy, especially in its most critical life period, is never easy.
When you look at all of the factors, the price of the puppies is quite justified. You can expect your puppy to cost you anywhere from $2,000 to $5,000.
Besides the cost of the puppy, there are some additional costs that are the highest in the first year of the dog's life. Some of the things you need to prepare for the puppy's arrival are a crate or a bed, food, grooming tools, a leash, vet bills, a collar, toys, etc.
Some of the costs will be frequent, and you should not skimp on them – one of those things (and the main thing) is dog food. These cuties don't eat a lot since their tummy is small, but it is important to find food that is of high quality.
Even if they are curly, fluffy dogs, they're not that demanding when it comes to grooming appointments. If you brush them frequently, you will be just fine with a trim here and there.
Are There Sites Where You Can Find A Mini Goldendoodle?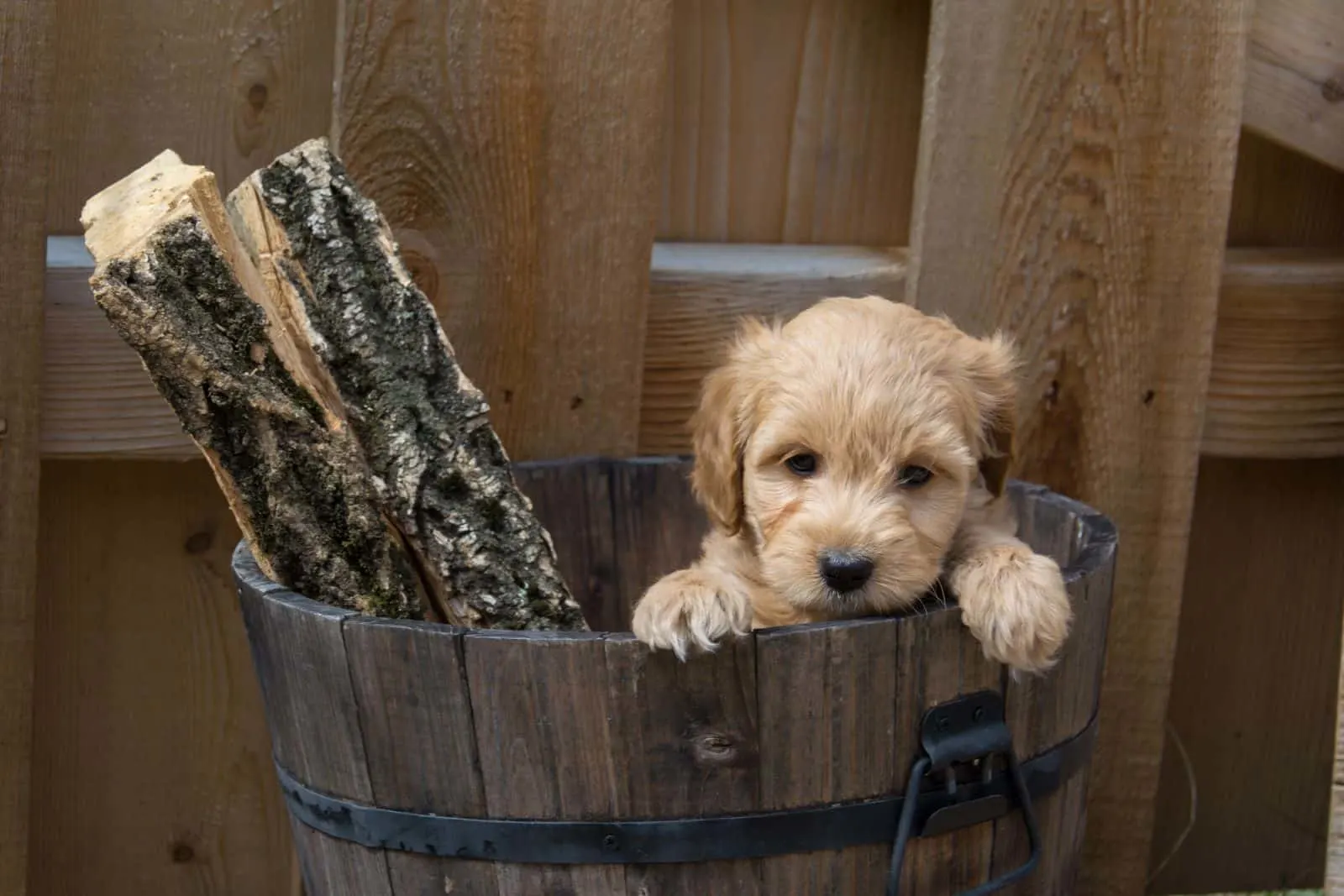 There are many different sites from which you can find many breeds from different places. But, you need to be careful when purchasing a puppy from sites. There are a lot of scammers that will try to trick you to get your money.
Some of these sites are used by people who have an adult dog and can not take care of the dog anymore, but want to find them a home. Sometimes, these dogs will be gifted while other times, it will be sold for a small amount of money for shipping costs and the things that the dog will come with.
Some people might have an accidental litter, but take good care of their puppies and do all the right things to keep them happy and healthy. They want to give them a new loving home.
These people might not be AKC-registered, but they take good care of their puppies. This might be hard to detect, but everything will be clear when you get in touch with the people who are selling the puppies.
If they are willing to show you the puppies and parent dogs via a Zoom call or in person, that is always a good sign. Another thing that is important are their health certificates.
Two of the best sites from which you can find a mini Goldendoodle are:
To Sum It Up
Getting a puppy is never an easy thing to do. Finding a reputable breeder is always a nerve-wracking task, and it can take a lot of time. Don't get too excited and impatient and speed up the process just so you can get your puppy as soon as possible.
We understand that the need to get your puppy quickly is sometimes bigger than all of us, but it is important to take your time. It is important to know that your puppy is in good hands and living a happy and healthy life in the first period of its life.
We hope that this Mini Goldendoodle breeders list will be very helpful to you, and that you will find your puppy from some of these places. You never know – maybe there is a puppy just waiting for you to pick up your phone and call the breeder.
But, don't get discouraged if there aren't any litters planned in the near future. It will be worth the wait for sure.
We wish you and your future puppy many happy years spent together. There will be some downs, but there will for sure be many ups.
Creating memories with your dog is something that is priceless.
RELATED CONTENT:
– Goldendoodle Breeders: How Do You Know Which Ones To Trust?
– Free Puppies In Your Area For Adoption: 13 Ways To Find A Free Pet
– Goldendoodle Names: Finding The Cutest Name Idea For Your Teddy Bear