What do you get when you cross a mini Australian Shepherd and a mini Poodle? The best mini Aussiedoodle ever!
Today, we're going to talk about this lovely Doodle breed and where you can find them. Picking the ideal breeder for a mixed breed pup is always such a difficult task. It's not easy to find good people who care about their puppies in the right way. A lot of breeders of similar breeds just want to get the money.
Sadly, we don't have many reliable mini Aussiedoodle breeders in the States, but what we have is pretty decent. I believe seven great mini Aussiedoodle breeders are just enough.
So, sit back, grab your phone, and as soon as you finish reading, start dialing. There's a huge chance the listed breeders won't have puppies available and will put you on their waiting list. But, that's okay. The wait is worth it, and so is driving from California to New York, or vice versa just to get your pup!
Mini Aussiedoodle Puppies For Sale In The States
The Dog breeders you're about to meet are the best ones focused on breeding miniature Aussiedoodles. You can contact them without any fear because everything they have to offer is happy, healthy doggos.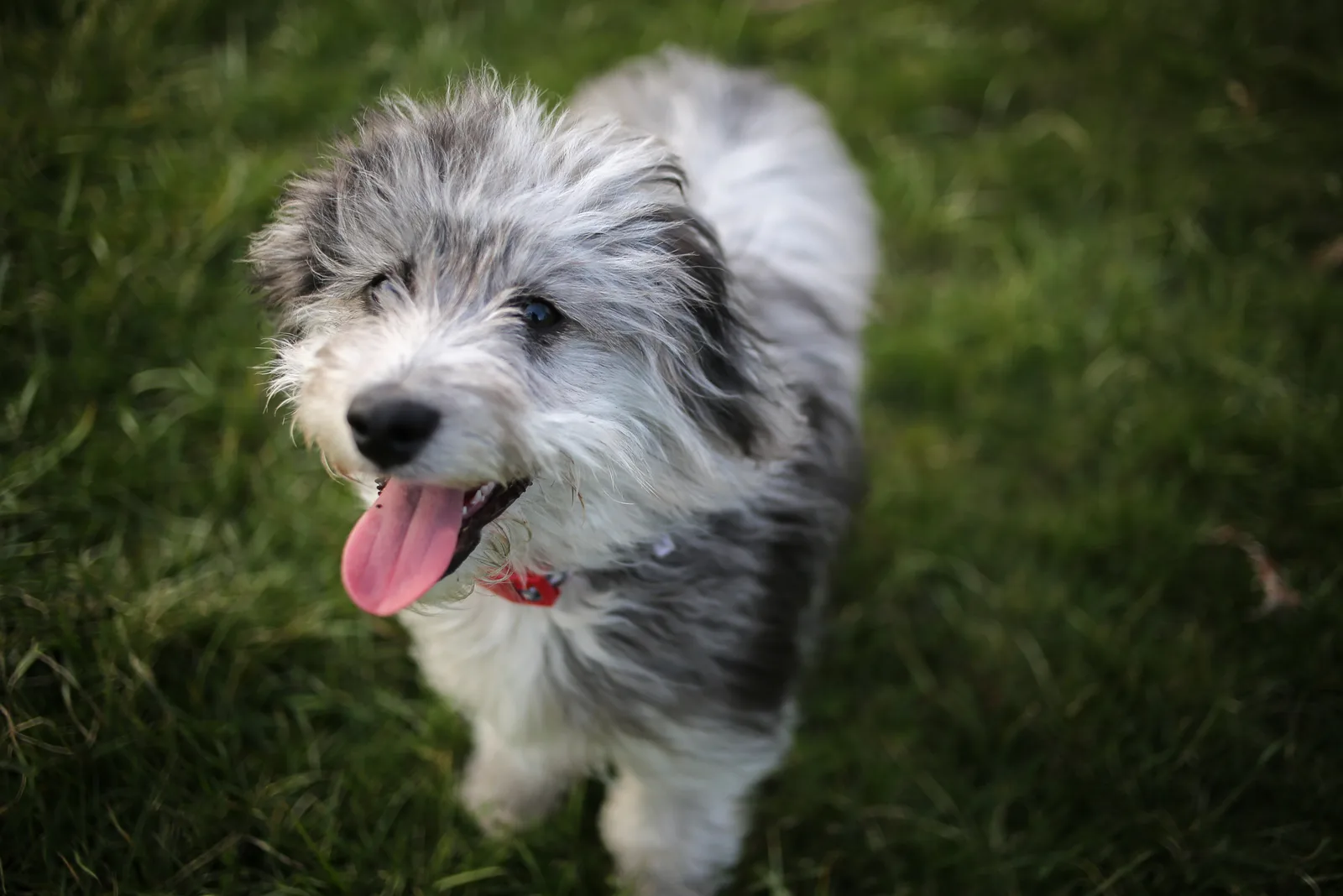 One look at the Hidden Haven website and you'll realize why these guys call their home a true little haven for pooches. Well, dogs aren't the only ones enjoying the natural life on this farm. Everyone who comes to visit Hidden Haven wishes to stay.
I get why the farm gets so much admiration. It's hidden deep away from the noise, in West Central Ohio, surrounded by woods, some ponds, and camping sites. As I said, everyone loves it here, including dairy goats, ducks, and chickens.
There's plenty of space for Aussiedoodles of all sizes and generations to enjoy here. However, Hidden Haven Aussiedoodles come as F1, F1b mini, and F2 mini Aussiedoodles. This ensures the Aussiedoodle's non-shedding, hypoallergenic traits that everyone's so crazy about.
This reputable Ohio breeder has been in the business for over eight years now, but the Doodle bug has been in the family for many more years. They're registered with the CKC, and offer some of the finest specimens of purebred mini Aussiedoodles.
All Hidden Haven Aussiedoodles are well-socialized pups. The breeders put special effort into early socialization.
Joyce, the mommy of the business, makes sure that the pups are healthy and receive all their treatments, including deworming and vaccinations, and her three kids and her husband help a lot with shaping the puppies into sweet creatures. Once the pups turn eight weeks of age, they will be ready to move out.
Reach out and call Joyce to see if she has puppies available. She doesn't overbreed her stock, so there's a huge chance you'll have to wait for a while for puppies to become available.
Breeder's details
Website: Hidden Haven Aussiedoodles
Location: Houston, Ohio
Phone: 937-726-9965
Email: [email protected]
2. DreamyDoodles Northwest, WA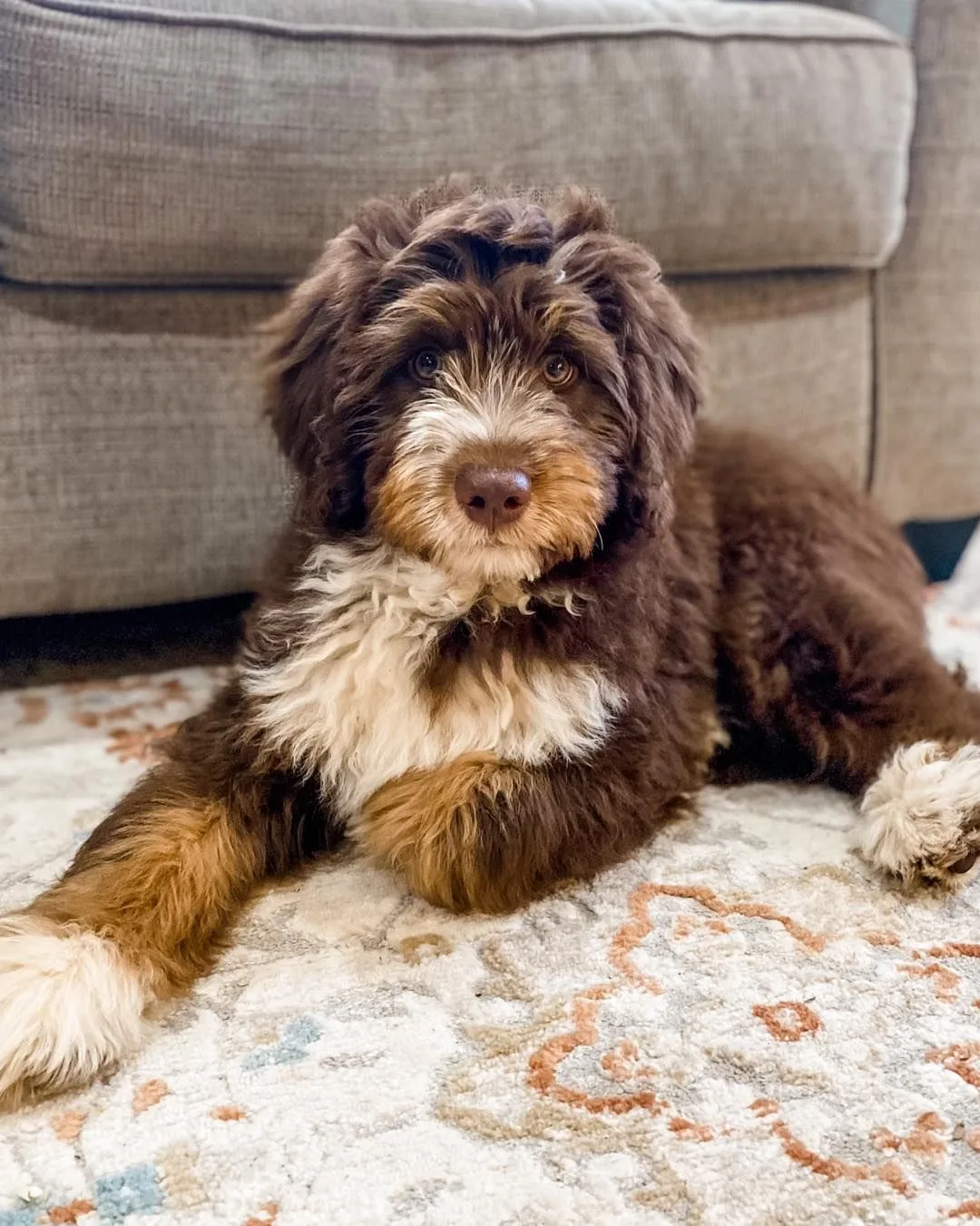 Aren't they just dreamy?
Meet DreamyDoodles, from Washington… a home to some of the sweetest mini Aussiedoodle pups ever. With every right, I can add that this breeder is absolutely nuts about all things Doodle. Well, the entire family is.
The Doodle bug bit this family of five back in 2007/2008. One encounter with a Goldendoodle pup in the park led to adopting a Gooldendoodle pup, and six months later… an Aussiedoodle. Ever since then, Barbara has been involved with Doodles, but she did not breed them.
It took some time and courage to ask an experienced breeder to mentor her. And, guess what? She was a straight-A student, and she's now a proud Labradoodle and mini Aussiedoodle breeder!
Barbara's lines for breeding mini Aussiedoodles are truly spectacular. Her breeding stock has a terrific pedigree. The DreamyDoodles line of Aussiedoodles was started with a Moyen Poodle from a popular Texas kennel, and a toy Aussie Shepherd with champion backgrounds.
Naturally, every pup from this breeder is a born champion.
DreamyDoodles' goal is to produce clear lines of future champions, with impeccable social skills, lovely appearances, a sweet temperament, and above all, a pawfect health status.
What else is so great about DreamyDoodles is their fixed price. Each puppy is priced at $3,500, no matter its size, gender, or coat color.
If Barbara doesn't have puppies available, but you're dying to get a mini Aussiedoodle asap, she can direct you to some other reliable mini Aussiedoodle breeders as she runs a Doodle breeder resource group on Facebook.
Breeder's details
Website: DreamyDoodles Northwest
Location: Woodland, Washington
Phone: 360-448-1477
Email: [email protected]
Social media: Facebook and Instagram
3. Doncie Doodles, OH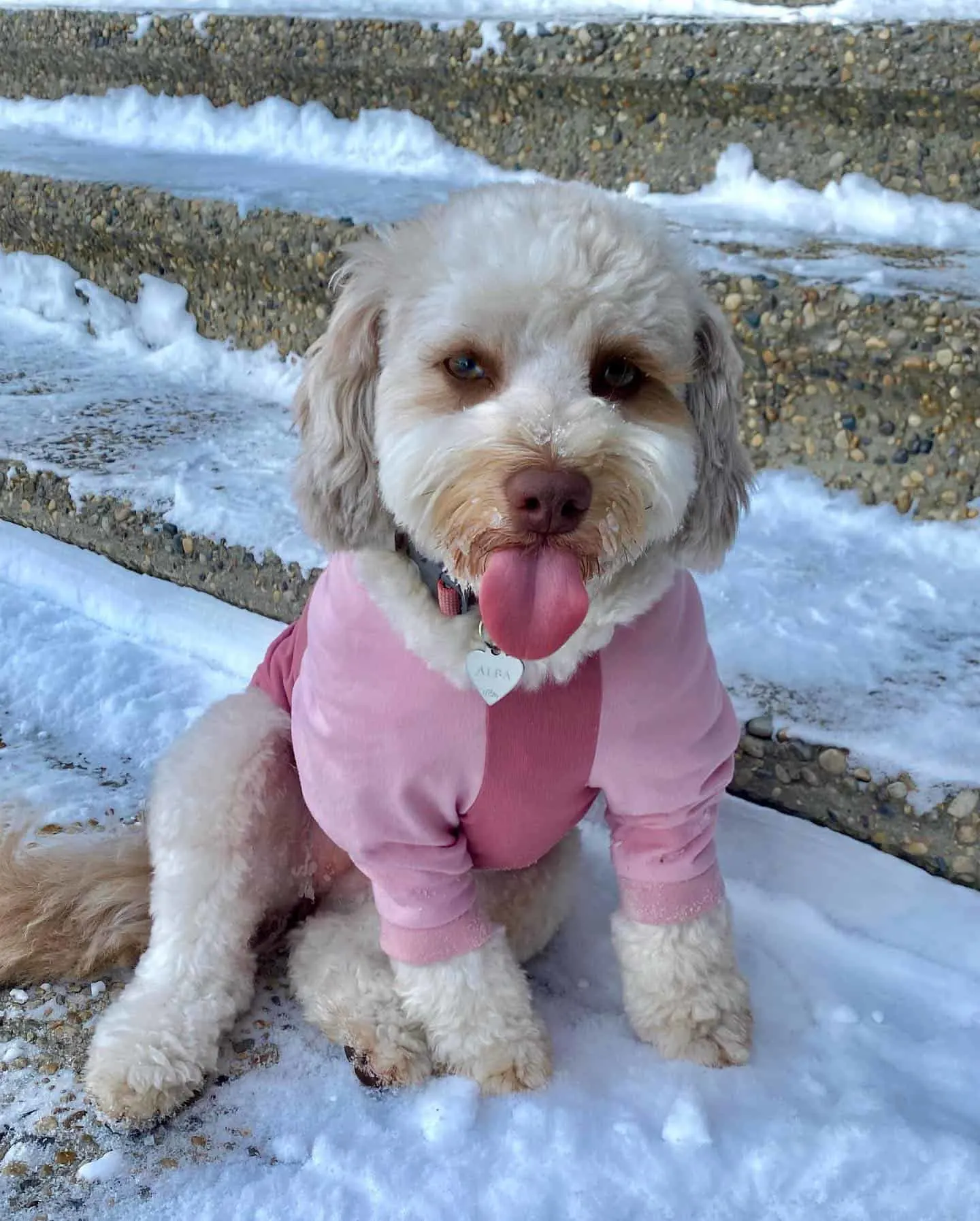 Another great mini Aussiedoodle breeder comes from Ohio. Seems like people from this State really love their Doodles.
Let's meet Doncie Doodles and find out why they deserve a place on our list!
This breeder is focused not only on lovely Aussiedoodles, but also on Bernedoodles as well as St. Berdoodles. It's a family business hidden on a farm in Batavia, where dogs can run freely and enjoy all eight acres of their land.
Although they have plenty of room outside, the family doesn't keep their dogs in kennels. They're all home-born and raised pooches, and they go out just to play and enjoy themselves.
The goal of Doncie Doodles is to produce well-mannered family dogs that will shower their humans with love and kindness. Doncie Doodles wants to make sure all their Doodles are first and foremost healthy dogs with a calm temperament.
You won't have to worry about pups being free of hereditary conditions. The breeder makes sure that all dogs are health tested and come with certificates for hip and eye conditions, including MDR1 tests.
Besides these certificates, the puppies also come vaccinated and dewormed. The breeder will also have them microchipped and started on crate and potty training. Since Aussiedoodles are Einstein dogs, you shouldn't have any trouble with training them at home.
Oh, and let's not forget the two-year health warranty! This is always a nice bonus when buying a puppy!
If you want to hear about the prices, you should contact the breeder since they don't have puppies available all the time. I can tell you that the price ranges from $2,000 to $2,500. Merle Aussiedoodles are always pricier.
Lastly, I must add that Doncie Doodles has all Aussiedoodle sizes, including toy Aussiedoodles. So, if you ever want to get your mini Aussiedoodle a bigger younger brother or sister, then this is the breeder to visit.
Breeder's details
Website: Doncie Doodles
Location: Batavia, Ohio
Phone: 513-543-7475
Email: [email protected]
4. Fine And Dandy Aussiedoodles, NC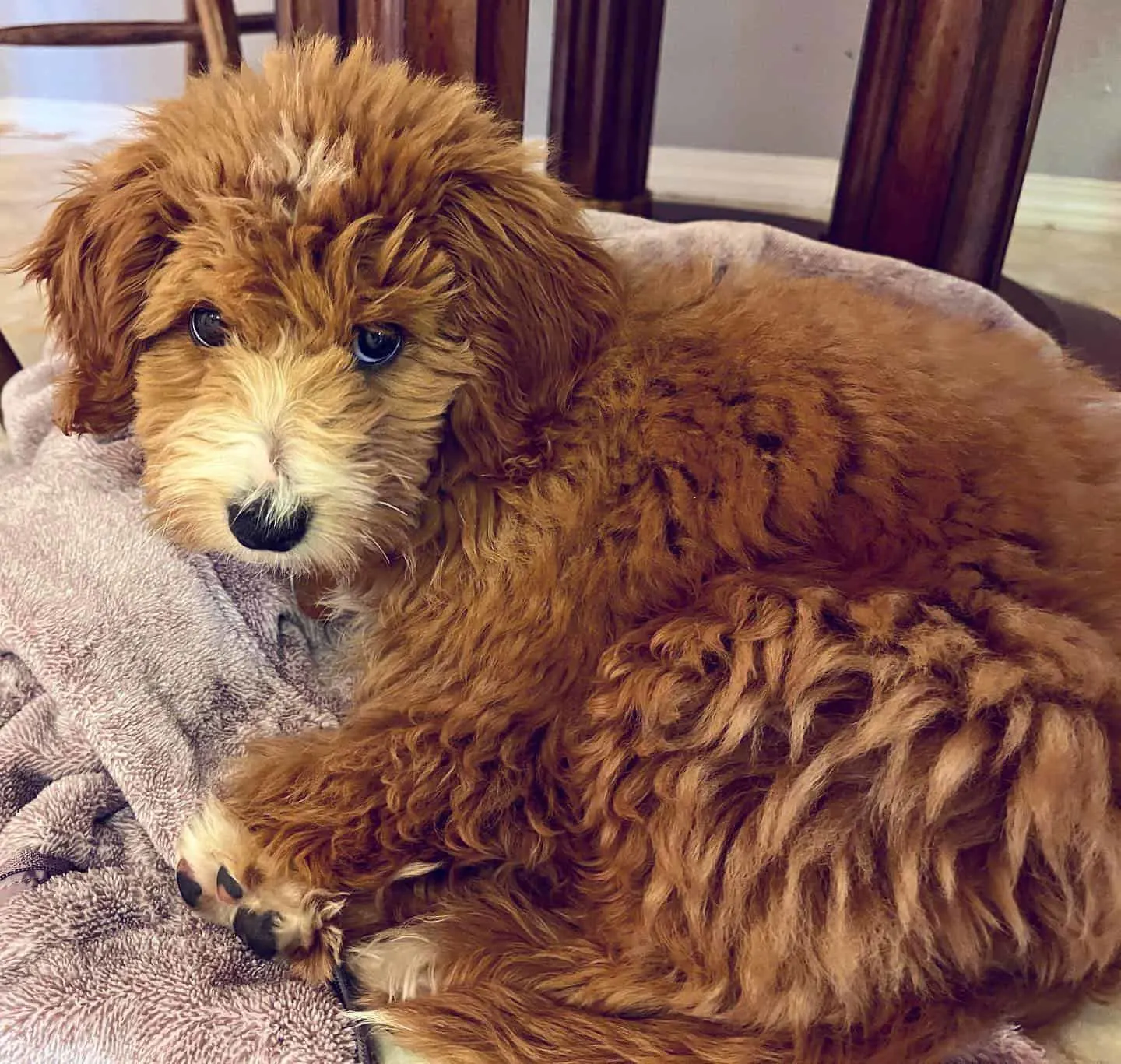 Want a mini Aussiedoodle with parent breeds that are purebred Moyen Poodles and mini Aussie Shepherds? Then, you must visit Fine And Dandy Aussiedoodles. This North Carolina breeder has only the finest pups for you waiting to become equal members of the family.
Fine And Dandy Aussiedoodles are pups born and raised on a farm. Yet another family business has found a place on our list, and I have to add… I like those the most.
To keep things easier to understand, we'll call this breeder by its nickname, FADA.
FADA mini Aussiedoodles are dogs with a great temperament and pawfect health. These are active dogs with big energy levels, so they need someone to exercise them daily and provide them enough mental stimulation. Are you sure you can meet their needs, just like the FADA breeder does?
FADA usually announces when puppies are available on their Instagram page, so make sure you follow them.
FADA Aussieoodles come in all sorts of coat colors. I bet you won't know which lovely puppy to pick. But, I do know that once you get a FADA mini Aussiedoodle, you'll become a member of the wonderful FADA family.
Breeder's details
Website: Fine And Dandy AussieDoodles
Location: Canton. North Carolina
Phone: 623-521-2334
Email: [email protected]
Social media: Facebook and Instagram
5. Steindoodles, OH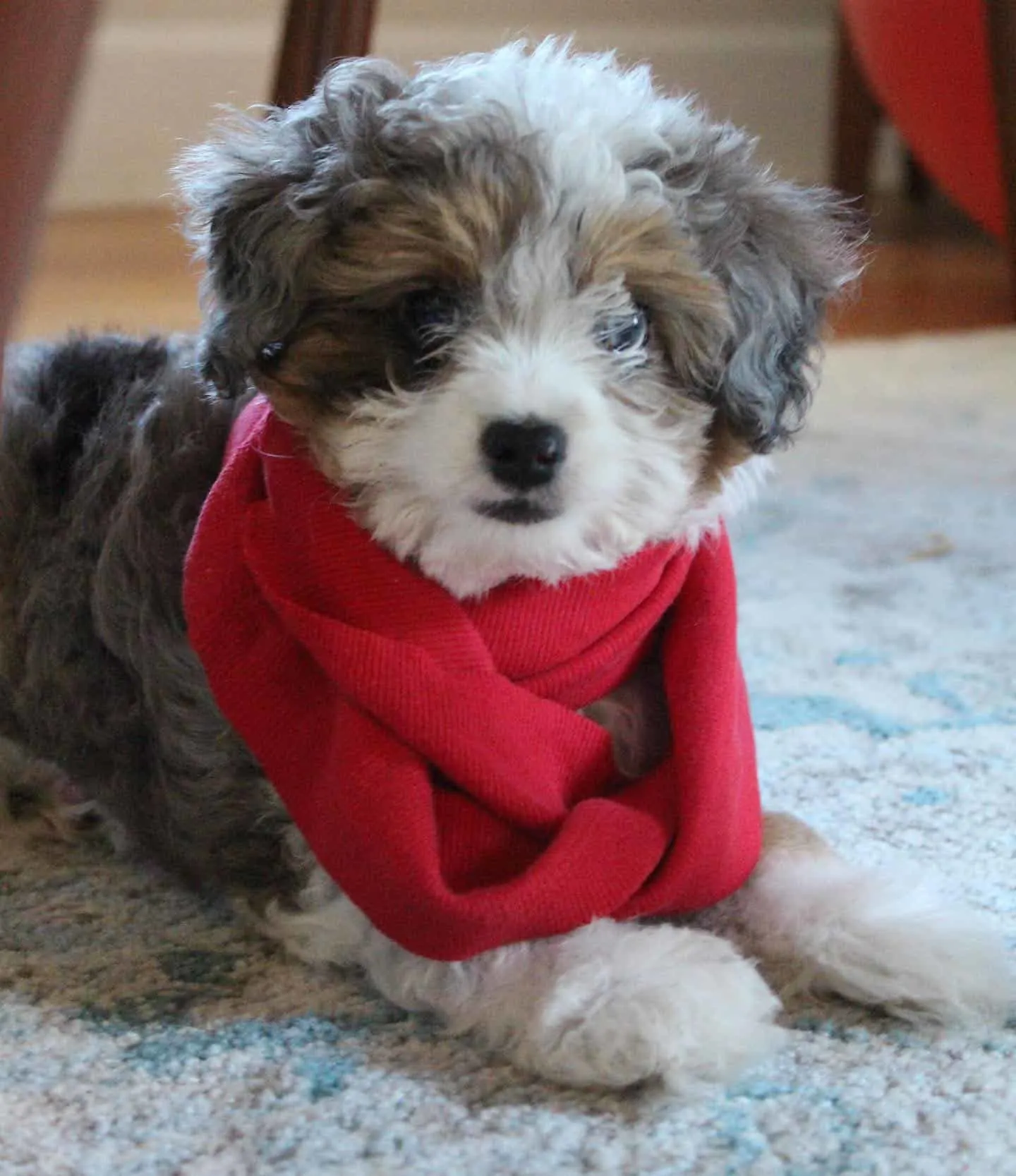 Steindoodles are one of the breeders that are highly focused on raising puppies with impeccable social skills. These little mini Aussiedoodles are pups that love spending time with their humans. This is all thanks to ENS and ESI – two approaches that introduce puppies to scents and unknown situations.
In addition the puppies are raised following puppy culture.
This says a lot about the breeder, and proves that Steindoodles are mini Aussiedoodle dogs worthy of your time.
Let's see what else is special about this breeder.
As Riley, from Steindoodles says… breeding mini Aussiedoodles is a mission with one goal: to bring you the dog of a lifetime.
Mini Aussiedoodles from this breeder have buddies here, too. They're Bernedoodle puppies, which are equally worthy of your time.
What really knocks me off my feet with this breeder are the coat colors of his puppies. You can choose between blue merle phantoms, chocolate merle phantoms, chocolate merles, blue merles, black tri, brown tri, chocolate phantoms, and black phantoms, along with red, parti, black, agouti, brindle, sable, and chocolate.
Whoa… so many lovely coat colors! It will definitely be hard to pick the ideal puppy.
It might help you with the decision to hear that the pricing depends on the color. You can find all the prices listed on their website, but for now, let's say the cheapest prices are black or black tuxedo pups, listed at $2,000. The most expensive ones are merle tri pups for $3,300.
Breeder's details
Website: Steindoodles
Location: Creston, Ohio
Phone: 330-347-4651
Email: [email protected]
6. Simply Grace Farms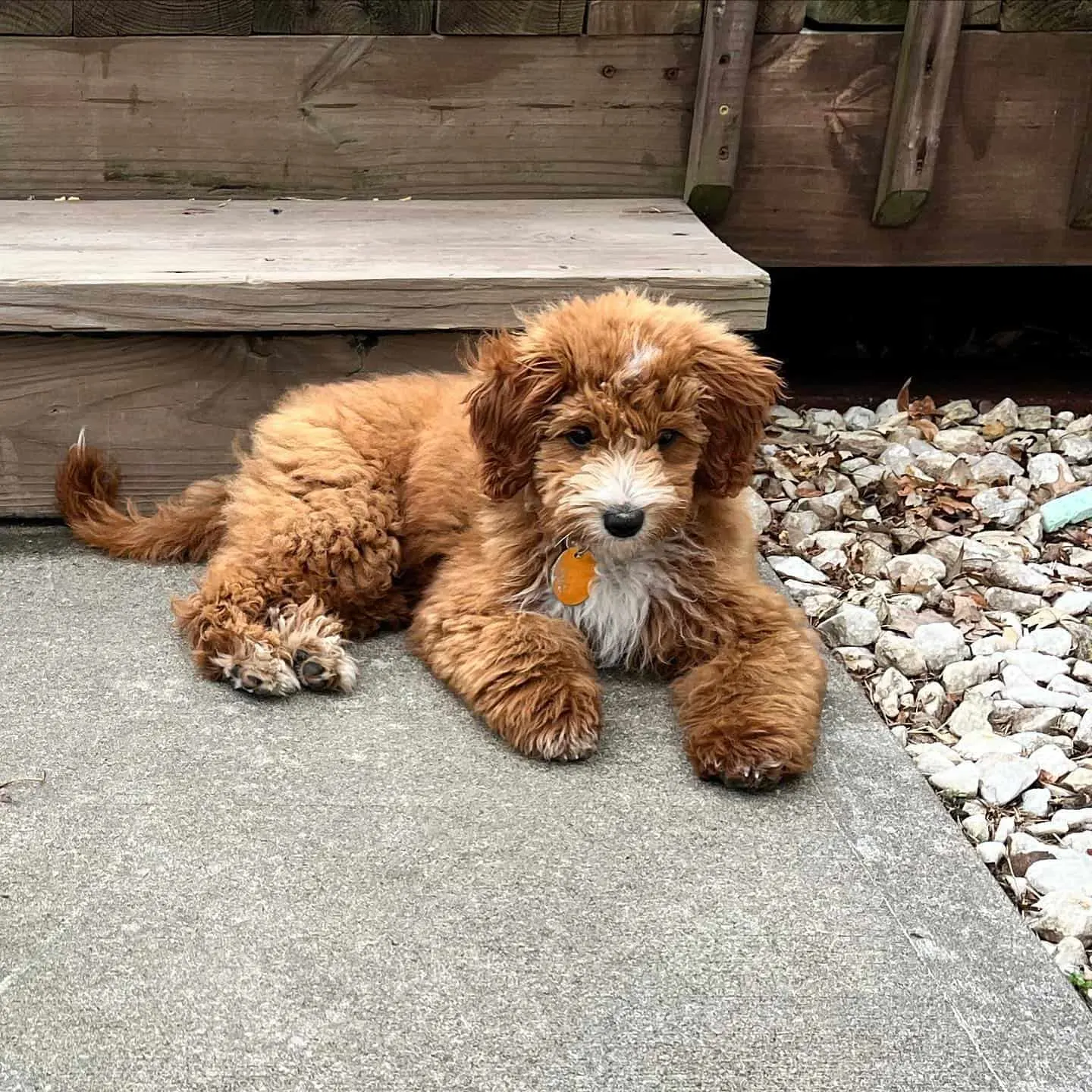 Simply Grace Farms really has some impressive, graceful mini Aussiedoodle puppies.
The Tolleys, the family that runs Simply Grace Farms, is madly in love with Doodles. They started their Doodly journey back in 2018. What started out as a hobby soon became a lovely little business. I always support small businesses because I see potential in them. How about you?
Anyway, Simply Grace Farms has some other dog breeds besides mini Aussiedoodles. To be precise, you can also find moyen Poodle puppies and medium Golendoodles on this farm. They're all high-energy dogs, and the family seems to enjoy being out and about with their dogs all the time.
Simply Grace Farms really goes the extra mile with their puppies. What you should know about this breeder is that they take tremendous care of all their new puppies and the existing breeding stock. This means that all dogs will be submitted to health and genetic testing, i.e., Embark tests.
Simply Grace Doodles are CKC-registered dogs. Well, the parent breeds are registered since their puppies are hybrid or designer dogs, and such will never be approved by official AKC or CKC clubs.
The Aussiedoodle crossbreed pups from this loving farm are waiting for their furever home. They're just a phone call away.
Breeder's details
Website: Simply Grace Farms
Location: Union Mills, North Carolina
Phone: 828-223-1655
Email: [email protected]
7. Double R Doodles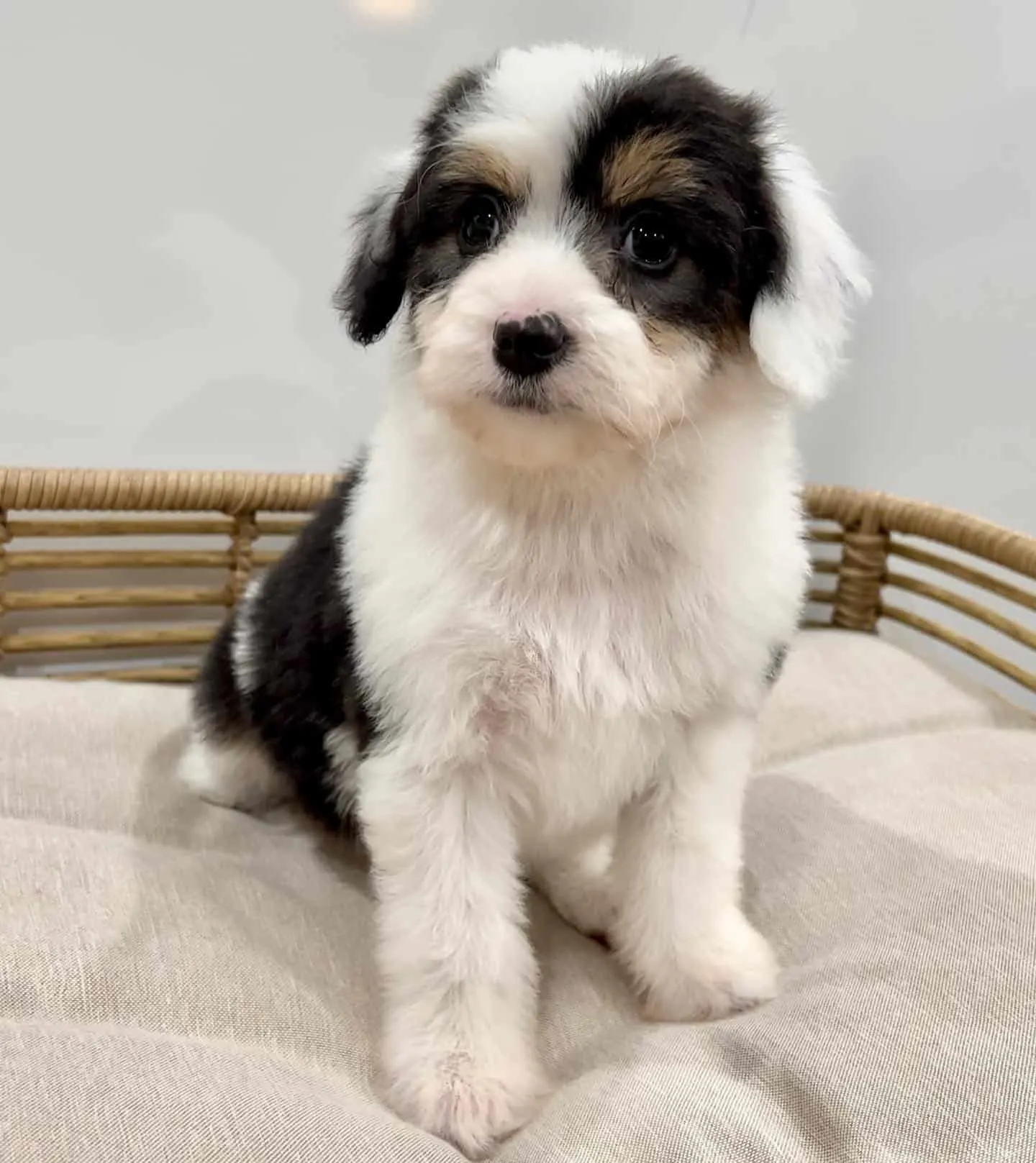 Lastly, we have one of the oldest running Doodle businesses here. Meet Double R Doodles. This southern-Illinois-based breeder has been raising pawdorable mini Aussiedoodles for over 50 years. Double R Doodles was officially founded 25 years ago.
As the most experienced breeder on this list, Double R Doodles has a special approach to breeding pups. They're hardcore professionals with dog kennels that will blow your mind. I normally don't trust kennel-type breeders because there's a fine line between them and puppy mills.
But, if you dig deep, you'll find out that Double R Doodles is miles away from being a kennel, and they never will be one. This is a spectacular facility with the best possible kennels, whelping rooms, and whatnot. I was truly amazed with how professional everything is around here.
Sure, their breeding facilities are top notch, but what about their puppies? Are they premium, too?
There's no doubt! Mini Aussiedoodle puppies from Double R Doodles are dogs that will show how great they are in every possible way. These are high-adaptability dogs, which means they will fit into any lifestyle, no matter if it's countryside or city living.
Double R Doodles aren't only mini Aussiedoodles. This is a huge farm with other dogs like Shepadoodles and German Shepaussiedoodles. The prices aren't that high with this breeder. Let's just say that Aussiedoodles of all sizes range from $1,000 to $1,800.
It was never about the profit. The purpose of Double R Doodles was to improve the breed and bring you the best puppies in order to spend all their life being happy and healthy.
I suggest you call in and ask to see if they have mini Aussiedoodle pups available.
Breeder's details
Website: Double R Doodles
Location: Stonefort, Illinois
Phone: 618-841-9720
Email: [email protected]
To Sum Up…
A combination of the mini Australian Shepherd and the Poodle, usually the miniature Poodle, has resulted in one of the most amazing Doodles ever… the mini Aussiedoodle!
The Mini Aussiedoodle breeders you had a chance to meet today are people who are deeply in love with this dog breed. I mean, why wouldn't they be? Mini Aussiedoodles are a tad bit better than standard Aussiedoodles simply because of their smaller size.
Mini Aussiedoodles (or mini Aussiepoos) are sweet canines often used as therapy dogs. They're also energetic pups, and can be used as working dogs, thanks to their Aussie genes.
All in all, this Doodle breed is pretty pawmazing, don't you think?
If you really want to get your paws on a mini Aussiedoodle, then you should pay these good people listed here a visit. I assure that you'll get the best treatment possible and the finest mini Aussiedoodle puppy as your new loyal companion.