Your search for a reputable Goldendoodle breeder ends here because we have put up a list of the top 8 best Goldendoodle breeders in the UK.
A Goldendoodle is a designer dog breed developed by crossing a purebred Golden Retriever with a purebred Standard Poodle, Toy Poodle, or Miniature Poodle.
Due to the fact that a purebred Poodle comes in different sizes, a hybrid puppy can either be a Toy, a Miniature, or a Standard Goldendoodle.
Before we dive into our article, let's explain the Goldendoodle generations.
Most Goldendoodle breeders in the UK breed F1 Goldendoodles and F1B Goldendoodles.
So, F1 means "first generation" Goldendoodle. What this simply means is that the Goldendoodle puppy came from a purebred Golden Retriever and a purebred Poodle.
However, F1B stands for "backcross". In other words, an F1B Goldendoodle is derived from crossing an F1 Goldendoodle with either a purebred Golden Retriever or a purebred Poodle.
And, the list of letters and numbers goes on. Obviously, the breeding program of Goldendoodles is pretty complicated.
But, these reputable Goldendoodle breeders in the UK know exactly how to develop the most beautiful Goldendoodle puppies.
We're about to show you how they do it!
Goldendoodle Puppies For Sale In The UK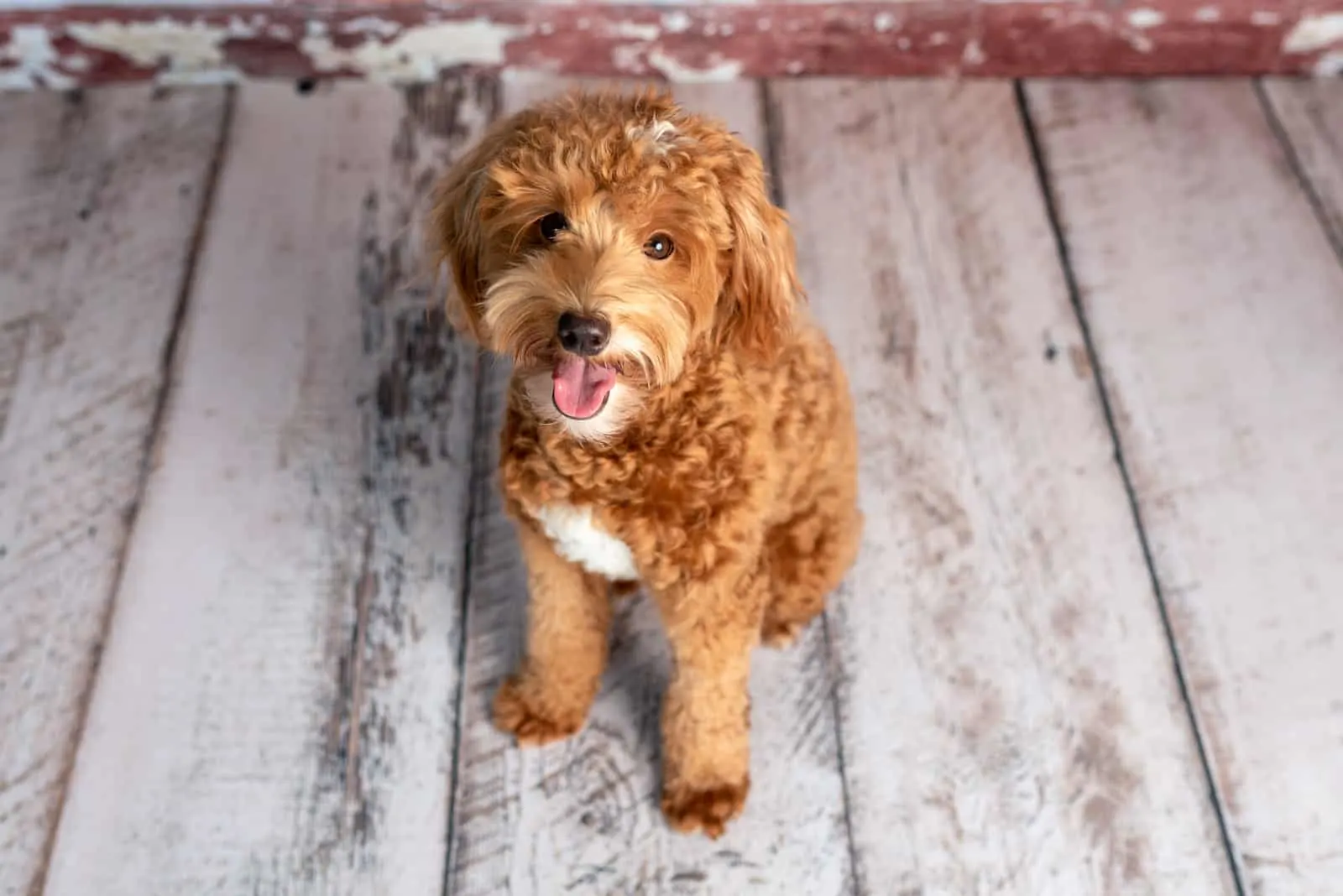 Usually, all Doodle puppies in the UK can be found at online pet markets and dog breeders. Some are even found in animal shelters.
Golden Retrievers are among the top three most popular dog breeds in the United Kingdom, with Labrador Retrievers and French Bulldogs behind.
Naturally, a Golden Retriever mix, such as the Goldendoodle, is almost as popular as the purebred dog.
If you're wondering what the difference between a Goldendoodle and a Labradoodle is, their names hold the answer — a Labradoodle is a cross between a purebred Labrador Retriever and a purebred Poodle.
Both designer dog breeds are extremely popular among England's paw lovers. So, a rise in popularity is followed by a rise in demand.
Among many Goldendoodle breeders in the UK, ethical and responsible breeders make their way by developing not only the healthiest, but also the most beautiful Goldendoodle puppies.
The first step you're going to take before finding a Goldendoodle puppy is finding a reputable Goldendoodle breeder.
This list is written in no particular order in terms of quality. Each Goldendoodle breeder that you see in this article develops top-quality Goldendoodles, and is backed with reviews from a lot of happy Goldendoodle owners.
So, let the hunt for the best Goldendoodle breeders in the UK begin!
1. Kizzabella Doodles – Lincolnshire /Cambridgeshire Border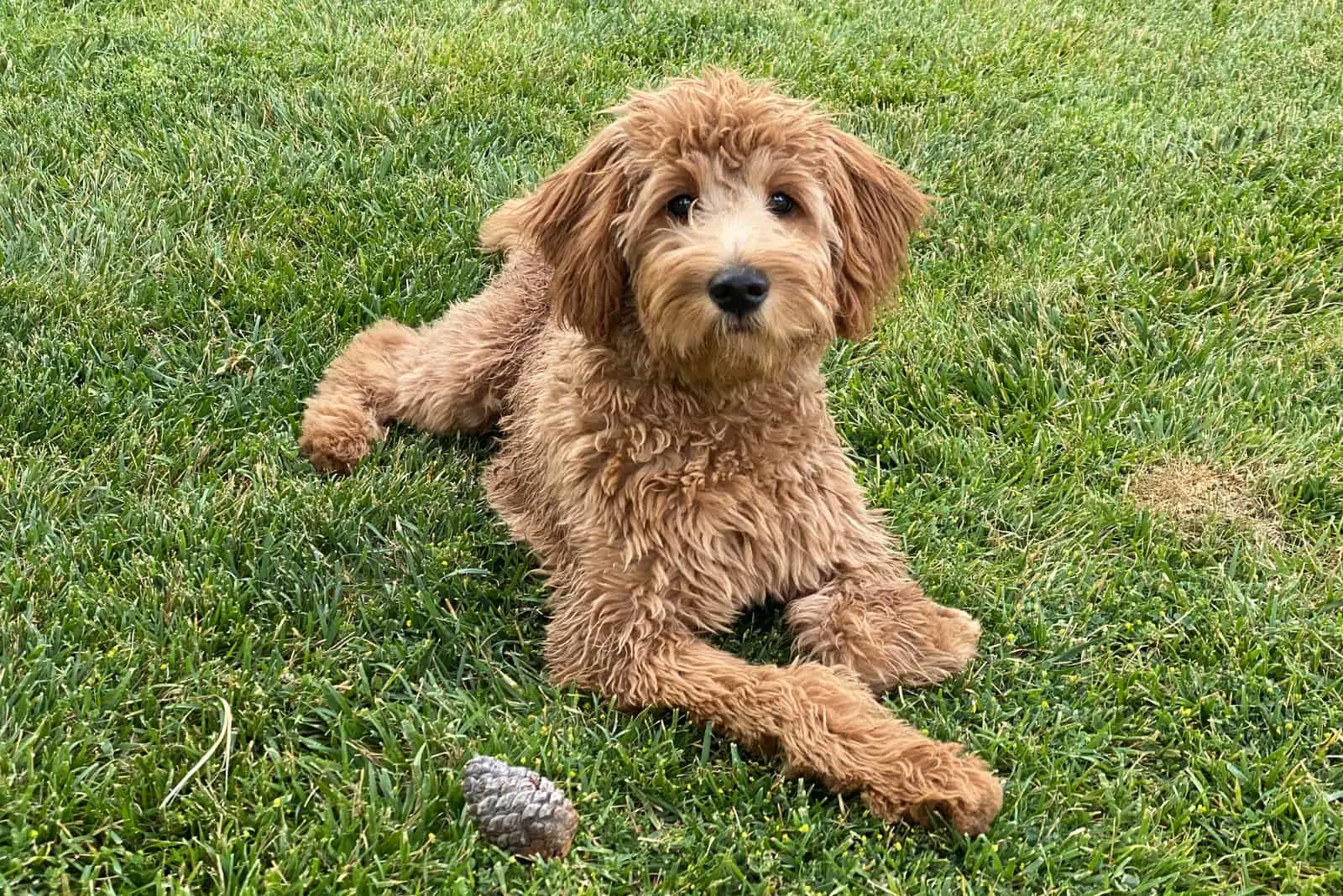 The first Goldendoodle breeder we're going to mention is an extraordinary breeder under the name, Kizzabella Doodles.
Alongside wonderful Goldendoodle puppies, Kizzabella Doodles produces Irish Doodle puppies.
Located on the Lincolnshire / Cambridgeshire Border, the Kizzabella team raises their Goldendoodles at home. Their pooches have all the space and time to run around in the countryside.
Health plays the most important part for Kizzabella Doodles. Each of their Goldendoodle puppies is health tested, with the main focus on genetic profiles of both parent breeds. Therefore, extensive DNA testing is performed on both parent dogs.
As for size, Kizzabella Doodles specializes in producing Goldendoodles of all shapes and sizes. But, they prefer breeding Miniature Goldendoodles and Medium Goldendoodles.
Kizzabella Doodles is one of the first Goldendoodle breeders in the UK to produce quality "Petite" Goldendoodles. These are the tiniest Goldendoodle puppies — reaching 14 inches in height.
At eight weeks of age, each Goldendoodle puppy is ready to go to its forever home. By that time, the Kizzabella Doodles' team has made sure that every puppy has received its first vaccinations, worming treatments, and a high-quality diet.
For more information on current and upcoming litters, make sure to contact this ethical Goldendoodle breeder.
Kizzabella Doodles' details
Email: [email protected]
Website: Kizzabella Doodles
Location: Lincolnshire / Cambridgeshire Border, United Kingdom
2. Destiny Doodles – Norfolk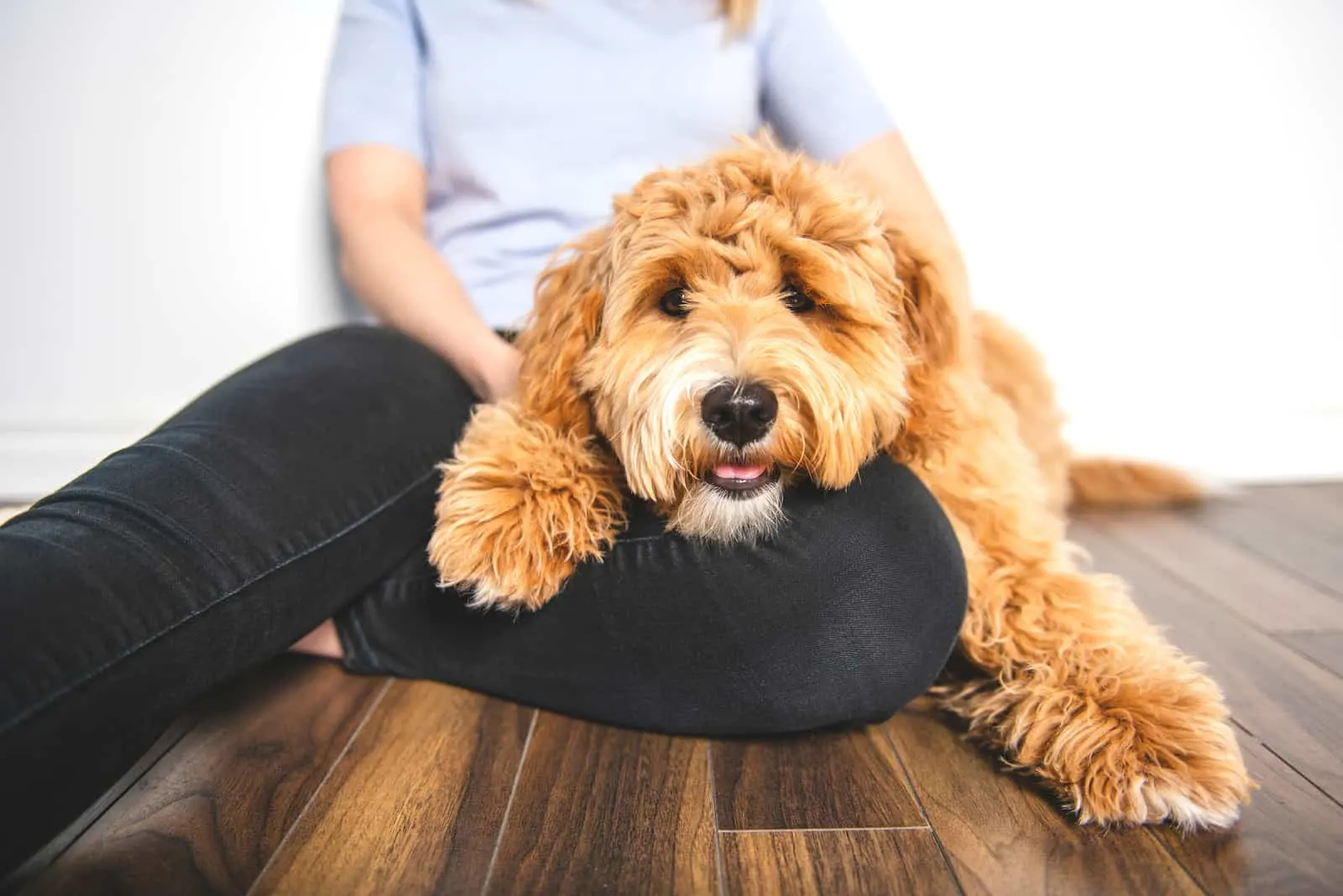 Destiny Doodles is a breeder of F1 Goldendoodles, St. Bernedoodles, and Newfypoos.
Having been in the dog breeding business for over 15 years, Leanne, from Destiny Doodles, has acquired a lot of knowledge and experience in creating healthy Goldendoodle bloodlines.
Destiny Doodles continues to develop healthy Standard Goldendoodles that carry high-quality genes from the Standard Poodle parent, and the purebred Golden Retriever.
Besides dog breeding, as a certified dog trainer and a licensed microchip implanter, Leanne strongly believes in the health and temperament of this wonderful cross breed.
Each Goldendoodle puppy from Destiny Doodles is early socialized around a loving family with children.
And, you guessed it right — all of the puppies live at home with their breeders.
If you decide to purchase an affectionate and healthy Goldendoodle puppy, you are required to fill out a puppy questionnaire that you can find on the Destiny Doodles website.
Destiny Doodles' details
Email: [email protected]
Website: Destiny Doodles
Phone: 07473119428
Location: Norfolk, United Kingdom
3. Curtabem Doodles – Yeovil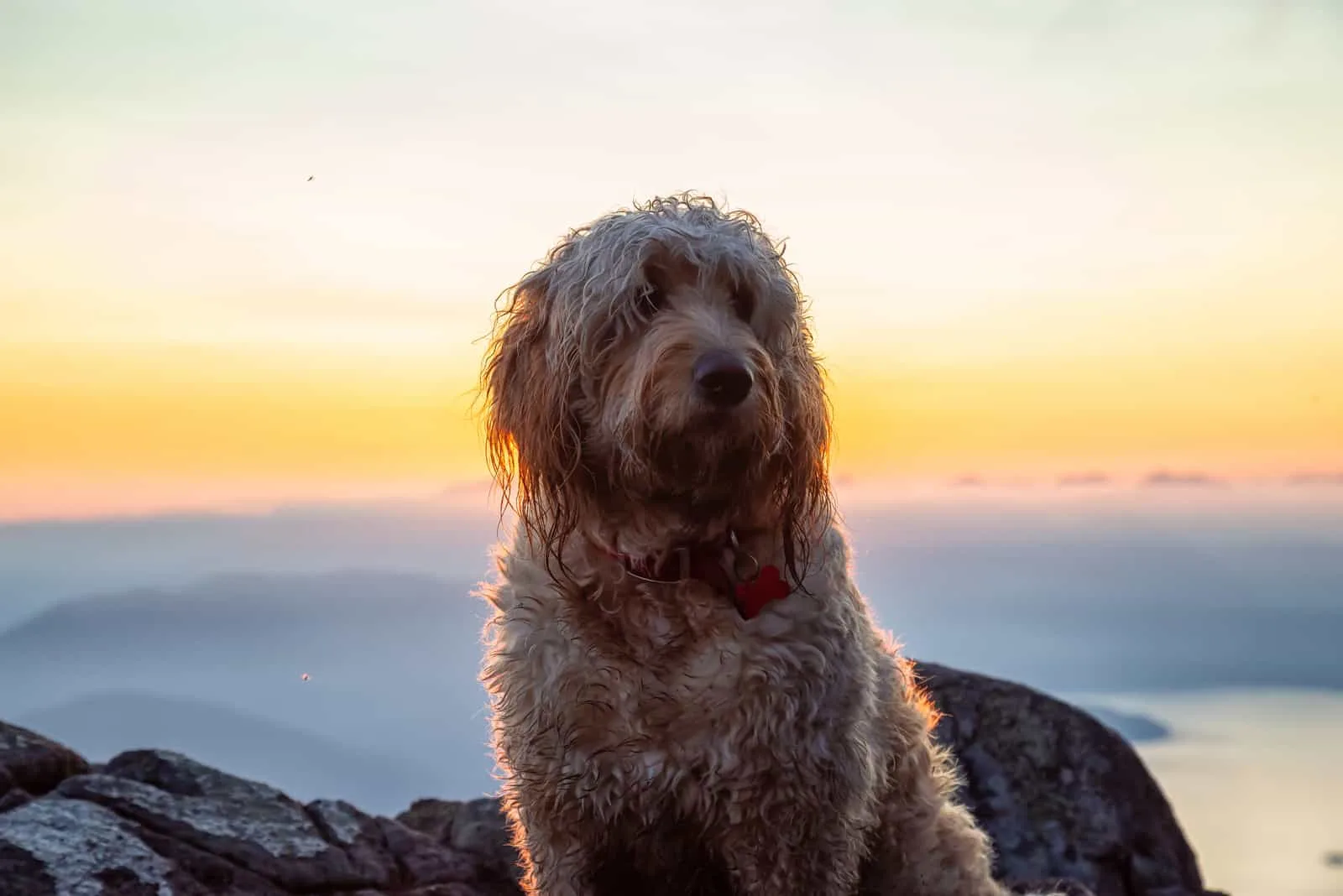 Curtabem Doodles is a high-quality Goldendoodle breeder located in Yeovil, United Kingdom.
Goldendoodles are not the only canines they offer. This breeder also produces top-quality Mountain Goldendoodles (a cross between a Poodle, a Bernese Mountain Dog, and a Golden Retriever), and Bernedoodles.
Their puppies are ready to meet their new family at eight weeks of age. During this period, each Curtabem Goldendoodle puppy is health tested.
Regular veterinary checkups that include vaccinations, worming treatments, and flea treatments are completed prior to their adoption.
Moreover, Curtabem Doodles are crate and potty trained, which already makes them adapt quickly to their new forever home.
Curtabem Doodles is currently taking applications for their beautiful Goldendoodle puppies, so don't be late to reserve your place on their long waiting list!
Curtabem Doodles' details
Email: [email protected]
Website: Curtabem Doodles
Phone: 07979423150
Location: Yeovil, United Kingdom
Instagram: @Curtabemdoodles
4. Doodles by Barbara Lancaster-Williams – Lancashire
Barbara Lancaster Williams is a breeder of Double Doodles. You may be wondering, "What's a Double Doodle?"
Well, a Double Doodle is a cross between an Australian Labradoodle and a Goldendoodle.
Barbara Lancaster Williams is a five-star licensed breeder, and she takes great pride in producing only the best Double Doodles in the UK.
Due to the fact that health is put first, every Goldendoodle puppy is dewormed, vaccinated, microchipped, and backed with all up-to-date veterinary records.
The first step in getting your Goldendoodle puppy from these ethical breeders is to reach out to them, after which, you will be put on their waiting list.
You can check out their Goldendoodle puppies as well as their Goldendoodle adults on their website.
Doodles by Barbara Lancaster-Williams' details
Email: [email protected]
Website: Doodles by Barbara Lancaster-Williams
Phone: 07890078560
Location: Lancaster City, United Kingdom
Facebook: Double Doodles by Barbara
5. Skenasdoodles – Kent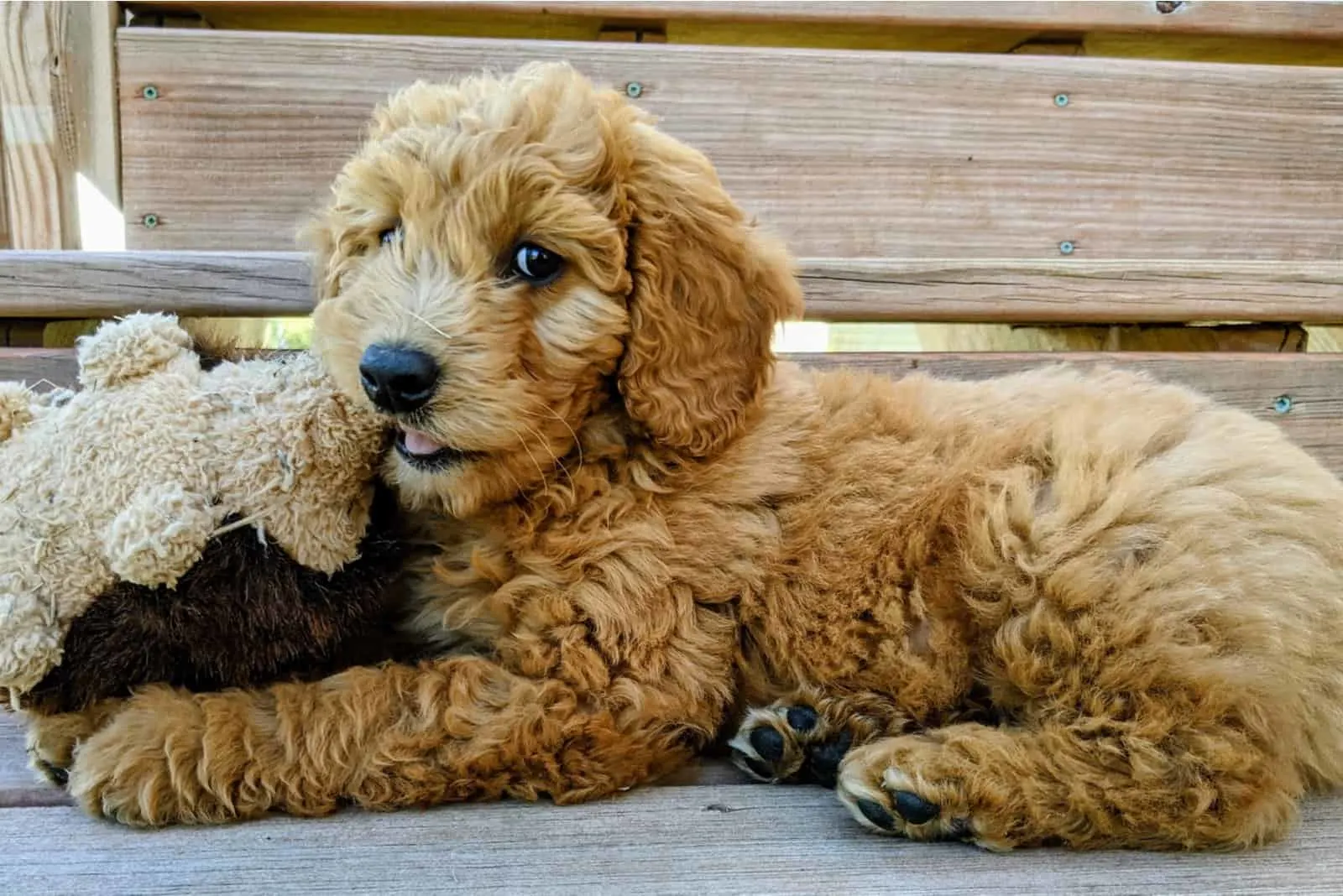 Skenasdoodles breeds standard-sized F1 and F1B Goldendoodles, as well as Bernedoodles.
This full-time Goldendoodle breeder spends a lot of time with her little teddy-bear pooches. And, what else is to be expected from such a reputable breeder other than the best Goldendoodle puppies.
Alongside cross breeds, Skenasdoodles occasionally produces litters of purebred puppies.
Needless to say that every adult dog, as well as every litter of puppies, is health tested and registered with the UK Kennel Club.
Skenasdoodles makes sure that every prospective Goldendoodle owner leaves with a healthy and happy eight-week-old puppy.
Each KC-registered puppy comes with its puppy pack, which includes lots of goodies.
When purchasing a Goldendoodle puppy, you get a Skenasdoodles information booklet, a bag of puppy food, a whistle, the puppy's blanket with Mom's scent, and flea treatment.
Future Goldendoodle owners are required to fill out a puppy questionnaire and sign a puppy contract.
If you are looking for a teddy-bear puppy, stop by Skenasdoodles and see what they have in store!
Skenasdoodles' details
Email: [email protected]
Website: Skenasdoodles
Phone: 07852185020
Location: Monkton, Kent, United Kingdom
6. Razzlin Goldendoodles – Essex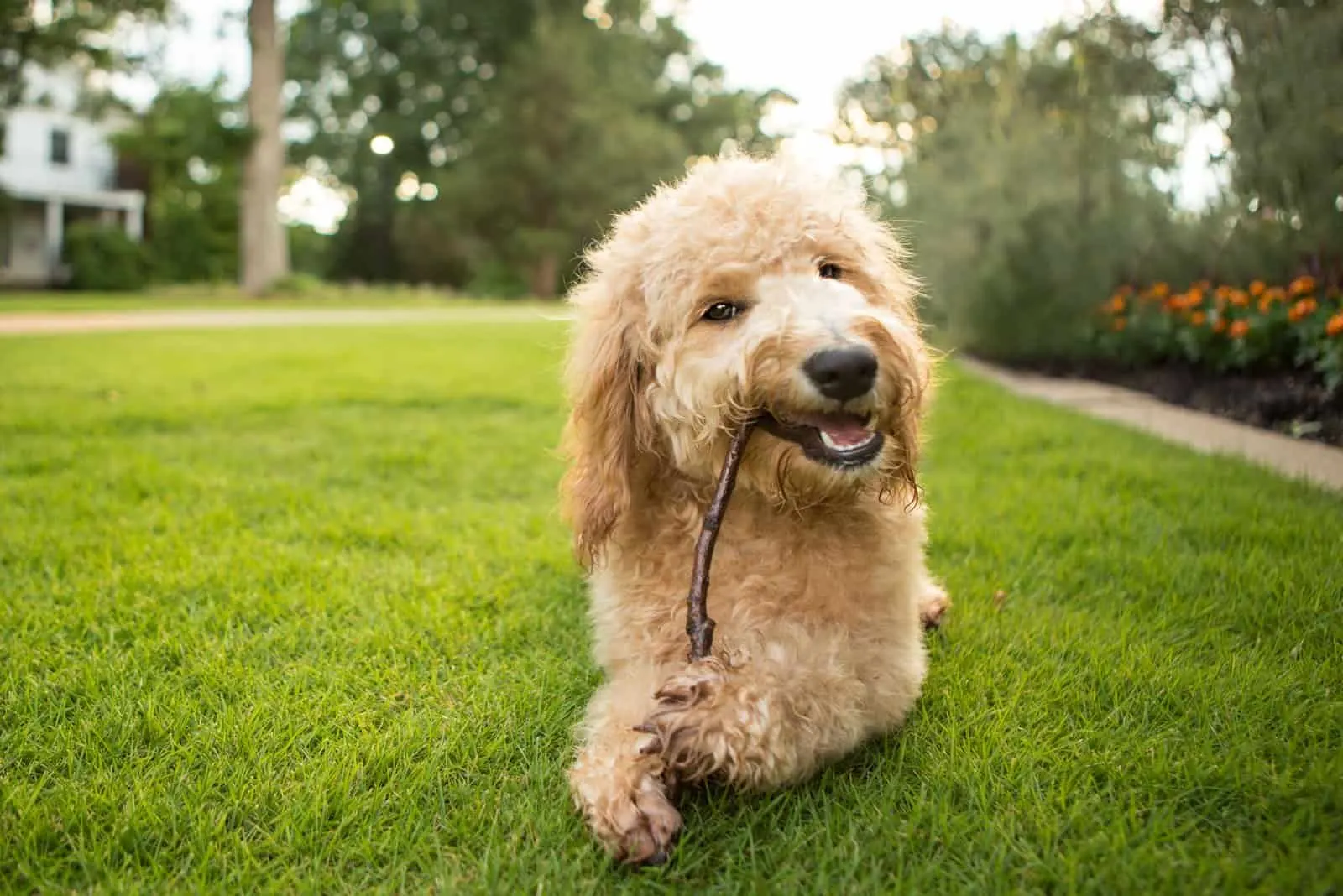 These razzlin' and dazzlin' Goldendoodles will make you go head over heels for their soft and curly hypoallergenic coat.
Razzlin Goldendoodles are reputable breeders who develop exclusive F1 and F1B Miniature Goldendoodles.
Their breeding parent dogs are thoroughly health tested for hereditary diseases. Therefore, each litter of puppies is, by far, cleared from genetic diseases.
At the Razzlin household, you can find healthy Goldendoodles that come in a variety of colors. They develop apricot, red, champagne, and cream Goldendoodles.
Due to the fact that their puppies are raised in a loving environment, every Razzlin Goldendoodle grows up into a very outgoing and affectionate little teddy-bear!
Their waiting list for the summer of 2022 is now open, so make sure to reserve your Razzlin Goldendoodle puppy!
Razzlin Goldendoodles' details
Email: [email protected]
Website: Razzlin Goldendoodles
Phone: 07946615753
Location: Essex, United Kingdom
7. My Posh Pup – London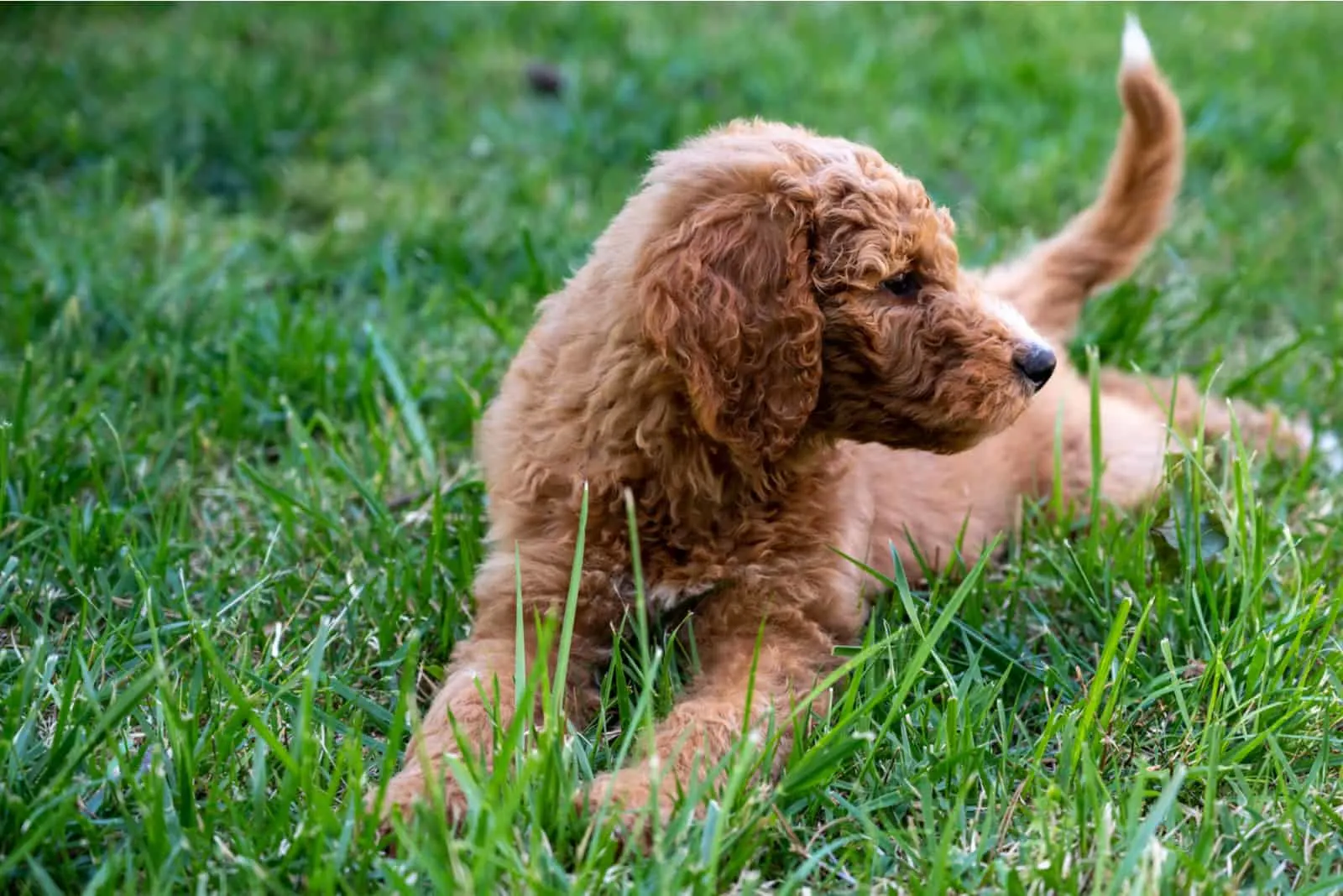 My Posh Pup is an award-winning Goldendoodle breeder. With utmost dedication to producing healthy Goldendoodle puppies, this licensed breeder from London has been in the dog breeding business for over thirty years.
An interesting fact about My Posh Pup is that both breeders — Nigel and Annie — devoted their lives to dogs. Annie is a professional groomer and dog photographer, and Nigel is a government-trained dog behaviorist and trainer.
This dynamic duo takes Goldendoodle breeding to a whole new level.
By following the principles and regulations of the Animal Welfare Regulations Act, the My Posh Pup team is making sure that each Goldendoodle puppy is born and raised in a safe and ethical environment.
That said, their parent dog breeds are KC-registered, and have undergone genetic health testing.
So, their Goldendoodle puppies have minimum to no chance of inheriting breed-specific diseases, such as Progressive Retinal Atrophy.
Moreover, each Goldendoodle puppy is under veterinary care, and has therefore received all age-appropriate treatments.
Due to the fact that My Posh Pup is a hobby breeder, they have occasional litters of puppies. Make sure to stay updated on current and upcoming litters.
My Posh Pup details
Email: [email protected]
Website: My Posh Pup
Phone: 07766 562165
Location: London, Greater London, United Kingdom
Facebook: My Posh Pup
Instagram: @kentdogtraining
YouTube: Kent Dog Training
Twitter: @dogtrainingUK1
8. Northcroft Doodles – Driffield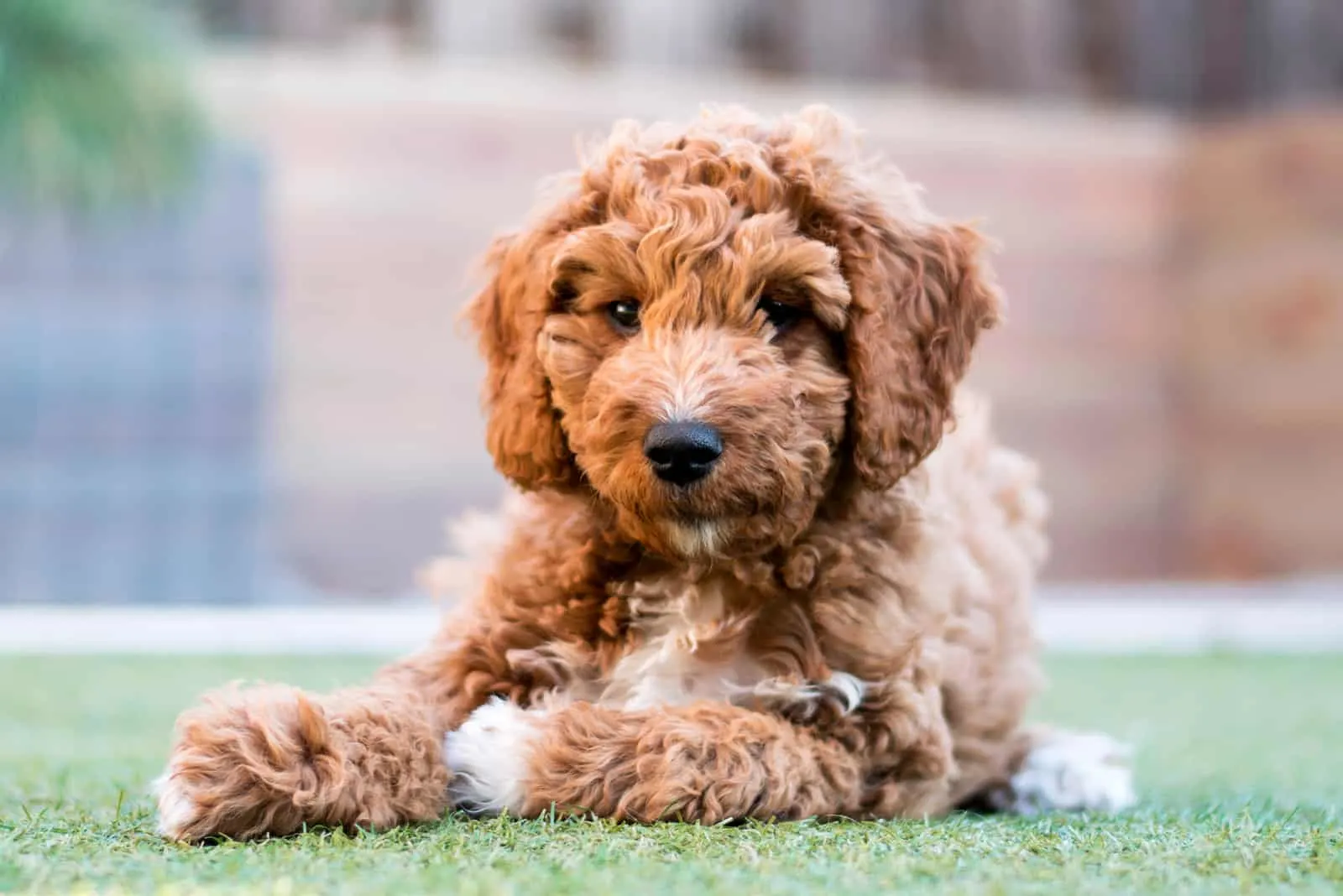 Northcroft Doodles is a reputable Doodle breeder, located in Foston on the Wolds – a village near Driffield.
The Northcroft Doodles team takes pride in breeding and raising their Goldendoodle puppies in their family home. Besides Goldendoodles, this family raises Cockapoos, ​Labradoodles, and Double Doodles.
As one would expect, each puppy is handled with a lot of care and love.
The Northcroft team knows all too well that a high-quality diet greatly affects the Goldendoodle's growth. That is why these reputable breeders feed their Goldendoodles a 100% raw diet.
As a result of a good diet and thoughtful breeding, Northcroft Goldendoodles acquires shiny, curly, and low-shedding coats.
Growing up with their human pack, Northcroft Goldendoodles are extremely affectionate and social puppies. They make great family pets that get along with everyone.
Each puppy has received its necessary vaccinations, worming treatments, and flea treatments. Moreover, every Goldendoodle is microchipped. At eight weeks of age, these puppies are ready to find their forever home.
Northcroft Doodles' details
Email: [email protected]
Website: Northcroft Doodles
Phone: 07941678549
Location: Foston on the Wolds, Driffield, United Kingdom
How Much Does A Goldendoodle Puppy Cost In The UK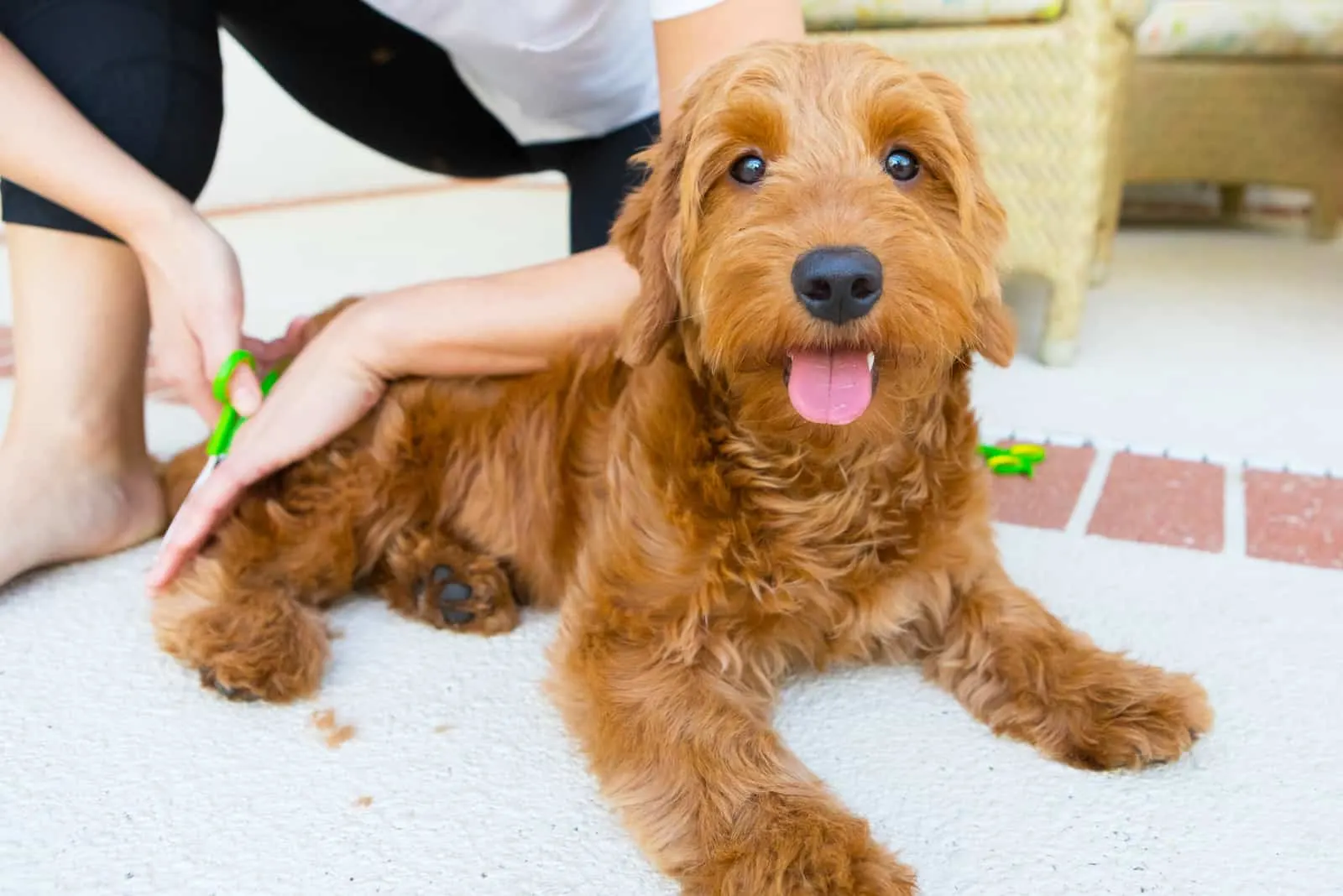 Typically, a Goldendoodle puppy in the UK will cost between £800 and £3500. A Goldendoodle's price mostly depends on the breeder and the quality of the breeding program.
And, that's the price for a Goldendoodle puppy alone. The overall cost of owning a puppy is much higher.
You have to take into consideration puppy food, professional training, grooming, puppy accessories, veterinary checkups, and daily maintenance.
So, before deciding to get a new puppy, make sure you have the time and finances to own one.
In Conclusion
It's great that you have taken so much interest in finding a reputable Goldendoodle breeder and getting a loveable Goldendoodle puppy.
Not only will this teddy-bear dog make the perfect family pet, but it will also be a supportive furever friend to its owner.
But, be careful when choosing Goldendoodle breeders in the UK.
There are many unreputable dog breeders around, but there are also many of those who strive to breed only the healthiest and happiest dogs.
Watch out for unreliable breeders who make false claims. For example, some breeders cross Goldendoodles with Cocker Spaniels to make their offspring smaller, but sell them under the "Goldendoodle" name. Misleading adverts and scams can only make things harder for you.
Look for licensed Goldendoodle breeders in the UK who have official license numbers.
Each breeder on this list has a valid license number, and has been registered with the Kennel Club. They focus on quality over quantity in order to achieve the best possible results.
There is no way you can go wrong with any of these amazing Goldendoodle breeders in the UK!
Related Articles: