The entire USA is a country with immense love for dogs. Surely enough, this canine love couldn't skip Wisconsin! If you're thinking of becoming a dog mommy or daddy, then you're certainly looking for good dog breeders in Wisconsin.
But, which dog breed to pick? Are you really that indecisive? How about puppy mills? Are they still a threat or can you shop anywhere you want?
First of all, hold your horses.
Down below, you'll find only the best of the best – the most popular breeds in this State. It won't be difficult to pick your ideal breeder once you figure out what you want from a dog. Some breeders here carry low-maintenance pups, while others are all about working dogs.
What's your cup of tea?
Puppies For Sale In Wisconsin
One of the first dog breeders in Wisconsin that pops up in the Google search results is Wisconsin Puppy Patch. Thanks to lots of helpful advice from people in the area, and also previous buyers, we're safe to say this is a puppy mill, and it should be avoided.
Lots of other valuable breeders are waiting for you if you keep on reading.
1. Copperstone Farm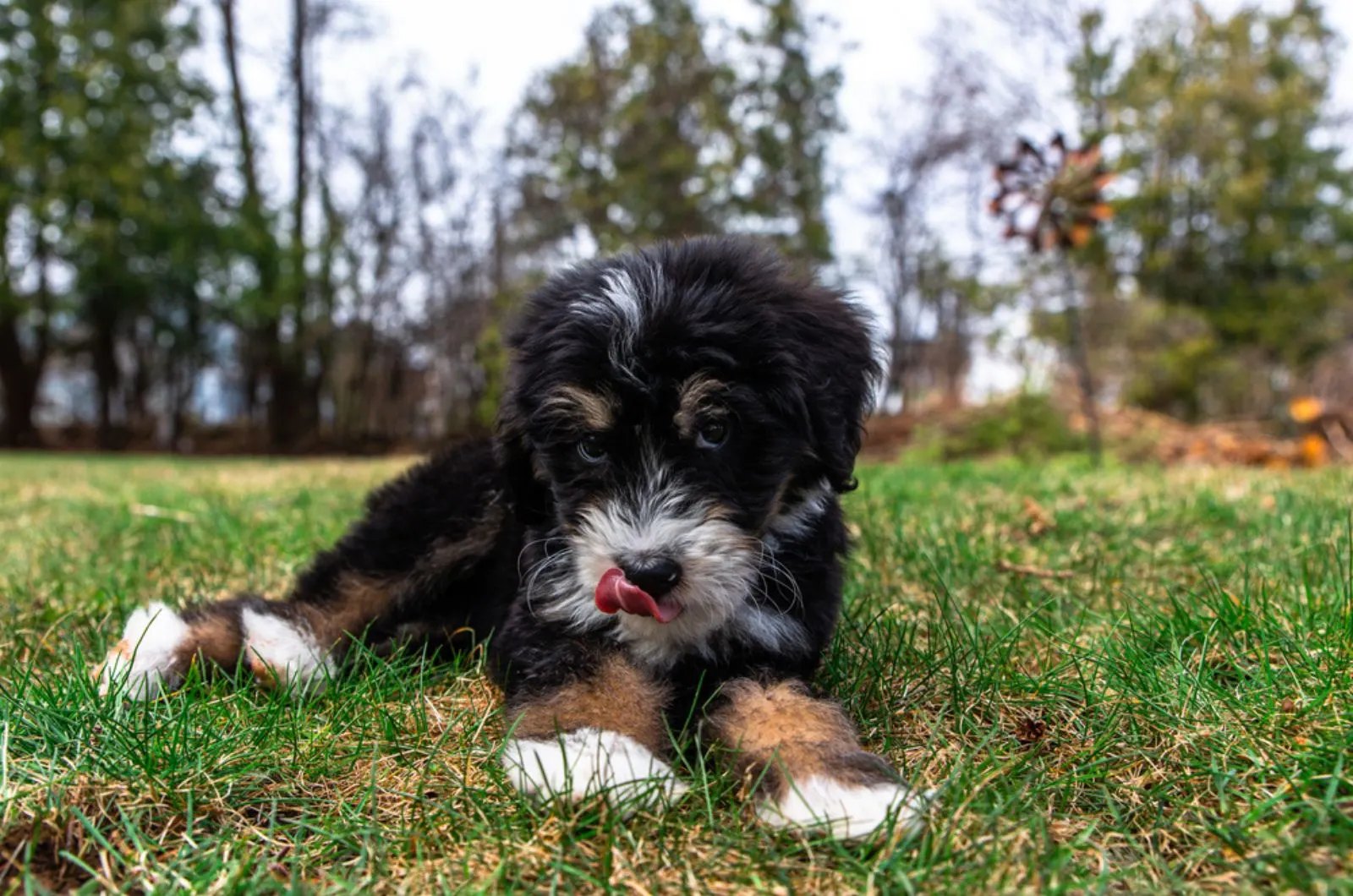 Poodles and Poodle mixes are definitely one of the most popular options in the Badger State. The first ethical breeder on our list of the finest dog breeders in Wisconsin makes sure this State has plenty of lovely Bernedoodle, Goldendoodle, and Standard Poodle puppies.
This is Copperstone Farm… a place where Bernese Mountain Dogs, Poodles, and their mixes run freely, enjoying their time in nature and around farm animals like cows, goats, sheep, chickens, etc.
The Copperstone Farm journey began a few years ago when the couple decided they wanted to start fostering children. Turns out that their very first Poodle pup was also a terrific therapy dog. Kids and dogs helped each other, providing socialization and comfort. It was a win-win situation.
If you're looking into turning a Copperstone puppy into your new best friend, I must warn you that there is a waiting list. This is a small breeder who only has puppies from time to time. They don't even know when they'll have them, so stay tuned.
The wait is worth it. Copperstone puppies come with a one-year health guarantee, and lifetime support. Once you buy a puppy from this breeder, you'll become a part of a huge family of Doodle lovers.
Breeder's details
Website: Copperstone Farm
Location: Central Wisconsin
Phone: 715-310-7662
Email: [email protected]
Social media: Facebook
2. Nalyns Goldens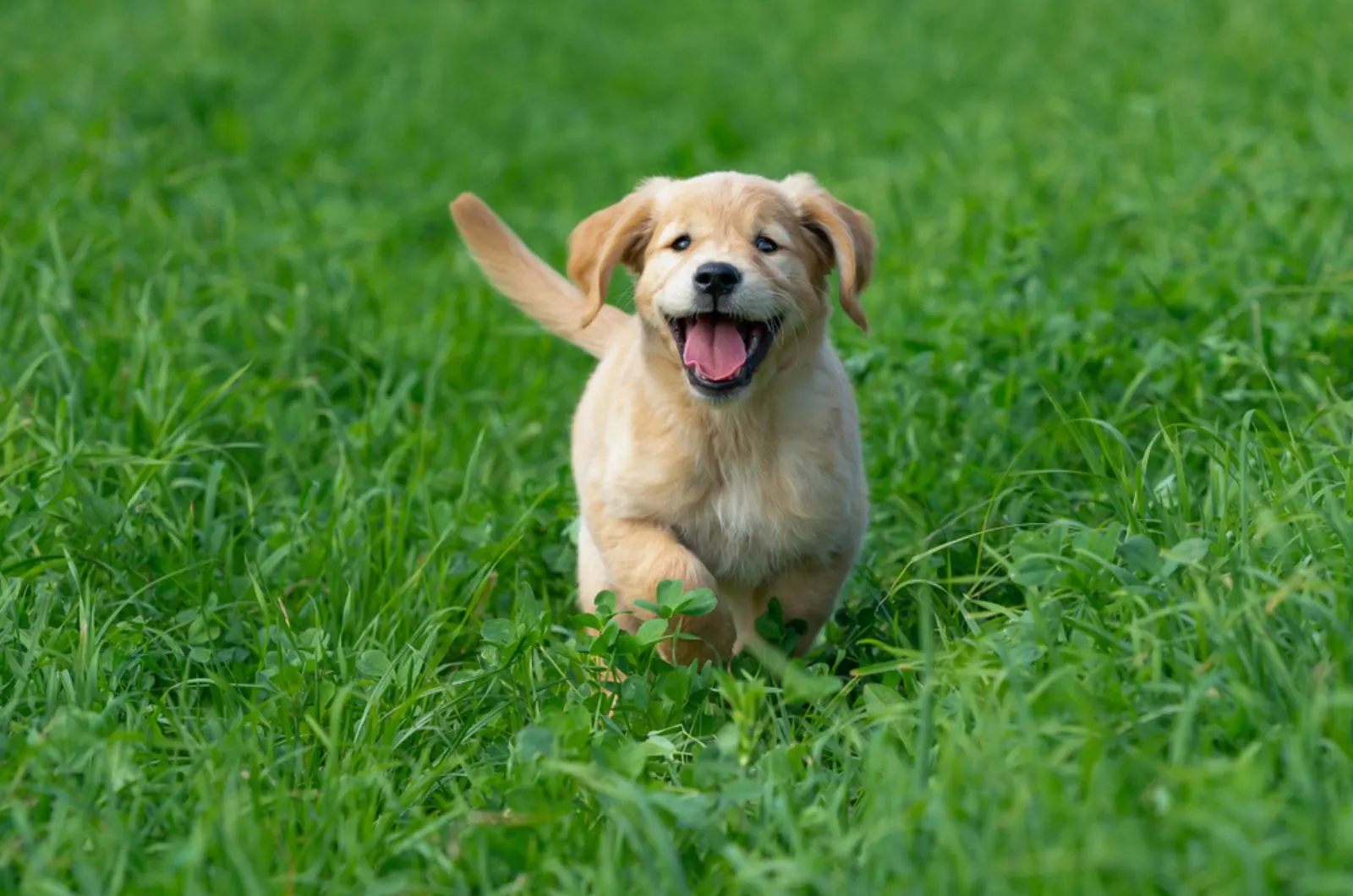 One of Wisconsin's oldest breeders of purebred Golden Retrievers is Nancy, from Nalyns Goldens. Ever since 1969, this breeding facility has brought to us numerous excellent champion litters of this wonderful dog breed. Goldens are a passion and a lifestyle, and they are the air they breathe over at Nalyns Goldens. But, is this really all that makes Nalyn Goldens worthy of our attention?
Of course not! Here's why we really love them…
Nalyns Goldens are all dogs born and raised in the family home, surrounded by the immense love of the entire family. This also ensures that all dogs are pawfectly socialized and ready to fit into any new lifestyle. Besides family pets, Nalyns Goldens are also spectacular show dogs, as well as service and therapy canines.
If you suspect their excellence, you can always ask to see the numerous health certificates that come with each Golden boy or girl. All their dogs have excellent scores on their OFA and DNA tests.
If you want your Golden to have a champion background, you know who to pay a visit to.
Breeder's details
Website: Nalyns Goldens
Location: Stoughton
Phone: 608-873-7749
Email: [email protected]
3. Mimosa Acres French Bulldogs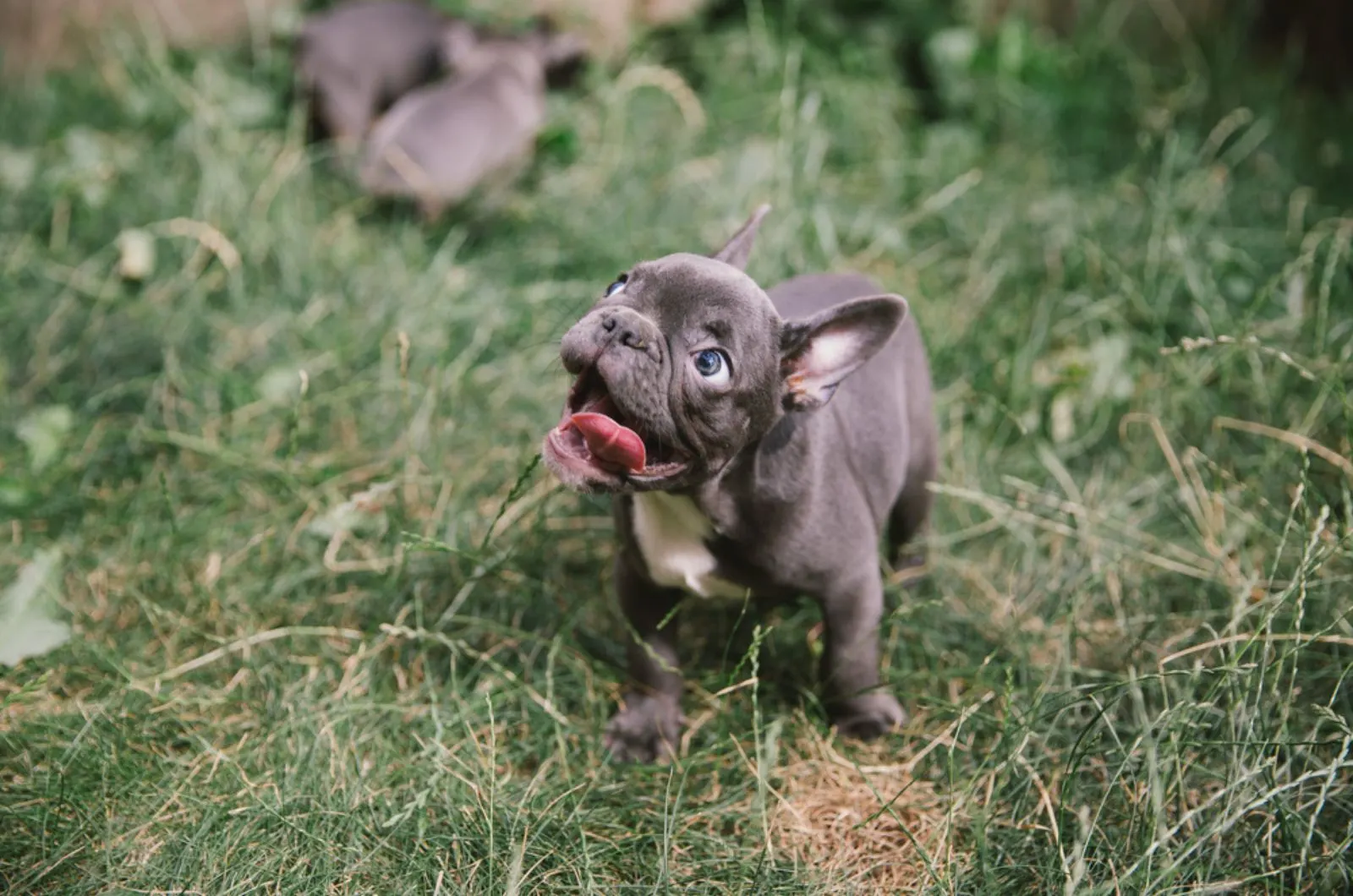 Mimosa Acres French Bulldogs is one of the finest sources to get little Frenchies if you live in Wisconsin or in the area.
There are so many reasons why I decided to pick this Frenchie breeder to be on the list. The first and most obvious one is the fact that they're AKC approved. Now, I've heard of this breeding facility before, and I was quite happy to be able to find them on AKC's Marketplace. This proves they're trusted and valued in the breeding community.
As I dug deeper, I found out some pretty amazing things about Mimosa Frenchies.
This is a breeder who does not overbreed his stock. They carry only a few litters a year, and they keep their sires and dams fresh. Also, Frenchies can't have too many puppies, so there's that. What really surprised me is the fact that they offer 24/7 video of puppies waiting to be adopted into their new family home.
So, if you've picked a Mimosa Frenchie, and you're waiting until they become stronger, you can absolutely monitor the progress of your puppy by seeing it any time you want. This kind of insight into the breeder's business is always more than welcome.
Once a Mimosa Frenchie is ready to go to its furever home, you'll receive a bunch of stuff coming with him. These pups come with a one-year health guarantee, and a lovely puppy package. They will be microchipped and vaccinated, as well as registered with the AKC.
What's so great is that the breeder will also offer 30-day health insurance for your new puppy. How convenient!
Mimosa Frenchies have a lot to offer, and this is only the beginning. Head over to their website to check out more!
Breeder's details
Website: Mimosa Acres French Bulldogs
Location: Neenah
Phone: 920-915-8458
Email: [email protected]
4. Roundabout Kennel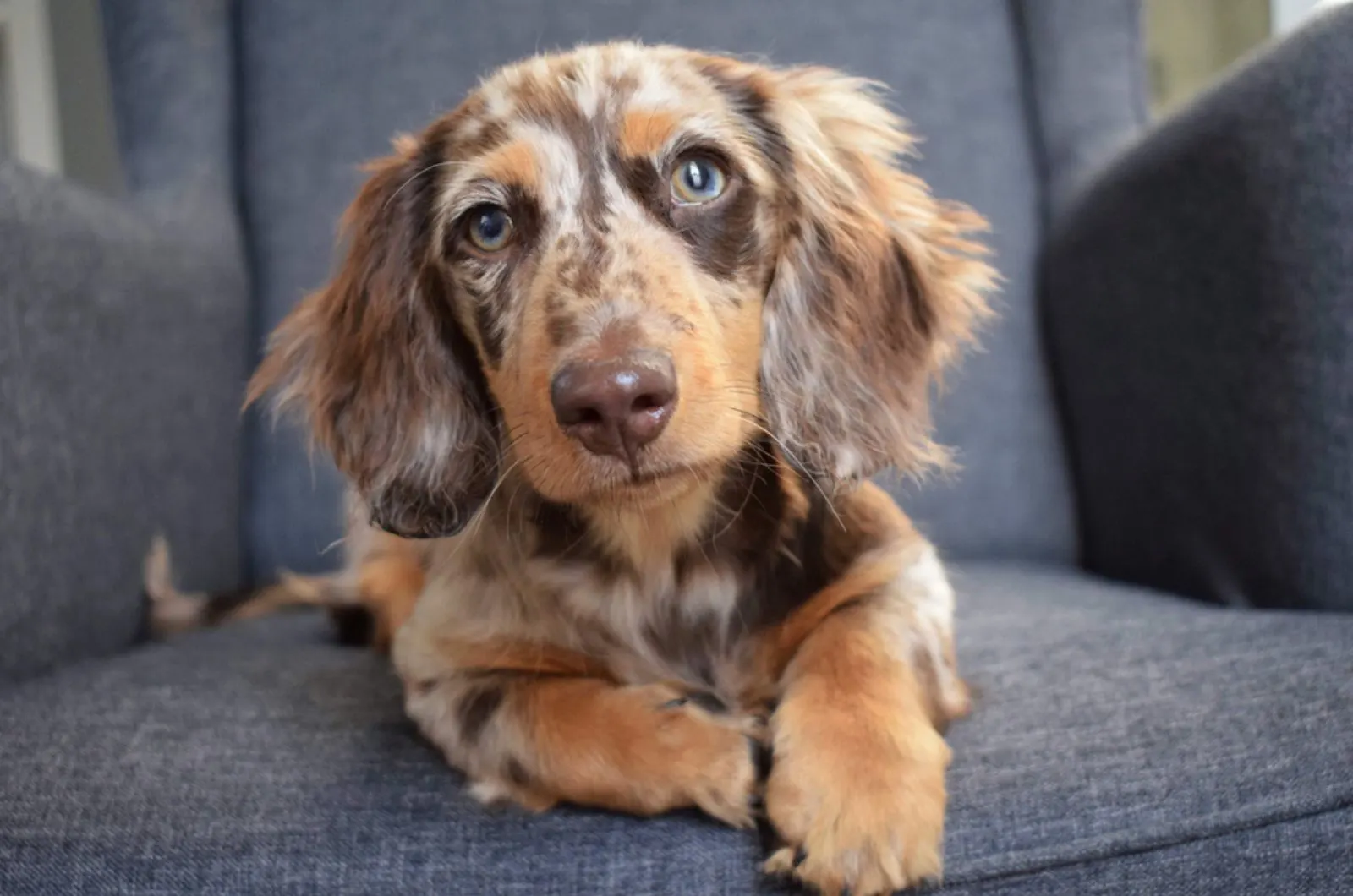 Are there any miniature Dachshund fans in Wisconsin? Of course, there are! Good thing we have a breeder like Travis, from Roundabout Kennel. He's madly in love with wirehaired mini Doxies, and he's helping the rest of the world figure out how sweet and incredible these creatures are.
The number of Roundabout puppies is limited. Travis doesn't do more than two to three litters every year. This gives him plenty of time to devote himself to raising pawfect little Doxies.
Travis is extremely proud of his breeding stock consisting of five incredible Doxie mommies. They're all super sweet and oh-so-beautiful! Being raised on a farm, far away from noise and unwanted guests has made these pups into true social butterflies. They're born and raised with humans, and they will fit into any household without any issues.
I recommend you contact Travis if you want one of the Roundabout puppies. They always go away very fast, so it's better to have them reserved even before they're born.
Trust me… a puppy from such a reliable and devoted breeder is one of the best decisions you'll ever make. Yes, they are needy, but all Doxies are needy for your attention!
Breeder's details
Website: Roundabout Kennel
Location: Mount Horeb
Email: [email protected]
Social media: Instagram
5. Stokeshire Designer Doodles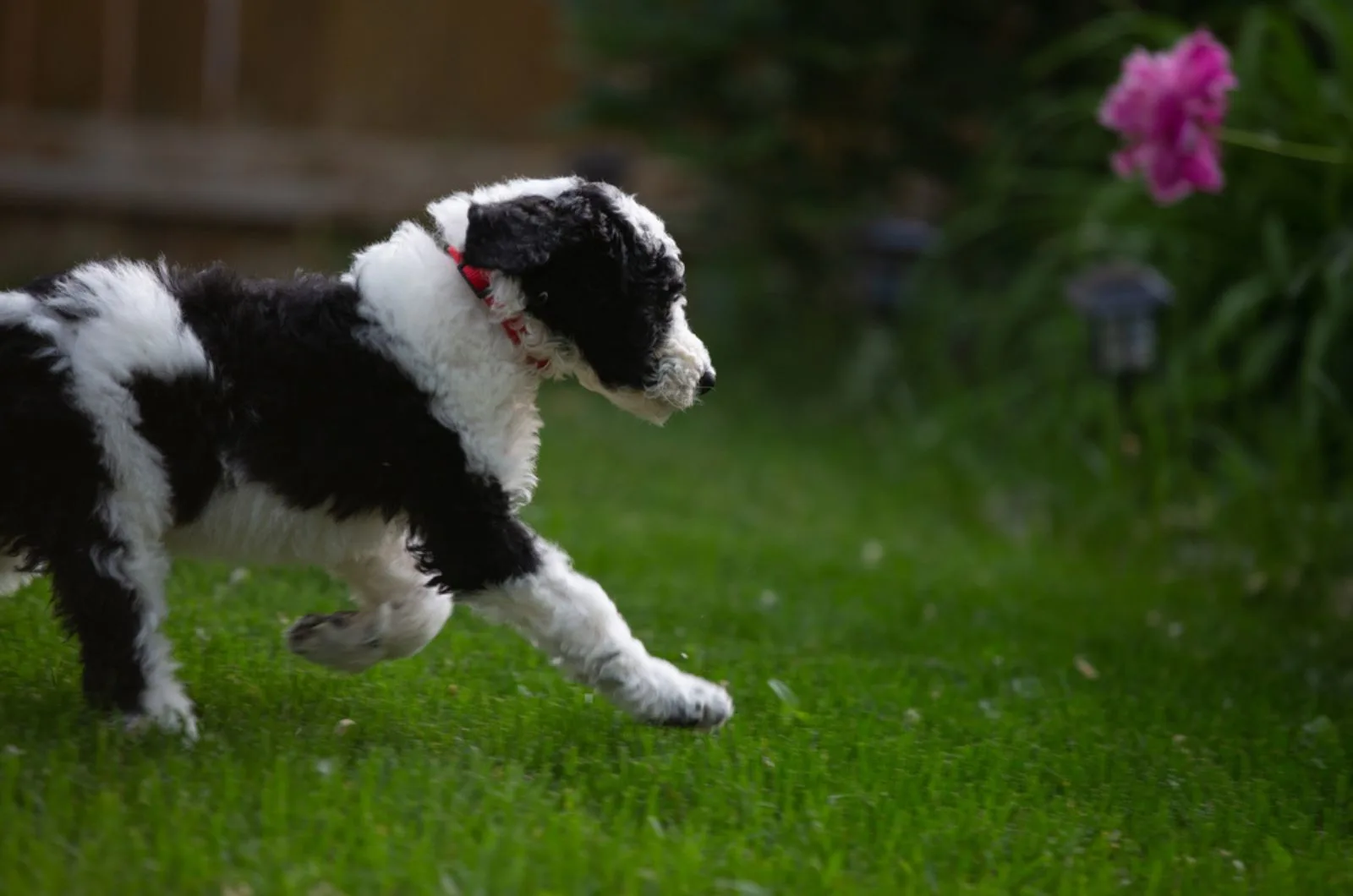 Doodle puppies are extremely valuable for their hypoallergenic traits. In addition, they're all sweet, caring, and intelligent dogs. Who wouldn't like to own a Doodle? That's exactly why Stokeshire Designer Doodles is in business: to help America have a piece of that doodliness!
Stokeshire is a home to popular Goldendoodles, Bernedoodles, Aussiedoodles, Sheepadoodles, Australian Shepherds, Standard and Moyen Poodles, etc. Each parent dog is featured on their website with full pedigree, AKC registration paperwork, and Embark test results.
As you can see, only top-notch dogs get to be a part of Stokeshire's breeding squad.
The reason why I admire Stokeshire Doodles so much is the fact that they're one of the best well-socialized puppies in Wisconsin. They truly stand behind each puppy that comes out of their home. Yes, home, because their dogs are treated as equals, and they enjoy living with the family and their many children.
Stokeshire puppies come with a wonderful three-year health guarantee. These aren't just companion pups. Stokeshire Doodles are also great therapy dogs, ready to understand your feelings and provide comfort.
Of course, each pup will come vet checked and up to date with its vaccinations. If you have any more questions, feel free to contact the family. They post updates on new litters on their website, so stay tuned.
Breeder's details
Website: Stokeshire Designer Doodles
Location: Medford
Phone: 715-570-5718
Email: [email protected]
Social media: Facebook and Instagram
6. Spring Green Pups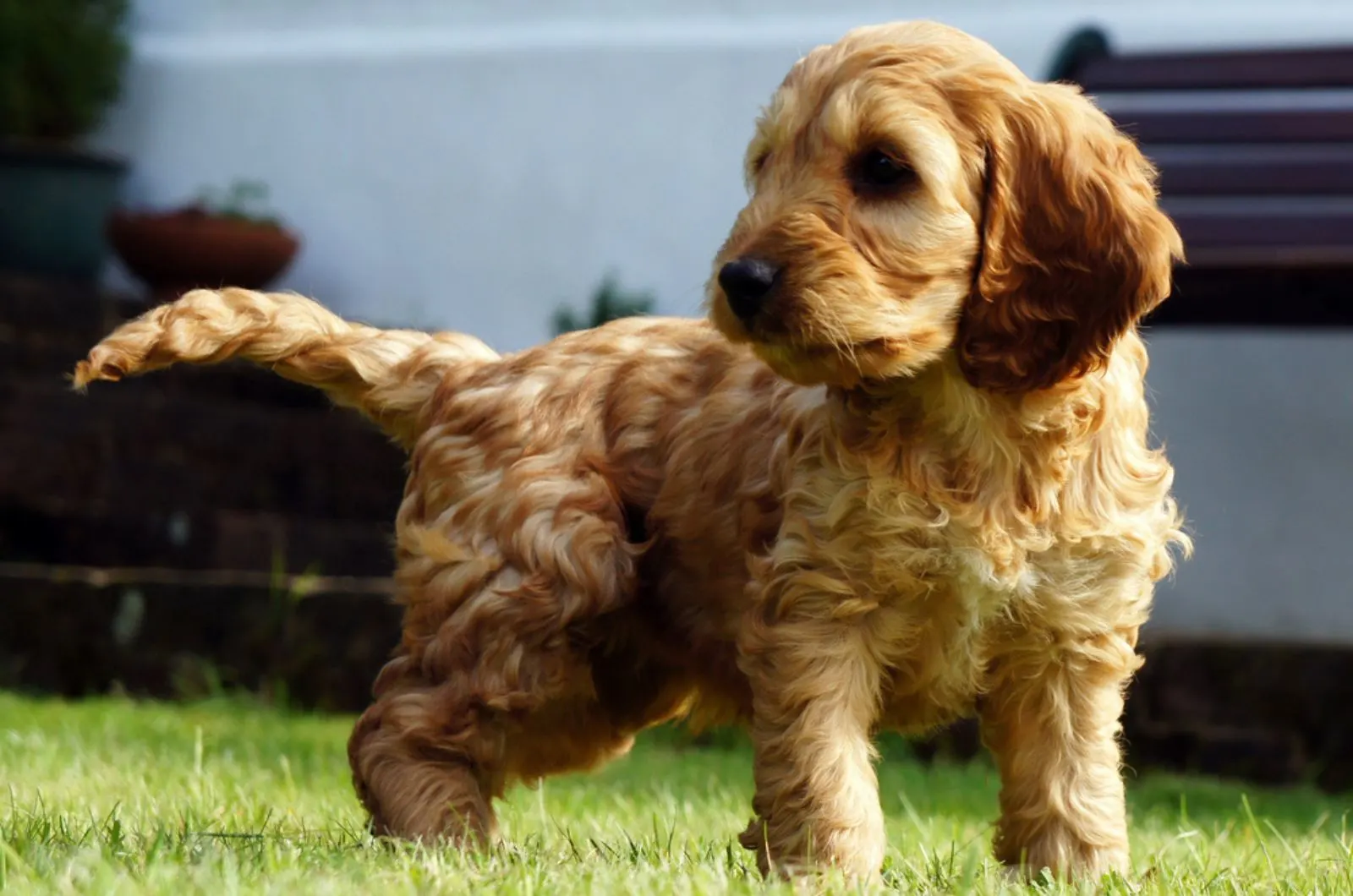 Cavapoos, Cockapoos, Maltipoos, Yorkiepoos, Cavachons, Goldendoodles, Labradoodles, Whoodles, Sheepadoodles…
These and many more Doodles are waiting for you at Spring Green Pups. This Madison-based breeder has been training and handling small, adorable puppies for years. Dusty and Brenda are inviting you to check out their lovely puppies.
The couple makes sure each puppy is raised with the utmost care. They want to produce the healthiest pups with pure hypoallergenic traits. Their Doodles aren't just future family pets… they're your future best friends – dogs with empathy and emotions.
Each sold Spring Green puppy means that a part of the money will go to dog rescue and shelter organizations. Isn't that wonderful?
Spring Green pups come with a two-year health warranty. They will be examined by a professional vet, checked for parasites, and vaccinated. So, once it's time to adopt a Spring Green puppy, you'll get a pawfectly healthy dog.
Breeder's details
Website: Spring Green Pups
Location: Madison
Phone: 608-574-7931
Email: [email protected]
Social media: Facebook
7. WildRose Working Belgians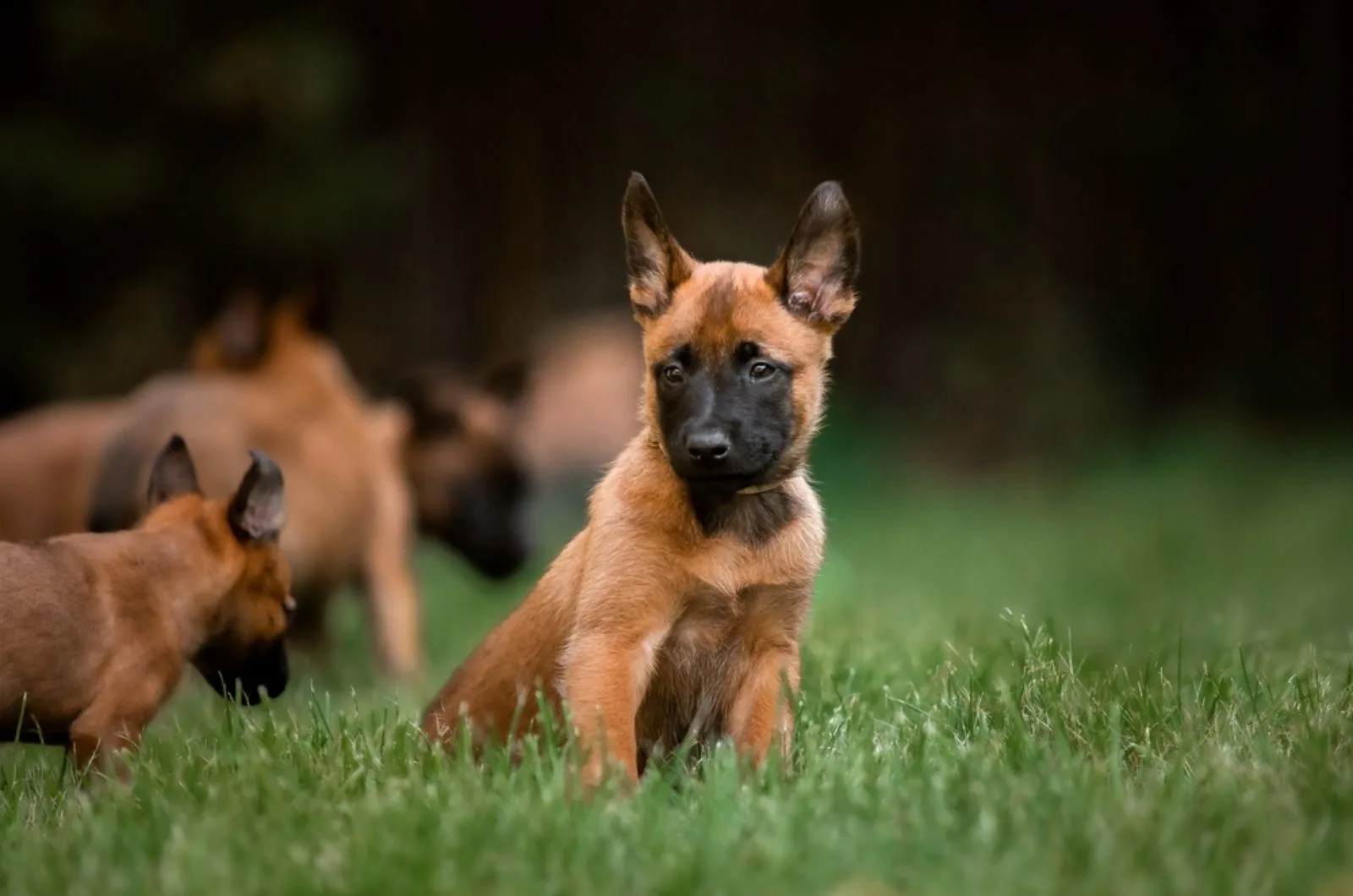 The Belgian Shepherd is not as popular in Wisconsin as it should be. Still, we do have a reliable source for finding excellent Belgian Shepherd puppies. Normally, when a dog breed is rare in one area, any breeder you find proves to be a good one.
The Belgian Shepherd is a dog truly valued for his great temperament and impeccable work ethic. If you want a dog similar to a German Shepherd, but only a bit more improved, you go with the Belgian Shepherd.
The good people behind WildRose Belgian Shepherds know the great value of these dogs. The real reason why I picked this breeder lies in the fact that they're not a professional breeding facility like many in the area. This is a farm where Belgian Shepherds are being born and raised along with other farm animals.
The family business raises sheep and lambs, making sure their Belgian Shepherds are always on the lookout in case they need some help gathering them. This lifestyle from their early days improves the work ethic of these Belgian Shepherds, and helps with socialization around other animals.
Don't worry – WIldRose did not forget about the health aspect of these dogs. They're all OFA tested and free of any congenital diseases.
Breeder's details
Website: WildRose Working Belgians
Location: Mount Horeb
Email: [email protected]
Social media: Facebook
8. Belamour Bichons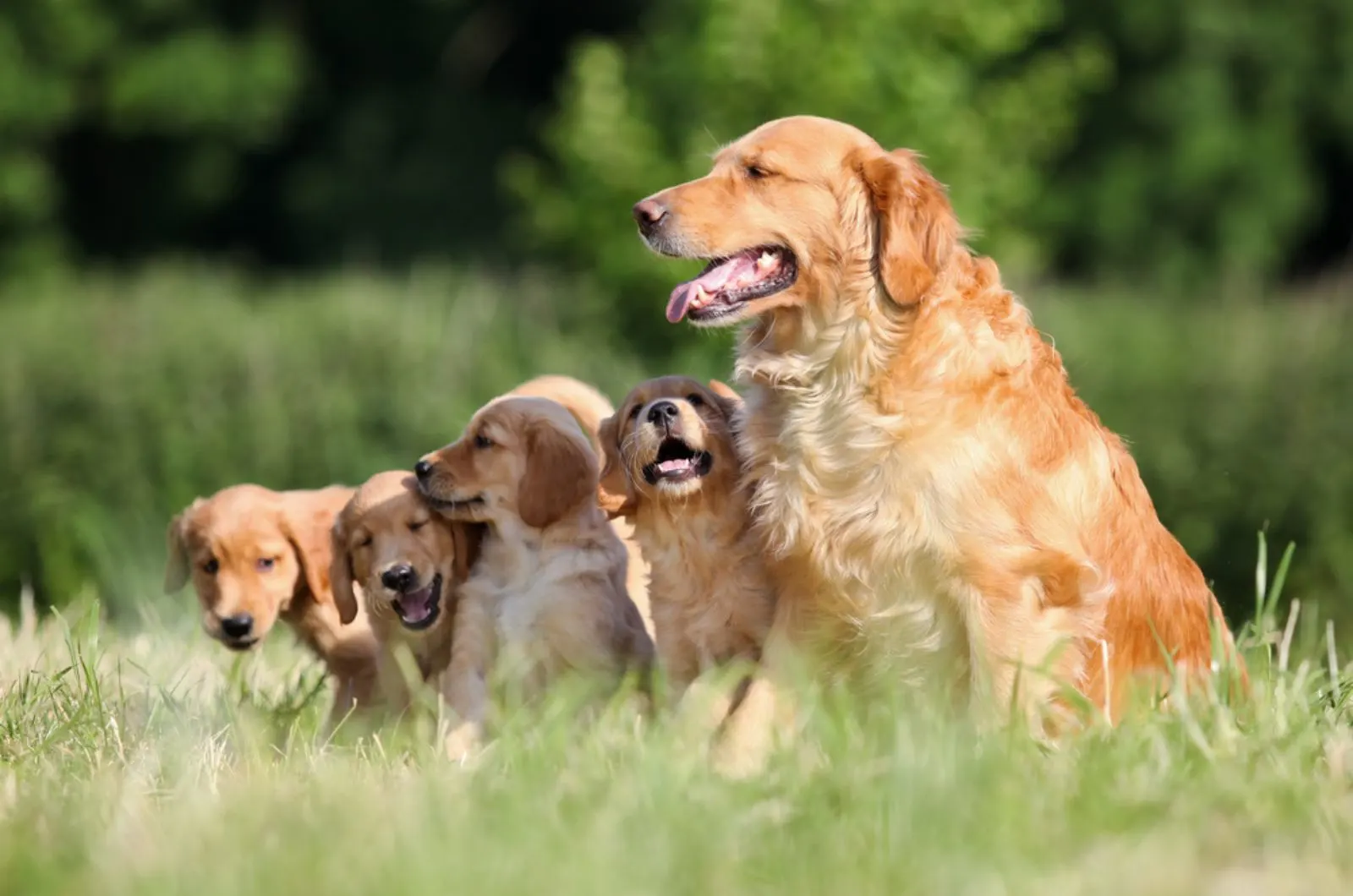 Who says big and strong pups like Belgian Shepherds and Golden Retrievers are the only ones dominating the state of Wisconsin. Small, fluffy pooches are also favorites here, especially lovely Bichons.
Meet Belamour Bichons – a place you go if you want to buy adorable Bichons firsthand. This breeder is not just your source for getting excellent and trusted Bichon puppies. This is a passion and a lifestyle completely devoted to little Bichons. You can't really ask for more, can you?
I always admire when the breeder has an AKC Bred With H.E.A.R.T. certificate. Belamour Bichons have this, too! This proves to me that their breeding business is clean and up to the highest standards of the AKC.
Belamour Bichons are the pawfect companion dogs you'll ever need. After all, the Bichon's main role is to serve as a companion these days, isn't it?
If you want a small pup of spectacular appearance, you know where to go. Belamour Bichons are perfectly healthy, and they are covered with tests from OFA, so you know there aren't any hidden health conditions that could cause you trouble.
If I was looking for an adorable little buddy, I wouldn't look beyond Belamour Bichons at all!
Breeder's details
Website: Belamour Bichons
Location: Wisconsin Rapids
Phone: 702 591-8800
Email: [email protected]
9. Sorenson Shih Tzus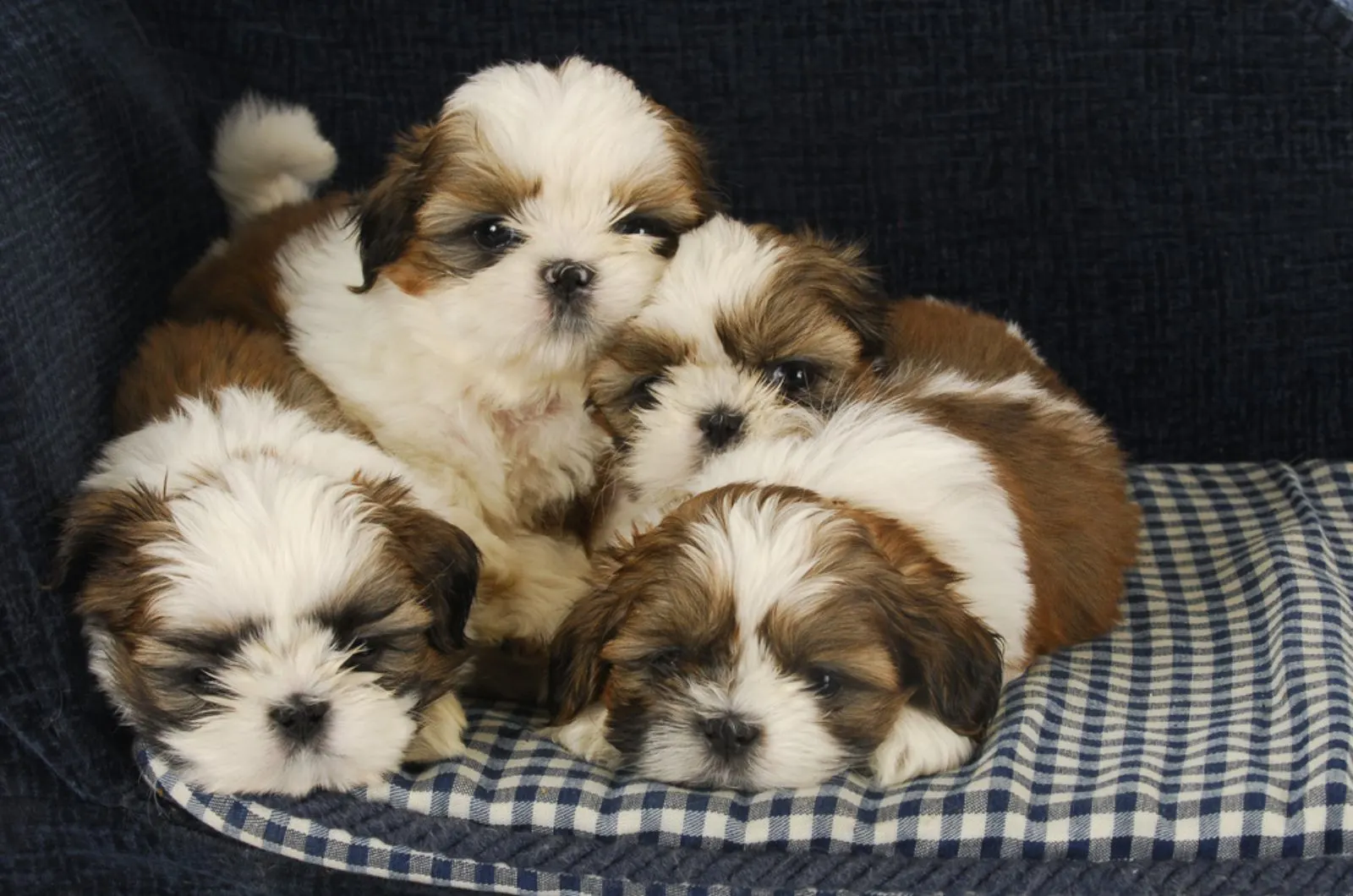 We can't have this list without Shih Tzus! They're one of the most popular hypoallergenic lap dogs in the States, and thus, in Wisconsin.
I want to warn you about many puppy mills featuring Shih Tzus and similar small breeds. In fact, one of them is so popular that most people believe they're legit. Luckily, you have PupVine on your side to help you detect who's a friend and who's a foe.
And, as far as Sorensen Shih Tzus are concerned, they're the real MVP!
Meet one of the finest Shih Tzu breeders in the States. Sorensen Shih Tzus is the only place you go in this State if you want lovely little Shih Tzu puppies. Raising only Shih Tzus at their home tells me a lot about the devotion of this breeder. I don't really like when breeders have a bunch of different pups to offer. It's an immediate red flag to me.
Sorensen Shih Tzus are beloved little companion dogs. You'll have to drive to their home because they don't offer shipping across the States – they find it unsuitable for dogs. You really want a puppy? Come and get it!
Breeder's details
Website: Sorenson Shih Tzus
Location: Wild Rose
Phone: 920-622-4217
Email: [email protected]
10. NyaStar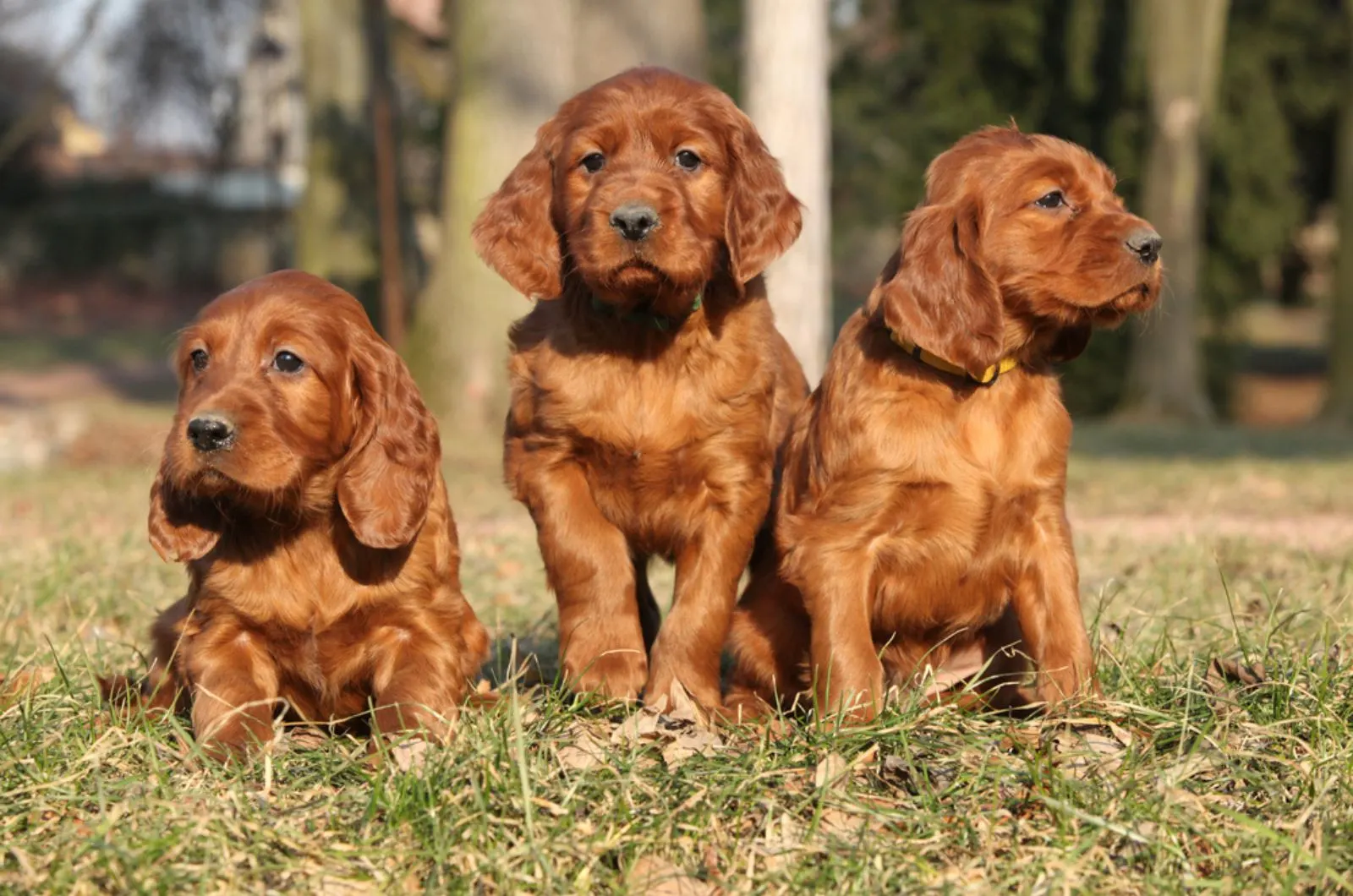 Did you know that Irish Setters are quite popular in the State of Wisconsin? That's why we have trusted Setter breeders like NyaStar! That's a name you should remember.
If you live in Wisconsin or in the area, and you're a fan of gun dogs like Irish Setters, this is the only breeder you'll need. These kind people offer red and white Setters that will blow your mind with how sweet and wonderful they are.
Personally, I believe Irish Setters are quite underrated. People normally don't pick them as pets because they require lots of exercising, and they can be a bit temperamental. However, Irish Setters have a sweet side, too! They're extremely loyal, and are always there for their humans. That's more than enough for an active dog owner to consider getting an Irish Setter.
What sets this breeder apart from others on this list is the fact that they're not a breeding business. This is more of a hobby. Irish Setters are home born and raised, surrounded by the NyaStar family. This makes the dogs fully socialized and prepared to live with all kinds of humans.
Breeder's details
Website: NyaStar
Location: Glenwood City
Phone: 715-688-9099
Email: [email protected]
Social media: Facebook
11. Crossroads Newfoundlands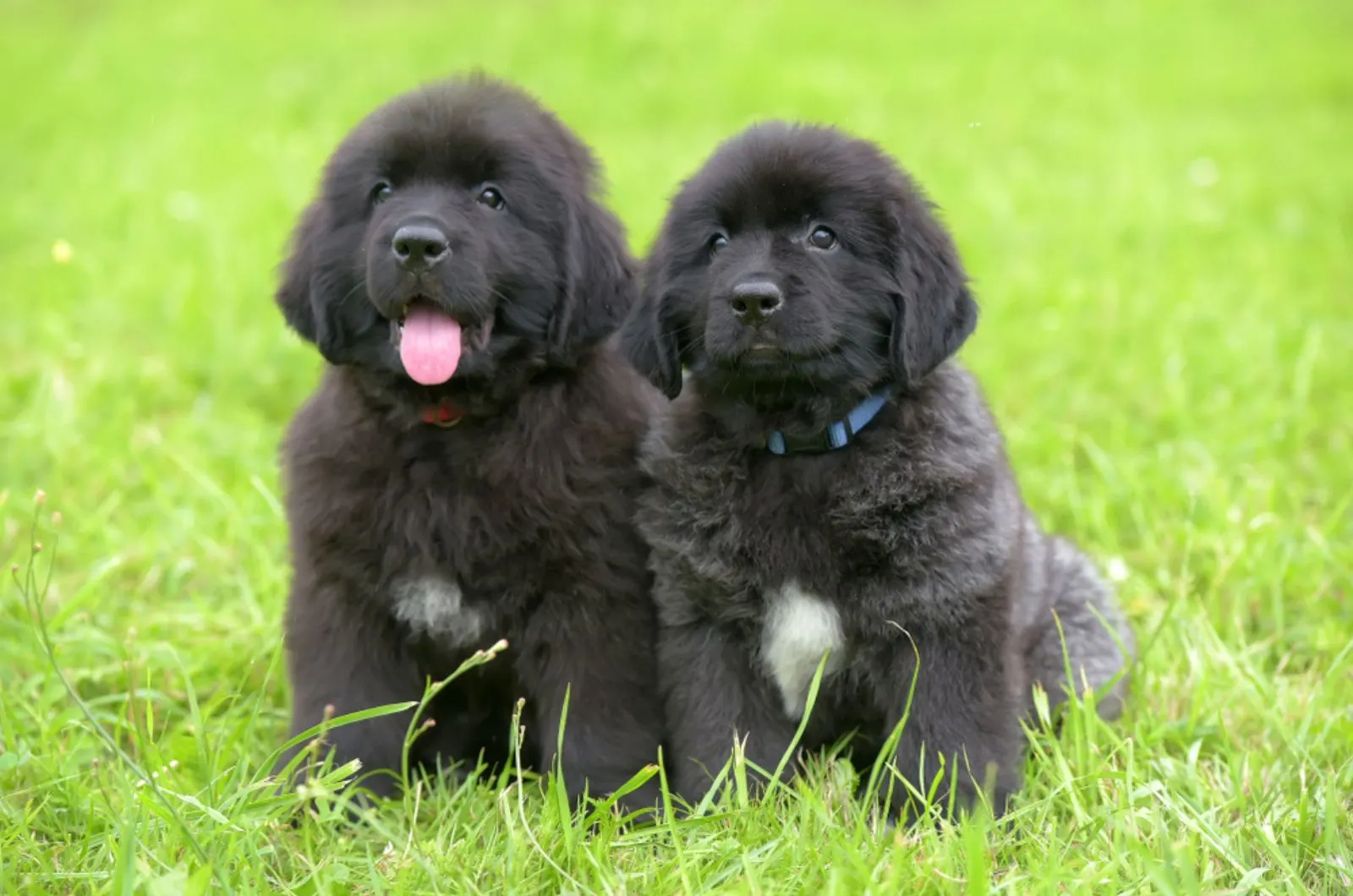 The State of Wisconsin is pretty crazy about one dog breed with a reputation. No, I'm not talking about some so-called dangerous breeds like Rottweilers. I'm talking about a gentle giant that couldn't be sweeter. Here's a Newfoundland breeder from Wisconsin I trust! Meet Crossroads Newfoundlands – a place you go if you want to enrich your life with a lovely Newf.
These dogs are a handful despite their lovely temperaments, so don't even think about adopting them if you're not ready to handle them.
Crossroads Newfoundlands are puppies coming from a Breeder with H.E.A.R.T. The people behind Crossroads make sure all their puppies go through Puppy Culture and Confident Puppy programs. They work hard to produce confident puppies with lovely temperaments and fine appearances.
Deb and Carl, from Crossroads, have devoted their lives to studying and improving their knowledge on raising and handling dogs like Newfoundlands. That's why they're one of the finest Newf breeders here.
If you want a gentle-giant puppy from a breeder who knows what he's doing, then Crossroads is where the road should take you.
Breeder's details
Website: Crossroads Newfoundlands
Location: Saukville
Phone: 920-732-6393
Email: [email protected]
12. Rebelflame Brittanys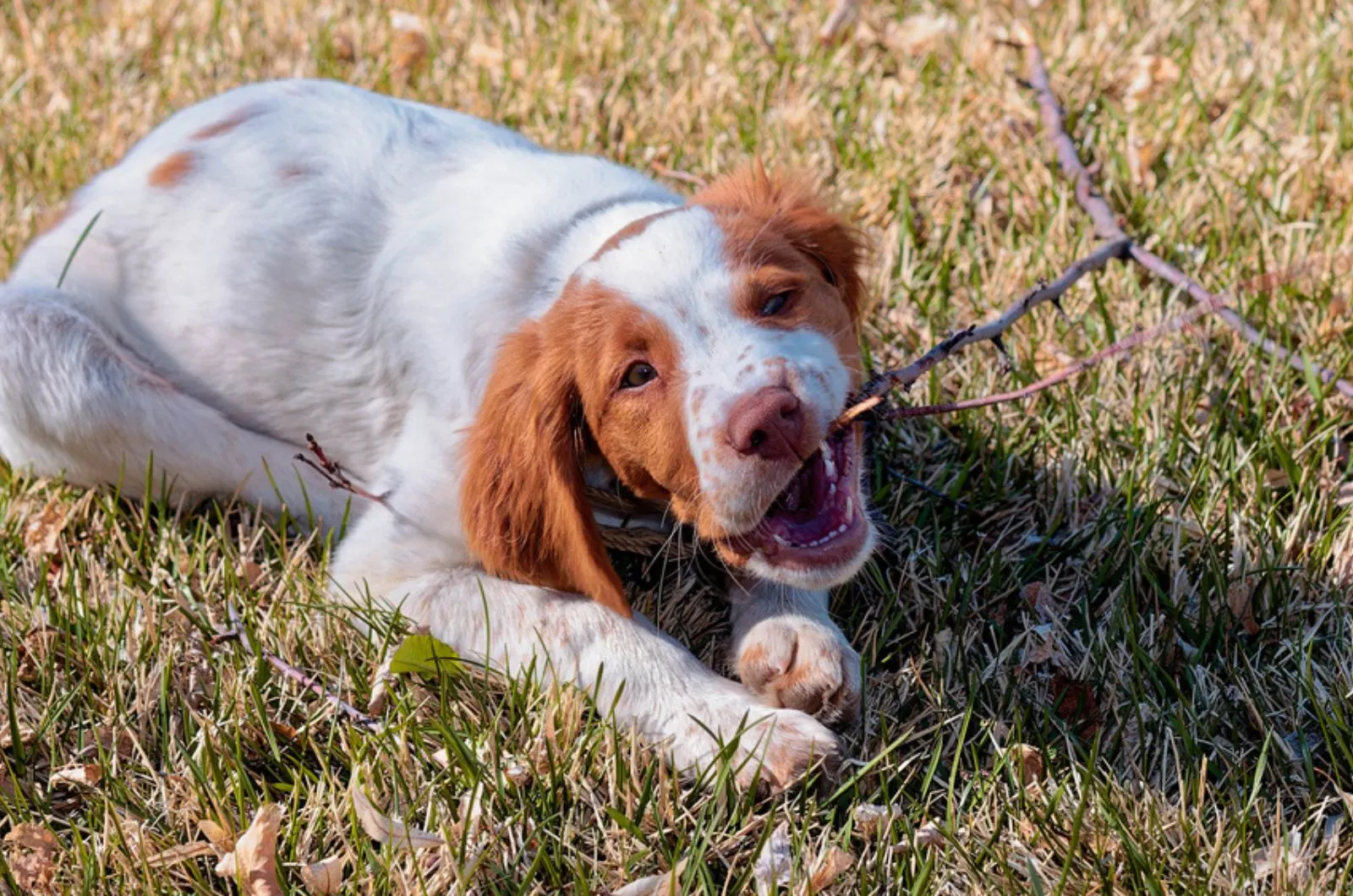 Looking for a hunting companion? Then, look no further than American Brittany dogs. These gundogs are pristine quality hunters, capable of fetching anything that comes their way.
Rebelflame Brittanys aren't rebellious dogs at all. They're obedient, sweet creatures that will follow you on your daily adventures.
This unusual dog breed is considered one of the sweetest family-oriented gun dogs. They're born protectors and companions, always ready to fulfill all your wishes.
Rebelflame Brittanys are born champions. If you click on their website, you'll see all the previous litters and pedigrees listed for their breeding stock.
What's so great about Rebelflame Brittanys is that their puppies get sold with record speed. They find furever homes super fast because they're one of the most underrated family dogs that can offer a lot.
If you don't believe me, call Mary Tyson, from Rebelflame Brittanys, and she'll tell you the same.
Breeder's details
Website: Rebelflame Brittanys
Location: Hudson
Phone: 612-516-1655
Email: [email protected]
Social media: Facebook
13. Crivitz Standard Schnauzers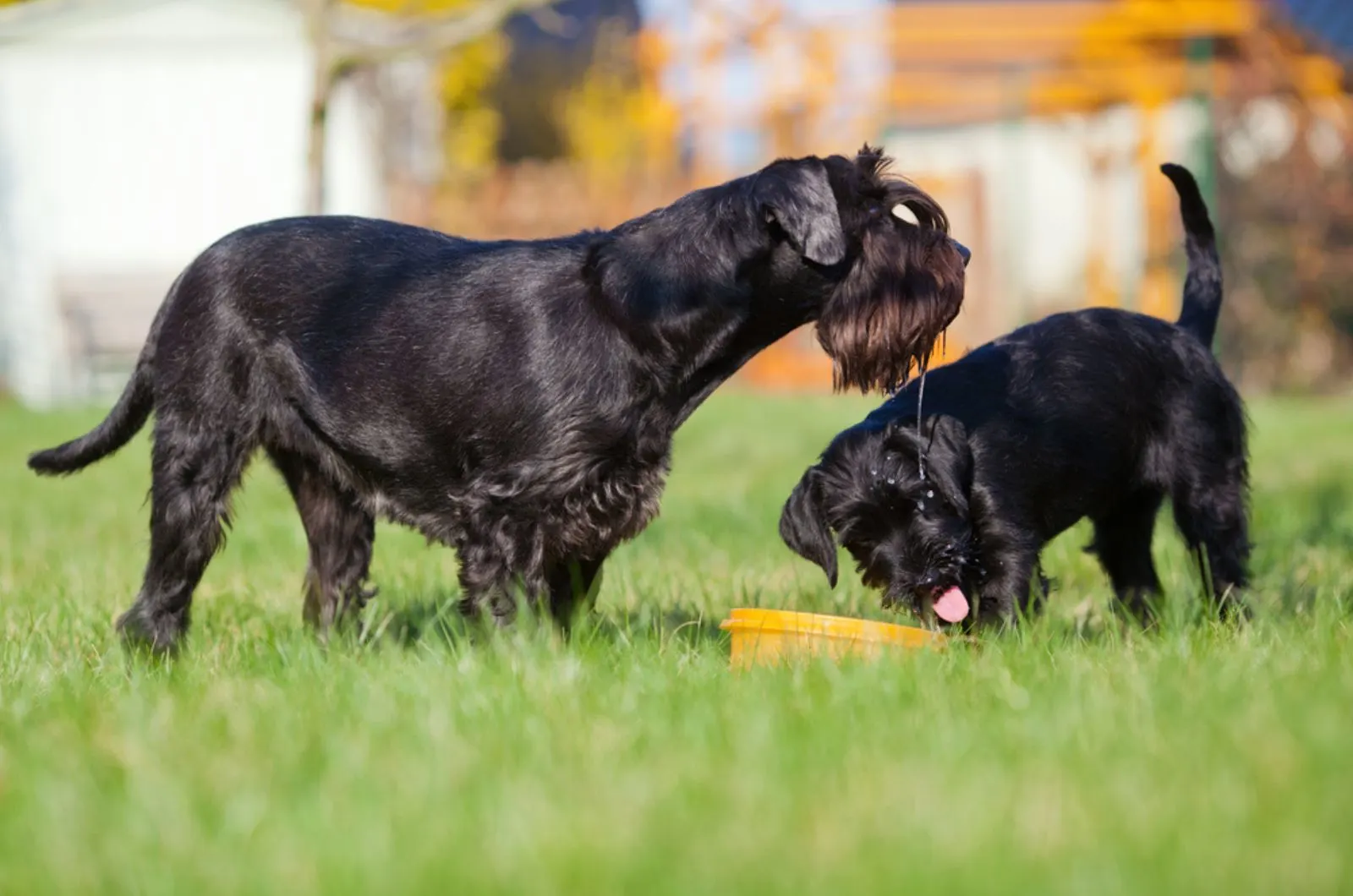 When taking care of puppies and their well-being is a #1 priority, you just know that the breeder is the keeper. Not everyone takes great care of their pups like Amy Schaffer does. That's why she's one of the best Standard Schnauzer breeders.
Amy has been in the breeding business since 2001, bringing out exceptional, quality-standard Schnauzers fit for companionship and conformation.
But, before you fall for Crivitz Standard Schnauzers, you should know that Amy accepts only serious potential pawrents – people who will prove they're worthy of a Schnauzer. You will be put through an interview to help Amy decide if you're a good fit or not.
What you should know about Crivitz Standard Schnauzers is that they're sold without breeding rights, meaning you must spay or neuter your puppy, and sign an agreement before you can take the puppy home.
Breeder's details
Website: Crivitz Standard Schnauzers
Location: Crivitz
Phone: 715-927-5523
To Sum Up…
Now, we're done! Here, you have the top 13 best dog breeders in Wisconsin, and I promise you they're not bad luck at all!
These people are all madly in love with their dogs, making sure they give them the best care possible. All dog breeders, from the tiniest ones to big and developed businesses, are worthy of your attention.
I can't stress enough how difficult it was to put some trust into breeders I didn't know before. You see, Wisconsin is still pretty much packed with puppy mills everywhere. It can get problematic to find a good puppy here, especially for someone who is not experienced at all.
Good thing you don't have to worry about the same things I had. All you can do is skim through the faqs on the listed websites and pick the breeder you're most comfortable with. After that, getting to know the puppy, and warming up to the idea of owning one is a piece of cake.
Read Next: 15 Dog Breeders In New Hampshire – Find A Perfect Dog