Newfoundland dogs are excellent pets and companions! However, if you are seeking a purebred Newfoundland puppy, you must pick a reputable breeder with a track record of excellent breeding standards. This list contains the best Newfoundland breeders and breeding programs across the US.
The Newfoundland breed is a really high-quality dog breed. Along with being perfect family companions, these dogs are also good at sports, great working dogs, and all in all, great family dogs.
If you are thinking about becoming a Newfie owner, I am sure you are doing lots of research on your own. Firstly, you should know that the Newfoundland dog is recognized and registered by the American Kennel Club (AKC).
There are so many things to find out, like what kind of routine is the best for Newfs, what the dog is like with other dogs and around children, whether they have a quality bloodline, are there any possible threats you should be aware of, and so many other questions.
However, the very first thing you need to consider is the quality of Newfoundland breeders. Read the following article and get to know the most reputable breeders in the United States.
These renowned Newfoundland Breeders' reviews are displayed in order of highest rating down. But don't get nervous, every single one of these breeders is great at their job; it's just down to personal taste and experience. These are the most highly rated Newfoundland breeders in the United States.
9 Best Newfoundland Breeders
The Newfoundland dog breed is easily identifiable; even if you've never had a Newfie, you're definitely familiar with their appearance. These great family members are classic working dogs. According to the AKC, Newfoundland puppies are constantly in the top five most wanted dogs in the United States.
Here, in this following list, we will count down the best and the most reputable Newfoundland dog breeders in the US. So stay with me and let's scroll down through this list of Newfoundland breeders and where can you find Newfoundland puppies for sale!
This list of the best Newfoundland breeders in the United States is a great place to start your search for a new Newfie. All of these breeders are committed and have a great track record of producing quality Newfoundland puppies. So, if you are looking for a great dog, look no further than these breeders!
1. Kodiak Acres Newfoundlands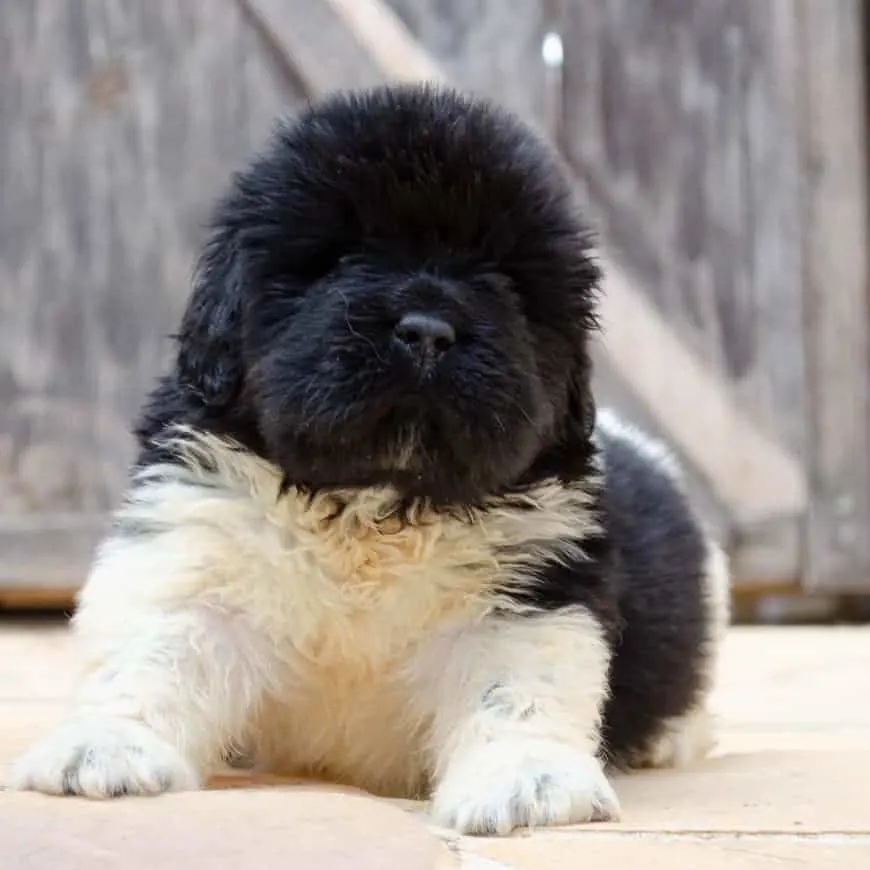 Photo from: @canilkuvaszprince
Kodiak Acres Newfoundlands is the ideal and perfect Newfie breeder for the job if you're looking for a respectable, committed and reputable Newfoundland breeder.
Both proprietors of Kodiak Acres Newfoundland have held roles in the Newfoundland Club of New England (NCNE), and their expertise has helped them become better Newfoundland breeders.
This demonstrates their enthusiasm for breeding and caring for Newfoundland puppies.
They are subjected to frequent health screenings and vaccines to ensure that they are healthy and free of inherited diseases.
Their Newfoundland pups for sale have all of the characteristics associated with this breed, whether they compete in obedience or are trained for water rescue.
Their Newfoundland puppies grow up in a delightful family setting with acres of land for them to play and enhance their socialization skills with other puppies.
Their Newfs puppies are great family pets and friends, and they can help you with many activities you do by yourself. Of course, their dogs are recognized, certified and registered by the American Kennel Club.
Breeder Info
Address: Keith and Sheila Mallinson,
Bethany, CT 06534
Phone: (203) 745-4715
E-mail: [email protected]
Website: Kodiak Acres
2. Mooncusser Newfoundlands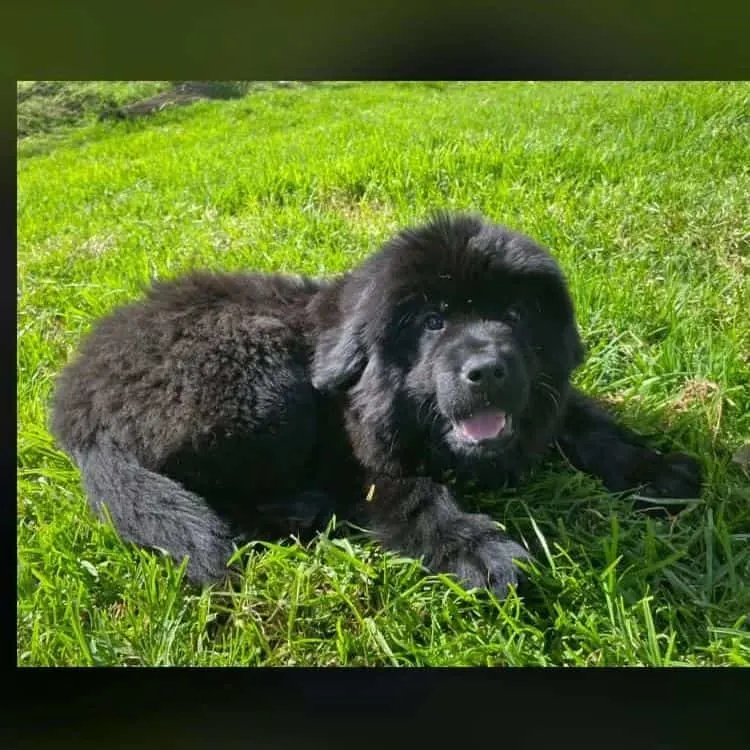 Photo from: @criadero_de_perros_y_gatos
Mooncusser Newfoundlands has been producing high-quality dogs for over 40 years and is a family-owned facility for Newfoundland puppies.
They are enthusiastic about the breeding process because they devote their time and skill to ensuring that each generation is properly produced and planned with conformation of the animal, temperament and health in mind.
One of the most important things to note is that these Newfie pups come with AKC recognition and registration papers from the Newfoundland Club of America.
If you are looking for a high-quality Newfoundland dog breeder, Mooncusser will fill all your aspirations!
Breeder Info
Address: P.O. Box 667
Orleans, MA 02653
Phone: (508) 255-2300
E-mail: [email protected]
Website: Mooncusser Newfoundlands
3. Annisquam Light Newfoundlands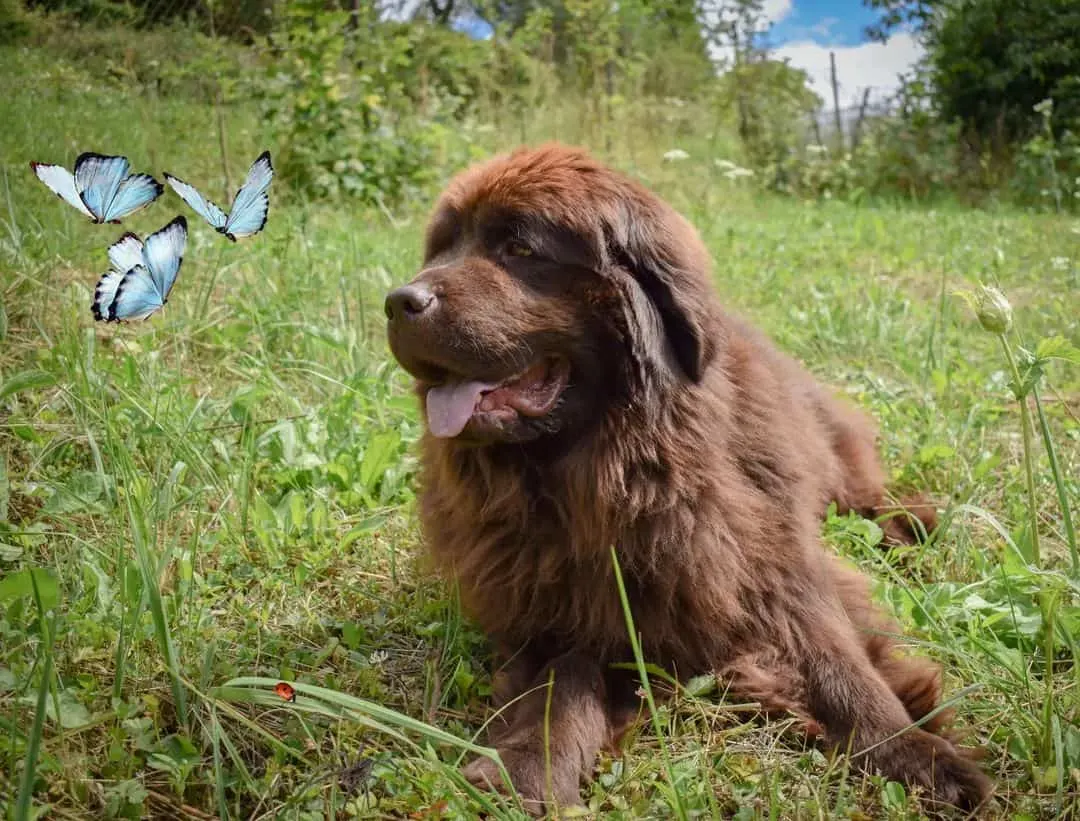 Photo from: @donna.newfoundland
This Newfie breeder is famous and recognized for taking a holistic approach to developing Newfoundland puppies. Also, they are members of the Newfoundland Club of America (NCA), so you get your dog with all the necessary and up-to-date registration papers.
This breeder is recognized by the American Kennel Club as a "breeder of merit". That means that their puppies are one hundred percent healthy and that they take care of the puppy's appearance, environment, behavior and many other characteristics.
Their Newfoundland puppies have been cleared for elbow and hip dysplasia, thyroid illness, heart disease, and eye problems.
This is a breeder that raises their animals using natural methods. They use homeopathy to cure their Newfoundland puppies as necessary.
Pharmaceuticals, pesticides, and vaccines have caused more problems than they have addressed over many years of raising and living with Newfoundland puppies.
Their dogs' and future offspring's health, well-being and happiness are their top objectives, and they do everything they can to produce healthy, playful, family-friendly and happy Newfoundlands.
Breeder Info
Address: 407 Main St. Boxford, MA
Phone: (978) 828-0194
E-mail: [email protected]
Website: Annisquam Light
Read More: Newfoundland Growth Chart
4. South Shore Newfoundlands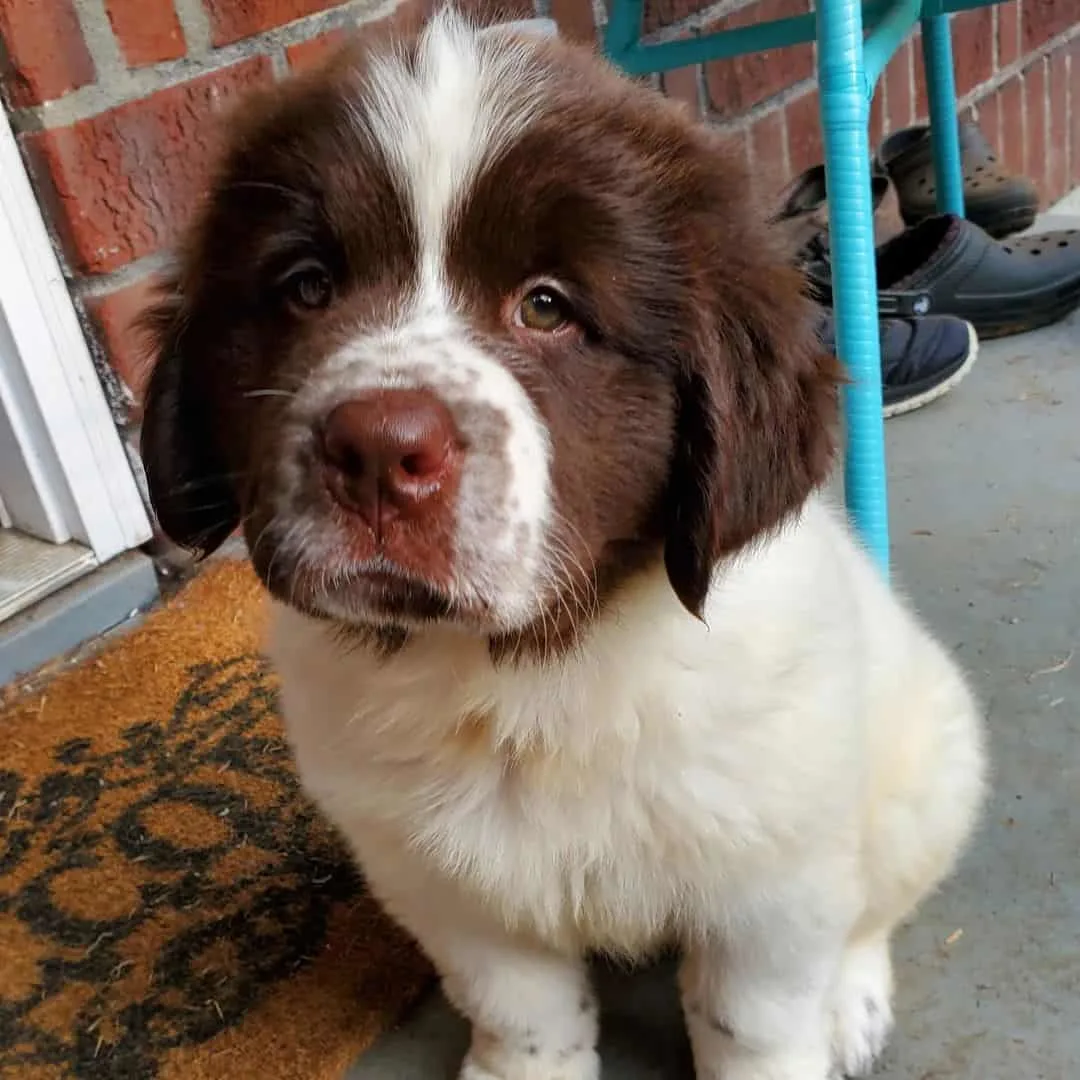 Photo from: @alises.pieces
This facility is run by a family located in New York. Their main goal is to produce puppies that are fully healthy and family-friendly. It is important to say that they check their dog's health using OFA standards. This includes x-ray imaging and genetic testing. They provide information and links regarding the physical traits of Newfoundland puppies.
They have remarkable success with the Volhard technique of motivational training while educating their dogs in obedience and conformation.
South Shore believes that pups should be nurtured in a loving and caring environment.
When you're still deciding whether or not to obtain a new friend for your home, the breeder's website is a terrific place to start.
Also, they are members of the Newfoundland Club of New England.
Breeder Info
Address: 6401 Furnace Road Ontario, NY 14519
Phone: (585) 747-1964
E-mail: [email protected]
Website: South Shore Newfoundlands
5. Paramount Kennel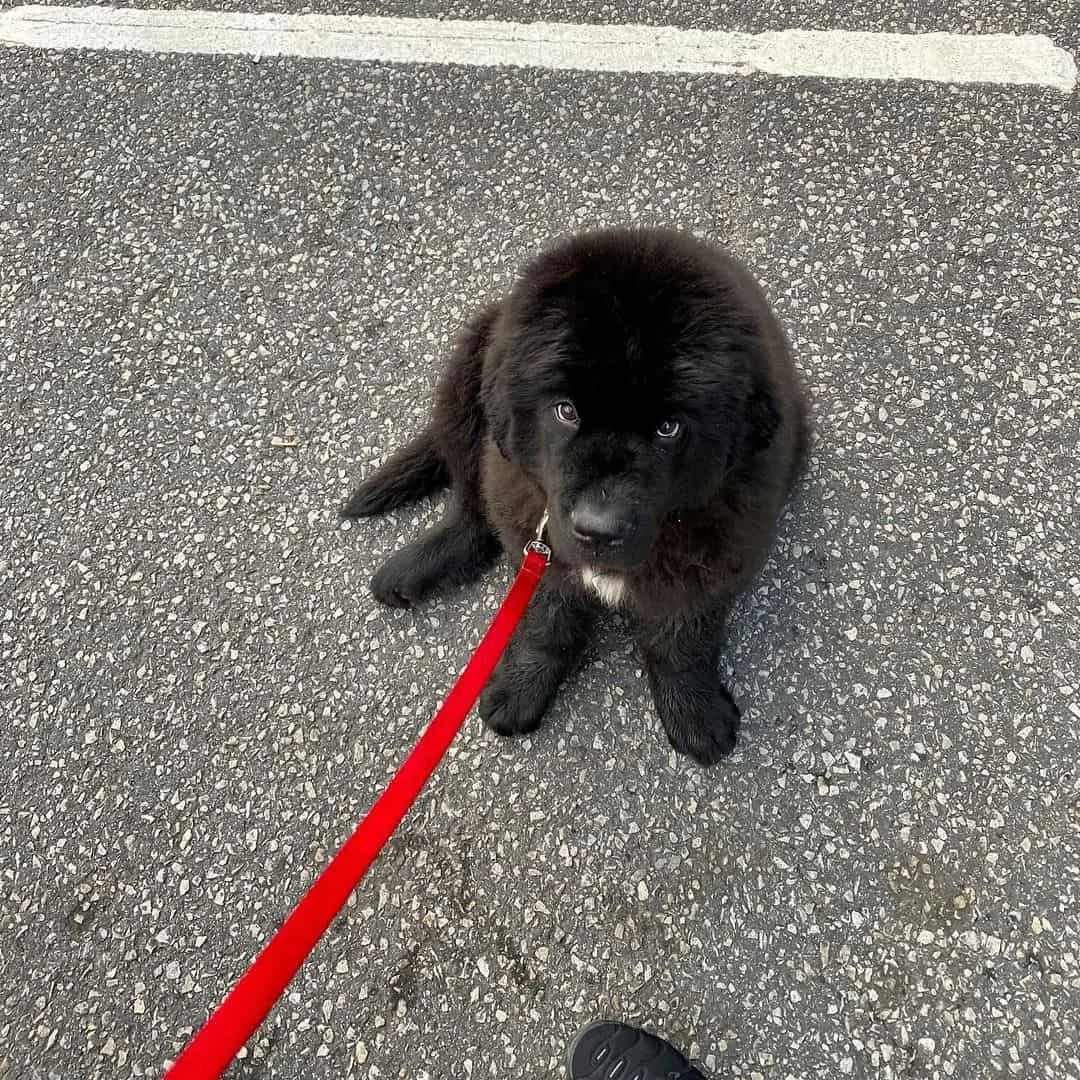 Photo from: @newfiebabymary
Paramount Kennel is another breeding program where you may get high-quality Newfoundland pups for sale. This breeder has been committed to creating exceptional dogs for more than ten years.
Over the years, the Mount Kennel has also produced numerous contest-winning dogs and dog show champions.
Furthermore, all of their Newfoundland pups for sale are AKC registered and recognized, and nurtured in a secure and pleasant environment.
Because puppy adoption is important to Paramount Kennel, they do everything in their power to sell their puppies to responsible parties.
Before handing over the puppy to its new owner, they will ask you a few questions to ensure that you are capable of meeting the expectations of the dog.
Breeder Info
Address: 53 Pumpkin Hill Rd. Ashford, CT 06278
Phone: (860) 463-0458
E-mail: [email protected]
Website: Paramount Kennel
6. Southwind Newfoundlands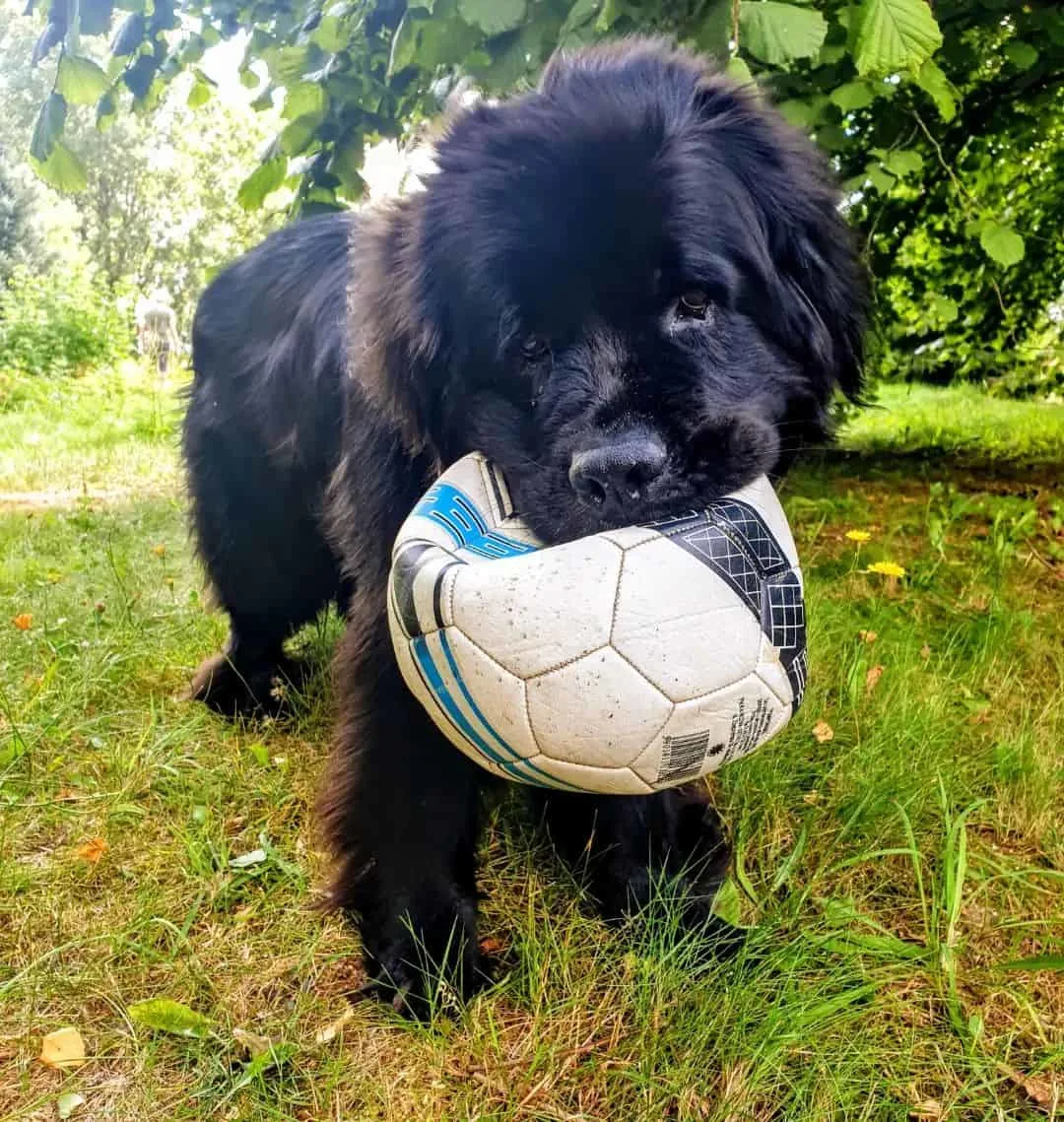 Photo from: @bunia_the_berus
Southwind Newfoundlands has been breeding for almost 35 years. As expected, they make certain that each puppy is high quality and has a good disposition as a companion dog.
All of their AKC-registered Newfoundland pups for sale have been deliberately bred to maximize the greatest features of the breed.
They believe in responsible breeding and onl create dogs that they feel will benefit the breed.
Furthermore, every puppy from Southwind Newfoundlands has a comprehensive cardiology checkup to ensure that your Newfoundland is free of heart problems.
Their kennel is in Massachusetts, and they have almost six acres of gated area for the dogs to run around on.
Breeder Info:
Address: 107 New Street Rehoboth, MA 02769
Phone: (508) 252-3948
E-mail: [email protected]
Website: Southwind
7. Windancer Newfoundlands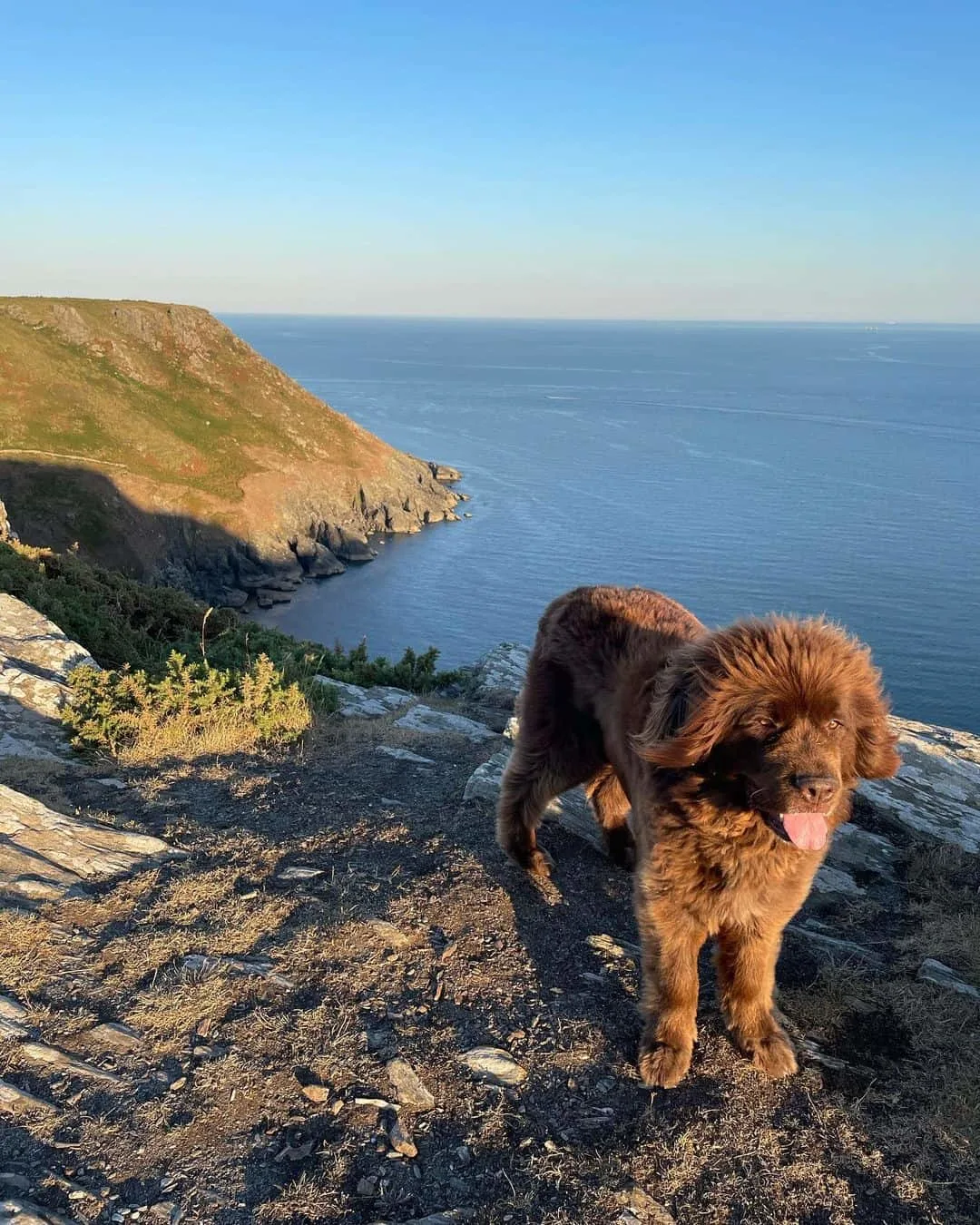 Photo from: @west_cliff_annexe
Windancer Newfoundlands' owners are animal enthusiasts, so they spent their entire lives breeding Newfies for shows and exhibitions.
They are AKC recognized and through OFA standards and various health testing, they ensure that their Newfs are perfectly healthy and in great shape and condition.
They have adult dogs from elite international and American bloodlines. Because of this, there are long waiting lists for their superb Newfoundland puppies. In both conformation and personality, they are excellent specimens of the Newfoundland dog breed.
Their family-friendly Newfies cost about 3000$, including the AKC registration. To learn more about their pups, such as what dog food and supplements they require, contact the breeder directly.
Breeder Info
Address: 559 State Hwy F, Elkland, MO 65644
Phone: (417) 345-8840
E-mail: [email protected]
Website: Windancer
8. Rock River Newfoundlands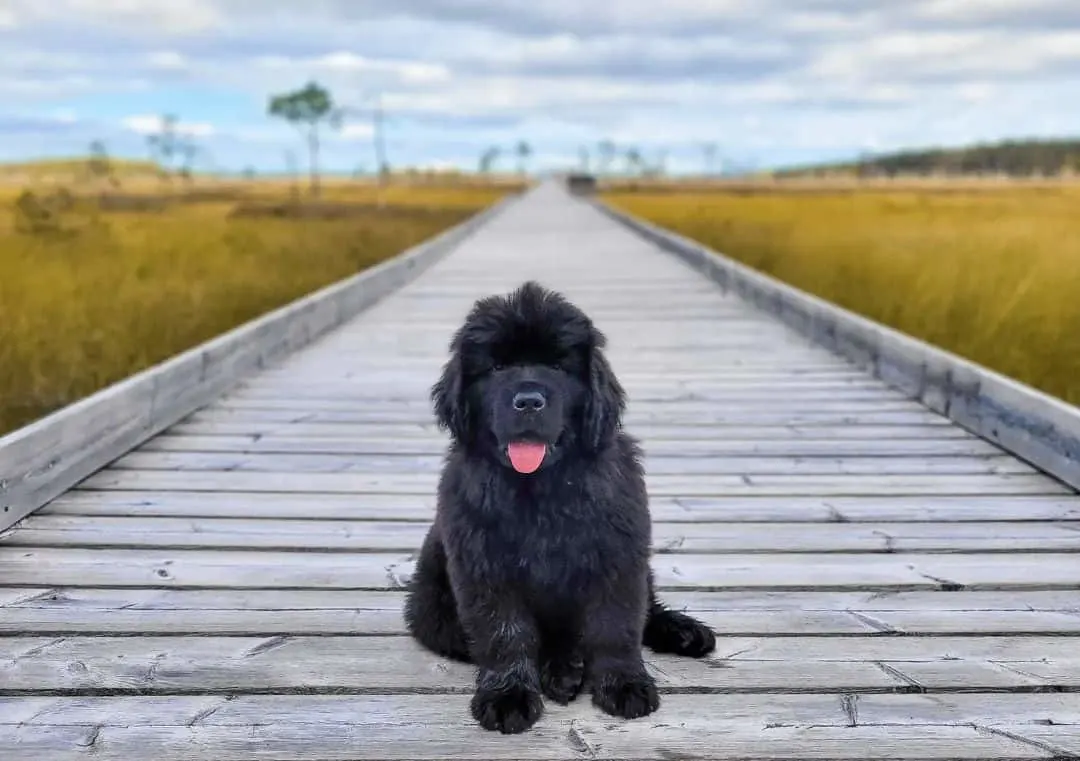 Photo from: @gilionskennel
This is yet another respectable Newfoundland breeder located in the state of Wisconsin – they also have a facility in Ohio. Their puppies come with vaccination certificates, deworming, neutering and any other health check you can think of. Also, they issue a one year health guarantee on congenital diseases.
The prices for their pups range from 2000$ to 2500$ with a necessary deposit for the still unborn Newfie babies. Once you buy a puppy from the Rock River Newfoundland breeding program, you become a member of their club. They will be always there to answer every dog-related question you have and they offer you help if needed.
Breeder Info
Address: S Riverside Dr, Beloit, WI 53511, United States
Phone: (608) 751-9015
E-mail: [email protected]
Website: Rock River
9. Abbie Hill Newfoundlands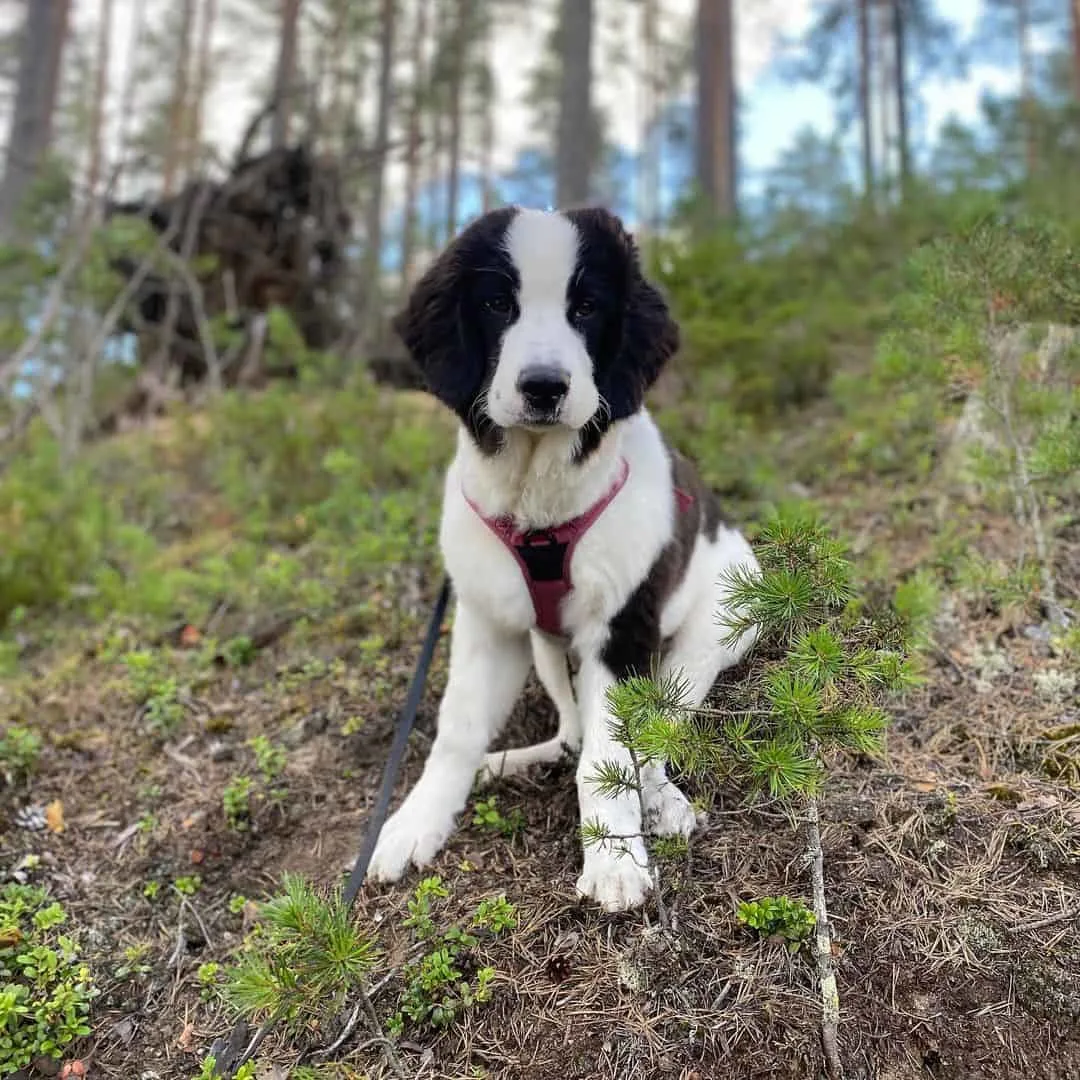 Photo from: @landseerhali
Abbie Hill was established in 2006. The owner is a huge Newfoundland dog lover so he decided to start breeding this exceptional dog breed.
Abbie Hill is a four-acre property in the charming town of Mt. Vernon, Maine. They all live with their Newfies, as they consider them family.
Their Newfoundland puppies, like many others, are family pets and they treat them like any other family member.
They participate in almost every dog show with their Newfies, and as a result are registered by the American Kennel Club.
When their dogs reach a certain age, they become members of the OFA (Orthopedic Foundation for Animals). Hip, elbow dysplasia and cystinuria are all covered in the analysis and standards by certified veterinarians. These dogs are great, loving friends that are also fantastic with children.
Breeder Info
Address: Mt. Vernon, ME 04352
Phone: (207) 446-9366
E-mail: [email protected]
Website: Abbie Hill
Read More: 9 Newfoundland Colors With Pictures: Choose Your Favorite!
Other Ways To Find A Newfoundland Puppy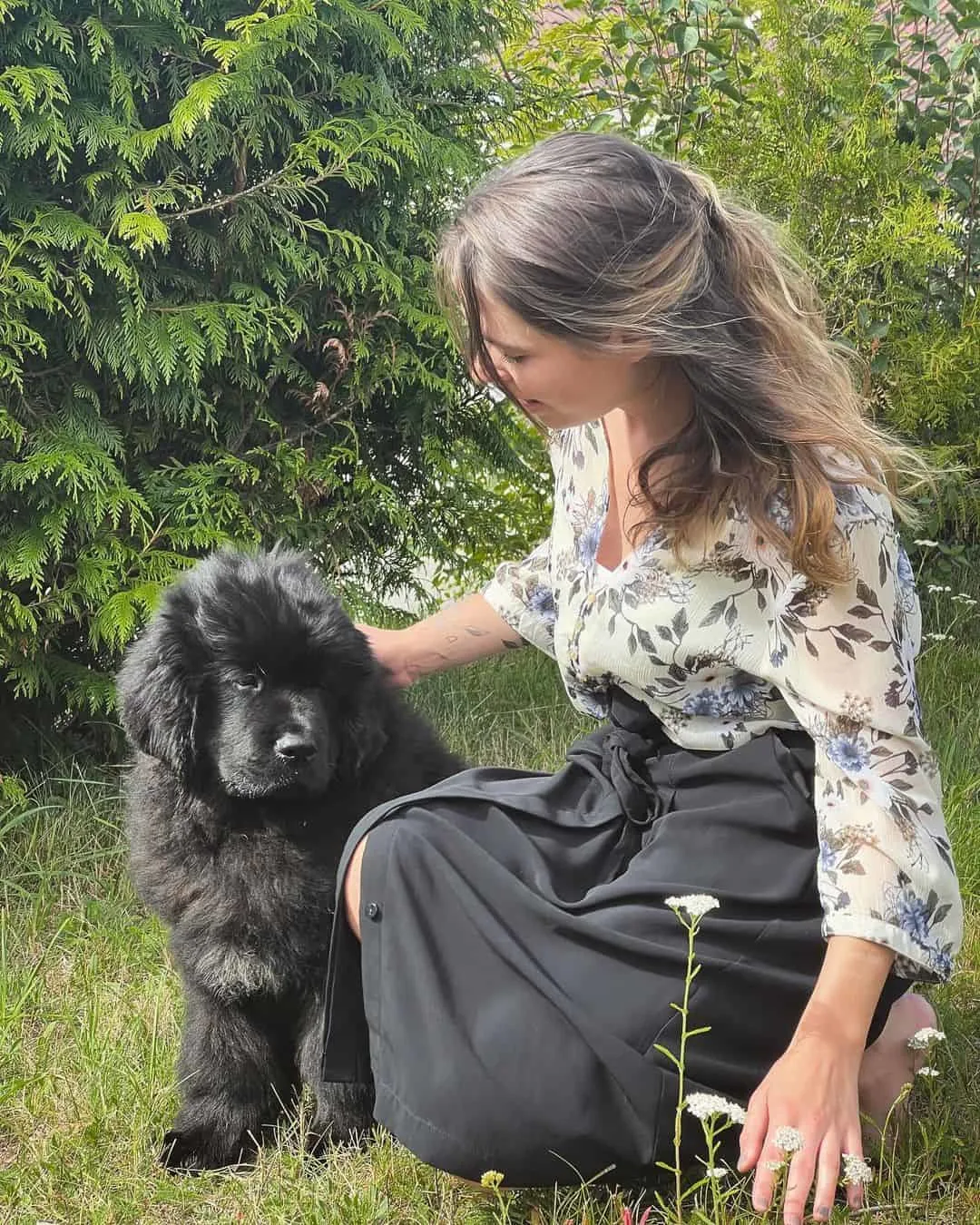 Photo from: @albertthenewfie
In case you didn't find what you were looking for, there are some alternative ways of getting a Newfie! Buying them from a source other than the breeders can save you some serious money.
These are the best alternative ways to find a Newfoundland puppy.
Veterinarian Recommendation
A lot of Newfoundland breeders have some great connections with many respectable veterinarians. If you ask them, they could maybe help you by getting you in touch with some of these reputable and reliable breeders.
Animal Shelters
If you are eager to save some money, or get a Newfie at a lower price, get in your car and take a trip to your closest animal shelter! The best way would probably be adoption. That way, you help the animal shelter and, ultimately, brighten your own life with a new and cute family member!
Social Media
Of course, nowadays you can do everything on social media, including finding Newfoundland puppies for sale. You can search for Newfie Facebook and Instagram groups, or try and find some online clubs with your fellow Newfoundland enthusiasts. That way, you can come up with a cheaper solution of getting your desired Newfoundland dog.
Check The Breeders
You are certain that you want to acquire a Newfoundland puppy, but where should you begin your quest? The solution is simple: the first thing you should do is research the breeder!
Because Newfies are very popular in the United States, there are numerous breeders who can provide you with this dog breed. So, how do you decide and select a breeder?
How can you be sure that you are speaking with an ethical breeder?
If the breeder has a reputable veterinarian and suggests that you check references from previous customers, this can allow you to clearly see that the puppies are living in really good conditions. We can say that you will not be making a mistake if you choose to get your Newfs puppy from this particular breeder.
If any aspect of a breeder's conduct appears questionable to you, it is best to visit other, more responsible breeders. To be certain, paying a visit to a handful of facilities, pup farms and breeding programs is probably the best method to make the appropriate and right choice.
Newfie Health Issues
Newfoundland dogs have a life expectancy of eight to ten years. They are prone to some health conditions such as gastric torsion, cystinuria, hip dysplasia, elbow dysplasia, stenosis and cataracts.
This is something you should never forget to ask! Before buying a Newfie, ask the breeder if their dogs have all health certifications and papers.
If you are dealing with a respectable breeder, this is the most common question that you will not have to ask since reputable breeders require a health certificate.
However, if the breeder avoids answering this question or does not provide a clear answer, consider this a red flag and turn to another Newfoundland dog breeder.
Final Thoughts
In the end, we can only say that Newfoundland dogs are excellent family pets and working dogs! They are very popular in the United States, but in this article the top ten black German Shepherd breeders across the whole America!
So, if you love Newfies, and want to get one, these are the best breeders, facilities and breeding programs to get in contact with. If you are thinking of getting a Newfoundland puppy, the main thing is to take every circumstance into account. That is to check the breeder, whether the dog is purebred and their bloodline, and whether they have all their health certifications.
Hopefully, our list of the best Newfoundland breeders in the United States will help you find what you are looking for. Make the right decision and bring joy into your life by getting a beautiful Newfoundland puppy!
Related Articles:
Newfoundland Breeders in Ontario