This post contains affiliate links, and I will be compensated if you make a purchase after clicking on my links.
Treats are a nice thing to have on hand as a way to reward your dear Maltese, whether it's for good behavior or just as a snack, but what are the best treats for Maltese dogs?
Well, the best treats for Maltese are often those with natural, locally-sourced ingredients that have a lower caloric content, and ones that are of adequate size for a small breed like the Maltese.
Some of the more specialized ones are used as supplements alongside puppy food if your dog is suffering from a nutrient deficiency.
Though, as with any snack, you need to be careful and portion them off properly as obesity is a very real problem with all dogs, especially smaller breeds.
The main problem with finding which of the various treat options are the best is decision paralysis. Luckily, I've gone through the trouble of browsing the many offers found on the two biggest marketplaces for pets, Amazon and Chewy, I and have compiled a decent list of the best.
Read on to see which ones are considered to be the best options.
7 Best Treats For Maltese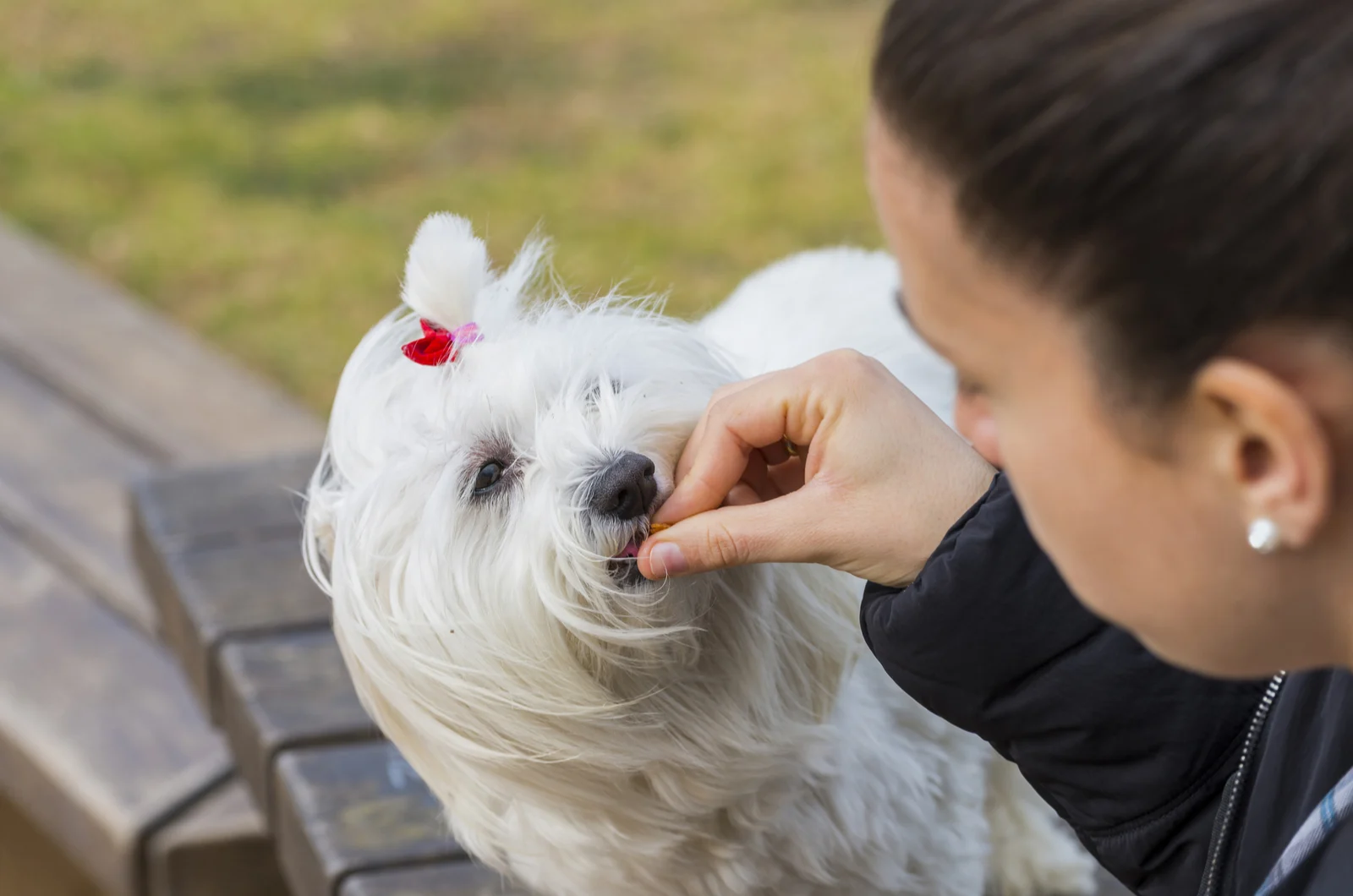 To start everything off, here's one of the all-time favorites for small dog breeds, Zuke's Mini Naturals.
With chicken as the main ingredient, coupled with a neat mix of barley and various berries and herbs, these treats are incredibly tasty options for your little doggy friend.
The product is completely grain-free in terms of common allergens like wheat, corn, and soy, so it's easier on your pooch's sensitive stomach.
It also has no artificial preservatives, additives, or fillers that only serve to add calories to the treats, which is something that we're trying to avoid here.
Speaking of calories, it's a mere two calories per treat, meaning dog owners can portion a bit more of these small pieces of goodness off daily without having to worry about their dog's health worsening.
The low calorie content means that these treats are an excellent choice for dog training as they're tasty, without adding too much excess to your dog's diet.
Aside from the flavorful benefits, you'll find that the treats also feature a variety of essential vitamins and nutrients to help supplement your dog's daily requirement.
Price-wise, they're better than a lot of the competition, coming in as both high-quality and affordable at the same time, not sacrificing one for the other.
Nothing is perfect, sadly, and some users have reported that the treats don't stay moist for too long, and that they harden quickly after opening the bag.
When it comes to feeding your Maltese, just as much thought should go into the treats that you give your puppy or dog as it does for his main kibble.
Next up is a treat with an alternate main protein – beef.
Offering more juiciness than chicken and more standalone flavor, this moist treat is a delight for most dogs.
The best part is that it's all sourced directly from American farms.
Flavor isn't the only thing on the table – you'll find plenty of nutrients and vitamins in here, too!
Two of the main ones are Omega-3 and 6 fatty acids that come from flaxseed – essential nutrients for improving skin health and maintaining coat shine and softness.
DHA is also a key ingredient, especially in puppers that still need to work on developing their cognitive skills, but is important in adult dogs, too, for keeping their cognitive ability sharp.
The entire ingredient list is completely free of any allergen-inducing grains like soy, wheat, and corn, and they're low in calories.
While their four calories per treat is double that of the Zuke's dog treats, it's still low enough not to guilt-trip you for giving your doggo one extra. Just don't overdo it, and follow the diet prescribed by your dog's vet or nutritionist.
All of these benefits are what make this product one of the contenders for the best treats for Maltese.
The price isn't all too bad either – it is affordable compared to some of the other options out there, especially considering how much it costs to maintain a dog like the Maltese.
The one downside I found is that there is the presence of milk, so if your dog has an intolerance to lactose, you may want to keep an eye out.
Coming back to chicken, we have a treat option made out of a mix of real chicken meat and chicken liver.
The latter adds some chewiness to the treat, giving it a bit of longevity, and it contains Selenium – an ingredient known to help improve heart health and prevent heart disease in dogs and humans alike.
The product is completely gluten-free, and it contains no soy, wheat, or corn, so you don't have to worry about any common grain allergen for your doggo.
The product is very low in calories, coming in at only three calories a piece due to the lack of rendered fats, making it an excellent choice for a training treat or for a standard snack.
Bil-Jac dog treats are fully made in the U.S. as well, so there's no risk of questionable overseas ingredients to worry about.
Another benefit that these treats have is the bag itself. Most other treats tend to dry out quickly since they lack a resealable bag, but the package itself on the Bil-Jacs brand is a double-zipper pouch that keeps all the freshness in.
The price is incredibly cheap, too, for a product of this quality. I'd definitely say it's worth trying if you're in between this product and another as it won't hurt your wallet too much and your doggo gets to enjoy a little bit of variety.
However, despite their moist nature, they fall apart easily, and can make a mess.
For dogs in need of a diet or good dental help, Virbac VeggieDent might be a good option.
While it has no veggies in it, it's a very good vegetarian option, containing virtually no fat, but coming in at a hefty 74 calories a treat, meaning that despite the lack of meat, you'll still have to manage the daily allotment in order not to go too far.
Sure, the calories contain no fat, but they can still lead to your dog gaining a few pounds, which is a big deal when you're a dog of particularly small size, like the Maltese.
The biggest draw of this treat is that it has a great, herby taste, and that it helps combat tartar and plaque, keeping your dog's breath from smelling, and his teeth strong and healthy.
The interesting Z shape helps your doggo get a better grip on the treat with his maw, making it easier to chew and eventually swallow.
The price is a bit high, but it is somewhat reasonable given the niche it helps cover.
That said, if it feels like too much cost for your monthly budget, you may want to look into cheaper alternatives.
Another meat-free treat, though this one isn't for the good of your dog's teeth, but more for his enjoyment in the form of peanut butter.
This is another great option from Zuke's, these tasty little morsels will hit that sweet spot your doggo can be craving at times – a little change up from the standard diet, and a great reward during training.
But, despite being peanut-butter based, oddly enough, it only has three calories per treat, meaning you don't have to dole out one or two a day for your pupper if he's being a really good boy – you can shower him with several depending on his diet.
But, it's not just PB that's in there – there are a couple of essential nutrients and minerals in there, too, in order to supplement his daily diet.
It's not just candy with Zuke's after all. They want to make sure that pet owners have healthy pets after all.
What it doesn't have, however, are any common allergens like soy, grains, and wheat, meaning it's safe for any dog that may be sensitive to those.
The pricing itself is pretty decent, as are most of Zuke's products, so you penny pinchers don't have to worry about whether the treat fits in your budget or not.
The one problem that may be relevant is if you have a larger dog alongside your Maltese, as you'd have to buy a different set of treats for him since these are a bit too small for anything other than the smaller dog breeds, and so they won't be nearly as fulfilling.
Next up is Fruitables; another meat-free option to help expand your furry friend's flavor profile.
The one presented here is a mix of pumpkin and blueberry as the main ingredients, with the former being the main one. However, there are several other options available that are mixed with sweet potato, apple, cranberry, and even crispy bacon if you want to get some meat back on the menu.
That aside, each of them is guaranteed to have a tantalizing scent and flavor that'll draw your doggo to it and have him eating it with glee.
Aside from the healthy veggies and fruits, it's chocked full of antioxidants, which give your pupper a boost in heart and overall health.
They even have a nice, crunchy texture that your Maltese is sure to enjoy snacking on.
All of this is packed into eight calories per snack, which may sound like a lot given the competition here, but it's a relatively small difference.
The price of it is incredibly low, too, for such a quality product – one that's sure to catch your dog's eye and taste buds.
They're also entirely made in the USA, and all the ingredients are U.S.-sourced, guaranteeing high quality.
Unfortunately, while it may seem good to us, some dogs may just not like them according to several reports from other users, but maybe your doggo is the exception.
The last one on our list is a particularly tasty snack from a well-known brand – Wellness, and their wonderful Jerky Dog Treats.
This is a drier alternative to most of the other moist options out there, so it is easier to preserve, but it is a healthy one still.
It's made from all-natural ingredients, with beef jerky as the main protein.
It's completely gluten free and grain free, with none of the common, grain based allergens present in the ingredient list.
The treats also contain no artificial color, flavor, or meat by-product for that matter, making it a healthier choice for your little Maltese.
The price tag on it is incredibly low, too – one of the lowest among most competitors out there, making it a real steal to get.
The one potential problem is that while the product is made in the USA, the ingredients are sourced globally, so a bit of caution would be advised given the potentially questionable ingredient quality.
What Traits Should The Best Treats For Maltese Have?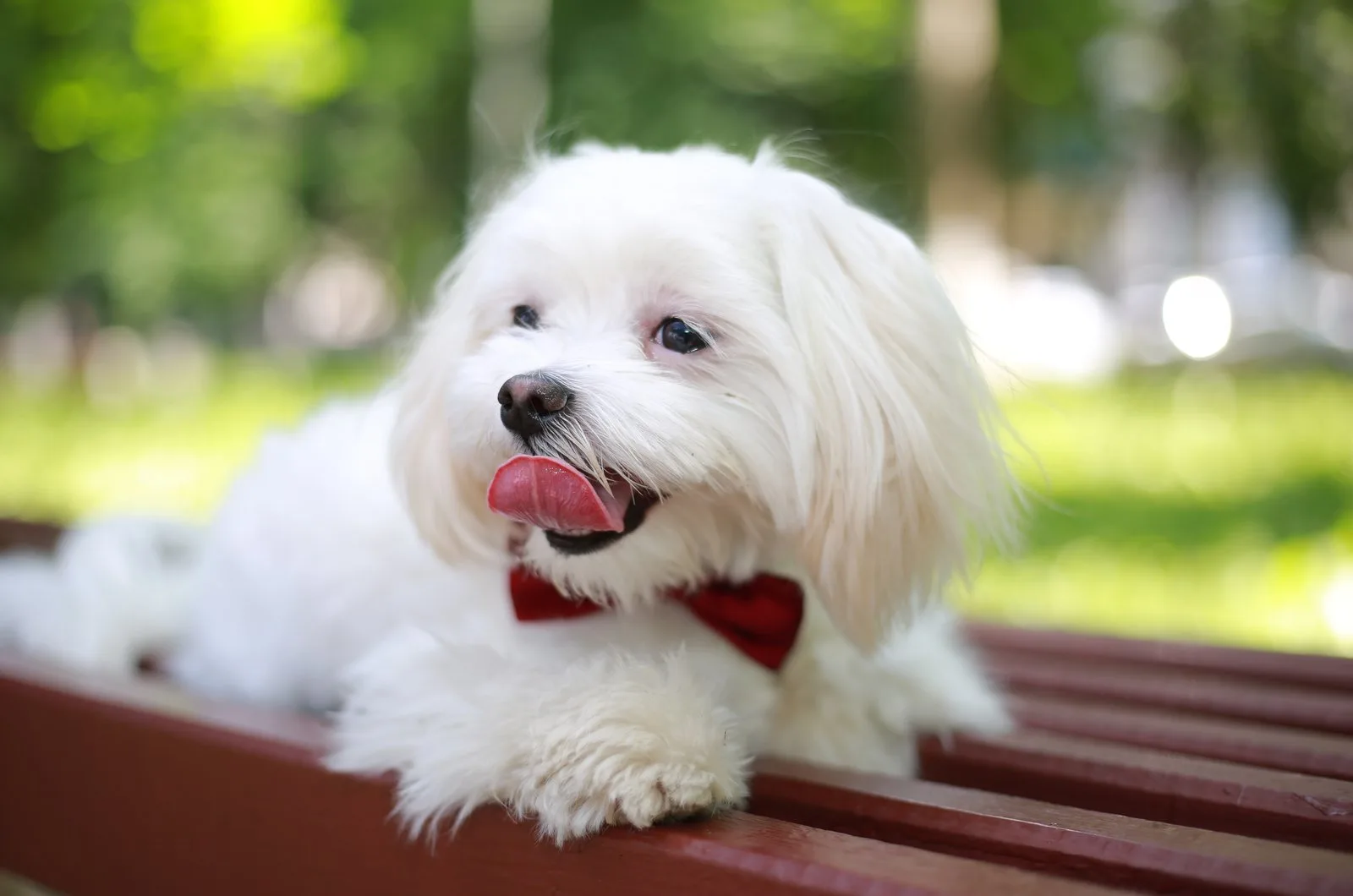 If none of these ended up working out for you, or if you just want to make your own decision, then here are some of the elements that good treats for Maltese have:
Made For Smaller Dog Breeds
Big treats are too cumbersome for toy breeds like the Maltese. Stick with ones that can actually fit in their mouth.
No Artificial Preservatives, Additives, Coloring, Flavors, Or Other Harmful Chemicals
Anything artificial will eventually do more harm to your dog's body than good; therefore, it's best to steer clear of all of them.
Made From Real Meat
Just like you would do when looking for the best dog food for Maltese, make sure to avoid meat by-products and meals as they only serve to add protein and caloric content to the treats, which make them worse for dogs.
Only go for proper meat on the ingredient list, though do try to avoid rawhide treats and similar chewable options because for smaller dogs, they can prove to be a choking hazard. This plays a little into the "made for smaller dog breeds" part, too.
A Mix Of Herbs, Fruit, And Veg
Meat is great and all, but a balanced diet includes something from all the food groups, so try finding treats that have a little bit of everything good mixed in.
Grain-free And Filler-free
Wheat, soy, and corn are common allergens among dogs, and grain filler only serves to add calories to both dog food and treats alike, so you're better off with treats that contain none of them for your dog's sake.
U.S.-sourced Ingredients
A lot of ingredients that come from overseas tend to get contaminated during transport or are collected using unsafe and unhealthy methods. The U.S. standard is a bit higher, so it's safer to go local if you can.
FAQs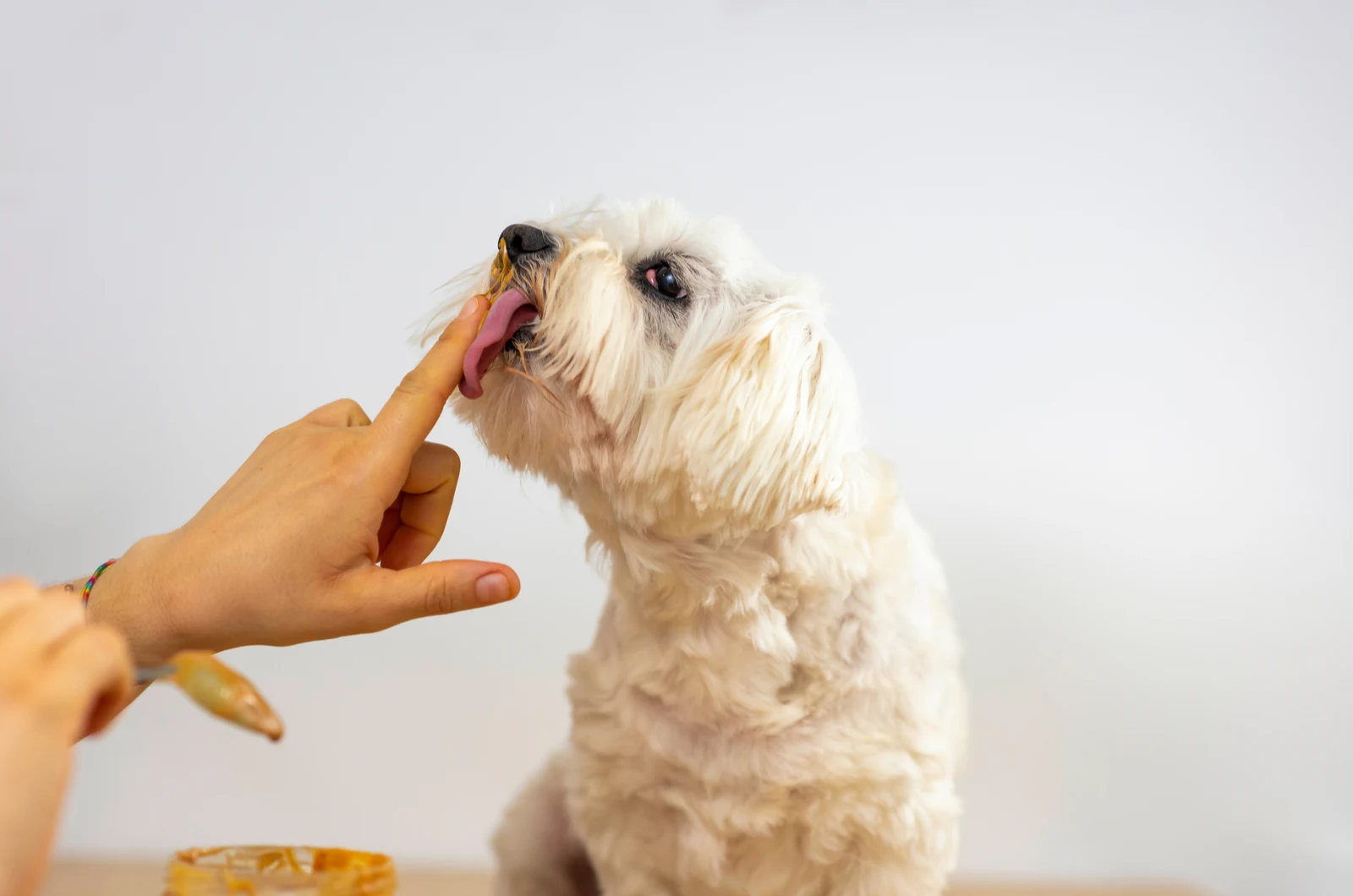 Are Maltese Picky Eaters?
Maltese are notoriously picky eaters, which is why finding the right dog food or even treats can be a big hassle for Maltese dog owners.
Is Peanut Butter Safe For Maltese?
Peanut butter is perfectly safe for your furry friend, as long as you don't overdo it on those treats. As far as raw PB goes, the answer is the same as long as it doesn't contain Xylitol.
What Other Treats Can You Give A Maltese?
If you'd like to try mixing it up a little, you can use some fruits and veg as an alternative treat every now and then. Maltese love baby carrots, various types of berries, broccoli, and even peas as an option.
In Conclusion
The best treats for Maltese are low-calorie ones with lots of flavor and healthy ingredients in them – that much we know. The usual problem is the sheer number of options we're faced with in the modern world.
Hopefully, me breaking down some of the best ones here has helped shed some light on what makes for a good treat for a Maltese puppy or an adult, and that you've found the one that's ideal for your doggo.
If not, I hope that the guidelines themselves have at least assisted you with finding the perfect treat. Just remember that your dog knows best as far as that's concerned. What doesn't work for other dogs may just end up being your Maltese's favorite treat. Until next time.
RELATED LINKS:
• Male Vs. Female Maltese: Which Makes The Better Pet?
• Maltese Colors Guide: Do They Appear In Shades Other Than White?
• Maltese Breeders: A Guide To The Best Breeders And How To Find Them